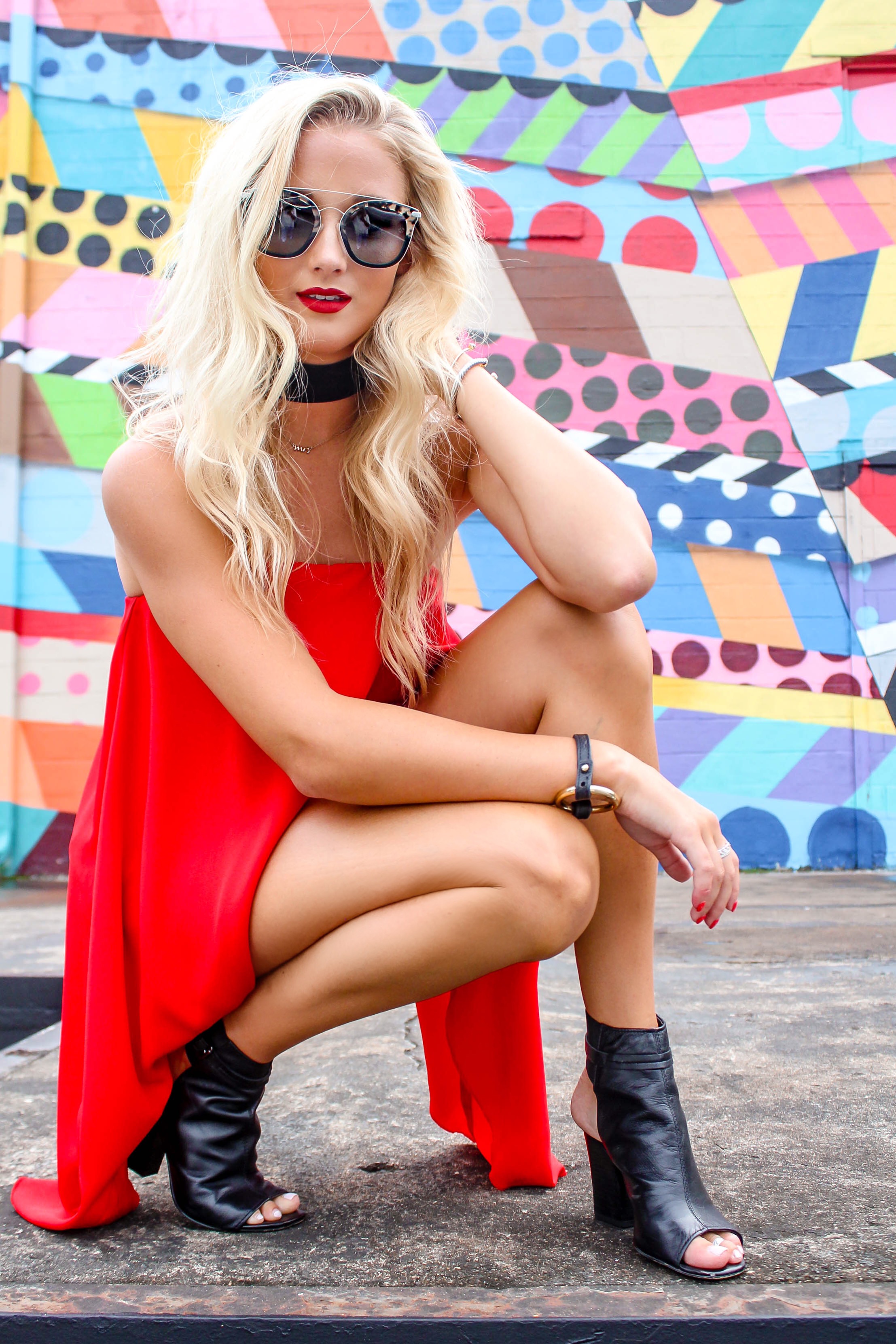 Coming at ya live in this fun & flirty, red hot romper! (JK it's not live, but it sounded good so I went with it LOL).
But really, I am loving the color red lately, if you haven't already noticed. Y'all know I have always loved a good red lip, but recently, I've been reaching for more red in my wardrobe too! I got this fun, chic romper at Missguided and had planned on wearing it to a concert for my birthday this past weekend but made a last minute change to something else – you can (kind of) see what I wore in this pic, but I'll be sure to shoot that piece for y'all again so you can see it better.
Missguided has tons and tons of on-trend, stylish pieces that are very reasonably priced, so they are definitely one of my go-to online retailers when I'm looking for something quick, trendy and affordable. However, I will say that some of the pieces don't have as great of quality like you would get at a Nordstrom, of course. But really, the prices make up for it if that is the type of item you are searching for at the moment. I always tend to buy the more trendy pieces (that I know will go out of style sooner than a classic piece) at a more affordable price point and save my money for a splurge on shoes or handbags/accessories. Y'all know that I'm all about mixing some high and low fashion (as I shared about in this post).
I ordered a size 6 in this romper because it is not US sizing, and I didn't want it to be skin tight on the bootay (because ya girl's got a bump haha), but I think I should have ordered a 4 because this one was a tad big on me. Oh well, made it work! Just wanted to share that for you all so that if you decide to order from this site, you will have a reference for sizing.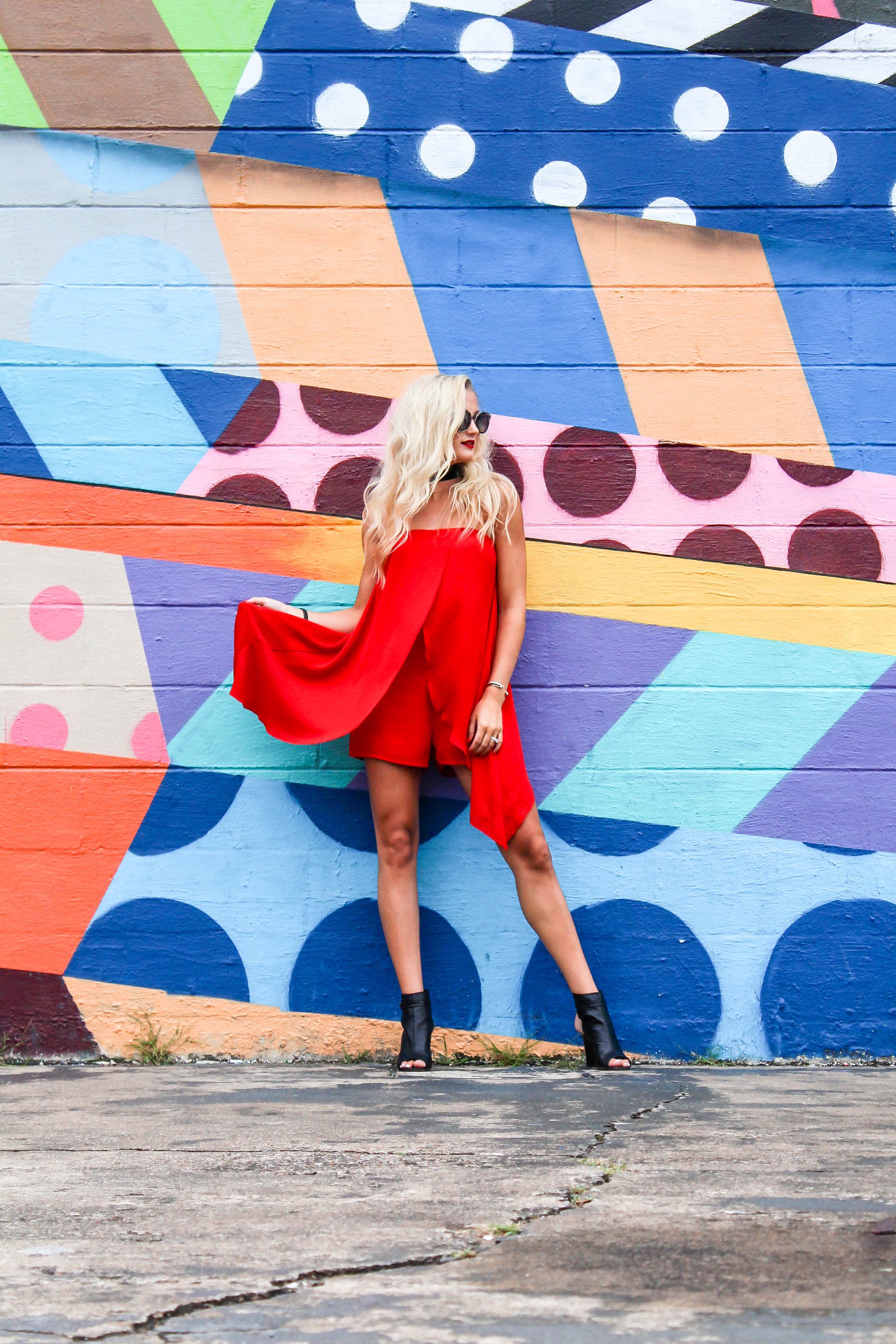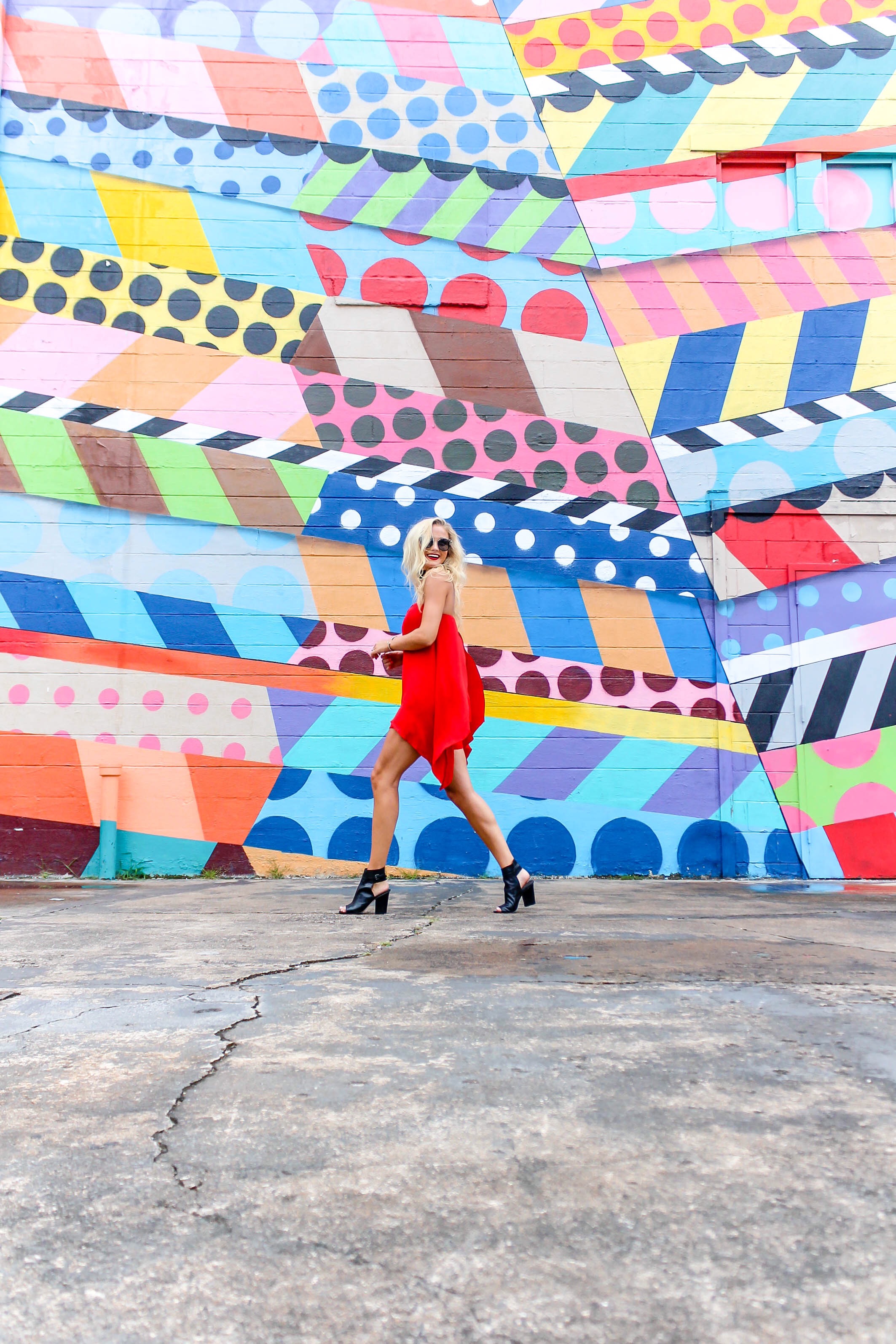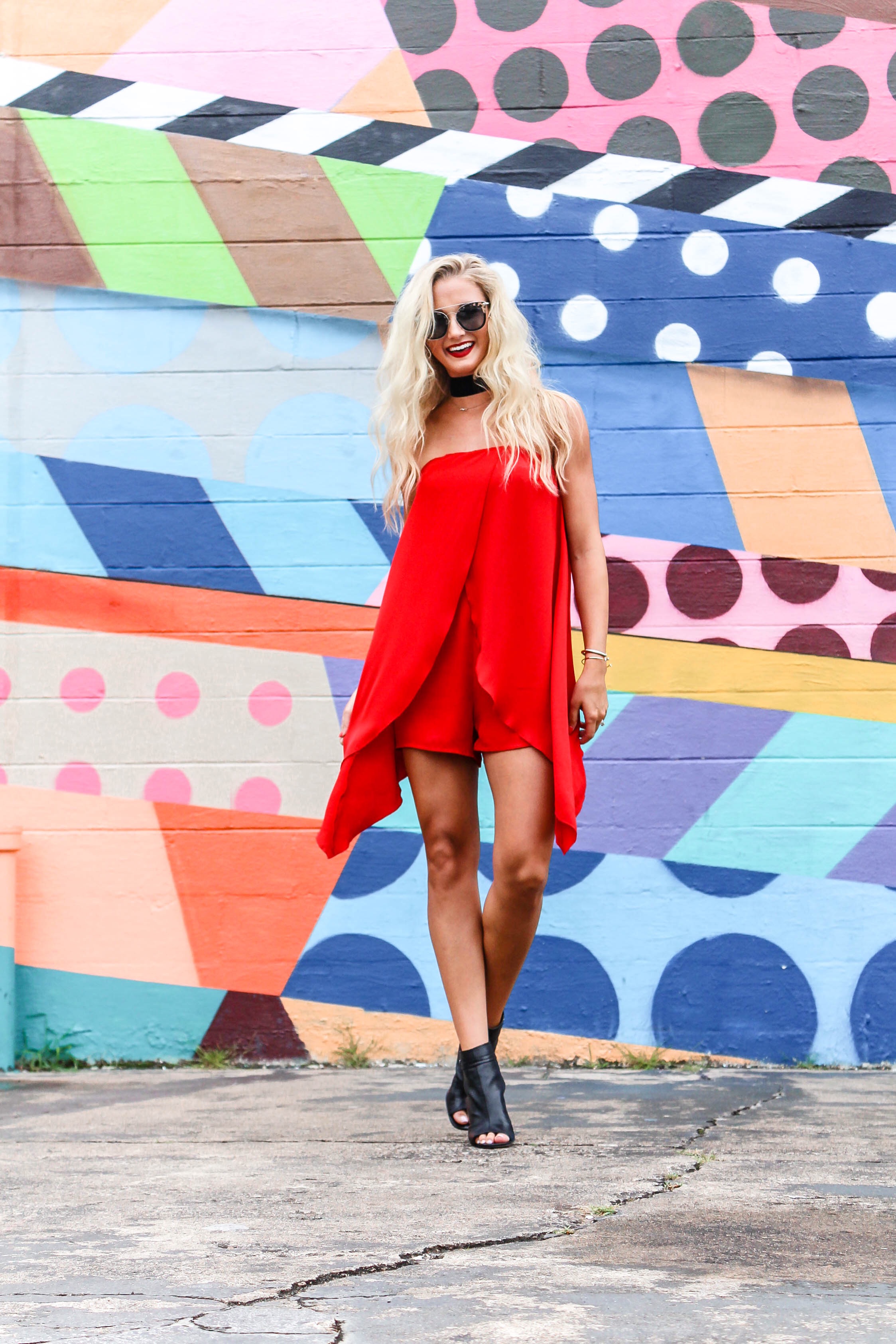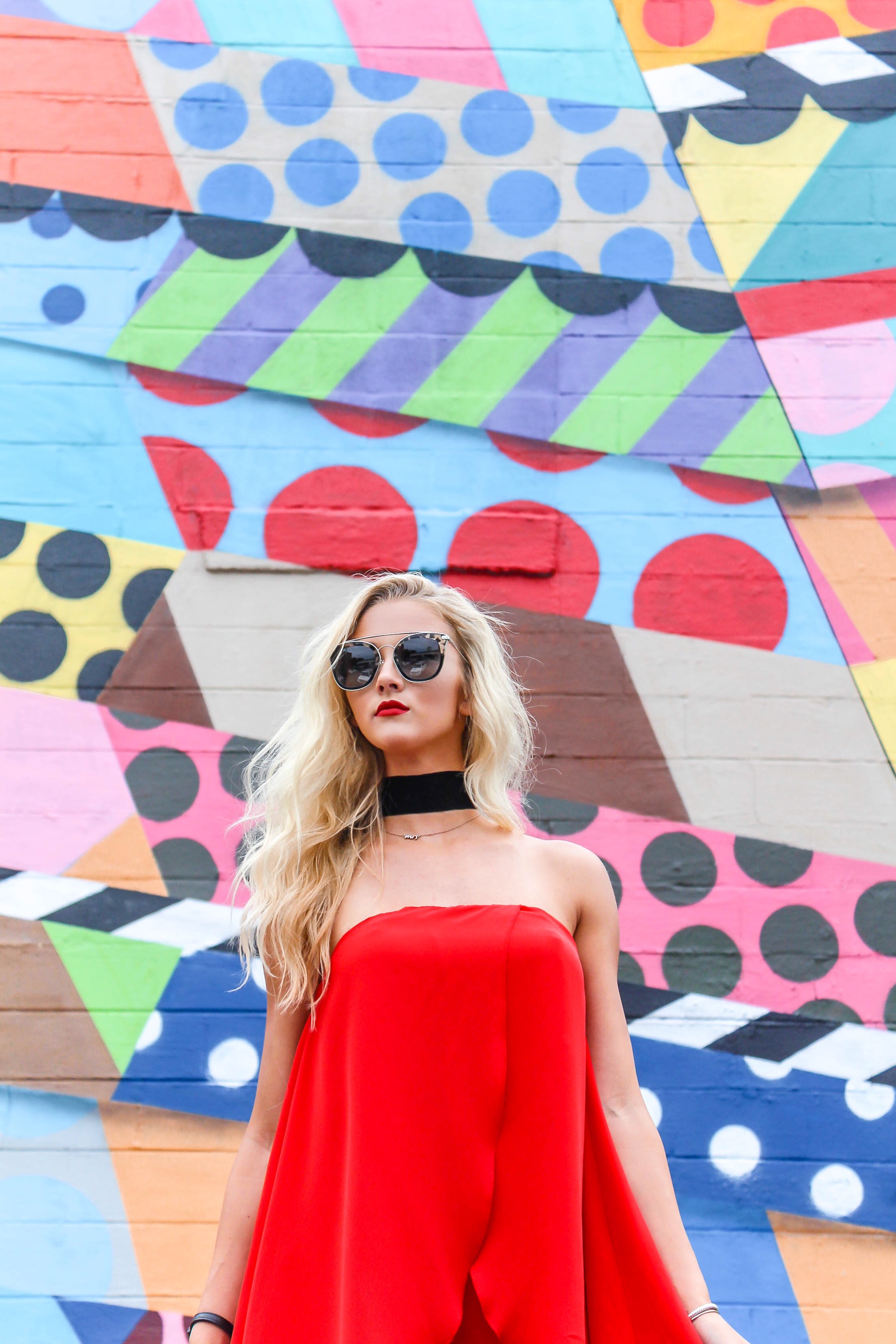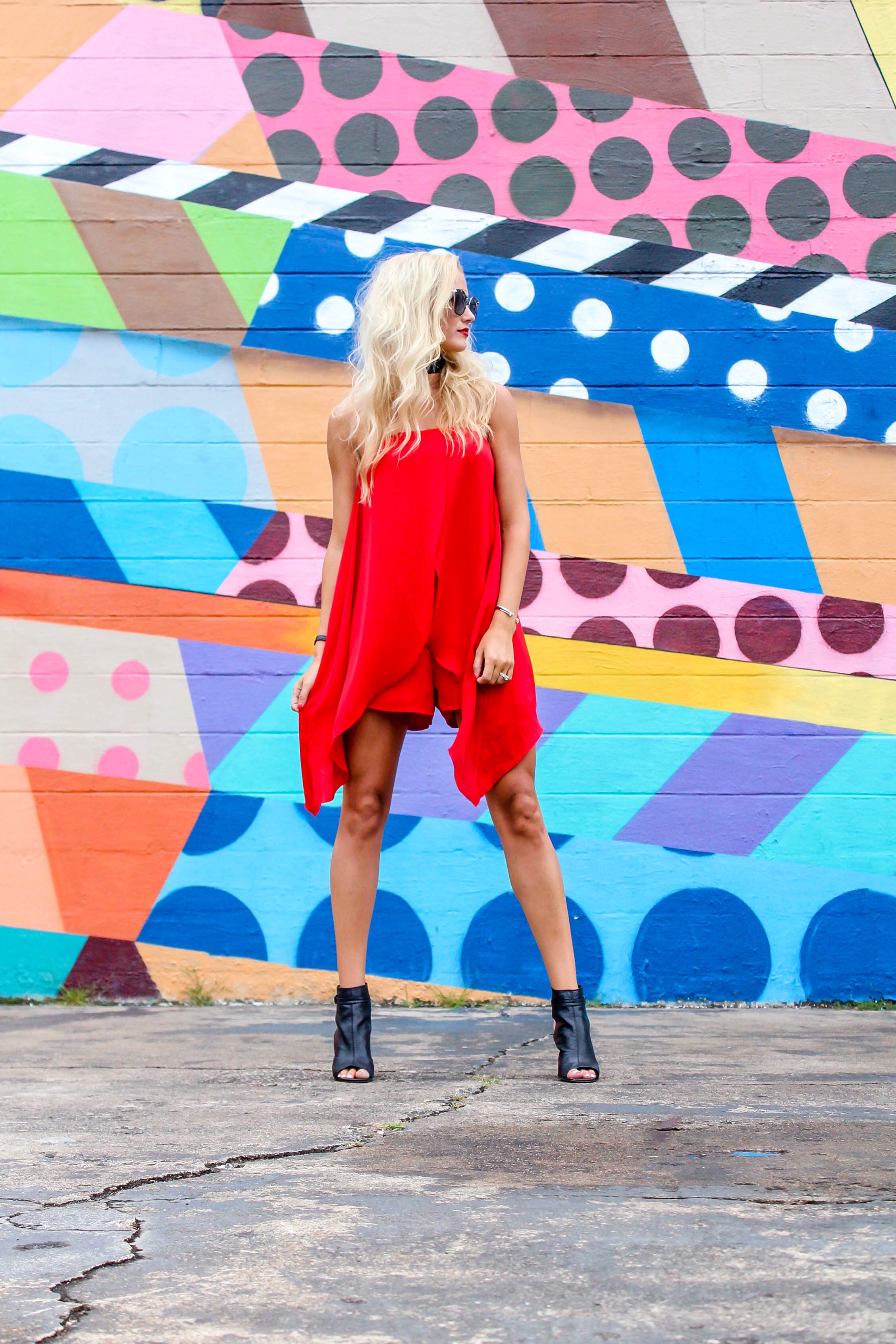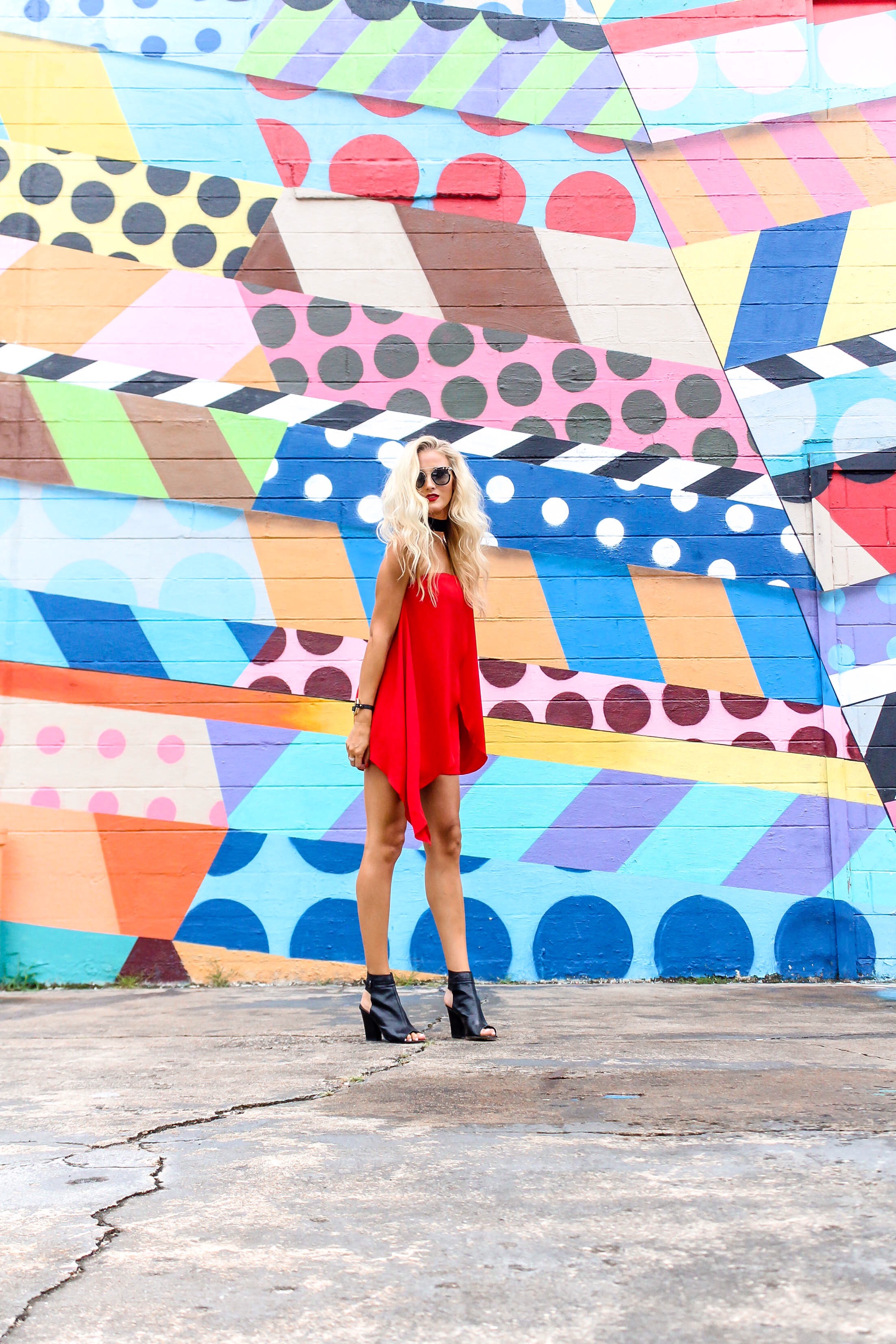 red double layer romper | similar black bootie sandals | wide black choker (under $7) | DIFF Eyewear sunnies (use my code PEYTONDIFF for 25% off!)

Surely by now, you all have noticed that I of course love my b&w chic looks, but I am also pretty color-obsessed at times and love embracing the bold, unique vibes that bright colors bring about. And to make it even better, add in a wall mural! Now we're talkin'!
I had a meeting in Nashville this week, and while I was on the way to the meeting, my mom and I spotted this gorgeous new wall in The Gulch. It was no question that we had to shoot there, and luckily I had planned on shooting a couple new looks to share with you all while I was in town (one of the outfits being this red romper) so it was clearly just meant to be. 😉
After shooting this look in front of the new mural, I got the idea to share with y'all a few of my favorite 'Instagrammable' places to shoot if you are ever in Tennessee! Everyone loves a good art wall for a photo op, right??
1. Multicolor Geometric: This is the wall featured in my photos in this blog post! It is located at 11th Avenue South and Laurel Street in Nashville, TN. (There's also a green/aqua mural right beside it that is really fun and relatively new!)
2. Multicolor Staircase: So maybe this one isn't technically 'wall' art, but it is still really cool and makes for the perfect back drop. I just shot a blog campaign at this location not too long ago! These are located at the corner of Cumberland Avenue and 11th Street in downtown Knoxville, TN.
3. What Lifts You Wings: Most of you have probably seen these infamous wings before, but they really are an iconic place for a photo op if you find yourself in Nashville! They are located at 302 11th Ave. S. I shot this blog post there!
4. Green Pea Salon Floral Wall: This is another fun mural in Nashville, and it's a spot where you can see two walls of art at one time – right across from the floral wall is the 'Make Love, Not War' art wall (you can see part of it at the bottom of this post). These are both located at 2900 12th Ave. S, on the side of Green Pea Salon.
5. Draper James Blue & White Stripes: If you haven't had the opportunity to visit a Draper James store, I highly recommend it! I love all of the southern hospitality that you get as soon as you walk in the door. And, of course, the stripes on the side of the building make for the perfect photos at the end of a shopping spree! I shot these photos at the one in Nashville, located at 2608 12th Ave S.
---
I hope you all enjoyed this post! Be sure to tag me if you stop by one of the murals listed above so I can see your pics! Street art in general is seriously so fun, and I hear that the LTK He(art) Wall (originally in Dallas) is coming to NYC while I'm there for fashion week, so I'm sure you'll be seeing a photo of that one soon. 🙂
Thanks for stopping by!
xo, P