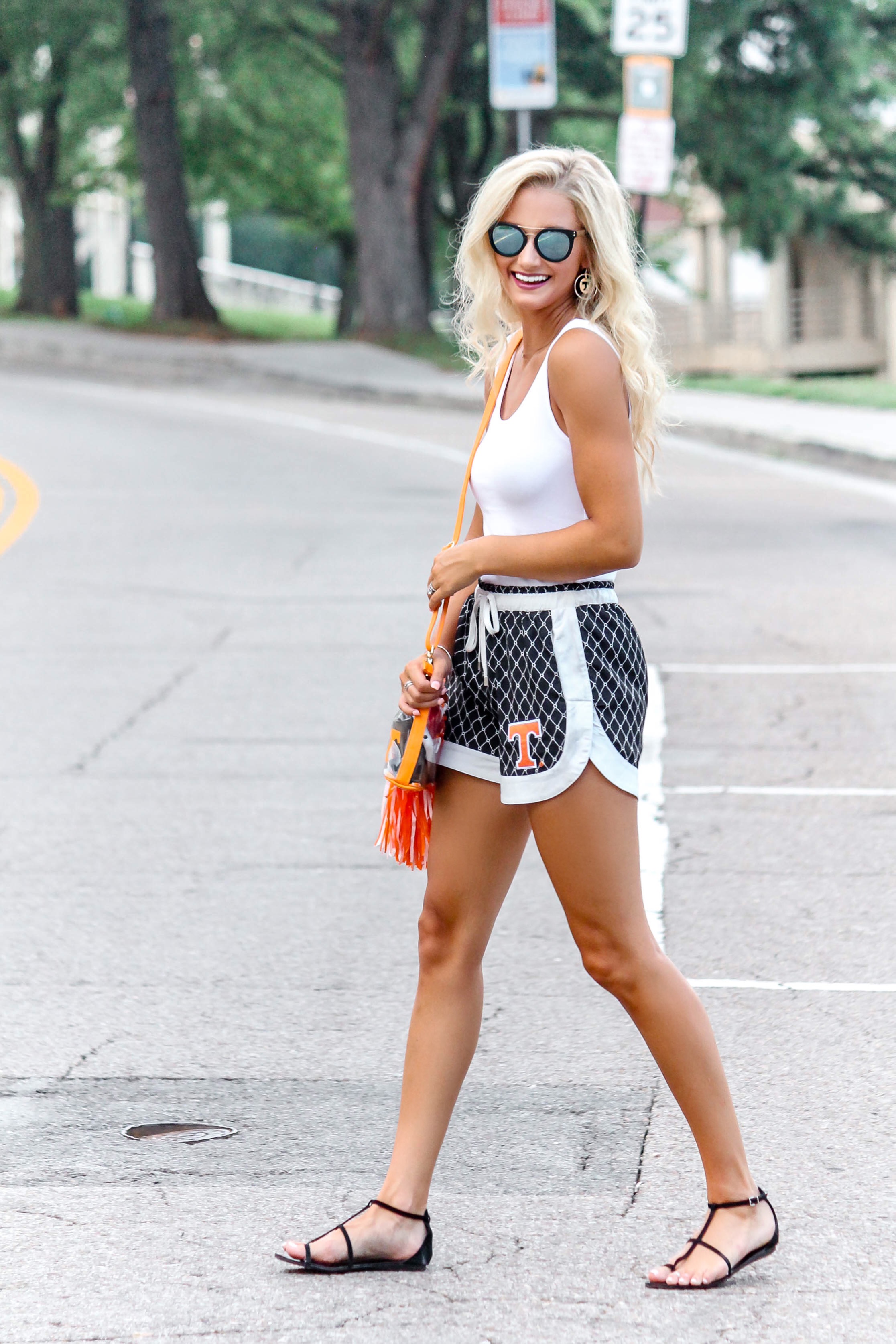 Football season is SO close, and I couldn't be more excited to be back in Neyland Stadium cheering on our Vols! However, our first game will actually take place at the new Mercedes-Benz Stadium in Atlanta, so the hubs and I will be roadtripping to support the Big Orange. It's actually an exciting game for us because Tennessee is playing Georgia Tech, and both of these are TJ's alma maters. He graduated from undergrad at UT (as did I) and then went on to get his Masters degree at GA Tech (I did not LOL 😉 ).
Since it's almost time for some football Saturdays (and Sundays if you're an NFL fan), I figured I would share this outfit that would be perfect for those first games (that are oh so hot) and share my top ten must-have items for game day!
white sleeveless bodysuit | b&w Power T drawstring shorts (wearing a size small!) | similar black sandals | black sunglasses | Power T silver earrings | clear Power T crossbody | Tennessee bowties coozie | Alex and Ani silver Power T bangle | orange and white shaker
This outfit would be so perfect for the first game in Atlanta or even the first home opener since it's going to be so hot. I love these drawstring black and white shorts because not only are they extremely comfortable, but they also allow me to show off my Volunteer spirit while staying true to my personal style – chic and trendy.
I love popping colors of orange or our traditional Power T – in a tasteful way! By keeping this outfit simple up top and just featuring my Tennessee spirit on my shorts and in my accessories, I don't feel like I'm 'overdoing it' on my game day style. The trick is to find a few pieces of Tennessee gear that you want to showcase within your outfits and let those pieces shine!
Also, be sure to pay attention to weather before heading to the first game. Outfits like the one I'm wearing in this post are perfect for those scorching hot games — us UT fans are all too familiar with this! Or maybe it's supposed to rain … think about bringing a rain jacket or throwing one of those disposable ponchos in your clear bag. It never fails – there's always at least one rainy game during the season, so it's best to be prepared before arriving to the stadium!
Speaking of clear bags, don't forget about the clear bag policy that has been put into place at Neyland and many other stadiums (both college and NFL) around the country. There's NOTHING worse than getting up to the gate, handing in your ticket and having to turn around to take your purse allllll the way back to the car because it was too big to be 'stadium approved' or it wasn't clear.
Luckily, I found this clear crossbody that I will be carrying to every game this season. It's honestly the cutest clear bag that I've seen thus far … plus it has a Power T, which I love! It has orange, vegan leather accents and a zipper closure so that nothing falls out when you're walking around campus all day. What I love most about it is that it is so durable! I had one of those clear, button-closure, chain crossbodies last year (I'm sure we have all seen them and know what I am talking about), and it was good for a few games, but before the end of the season, my poor little clear purse had seen some much better days. It was falling apart … This new one seems like it is so much stronger and more durable – plus it's just way cuter in my opinion, so it's a win-win all around! (PS – it also comes in two sizes. Mine is the smaller version.)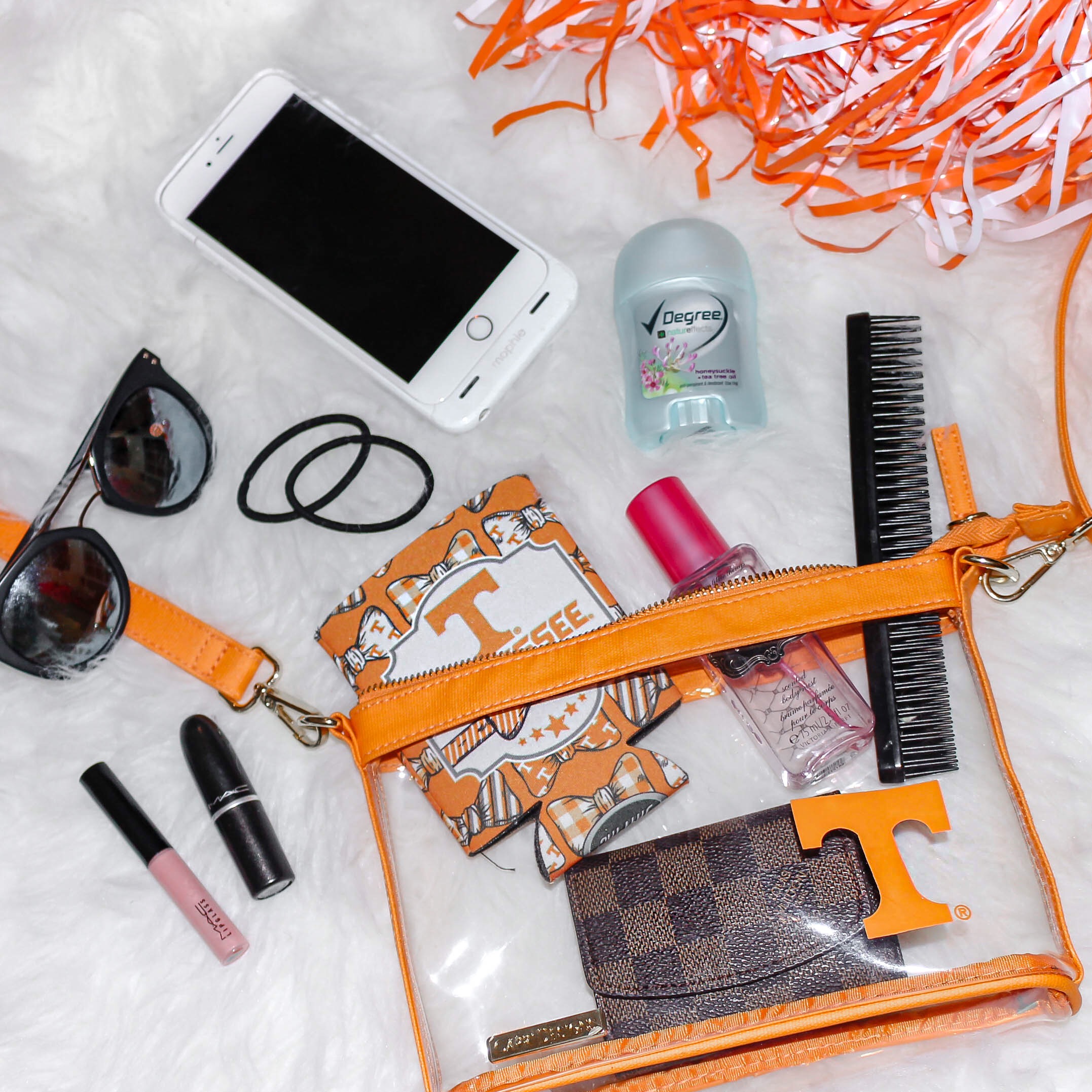 Since we're on the topic of this new stadium-approved bag, I wanted to share my (first and) TEN items that I bring with me every game day (I even brought most of these items when I was still cheering at UT)! Hopefully, this will help you prepare for the first game so that you don't forget any of the necessities (because a teasing comb is definitely a necessity, duh 😉 ).
1. Clear, Stadium-Approved Bag: Obviously, I just talked about it for a good 5 minutes, ha! Just go ahead and do yourself a favor and order this one. Trust me, you will love it as much as I do!
2. Wallet: Cash, credit card, your I.D., loose change incase you need to park at a meter, TICKETS (double check that you have these!)
3. Teasing Comb or Brush: I wasn't kidding y'all! Between tailgating in the hot sun for hours and going nuts when the Vols score, you'll wish you had one when you go to the bathroom and see yourself in the mirror!
4. Mini Deodorant and/or Body Spray: Again, standing in the hot sun for hours in the midst of other hot, sweaty people (ew!), you'll be so glad to have one of these to freshen up a bit throughout the day.
5. Coozie: What's a game day without something to keep your drink cold? Maybe it's a coozie or maybe it's a Yeti tumbler like the one I shared in this post … either way, be sure to bring at least one of these options to the tailgate!
6. Lipstick and/or Powder: I mean, maybe it's just me, but really, who leaves home without at least one tube of lipgloss or lipstick??? Kind of like the deodorant and the comb … you'll need some lipstick to freshen up throughout the day after you've eaten your way through the tailgates and the concession stands like I always like to do! Powder is also great to have if you get really sweaty throughout the day!
7. Hair Ties: Almost every girl I know tends to have her hair up in a ponytail before the end of the game – we all do it because we get a little toasty and our hair turns into a hot mess, but a lot of the time, we forget to bring a hair tie (because we usually think we have one on our wrist already, #amiright or #amiright?) Might as well go ahead and throw in an extra one as well because chances are, one of your girlfriends will be asking around to see if anyone has an extra!
8. Sunnies: Repeat after me, "Never leave the house without sunglasses." — especially on game day!
9. Phone & Portable Charger: Obviously, none of us go anywhere without our phones, so I doubt we would forget this necessity, however, it may be smart to also throw in a portable charger since game day usually turns into a day long event for most people. I have a Mophie charging case on my phone that gives me a full extra battery charge, so I just use it once my phone starts dying.
10. Orange and White Shaker: It's football time in Tennessee & you're headed to cheer on the Vols, so you definitely can't forget your shaker!! Maybe it's the cheerleader in me, but I bring at least one with me to every single game 🙂
---
I hope you all enjoyed this post and now feel more prepared for football season! It's soooo close, and I am pumped!! I can't wait to share my game day perspective with all of you in just a few more days!
Vol fans – I want to know if you are going to the first game against GA Tech! Comment below & let me know. I hope to see you guys there!!
xo, P
*Thanks to @vol_gear for sponsoring today's post!