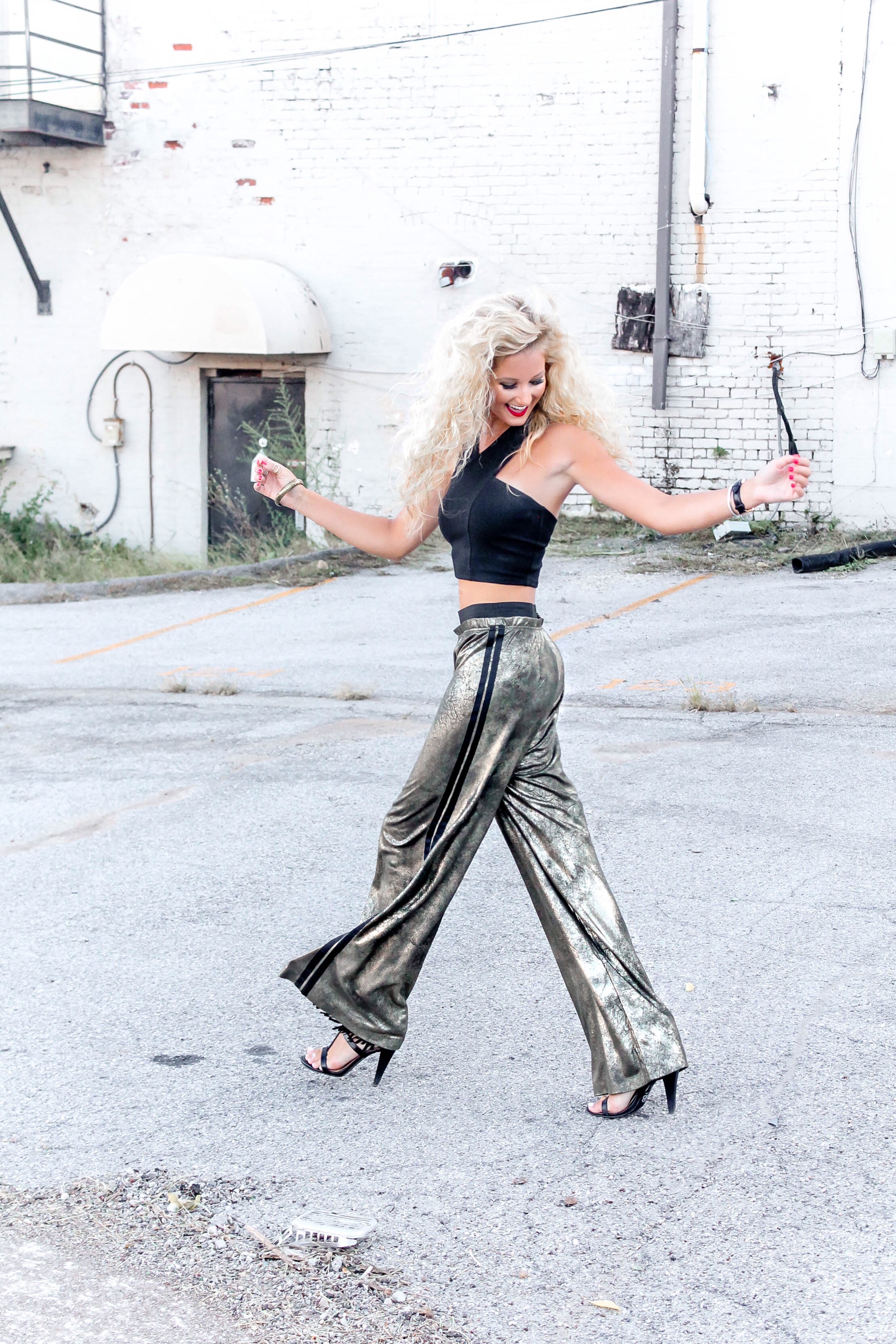 Today, I turn 24 y'all!
I know 24 really isn't that old, but is it weird that this is the first birthday that I've ever actually felt older? LOL. I've never been one to hate birthdays or hate aging (yet) — actually, I have always really LOVED birthdays! They have always been a huge part of our family, so this is just a natural instinct for me. Loved ones dedicate a whole day to celebrating your life and reflecting on all of the sweet memories you have together, and it's all around such a special day that is all about you! Who wouldn't love that, right? 😉
To celebrate my birthday with y'all here on LNL, I decided to change up my usual FAQ Friday this week and instead, share 24 of my favorite life lessons that I've learned in my 24 years of living. Some are practical, some are comical, some are heartwarming — I hope you all enjoy!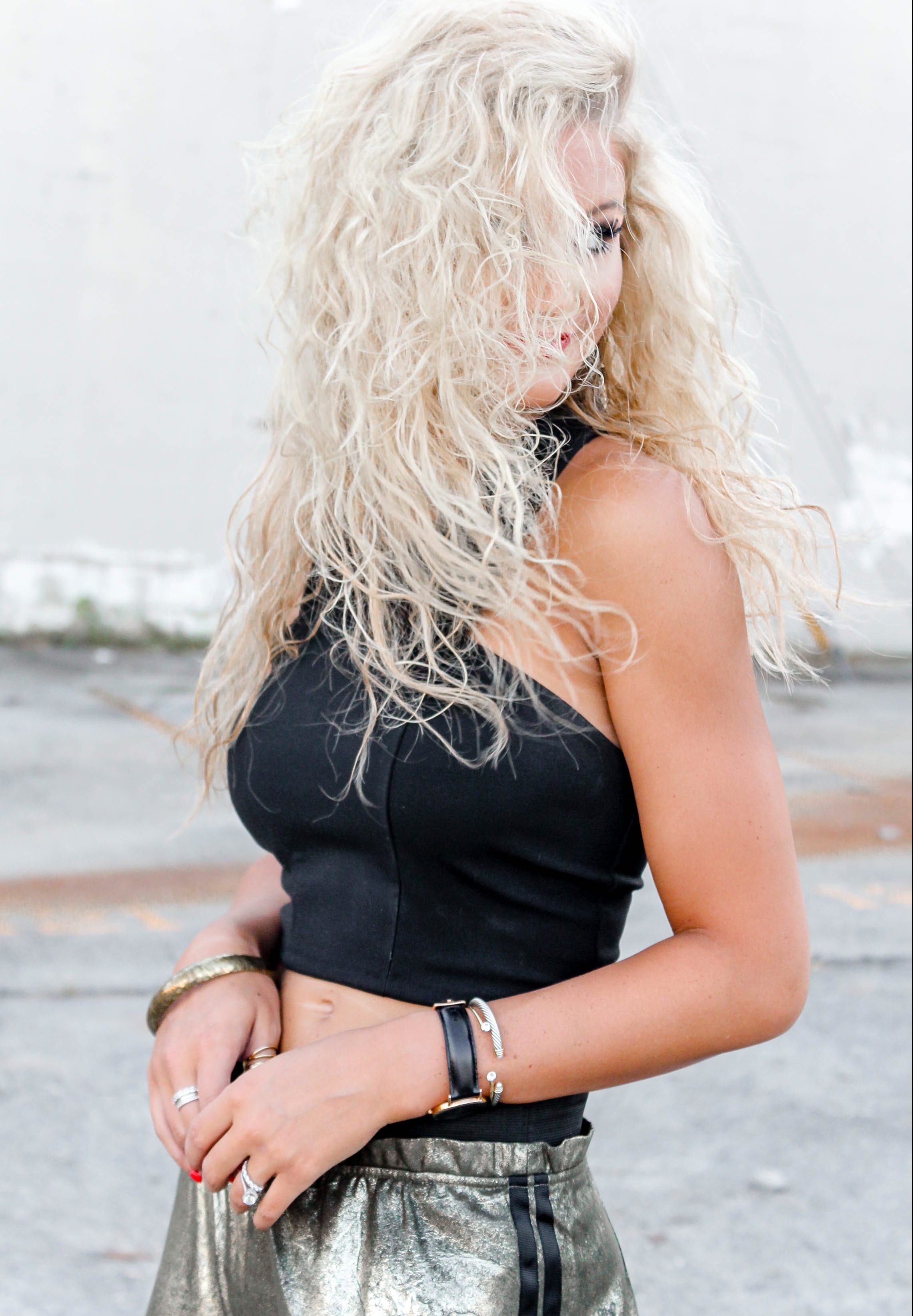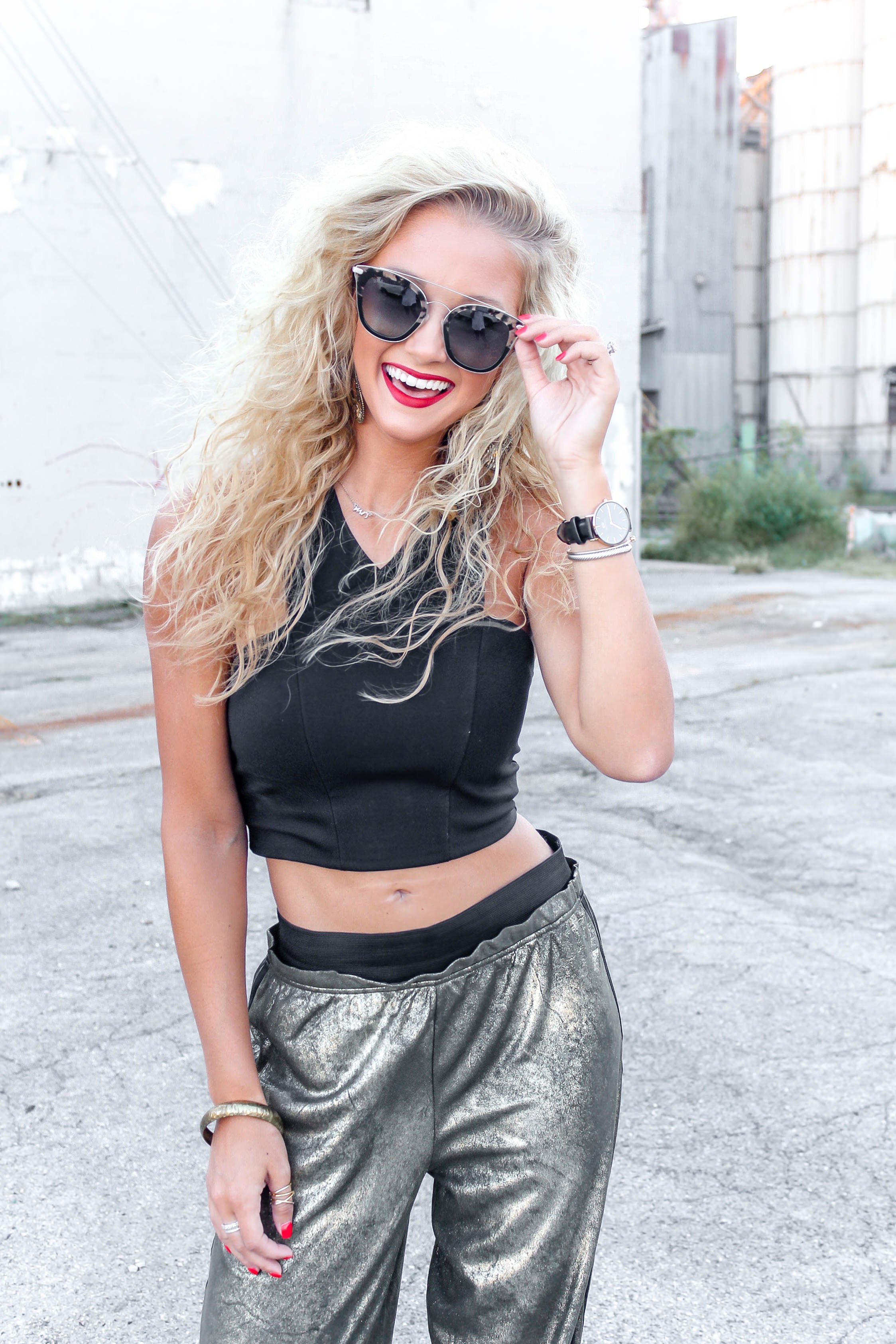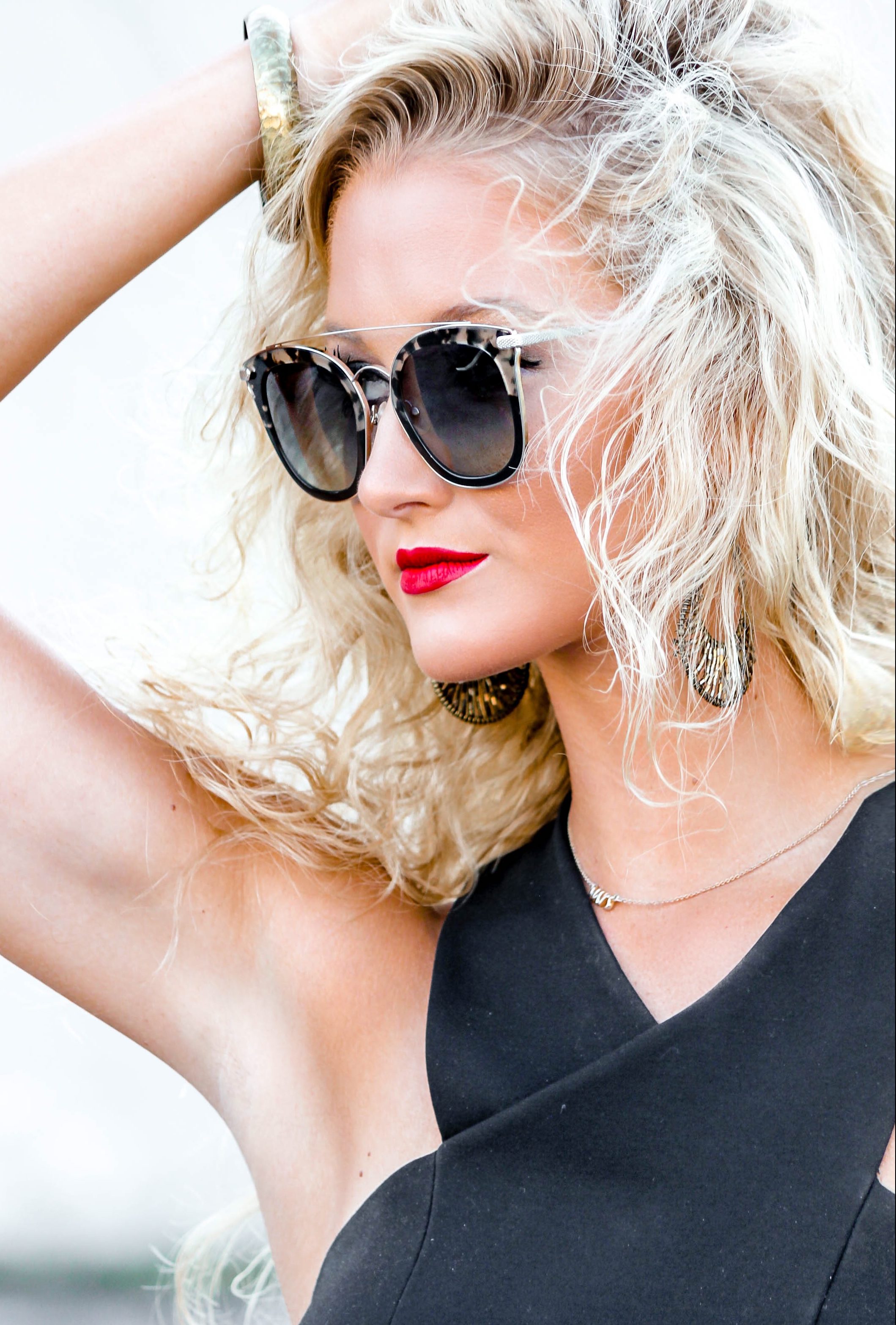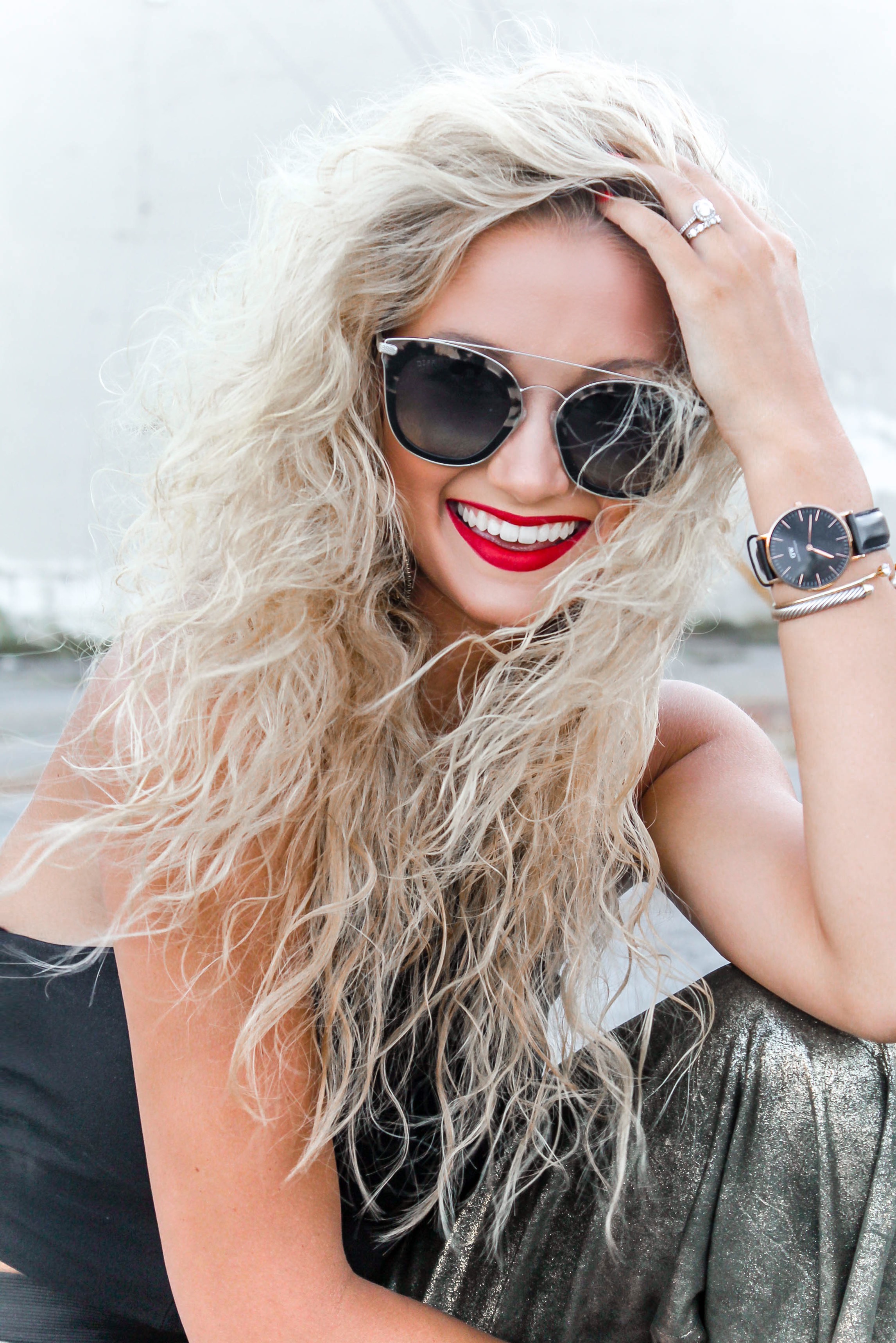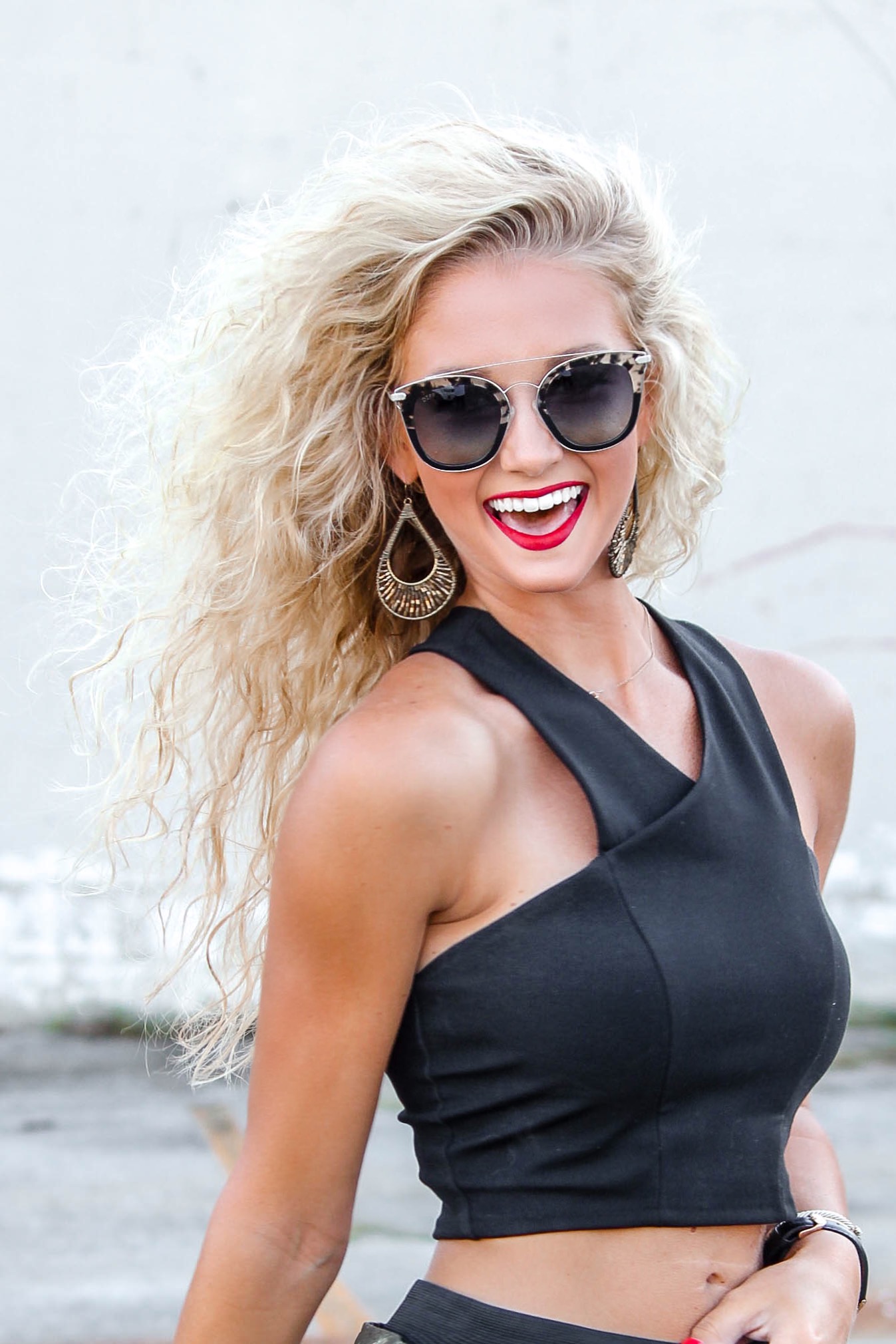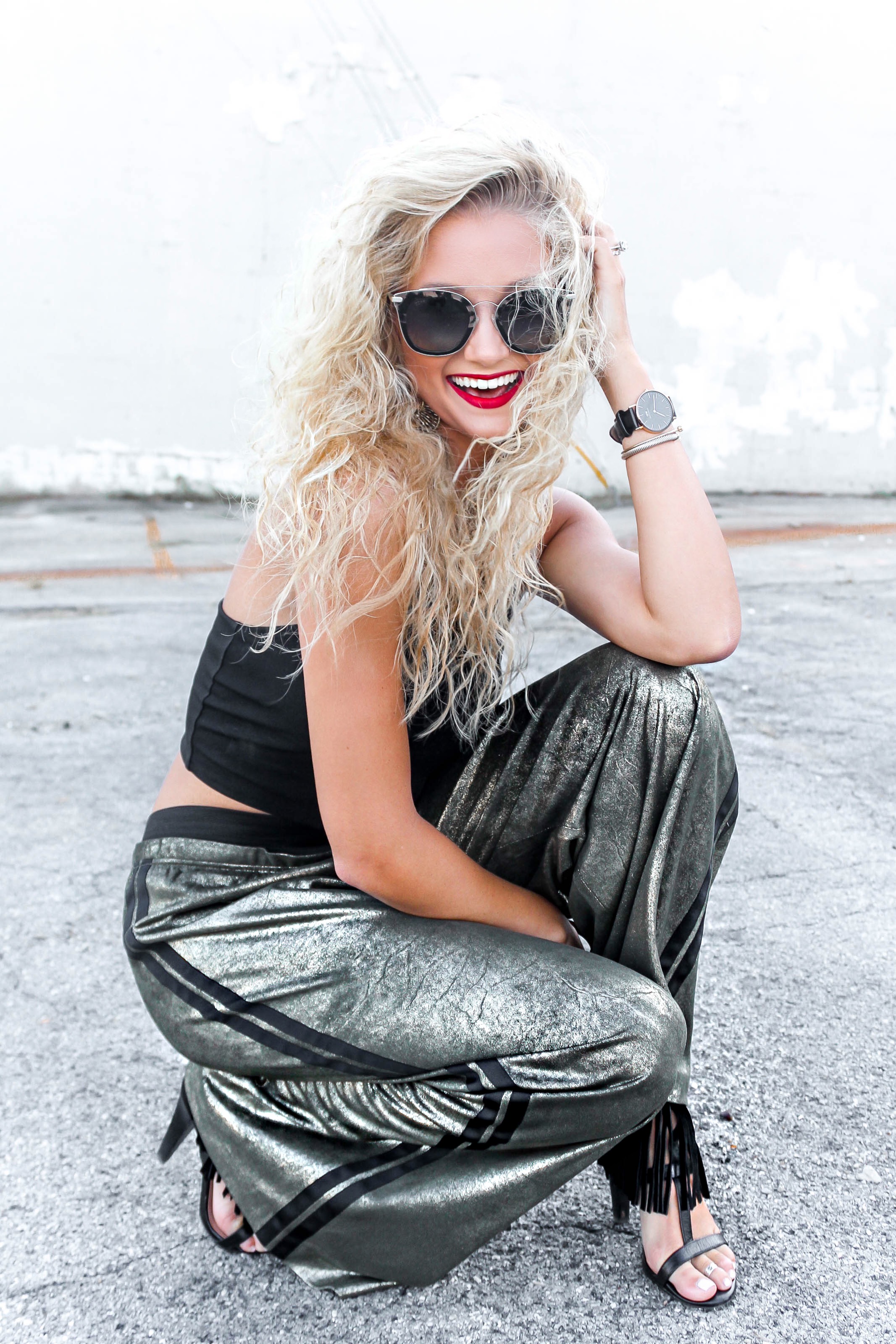 24 Life Lessons:
1. There's nothing in life that a little lipstick, coffee, chocolate, good company, or Jesus can't fix.
2. Never take yourself too seriously because no one else will. Be able to let loose, have fun and laugh at your past mistakes.
3. No matter how old you get, you will ALWAYS need your Mama.
4. Laughter and love ('n' labels 😉 ) are some of the greatest gifts in life.
5. Never settle for anything in life – relationships, careers, friendships, bad coffee, etc etc etc.
6. Haters are a total blessing – they make you work harder than ever before.
7. Be careful who you give your time (and your heart) to. Don't waste time on people who won't be supporting you 10 years from now.
8. When you look your best, you'll perform at your best.
9. Be kind to everyone you meet … you never know what people have to go home to at night! And to many, you may be the only positive part of their day.
10. It's okay to cry sometimes – just shut the door & let it out girlfriend.
11. Never stop chasing your dreams – even if they seem so far out of reach at the time. Everything is possible if you have God's blessing and the determination to pursue it. Don't take 'NO' for an answer!!
12. Happiness is a choice … You can decide to be happy and make the most of every situation or be stubborn and miserable.
13. BE BOLD. In your style, in your work, in your personality, in life.
14. Burn the nice candles. Wear that fancy outfit. Use the nice sheets. Break out the good dishes. Don't save everything for only the special occasions. Today is special too!
15. If you don't ask for what you want in life, you won't get it.
16. Cherish every second with your family.
17. Always forgive & ask for forgiveness (esp. for what you said when you were hot or hangry 😉 ). Even if it's the hardest thing you've ever done, it'll make YOU feel better in the end.
18. If you want to do something, DO IT. Don't wait around for it to just happen.
19. Pets, children and old people make this world a (much) better place.
20. COMMUNICATION IS KEY.
21. Be confident in who YOU are – it really doesn't matter what other people think of you. Only what God thinks of you & what you think of yourself truly matters!
22. Be quick to listen & never stop learning. (And, never be a know-it-all. No one likes those.)
23. Lifting others up to help them feel like the best versions of themselves is something you should strive to do every day.
24. Work hard. Hustle hard. Play (real) hard. Love hard.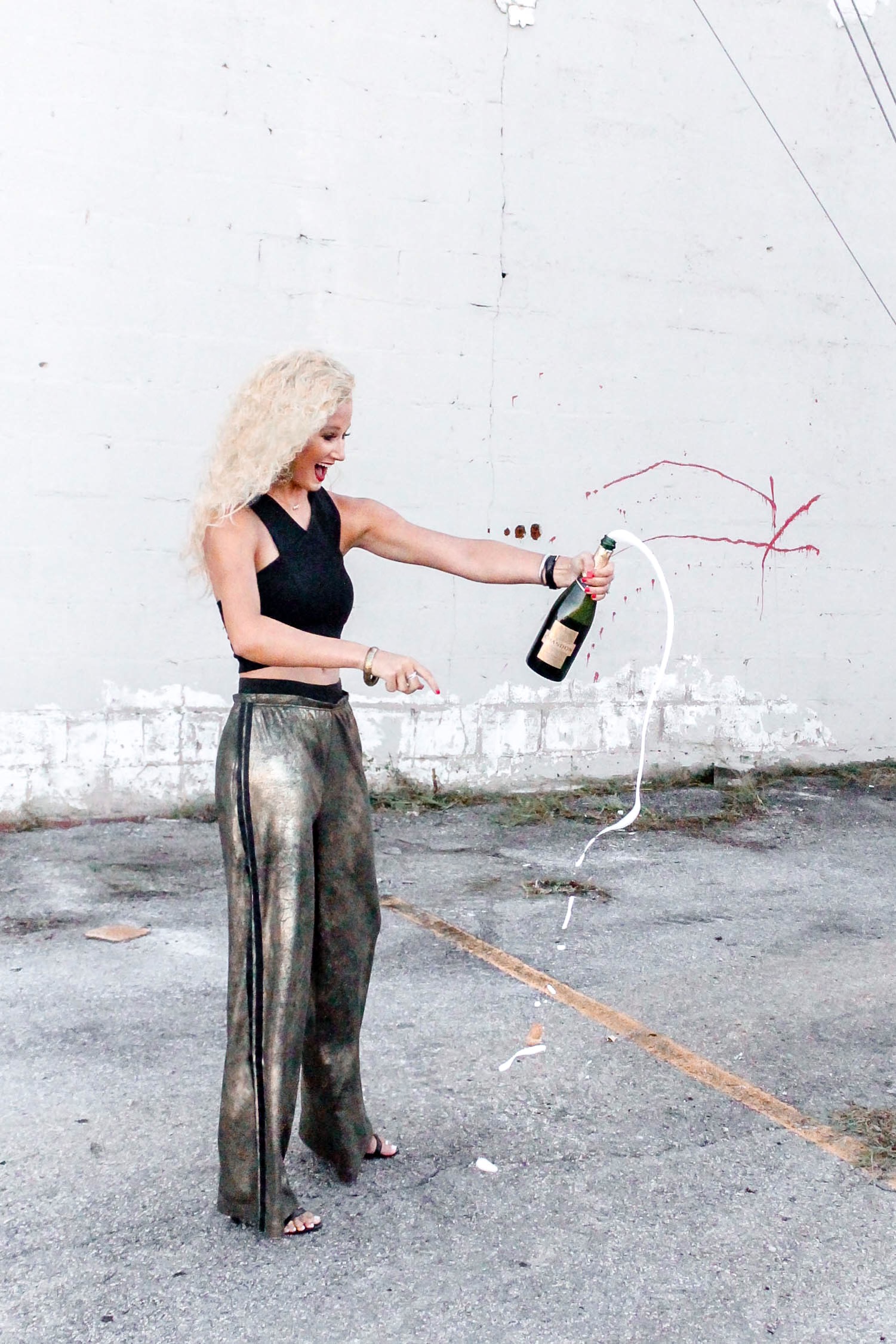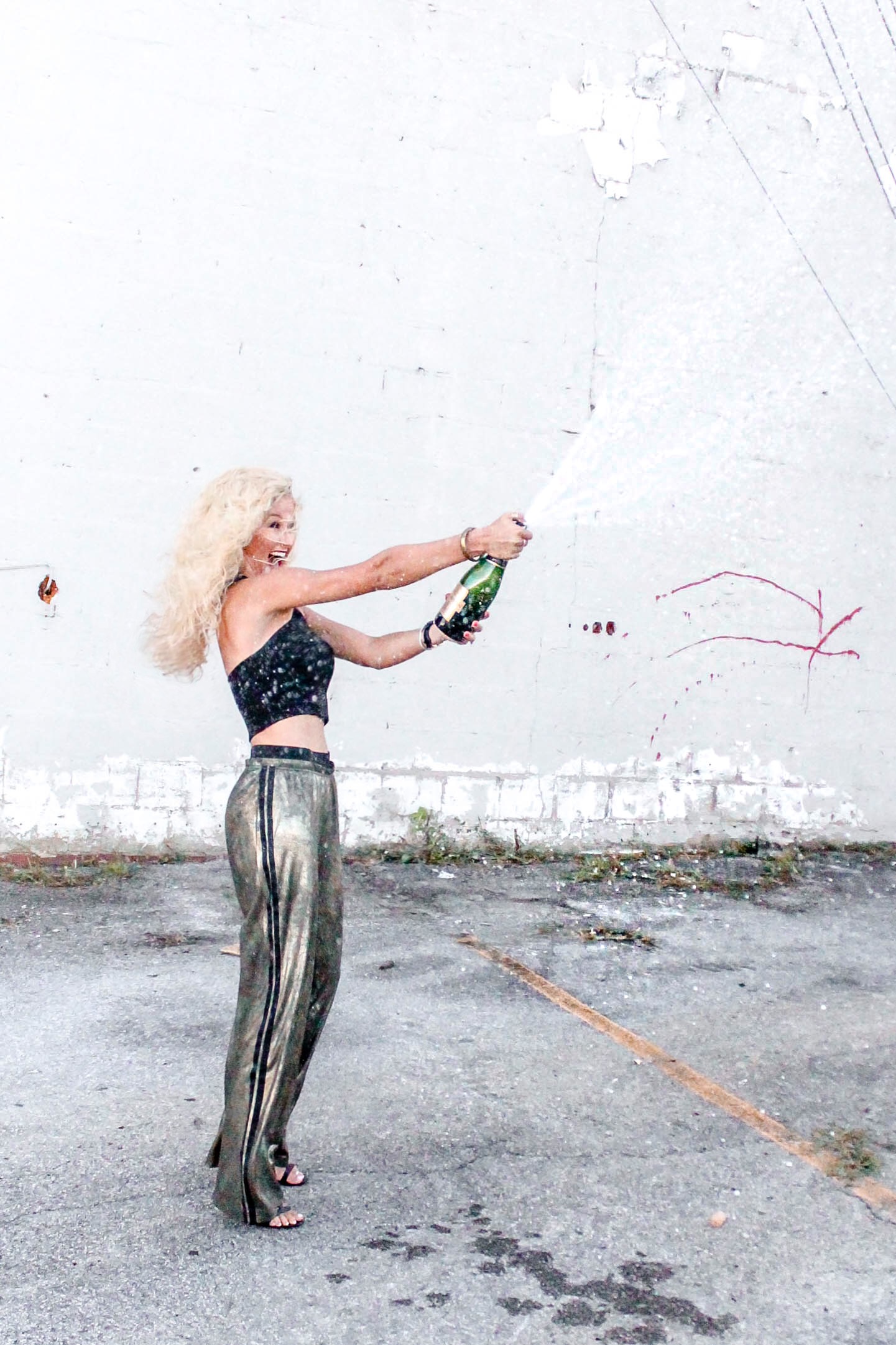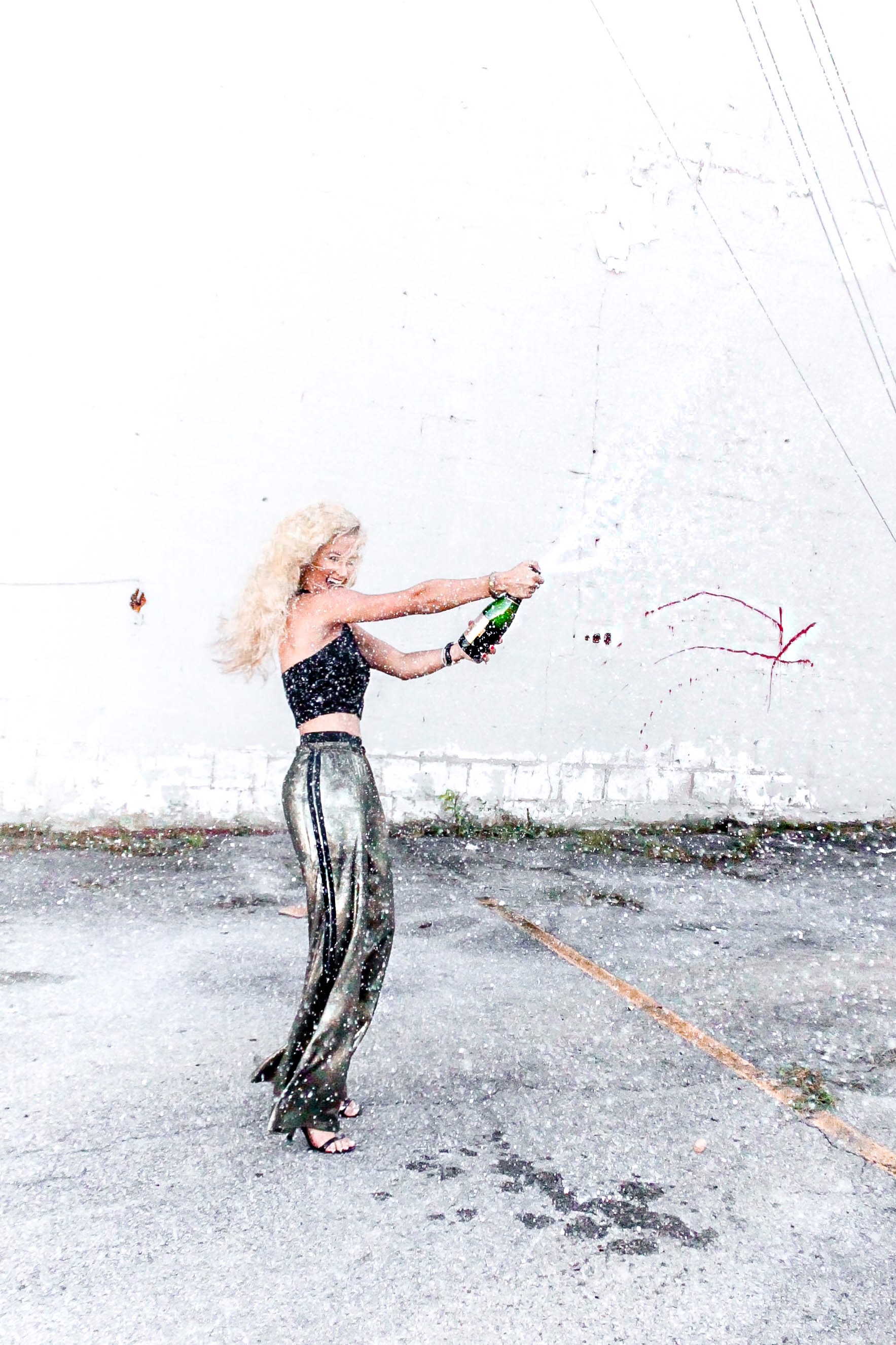 metallic black & gold track pants | similar black crop top | similar heels | Diff sunnies

I decided to showcase my new metallic pants in this post because 24K Magic, clearly! 😉 They are so extremely comfortable & show off your sporty glam side and they are on sale for under $40! I've linked the outfit details above if you want to shop.
Now, pop some bubbly with me – it's time to start celebrating! I'm calling it a day & starting my weekend early! Thank you all so much for all of the birthday wishes so far – you guys are the best EVER!!
Cheers to 24 years! Love ya, mean it!
xo, P