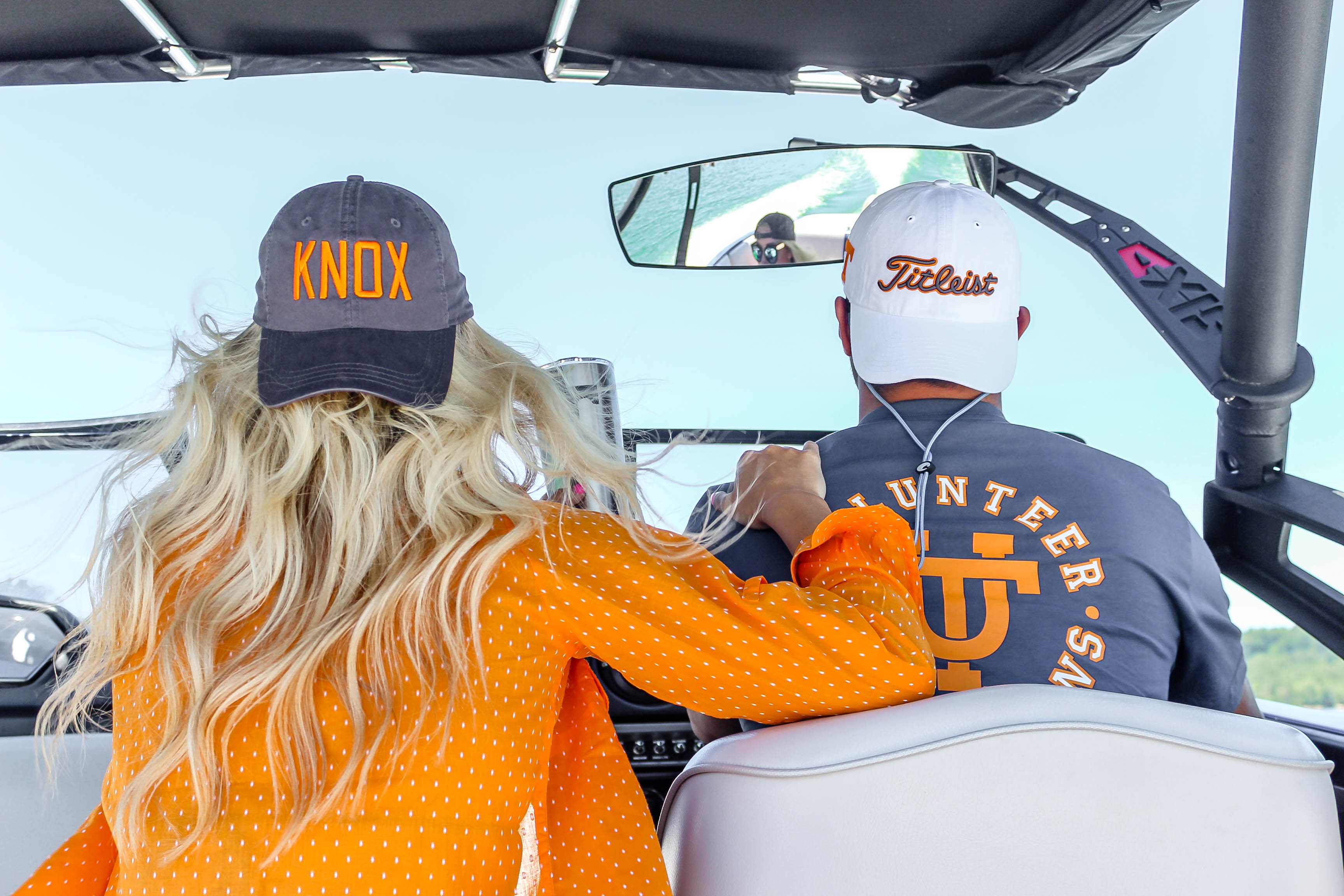 Being a warm weather, bikini-loving, summer kind of girl, you could say that I'm a little sad to see the season start coming to an end … especially since this has been one of the most fun summers that TJ and I have ever had together! You may remember this post from a few months ago where we announced a big purchase we made together – a boat! And boy have we gotten our money's worth so far! We had always wanted one of our own, but it had never seemed like the right timing. Actually, our purchase was (kind of) spur of the moment when we finally decided to just go for it – and it was one of the best decisions we've made this year! If you follow along with me on Instagram Stories and Snapchat, then you have probably noticed that TJ and I have been at Norris Lake almost every weekend the past few months. Needless to say, spending time with our friends and family on the boat has been a blast this summer, and I'll forever cherish the memories we've made.
PS – If you aren't from East Tennessee, trust me when I say that you have to visit Norris at least once if you're ever traveling this way. It's the prettiest, cleanest lake you have ever seen & holds such a special place in many hearts of East Tennesseans!
Speaking of Tennessee … surely you know by now that Teej and I (as well as our families and most of our friends) are die-hard Vol fans! TJ and I both graduated from (and cheered at) UT, along with most of our friend group. Our blood runs orange, and Rocky Top is truly our home sweet home!
Even though I'm sad to see summer go, I am looking forward to football season – it's like stepping into another world when it becomes football time in Tennessee. If you're a Knoxville native, you know exactly what I mean! With that said, I am so thrilled to announce that I am partnering with my big orange alma mater and @Vol_Gear throughout the fall to bring all of my LNL readers lots of game day outfit inspiration, tailgating ideas, tips on how to use your Tennessee (or game day) gear year round, etc etc etc. I hope that you'll follow along with me over the next few months as I show you all around my ole stomping grounds that are a big part of who I am today, while I share some really great tips and tricks along the way!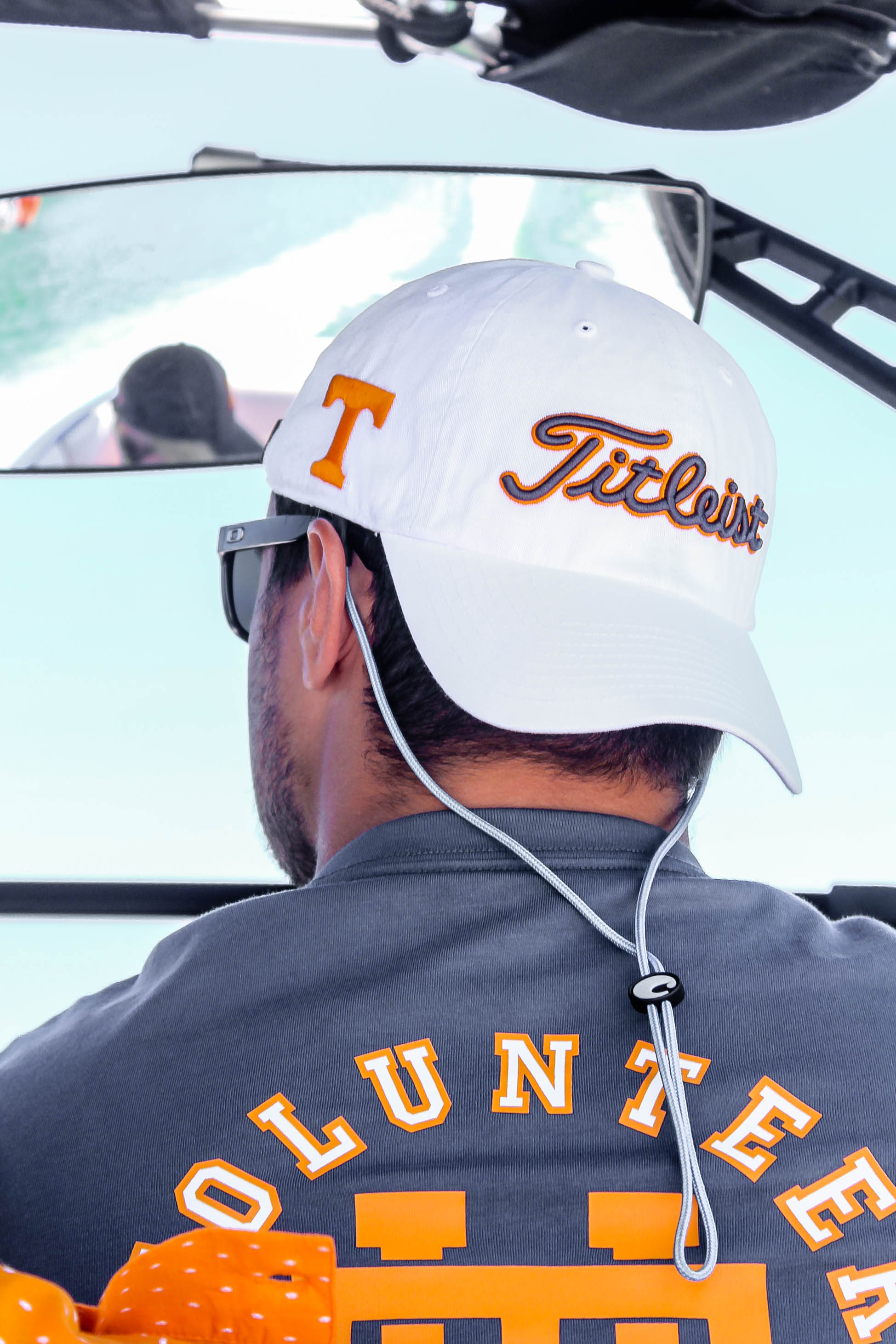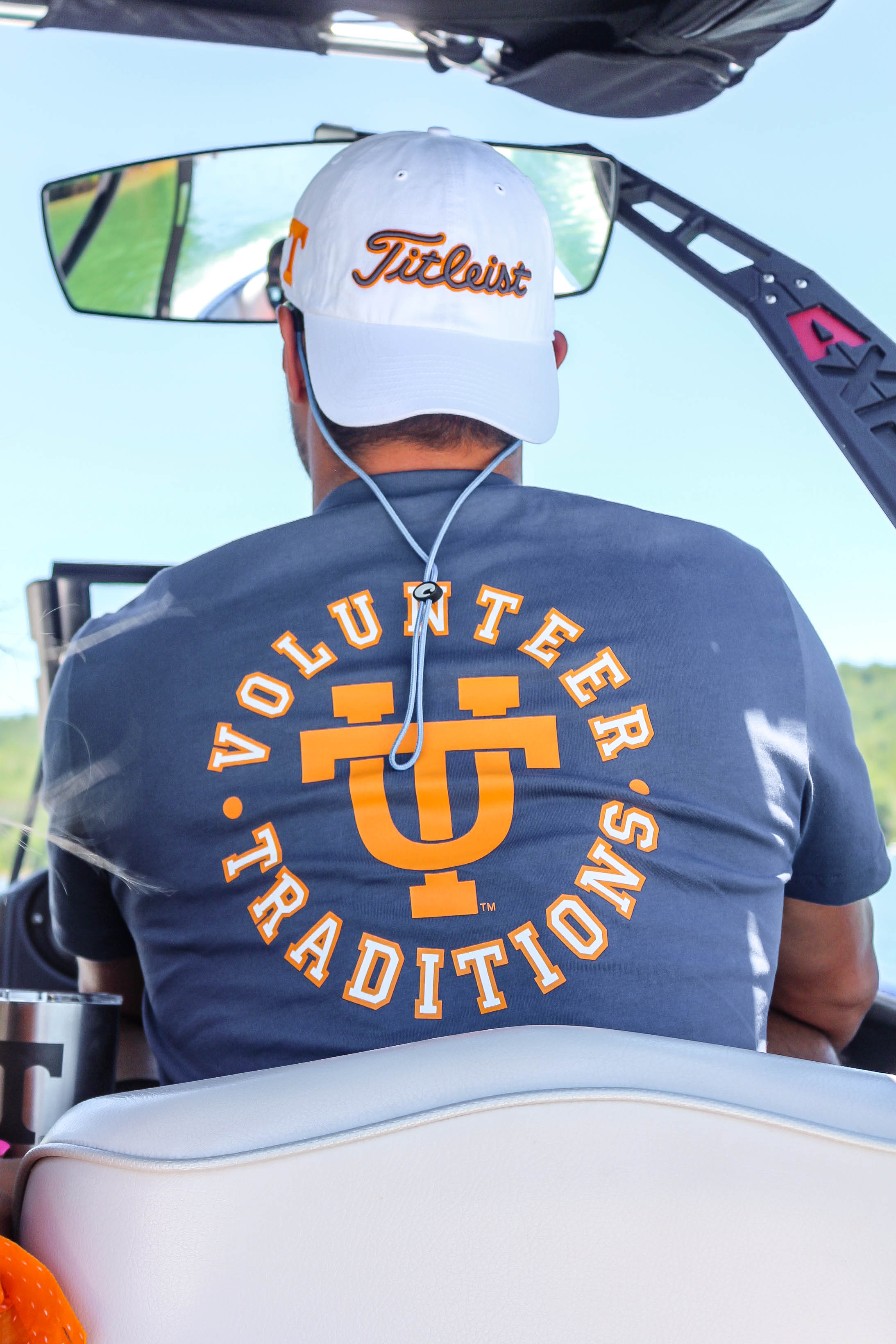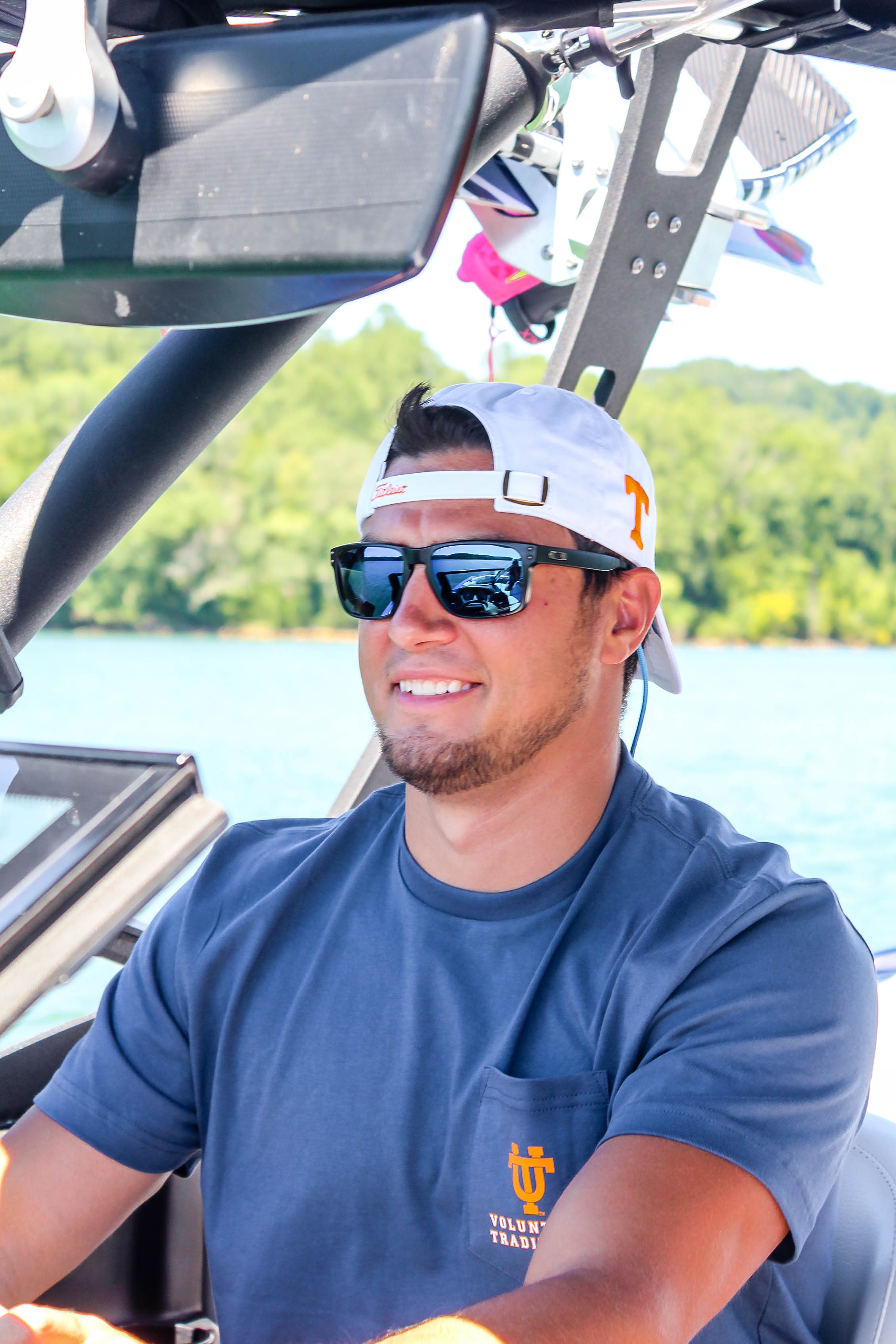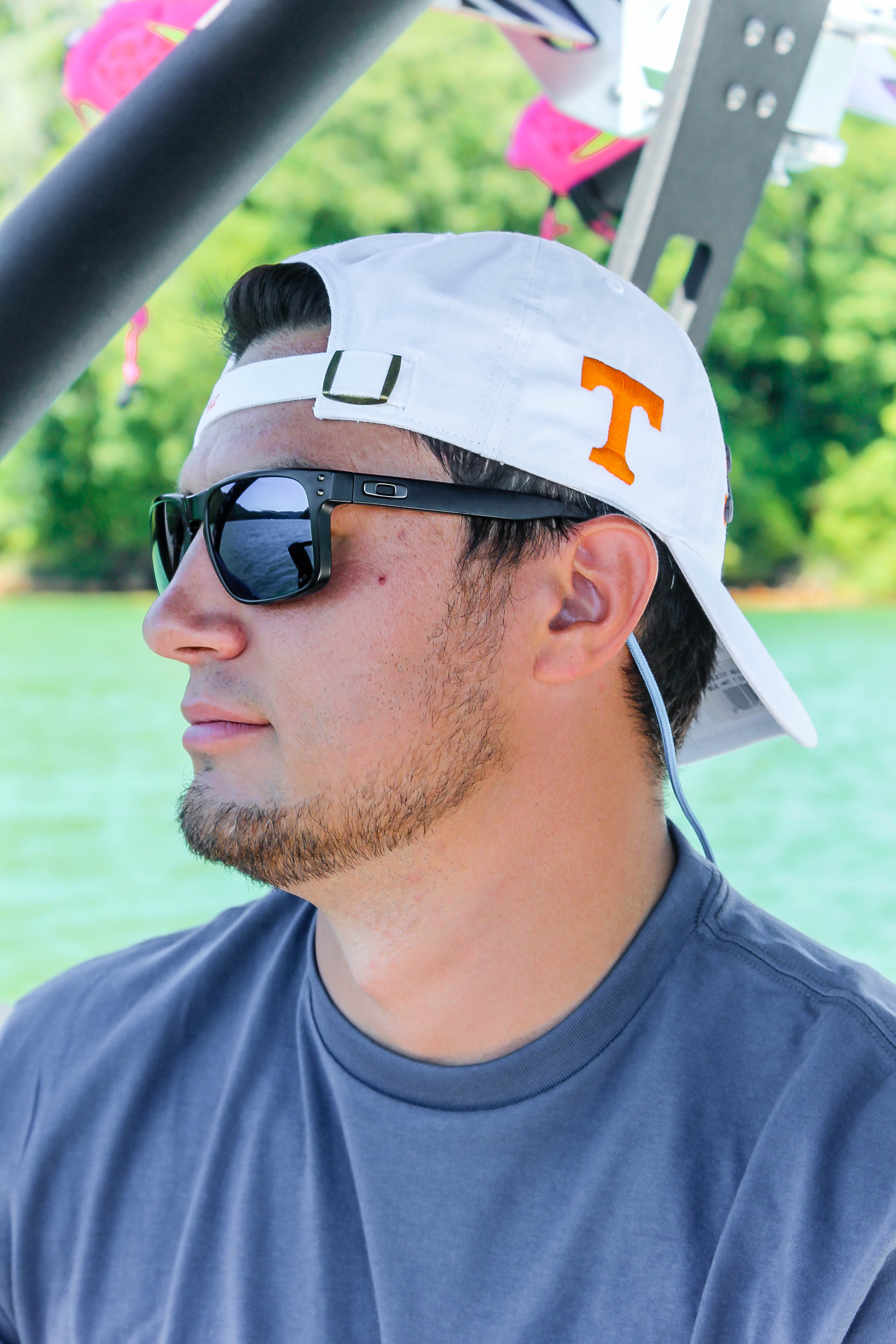 I wanted to share some of these pictures with you all today to let you see into our typical lake days … after all, that's all you guys get to see me talk about on most weekends, LOL! We typically arrive early in the morning and stay late into the afternoon on the water. Our favorite activity on the lake at the moment is wake surfing – ya girl is trying hard to get that 360 spin, but geez it's not easy! We also like to do some wakeboarding if the water is calm, and of course tube wars if the water is like an ocean that day.
Overall, it's so peaceful and such a nice getaway for a few hours. I guess you could call it our 'mini vacays'. Plus, I rarely have service there, so it forces me to get away from work for awhile (which since I work from home, I am not very good at getting away from my laptop or iPhone).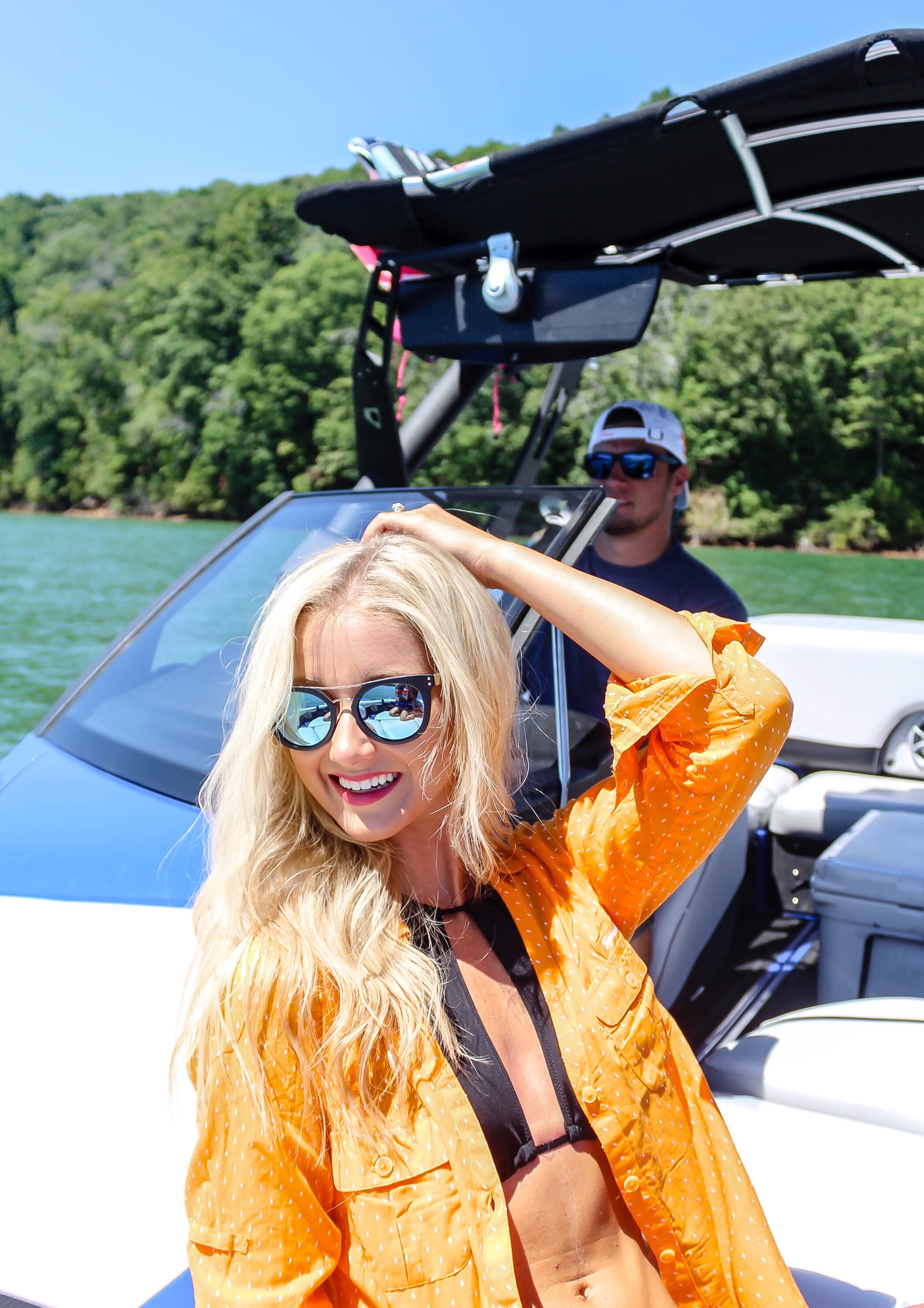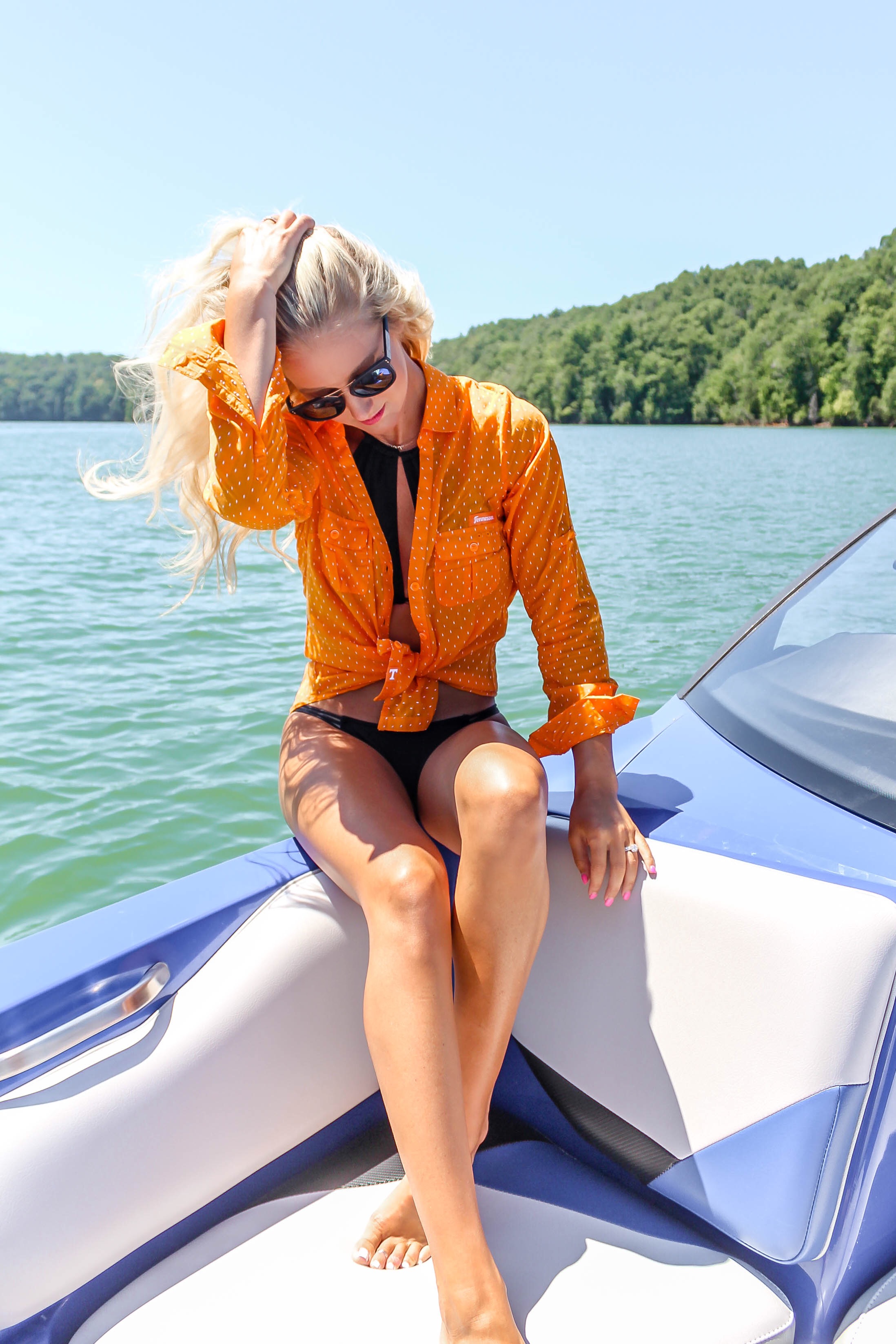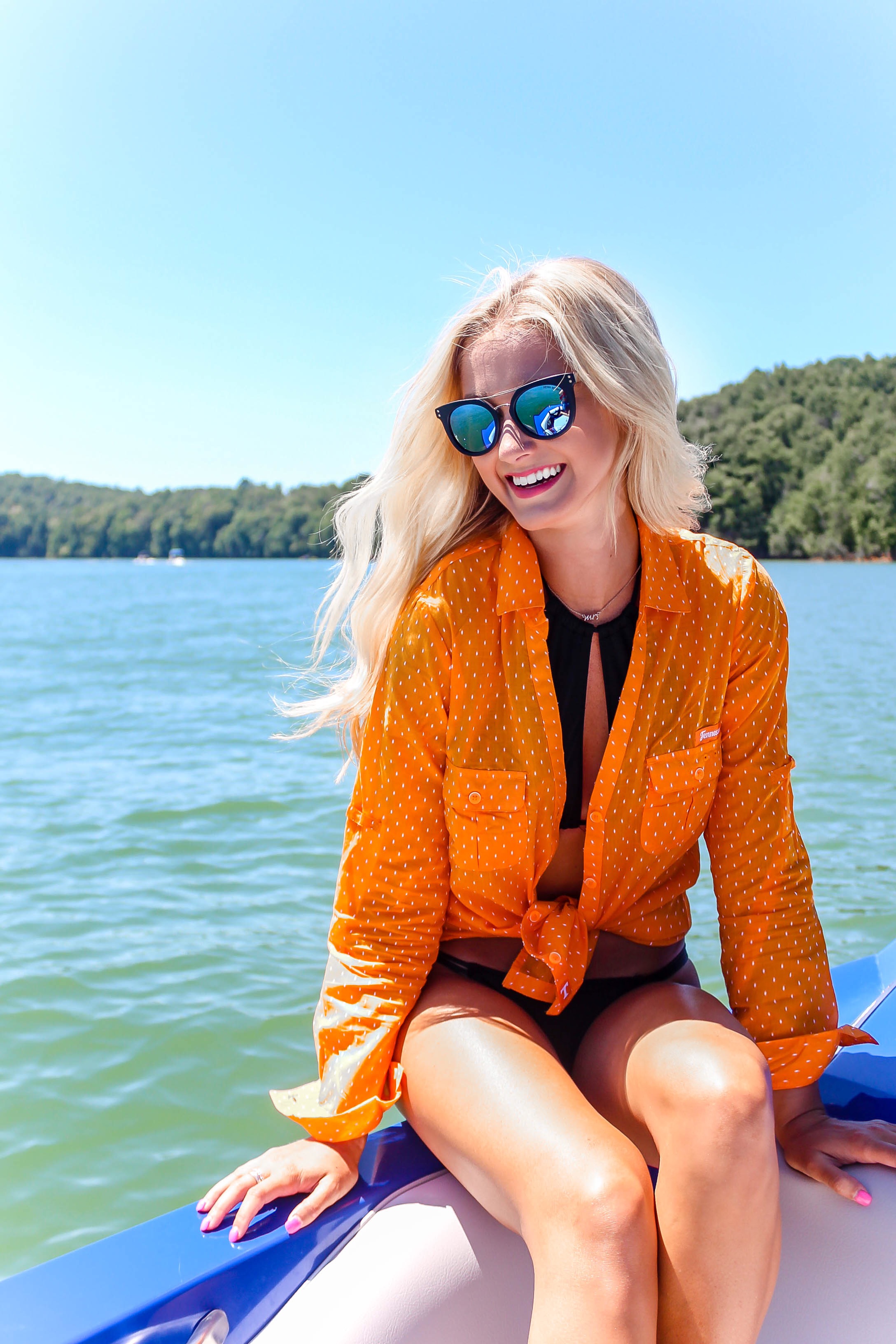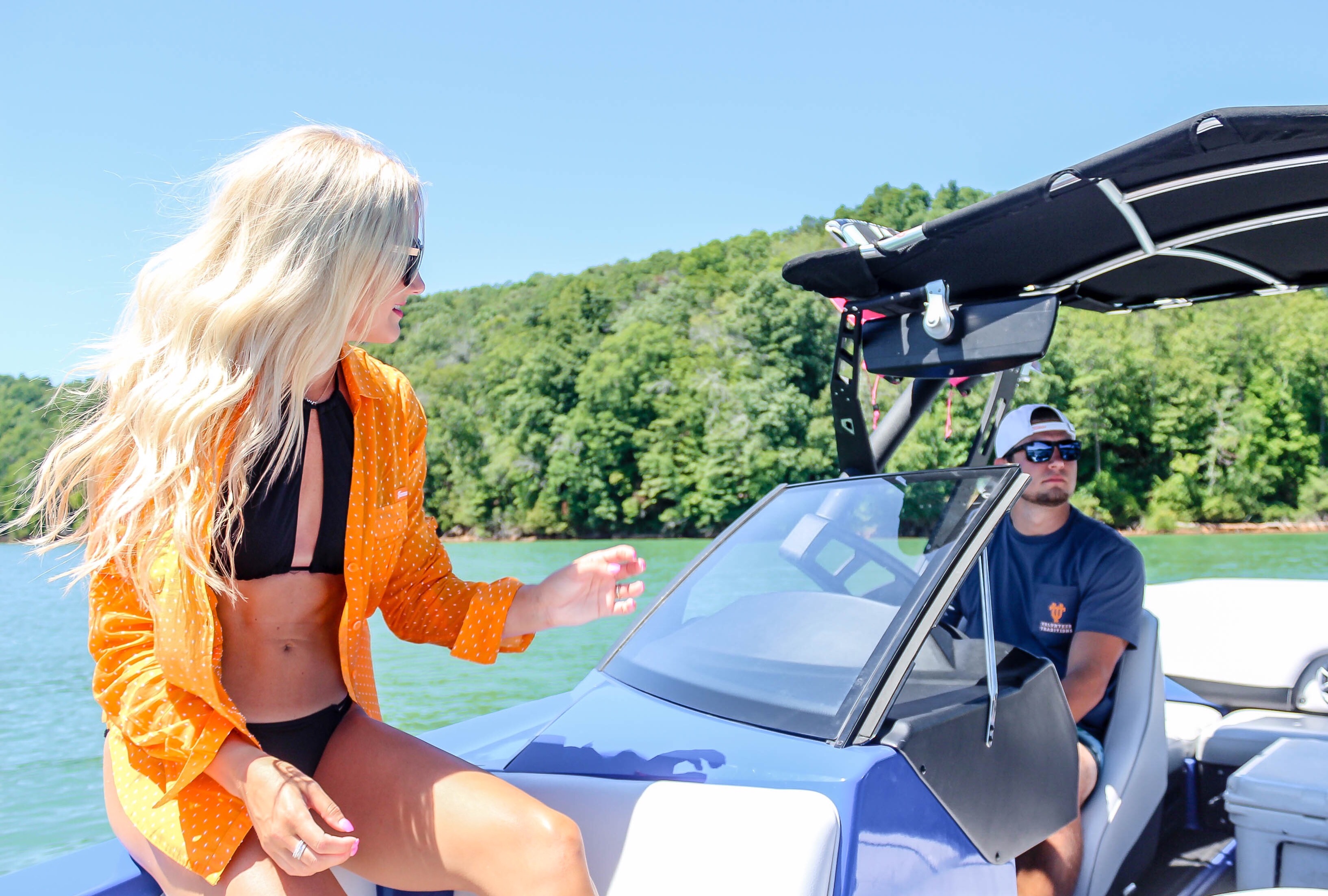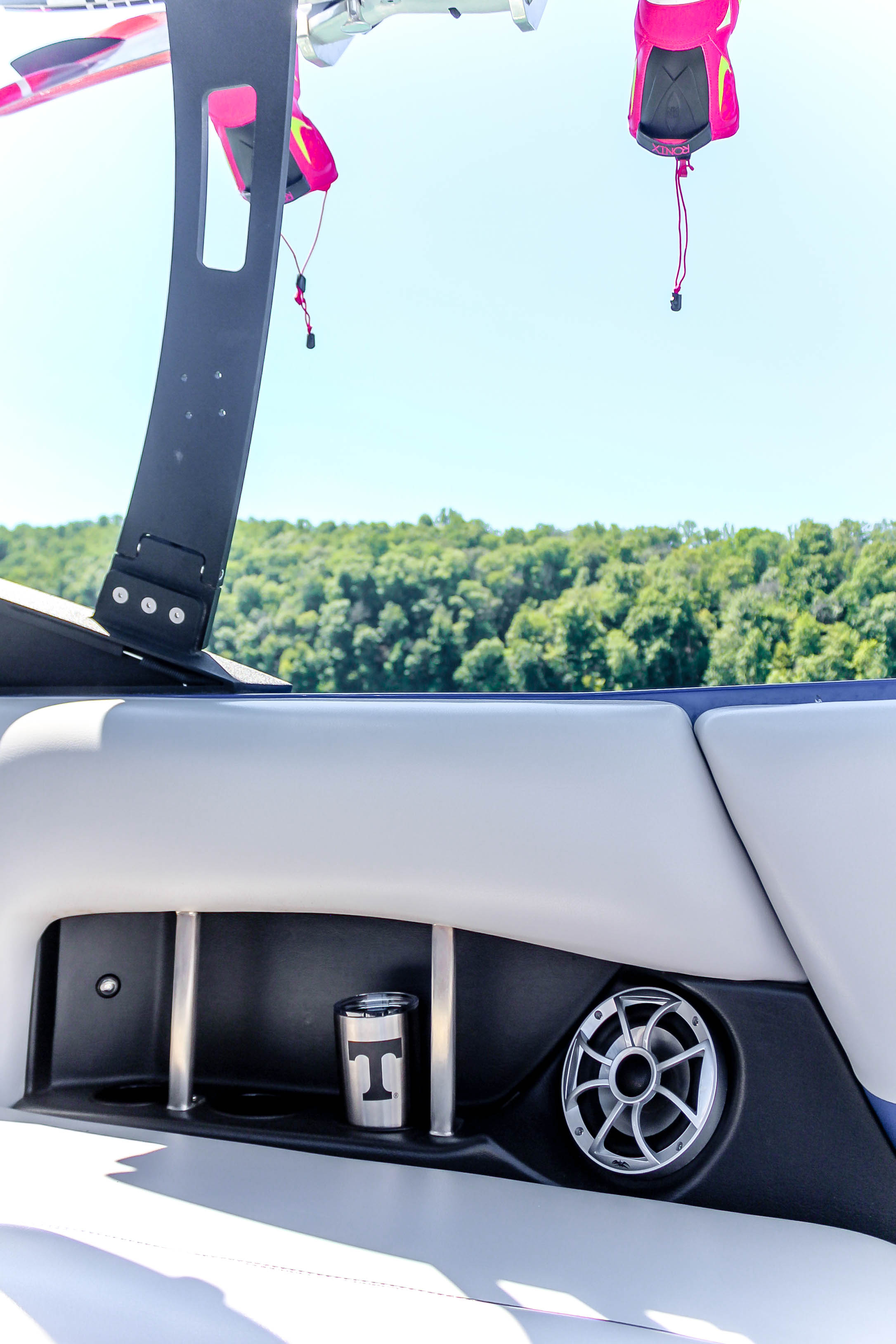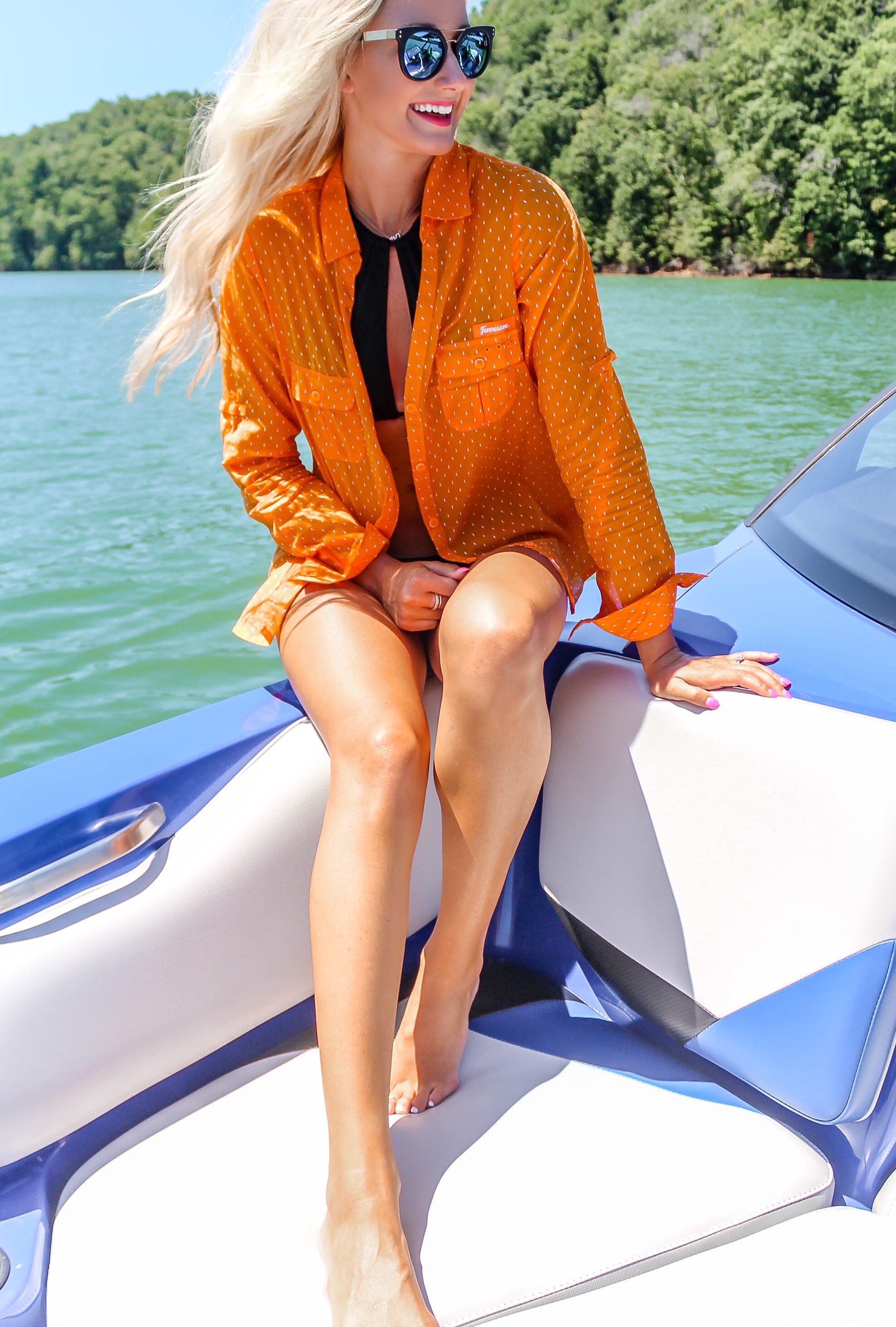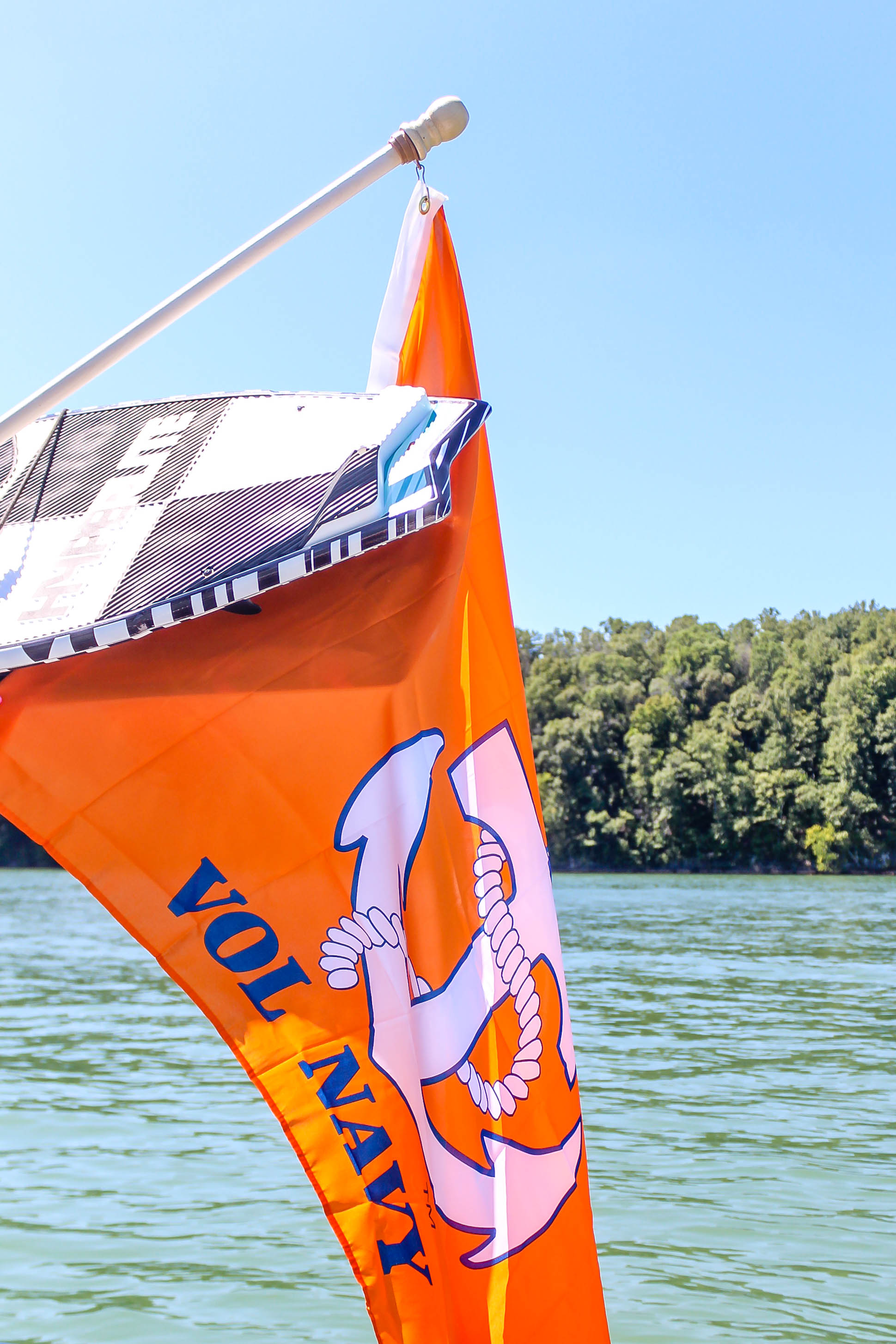 Even though it's not quite time for football season just yet, that doesn't mean that all of your 'game day' gear has to be stowed away until that first game. Actually, if you are doing this, then you're not getting the most value out of your past purchases! I want to remind you all of ways that you can use these past purchases at times other than just on game days.
I'm sure you can imagine that TJ and I have loads upon loads of Tennessee apparel, entertaining items, accessories, mugs, etc. You name it! And we really try to get the most out of them year round. I mean, why not right? Even if you aren't a Vol fan like us, I'm sure that you also have lots of gear from your favorite team that you could be using year round too. For instance, it could be something as simple as a ball cap sporting your favorite logo or team. TJ and I both always bring a hat to the lake because well for one, #lakehair isn't the prettiest, and two, they save our faces from the sun when we are out on the water all day. The same could apply for golfers. TJ's Titleist hat is perfect for a day on the greens, a day on the water, and then of course, a day at Neyland Stadium! Then, there's me – which y'all know that I'm a huge hat person (like my hat obsession is probably unhealthy) – so I wear mine everywhere throughout all seasons of course. One of my favorite times to wear my  @Vol_Gear is when I'm traveling because no matter where you are in the world, if someone recognizes that Power T, you're sure to hear a big, "GO VOLS"! It really never gets old.
Along with that, many people own those cute Columbia sun drifter/fishing shirts (which they're available for women too – a lot of people don't know that!). Other than game day, the next best time to wear one would be while you're out on a body of water. I like to wear mine as a coverup over my bathing suit!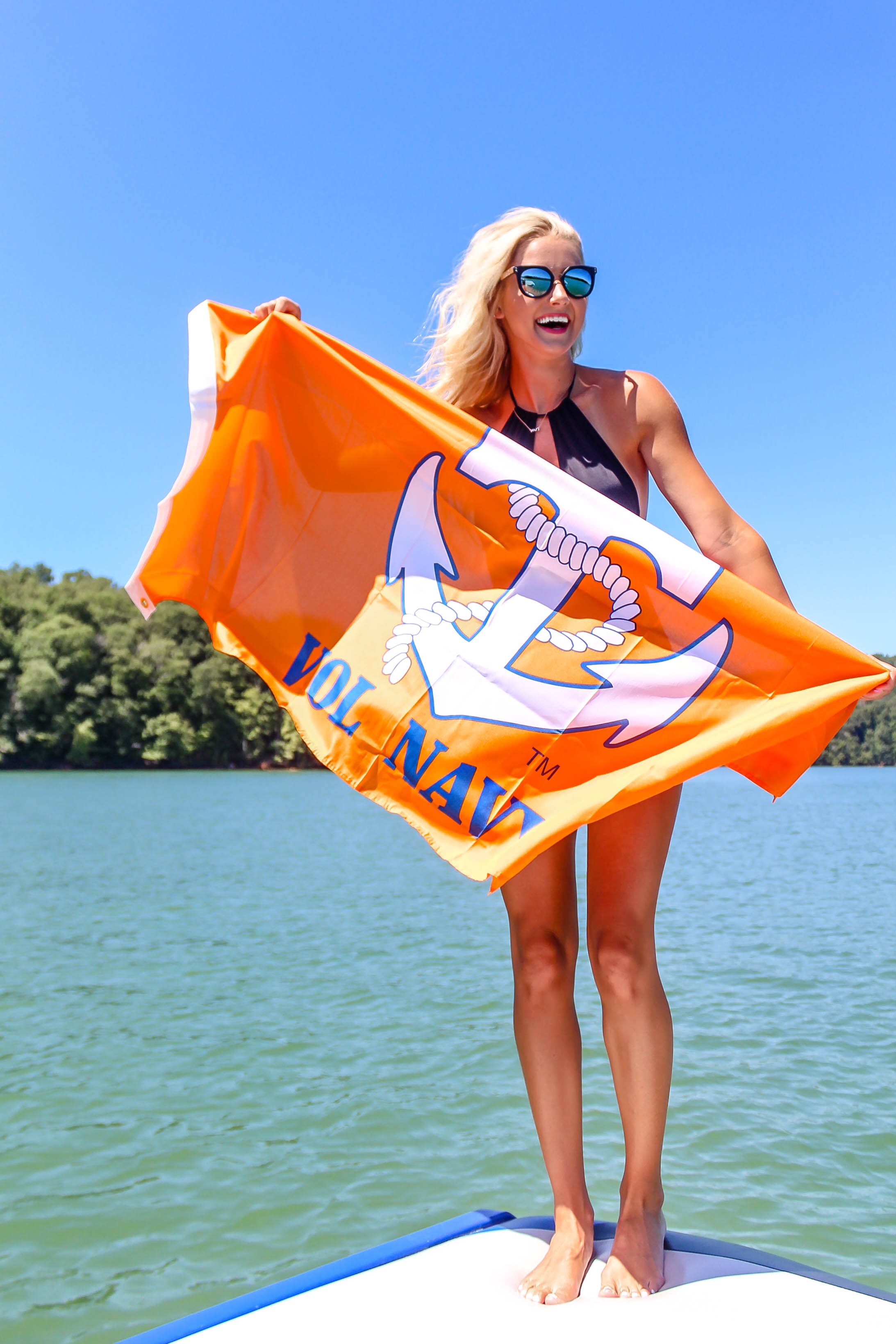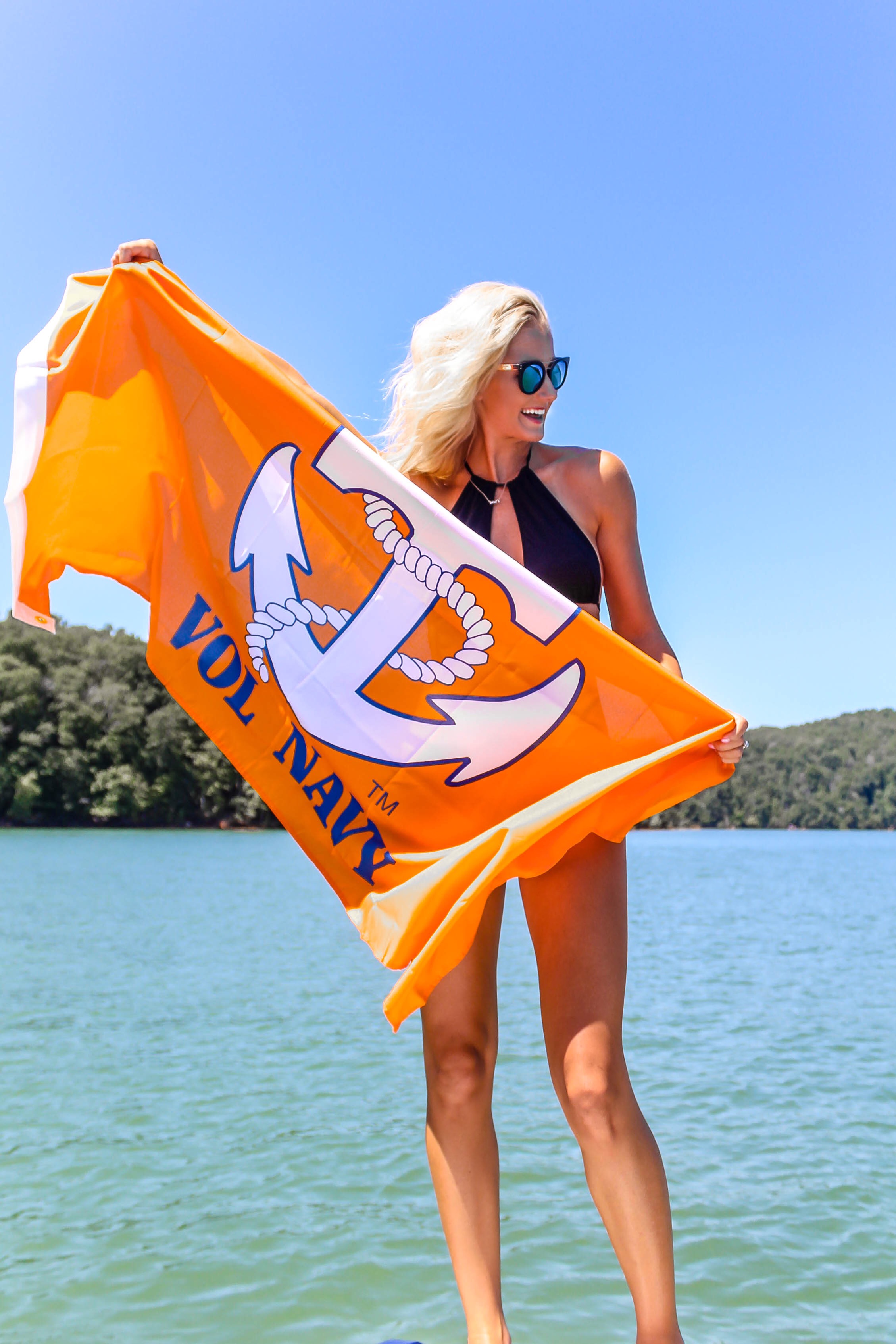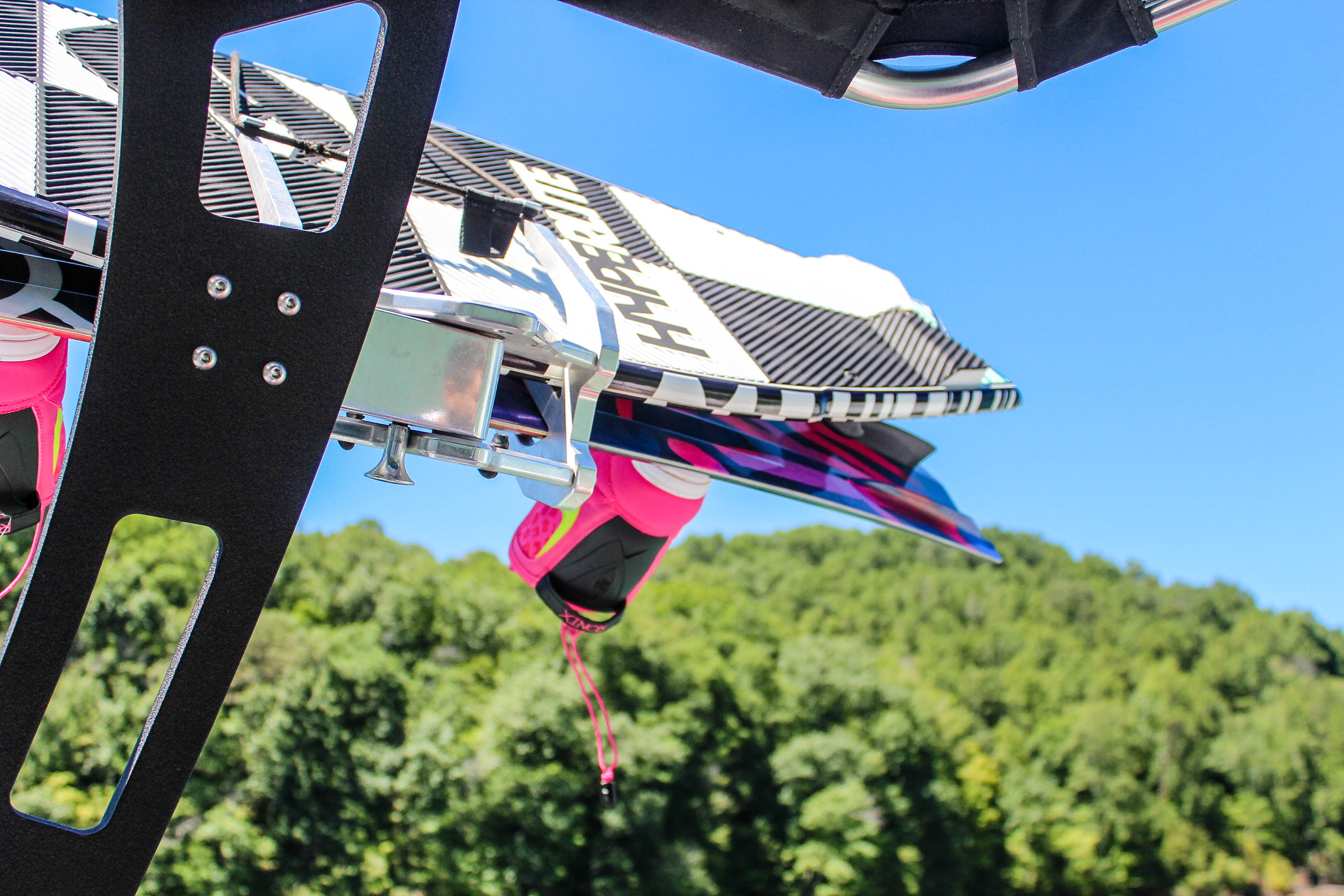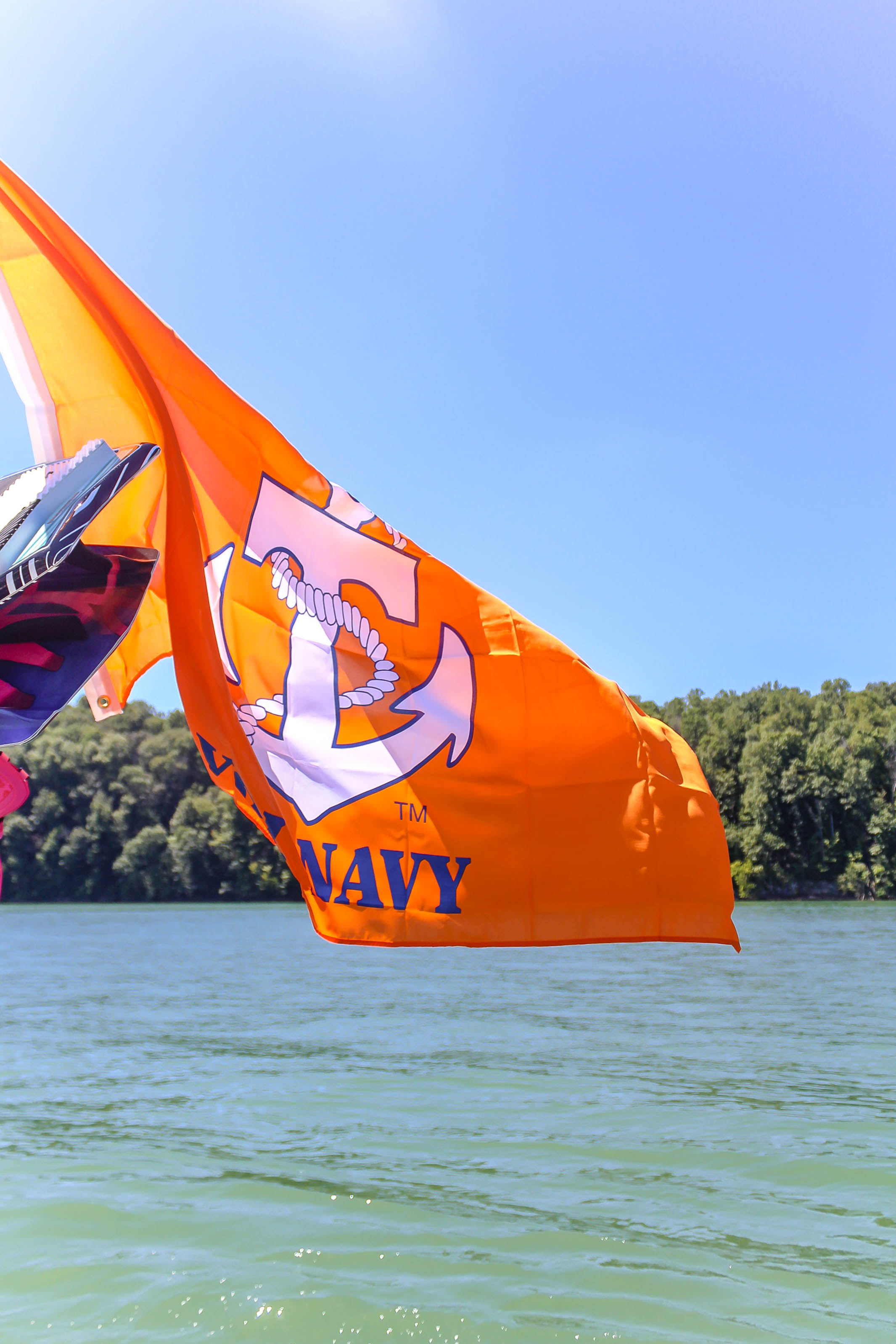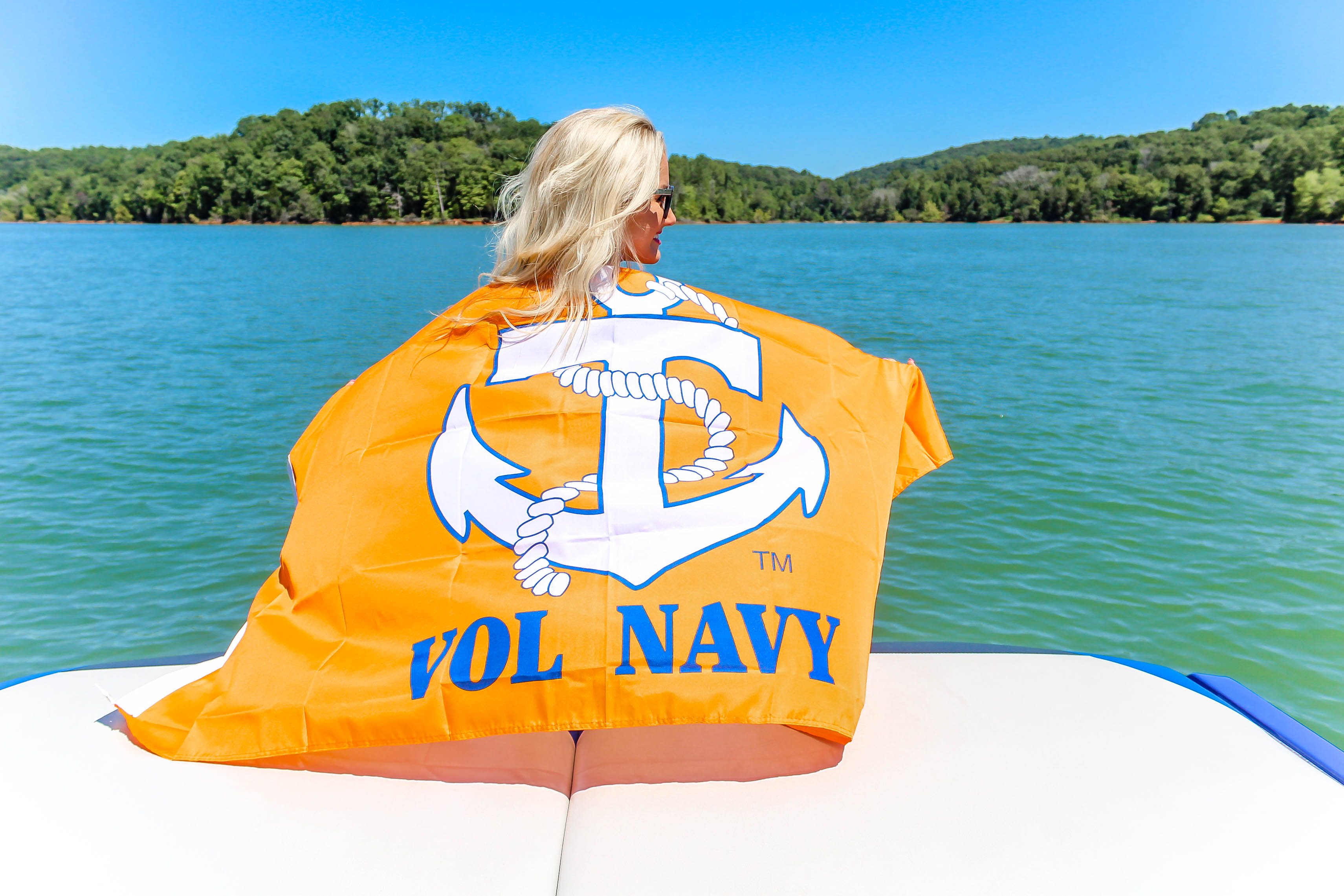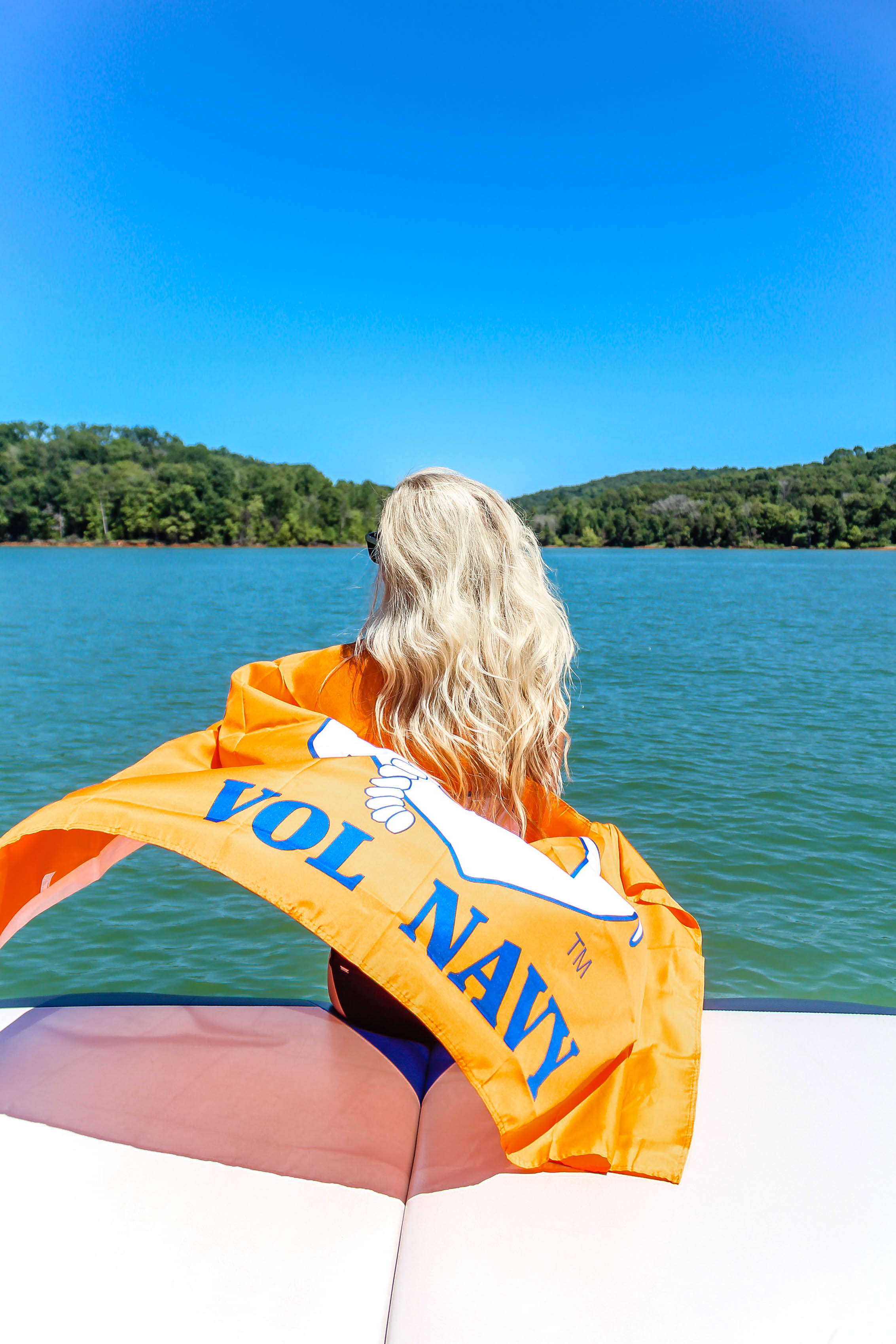 Teej and I were so pumped about our new boat this season, and ever since we bought it, we have been so anxious to visit the Tennessee River where we can drive straight up to Neyland. We, of course, had to get a Vol Navy flag to keep on the boat (because what Vol fan boater doesn't want one?)! The Vol Navy is a one of the largest traditions on Rocky Top where boaters travel from all over on the river straight up to the stadium on game day. But why wait until then? Fly your flag with pride even in the summer months like we have!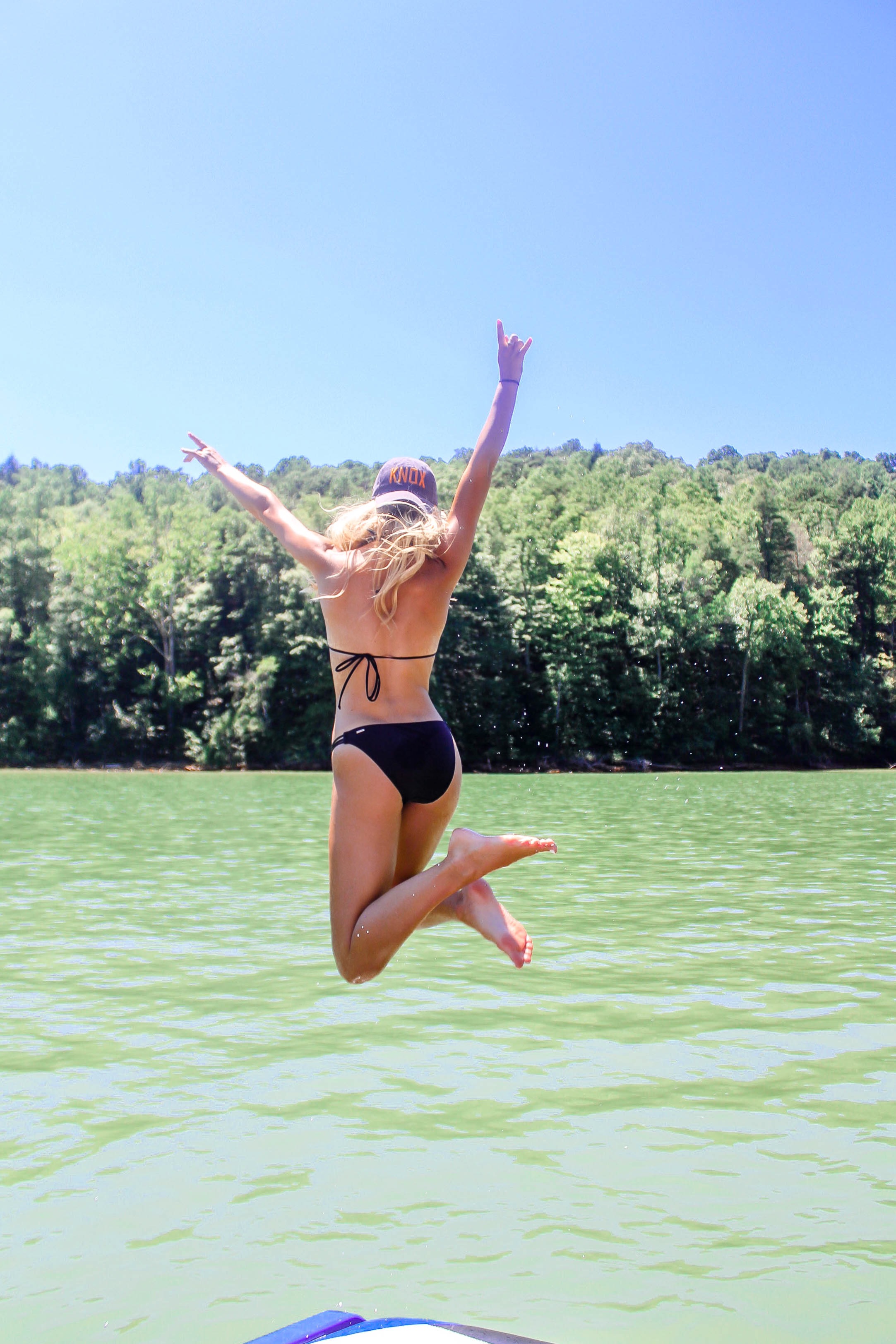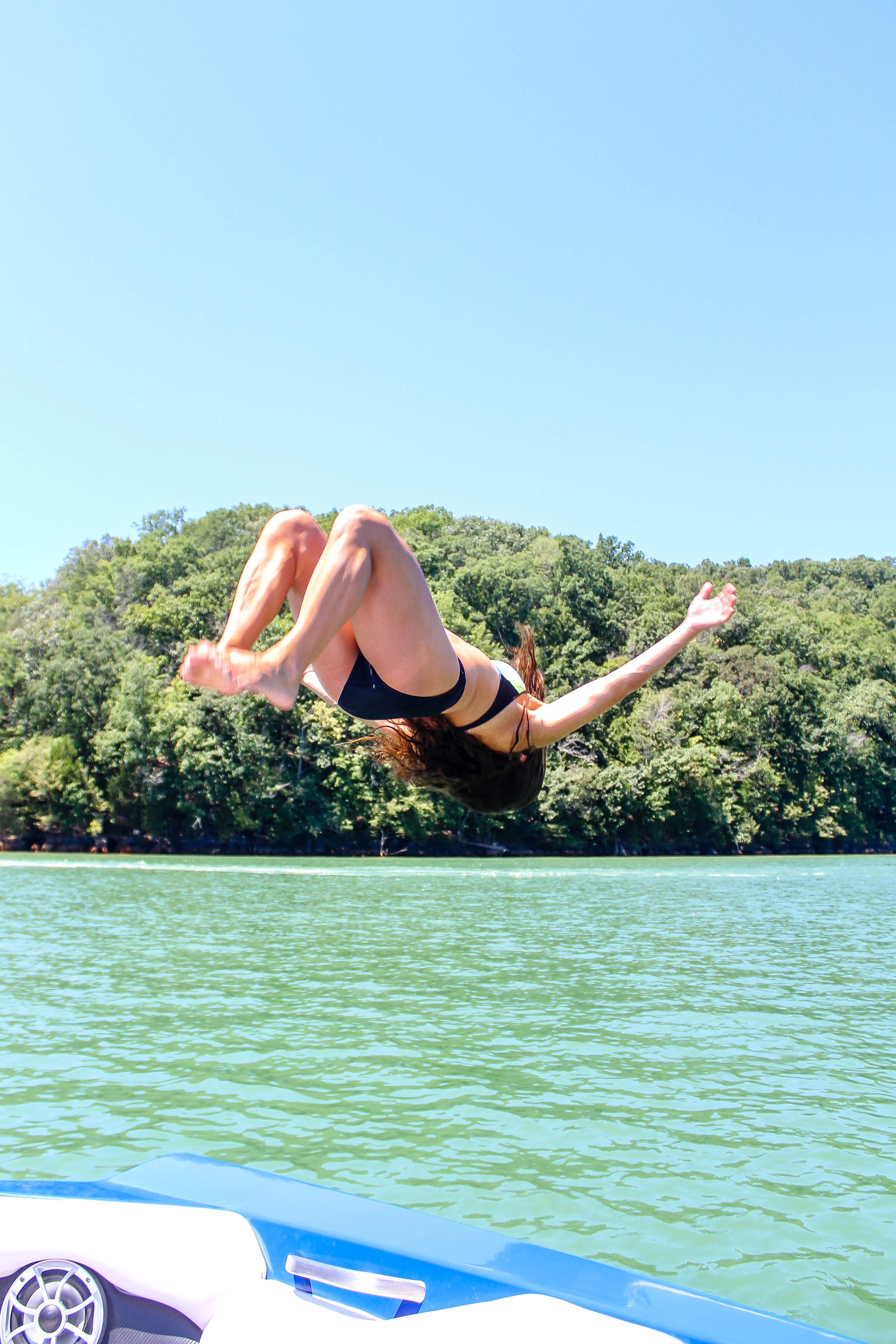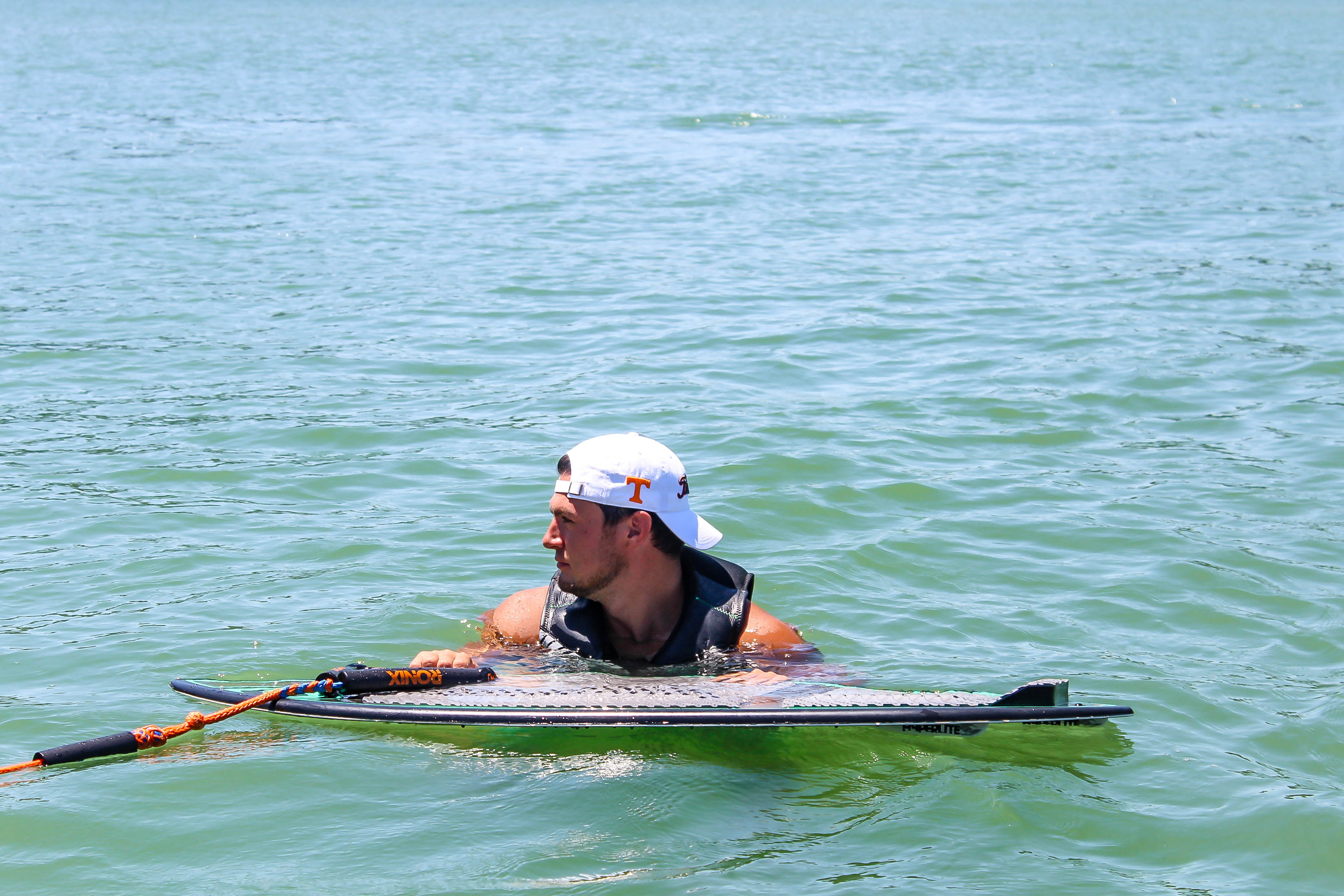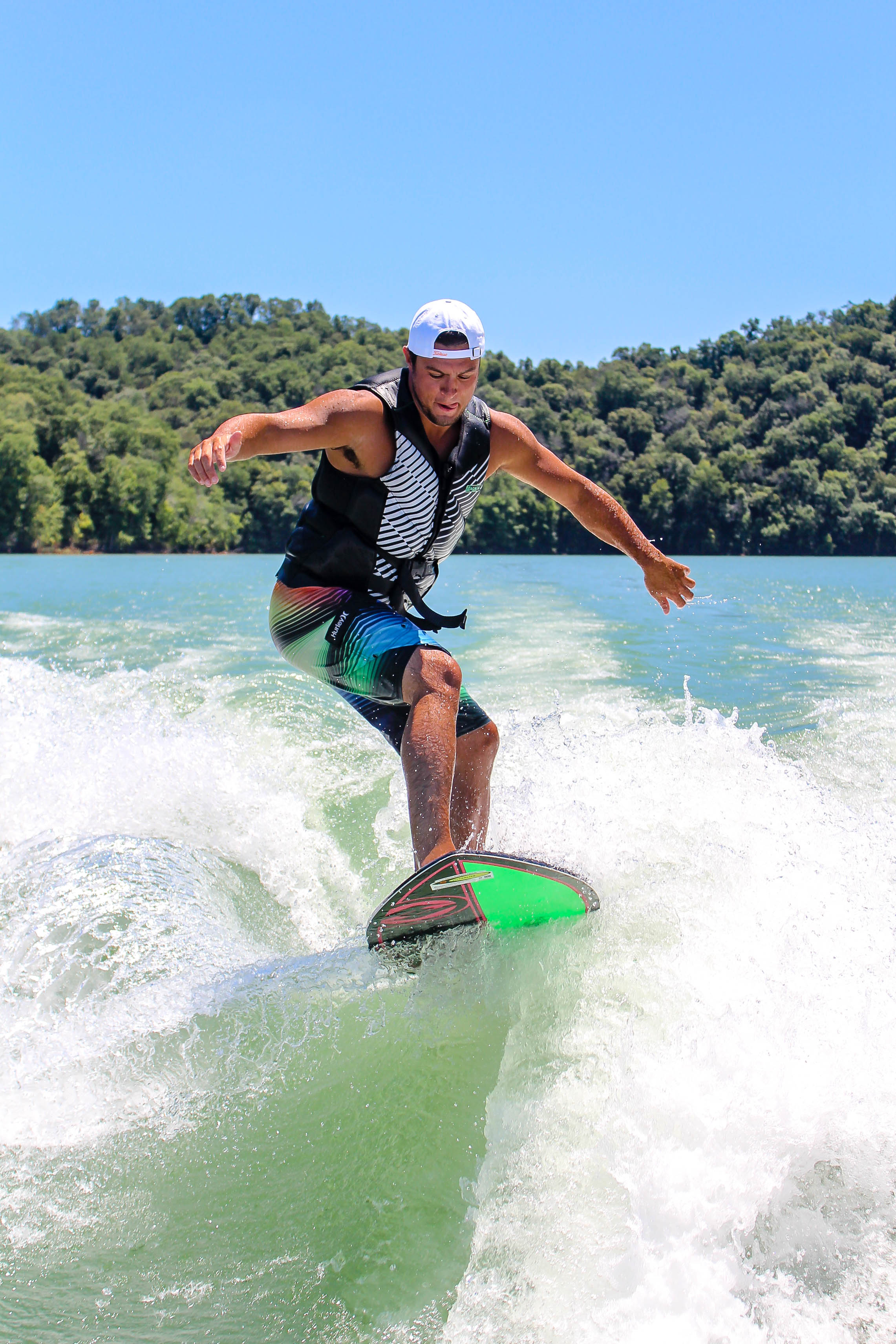 That tongue … LOL, he's too cute! This guy loves water sports, you guys!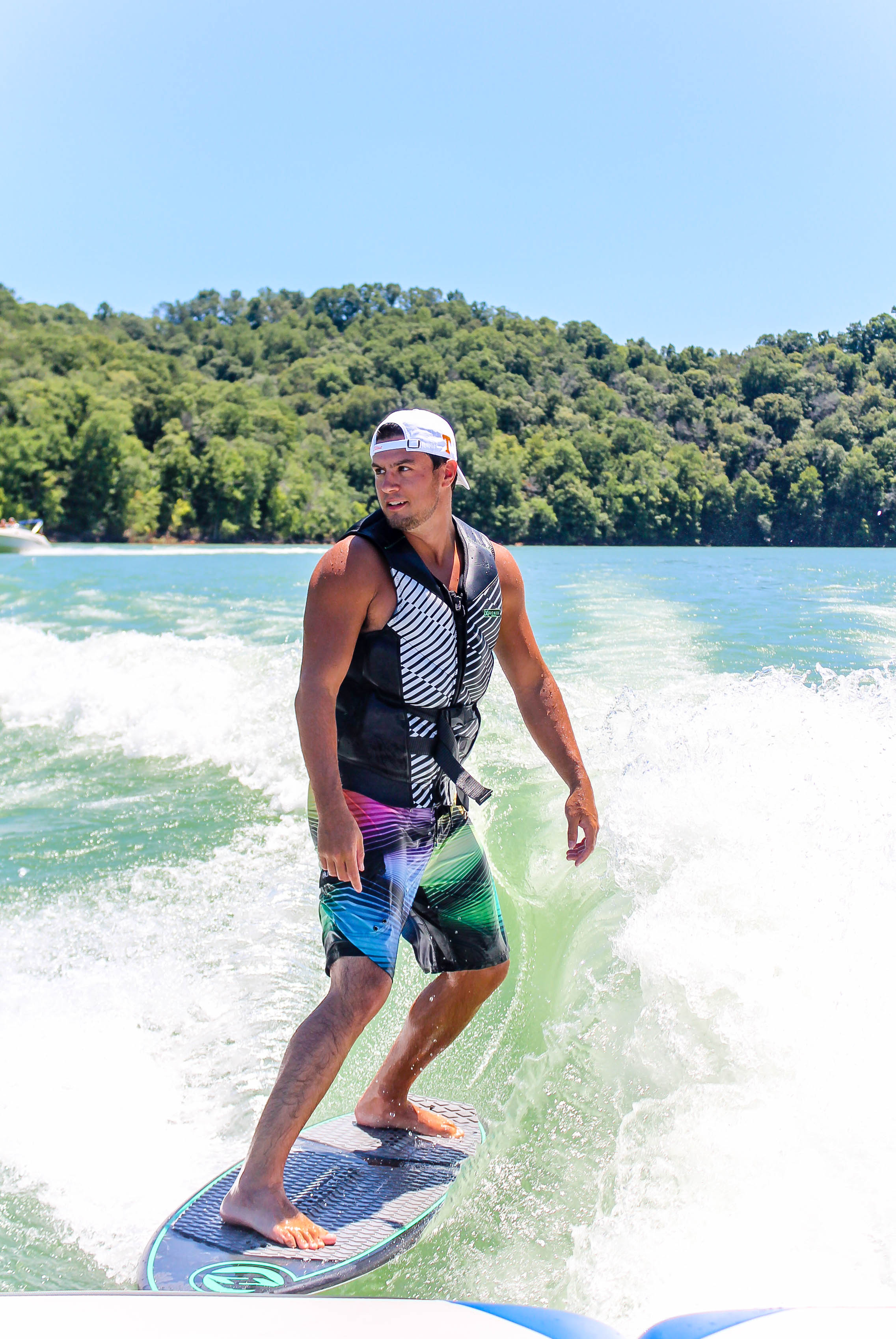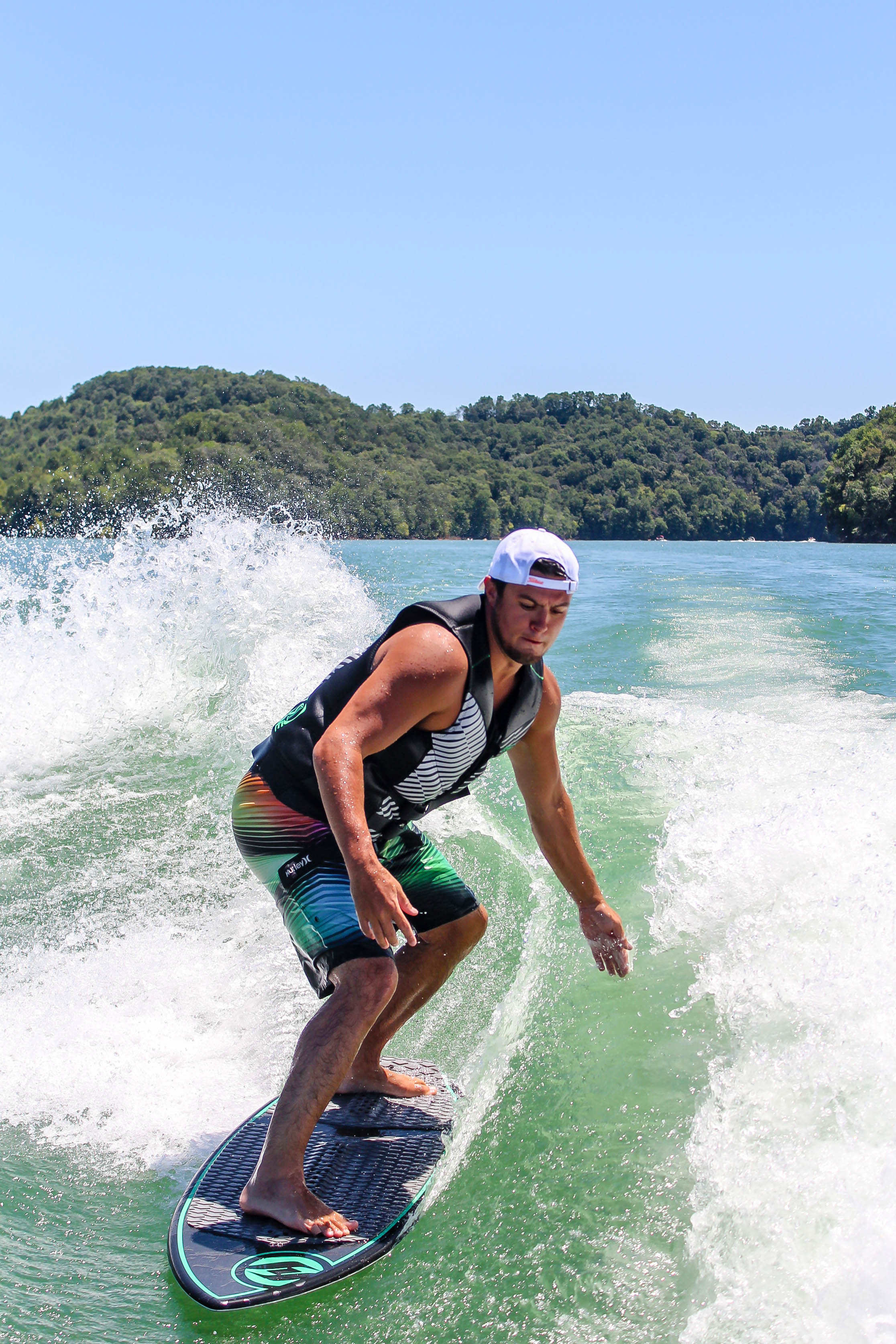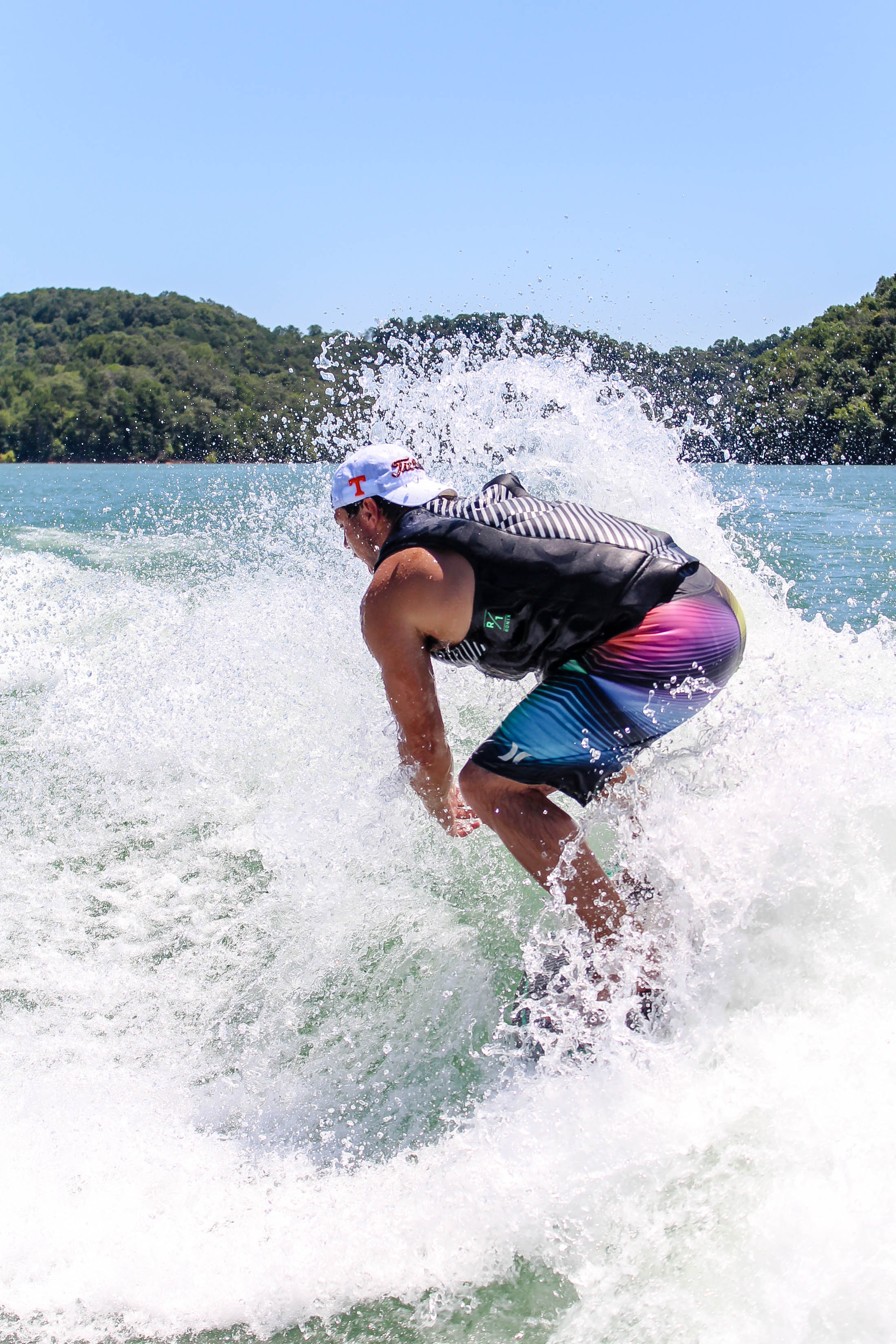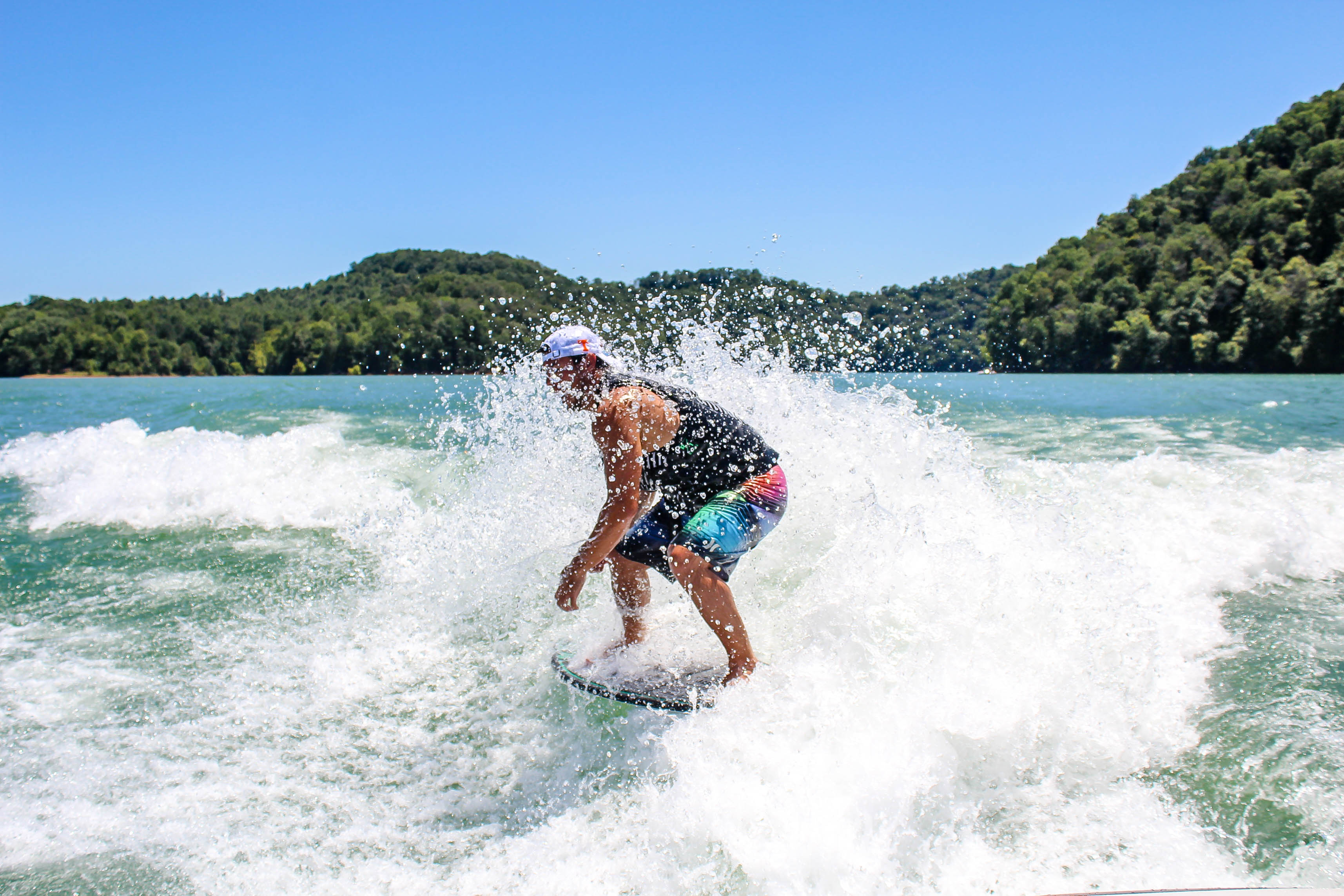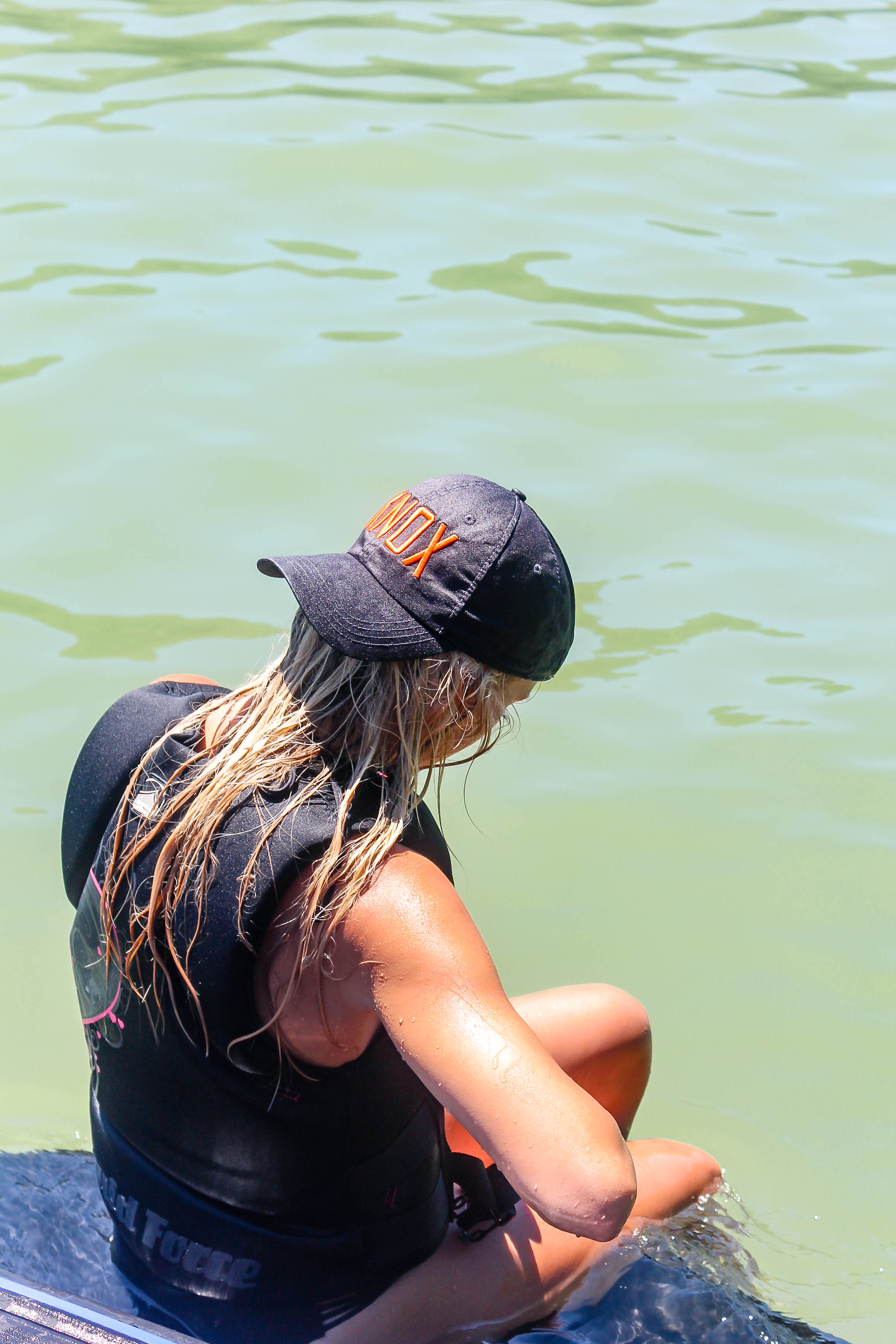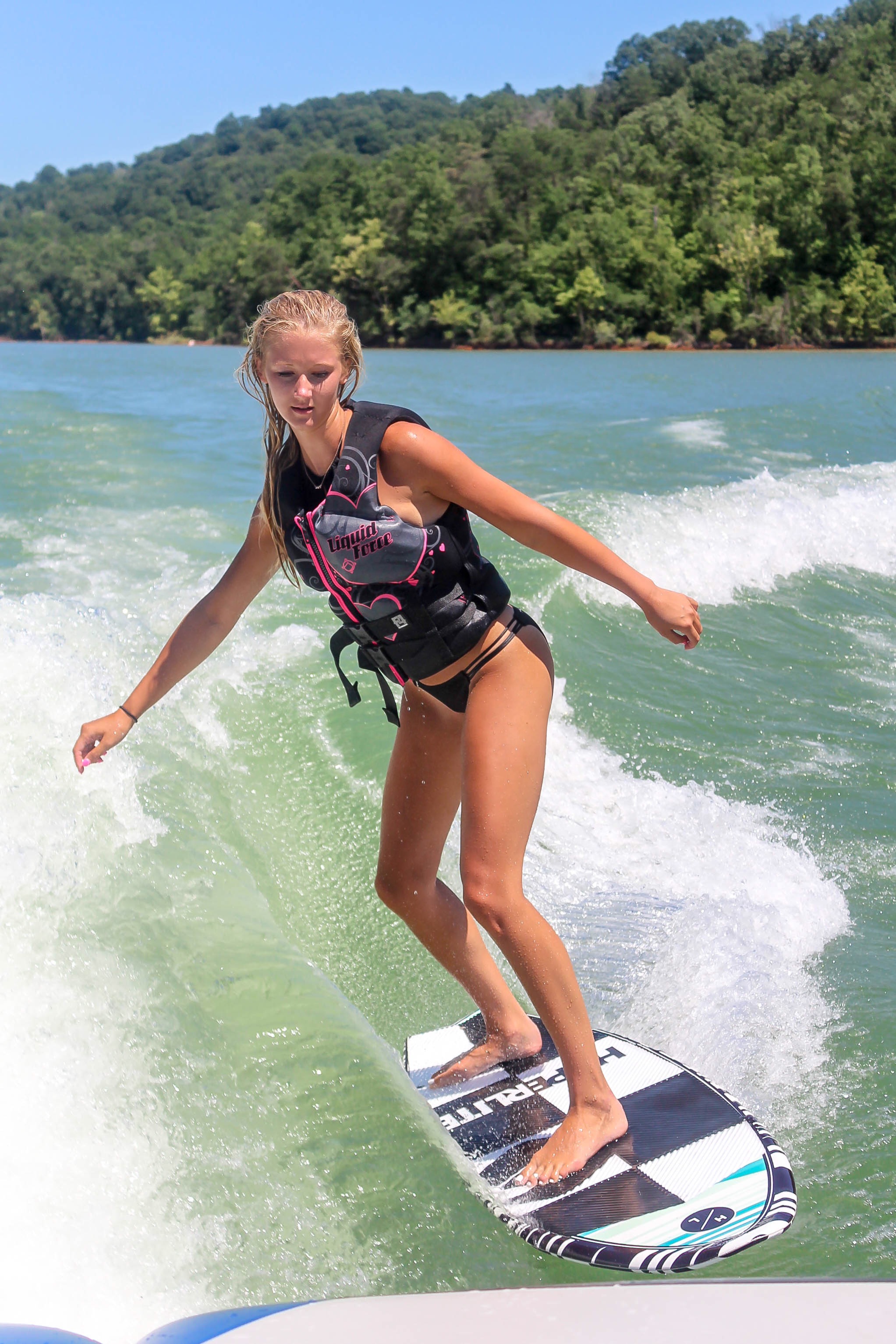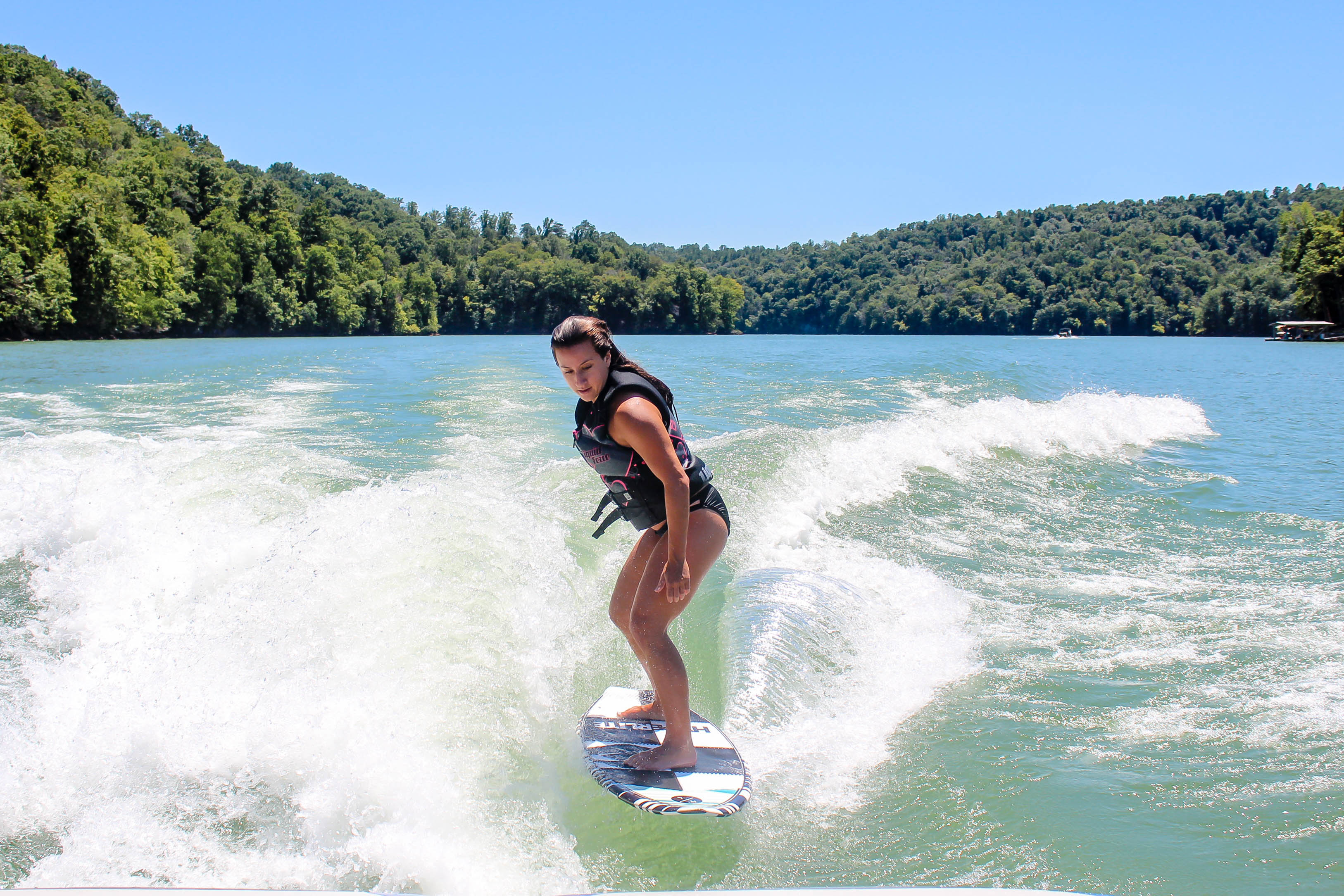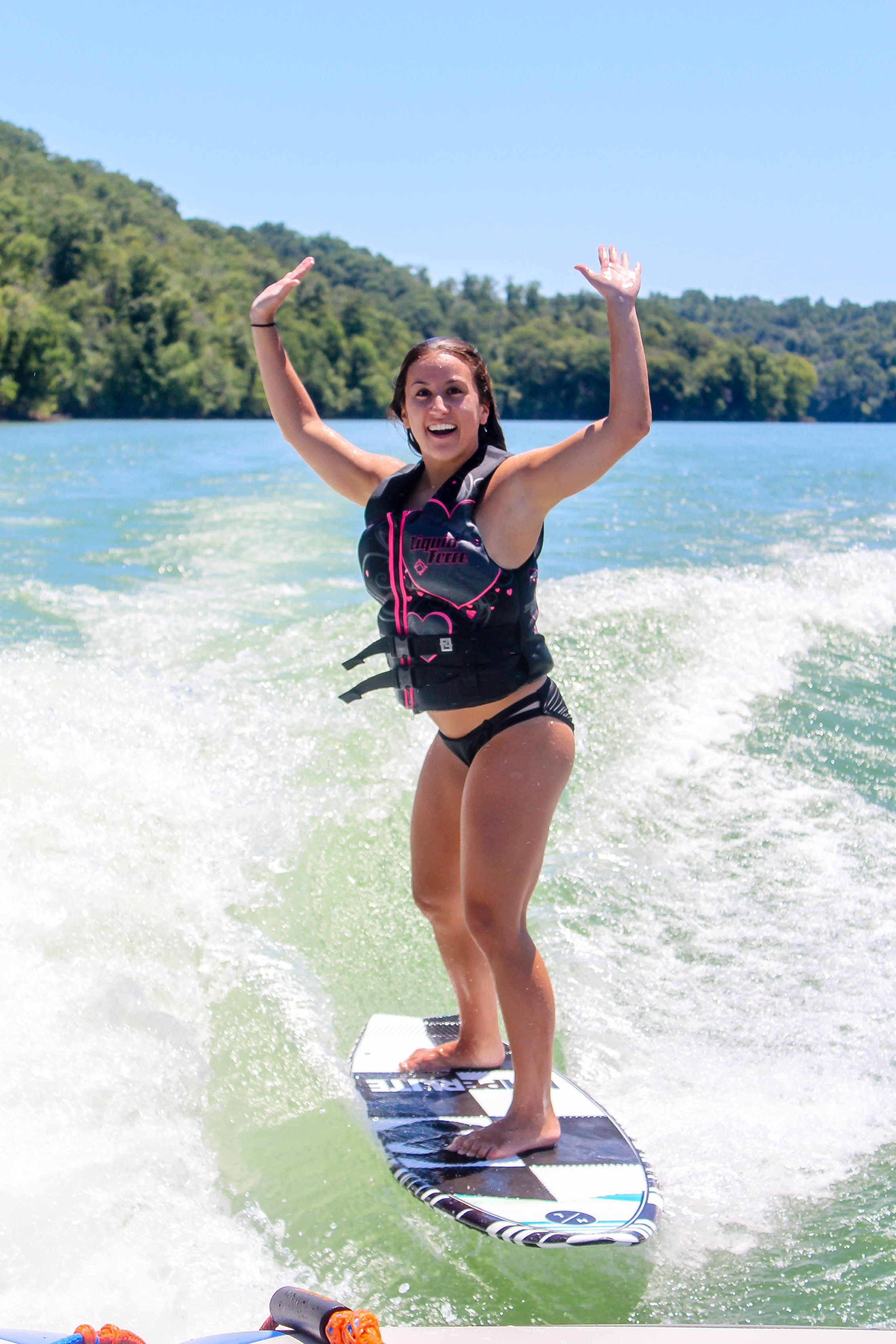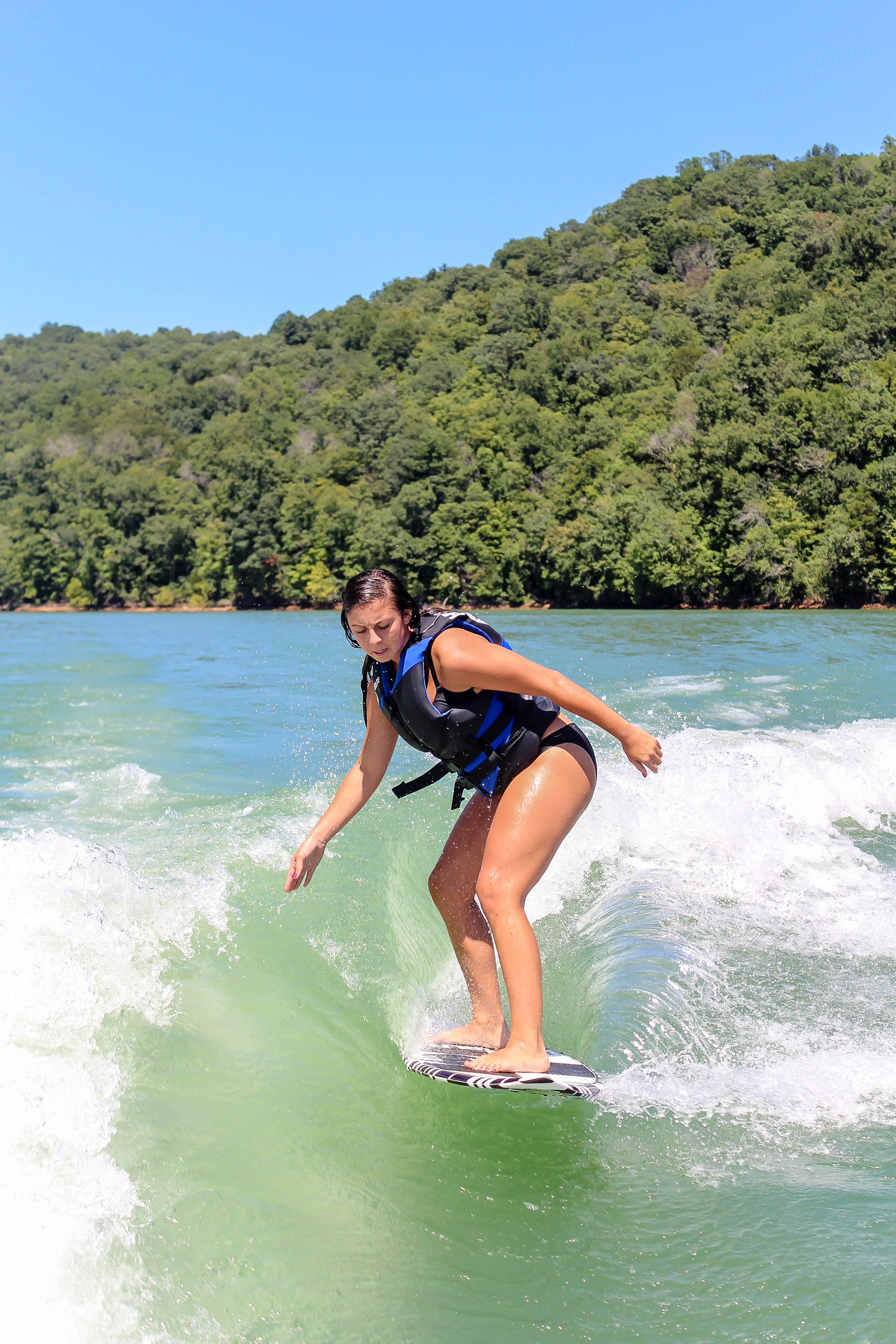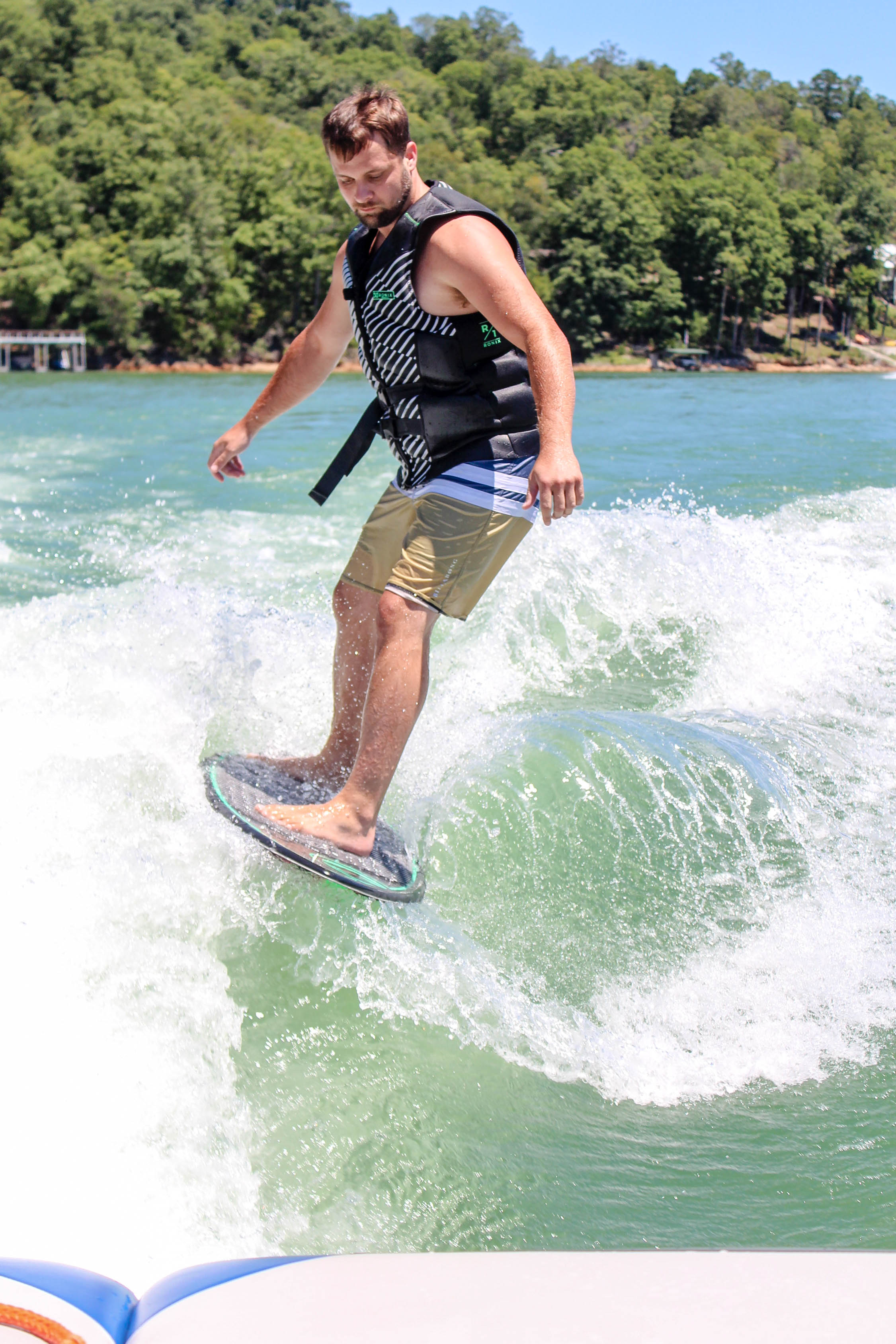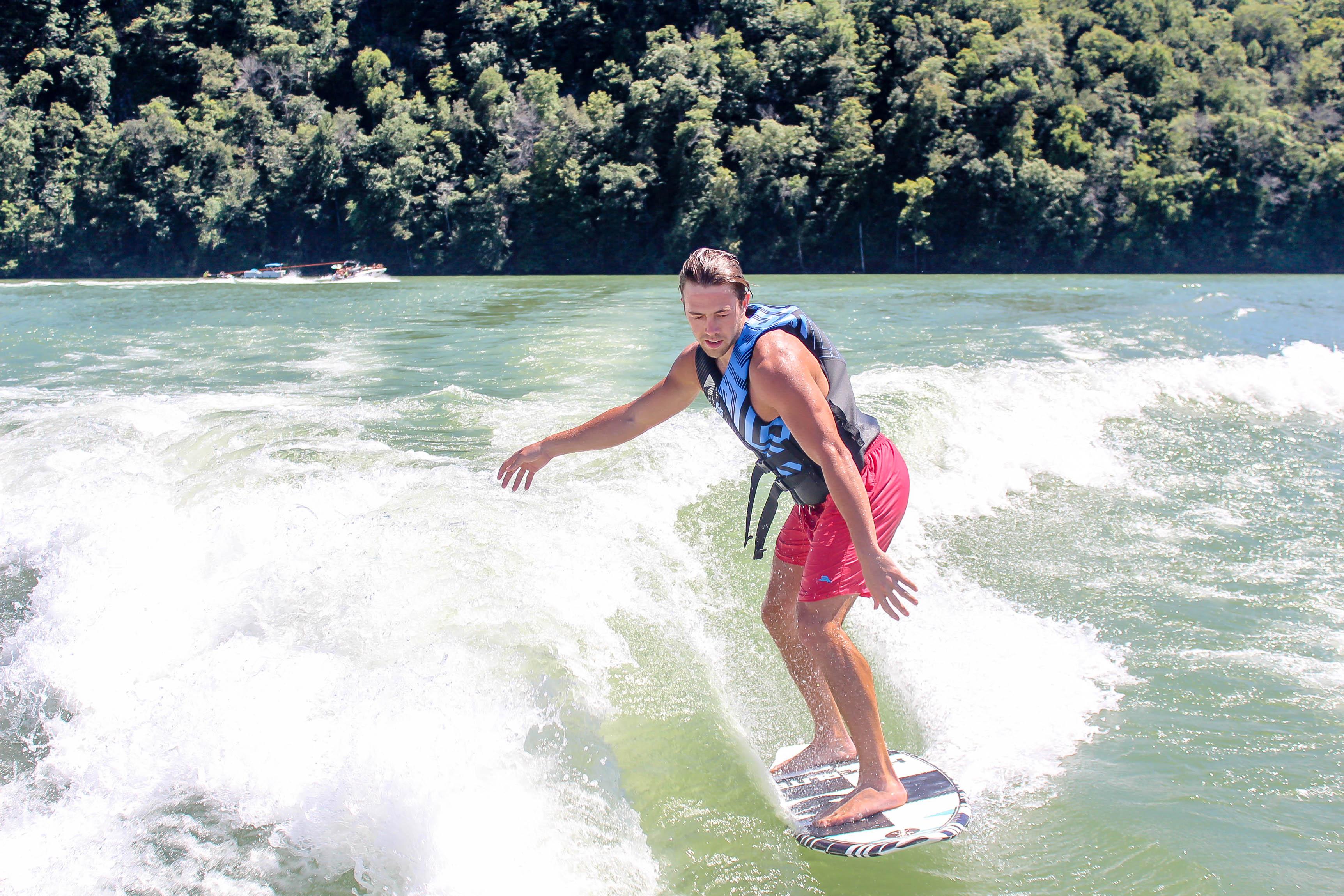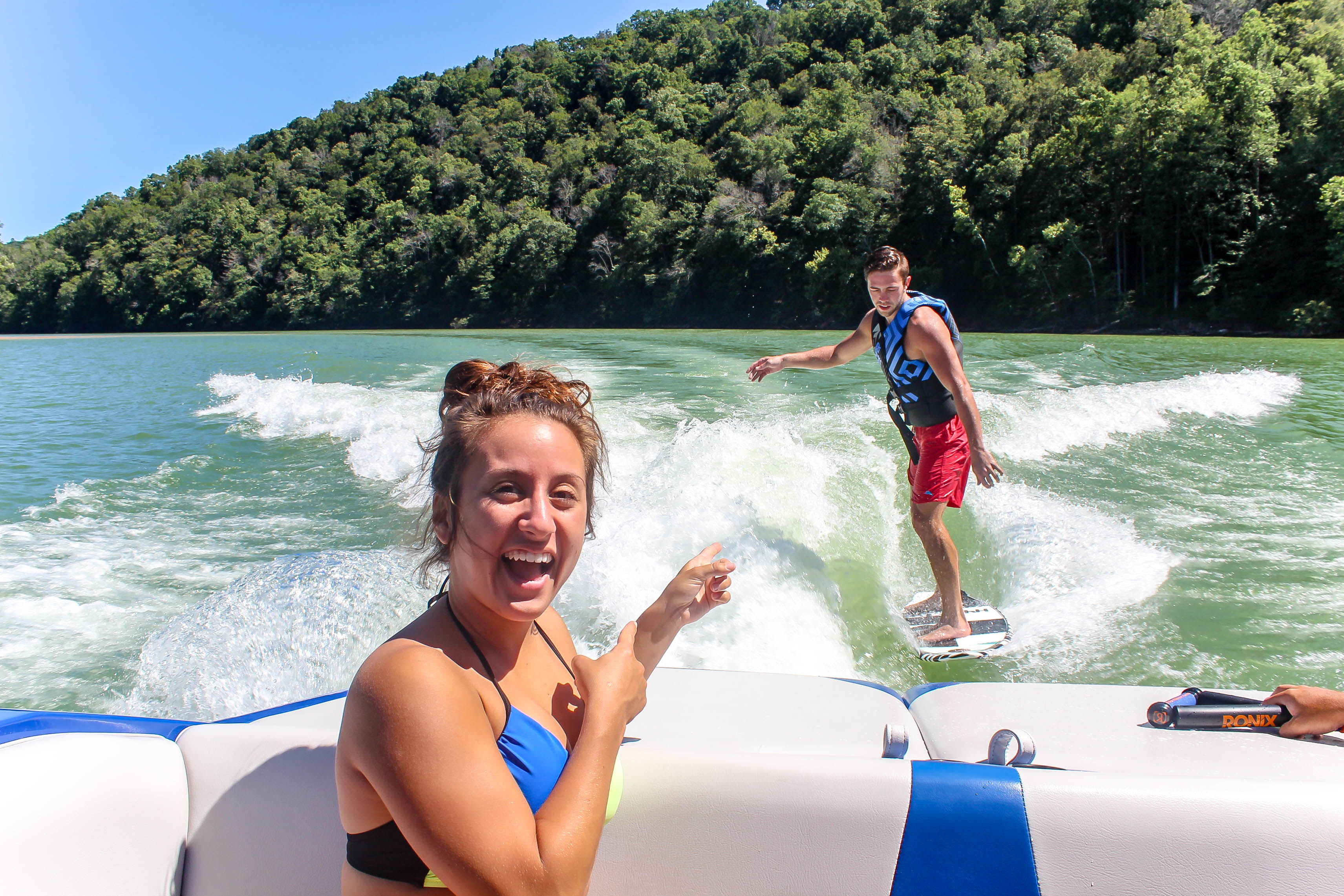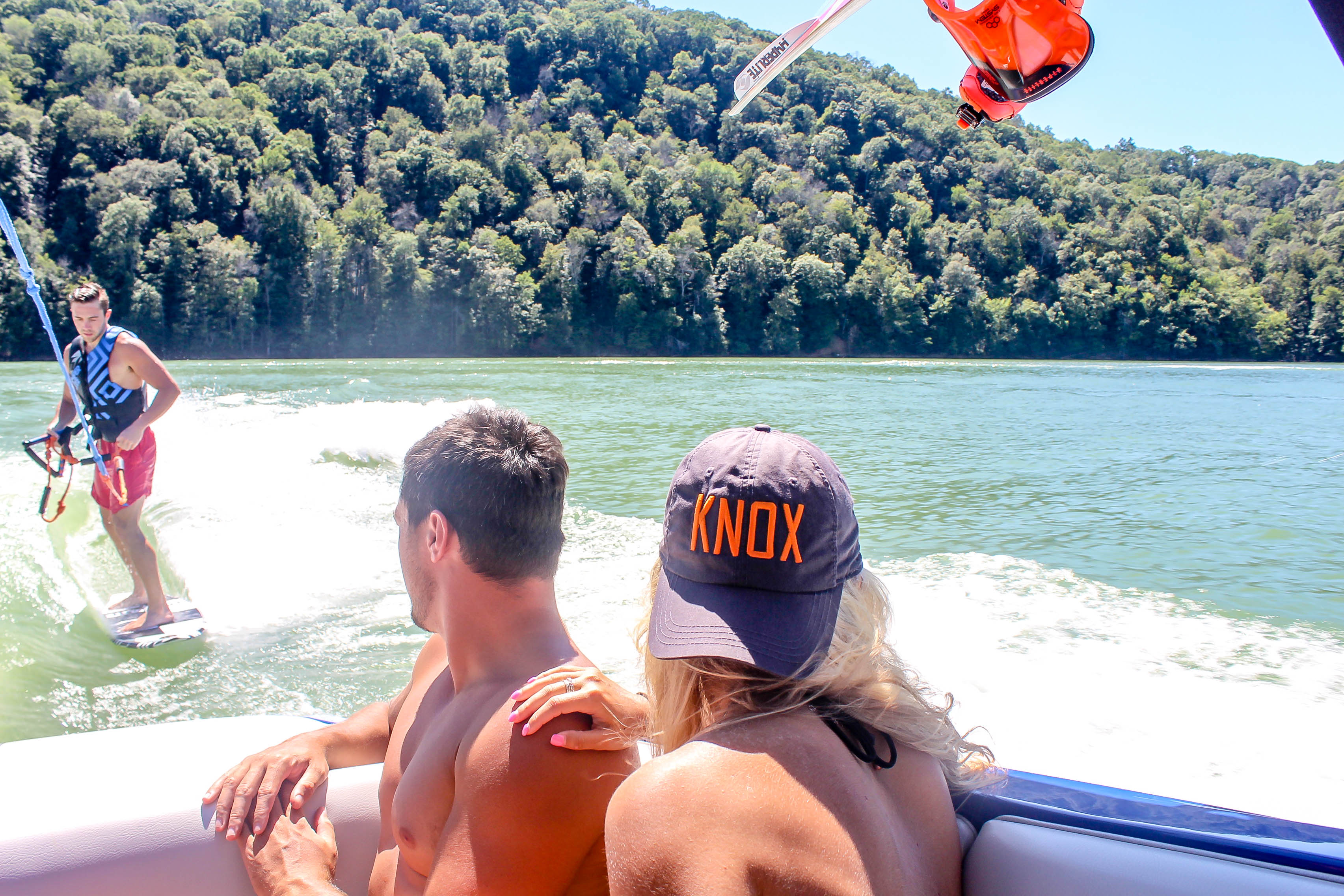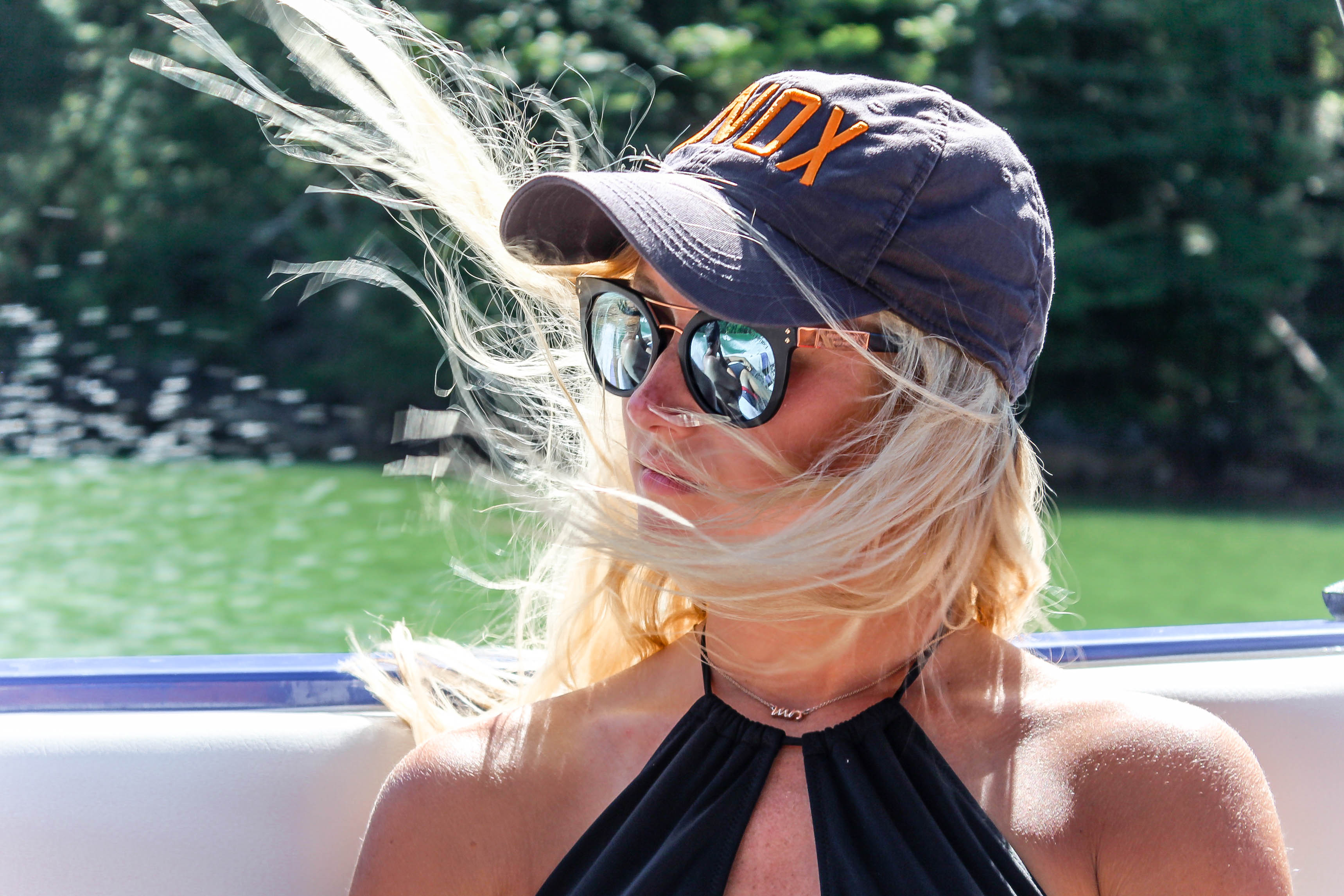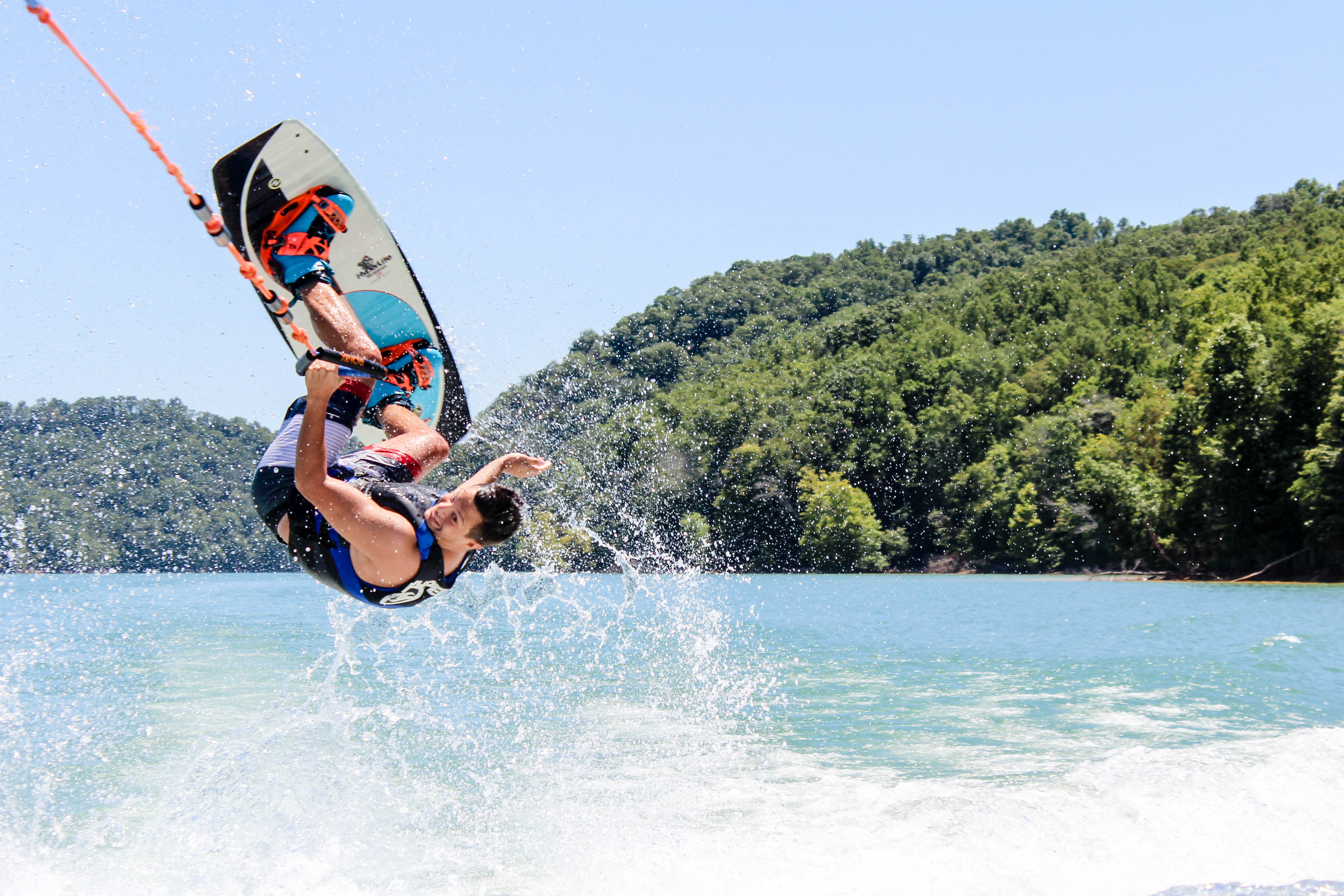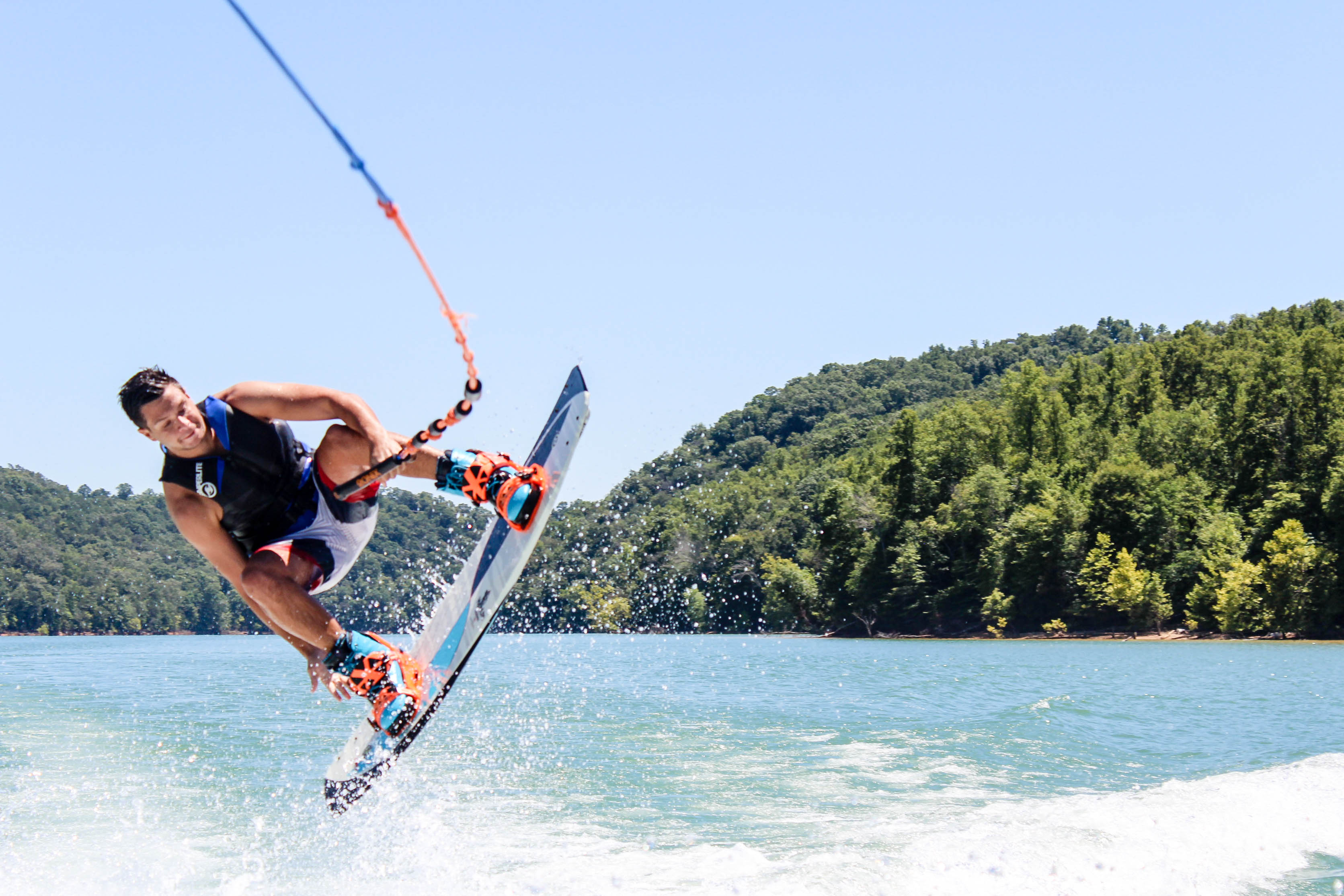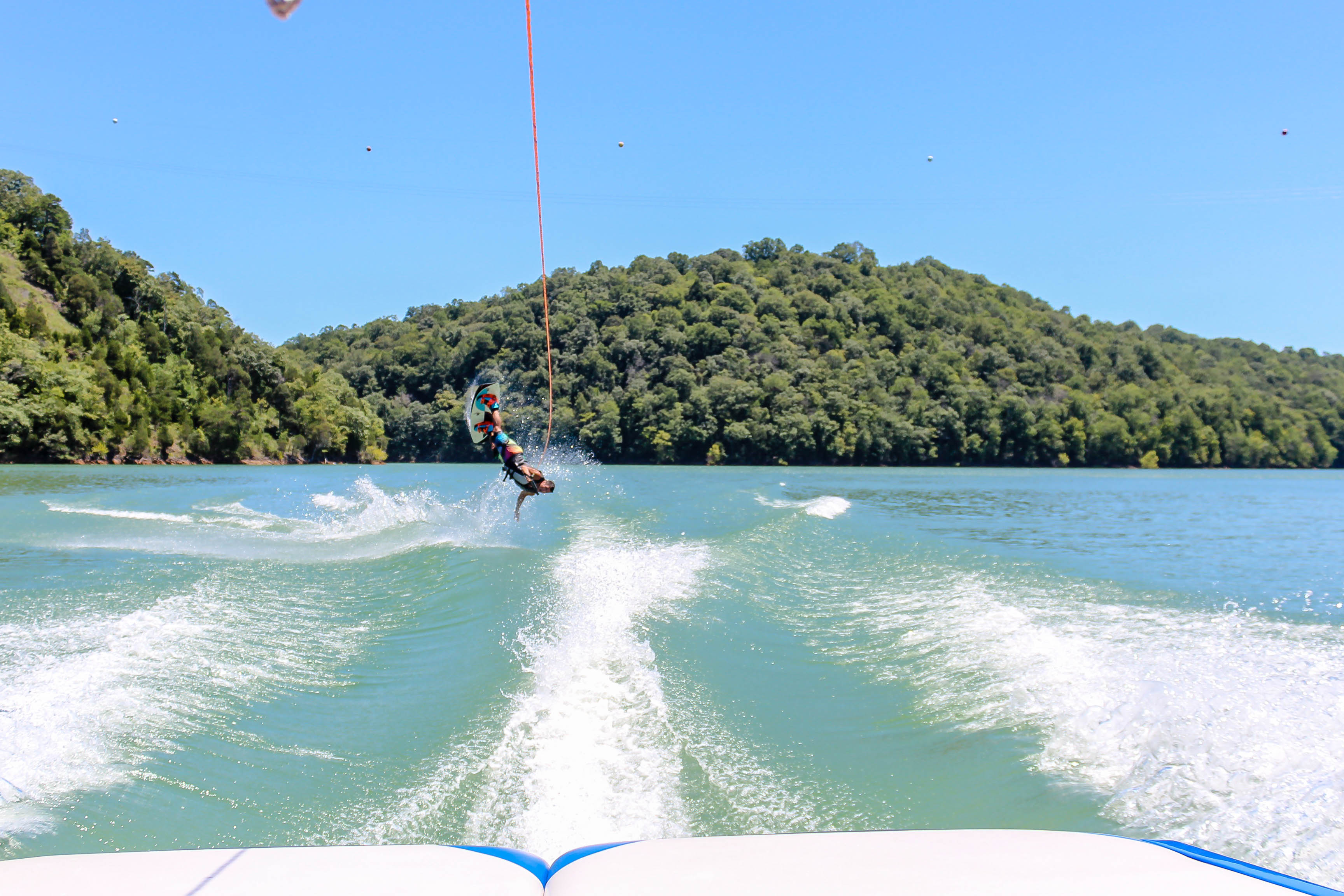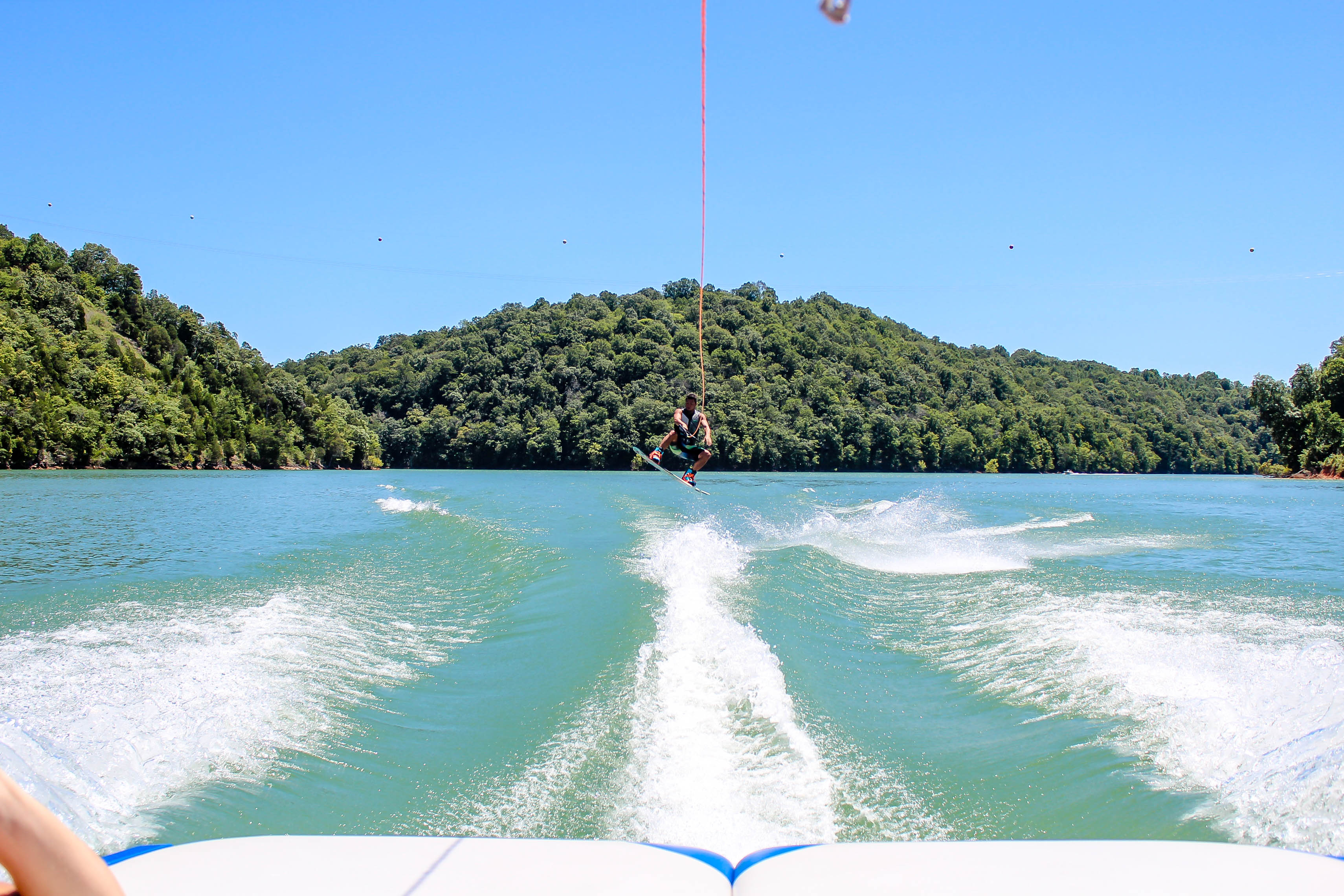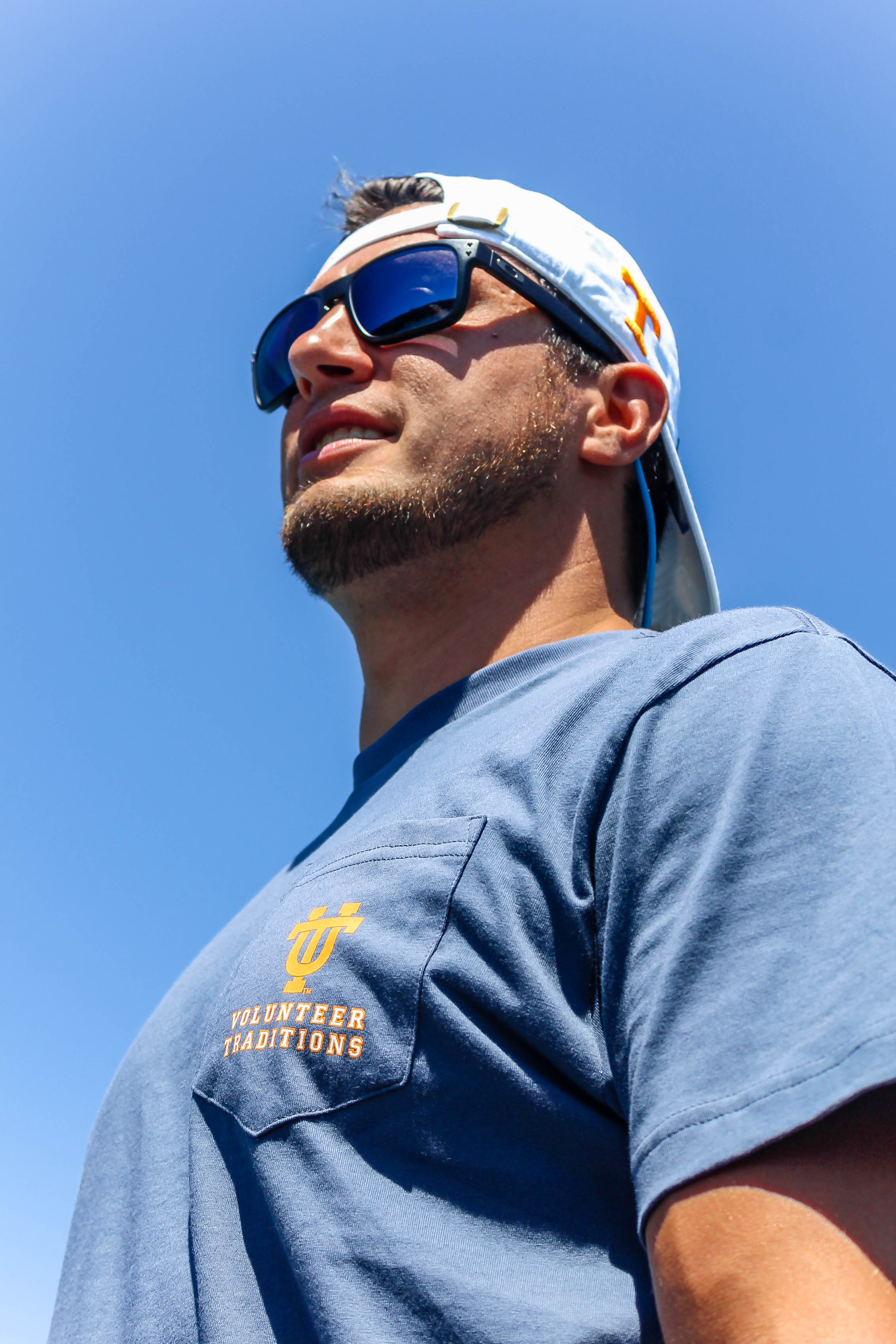 TJ's obsessed with the Volunteer Traditions brand – they have some really classic pieces that you can wear just about anywhere!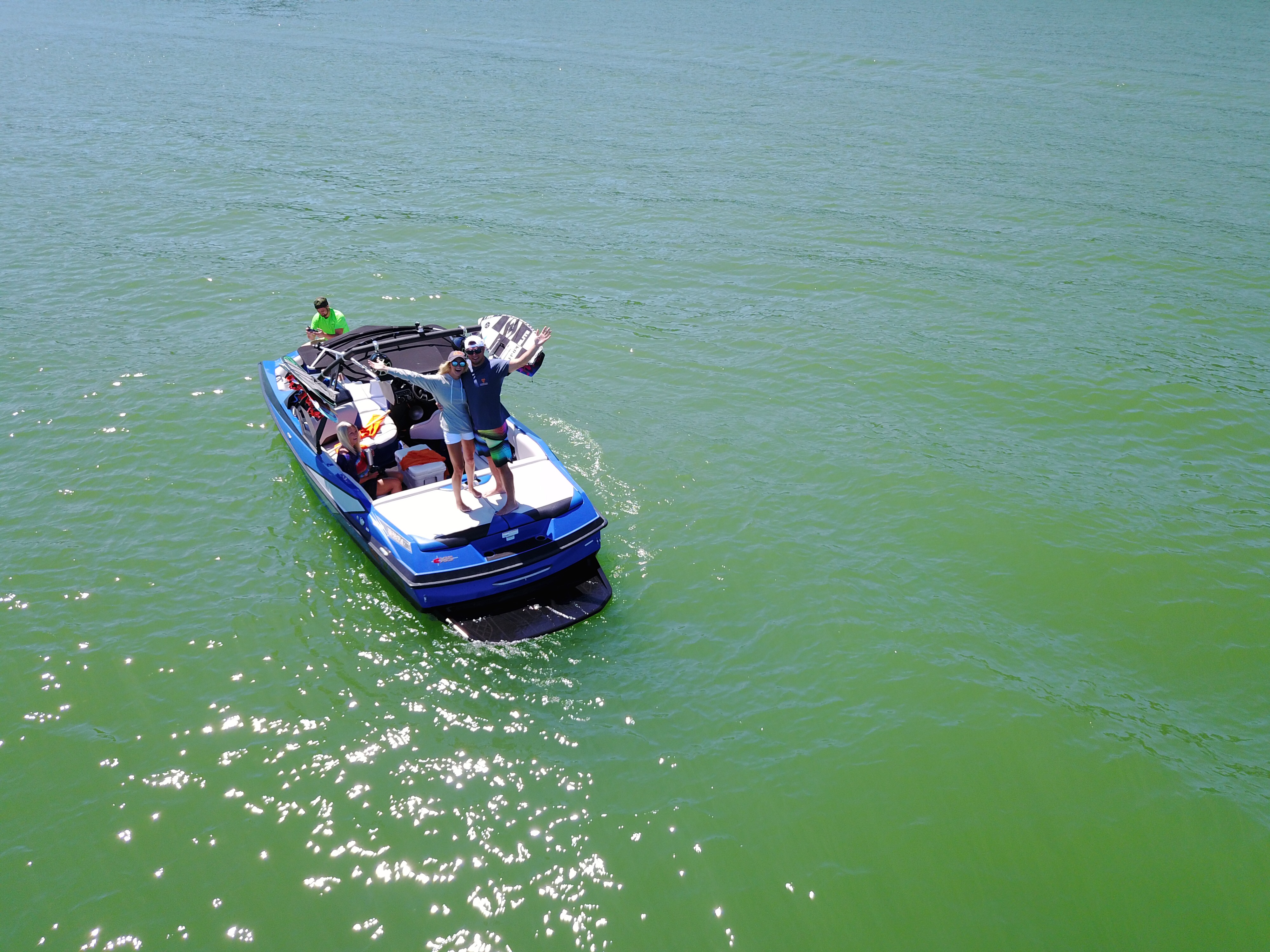 For me, I always bring a long sleeve top of some sort on the boat with me because y'all know me and I can be cold in 90 degree weather at times – okay maybe that's an exaggeration. But for real, there have been so many times when I get chilly on our boat once the sun starts going down (especially if my swimsuit is still wet). I usually bring something with sleeves, but still kind of thin. Something like this lightweight hoodie t-shirt is ideal.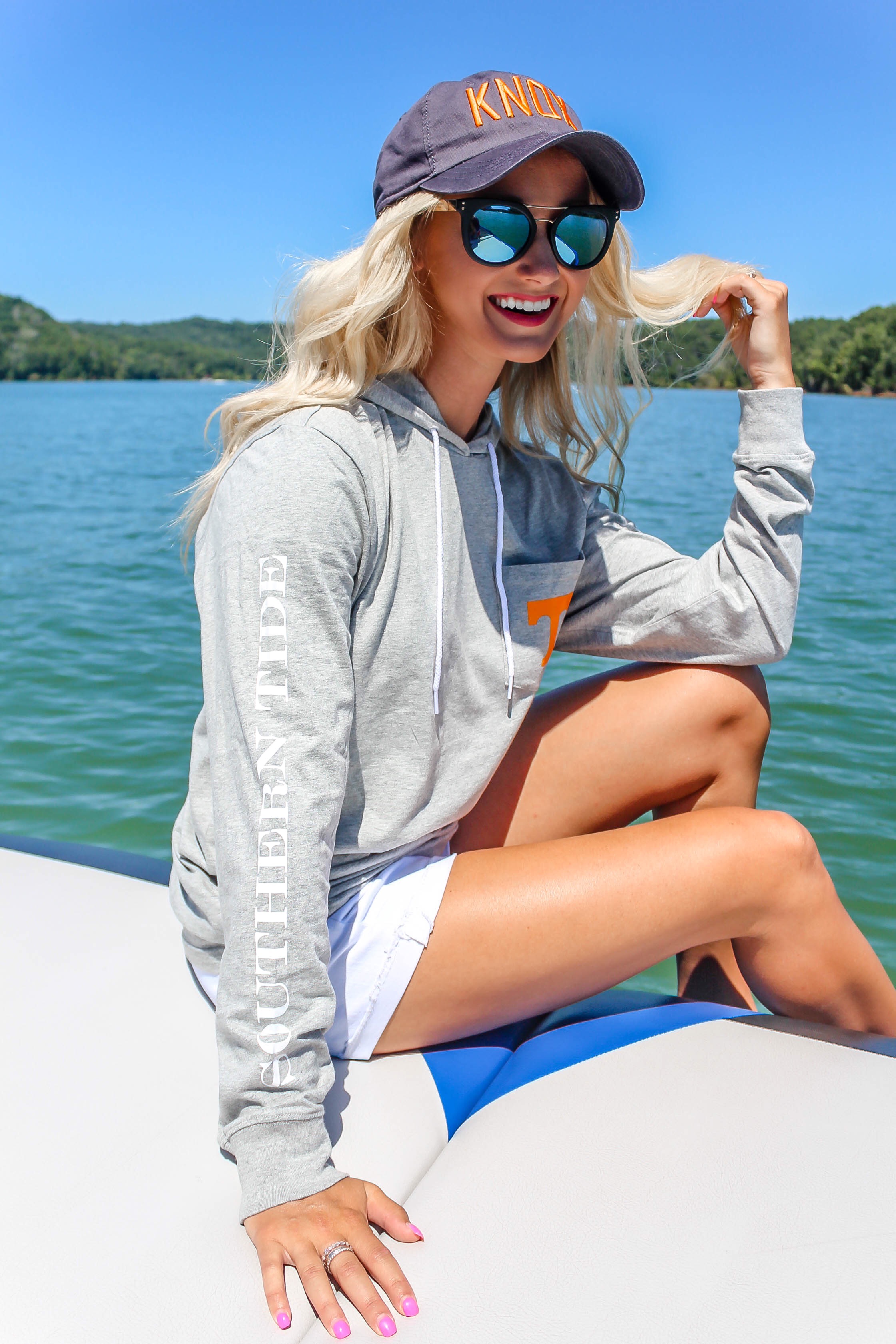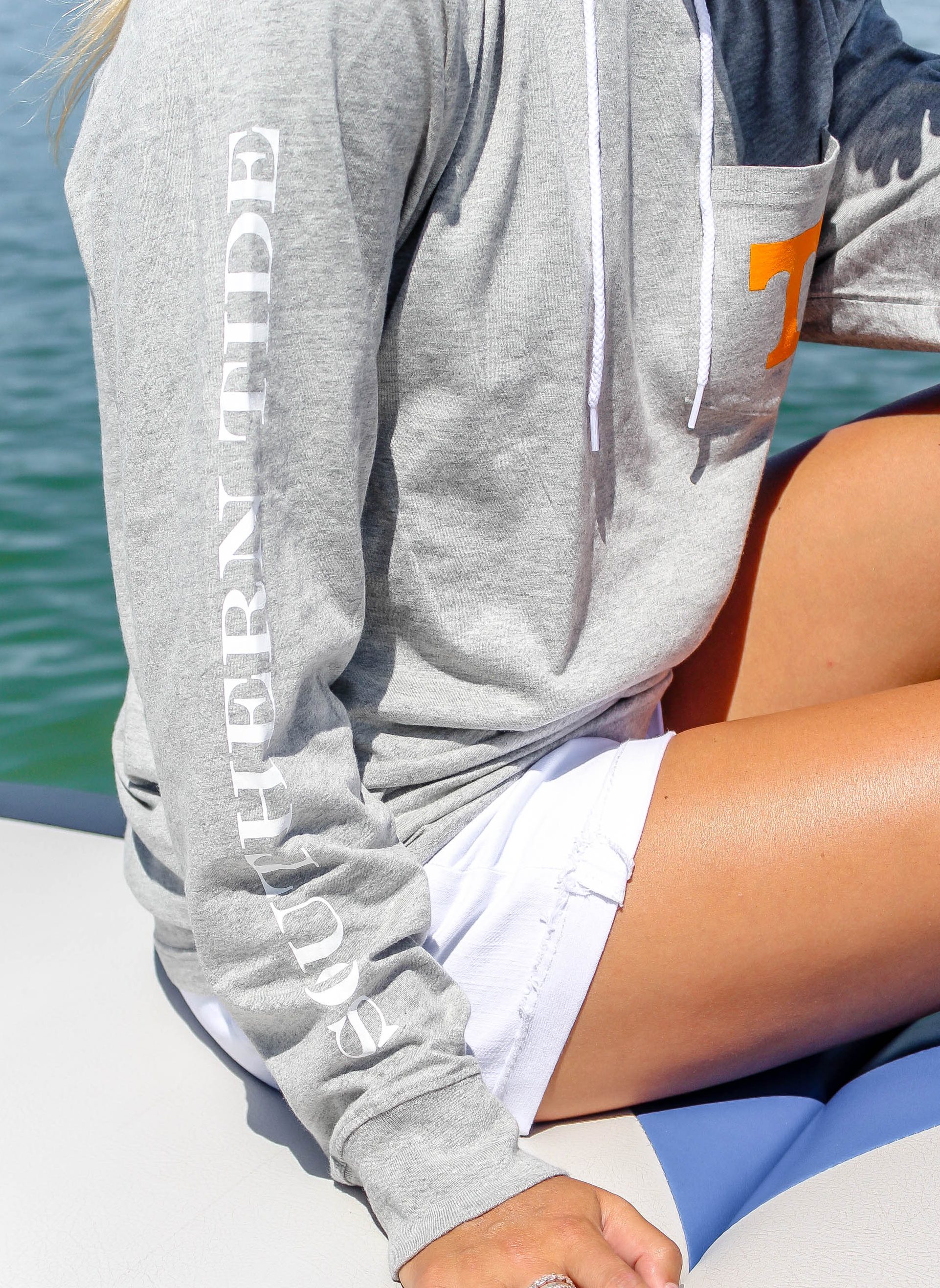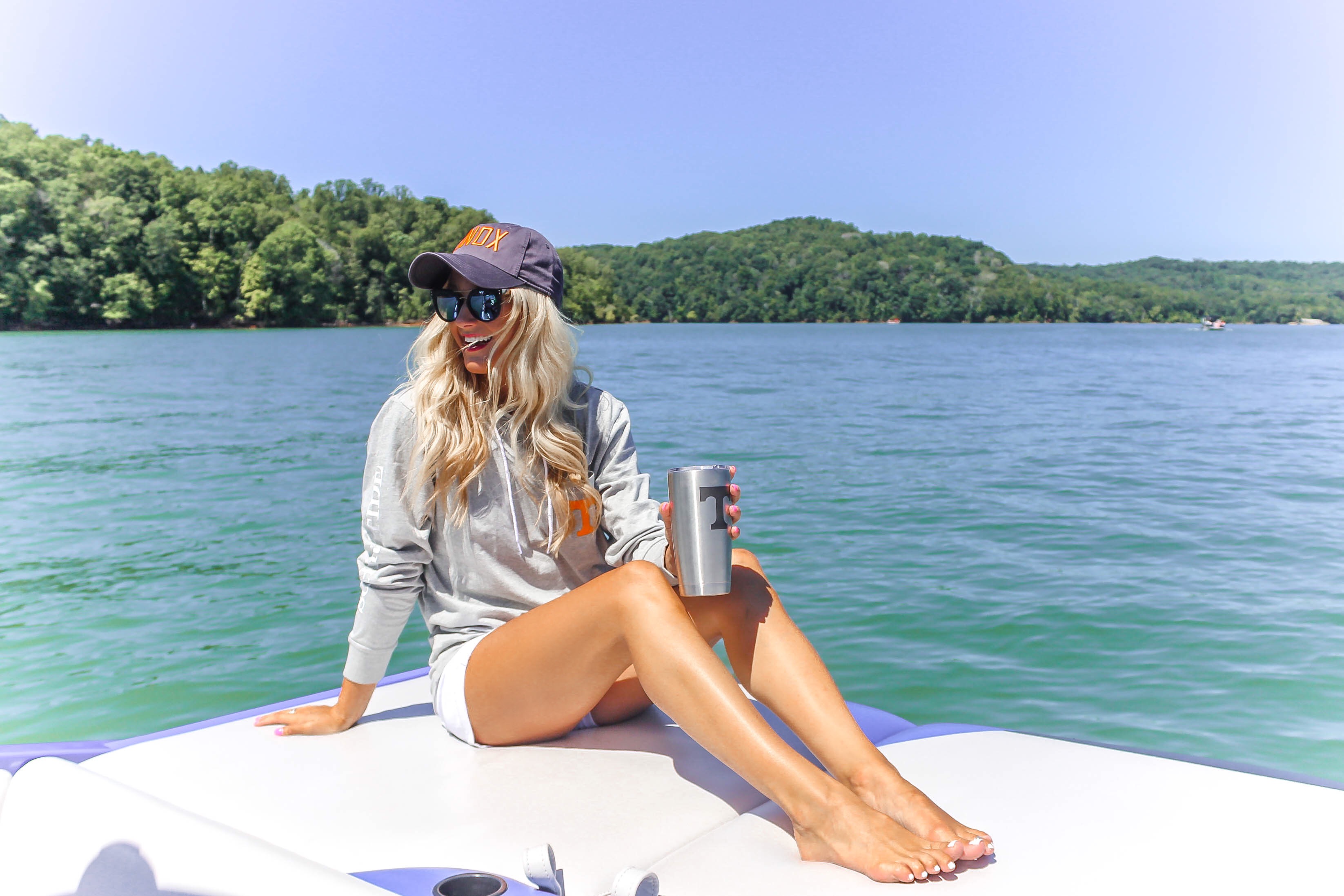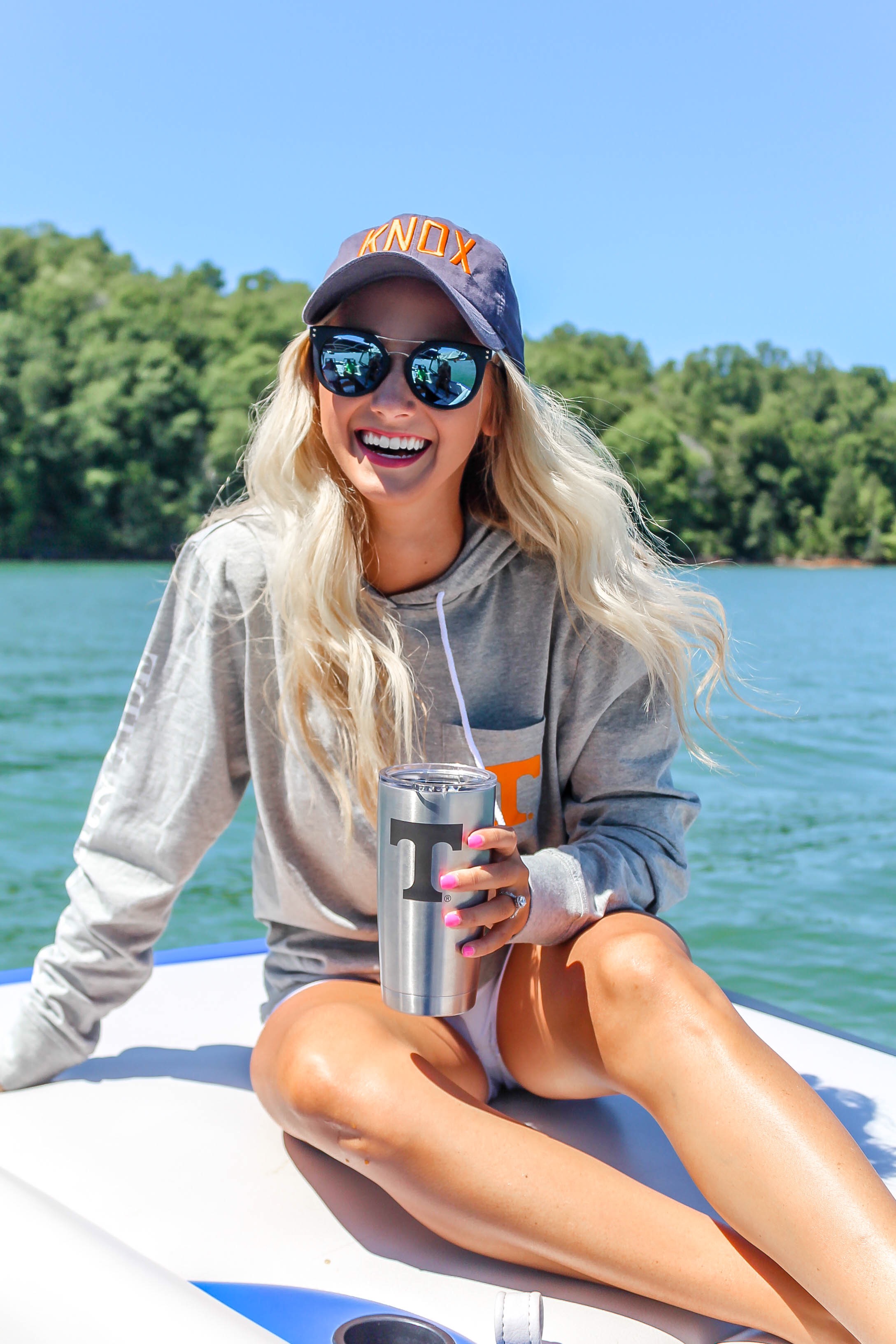 What's a lake day (or any event for that matter) without a Yeti tumbler in your hand???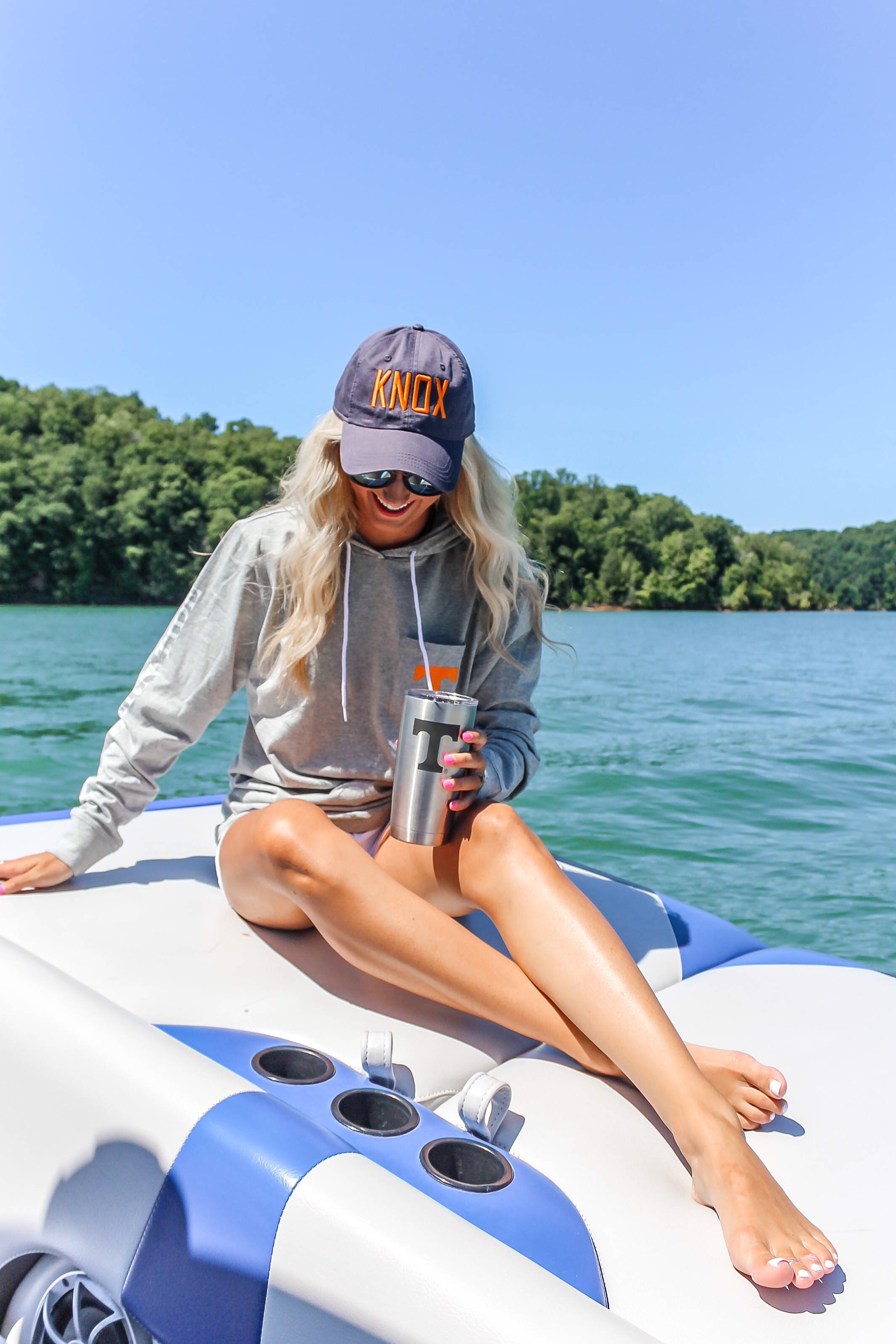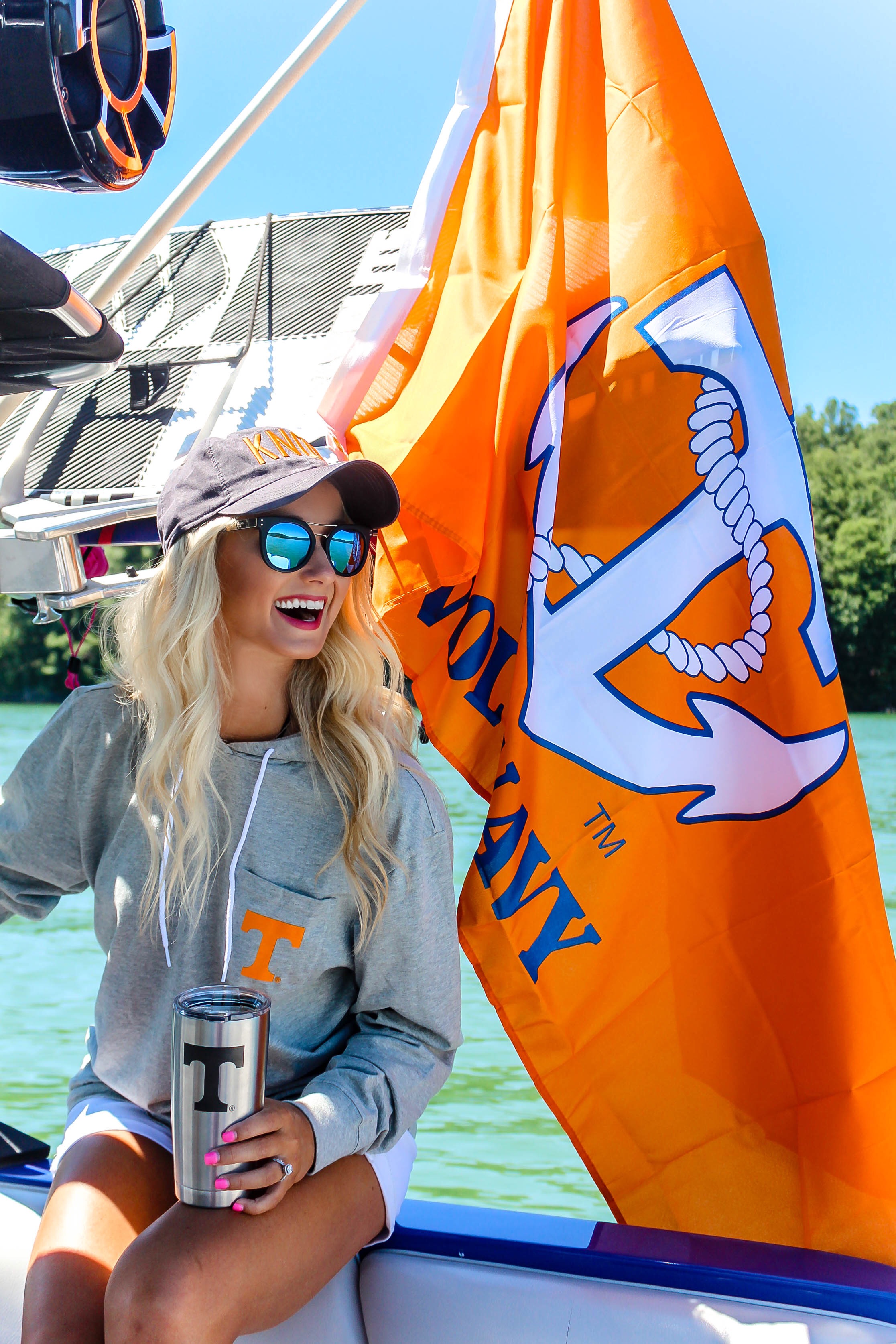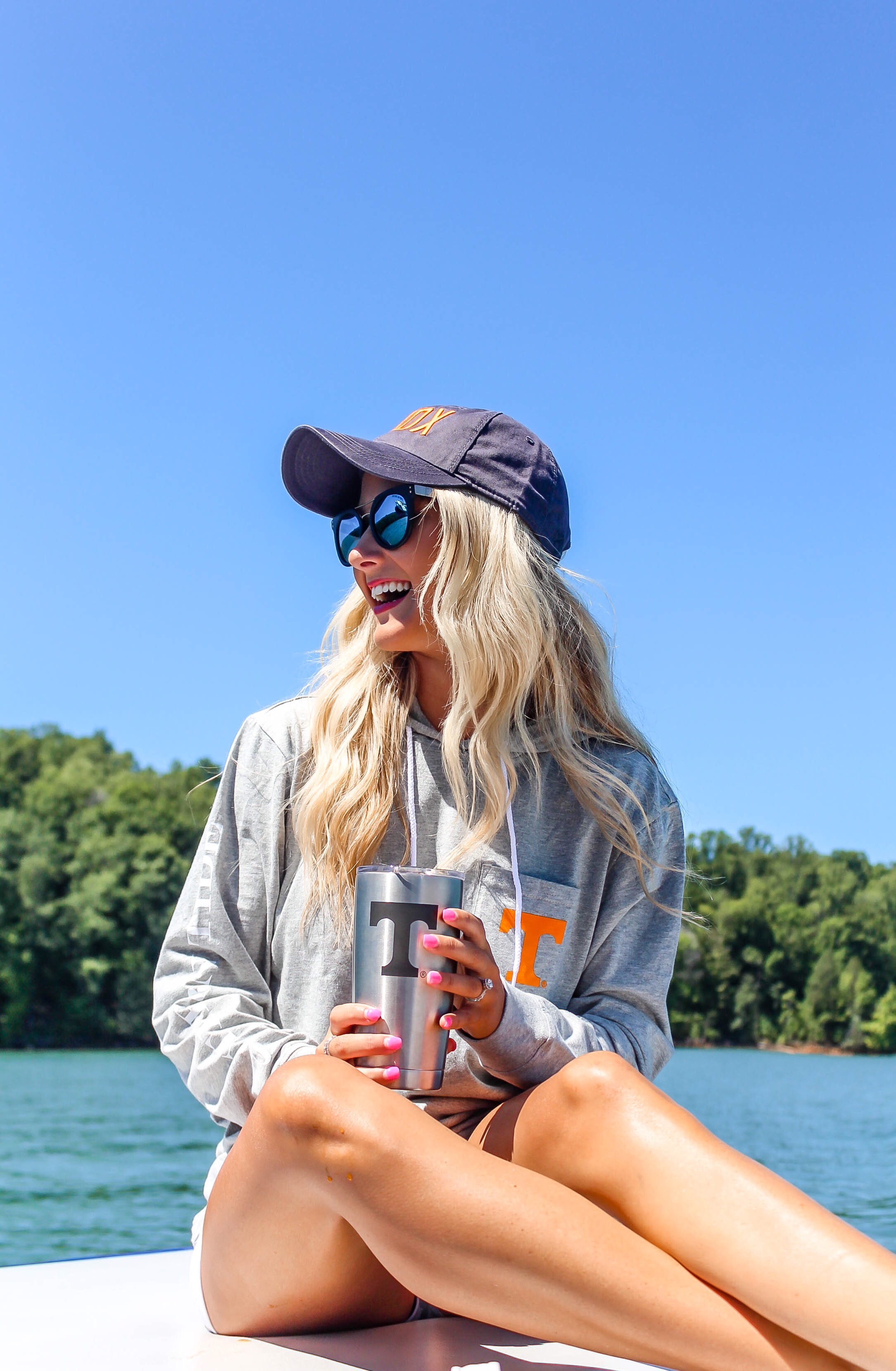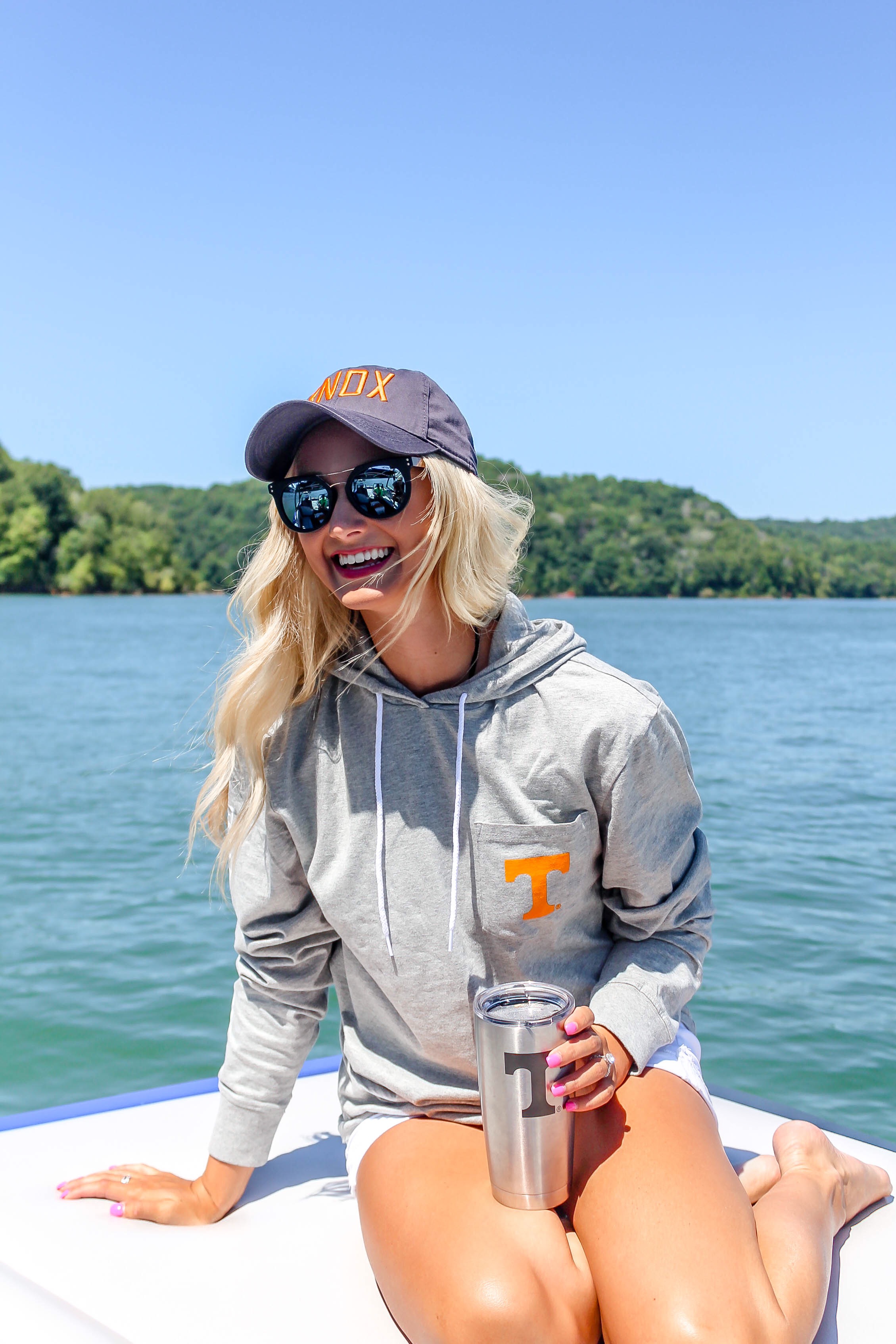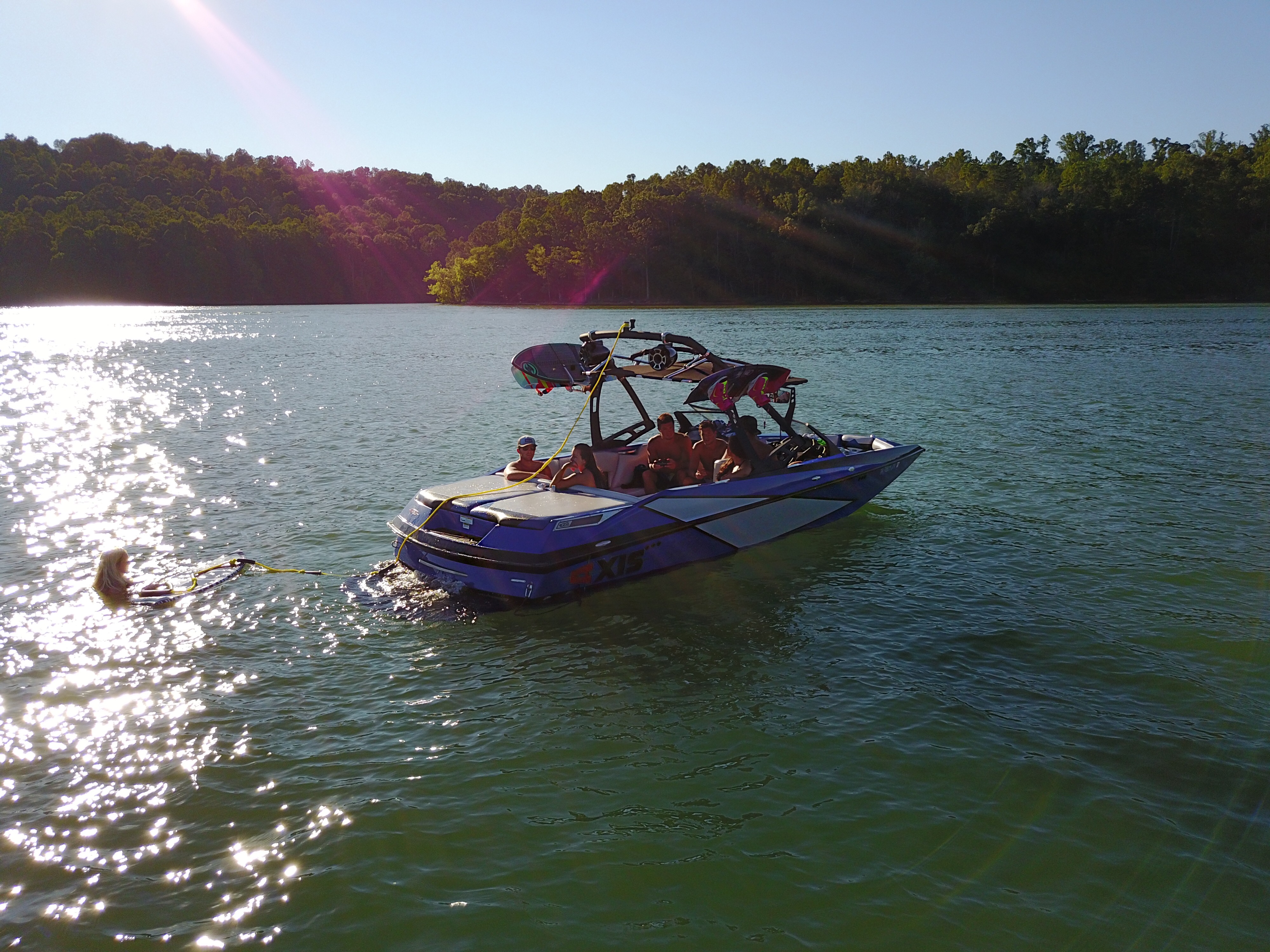 Ah, the sunsetting on the water is seriously my favorite time of day on the lake! (insert all the heart eye emojis)
Shop the post:
Vol Navy flag | KNOX ball cap | Titleist ball cap | Southern Tide hoodie t-shirt | Volunteer Traditions pocket tee | Columbia sun drifter button down | YETI tumbler w/ lid
You've seen me talk about my Tennessee Vols this entire post – I want to know YOUR favorite sports team now. Comment below! Also, let me know how you use your game day gear throughout the year, other than just on football Saturdays. Similar to how I like versatility when it comes to my wardrobe, I also really like being innovative when it comes to things around the house, items I already own, etc. Let ya girl know!
Thanks so much for stopping in and for sharing your ideas! Love love love ya. Time to go soak up the rest of our summer days 😉
xo, P
*Thank you to the University of Tennessee and @Vol_Gear for partnering with love 'n' labels on today's post!