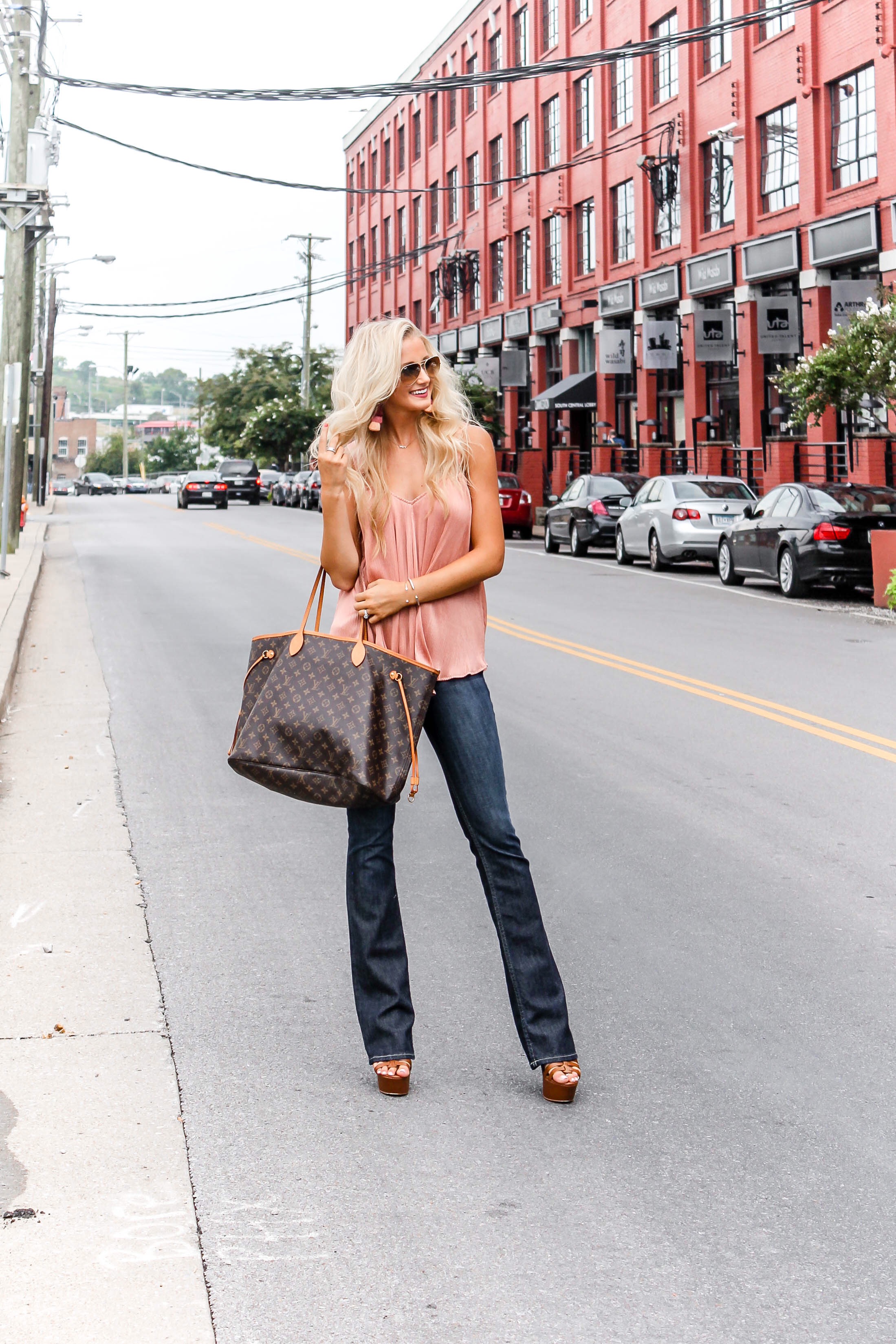 Fall is coming!!!! (Now say that in the Game of Thrones voice 😉 )
I know if you're like me, you freak out over the first leaf you see on the ground and you instantly break out the pumpkin coffee, muffins and candles … and if I'm being honest, I've already almost burnt through one whole Bath and Body Works pumpkin candle. I may have a problem LOL!
Not only do I get excited about pumpkin everything when it comes to the changing season, but I also get really inspired when it comes to my daily outfits. Fall fashion is one of those cozy, easy-to-style seasons that I always look forward to. There's something so refreshing about the crisp fall weather and burying myself up into a blanket scarf and riding boots. However, here in Tennessee (and in other parts of the South), we won't be seeing the weather cool down enough for those warmer layers for quite awhile. That's why I want to focus on sharing my transitional style with you all in this post!
Transitioning your wardrobe from summer to fall can be challenging for many reasons, but one major reason being the weather. Here in the south, you REALLY never know what you're going to get. (It's exhausting!) I also feel like by this point, I'm so ready to start breaking out my autumn wardrobe, but I just have to be so patient because it seems as though the weather doesn't know if it wants to be hot or cold and once you finally think it's made a decision, it'll be nice and chilly in the morning and by the afternoon, you're burning up. Overall, it's just really hard to find practical outfits for this transitional season and still feel like you look stylish and cute! I know my southern ladies can relate to this 😉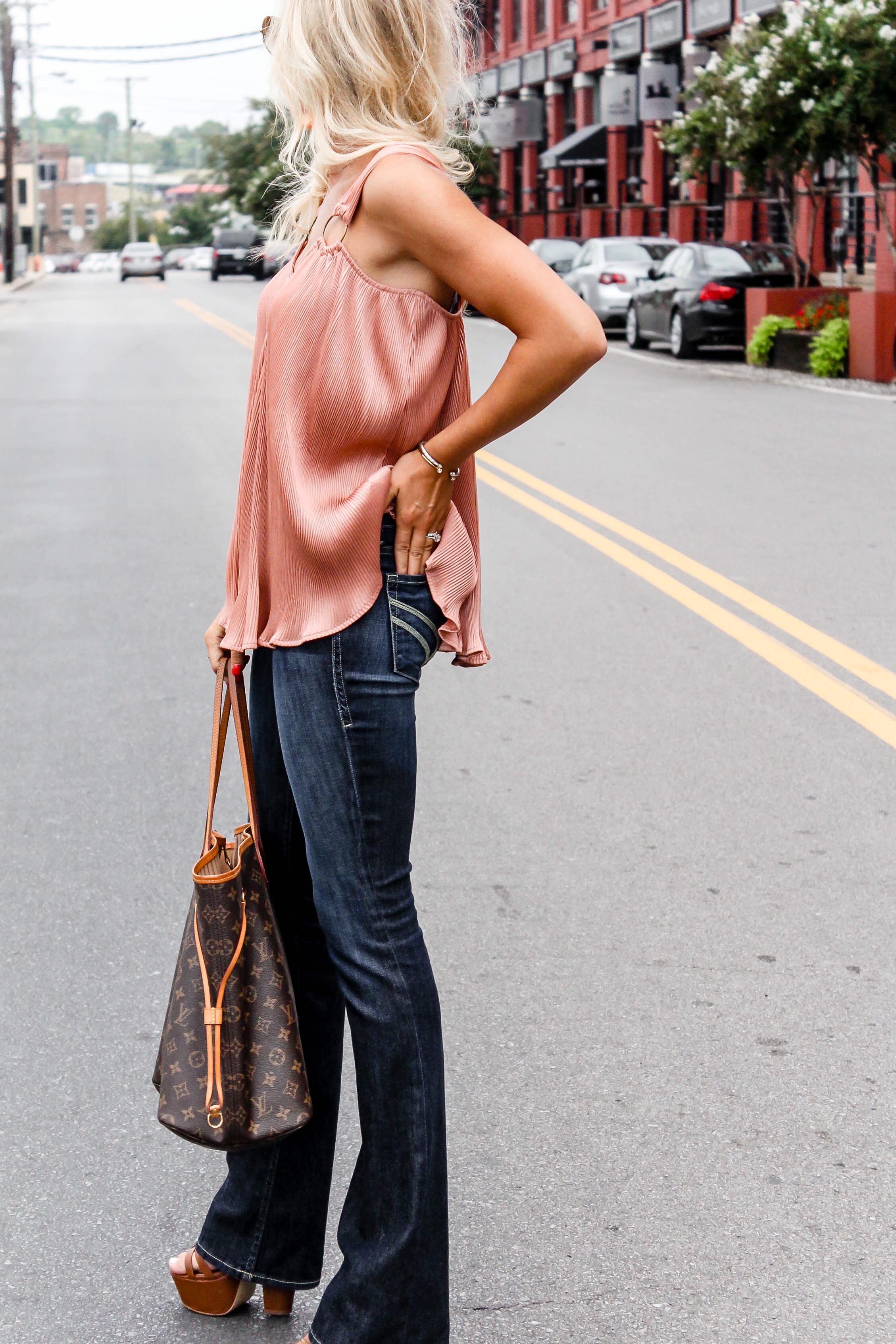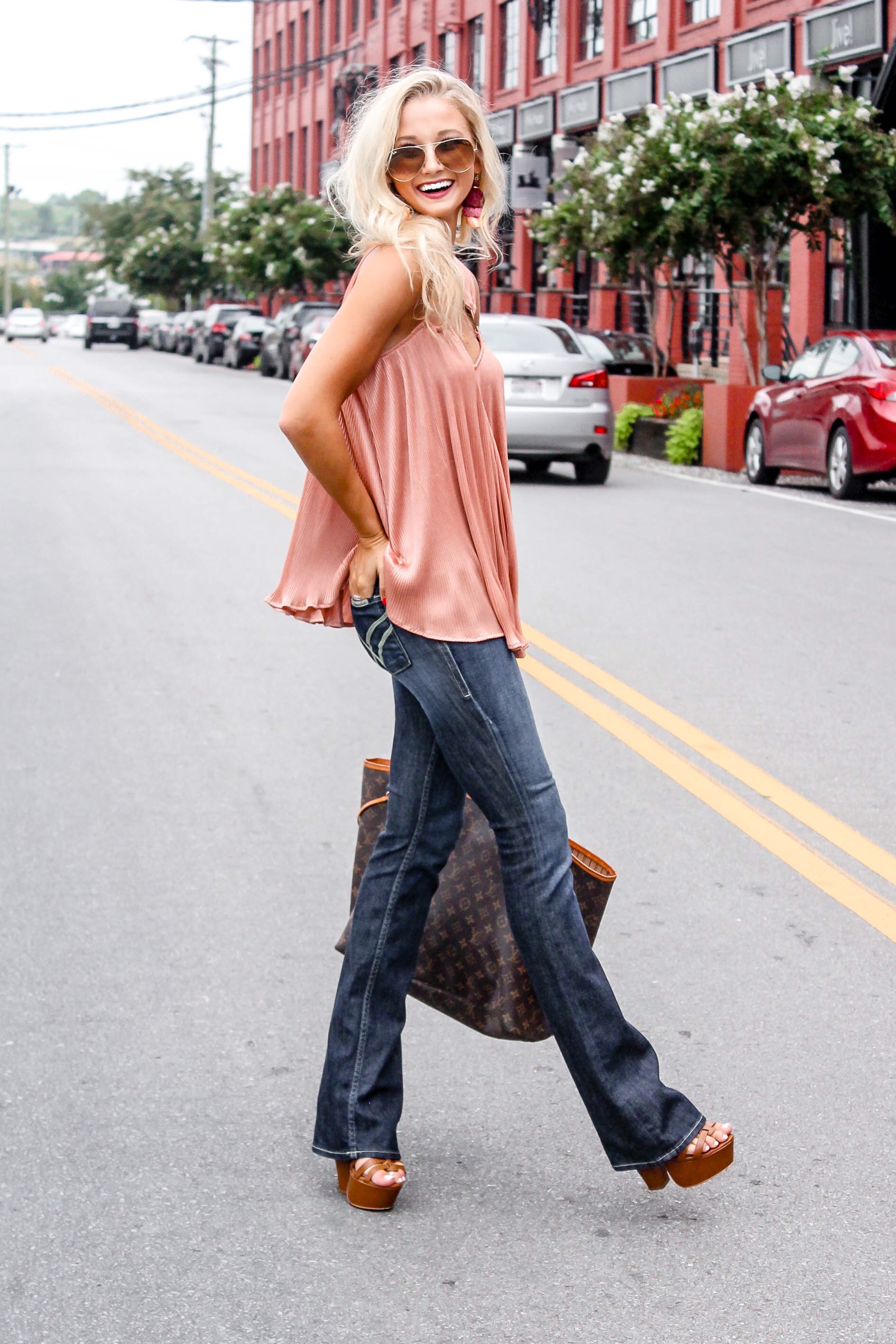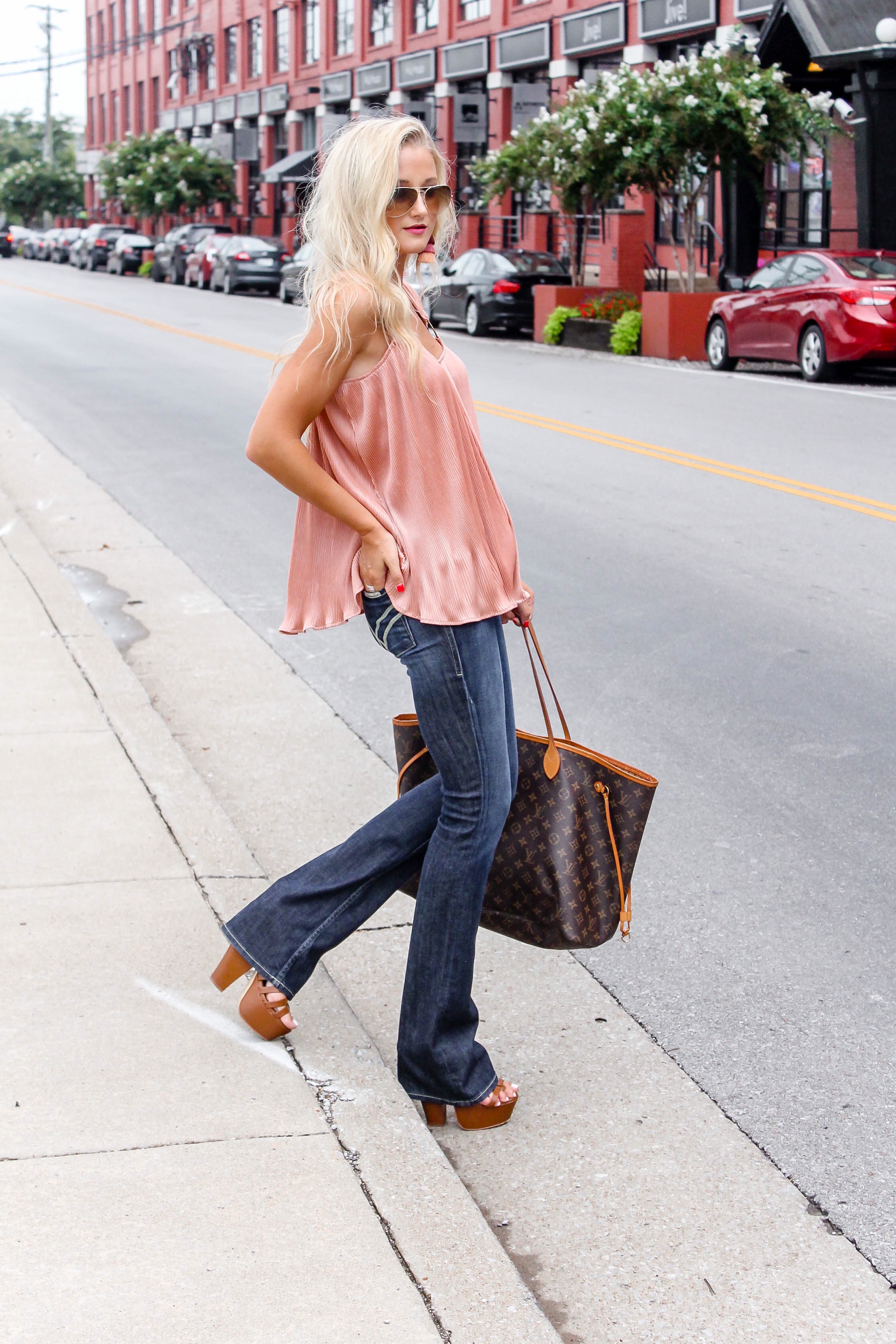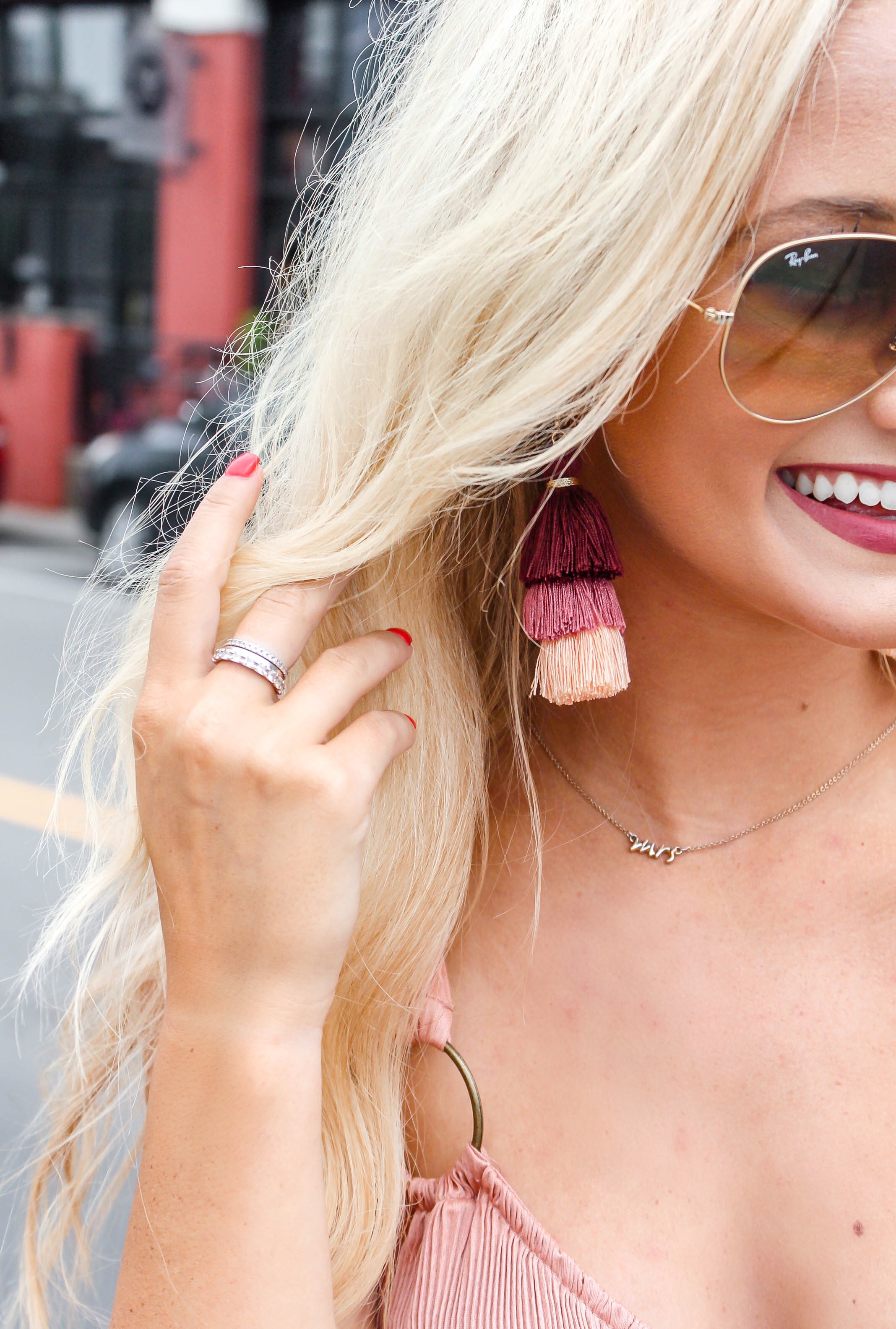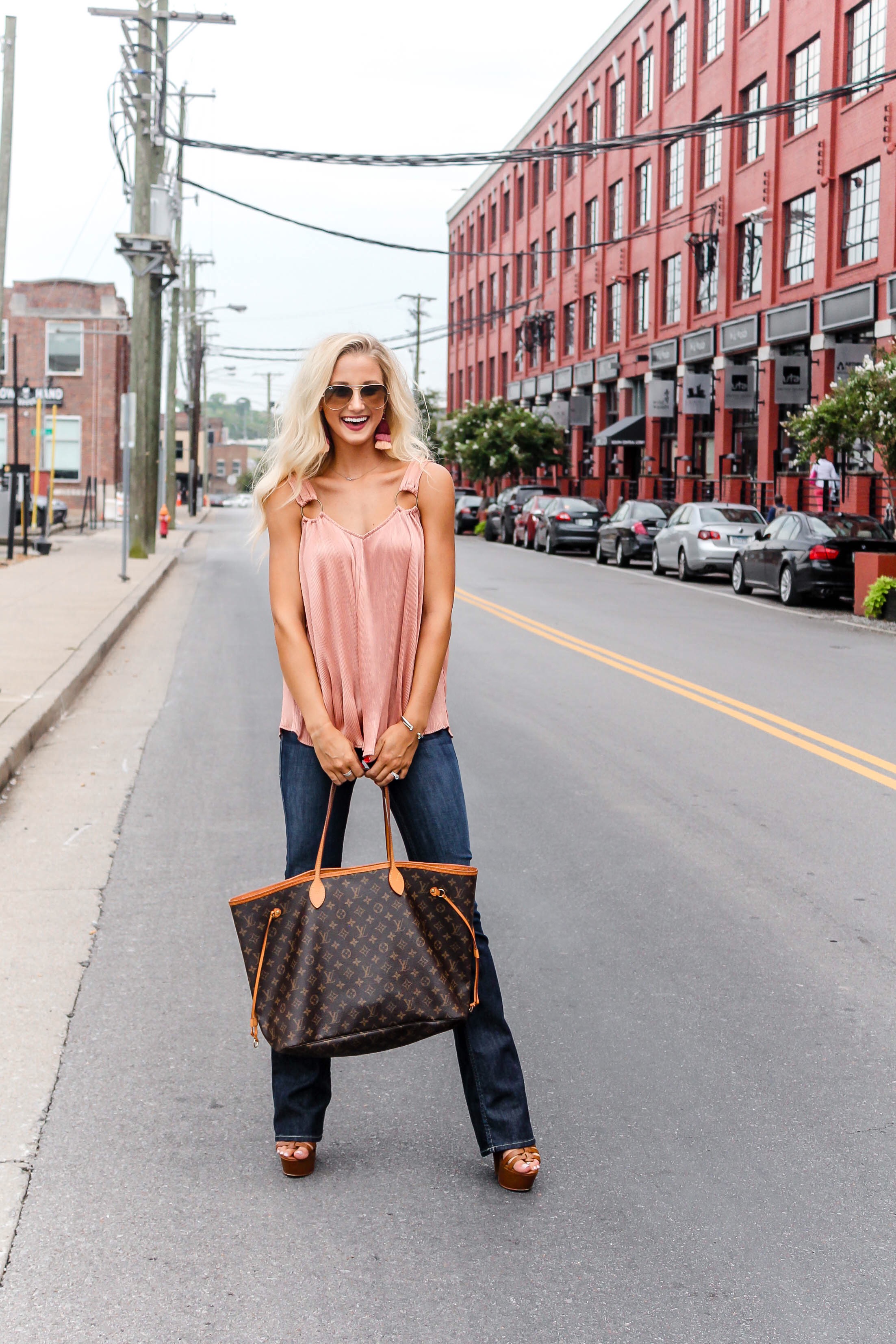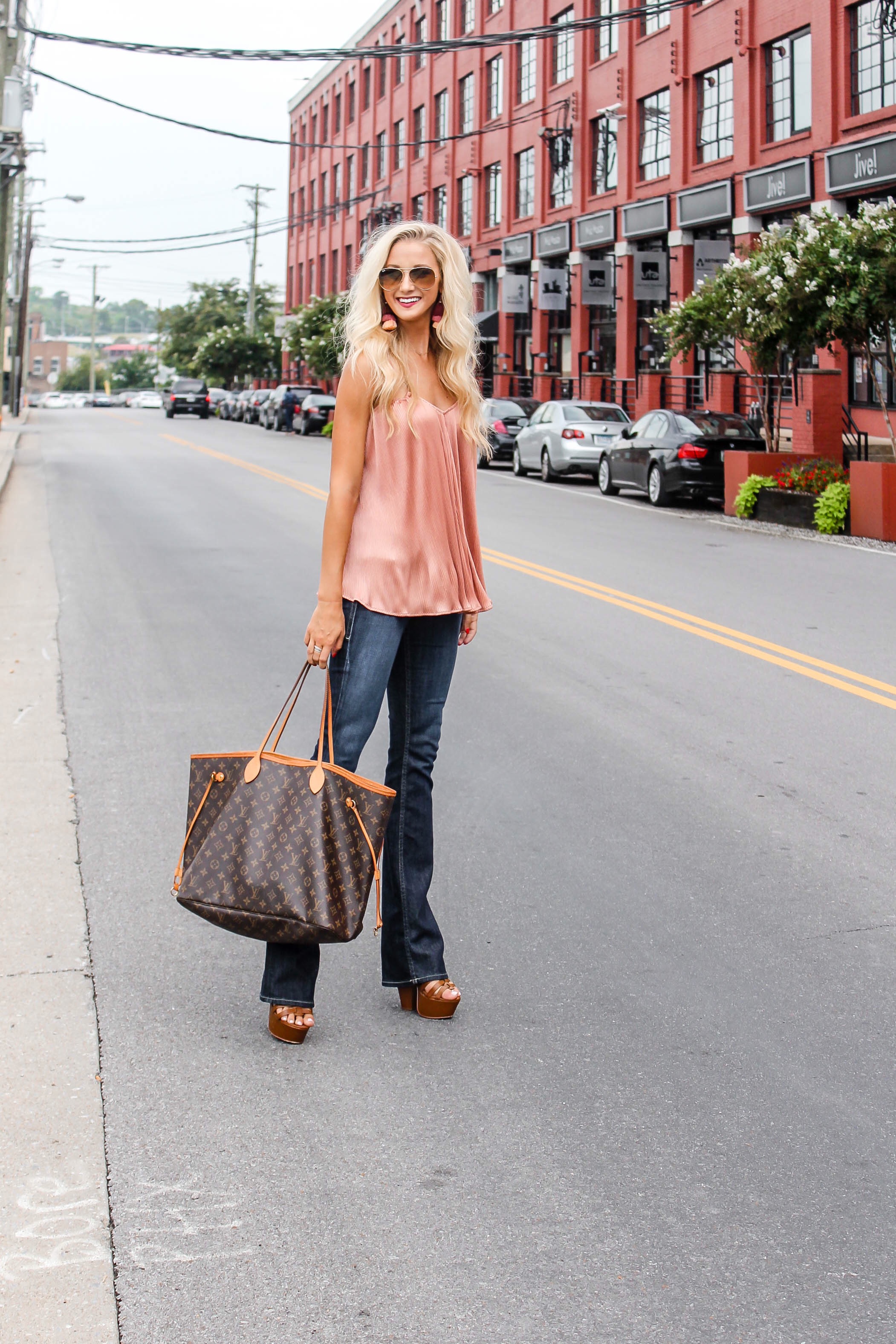 deep rose flowy tank | similar flare cut jeans | similar heels & here | fabric tassel earrings (so lightweight!)
I recently stopped by the new My Kind of Lovely – Knoxville boutique (who by the way, just opened their doors for the first time – congrats ladies!!), and I instantly fell in love with so many of their transitional pieces. From game day, to fall staples, to the cutest accessories, they literally had it all, and they are located right next to UT's campus so if you come out this way for a football game this year, be sure to visit!
I really loved the whole feminine, chic, lovely vibes that they displayed throughout the store. I found this gorgeous, flowy tank that I thought would be the perfect piece to wear during this time of year. It's fantastic to wear right now with a pair of white skinnies or flared denim jeans, and then it will also look so cute once the temps drop with a pair of distressed jeans and either a denim or moto jacket. There are SO many options to wear with this top (& it also comes in black)! I loved this deep rose color because it's a huge on-trend hue for the upcoming seasons, but I feel with the tone being muted, it makes the whole look more fall-appropriate all together. Not to mention, this style will literally be flattering on anyone who wears it!
And before I sign off, I MUST point out the gorgeous, lush tassels I found at MKL! I mean, yaaaas. The jewelry selection at the boutique is to die for to begin with, but when I saw these specific earrings, I about died. I love that they are made out of fabric instead of beading. To me, they just look a little more high-end than the tassels that we see everywhere else these days (but at a really affordable price point). It's a win-win!
If you're not local to Knoxville but you want to shop more styles like this one, no worries! My Kind of Lovely also has a boutique in Madisonville, TN & online.
What's your ideal fall transitional style? Are you more of a romper and cardi type of girl or a jeans and cute top kinda chick?
Thanks so much for stopping by and reading y'all!
xo, P
*Thanks to My Kind of Lovely for sponsoring today's post!