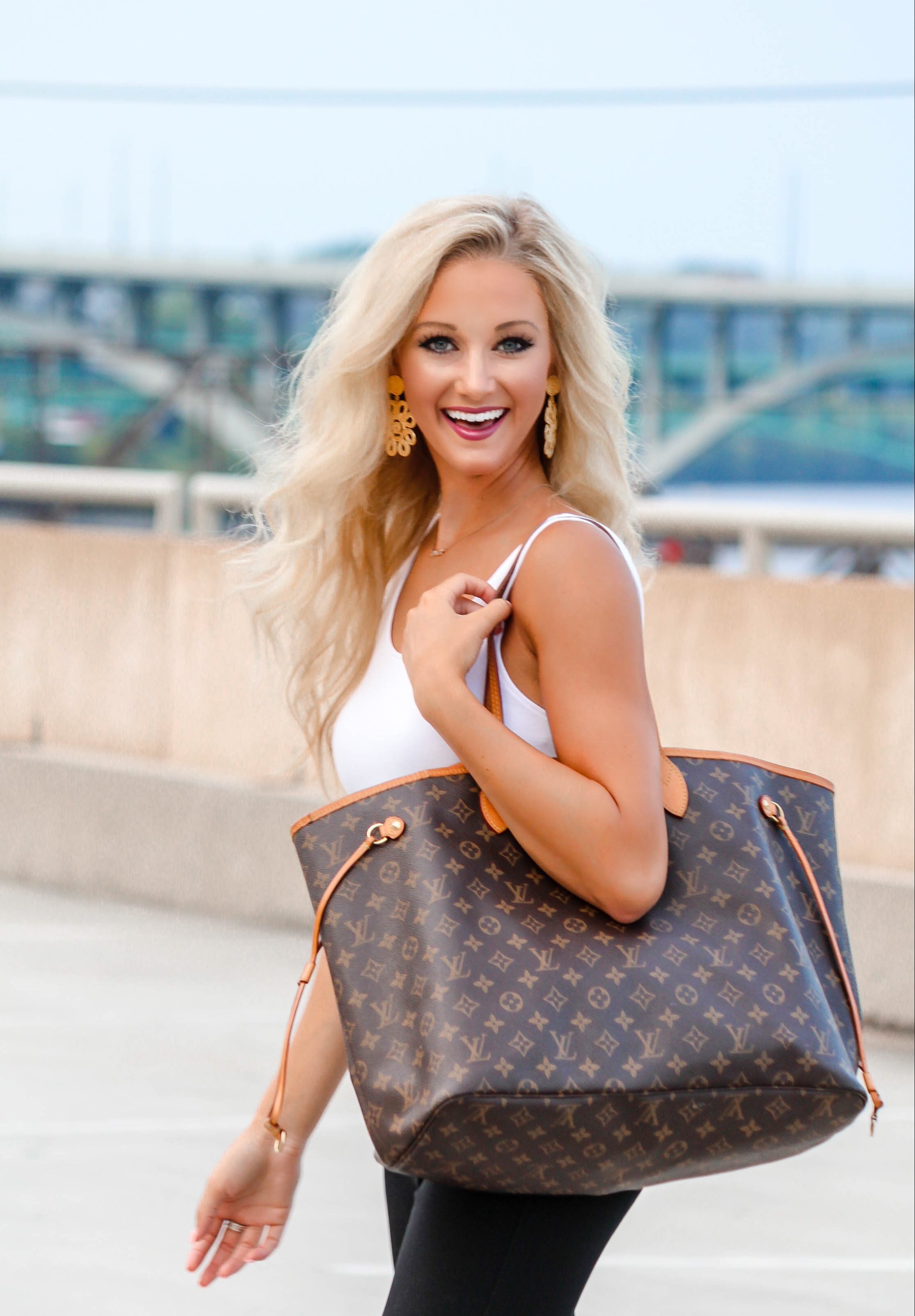 TGIF! It's time for our weekly FAQ Friday!
What are some of your best tips/products for dry skin?
I usually get really dry skin in the heart of summer or the heart of winter, so I can share what I normally do to treat mine when it's out of control. I definitely recommend using a coconut oil instead of lotion on your body. I started doing this recently and have noticed a world of difference already. And I'm a huge lotion fanatic so it was actually challenging for me to make the switch, but now I love it! I also LOVE this hydrating serum! It's a little pricey but it lasts a long time and literally works overnight. I use it on my face when it's super dry and the next day, I can already tell a difference! I couldn't say enough good things about it.
Are your eyelashes REAL?
I literally get this question weekly, even though I feel like I've talked about it a lot haha but nope (I wish!). I have a full post about my eyelashes here!
Do you wear hair extensions and if so, what kind?
No I don't wear them … actually the only time I've ever worn extensions was on my wedding day to achieve the look that I wanted. However, I have kind of been wanting to get some just to wear for special occasions or when I want more fullness. So, if y'all have any suggestions for some good brands, let me know! Help a girl out 😉 And if I find some that I really like, I'll be sure to share with you all!
I live in Knoxville too  – who does your hair? I would love for them to do my color.
So, this one is kind of complicated because my uncle used to do hair for a living (but now he's moved on to another profession) – however, he's still kind enough to color and cut my hair for me. Since he doesn't book day-to-day appointments anymore, I can refer you all to another salon here in Knoxville called Salon Visage. My sweet sister and a lot of my friends get their hair done there, so if you are interested in booking an appointment at SV, just message me and I can help you find the right person to book with (although, honestly they are all great at what they do). Honestly, I'm so picky about who does my hair because I feel like it's hard to find someone who really knows how to color blondes without making them look brassy. But all that to say, I would be going to SV if my uncle didn't highlight my hair.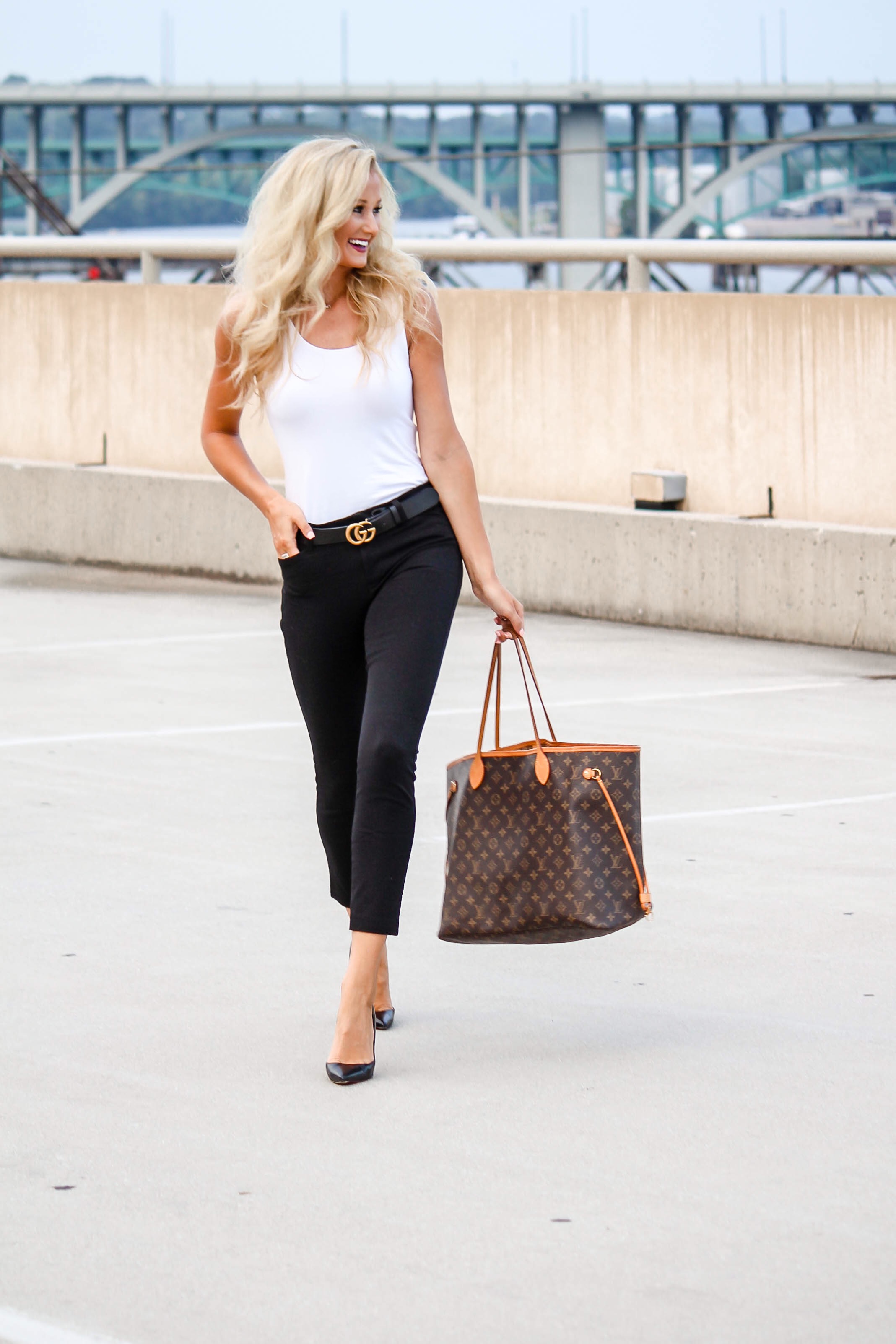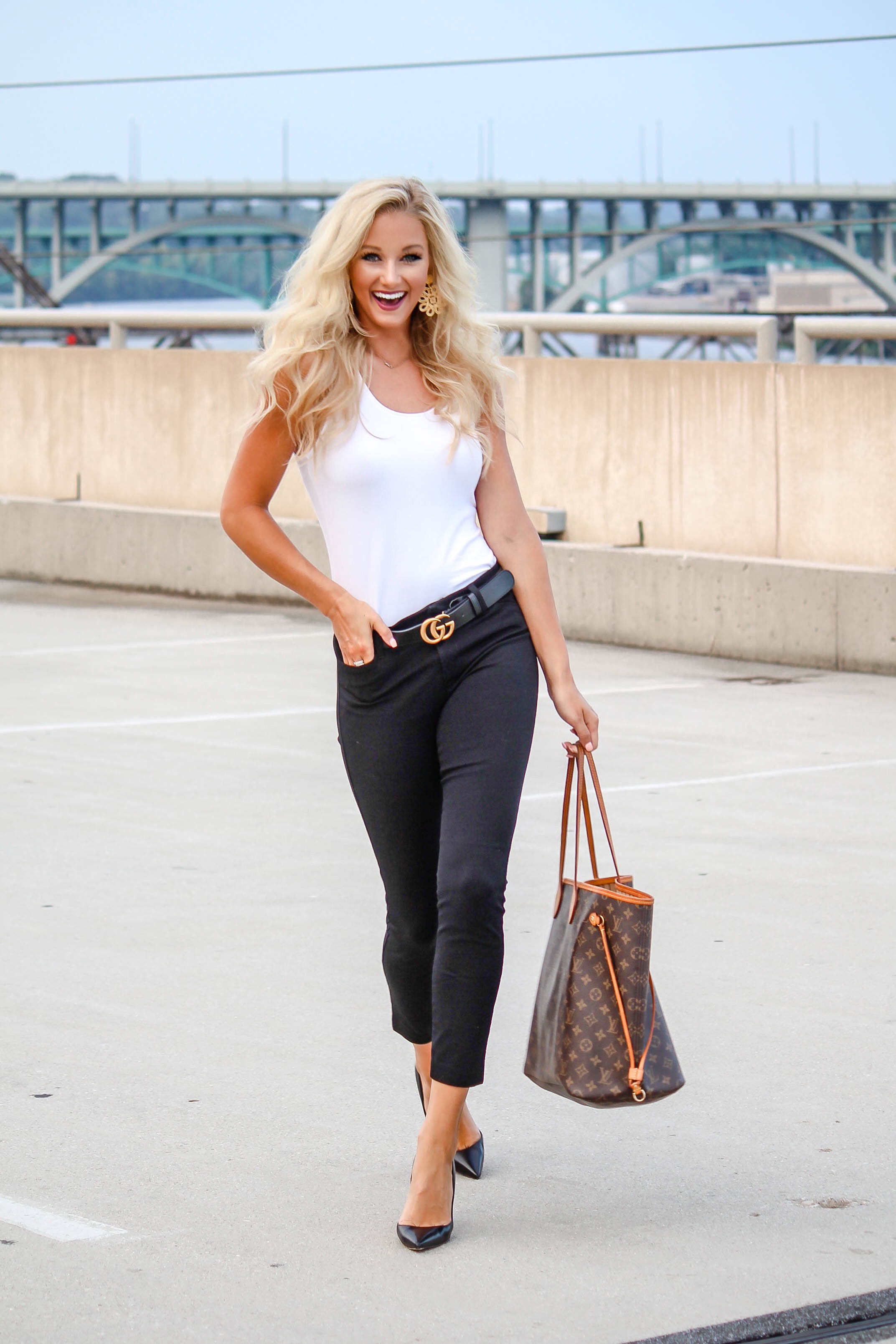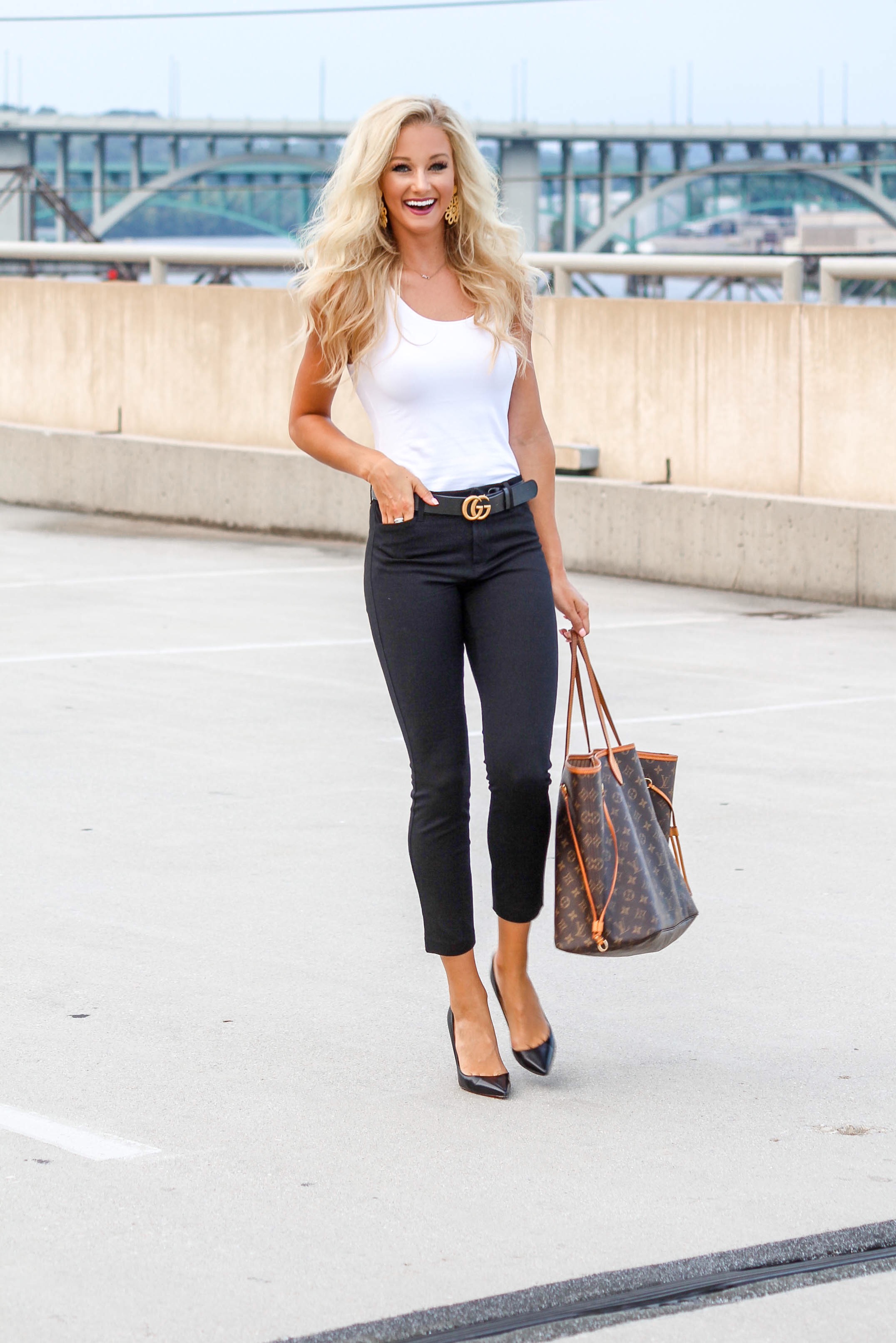 white bodysuit | black cropped pants | louboutin pumps | lisi lerch gold earrings | LV MM neverfull

I wanted to share this chic & effortless, B&W look from Gap because it's the perfect OOTD to wear to the office on a Friday with a cute jacket or cardi & then change it up with a statement belt and bare arms for dinner and drinks that night. I am obsessing over these bodysuits right now (I literally just bought it in 3 different colors because they're under $10 haha). And I am SO tempted to buy these pants in every color available because they are so soft, stretchy, and comfortable, all while looking chic, stylish and professional at the same time. There are so many great ways that you can style a staple, cropped pant like this!
---
Thanks so much for stopping by and reading! I hope you all have a fantastic weekend – it's kinda chilly here in TN tonight! Definitely starting to feel like fall (for now), but I'm cozied up burning my fall-ish candles and I'm not one bit ashamed LOL 🙂 can't complain!
xo, P