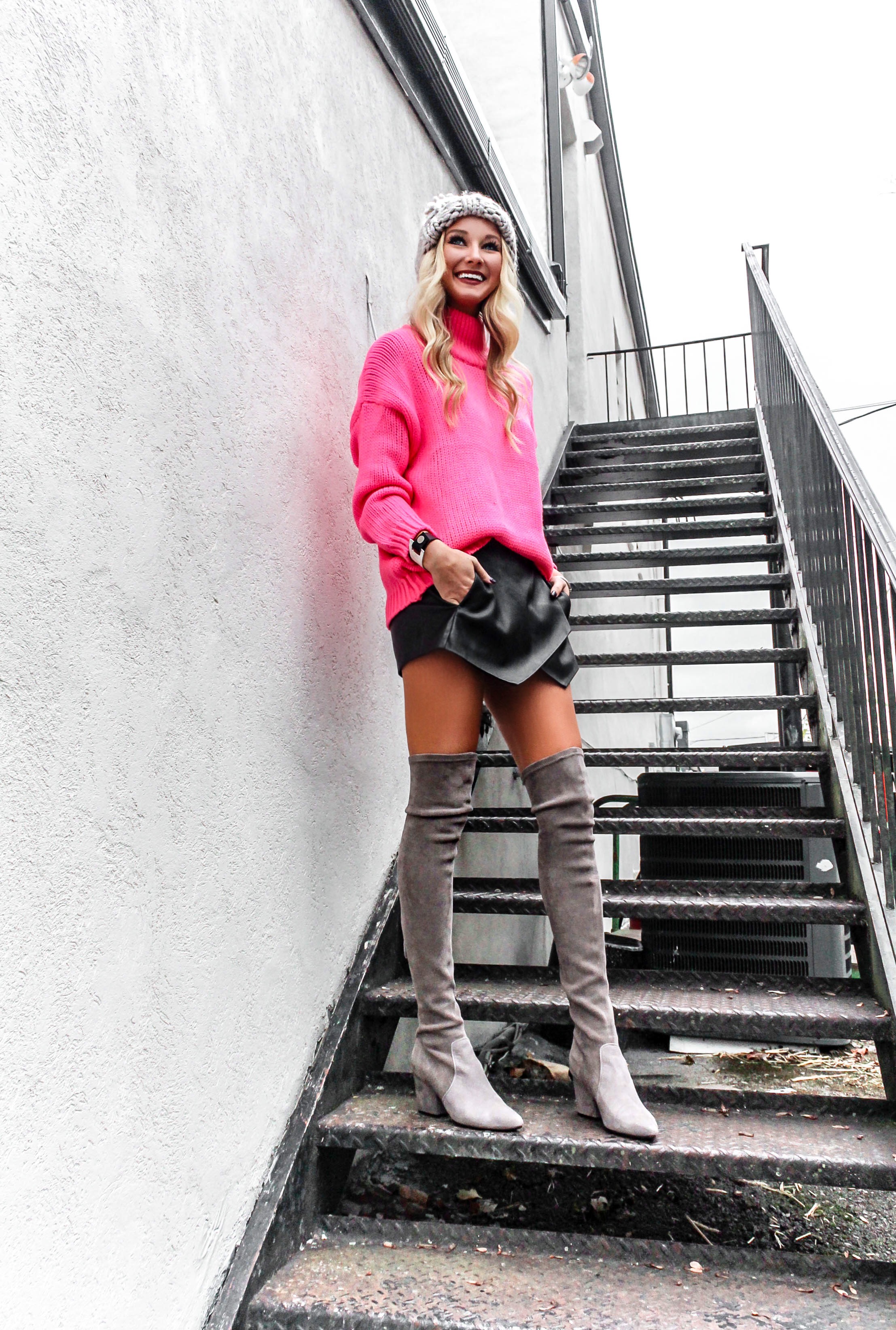 Over the knee (or thigh high) boots are some of my all time favorite shoes to wear no matter the outfit or the occasion. I'm one of those girls who owns a few different pairs because I feel like they amp up so many outfits and make such a statement. But styling them can sometimes be challenging — you must find the right height for your leg length (my shorter friends always joke that my OTK boots would cover their whole leg lol) and of course make sure that the outfit you're wearing with them is appropriate for that particular style.
I recently ordered this grey-taupe pair, and I've honestly been wearing them nonstop since they came in. I. Am. Obsessed. They are the perfect height for my leg and actually come up a little higher on my legs, compared to some of my other OTK boots — and I love it! I particularly love that they are tight enough on my legs to where I don't have to constantly pull at them to keep them up above my knees, however, they're not so tight to where they squeeze my legs to make indentions. And the color? Perfection — it goes with anything and everything. The heel height is also amazing because it gives you a little lift without hurting your feet all day. They are truly so comfortable!
Like I said, I have a few other pairs of OTK boots as well, so I'll share those toward the bottom of this post, and you all can see how I styled each of them. But, up first are my new favorites 🙂 I paired them with a leather asymmetrical skort & a slouchy, bright pink turtleneck sweater that is SO cozy – I've also worn it a couple times since I got it in the mail. It's seriously so comfortable & chic at the same time!
1. OTK boots with a skort / skirt / shorts
The key to achieving this type of look is to make sure you not only have the right height of boots for your leg length, but to also pay attention to the length of your skort (or skirt or shorts – I often where my leather shorts with OTK boots too!). Essentially, you want to make sure that your skort / skirt / shorts aren't too long to where the bottom of the skort and the top of the boots end up touching each other. That won't look flattering and it will make your boots look too tall for your leg length. So, it's definitely okay to show a few inches of your leg in between your skort and your boots (of course, while making sure your bottoms are not too short – because that's not flattering either haha!).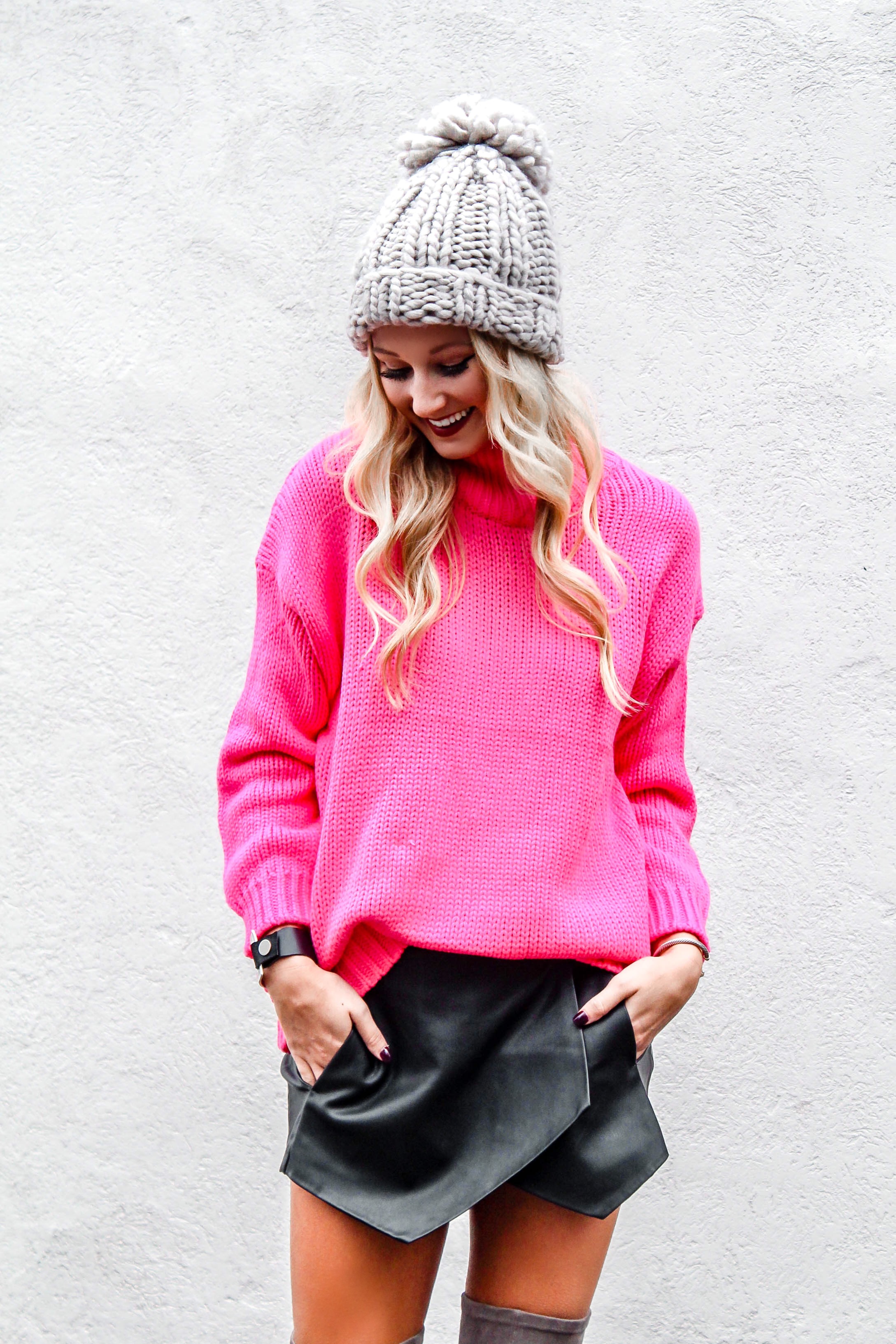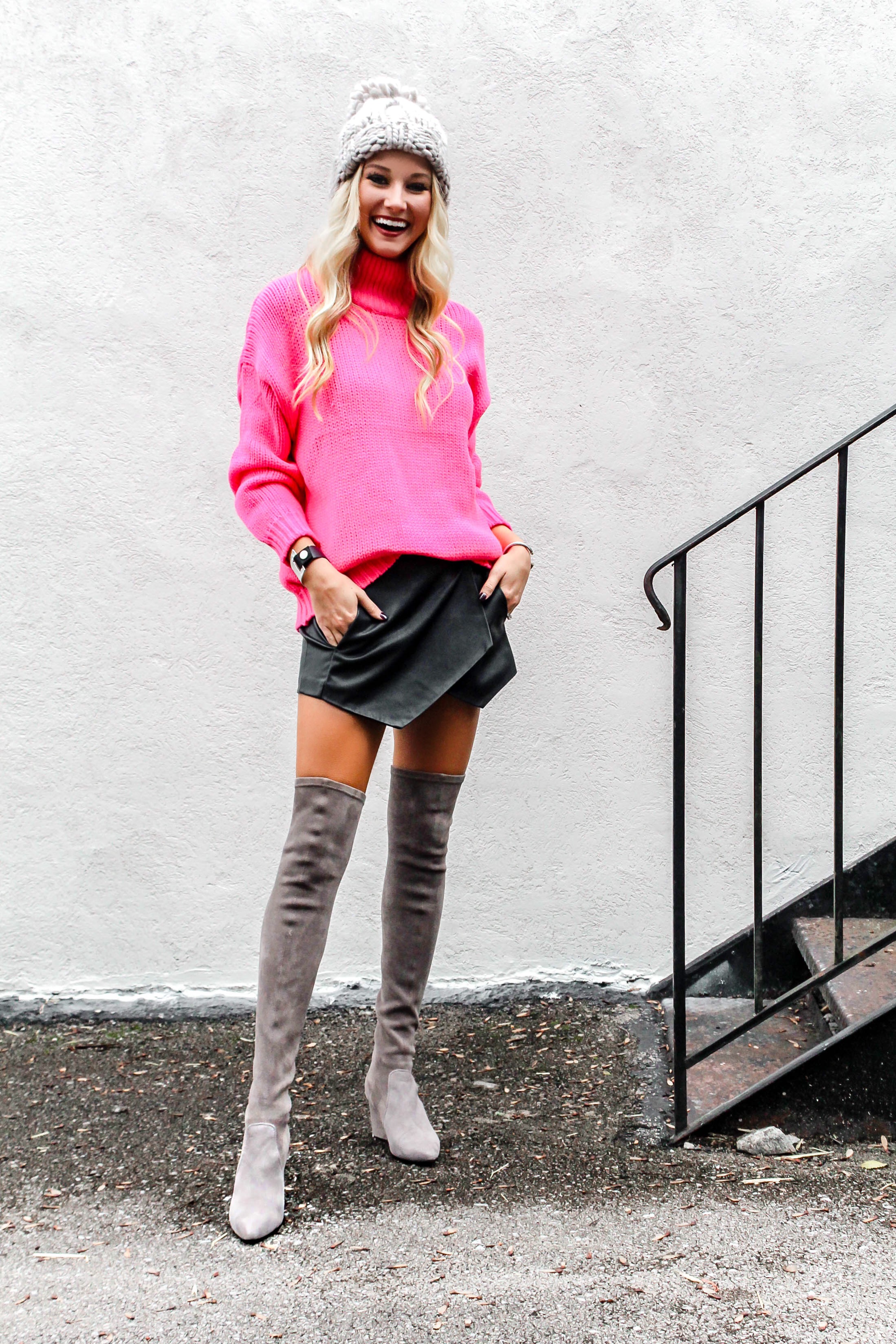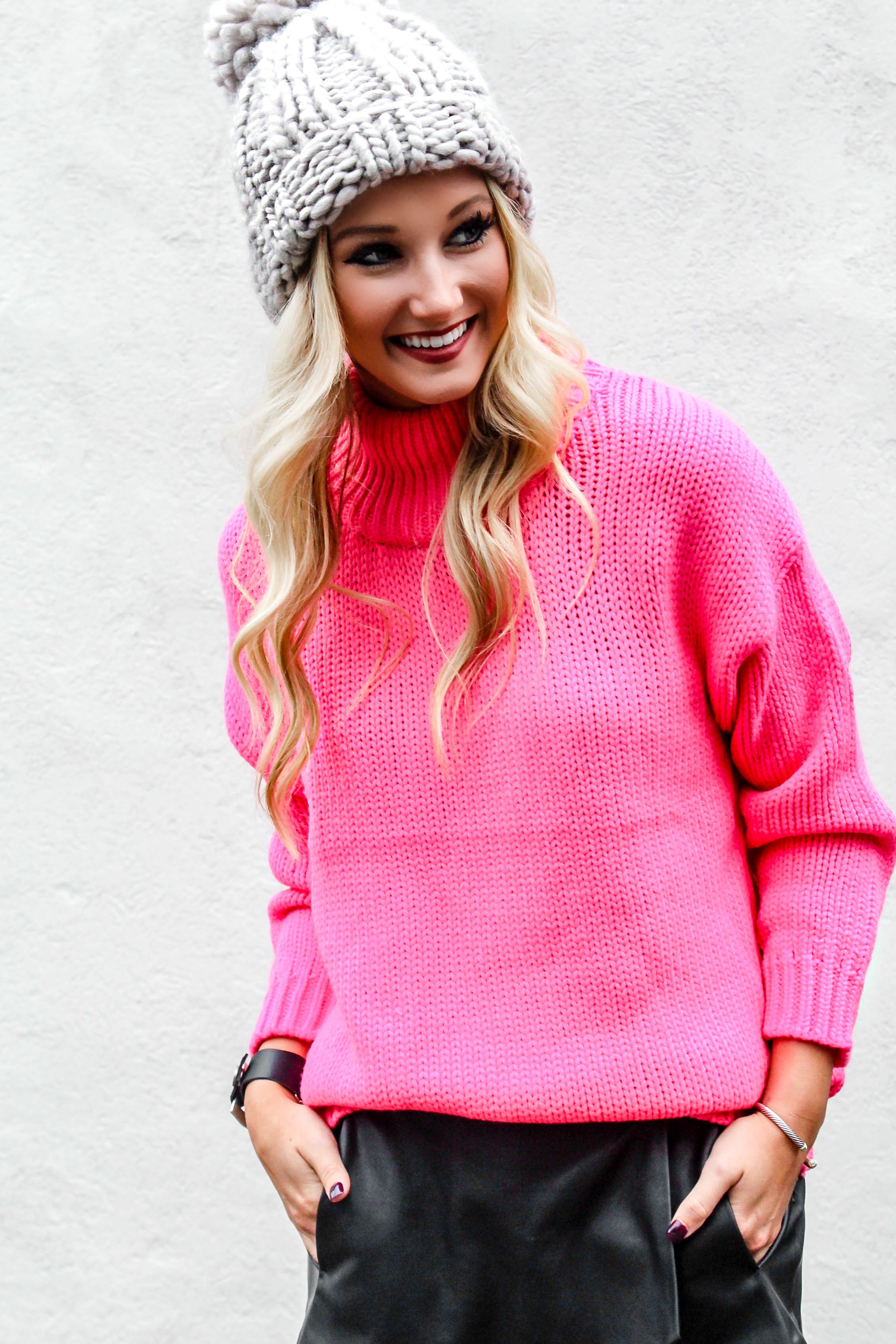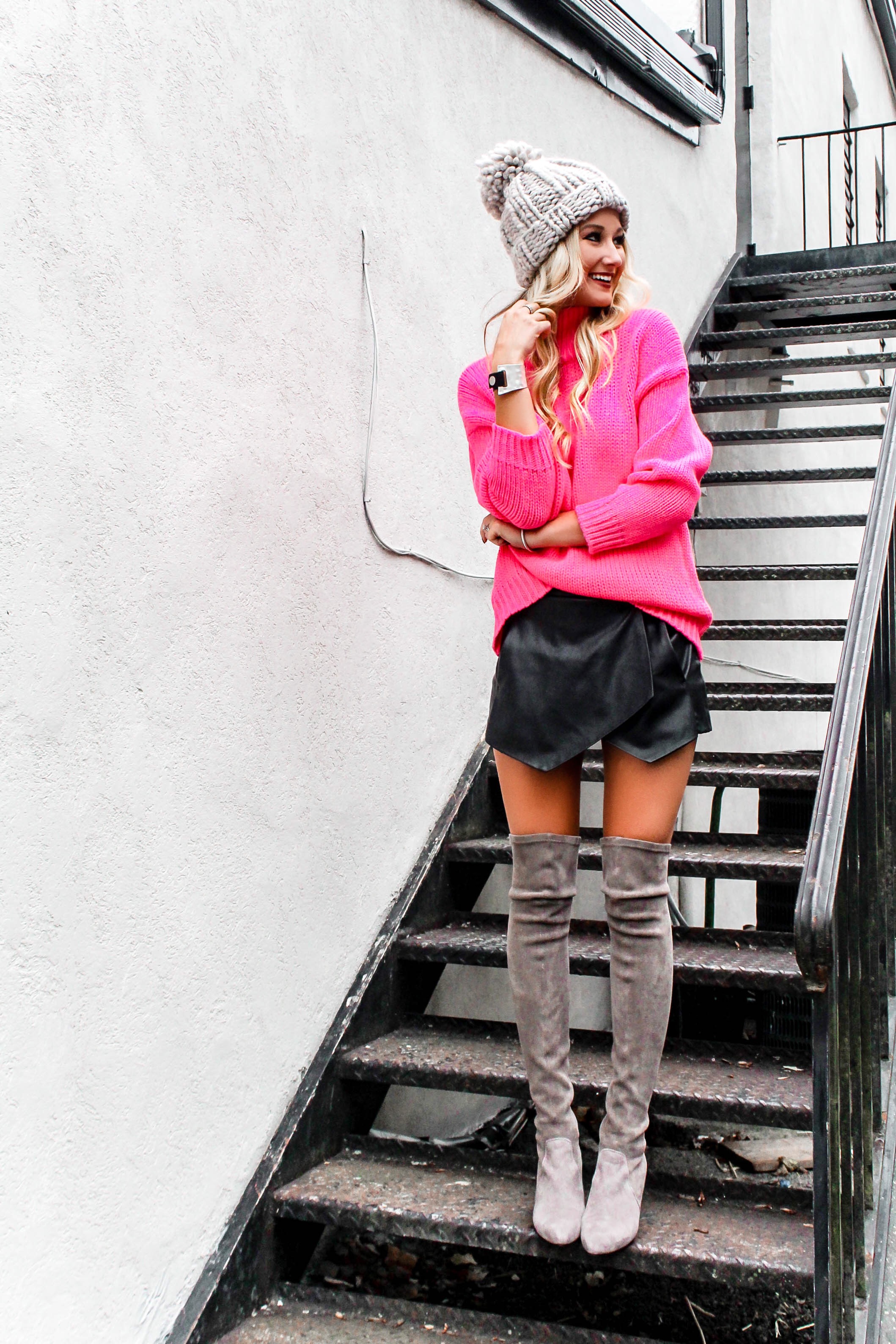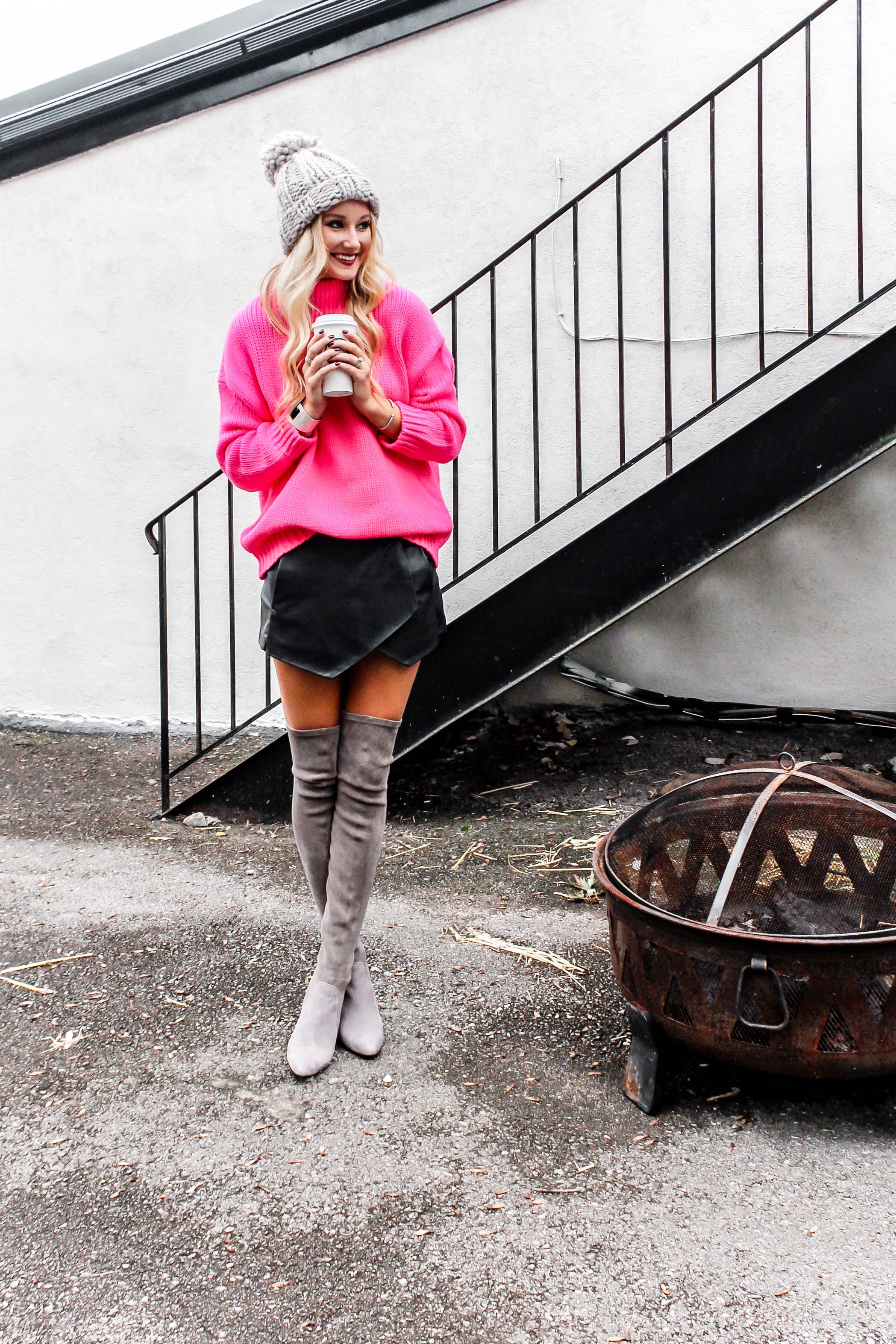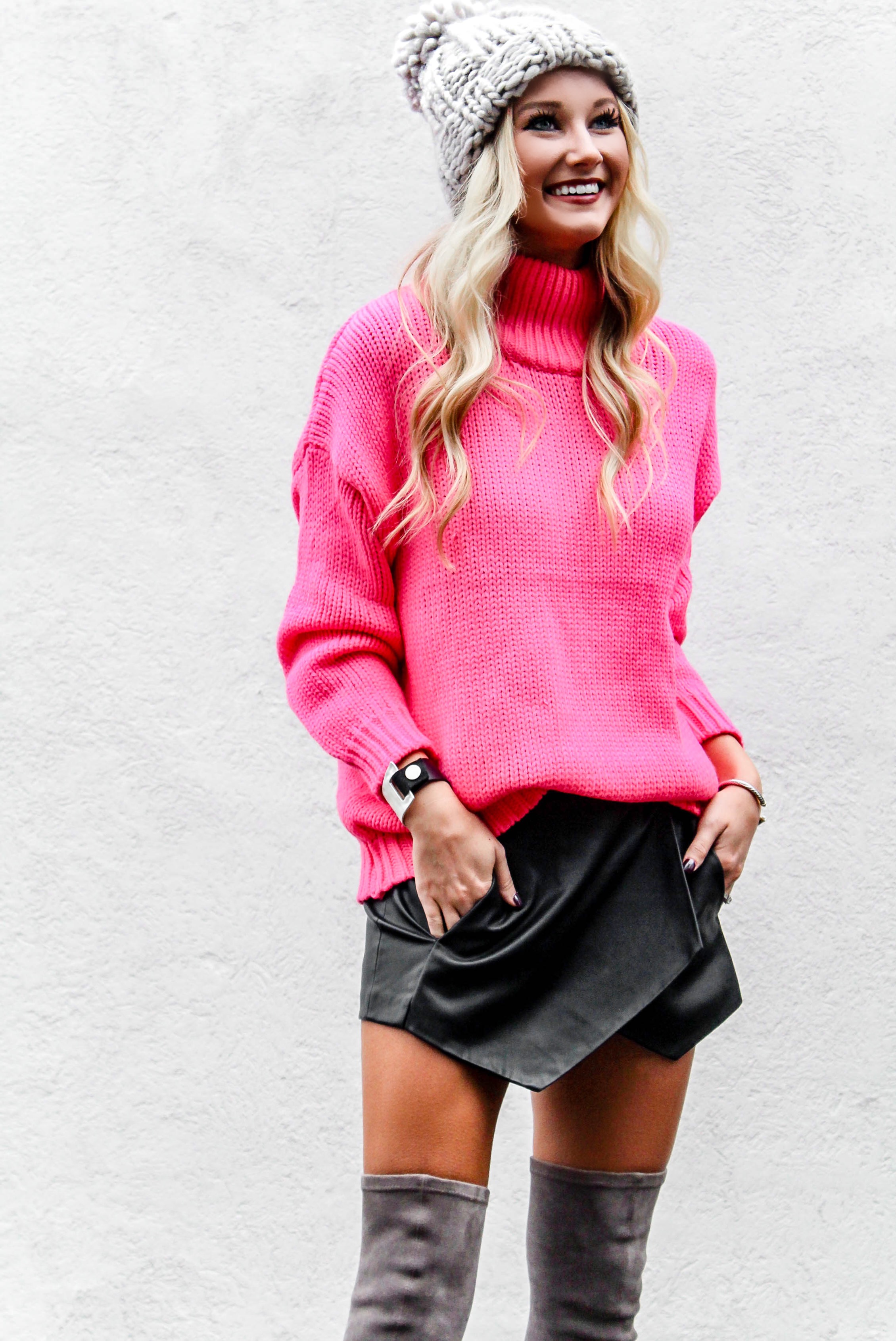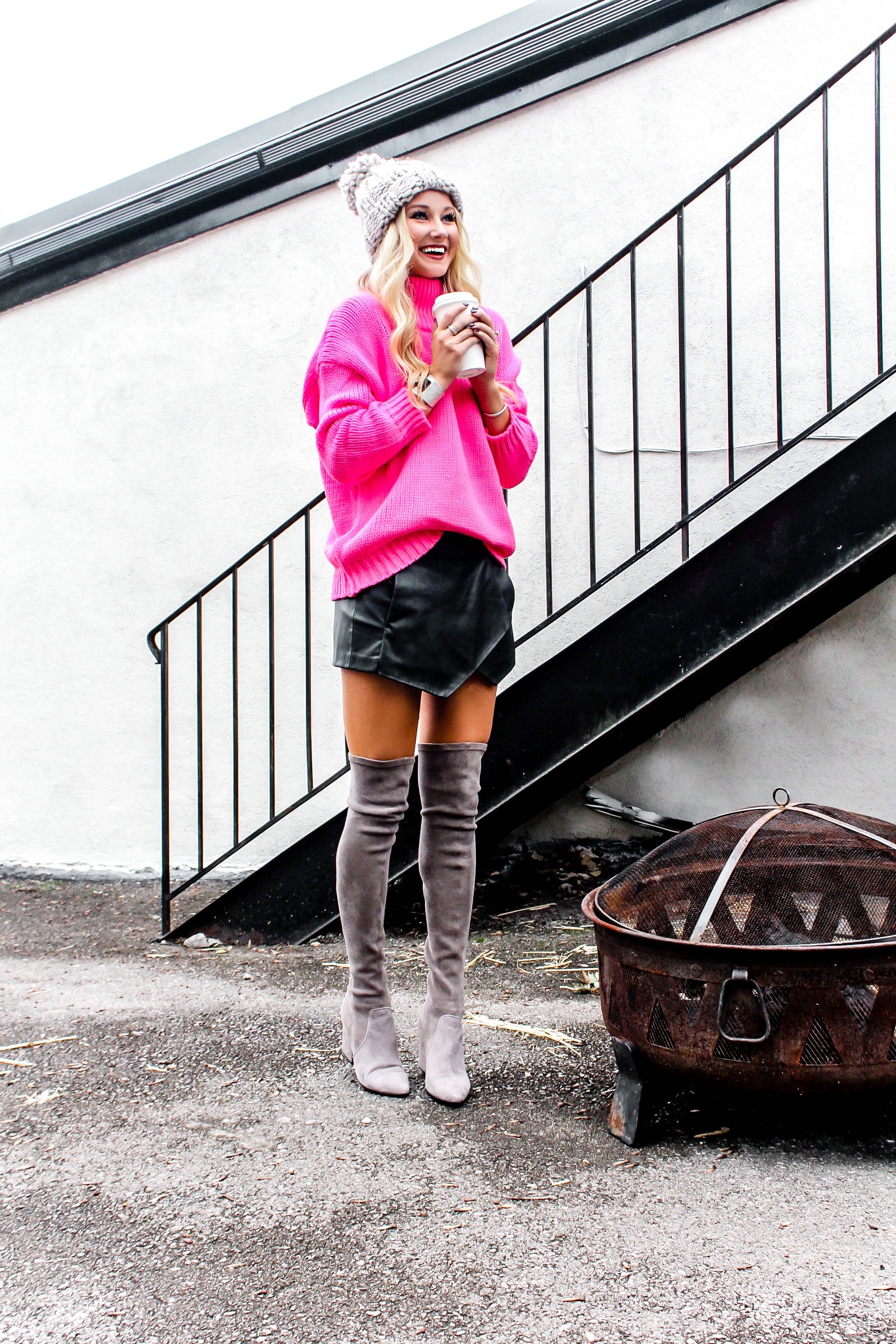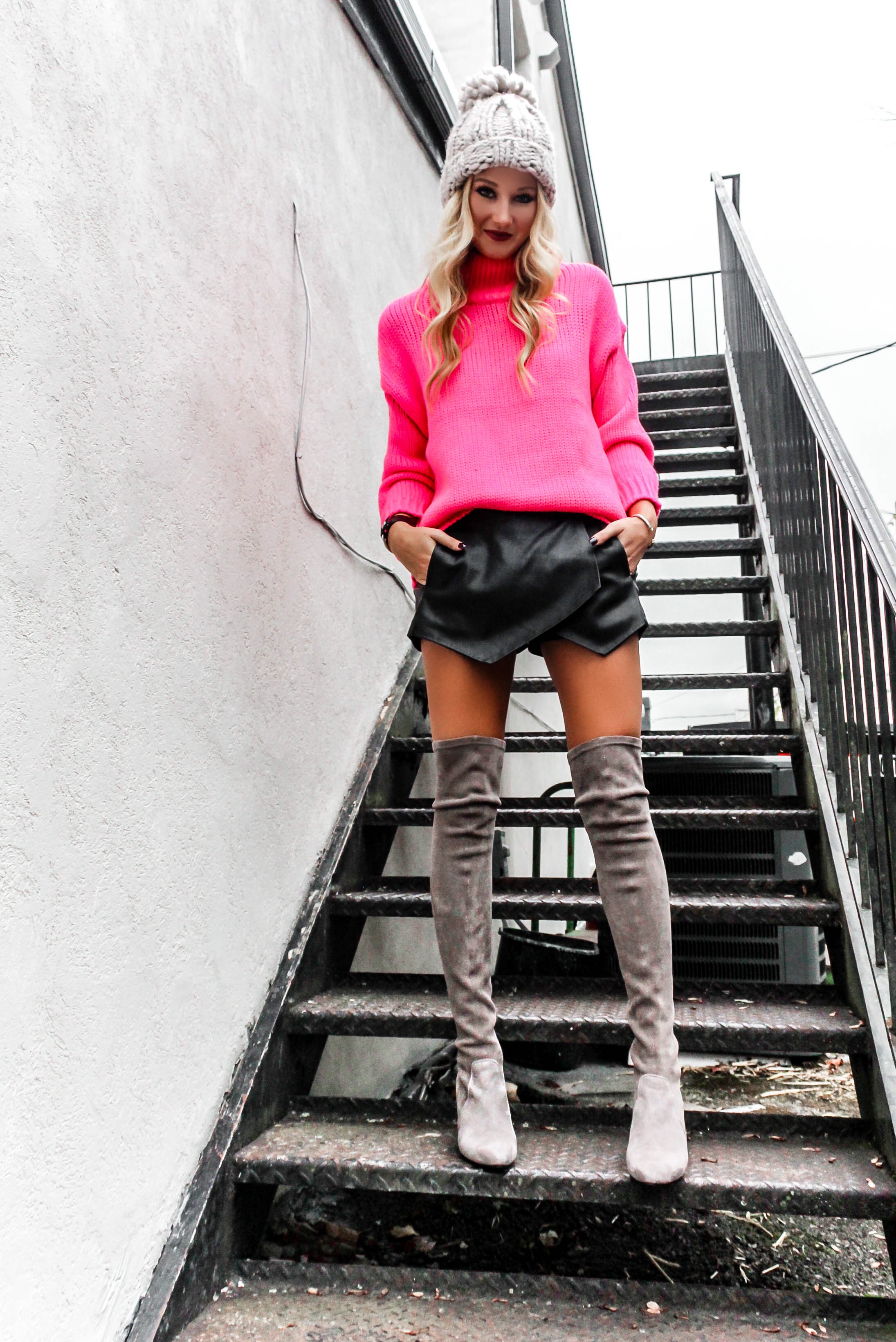 shop this look:

2. OTK boots with denim or white jeans (Leather pants would also fall into this category — I have a post coming up on how I styled my leather pants with over the knee boots so stay tuned!)
When you pair jeans or leather pants with over the knee boots, you definitely have a lot of leeway because you don't necessarily have to worry as much about where the boot will hit on your leg and because there are truly so many different pieces that you could pair with them. Almost any top would look cute with jeans (white or denim or even a color) and a pair of OTK's. My biggest advice when wearing the boots with pants is to make sure that the top you are wearing isn't too long to where it will end up covering the majority of your jeans. I think it looks fine if you don't see the pants on the back side (for example, the pink cardi outfit I'm wearing below), but in the front, it definitely looks more flattering and put together if you see a portion of the pants under your top or sweater. I personally love pairing basic tops with jeans & OTK boots for a more simple, casual look and then wearing a cute sweater or blouse with leather pants if I choose to go that route and dress the boots up a bit more.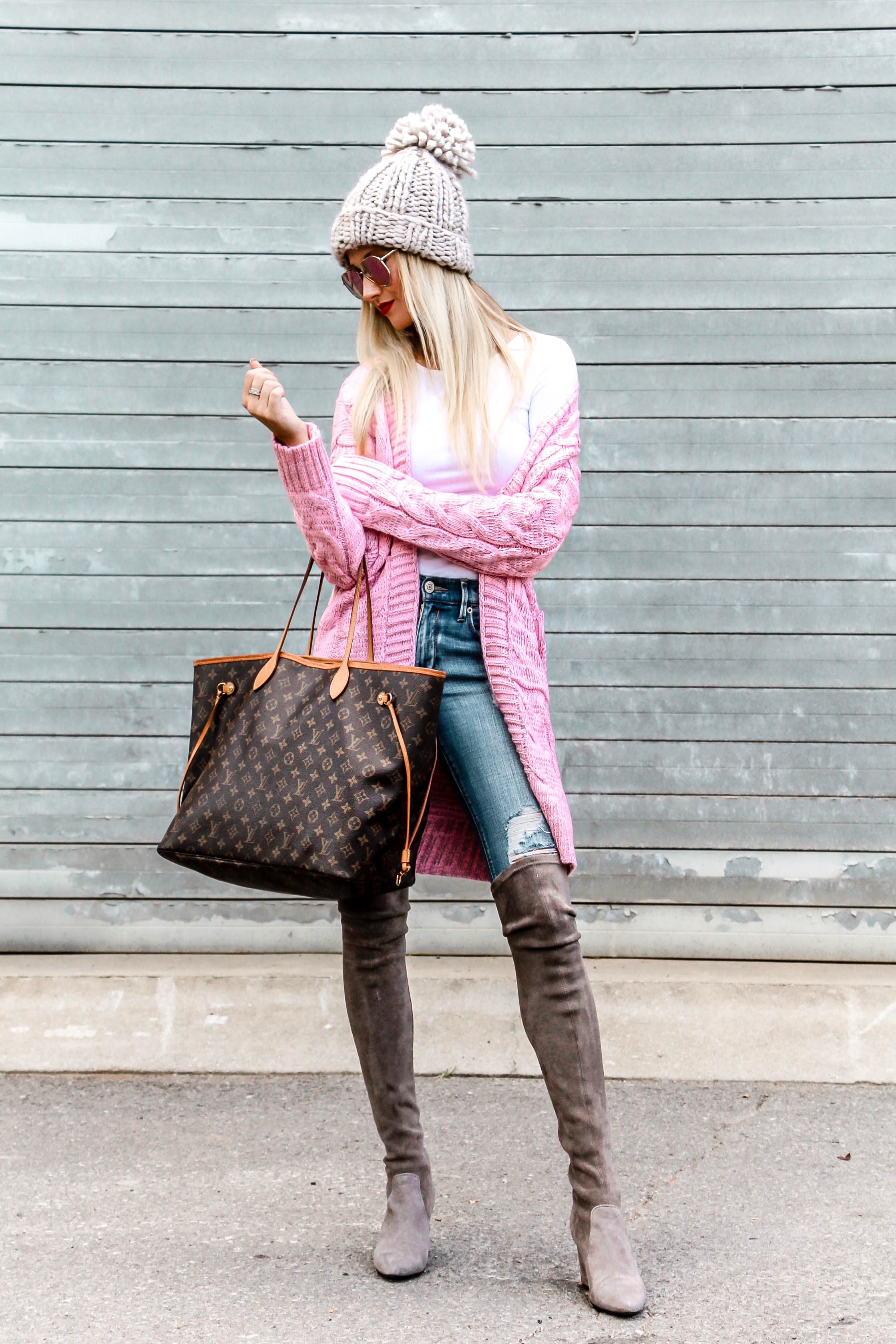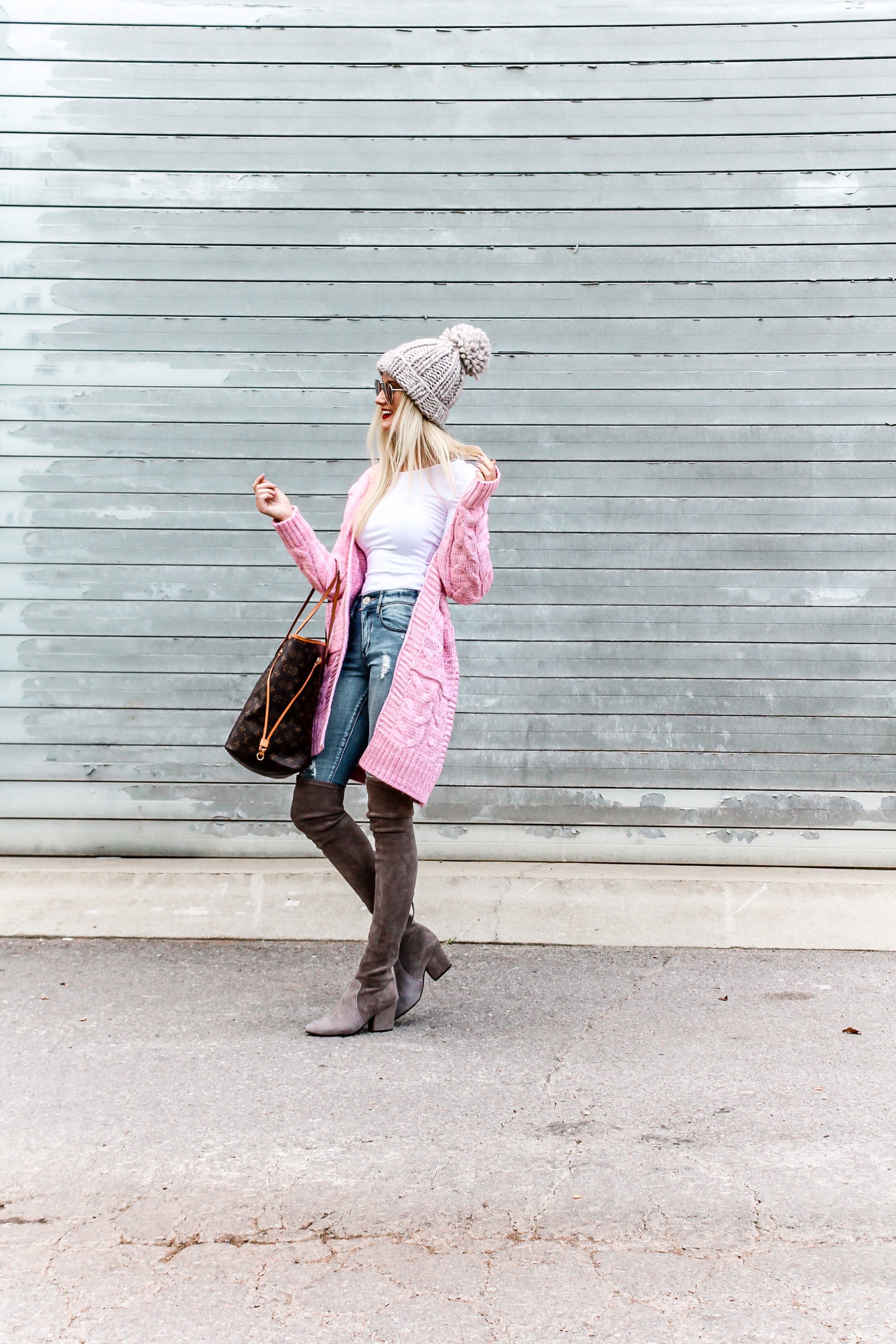 Shop this outfit in this post.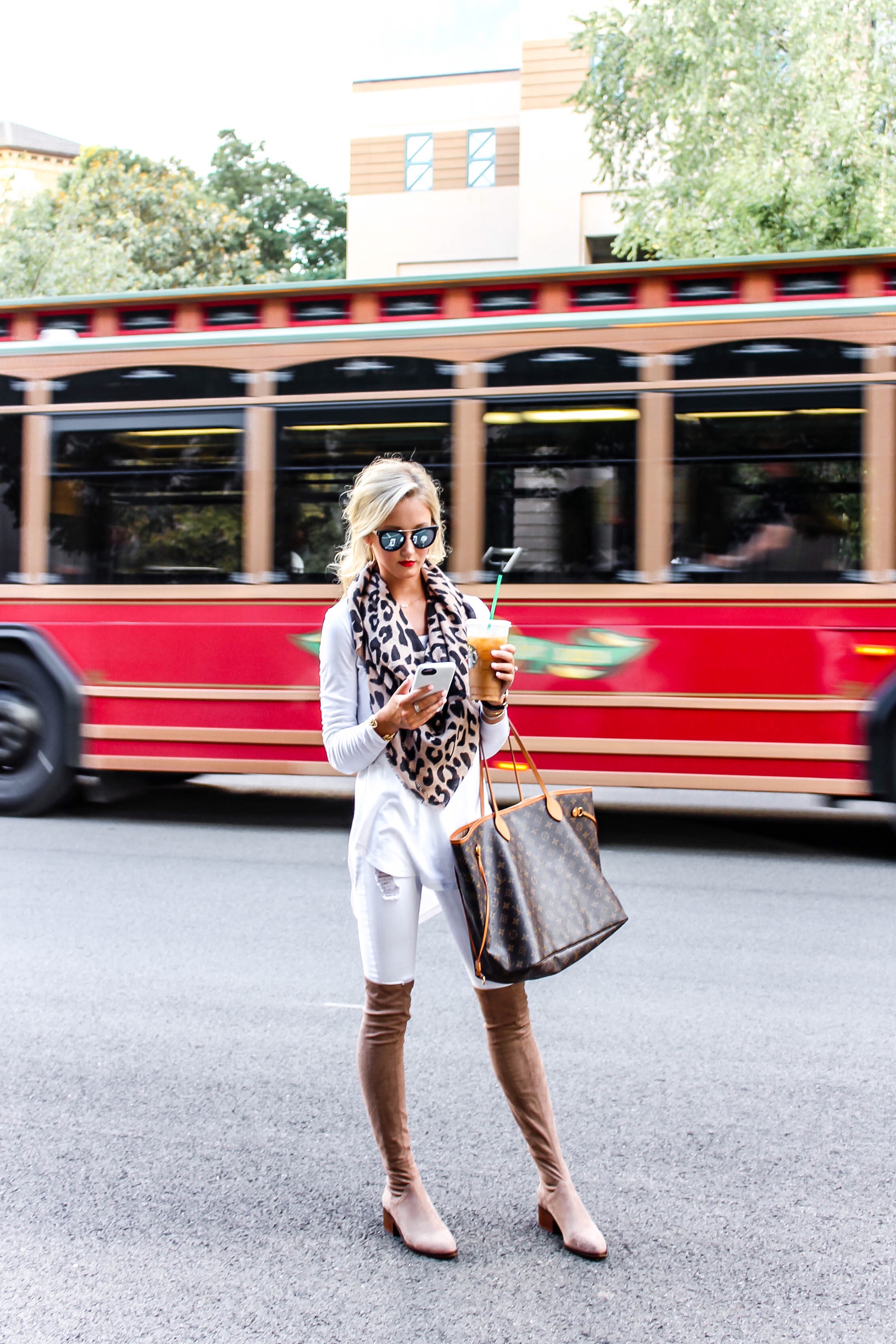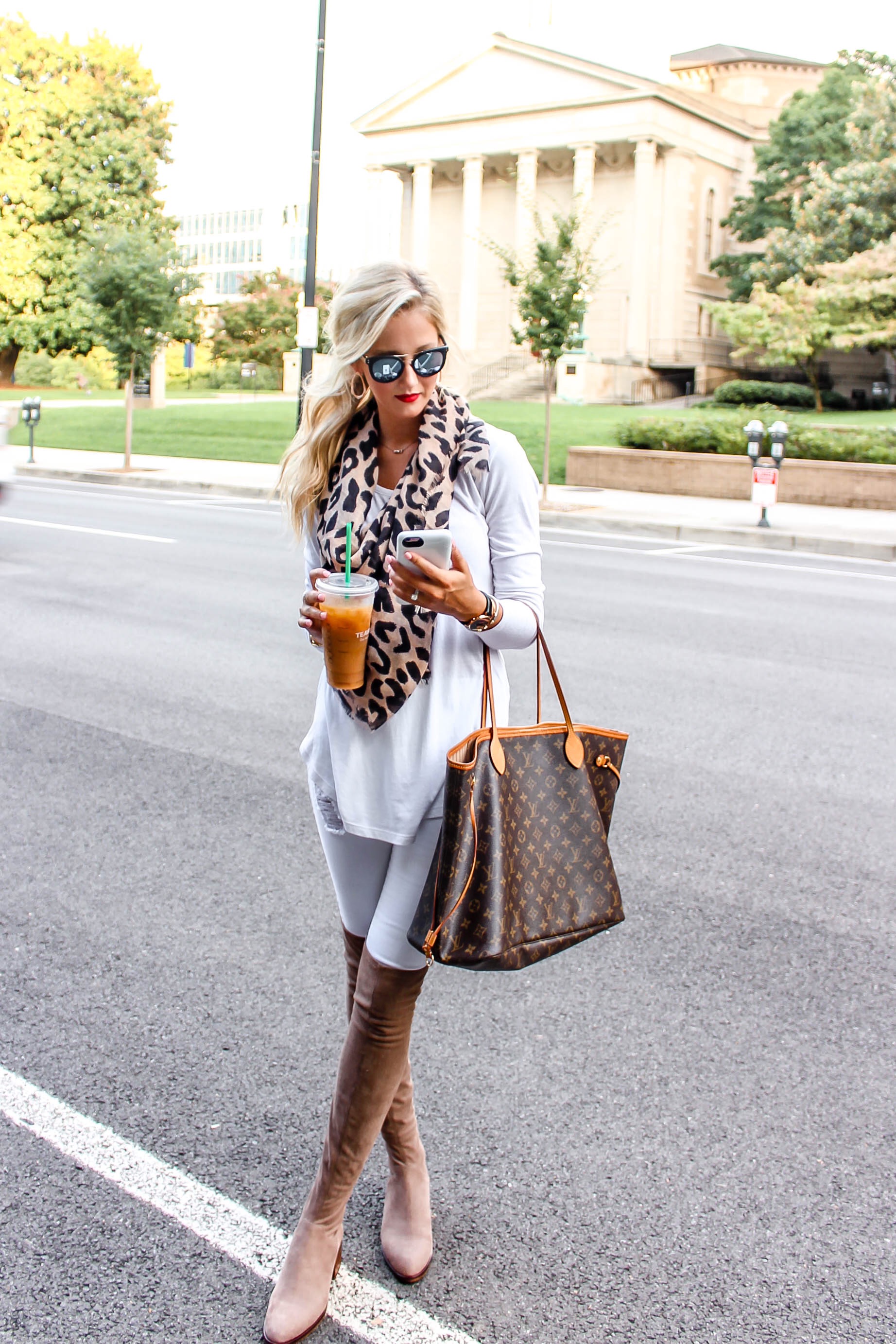 Shop this outfit in this post.
3. OTK boots with fun, edgy dresses (also sweater dresses (I have a really cute one coming up soon), which would be perfect for this season!)
This is always one of my go-to styles for this time of the year. You really can't beat a trendy dress with over the knee boots because it's such a feminine chic style, it's flattering, it's comfortable, and it's attractive – aka it's something that both you and your man will like! It's also pretty effortless and easy to style too, so it's win-win style all around! The main thing to remember when styling your OTK boots with any type of dress is to pay attention to the length (pretty much the same way you would with the skirt rules from #1 in this post). However, that being said, one thing that you can get away with occasionally is layering your sweater dress (for example) over a pair of OTK's. There may not be any skin showing, but it still looks way cute & may be more appropriate when winter rolls around. However, I do typically leave a little space of skin open between my dress and my boots (as seen below). But, I just wanted to point out both options because either way would look amazing, whether you can see a portion of you legs or not. One last thing to remember when styling your dresses with over the knee boots is to make sure your dress isn't too short … OTK boots will only make that situation much worse looking (and not so classy if you know what I mean). On the other hand, if you have a dress that's too long with your boots, try adding a belt on top to cinch the waist up a bit, and this will naturally make the dress a little shorter.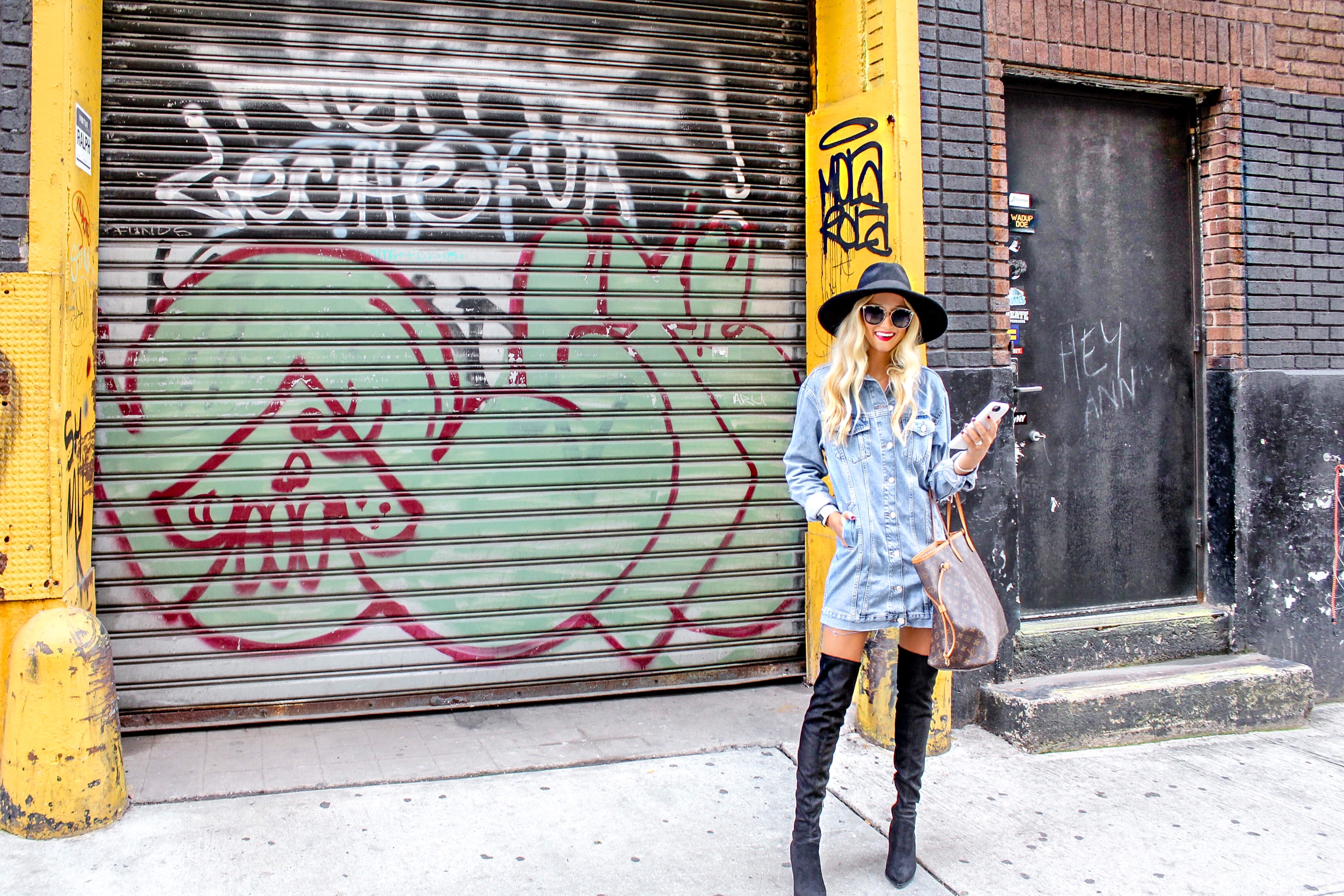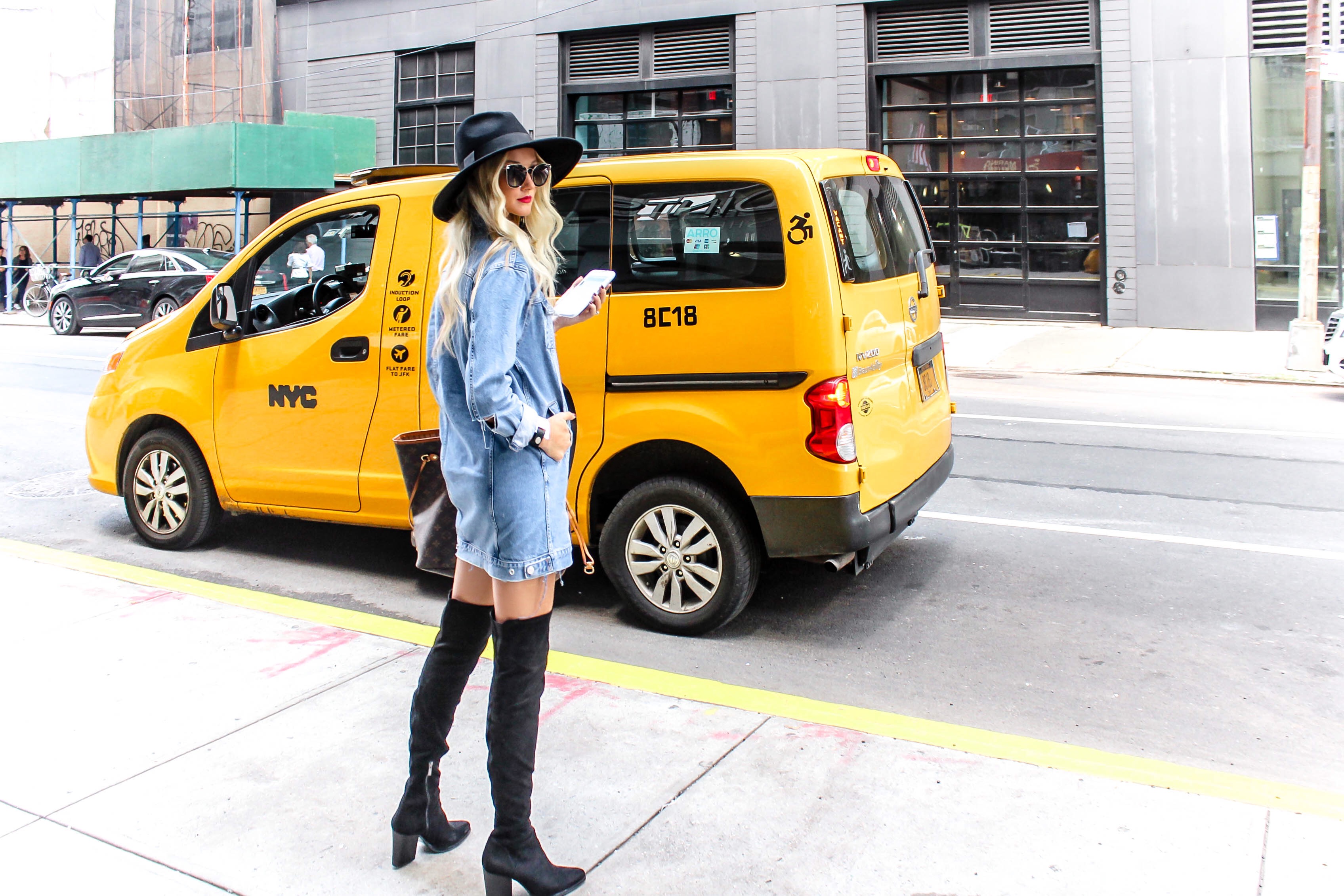 Shop this outfit in this post.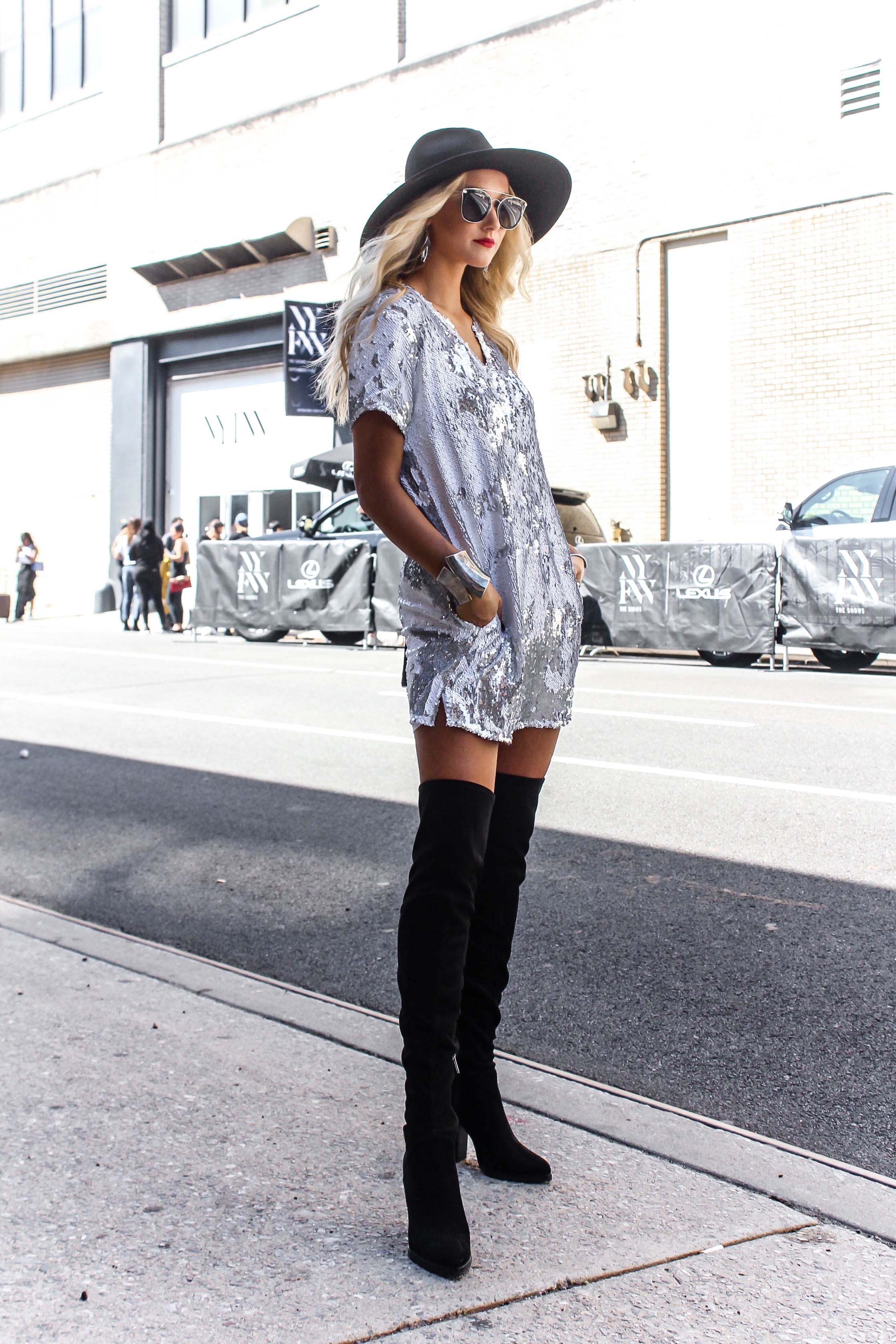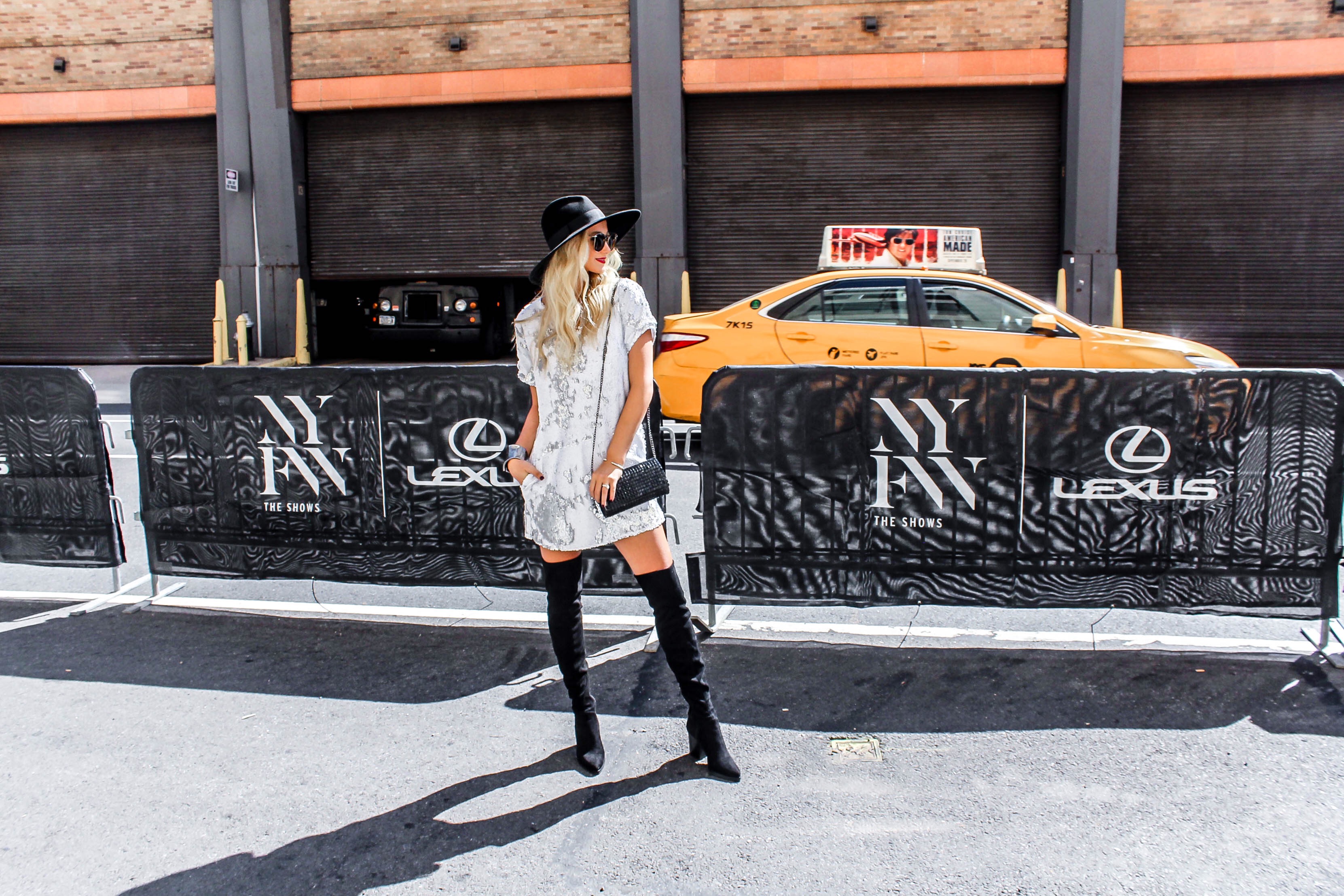 Outfit details on this look are listed in this post.
---
Hope y'all find this post super helpful as we're officially full force into boot season (woo!! my fave!). I LOVE all of my OTK boots shown in this post and would highly recommend them to y'all if you are in the market for some. And they are all pretty budget friendly too – added plus! Let me know if you have any specific questions about any of them 🙂
Thanks so much for stopping by, beautiful! Have a fab weekend!
xo, P