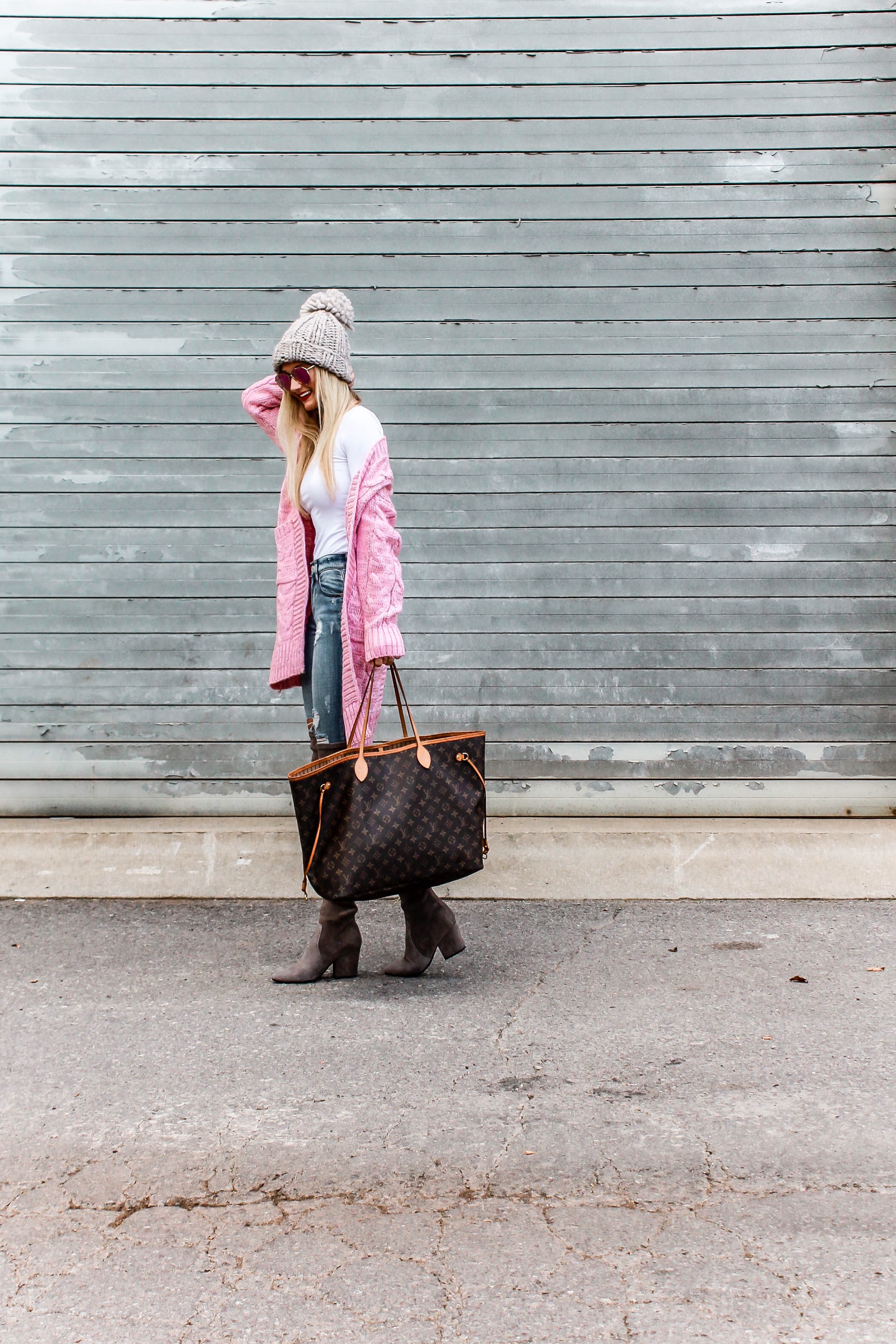 Y'all surely know by now that the temps don't drop quickly here in Tennessee, but you can bet that once they drop into the 60s, I'm wearing outfits like this one constantly. Comfy, cozy sweaters, a beanie of some sort, stretchy denim & cute boots. It's my go-to look in the fall & winter seasons!
Goodnight Macaroon has been one of my favorite online retailers to shop at for a few years now – high quality, on-trend pieces but at an affordable price point. It definitely ranks within my top 10 online retailers! Last week, they sent me this light pink, cable knit cardi, and I've been living in it ever since I got it. I wore it all day today just around the house. This piece so easy to dress up a little with an outfit like this or to just dress down over leggings & a t-shirt like I did today. I always live in sweaters like this one around this time of year! Plus, the light pink color is so refreshing & one of my favorites, of course. 😉
Goodnight Macaroon also sent me these gorgeous over the knee, grey, suede boots. I mean, I'm obsessed!! They are such GREAT quality – like I can't believe that they are under $150. The heel height is also perfect because it's not too tall but still gives you a little extra lift. They are super stretchy, but not too tight to where they squeeze the leg fat (LOL, just being real) and also not too loose to where they constantly fall down (so annoying!). They honestly stay up over my knee way better than some of the designer boots that I own. I'm SO pleased with the fit of these and will most likely be wearing them all winter.
(PS – stay tuned for a full post specifically geared toward the many ways to style OTK boots coming soon!)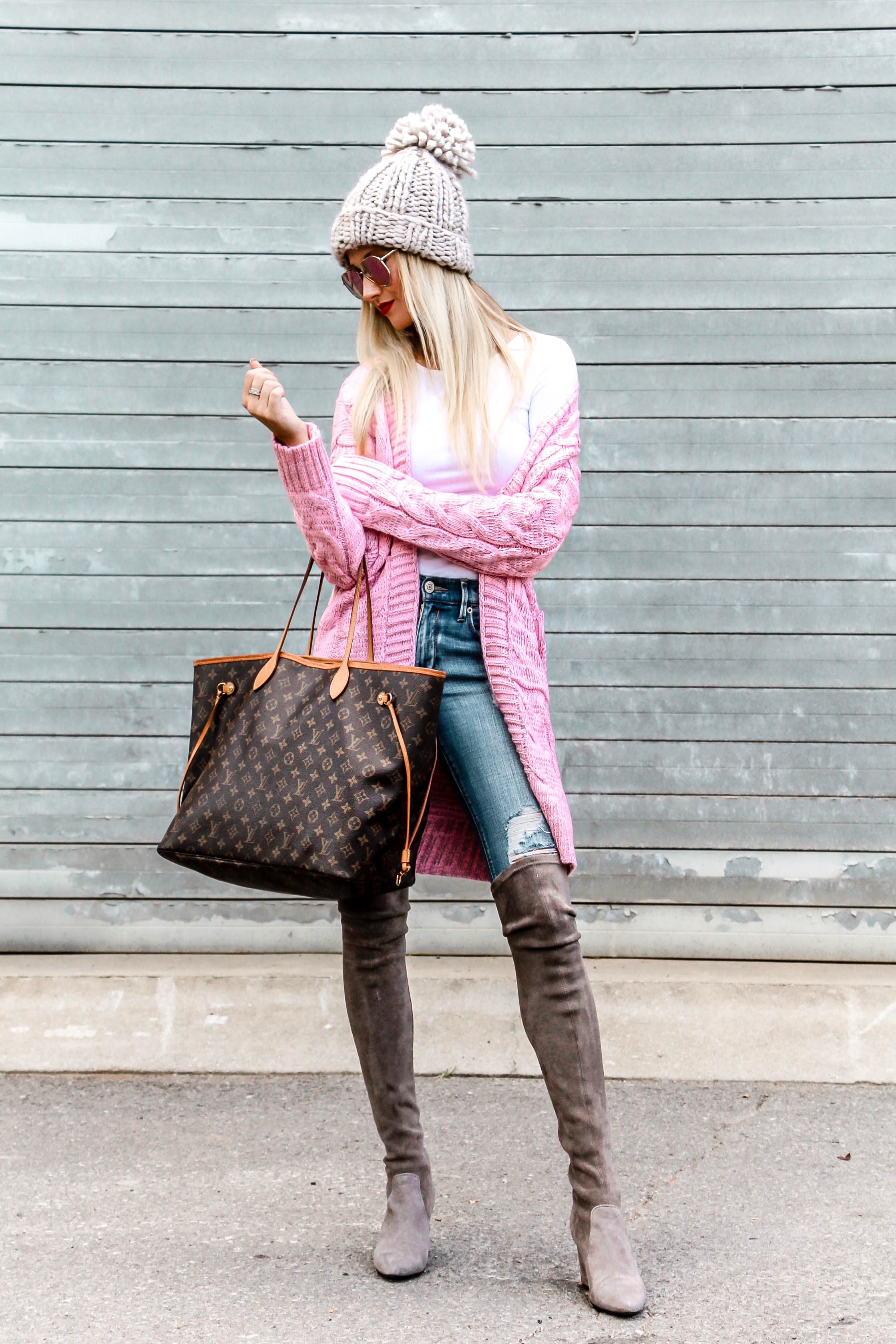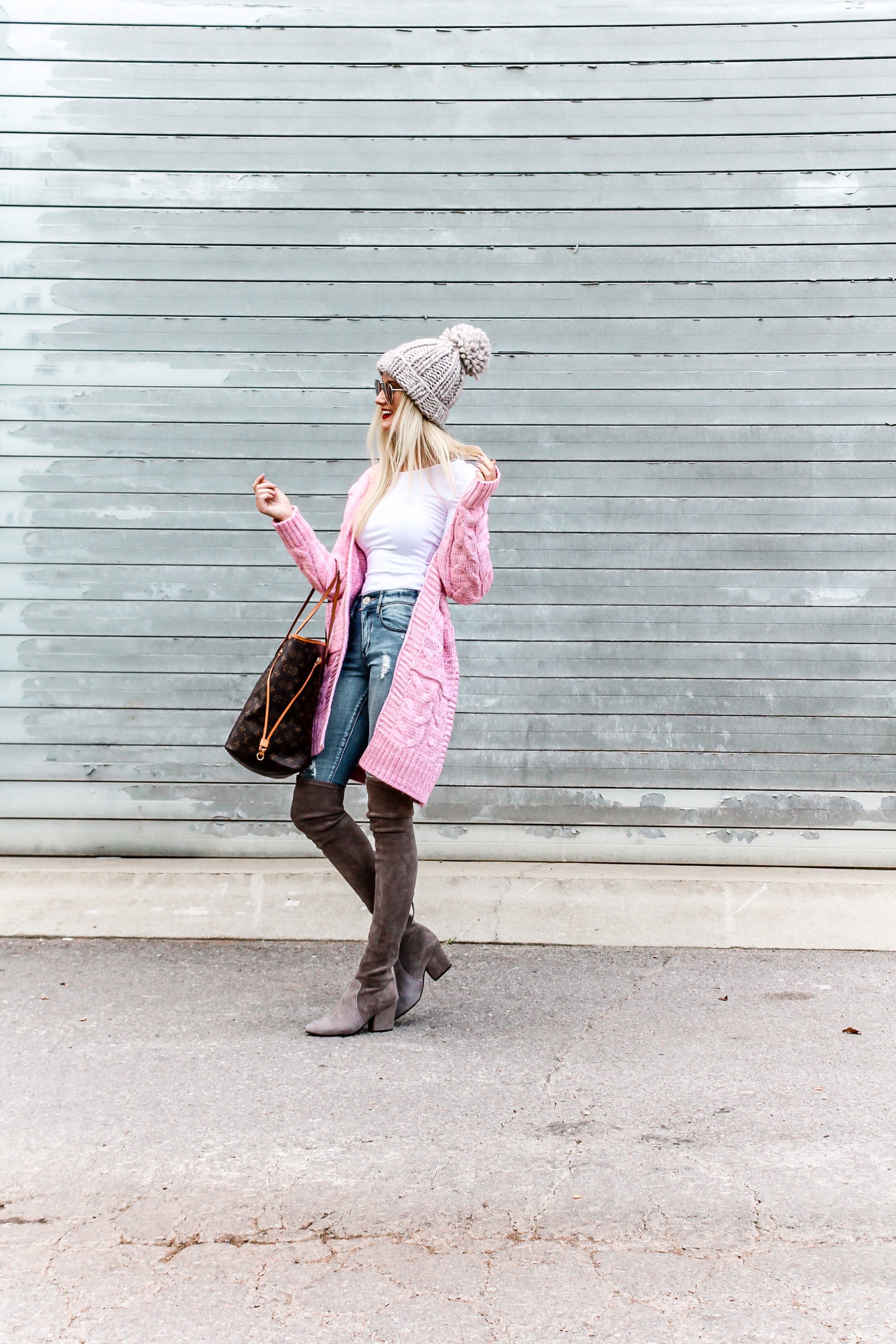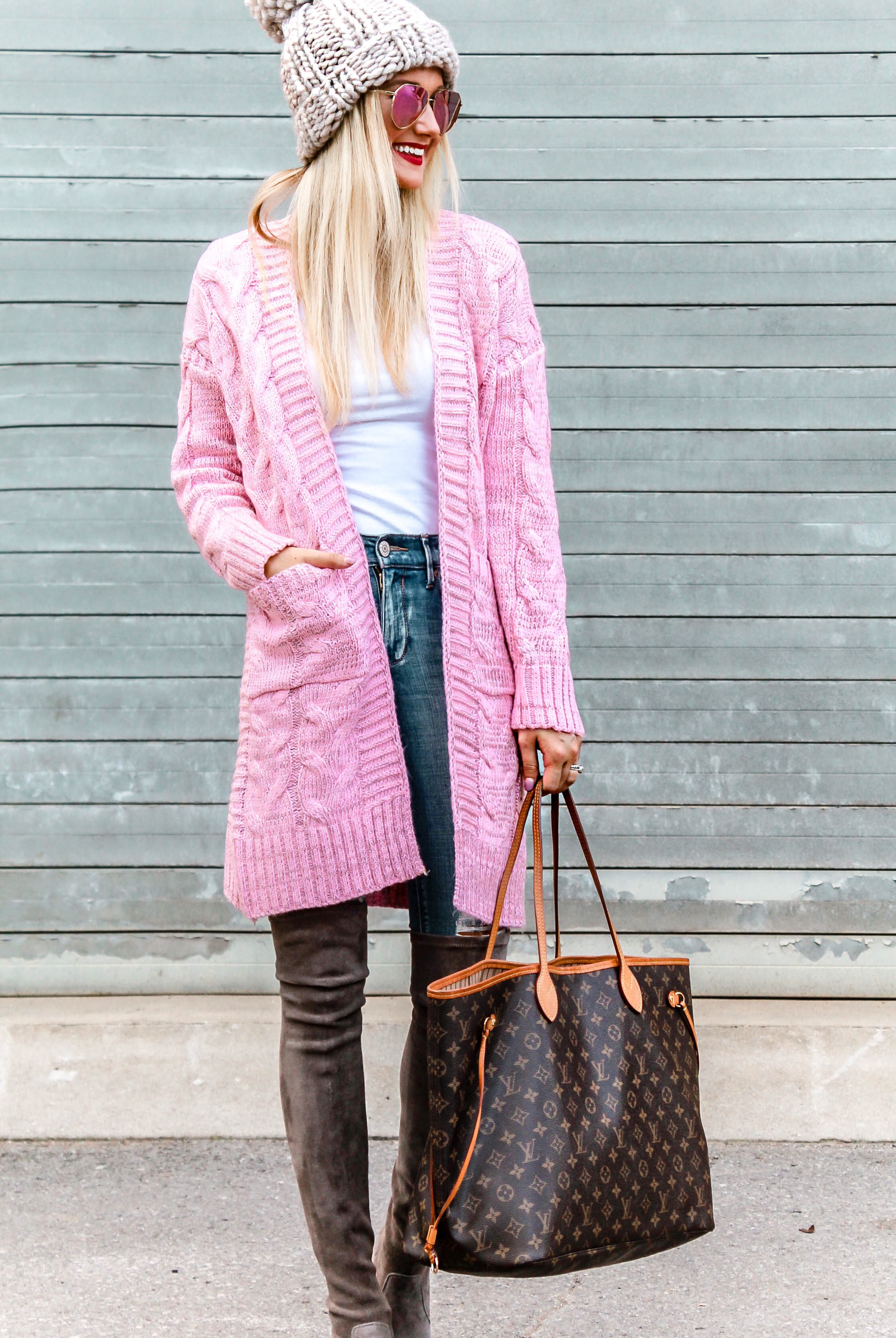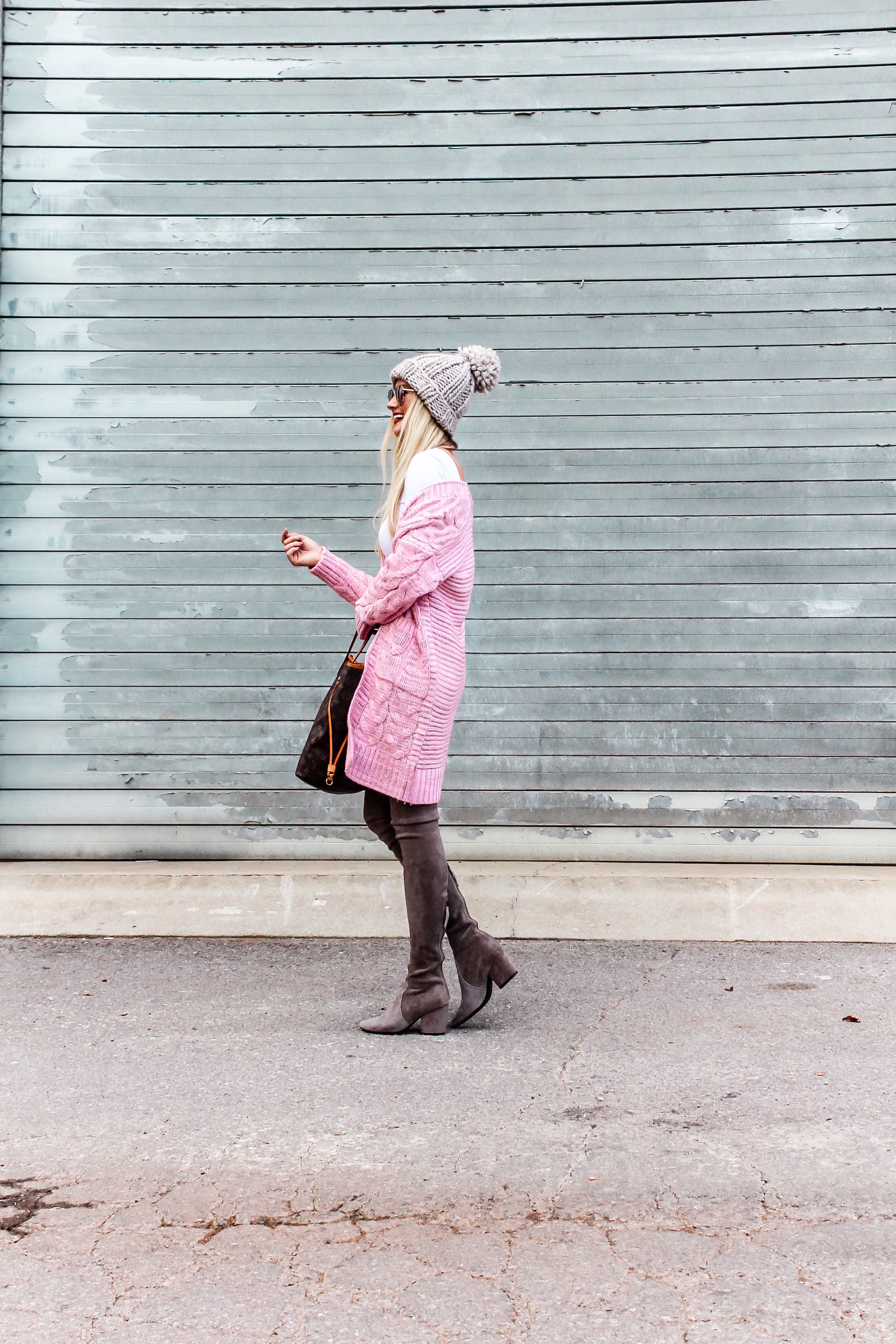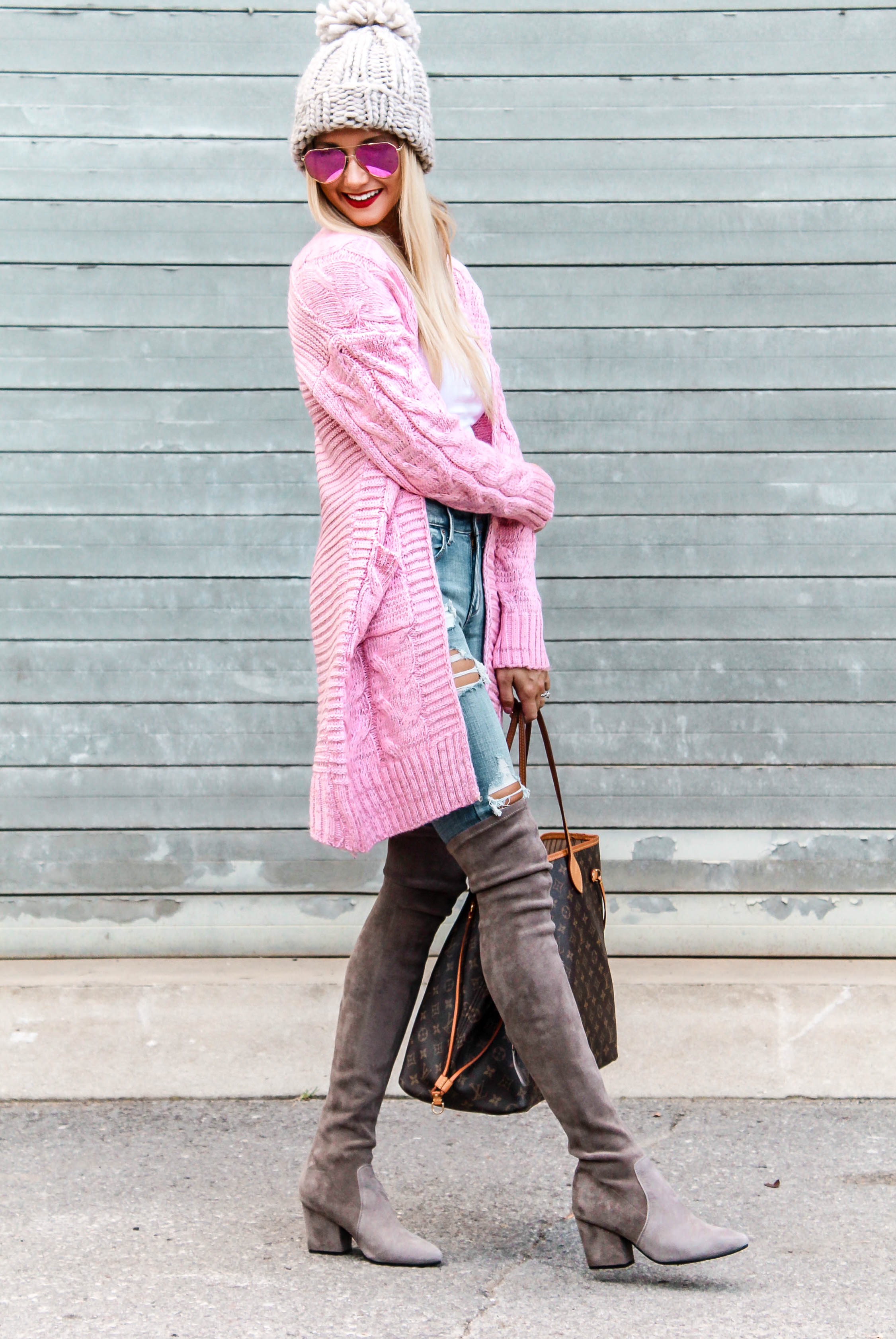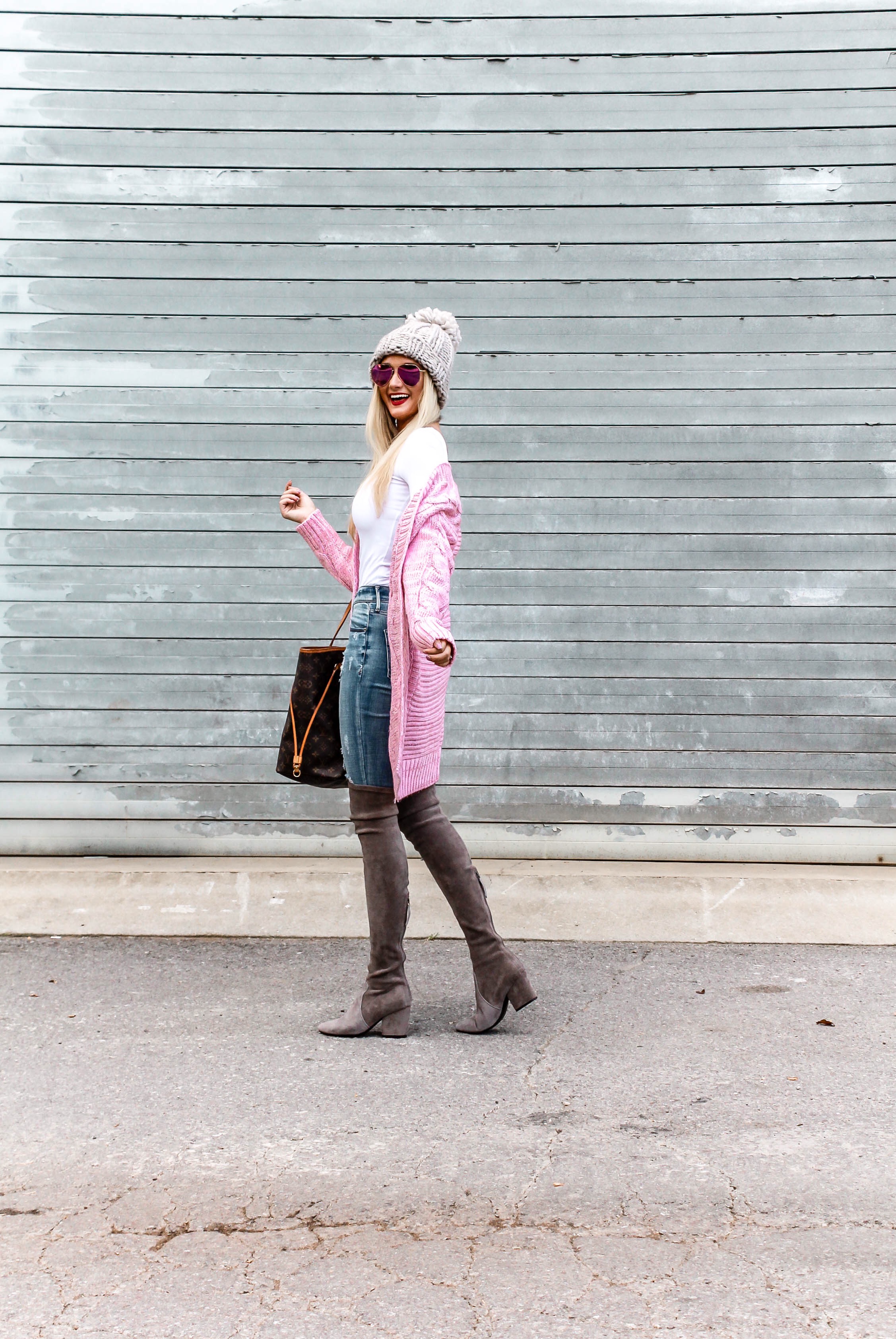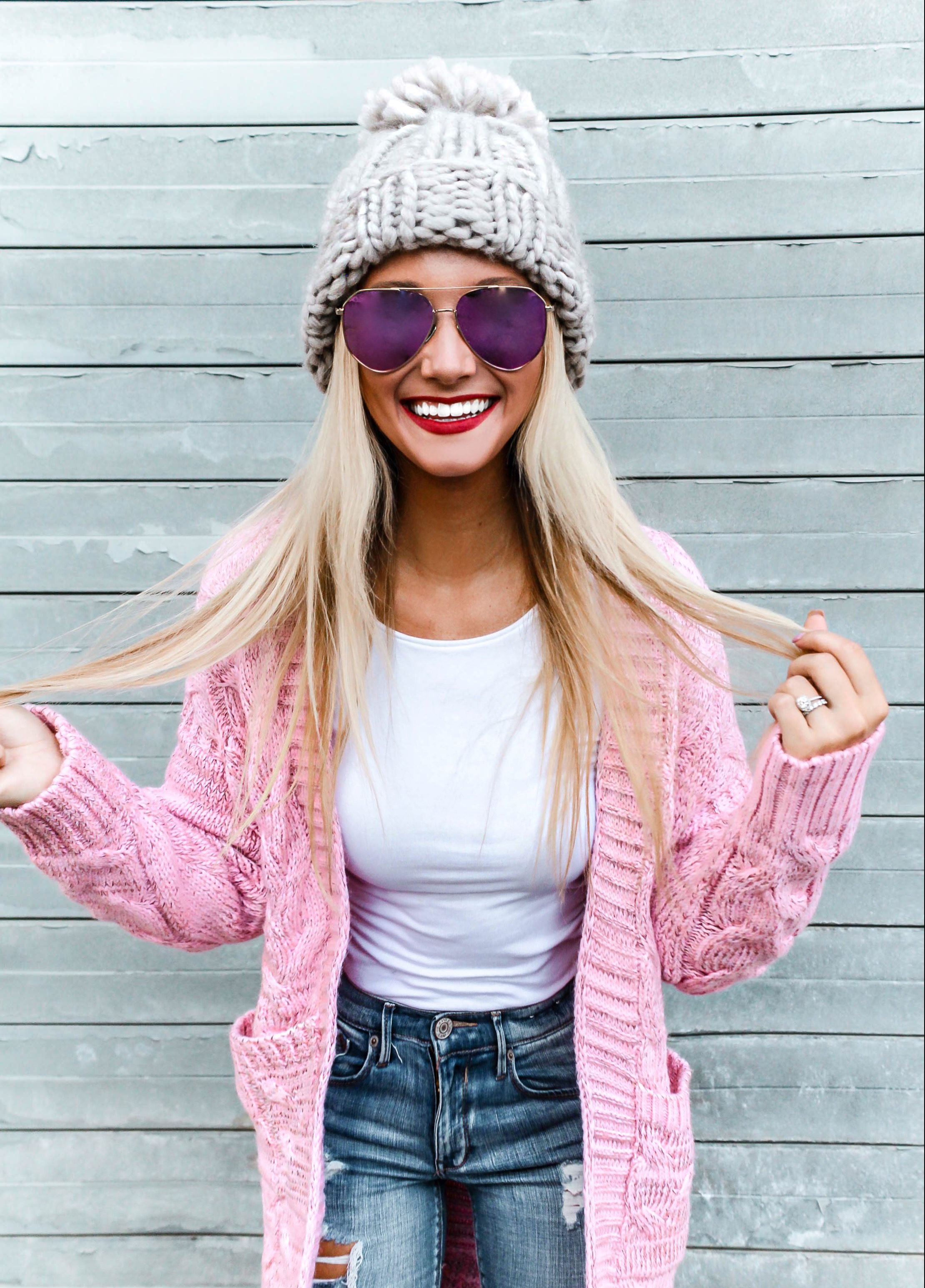 One question that I'm asked so frequently is how I whiten my teeth … and the truth is I don't use any kind of teeth whitener. However, I'm actually an avid coffee drinker & I love having me a glass of red wine over dinner with the hubs — two of the WORST things in the world to stain your teeth. So, needless to say, after I got hooked on coffee back in college, I had to find something to keep my teeth from getting stained.
Now, I have tried many different whiteners in the past, but my teeth are just so sensitive. Even the whiteners from the dentist and Crest white strips didn't work for me. 🙁 Thankfully, I discovered a special kind of whitening toothpaste a few months back, and it has been my saving grace ever since. No joke, y'all … I've noticed such a difference over the past 6 months or so! And this is in no way sponsored. I just genuinely love the product and the results that much that I wanted to continue to share with you guys. I kick myself for not getting a before picture for comparison, but you could probably go back to my older blog posts and tell a difference in the coloring of my teeth.
Since testing out this toothpaste and seeing the positive results, I've shared the link for it on my IG stories and even in a few of my recent blog posts. But, I continue to receive questions about it, so I wanted to dedicate a portion of this post to sharing more about it with you all!
One of the best things about this product is that it has no peroxide or bleaching components in it and only whitens to your teeth's natural enamel. It won't strip any of the natural enamel away. Therefore, it doesn't ever hurt your teeth and won't cause you any pain like some whiteners out there.
A few questions I've gotten:
What is the flavor?
Vanilla – Mint
How much is it?
$20.00 & it lasts for awhile. I use it twice daily.
Do you have to brush with a normal toothpaste as well?
No. This formula freshens breath & prevents/protects against cavities, all while safely whitening / brightening your teeth & removing stains.
Pro tip: Apply the toothpaste onto your DRY toothbrush & start brushing. Don't use any water with it on the first brush. Then rinse after dry brushing all of your teeth once (with only the toothpaste) and continue brushing with water mixed in.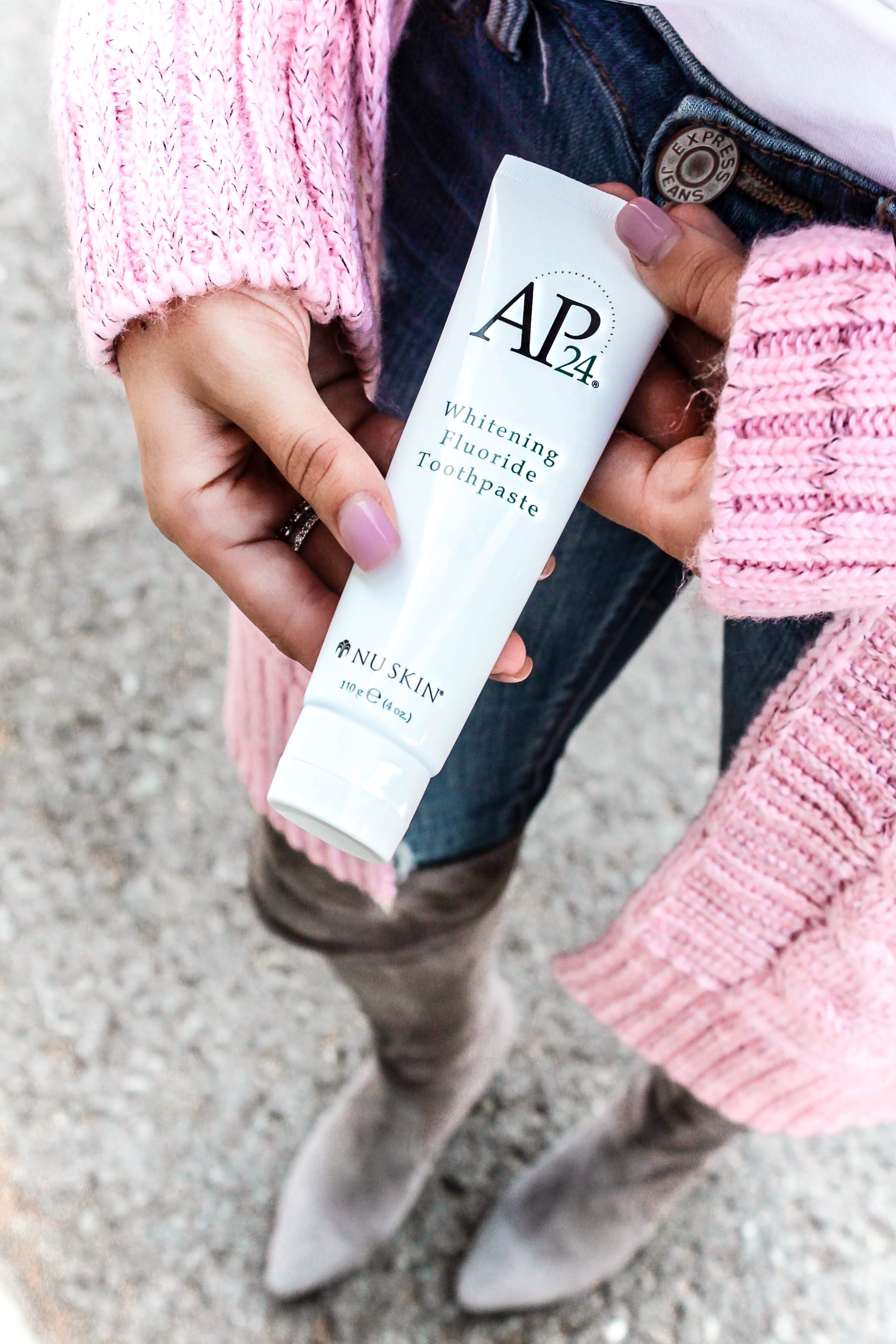 whitening toothpaste link | white bodysuit | distressed denim (the best ever – under $100!) | otk boots (new favorites!) | light pink cable knit cardi (under $100!) | beanie (exact color sold out – linked similar color) | pink sunglasses

As always, let me know if you have any questions about these products – just comment below! Also, let me know of any post ideas that you would like to see here on LNL in November and December. I'm currently planning out content for those months!
Thanks so much for stopping by, beautiful friends! Hope you all had a great start to the week!
xo, P