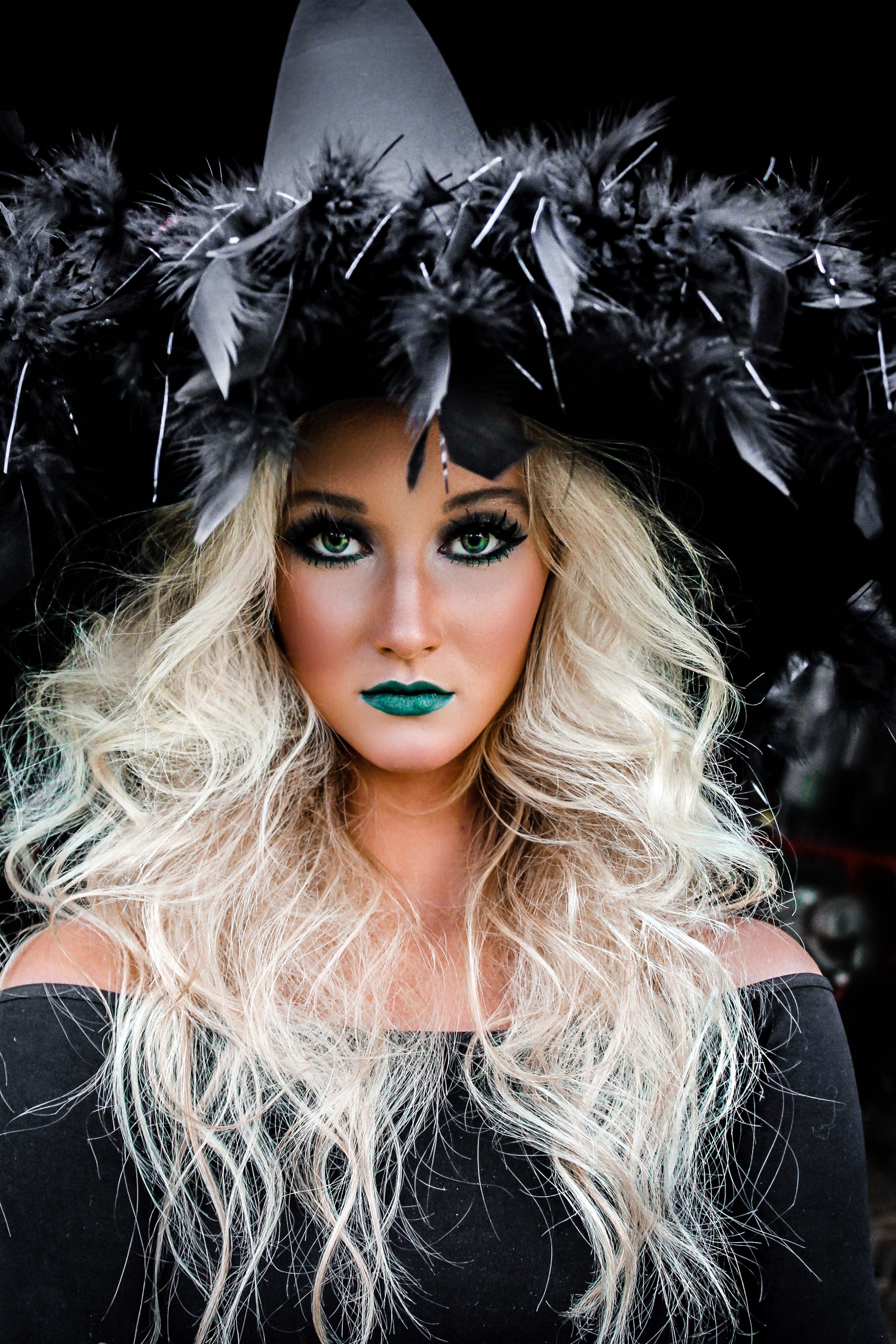 BOO, witches!
It's almost Halloween!!!! I don't know about y'all, but I'll take any excuse to get dressed up in a ridiculous costume & put fun makeup on my face that I wouldn't normally wear. Halloween is the perfect time of year to be something that you're not, however, when most people think of costumes for this occasion, they think that they have to go out & buy one of those $80+ outfits (that they'll never wear again) from the pop-up Halloween store. But that's not always the case!
I created this post to inspire you all to channel your creativity this Halloween because you'd be surprised how many things you can dress up as by just using the pieces that are already in your closet. As a stylist, this is like a fun game for me because it really challenges me to piece together clothes (that I normally wouldn't) to create a theatrical, out of the box look. I challenge you to get creative for your Halloween parties coming up this weekend – don't break the bank on a skimpy silly cop, nurse, army, or pirate costume. You can most likely create a look just as appealing and attractive if you just look through all the pieces that you already own. There's bound to be something that you can piece together and make look fabulous!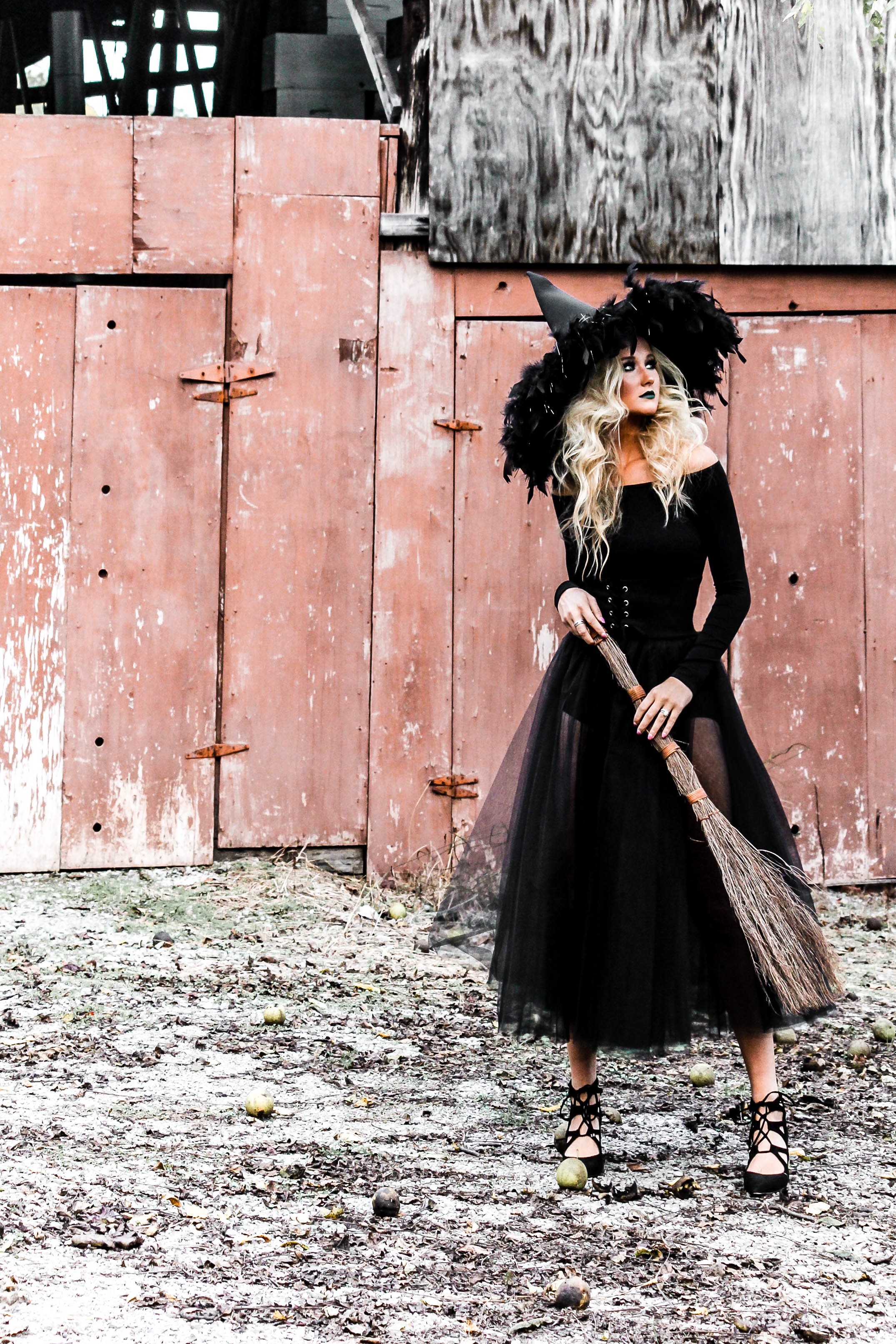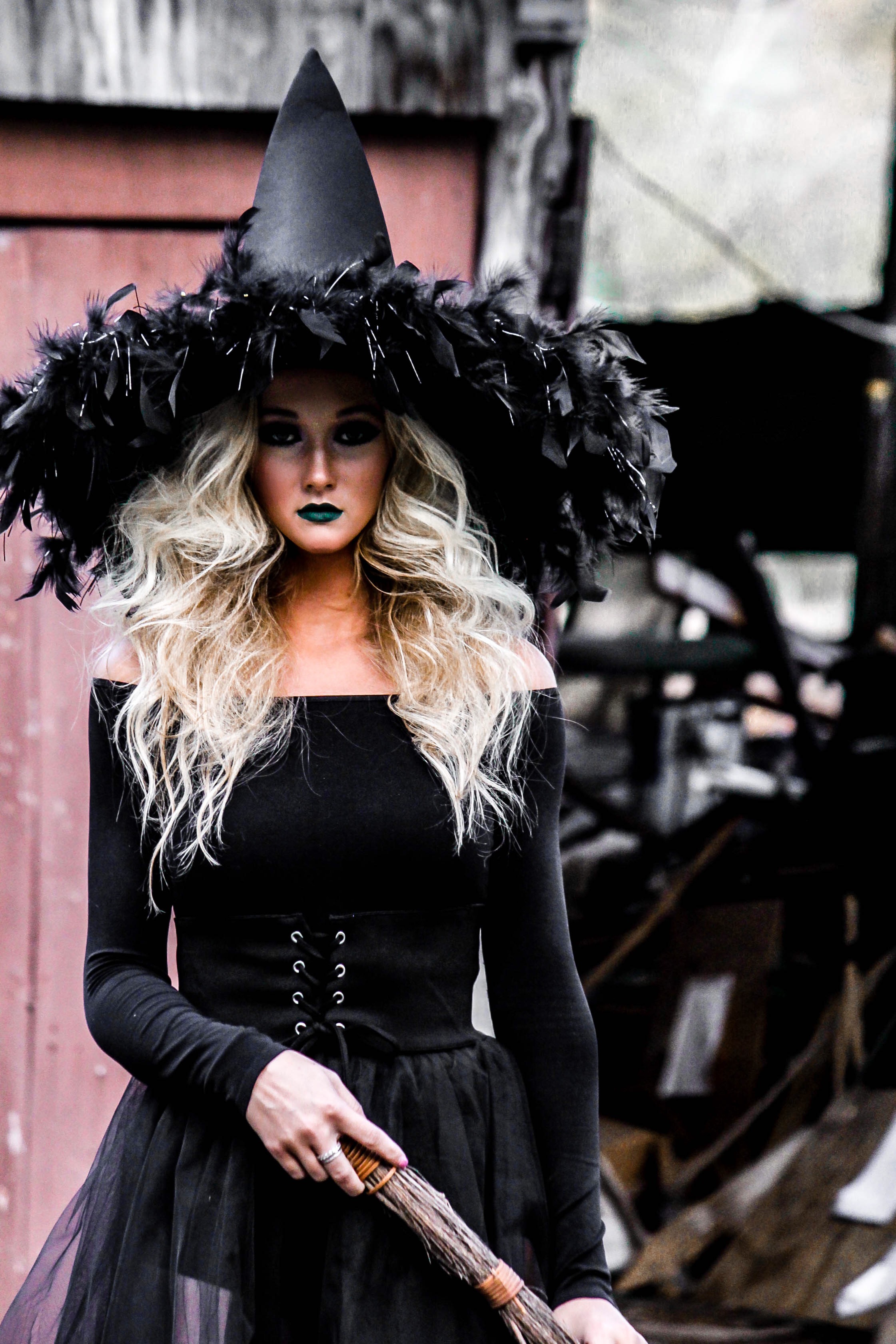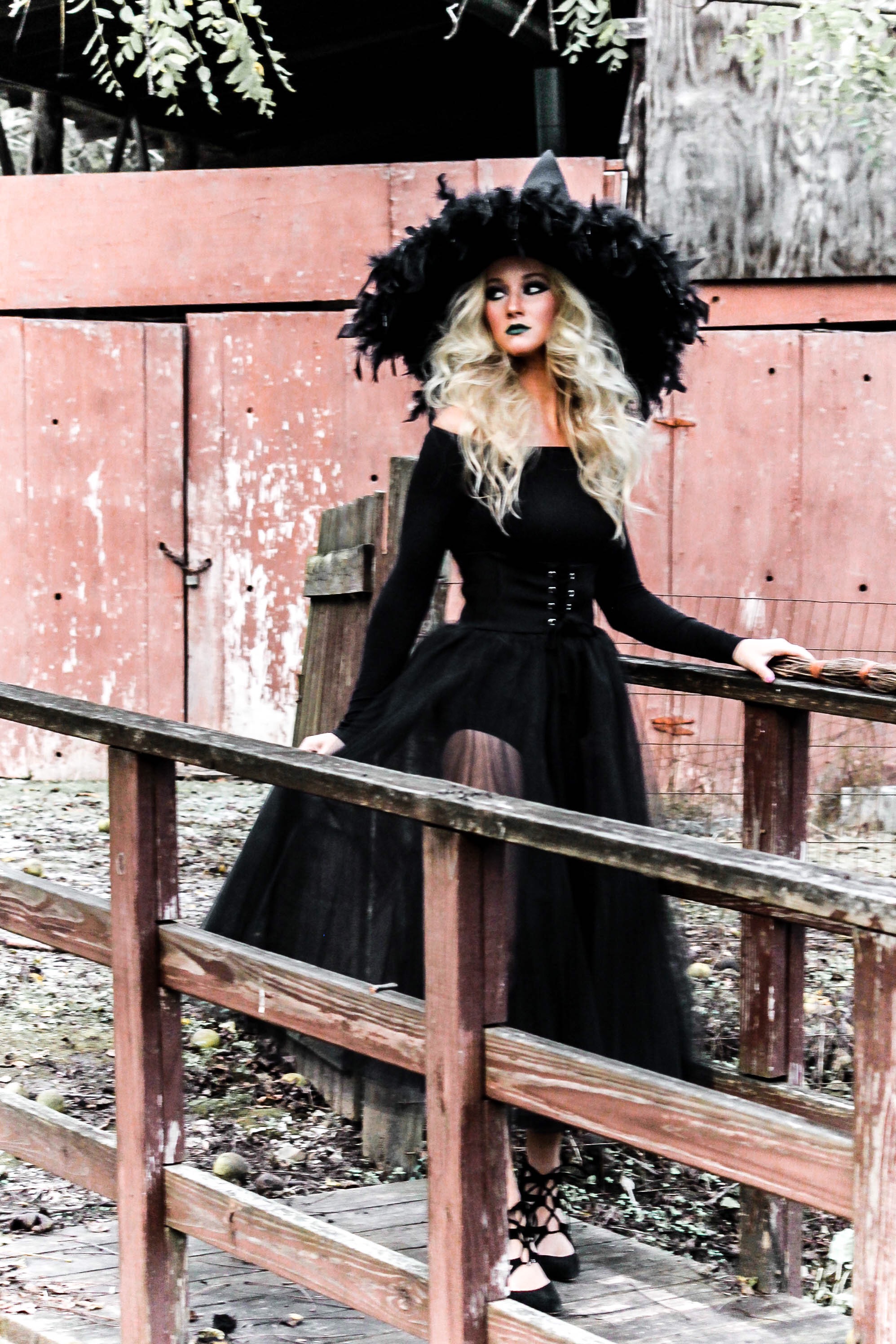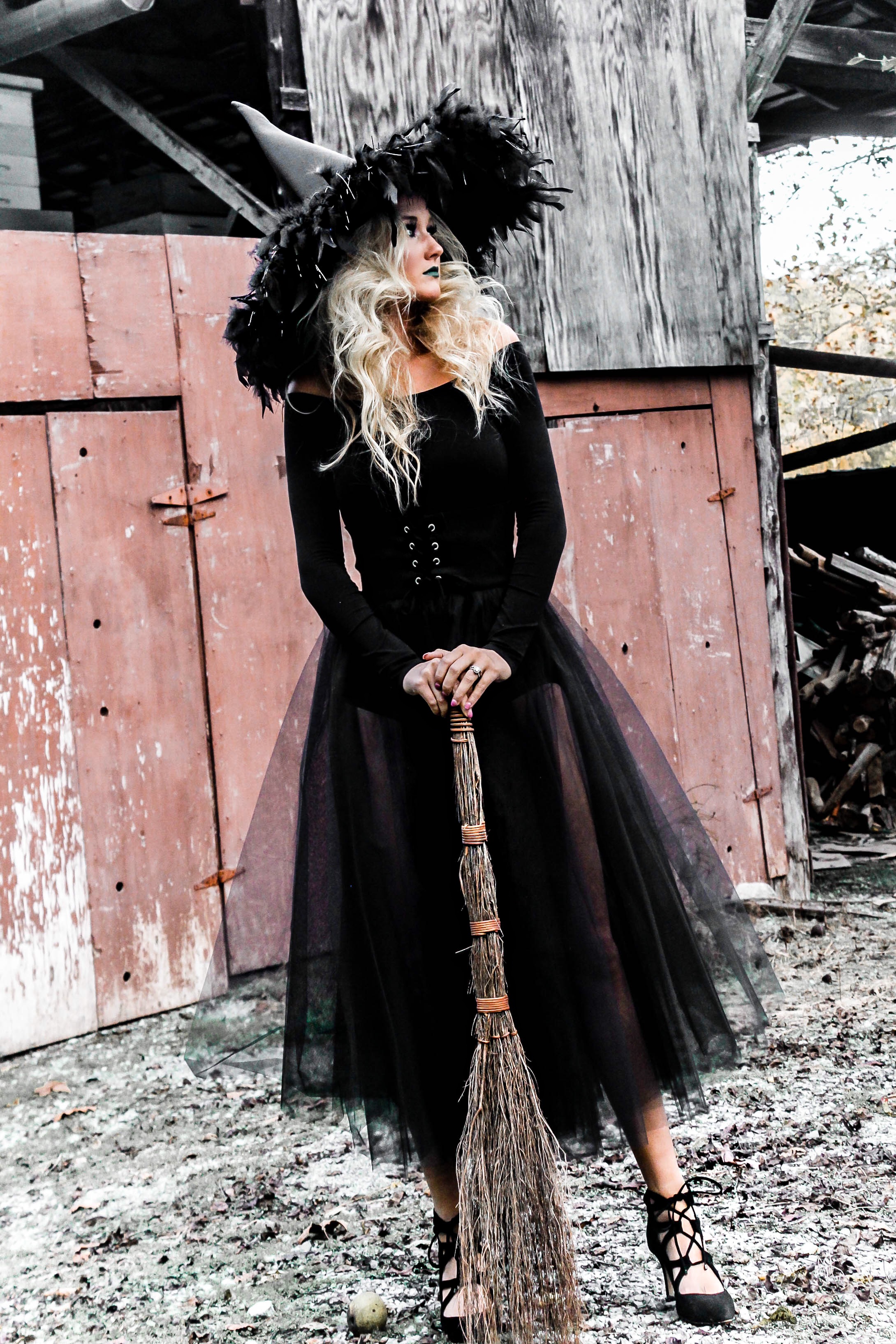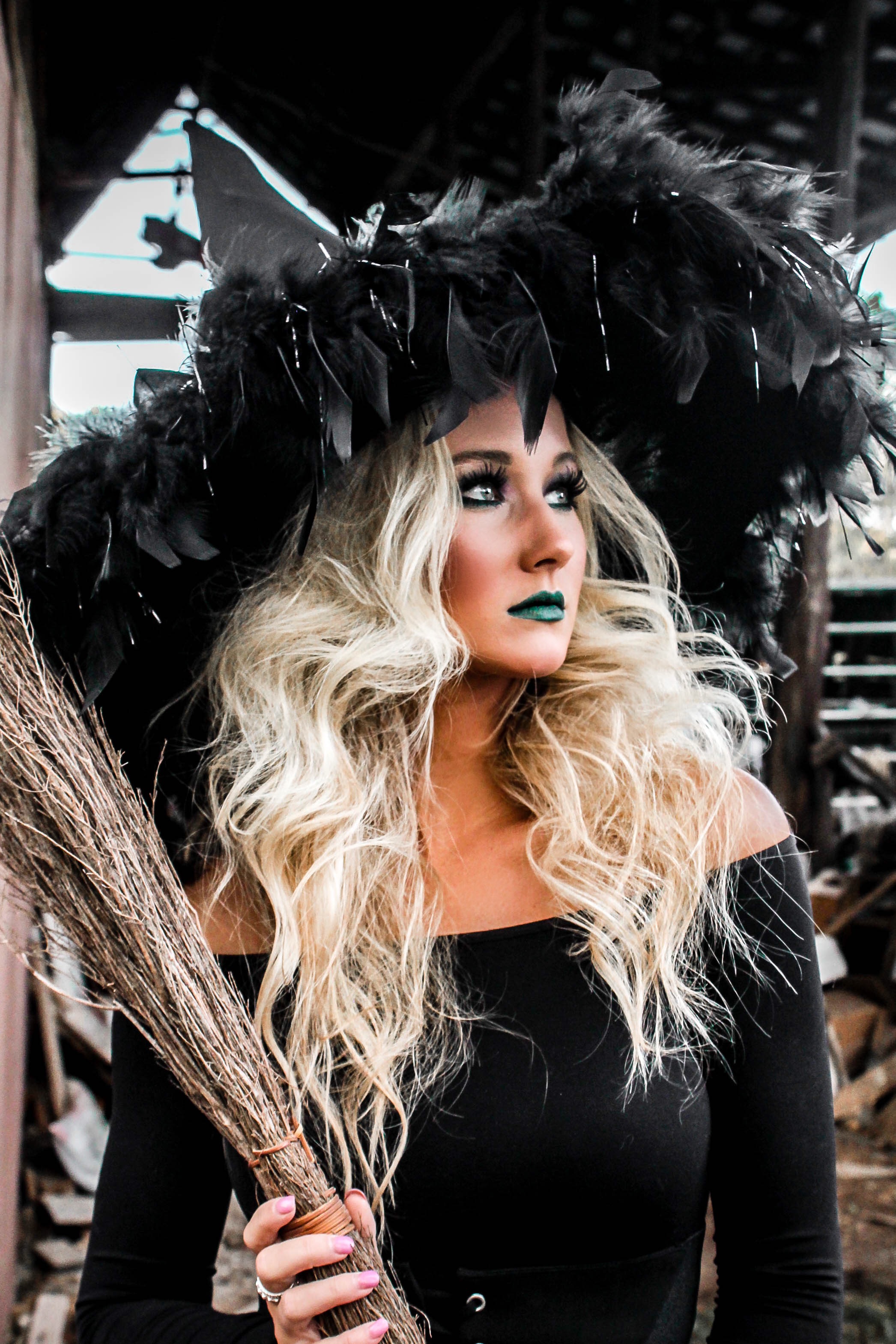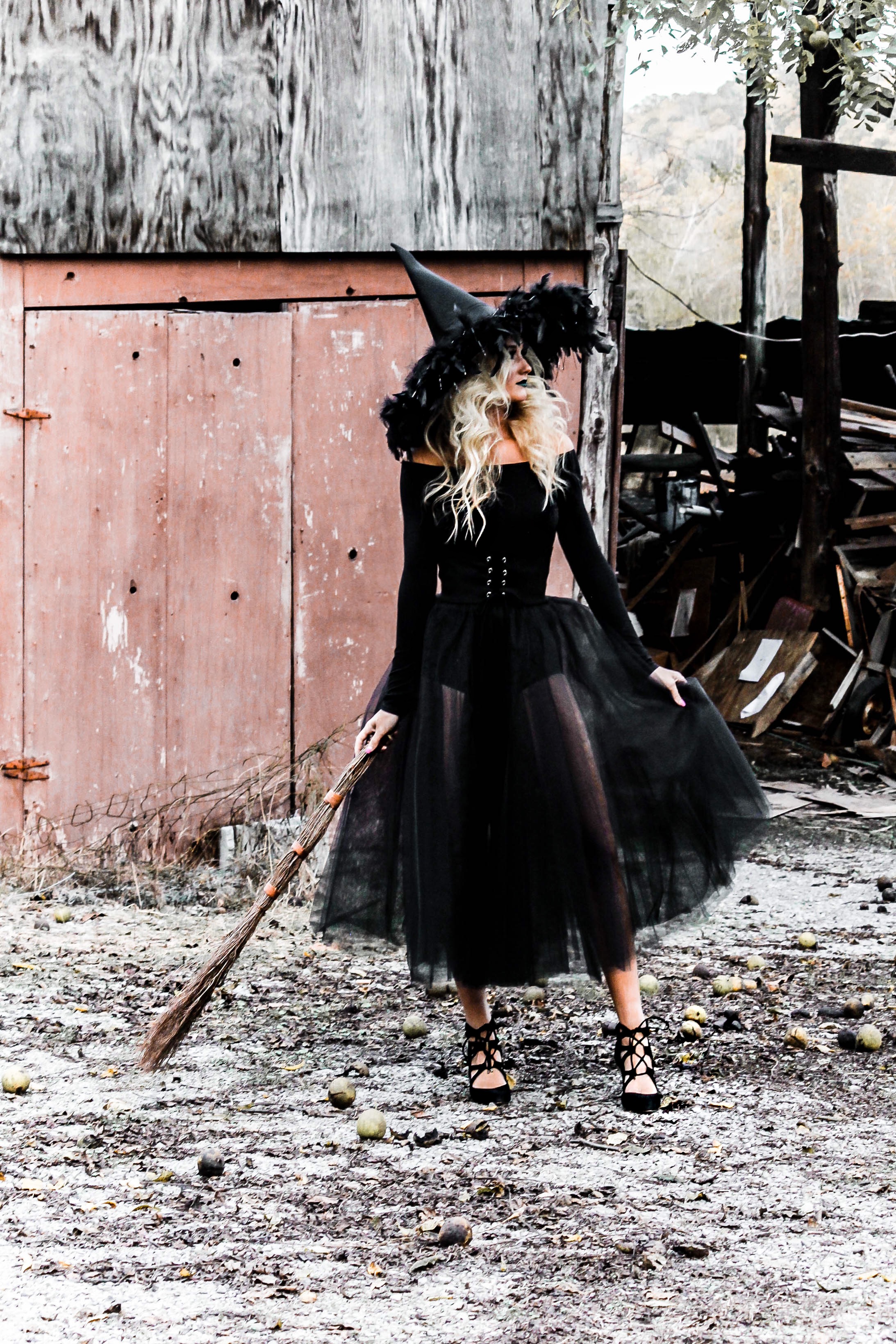 black OTS top | similar tulle skirt | high-rise booty shorts | similar lace up pumps (mine are a few years old) | similar corset (mine is fairly new from Zara) | green lipstick

So, how did I even think of this costume? Well, just like I'm challenging you to do, I was looking through my wardrobe and brainstorming some ideas based off of the pieces that I already owned. I knew that I had this amazing sheer, tulle skirt that isn't something that I can just go out and wear daily. I thought it would amp up the theatrical style of whatever outfit I went with. So, then I began thinking of characters & things I could dress up as while incorporating this skirt — ballerina, princess, Carrie Bradshaw (let's be real, how could I not consider her?), a witch. Many different options… Then, I realized that maybe I could somehow use my corset belt that I got from Zara when I was in Vegas — that pretty much ruled out the ballerina & the princess in my opinion. Then, I started thinking about shoes (because shoes can really make or break any outfit — Halloween style or not). I saw these black, lace-up pumps – that I actually bought 2 years ago – sitting on my shelf, and they instantly reminded me of a modern-day witch's shoe. So … a witch I would be!
I borrowed this feathered hat from a friend (so no money was spent there either – however, if you have to go out and buy accessories, you can normally find cheap costume ones at a dollar store so that you're not wasting too much money on a one-time & done type of outfit). All together, I only spent $10 on this entire look because I had to buy some brightly colored (green and purple) eye shadow to pull it all together. Surprisingly enough, I already had the green lipstick from back when Maybelline sent me some samples to try. Oh, and my broom? It's one of those cinnamon-scented ones that they sell at the grocery store to make your house smell good LOL (!!). I literally already had it sitting on my fireplace with our fall decor & thought of grabbing it as I was walking out the door to shoot these pics!
I really loved the way that the entire costume came together! It's very sassy, so it definitely still allows my personality to shine through, but it's also spooky and moody, (which y'all know I'm usually more of the bright color, bubbly type) so it was definitely fun to step outside of my comfort zone and try something super out of the box. I get such a thrill when I get to try fun, new looks like this, so I hope that you all will get the same satisfaction (& save some $$)! And just have fun with it — that's the best part of all!! My mom and I were cracking up the whole time while shooting this look (definitely was hard to keep a straight face), but that's really what it's all about. I hope you all enjoy this idea & the process and most importantly, make some amazing (& hilarious) memz along the way!
A few ideas to get you started in the right direction:
army girl – Do you have a camo or army green jacket, denim shorts or cargo pants, and combat boots? Boom.
cat – Do you have a black romper or jumpsuit? Yes? Grab some cat ears from the dollar store & draw whiskers on your face with eyeliner.
pirate – Do you have a B&W striped top, dress, jumpsuit or pair of pants? Add a $1 red piece of fabric around your head & waist and then borrow a plastic sword from your little cousin / brother / son / whoever.
Sandy from Grease – Do you have a black fitted bodysuit & leather pants? Add some black (or even red) heels, a red lip & then make your hair big & teased!
---
Hope you all have a bewitching Halloween, this year! If this inspired you at all to find your costume in your own closet, then be sure to definitely tag me in a photo on Insta or use the hashtags #LNLbabe #LNLhalloween, so that I can see your final look! I'm so pumped to see what ideas y'all come up with!!
Thanks so much for stopping by trick-or-treating!! As always, I appreciate all the love.
xo, P