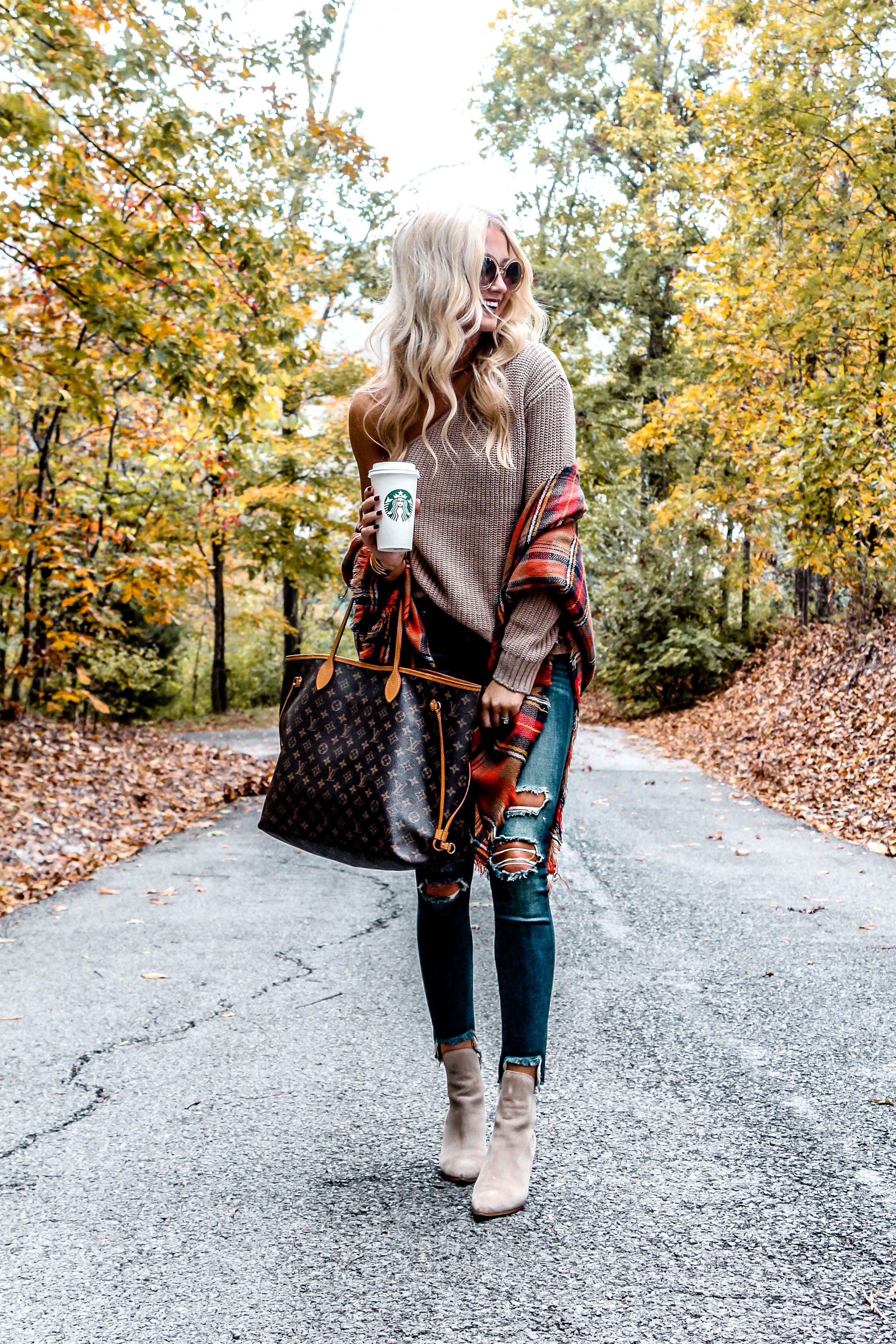 Fall officially arrived here in Tennessee over the weekend – or well, some may actually call it winter, ha! Temps got down into the 30s which is basically known as winter in the South. However, that's pretty typical of Tennessee weather – ya know, skipping seasons and such. But, it's supposed to warm back up a little bit this week, so we'll get to enjoy some regular fall weather that we've all been waiting for.
Even though it was really cold outside over the weekend, I couldn't help but snap a few pictures in front of all the gorgeous fall foliage. I've always been so grateful to live in a place where we do actually have seasons (most of the time), however, every single year during October and November, I always go crazy over the yellow, orange & red leaves. They're all so beautiful, and it really never gets old for me.
I've been getting some requests to showcase a few affordable, fall looks on the blog, so I figured I would start with this easy-to-style, practical, autumn-inspired outfit. I have a few others planned as well, so if this one isn't your thing, just stay tuned for the other ones coming soon. I've also gotten a ton of fall makeup requests and questions about the makeup I've been using lately, so I also included that information at the bottom of this post for those who were asking!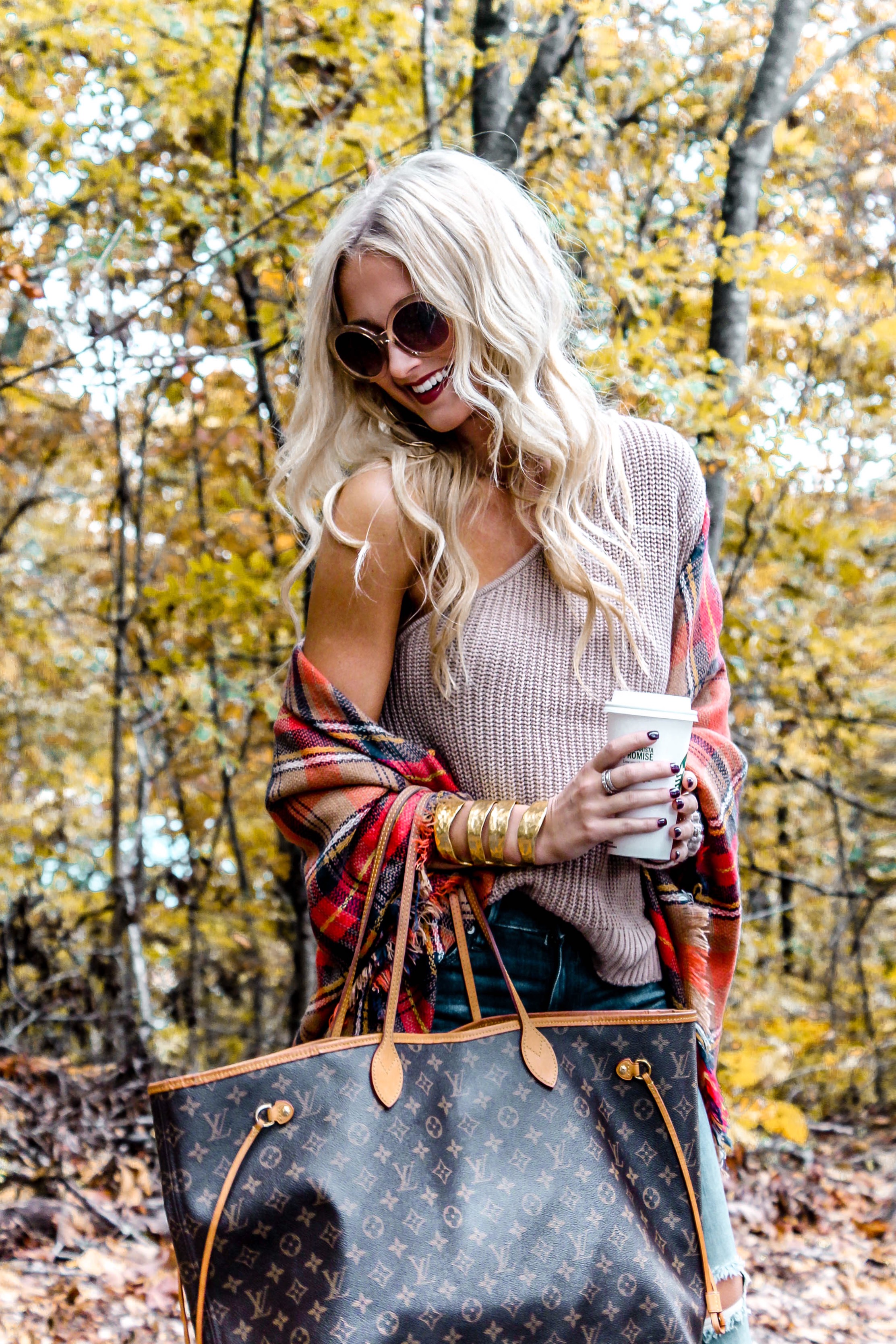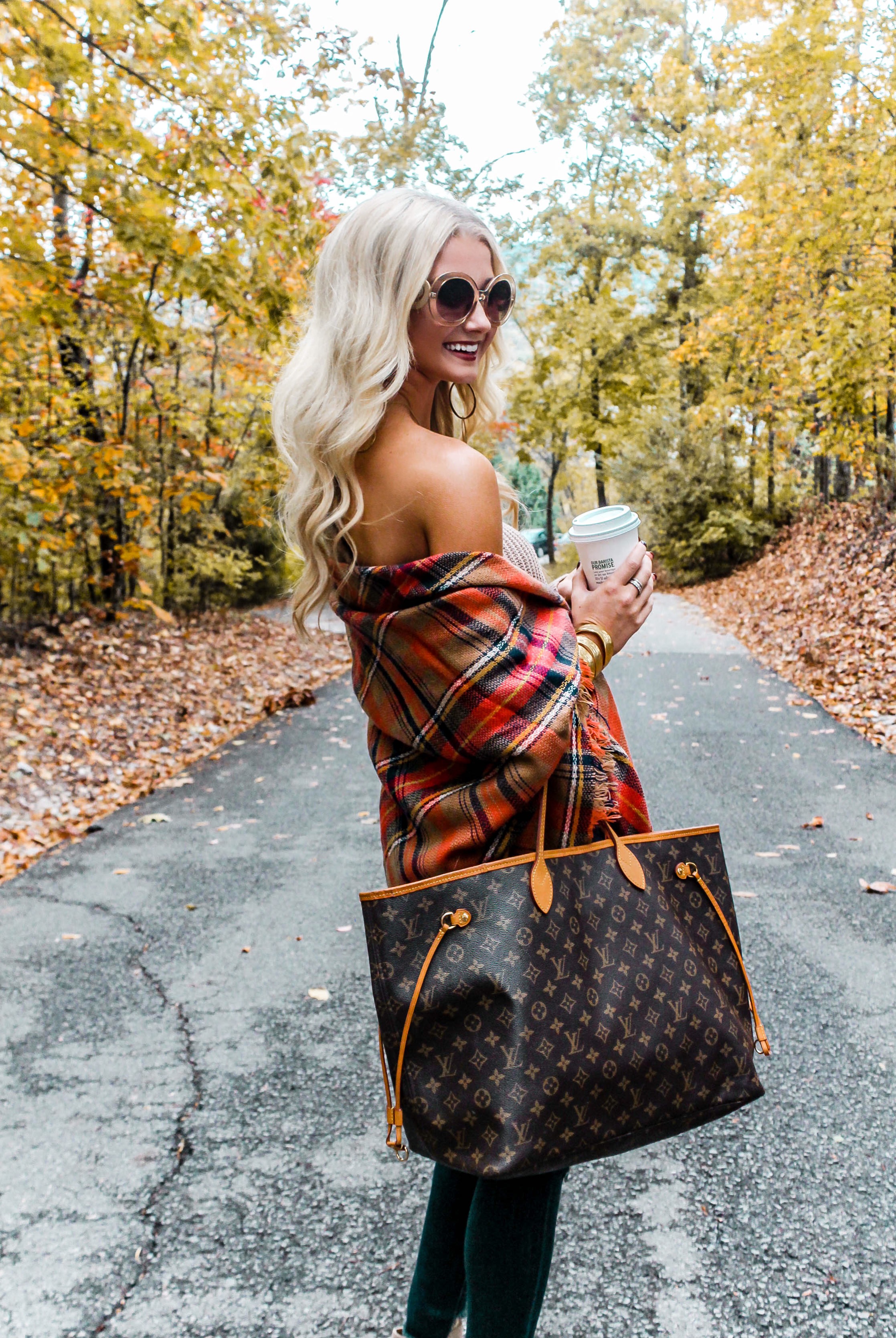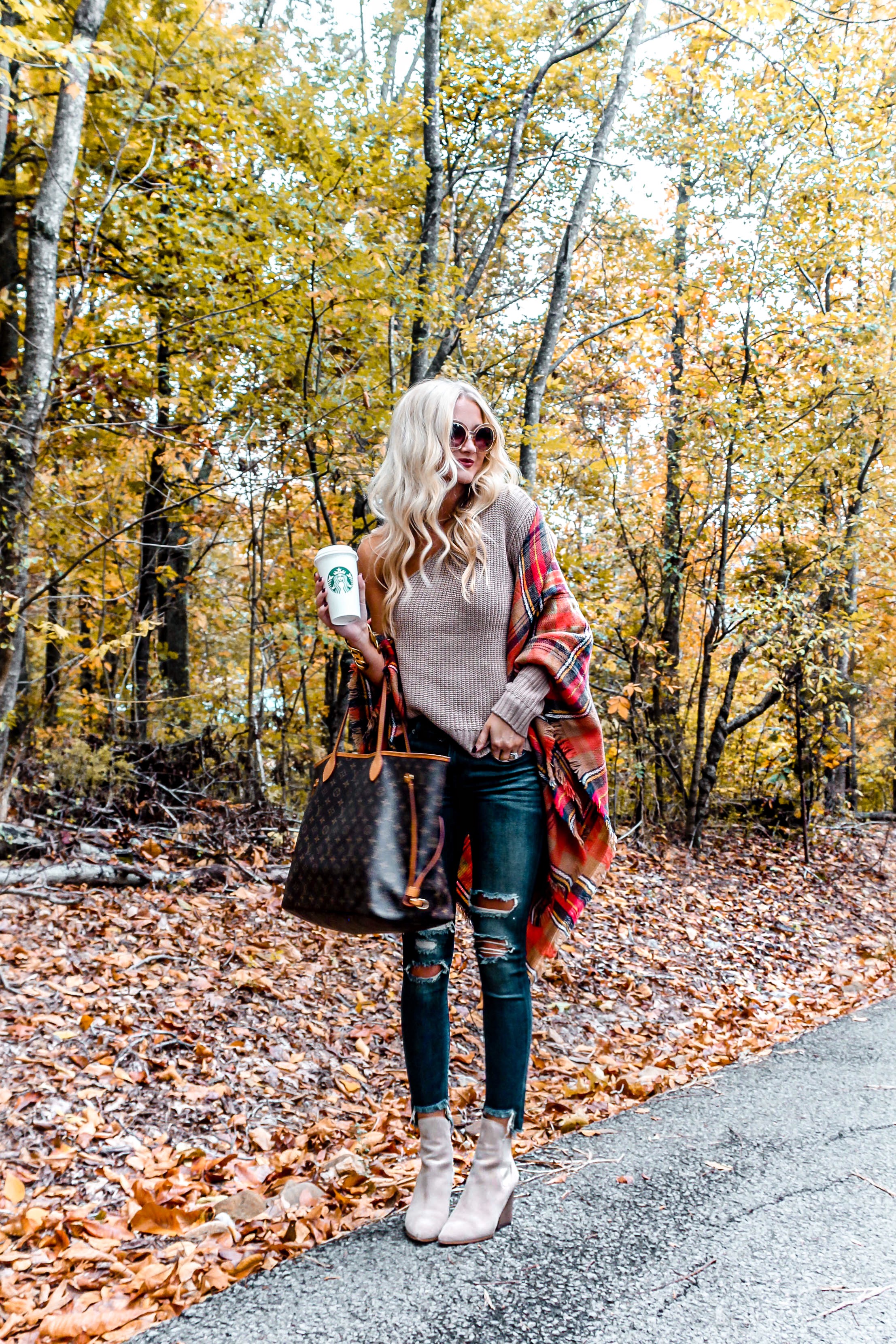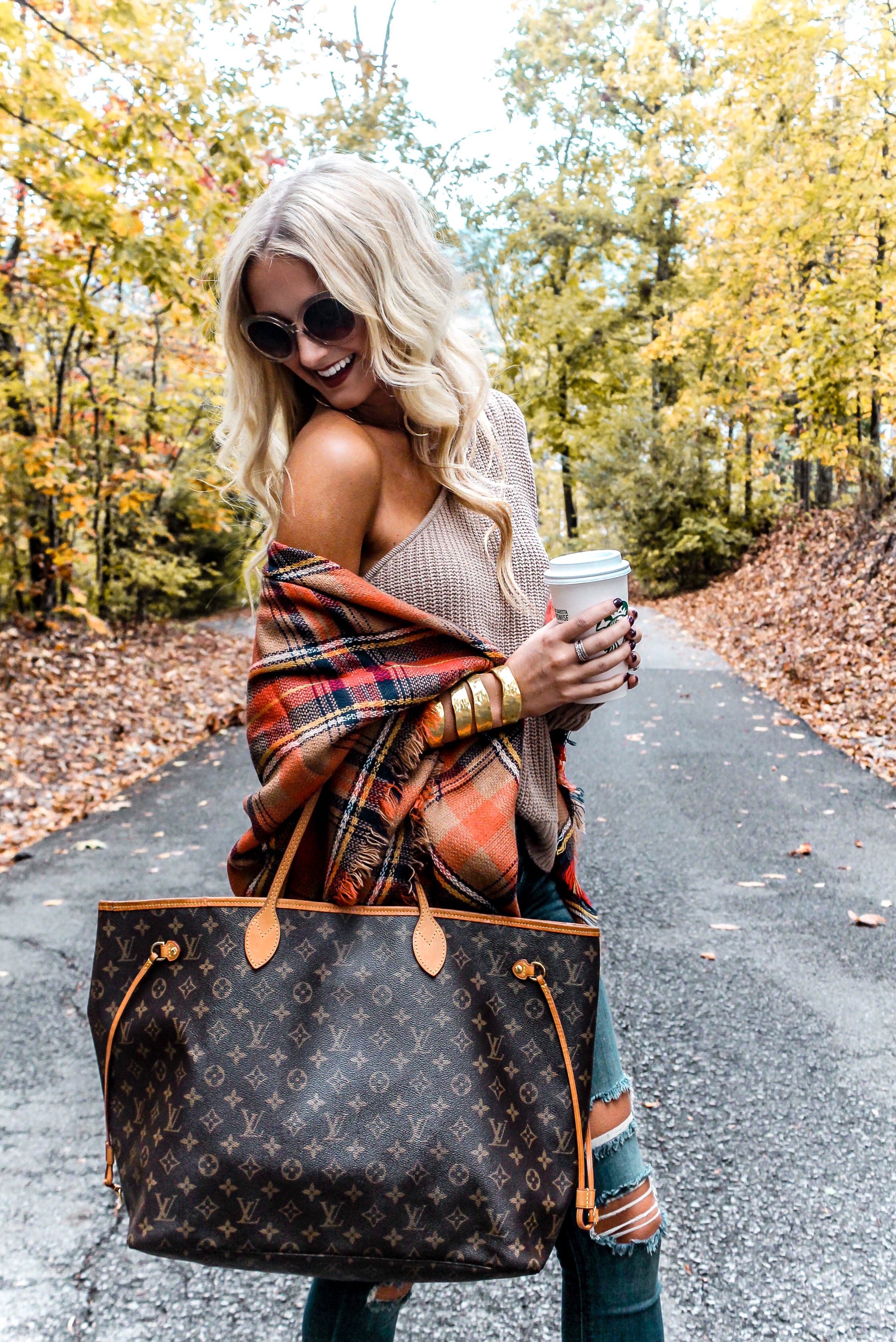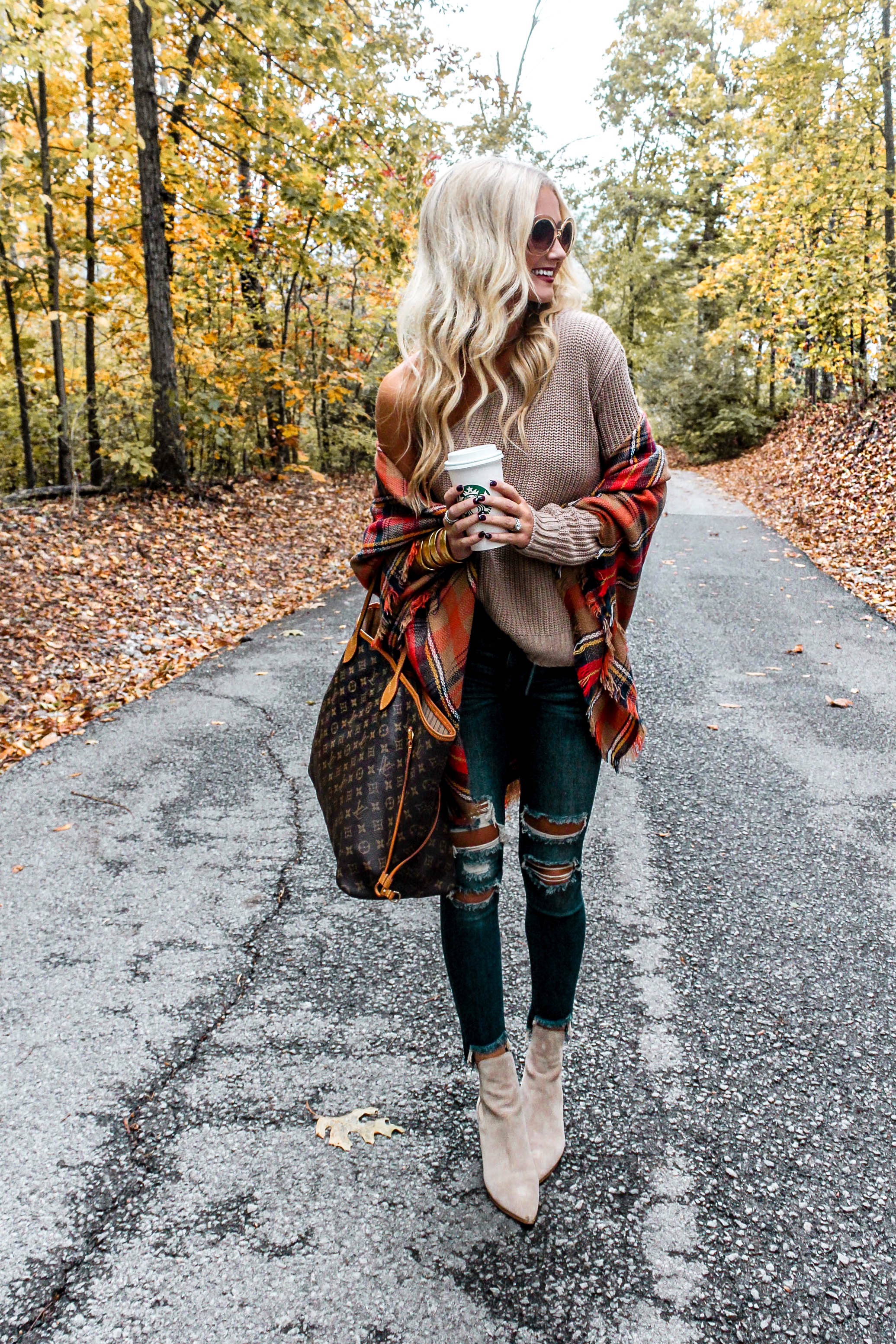 This one-arm sweater is the perfect cut & color for this type of outfit and it matched my favorite nude booties so perfectly, so I couldn't resist. (Which, by the way if you're going to buy one really good quality (& comfortable) pair of nude booties, these NEED to be it!) A good neutral sweater is a must-have because you can style and wear it so many different ways throughout the season. Mine is only $47, which is such a great deal for the quality. It's so comfy and runs true to size – I'm wearing a small for reference. I wouldn't try to size up for an oversized look in this piece because it'll be too big and loose up top.
I debated on using this blanket scarf as a wrap or tying it around like I would a normal blanket scarf, and clearly, I chose the first option, but I think it would look great styled either way. I just didn't want to hide too much of the sweater and we all know how bulky blanket scarves can get around out neck sometimes LOL …
Of course, this is a simpler type of outfit that I would wear day to day or to places like a football game, the pumpkin patch, or even for Thanksgiving dinner. It's overall so comfy & would even look great with a pair of statement earrings if you wanted to ditch the scarf. (Just don't ditch the Starbucks — it completes any fall look haha!)
Now, time for some fall makeup talk … I get a lot of the same makeup questions over and over, mainly about my foundation, lipstick and mascara. I've recently gotten a ton of questions about my face makeup and concealer, so I'm linking all of what I've been using below. I've been using the same products on my face for a few months now (i.e. foundation, concealer, blush, setting powder, contour kit — which by the way I've been just using my contour kit as my bronzer). For lips, I'll link both of my current faves at the moment in the widget below, but y'all know that I almost always wear Mac Ruby Woo. It's a forever favorite of mine no matter the season. And then for lashes, just keep in mind that I have lash extensions (I feel like this is why people ask me what kind of mascara I use), but I have been using a certain kind of mascara lately (I'm already on my second tube), so I'll link that below as well. If you all would like another (updated) makeup tutorial, comment below and let me know! 🙂

**PS – I use the color 'Wheat' right now in the Double Wear.
---
Hope y'all have a great Halloween tomorrow – I hope it hurries and gets here before I eat all of the candy we have set out for trick-or-treaters haha!
xo, P