Hi friends!
I typically don't post here on the blog on Mondays but tonight, I felt led to share not only this really cute transitional outfit for fall, but also a few things I've had on my mind today.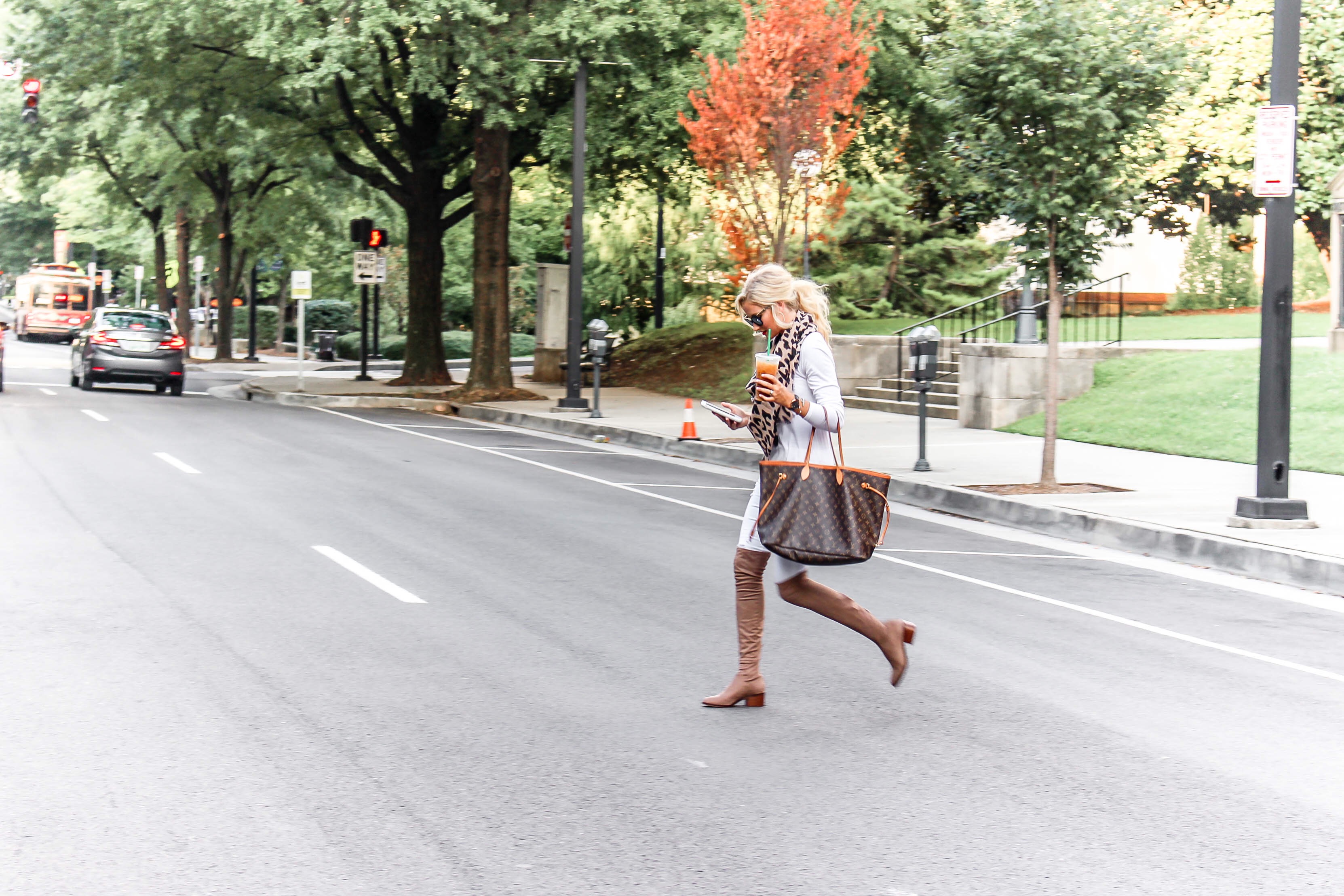 First off, I wanted to share this cute #ootd that I wore not too long ago because it's (finally) starting to feel like fall here in Tennessee … well, as much as it can for this time of year. If you're from this area or anywhere in the south, you may know what I mean. It usually stays pretty warm around here until November or December (although last year on Christmas, it was still in the 70's…), but this month, the temps have already started dropping a little bit. And you won't hear me complaining! I'm ready to start breaking out the beanies & blanket scarves, but I still think I'll have to wait awhile for that.
Anyways, if you're like me and still stuck in a semi-warm climate for a few more months, you'll fall in love with easy outfits like this one that will help you transition into fall. Like, the REAL fall (meaning temps into the 50s & 60s). 😉
Now the first thing you may think when you see this outfit is, "girl, WHY are you wearing white after Labor Day?" .. and I really have 2 reasons for that. 1) I wear what I feel confident & good in, no matter the 'rules'. I've always been this way, even when people used to make fun of me back in middle / high school. Wear what makes YOU feel good. I can't preach it enough!! And 2) There's simply no such rule as 'no white after Labor Day' now..shocking, I know. It took me like a year to get used to it, but it's true. Honestly, in the fashion world as a whole right now, the 'rules' are MEANT to be broken. There are only a few things that we must stick by the book to.
(More outfits that 'break the rules' here, here, here & here).
So, wear that all white outfit that you wore back in the summer … just be sure to add some cute OTK boots or booties & a fun scarf to make it a little more season-appropriate! This is literally the most SIMPLE outfit ever. (White on white, I mean come on!!) but the accessories change it up, make it appropriate for the approaching season & make it 1 million times cuter – with hardly any effort!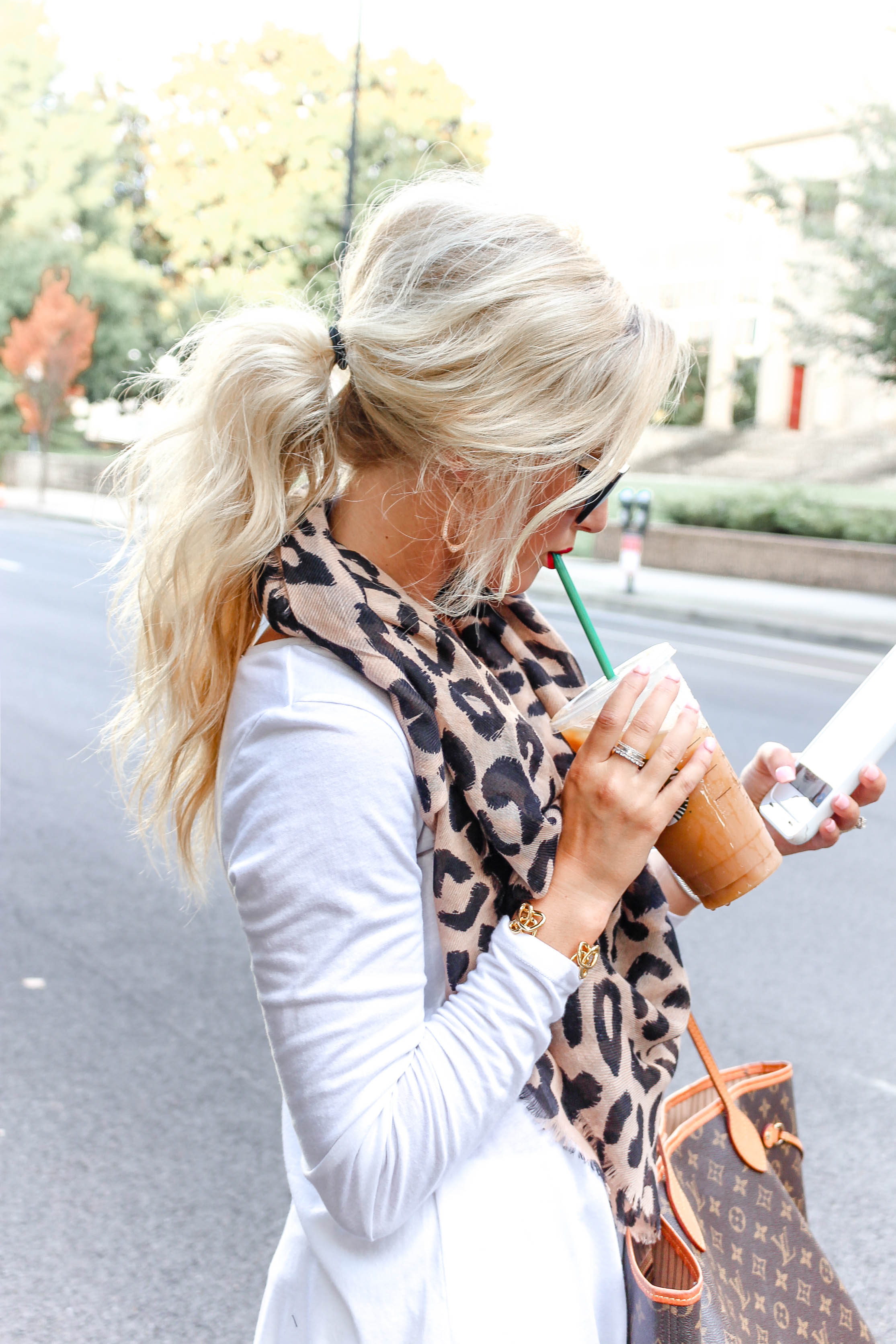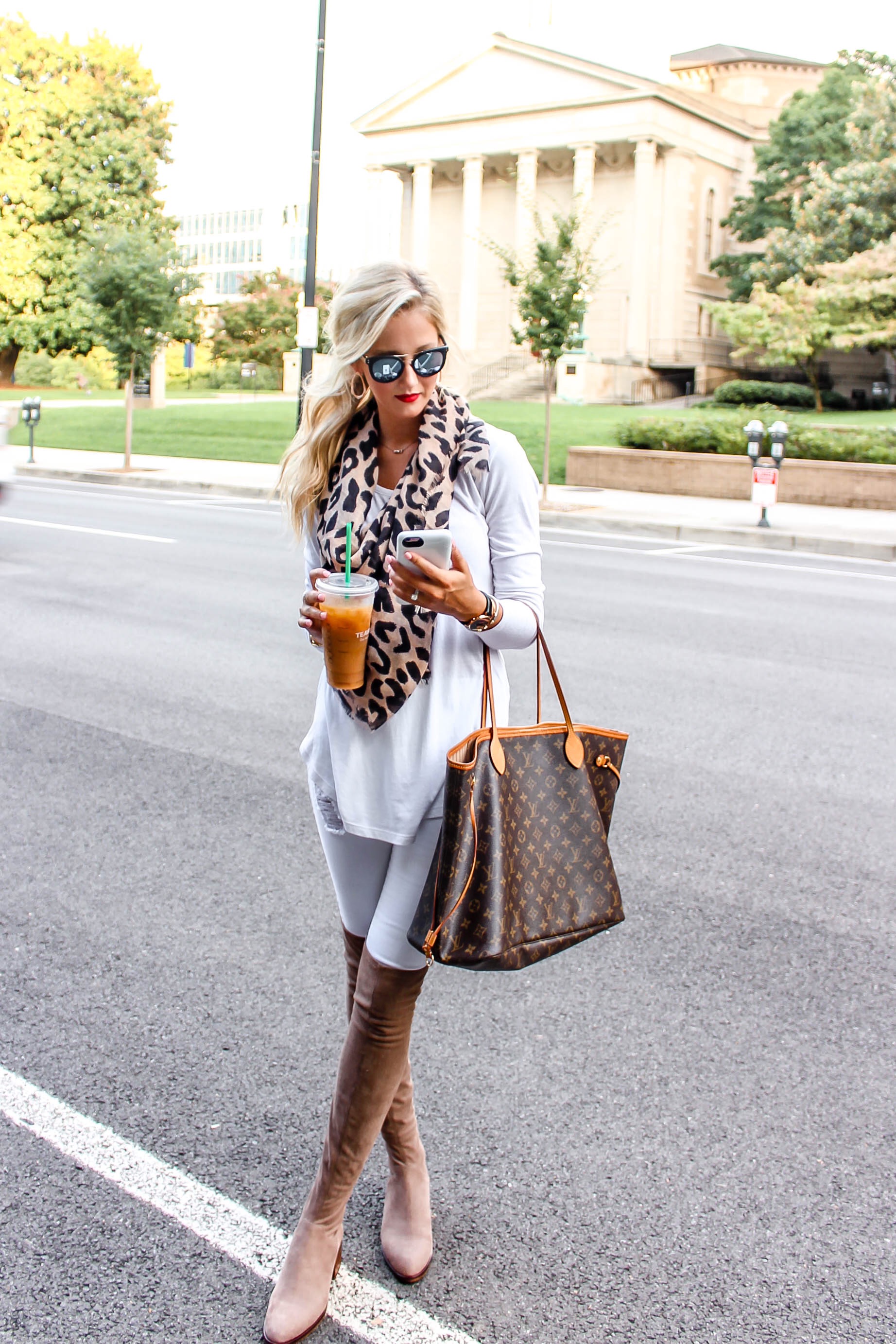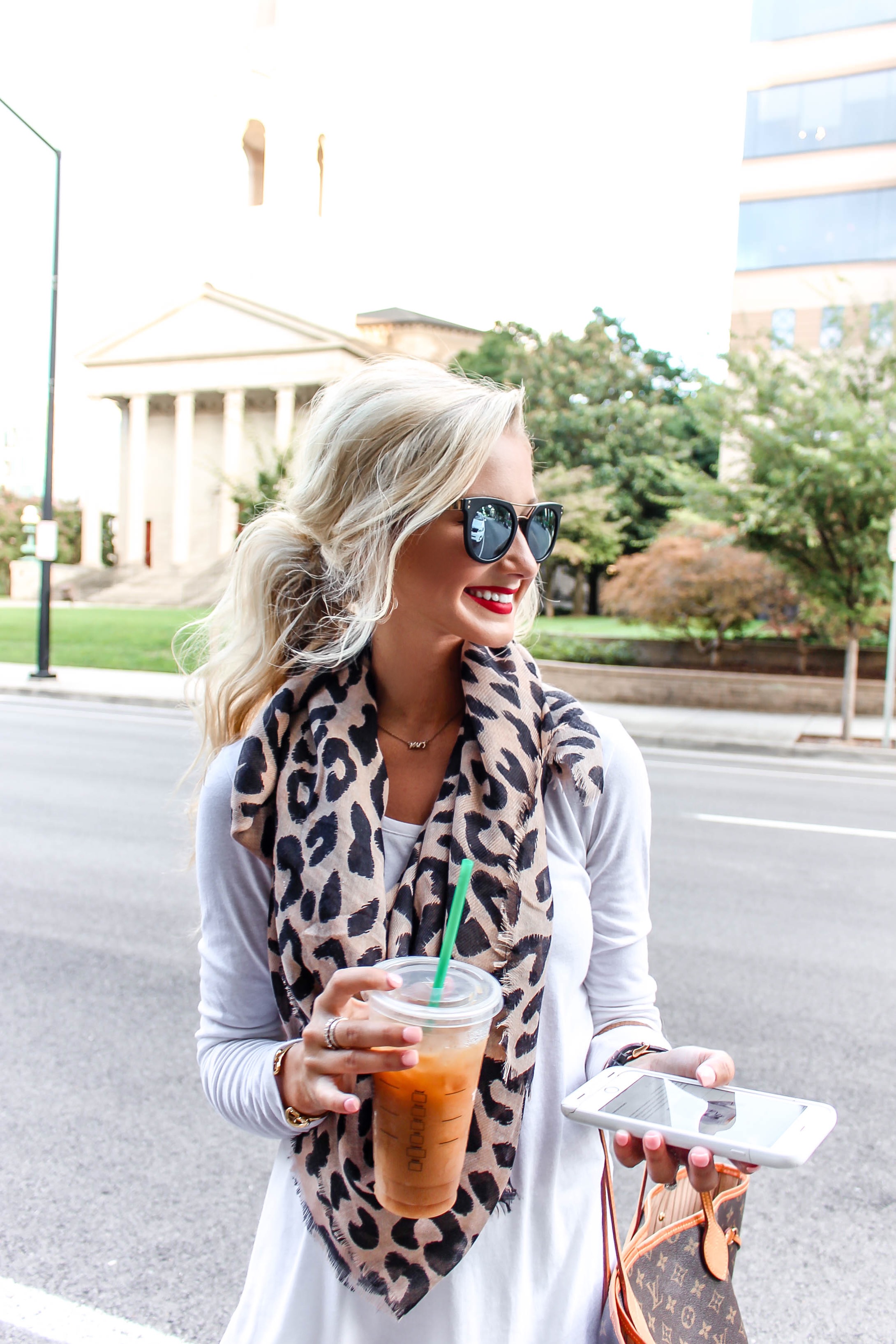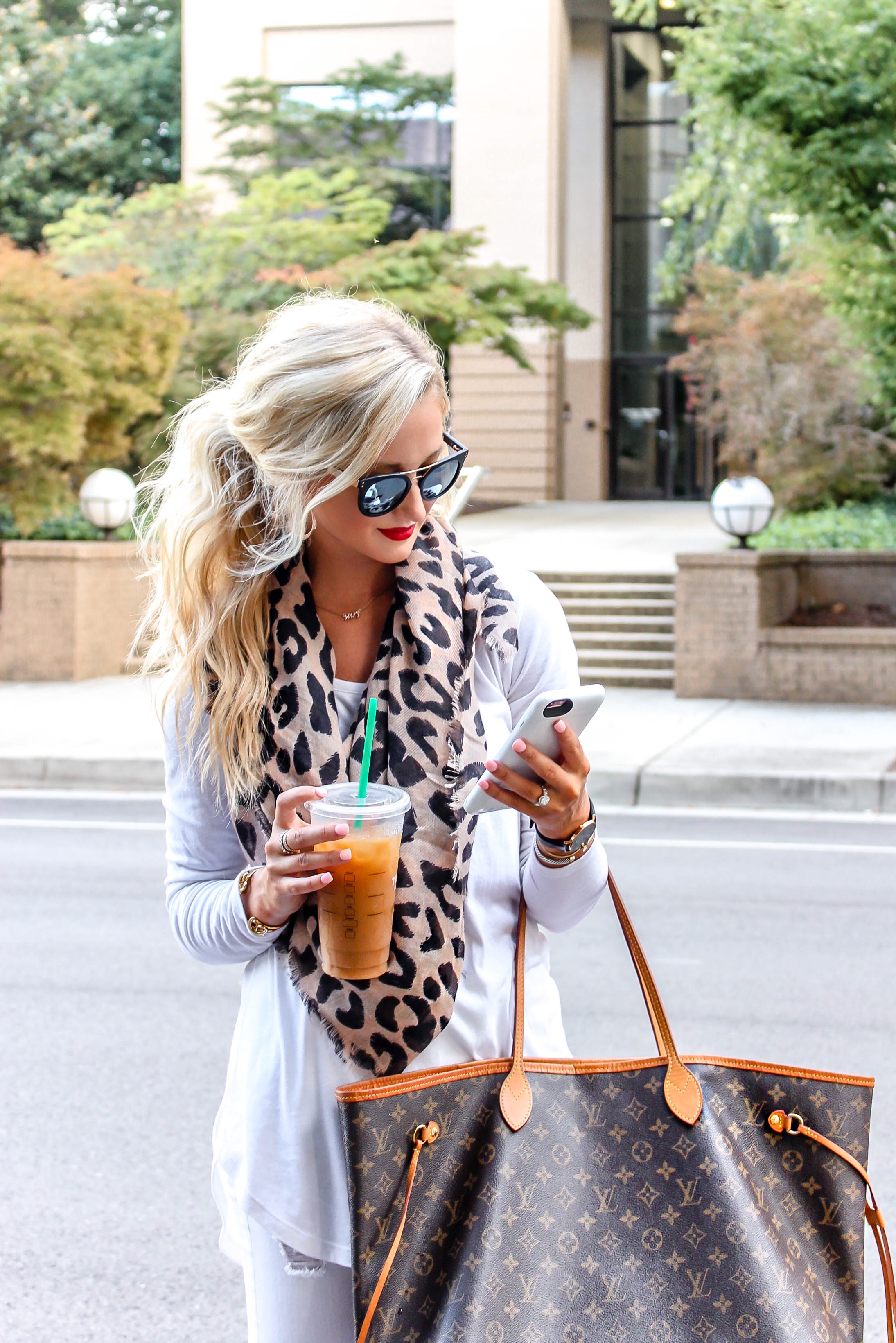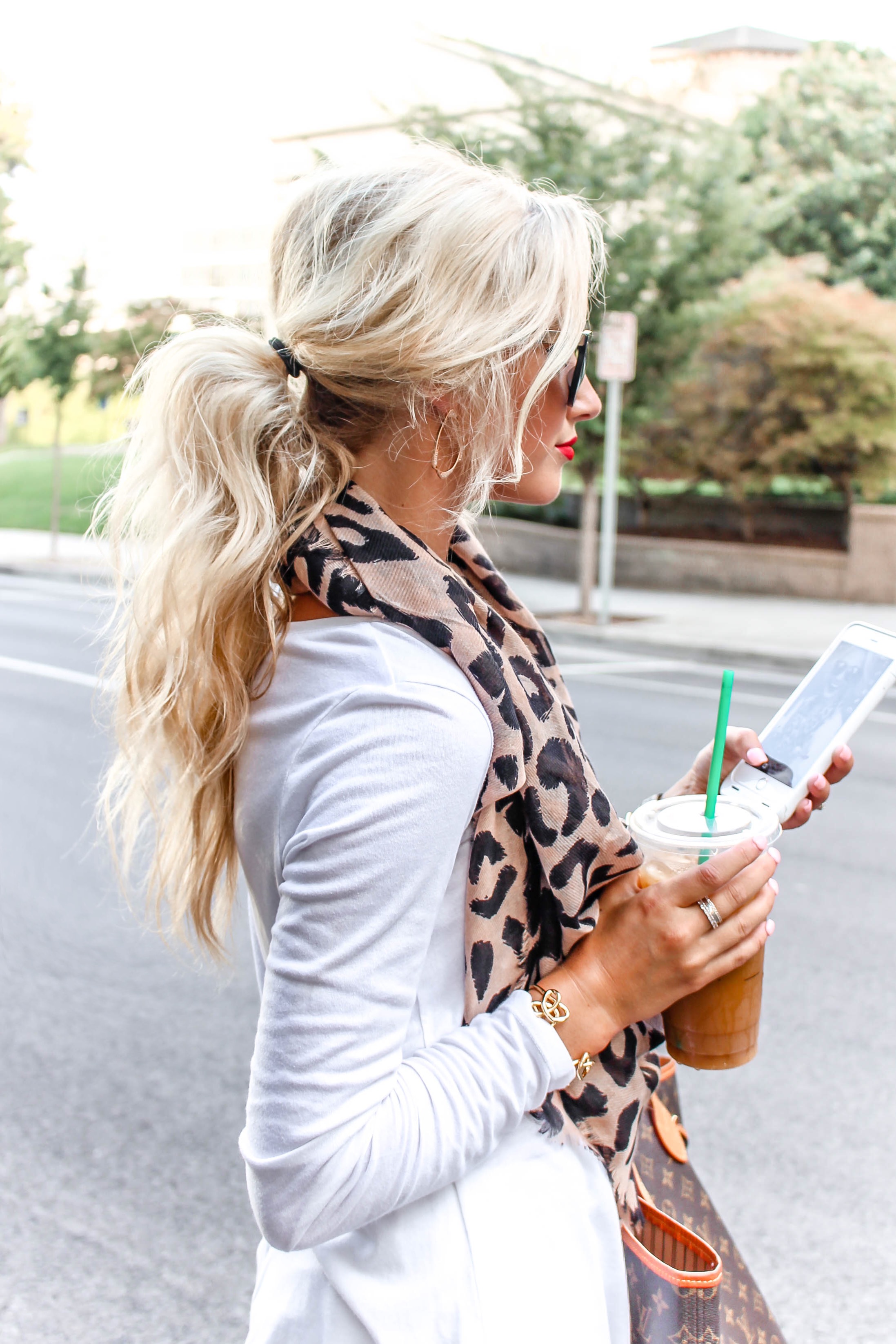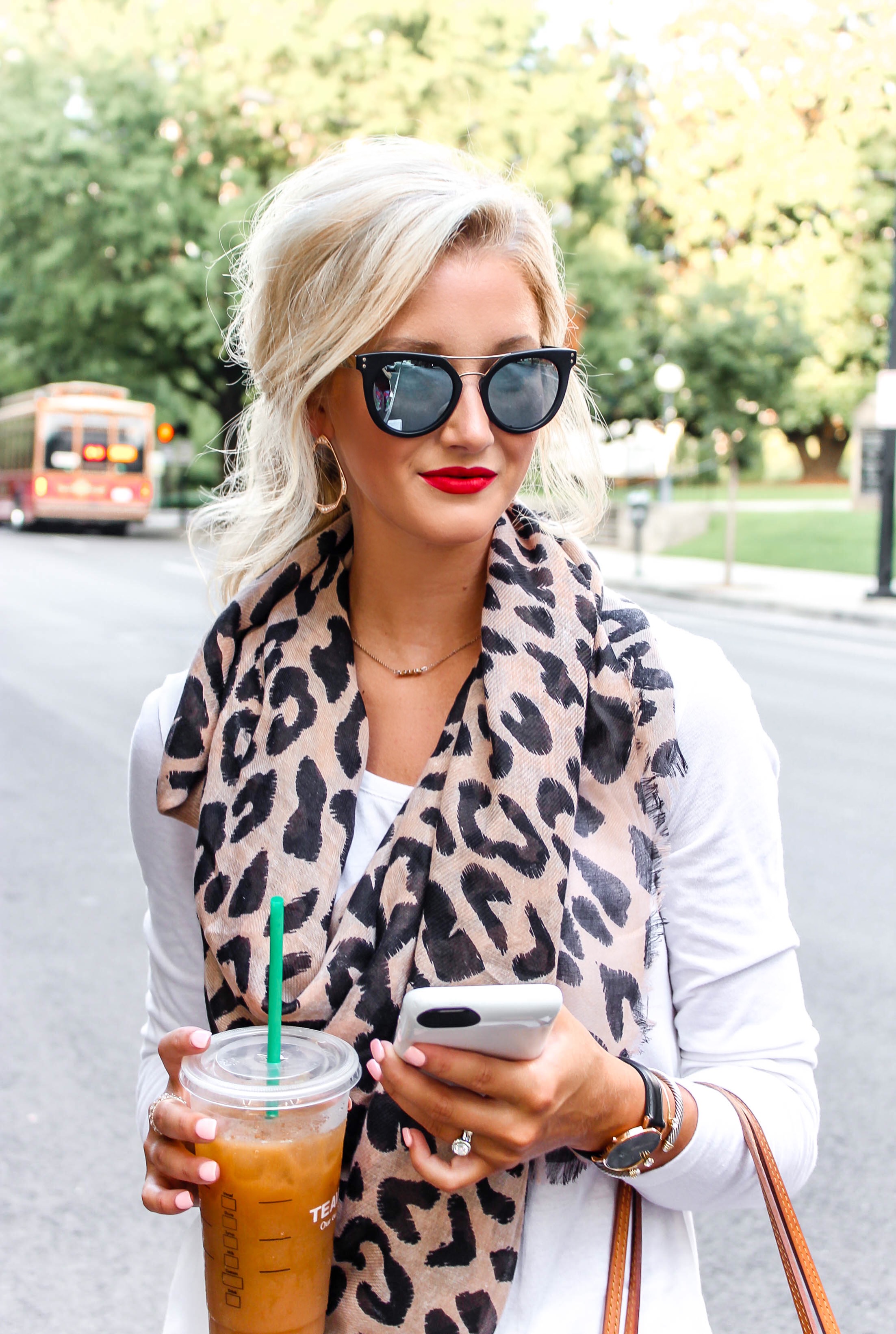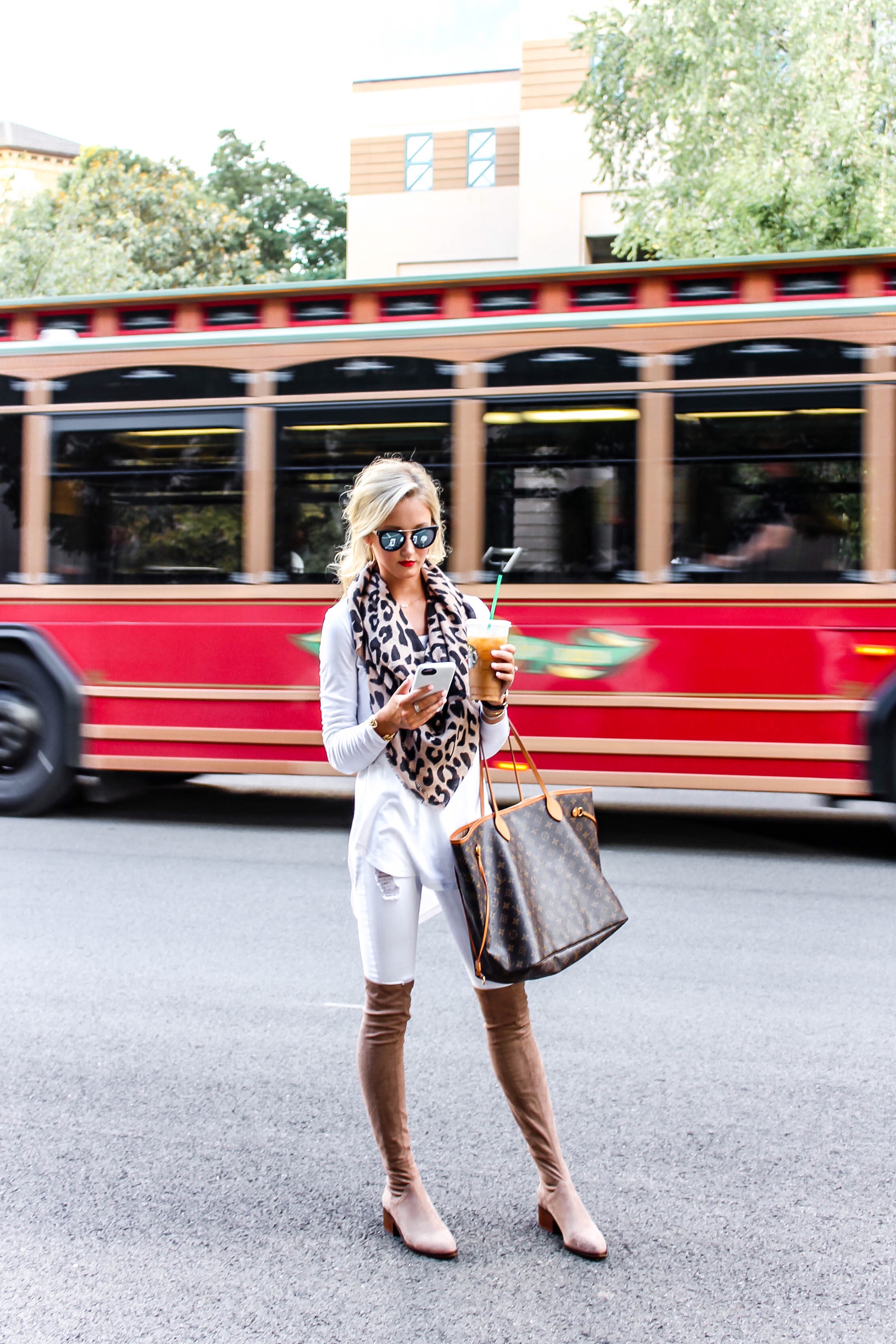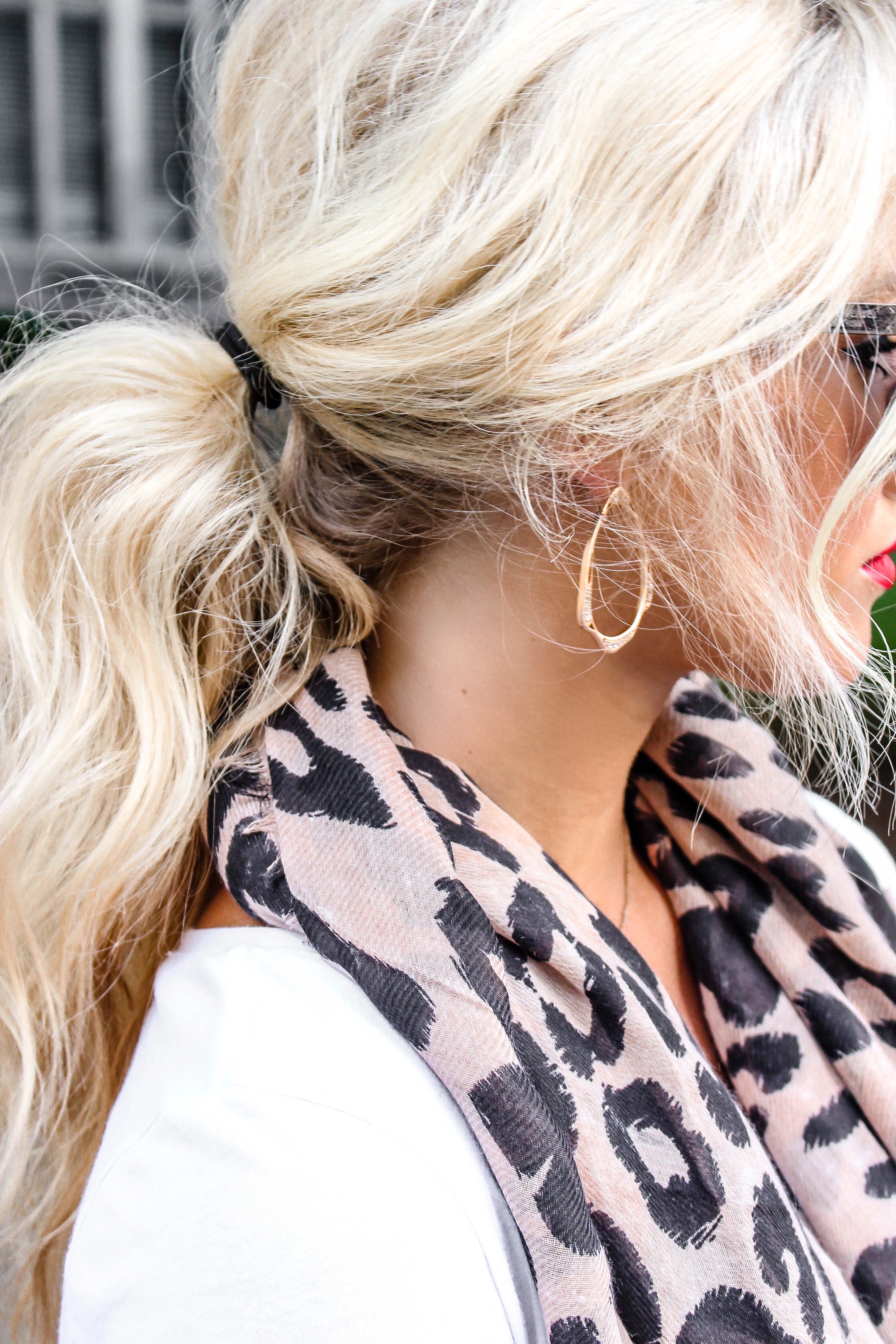 white long sleeve tee | white semi-distressed denim jeans | leopard scarf (UNDER $20) | otk nude boots (UNDER $100) | sunglasses | rose gold earrings

I try my best to stick to a consistent schedule here on LNL (minus when I am traveling at times) but I guess that's one of the beauties of being your own boss … when you feel inspired, you start writing. No matter the time, the place or the day. So here I sit taking a bubble bath, winding down for the day. Total silence. Just me & my thoughts. I actually love it – most of the time. But today, only thoughts of sorrow & pain fill my mind for the tragedy that happened here in the States last night. Does anyone else feel like it's been very difficult to go about your normal day or is it just me??
I've been speechless since I woke up this morning and heard about the news. One of my blogger besties texted me first thing (she didn't know if I had made it back from my trip to Vegas last week) asking, "ARE YOU OKAY?" "Are you hurt???" "I just heard about the LV shooting." I had just woken up (in my home — thankfully we came back home at the end of last week) so I was shocked, confused & instantly had chills running down my spine with a sick feeling in my stomach. If you know me, I'm always one to be able to 'fall back asleep' no matter what time it is, but this morning – once I read those messages – I was up & completely in shock. It hit close to home (especially finding out the suspect was there at the same time we were last week), but I have no room to talk. I CAN'T BEGIN to imagine the feelings, the heartache, the fear that so many felt last night in Vegas, are still feeling today, & will feel for years to come. It truly breaks my heart. If you are someone reading this who was affected by this horrific tragedy, I want you to know I am praying for YOU & I love YOU!! God ALWAYS has a plan – as hard as that may be to hear right now. But I want to encourage you to trust HIM in the midst of this heartache. He is ALWAYS here if you just need some love & comfort during this time. Cling to Him.
All that to say, these thoughts & prayers have been inside my head constantly today (over & over & over), so I just feel the need to physically write them down (maybe even just for my own reminder). I don't know if they will ever help someone who comes across this blog, but I pray that they will touch someone who needs to hear them:
I pray for this nation. I pray for this world. I'm thankful the world is praying, but under what circumstances??? The many hashtags that read #prayfor….. ? There are far too many than should be on that list. And it breaks my heart. Why can't we pray and come to God when the times are GOOD?! I read a tweet today that quoted, "Everyone says to #prayforvegas but if there was really a God, then why would he let this happen? Why should we pray?" … that hit me hard. And even just typing that hurts my heart. Maybe, just maybe, it's because that's the only way to get our attention back to Him since this world has become so angry. Or maybe it's just because we live in this world full of flaws & this is yet another reminder that this is NOT our forever home. We are on our way to a world that is SO much greater than this where events like this will NEVER happen. I don't know the answer. Clearly, only He does. But these, again, are just the thoughts I've been having today. Moving on …
This country – this world, will NEVER agree. But that. is. okay. THAT IS OKAY! But that doesn't dismiss us from being kind to one another & spreading the love however we can. We all have different views, different beliefs, etc. but does that mean we should really go out and be rude & cruel to others? No. You can have different view points from other people & still love them. I pray that this world would stop the hate, start showing love to others AND being kind to others, no matter what they disagree on. You never know what people have to go home to at night. We may get a nice, home cooked meal or a warm bed, with a nice family. Maybe not everyone else is so fortunate. I pray that we can just be nice & spread the love. Because we NEVER know if the nice word we say to someone we meet along the way could save hundreds of lives in the process.
I pray that we (myself included) can at least try to do good from here on out – for that stranger, for that person we dislike, for the ones who have wronged us so badly. It's not our job to 'get back at them'. Even when those bitter feelings come along (because we all have them), I pray that we can just try to do GOOD.
I pray for this nation. I pray for this world. I pray that we may all spread more love & kindness than ever before. Because we ALL need it, and we're in this together.
ALL MY LOVE & PRAYERS!
xo, P