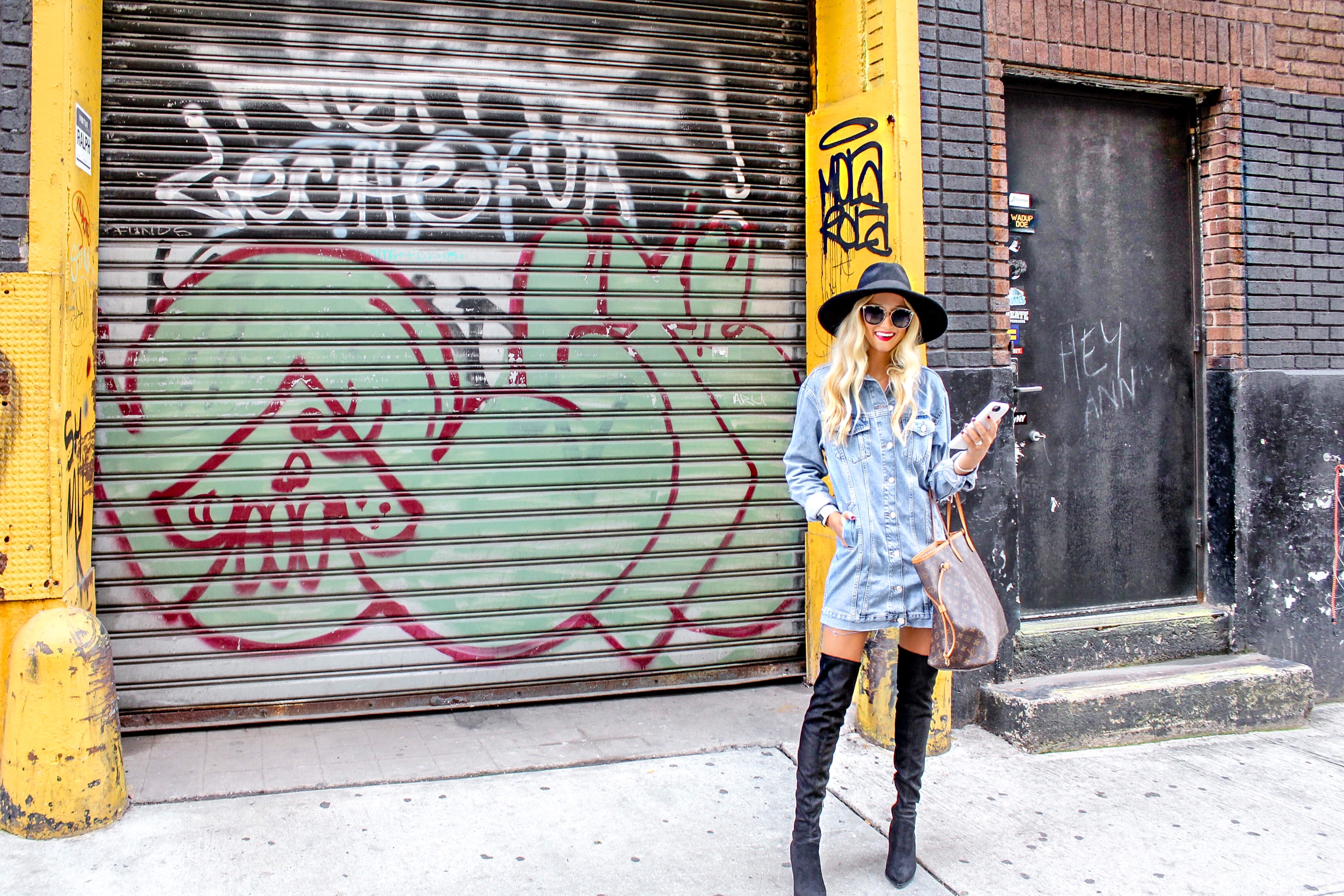 I recently bought this oversized, longline denim jacket from Topshop, and to be completely honest, I'm surprised I've gotten to wear it as many times as I have already. It's just so versatile that you can style it many different ways and really never wear the same look twice. I also styled it with an athleisure outfit in this post.
Ever since middle school, I've always loved a classic denim jacket (just ask my teachers and old classmates!), so I'm pretty pumped that they are coming back in style this season. However, I want to showcase a new, more trendy take on this 'classic' piece.
Gone are the days when jackets were only worn as an extra layer to keep you warm. In today's fashion world, more pieces of outerwear are being worn on their own – as dresses. And frankly, I love the idea.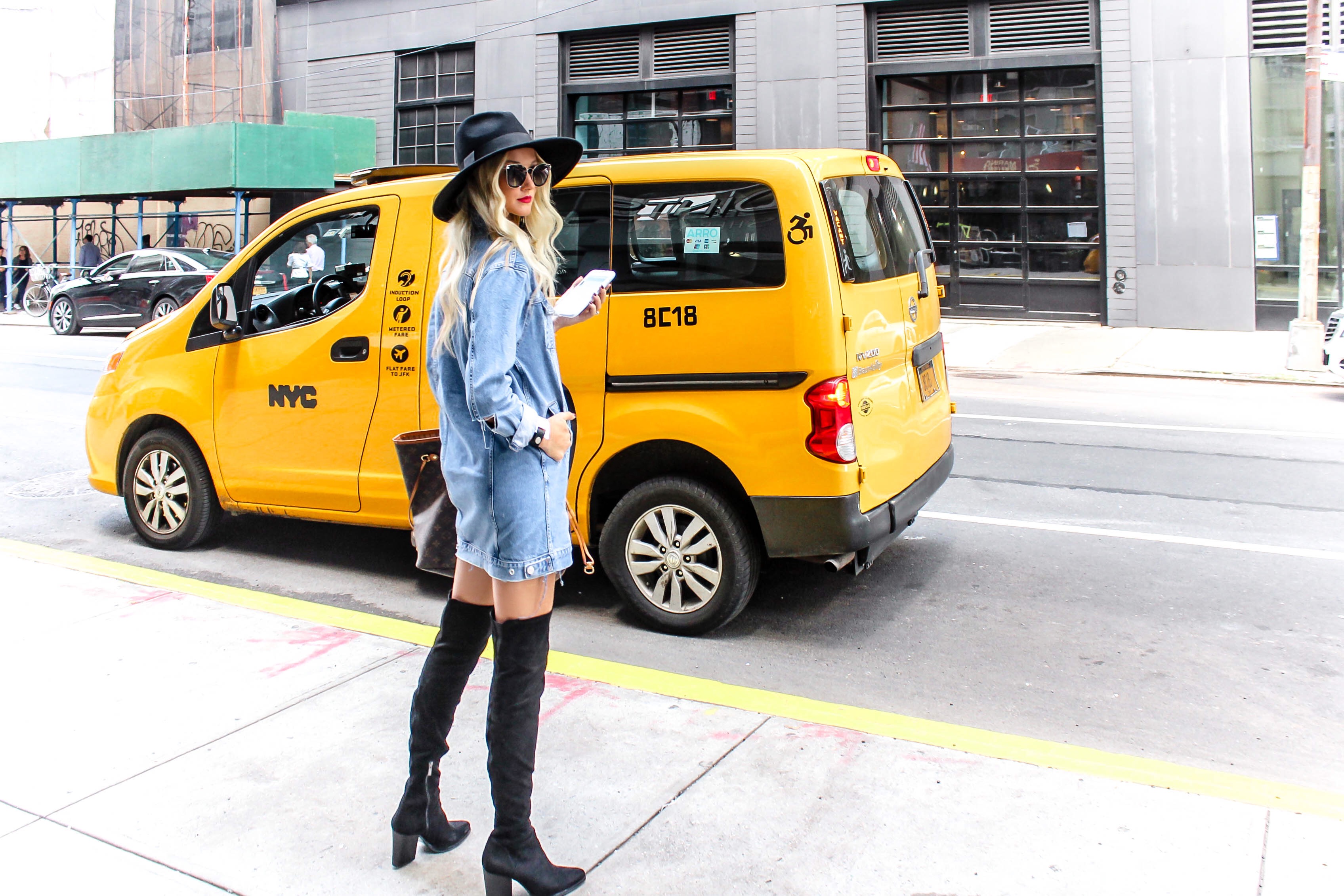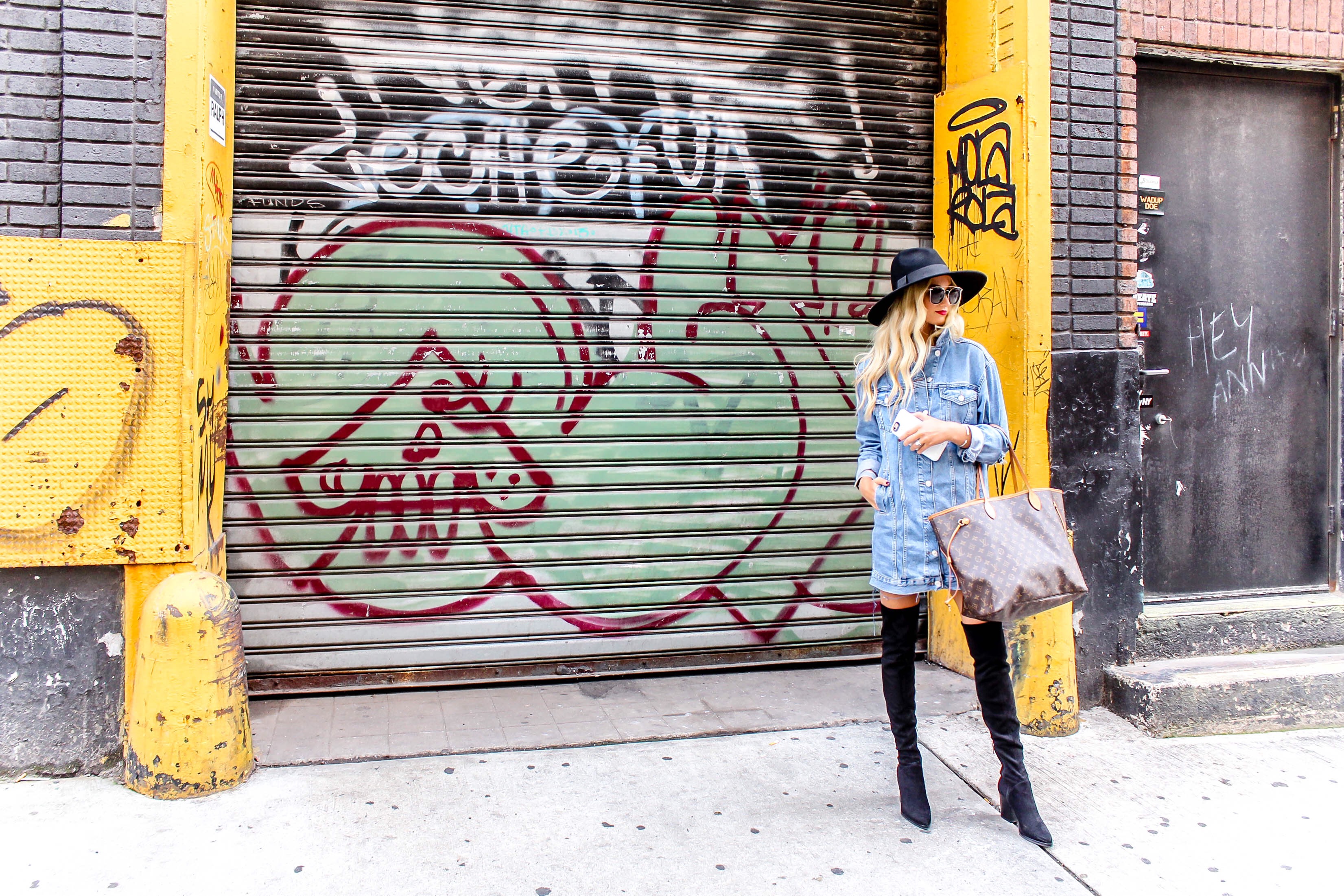 longline denim jacket (my exact color is sold out right now, but linked many similars below) | over the knee boots (TTS) | black oversized hat | black mirrored sunglasses (use my code: PEYTONDIFF for 25% off!) | earrings

I wore my oversized denim jacket as a mini dress during my first day at New York Fashion Week last month. It was the perfect length to pair with my over the knee boots, and of course I added my signature black hat because a cute hat always ups any outfit x100.
As I previously mentioned, this is a piece that you can definitely dress down or dress up … so I wanted to share a few tips if you plan on trying out this new trend & taking it up a notch:
Make sure the length is right for you – first and foremost. If it's too long, it will most likely make you feel short & stocky because denim jackets are already bulky in general. However, if it's too short, you may get some interesting looks walking down the street.
Pair with a statement shoe. Since the denim jacket is fairly simple and makes up most of your entire outfit, you'll want to showcase a really cool shoe or over the knee boots. I went with my OTK's for this particular day, but I also think a really cool, chunky heeled bootie or sock booties would look amazing with this jacket as well. Your shoe choice for this type of outfit will determine how dressy or how casual the overall look appears. For instance, I've even worn my white sneakers with it for a more casual, running around town feel. It really just depends on how dressy or how casual you want to go.
Layering. You could even layer a lace-trimmed tank underneath the jacket & leave the first few top buttons unbuttoned to add a little touch of femininity and dress it up a bit more.
Accessorize! Be careful when accessorizing this type of outfit. A necklace would probably be too much since you already have a bulky collar on the jacket, however, you could pop up the back of the collar to make more of a statement (now we're reeeeally going back to middle school when we start poppin' the collars — watch out world! LOL). I would opt for a statement earring & a cute cuff bracelet (if you choose to roll up the sleeves like I've done here). And of course if you are like me & love wearing hats, this outfit gives you the perfect opportunity to wear one. And I say go for it gf!
---
As always, thank y'all so much for stopping by for some style inspo! I also shared a lot of exciting things on my IG stories today, so don't forget to swing by there & check it out!
xo, P