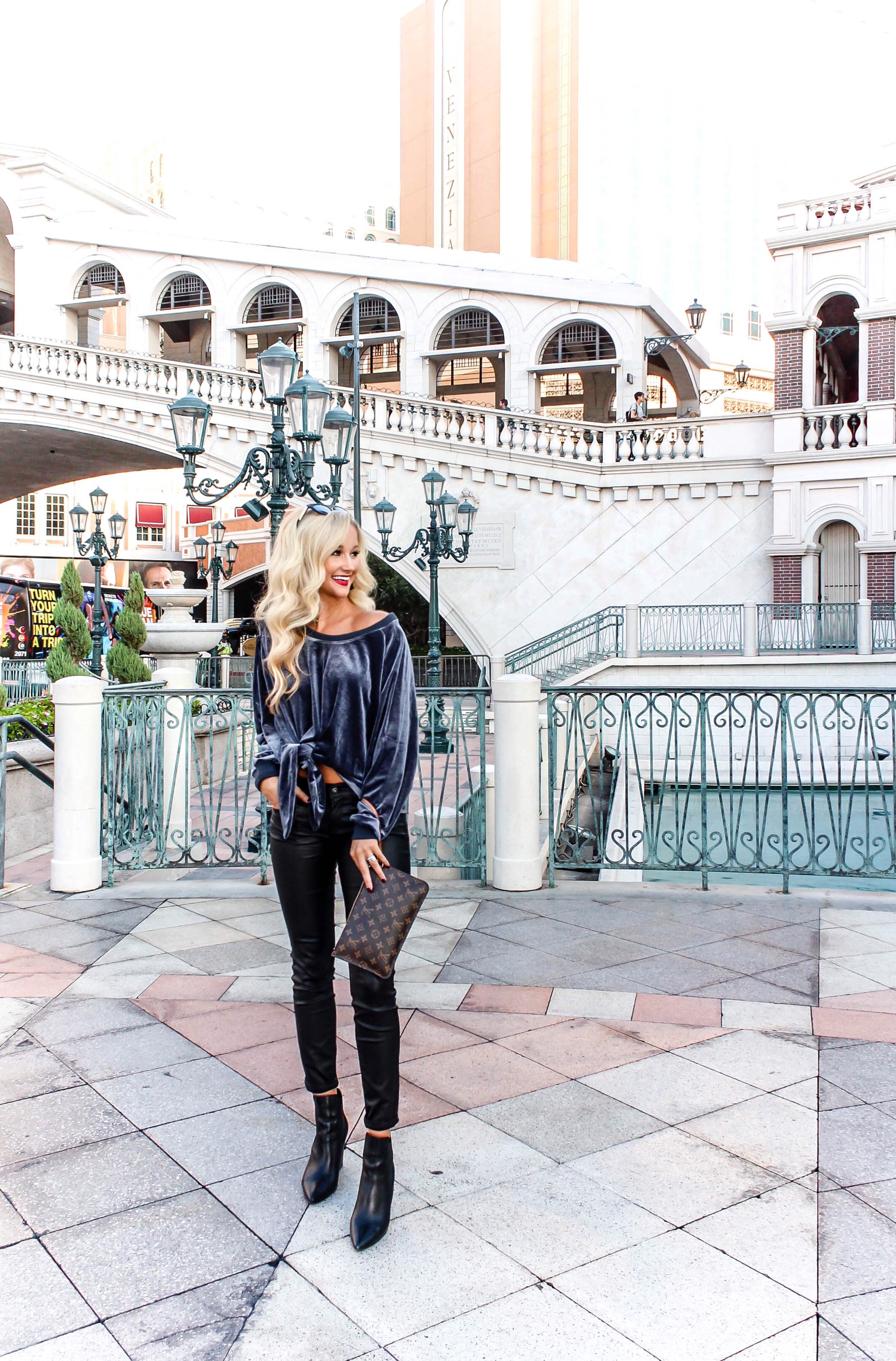 It's finally here!!
Today I am starting a series that has been in the works for MONTHS now. It's been something that I've wanted to share with y'all for a really long time because I get so many questions about it and because I remember exactly the way I felt when I took my first step into the blogging world. You're so hopeful of what will come of it, but at the same time, it's beyond overwhelming & confusing. Today, we're starting a journey together where I will be sharing the tips and tricks I've received and learned along the way.
For those of you who are new bloggers or influencers, social media gurus, or just want to know the behind the scenes of how this career works, this series is for you. I'll be sharing SO MUCH of what I've learned in my own journey to success, plus some secrets that will make your blogging life a little easier. Over the past year, I've paid for courses to help me gain knowledge in this industry and I've made some amazing connections with others who have been so generous to share their wealth of knowledge with little ole me (read about a few of them that I mentioned in this post). I'm forever grateful for their support and guidance, and I feel like it's only right for me to pay it forward to all of you who have been messaging me for help on your own blogs or social media outlets. So, hold on tight because I promise you are in for a treat!
But before we dive in, I have to ask y'all something …
Many people in this industry have made big bucks off of selling their hard-earned knowledge with this type of information, and sure, I could do that. Or I could just keep all the secrets to myself. But again, I'm a huge believer in paying it forward — just as others have done for me in the past. I genuinely love helping others and seeing people's dreams come true!! So, with all of this said, I'm not going to MAKE you pay for an e-book or do anything to receive this information that I've been working on. I just have to ask one favor in return (I'm a firm believe in the honor system, so I'm not even making you complete these things before you can receive all the goods in this series) … In return, I would love if you would do the following before moving on: (mainly, so I can just get to know you and your brand and so that I know you will be notified in someway when another 'Blogging 101' post goes live here on LNL.)
SUBSCRIBE to love 'n' labels (Don't worry, I won't spam you. I only send out emails when a new blog post goes live or if I have something interesting / exciting to share that I want to share exclusively with my loyal LNL Babes). You can subscribe on the sidebar of this page (if you're on a desktop) or on the bottom of this page (if you're on mobile). It just looks like this & takes only 10 seconds: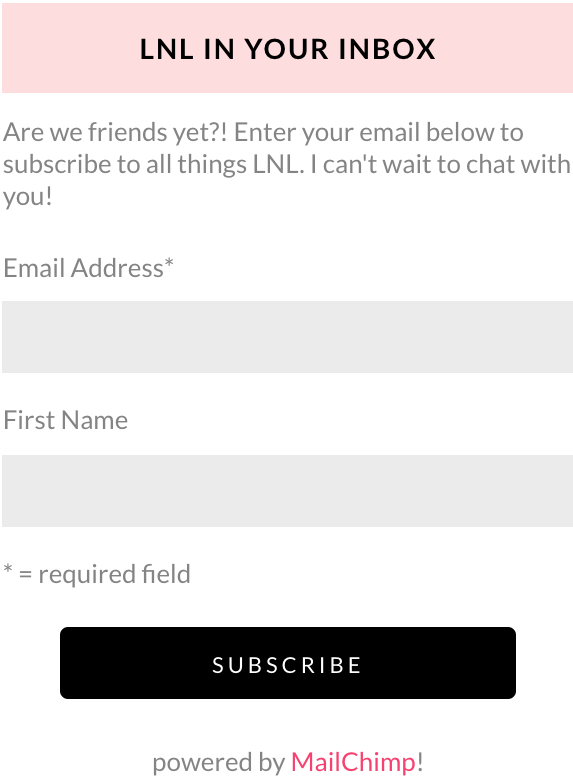 FOLLOW/LIKE my main social channels: Instagram / Facebook / Twitter / Pinterest — I share the most information and #reallife content on IG (especially IG stories) so definitely don't miss that one!
And if you really wanna be awesome, you can follow my YouTube channel (more is coming soon to this, promise!) and my Snapchat.
Thank you for taking the time to do that! Now you won't miss out on any of the posts coming up in this series 😉
---
Time to dig in …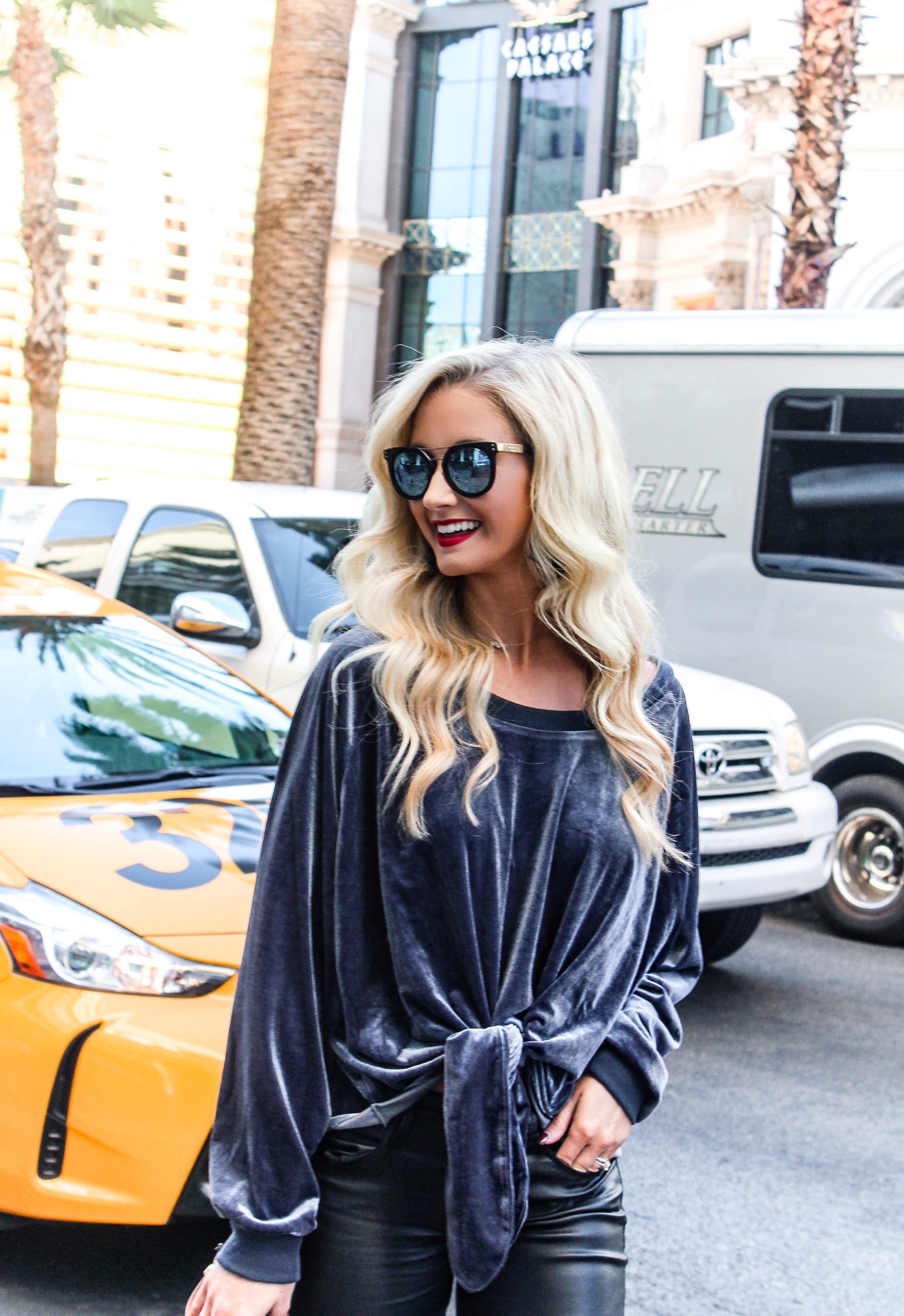 Obviously, being a full-time fashion blogger and influencer, I get loads of questions asking how I started my blog, how I grew my following, how I made all of this into a career, how I monetize my blog, etc. And honestly, there is so much to it, that I've kinda been putting all of you off who have been asking me these questions because I knew I wanted to sit down and answer all of them here on the blog. 1 — so that you all can refer back to this series as needed, 2 — so that I wouldn't be repeating myself with answering the same questions, and 3 — because I simply cannot answer those types of questions over an Instagram DM. There's too much to it all. And I don't want to give you the surface level, quick answer that really isn't going to help you at all. That's when I realized that I needed to plan out an entire blog series regarding blogging tips and advice that I've received along my own journey. Now, keep in mind, these are tips that I've learned along my journey, so what worked for me may not work for everyone else, but I can certainly share my knowledge. And if that helps even one person jumpstart their dream career, then I'll be happy. (Although, I'm really hoping it helps a lot more of y'all haha!)
Since there is literally so much content to cover and steps to take in the process of creating a successful blog and social media platform, I've decided to split it all up into a few different posts over the next few months (hence why I asked y'all to subscribe and follow the blog — so that you don't miss out on the newest tips I'll be sharing). Here are some of the most requested topics that I will be covering (and even more may be added along the way):
Finding your niche / audience
Overall branding & choosing a name for your blog
Website hosting & how to create your blog / social channels 
Social media tips and how to grow an authentic following
Tips for editing photos + my go-to editing apps
Planning & managing content for your blog & social media channels
Collaborations & monetizing your blog
… maybe more???
Lots to cover!
For me personally, I started this whole process off with lots of research, brainstorming, and planning. Before you sit down to physically build your website, you must have an idea of what you want your blog to be about, and you must have a specific audience that you want to target.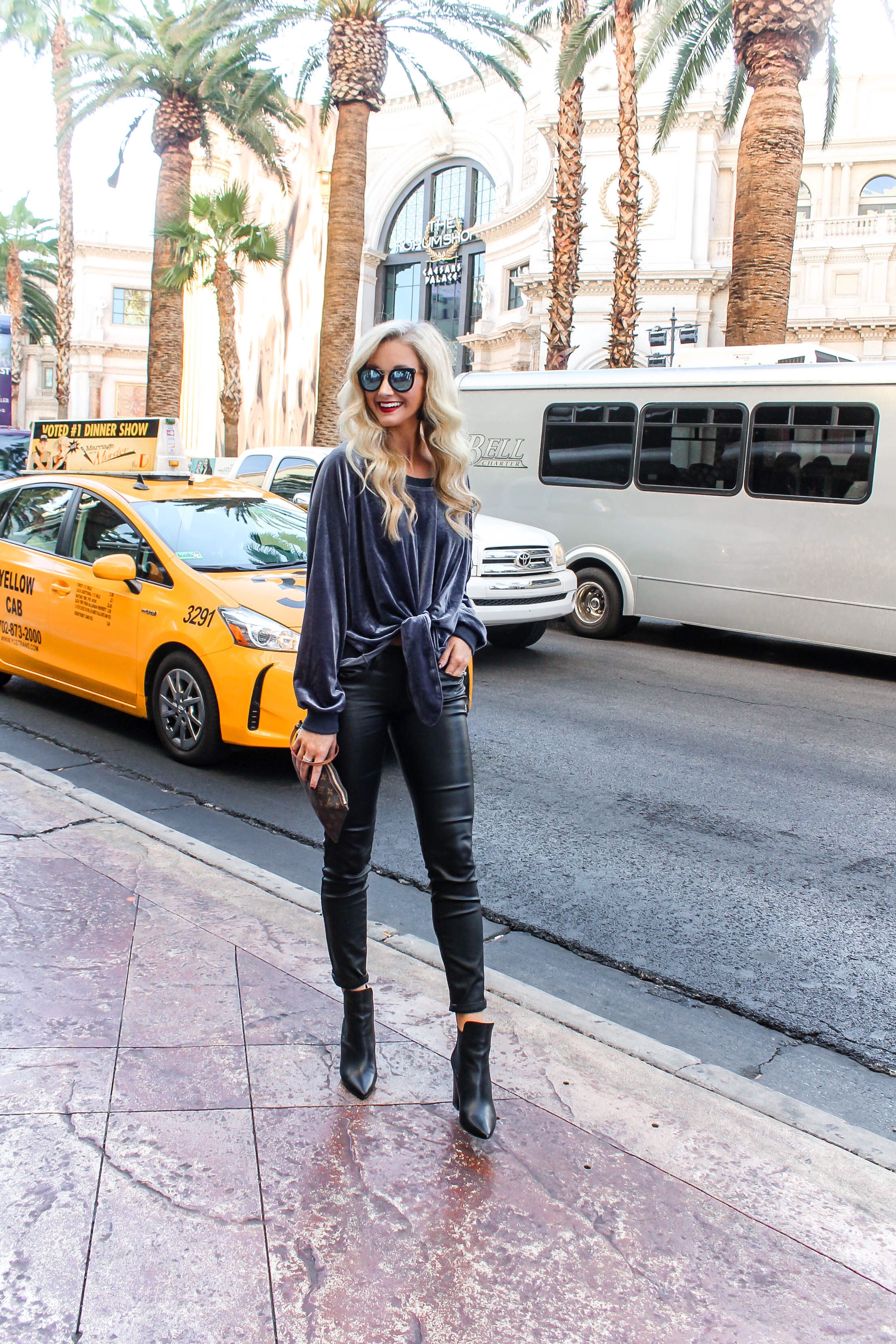 FINDING YOUR NICHE:
AKA … How are you going to stand out from the other hundreds of thousands of bloggers out there? What is going to make your blog different that will catch the attention of others in this saturated world of influencers? Can you provide a topic or service to people that isn't already being discussed or covered? If so, that's pure GOLD.
If you want to be a fashion blogger, what styles will you showcase? Are you going to focus on styles for petite girls? Men's suit styles? Are you going focus solely ( 😉 ) on shoes? Clothes under $25 + thrift store finds? Vintage fashion? …
If you want to focus on beauty, what are the different looks that you will create? Hair tutorials? Makeup tutorials? Simple, everyday looks or elaborate, red carpet styles? What about sharing tips on using SAFE beauty products? …
If you want to become a lifestyle blogger (this is a veryyyy broad one), what direction will you take it? Will you talk about traveling the world & review/suggest different places to stay for tropical vacays? Or maybe you are someone who will write long, inspirational, personal posts about life? …
As you can see with any category, there are specifics to which you'll want to narrow it down to. Having a broad niche is never a good idea — narrow it down as much as you can and then you can pepper in the occasional personal story or vacation recap if you somehow relate it to your audience and your overall niche.
Now, with that said, I want to point out that you most likely will have similar ideas for blog post topics that other bloggers do from time to time — it is very saturated. And I don't want y'all to ever get down in the dumps or cross your great idea off of your list just because someone else was talking about something similar in their past post. There are tons of very successful bloggers out there that I really admire and I've seen them (many times) talk about the same things – but in their own way. Everyone brings something special to the table, and you may be able to relay the message to your audience in a completely different way. (Quick tip on this: It's not cool to steal or copy other people's work. You may have the same idea for a post [i.e. 'top picks from the #nsale' that almost all fashion bloggers do], but just try to create your content in a completely different way from everyone else who may be posting about similar topics.)
The more specific that you can be when defining your niche and what you will be focusing on in your future content, the better off you will be and the quicker you will grow because there are people out there looking for influencers like you and what you have to offer them. You will attract a much more authentic and loyal audience if your niche isn't so broad.
You want your readers and followers to be able to come to your blog or social media platforms and easily sense what type of content they will get from you. For example, when you go to my home page or my IG, you can instantly tell that I focus on styling tips and fashion in my posts. Now, my actual niche is a lot more defined than that (which I'll get to in a minute), but overall, a person can instantly tell what I primarily talk about here on love 'n' labels — actually, they can most likely sense the same thing just by reading the name of my blog.
A good way to help you figure out your niche is to brainstorm and jot down ideas of blog post topics that you would like to write about. If you start planning out content (before you even launch your site), you can analyze those topics and you'll instantly get a better idea of what you are wanting to focus on throughout your blog. Plus, you'll already have some content planned out that you can write about and have ready to go for your first few blog posts.
Overall, you want to really think about what you want to share with your audience before you even think about launching, or even naming, your blog. Trust me, this will all save you a lot of stress months down the road!
KNOWING YOUR AUDIENCE:
One of my amazing mentors – Julie Solomon – once told me, "If you are targeting everyone, trying to produce content for everyone and trying to please everyone – male / female / young / old – then you are doing it ALL wrong." And as a people pleaser, it was challenging for me, but I had to learn that lesson very quickly if I wanted to succeed. So, I narrowed down my target audience immediately & then my brand started to grow so much faster. (Hallelujah!)
I sat down and really thought out WHO I wanted to gear my topics to, WHO I wanted to read my posts, WHO I could personally relate to, WHO would interact with me, WHO would appreciate my opinions/advice. Once I asked myself these questions, I knew the answer – clear as day. This person is most likely a young, fun-loving, stylish woman in her 20's (sometimes 30's) who loves wearing big-city style (on a real girl's dime), loves shopping for both high and low-end apparel & accessories, and enjoys learning new, creative ways to wear popular trends in the fashion industry. She can relate – in some way – to my personal stories from time to time and appreciates when I share the occasional beauty tips.
Now, every time I create a blog / social media post, I just picture myself talking to and relating my content toward this person. It keeps my content consistent (which is KEY) and allows me to be comfortable and to be myself – since I know this person will relate to me in some way.
You must realize early on that you simply cannot please everyone who stops by your website or your IG page. And that's OKAY. Let me put it this way … when I first started blogging (and gearing my social posts toward my blog & my niche audience), I actually found that a lot of my male followers (that I know personally), as well as, a few of my female friends (that I had known for years) unfollowed me. To be honest, I'm human and at first, that kind of hurt my feelings. But then I put myself in their shoes and thought to myself 'if I was a dude who could care less about fashion, I would have unfollowed me too' haha! So I don't blame any of them. Actually, I learned that they were all doing me a hugeee favor in the long run. In this whole blogging world, you want to weed out the people who are not engaging with you or who can't relate to what you are even talking about. The quicker that you can gain a loyal, authentic audience that can relate to your content, the faster your brand will grow and the better off it will be.
There are billions of people in the world — you are not going to get all of them to read your blog or to follow you on Instagram. So, just ask yourself the 5 'WHO' questions that I mentioned above, and then gear your content toward that person.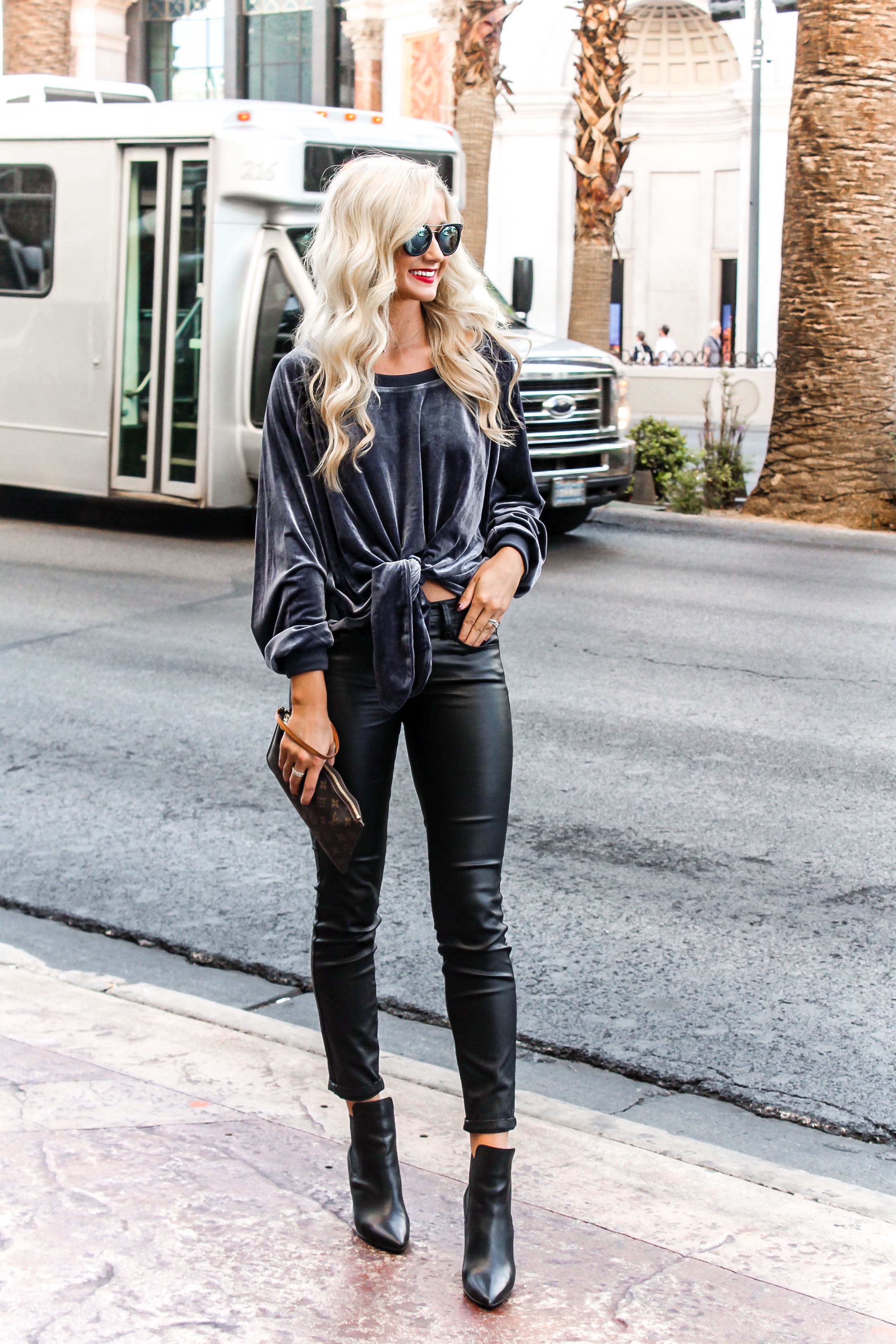 velvet top | faux leather pants | booties | sunnies

Before closing, I wanted to share my own niche and audience with you all to help you better understand everything we just talked about. I came up with this little paragraph for myself when I was trying to figure out what my blog would be about and who it would be for. This keeps me consistent and true to my brand / audience:
love 'n' labels is the destination for the 20-something fashionista with big-city style. This site aims to inspire others through daily outfits, personal stories, beauty and styling tips. The topics connect stylish women & other influencers with creative, popular trends in the fashion industry, in hopes of encouraging others to mix both high and low fashions in their everyday lives.
And a few last thoughts on blogging in general before we get too far into the rest of the content for this series:
Most importantly, you must be dedicated if you want it to truly be successful. It looks so simple and fun with lots of cool perks from the outside, but it's the hardest & most time-consuming (yet, most rewarding) job I've ever had. Especially if you add your day job (assuming you aren't full time blogging yet), a family & other responsibilities on top of it.
Make sure you are passionate about every single topic you'll be covering. If you're not, I promise it will show through in your work (trust me, I've learned from my own mistakes).
Always remember that any content, photos, or messages that you put out into the world (in any way) is a direct reflection on your brand as a whole. It's kinda weird, but it's true — if you are seriously wanting to monetize your blog someday or make it a success in anyway, you must start protecting your brand's image at all times.
---
Shew, that was pretty long, but now y'all know why I had to split all of this up into a multiple-part blog series. 🙂 I really hope you found this first part beneficial and helpful in some way. If you have any questions about anything mentioned in this post or if you just want to make sure I cover your blogging question in the future, be sure to comment below!
As always, thanks so much for stopping by, beautiful!
xo, P