It's that time of year here in Tennessee where we just really don't know what season to dress for — if you live in the South, you can probably relate. In the mornings and at night, it may be chilly but then once 2:00 in the afternoon rolls around, you're sweating when you step outside. This can be especially challenging for gameday because most fans tailgate early in the day when it's cool outside, and then once it's time for kickoff, the sun is shining and it's 80-something degrees. Actually, this past Saturday, the UT vs. USC game was like this!
That got me thinking that I should gather some transitional looks together and style them a bunch of different ways so that I could give you guys some ideas of what to wear to those football games in the South, when you know the weather will be changing throughout the whole day.
While doing this, I thought I would take a trip down memory lane and share with you all some of my favorite spots at my old stomping grounds on Tennessee's campus. After spending 4 years of my life there and growing up going to all of the Vol sporting events, I've learned that there are some pretty special traditions and memories that I will cherish forever. The University of Tennessee is ALL about tradition, and us Vols take it pretty seriously! I'm so excited to let you all in and share some of my most memorable moments from when I attended UT!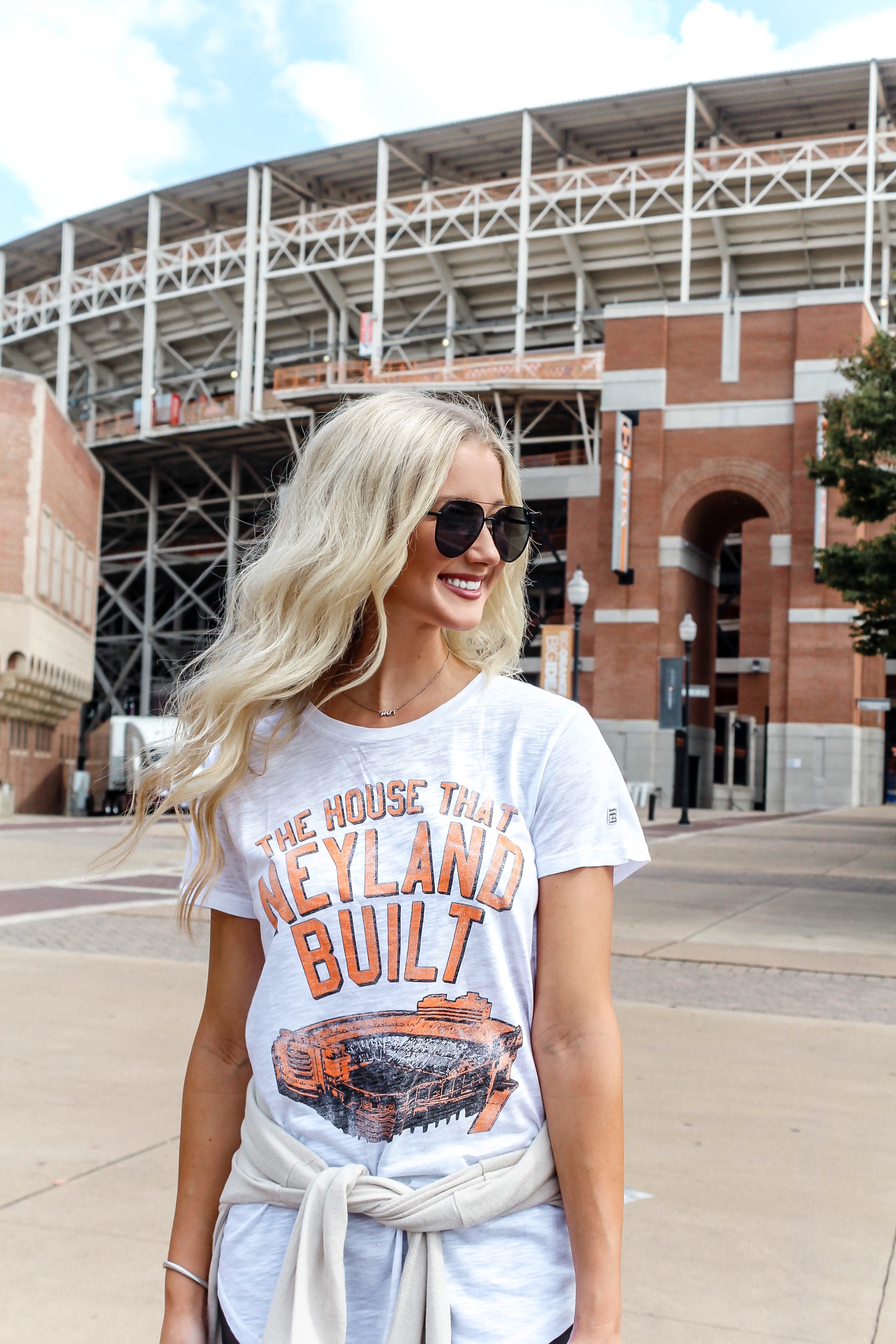 The house that Neyland built — You want to learn about tradition? Just come visit a game in Neyland Stadium. It's a big orange Heaven on earth full of the most loyal football fans (you know what I'm getting at 😉 ) and some of the most well known traditions in all of college football. Tailgate hopping from G-10 to Circle Park and each place in between, the Vol Walk and Band Walk through campus, Vol Village, Pride of the Southland Band, the Circle Drill, Vols Spellout, Let's Go UT, "to the checkerboards!", fireworks, Rocky Top, "it's football time in TN", and my personal favorite – running through the T. All of it. Every single gameday. And it never gets old! Neyland Stadium is so special to me.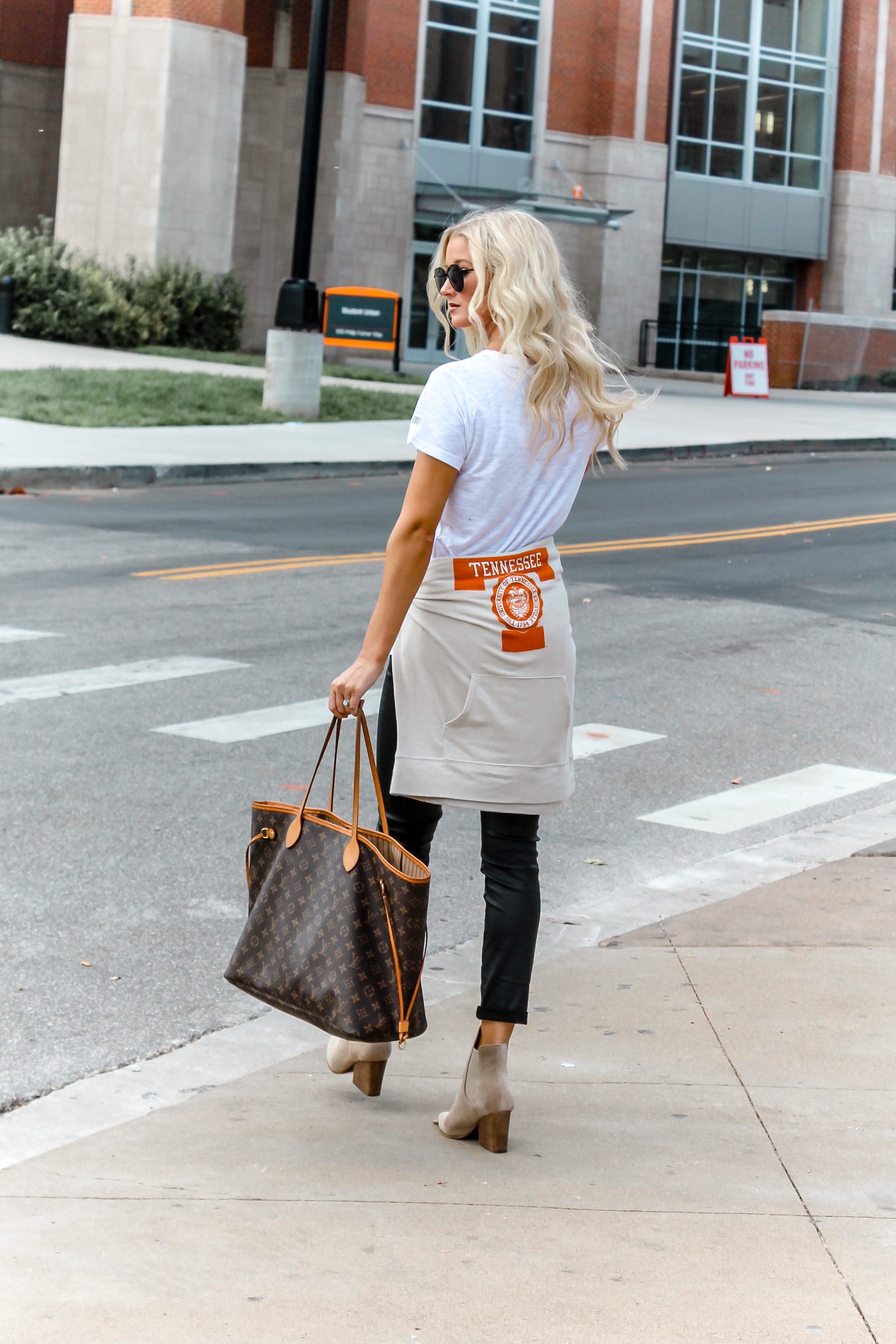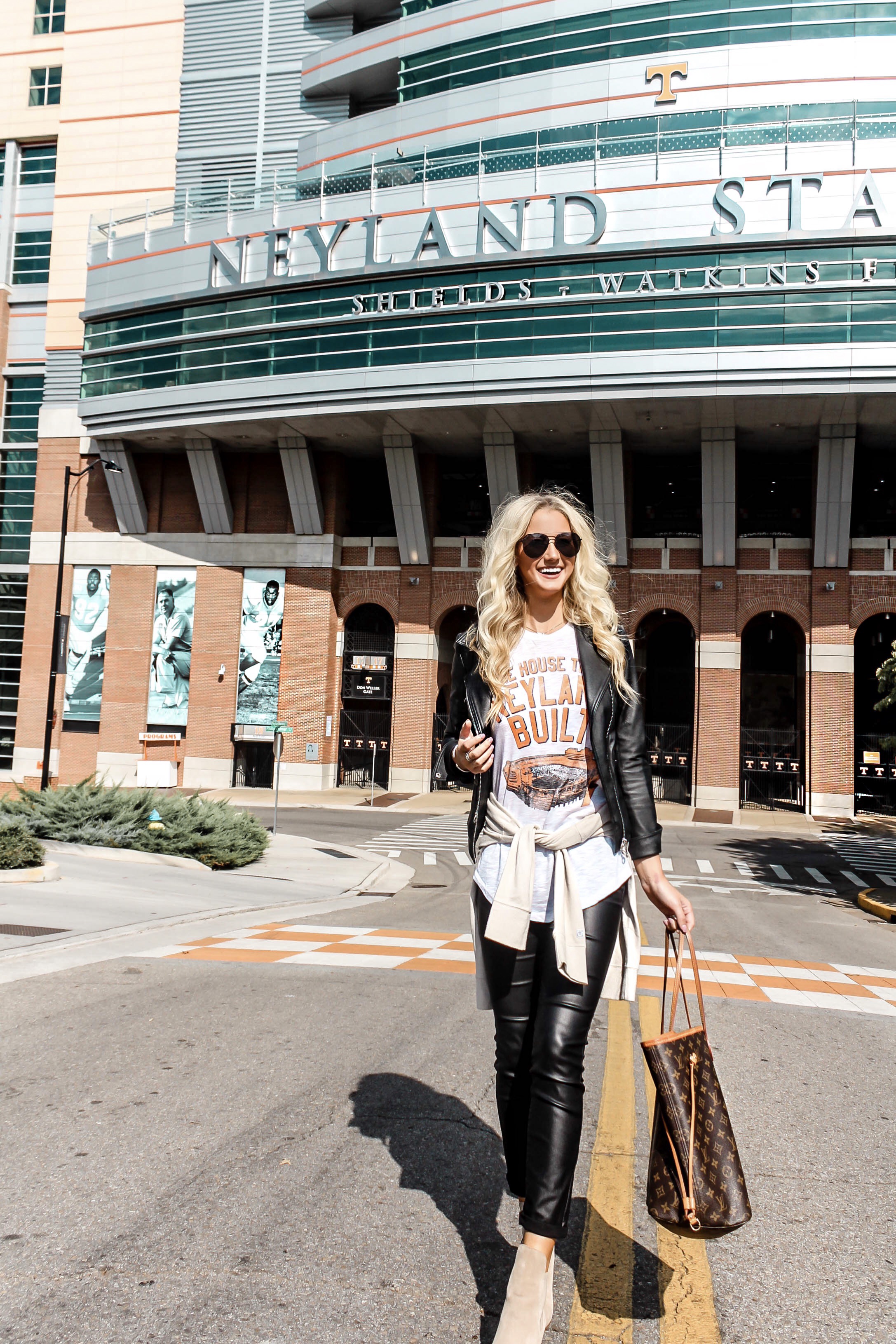 One of my favorite ways to style an outfit for the transitional weather is by layering, and there are so many ways to do so. One options is to style this Neyland Stadium tee that I got at Tailgate here in Knoxville, with black jeans or faux leather pants & neutral booties — then tie this lightweight hoodie around the waist (which by the way is THE softest material that you have ever felt – so cozy / comfy). You can certainly stop there if you'd like, and then you have the option of wearing short or long sleeves throughout the day for when the weather changes. Or you can also add a small jacket to the look as I've done here. I (of course) chose my favorite leather jacket and then left the hoodie tied around my waist. This style is so on-trend at the moment, so I would most likely wear the outfit like this all day and then just take off the leather jacket if I got a little toasty.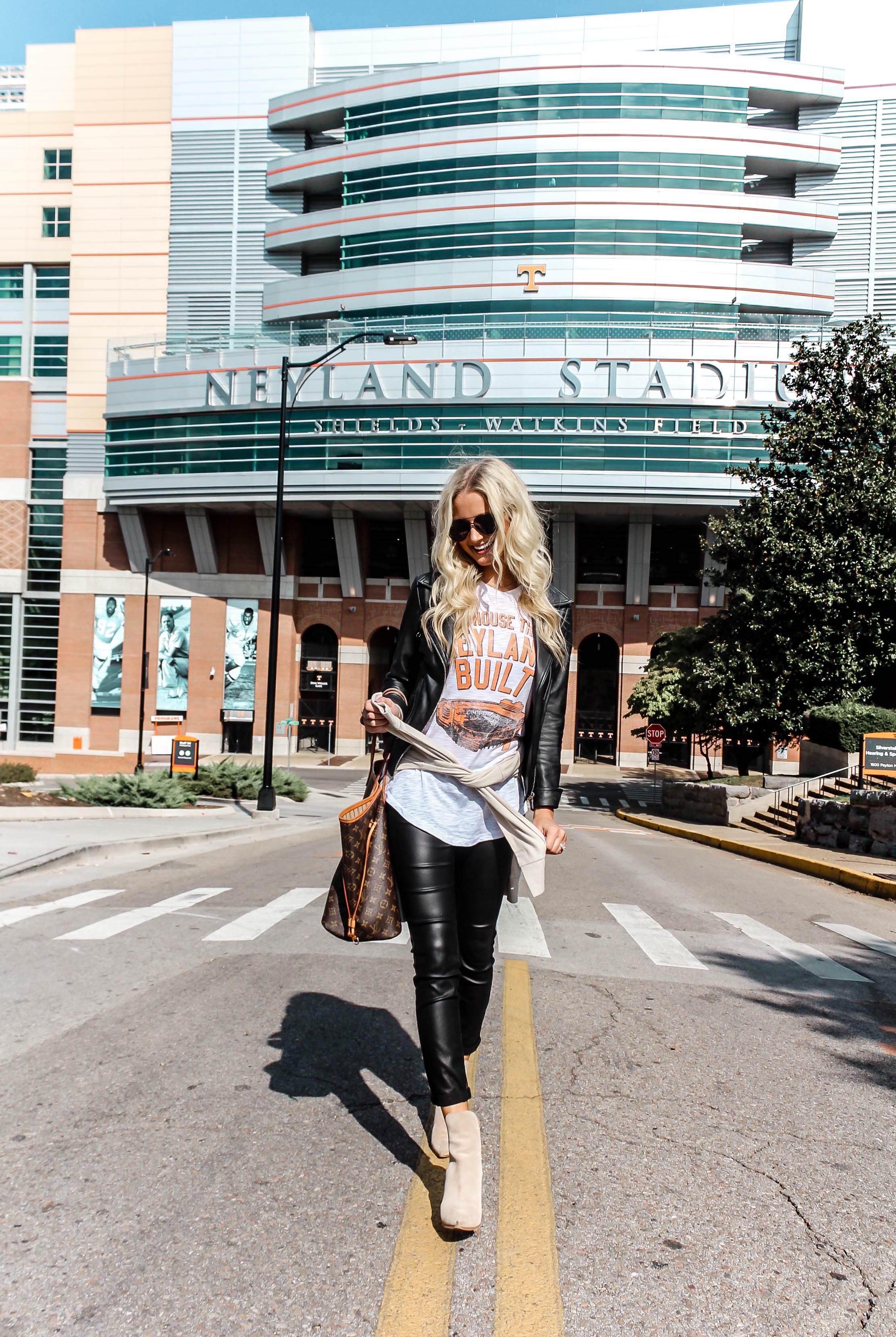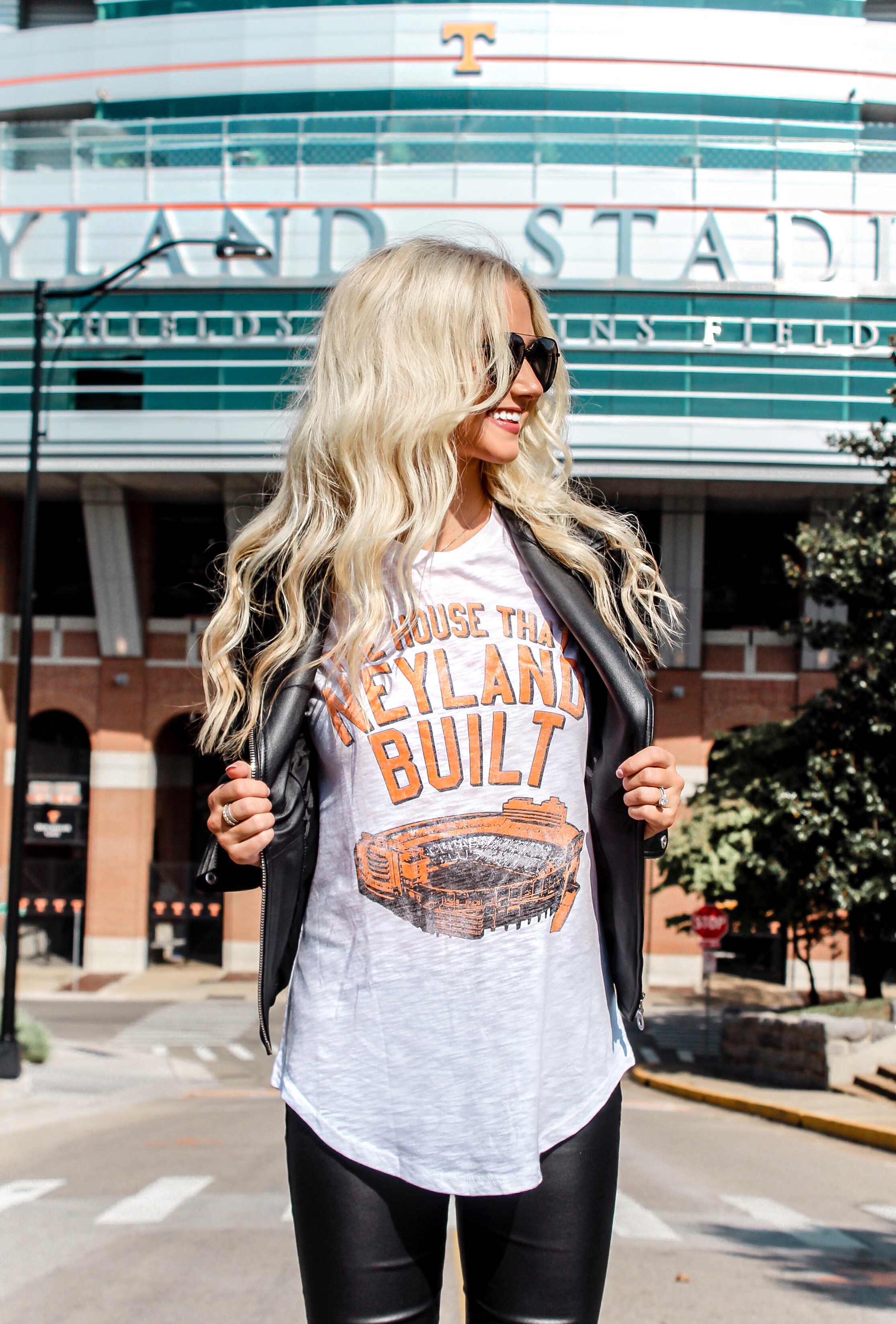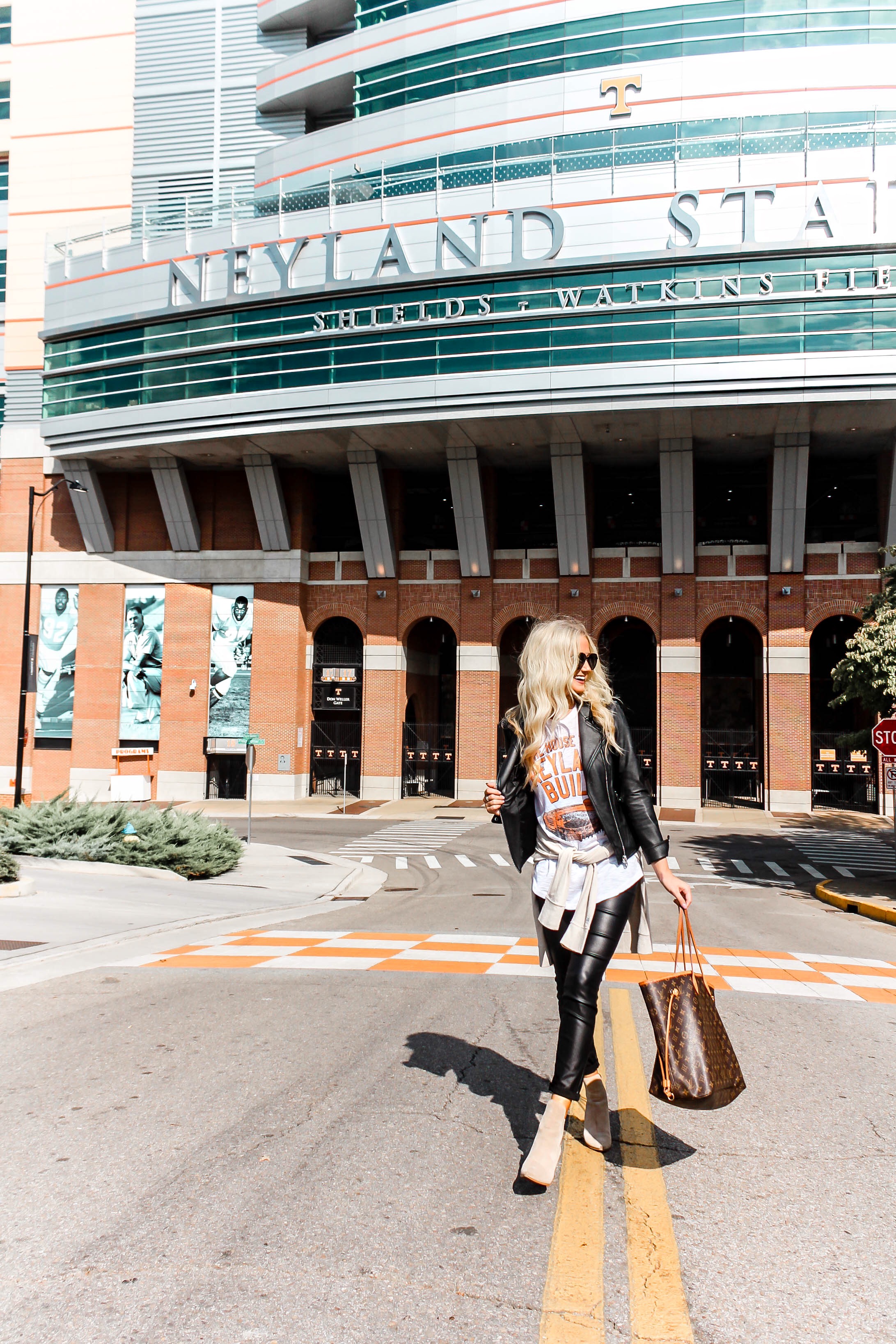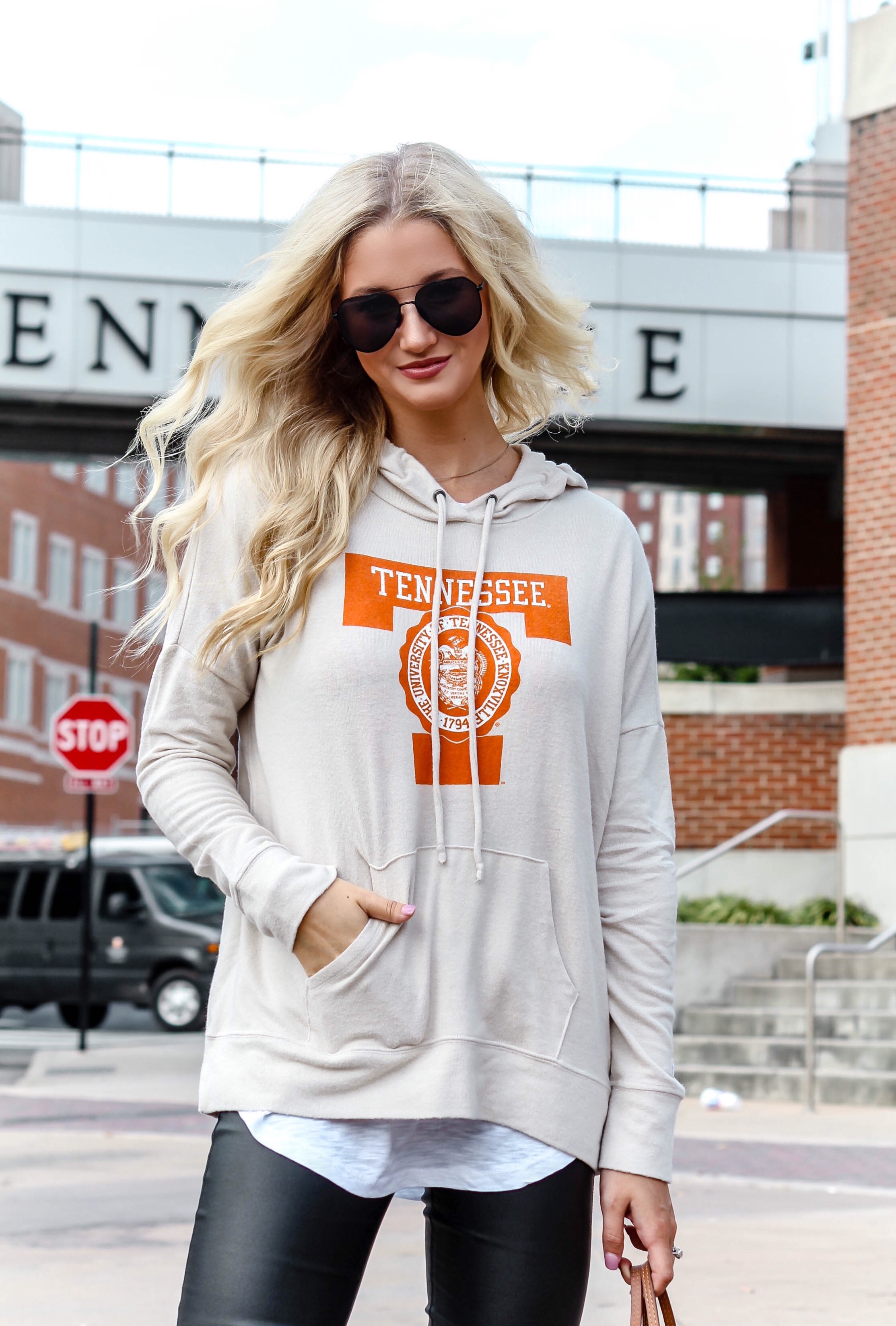 However, if it's supposed to be a chilly game, but you're still not sure how the weather will be throughout the day once the sun pops out, layering can quickly become your best friend. If you have the 3 pieces that I mentioned above (the tee, lightweight hoodie and leather jacket), you'll have the opportunity to easily add or take away certain layers throughout the game. This outfit would be the perfect option for away games, because more than likely, you won't be able to go back to your hotel room or a tailgate to add more layers if it starts getting cold outside.
For this case, I suggest starting out with the tee & lightweight hoodie — then if you see it starting to get cool outside, add the leather jacket on top of the hoodie (make sure to let the hood hangout over the jacket). This is actually a really popular way to wear these two pieces right now, and wearing them in this way allows you to still look fashionable while also supporting your school / team.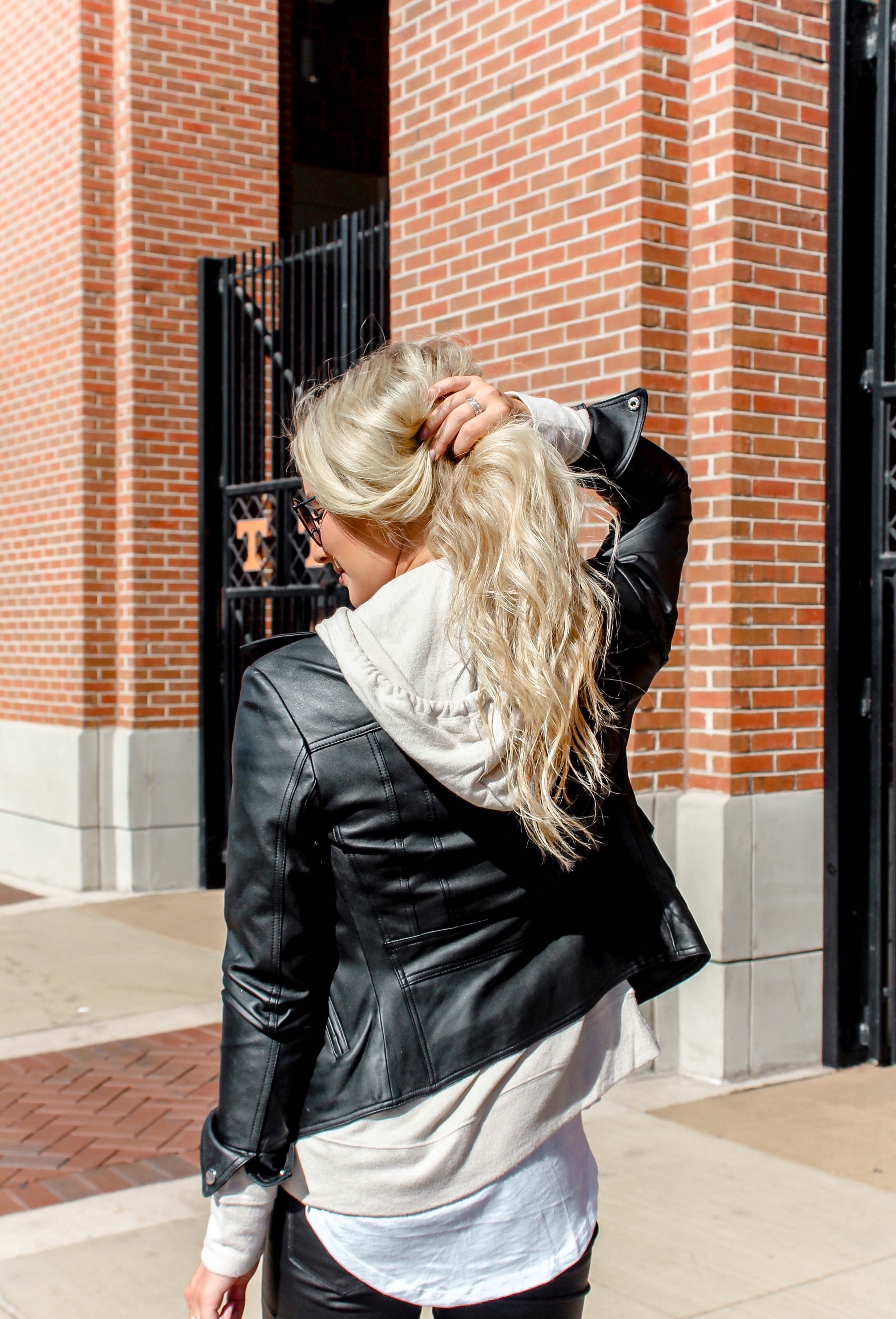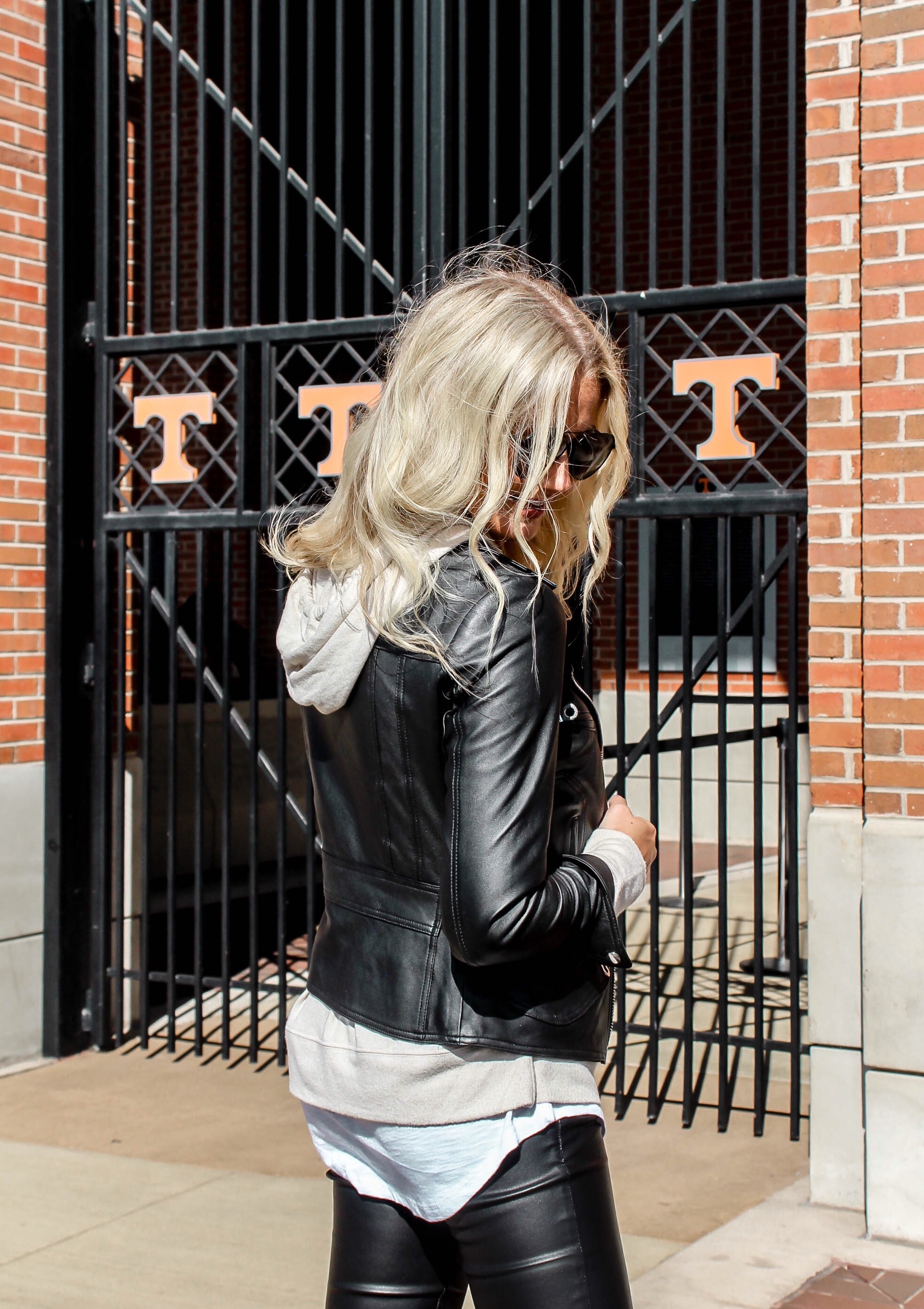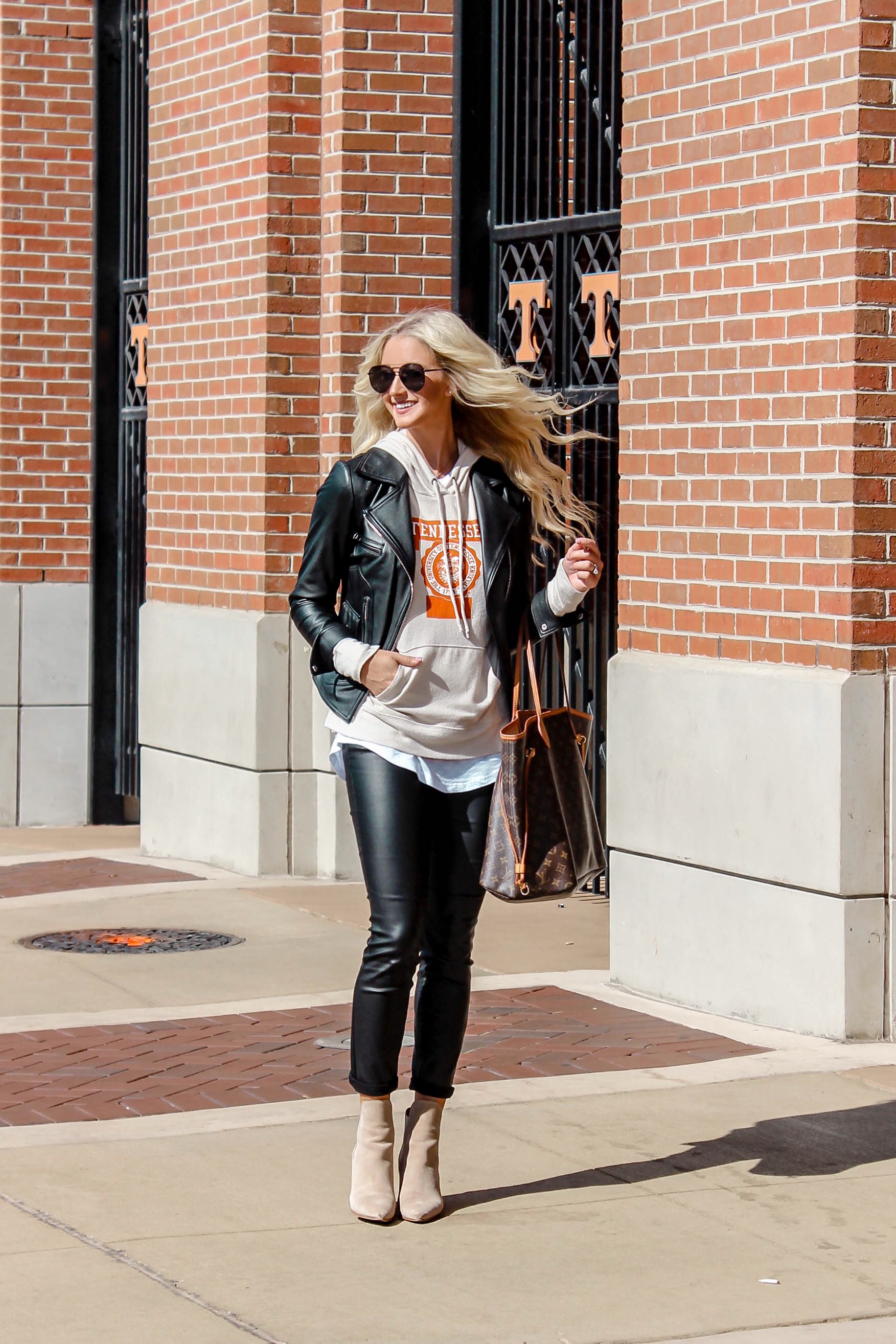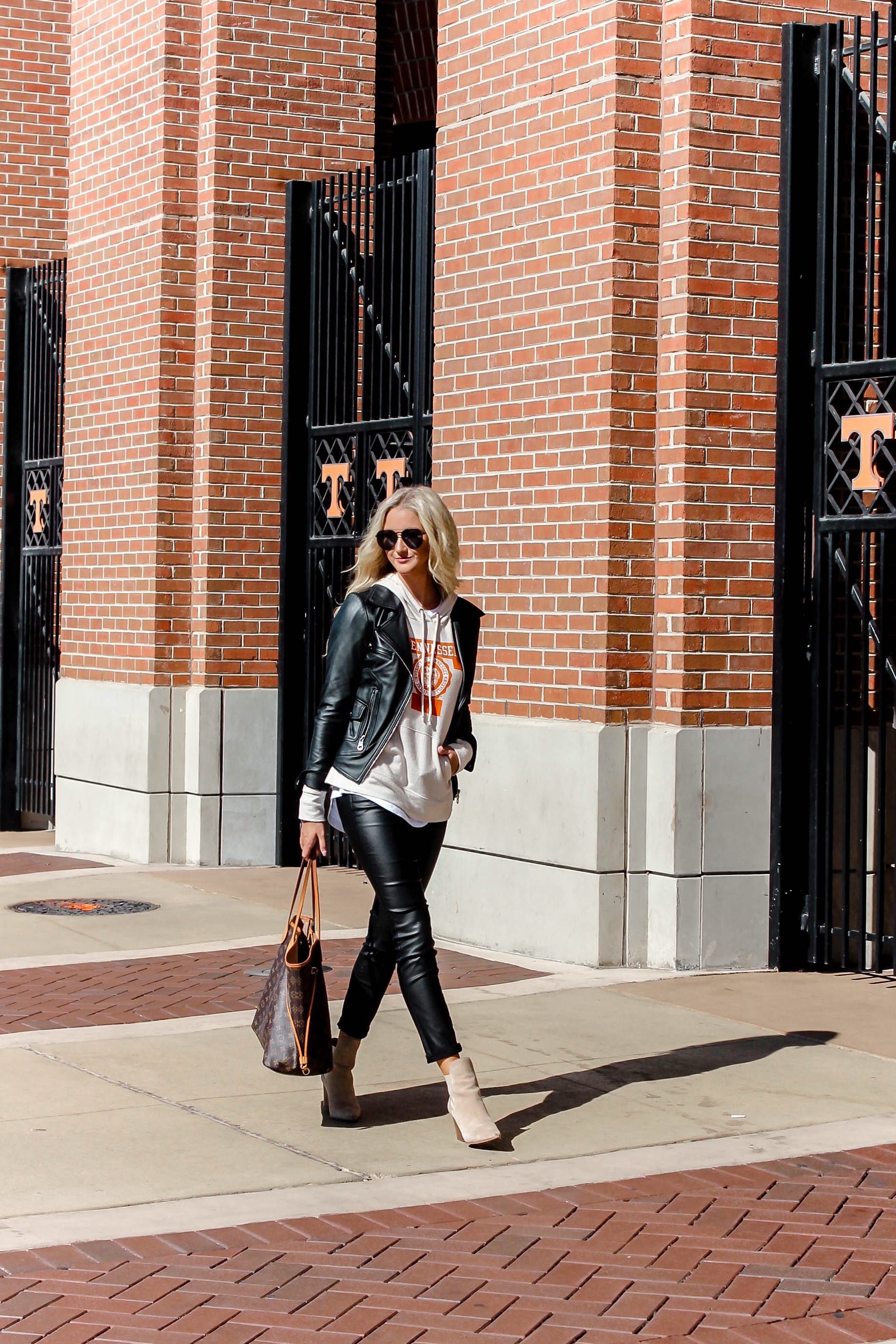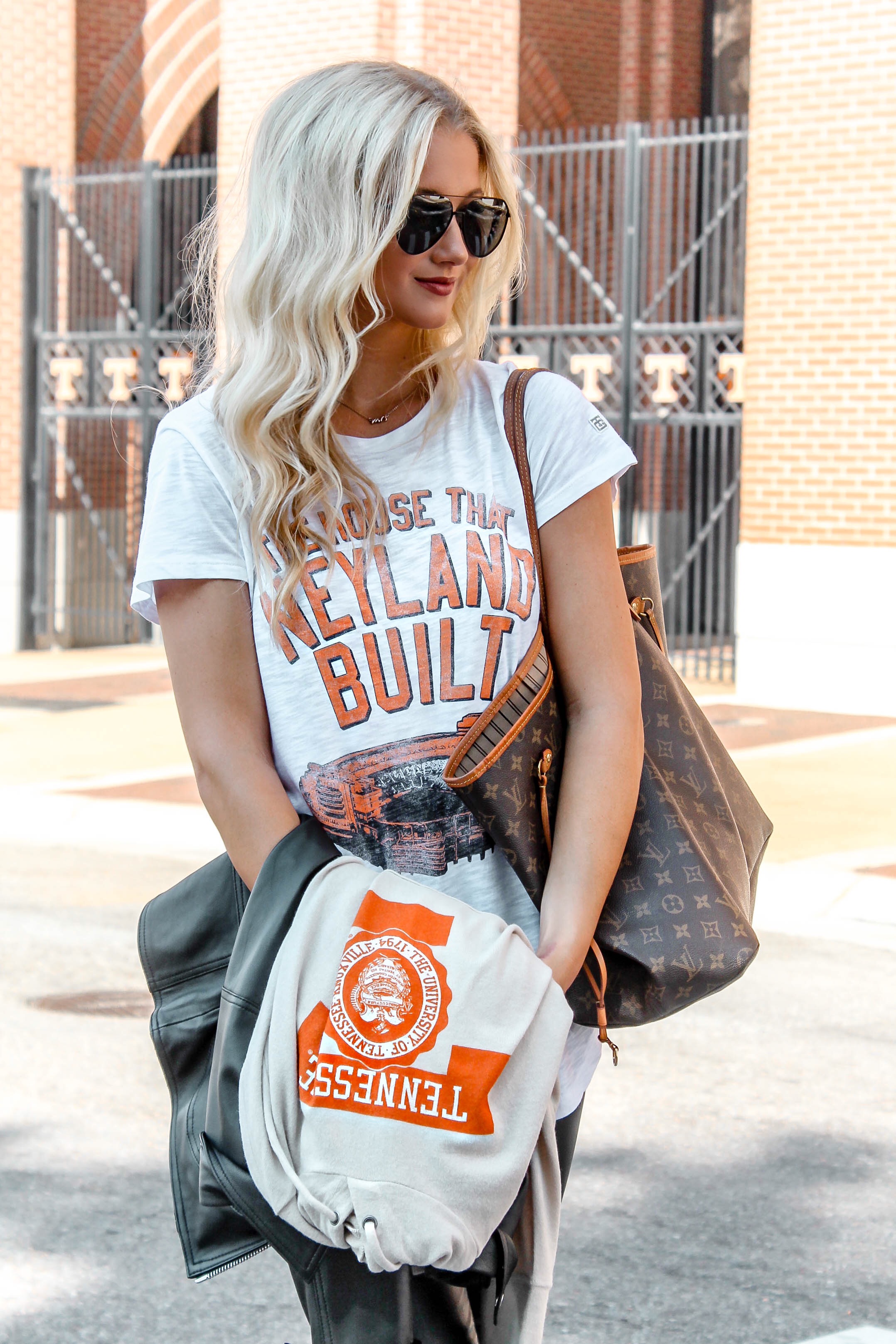 Neyland Stadium tee (love the fit of this tee! – wearing a M) | lightweight hoodie (in-store only — wearing a M for reference) | similar leather jacket | faux leather pants | similar booties | sunglasses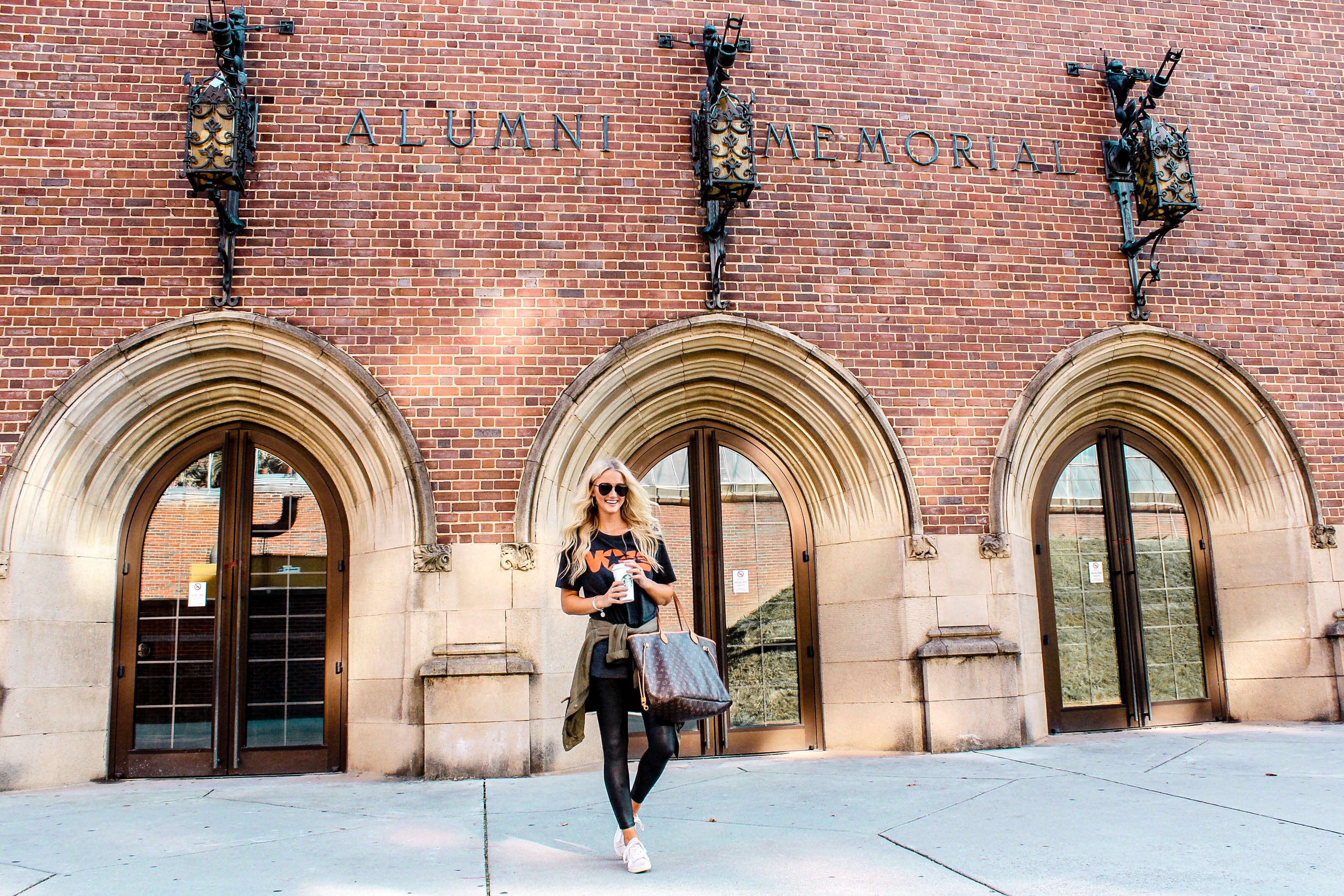 Now switching gears for a moment as I take y'all back in time … many people don't know this about me, but I wasn't the first one in my family to graduate from the University of Tennessee. My grandfather, 2 of my great aunts, my mother, my aunt and my husband also have a UT diploma. I come from a long line of Volunteers.
One of my most treasured things that I like to tell people is that my sweet Papaw (which, if you know me, you know I'm a huge Pap's girl) played basketball for the Vols during his time at Tennessee. And back then, they didn't play in Thompson Boling Arena — because it didn't even exist yet. His team played here at the Alumni Memorial Building, located next to Neyland Stadium on The Hill. Way back in the day when my Papaw was in school, The Hill – where the iconic Ayre's Hall stands tall – was the only part of UT's campus. Oh how this place has grown!
During my time at UT, there was no such thing as a basketball game being held here — instead, people like me got to attend class in this building. I had numerous lectures located in AMB, and every time I told Pap that I was going to class here, he would always asked me if I saw his basketball court. 🙂 I'm so proud to call that man my grandfather! I owe much of who & where I am today to him.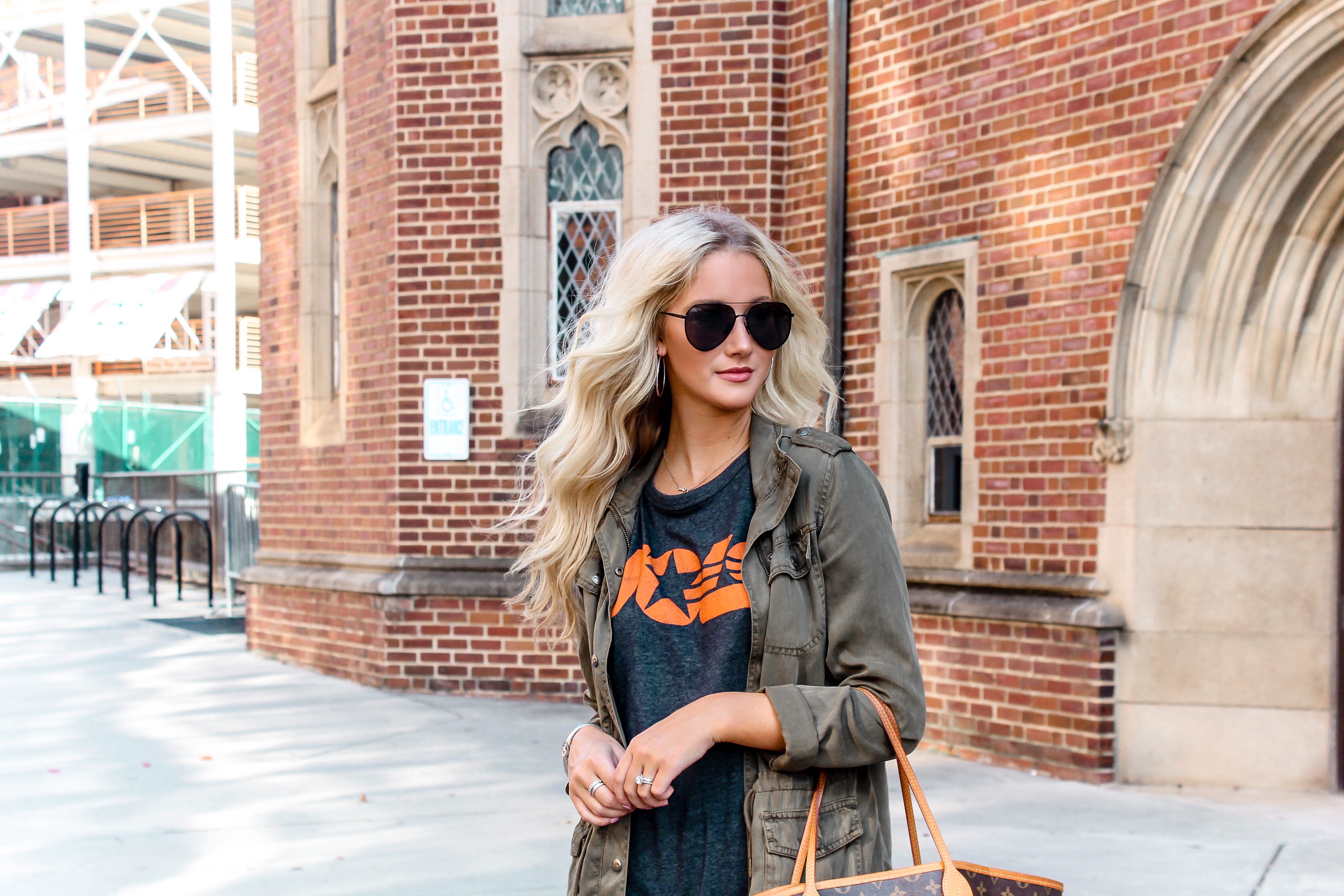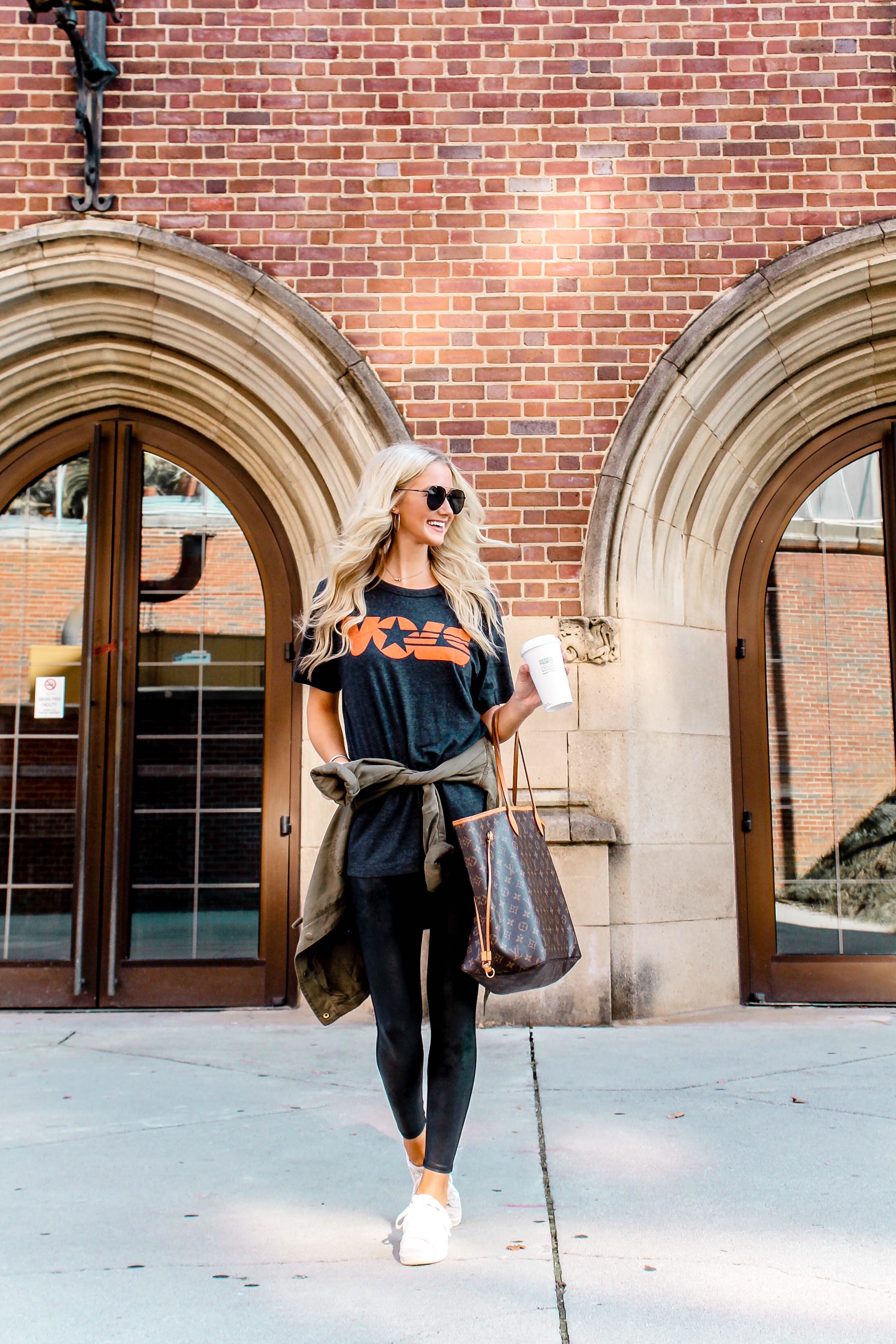 I specifically wanted to showcase the Volstar tee in front of this old, yet very meaningful (and beautiful) building because this design is also very old itself – or should I say vintage? It has ALWAYS been one of my favorite Tennessee designs because it reminds me of growing up going to football & basketball games and worshipping the UT cheerleaders that were wearing the Volstar logo across their chests. I wanted to be them someday!
I paired this classic graphic tee with my faux leather leggings, white sneakers & army-inspired jacket. I think this look would be great for those game days at home when you're having people over for some homegating activities or if you are traveling to an away game and want to keep it comfy – yet still cute – during the ride. Even if you're not going to be outside while wearing this type of look, it's still cute to tie the jacket around your waist for an extra touch of style or if you're like me, when you're traveling, you like to have a jacket on hand anyways. This one is super easy & cute to pair with the Volstar tee!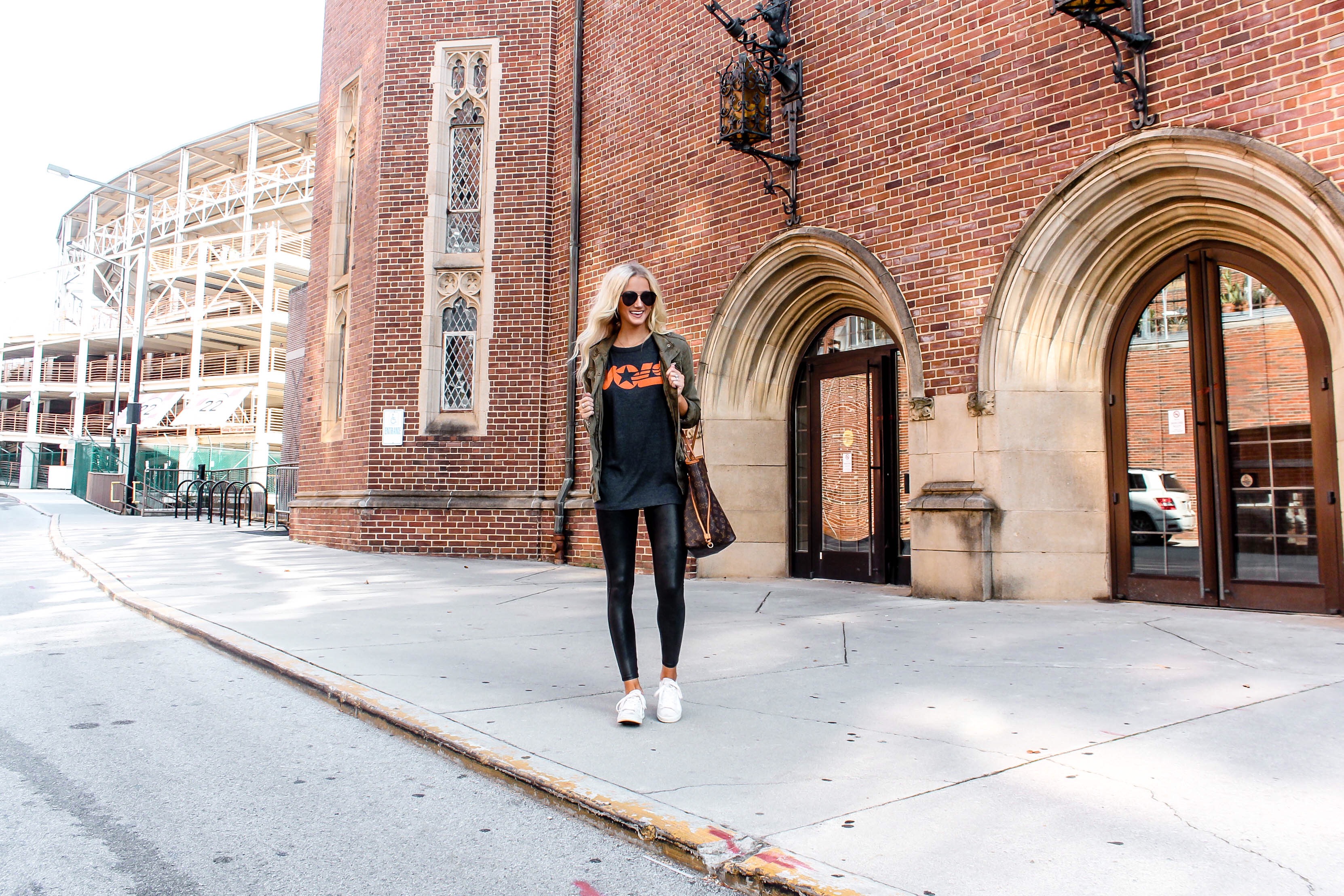 similar Volstar tee (camo – oversized fit, wearing size S) | faux leather leggings | white sneakers | similar army jacket | sunglasses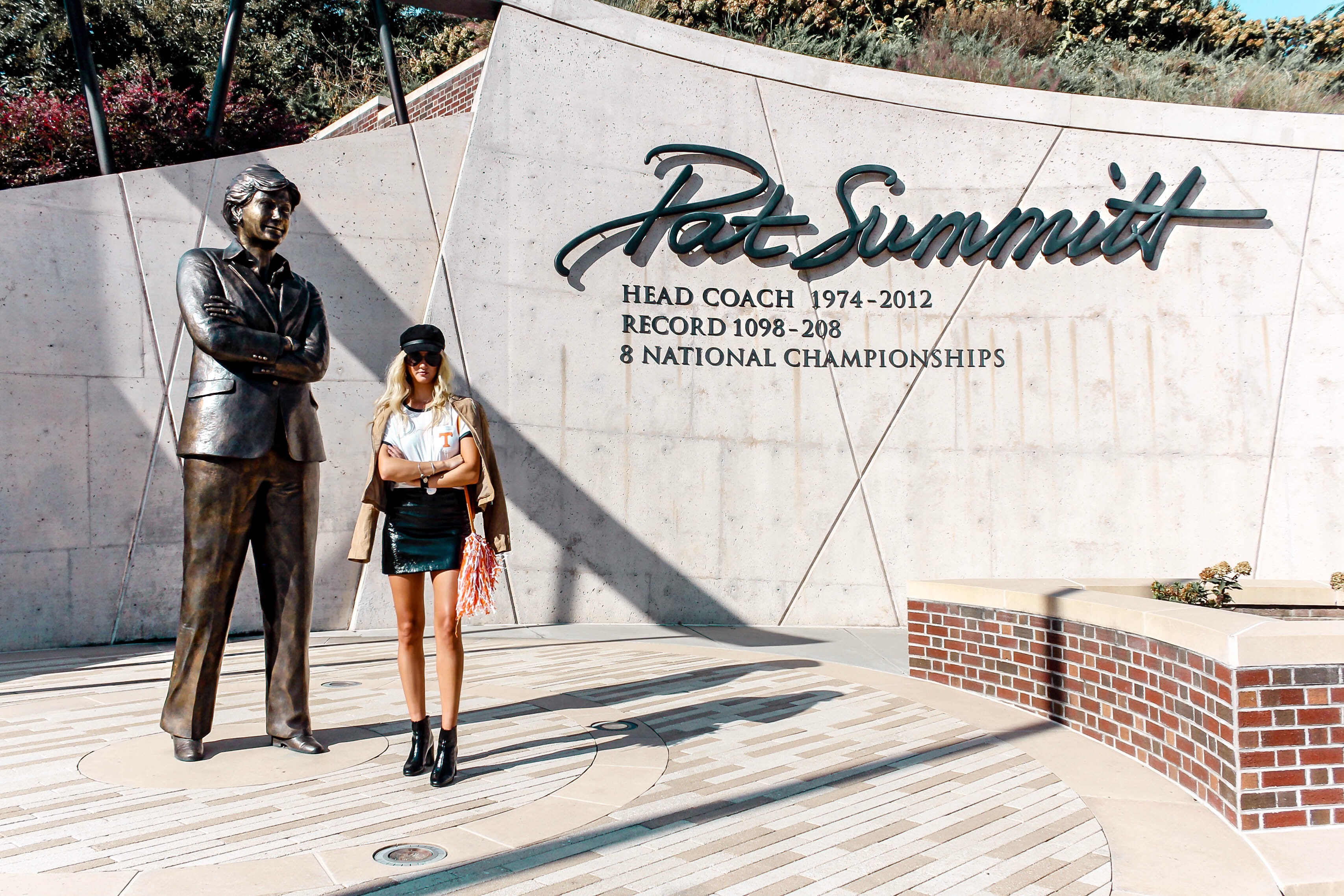 Staying with the whole basketball chat for a moment, I couldn't bypass sharing some love & thoughts about one of Tennessee's most special persons – Pat Summitt. During my junior year at UT, I watched this memorial being built and then got to walk past the beautiful statue almost every single day. As you may already know, Pat Summitt is the most winningest coach in NCAA basketball history. She is a hero to every Vol & Lady Vol fan. Unfortunately, I never had the opportunity to cheer for one of her teams because she stopped coaching the year right before I became a freshman. However, I did get the privilege to meet her and admire her for all that she was. I grew up going to Lady Vol basketball games – watching her coach and lead SO many teams to victory. And once I started cheering at UT, I was able to meet and become friends with many of the players who played for her. The Lady Vols were always SO fun to cheer for! Each of them were so nice, good students and just all around great people.
Fun fact: Although, I never got to cheer on the basketball court while Coach Summitt was still coaching, Teej did get that opportunity & got to cheer for her team in the Elite 8!
Pat Summitt was truly such a special, iconic woman & I still feel honored to have even been able to shake her hand. If you ever visit UT's campus, you must stop by this memorial to visit one of Tennessee's greatest. #WeBackPat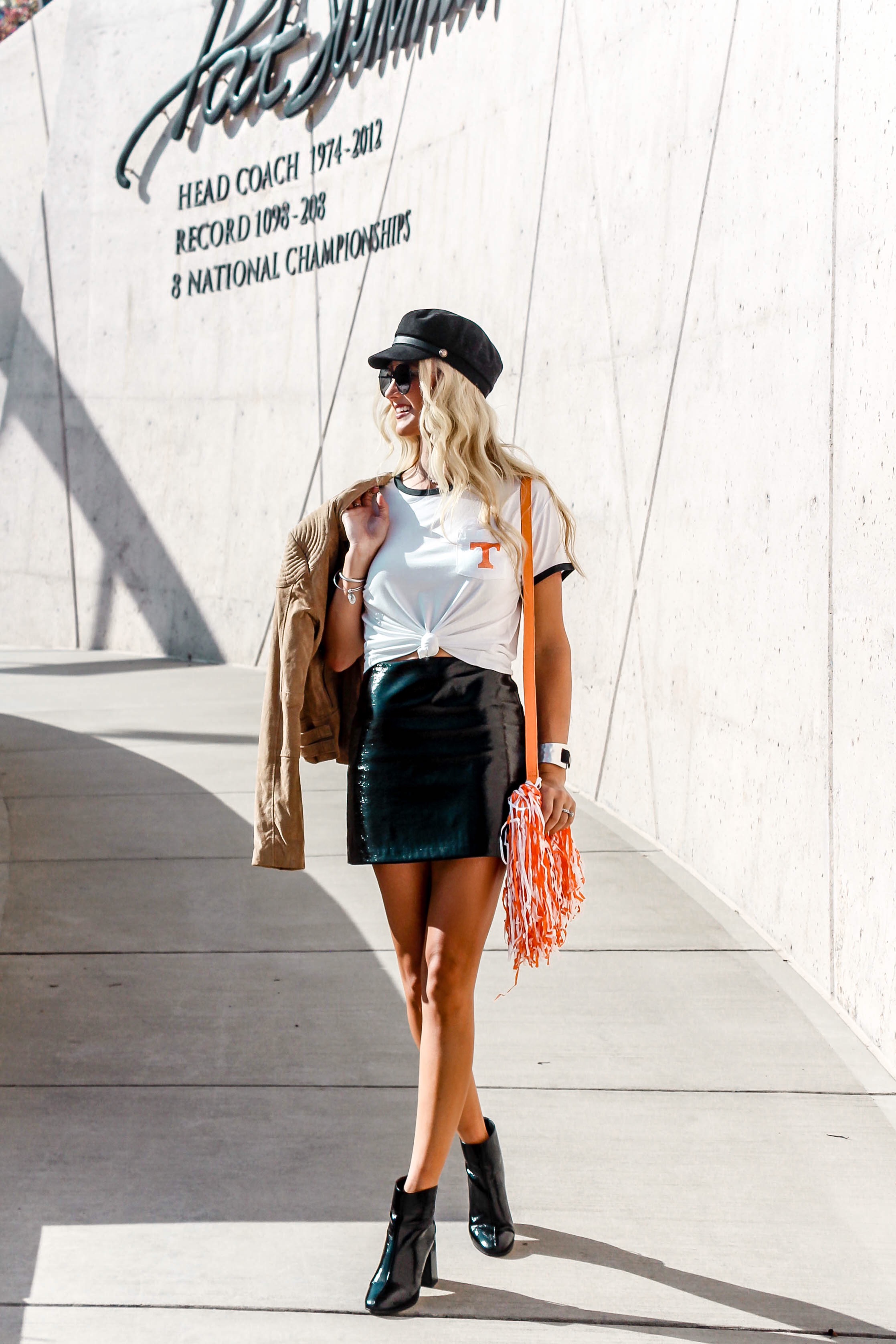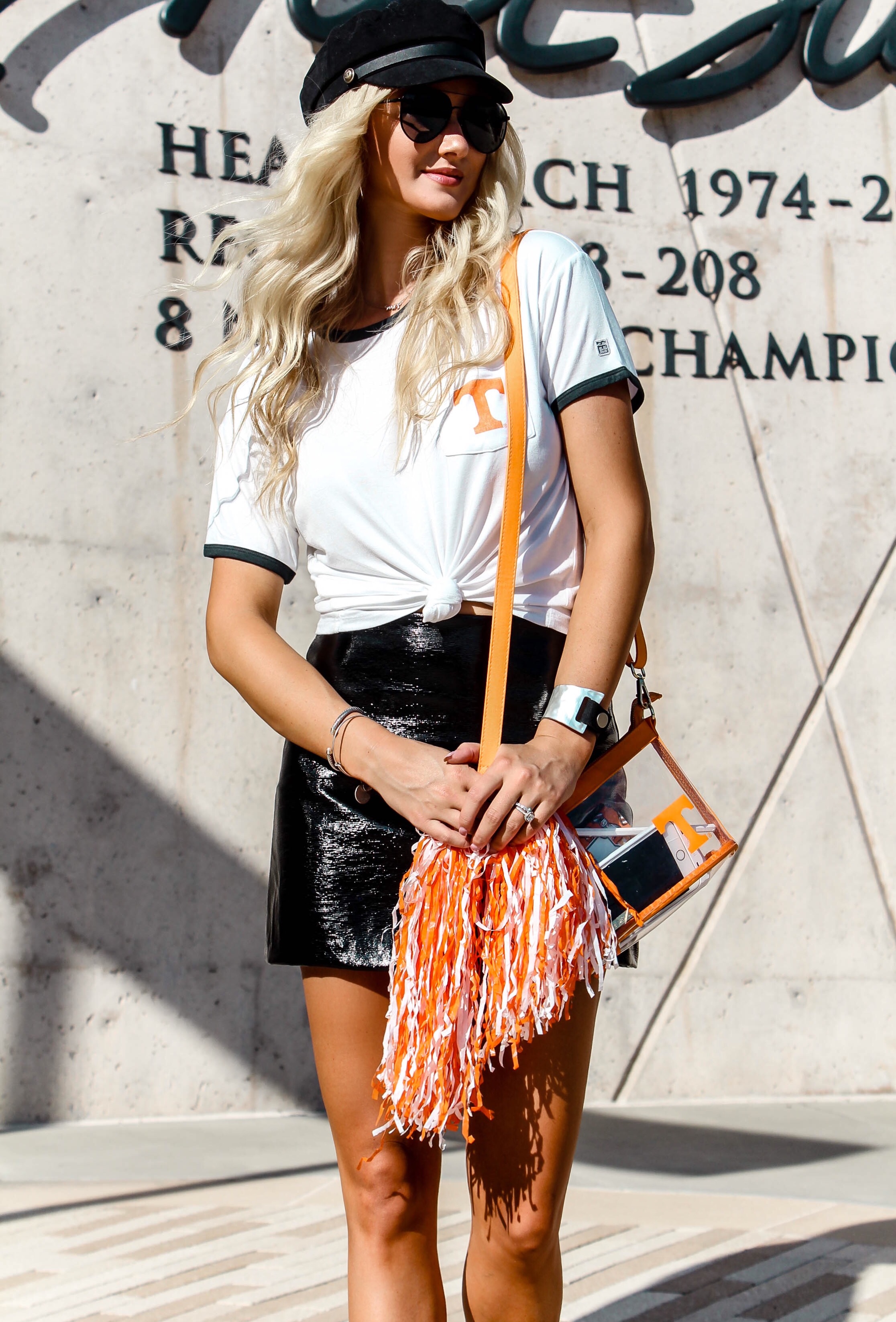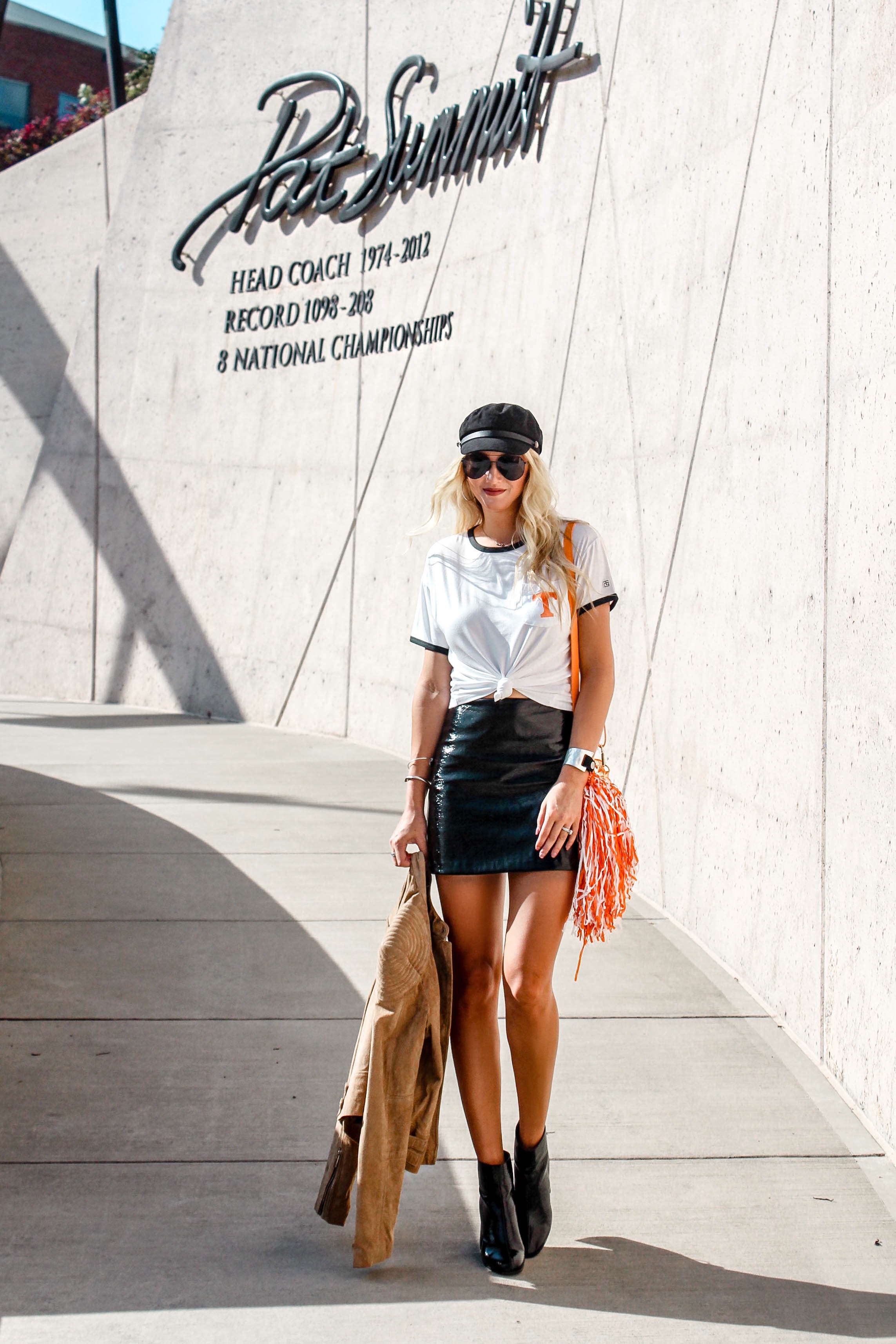 One of my favorite, most fashion-forward ways to incorporate an extra layer into your gameday attire is to throw a statement jacket over your shoulders – much like a cape. Moto jackets, leather jackets or blazers are the best options to achieve this look because most of them have structured shoulders or pads that will easily stay on top of your shoulders and keep you warm. Of course, if you start getting really cold, you can physically put the jacket on and still look stylish while supporting your team.
I paired this cropped, boyfriend pocket tee with my patent leather skirt & booties for a retro styled look. I also added this adorable hat (which is all the rage right now) & moto jacket as an option for some added warmth throughout the game. This tee looks super cute tied in a knot or even untied. Another option would be to front tuck it – so many ways to style this piece (which I love)!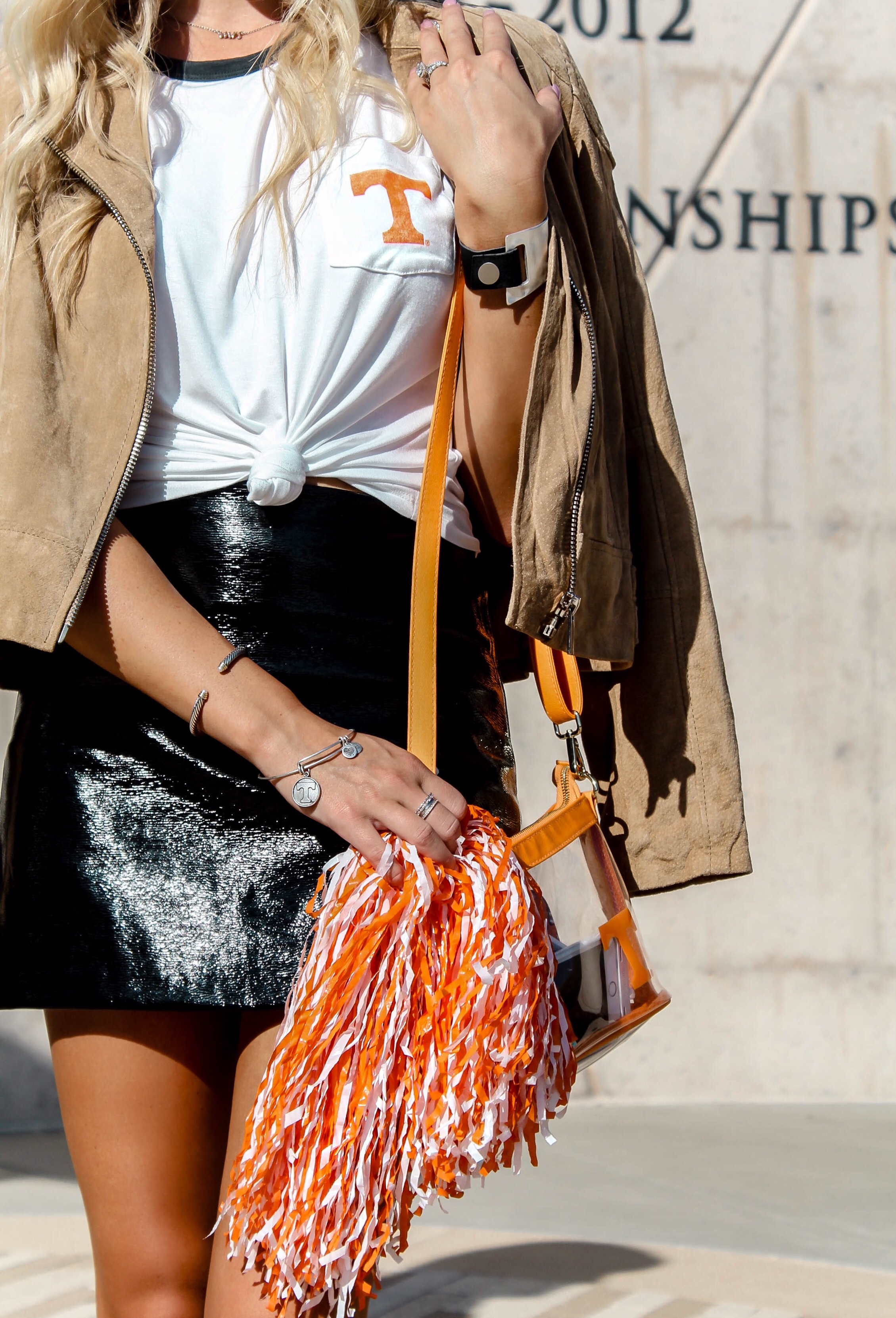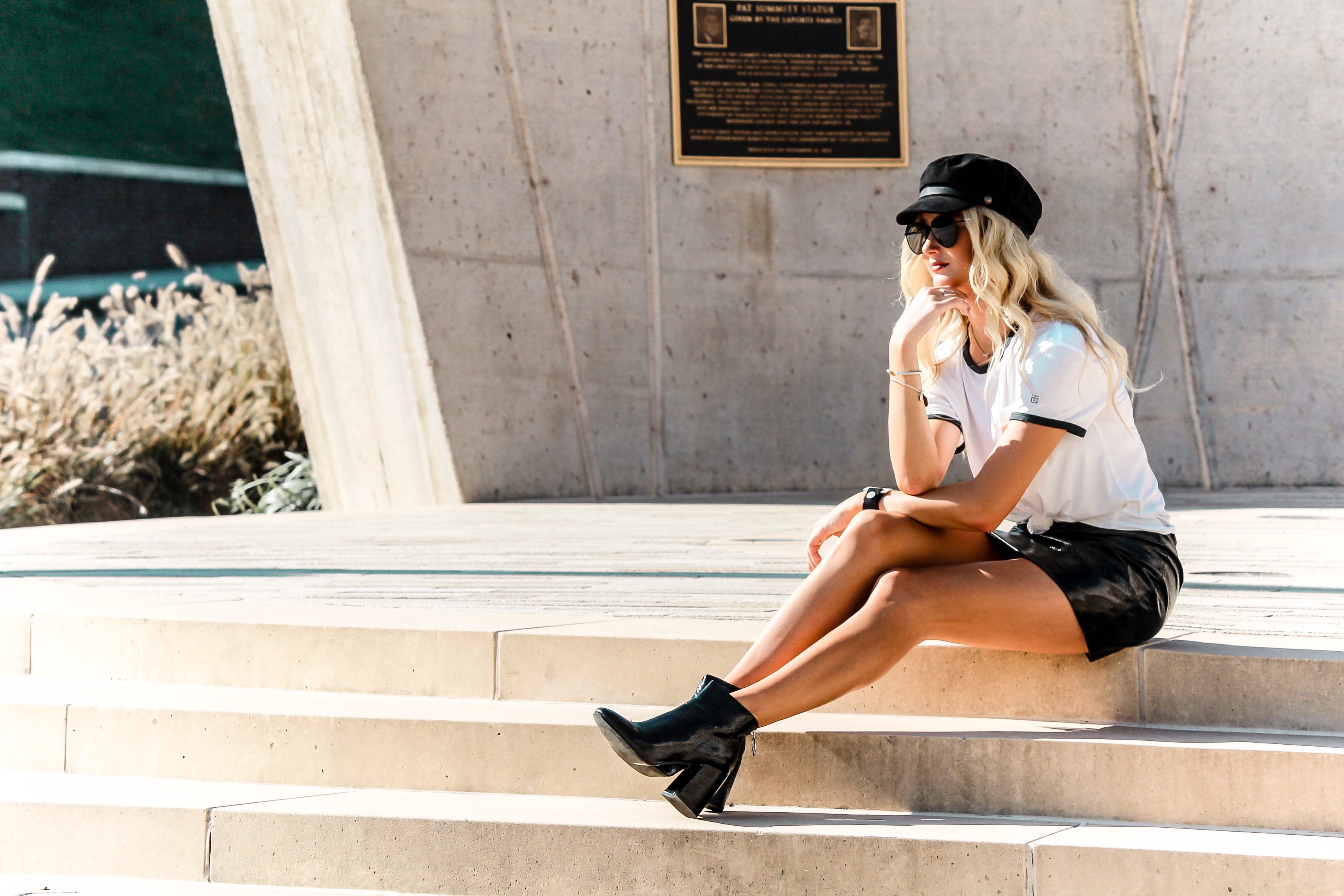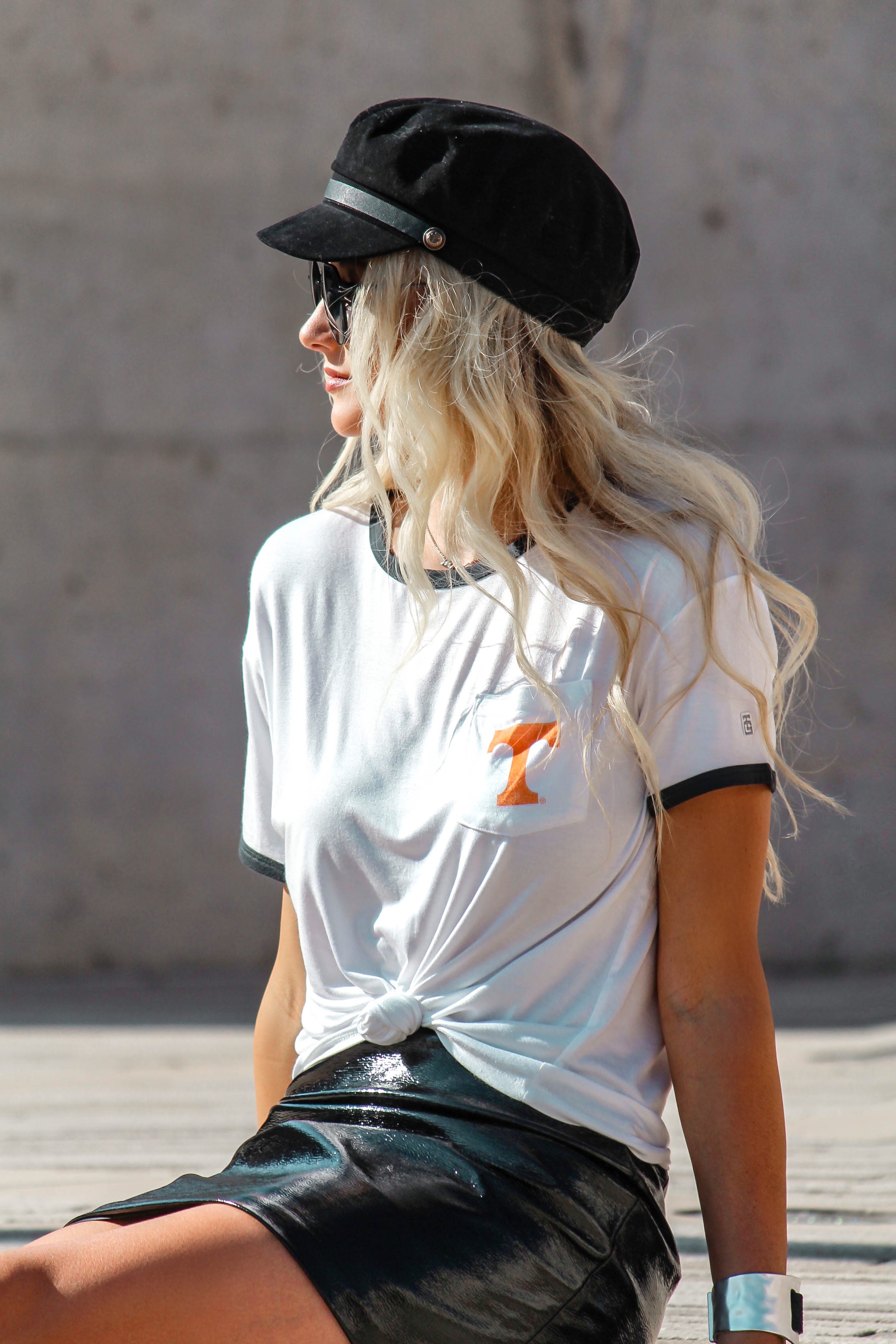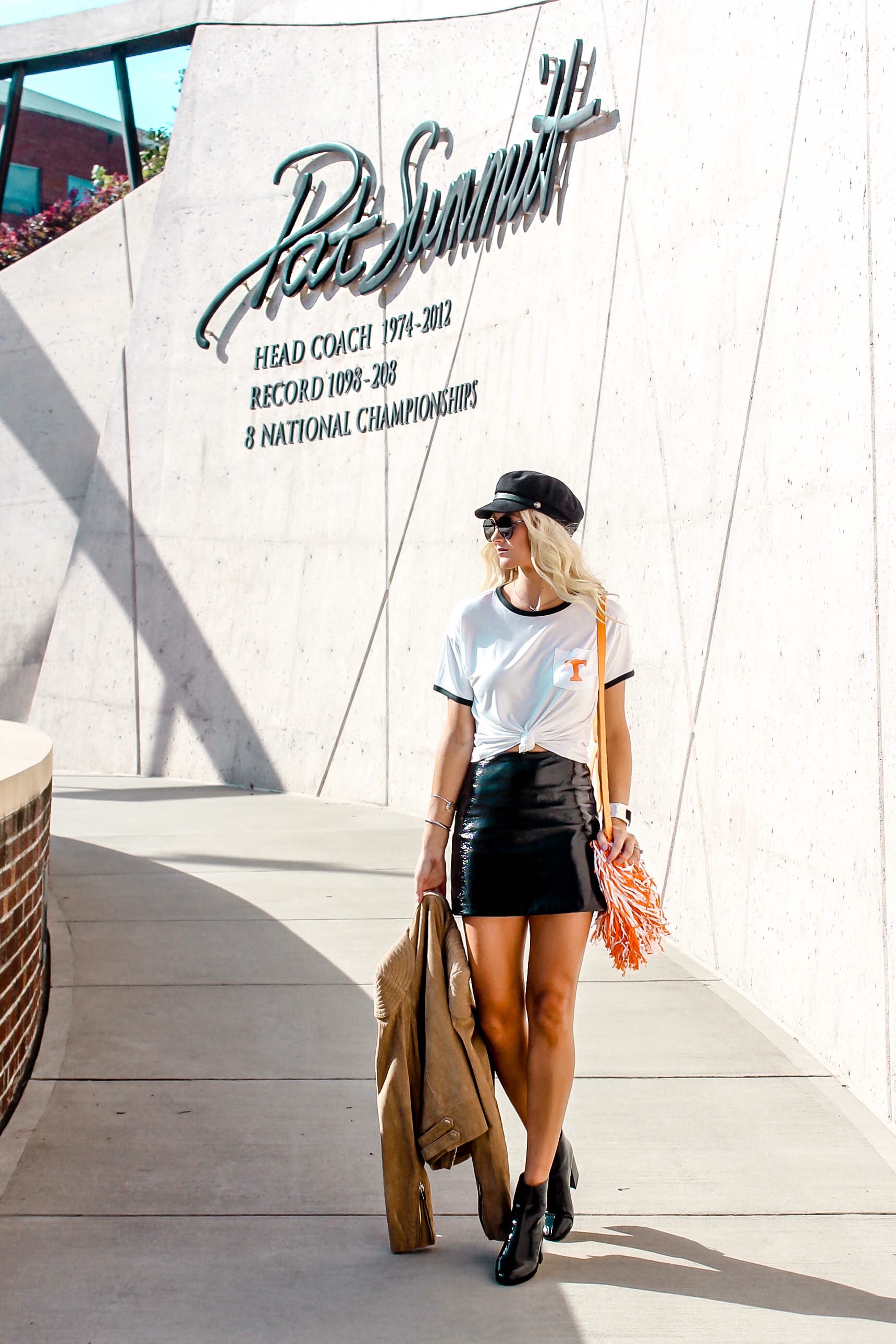 cropped pocket tee (wearing a size S) | patent leather skirt | patent leather booties | black hat | similar moto jacket | Alex & Ani silver TN bangle | clear gameday crossbody bag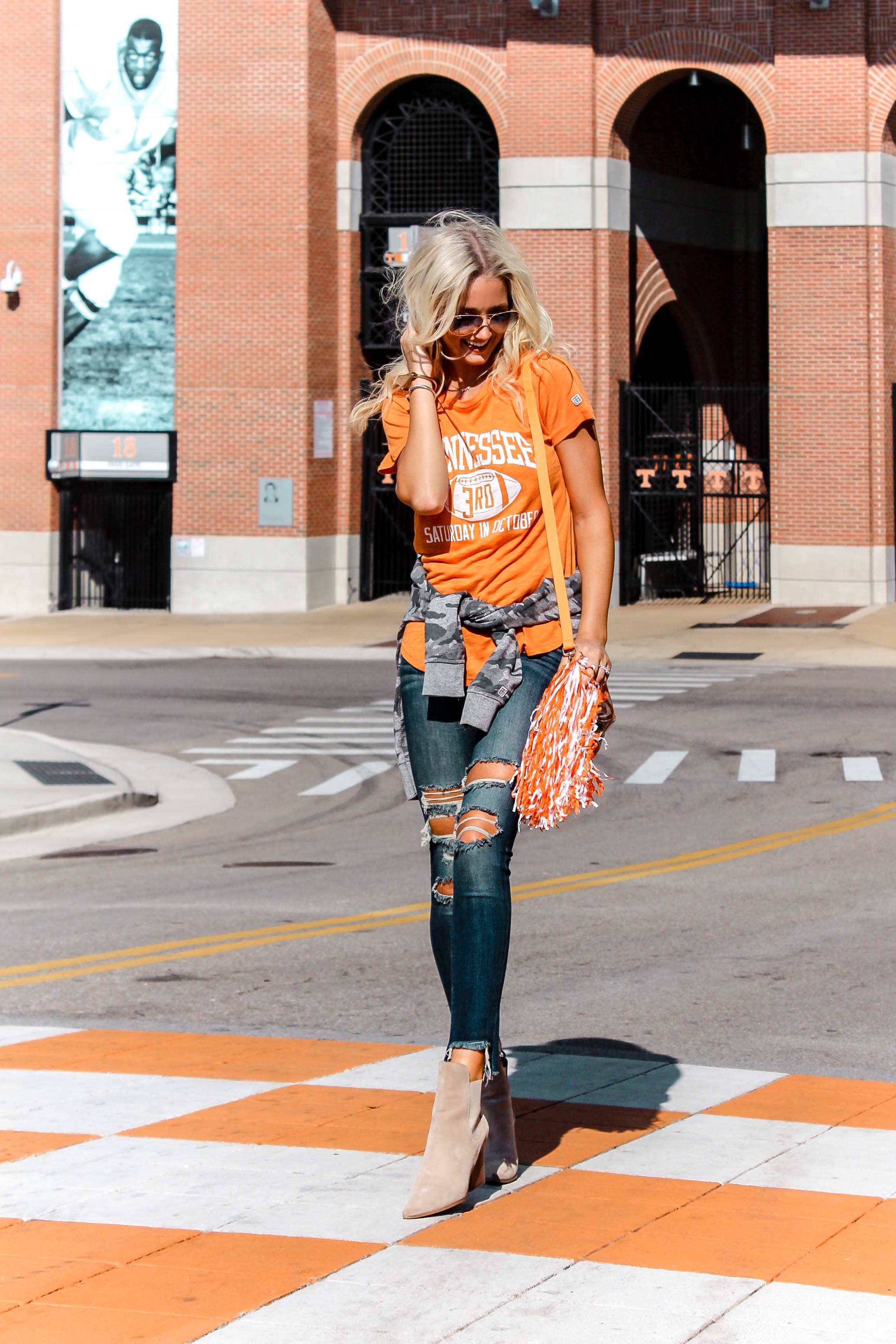 One of UT's most exciting traditions happens every year on the 3rd Saturday in October – the Alabama vs. Tennessee game. Alabama has always been one of our biggest rivals. There are specifically 2 teams that Vol Fans aren't too fond of – the Florida Gators & then of course, the Crimson Tide. Anytime that we can beat Bama, this town totally erupts!! There's truly nothing like being in Big Orange Country during football season, especially when we can pull off the W.
I also found this adorable tee at Tailgate (located in Market Square, if you're local), and I thought it would be perfect to showcase in this post because it's officially Bama week. We're quickly approaching the 3rd Saturday in October, and our Vols will be headed down to Tuscaloosa this weekend to take on the Tide. This camo, interlocking UT sweatshirt is perfect for layering on top of the tee because it's such an easy piece to tie around your waist if you get warm or to wear with the sleeves rolled up. And ps, it's on sale right now for $55 – major deal! I paired these pieces with some distressed denim & neutral booties to go along with the trendy, camo vibes.
Another fun fact: This weekend actually marks the one year anniversary of the Tailgate store opening here in Knoxville — Happy 1st birthday, @tailgatevols!!
The 3rd Saturday of this month is always a special weekend for me personally because it was my first time ever getting to cheer a home game in Neyland Stadium – which had been a dream of mine since I started cheering at the age of 5. Unfortunately, I was injured for half the season my freshman year and didn't get to cheer until the Bama game, so this weekend will mark the 5th anniversary of when I first got to run through the T, cheer at Vol Walk (see pictures of this below!) & experience a game from the sidelines in Neyland, for the very first time.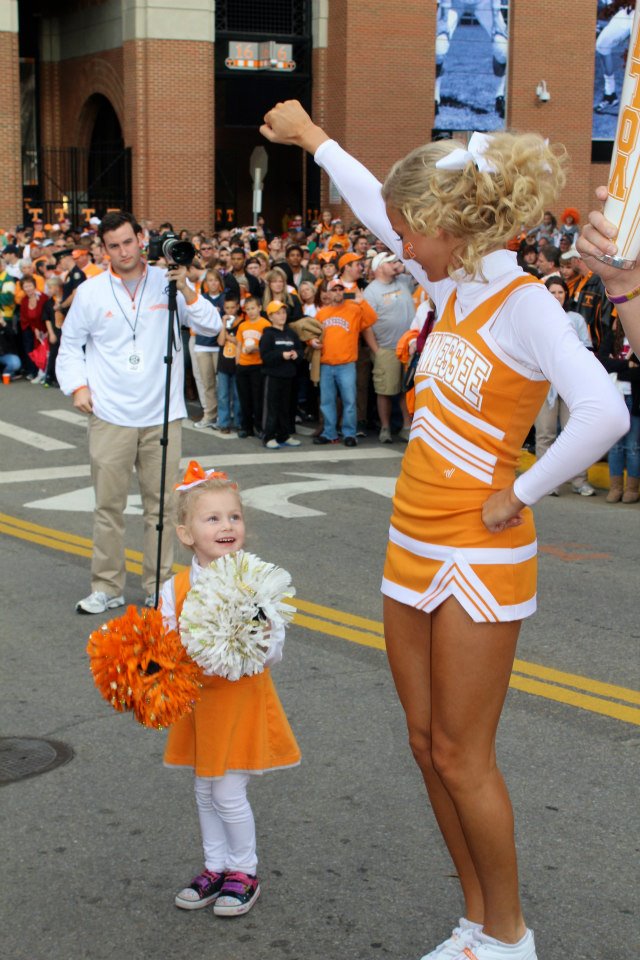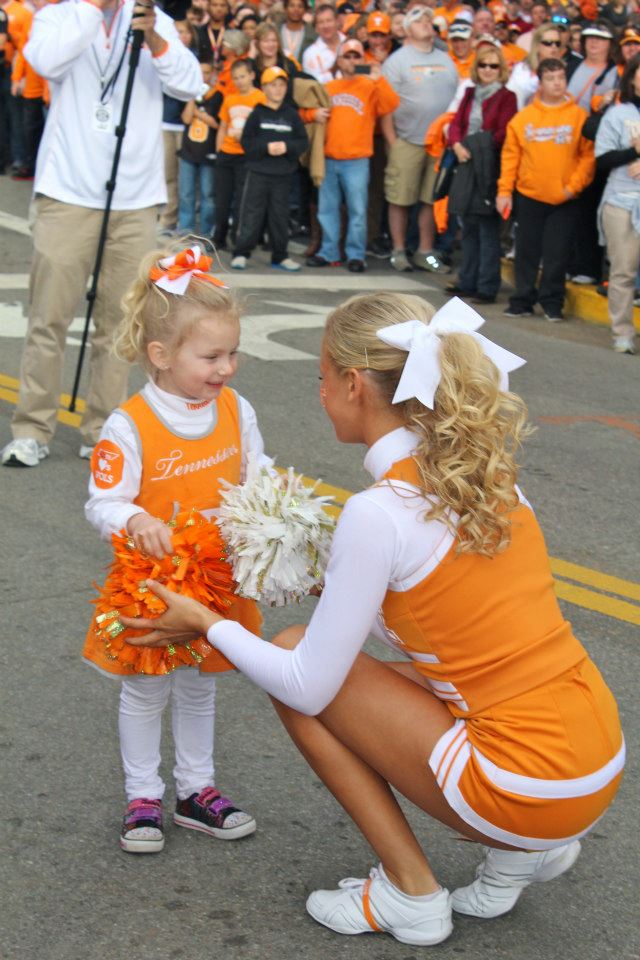 Little did she know, this sweet girl made my dream come true when she came to cheer beside me at Vol Walk. I had dreamt that dream since I was her age …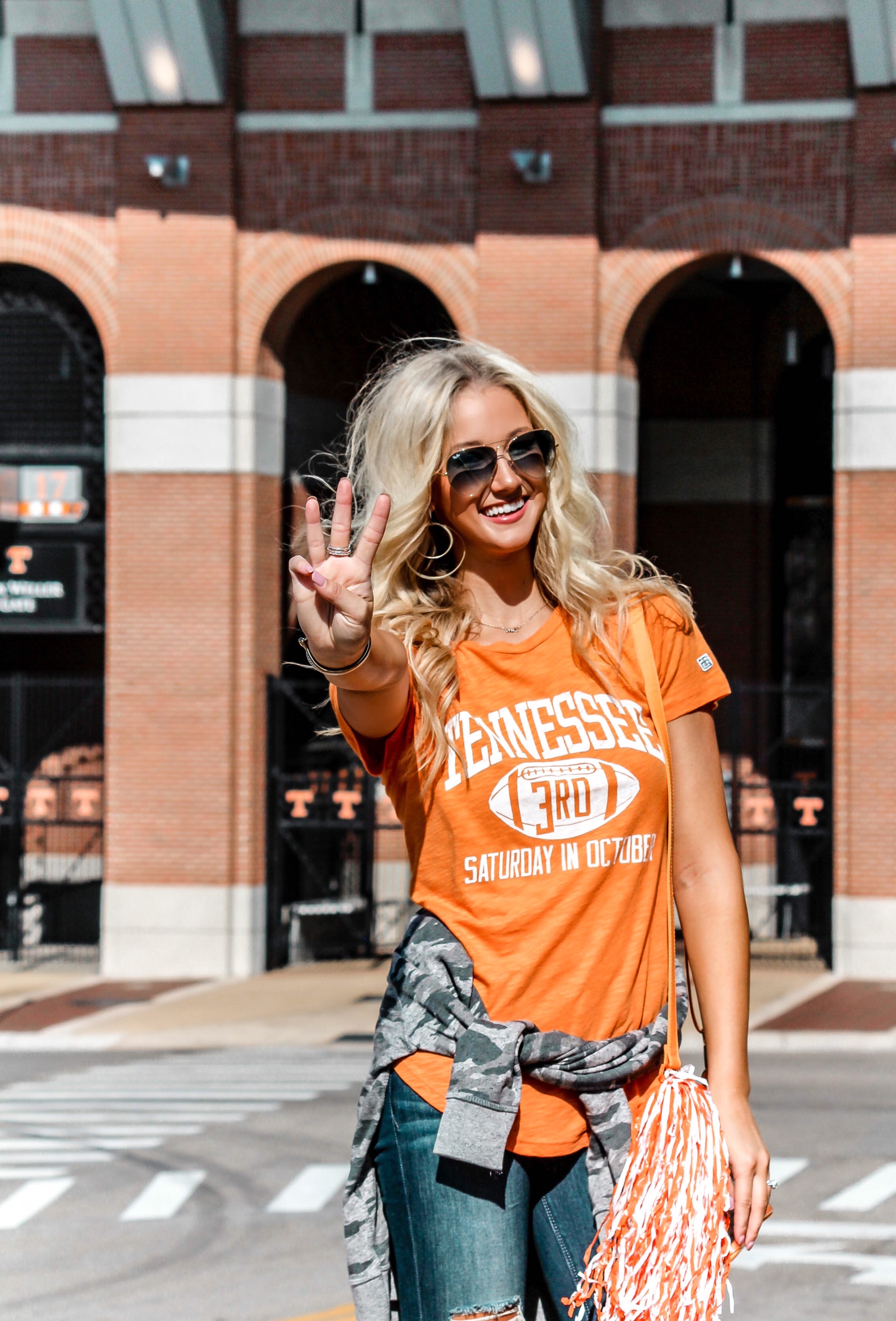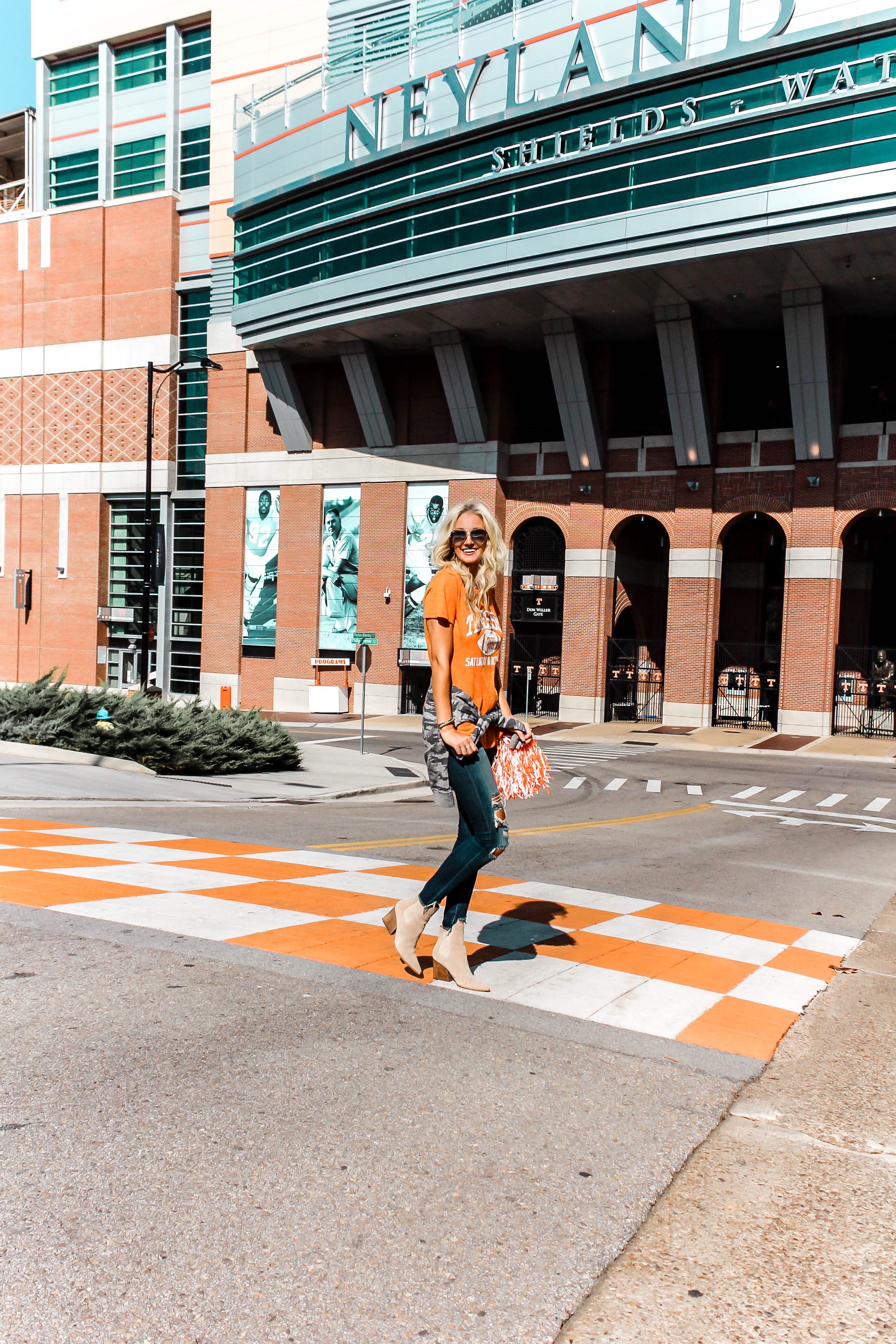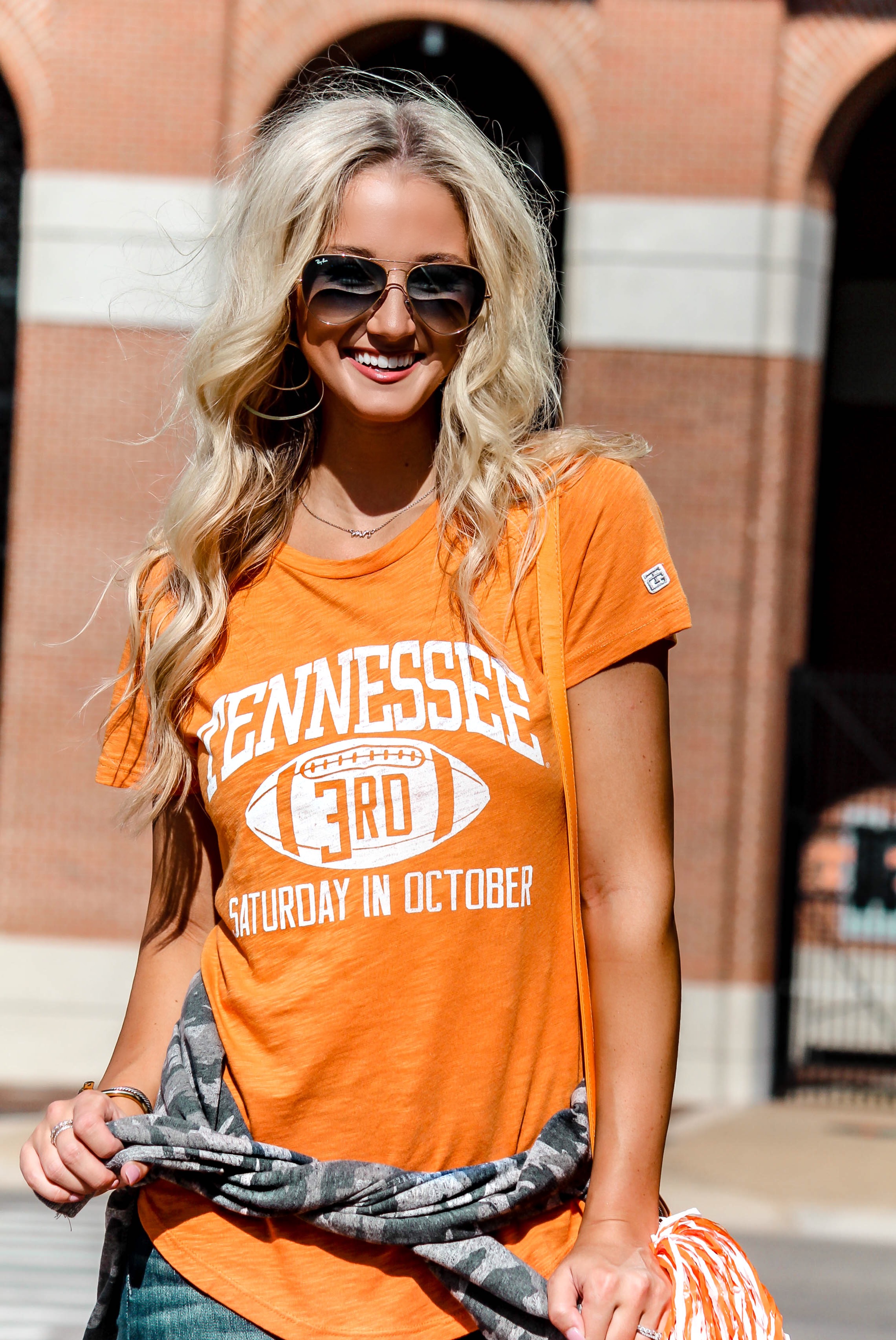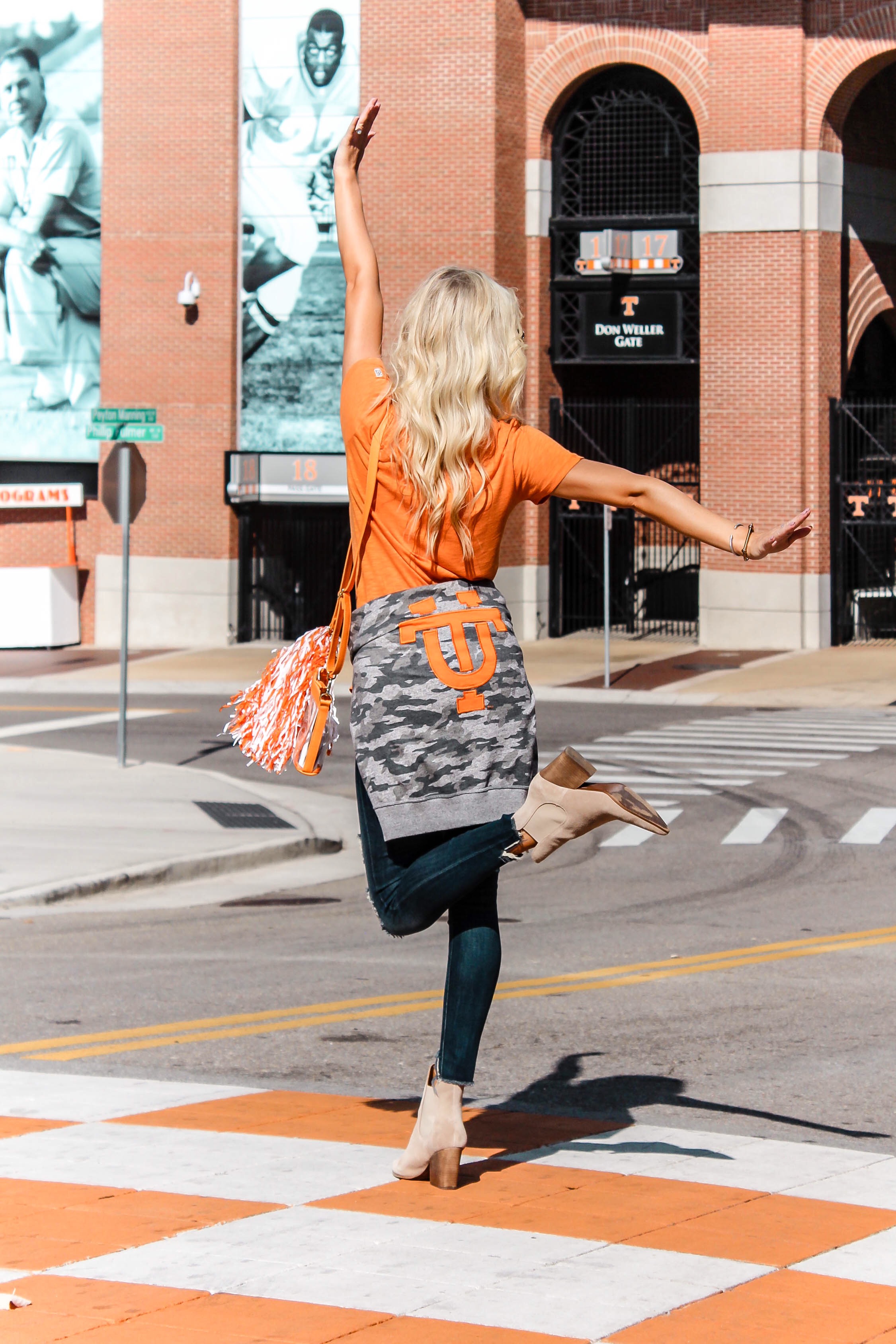 … And here I stand 5 years later, cheering on my Vols from the other side!
camo sweatshirt (wearing a M for reference) | 3rd Saturday tee (wearing a M) | similar distressed jeans | neutral booties (similar) | clear gameday crossbody bag

---
I hope all of you football fans found this post really helpful for the remainder of the football season because I know finding outfits that are both cute and practical during this time of year can be super challenging and even frustrating. Hang in there & try wearing one of these styles the next time you go to support your team!
Now that you've all heard some of my favorite traditions and memories from my college days, I'd love to hear one of yours — comment below! I can't wait to read them and see what teams you all cheer for!
Thanks so much for stopping by, friends!
xo, P
*Thanks to @Vol_Gear for sponsoring today's post!