Thanks to Hyundai for sponsoring today's post. I have been given compensation for this post by Hyundai Motor America. However, all thoughts and opinions expressed are my own.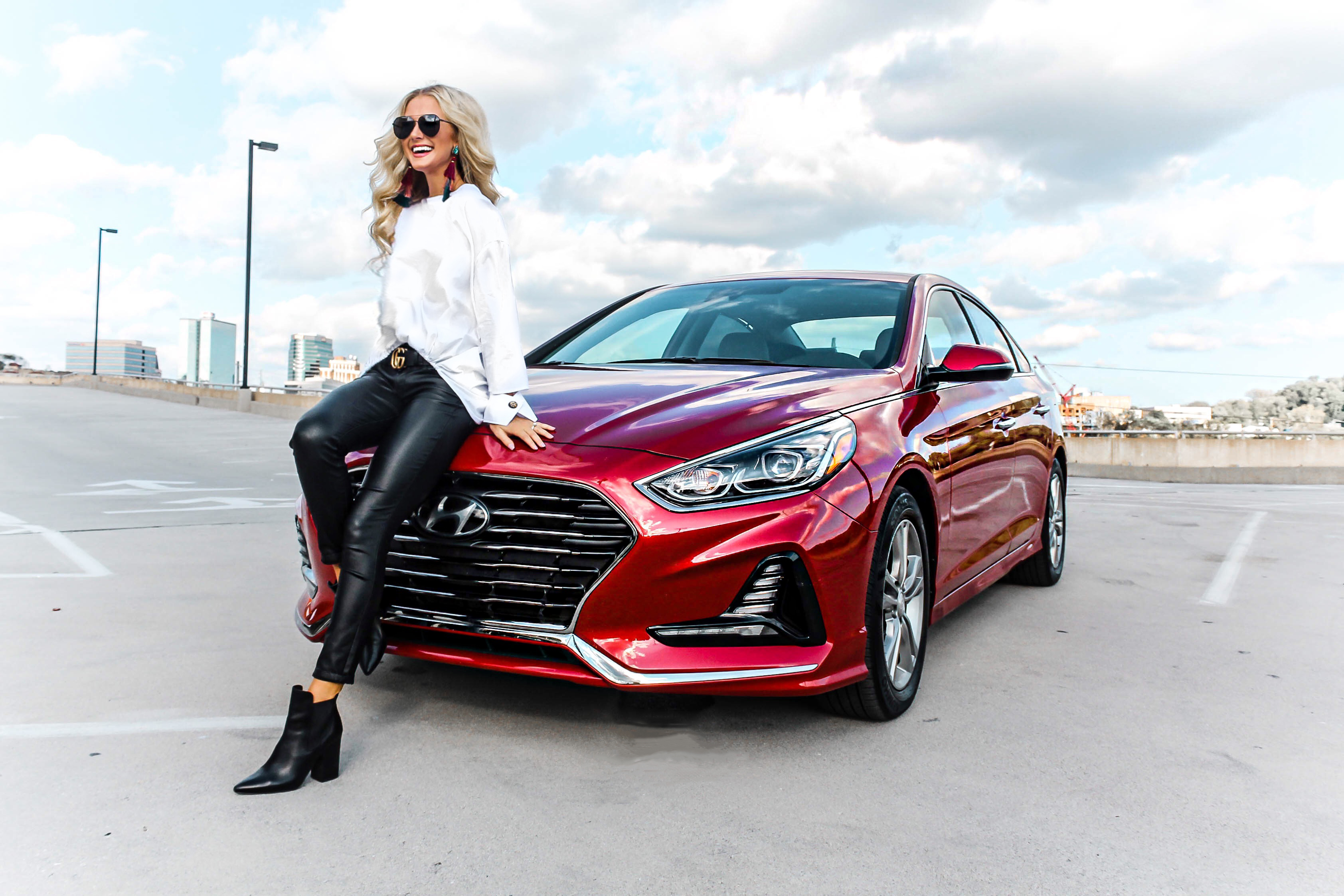 I know a 'car' doesn't exactly classify as a 'cute outfit' or a 'new lipstick you must try', but I am so excited to channel the lifestyle side of love 'n' labels today & share about a really exciting collaboration I've been working on! And if you are by chance on the car hunt, I highly encourage you to keep reading!
Most of you may agree that it is a dream come true when a well-known car company offers you a top-of-the-line vehicle for the week & invites you to experience a full college game day with them … 🙂 How could I resist? This is exactly what happened when I received an email a few weeks ago from a contact at Hyundai – a large, household name that most of us have probably heard much about throughout our lifetime. I was thrilled that they reached out to me & couldn't wait to experience one of their vehicles for myself. Fun fact: I had actually never driven a Hyundai before this past week (which made me even more excited to drive one). I have always had such a high respect for the company and everything that they stand for — most importantly, their emphasis on safety & then of course, always thinking of new ways to make the Hyundai experience even better for their consumers.
Switching gears for a moment — y'all know that I'm a huge Tennessee football fan, so I was extra pumped whenever the Hyundai team told me that they had tickets for us to join them during the UT vs. USC game last weekend. So, not only did they loan me a brand new 2018 Hyundai Sonata for the week, they also invited TJ and I, plus a couple friends, to attend the football game and to join them at their Hyundai FanBase event for some pre-game tailgating festivities. (I mean, was this all a dream in this blogging brain of mine? I had always set my sites on large partnerships like this one since I first started LNL. *pinch me*) It really was such a fun day (despite that tough UT loss 🙁 of course), and I can genuinely tell you all that the entire Hyundai team was just absolutely amazing to work with + a joy to be around. That tells me that they truly value the amazing customer service that everyone looks for when we are all out there car shopping (which we all know can be a stressful time, but it doesn't have to be if you find the right people to work with). After my whole experience with them, I can confidently say that I wouldn't think twice about buying a vehicle from this team.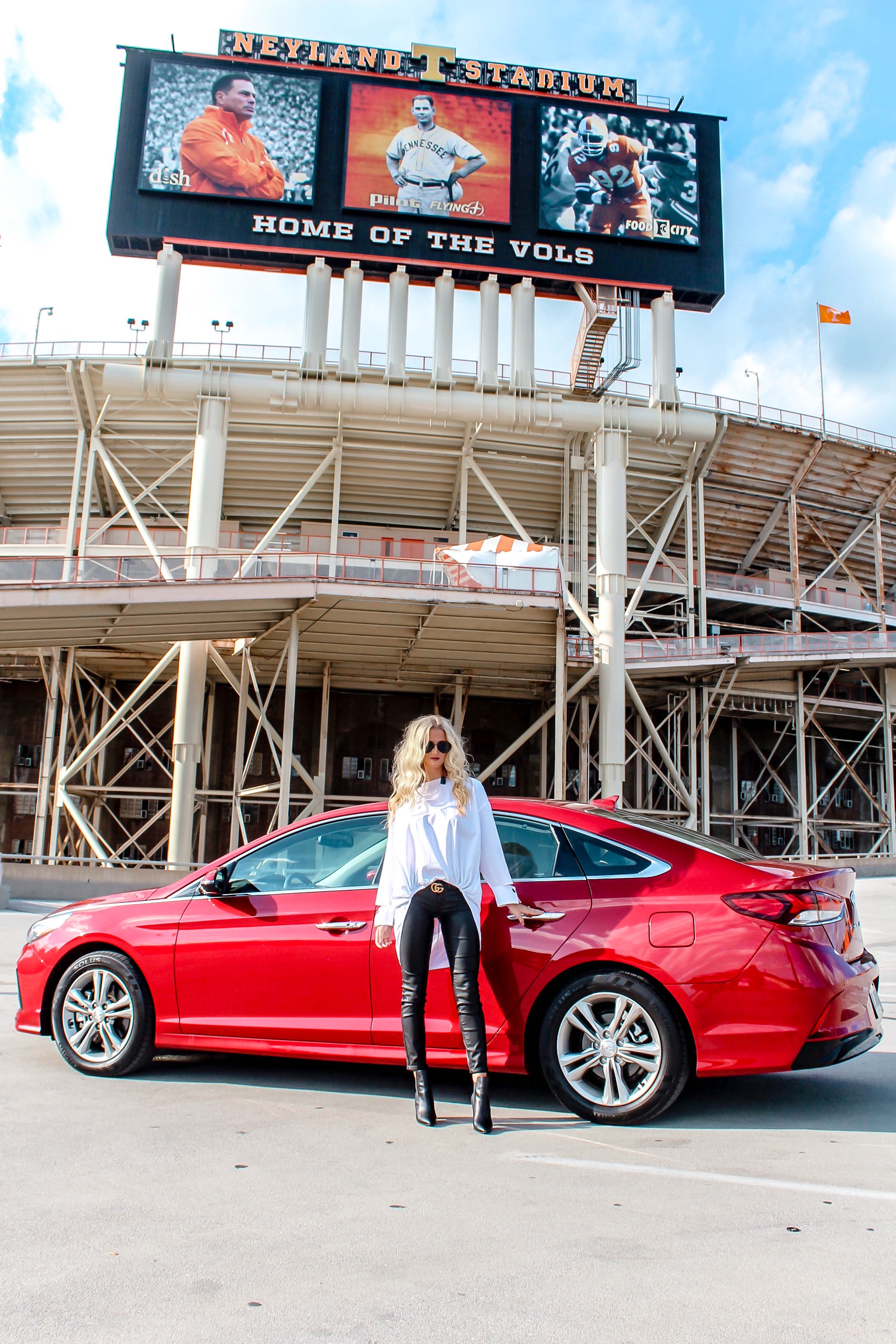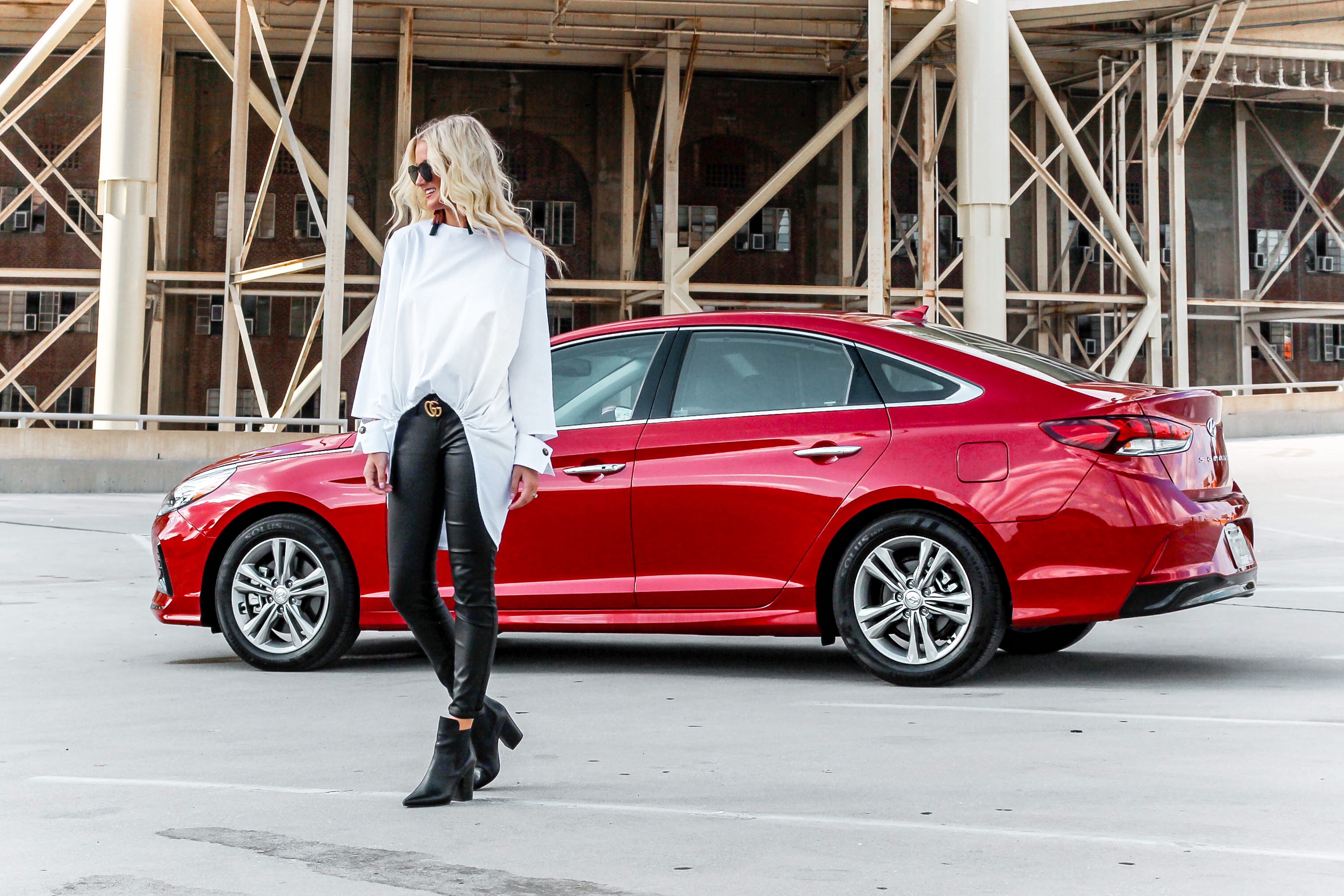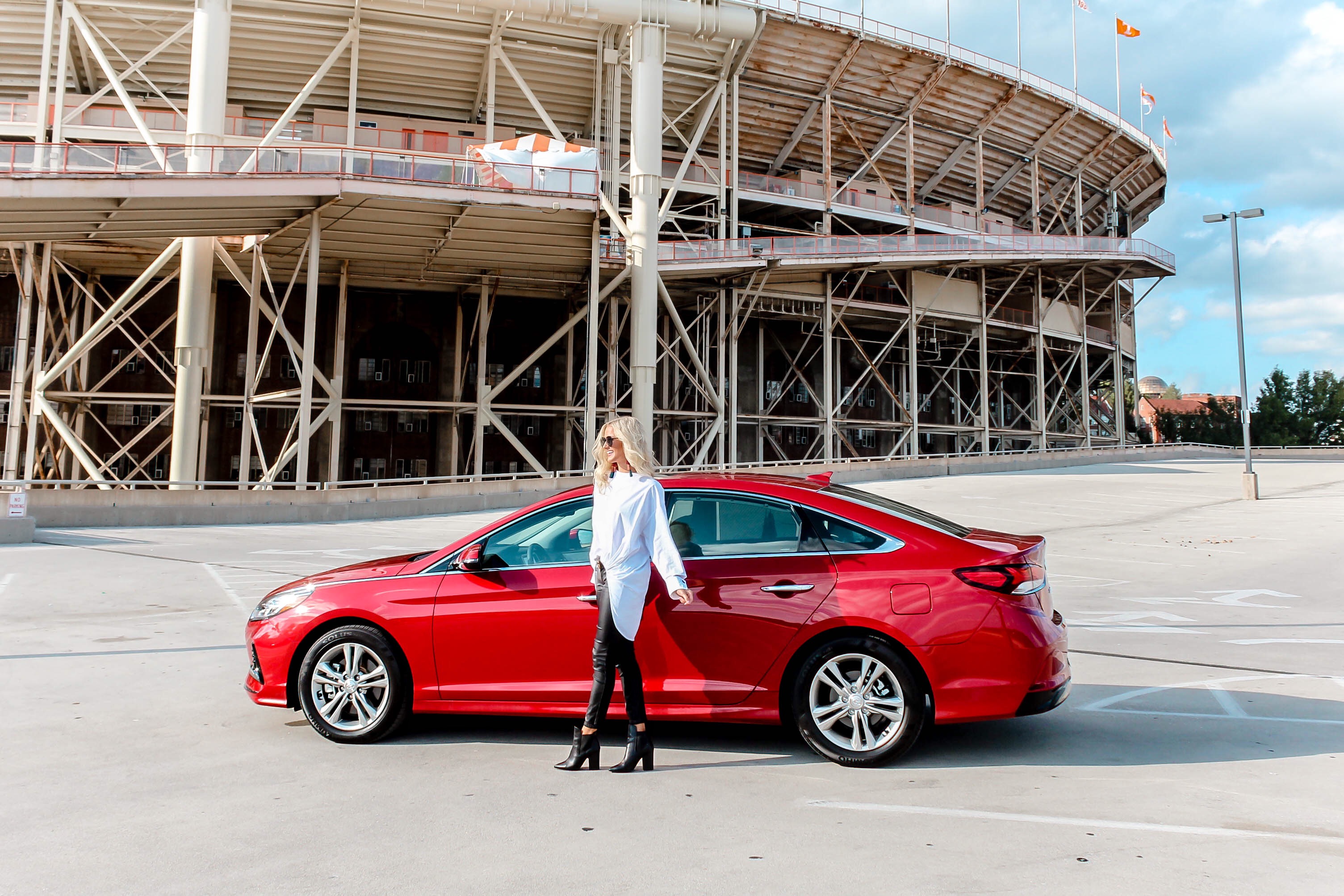 Now, to the really fun part …
Even though most vehicles can get you from point A to point B, I quickly learned throughout my experience driving the 2018 Hyundai Sonata last week that some cars really do stand out from the others. I wanted to share a few details about the red beauty (as I called her all week haha) because there were so many cool bells & whistles on this car that I, personally, have never gotten to experience for myself in a vehicle. It was reeeally cool, you guys! The hubs was even freaking out over all of the awesome features we got to test out.
For starters, the car we test drove included all of the following: heated/cooling seats (one of our favorite features), a heated steering wheel — which we didn't get to test out for long because it's still warm here in Tennessee (LOL), a navigation system, push start, a sunroof (which, if you know me, is a MUST HAVE in my eyes), headlights that turn as you steer the wheel, a backup camera, 3 different drive modes (comfort, eco, sport), blind spot assistance, a QI wireless charging pad for your iPhone 8 (seriously the coolest, most practical/useful thing ever). It also included Apple CarPlay and Android Auto, which was great for TJ and me because he has Android but I'm an Apple girl. This basically allows you to easily make calls, see messages, play music, use your phone's navigation maps (and much more) all from the car's touch screen & voice recognition.
The Sonata we drove obviously had tons of cool tech features (which, let's be real … anyone of this generation loves), but it also featured lots of easy-to-use safety attributes. On top of that, this was my first taste of a semi-self driving car. Okay, so no, it won't actually drive itself, but get this … if you turn on the lane assist and you start getting close to the lines on the road (on either side), the vehicle will actually start drifting itself in the opposite direction to help you stay in the middle of the lane (such a bizarre, yet awesome thing to actually experience — like, how is that even possible?) It will also start beeping at you if your tires touch the line, which is a great safety feature – especially for long road trips. Also, something similar to this is that you can set the cruise control to the speed you would like, then set the car to start stopping on its own once it gets to a certain distance to the car in front of you. I mean, WHAT?! We all already have smart phones, but now smart cars too? I don't know about you guys, but I'll take it!!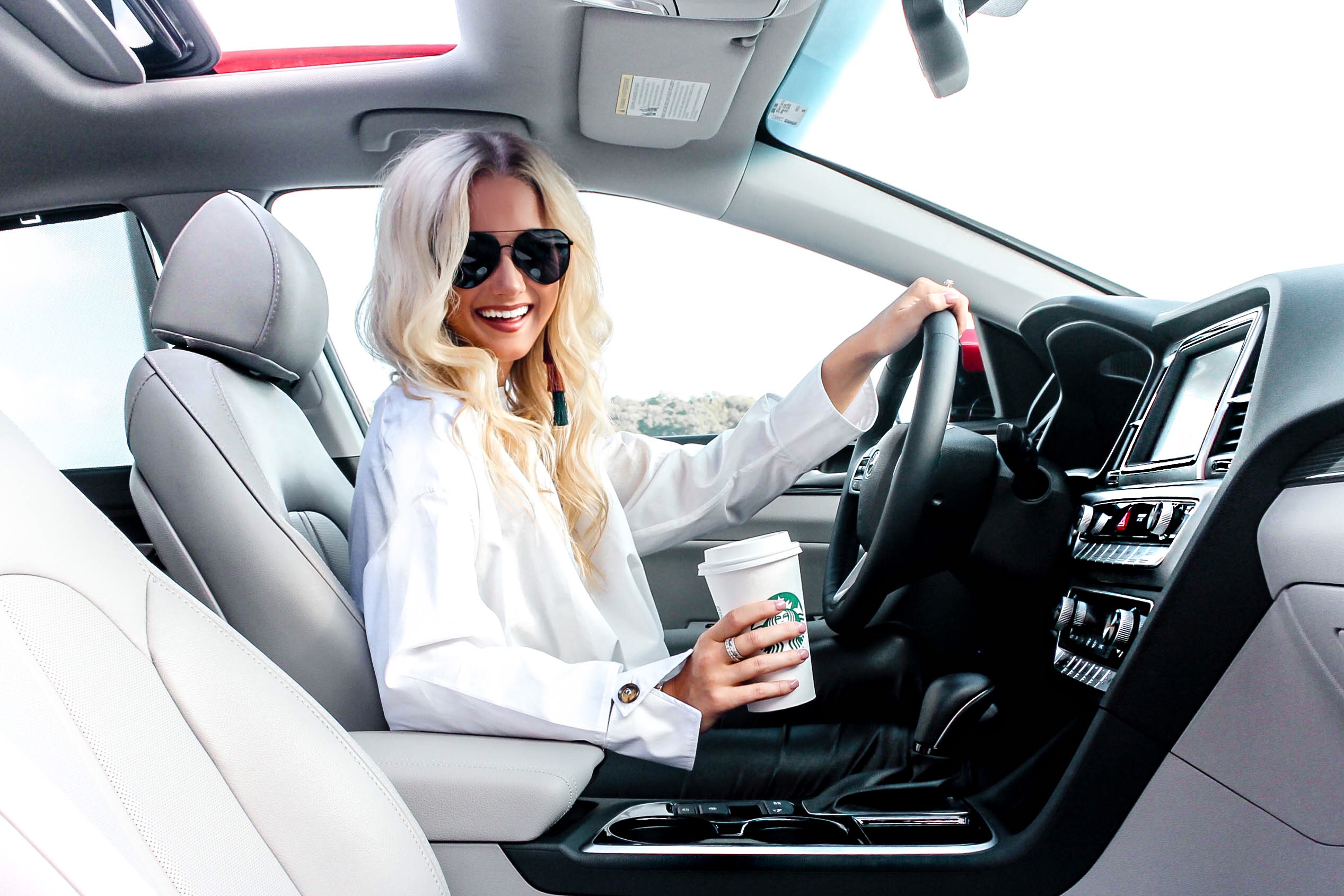 I could go on for days about all of the amazing things we got to experiment with in this new Hyundai, but these are just a few of our favorites that really stuck out to us and that I thought you all would find interesting. Of course though, if you have any questions regarding this post or any of my previous IG stories, etc. from the past week, don't hesitate to reach out or comment below!
---
I hope you all really enjoyed the behind the scenes of this collaboration and joining me on my Hyundai Experience via IG stories over the past few days! As always, thank you all for stopping by & be sure to let me know in the comments below if you would like to see more lifestyle posts like this one.
xo, P