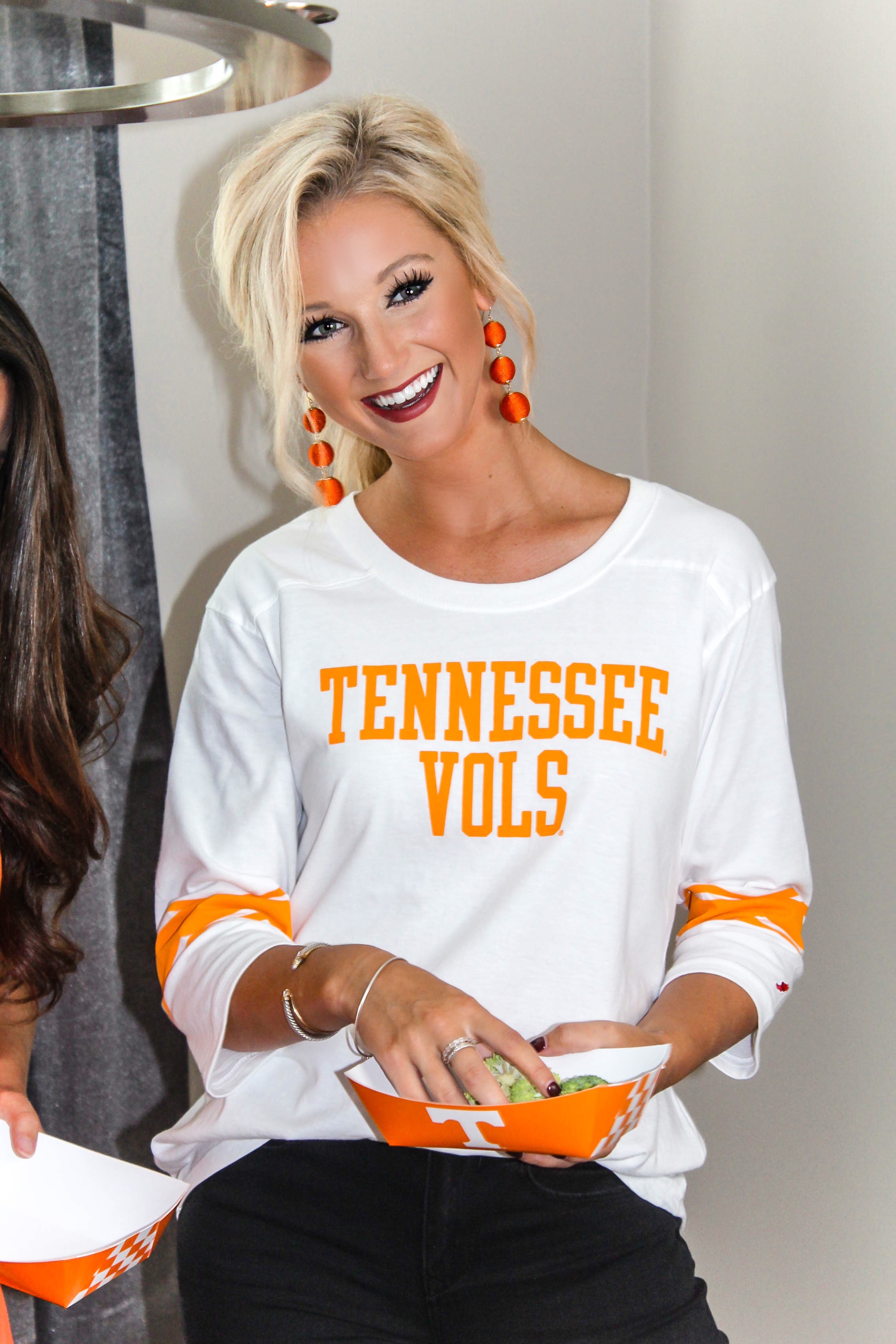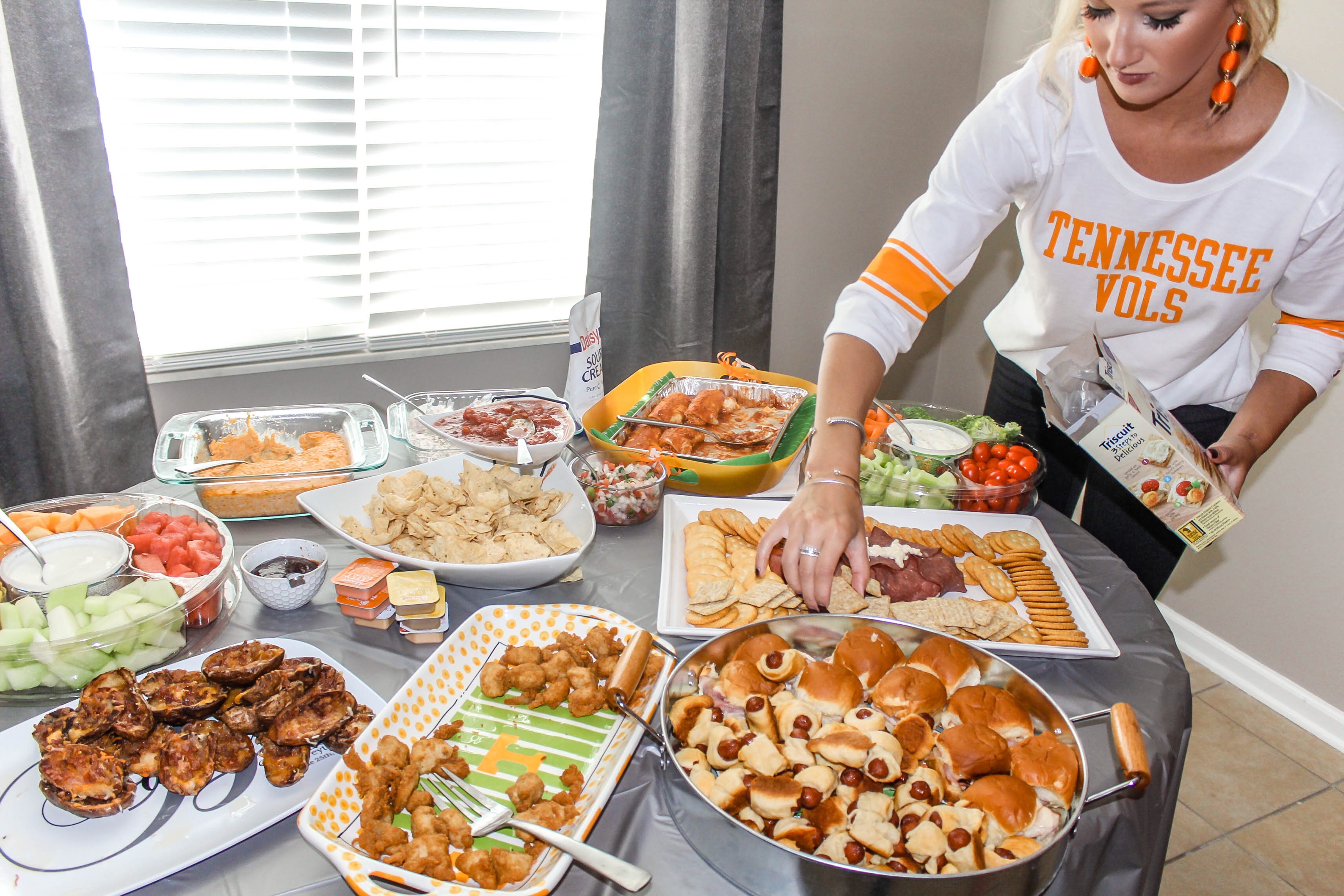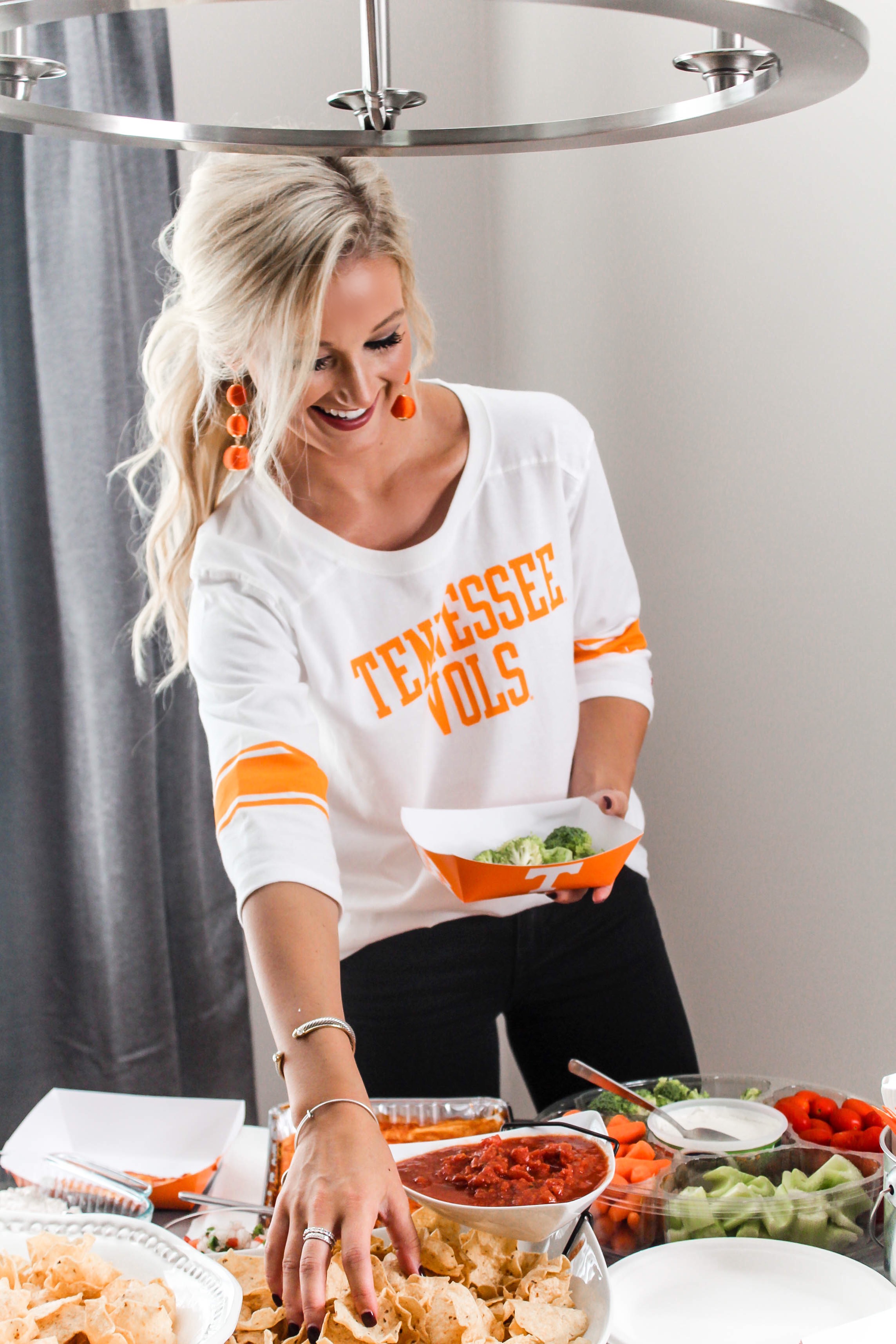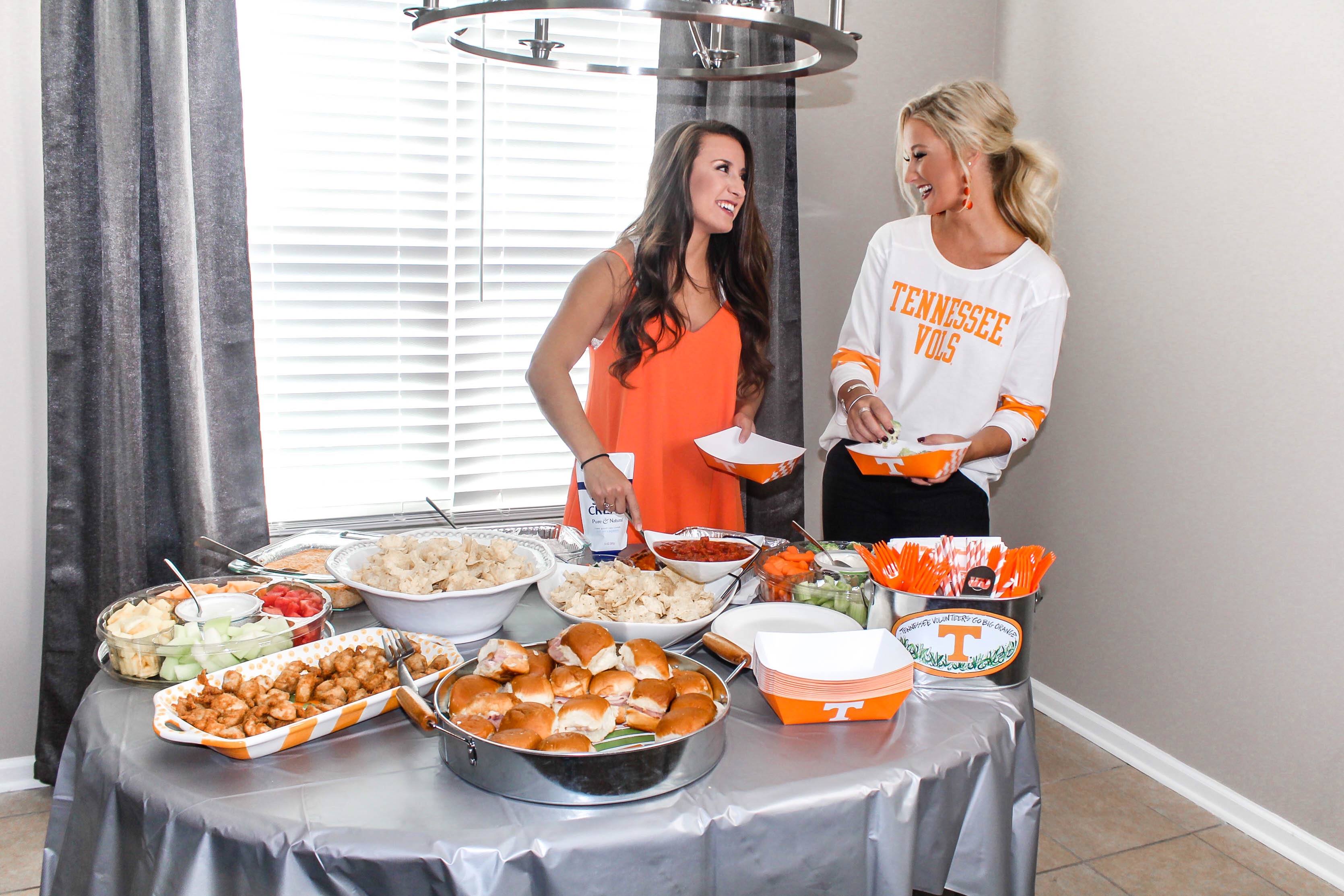 This past weekend, my Vols played the University of Florida – one of our biggest rivals (along with the Crimson Tide), and unfortunately we didn't come away with a W. 🙁 I'm still pretty bitter about it because it was one of those heart breaker endings where we're both tied and the hail mary pass that FL threw was caught in the endzone, which resulted in them winning the game. We officially feel your pain, Georgia. (If you don't know what I'm referencing to, just watch this video from one of our games last year against UGA – I won't ever forget that moment!!)
Even though we didn't come out of this weekend with a win, we did come out with some fun memories! If you follow along with me on Instagram, then you know we had a homegating (viewing) party at our house for our friends and family to gather & cheer on the Vols since the game was away at Florida.
Tailgating is one of the most fun parts of the whole gameday experience, in my opinion, so why does it have to be out of the question when your team is playing away from their home field? In my book, it doesn't. This is where the whole 'homegating' idea comes into play. Invite your friends and family over, grab some cute platters & dishes that support your team, start cooking some finger foods, and enjoy a day at home (in the A/C!!) while watching your favorite football team!
Here's a recap and a closer look into our homegating party that we planned – and an exciting announcement was made!!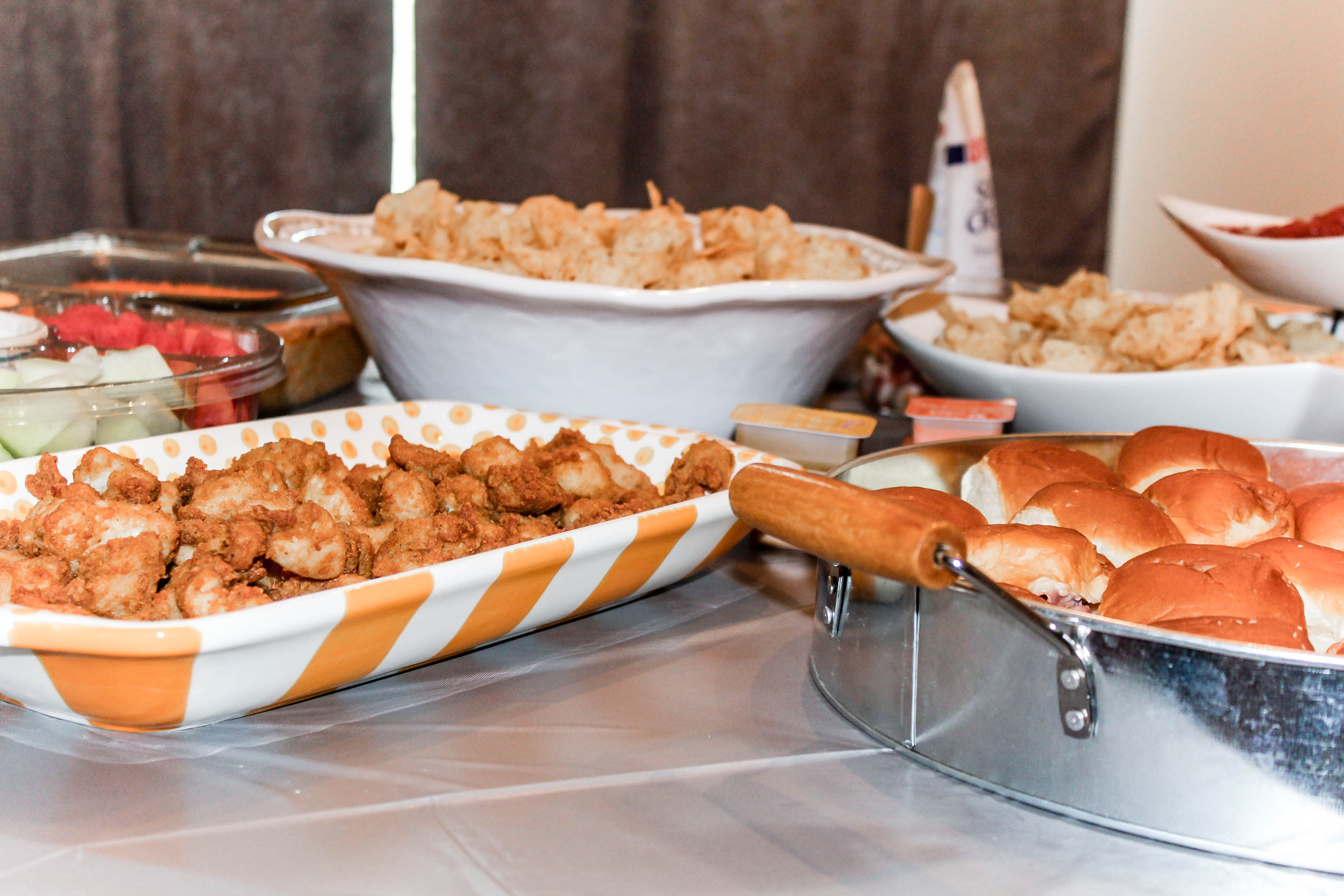 I seriously adore this orange & white platter for when we have guests over (especially when Chick-fil-a chicken nuggets are involved)! This would make a great gift for a mother, a sister or your in-laws who love the Vols and like to entertain at home.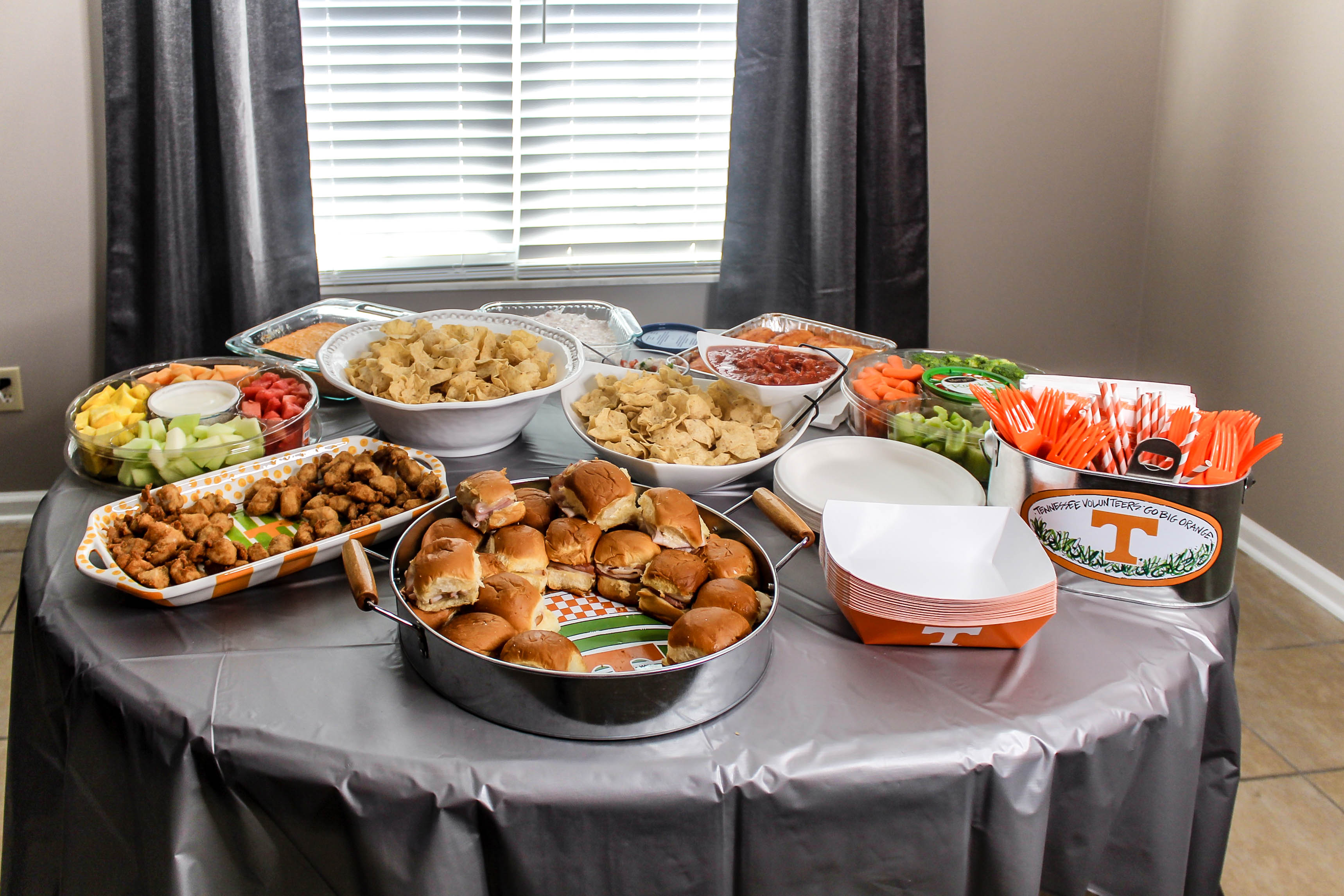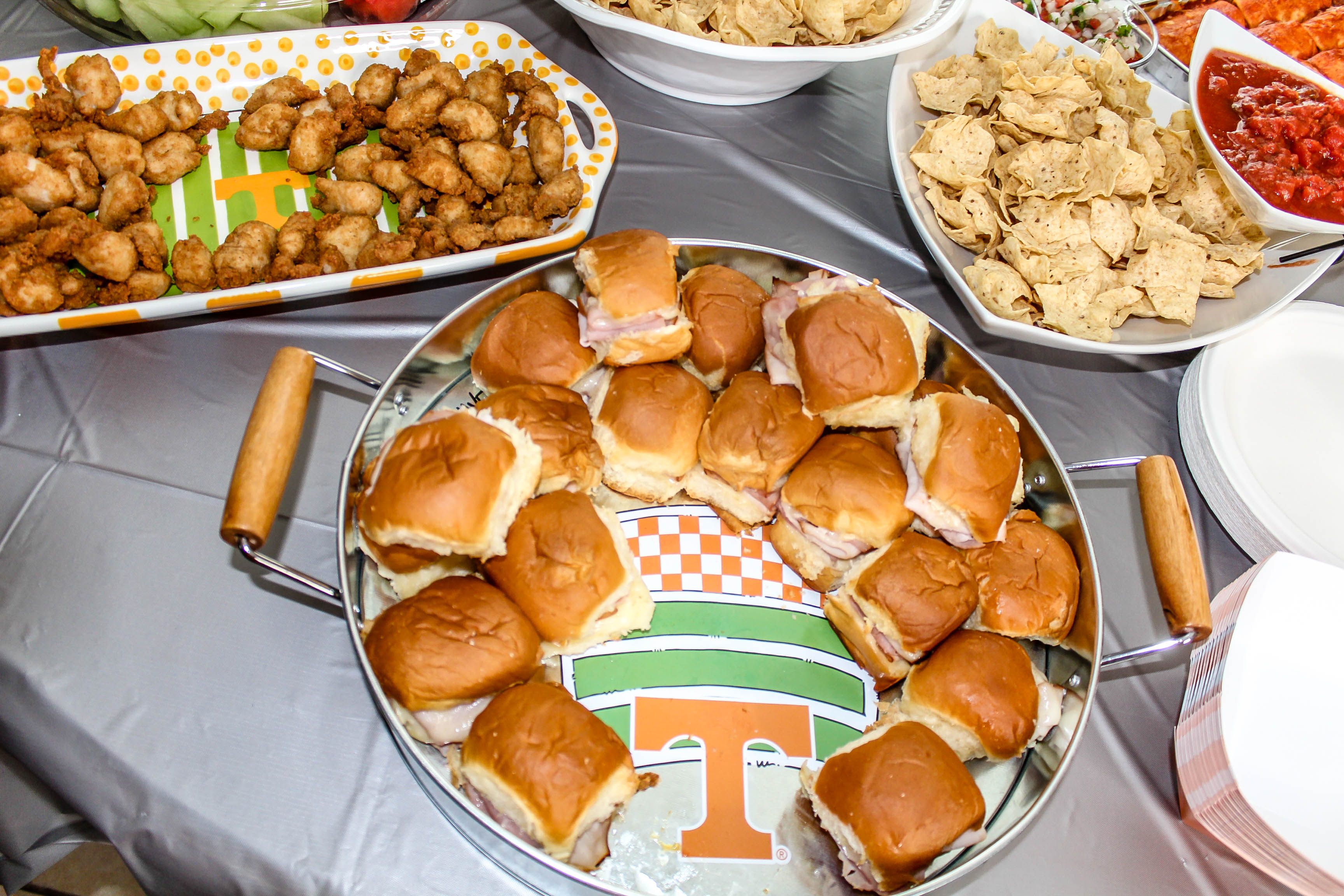 Teej and I also fell in love with this festive platter because it was actually large enough to fit a substantial amount of food in (that way we wouldn't have to keep refilling the platter throughout the game).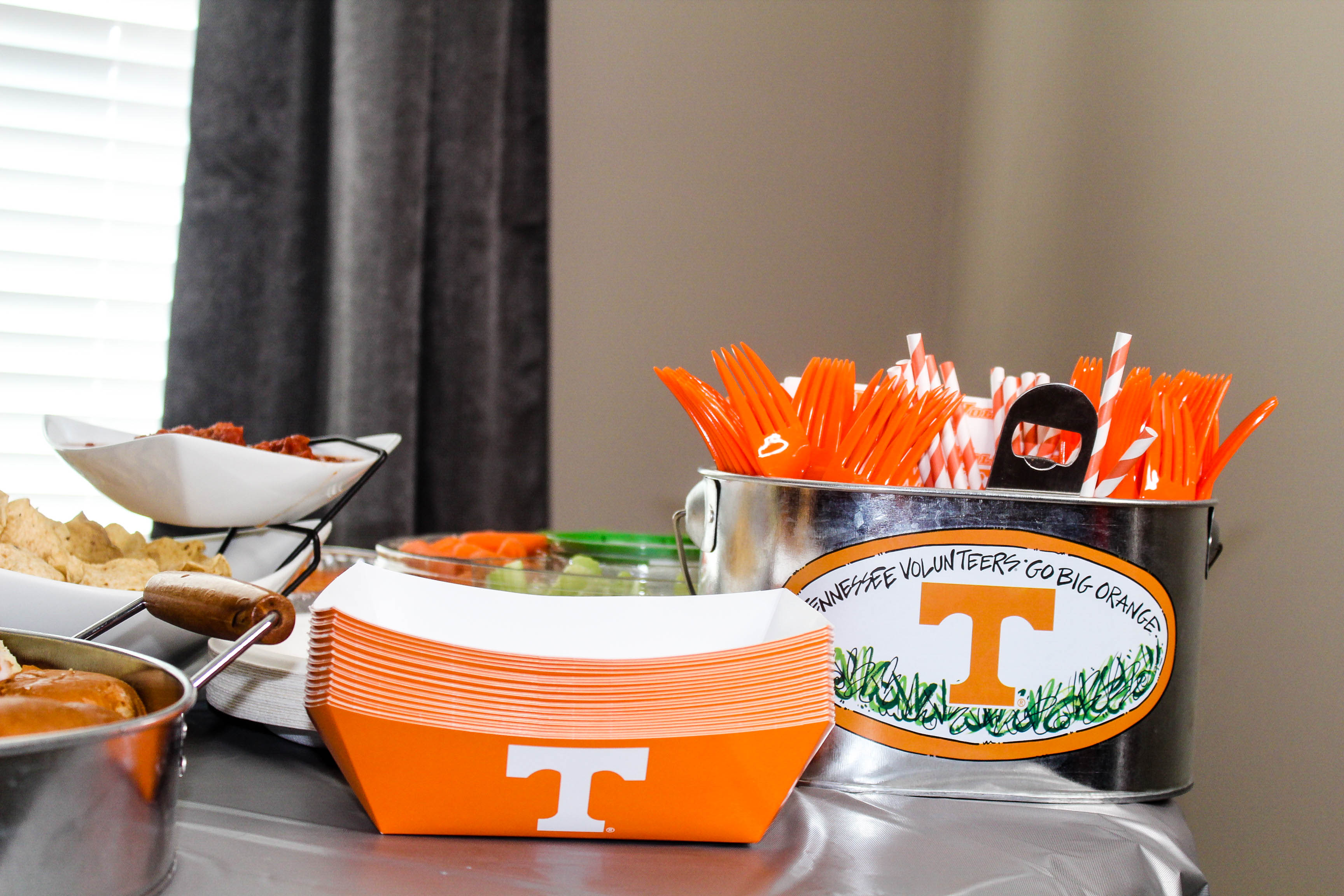 Okay, these little Power T boats are beyond perfect for tailgates or homegates. They are the perfect size for finger foods & they're just way more appealing than a plain paper plate. I'm also obsessed with our utensil organizer that is (again) great for tailgates or homegating. You can definitely mix it up differently than how we have it organized here, but we just added some plastic forks, cute straws (because let's be real, I'm a blogger so we have to add a touch of something trendy 😉 ), a bottle opener, & then added some orange and white napkins in the back slot.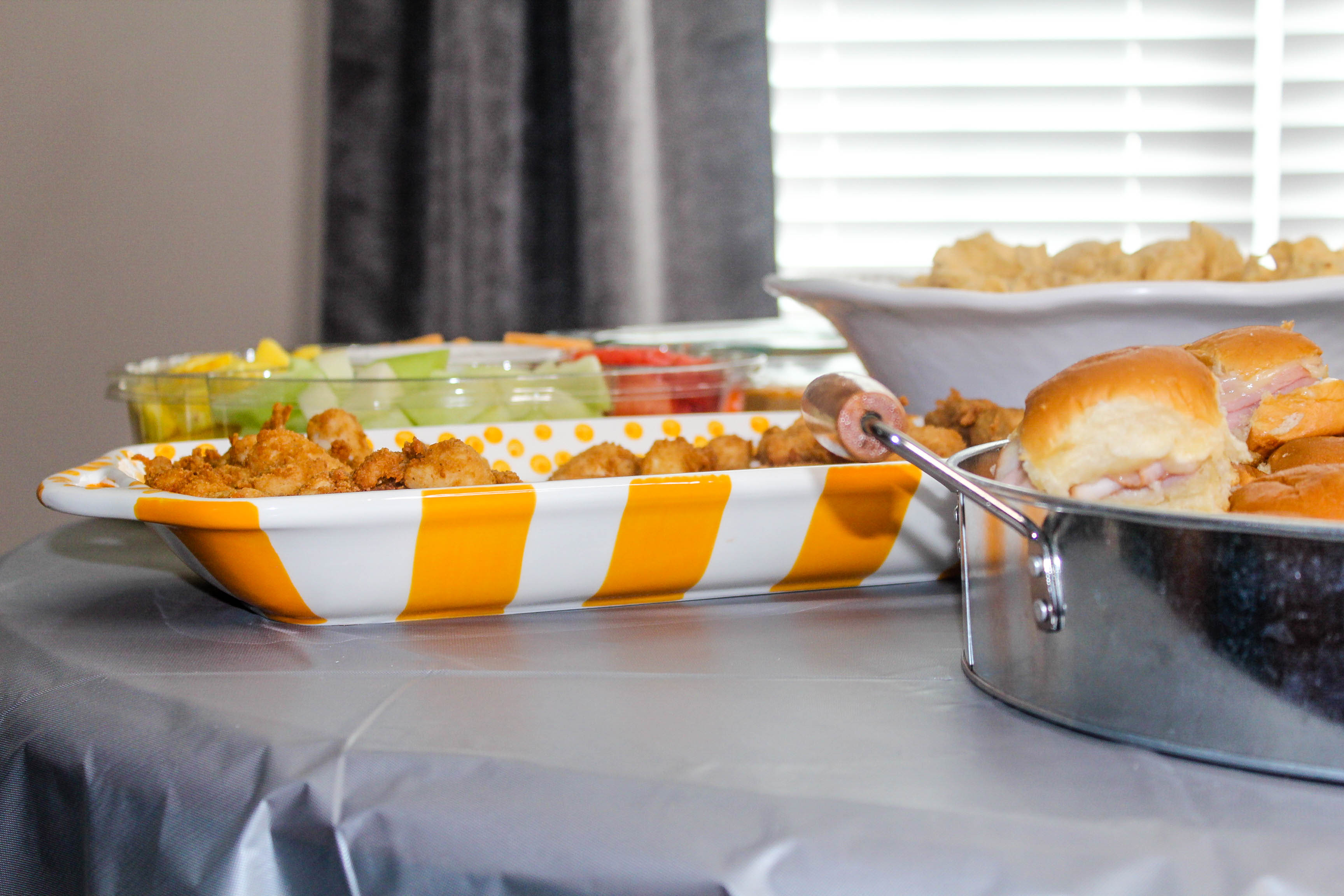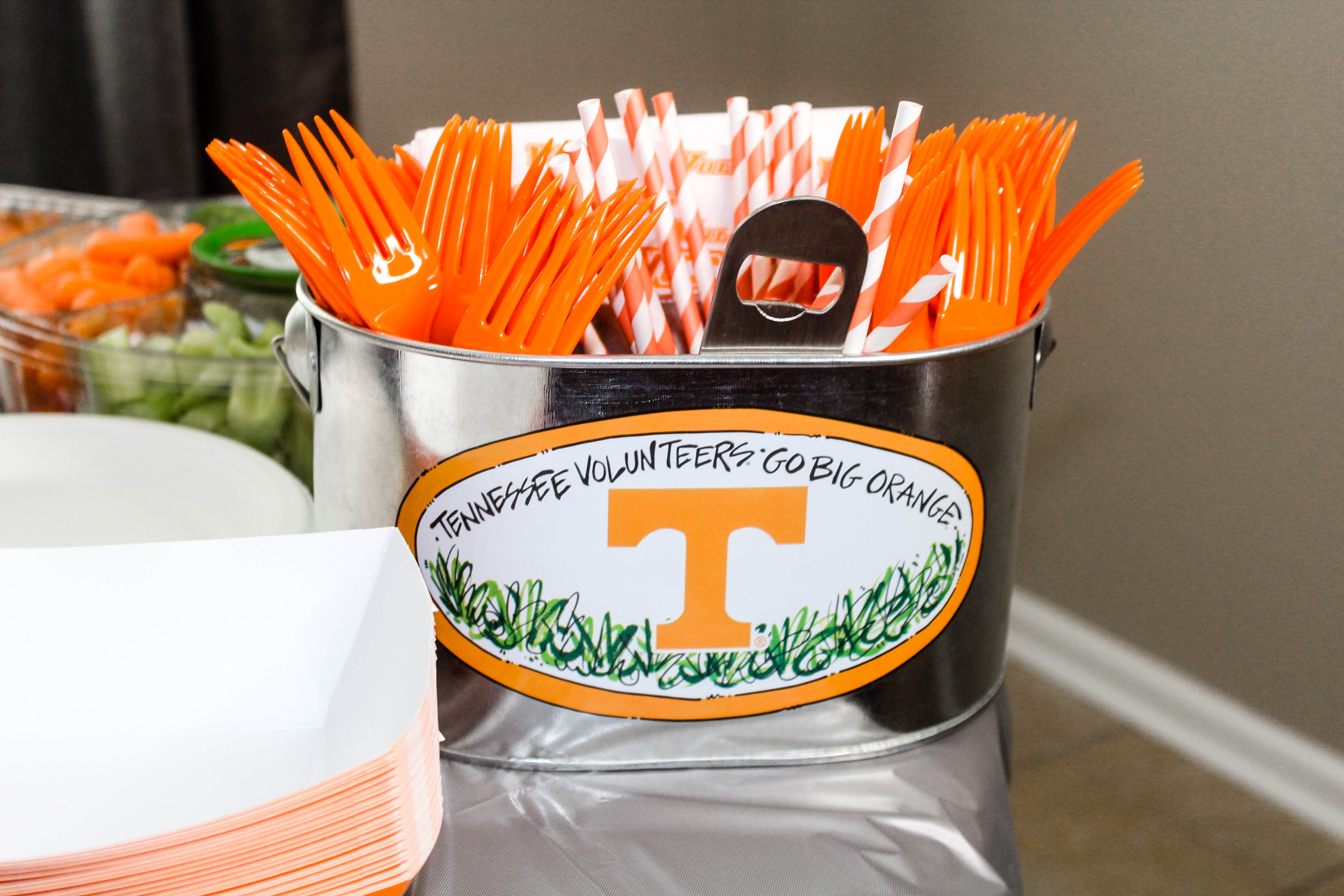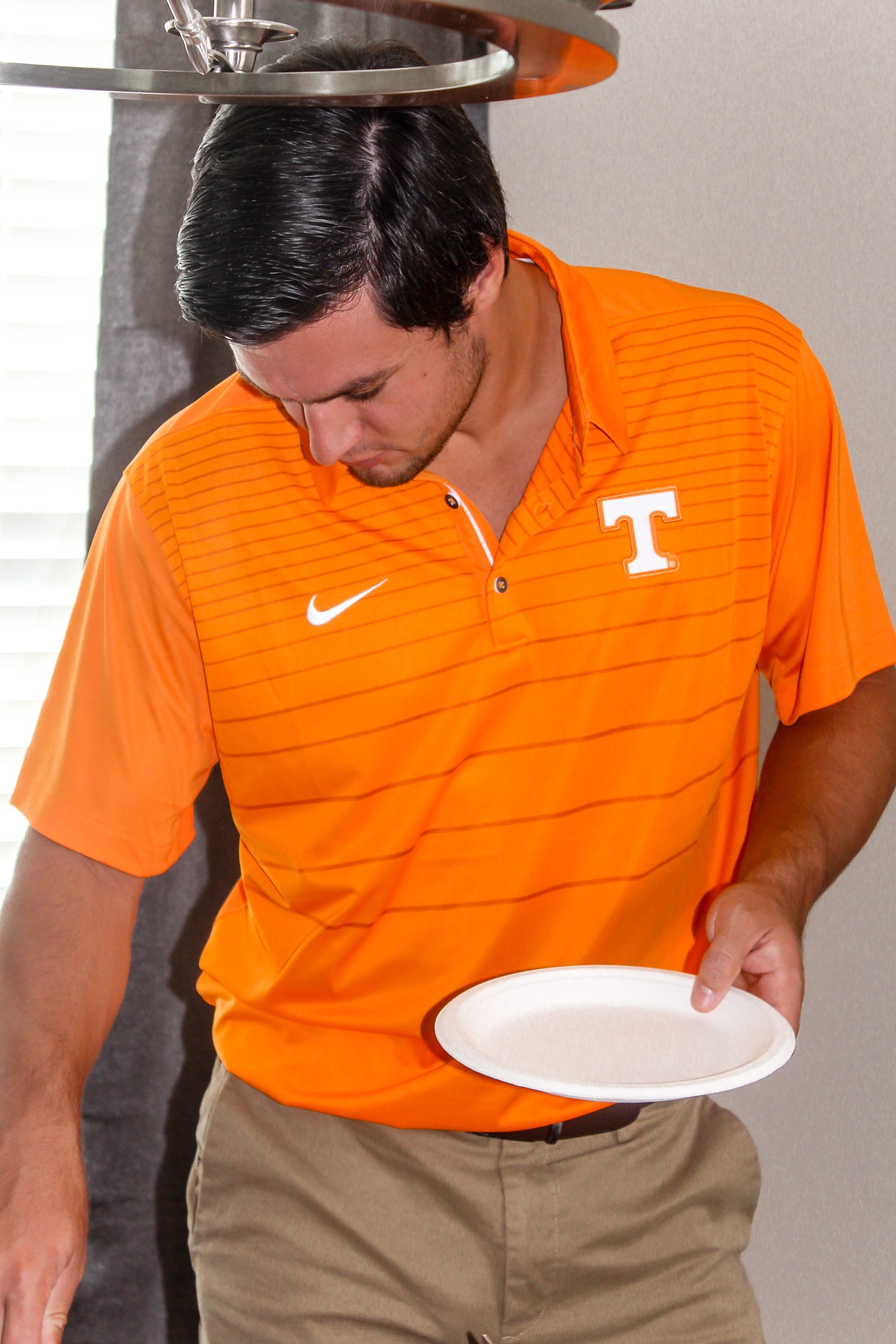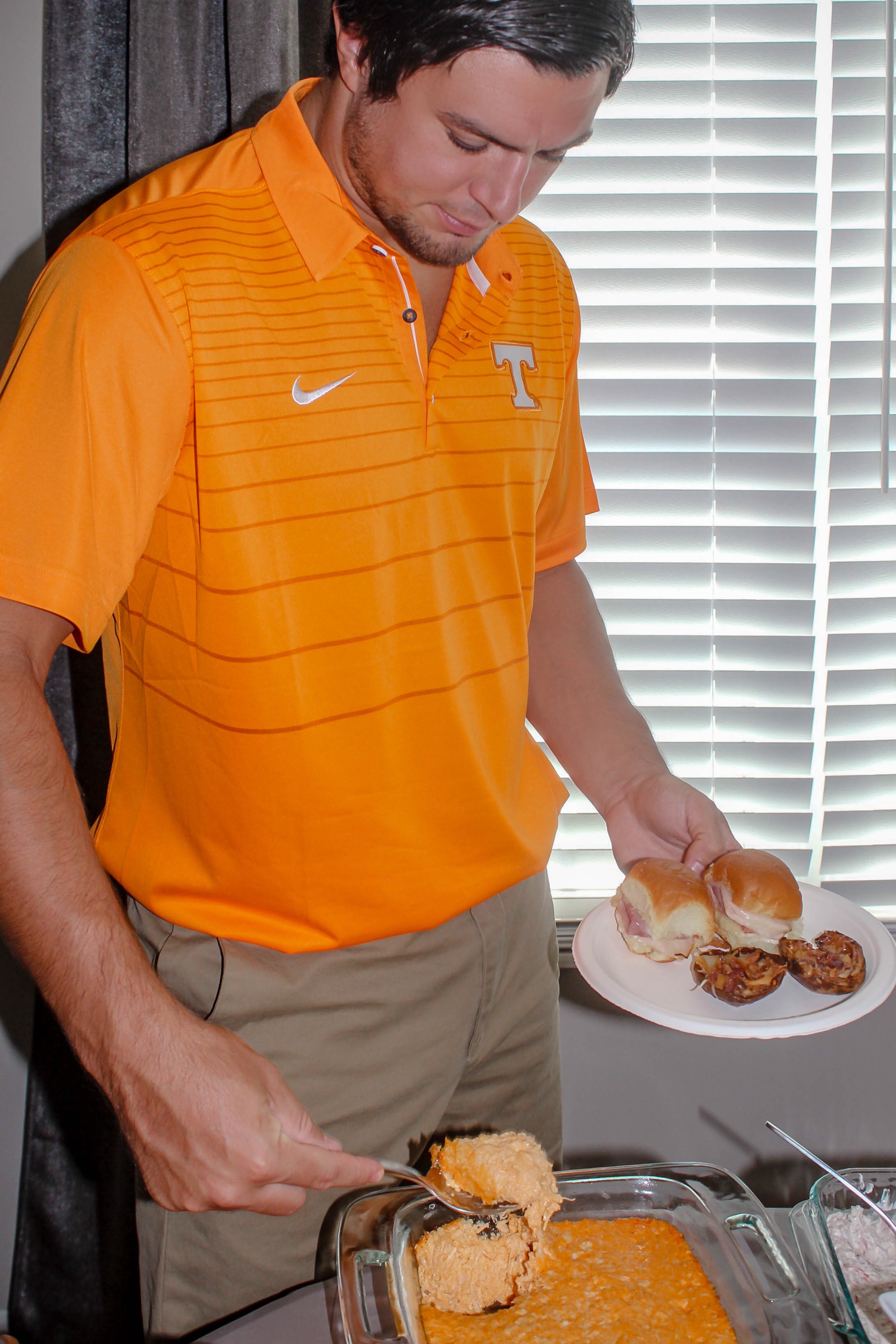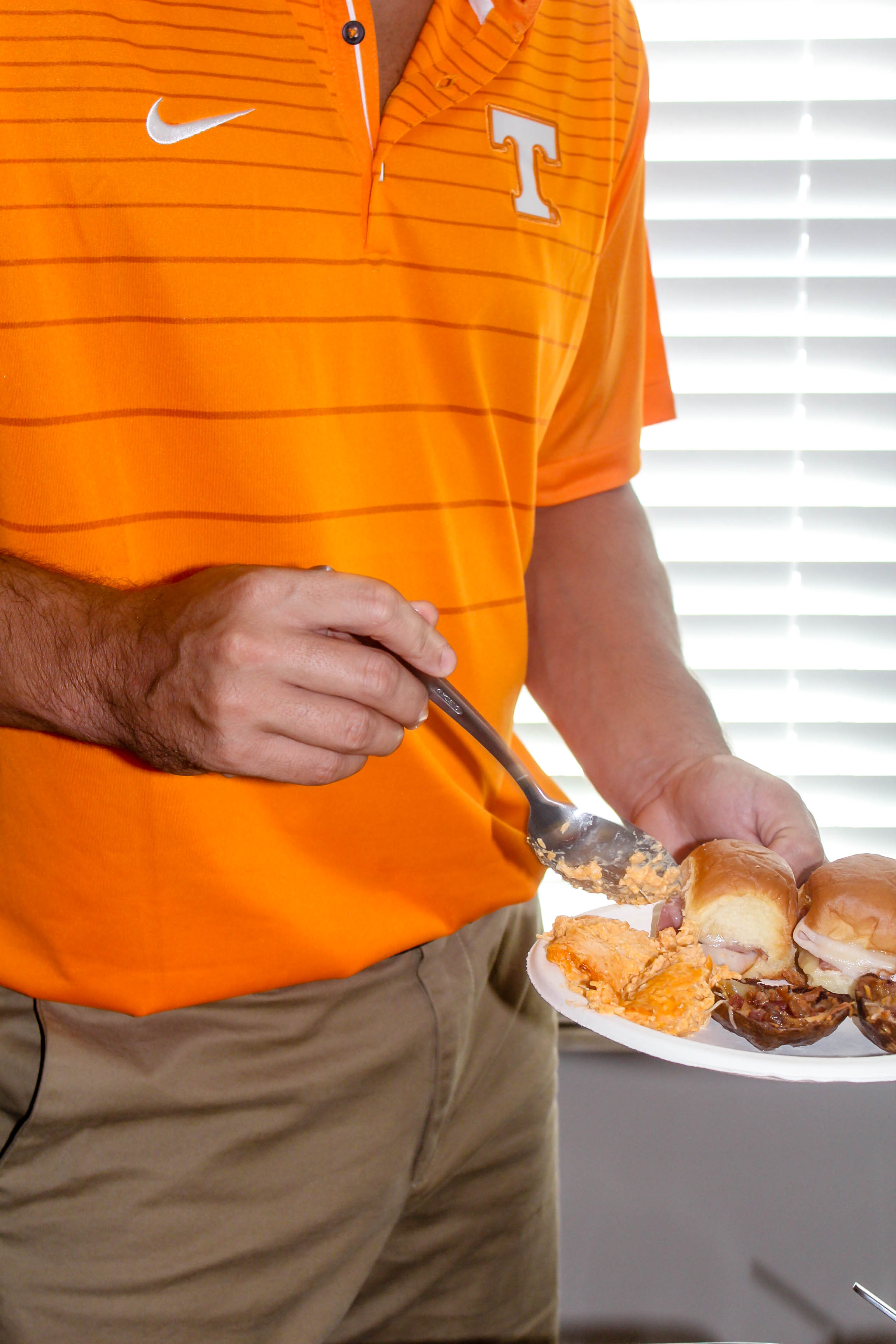 This would be my hubs filling up his plate — he had to get a larger one to hold all of his food because this guy has a pretty big appetite!! Thankfully, he has a fast metabolism to go with it LOL 🙂 But check out that sideline polo! TJ is literally OBSESSED with these shirts and loves wearing them on gameday, so ladies, if your hubs is like mine, definitely grab him one of these because he will absolutely love ya for it.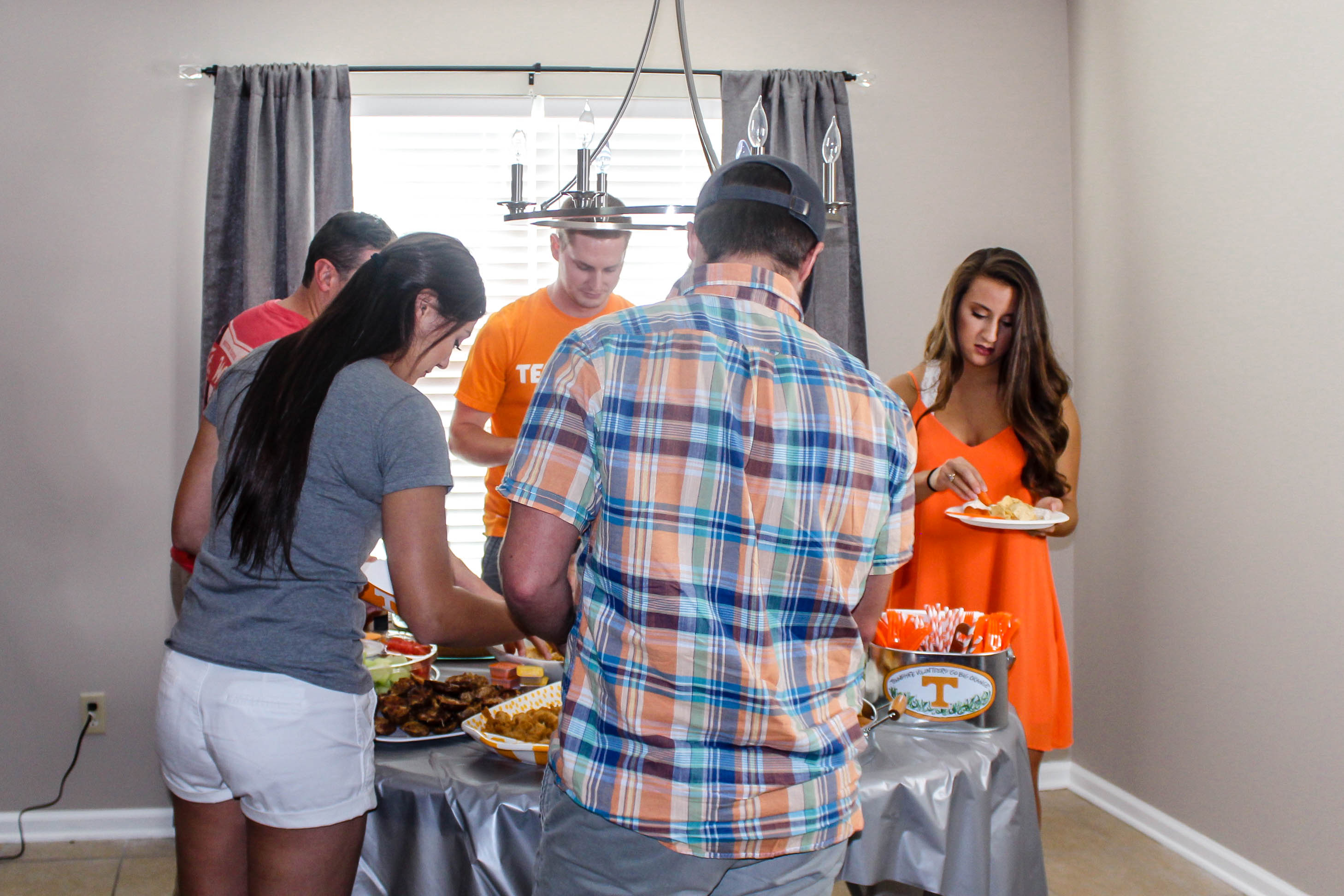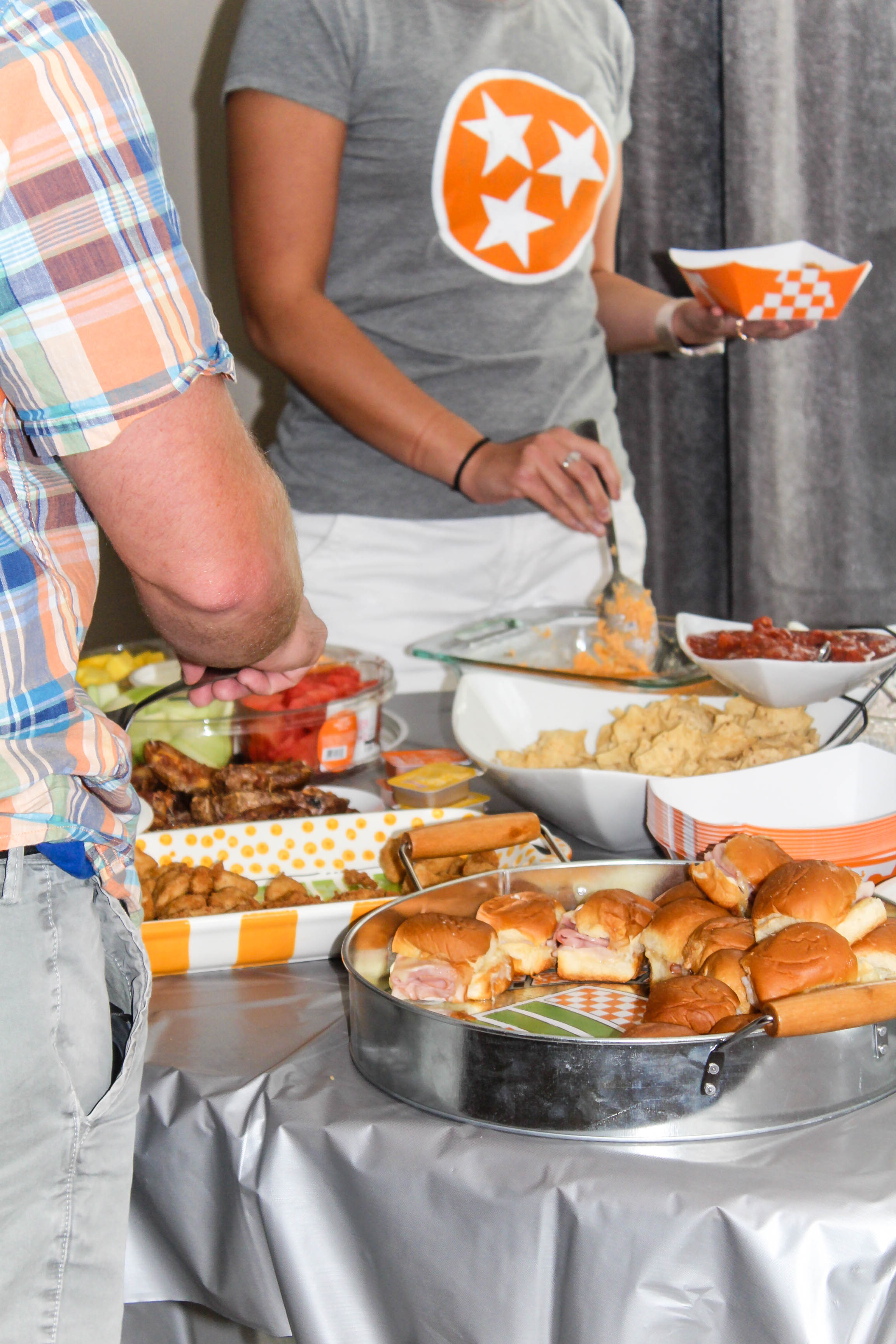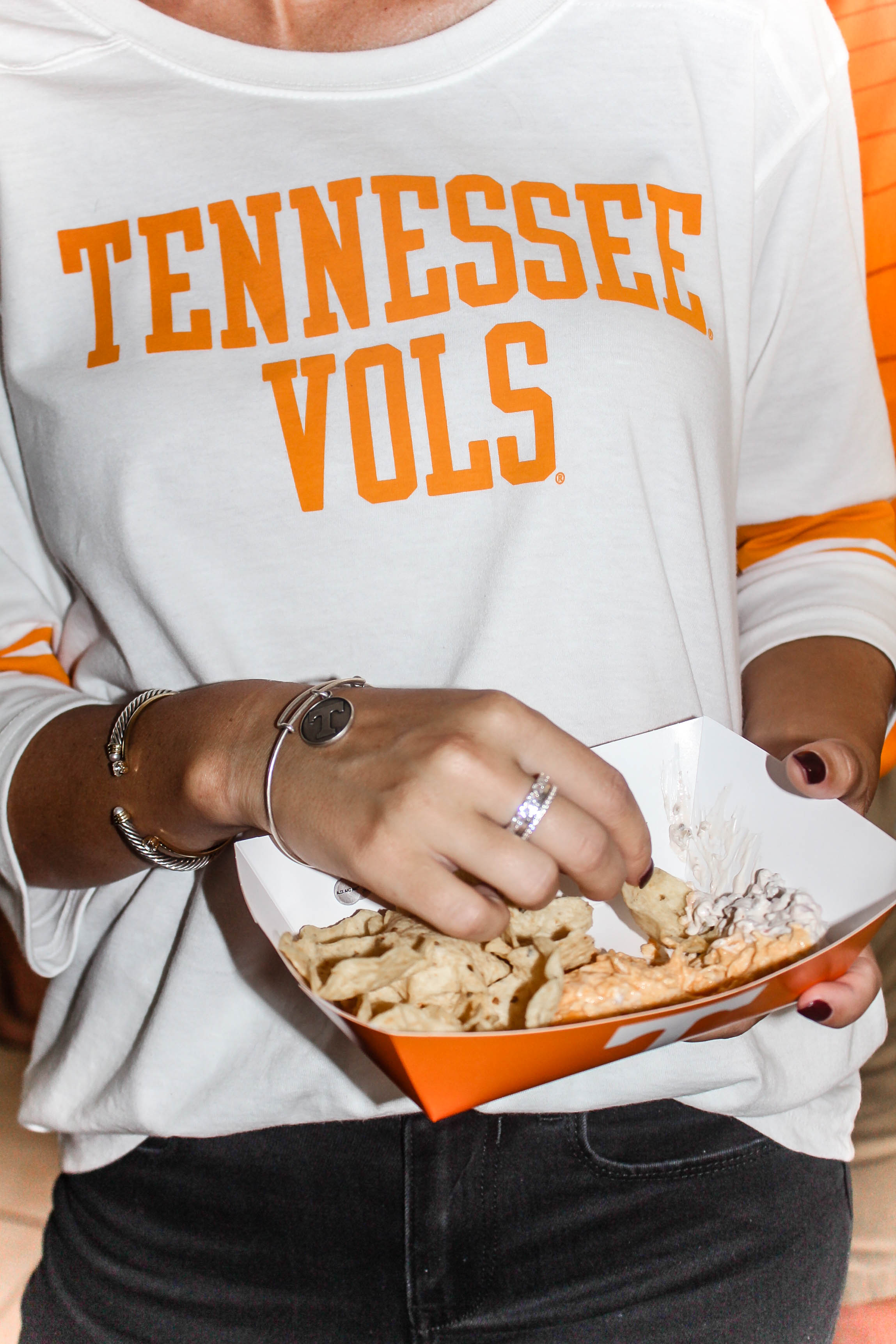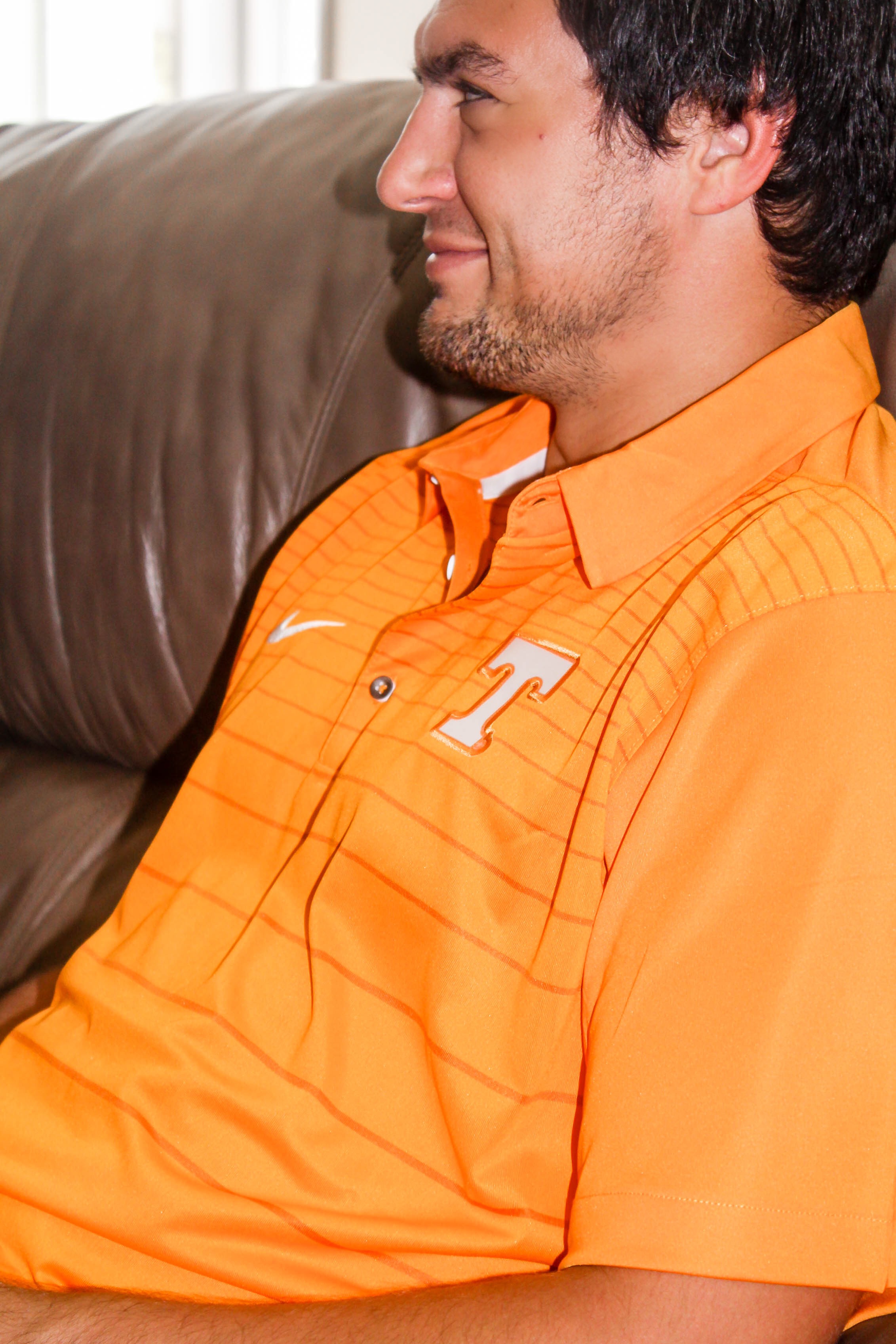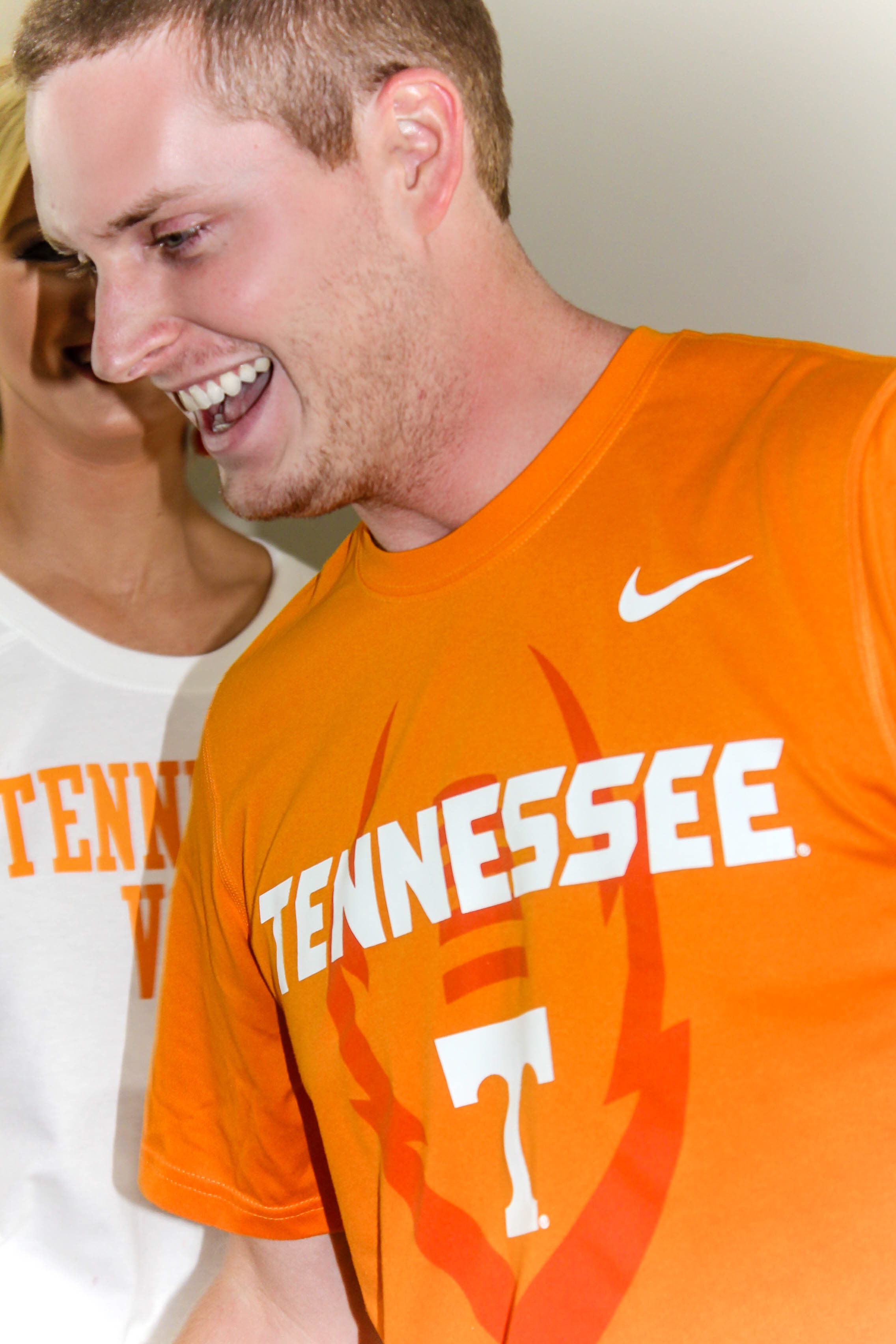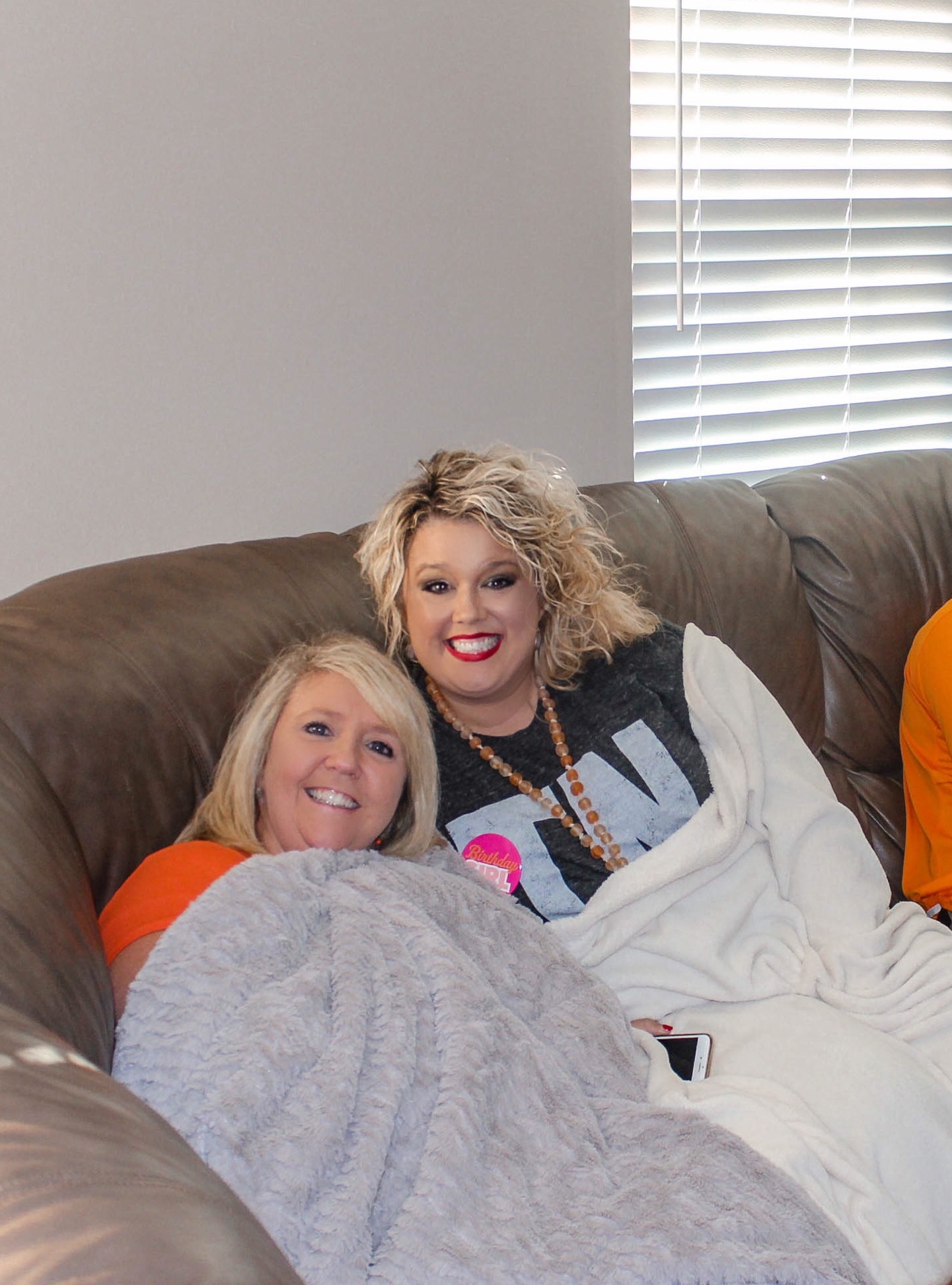 Happy birthday shoutout to my sister!! The game was on her 33rd birthday, so we got to celebrate her special day too during the partaaay!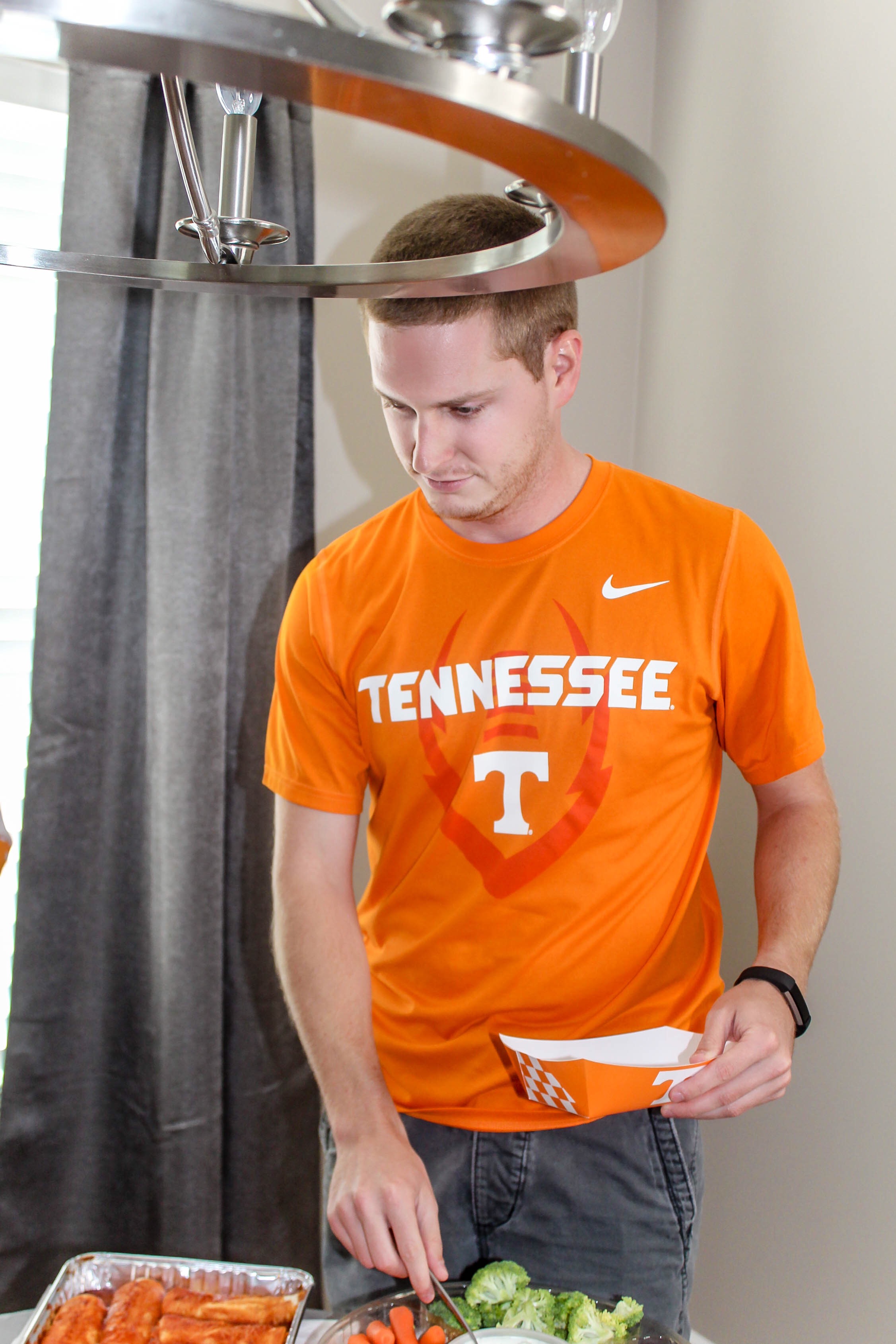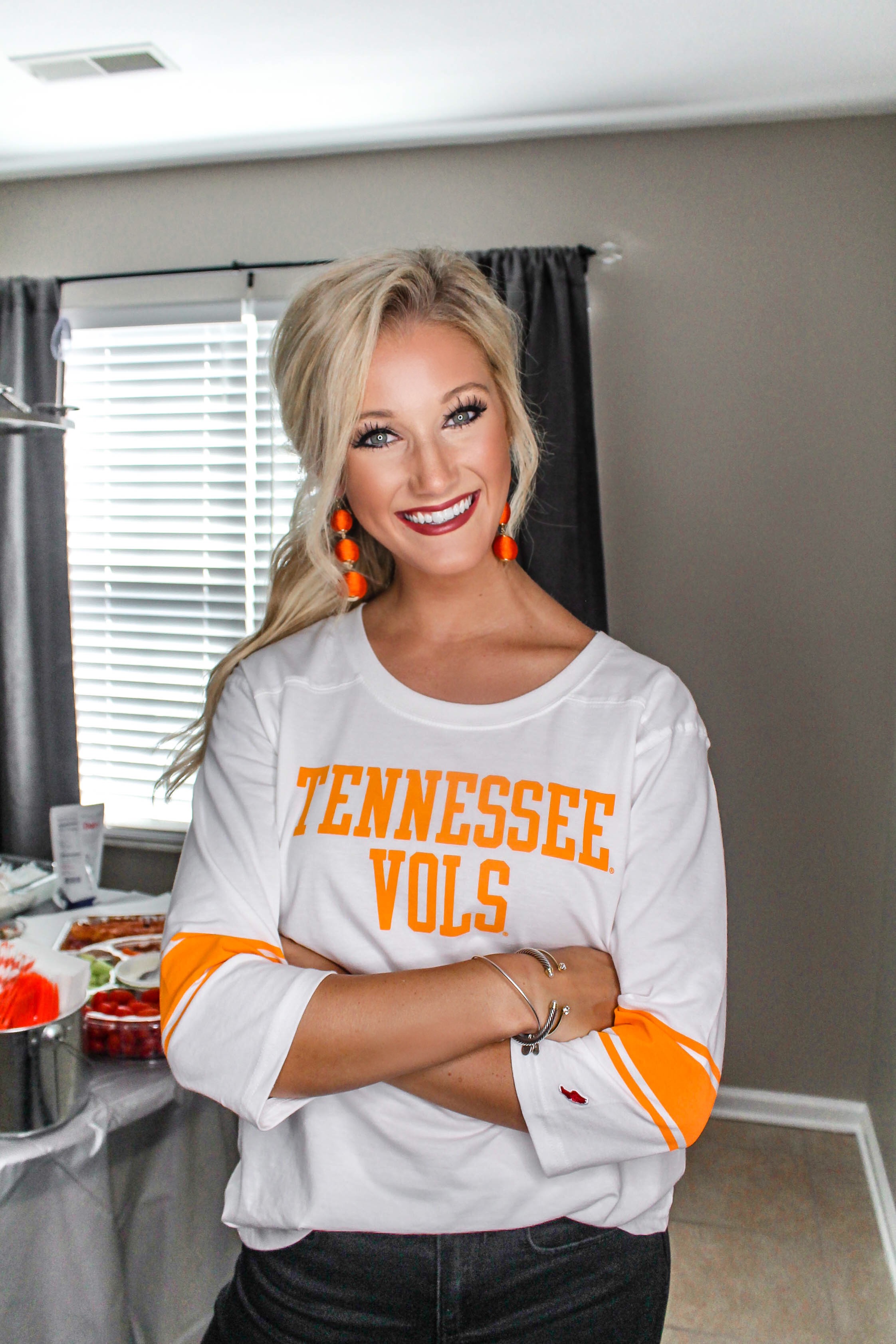 Okay, really quick, I just had to show off this cute graphic tee – you all know I'm a sucker for these. I love the stripes on the sleeves because it definitely adds a special vintage feature without being over the top. Casual and cute – perfect for an at-home tailgate! I'm wearing a medium for sizing reference.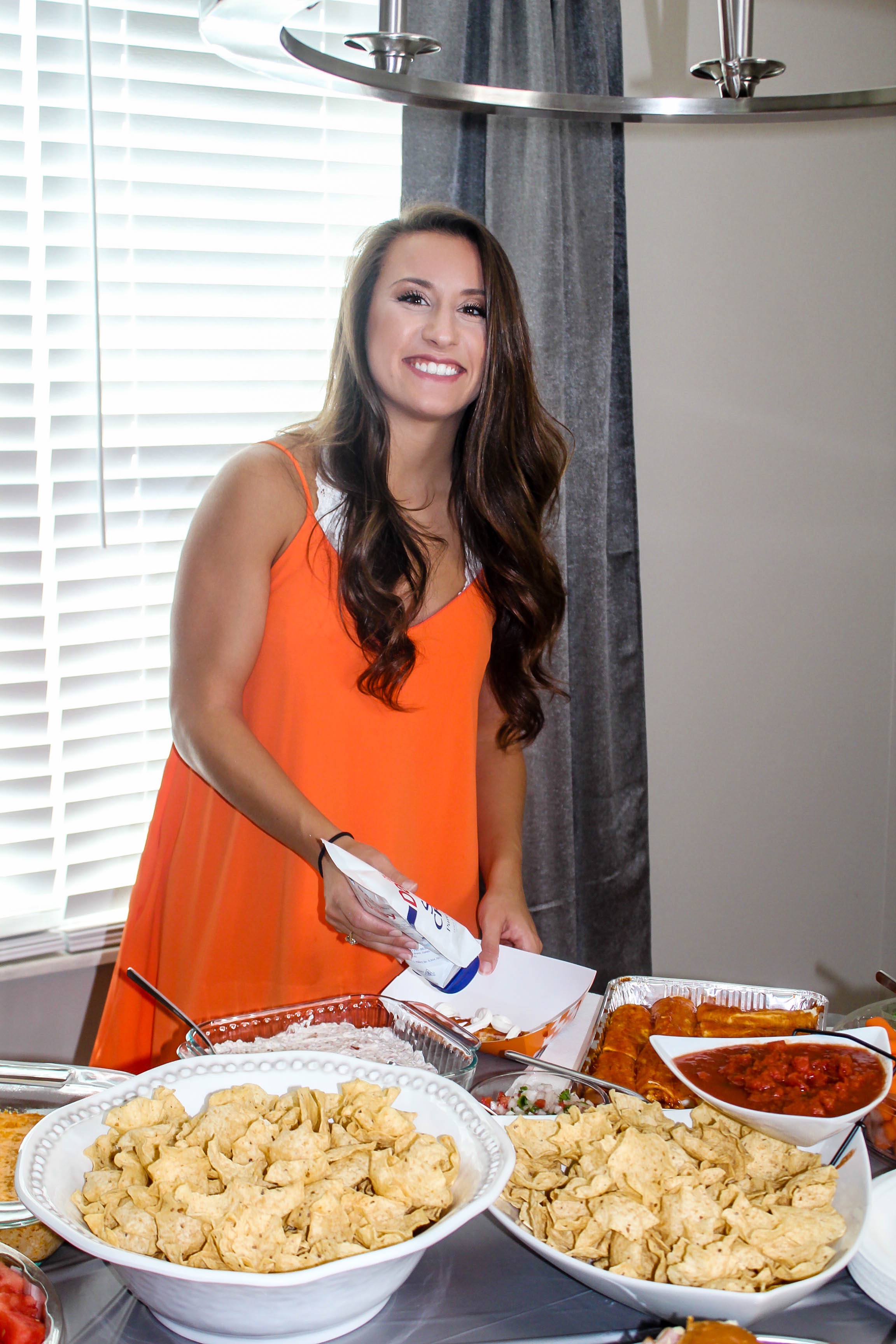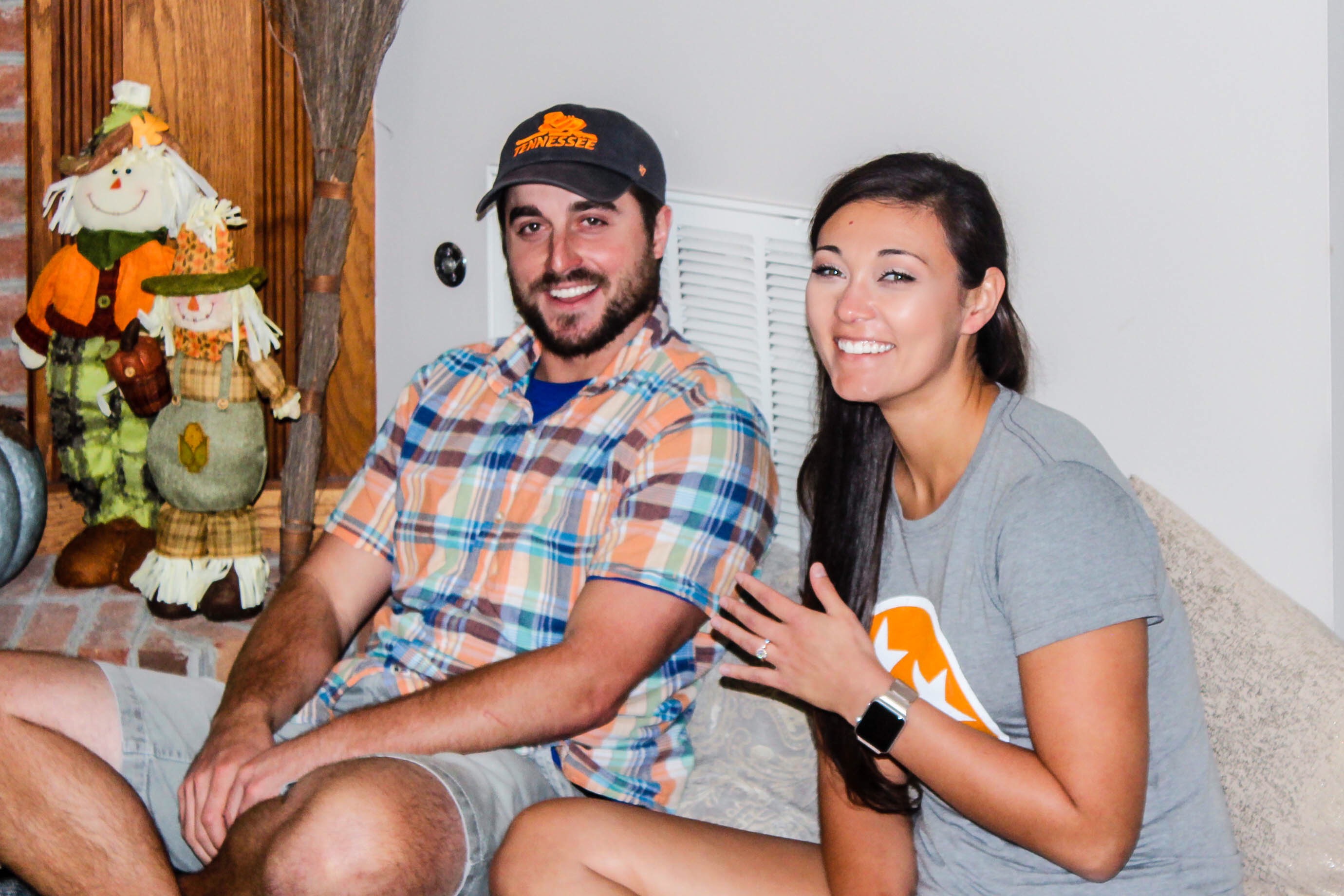 Surprise!! Two of our best friends got engaged on Saturday before the game, so we also got to celebrate their engagement! And that rock is stunningggg, y'all.
Even though we didn't come away with a win, we all had so much fun together celebrating birthdays (TJ's was also last week!), engagements & our love for the Vols.
In my book, I'm always up for any excuse to get a group of friends together for some food, laughs & lots of fun. Homegating is the perfect way to get all of your girls or your buddies together for some special, yet really laid back bonding time. We do this for almost every single away game of the football season, and I couldn't recommend it more to y'all for you to try.
The Vols have a few home games coming up and then some away games after there – the next one being Alabama – so start planning your homegating party today & be sure to tag me in your pics so I can see your ideas come to life!
To shop this post & all of my gameday platters, click on the links below:
Tennessee Vols striped sleeve tee | men's sideline orange polo | orange and white striped serving platter | silver Neyland Stadium tray (so obsessed with this!) | utensil organizer | orange Power T paper boats
xo, P
*Thank you to @vol_gear for sponsoring today's post!