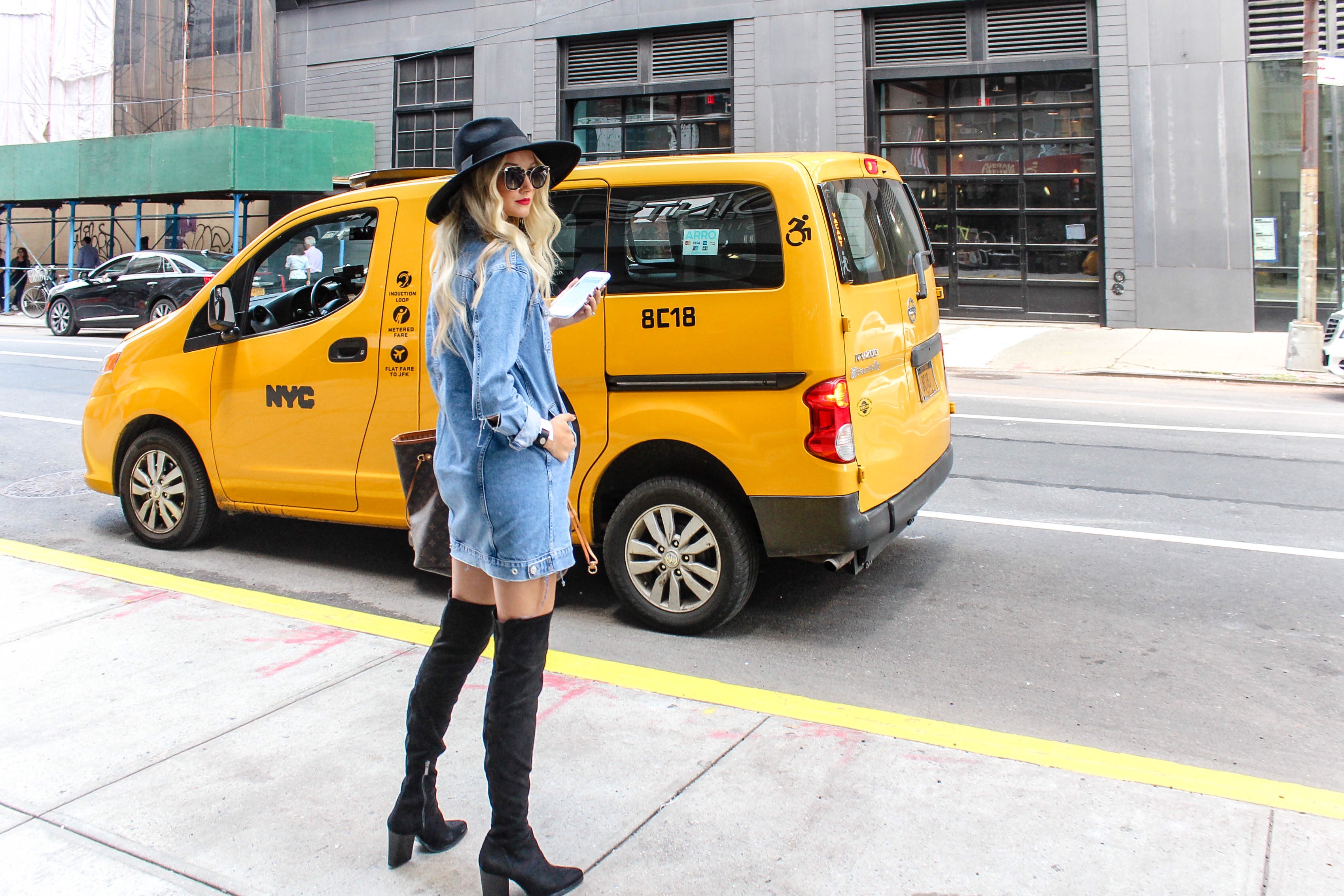 Helllllloooo, New York!!
"Year after year, 20-something women come to New York in search of the two "L's": Labels & Love … The women of NY leave the past behind & look forward to the future … This is known as fashion week."

-Carrie Bradshaw
As a fashion-loving girl growing up, I always DREAMED of going to New York Fashion Week. Of course, you can say 'awww, she finally made it!' all you want, but the honest truth is that no one in the industry really cares if that's been your lifelong dream — especially the people behind the brands of these immaculate fashion shows. Okay, so maybe there's a couple who actually 'care', but the truth is … no one in this industry has the time to care about other people's dreams. Everyone is busy with making their own dreams come true. And that was something I learned over the course of my first NYFW experience. But I totally get it!
I, of course, would never babble on to a brand about this kind of stuff, but since y'all seem to be more interested in my life and my own 'dreams', I want to let y'all in on a little secret! So, when I first started blogging back in October of 2016 (almost a year ago), I told my family that if I ever made it to fashion week as a blogger / influencer, I will have felt accomplished and satisfied with my job as a blogger … well shoot, I honestly thought that would happen like 10 years from now … not 1 year after I started my blog!! But hey, I can't complain – AT ALL. And somehow (with God's blessing & lots of hard work), I finally made a dream come true of attending fashion week in New York — attending presentations, fashion shows, & events. *pinch me* because I honestly still can't believe it all happened …
Anywho, I wanted to show y'all more into my first New York Fashion Week experience tonight and quickly recap all the major events and shows I attended while I was there, as well as, my thought process along the way. I hope you enjoy it!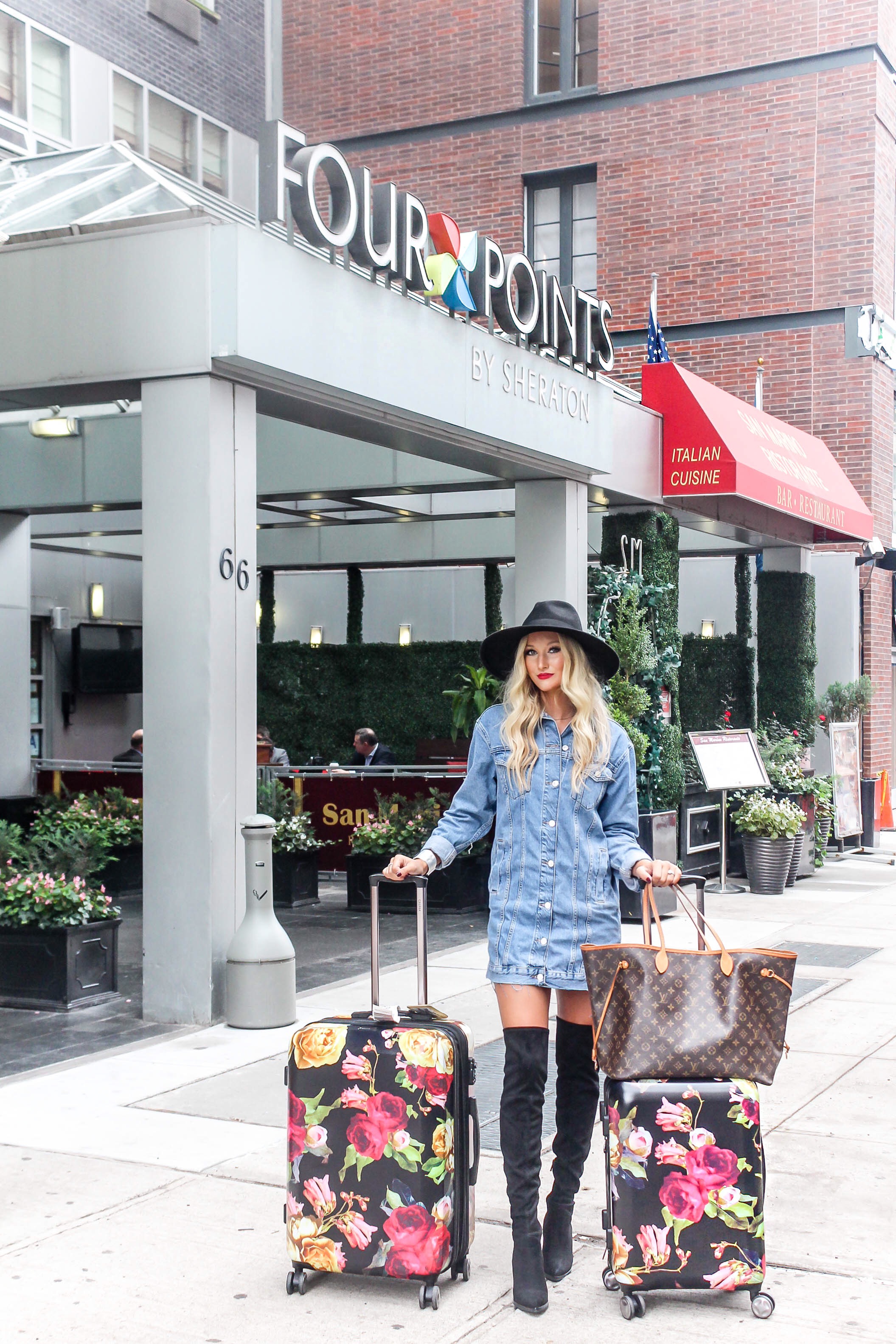 Thankfully, I was able to partner up with Four Points Soho Village by Sheraton for the duration of my stay in New York City. Honestly, I couldn't have picked a better location for my time in the city. This amazing hotel in Lower Manhattan was located about 5-10 minutes from each of the venues that I needed to be at for shows and events. My farthest Uber ride was about 12 minutes and that was with NYC traffic.
Upon arrival, they greeted me with a box of chocolates (they must've known me well!) and a beautiful fruit tray with an assortment of melons. They were so nice and accommodating throughout our entire stay!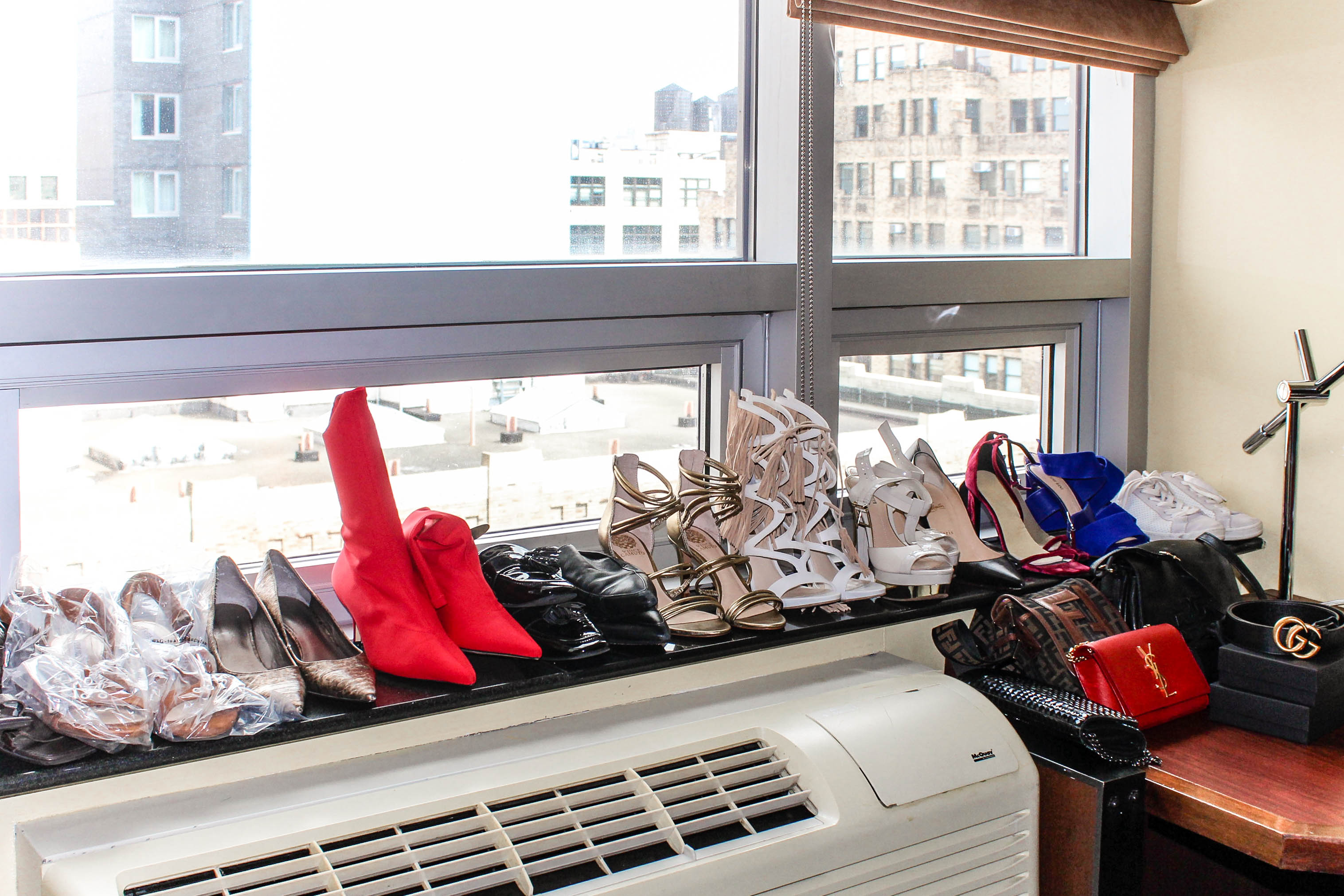 And I must say that the window in our room not only gave us a fab view but also made for the perfect shoe shelf. 😉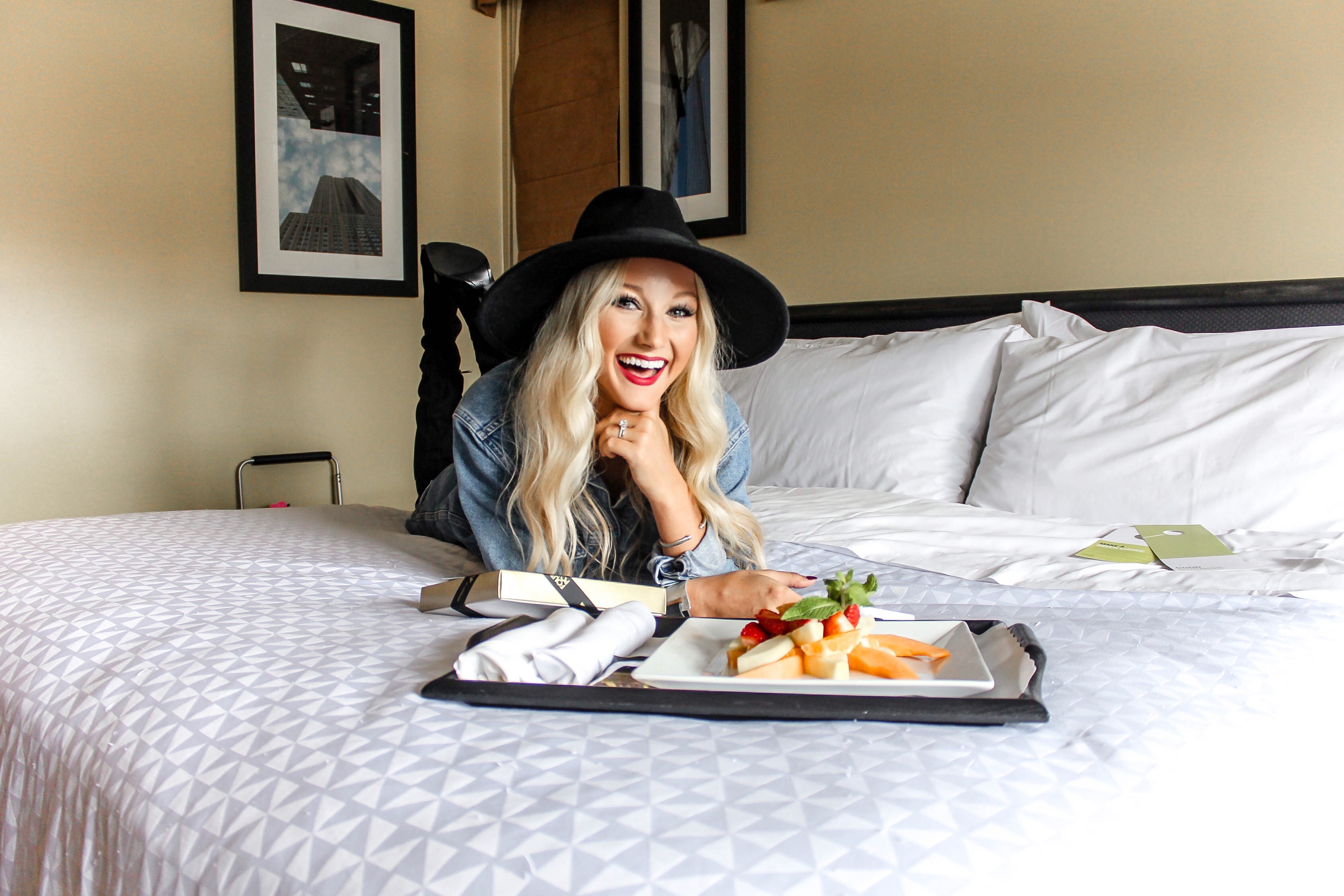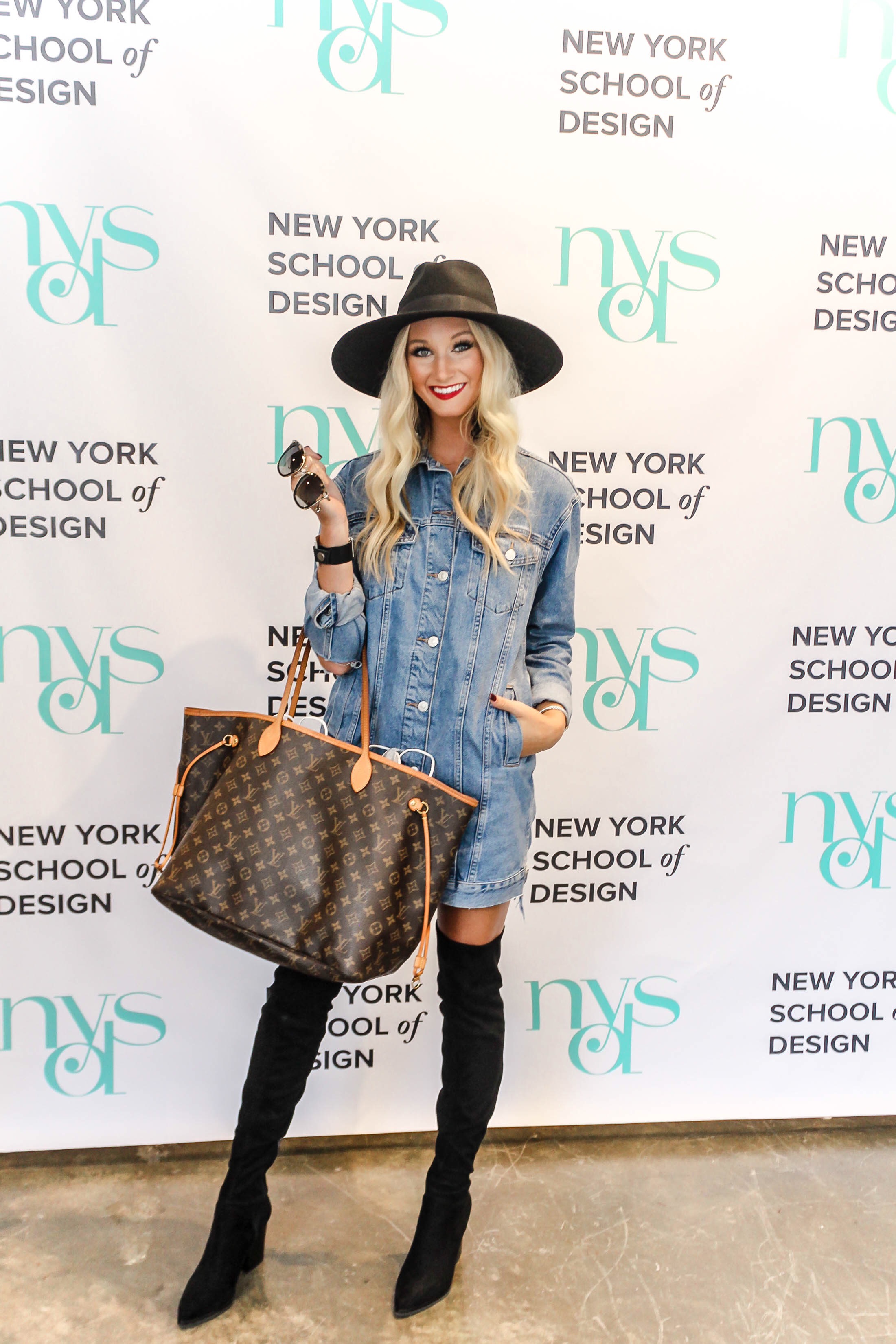 My first stop during NYFW was at the New York School of Design Presentation where new and upcoming designers were able to showcase their designs. (I will be showcasing my full look from this event in an upcoming blog post so stay tuned.)
My favorite collection of the entire presentation is shown below: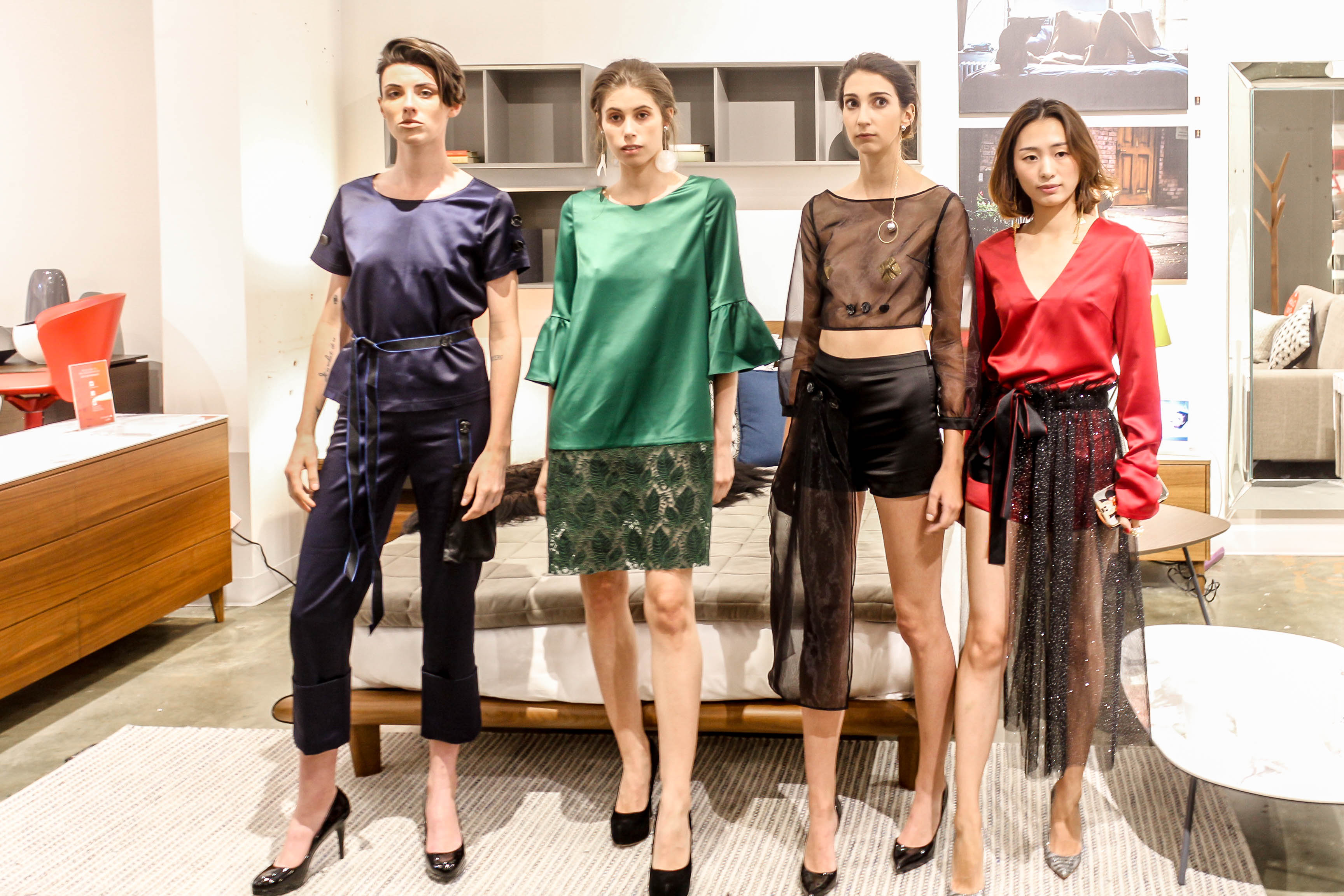 Gimme alllll the jewel tones + the tulle.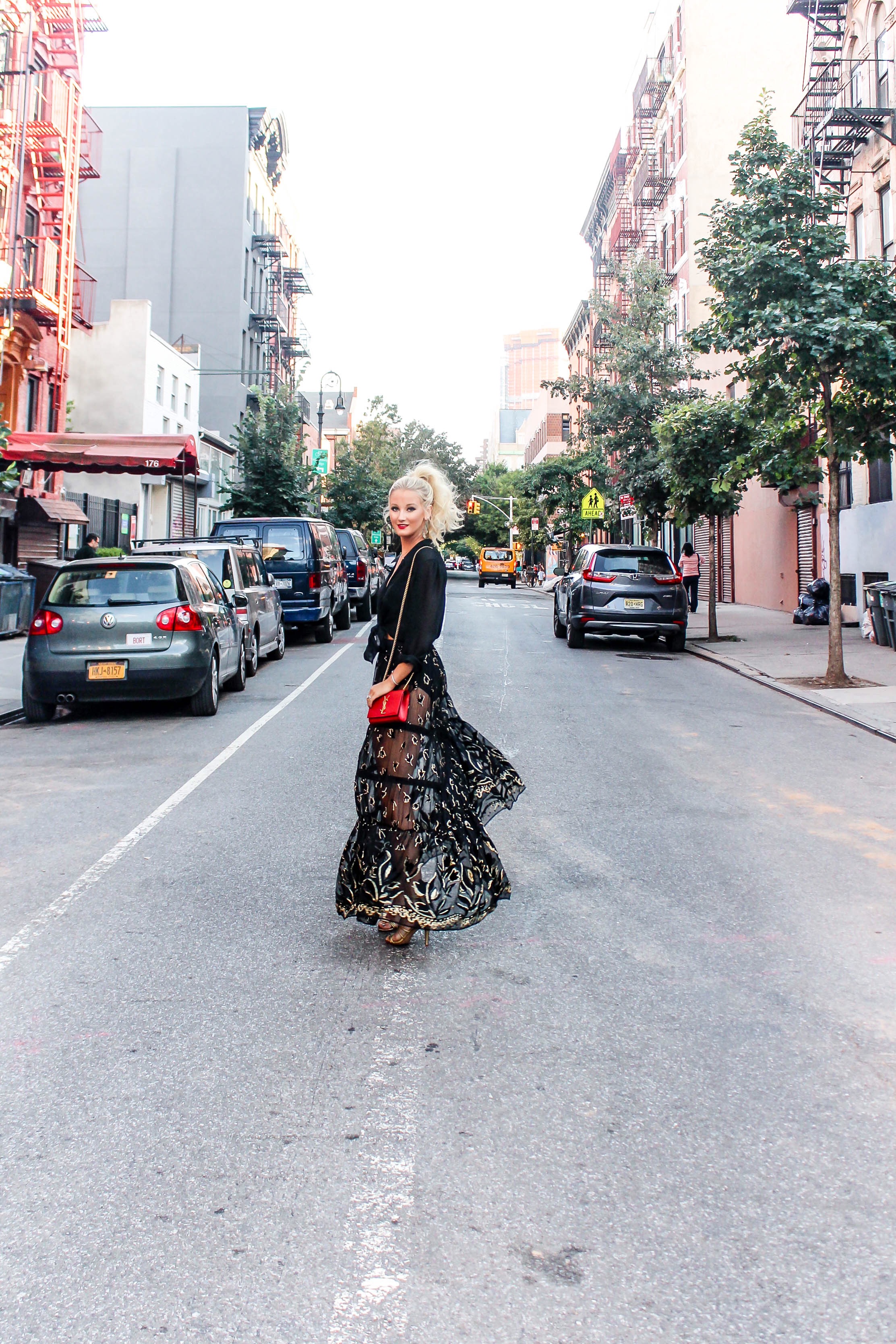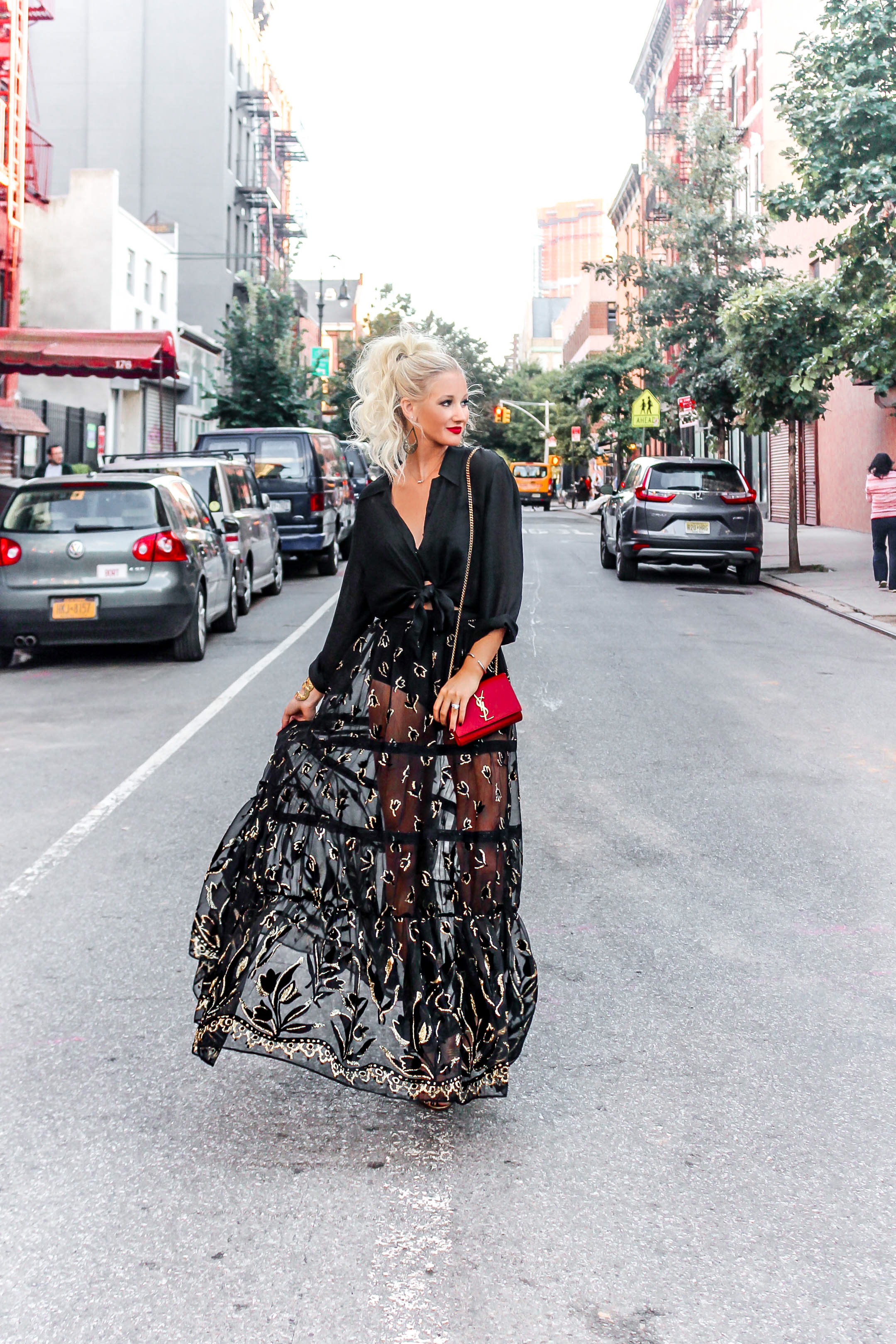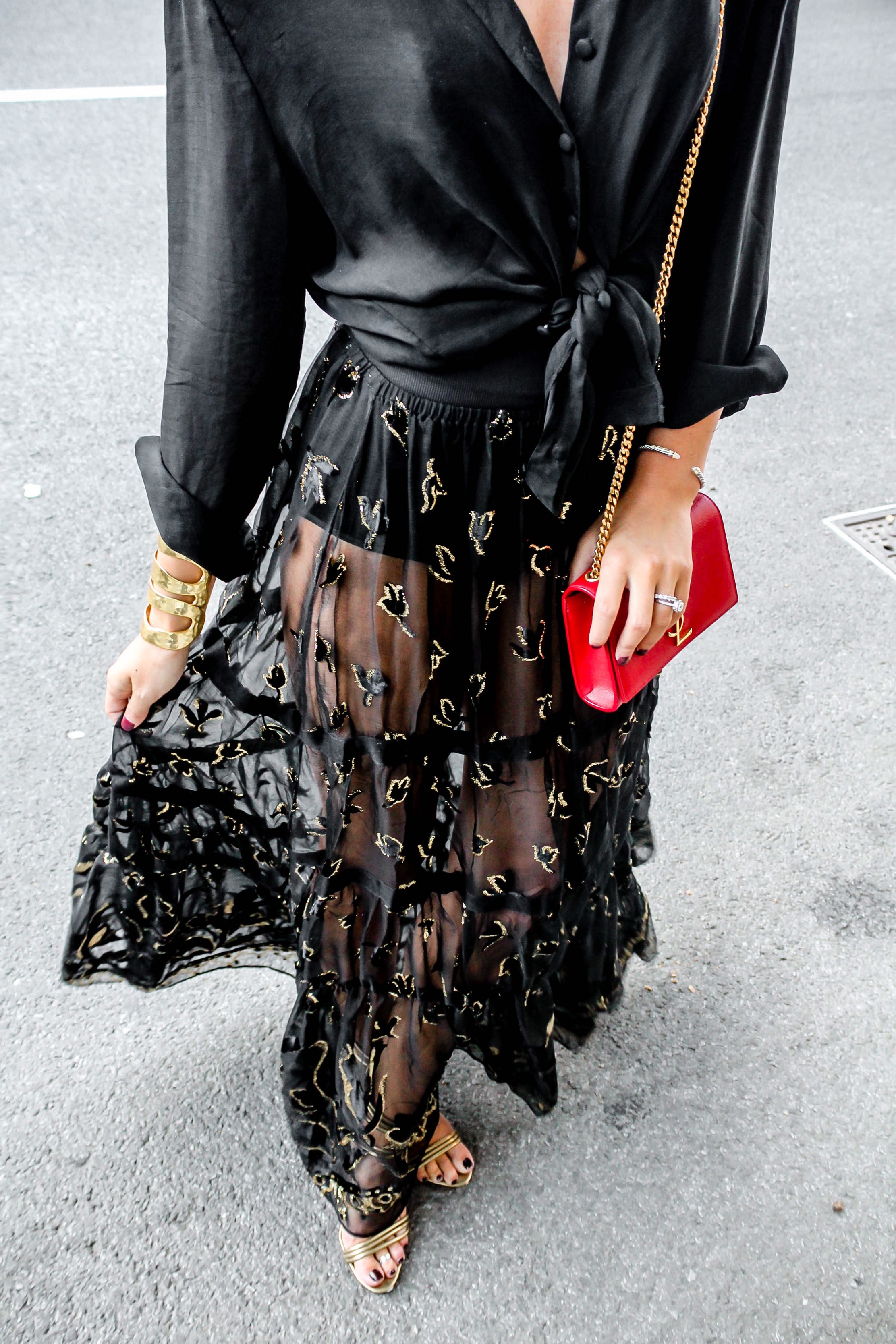 For my first night of NYFW, I attended the Art Hearts Fashion Shows, where there were multiple rising designers showcasing their newest collections (talk about some major creativity!!) aaaand this is where I got to experience my first ever front row seating at a fashion show – night made! See more of my look from this night in THIS POST.
PS .. the venue where this event was held is the same place that Girl With No Job got married at this past weekend — I don't know if y'all follow her but like, you should because she is absolutely hilarious and literally makes me laugh everyday on IG stories LOL.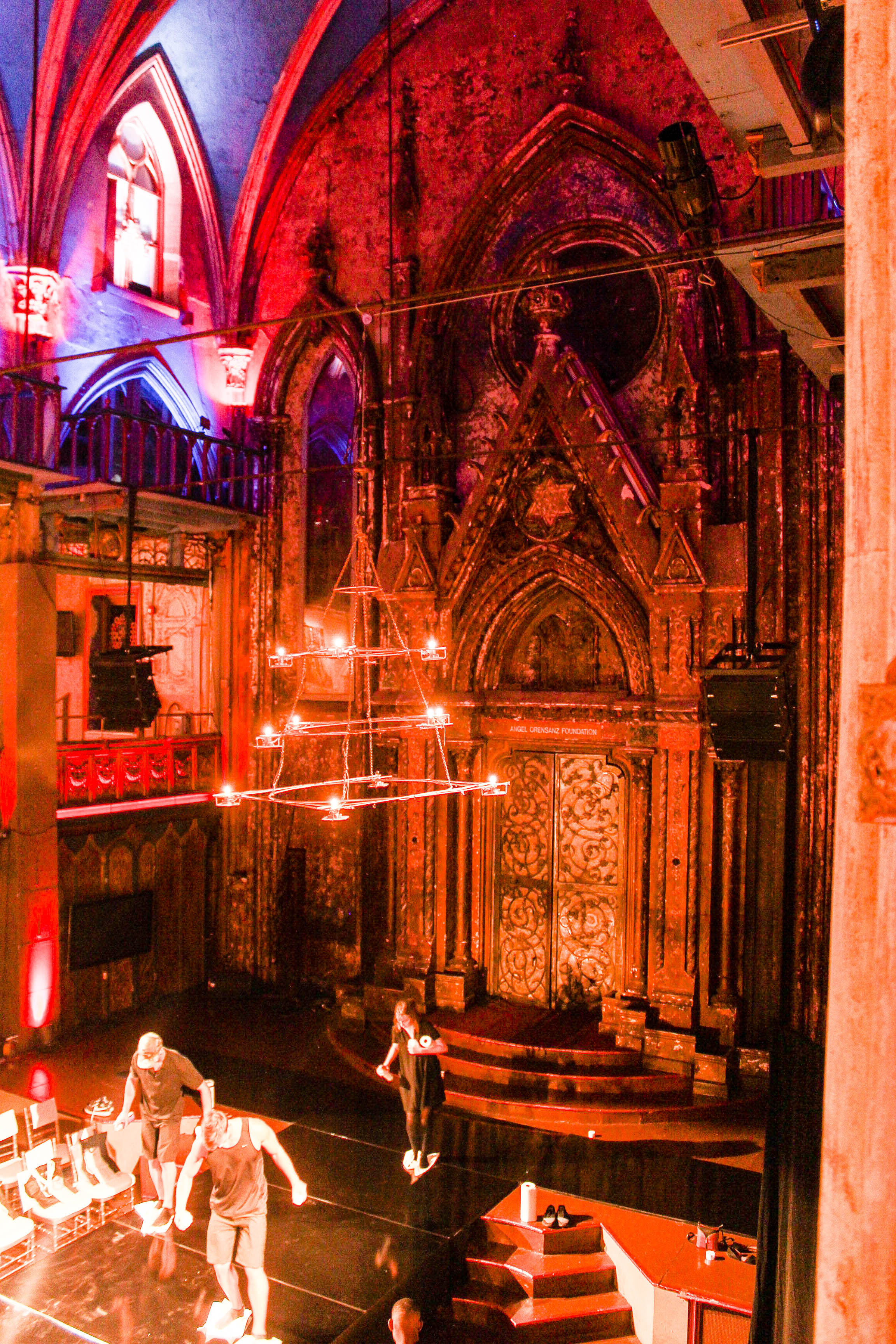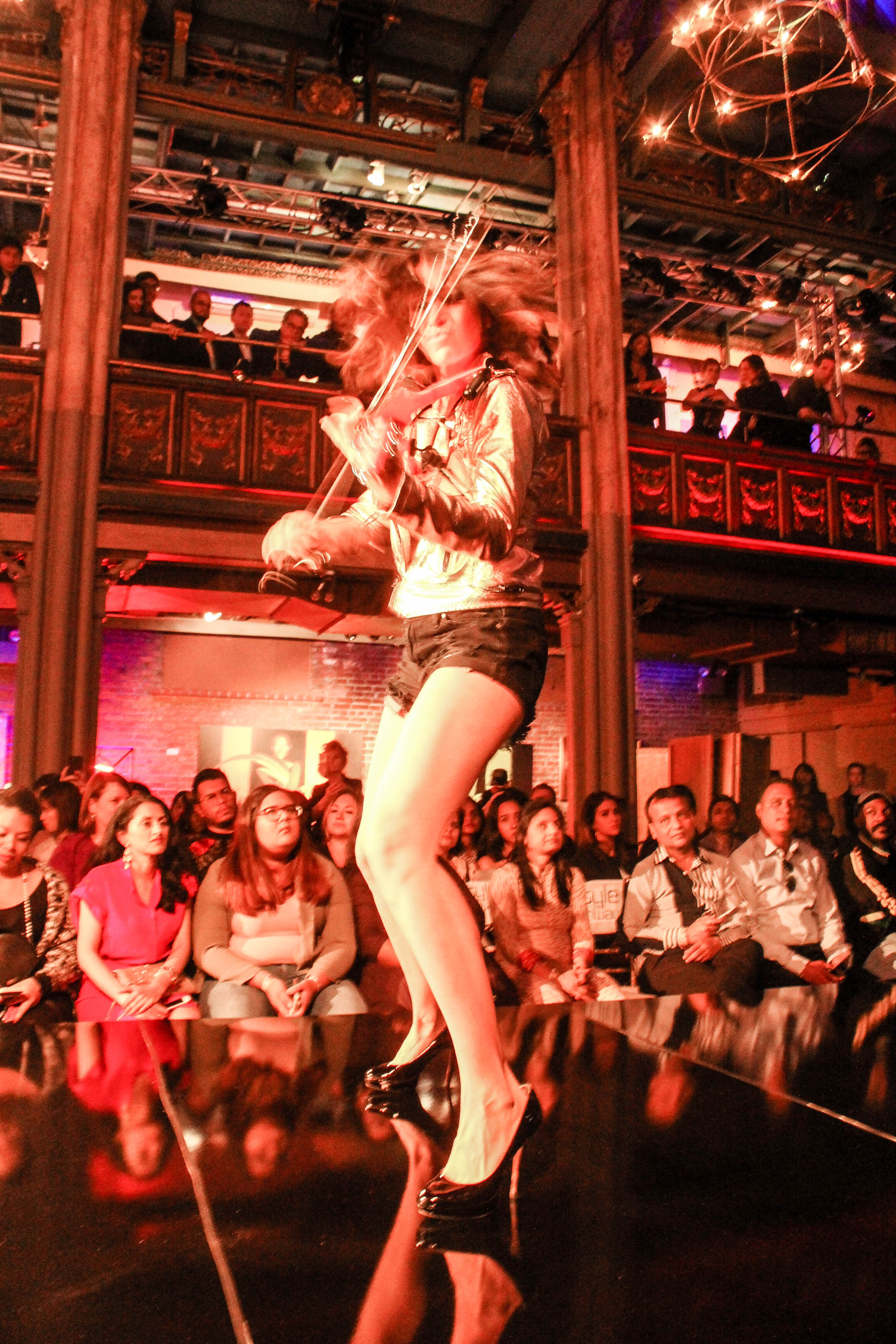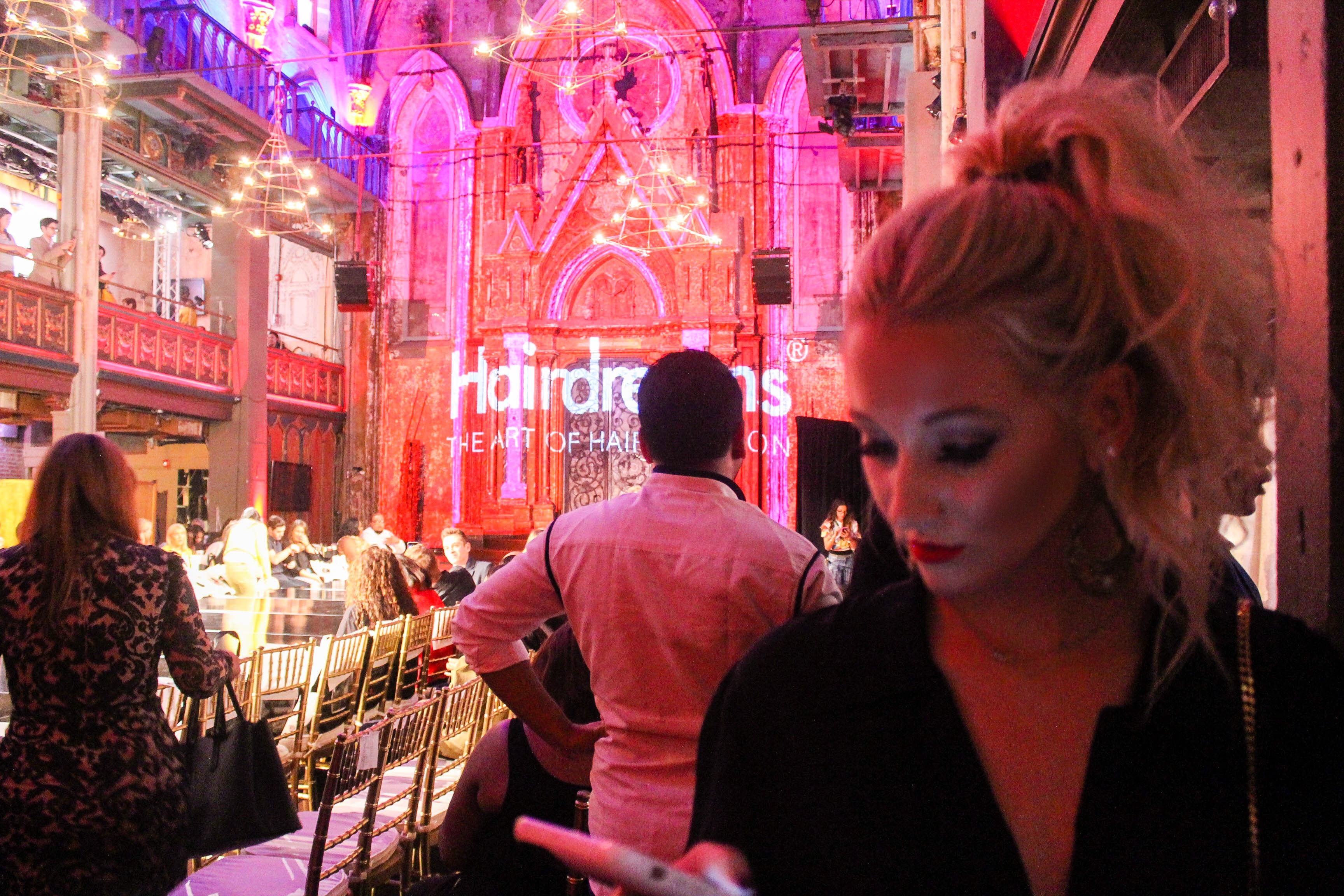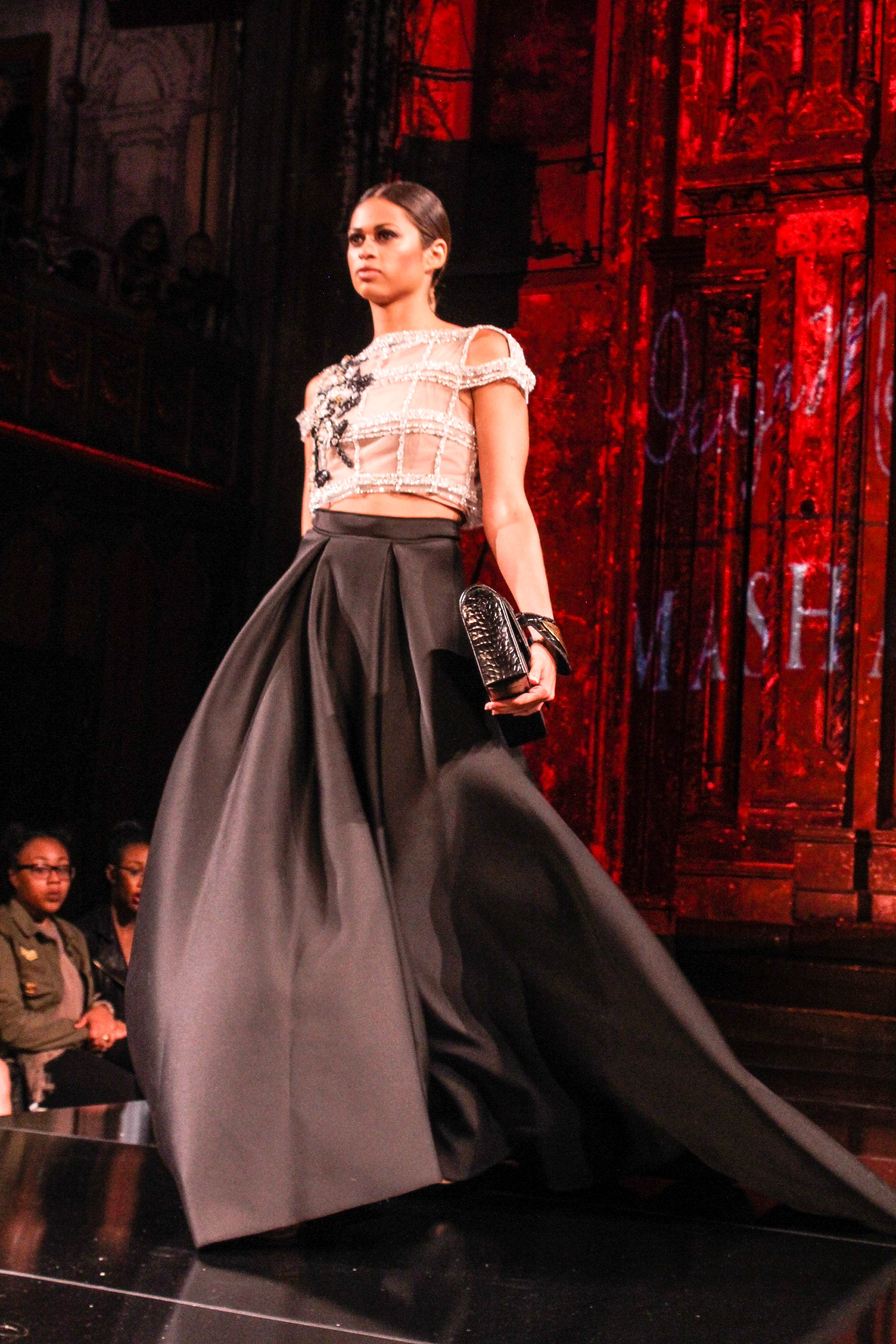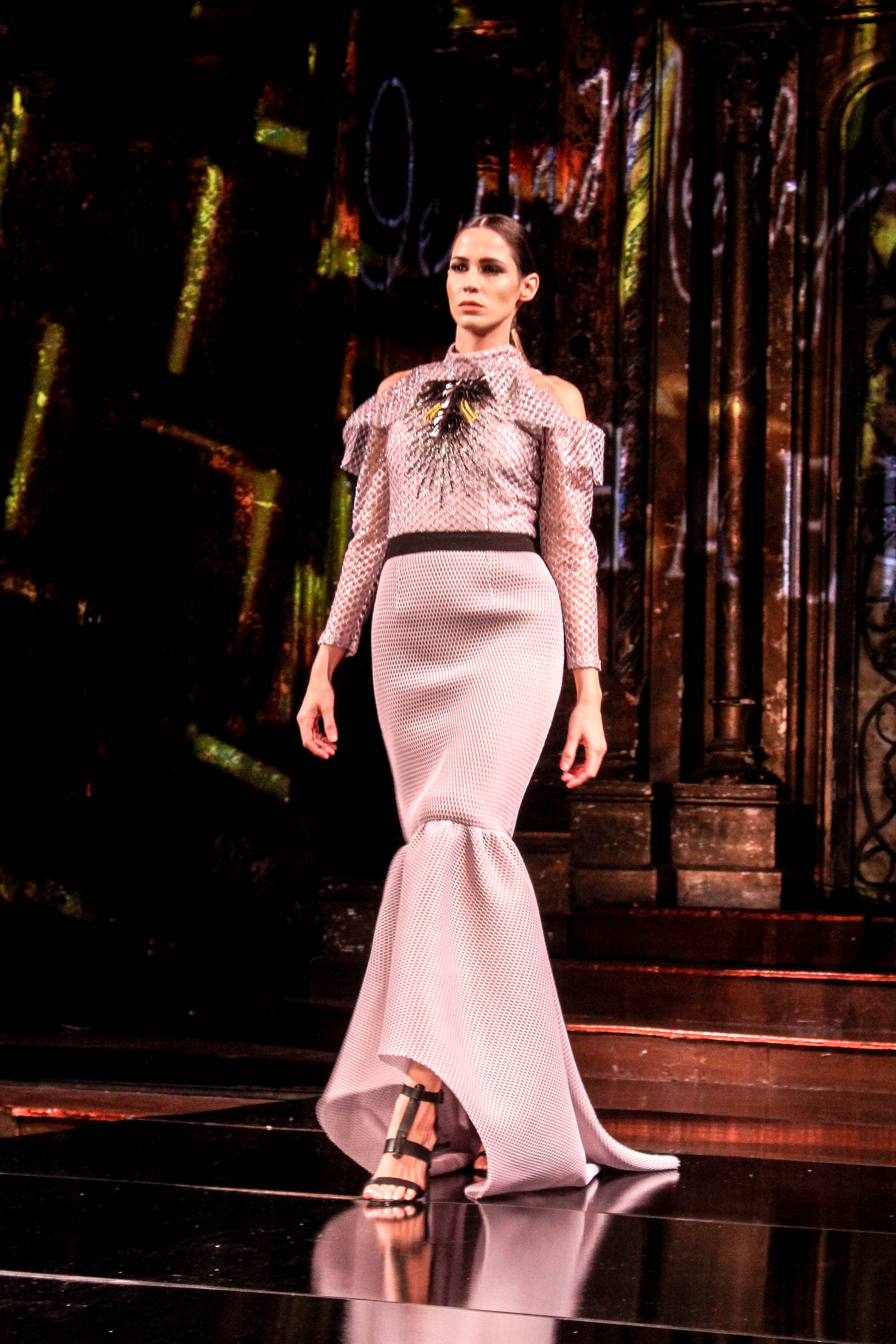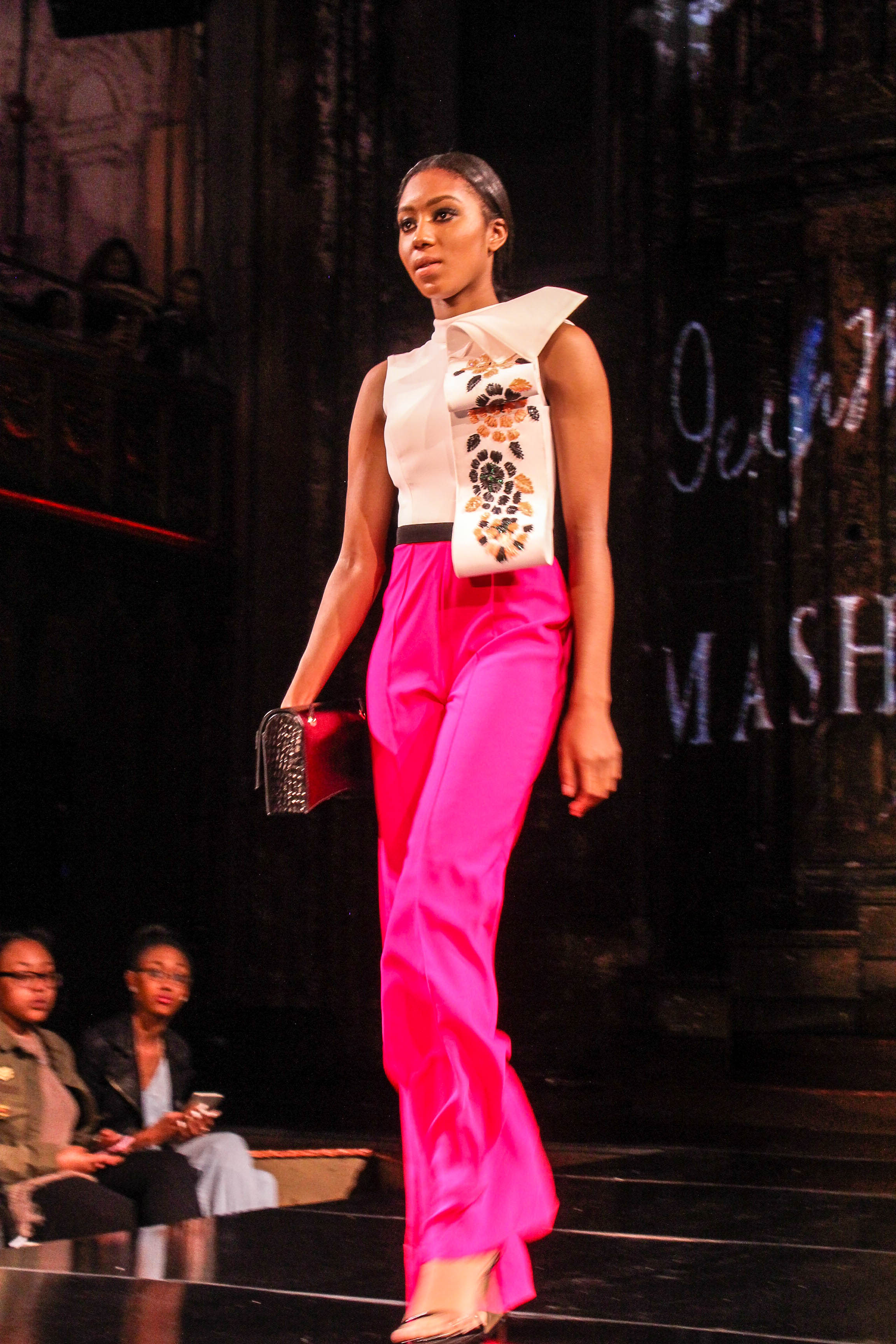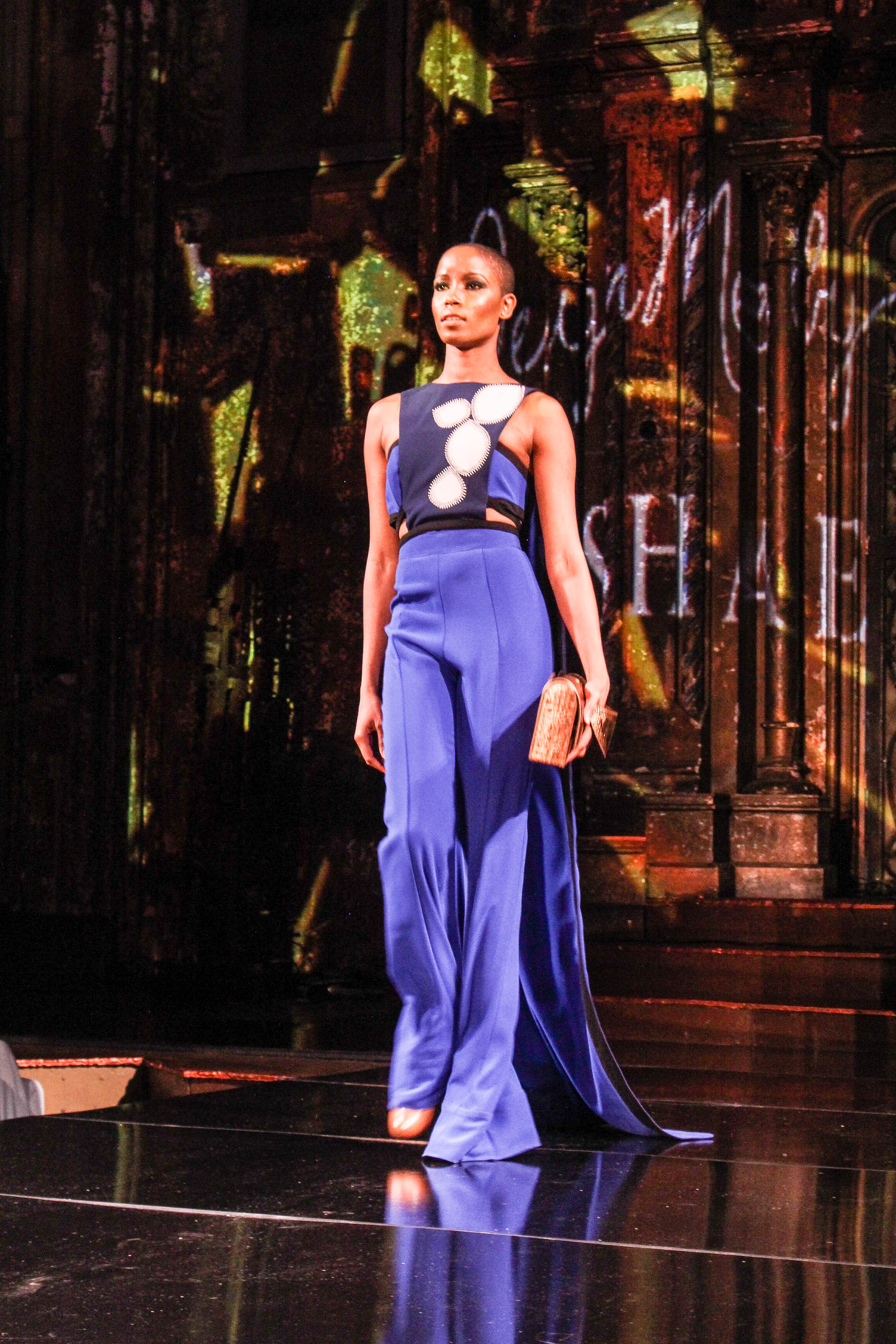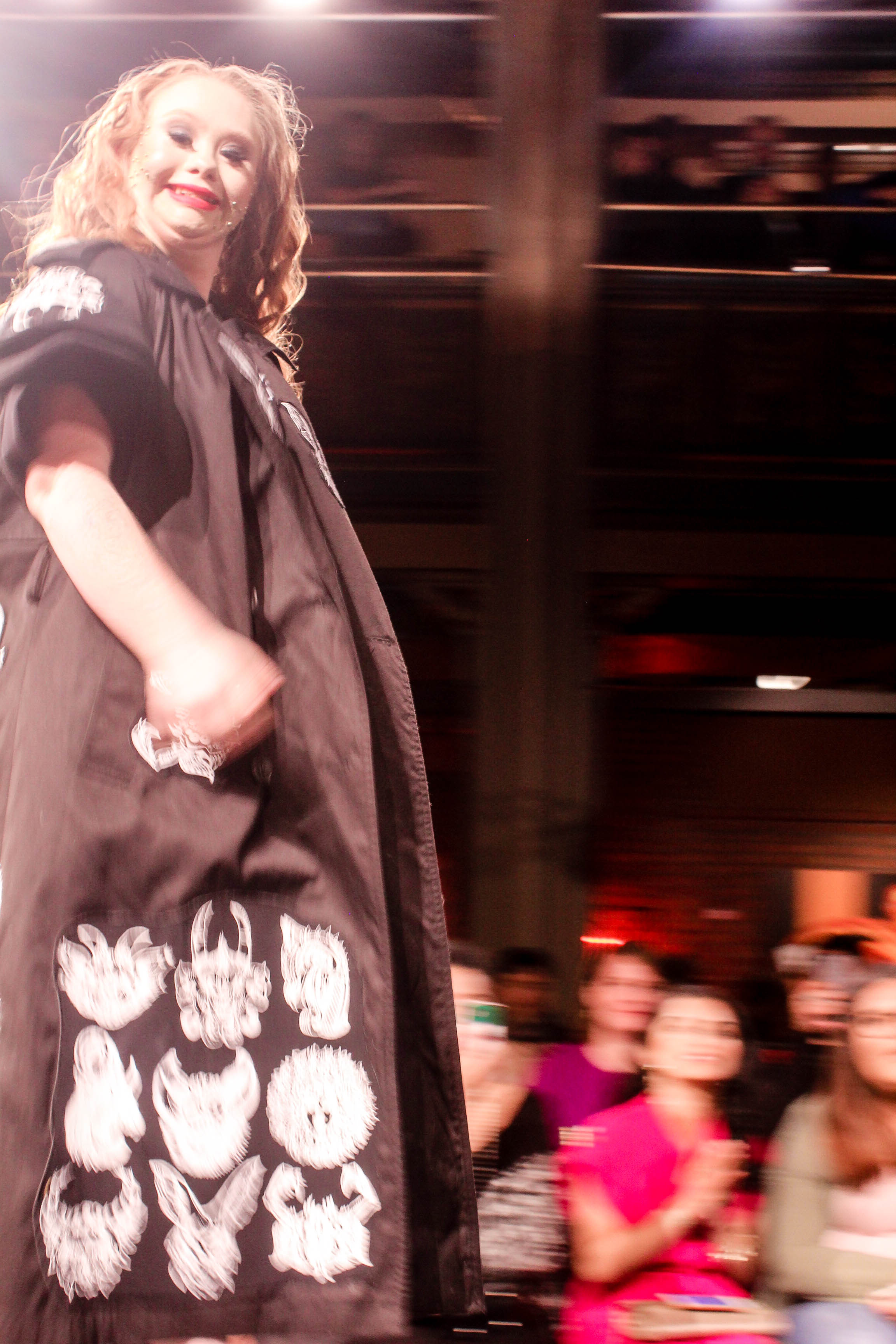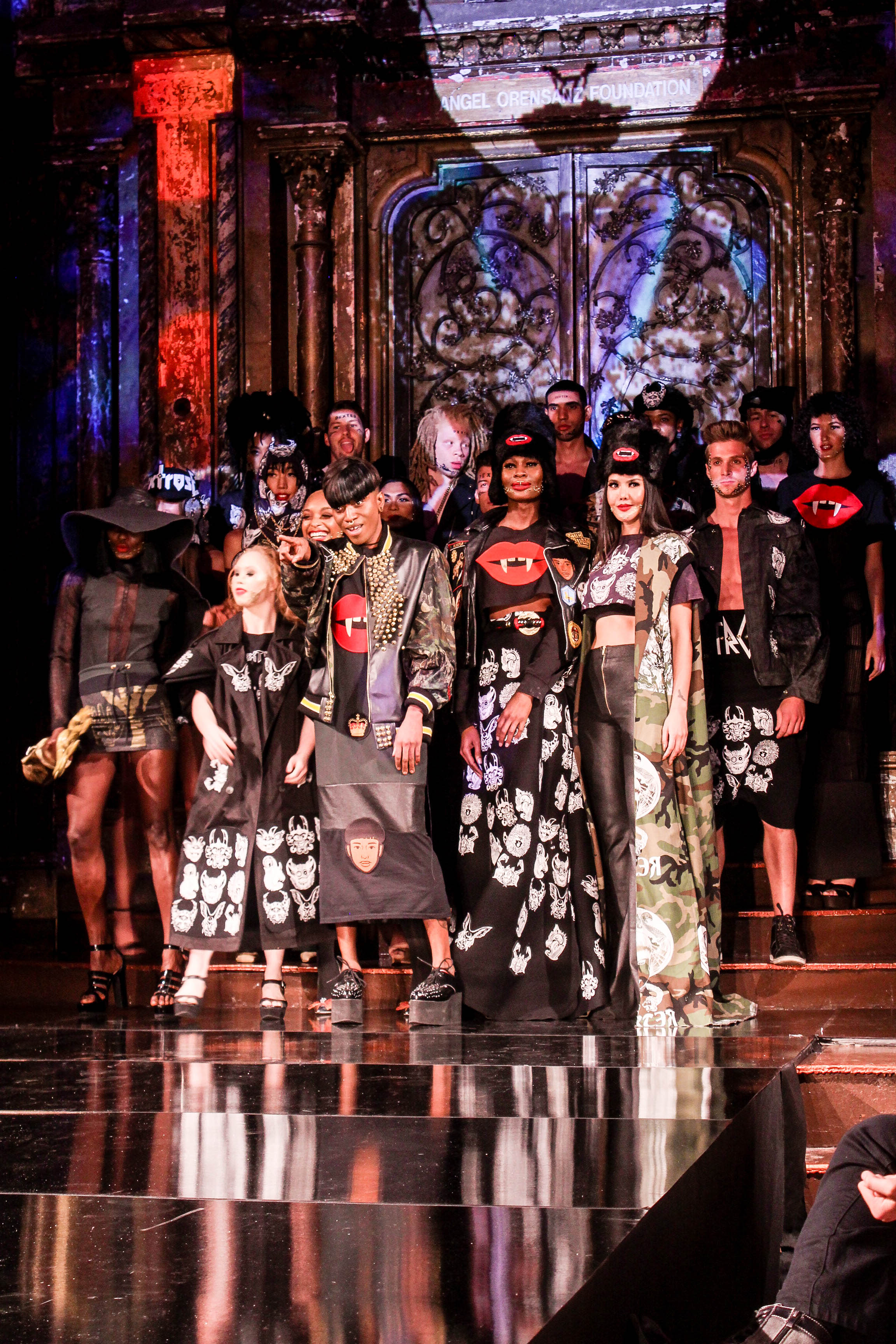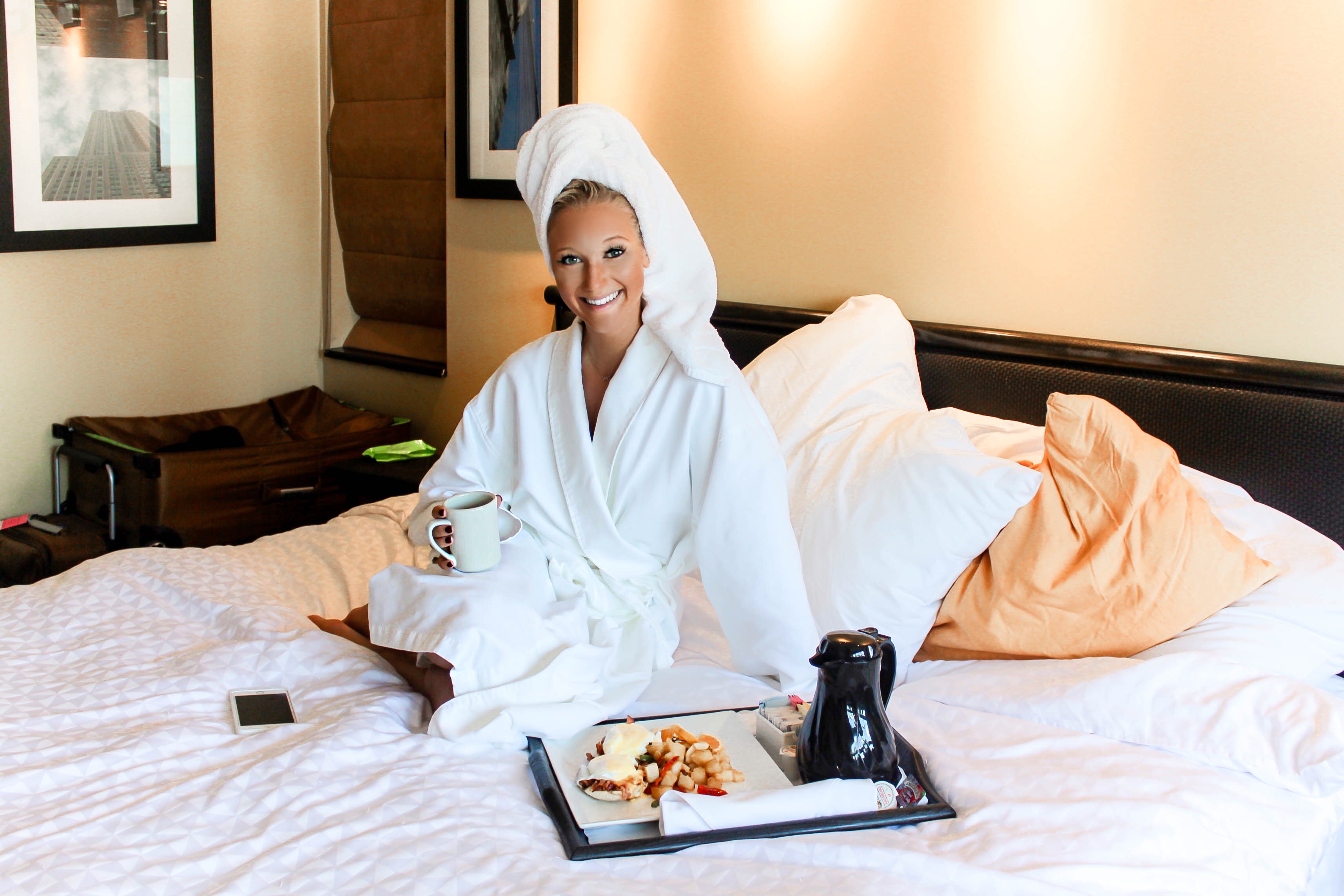 Goooood morning Day 2 of NYFW!
I started off my day with breakfast in bed at the Four Points Soho Village by Sheraton, complete with my favorite brunch of all time – eggs benedict, potatoes & coffee. (mmm, now I'm craving all that lol).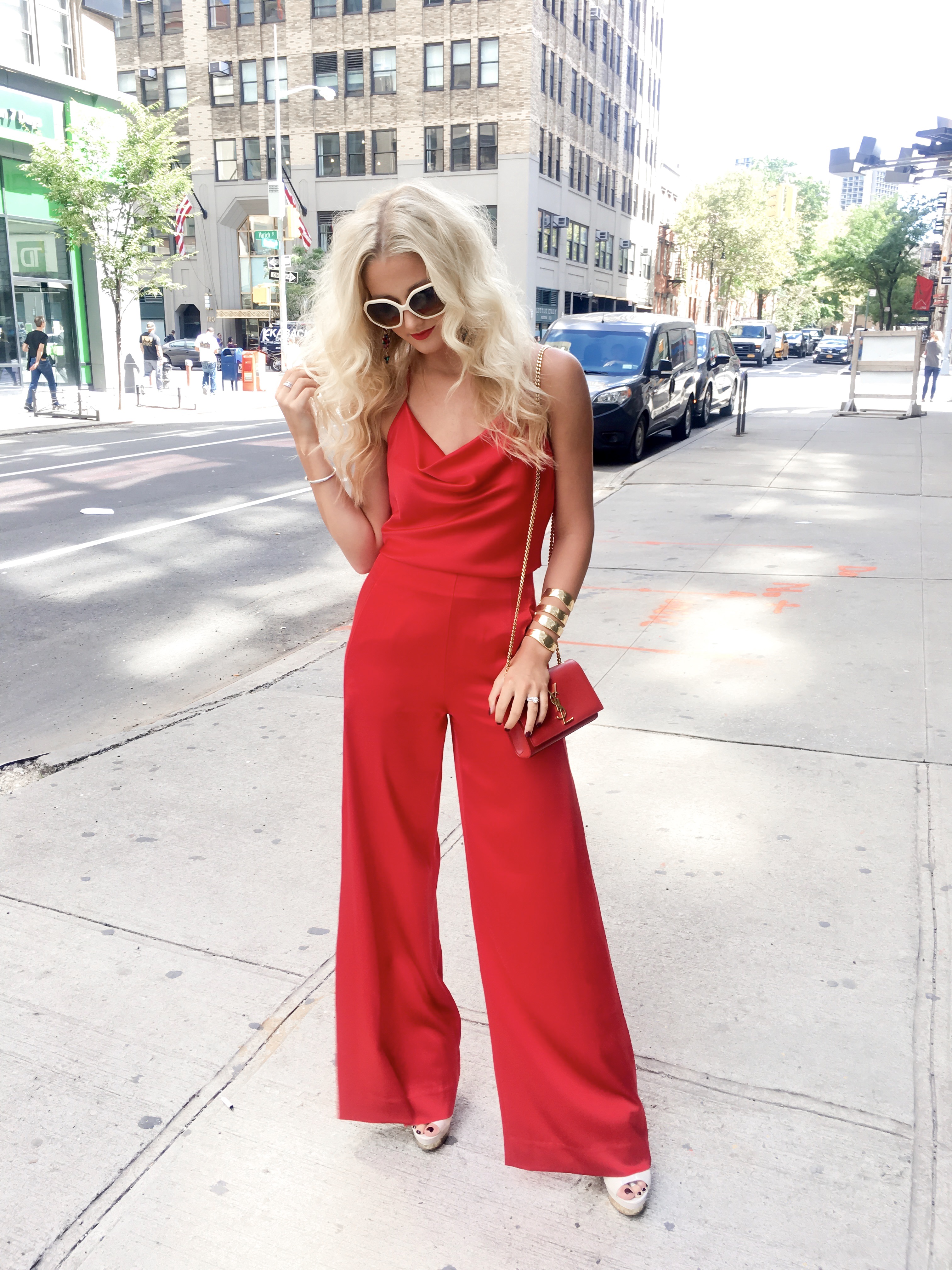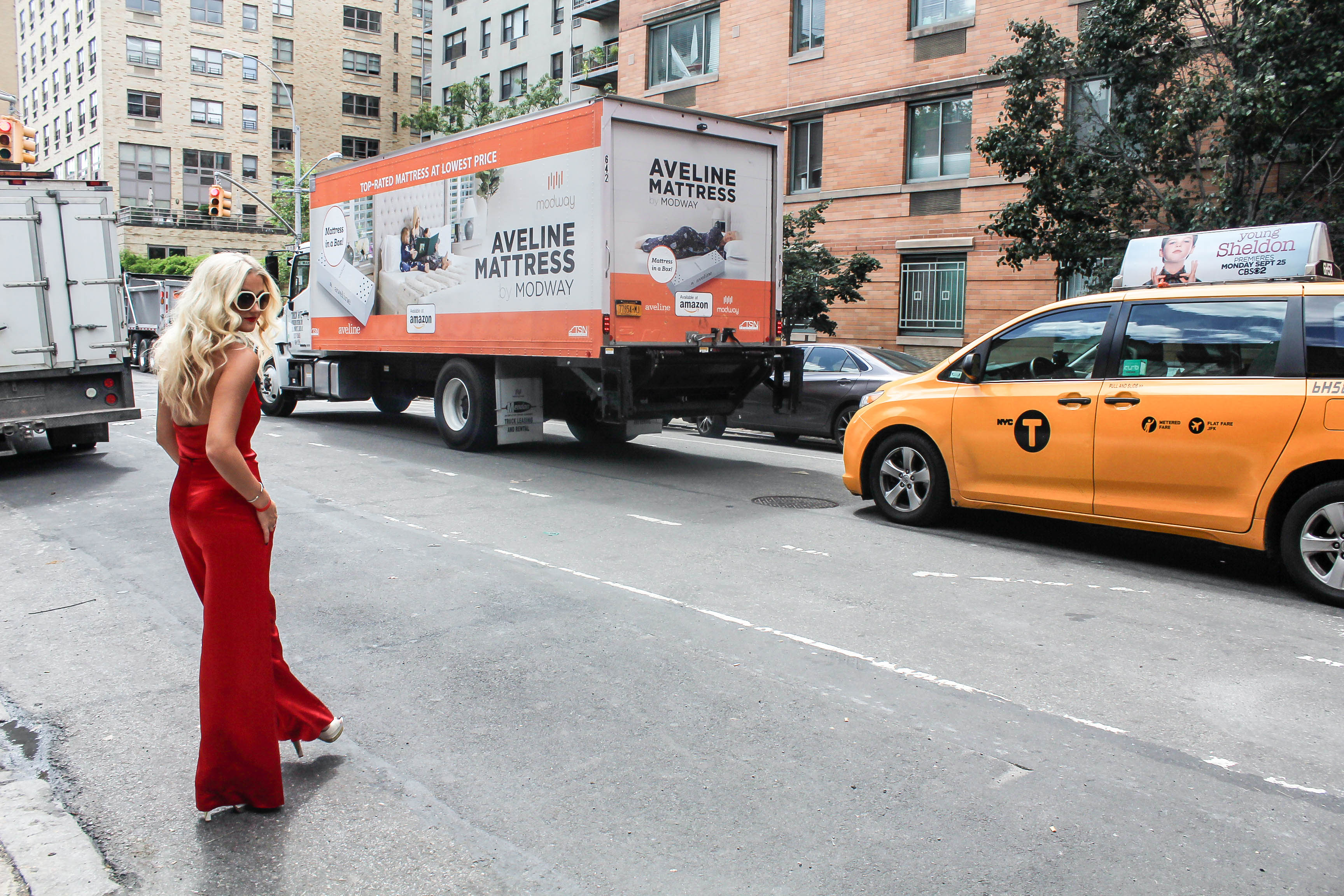 My first stop during day two was at the All Comes From Nothing runway show. Talk about high-end, amazing fashion! This was one of my favorite fashion shows that I have ever attended. So much talent and incredible fashion statements. One of my favorite parts of this show was just looking in the crowd and seeing the street style that so many fabulous men and women were wearing. It was a fashion show in itself!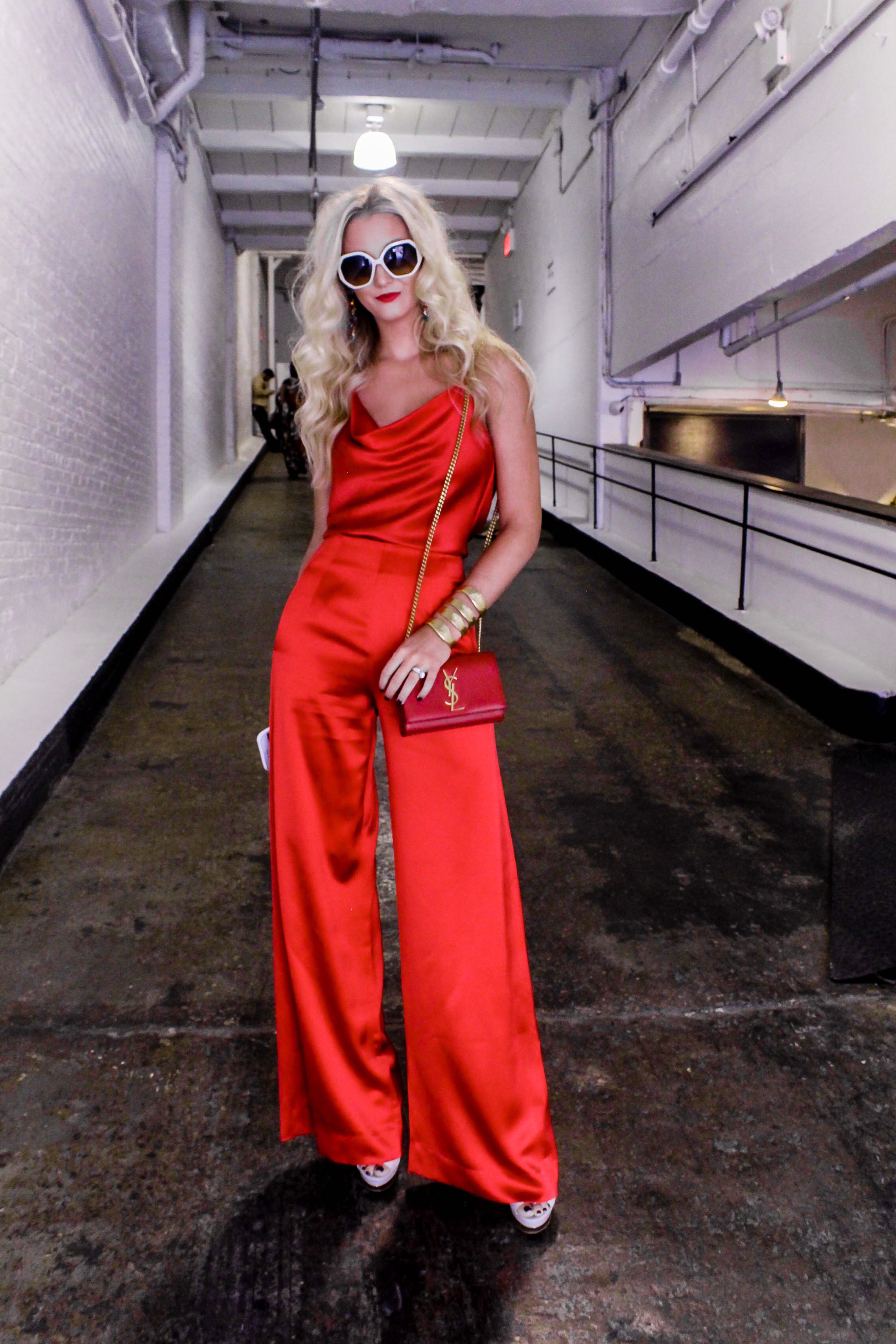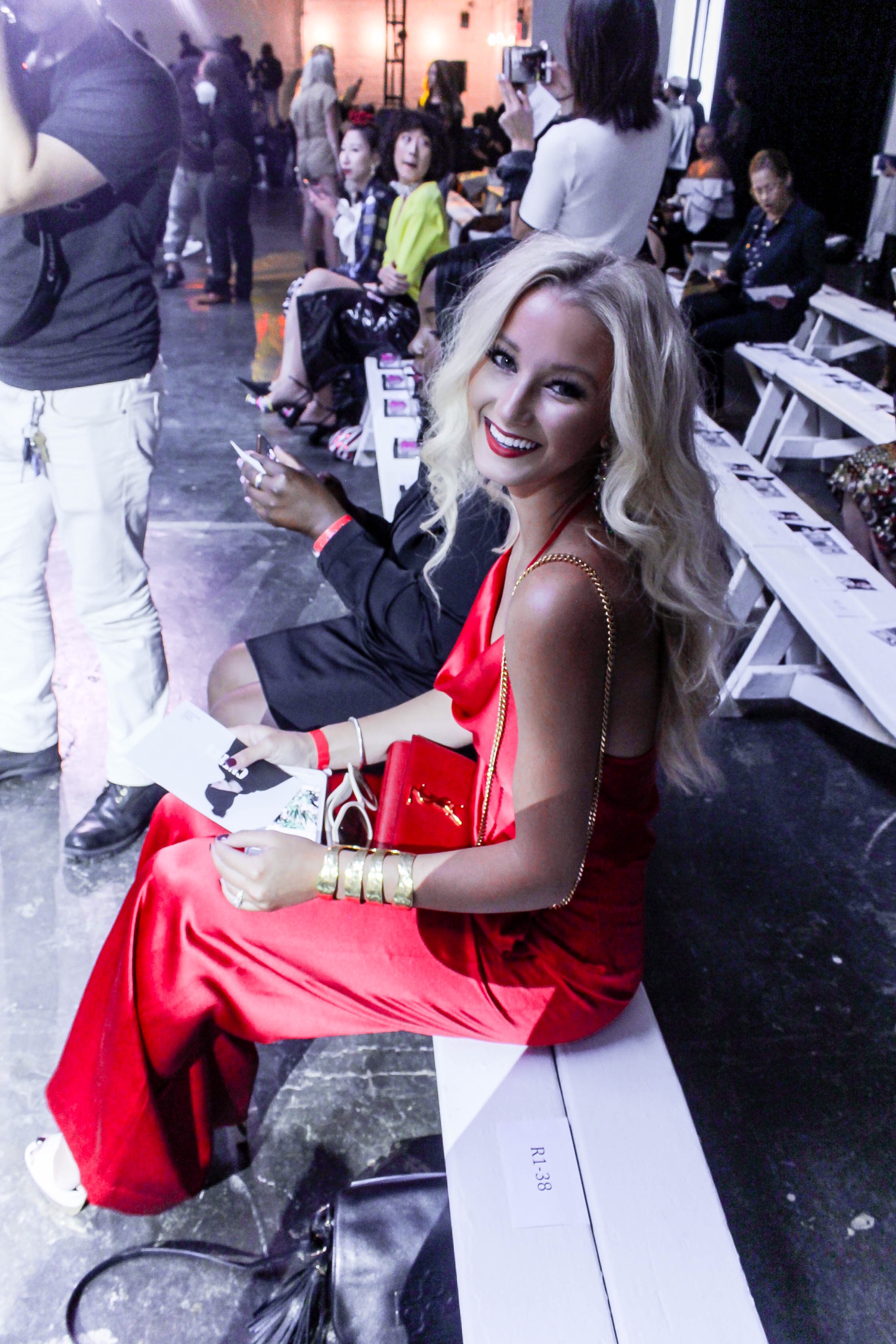 At this show, I got to experience another front row perspective and even visit backstage, which was super cool and something that I honestly didn't expect to do, so it definitely took me by surprise — needless to say, I was pretty pumped about it!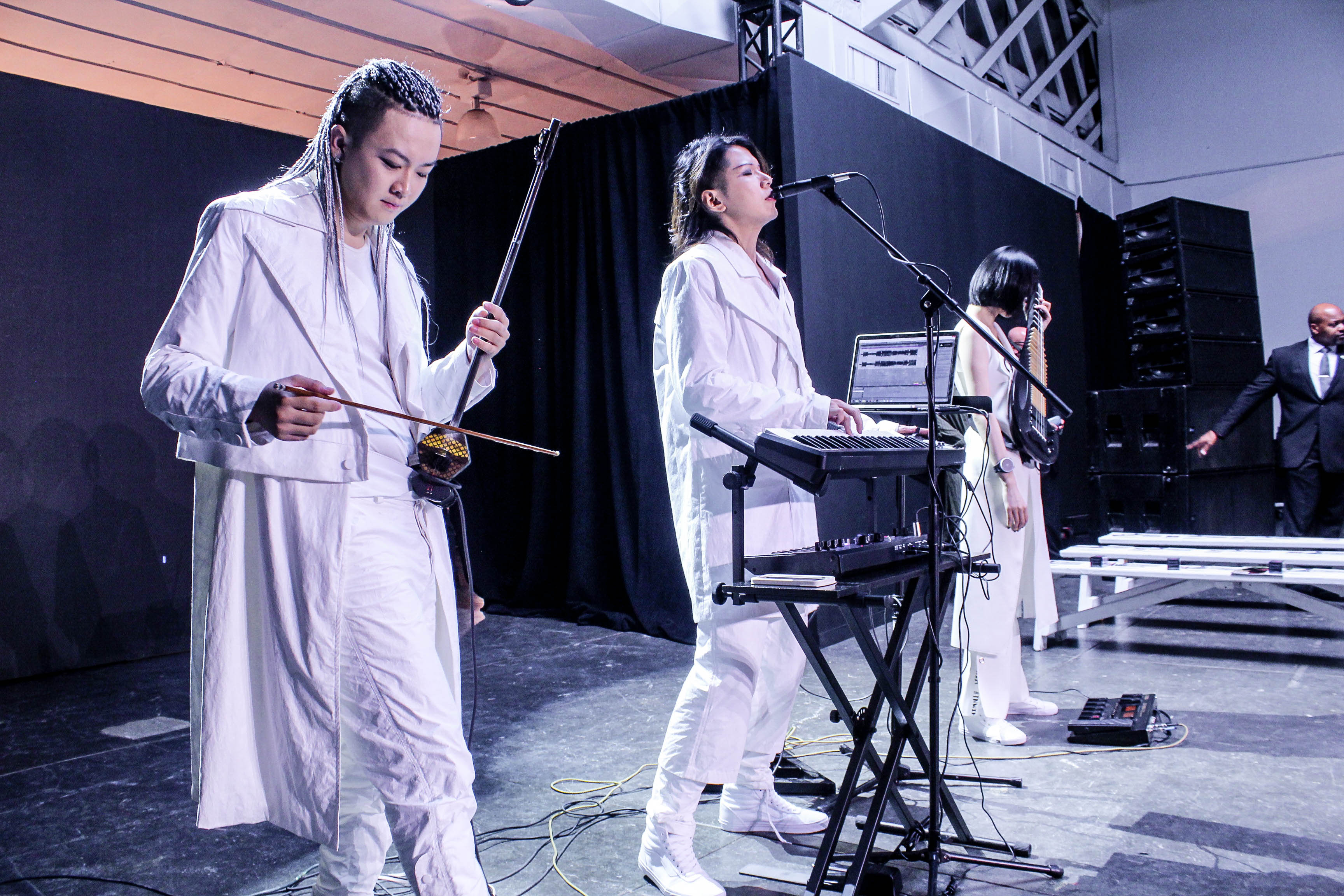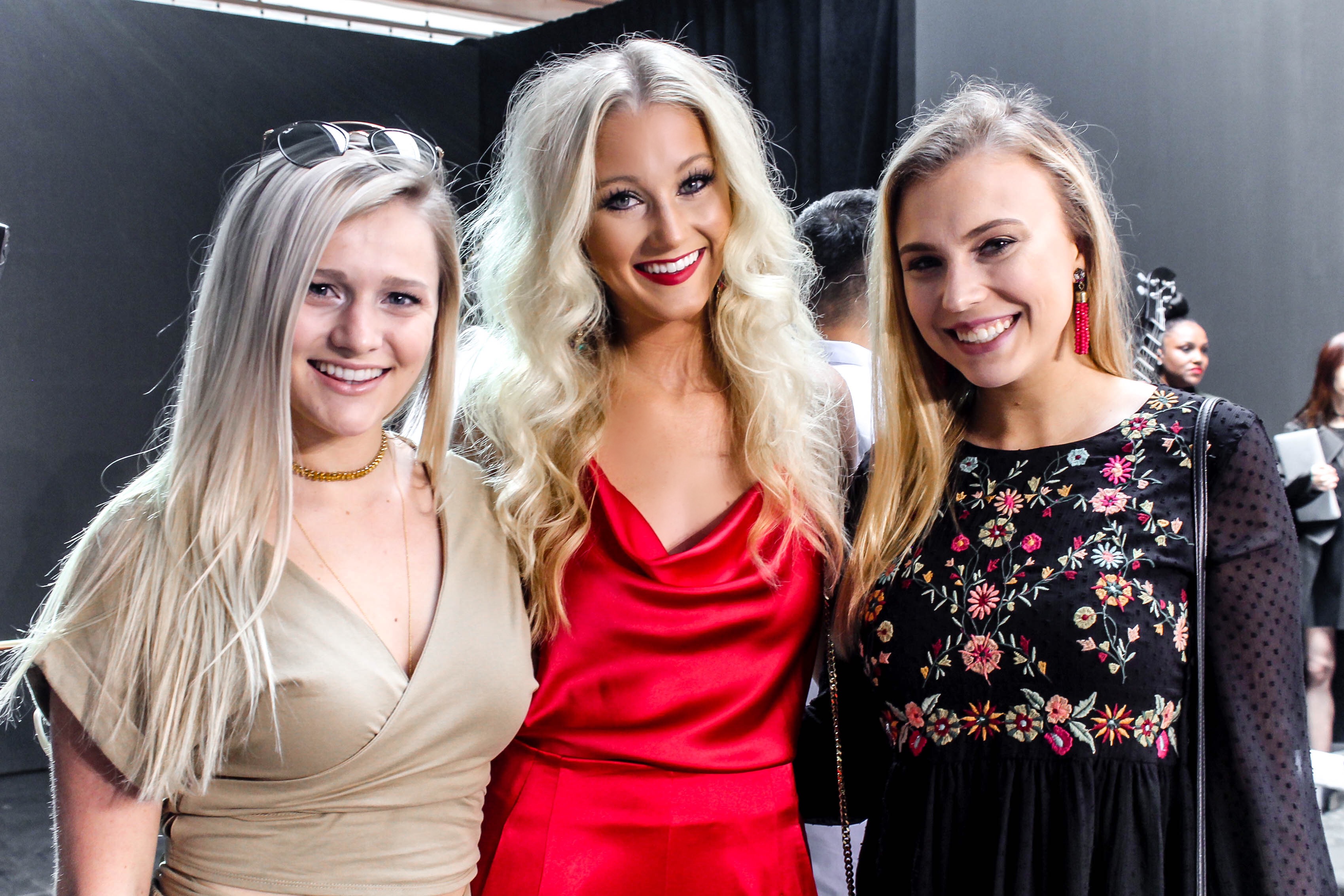 This event was really special to me out of all the NYFW shows because some of my sweet followers and fellow blogger ladies came up to meet me & introduce themselves, which I LOVE! Loved meeting all of these ladies: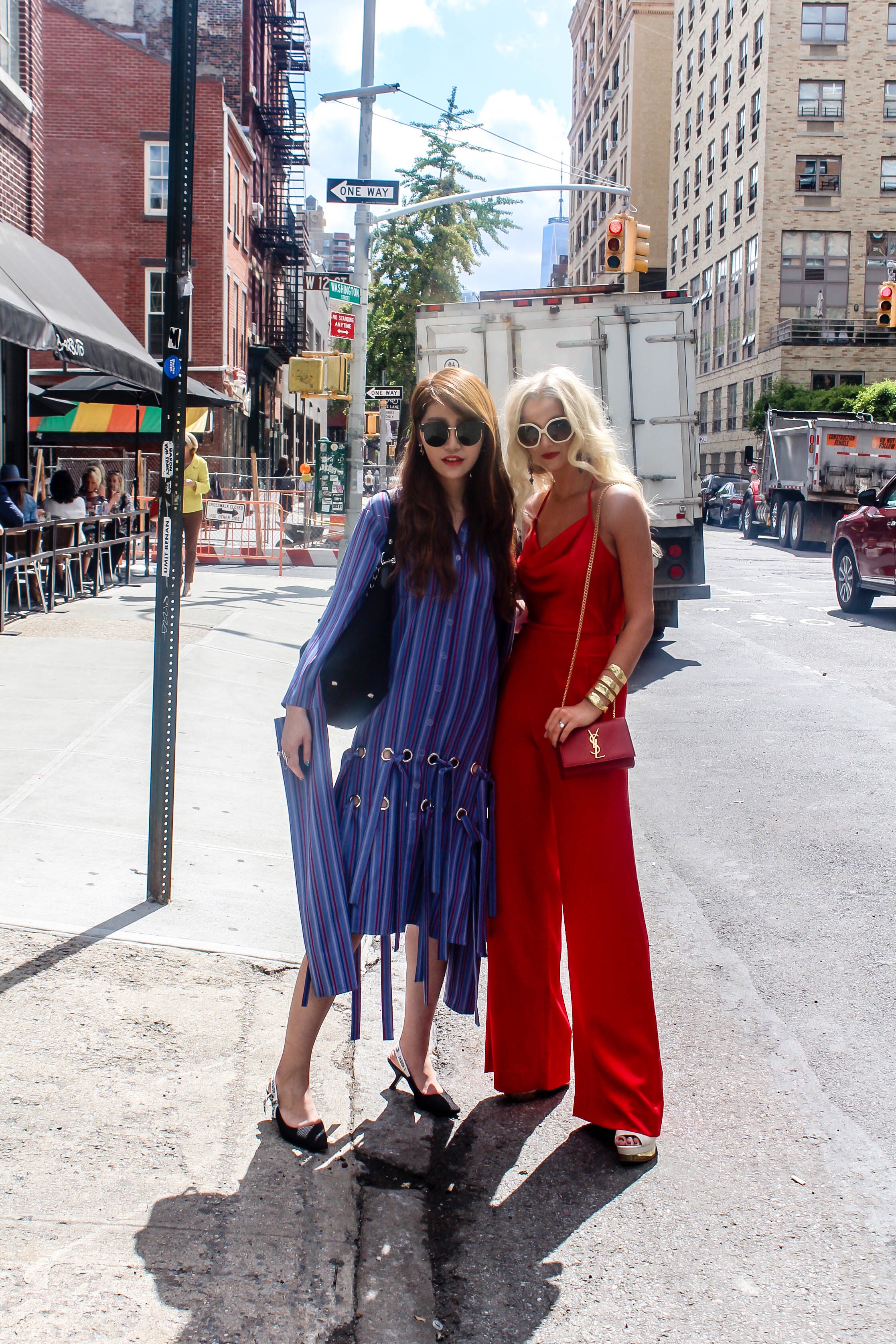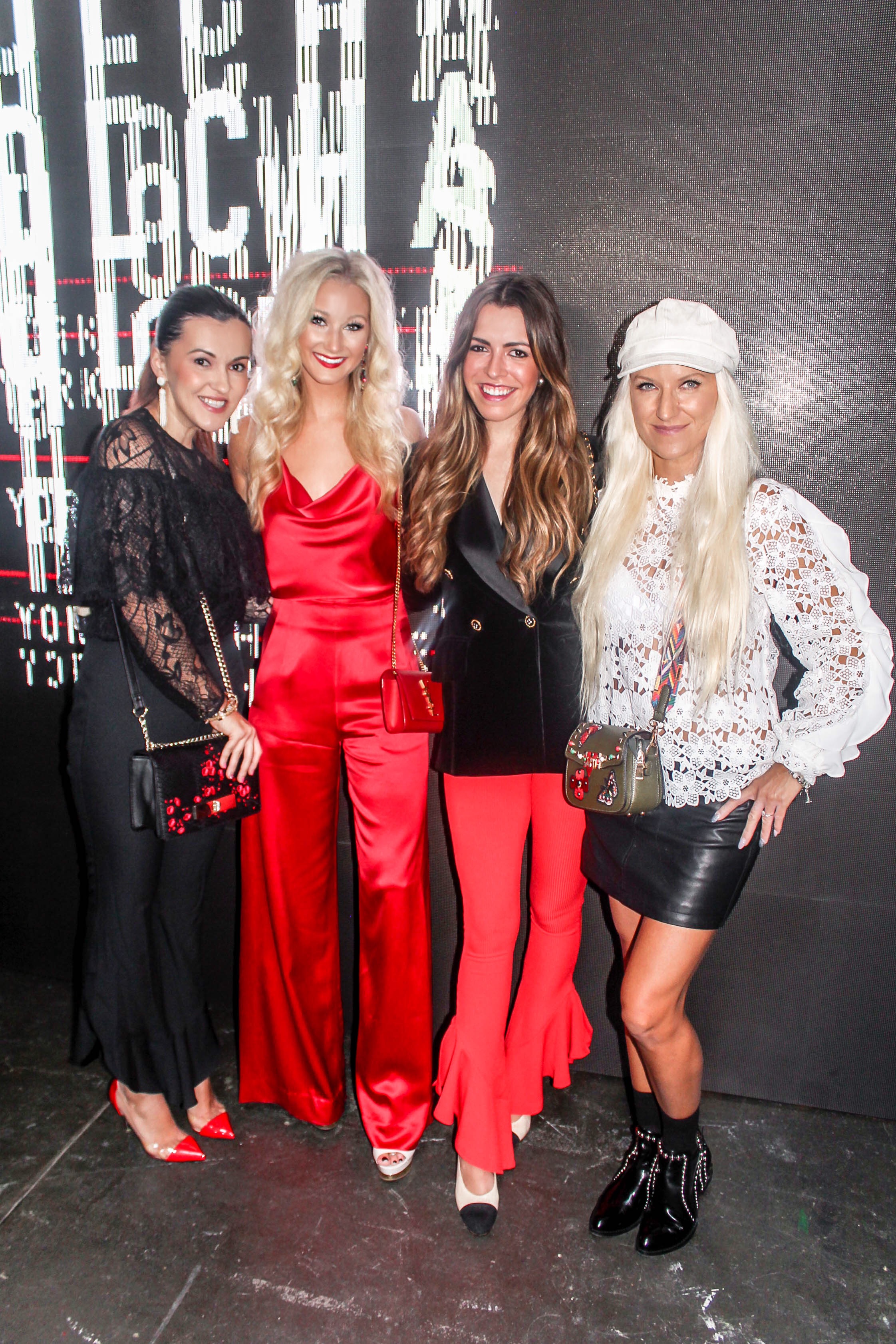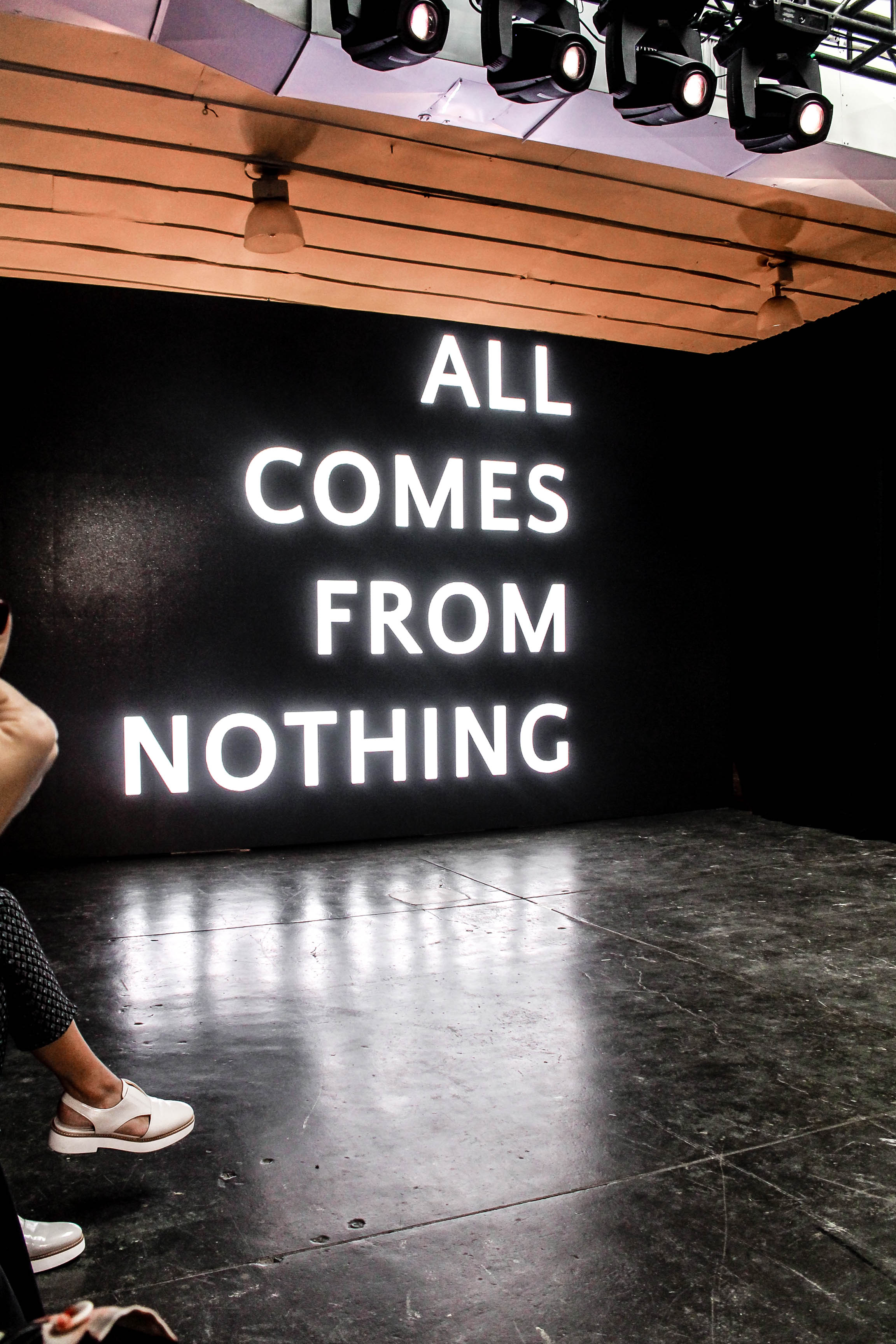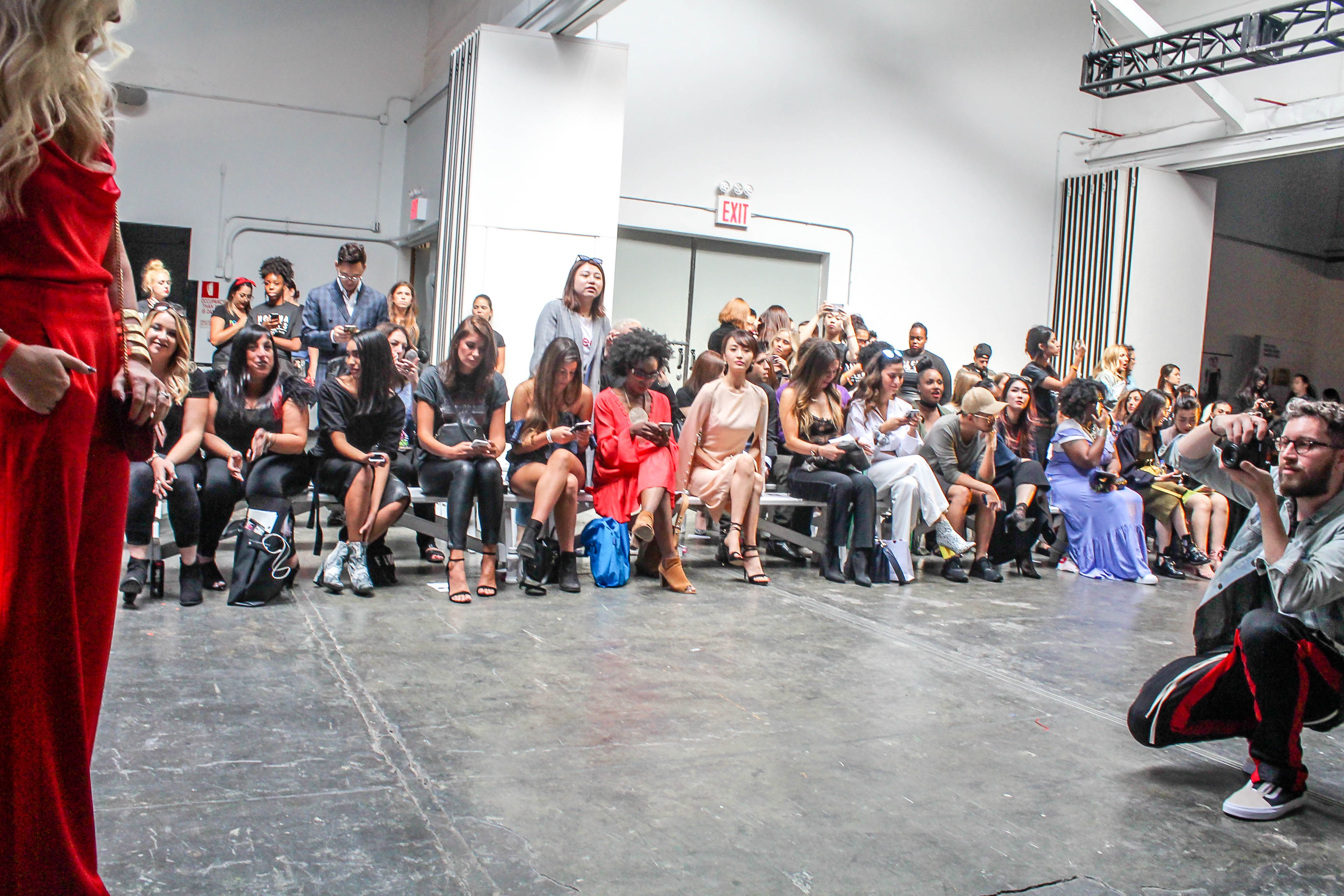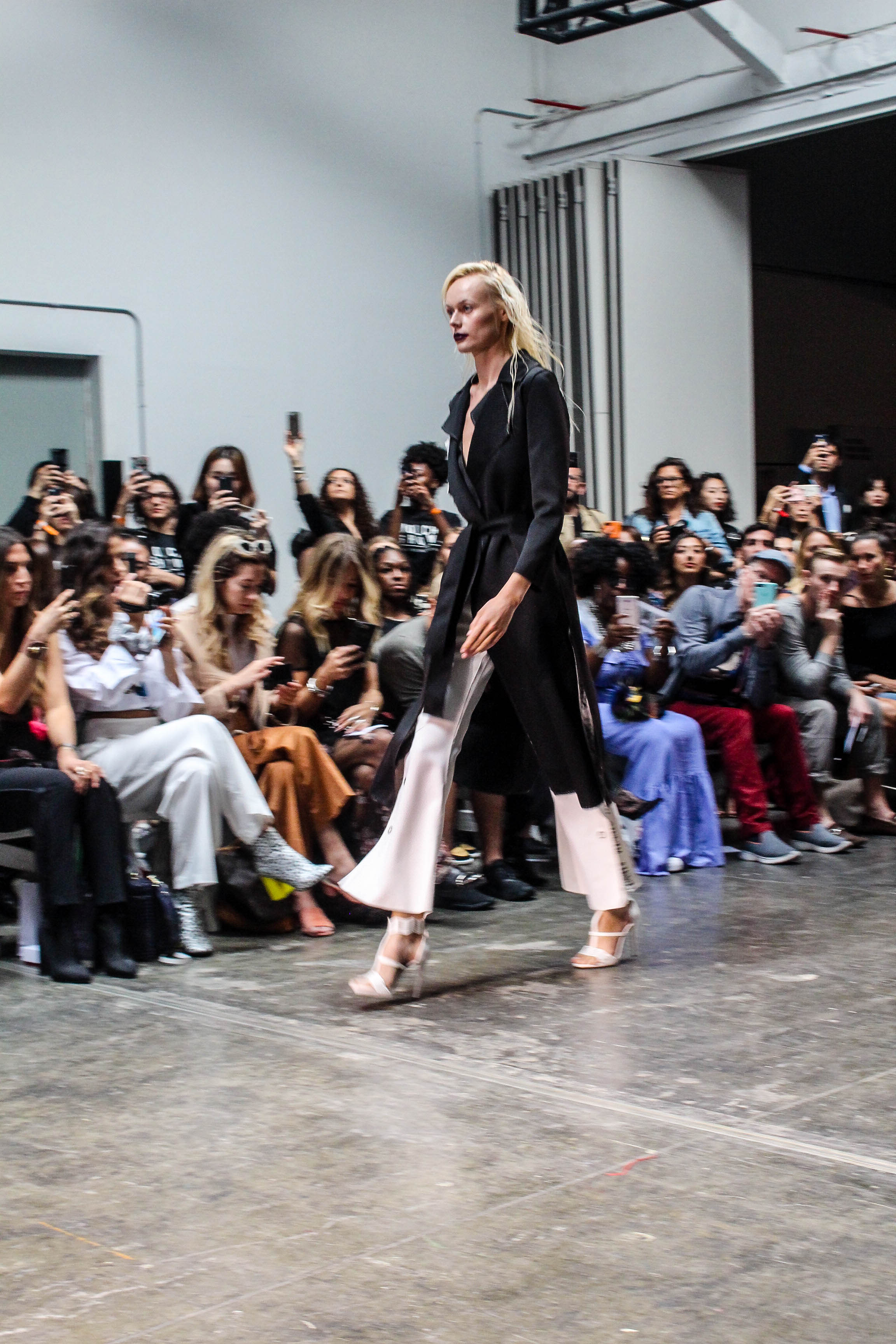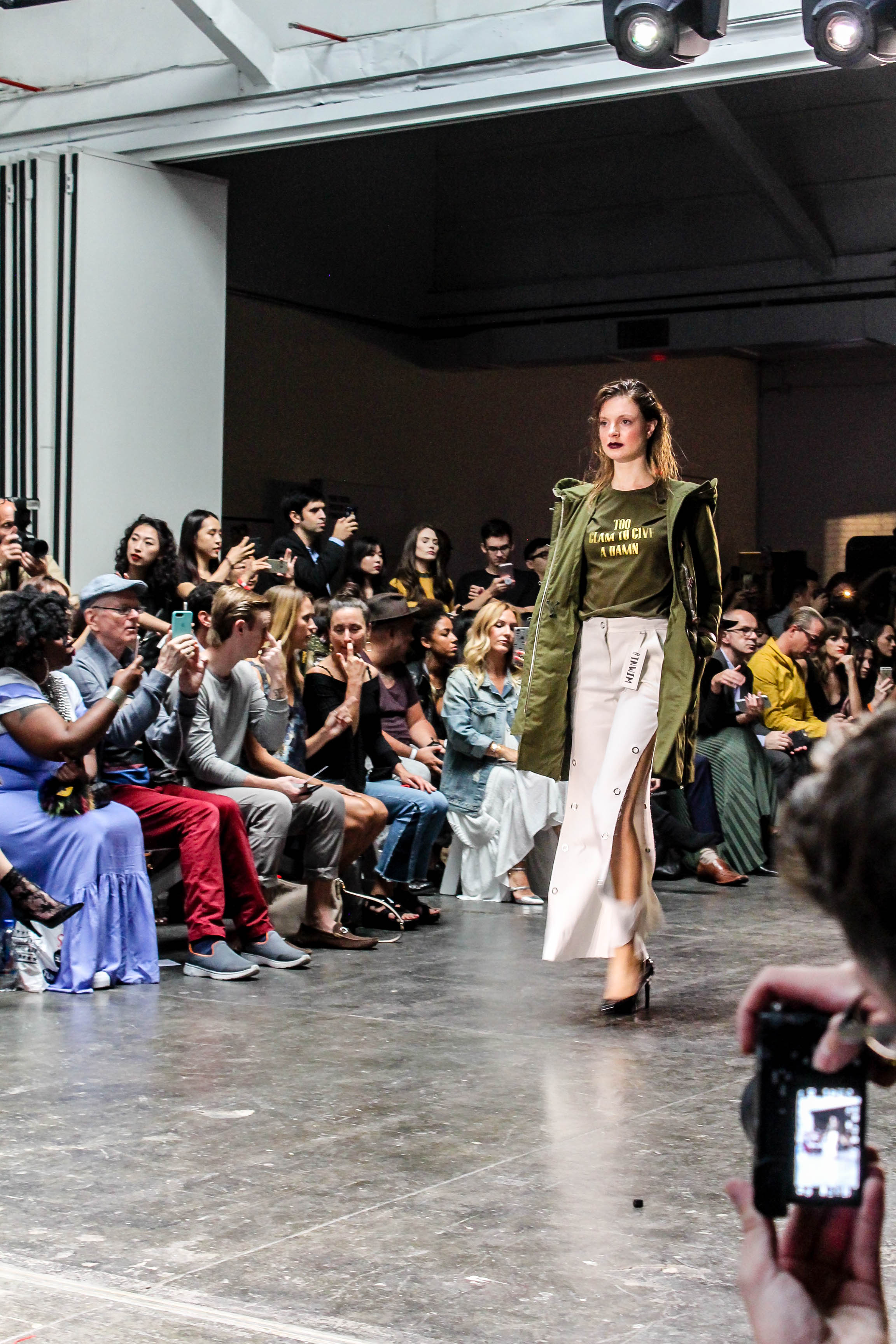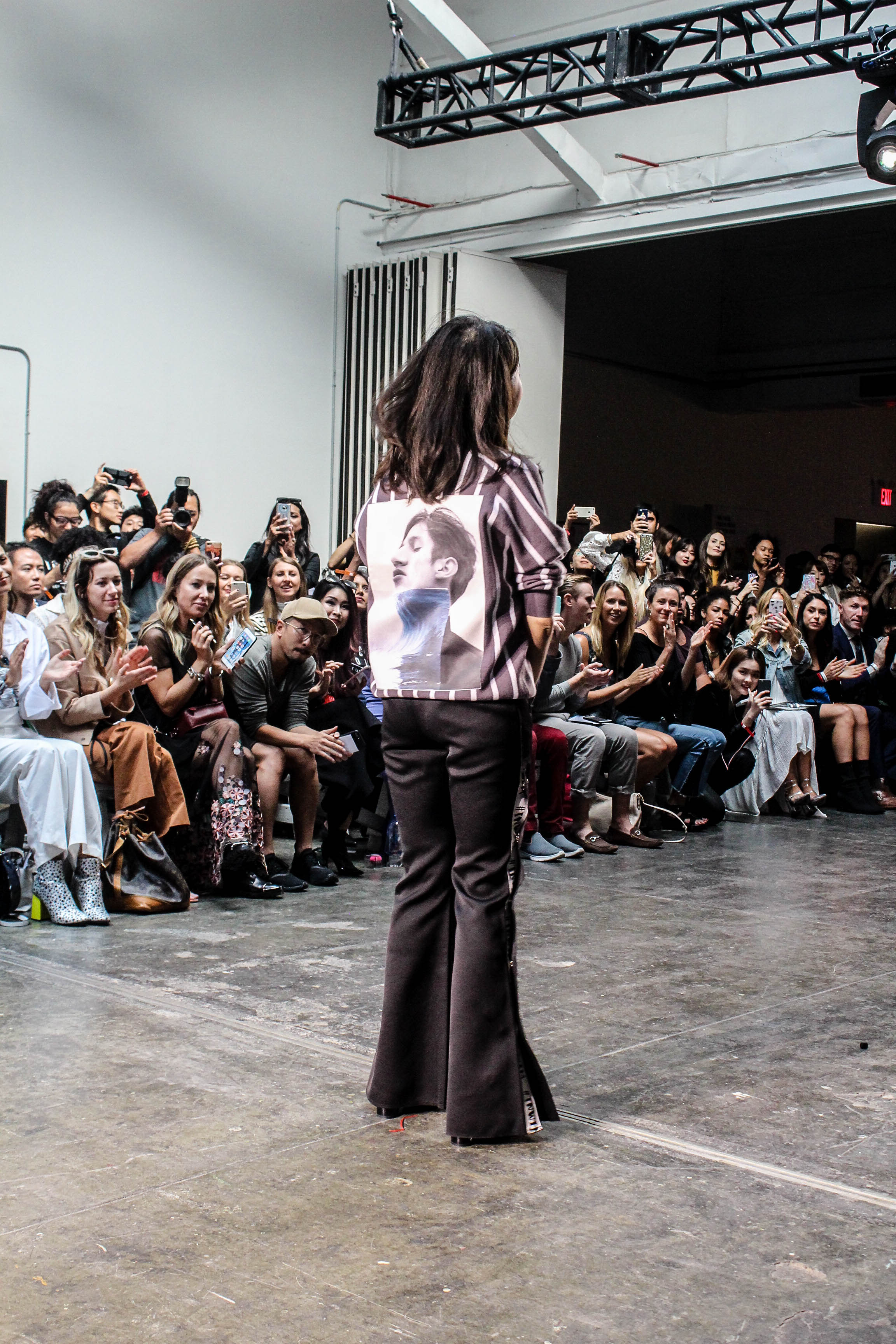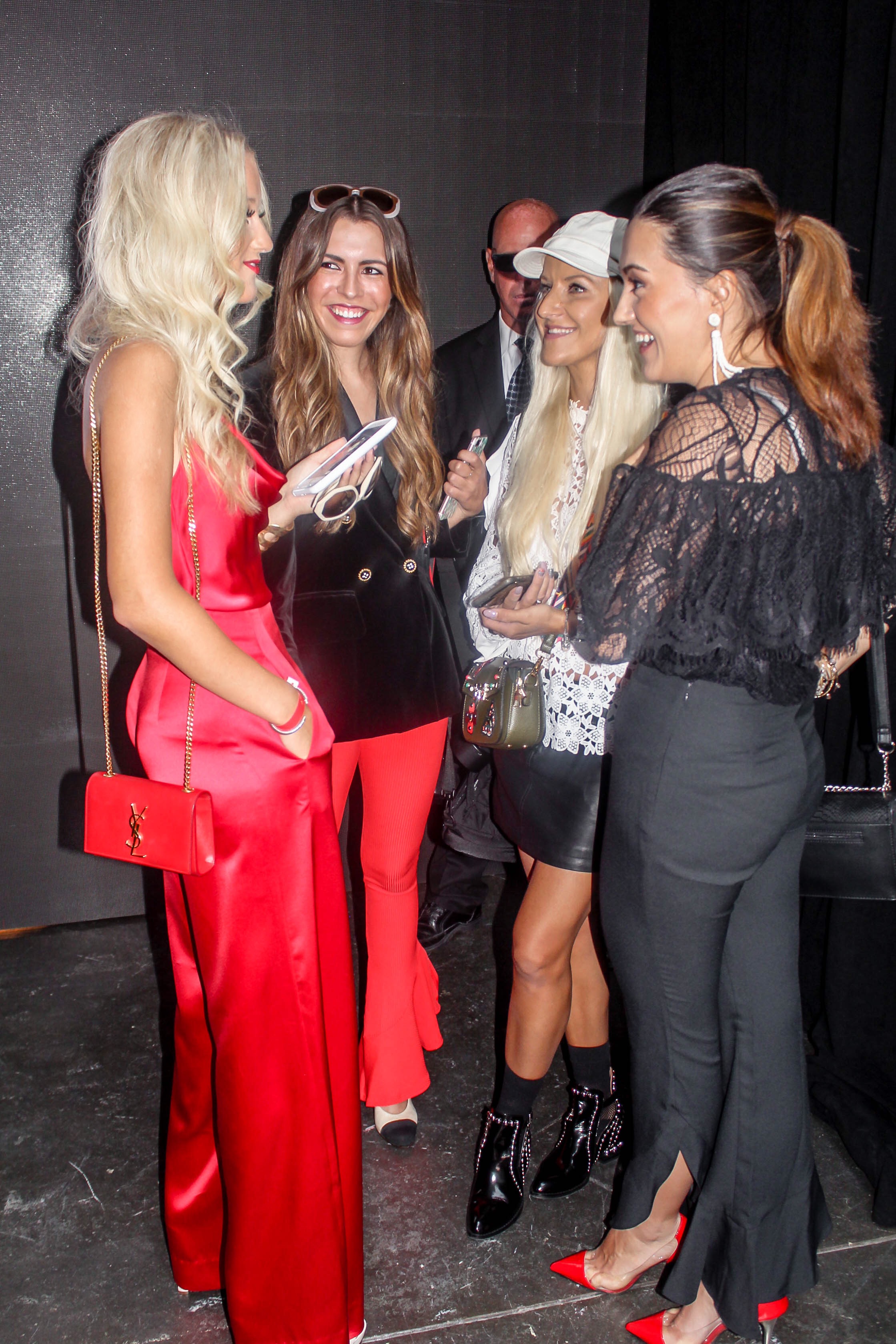 More on this red hot look from Cavanagh Baker in THIS POST.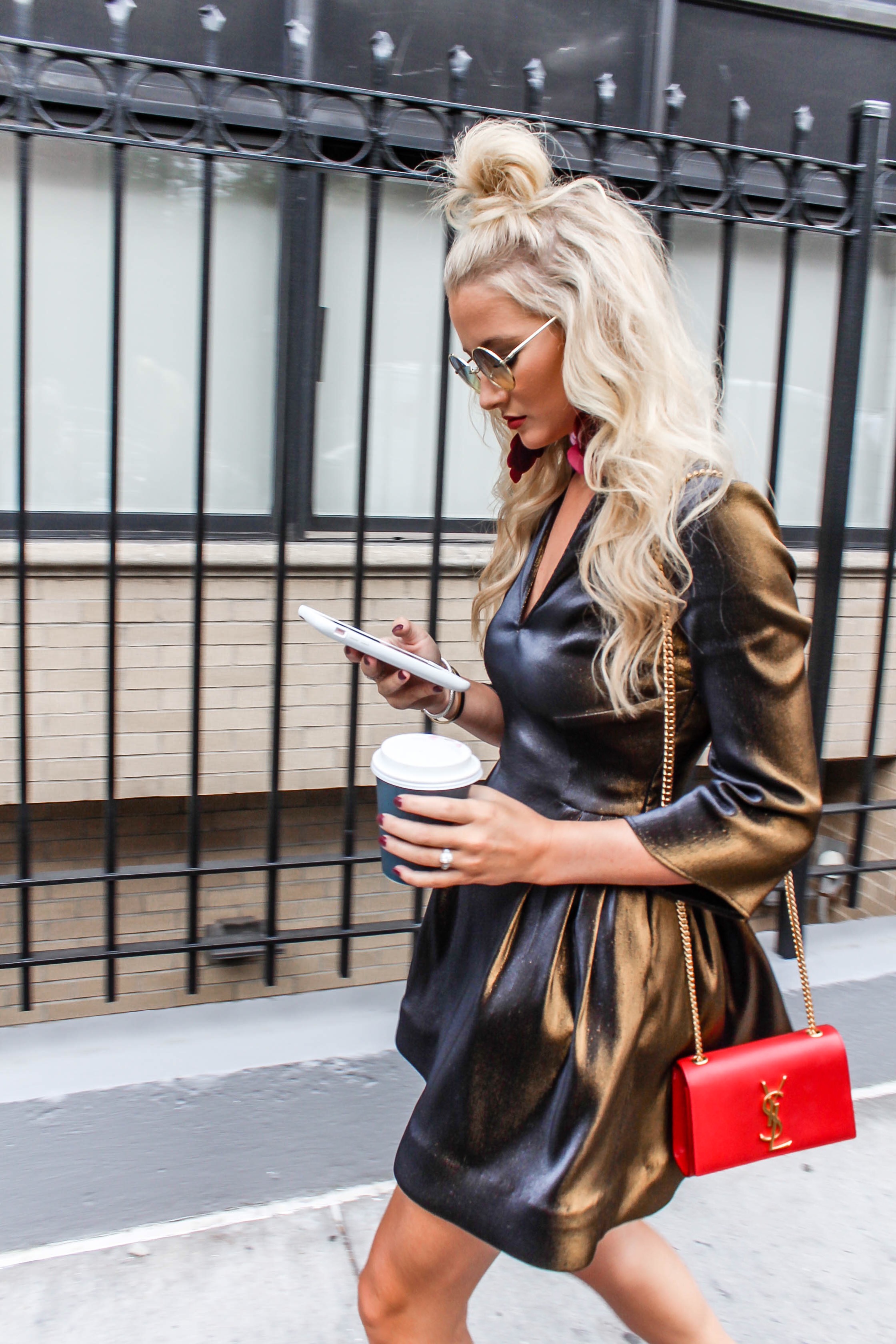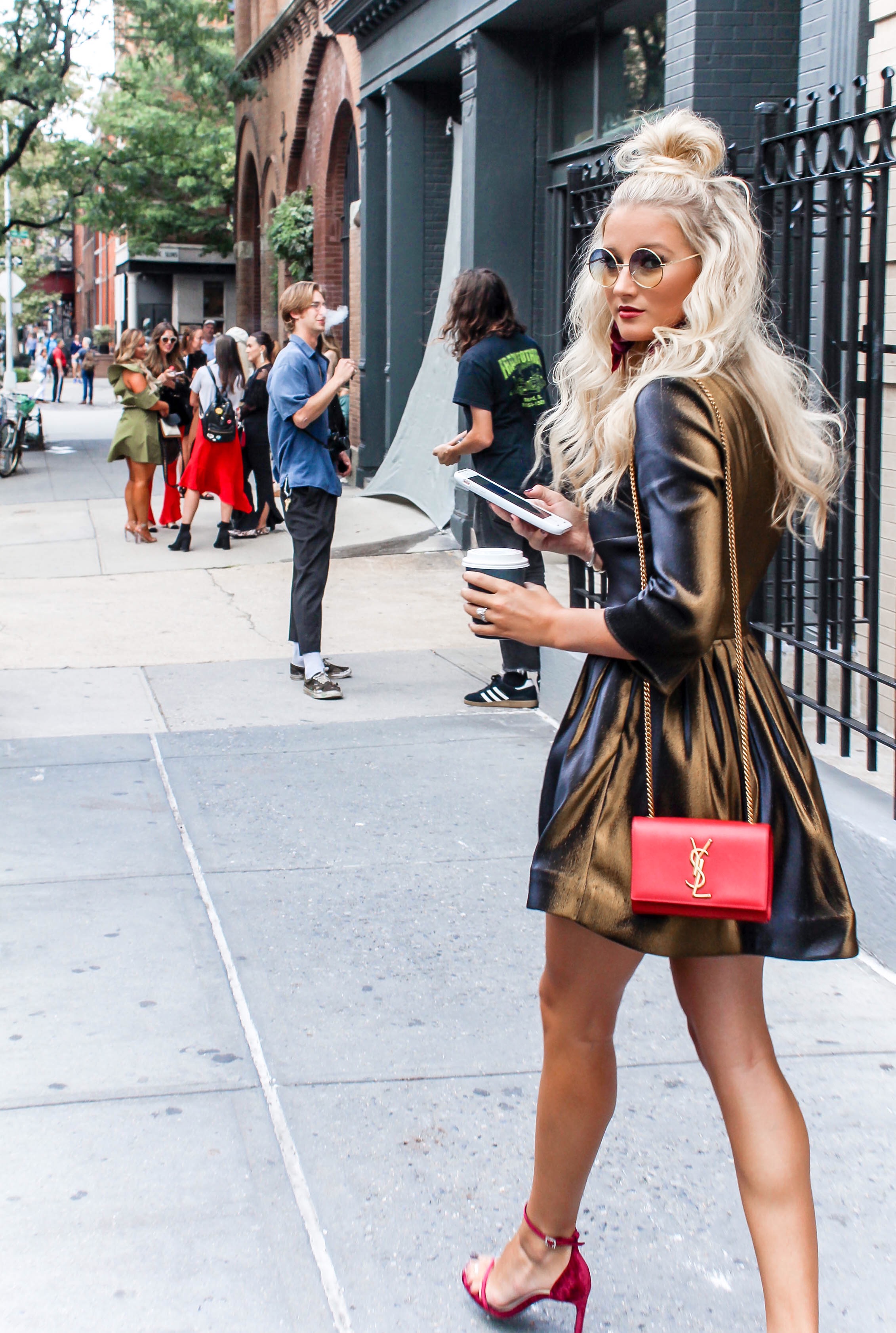 The next stop of day 2 required a quick outfit change — more details on this outfit in THIS POST — and then a fun (and super creative) presentation with the talented Katie Gallagher. Her overall vision for this presentation was really neat, and I came away with the idea that sheer fabrics are definitely here to stay ladies!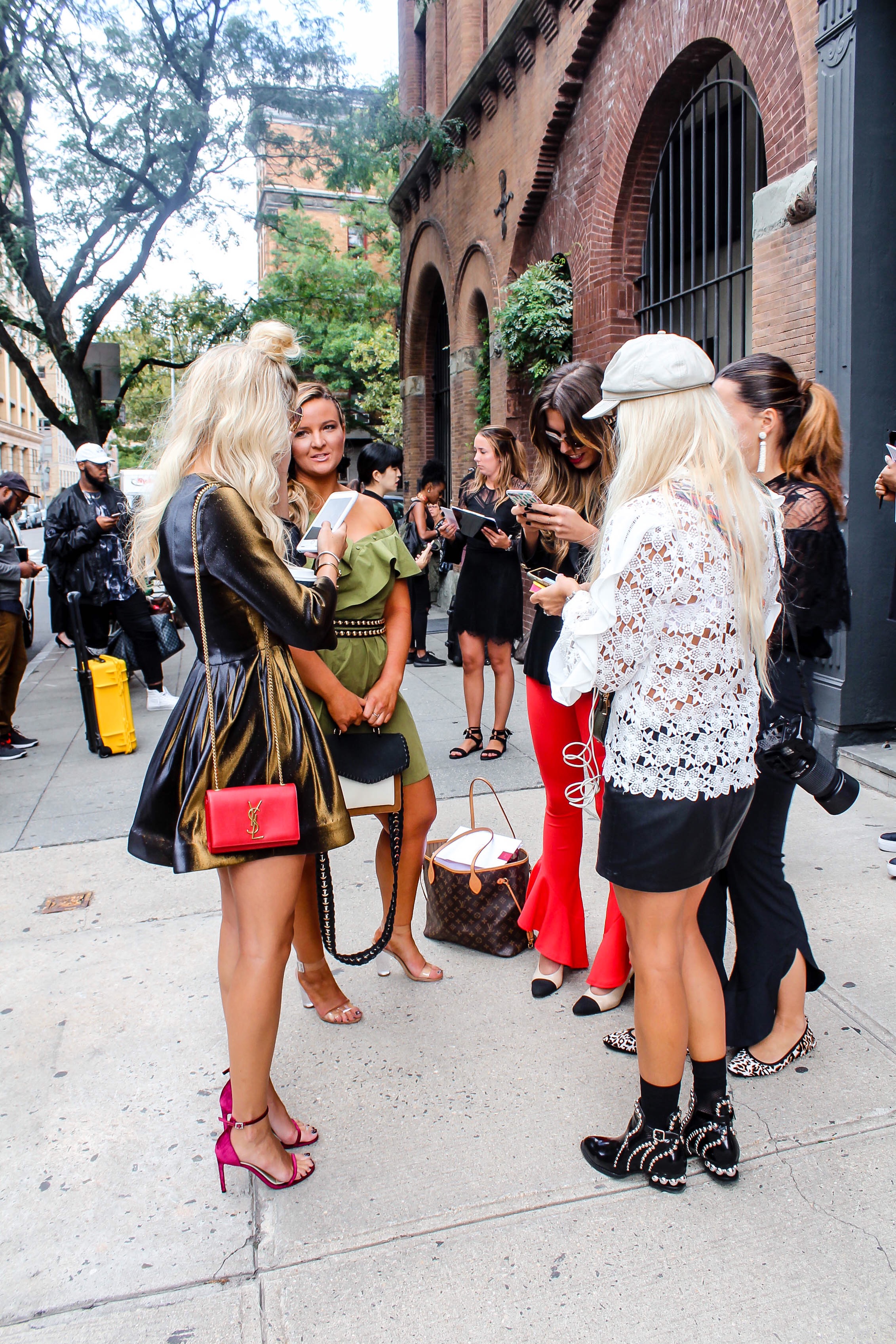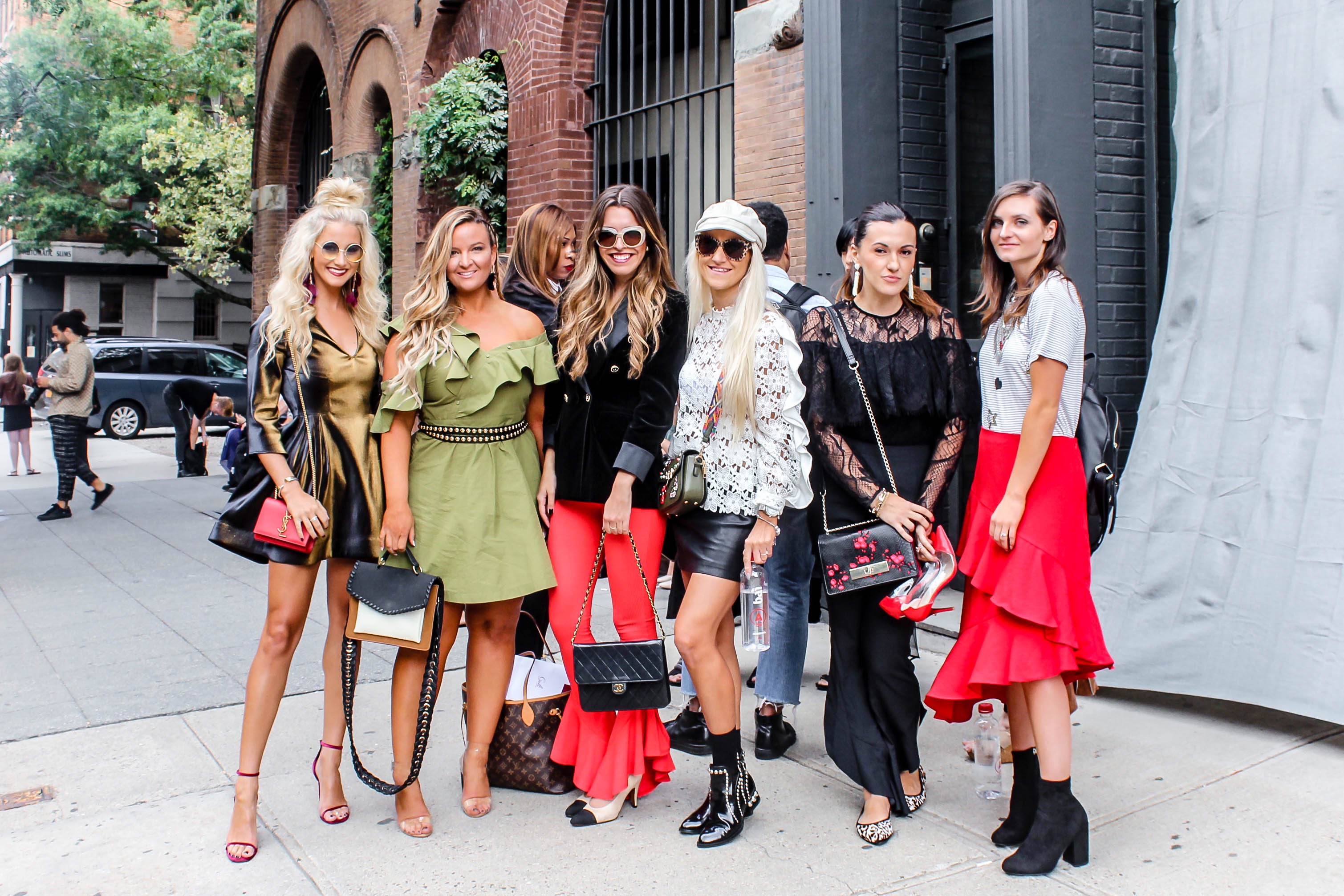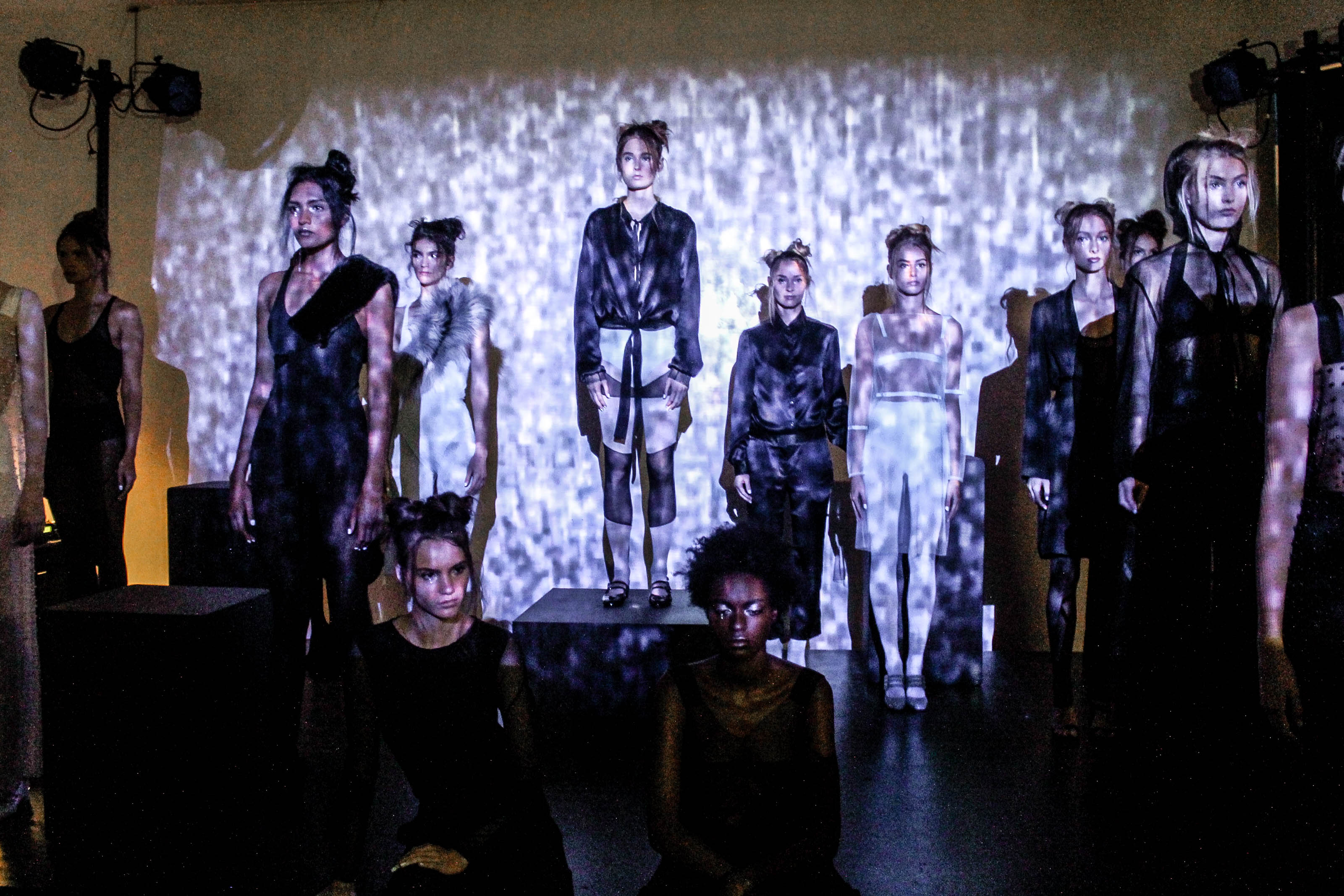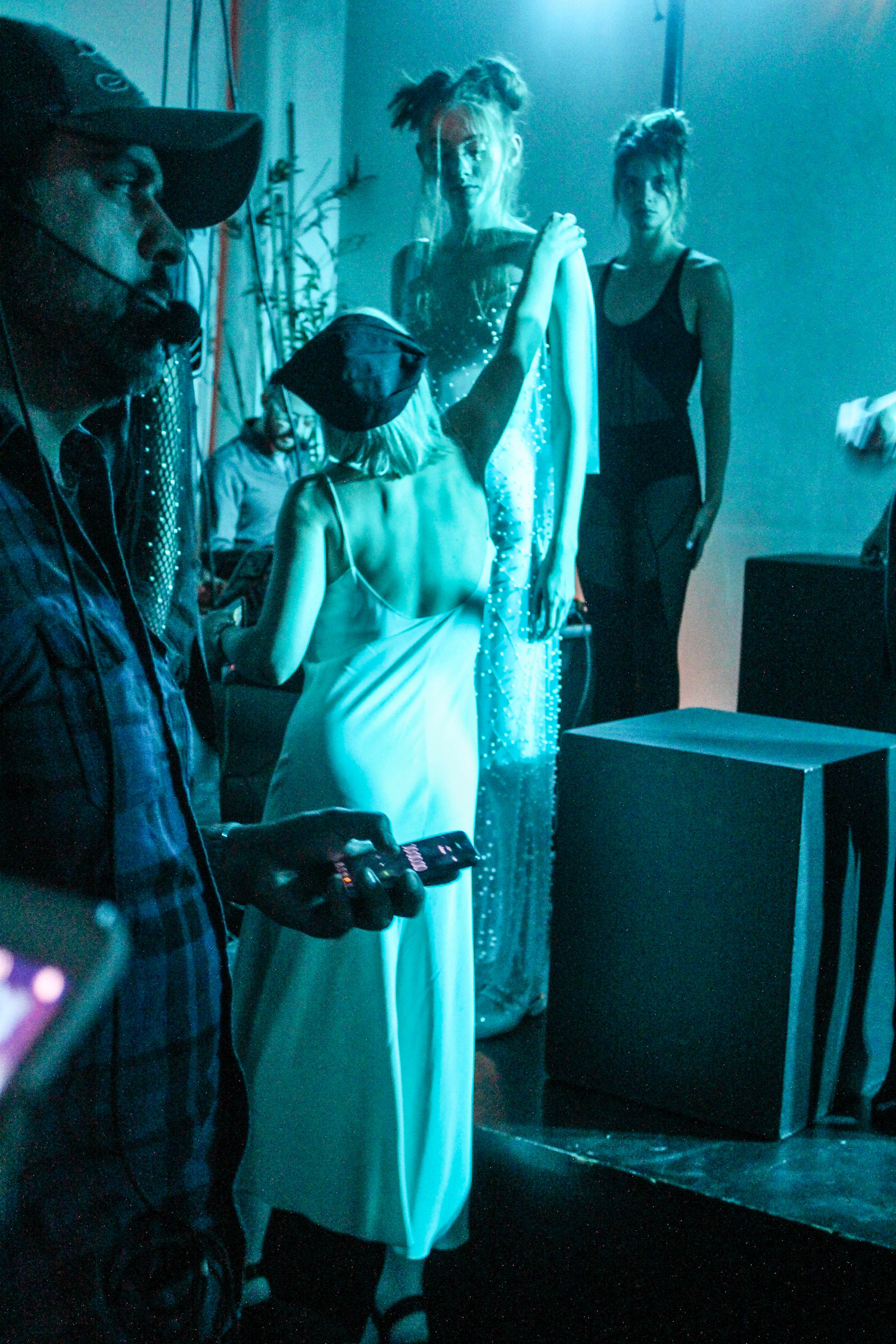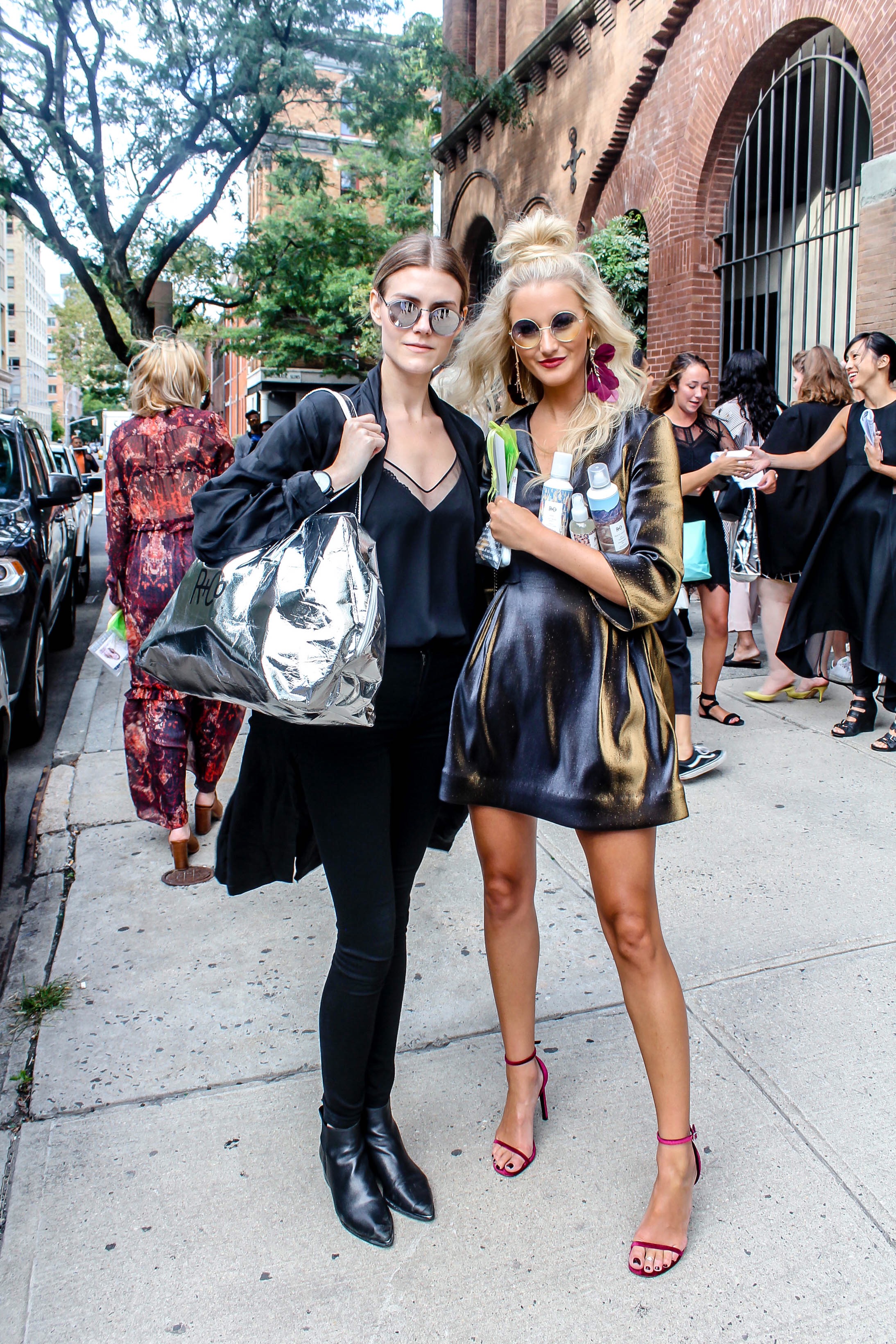 Okay, quick side note — I ran into this sweet friend in between shows and she showered me with tons of dry shampoo / self tanner / wavy hair products to try & honestly I'm obsessed with the results so far, so let me know if you all are interested in hearing about these products.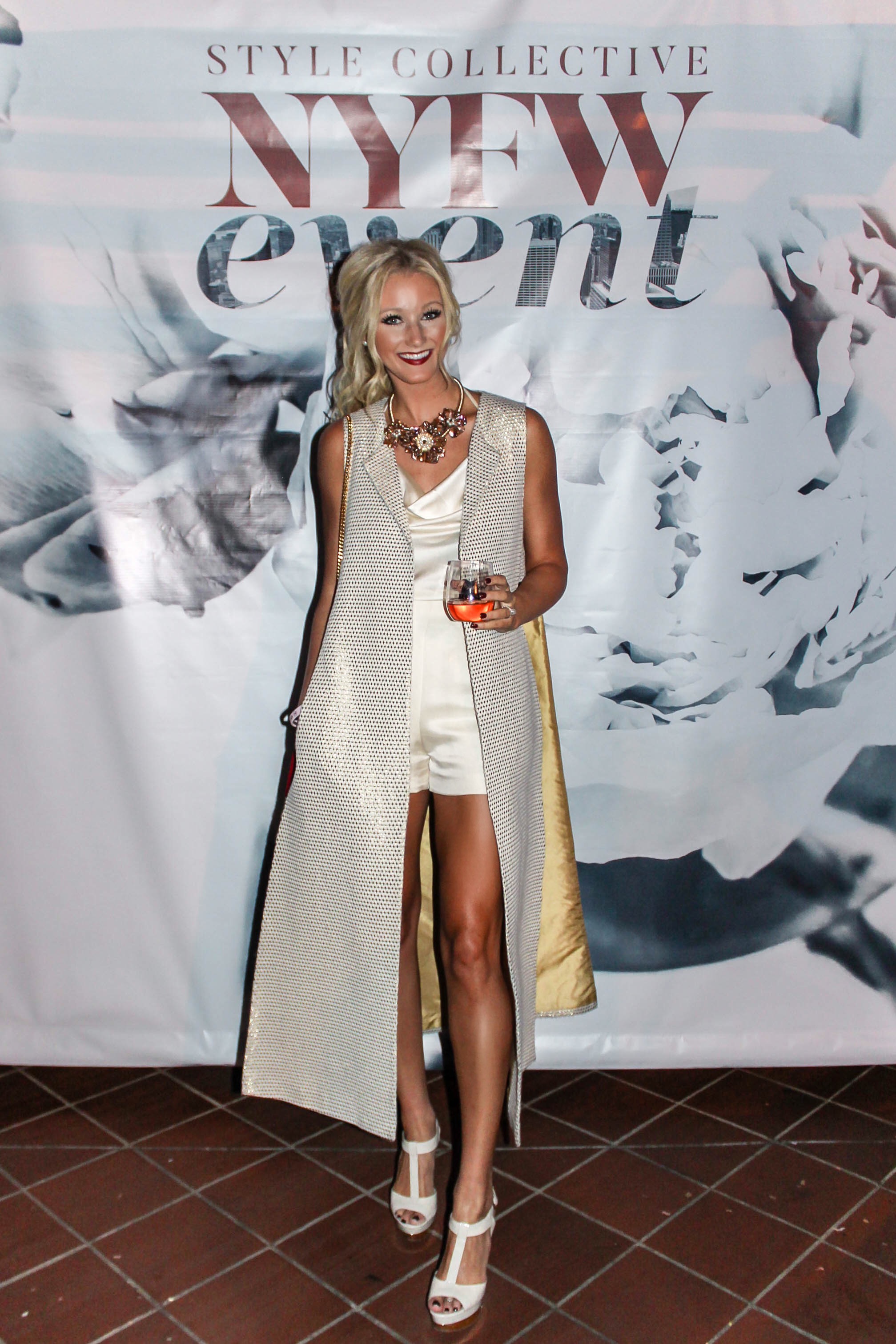 The final stop of day 2 of NYFW consisted of the Style Collective Partaaay!
If you are new to the blogging world or are just wanting to connect with other blogger sisters, I highly recommend joining Style Collective! I LOVE the founder, Annie, and she has truly built an empire of empowering women who are making their way in the whole blogging world. I loved connecting with so many of them at the party and networking with some major brands along the way.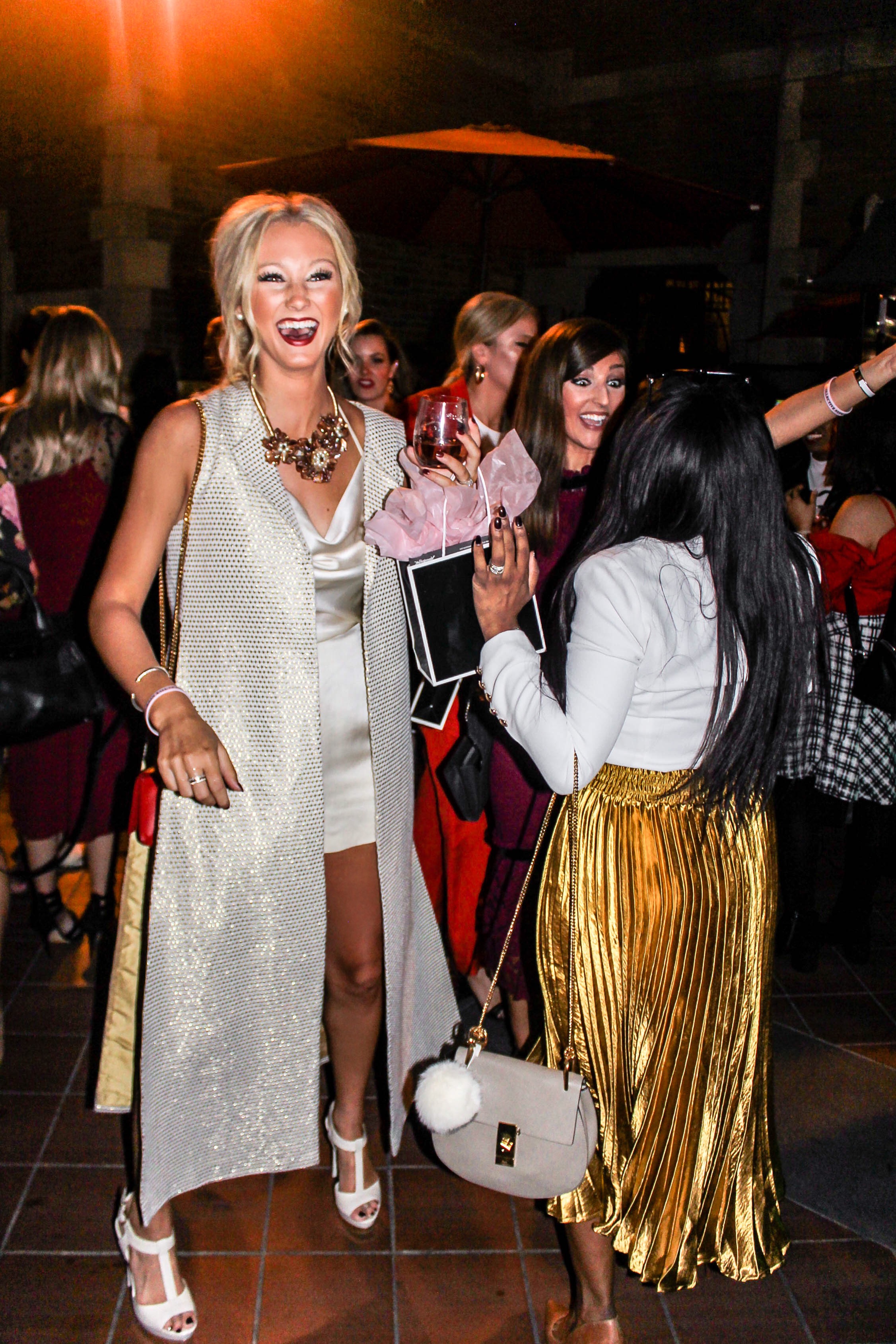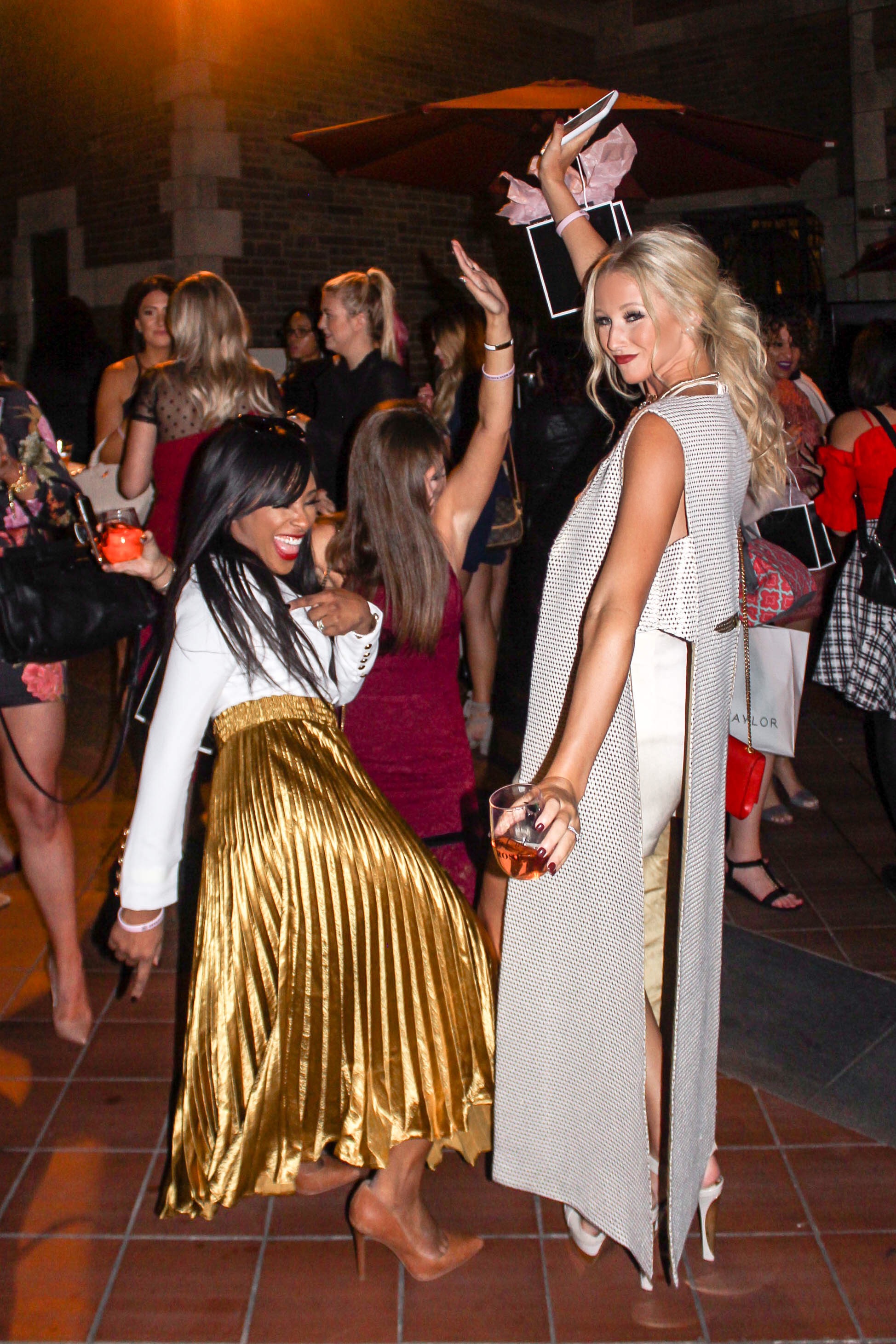 Needless to say, I finally met some fun and fabulous ladies who instantly became my blogger besties. I would be lying right now if I said I wasn't having withdrawals from not seeing them every day haha!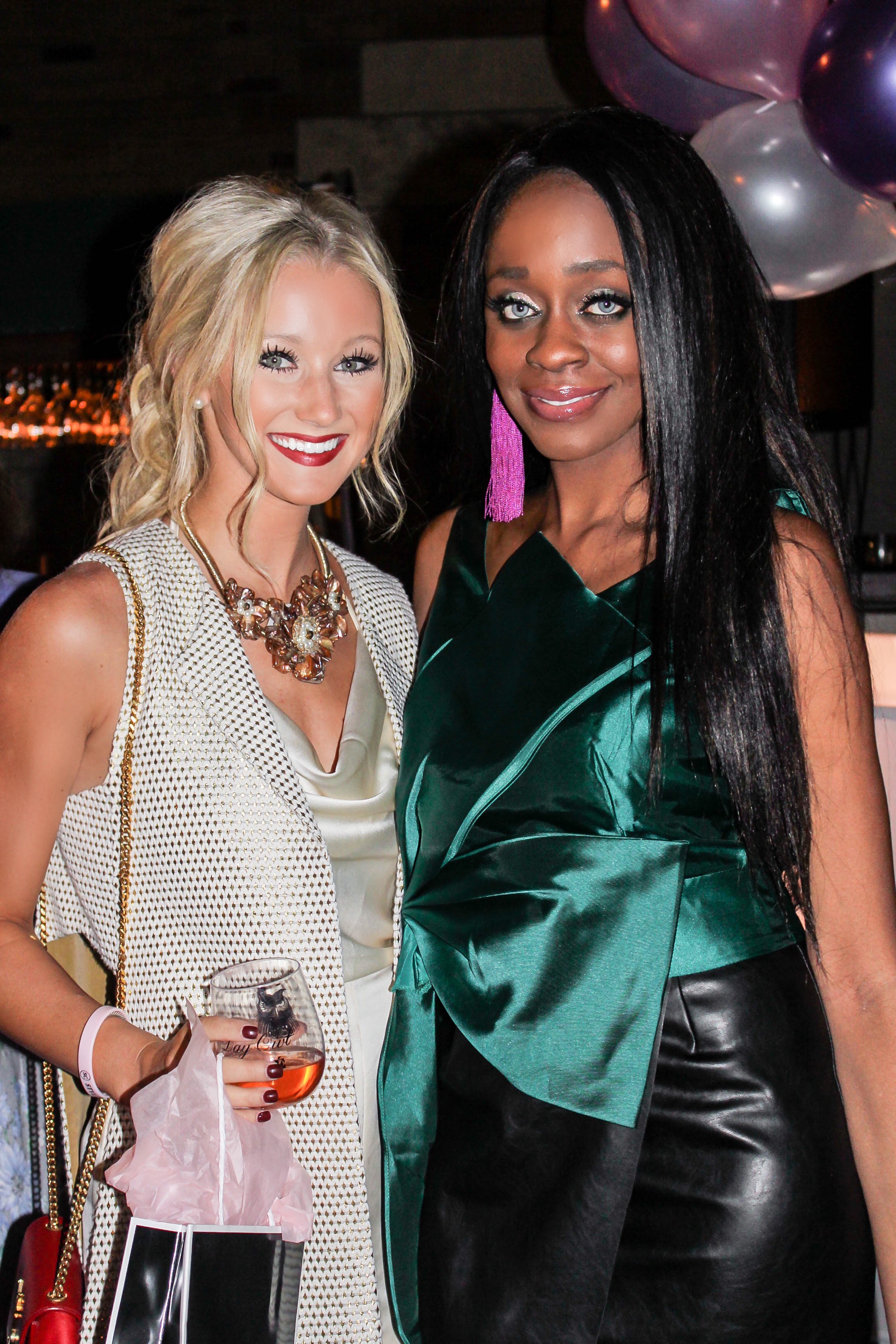 See more of this cream / gold look in THIS POST.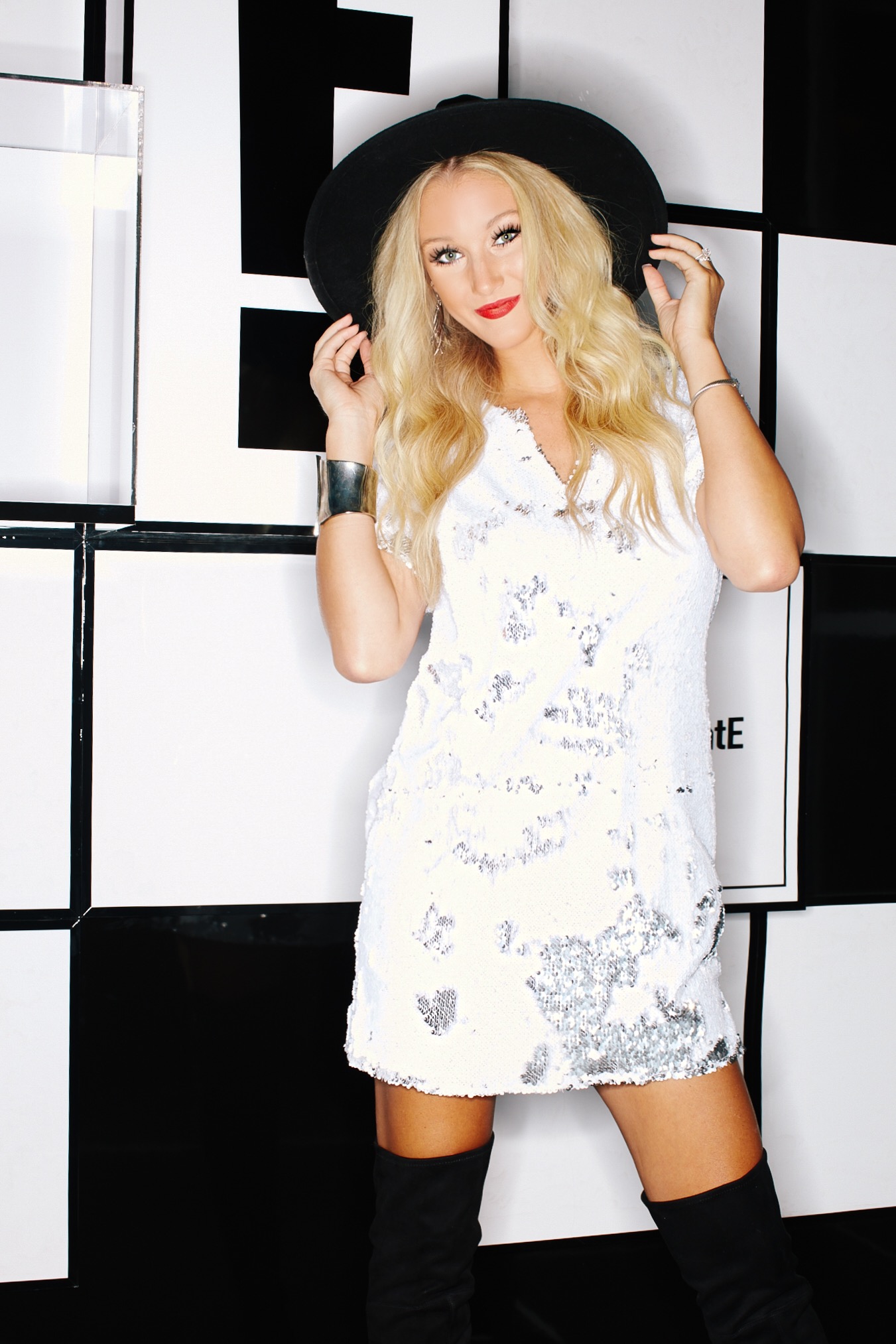 Day 3 started off early with a visit to the E! Online Studio Fashion Lab – which was a blast by the way!
Ask my hubs — I'm a huge E! fan, so when I was invited to join in on their fashion lab, I was SOOO in. Like for sure, without a doubt. It was really cool because I got to have a mini photo shoot with celeb photographer, Atisha Paulson, and finish out my time with a cute promo video produced right in front of my eyes (I'll add the vid to my IG stories) — it's so cool to see it all come to life right in front of you!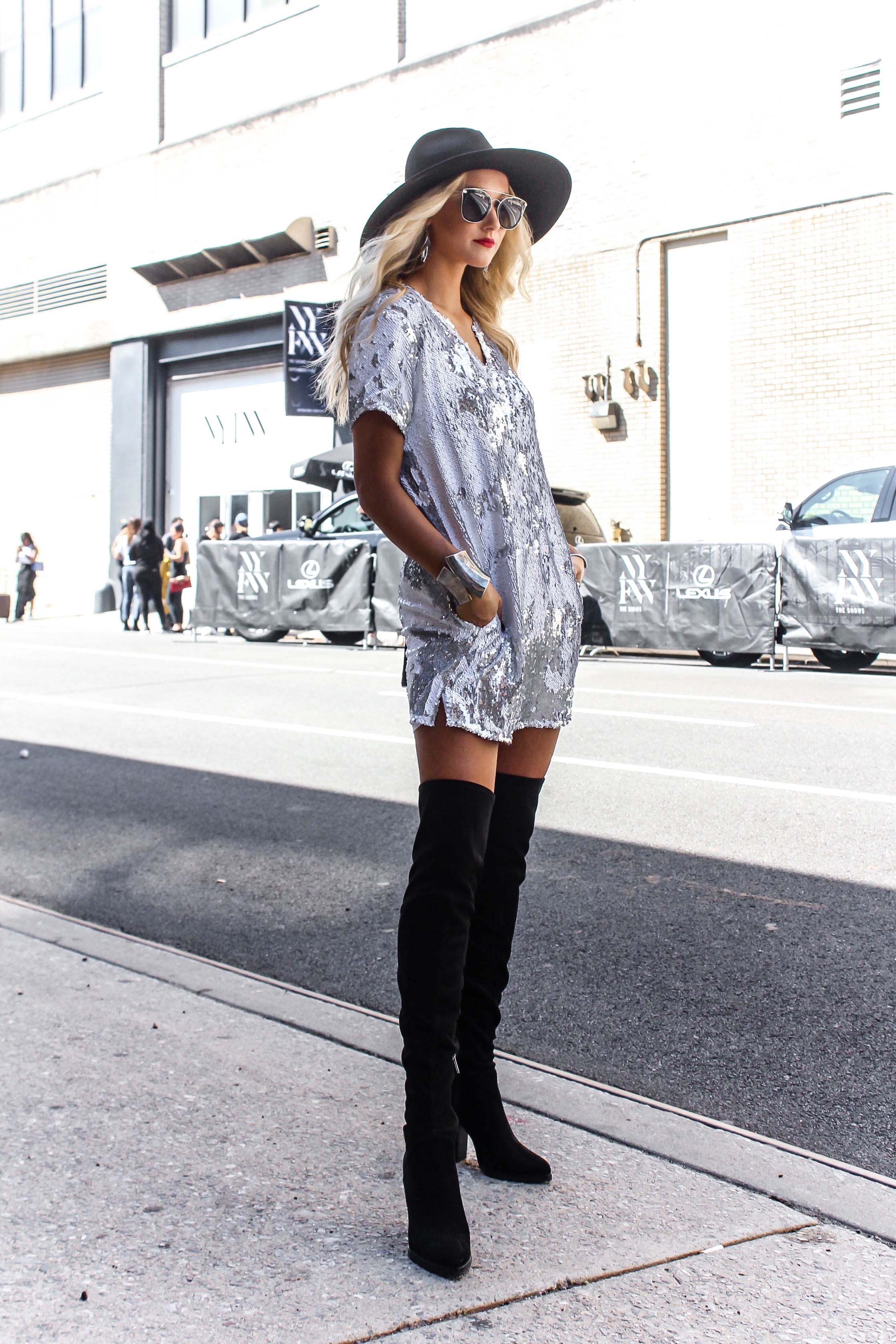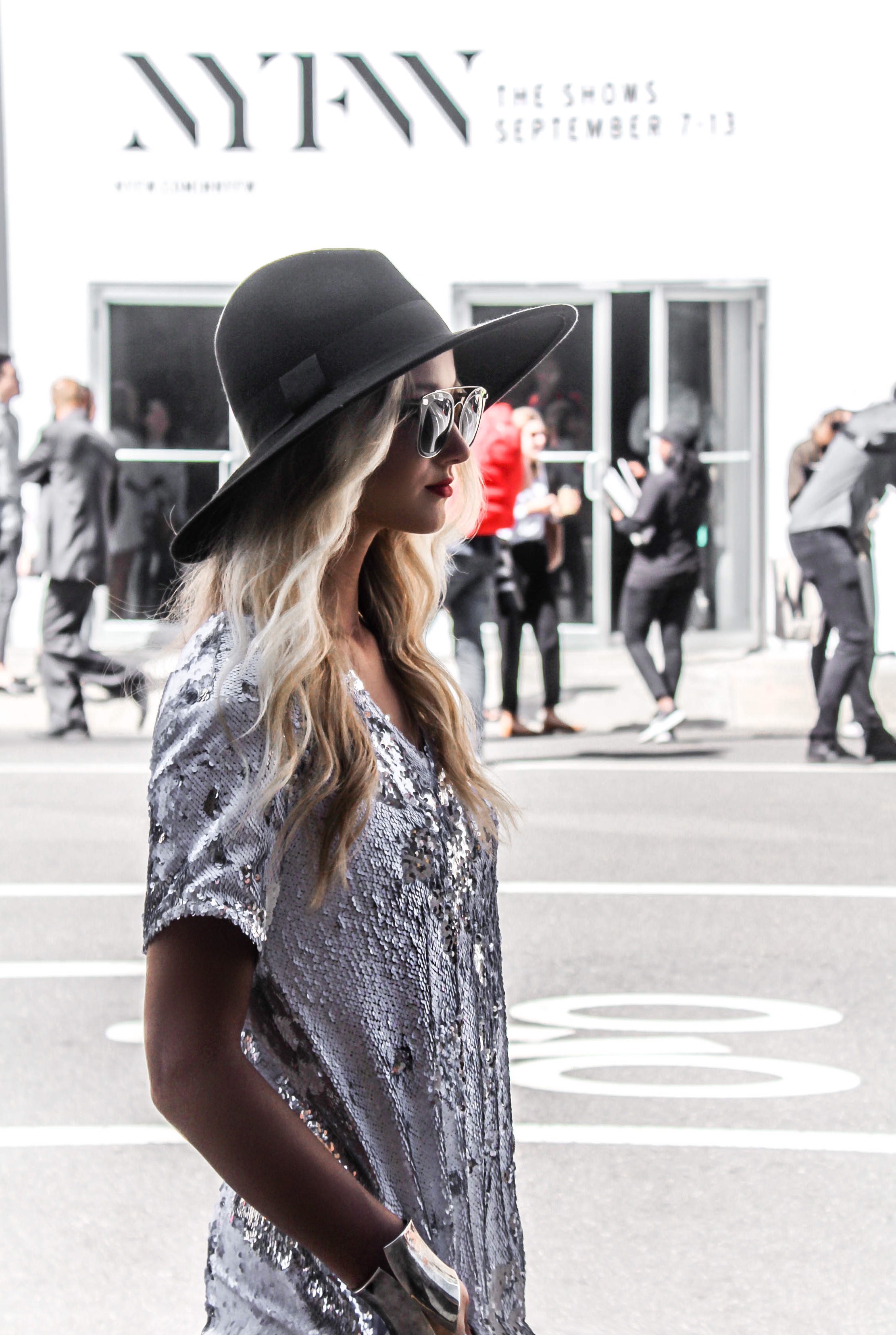 More details on this sassy sequin dress are in THIS POST.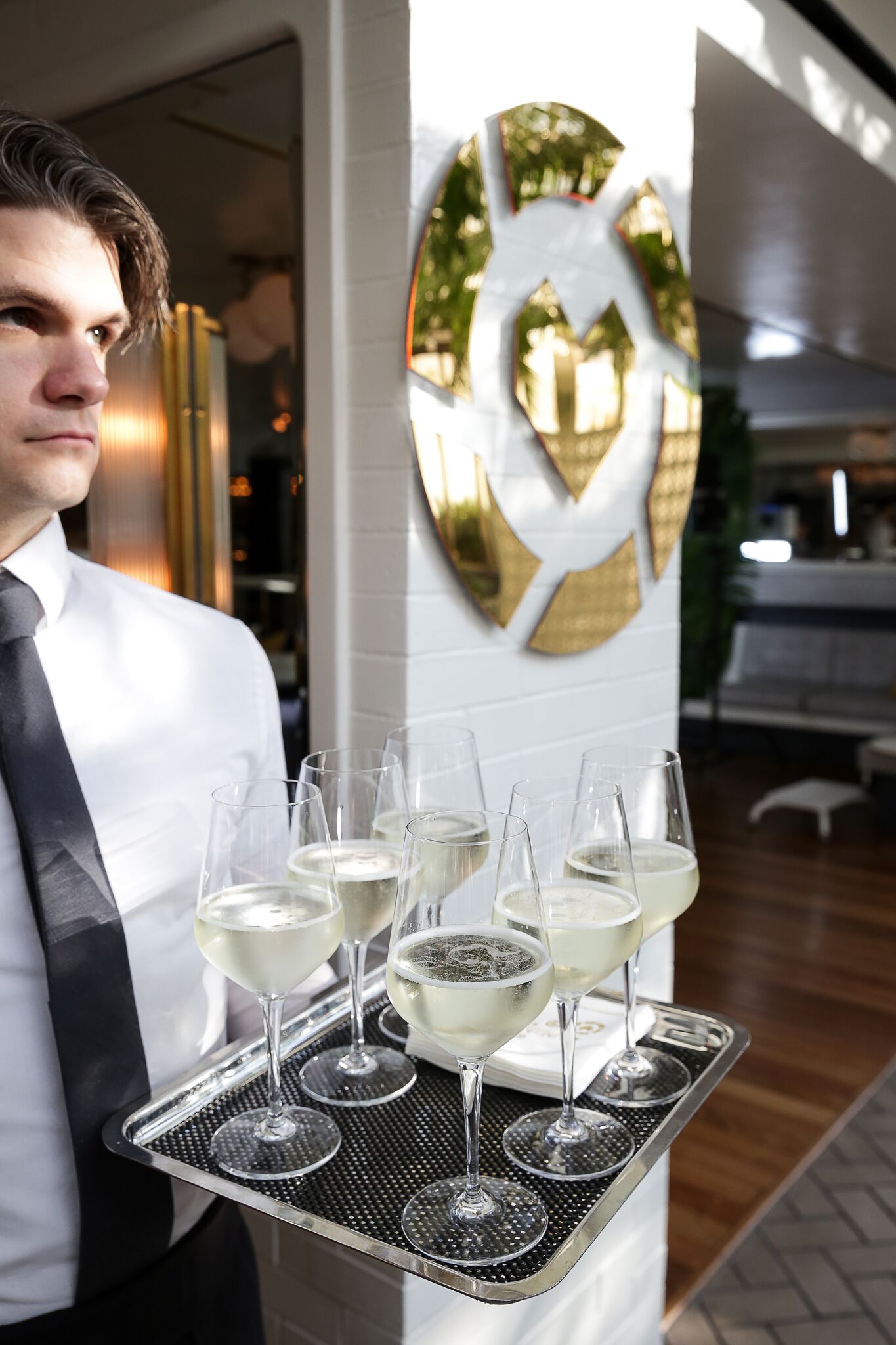 The final event of day 3 was my favorite event of my entire time during NYFW – the LIKEtoKNOW.it rooftop party. At the event, I got to meet so many of the major bloggers and influencers that I've looked up to for so many years, and got to make so many new blogger friends to keep in touch with.
I guess the fun 360 degree photo booth, open bar, and DJ didn't hurt either 😉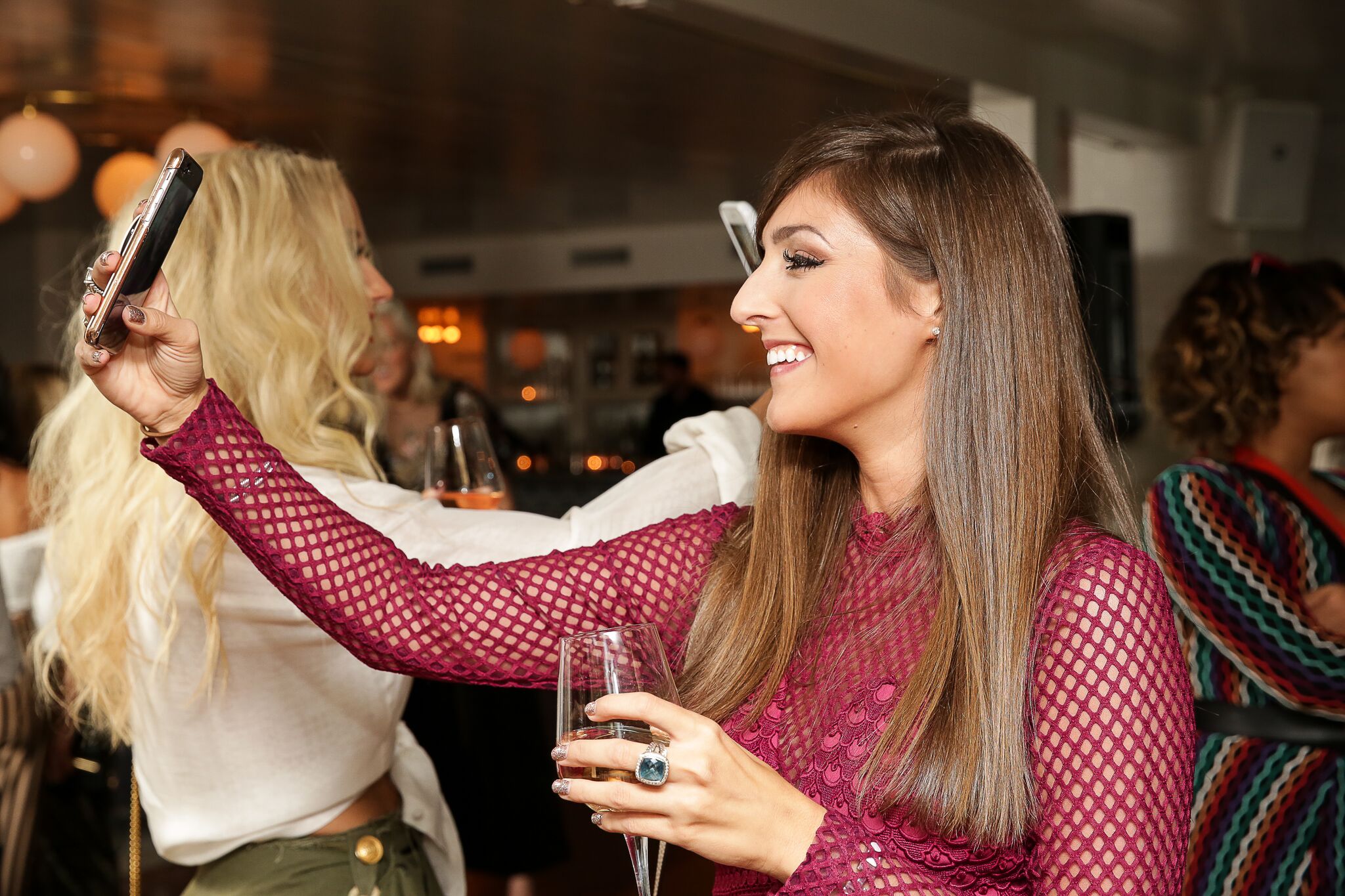 When you walk into a blogger event …. PROMISE everyone is on their phones snapping LOL. No joke, I finally felt like I was in my element!!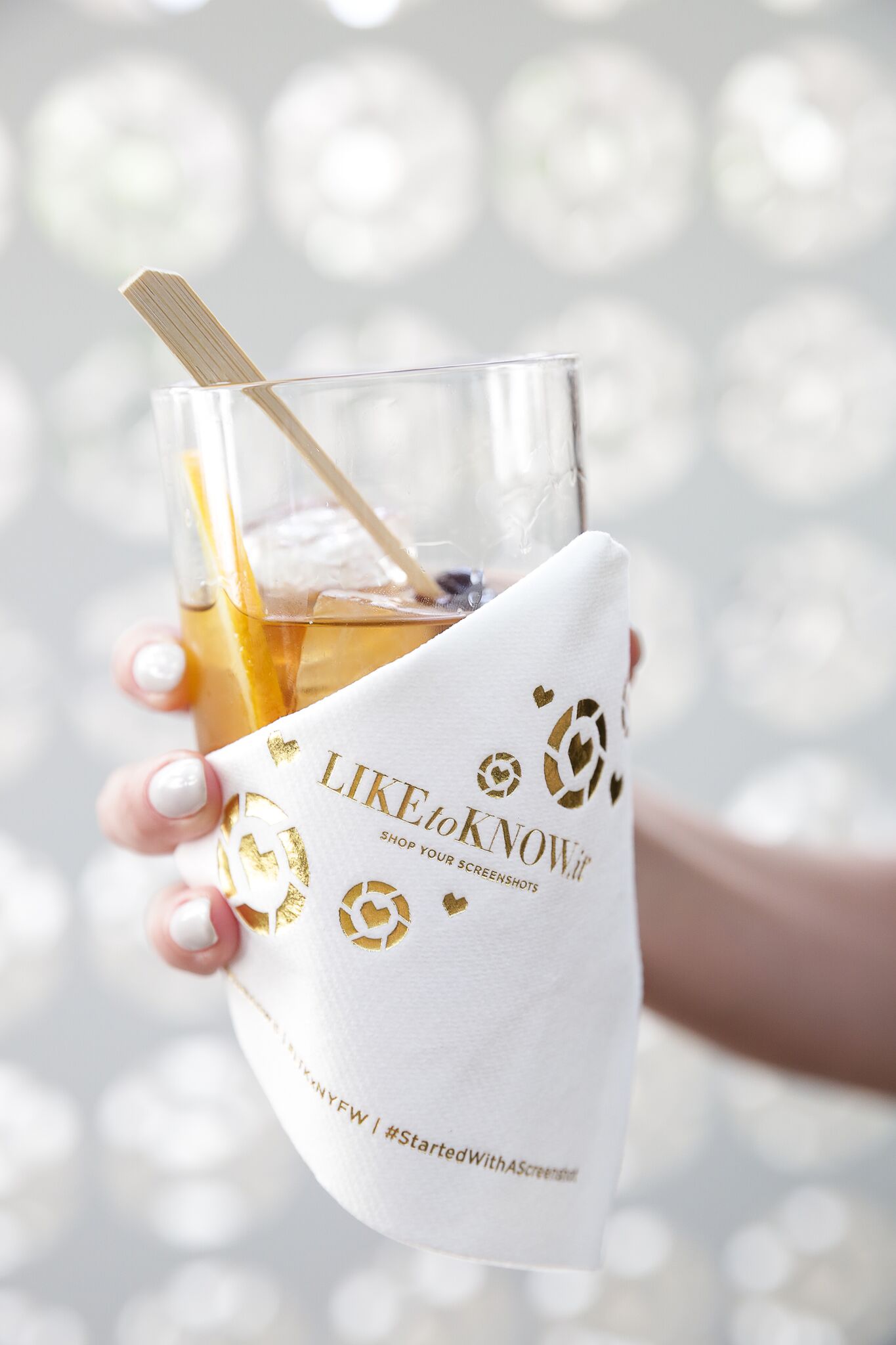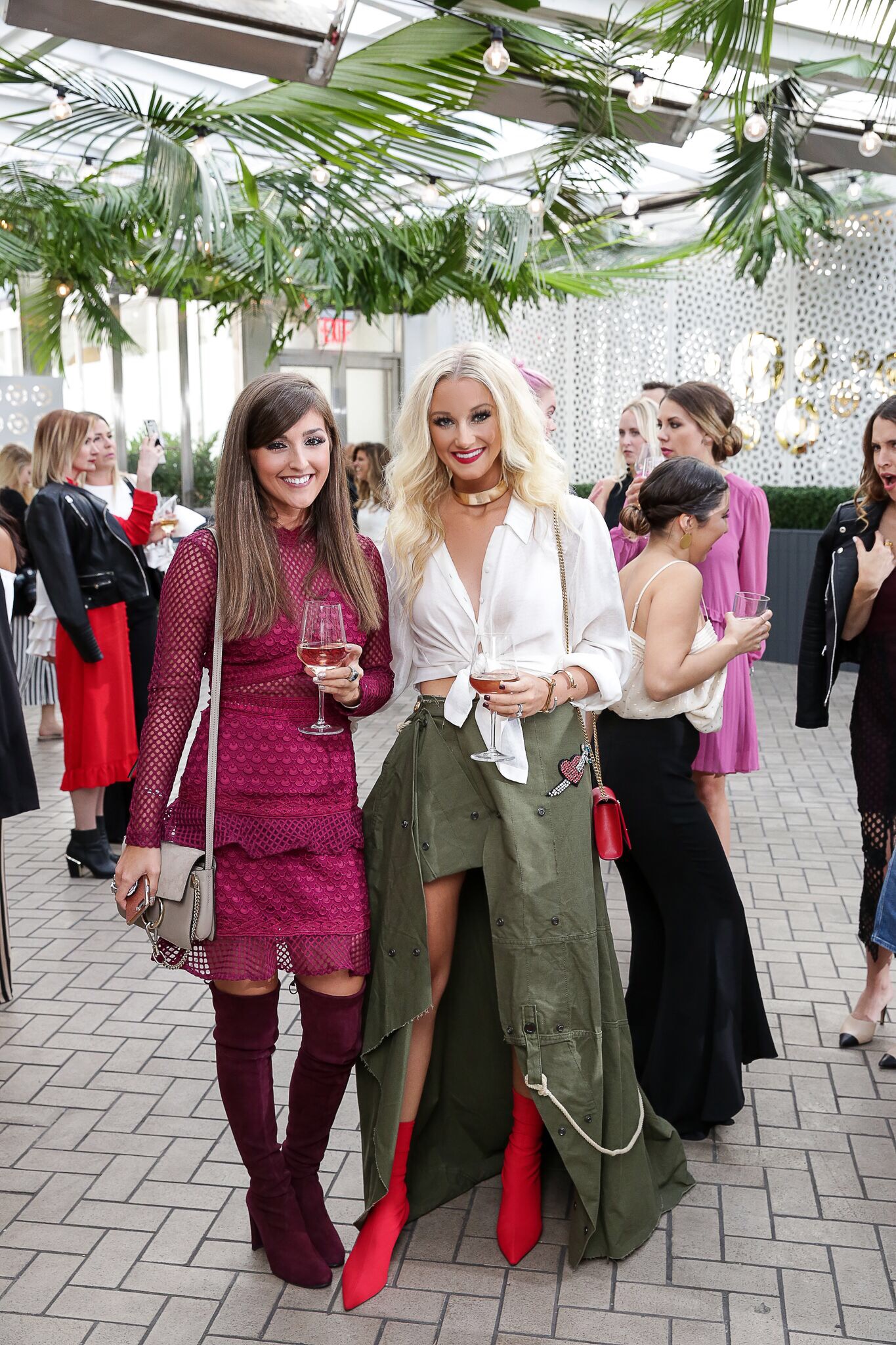 Just a quick (sappy) snippet about this sweet & beautiful girl! I met Victoria close to the beginning of NYFW and by our last day, we had already clicked to the point where we could COMPLETELY be ourselves around each other – which usually means being goofy & silly while trying to network & work the entire room at the same time LOL.
This girl was a total God send for me during fashion week and ultimately the blogger bestie that I've been searching for. I can't wait to hang out with her again soon so I can introduce y'all to her a little bit more. Buuuut for now, you can follow her on her blog and on IG. I seriously flippin' love her, and I know y'all will too!!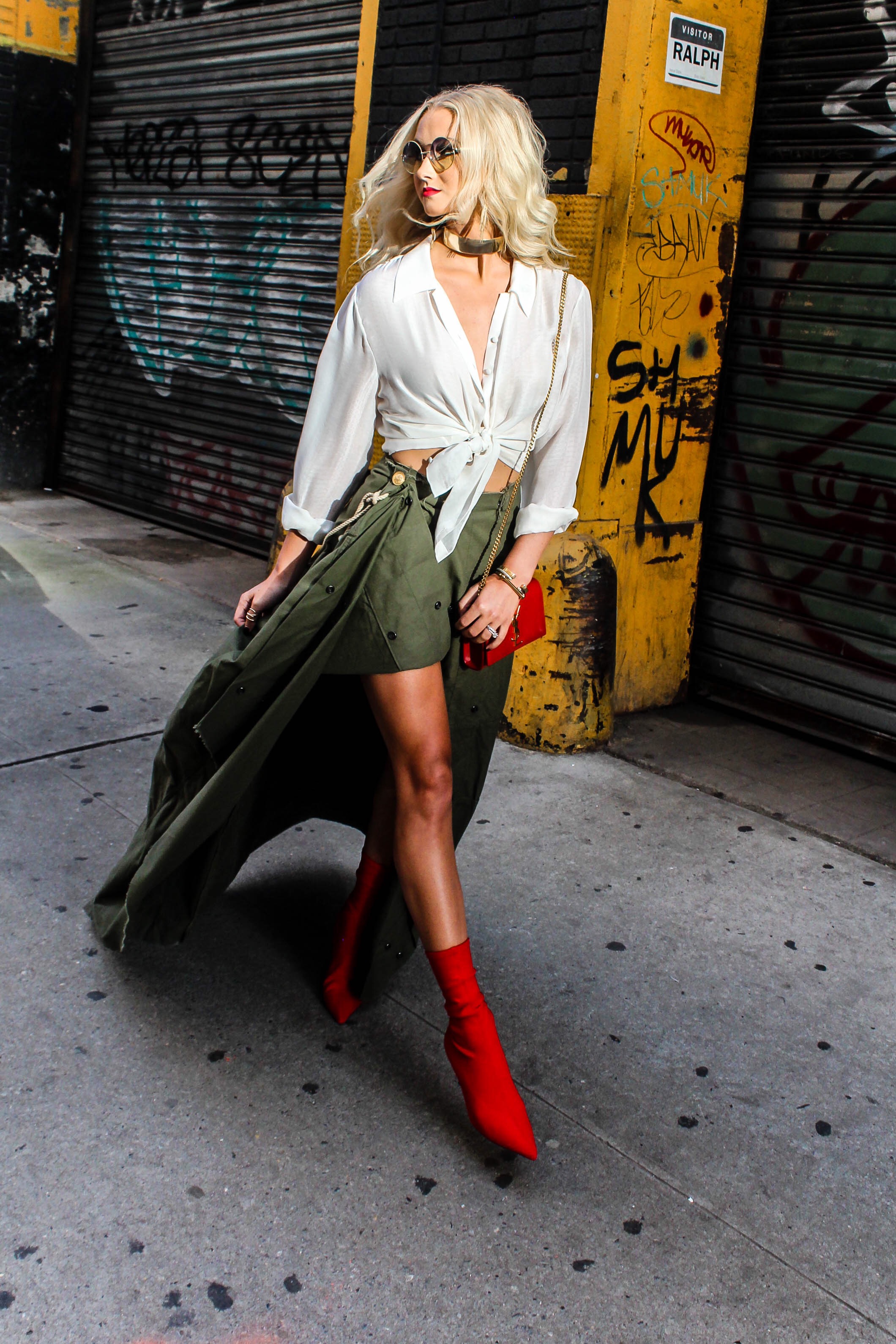 I also wore my favorite outfit of all time to the LTK party — you can see more images and details of it HERE.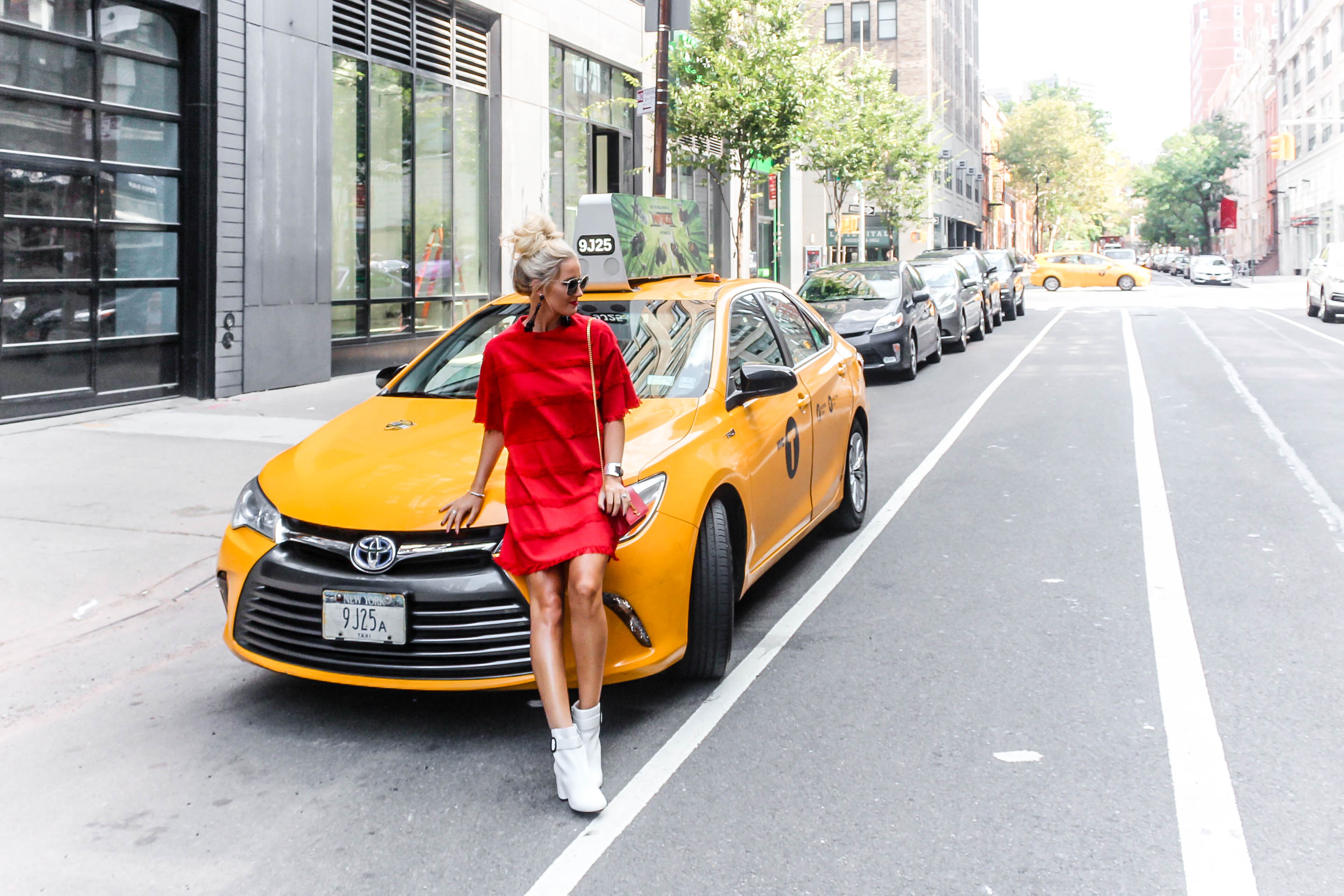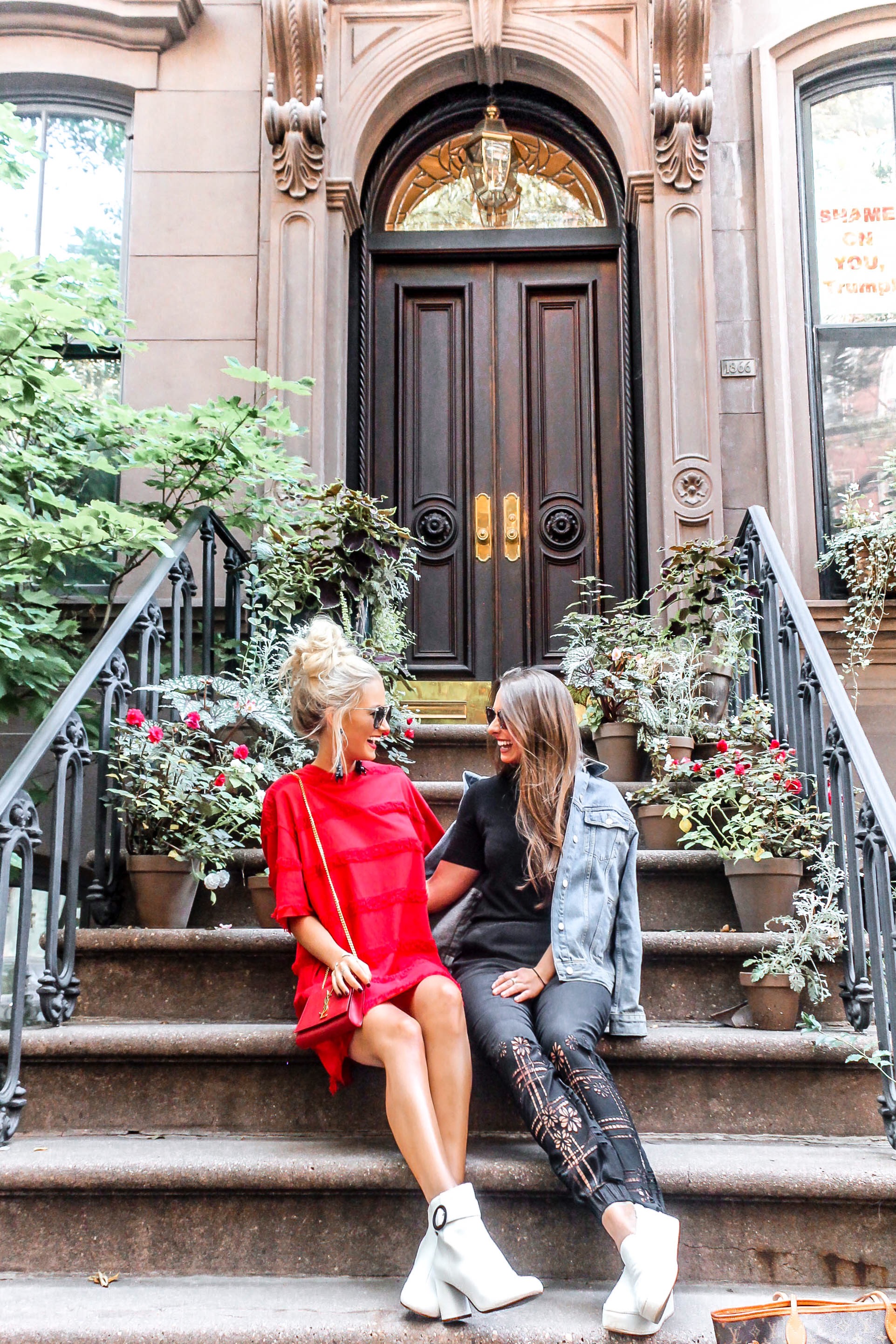 If you've never been to fashion week (like me), you'll quickly learn that on your last day, you're searching for the MOST comfortable shoes that you packed. Yes, I took Ubers like everywhere and my feet were still killing me by the end of my 4 days at NYFW because you're on your feet most of the time during shows / presentations / events.
On day 4, our flight departed that evening, but we made time to visit one of my best friends, Stephanie, before leaving town. She's actually a fellow southern girl like me, but she moved to NYC a little over a year ago – and she's killing it in the city, I might add. We met for brunch at While We Were Young — a must when in the city! It's amazing. And then she showed us around a lot of Lower Manhatten – the East and West Villages. As many times as I had been to the city, I had never really explored the lower parts since it isn't really where the tourist-y attractions are, but come to find out, I've missed my calling all along. I COMPLETELY fell in love with Lower Manhattan on this trip and actually would move there tomorrow if it was in God's plans for me. It's so neighborhood-ish in the middle of NYC, which I love. Clearly, that's where most of the locals hangout the majority of the time — and this Tennessee girl from now on anytime I visit. 😉
---
My first New York Fashion Week was actually a dream come true – as cheesy as that sounds. But it was. And it's only the first of many. I'm already craving to go back!
Since the shows focused on Spring / Summer 2018, I took a lot of notes about upcoming trends for that, but I figured I would save those to share with you all once we get closer to those seasons when they will be of more value to you!
Thank you all so much for joining me on this journey and supporting all my wildest dreams – because sometimes they are cray cray, let's be real … But I so appreciate each of your all's support and love along the way!!
Thanks for reading and comment below if you have any questions at all!
xo, P