Long time, no chat ladies! I've been kind of MIA the past few days because I was hard at work in NYC for New York Fashion Week, but I'm finally back home and have so many things to recap and share with you guys. My trip to NYFW was everything that I imagined it would be and more. Although it was (literally) exhausting and totally nonstop 24/7, I honestly didn't even want to come back home. I thrive on that NYC hustle – especially when I'm surrounded by so many incredible influencers, designers, fashion icons. I'm beyond excited to share all of the amazing new spring trends with you all that I saw on the runways! It's going to be a season full of bright (hint hint), colorful, feminine and beautifully made designs. I'm already excited about dressing for next spring/summer!
Before I went to New York, I met with one of my friends, Cavanagh Baker – who is one of my all time favorite designers. She is INSANELY talented, you guys!! Just to give you a little background, Cavanagh is a Savannah College of Art & Design graduate who opened her design studio in Nashville, TN in early 2016. She has designed for many well-known musicians and reputable individuals, including Kelsea Ballerini (in which she designed my all time favorite piece ever seen in a music video), Little Big Town, Miranda Lambert, Danielle Bradbery, & Brandi Cyrus just to name a few.
We decided that it would be a great idea to collaborate during NYFW, so I met up with her in Nashville at her atelier for a fitting, and we went from there. I was truly honored to wear even one of her amazing designs, and by the time I left, she was sending me on my way with six full outfits! Cav is just a kind as she is talented.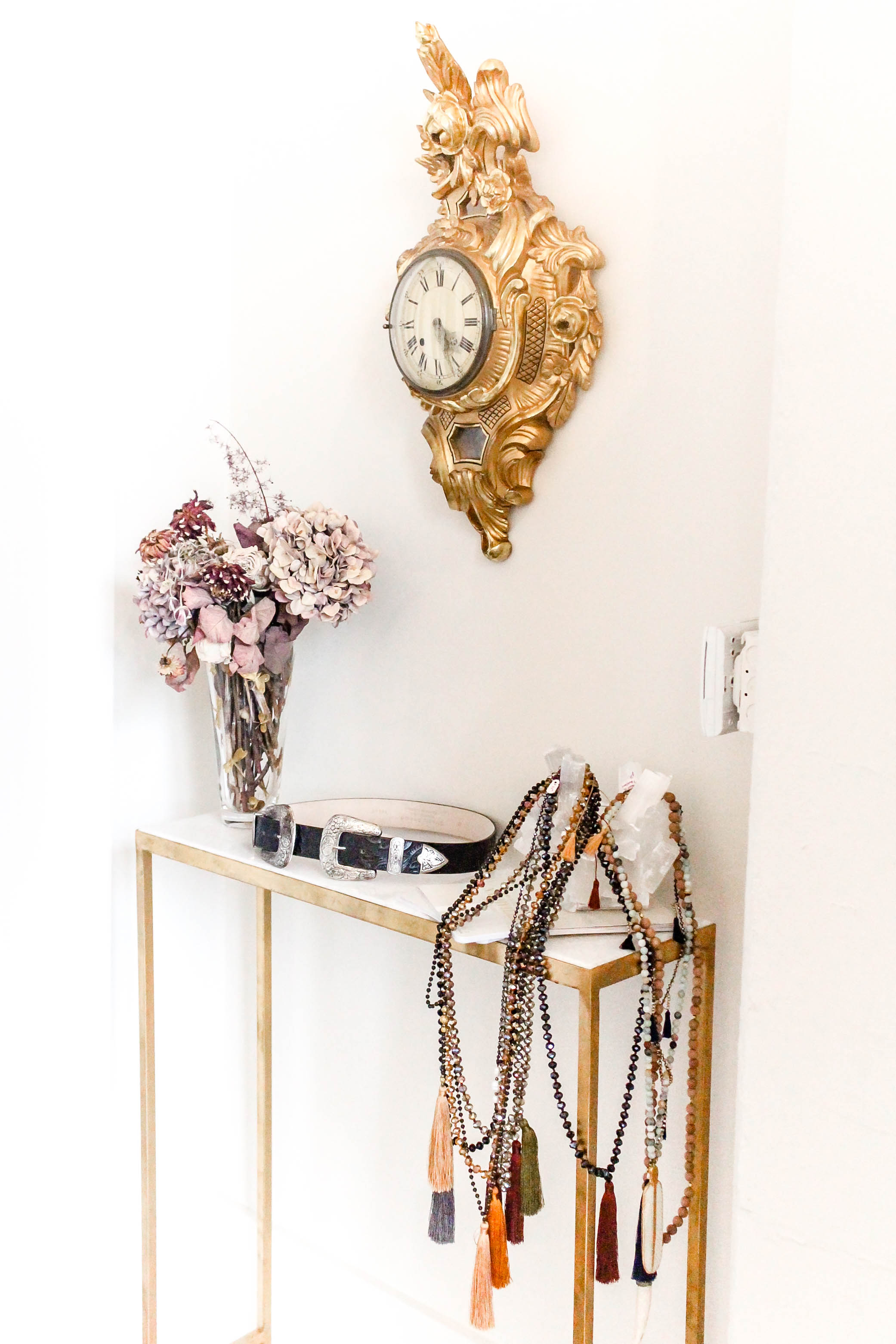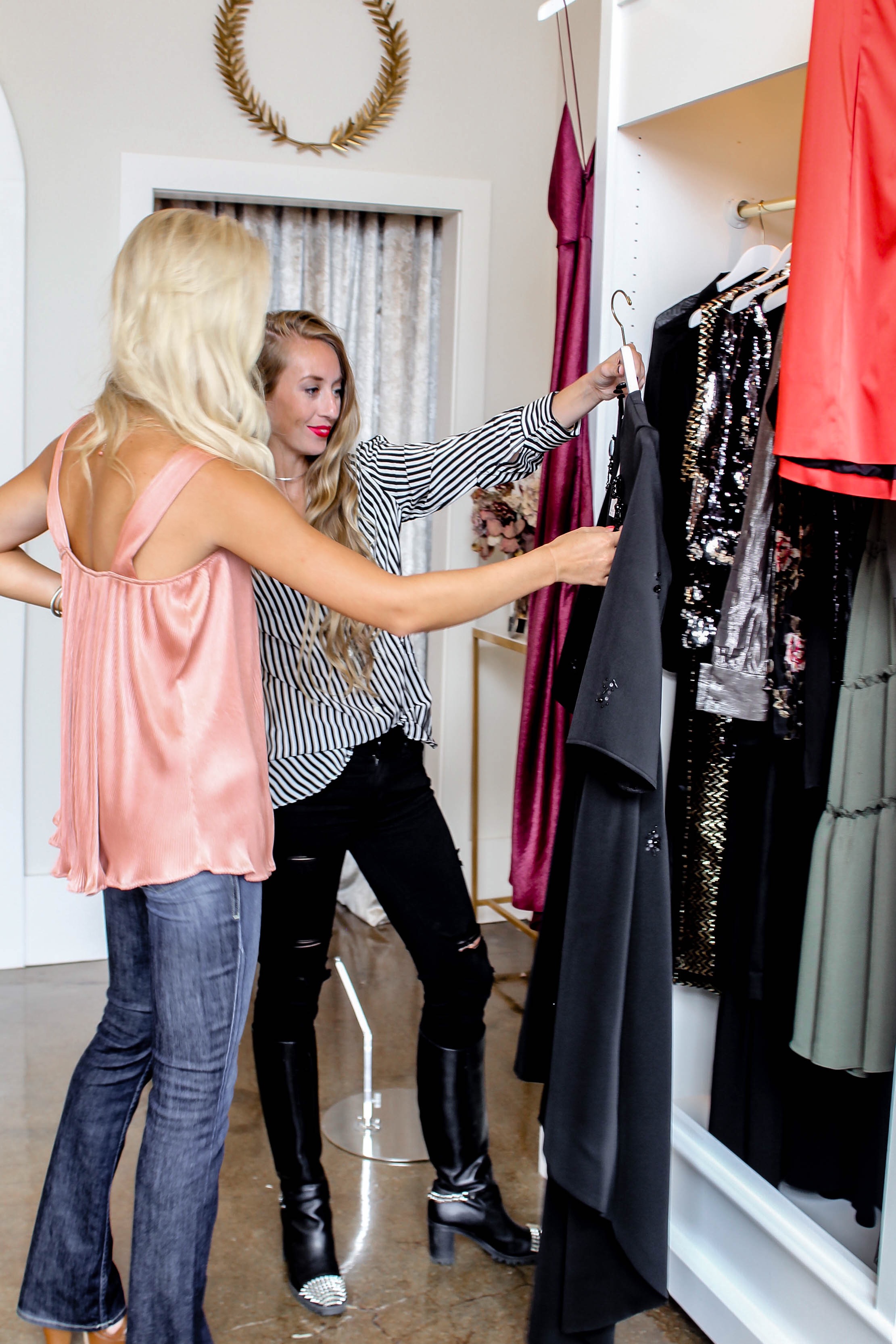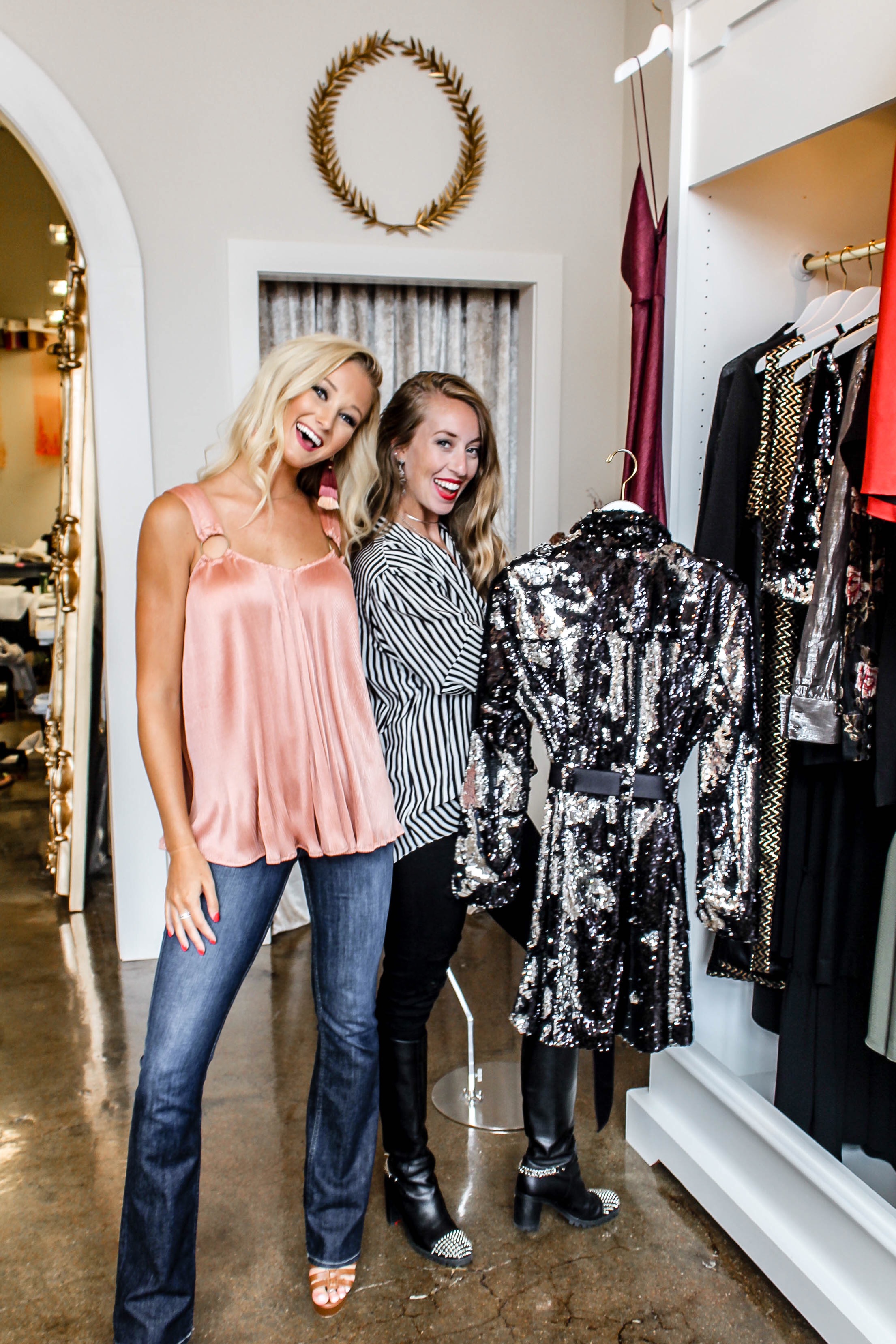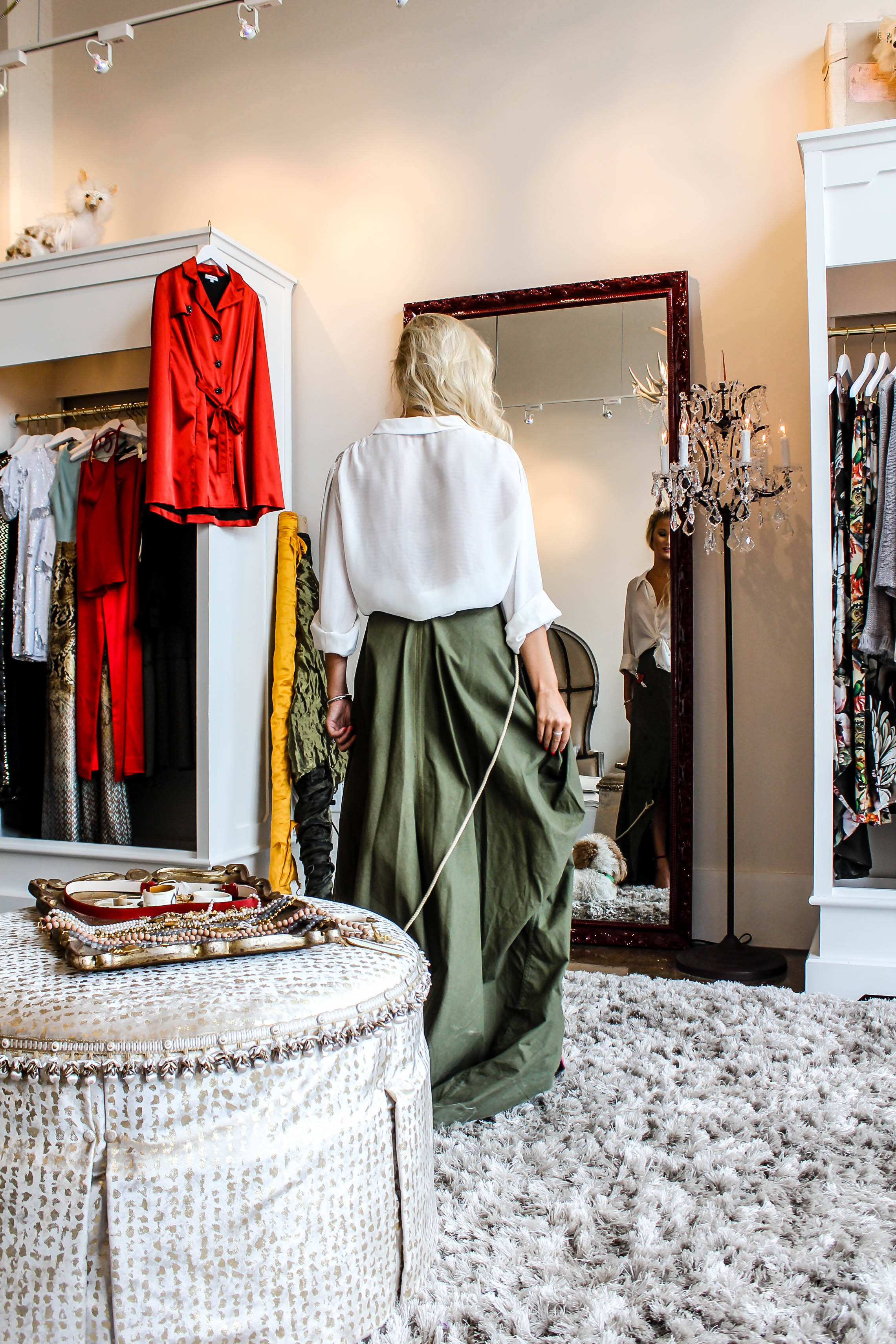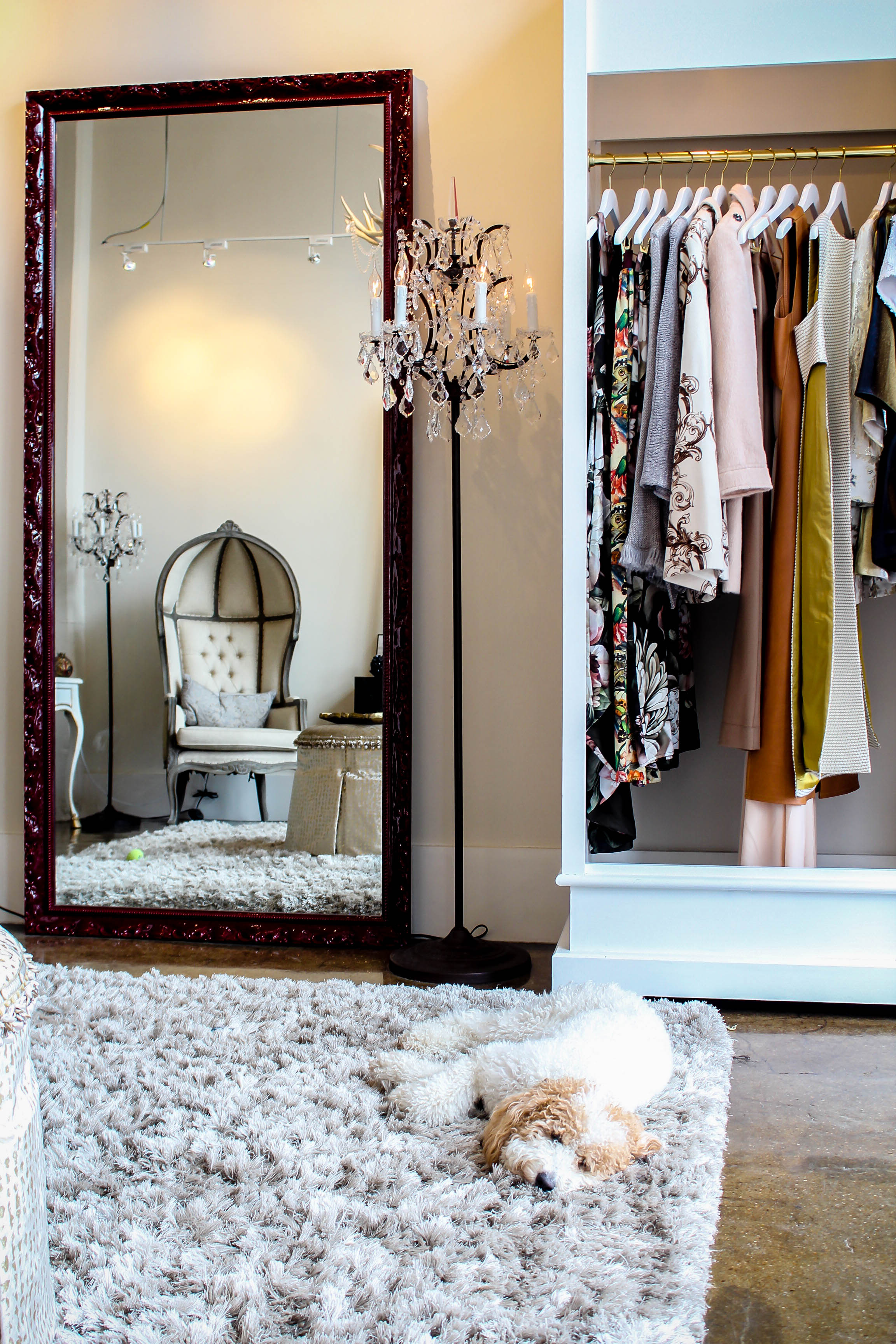 And this is Mufasa – aka the cutest, most friendly dog ever. I really just wanted to lie down & cuddle!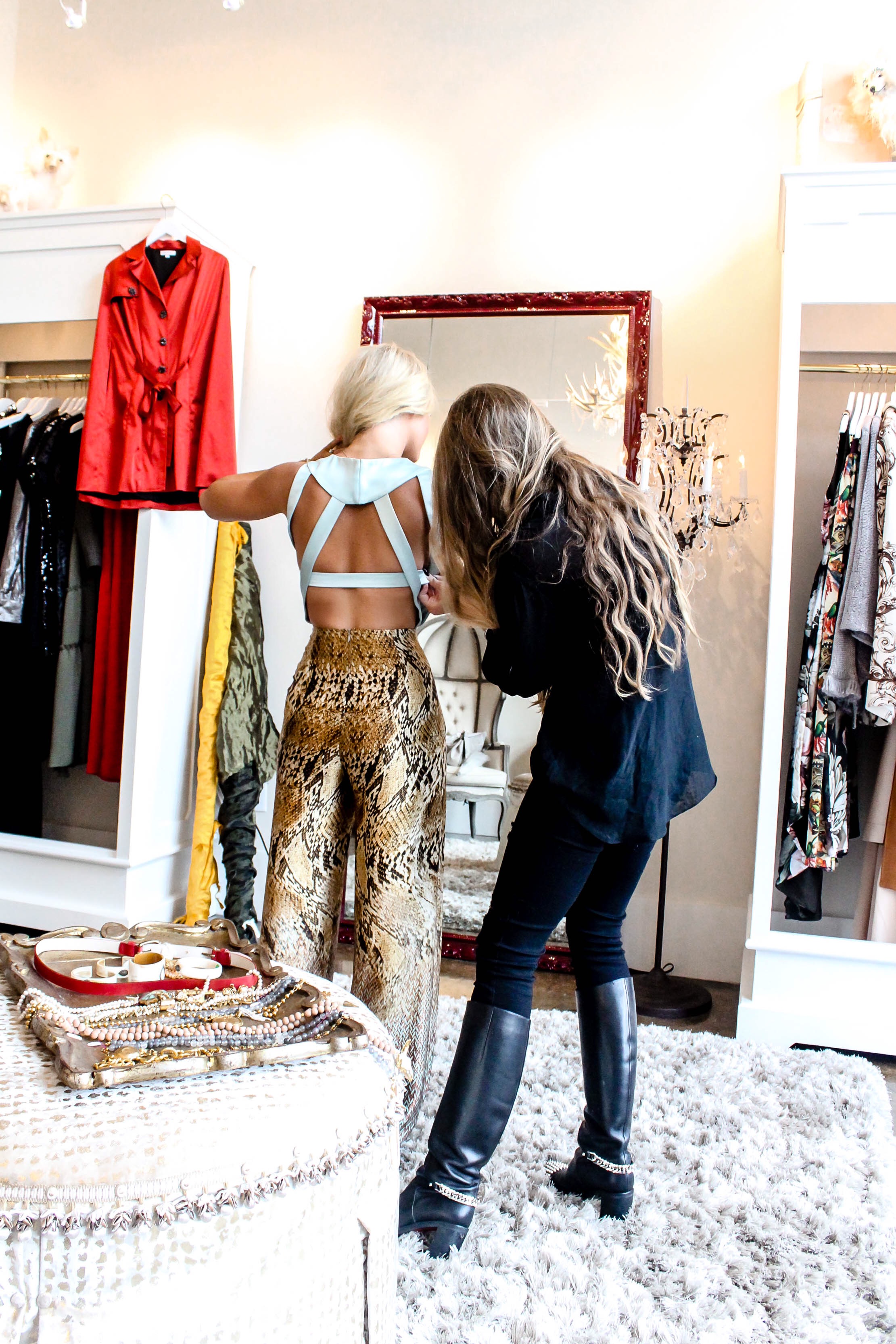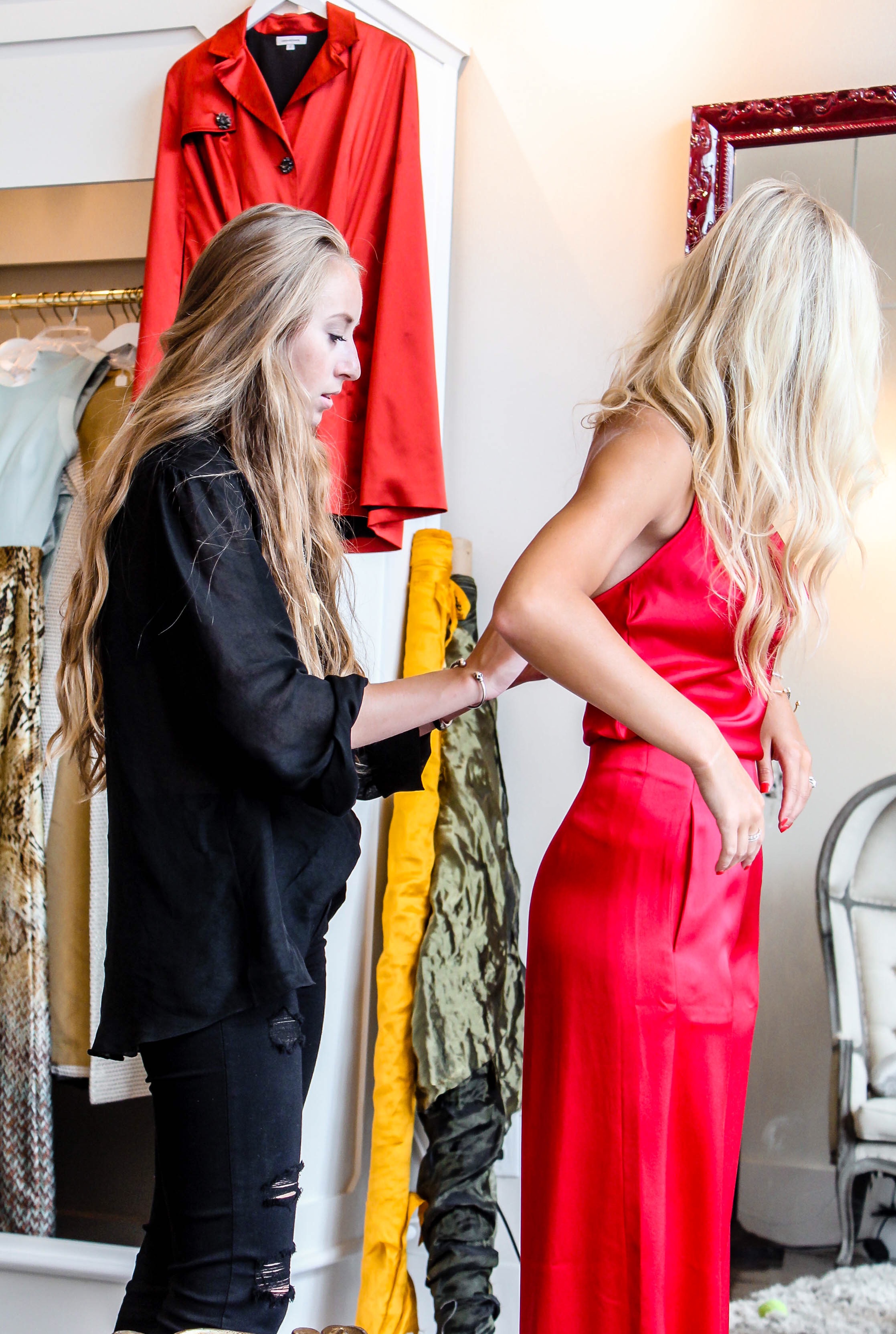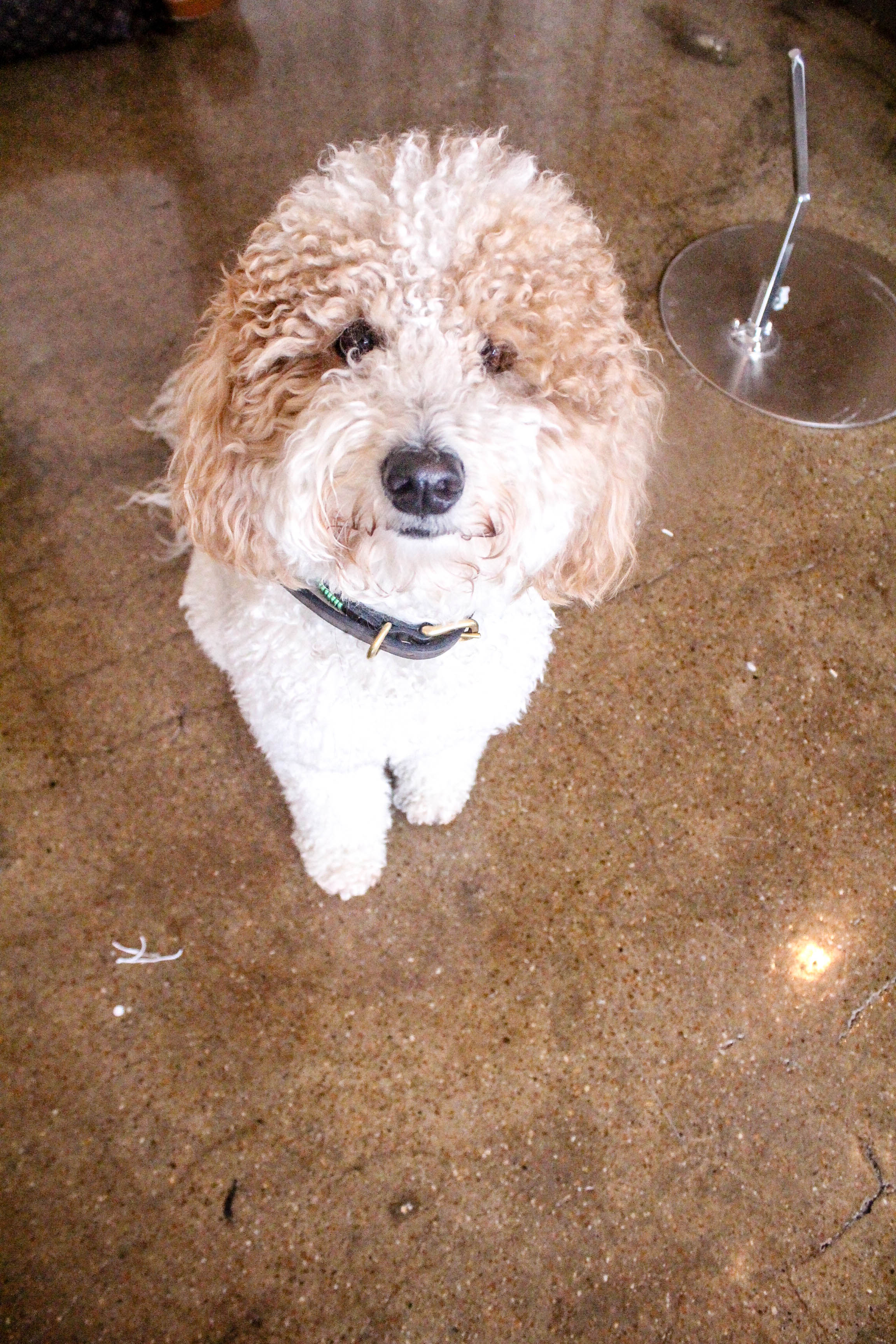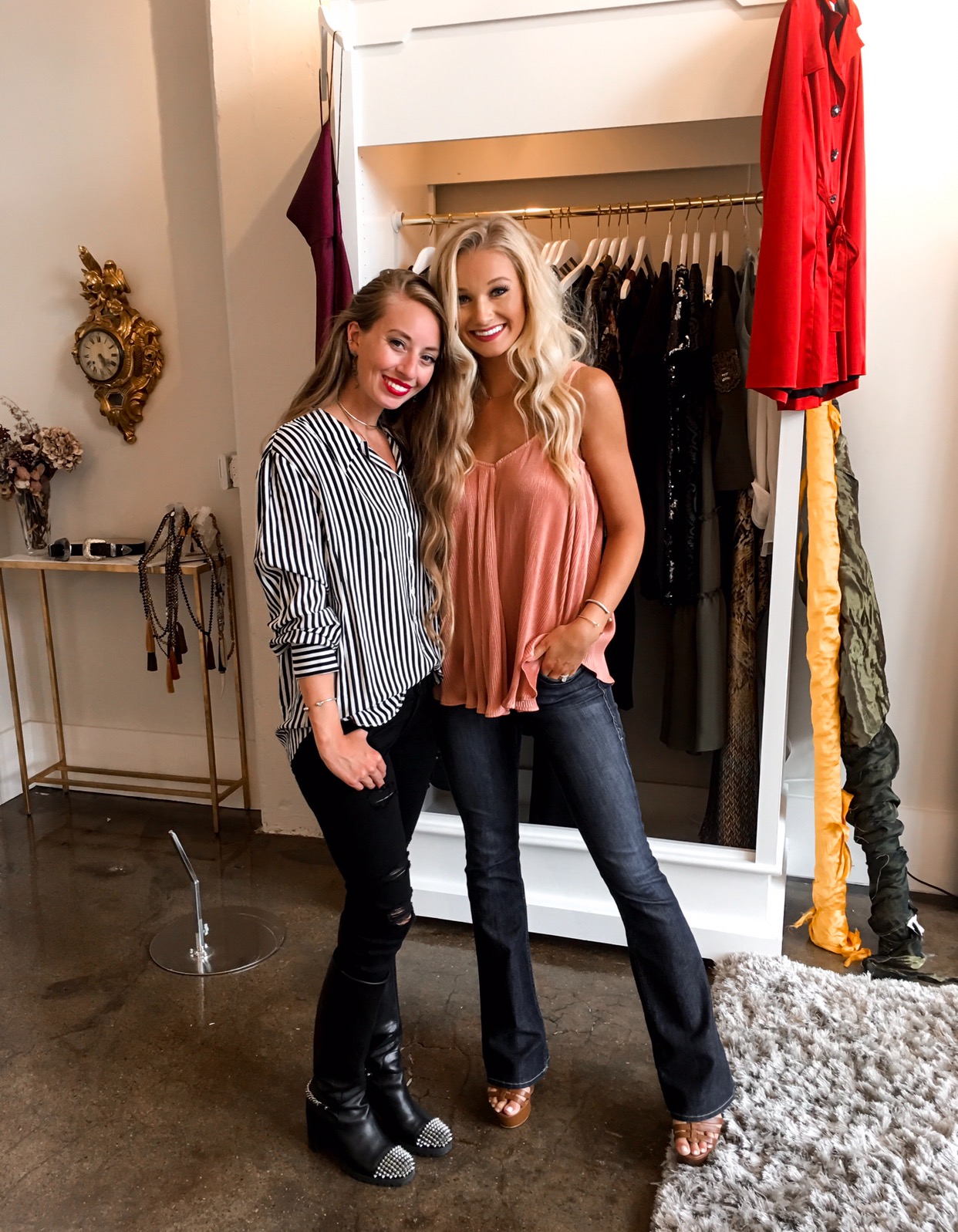 If you followed along with me on social media during Fashion Week, then you've probably already seen a few glances of the looks that Cavanagh and I created, but I wanted to recap all of these outfits in a blog post because one photo just truly doesn't even do them justice. Keep scrolling to see more. 🙂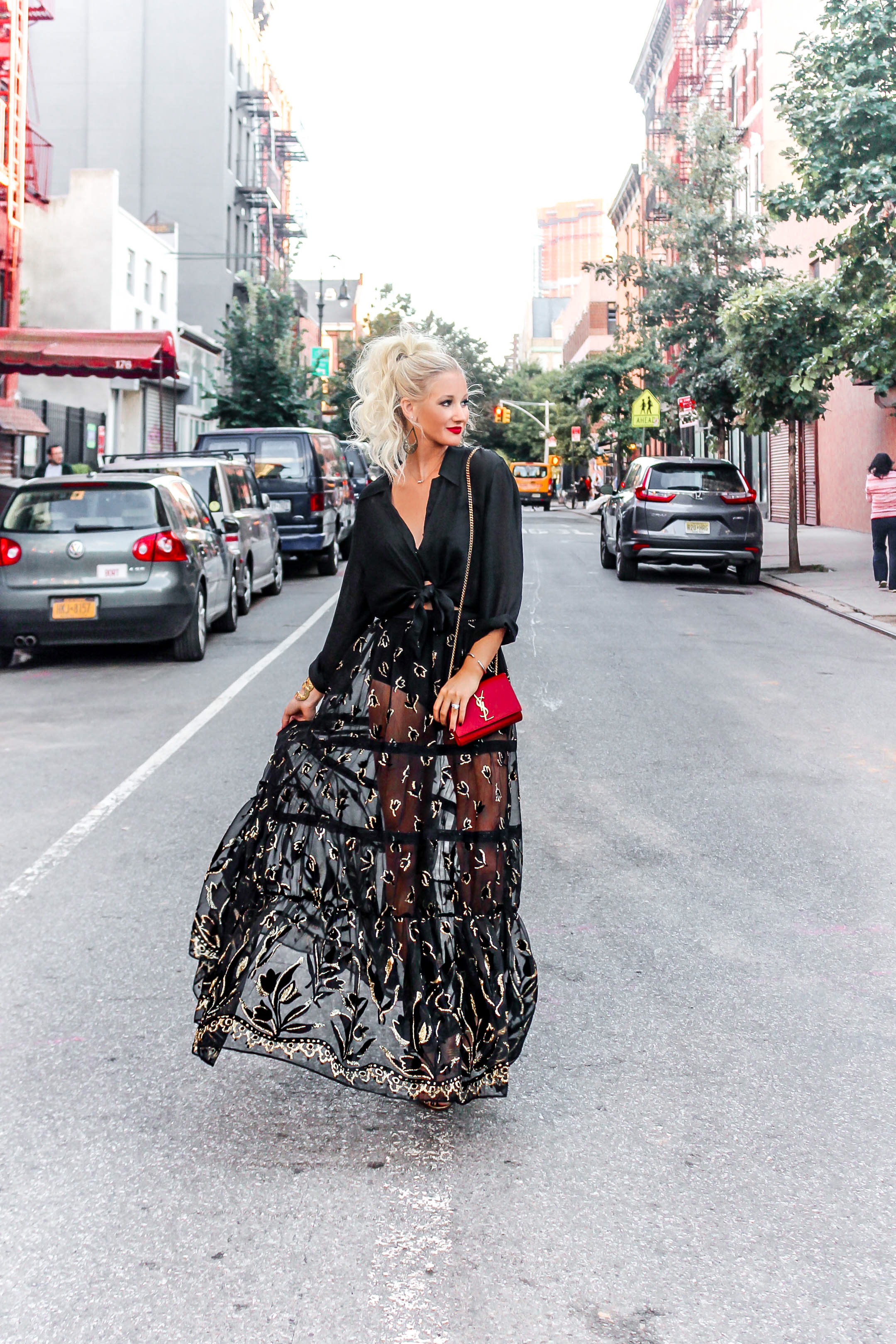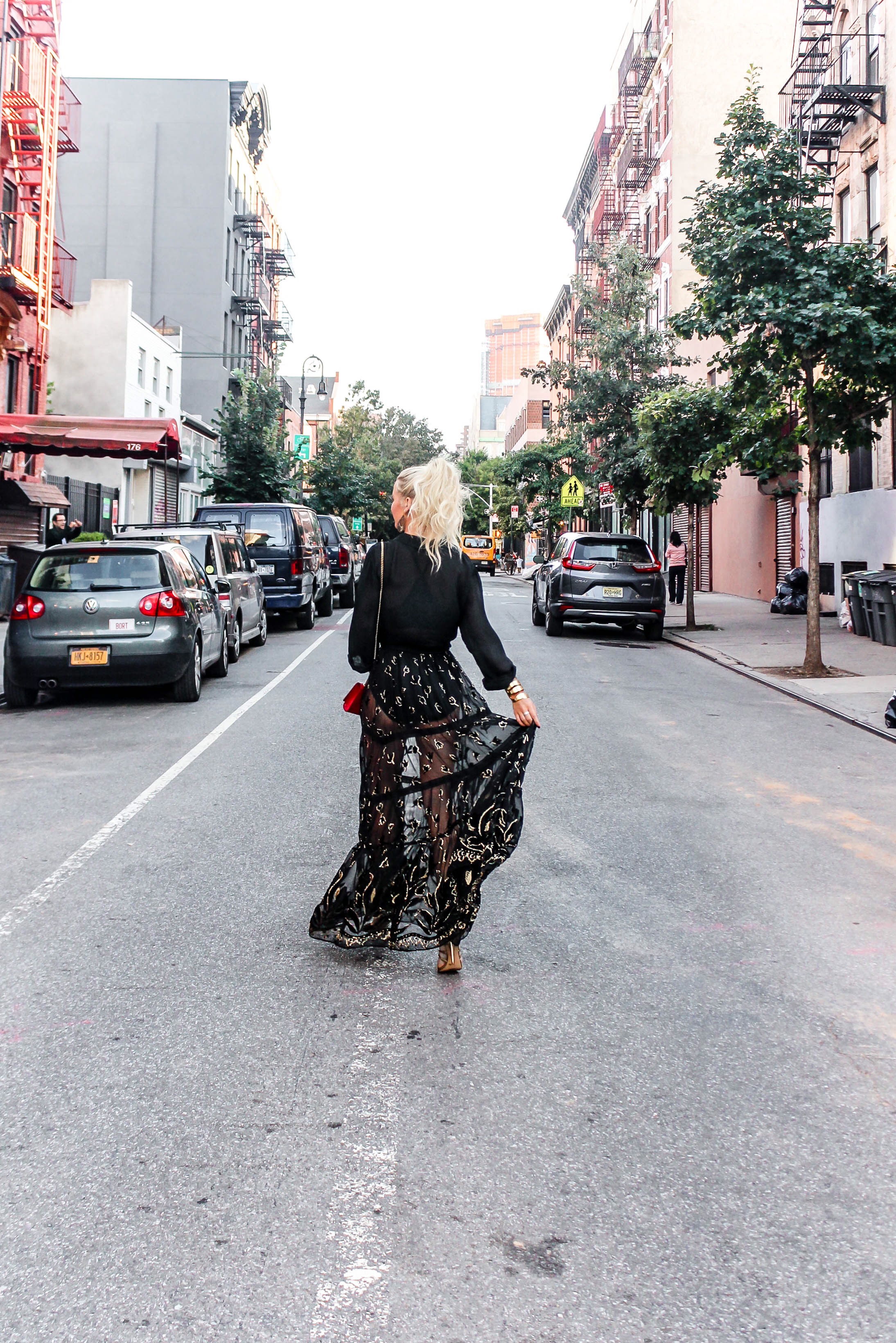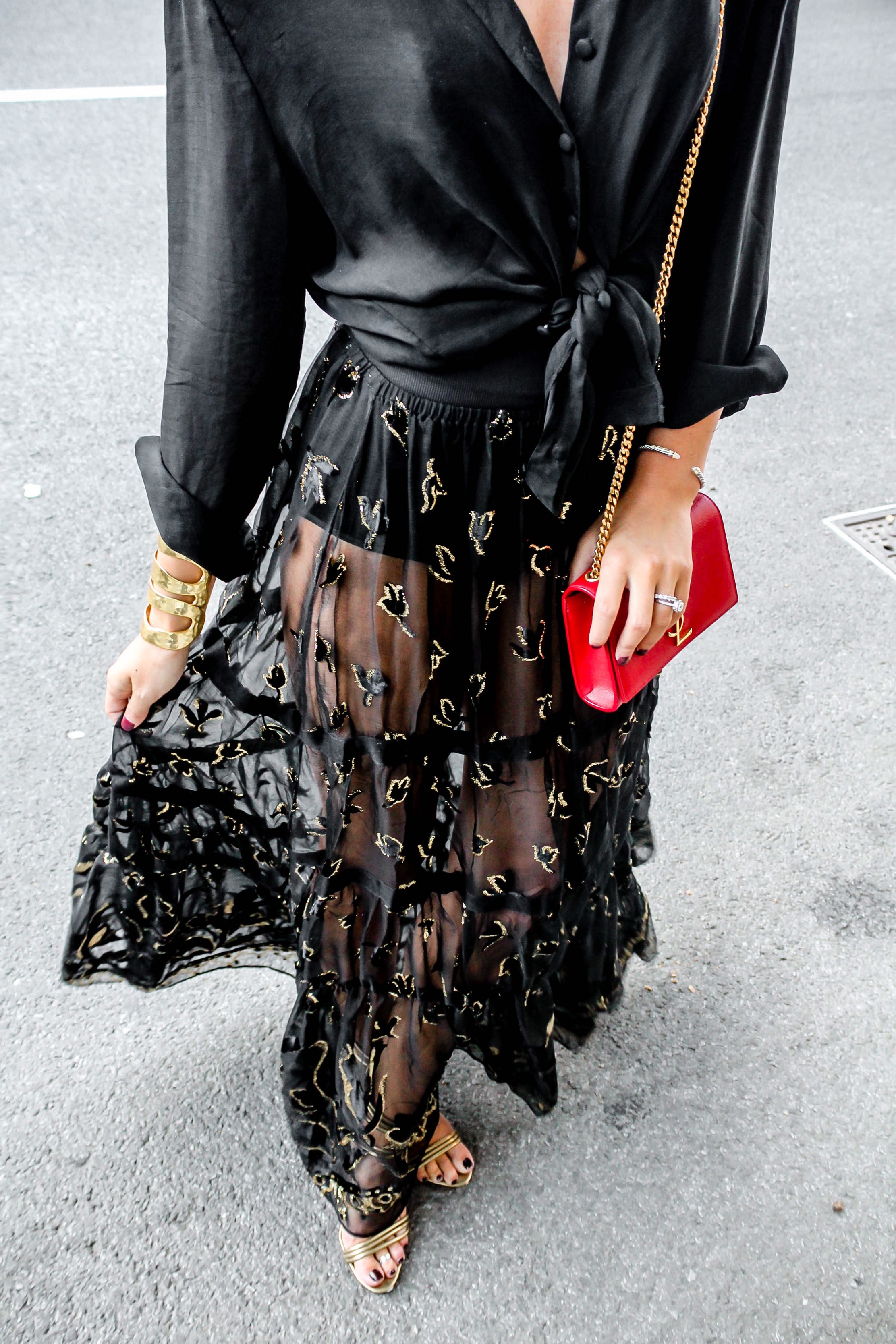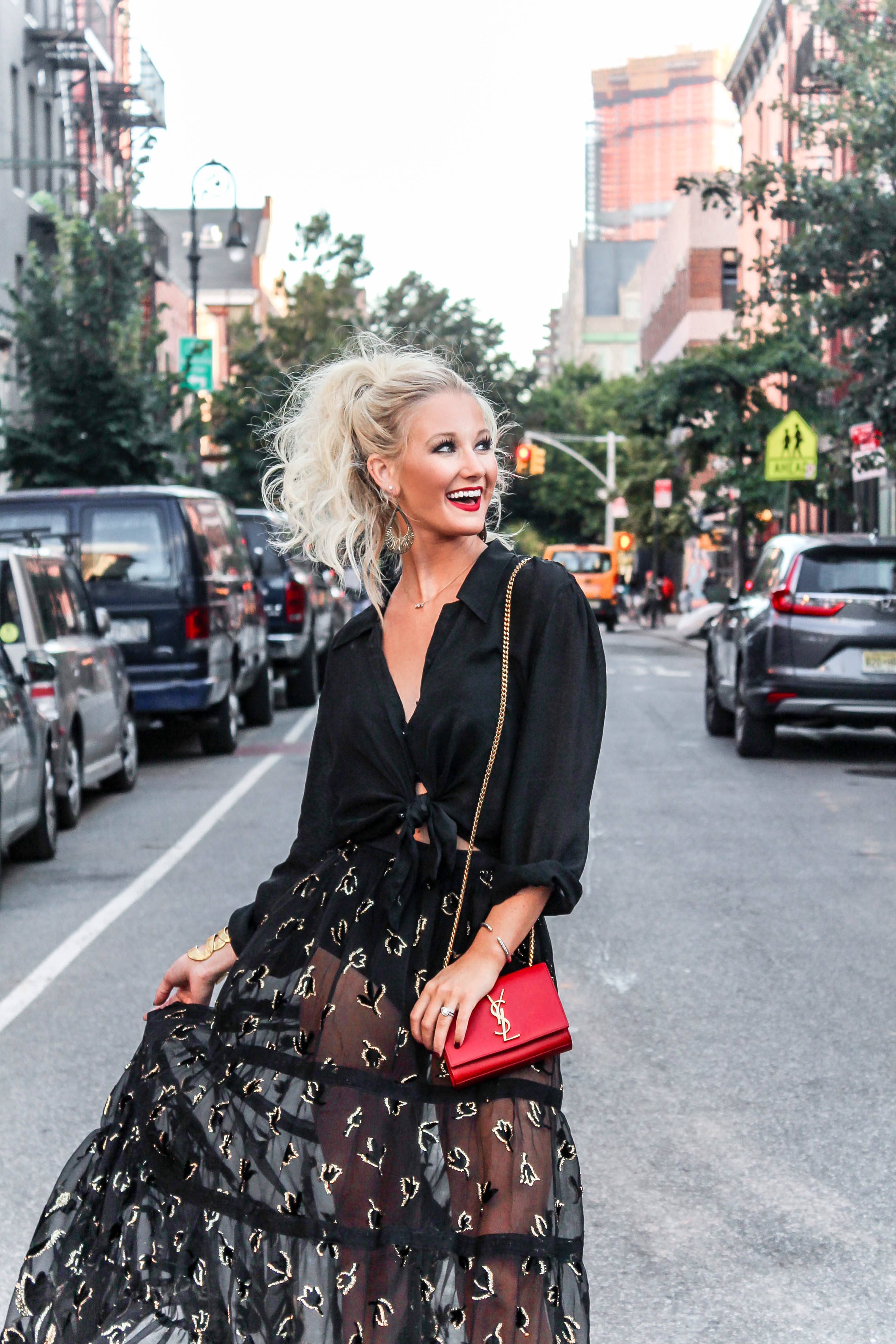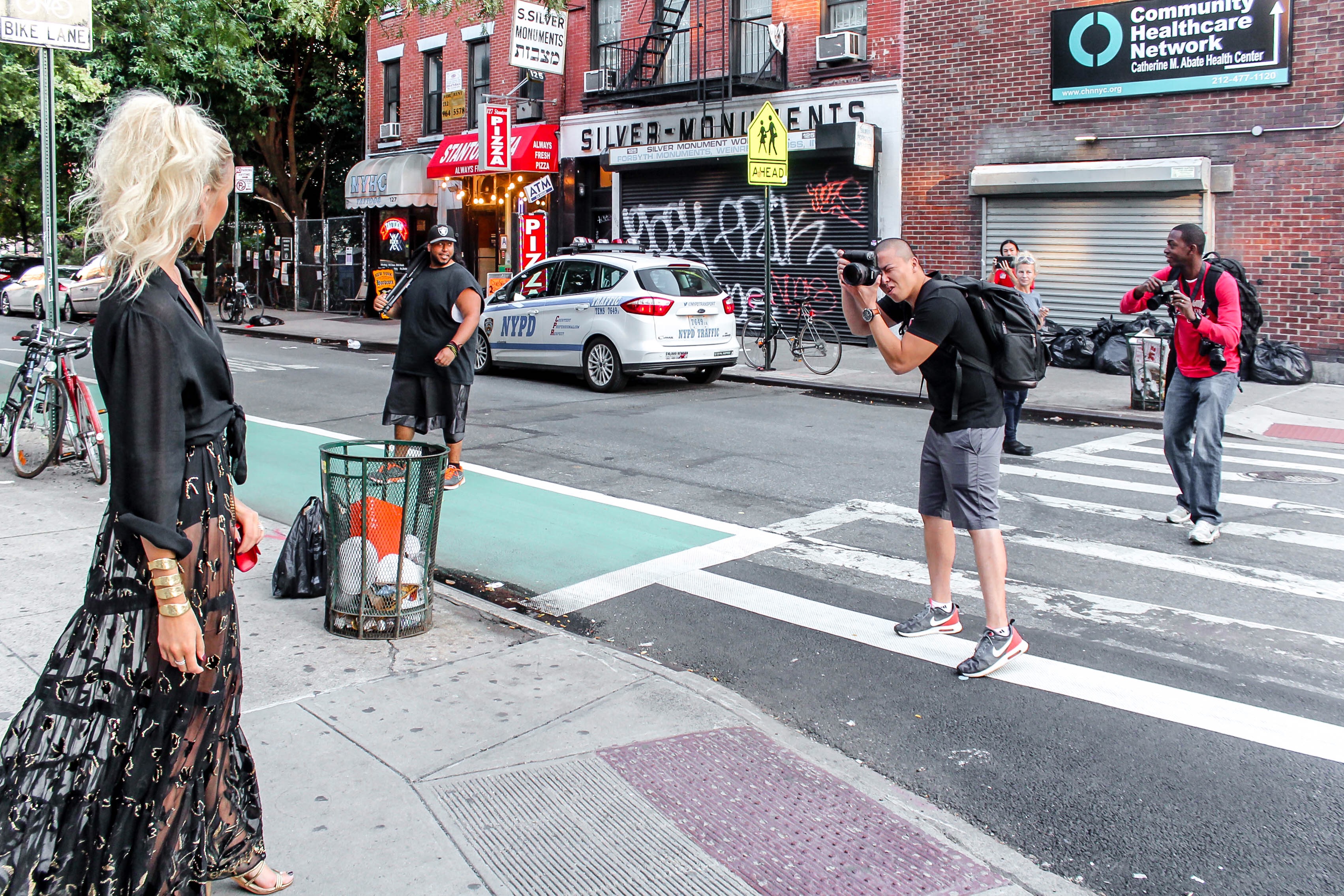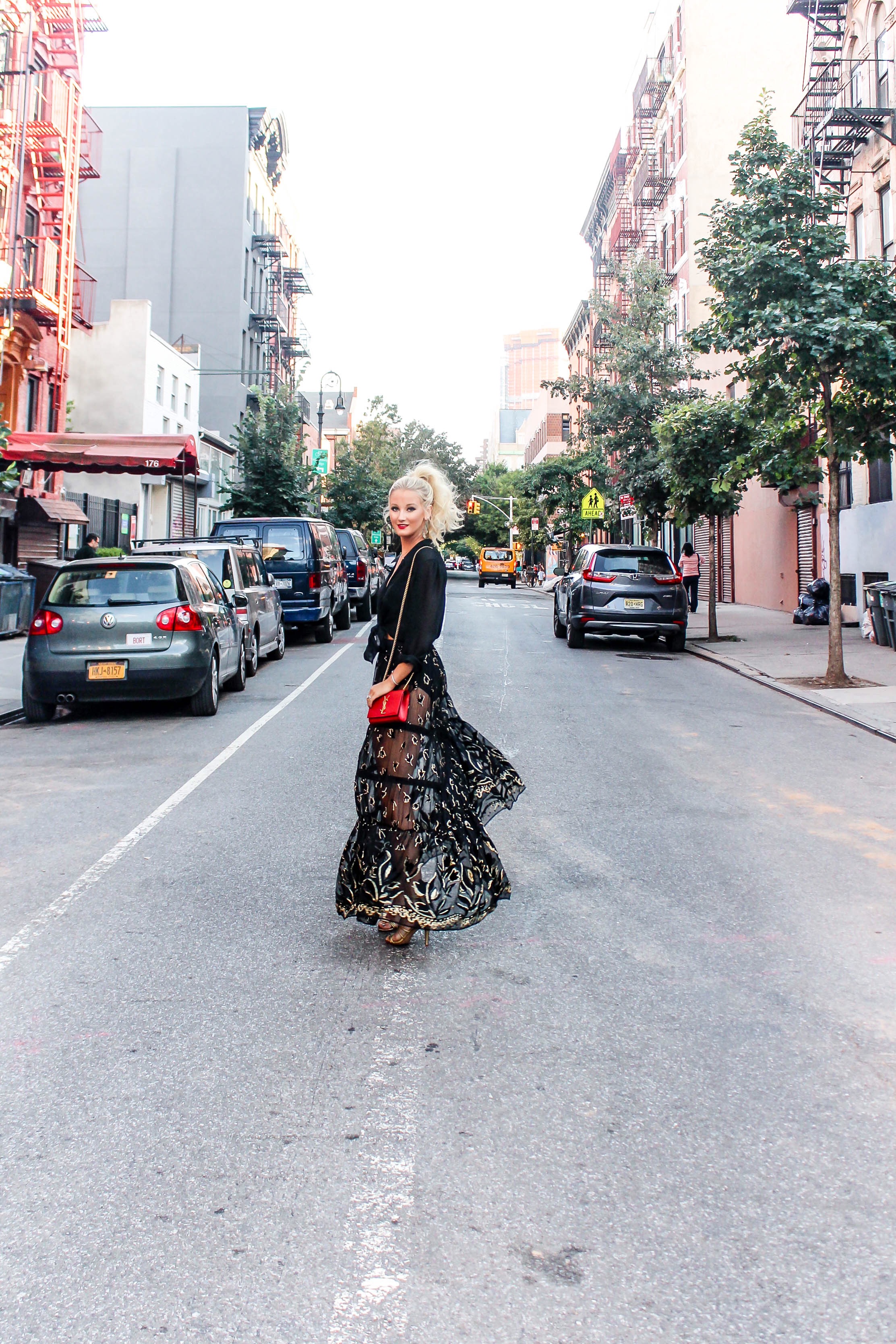 The first look was this amazing sheer black, embellished maxi skirt & black blouse. First of all, these blouses (I also wore one in cream on this trip) are incredible and can be worn so many different ways. I fell in love with them! And let's just have a moment for this skirt … I mean (!!!!). You all know that I'm all for wearing something unique and edgy, and this is exactly what I had in mind for one of my NYFW ensembles. Fashion week (or really any time you're in a big city) is the perfect time to push the limits and step outside of the box with your wardrobe. With sheer material being so on-trend at this time, we just knew this outfit was a must for the trip.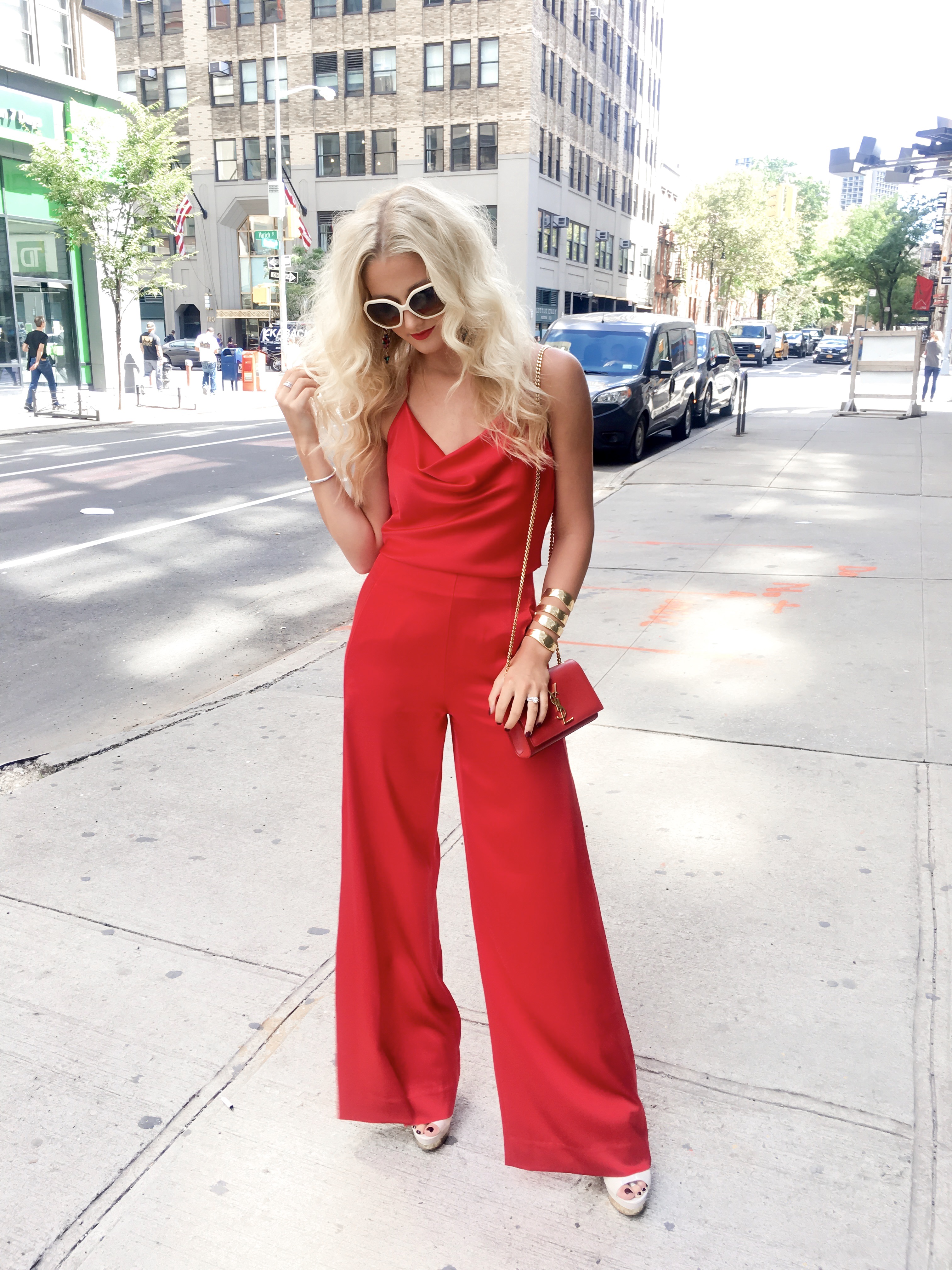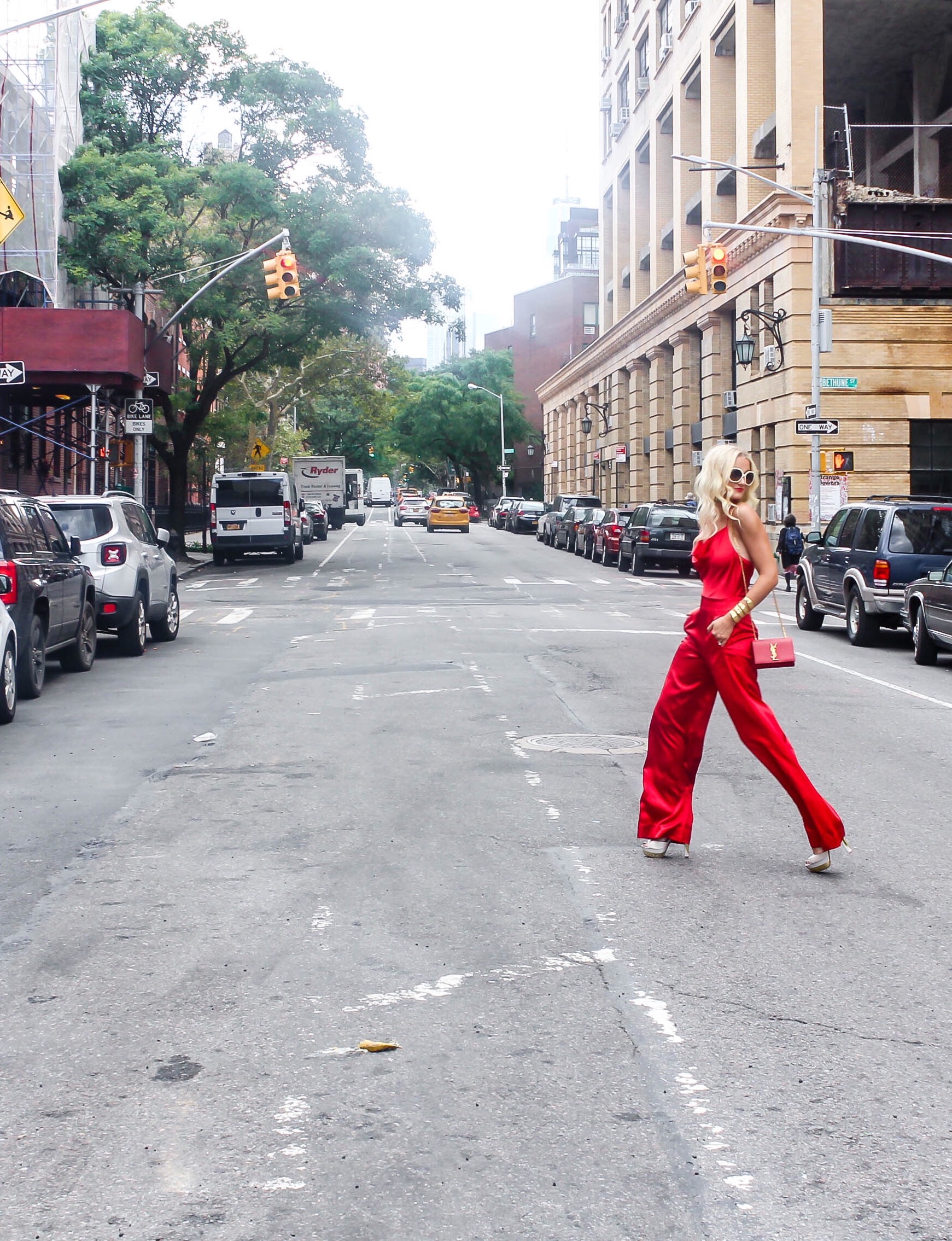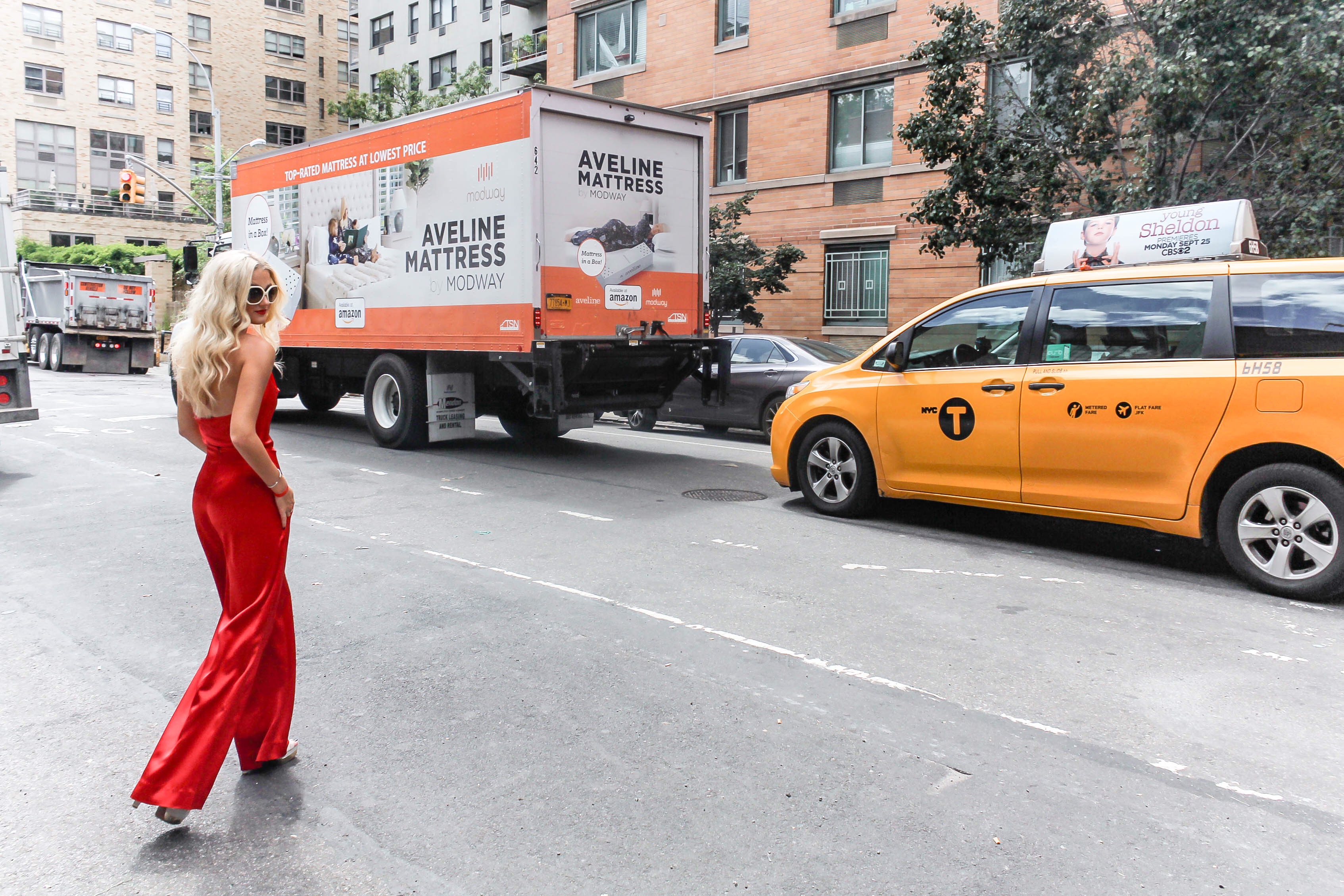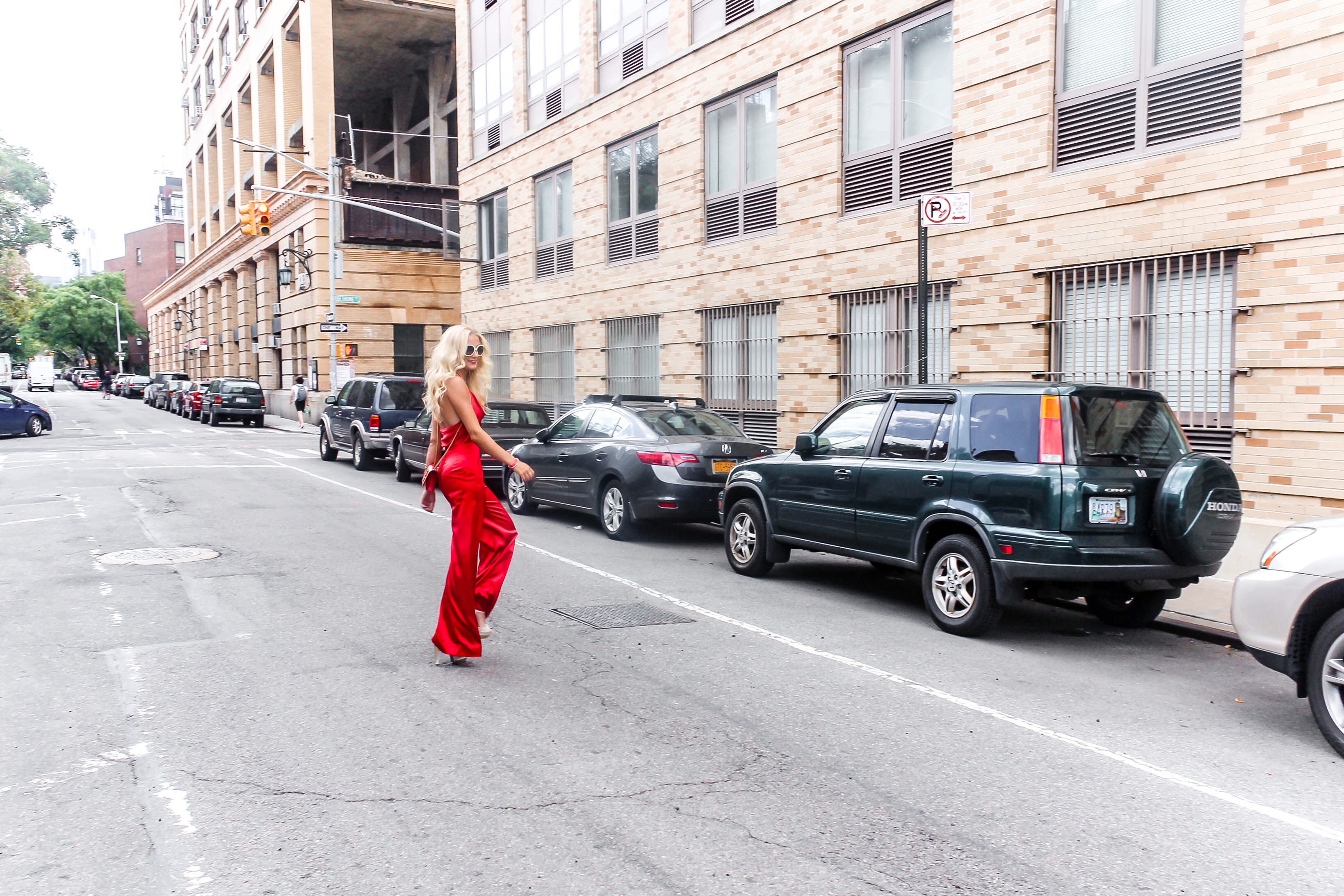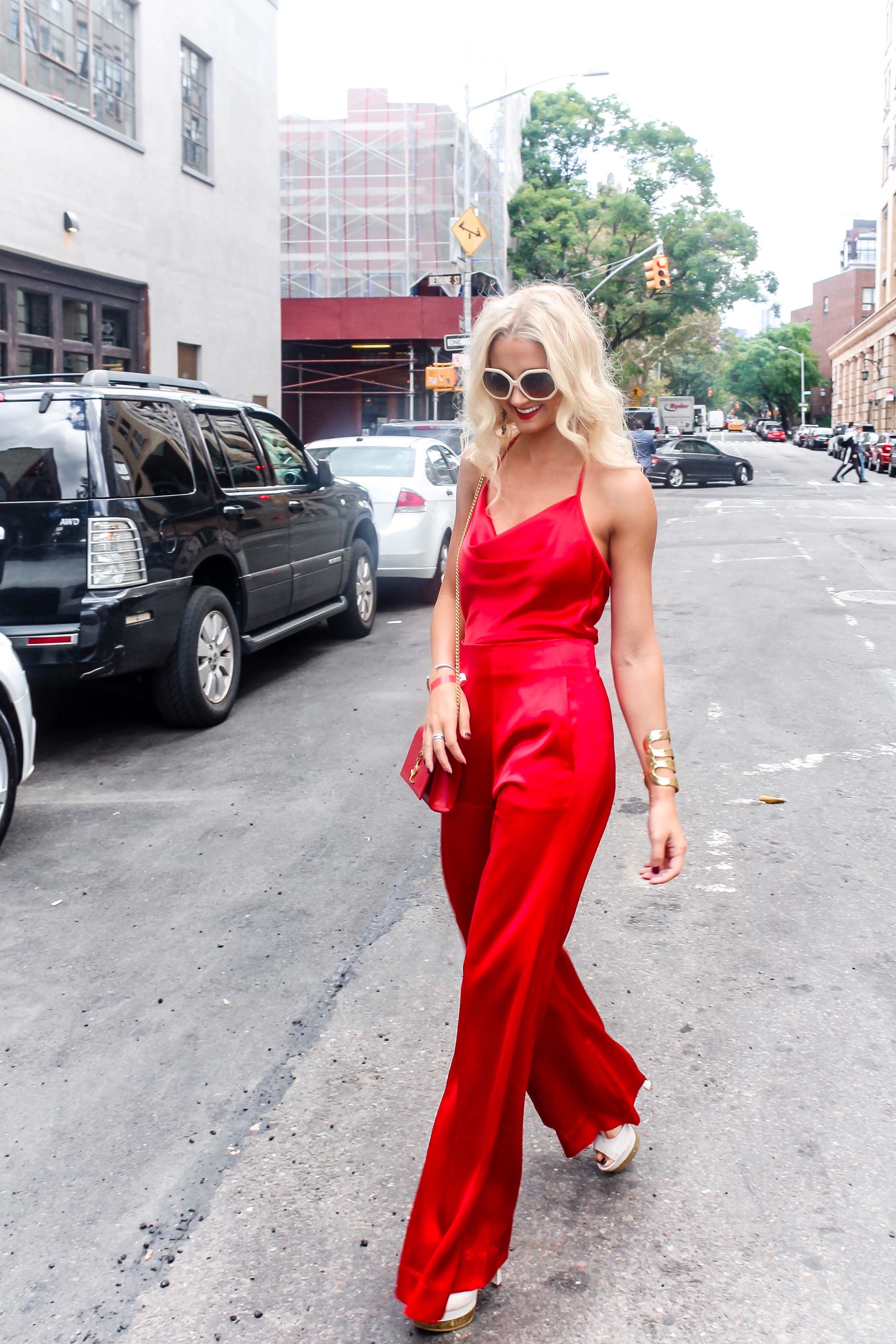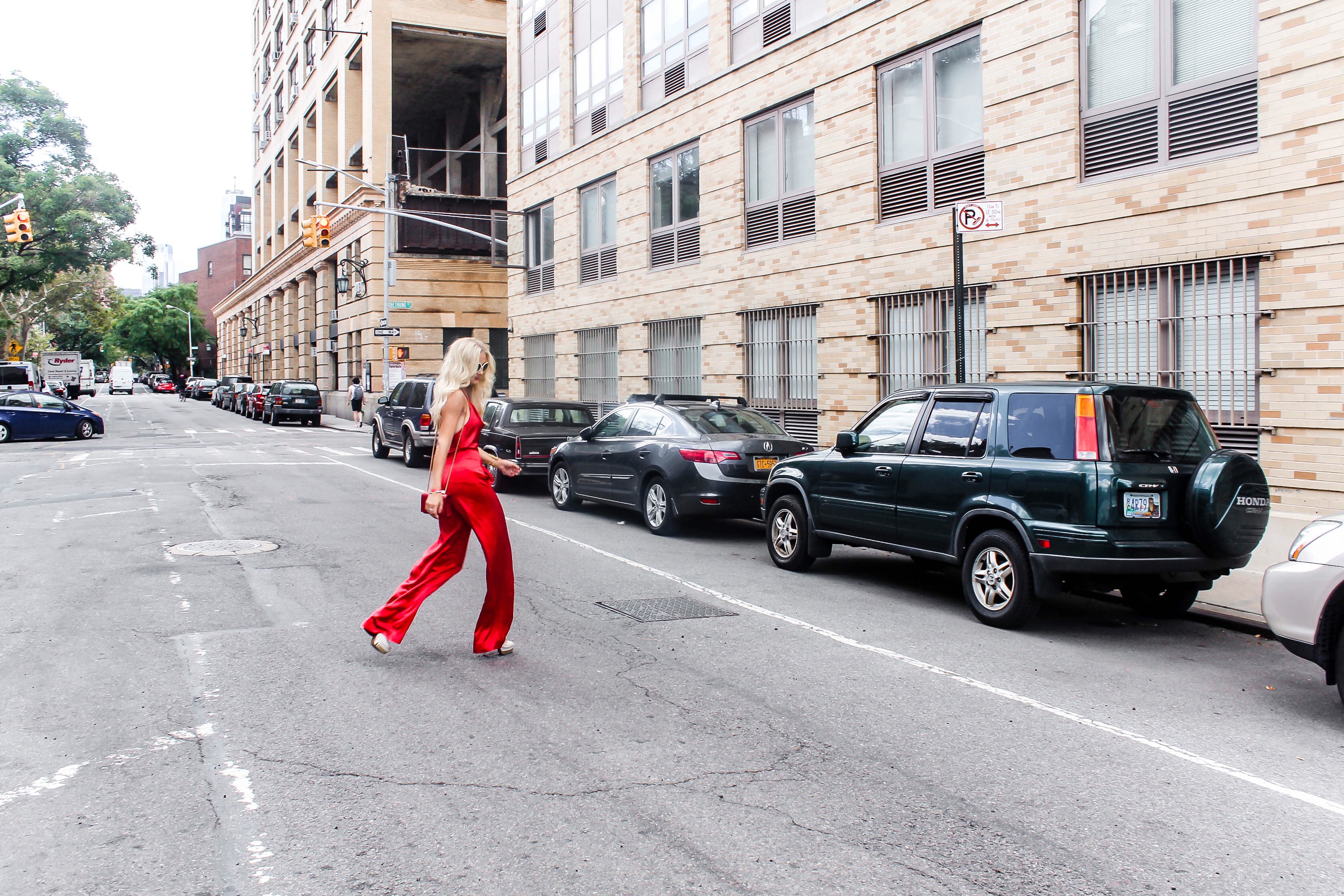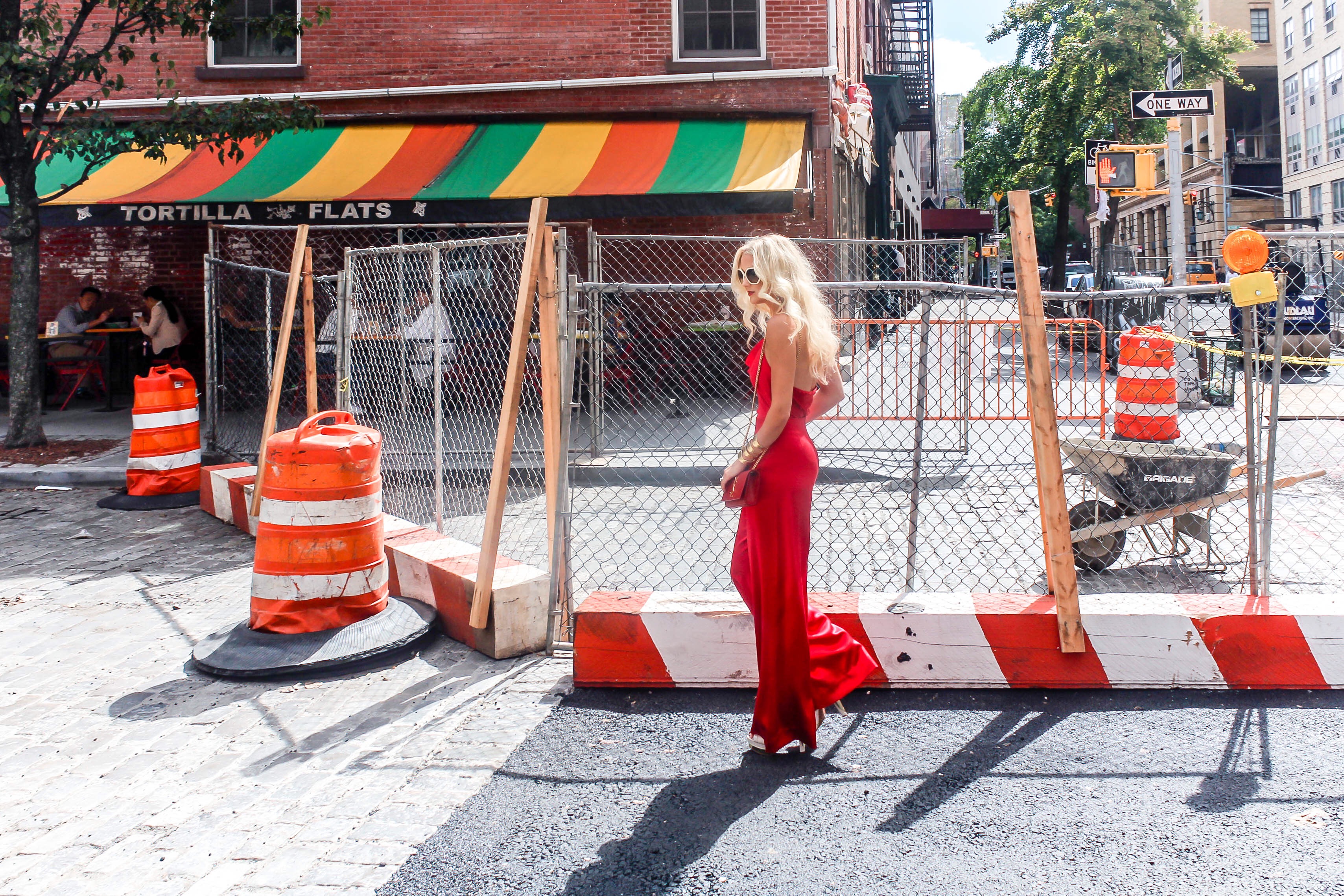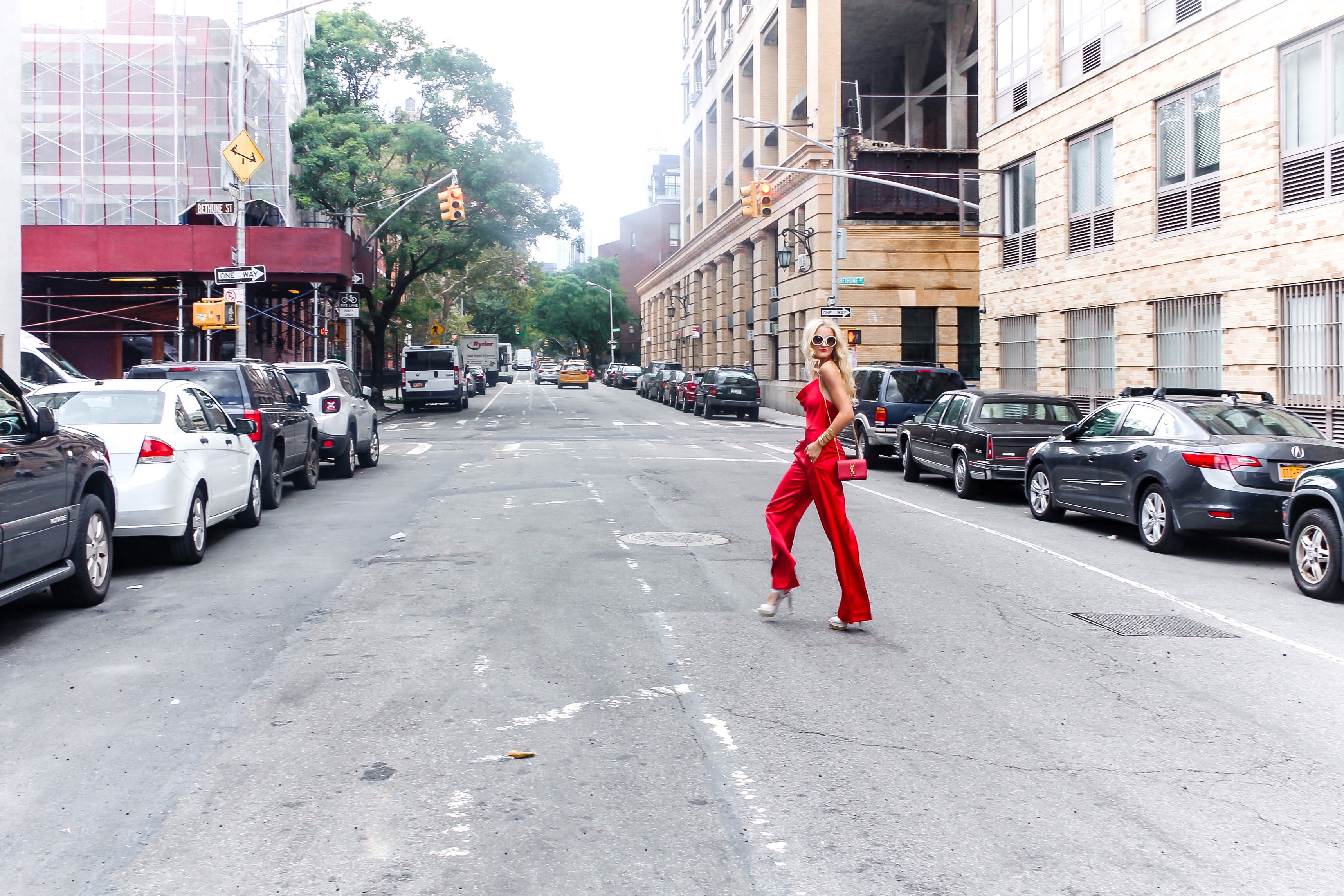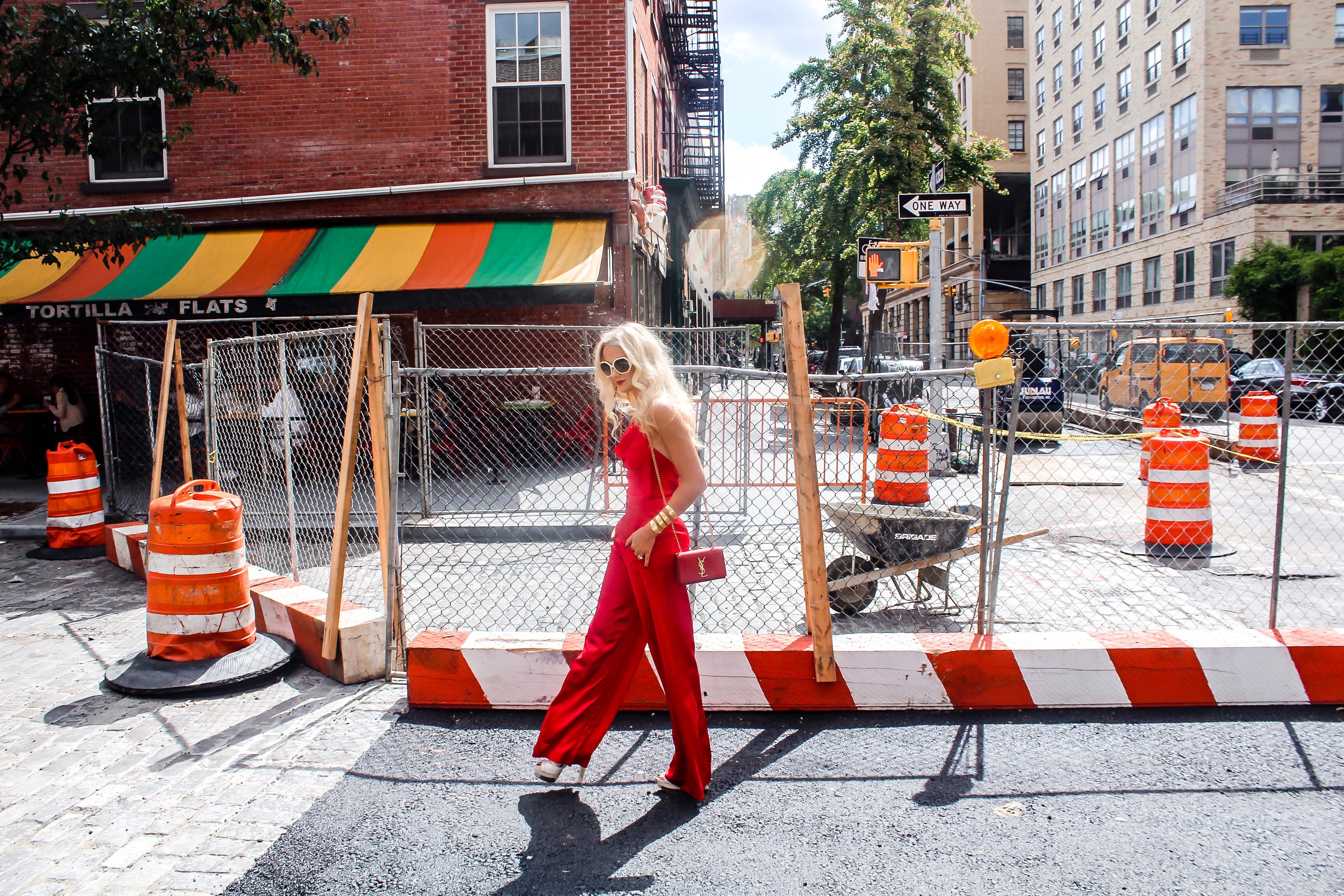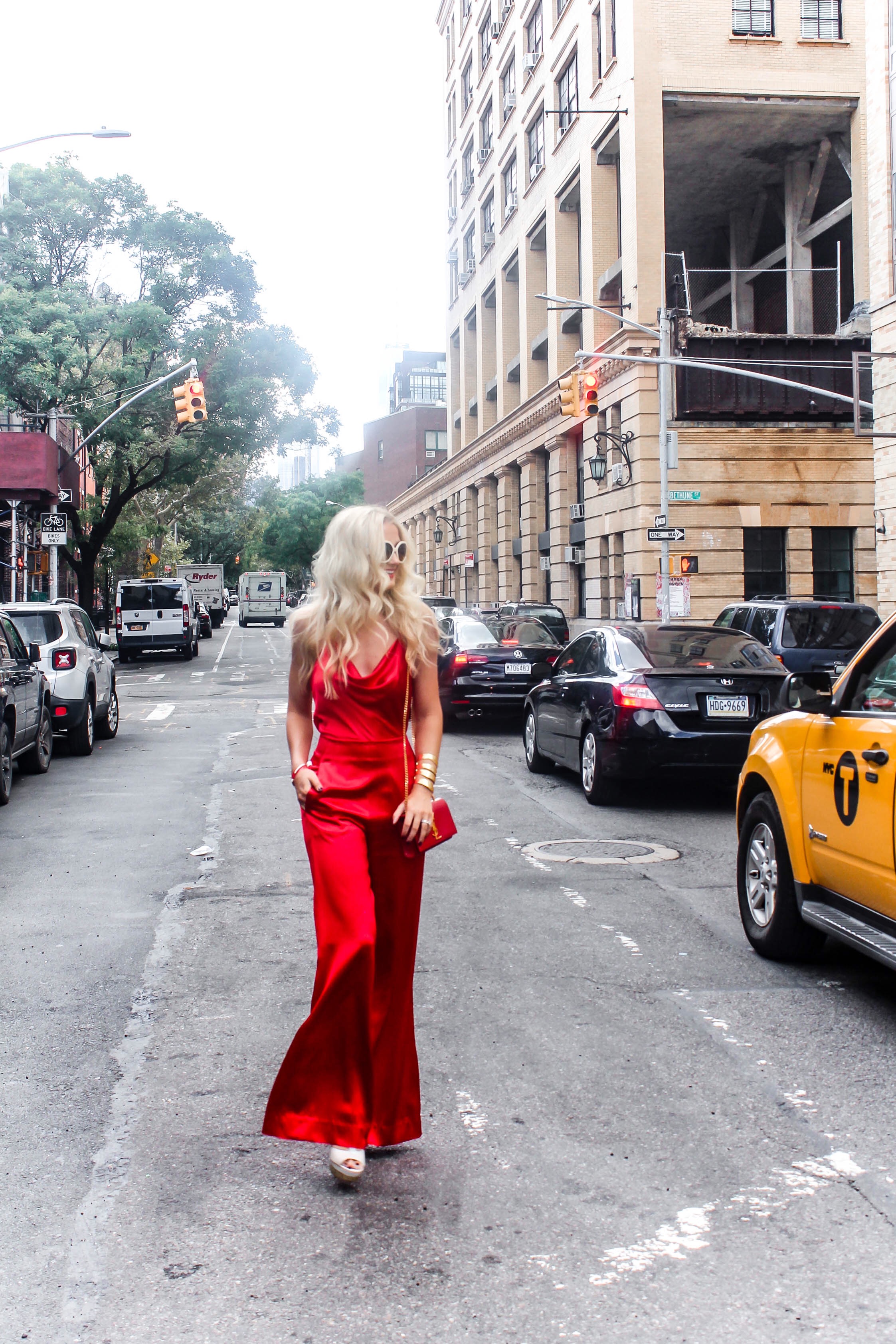 I instantly fell in love with this *red hot* look because the lines, the seams and the fit of these pieces were so well made (props to you, Cavanagh!) and because I literally felt like I was wearing PJ's … and let's be real, what girl doesn't love that feeling?? I got a lot of questions about this outfit when I posted it on my IG because many people thought that it was a jumpsuit, however, it's actually a top / bottom combo that you can make look like a jumpsuit. I specifically love it because of this .. plus, you can style the pieces separately as well. Again, versatility is where it's at!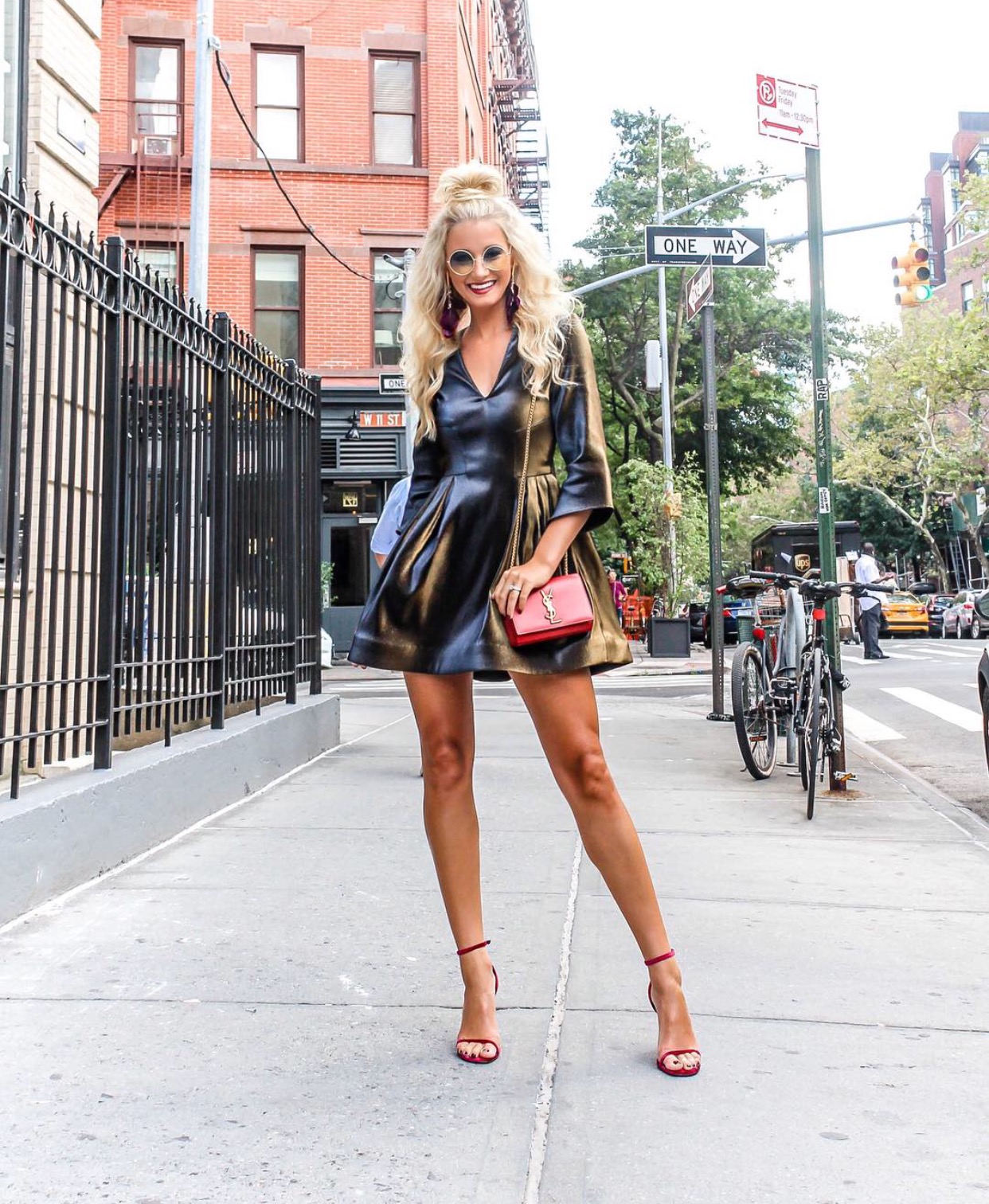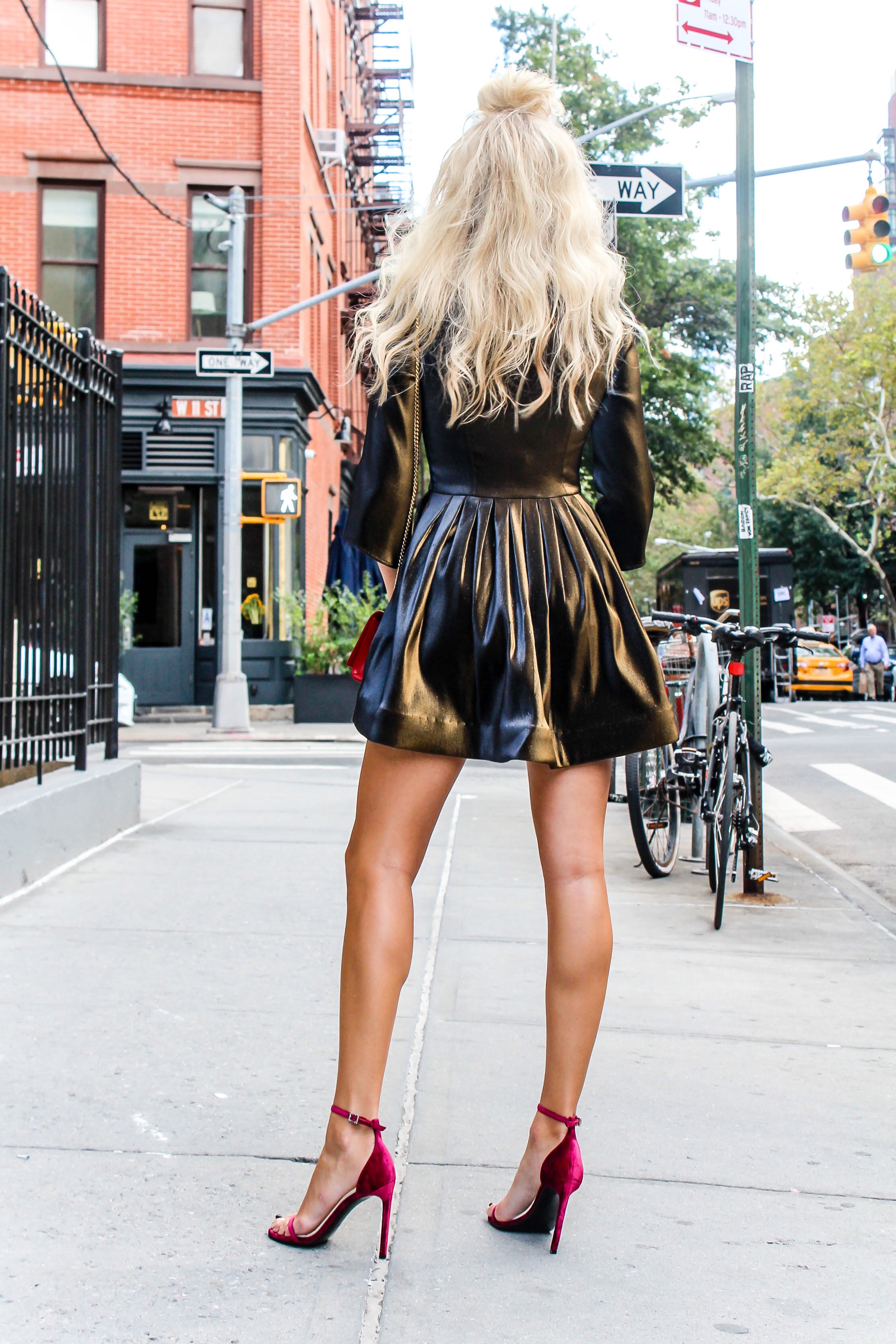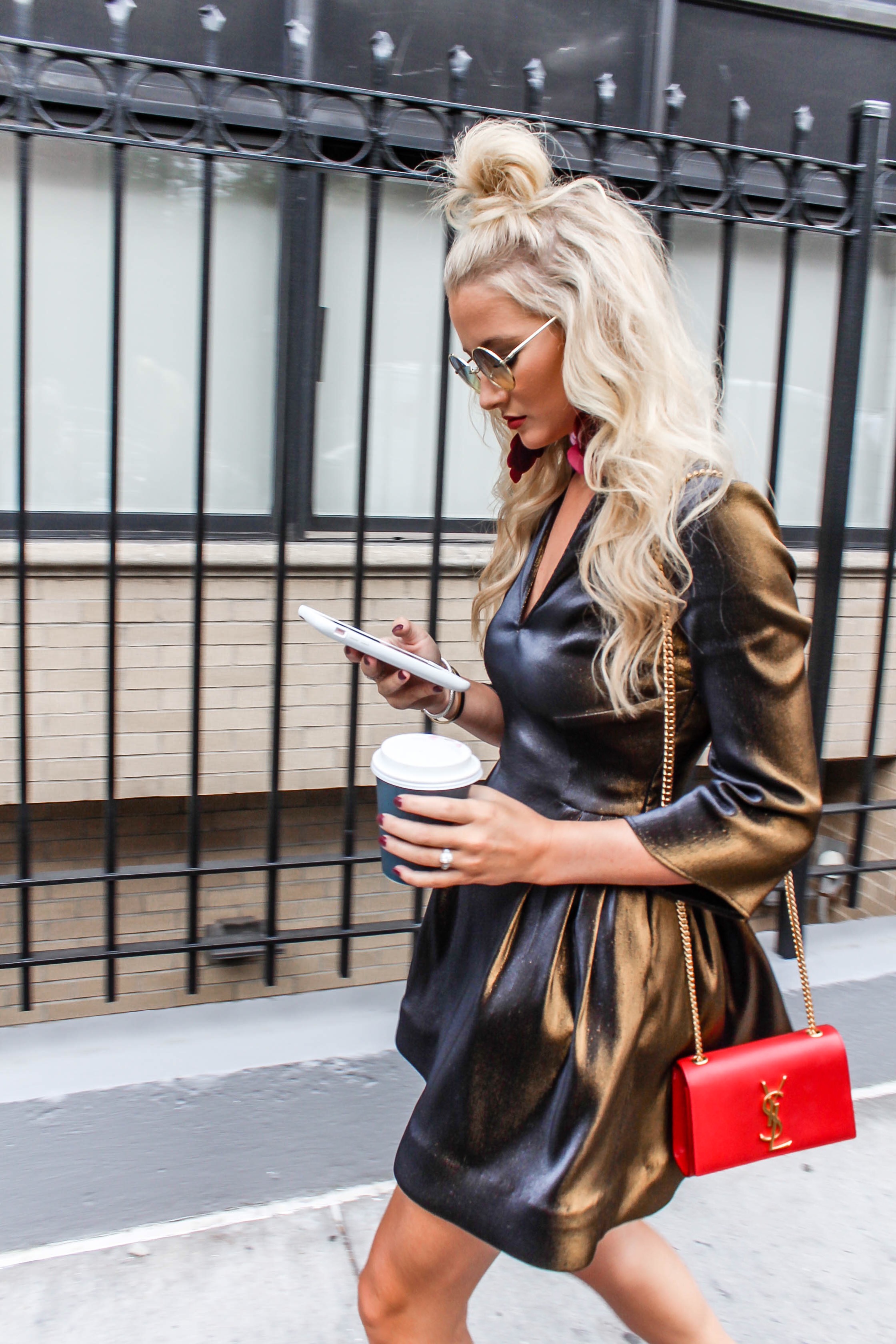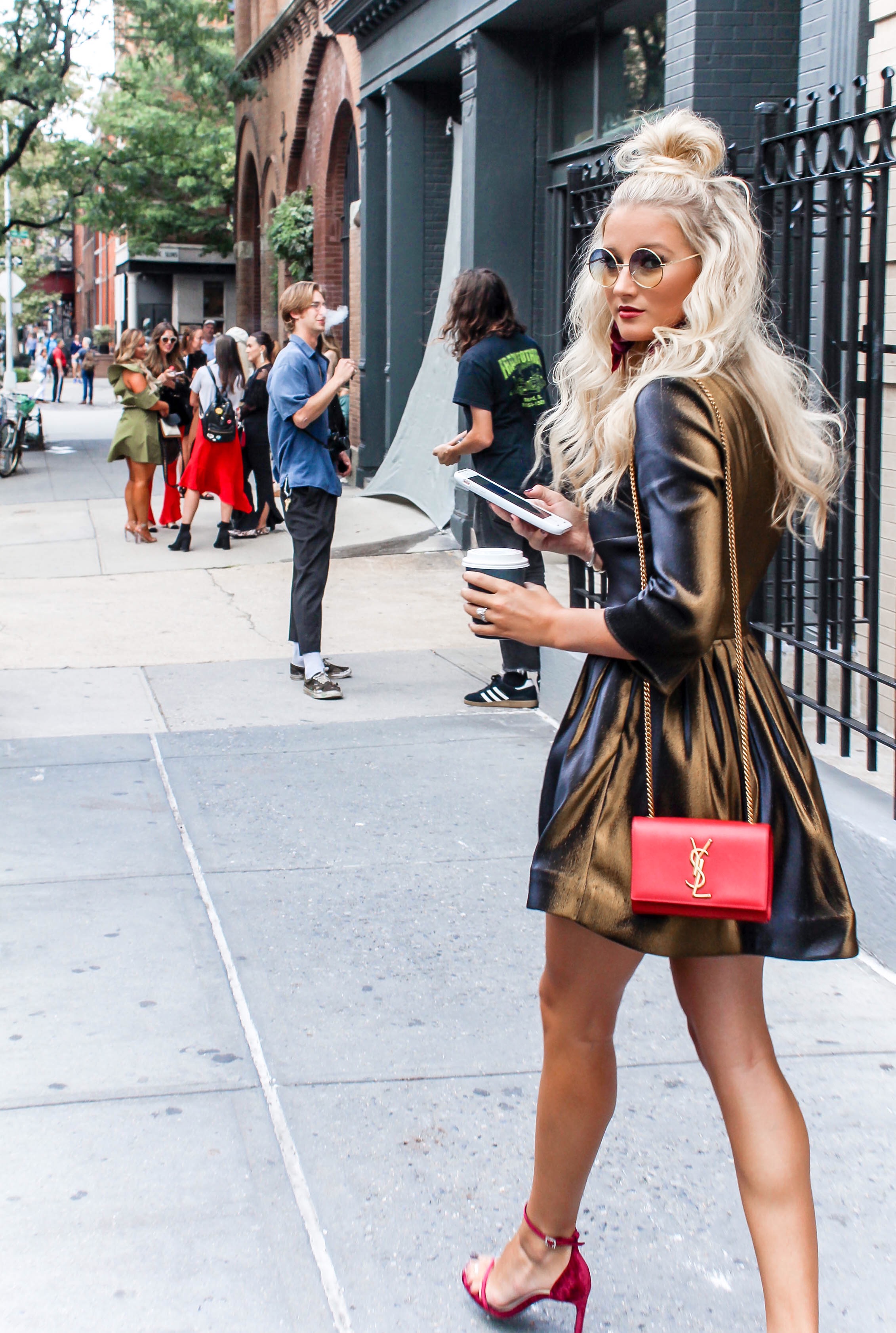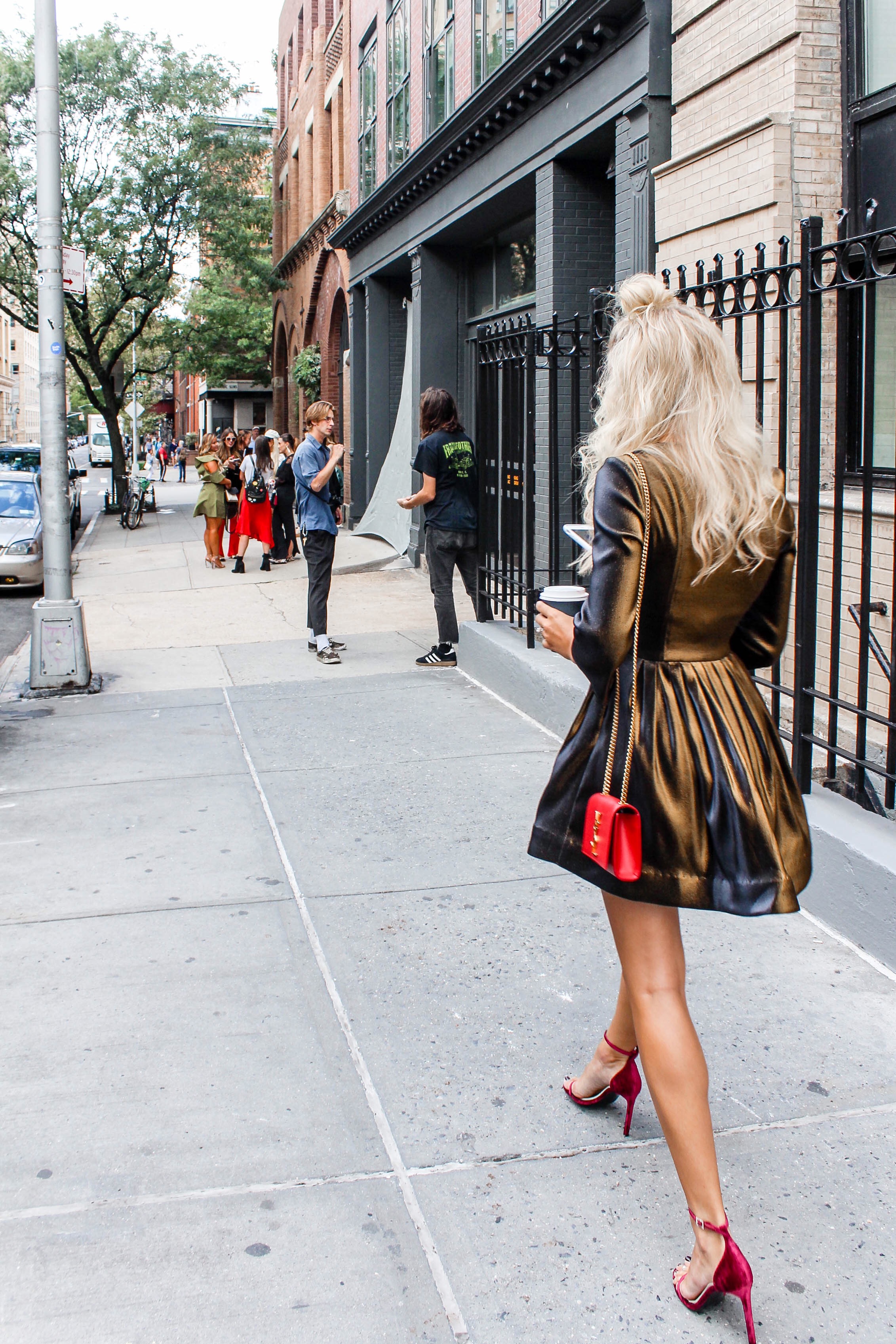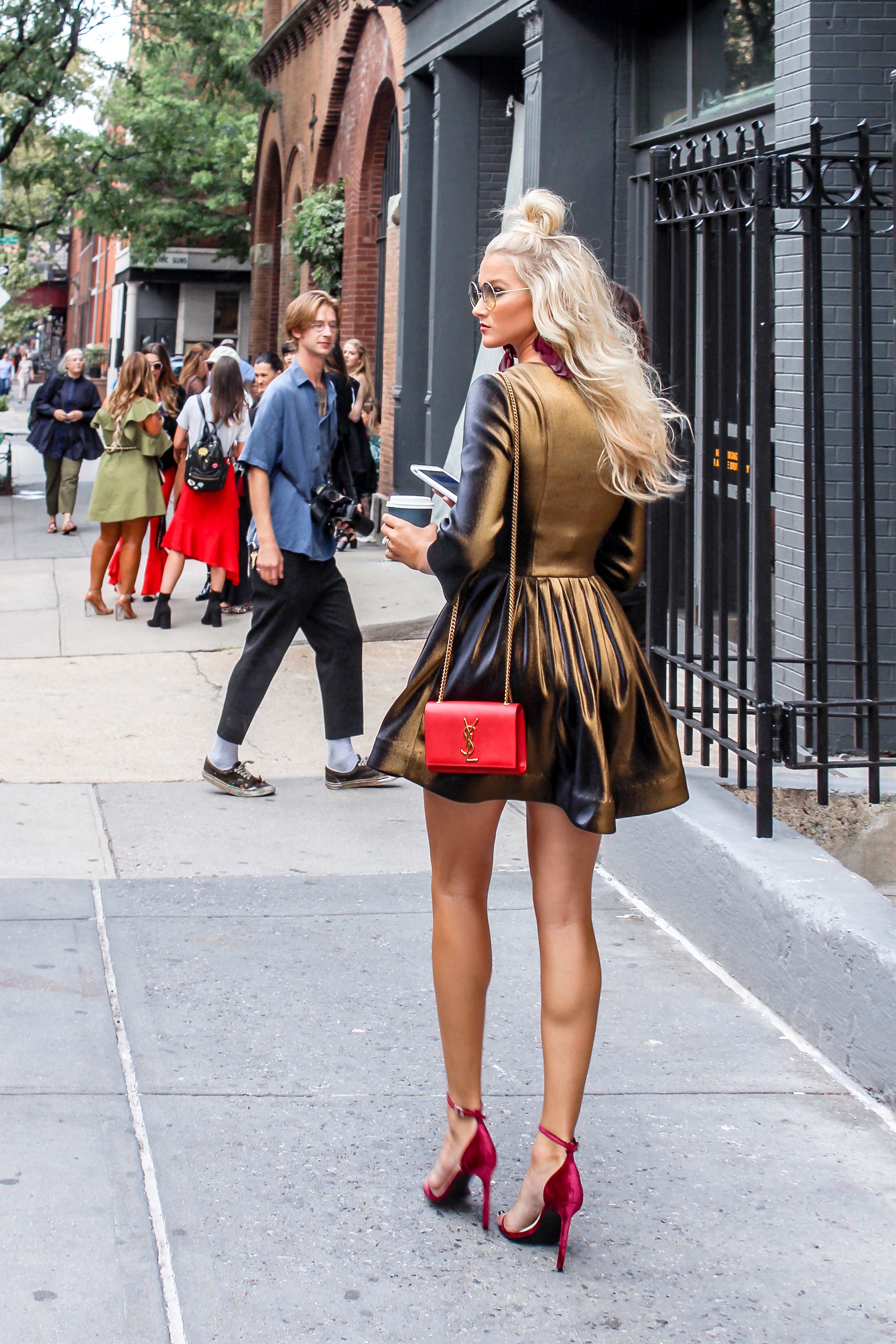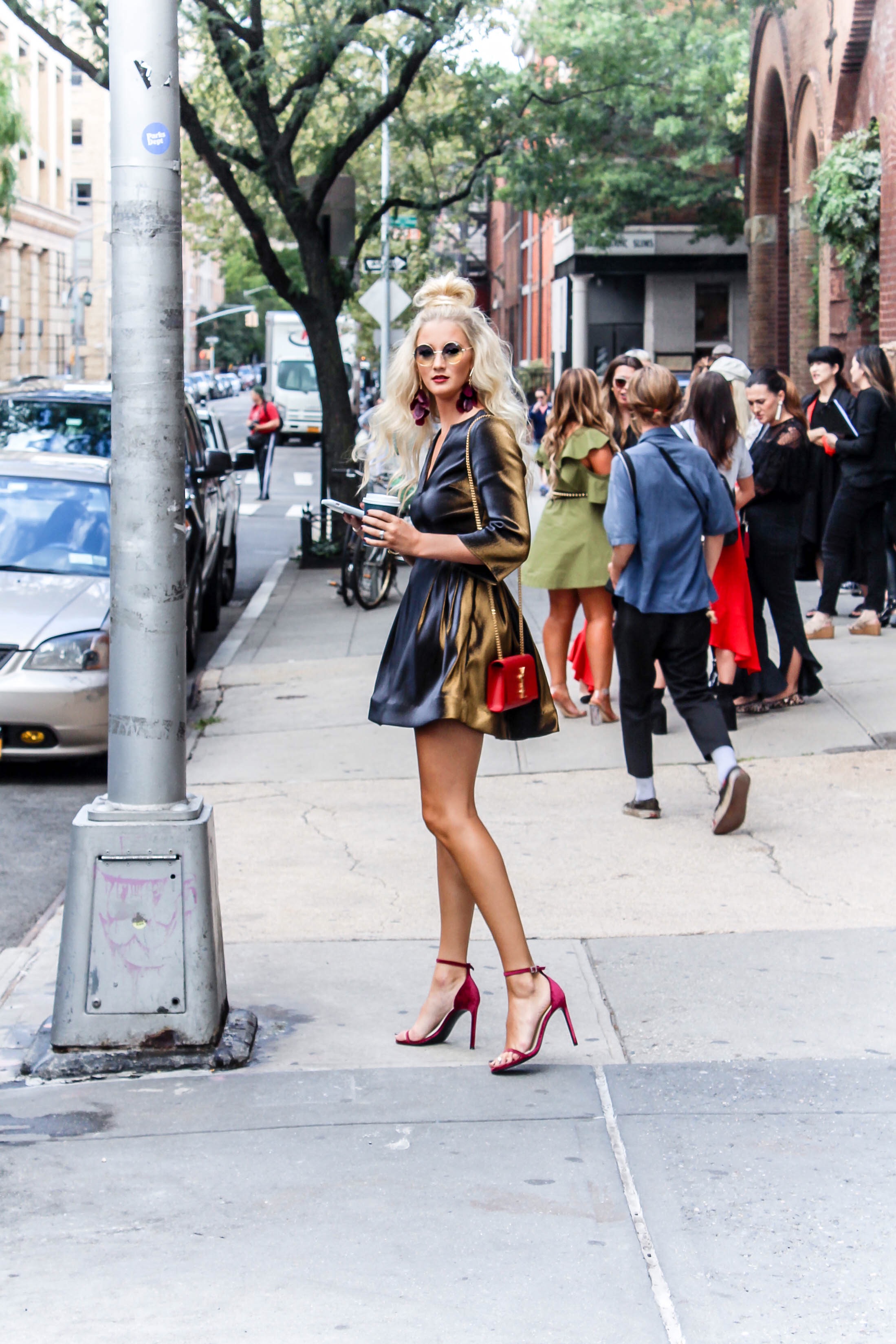 Okay guys … this dress is SO cool. Of course, the fit and silhouette is amazing and so flattering / feminine, but what is really neat and stands out from other designs in the industry is that different colors stand out in the dress depending on the angle you are looking at. For instance, from the front you may see hints of navy … on the sides you may see hues of gold … and on the back, you may see more of the olive / dark green tones. It's the coolest thing I've ever seen in a piece of clothing — some of my blogger girls at the shows even noticed this feature before I could tell them about it ha! (AND fun fact, Cavanagh designed a special version of this dress (in hot pink!) for Kimberly of Little Big Town.) PS, I totally felt like Carrie Bradshaw in this outfit and loved every second of it … if you've been following me for awhile, you know about my obsession with Carrie 😉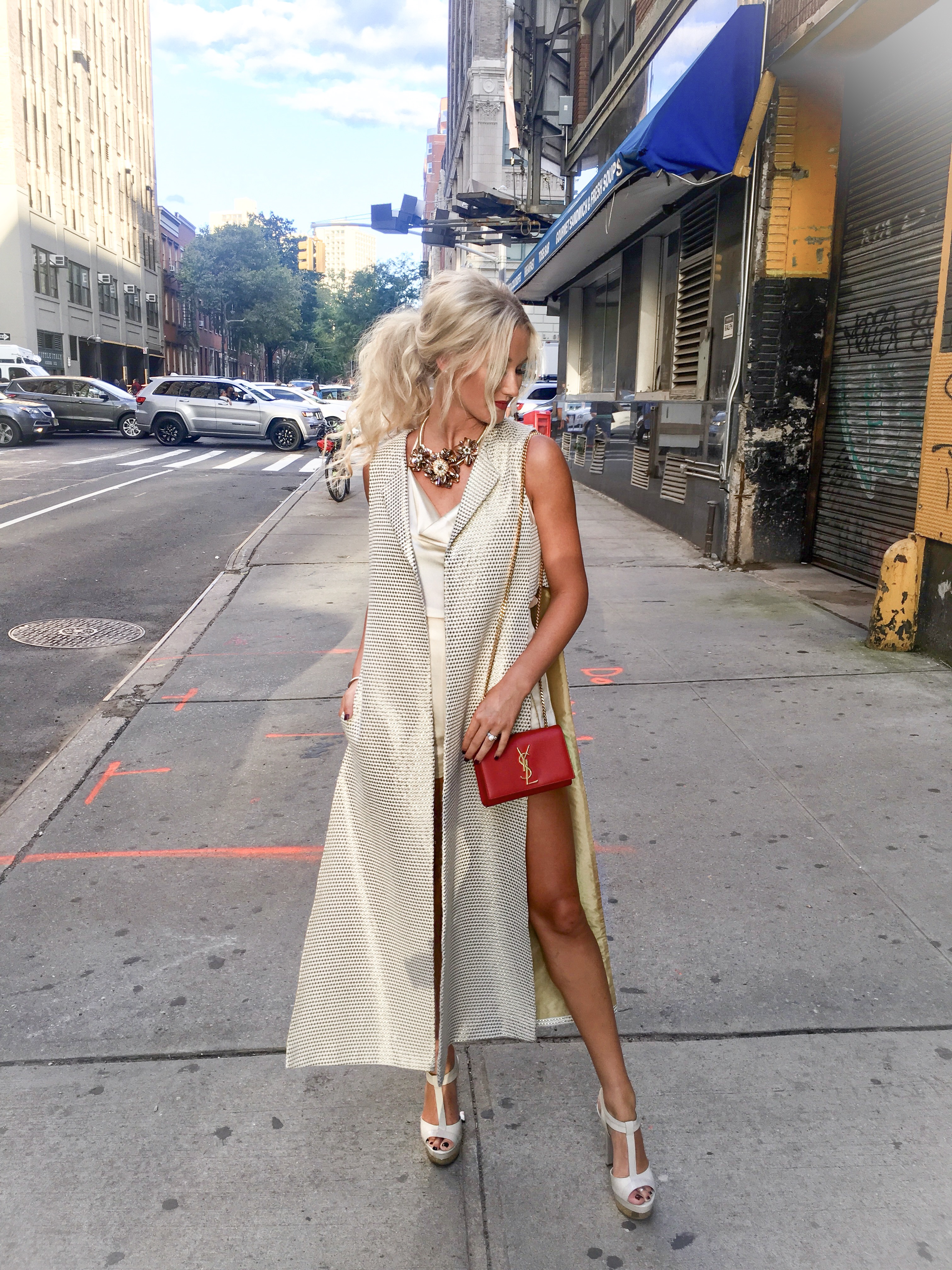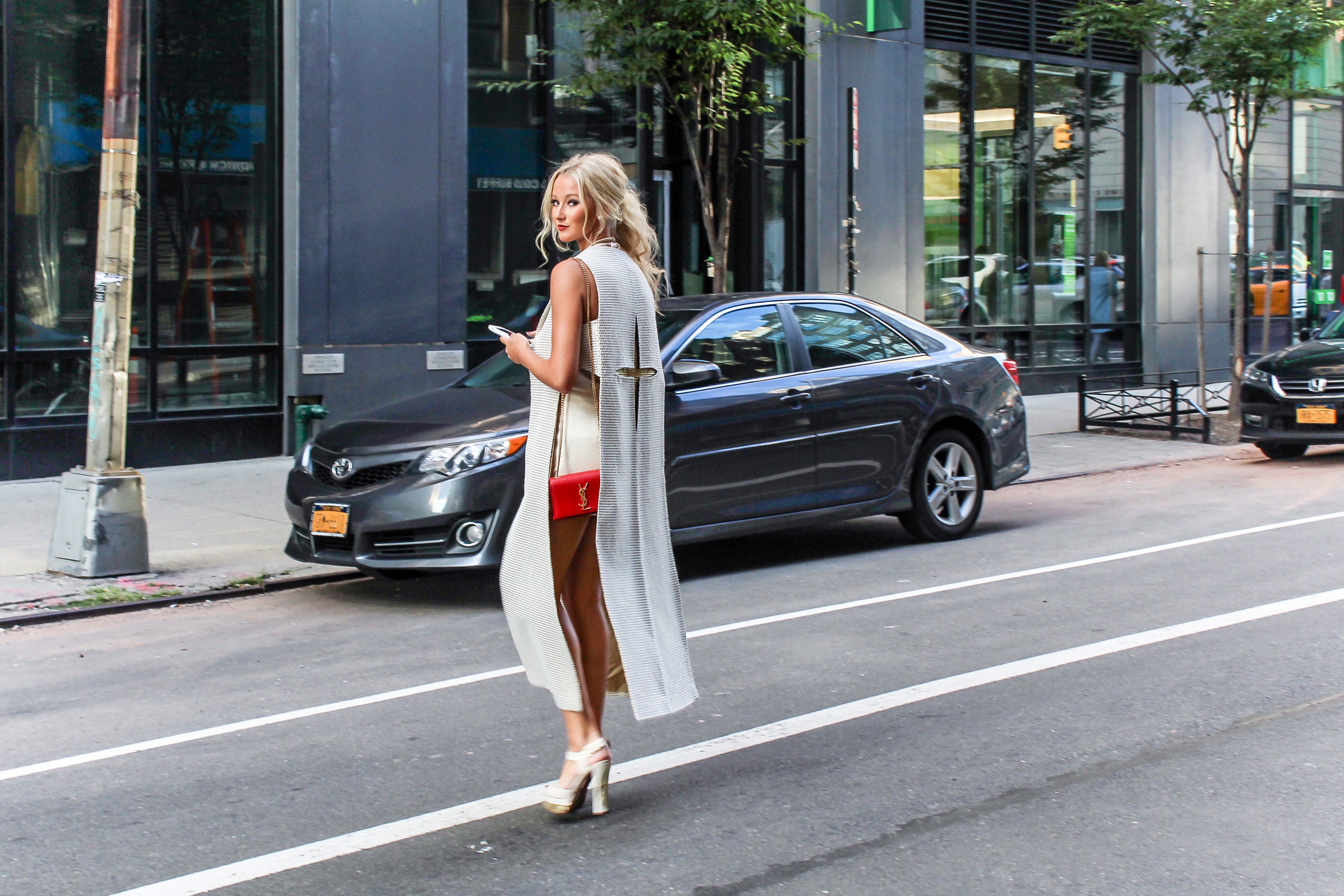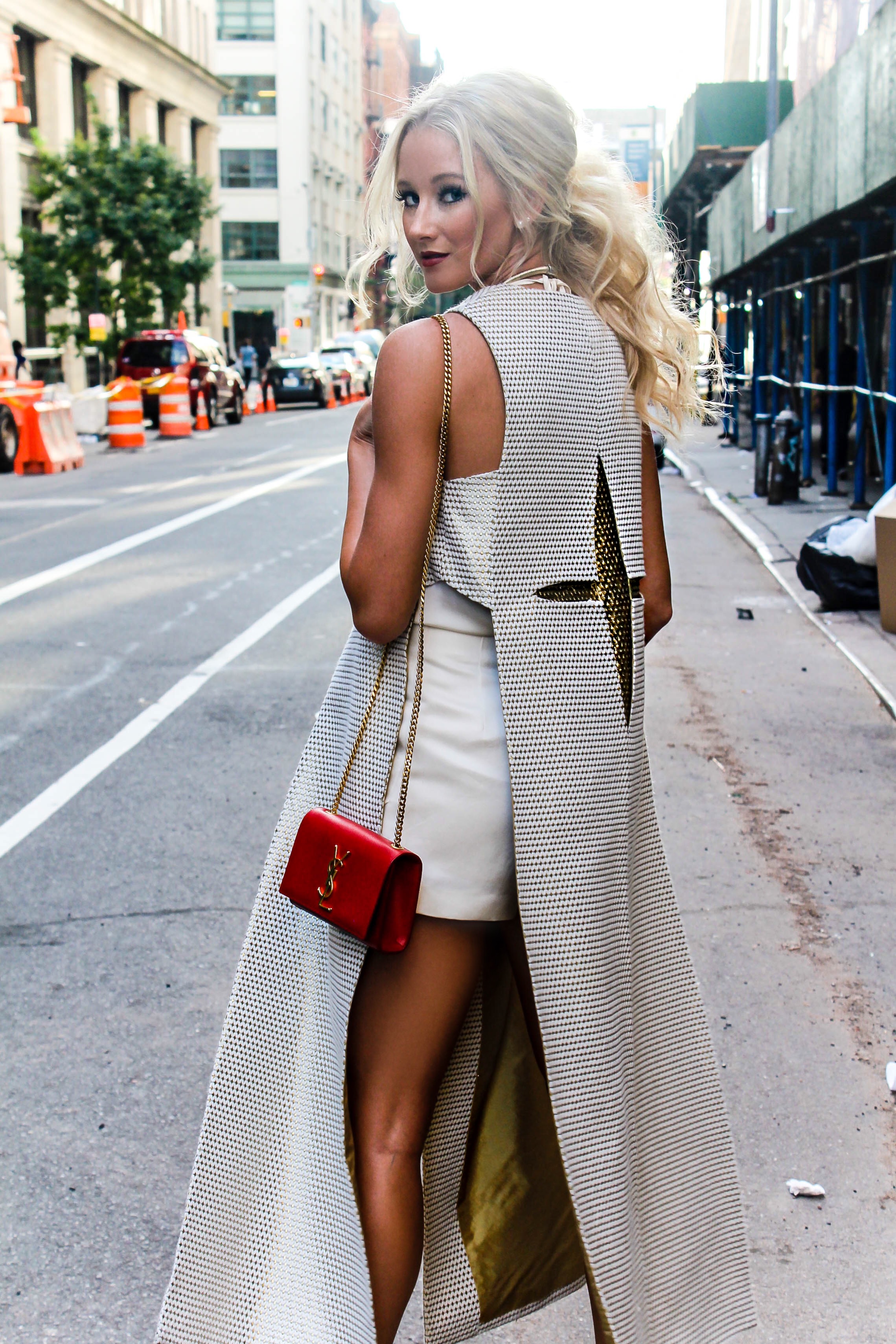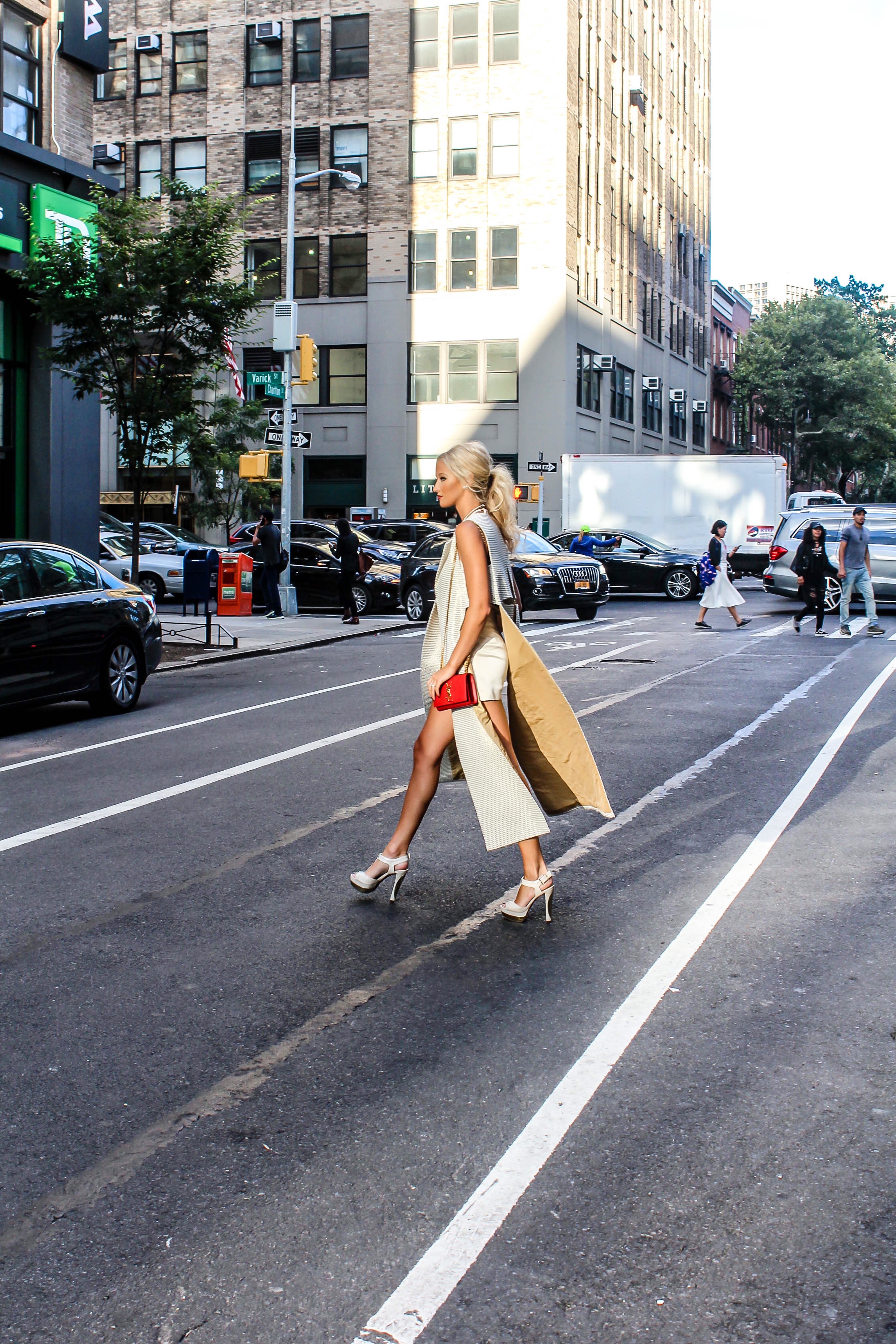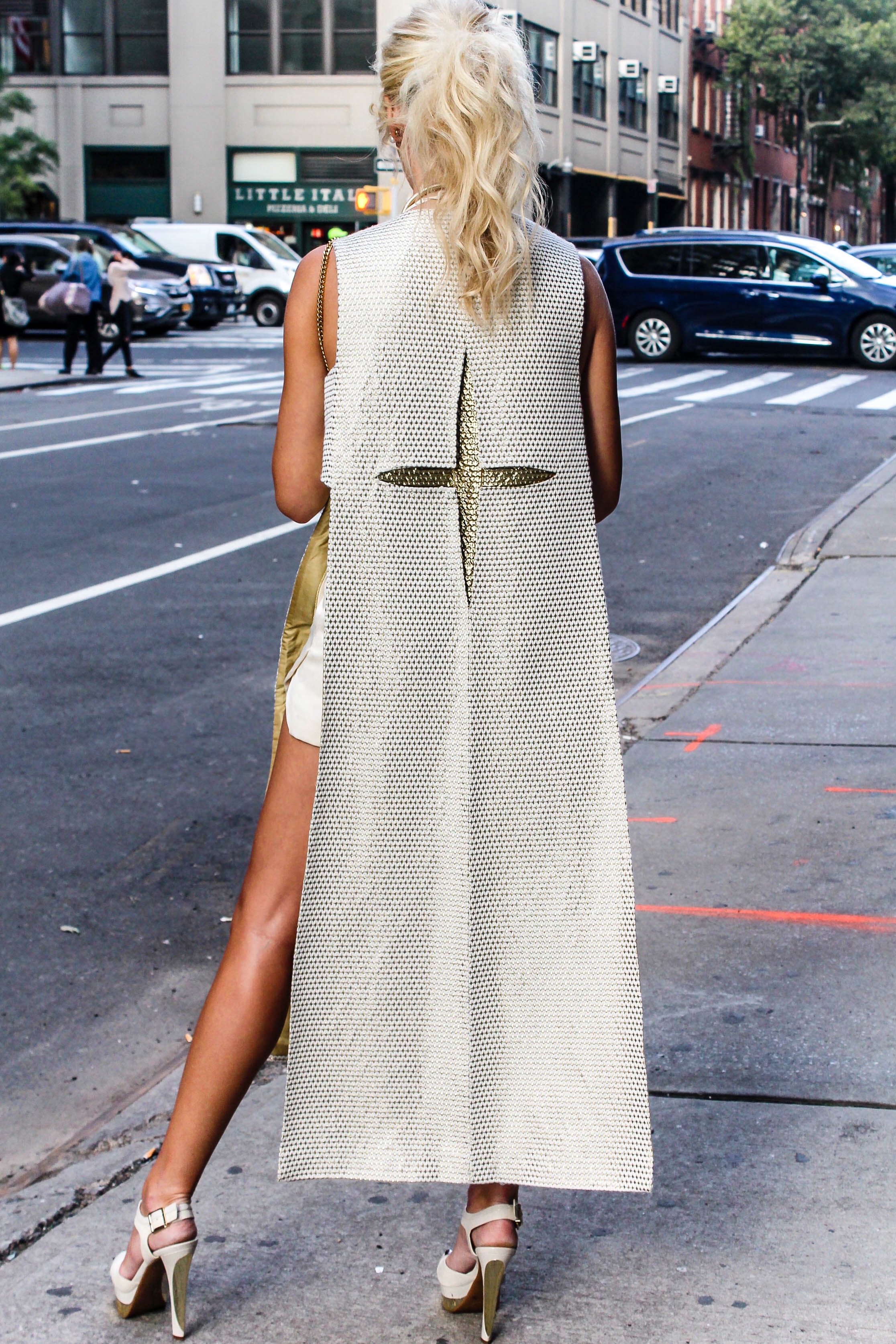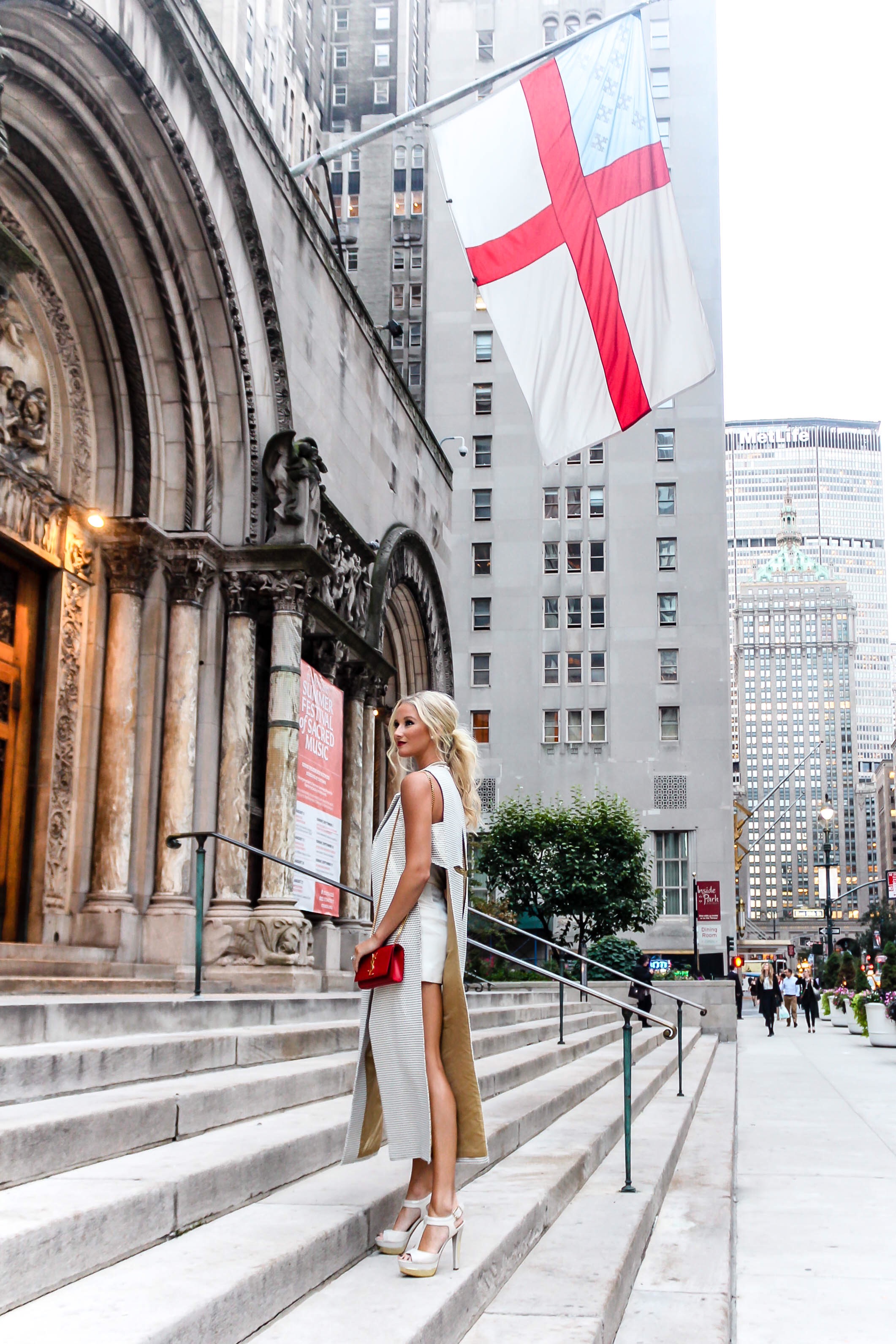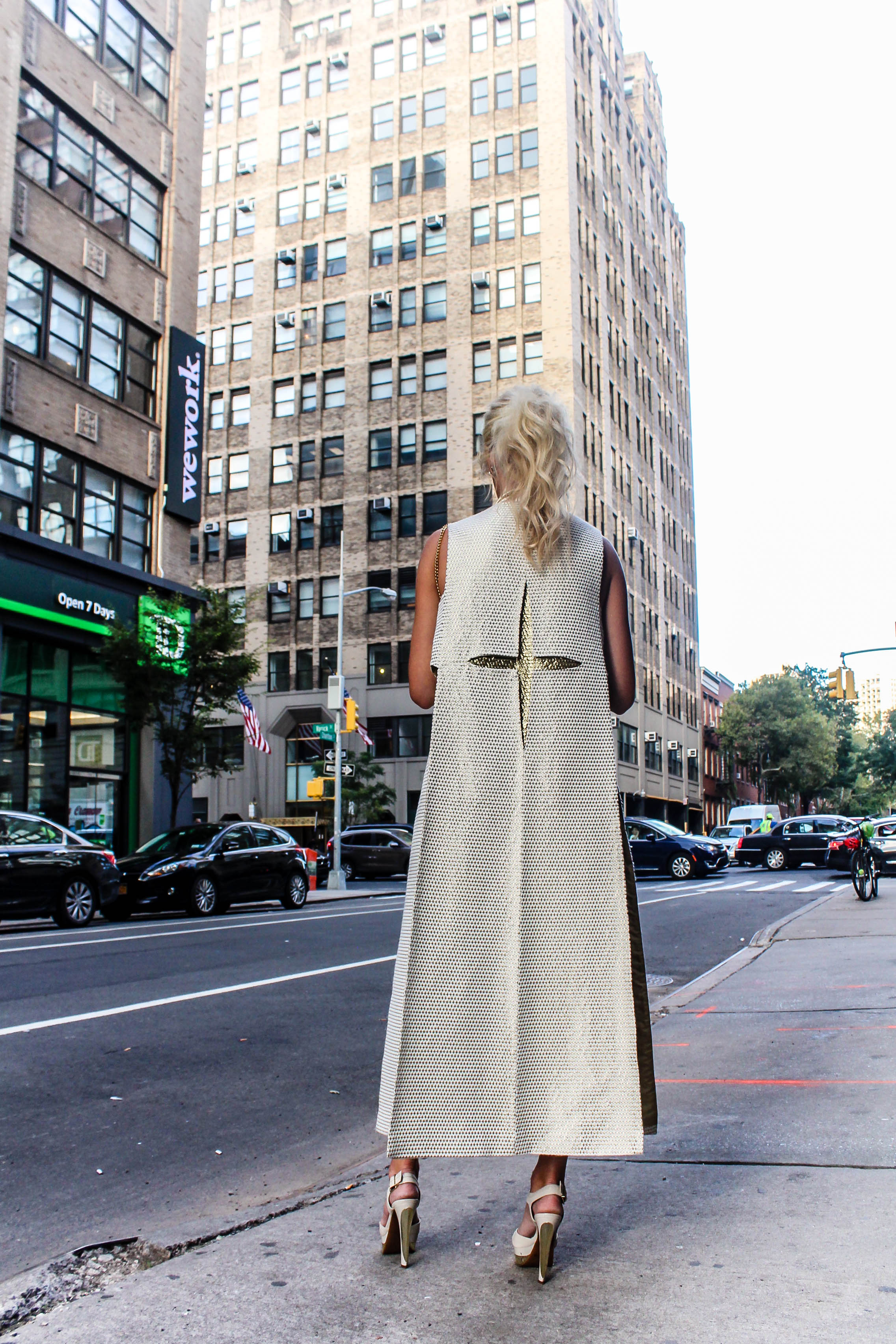 THIS. VEST. Enough said …
The immaculate detail on this piece is sooo beautiful. Every little stitch, bead and seam is perfect, and I love it because you can wear it over shorts, pants or even a dress. We paired the statement piece with Cavanagh's Olivia Shorts in white with a matching scoop neck blouse. I actually wore this to a cocktail attire event because I love dressing up shorts and wearing something different from the typical cocktail dress.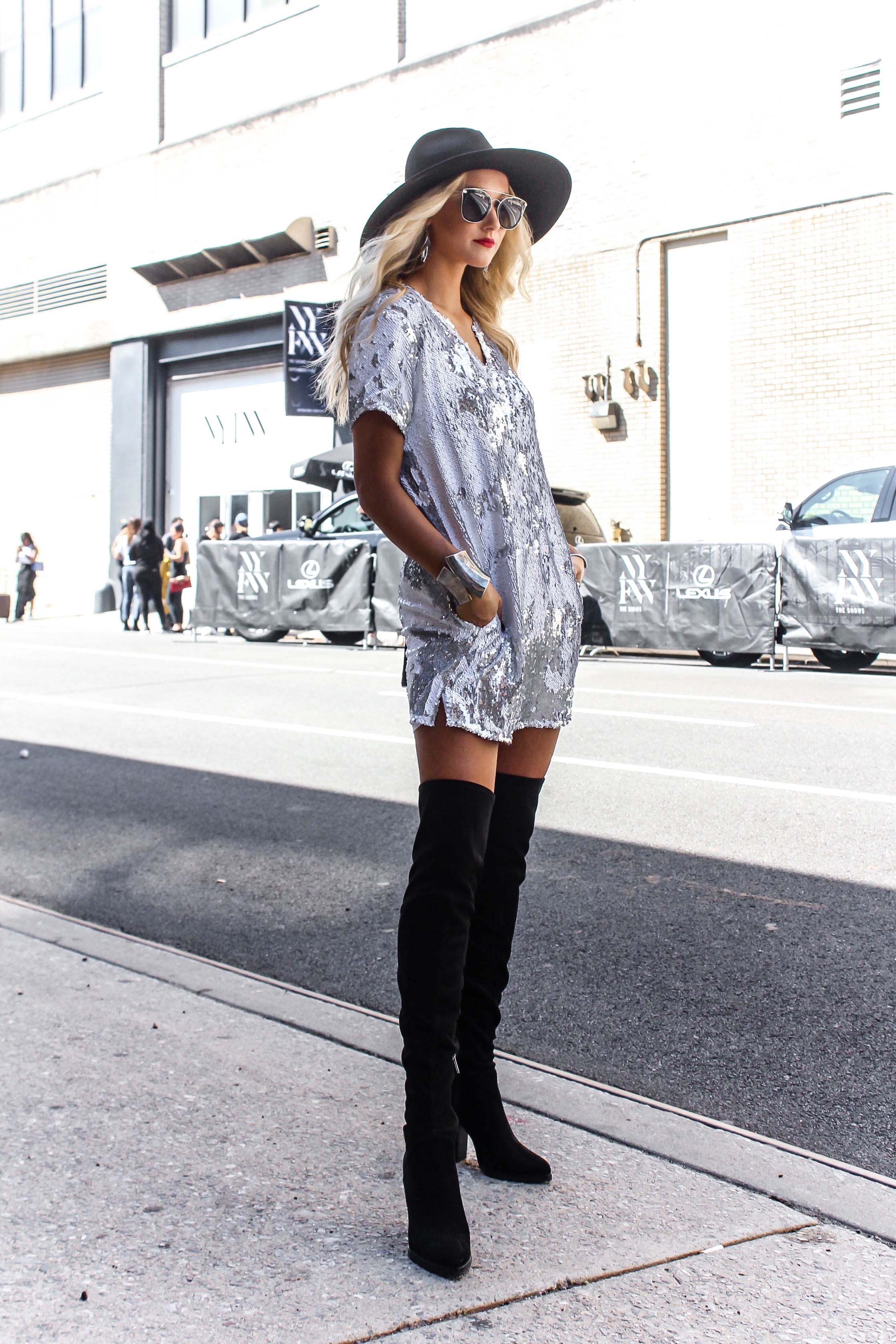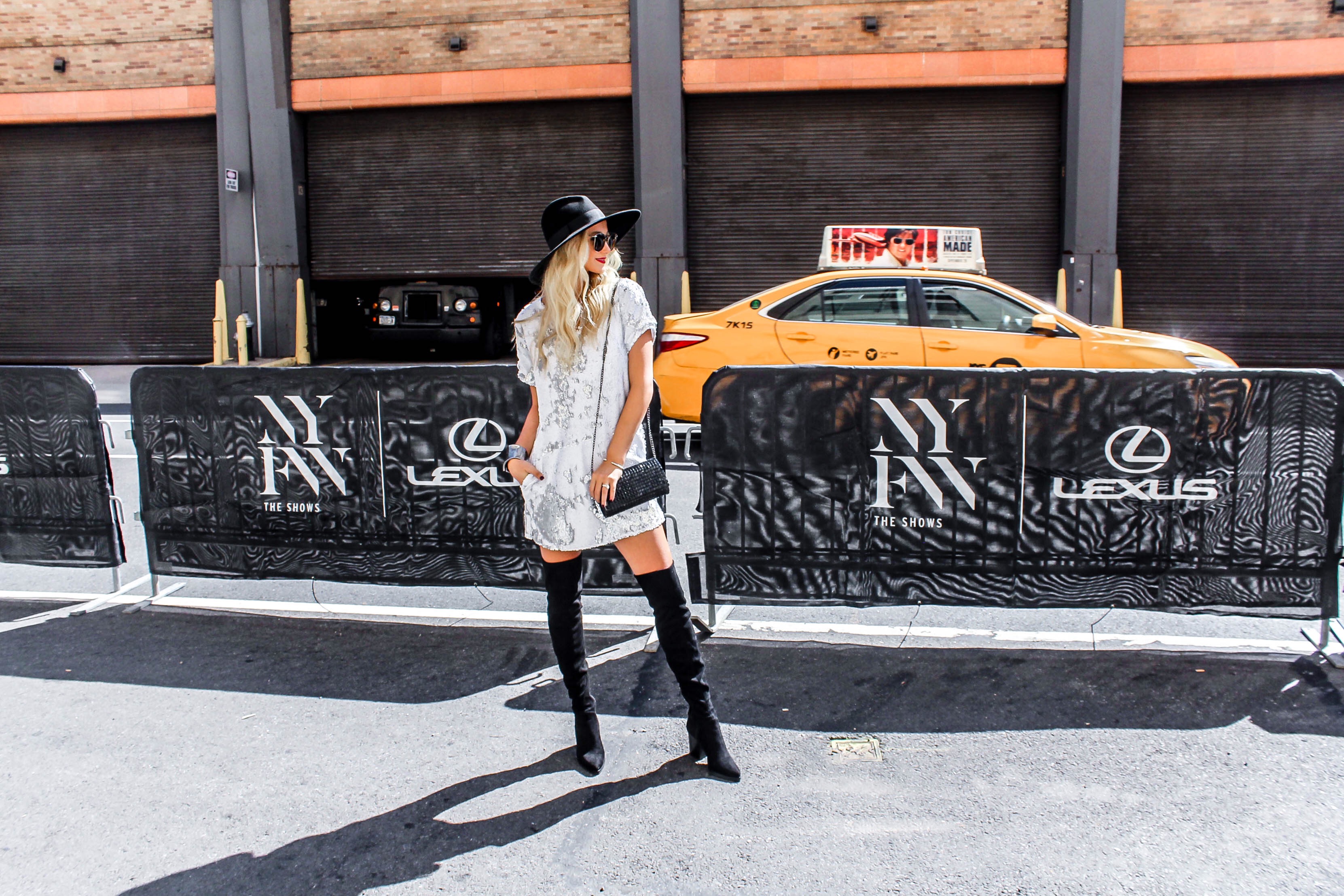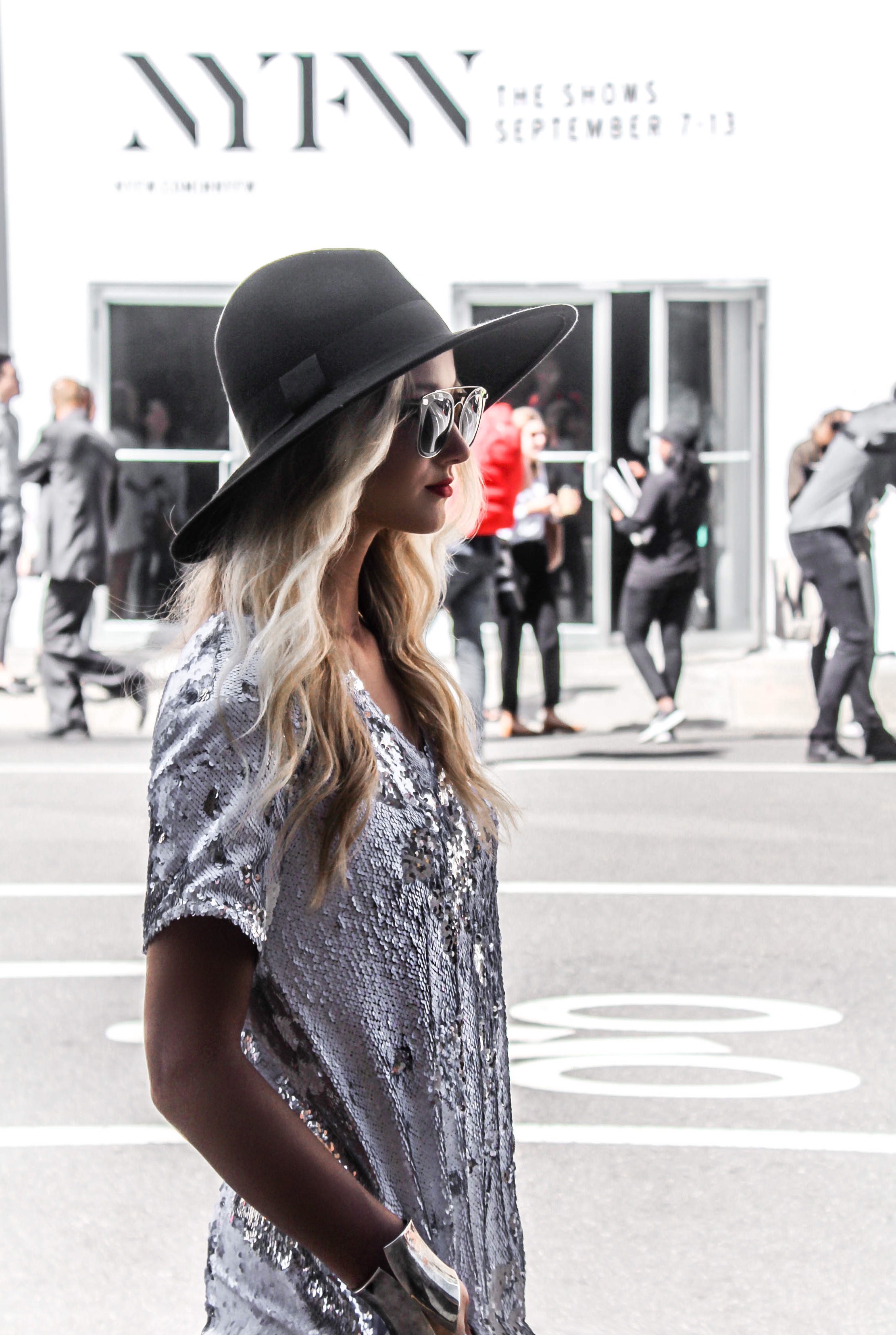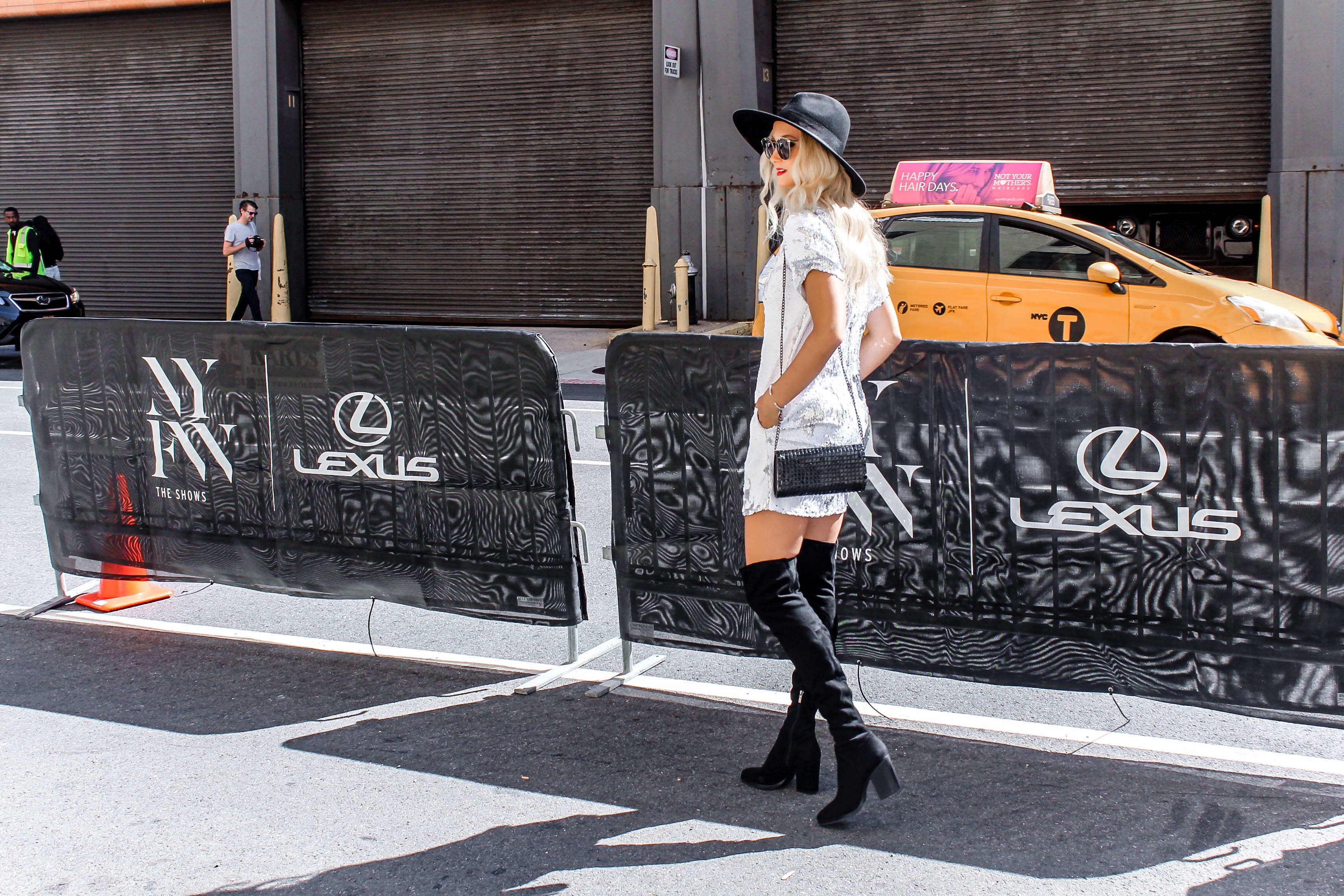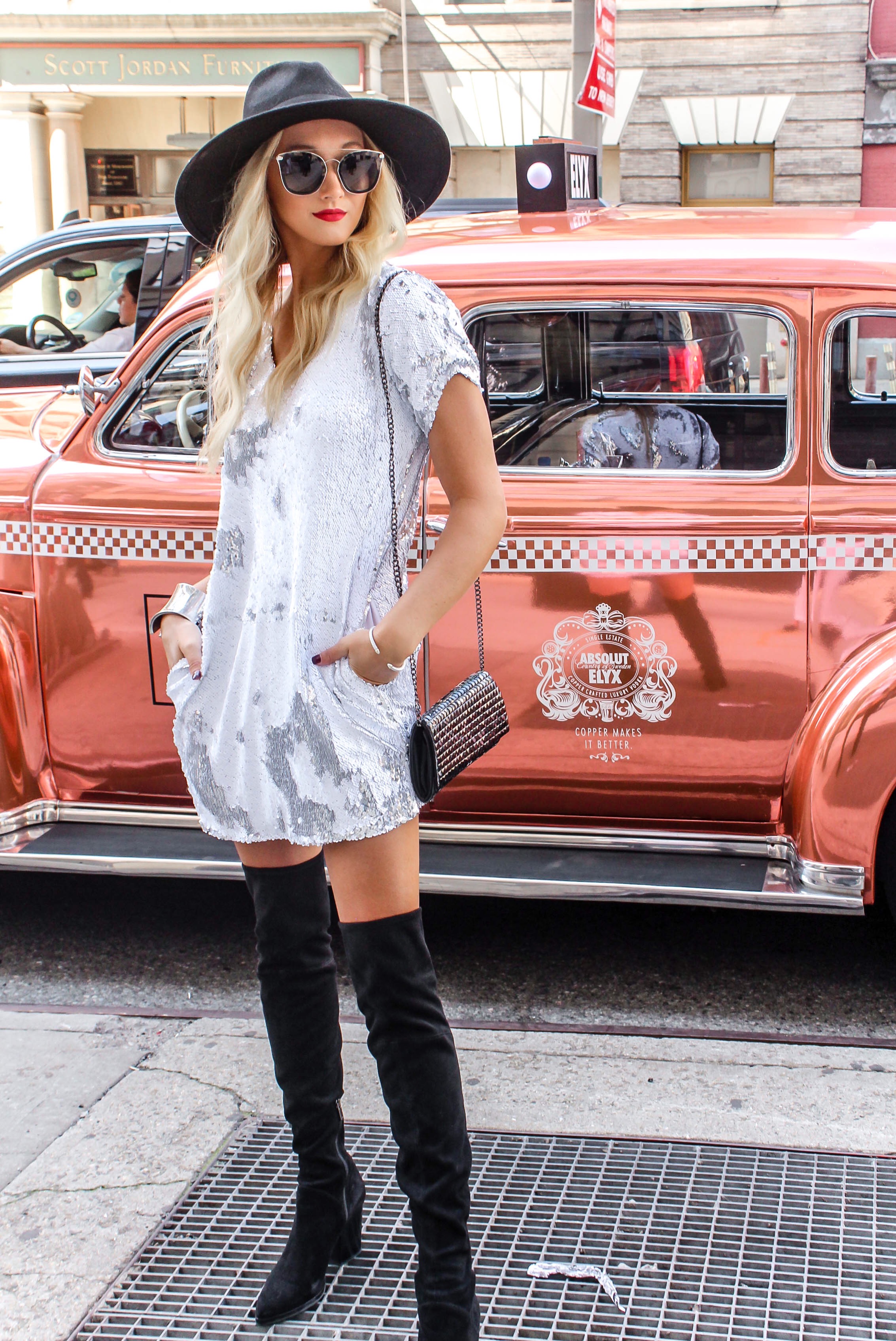 This sequin dress was SO fun!! I mean, y'all know I love some bling 😉 I paired it with my suede over the knee boots and black oversized hat to add a bit of an edgy vibe with the girly sequins. This piece is amazing because you can make it primarily white, silver or mixed, simply by swiping your hand across the sequins from side to side. When I wore it, I liked for the colors to be mixed. Oh and PS — this dress has pockets … SOLD!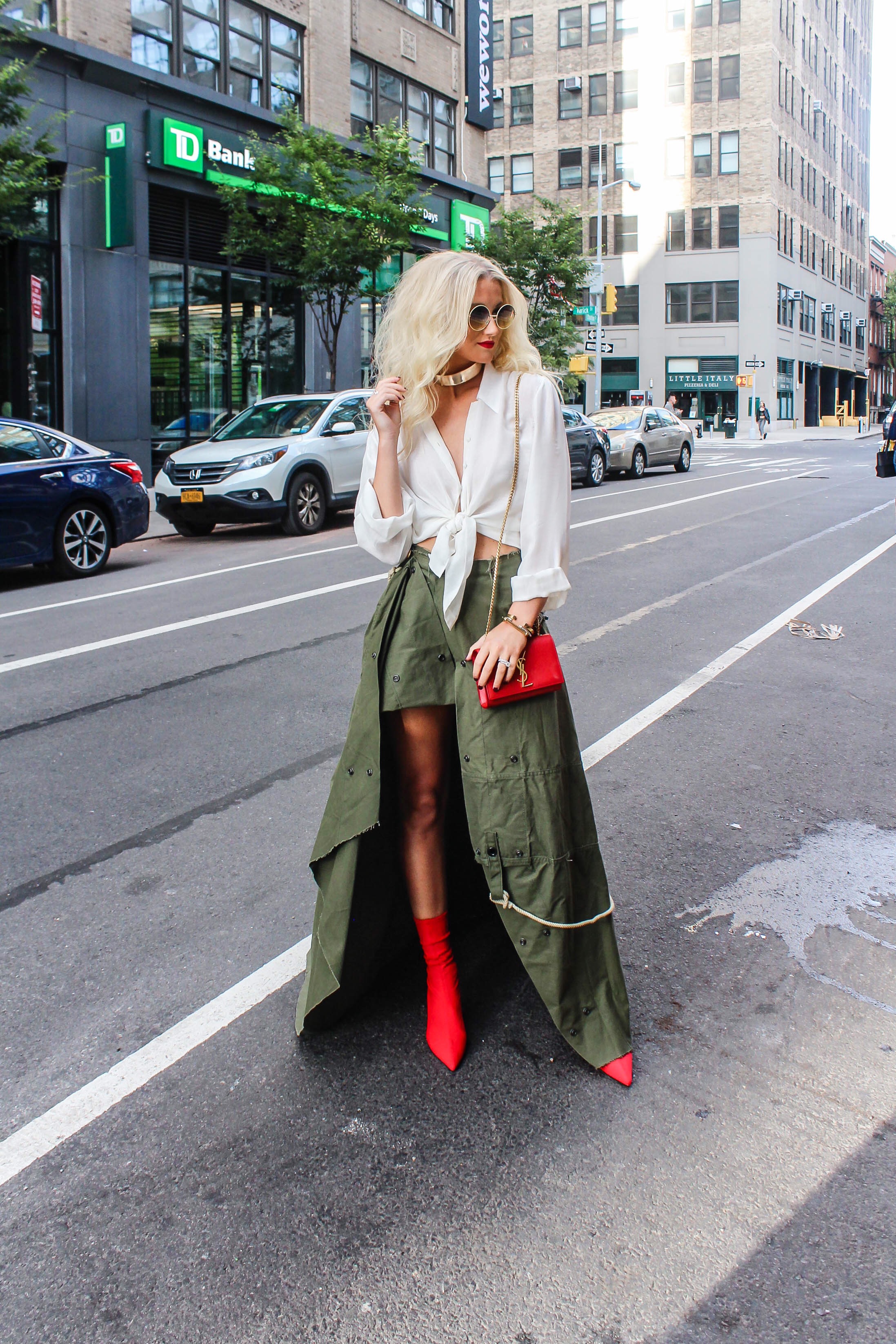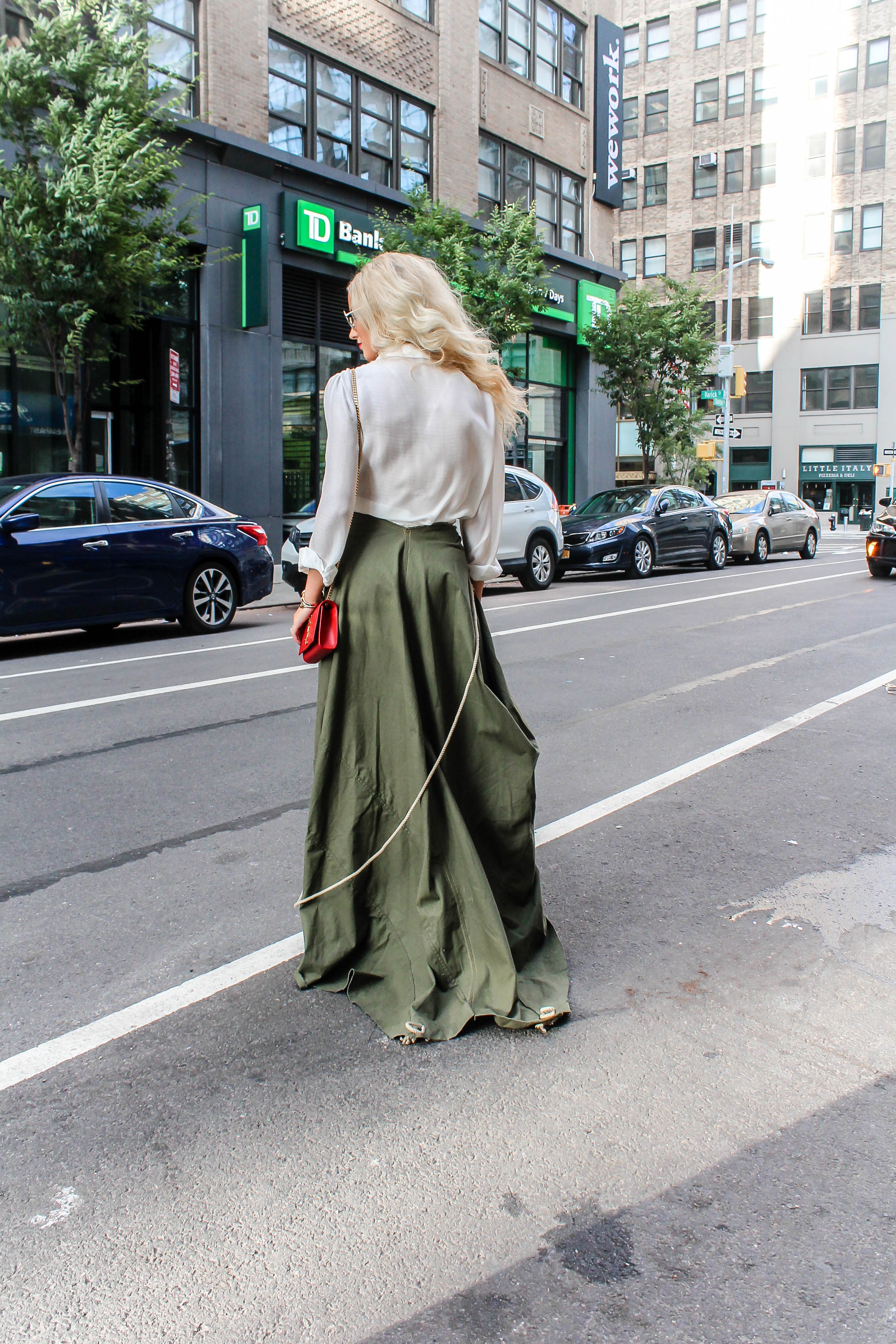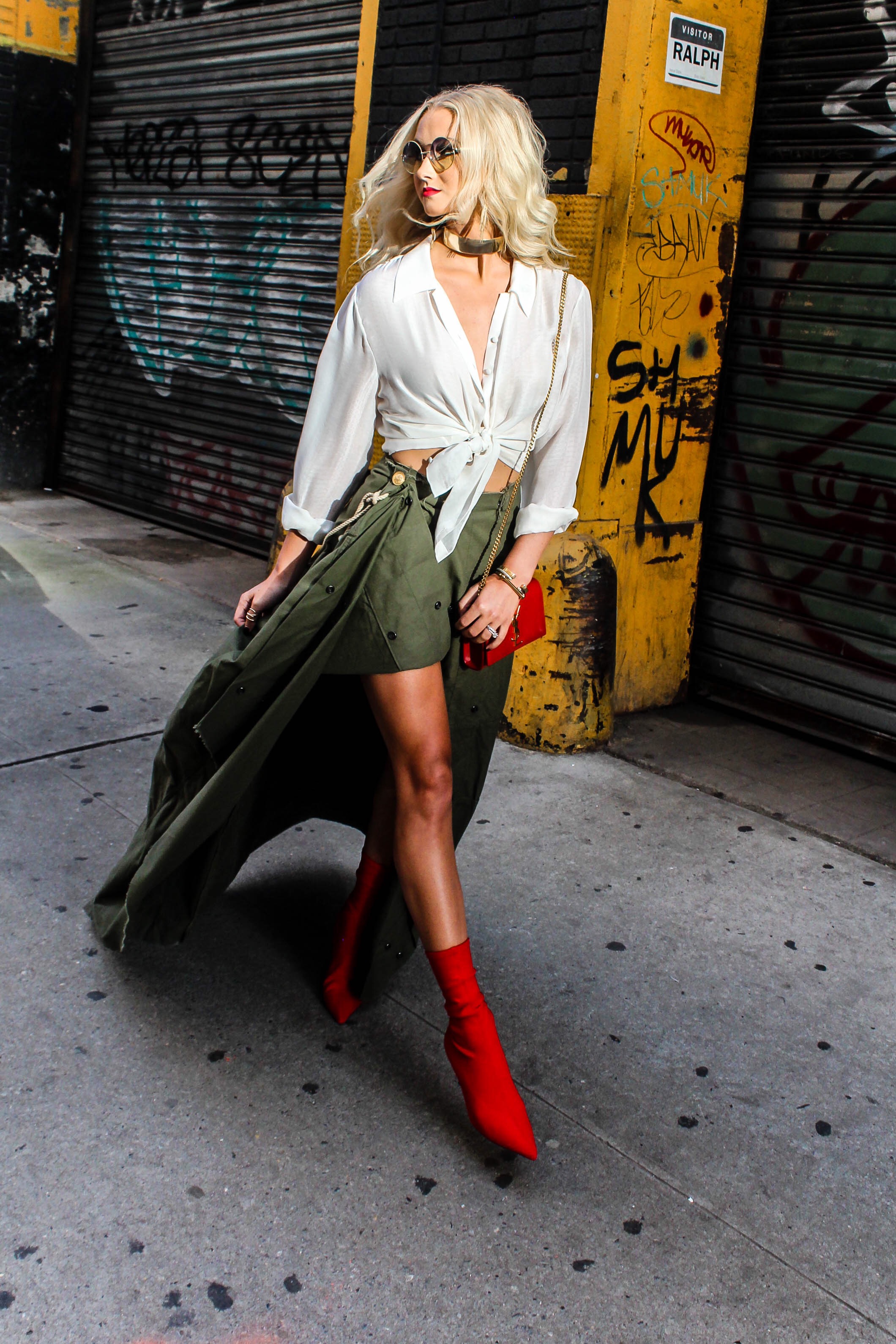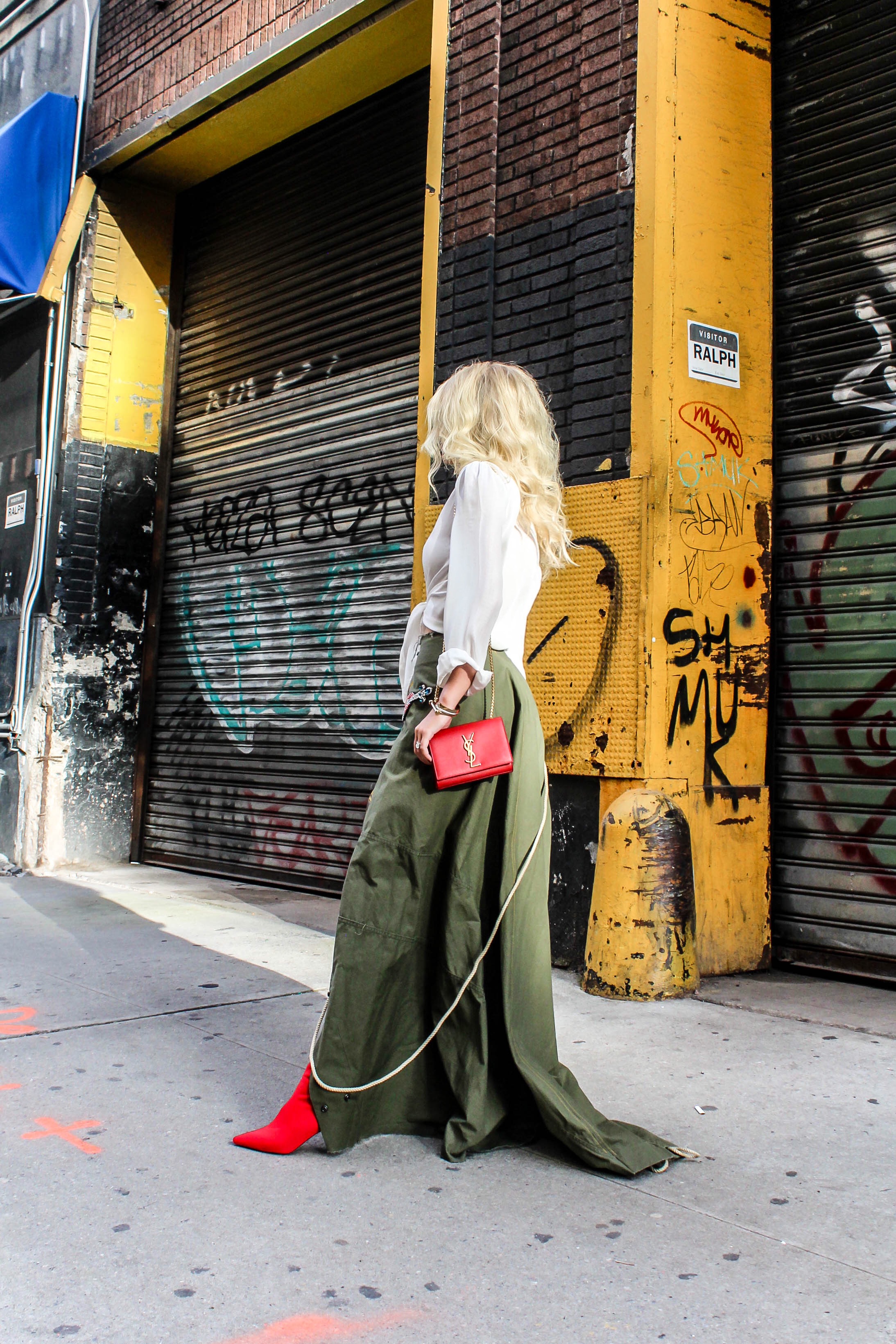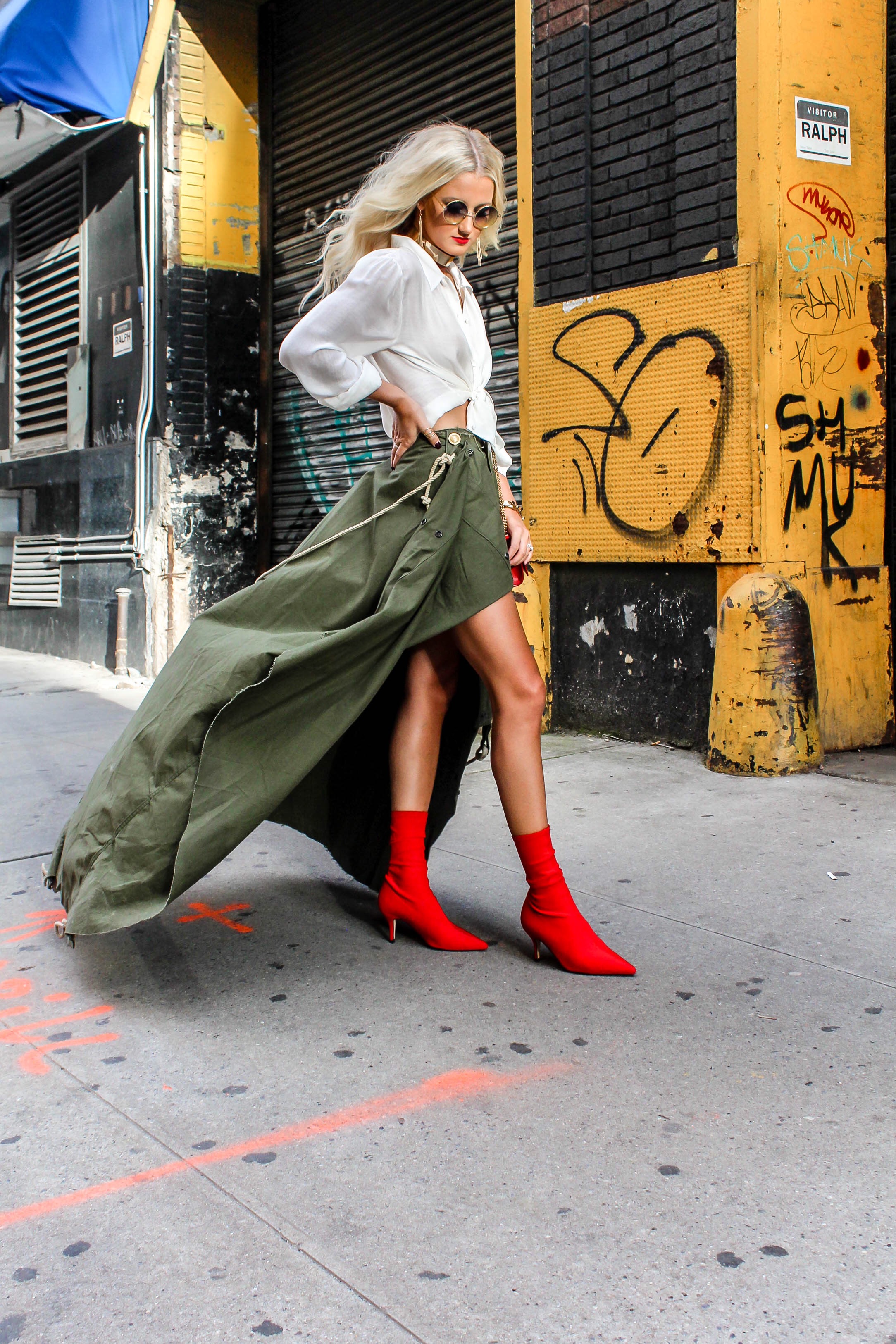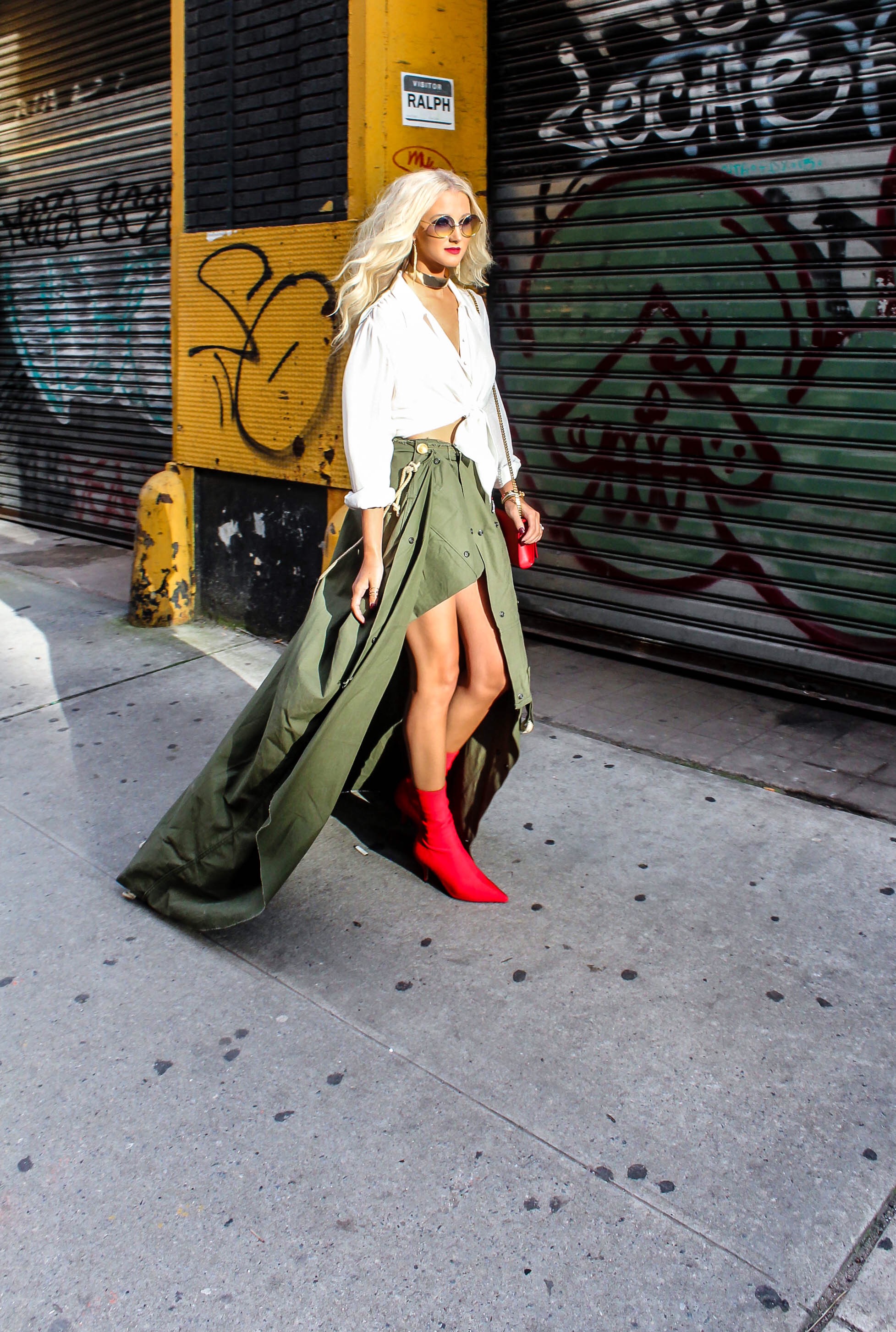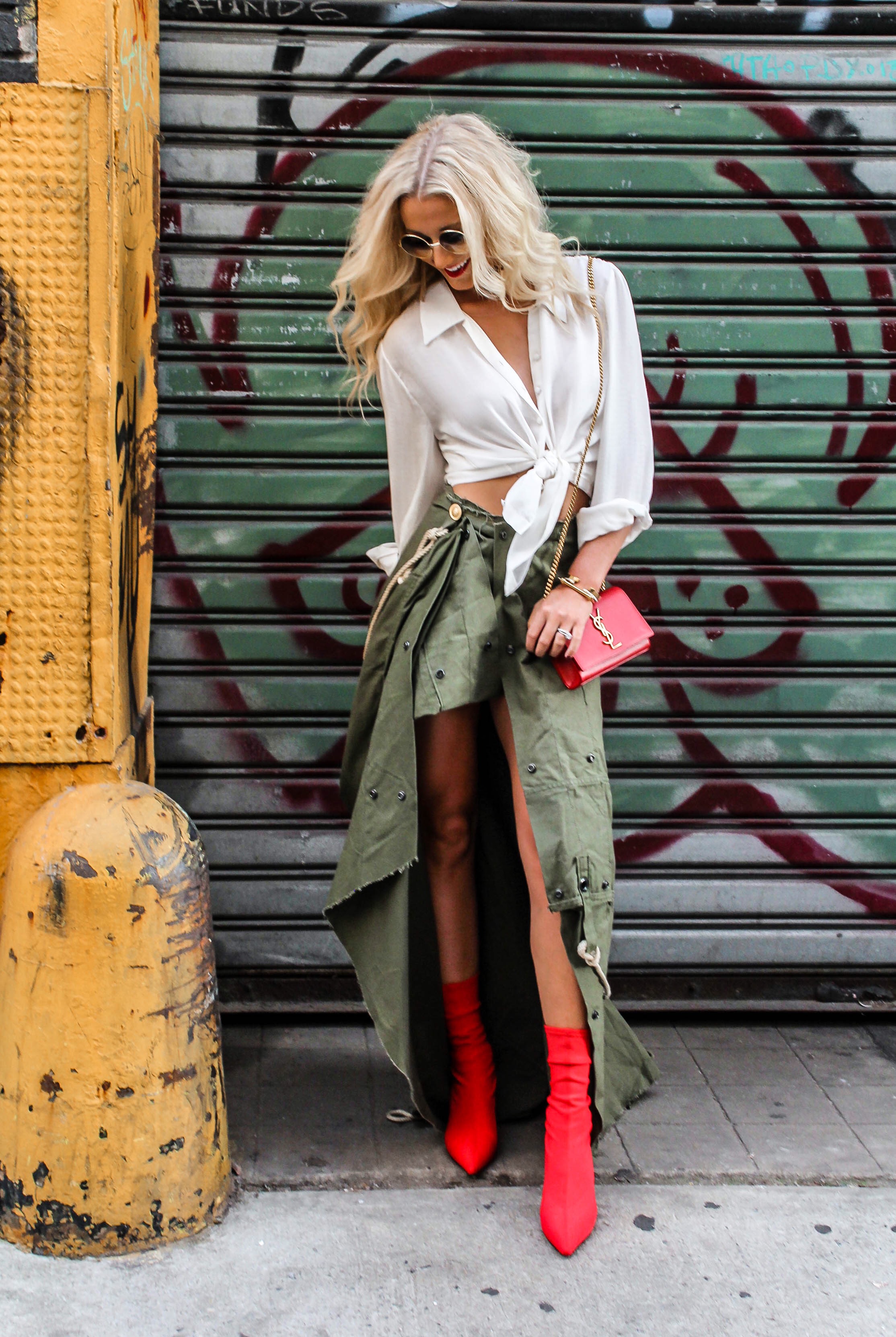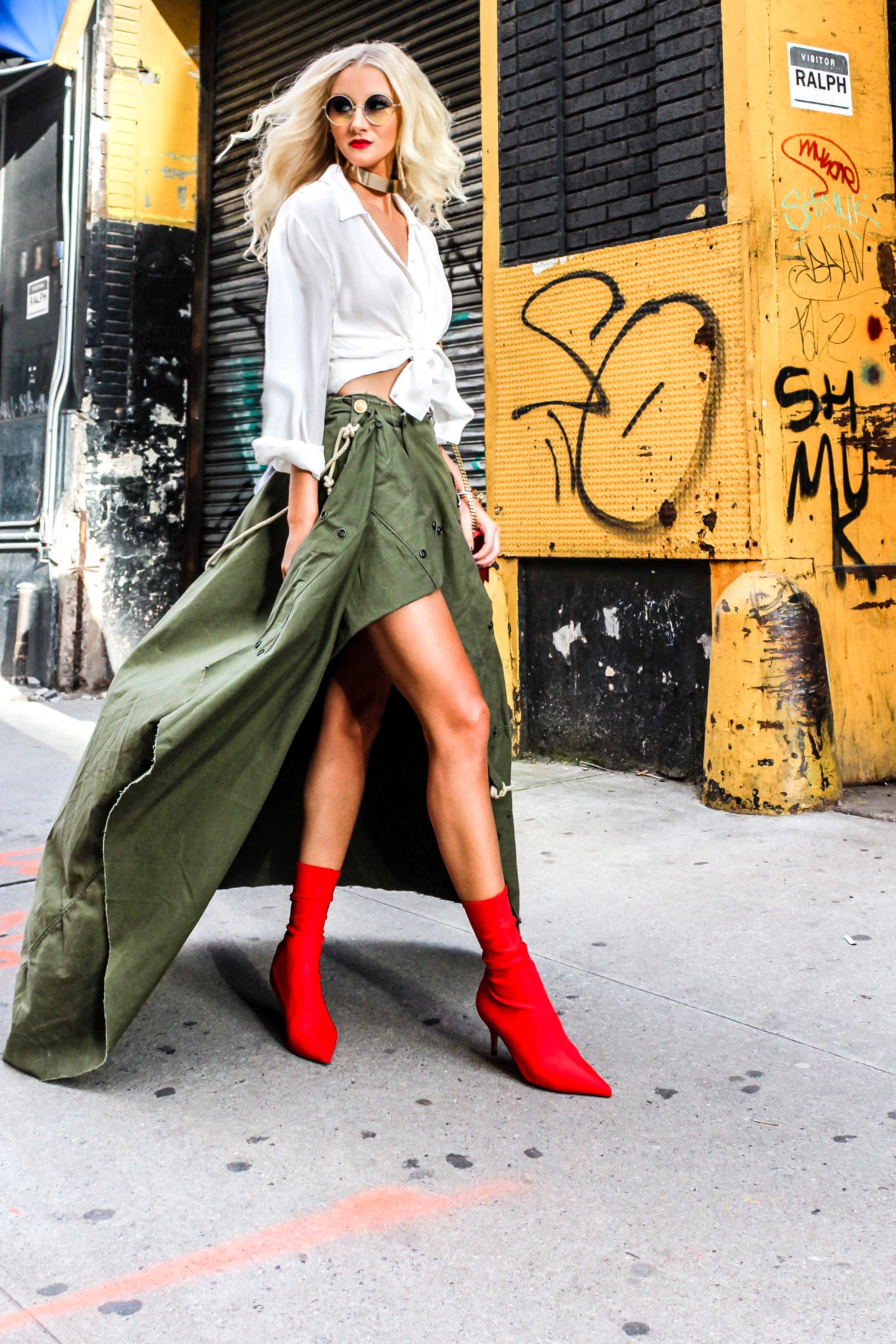 Okay guys … this is hands down, my all time favorite ensemble I've ever had the privilege of wearing. No joke – if I had to pick one outfit to wear for the rest of my days, this would be it! I. AM. OBSESSED!! If you really know me, you know I love a good mix of edgy, chic style. This outfit completely shows off every part of my personal style. I absolutely love wearing pieces that stand out from the crowd and make people do a double take to figure out what the heck I am wearing (LOL) — especially at an event during NYFW. Again, it is the perfect opportunity to push the limits and wear the most elaborate, avant garde outfits. I can't even put into words how much I genuinely loved wearing each piece of this look. The skirt alone is so amazing & this blouse is just like the black one I was raving about in the first look. The structure of this military-inspired skirt is so incredible with the snap button closures and high-low style with a train. And the rope and custom applique … I mean, there are no words for how amazing this is!
I can't even begin to tell you all how I felt while wearing these beautiful clothes. If you have a special event coming up or just need to add some staple, key pieces to your wardrobe, I highly recommend visiting Cavanagh Baker. I saw a few sneak peeks of her newest designs for fall and oh my gosh – stunning! She also offers custom design if you are in the market for that service. If you have any questions at all, feel free to comment below or DM me!
I have another Fashion Week recap coming up soon to give you all a closer look into where we stayed, who I met and what shows/events I attended, so stay tuned!
Thanks so much for stopping by!
xo, P
*Thanks to Cavanagh Baker for partnering during NYFW & on today's post!