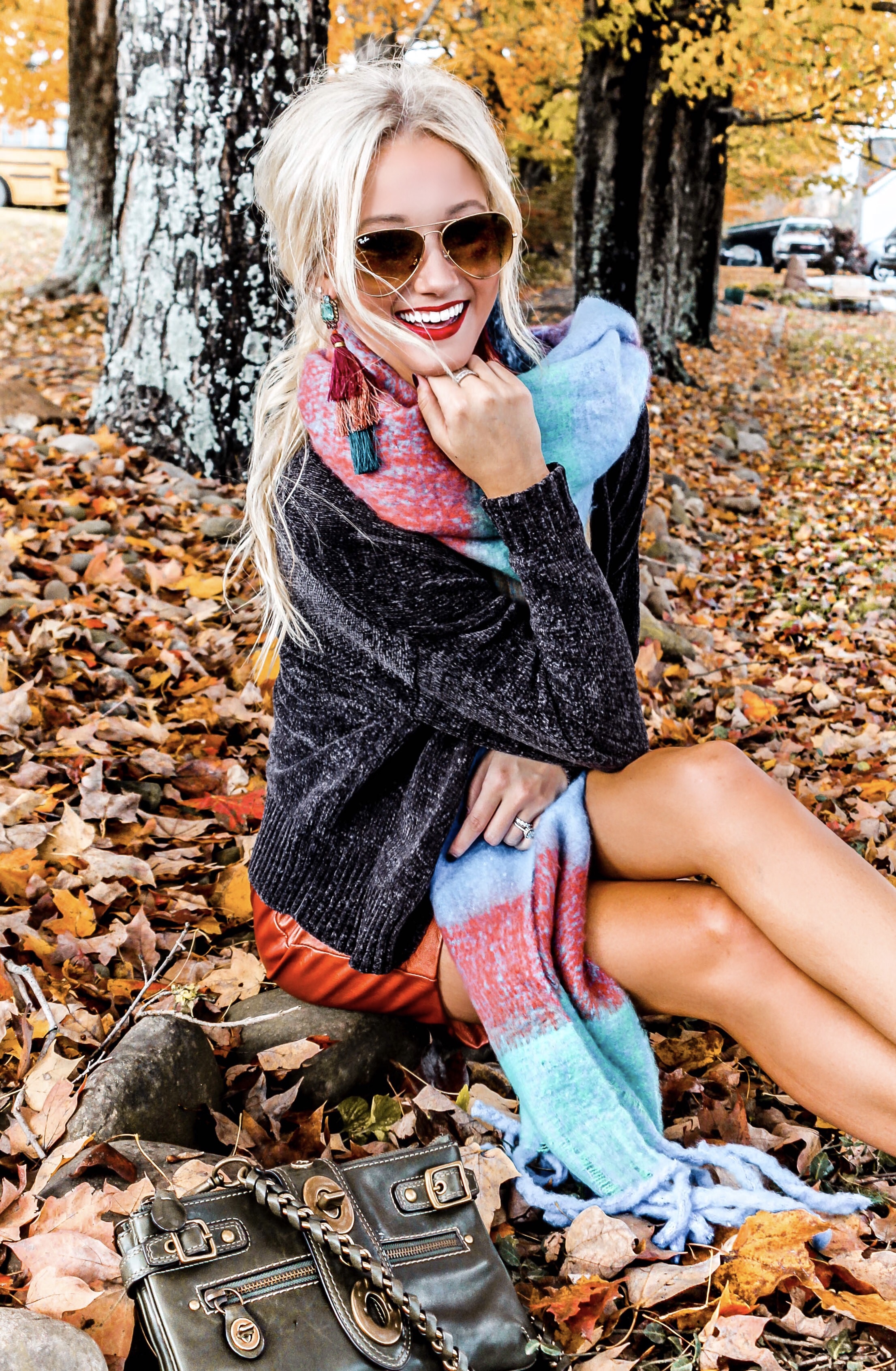 Can we even believe that Thanksgiving is literally less than a week away already? I seriously feel like it was JUST Halloween like a week ago. But here we are! And ya girl is really excited because that means we're one step closer to Christmas (my favorite holiday). However, I won't jump too far ahead into all of that just yet 😉 Thanksgiving is definitely one of my favorites too because it's a season to remind us of all the amazing blessings in our life, we get to spend time with our loved ones and of course, we get to gobble 'til we wobble (literally) … calories don't count on the holidays, right?!
I'm getting lots of questions recently for some Thanksgiving Day outfit inspiration, so I wanted to throw together this post that would hopefully be helpful to you guys when finding your OOTD that day.
Both TJ & I's families keep it pretty casual on Thanksgiving – ya know, like a cute jeans + sweater + scarf look or a casual dress with over the knee boots, etc. And Teej usually wears jeans or khakis & a button down. So, nothing too crazy, but just comfy & presentable.
For me, comfort is key on Thanksgiving because I literally eat all day long – meaning, I need all the loose sweaters and tunics in my life that day ha! (Can you relate?) However, I still like to be fashionable, so it's all about finding that happy medium. You can style really comfortable outfits that are also on-trend & presentable at the same time!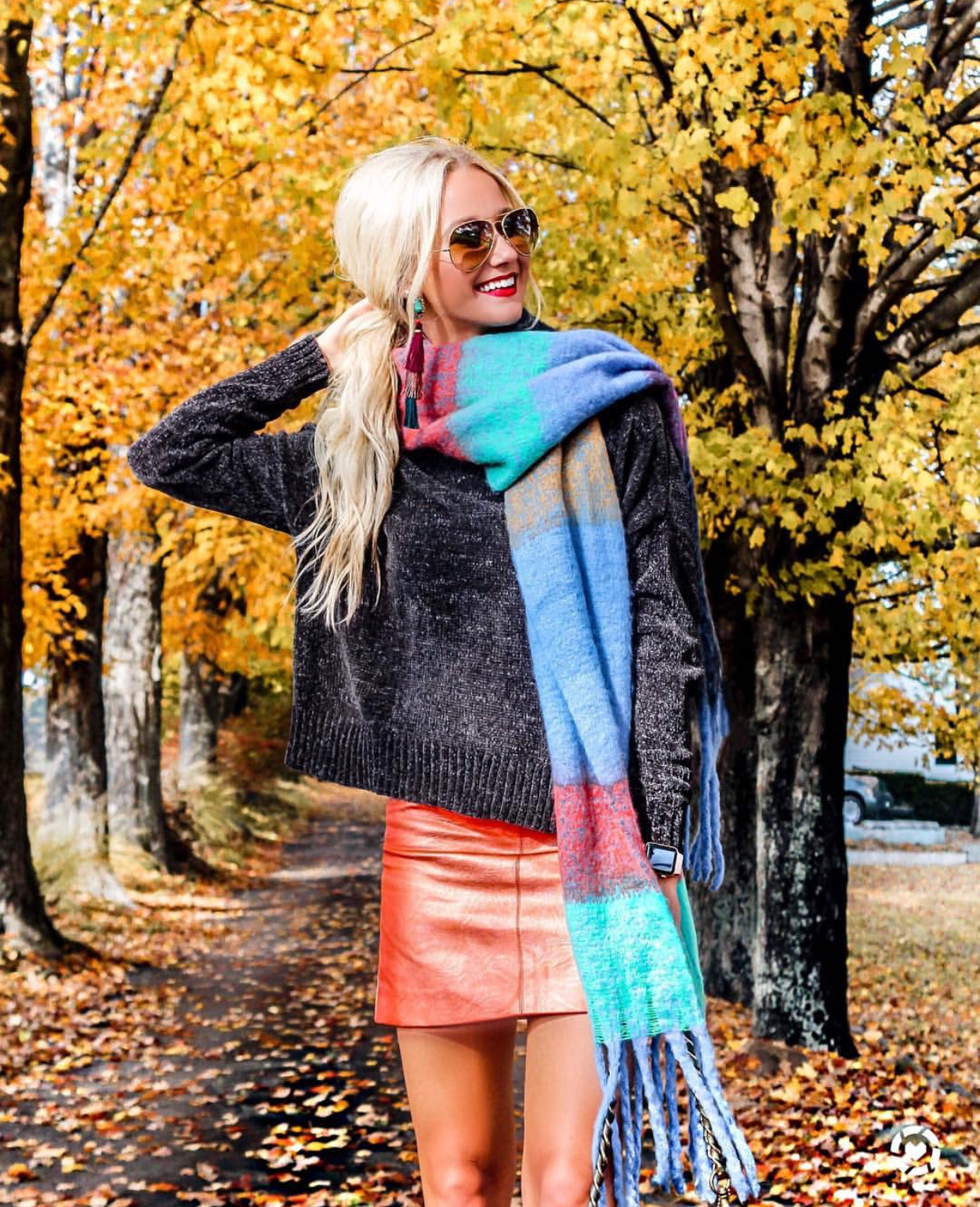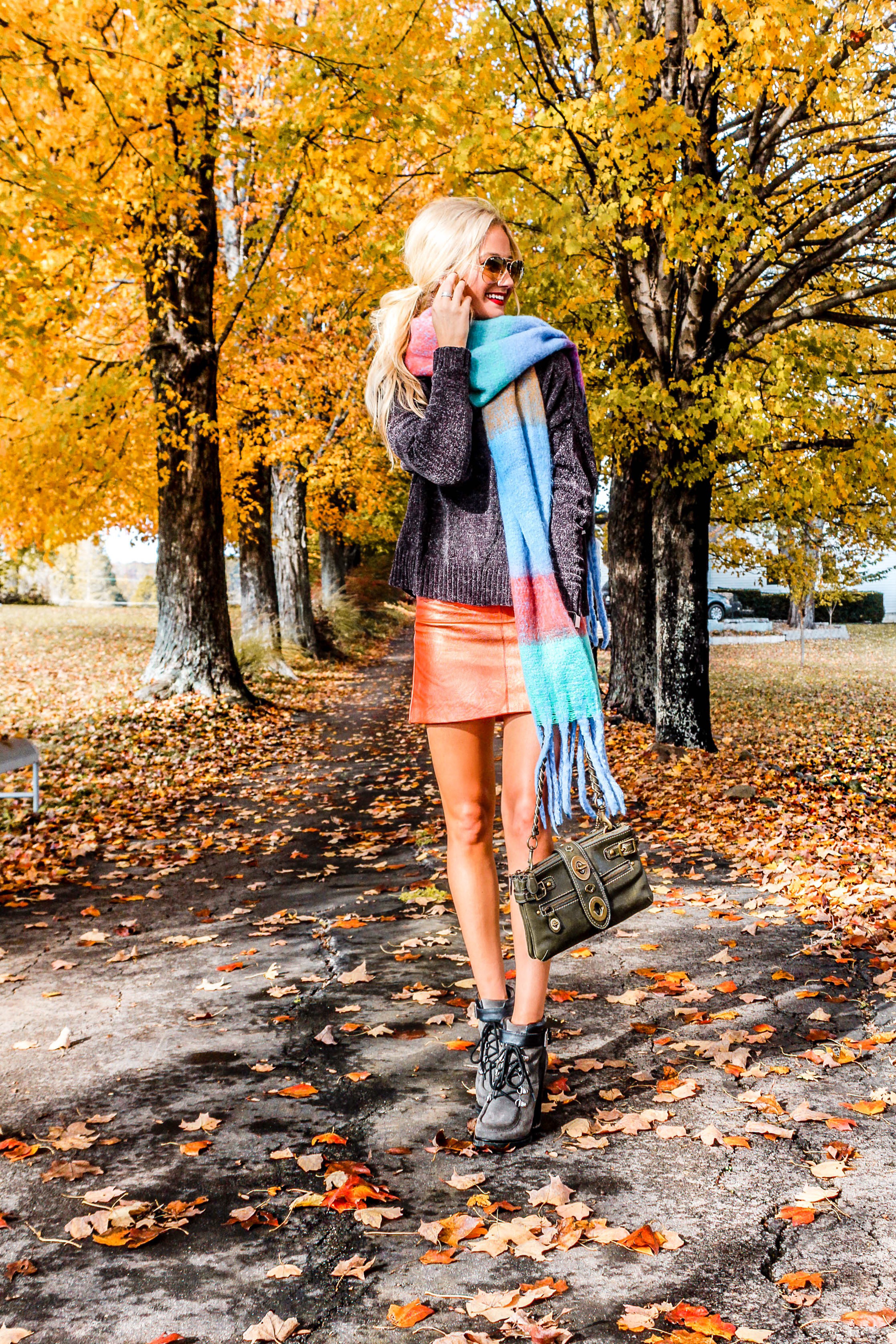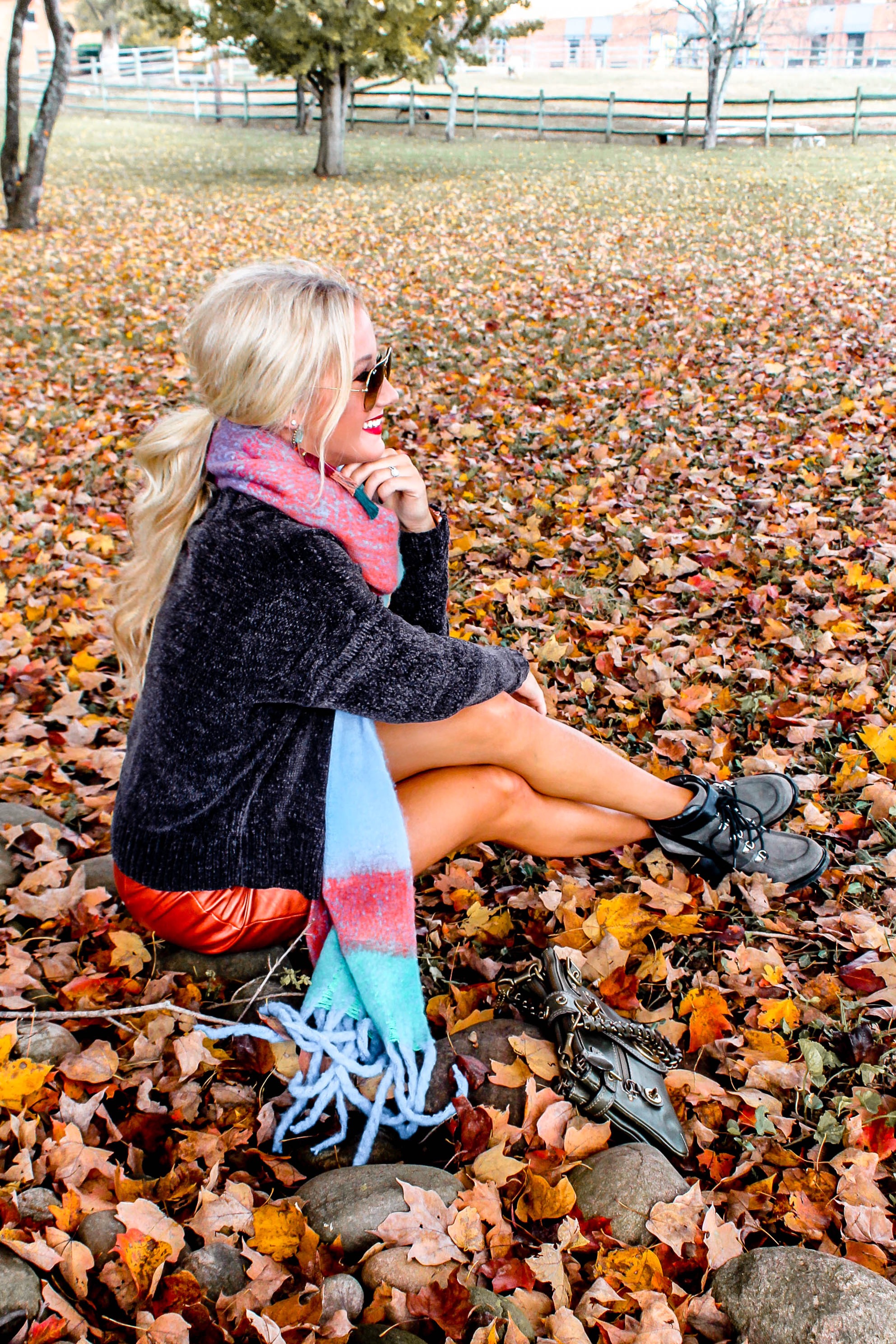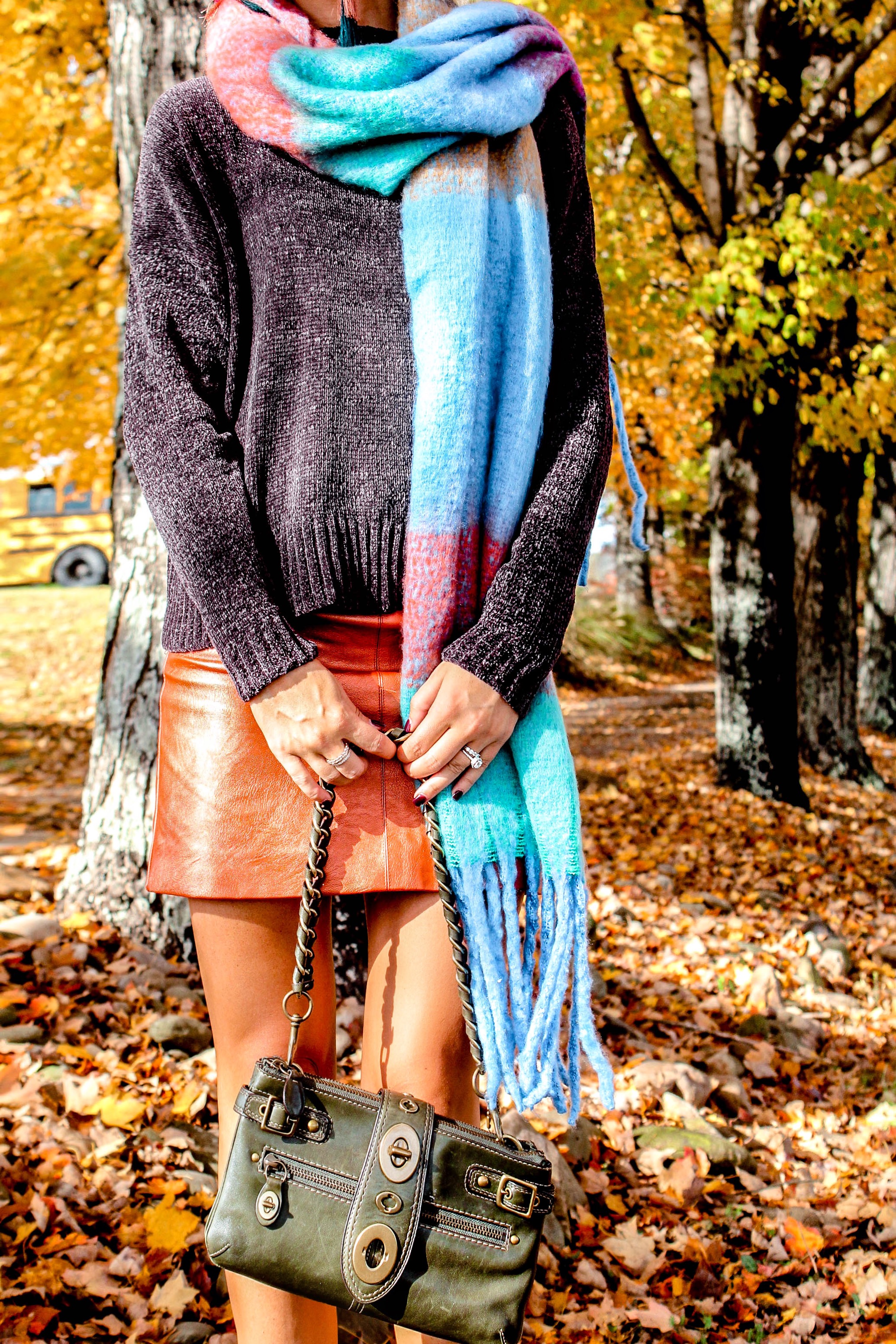 chenille sweater | color block scarf | similar skirt | aviators | similar booties

This look is right along the lines of something that I would wear to our families' Thanksgiving lunch and dinner. A loose-fitting top (with a scarf if it's chilly out), a cute skirt to dress it up a bit without going overboard & some chunky heeled booties. (I'm used to wearing heels often, however, this type of outfit would also look great with flat boots as well if you want to go that route.)
Speaking of this outfit … you guys! This chenille sweater is the softest, most cozy article of clothing that I've ever put on my body (& it's only $49). It's also available in multiple other colors (I love the Pink Ash color too) — I'm telling you, you NEED this sweater in your life. This post is not sponsored in any way, but I truly just love it that much and really think you all would love the look of it on you and would feel so comfy wearing it this holiday season. It's also just such a great piece that you can dress up with a skirt / leather pants / layered over a dress or you can dress it down with leggings / distressed denim / denim shorts (for transitional weather).
I tied the whole look together with a fun, colorblock scarf that is so soft & chunky. I'm a big fan of chunky scarves, however, if you're not, you may not like it as much as I do. On the other hand – if you're like me – you'll fall in love with it like I have. It also comes in 2 other colors so I've linked those above as well.
If this look isn't up your alley, I've also shared a few other fall outfits (that you may like better), and they would also be perfect to wear for Turkey Day: HERE, HERE, HERE & HERE.
---
Thank you so much for stopping by to check out my Thanksgiving style inspo! I'd love to hear how your family dresses on Thanksgiving … I think it would be so fun to dress WAY up for a Thanksgiving dinner someday (like with tights and dresses and pumps and pearls – AH!). If your family does that, please share the deets with me – how fun!
xo, P