Valentine's Day is quickly approaching, and let's face it ladies … sometimes our men need a little help when it comes to finding us the perfect gift, right? 😉 I'm here to help – send him over here to LNL or just pop the gift ideas below into his head! TJ and I buy Valentine's gifts for each other every year, and I hardly ever know what to tell him that I want when he asks, so it's usually just a surprise. However, I've had my fair share of times where I will send links to things I like to his inbox or have my mom or sister drop the hint. I mean, don't lie, we ALL do it y'all!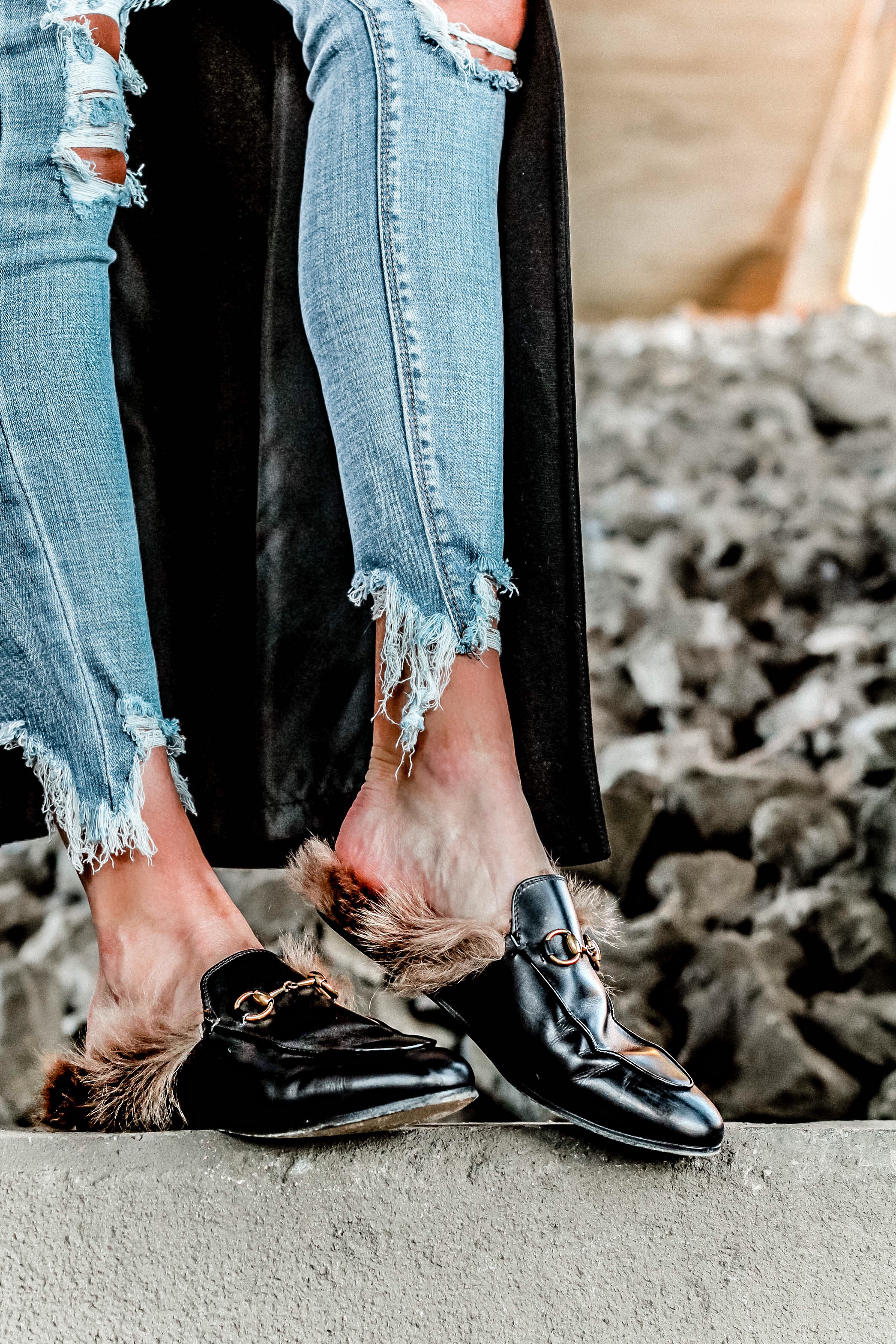 One of my favorite (and most recent gifts) that I received are my Gucci slides (with da furrrr), and I haven't really gotten to tell y'all about them yet, so I thought I'd share! I mean, I could have died on Christmas morning when I saw them laying under the tree from Santa. Y'all know me — I'm not big on spending TONS on my clothes or the more trendy items, but I don't mind to save up and splurge on good quality shoes or handbags / accessories that I know will last me forever.
While we're on the topic … I want to just explain a little more about this splurge-worthy shoe & tell y'all how truly amazing these mules are in case you've been thinking about making that splurge for yourself. To be clear, I've tried on the style with the fur (clearly) and the style without fur, and they're both equally as comfortable. The fur addition is just a personal preference. They do stretch a little once you wear them a few times so keep that in mind when ordering. For sizing, I'm a size 7 to 7.5 normally, so I got the 37.5 in these shoes. One question that I get often is "are they hard to walk in and keep on your feet?" … I personally think once you wear them a few times and break them in, they are so easy to walk in. At first, the fur part of the shoe can be a little slick, but after 2 or 3 wears, mine were fully broken in and now I wear them almost every day. They are so easy to dress up for the office or to dress down for the weekend travels. I highly recommend this shoe and cannot say enough good things about it. It also comes in a full loafer style (not only a slide) and both of the styles come in so many different colors, materials and patterns that you can take a look at here. I know these shoes have been pretty popular the past few months, so if you have had an eye on these and have any questions at all before purchasing, don't hesitate to reach out to me! I'll be happy to help you. I know that it can be scary making that kind of investment in a pair of shoes, but I will say that every single high-end or designer piece that I own has lasted me for years upon years and hasn't even gone out of style. For instance, I got my first Fendi purse about 10 or 11 years ago and STILL carry it to this day. I'm allllll about some good deals and keeping things super affordable 90% of the time, but every now and then, it's nice to treat yourself — especially when you know that you will wear the item many many many times over the course of 5-10+ years.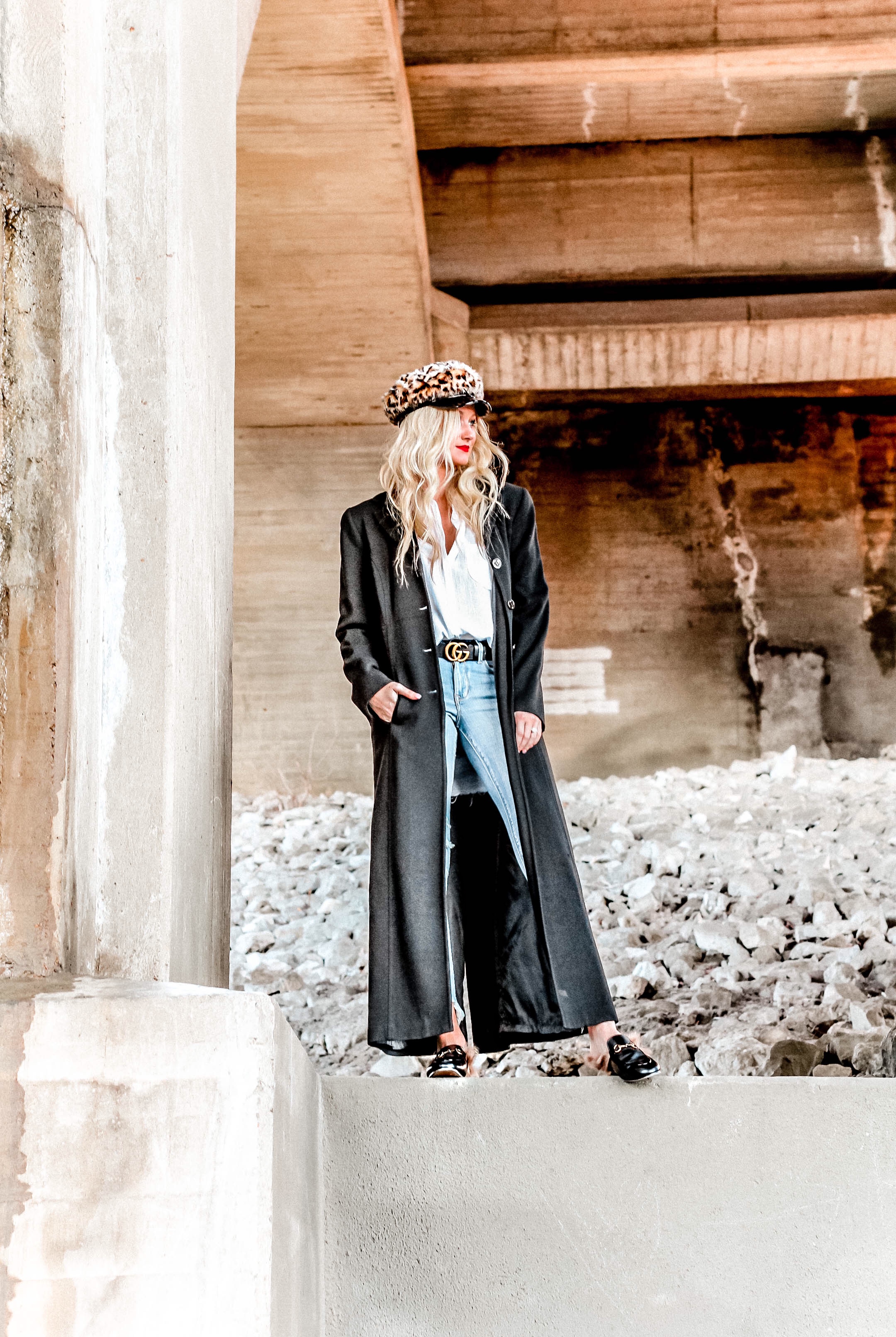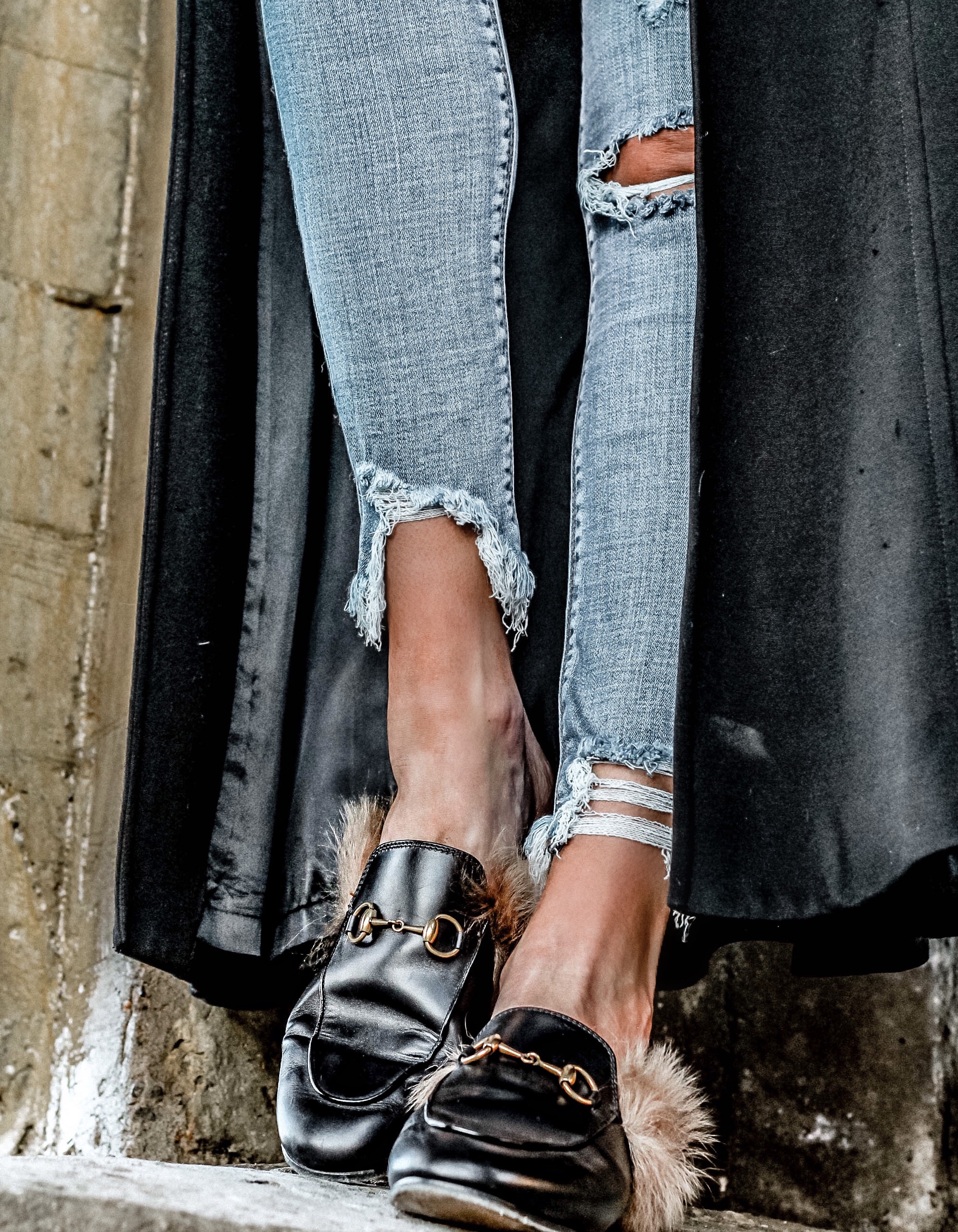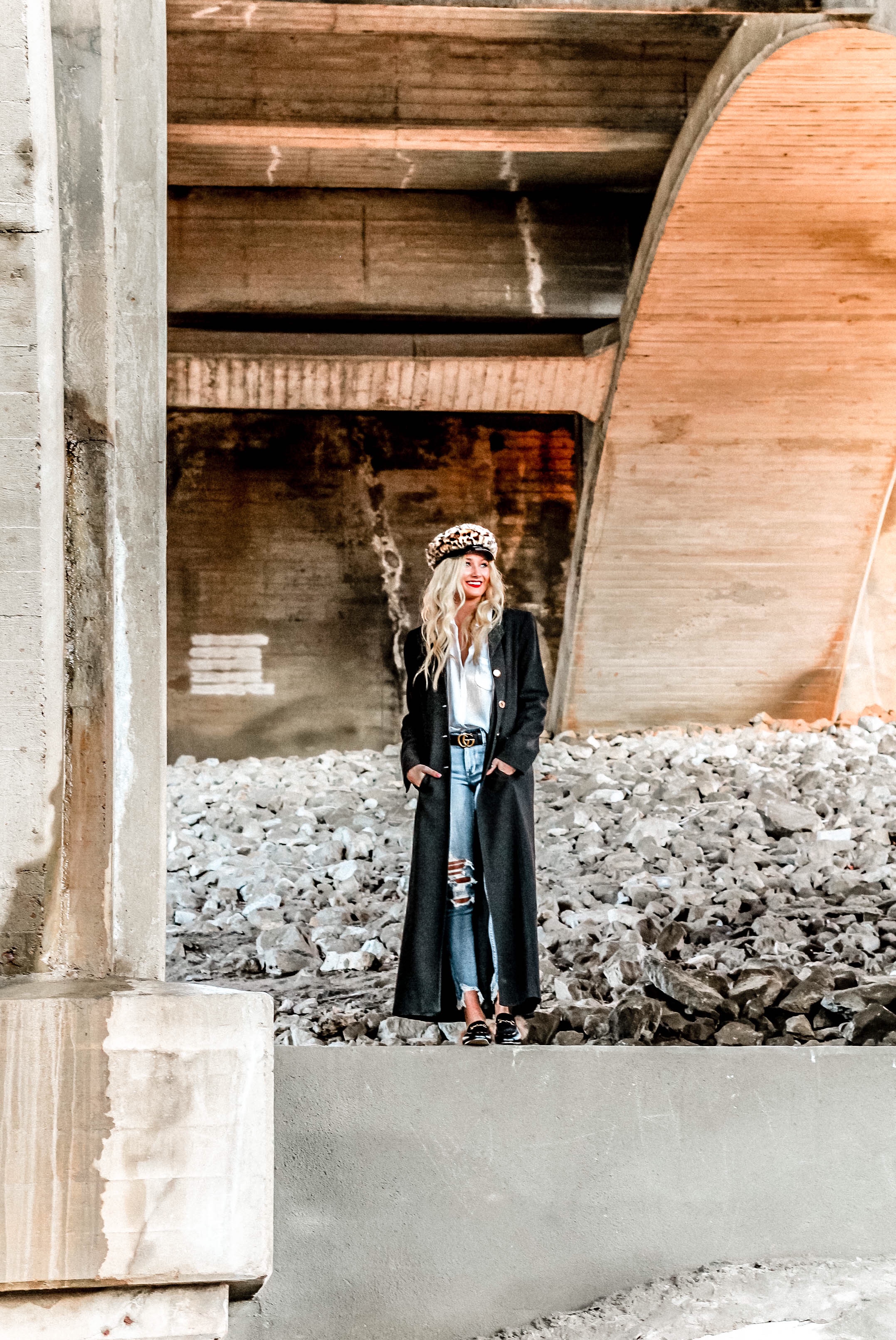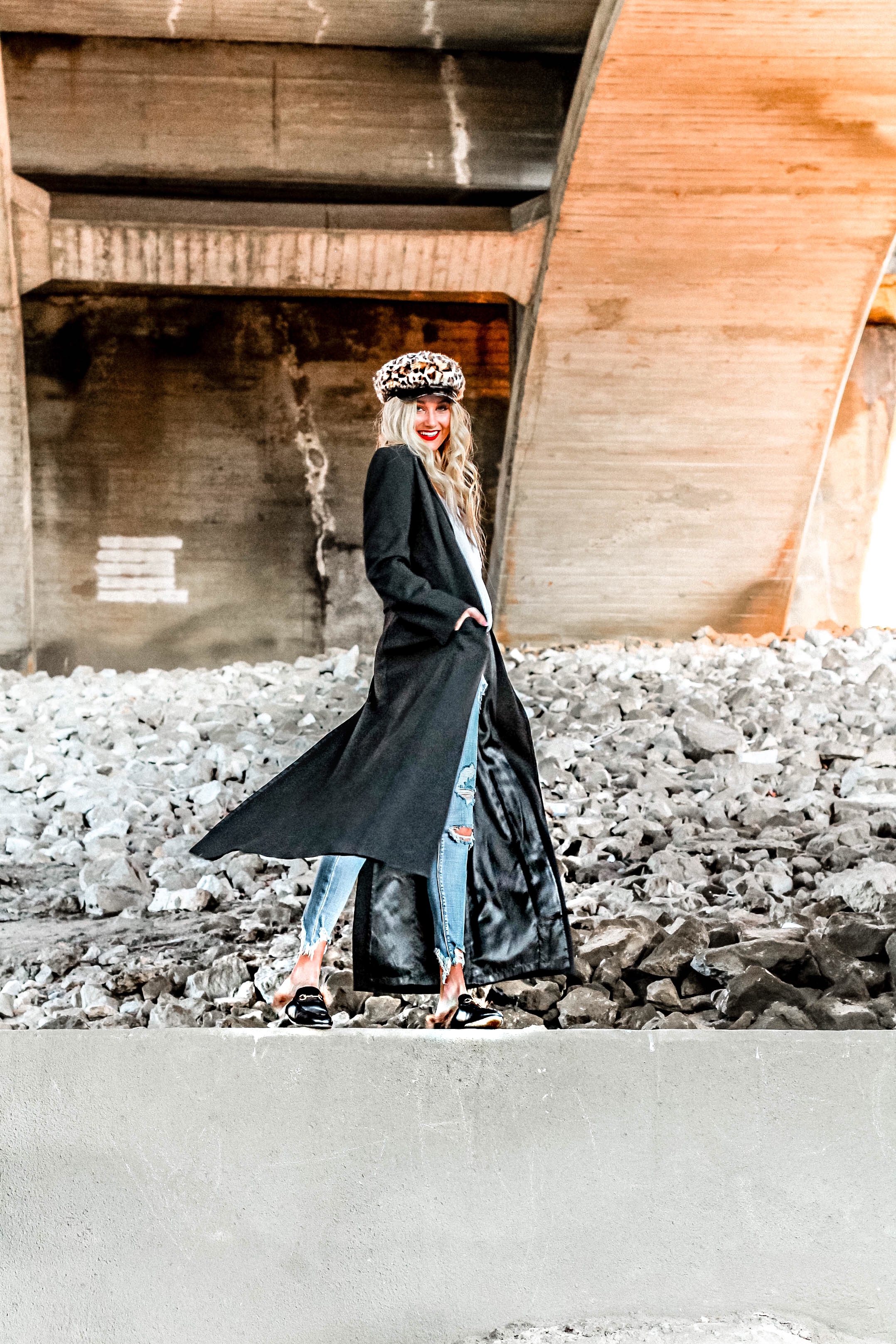 long black trench coat | white blouse | distressed jeans (fave brand of denim!) | similar leopard print baker boy hat | Gucci black slides

Needless to say, I'm beyond obsessed with this new pair of shoes on my shelf & it was definitely an exciting gift, however, every present (big or small) is so special to me because of the person who is gifting it. We don't always have to be given the most fine things in life to feel happy and loved. Honestly to me, actions and kind gestures speak more to me than even nice gifts. And nothing makes me smile more than walking into a bouquet of beautiful flowers, a big hug & kiss and some chocolate on Valentine's Day! A small, typical Love Day surprise, but I get butterflies every time. *hopeless romantic over here*
Below, I've linked tons and tons of V-Day gift options, no matter what budget you and your significant other have for each other this Valentine's Day! AND let's not forget our GALentine's out there … you know who they are and I'm sure it would totally make their day if we sent them a little token of love this year. Valentine's Day can be so hard for so many women who have experienced heartache in the past, so I think it's so important to send flowers to your sweet Mama, call your grandmother, take your sister to lunch, send your long distance bestie a pair of earrings and a Starbucks gift card … whatever it may be, you will surely make that special lady's day.
Alright ladies, time to *accidentally* leave that computer screen open for when your man walks by 😉 … Happy Shopping! (thank me later, boys!)

---
xo, P