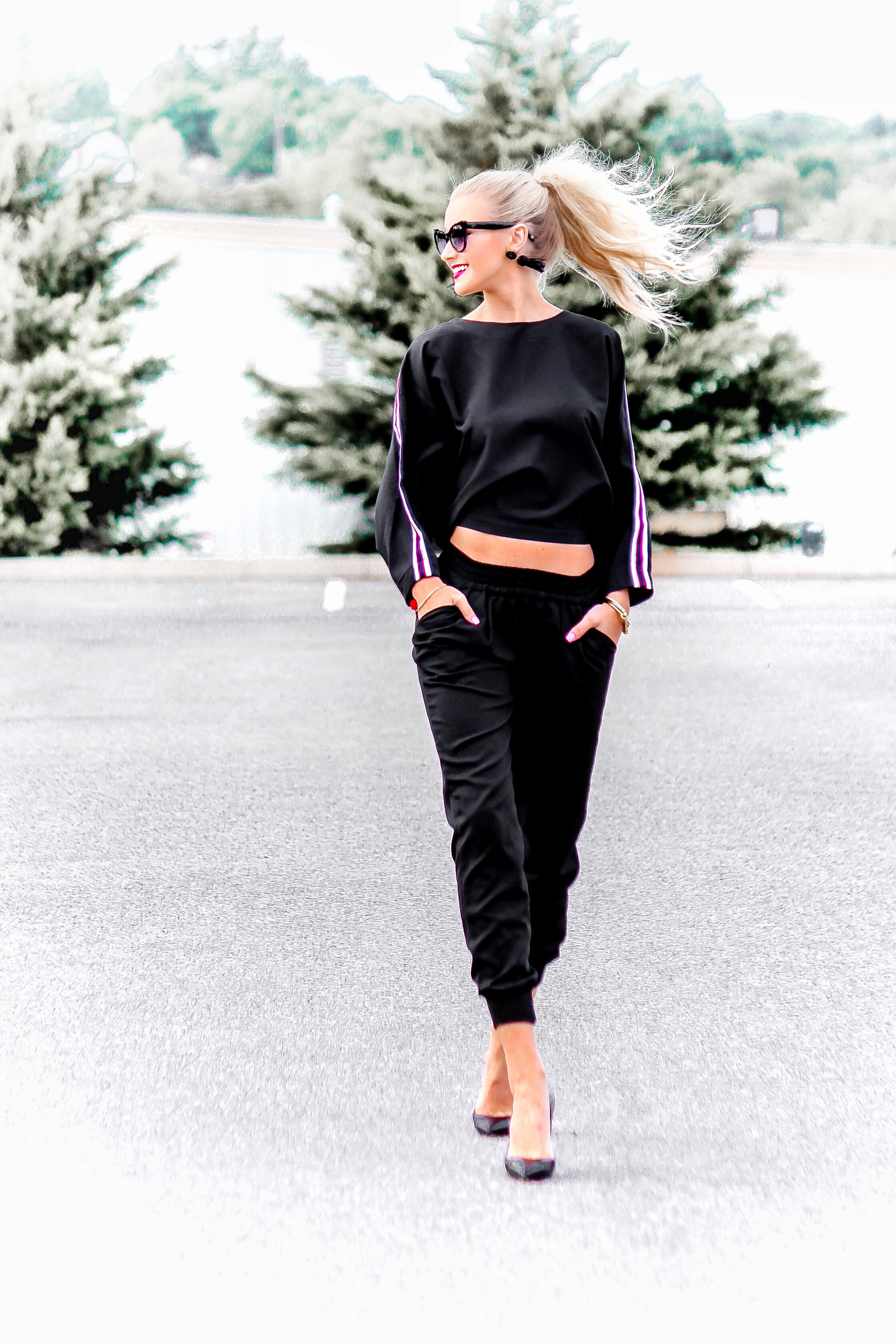 HAPPY FRIYAAAAY! I literally just want to scream that to you guys because I feel like this has been the longest week ever + it's a long weekend with a fun holiday to celebrate, so it's just a good day y'all. 😉
Today, I'm sharing two super cute looks from Blush and Stone Boutique for the second post in my Trending Tops mini series. I so often feel that people (including myself) forget about dressing up really cute tops (especially in the spring and summer) because it may just be 'easier' to throw on your fave white tee and denim shorts. I mean, don't get me wrong .. that's one of my uniforms for this time of year for sure, but if you are like me, I want to encourage you as well to step up your summer tops game throughout this mini series. It's no doubt that all of us girls automatically think we have to wear a dress or a romper when it comes to getting all dolled up (which are both definitely great options), but it's equally as cute to wear a trendy and stylish top with a nice pair of jeans, joggers or shorts!
In this post, I'm focusing on two crop tops (which we all know that those are still trending) and most importantly, versatility. If you have followed my blog for awhile, you probably know how much importance I place on versatility in a piece of clothing. The majority of the inventory in my closet I have worn several different ways for many different styles because I think that's not only practical, but also makes the styling part of the fashion world wayyy more fun! You get to be creative!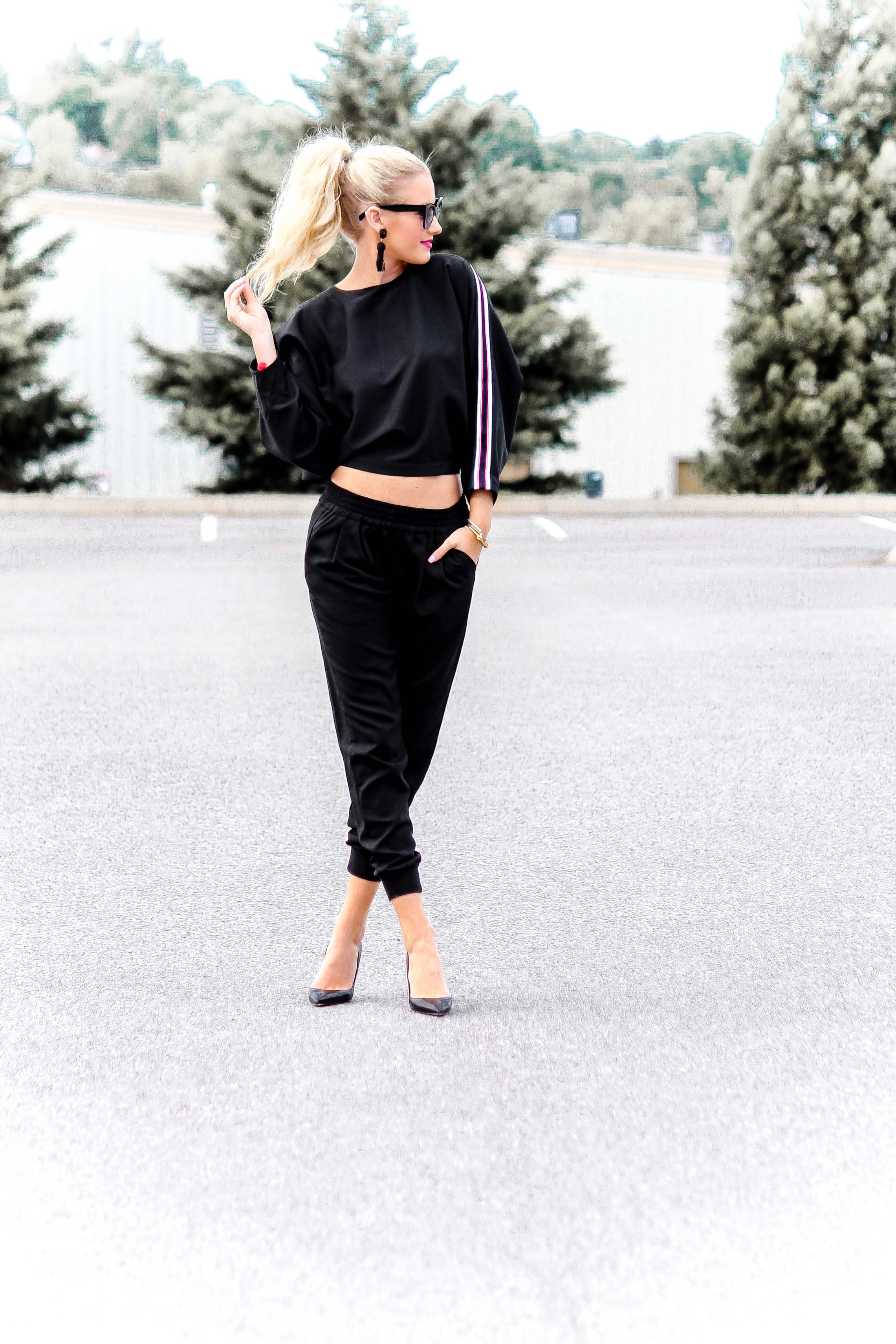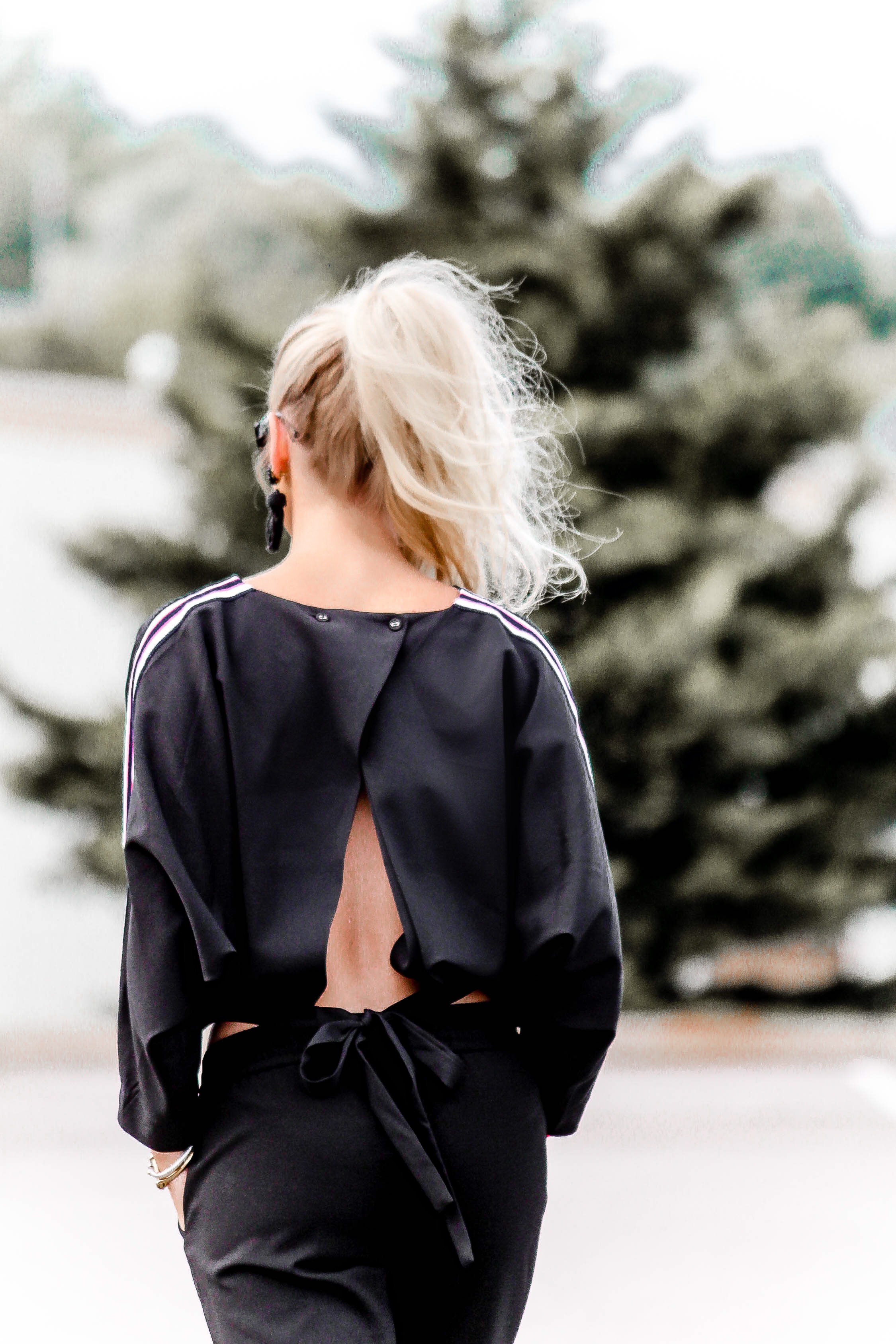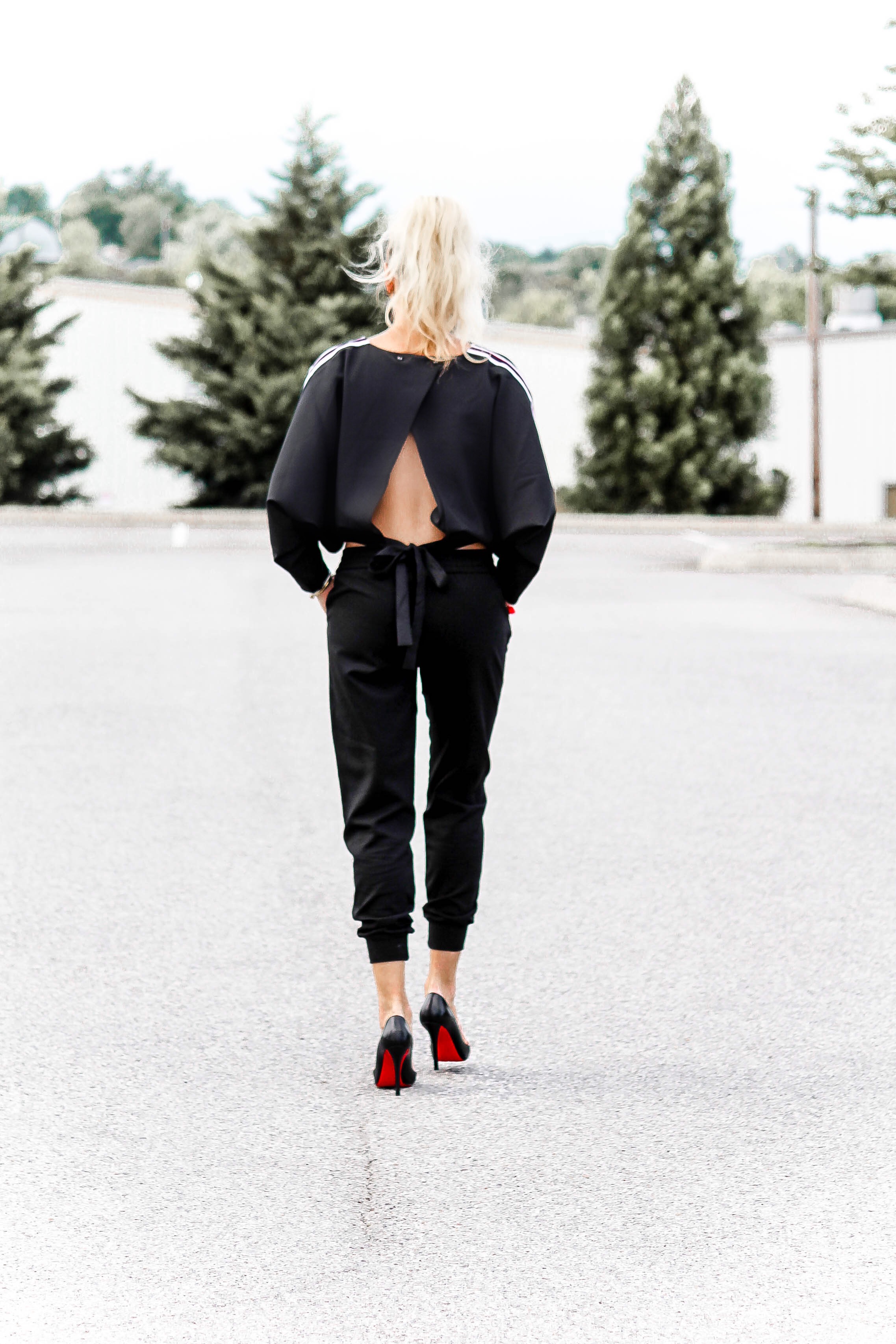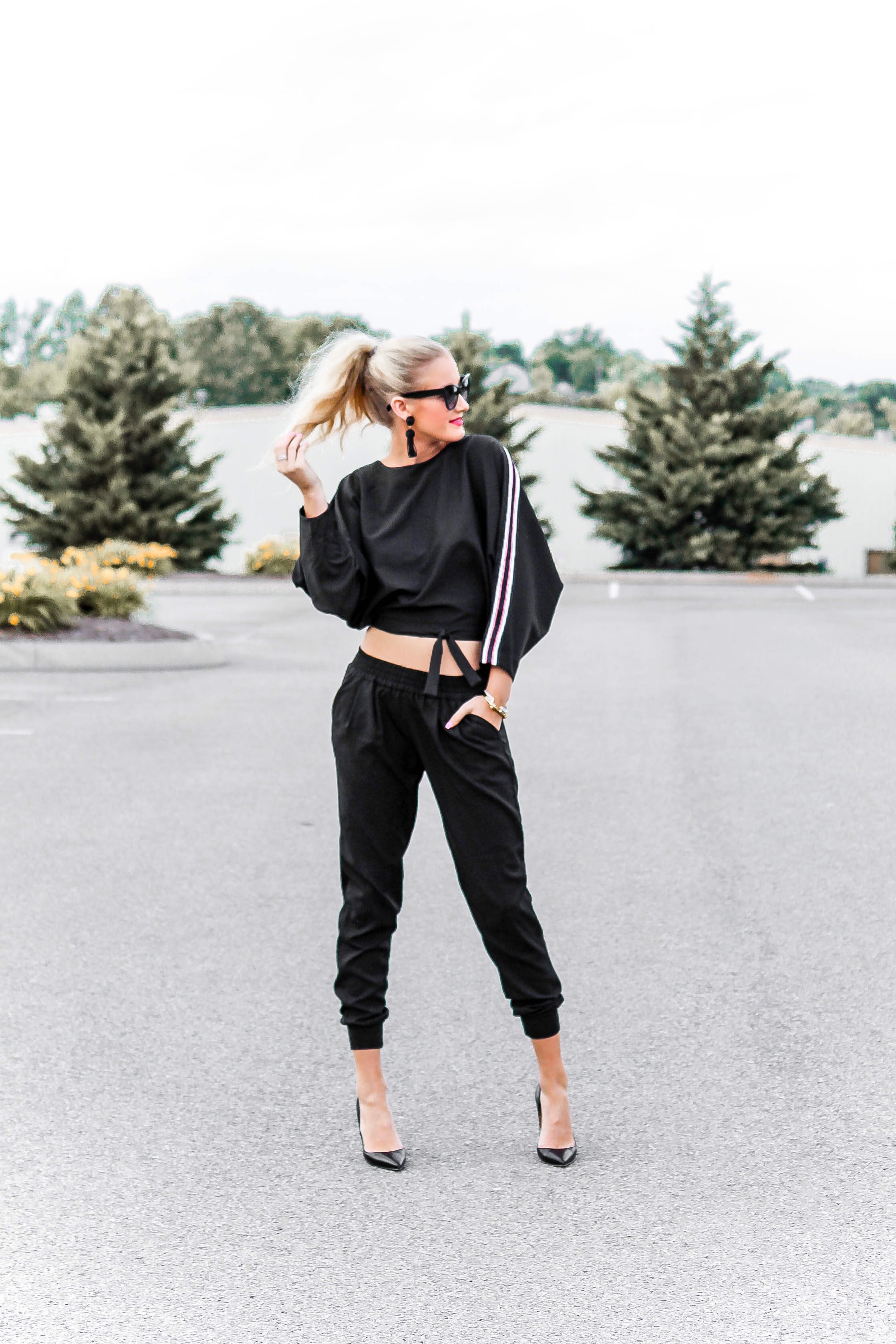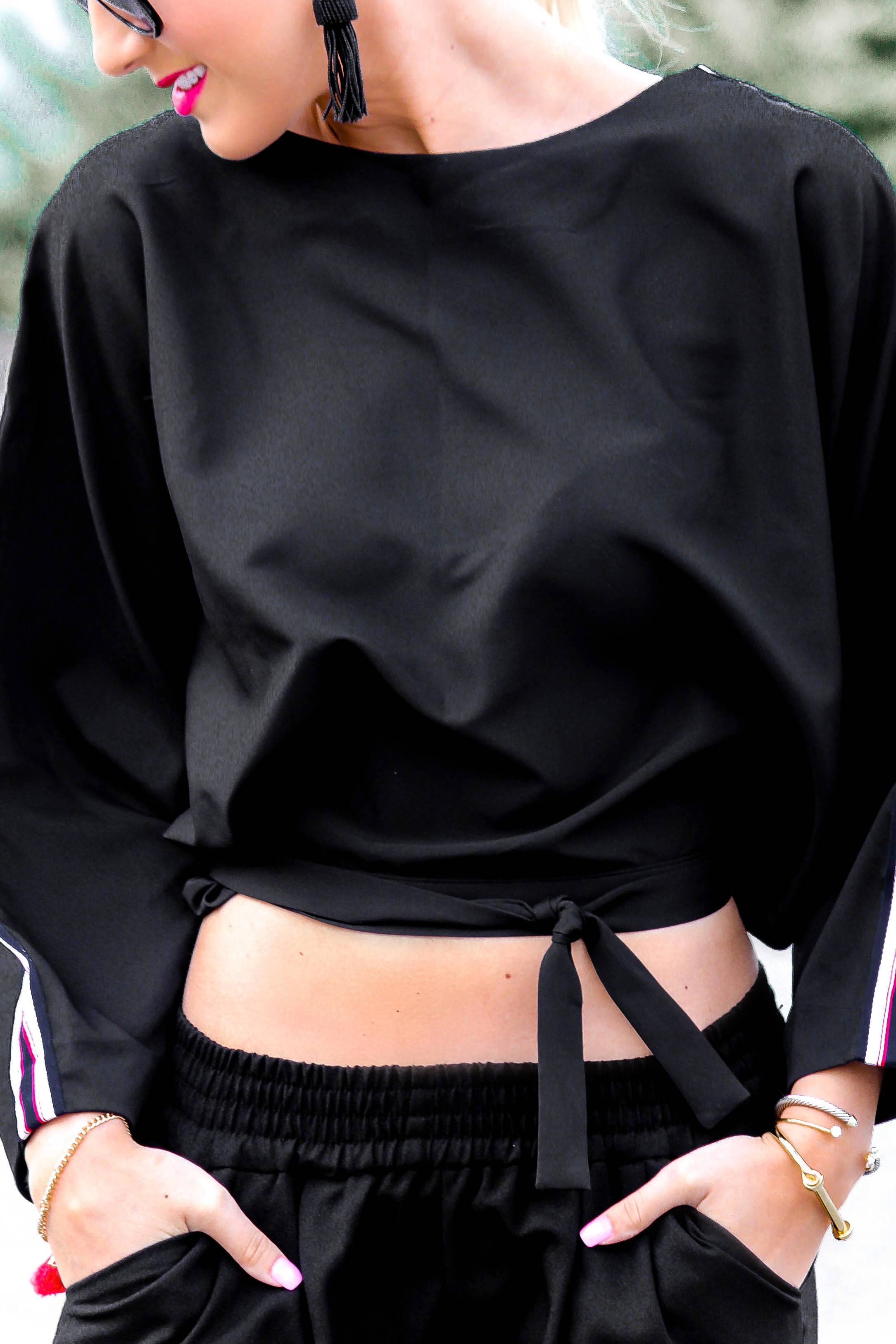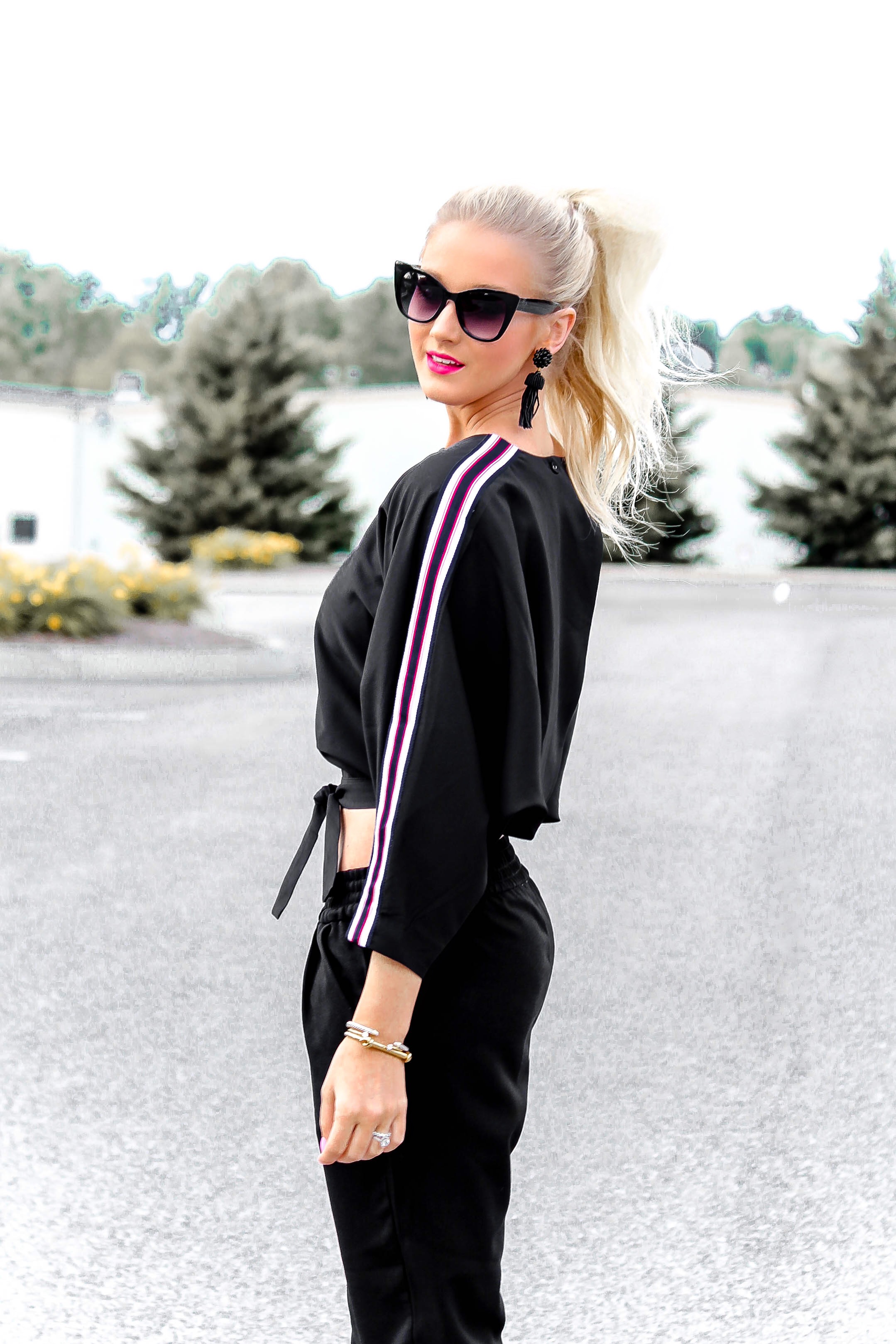 Shop this look:
B&S Gucci-esque top (wearing a small) | similar black joggers | Louboutin 'Apostrophy' pumps | black tassel earrings (on sale!) | black cat eye sunnies (more about these sunglasses in this post)

This first Blush and Stone top is very chic and sassy, but still very on-trend with the cropped style and of course, the oh so popular Gucci-inspired stripe down the sleeve (which I LOVE). This exact top is also available in white too, which would also be another great option for the warmer months.
As you can see in the pics above, I first tied the bow around in the back for a looser, crop top fit and this left the opening in the back much baggier and more open. I liked this option for a date night style simply because I know the hubs would love that haha 🙂 Then, you can see on the last few photos where I wrapped the tie around my back and tied it in a smaller knot in the front. This felt like it gave my outfit an edgier vibe since the tie ended up being in more of a knot style versus the more feminine style of the bow. The last option with the tie in the front also made the opening in the back feel smaller and more fitted. Personally, I love tops that have a few different options of how you can wear them because ya never know what you may be pairing the top with or what you will be feeling that day!
---
This next outfit is super fun and definitely fitting for any Friday night or weekend plans! I got both the pom pom top and these white denim jeans (so comfy, by the way) from Blush and Stone! I actually got this cute top with versatility in mind because I thought I would be able to wear it so many different ways, and I really like how all three of these styled options turned out!
1. Off The Shoulder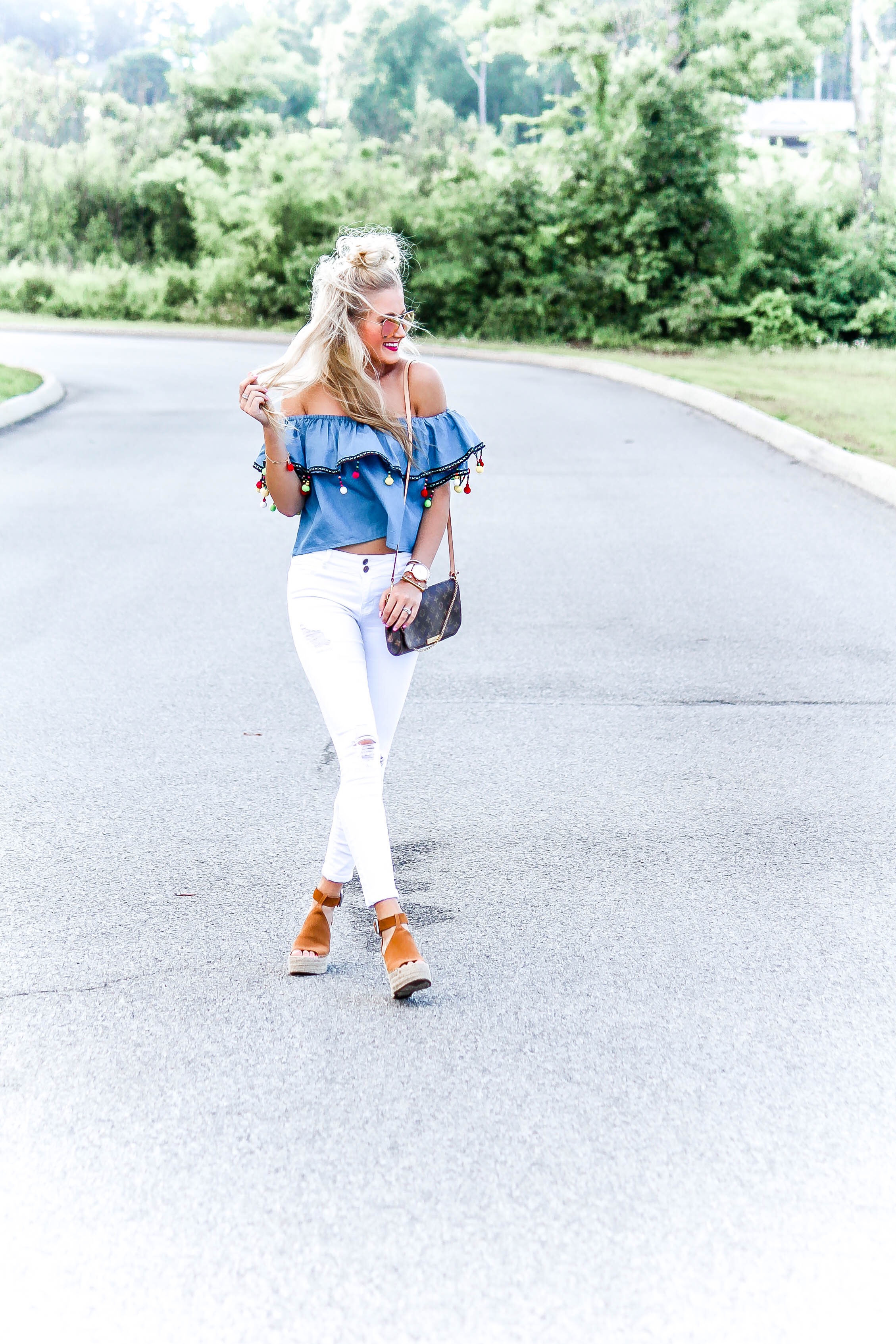 2. One Shoulder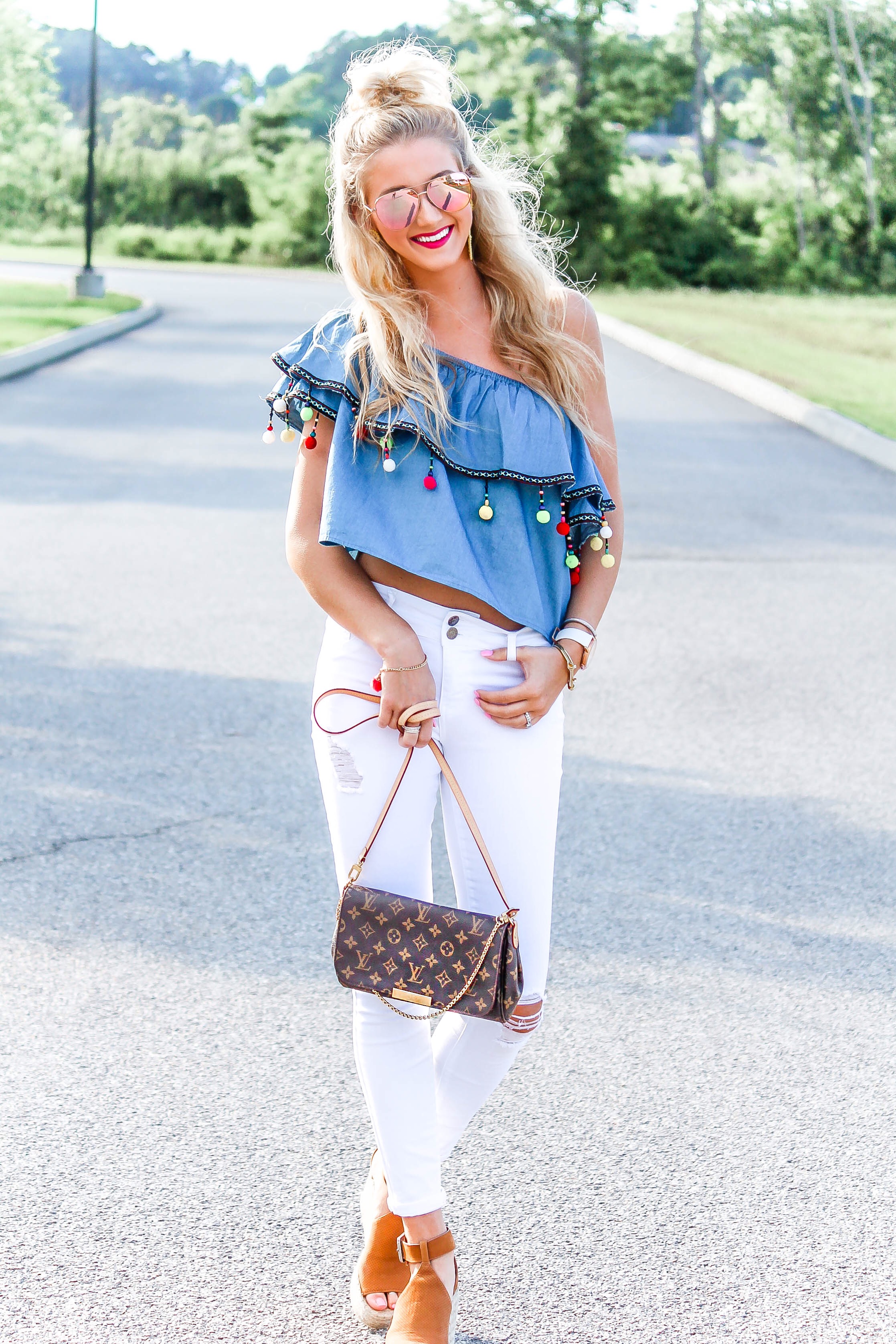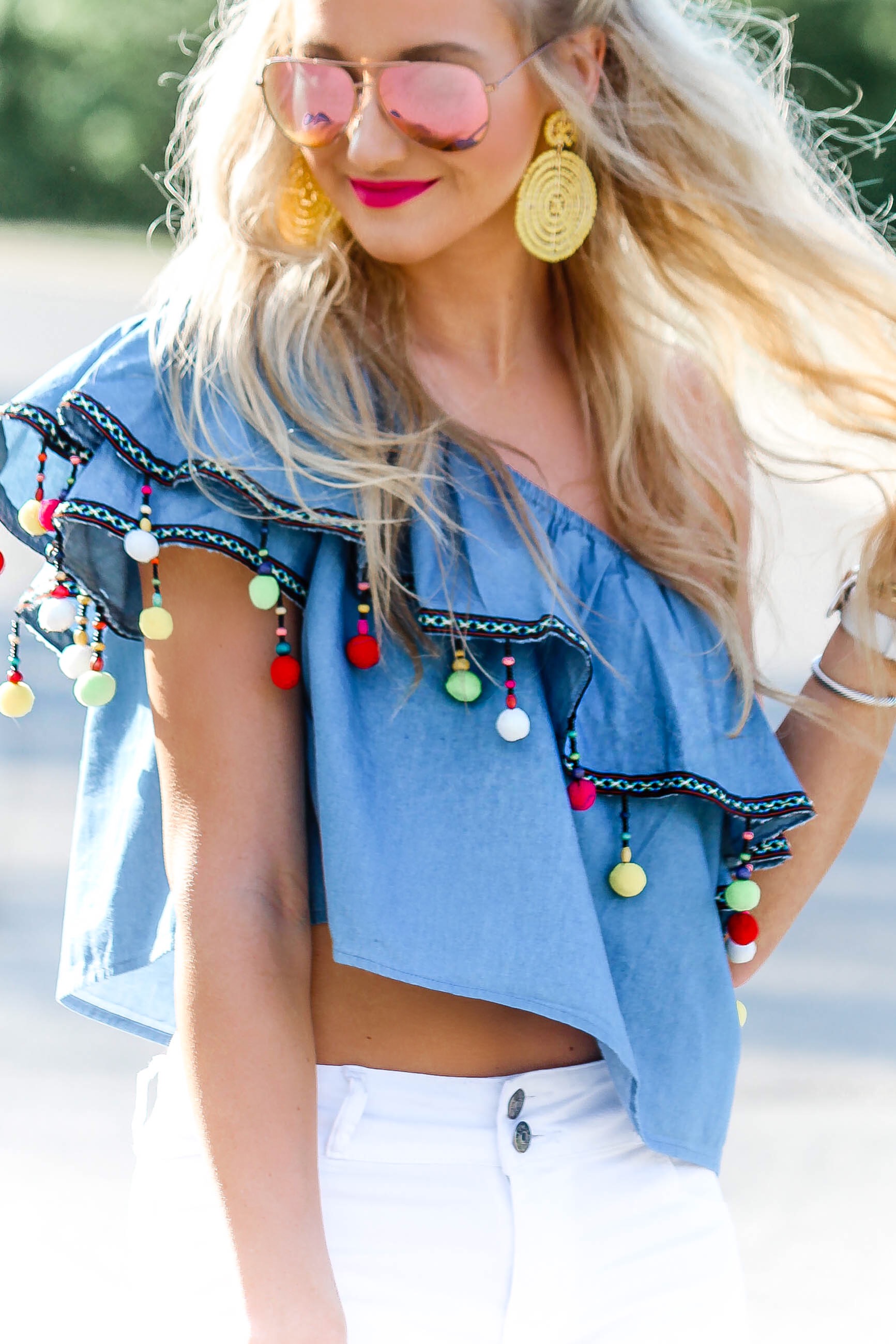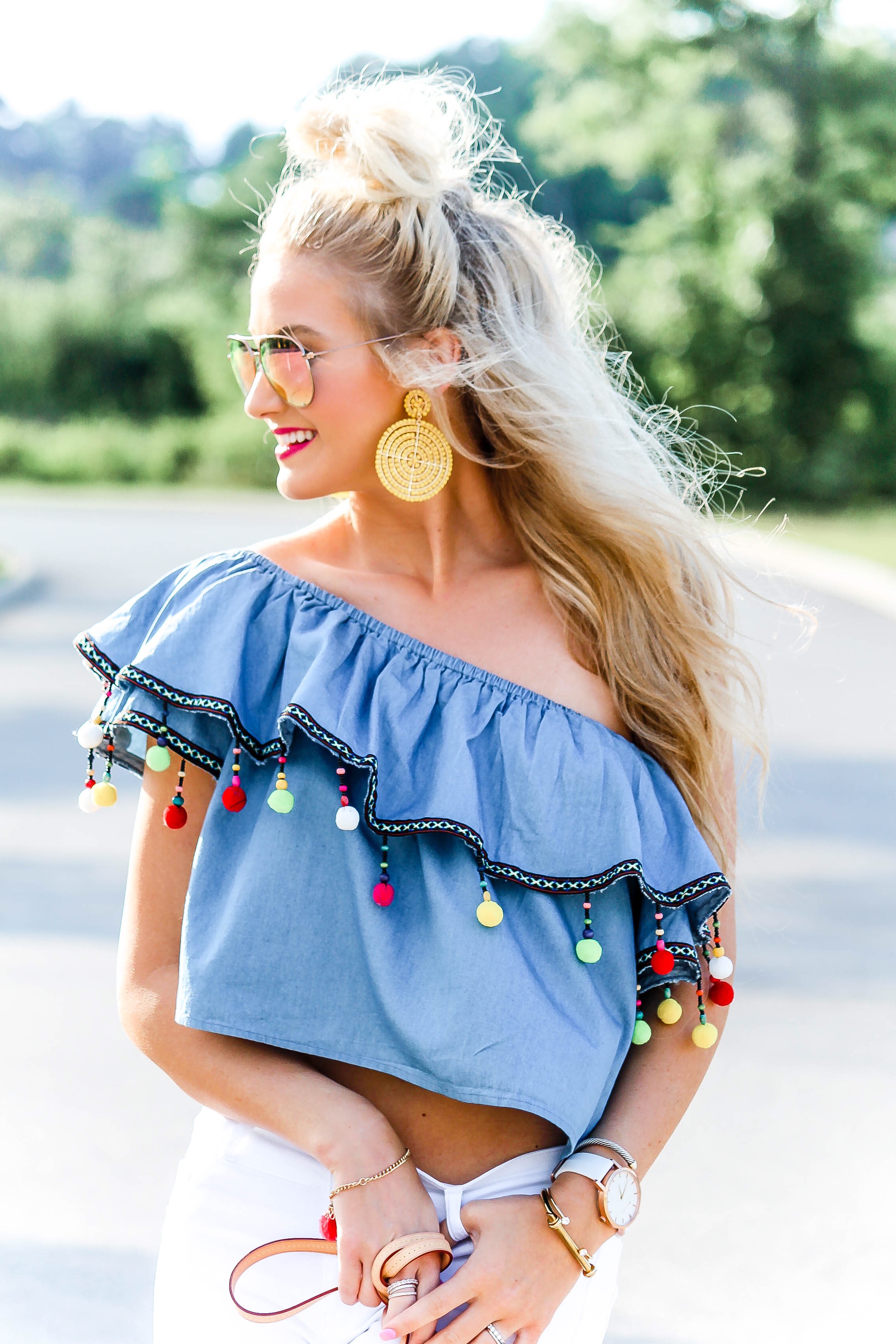 3. Strapless Tube Top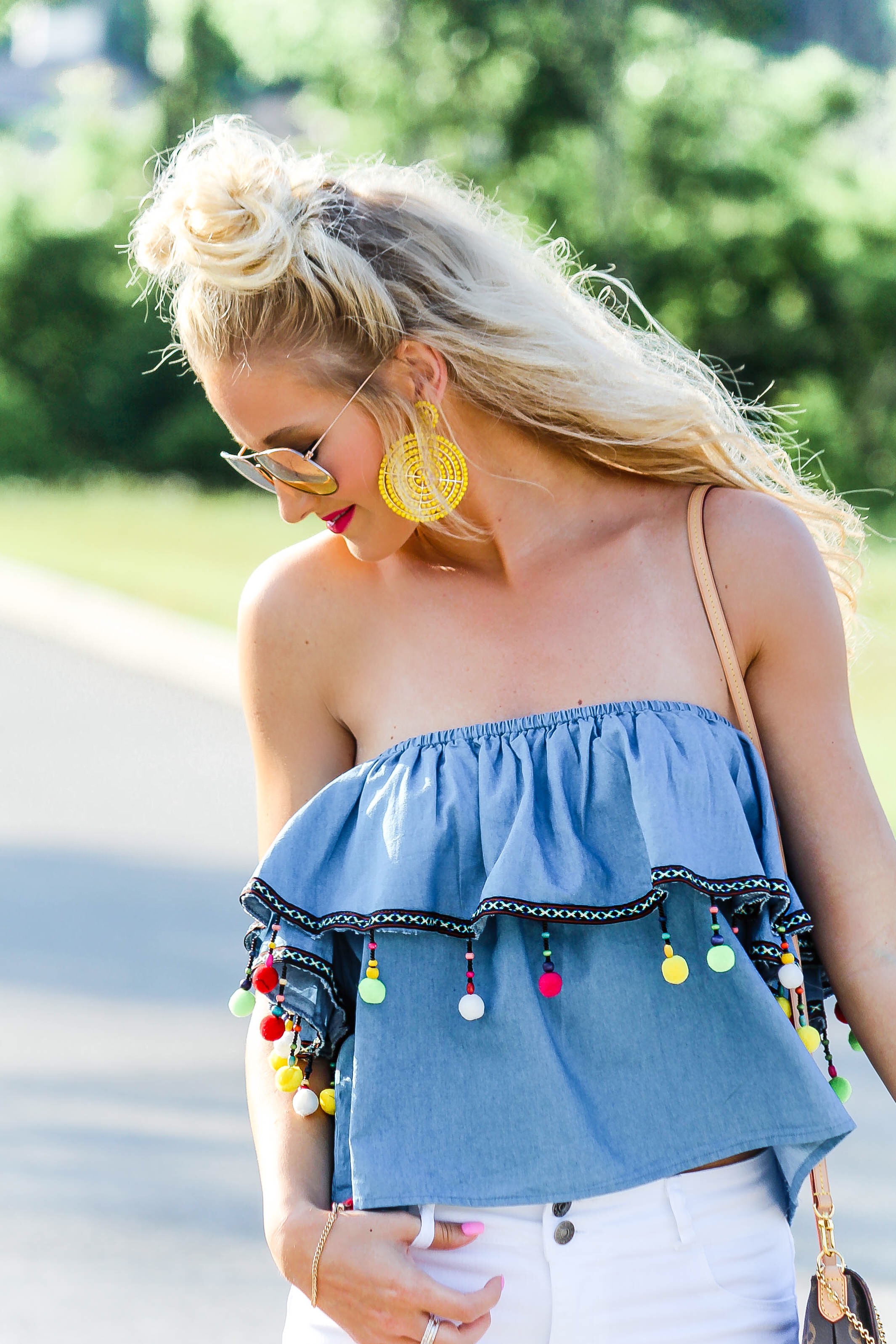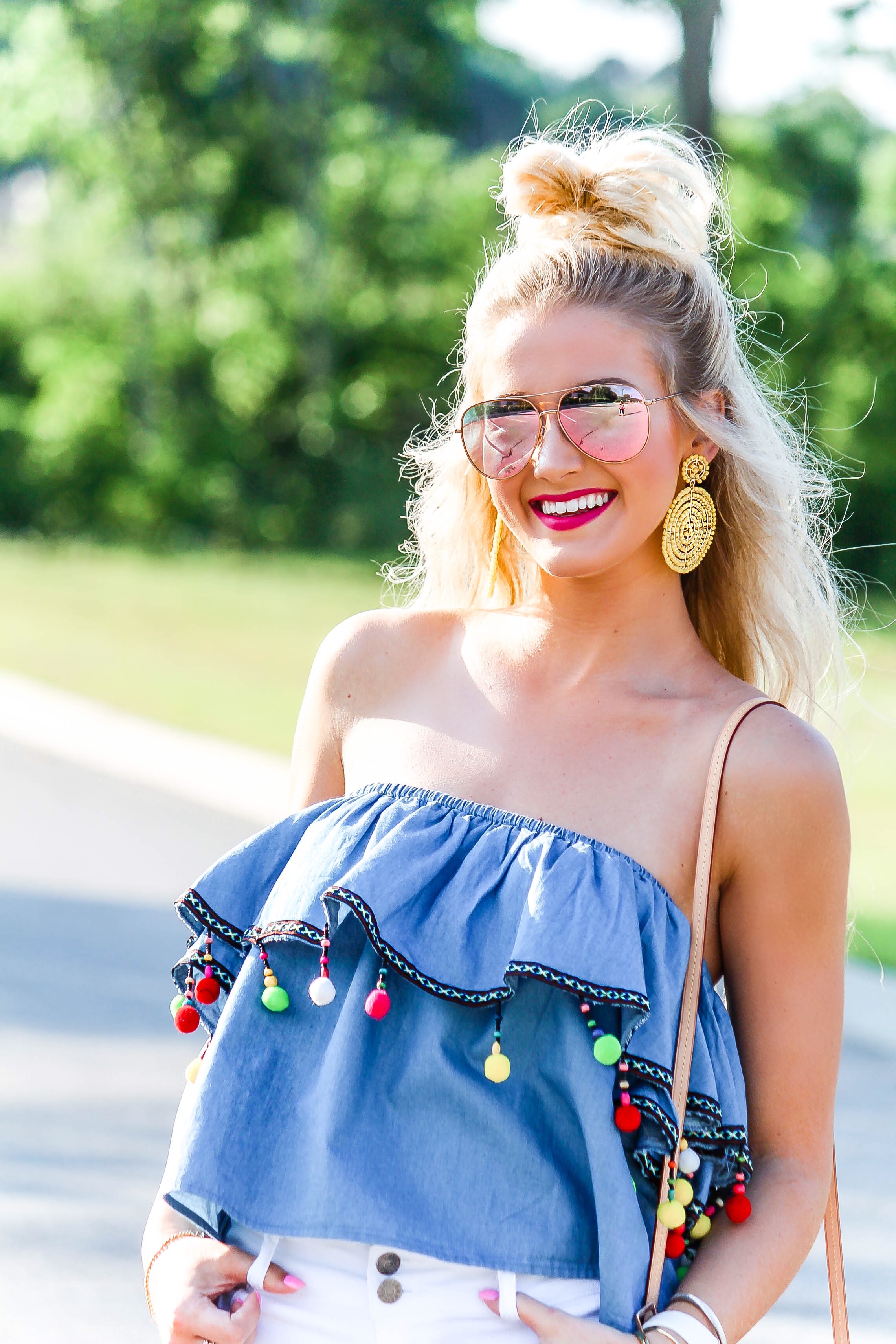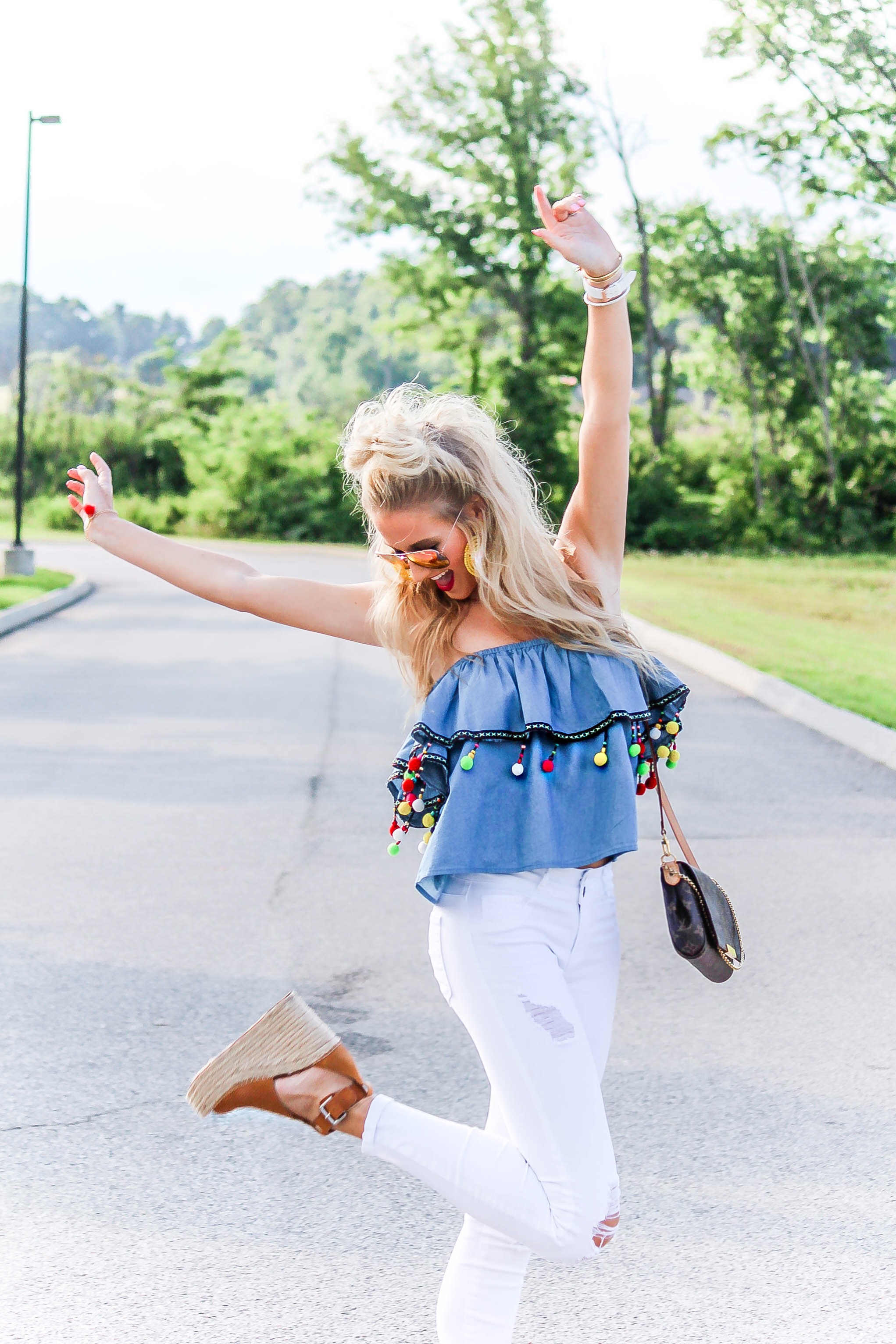 Shop this look:
B&S pom pom top (wearing a small) | B&S white distressed jeans (junior sizing – wearing size 5) | Marc Fisher espadrille wedges | yellow disk earrings | LV crossbody | rose gold sunnies

When wearing this fun top in the future, it will probably all depend on what kind of event I'm going to when I decide on which look I will choose 🙂 For example, if I'm going to a ball game or a concert, I would definitely choose the third (strapless) option because let's face it, I get fired up in environments like that, so I need to let my arms be free haha!
I hope this post has inspired you all to take a good look into your closets and try something new when styling some of the tops that you have! And if you're like me and have one too many plain white tees, just head over to Blush and Stone to add some life to your wardrobe because they by far have some of the cutest tops I have ever seen. I've already got my eye on another one for football season (Go Vols)!!
Any big plans for the holiday weekend? We are headed up to the lake later today so follow along on my InstaStories! Have a fun and safe weekend ladies!!
xo, P
*Thank you to Blush and Stone Boutique for sponsoring today's post!