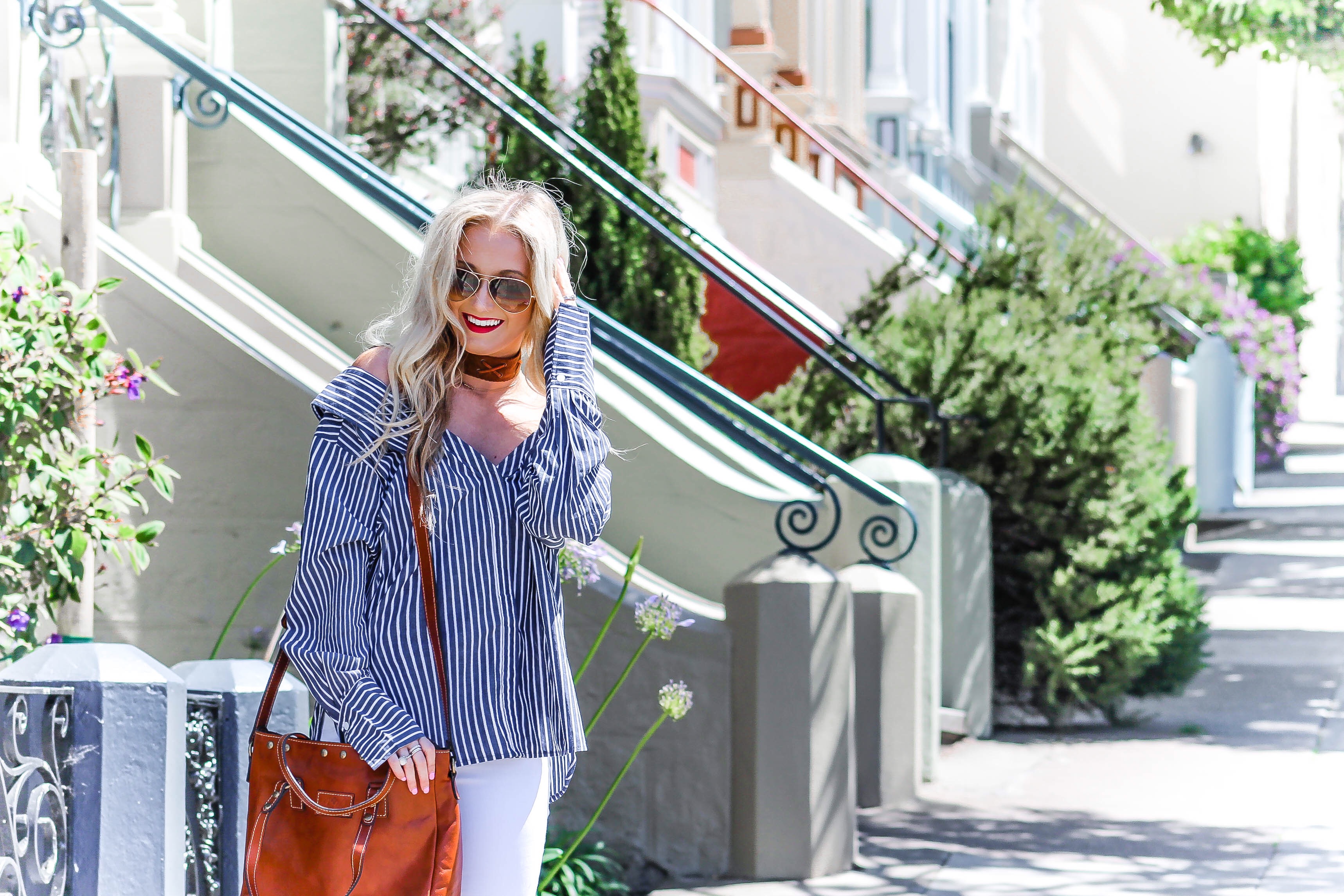 Hello from sunny California, you guys! Our trip is going great so far, but I wanted to pop on here tonight and share a post with you all. 🙂 I've worn both of these outfits while we've been out here in Cali, and I'll be posting a full recap about our trip at a later time, but for now, I wanted to go ahead and share these cute looks with you all!
I've partnered up with one of my absolute favorite online boutiques – Blush and Stone – to show off my favorite trends for tops this spring and summer. Blush and Stone has SO many cute pieces to choose from – especially in the 'tops' category. I'm officially hooked on this brand, and I think y'all would fall in love with their pieces just like I have. If you haven't shopped with them before, you should definitely check them out! Everything is so on-trend and fashion forward, and the prices are amazing (double score!!).
For this partnership, I'll be sharing a 3-part mini series with you all called 'Trending Tops'. This first part will focus on one of my FAVE trends at the moment … the boyfriend blouse. Nothing looks more effortlessly sexy than these gorgeous button-downs!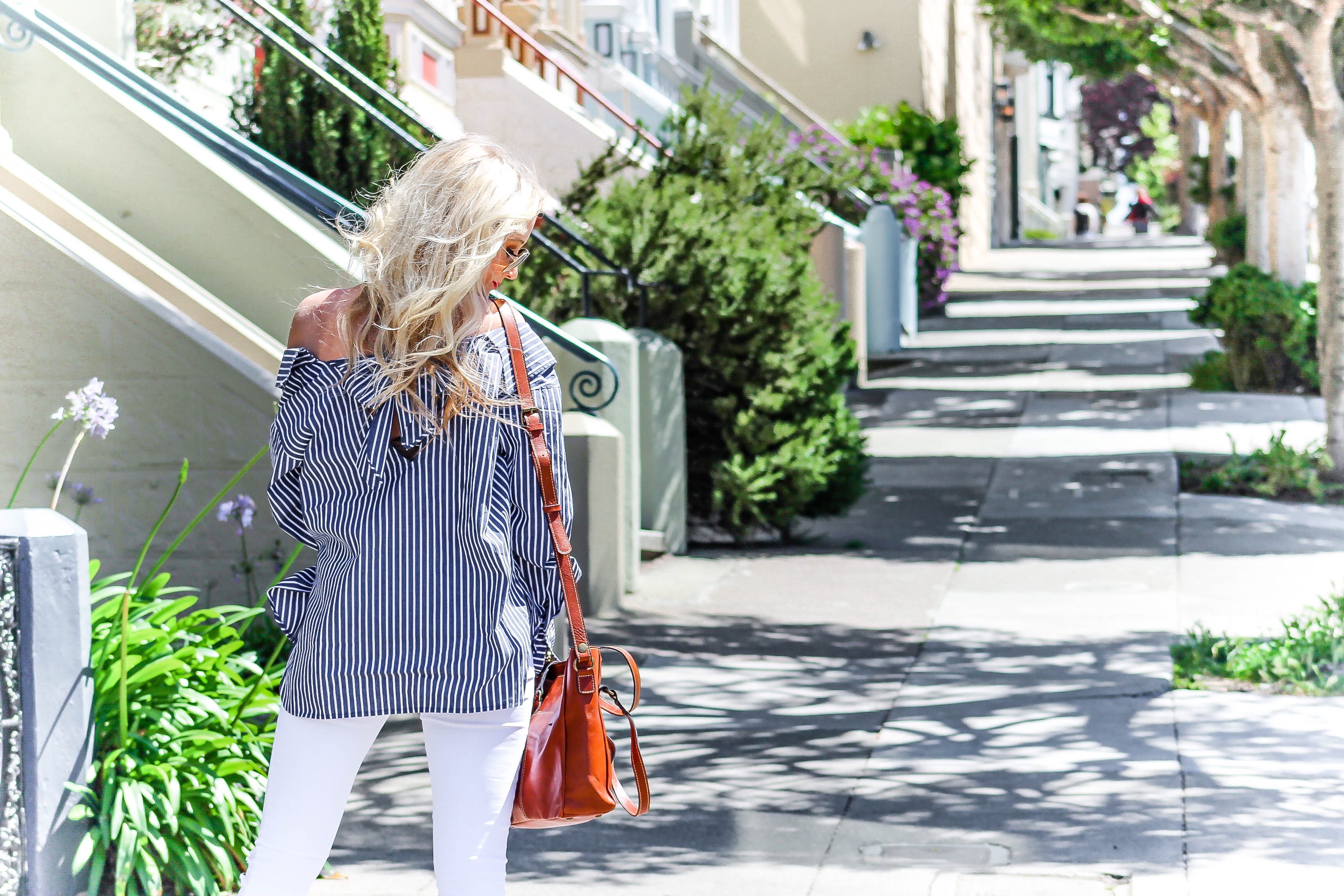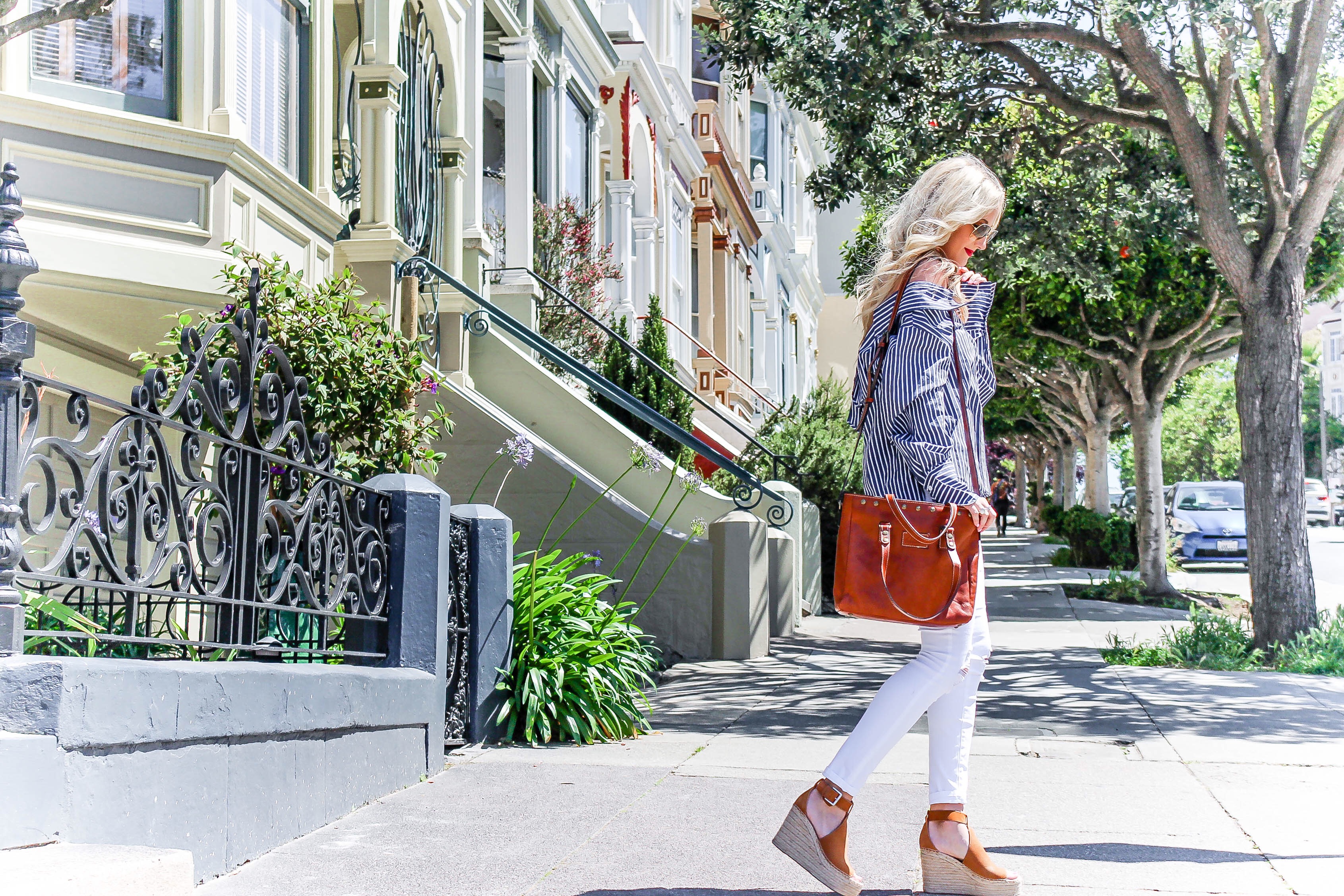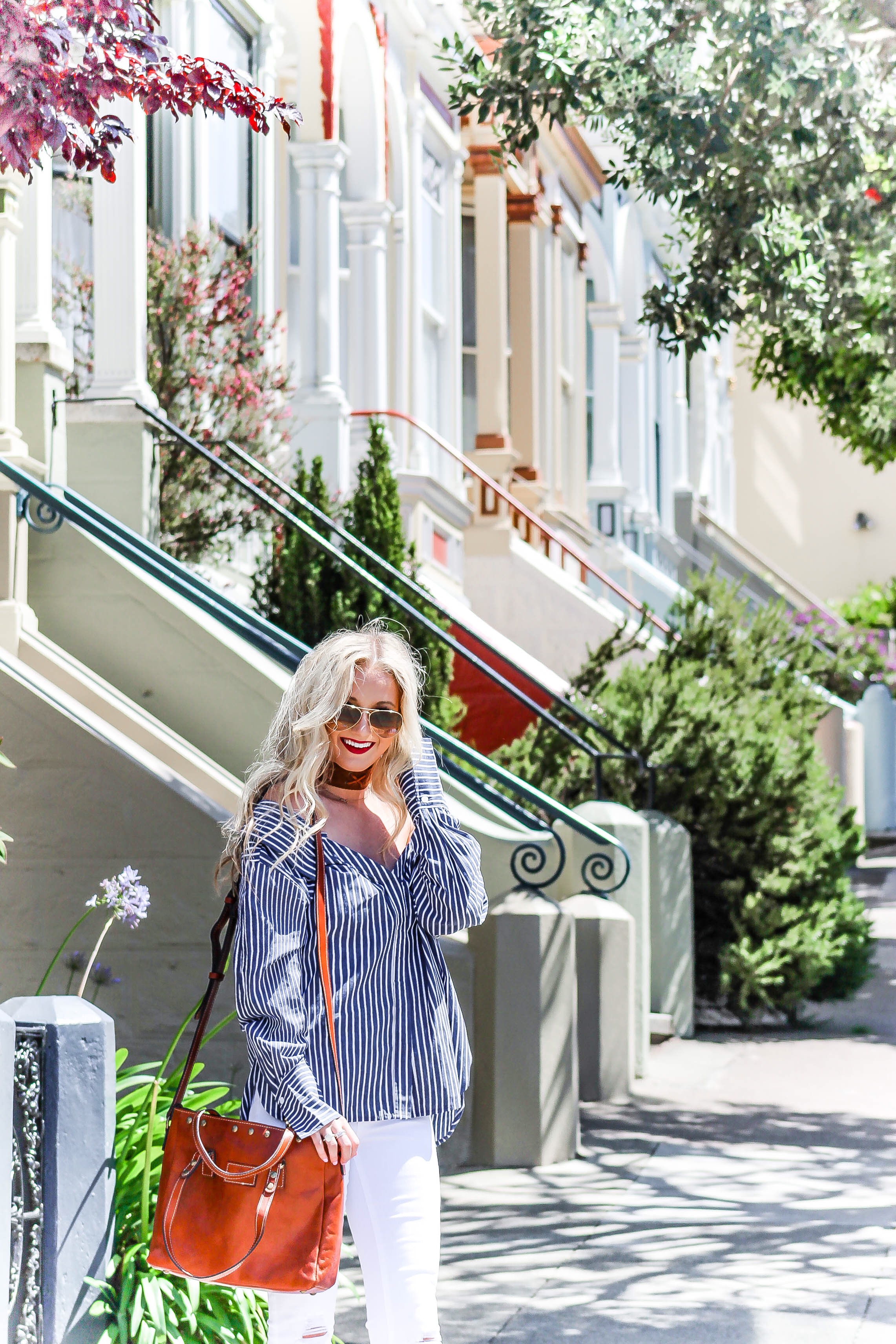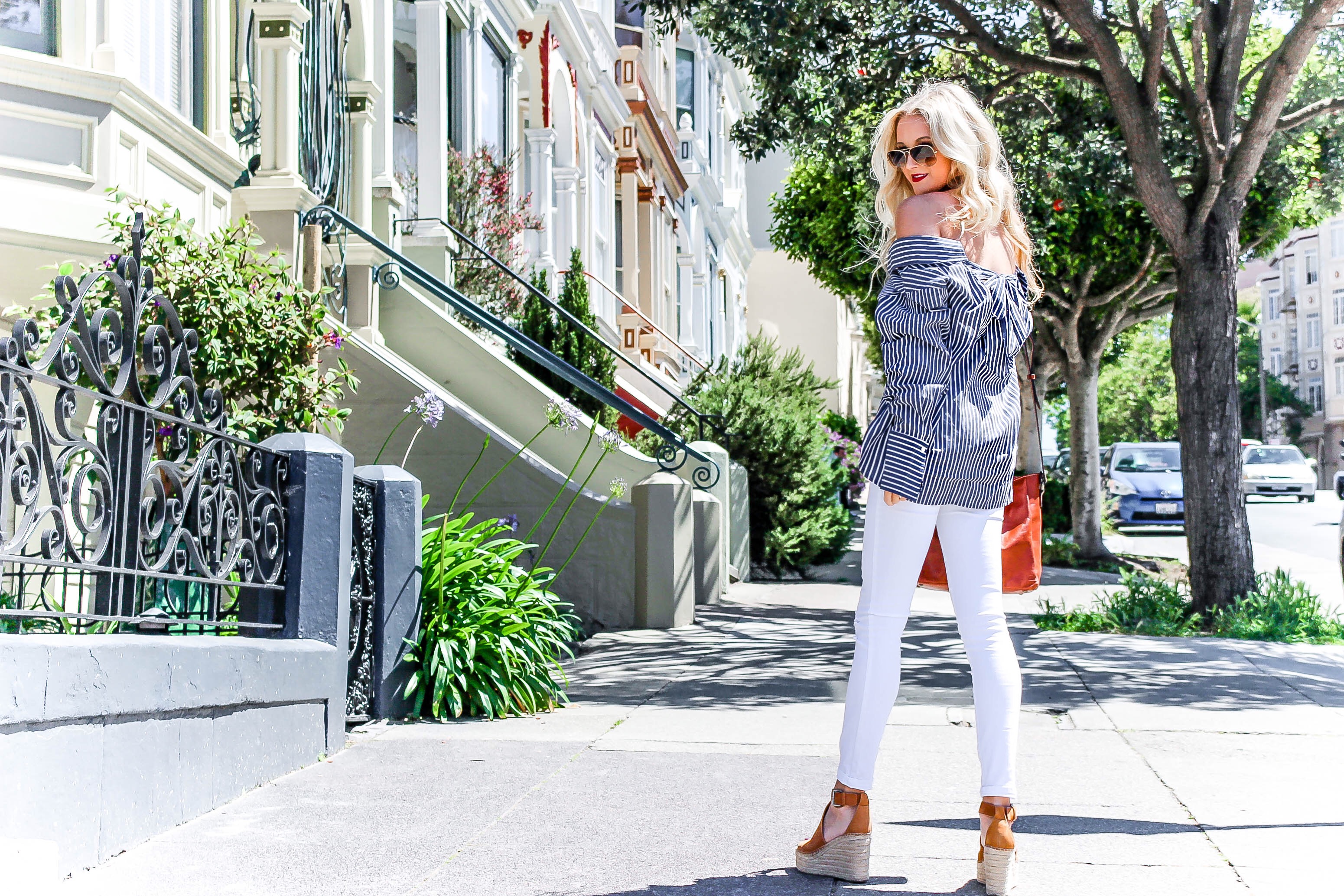 Peep the gorgeous Painted Ladies as my background! So pretty – will share more on our trip recap!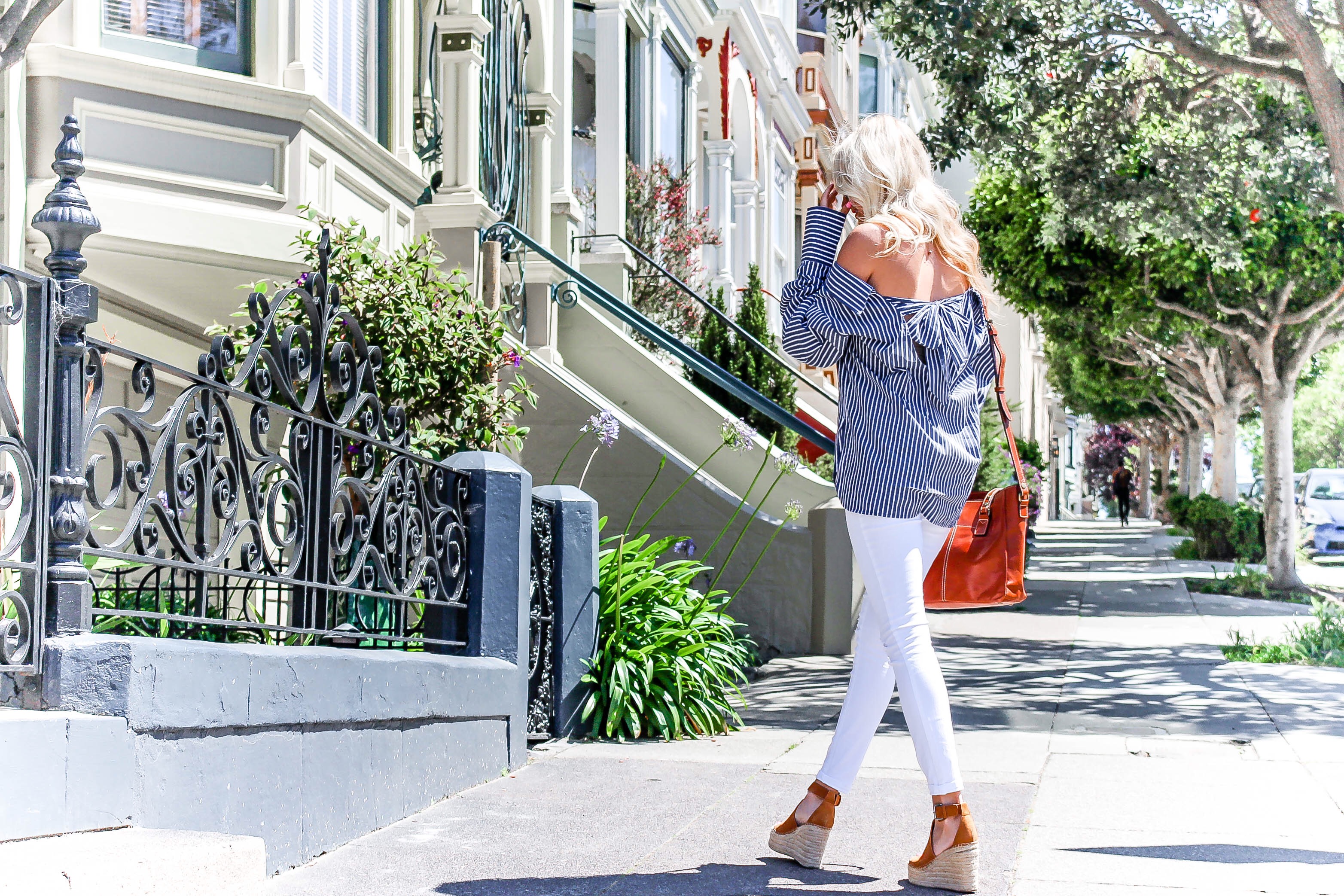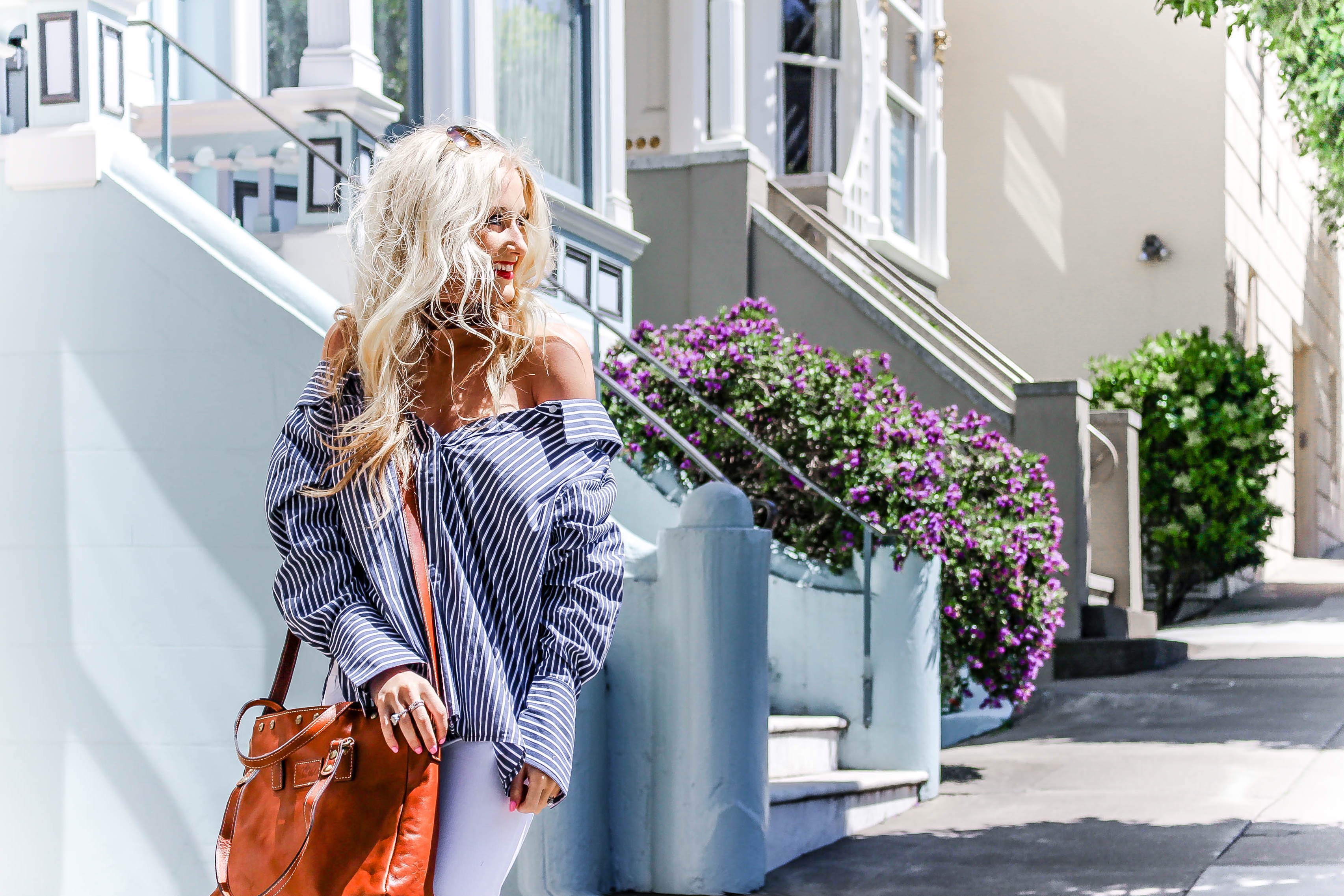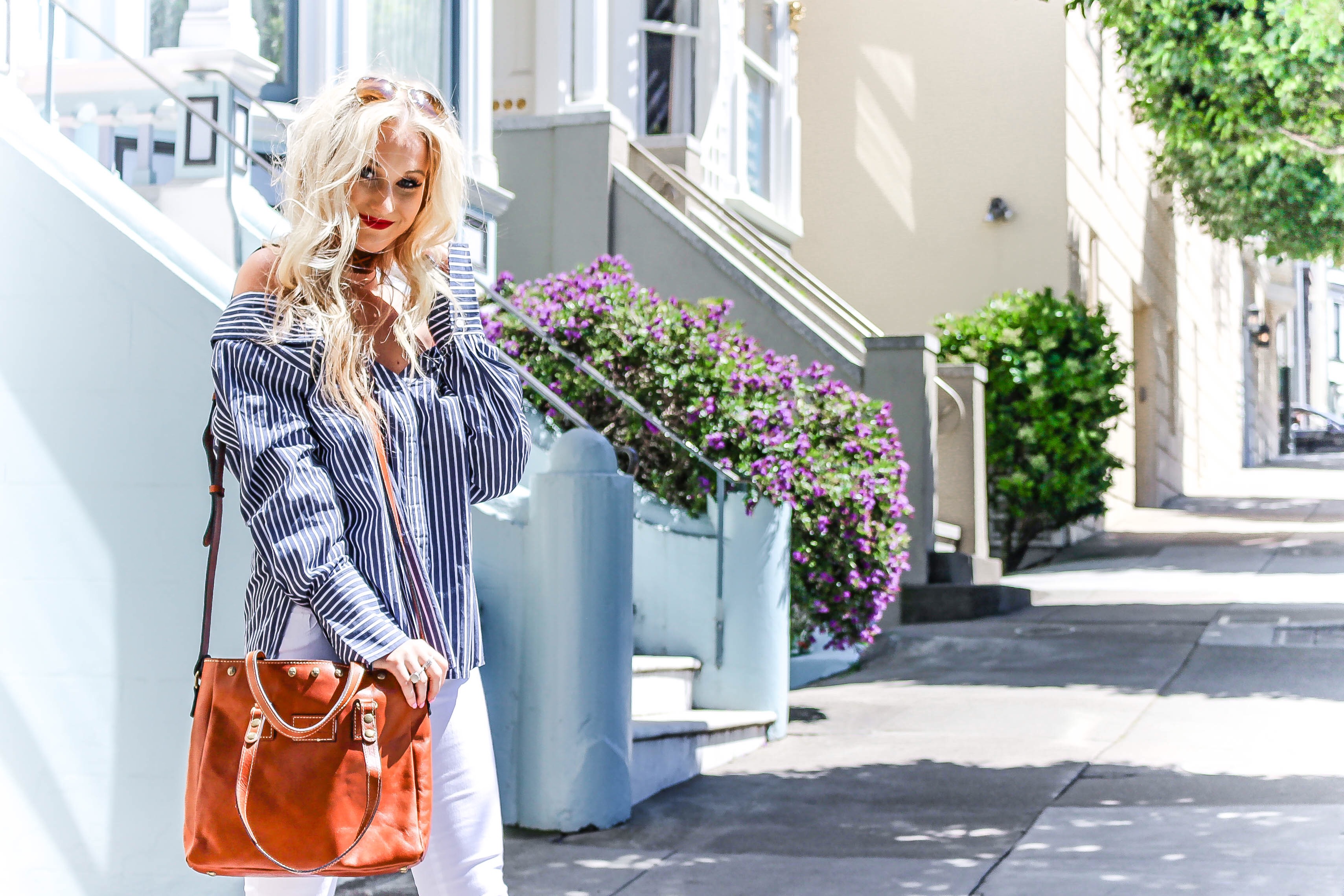 Shop this look:
B&S striped, bow accented OTS button down (I'm wearing size M in Navy.) | B&S white distressed denim jeans (Junior sizing – I'm wearing a 5.) | espadrille wedges | similar leather crossbody bag | suede choker (on sale!) | gold aviator sunglasses

Okay, when I say that Blush and Stone has some really cute tops, I mean they have some REALLY, SERIOUSLY, INCREDIBLY amazing tops. Like, I want them ALL!!
 This off the shoulder, striped blouse is absolutely to die for. I love the bow accent on the back to give it an extra touch of femininity since it is more of a baggy style. The vertical stripes are so flattering, and those cuffs make a gorgeous statement!! I'm so in love. It's so appealing and attractive because let's be real, it feels like you are wearing your man's favorite button down (& who doesn't feel sexy in your man's shirt?) But it's even better than that because, well, it's actually acceptable to wear out in public aaaand it gives off that effortless chic style that always wins in my book! I paired this boyfriend blouse with these white distressed jeans from Blush and Stone, and they are amazing! I love that they had some stretch to them (especially when I indulged in a massive Ghiradelli hot fudge sundae 😉 ).
I wore this outfit all day long on Sunday in San Fran, walking many miles and exploring with the hubby, and I was perfectly comfortable all day from head to toe. I've said it before and I'll say it 100 more times – these wedges are seriously so comfy. I walked MILES in them, and I honestly didn't feel any pain all day. You guys have to get some! I'm wearing a size 7 (my normal size) for reference. Multiple colors available.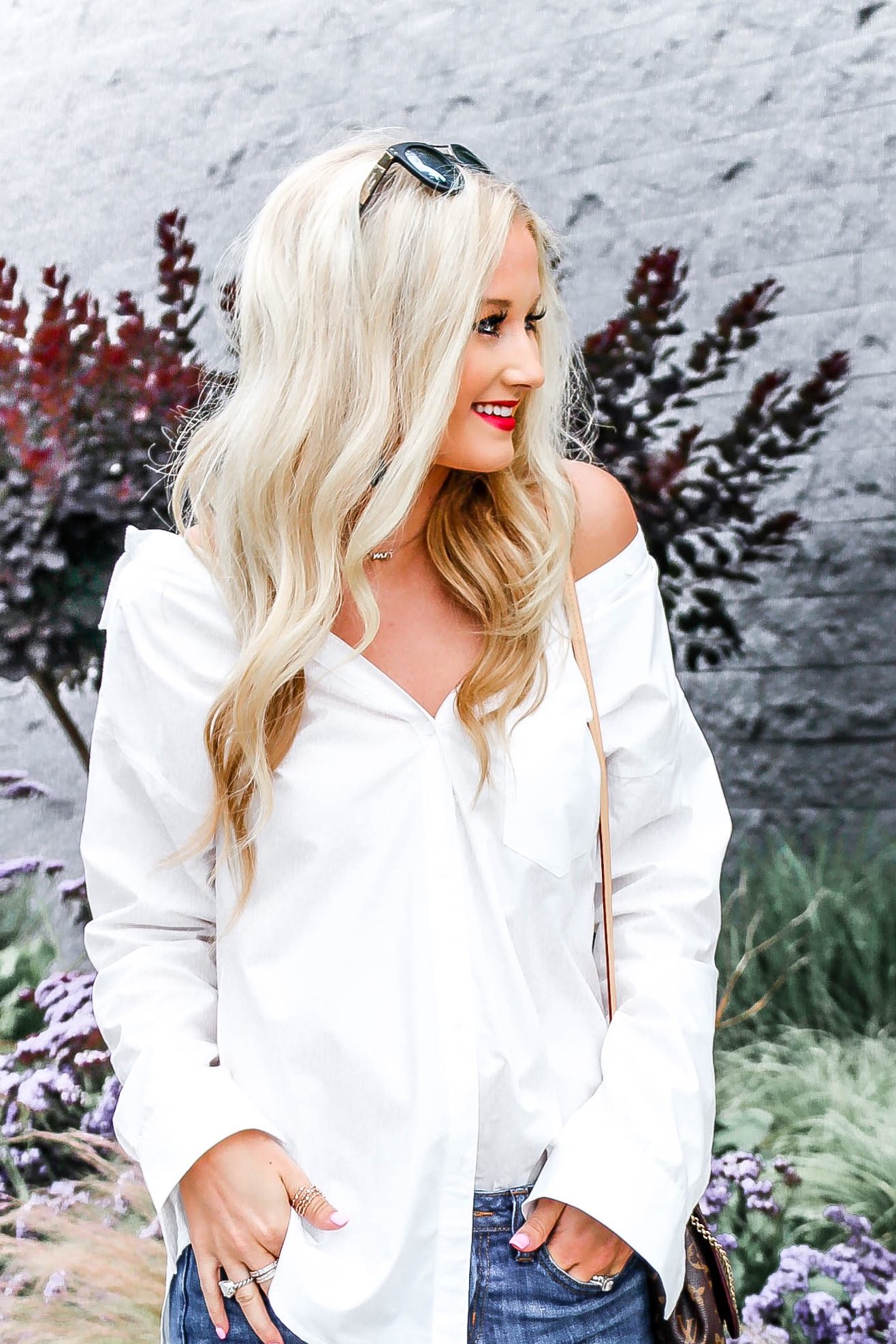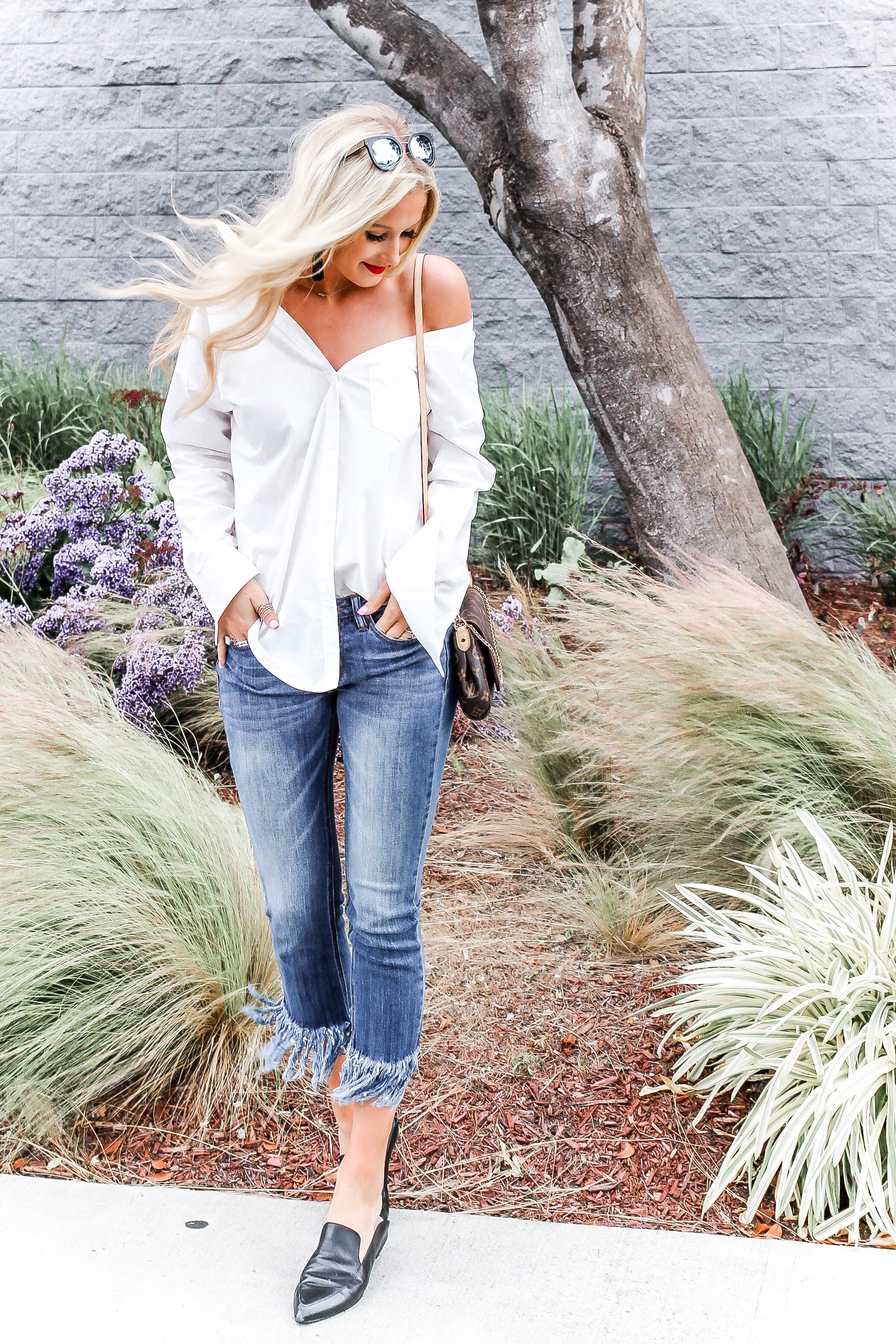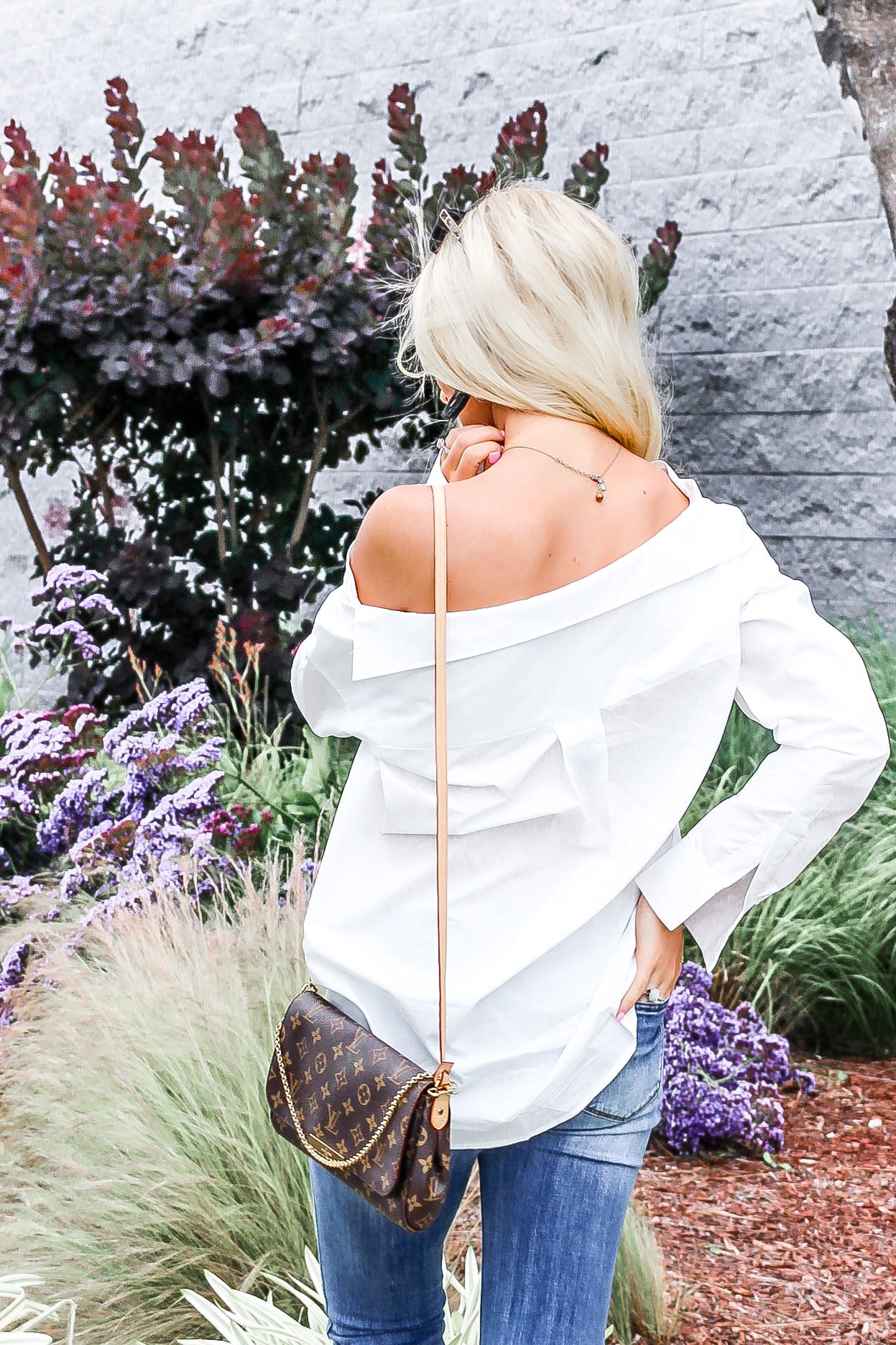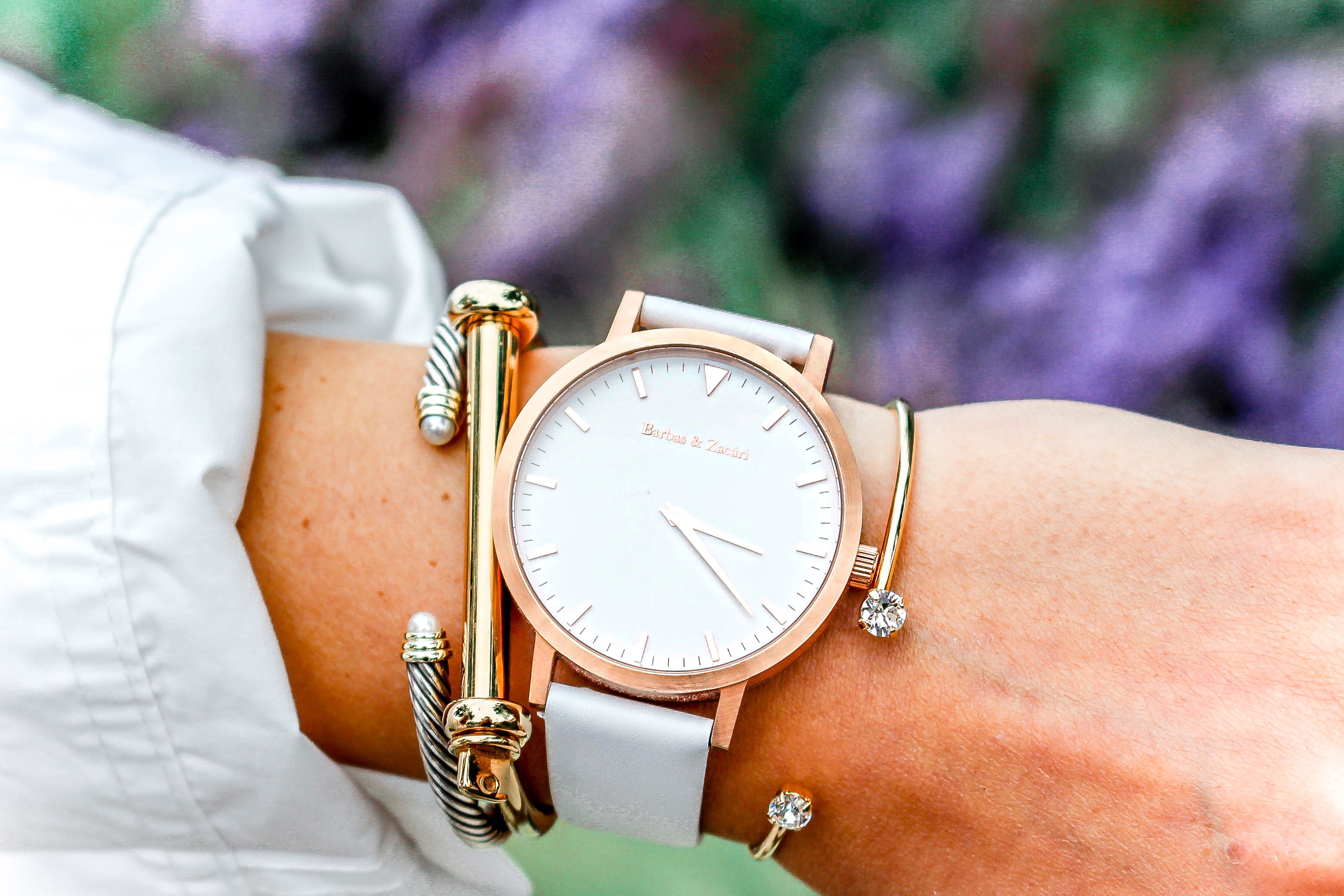 I've been living in this stack all week! Details below.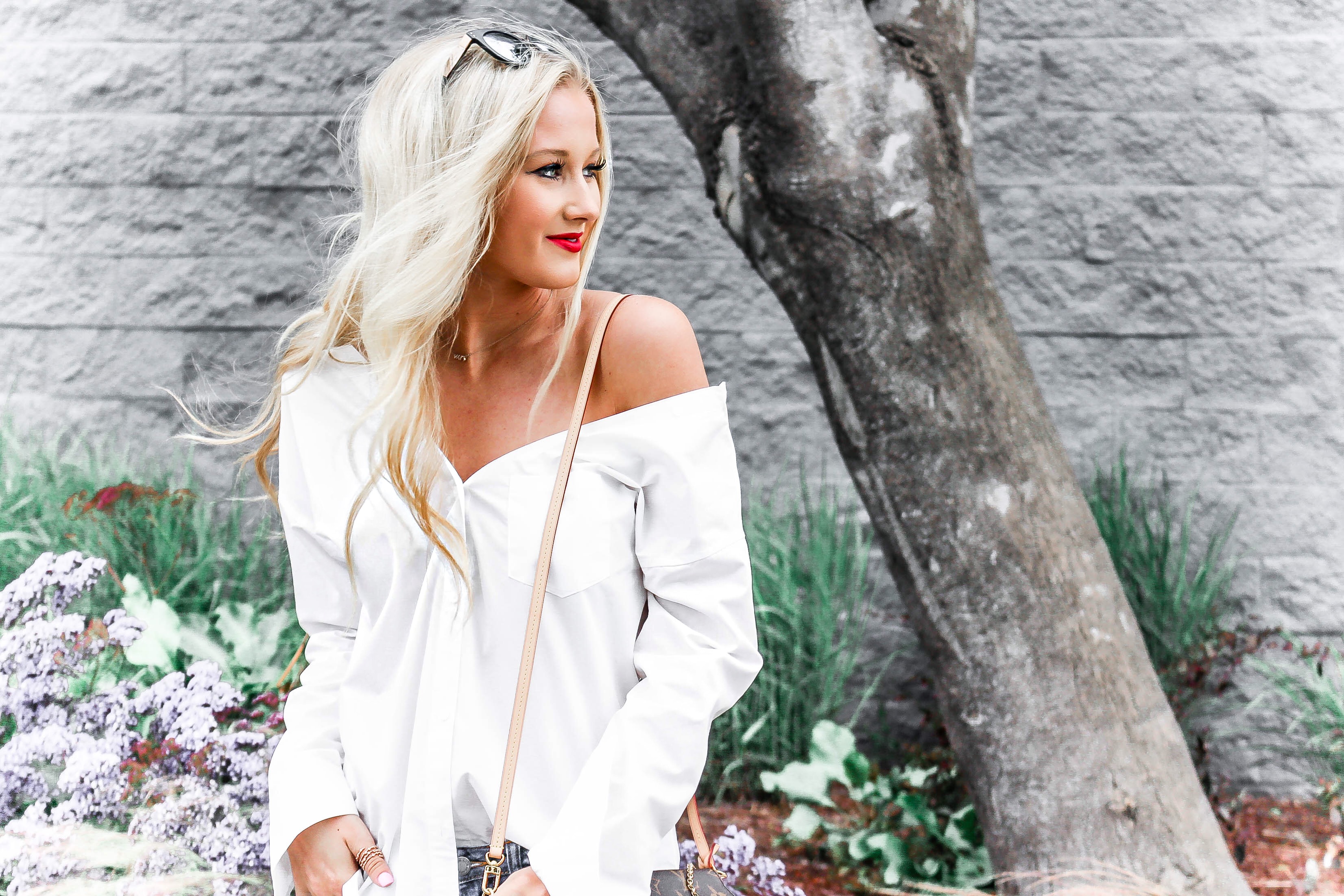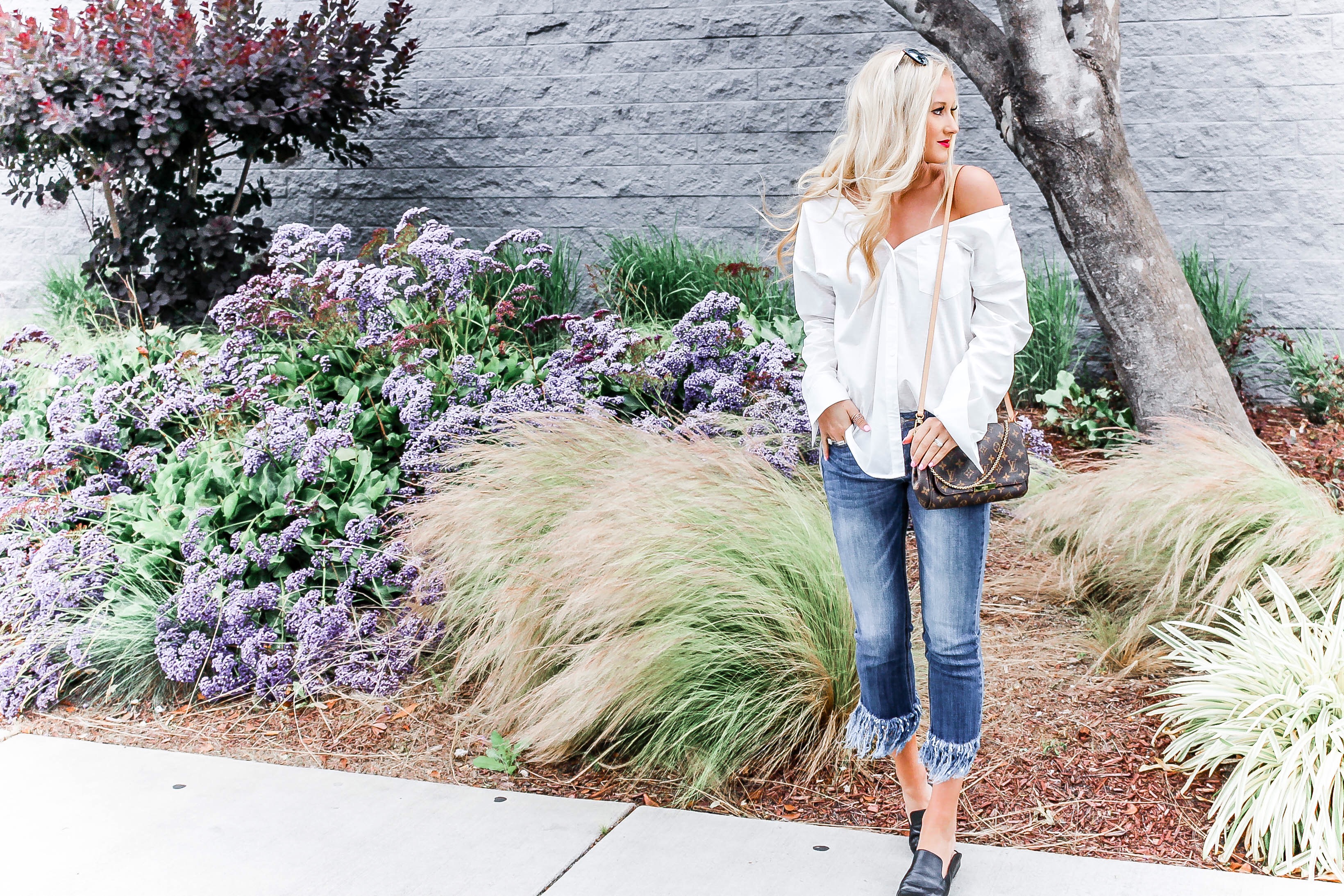 Shop this look:
B&S white boyfriend blouse (I'm wearing size M.) | fringe-bottom cropped jeans (Junior sizing – I'm wearing a 5.) | black leather slides | LV crossbody | white / rose gold Barbas & Zacari watch | gold bar bracelet | silver David Yurman cuff bracelet | gold, rhinestone Trending Above cuff bracelet | reflective lens sunglasses | black tassel earrings | rose gold thumb ring

I also got this top from Blush and Stone because there's just nothing better than a crisp, white button down. Amiright or amiright?? 😉 I'm totally in love with this one!! I love it because it has that classic, chic style of your normal button down blouse, but with a few special twists. You can wear this blouse off of both shoulders or just off of one like I've done here. You can also tie the front 'tails' for a more casual vibe instead of tucking the front like I've done. I like it both ways! This top could be worn SO many different ways to create an edgy, chic or classic look.
I left the sleeves unbuttoned to achieve a more statement, trendy look versus a typical office-style outfit. I think that a cute black blazer or leather jacket would also look amazing with this blouse because the sleeves are extra long, which would look so good hanging out from the jacket sleeves! I could go on forever because y'all know I love versatile pieces, but I'll hush now so that you can start shopping!! Be sure to tag me in your Blush and Stone finds, and follow along on IG Stories for some behind the scenes actions during the rest of our trip!
xo, P
Thank you to Blush & Stone Boutique for sponsoring today's post!