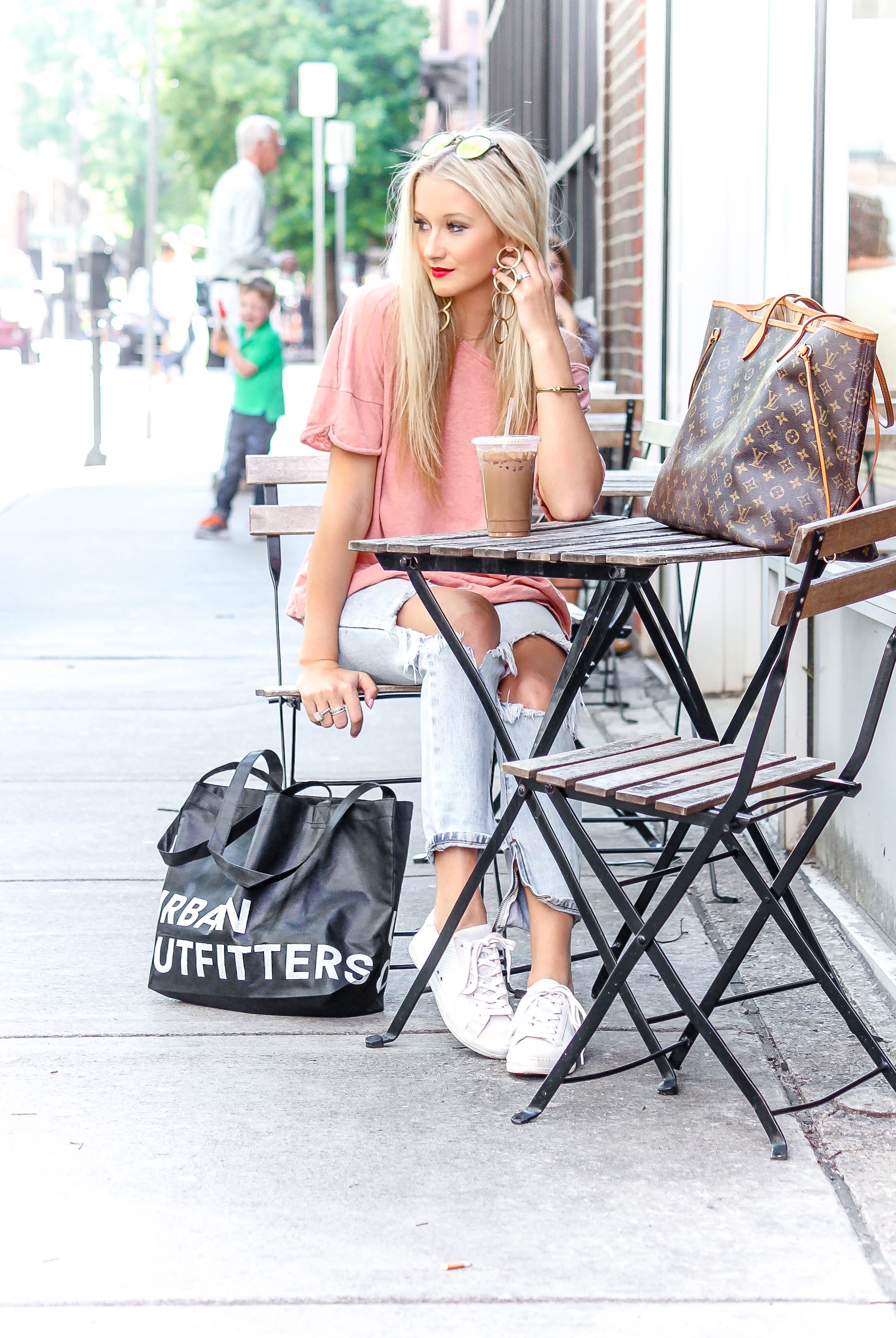 Finally, the weekend is here again ladies! And I'm super pumped because I'm actually about to jet off to Cali! Teej has to go out to San Fran for Google's annual conference, which if you know anything about all that tech stuff (It's okay if you don't – I wouldn't either if I wasn't married to him!), you may know how hard it is to get an invite to this particular conference! He's been trying to get an invitation for like 4 years now, but it's literally like a lottery. For those who don't know, Teej is a web developer (aka software engineer, computer programmer, etc etc etc). I always give him a hard time about him being my sweet, handsome nerd. 😉 But man am I thankful that he's my nerd! Needless to say, he's just as thrilled as I am to head back to San Fran! I'm just tagging along on this trip for a fun mini-vacay & of course, a little work of my own.
Anyways, I was out with my mom a few days ago shopping for some last minute items for our trip, and I had on this cute & (super) casual outfit of the day, so we thought we would document it for you guys to shop! This is one of those OOTDs that is so easy to recreate and it's so practical. If I'm being completely honest, this is exactly what my daily style consists of on days when I don't have appointments. It's definitely one of my favorite styles to wear over and over again!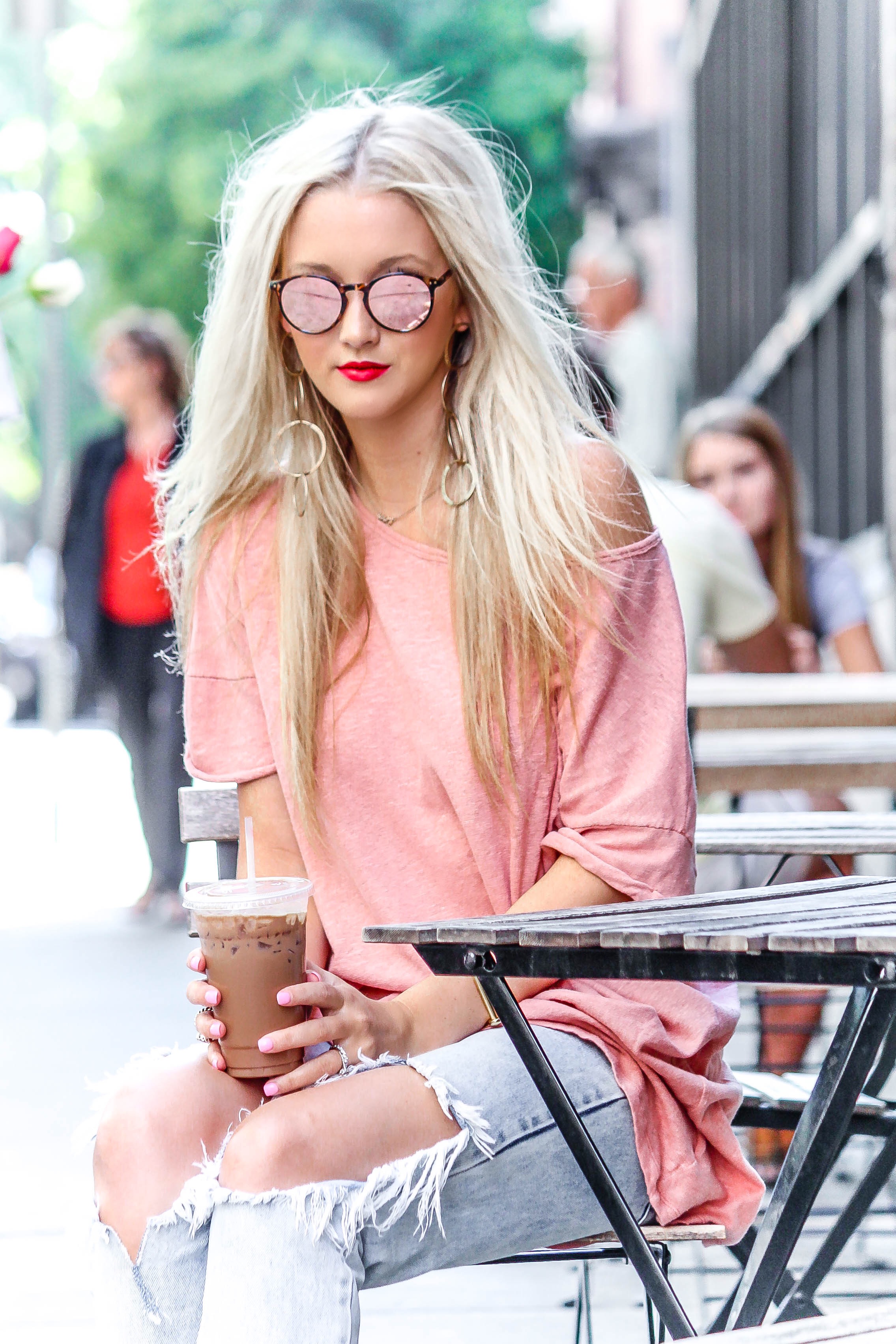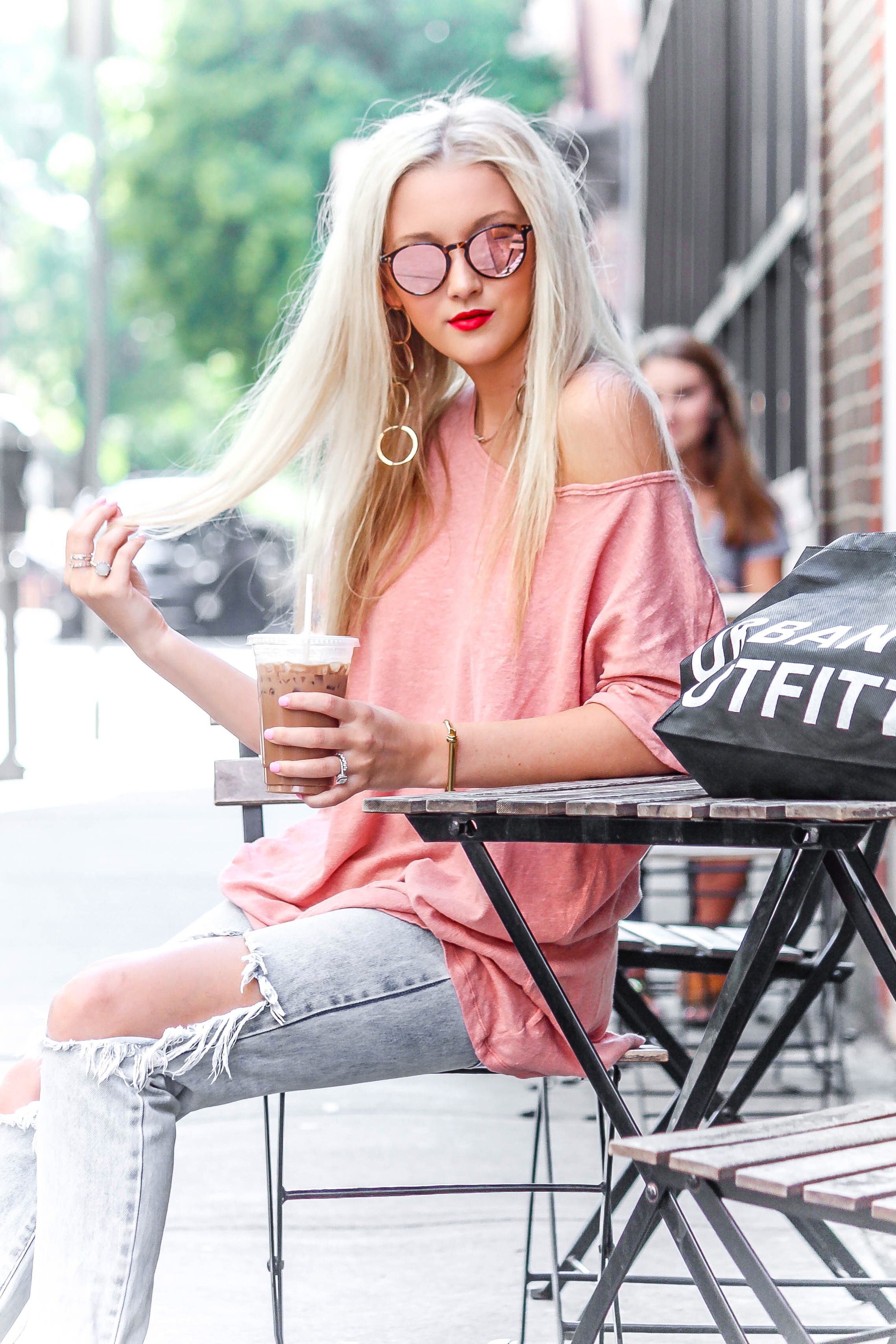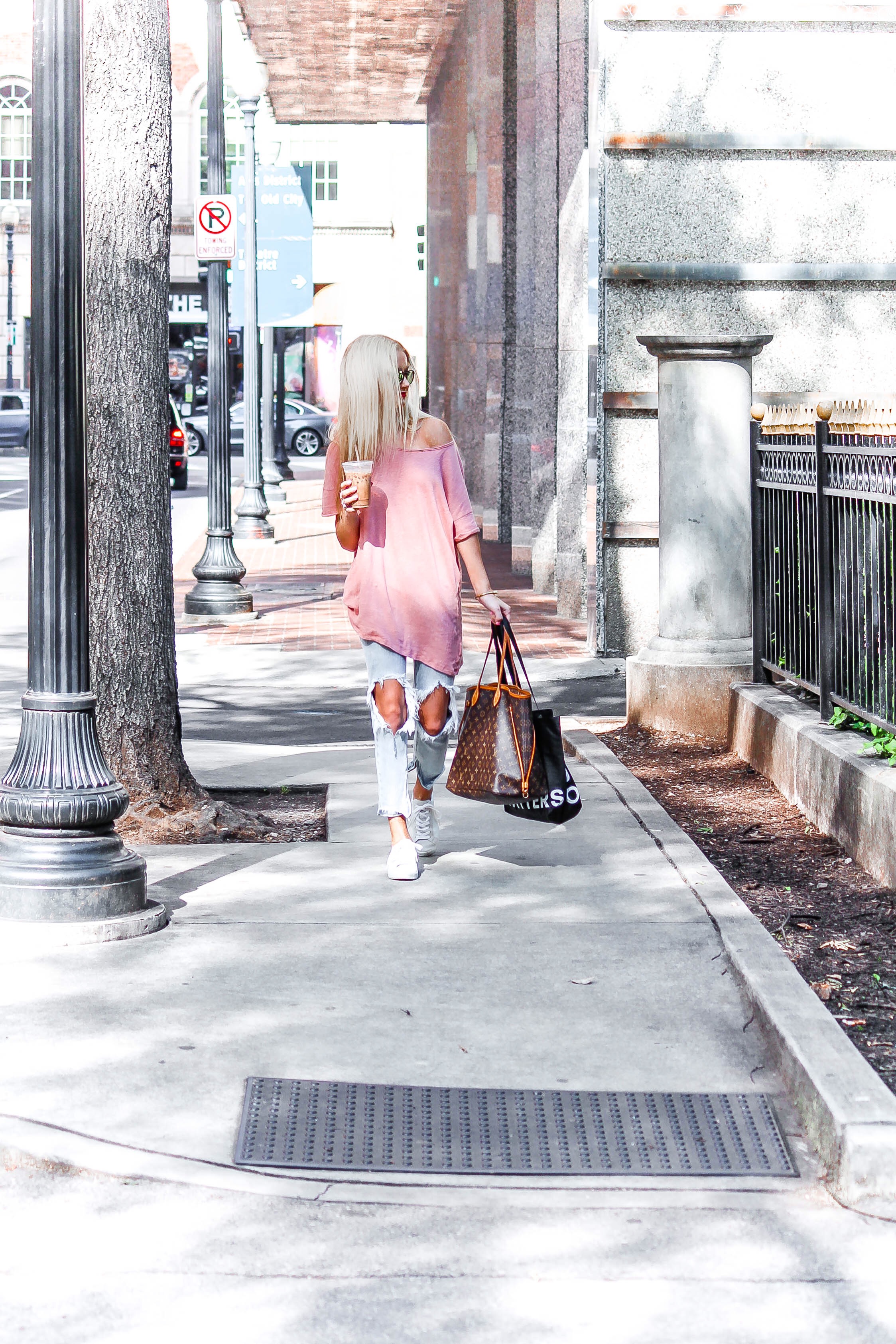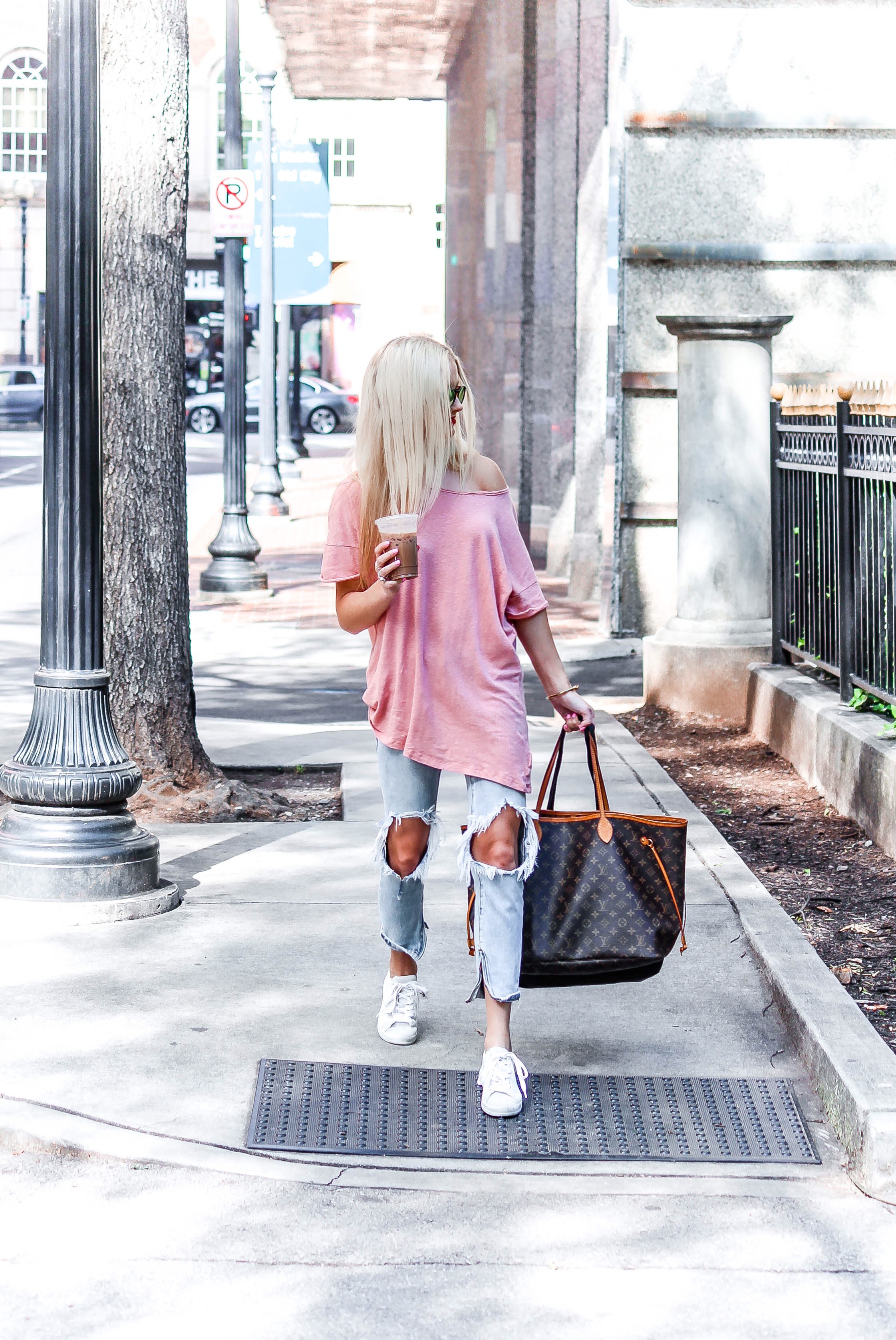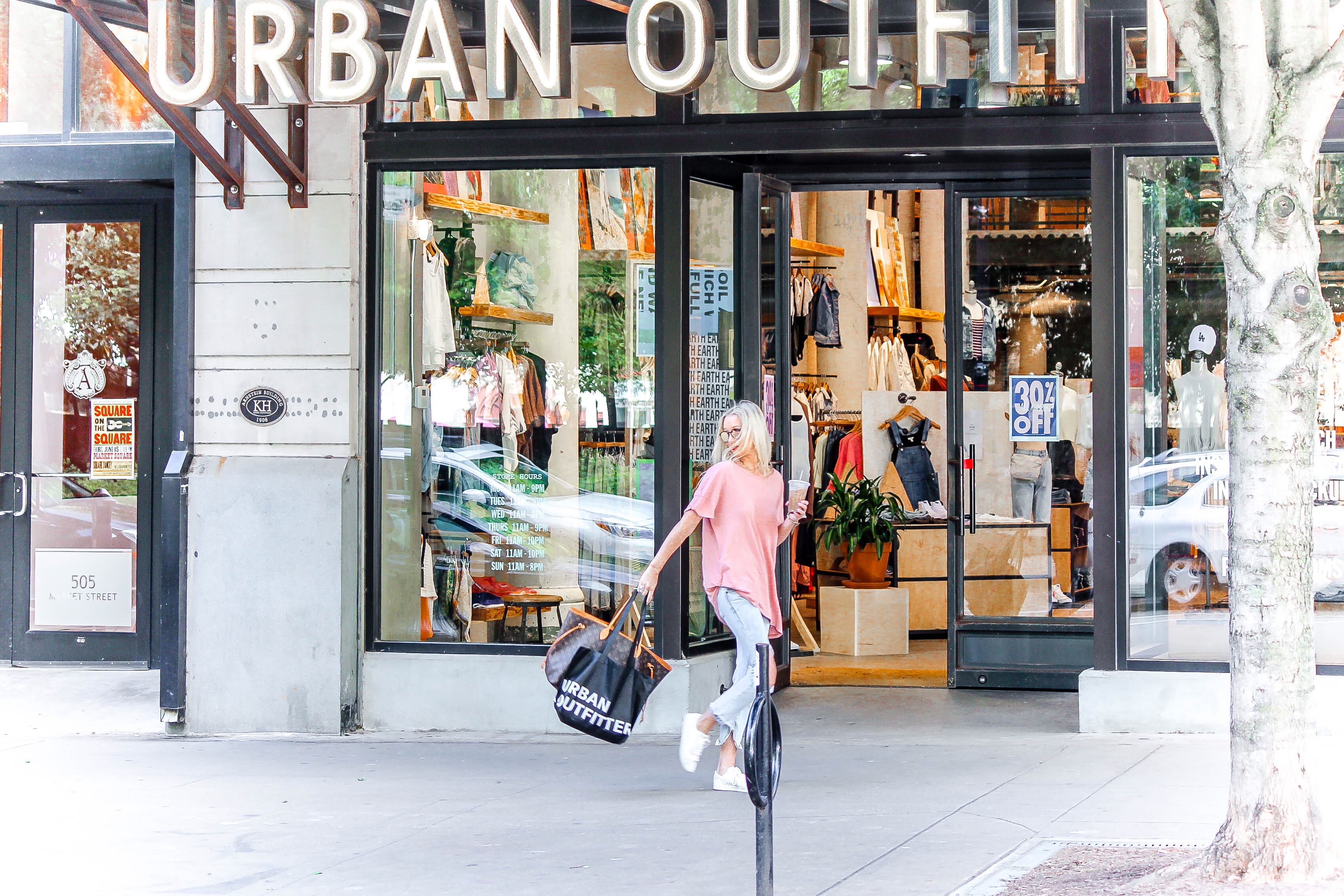 Shop my look:
similar salmon-colored oversized tee | distressed light wash boyfriend jeans (MY FAVE) | cream athleisure tennis shoes (65% OFF) | sunglasses | oversized gold earrings | LV neverfull (gently used on sale for $925 –> $425 OFF!!)

I'm in love with these super distressed One Teaspoon jeans! I literally wear them every week. Actually, the entire One Teaspoon brand is amazing! Throughout the week, you can probably catch me in this easy & casual type of look (unless of course, I have a lot of appointments that day) … my fave denim + an oversized tee + these tennies that have stolen my heart .. um, yes please! These tennis shoes from Steve Madden are seriously to die for, you guys. Ya know, all of these tennis shoes these days look so cute for an athleisure style, but almost every time I've tried to wear them all day, they rub a blister or kill my feet by the end of the day. If you're like me, and you've had this same problem, you'll be so glad to hear that these shoes don't do that AT ALL. I'm taking them with us on our trip to walk around San Fran just because they are that comfortable (& still cute of course)! This style of tennis shoe is so popular right now, so if you have been on the hunt, they are going to be your best bet … Plus they are only $31 right now as opposed to $90. Can't beat that!
My mom and I stopped in Urban Outfitters while we were out shooting and shopping, and they had so many cute pieces! You may have seen my dressing room diaries haul this week on IG Stories, but just in case you didn't, I've linked all of the pieces that I tried on below. I bought a few of them, so I can't wait to show y'all when I wear them in Cali – stay tuned!

Be sure to follow along with my #LNLtravels this week on Insta, Snapchat, Twitter & Facebook! I'll for sure be posting updates on there throughout our trip, and I promise you WILL NOT want to miss the posts coming up on Monday … 😉 Can't wait!
xo, P