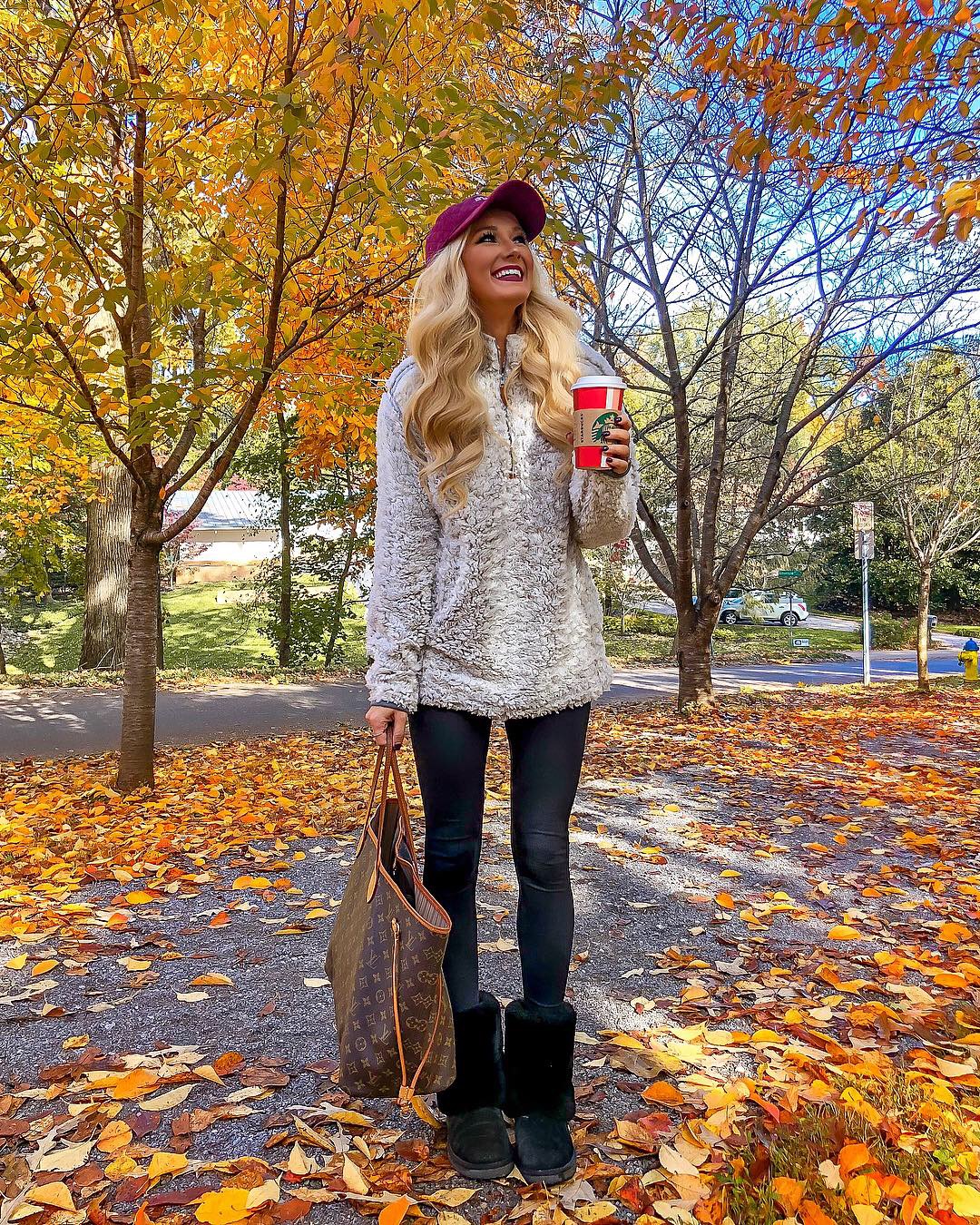 sherpa pullover (discount code at the bottom!) | quilted ball cap | black leggings | Ugg boots | lipstick

The orange leaves are falling, temps are dropping … there's a crisp breeze in the air. The smell of pumpkin & cinnamon spice fills our homes. We're preparing Thanksgiving feasts and making our lists for holiday shopping. It's that time again! It's (in my opinion) the best time of the year! And I don't know about y'all, but this season instantly gives me all the cozy vibes. Whether I'm nestled in a warm blanket at home, sitting by the fire in fuzzy socks, or exploring the fall foliage in my favorite sherpa, I'm always one happy girl when I'm in my cozies!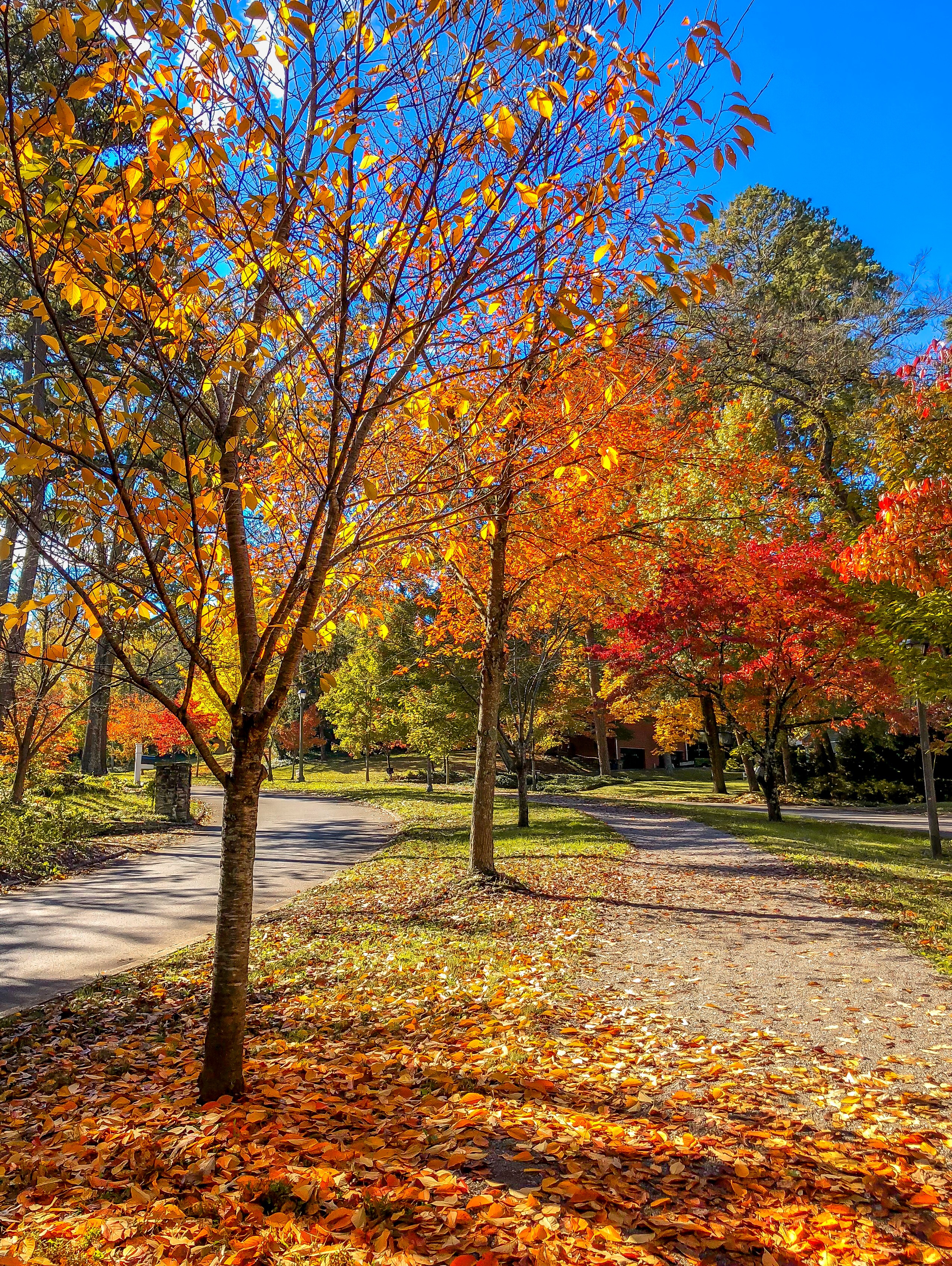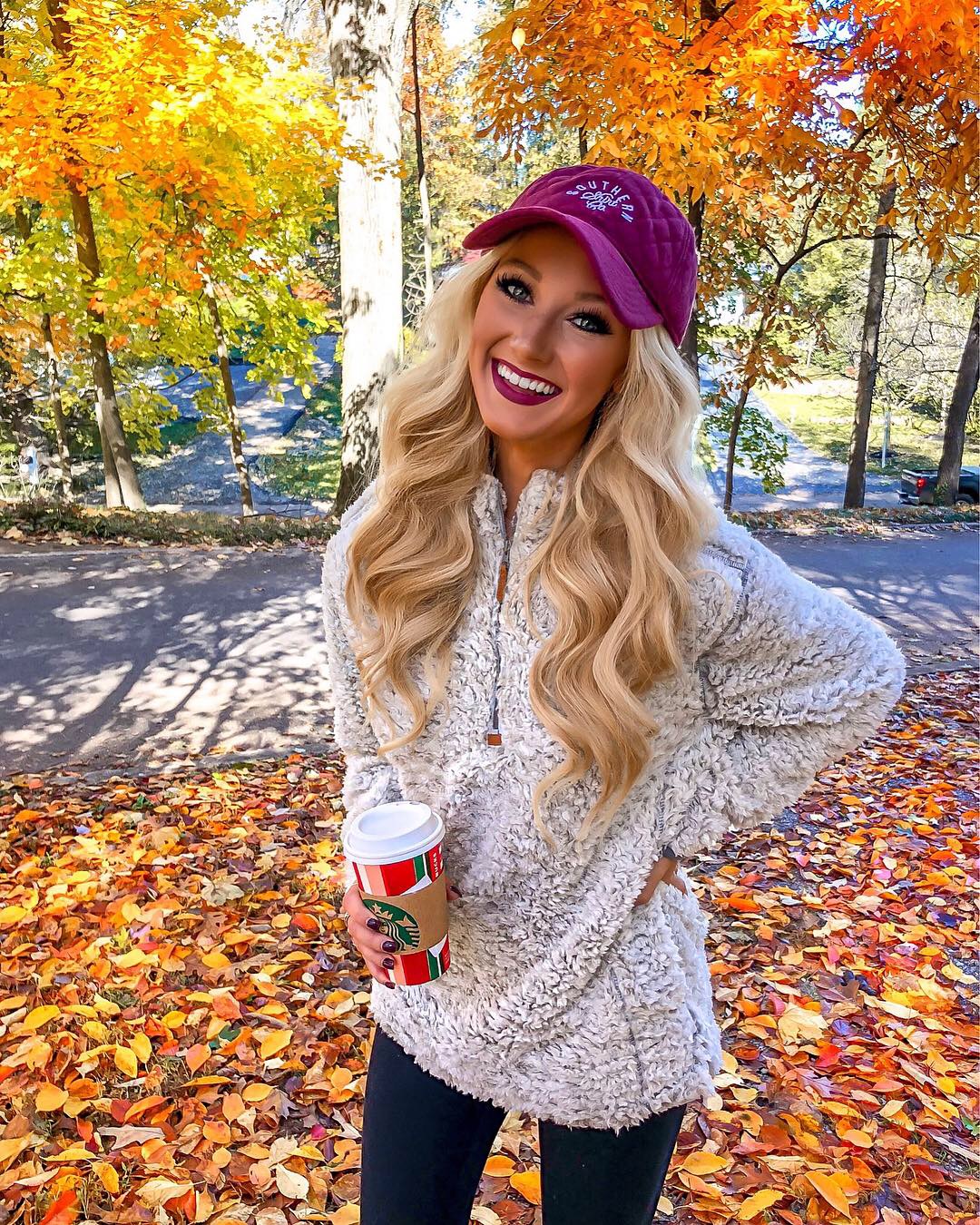 I like to believe that I'm the queen of cozies, y'all! Of course, I appreciate a high-fashion, trendy outfit as much as the next girl, but I think we can all agree that there's nothing better than wearing pieces that you not only feel cute in, but also feel good in. The ones that are so comfy and cozy that you never want to take them off! Every year around this time, I stock up on my favorite cozy pieces that I can carry into the cooler months. I like to focus on pullovers, anything 'sherpa' material (#duh), lightweight layering pieces to wear under cardigans/vests, long sleeve tees to dress up or down, etc. All of these styles are definitely the most comfortable, cozy options to add to your fall and winter wardrobe, while still staying on-trend!
My favorite place to stock up on all the cozies is Southern Shirt! They have so many different styles, sizes and colors to choose from, and I promise you that no matter what you get from there, it'll be comfortable, practical and easy-to-style. I love their sherpas more than I can even express to y'all (I have this zip-up one and this pullover!) and have already been wearing them nonstop this fall. Highly recommend treating yourself to one (or 2 😉 ) of these, as well as, buying some as Christmas presents for your hubby, parents, or siblings!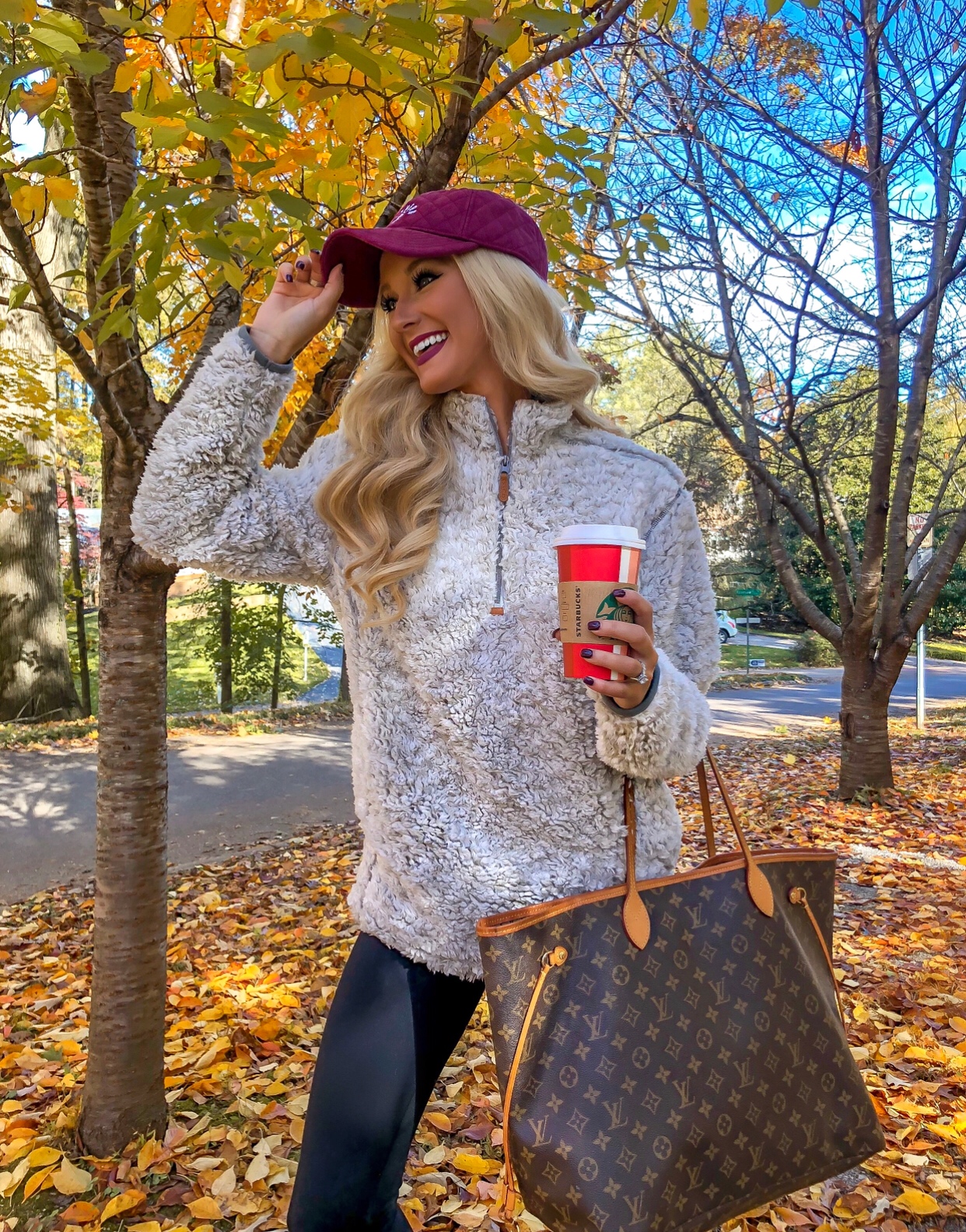 Aside from the sherpas, Southern Shirt also offers the softest layering tops that look so cute when paired with faux leather leggings or with jeans and a cardigan. I recently bought this one and this one, and OMG, guys … Softest. Material. Ever!! I really don't know how a shirt can possibly feel so soft and comfortable, but Southern Shirt takes home the award for that one! I've already worn each of them with multiple different outfits, just in the past month! And while we're on the subject of layering pieces, I have to point out this waffle knit top because I feel like it just screams 'fall'. Waffle knit is such a great material to layer with a puffer vest or a flannel, and this one comes in 3 different colors!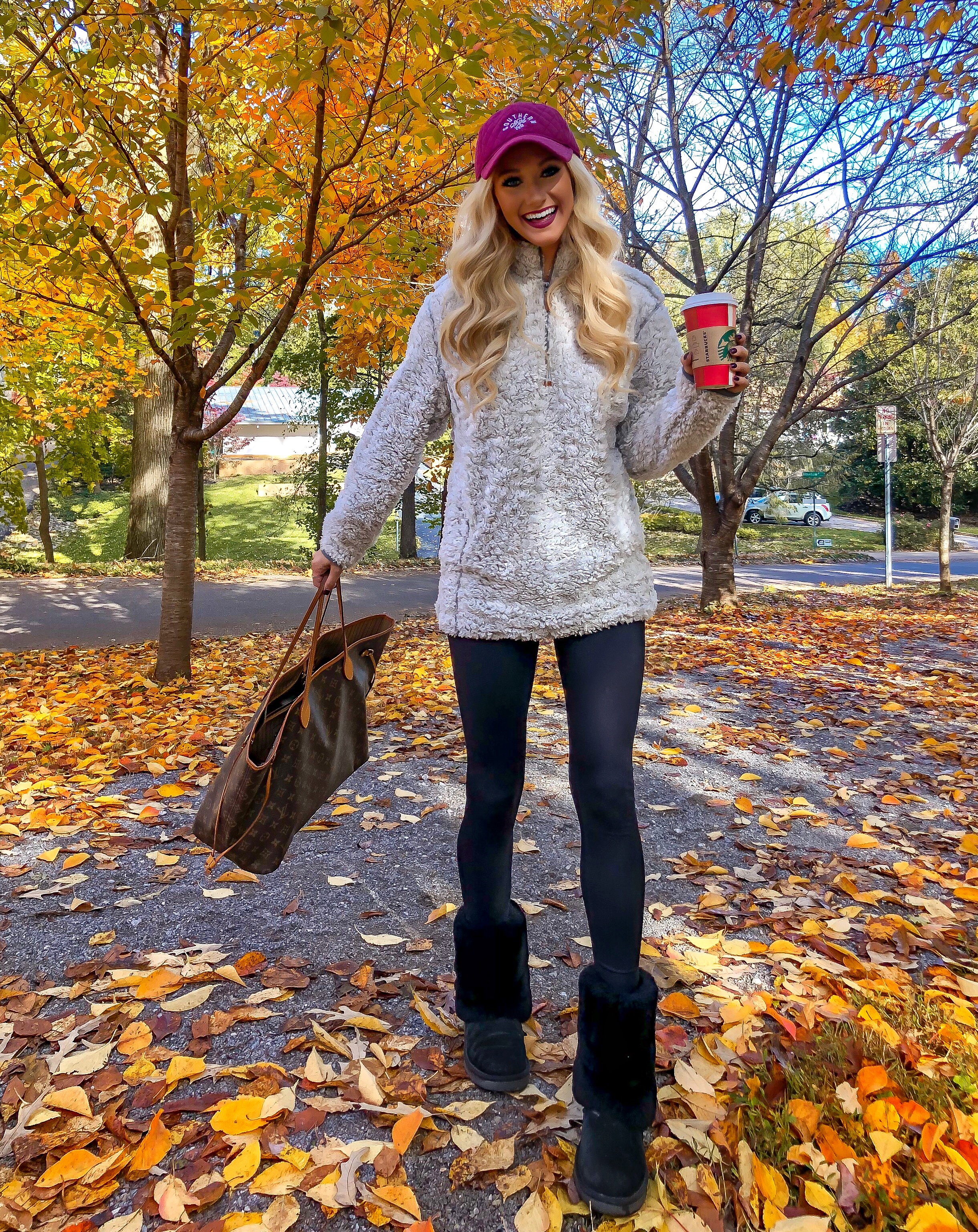 ---
I've gotten a few other pieces from Southern Shirt over the past couple months, so I'll link all of my recent purchases below. Everything I ordered is true to size, and there are multiple colors of each piece! AND … You can get 15% off your entire order at Southern Shirt by using my code: INF-PEYTON15 at checkout!!
Heather Sherpa Pullover w/ Pockets: I ordered a size small for reference! (These make the perfect Christmas gifts for loved ones!)
Sherpa Jacket: Love that this one zips all the way up and down!
Quilted Signature Cap: I got some of the Southern Shirt hats back in June and lived in them all summer long, so I knew I would wear this one a ton this fall & winter! Love the grey too!
Knobby Knit Sweater: This top is so cute paired with distressed jeans & sneakers for a more laid back, weekend style!
Riley Raglan Fleece: Softest material ever! You'll want this one in every color!
Absurdly Soft Hoodie Fleece: Well, the name doesn't lie y'all! 😉 SO soft + I love that it has a hood on it! This is a good option if you're wanting a more 'lightweight' pullover.
Whitney Waffle Knit: Love this one because it's a little longer in the back, so it's perfect not only to pair with jeans but also with leggings for the days when you want to feel extra comfy!
Becca Hoodie: I wear this one all the time as an athleisure look, and it's a great piece to throw on when going to the gym or to a bonfire this fall. This piece will make a great gift for any lady in your life this holiday season!
Mountain View LS: This was a random purchase on my end, but I'm a sucker for a classic long sleeve tee, and Southern Shirt has the best, most comfortable tees. I got a few back in the summer and wore them nonstop!

---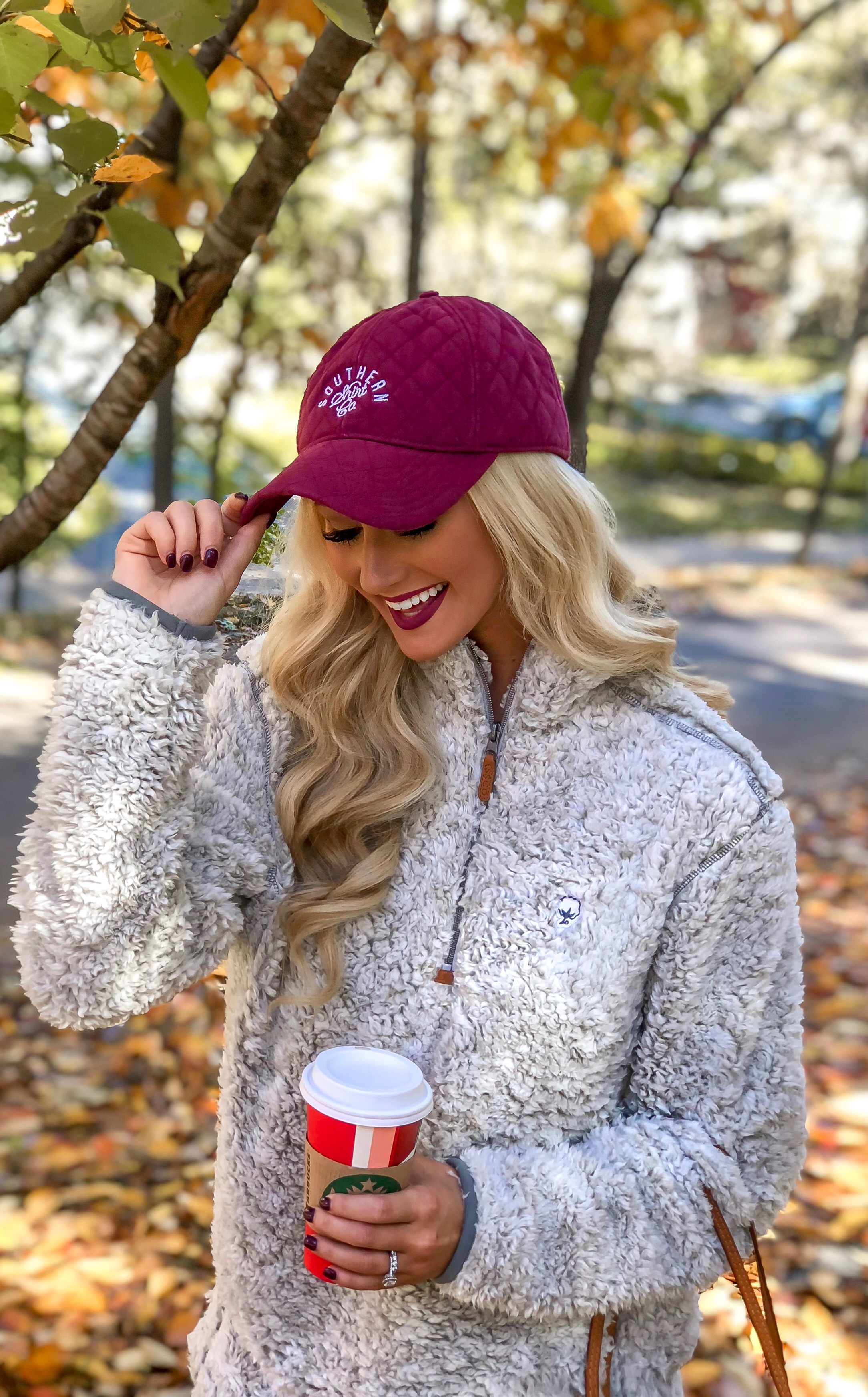 Happy shopping! And keep it cozy, y'all! 🙂
As always, thank you so much for stopping by today and shopping through my blog. Your love and support truly means more than words could express! Thankful for each of you!
xo, P
*Thank you to Southern Shirt for sponsoring today's post. All thoughts & opinions are my own.