Happy Wedding Wednesday, beautiful! I'm so glad that you're here!
Before I get started on today's post, I just wanted to say a big THANK YOU for all of your love to Sarah and I on yesterday's blog post … it was by far one of the most popular posts to ever be published on LNL, and all of your positive feedback, comments and tags on Insta totally made my entire day! If you missed yesterday's post, click here after you finish reading today's because I promise you don't want to miss it!
Since it's time for another Wedding Wednesday post, I figured I would introduce you all to my lovely bridesmaids and flower girls! These ladies (and their families) play such a huge role in mine and TJ's lives and are a big part of who we are today. These are the people who have stood by our side through some of the best and worst times, we've grown up together, we made it through the college days together, they were standing by our sides during the biggest day of our lives, and they'll be the ones who will be there as we all begin to grow our families someday (hint hint .. one is already growing!! Keep reading!). Along with this, I've gotten SO many questions about the dresses that my girls wore on our wedding day, so I will be sharing (of course) some fashion details throughout this post!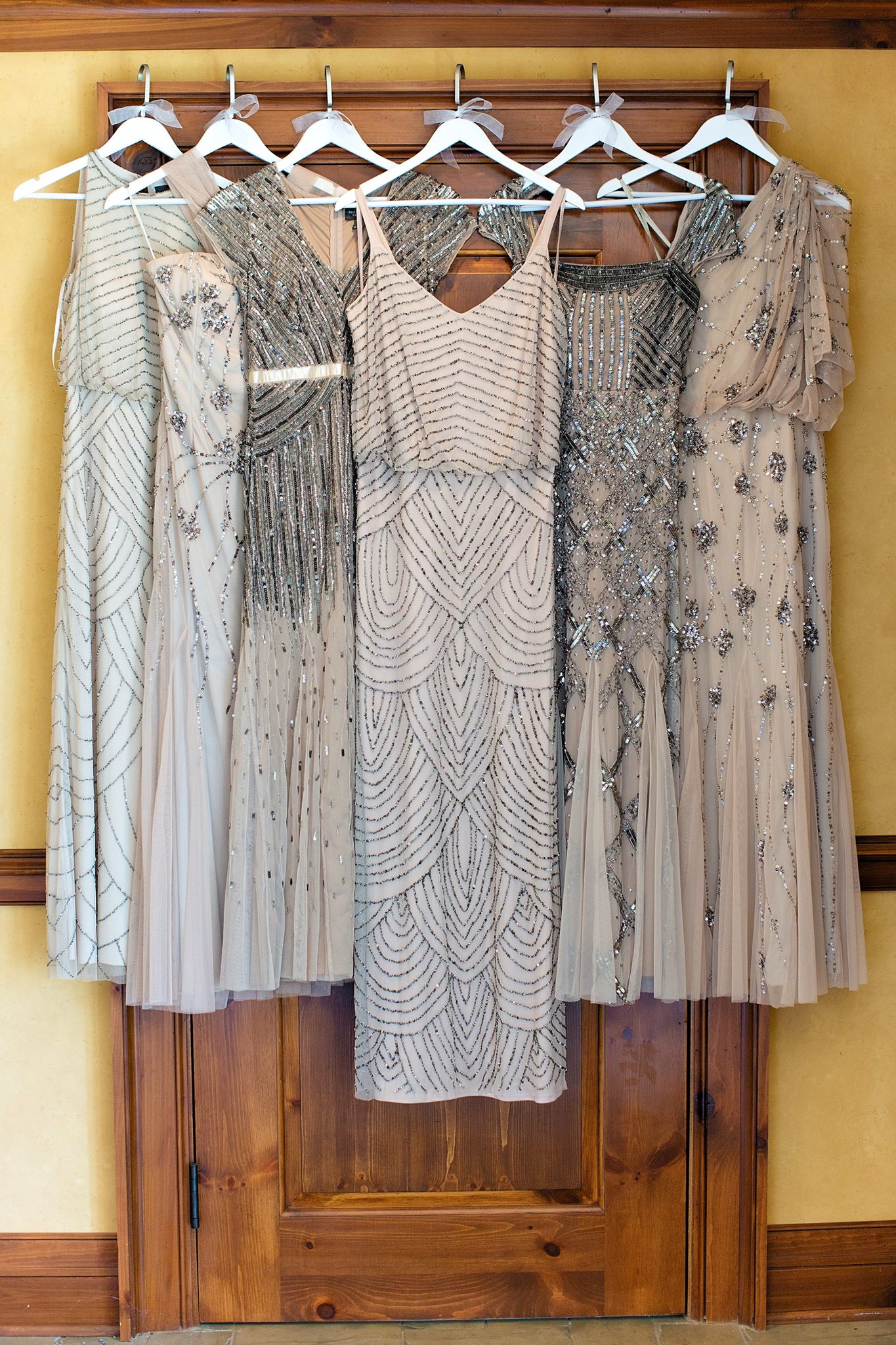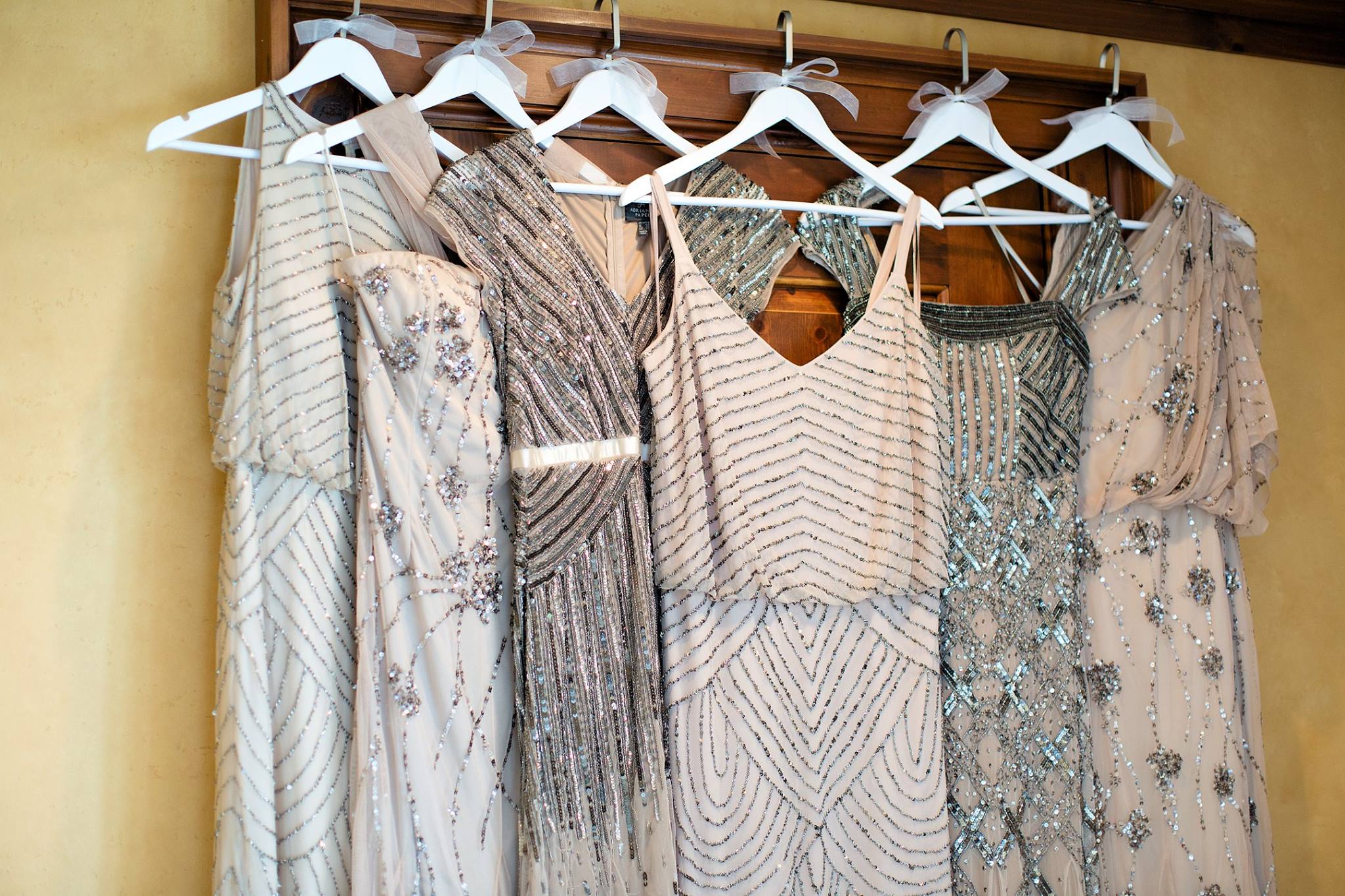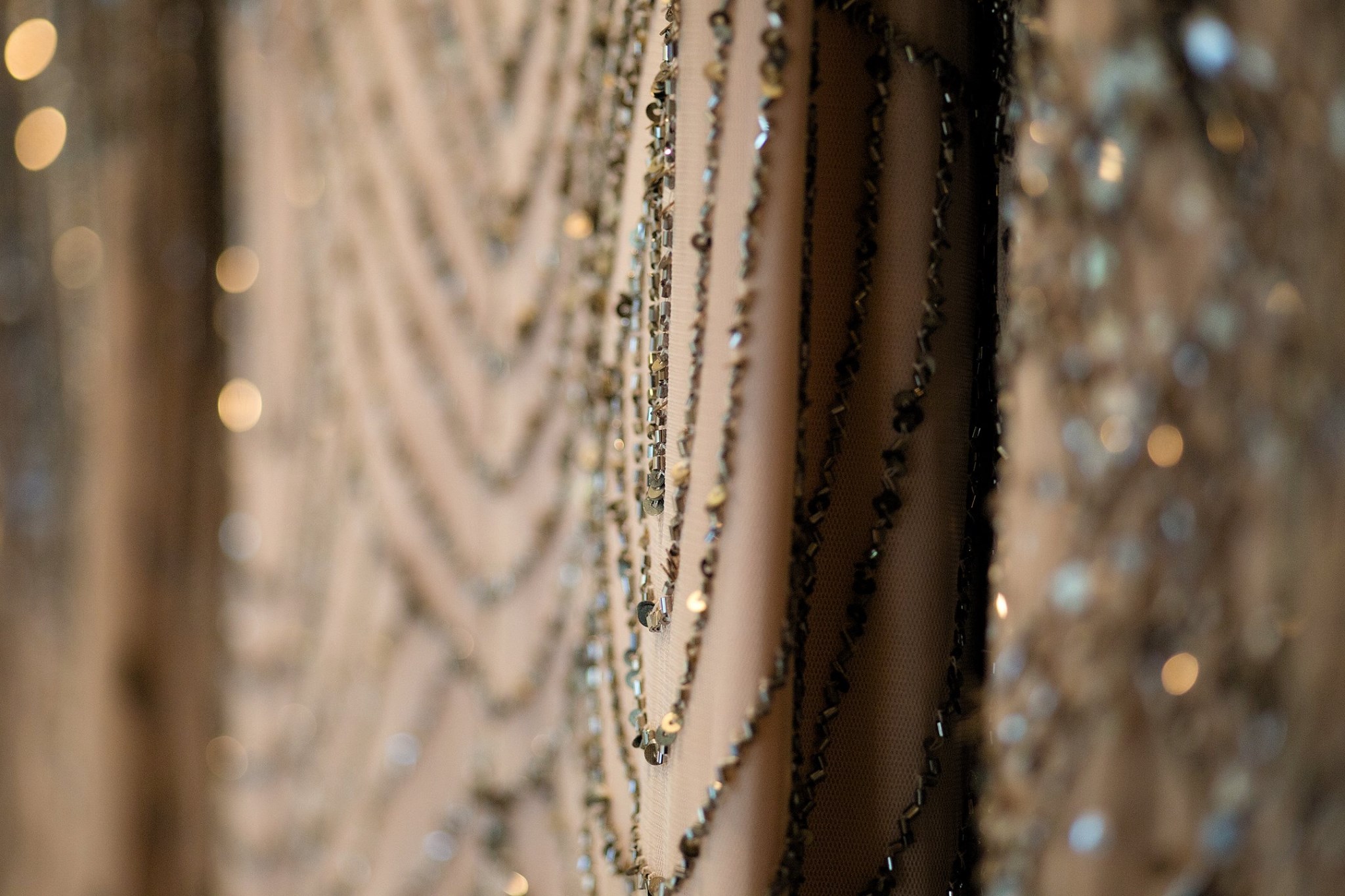 Since our wedding day last June, I cannot even begin to tell you how many questions I've gotten from people asking about my bridesmaids' dresses, so needless to say, this post is long over due haha. Please forgive me! 😉
All of my bridesmaids and junior bridesmaids dresses were from the Adrianna Papell line. This designer is my favorite for these types of formal gowns. As soon as I got engaged, I knew that I wanted to do something unique and different with my bridesmaid styles for the big day because being in the fashion industry and being a total fashion guru myself, the more classic, plain bridemaids' dresses weren't going to do it justice for me. Don't get me wrong, a lot of those dresses are so beautiful!!! But, for my own personal style, the beaded dresses from Adrianna Papell were more my speed. Not to mention, I personally think that the beaded dresses that my girls wore would truly be easy for them to rewear in the future – i.e. during formal night on a cruise, a black tie event, or even to another wedding if they cut it off to make it a fun and flirty short dress. So many brides always say to the 'maids, "Well you'll be able to wear this again," when even the bride knows good and well that NO ONE is going to wear that gown ever again. It's going to sit there hanging in the closet collecting dust, lol. But, I felt really confident that the girls could actually use these again – I actually wish that I had one for myself to be honest!
With that said, I wanted to find a few neutral color dresses to choose from, and I wanted each bridesmaid to wear a completely different dress that would obviously compliment and coordinate with the gown that I was wearing as well (Read about my wedding dress HERE). No two dresses were alike. I wanted them all to blend though so that it wouldn't look like chaos, so once I found the color palette that I liked, I tried to find similar patterns in the beading on different styles of the dresses. When looking at these images, you'll probably notice that there are at least 2 dresses in the pics that have similar patterns, but if you look closely, you'll also notice that none of the dress styles are the same. Some are one shoulder, some are high-neck, etc etc etc …
You'll also notice the beautiful handmade earrings that I gifted my girls from the amazingly talented Coral Cross Unique Jewelry. My friend, Lauran, made these for my girls, and they turned out SO gorgeous (+ the ladies loved them)! Definitely check out her Facebook page if you are looking for some unique jewelry.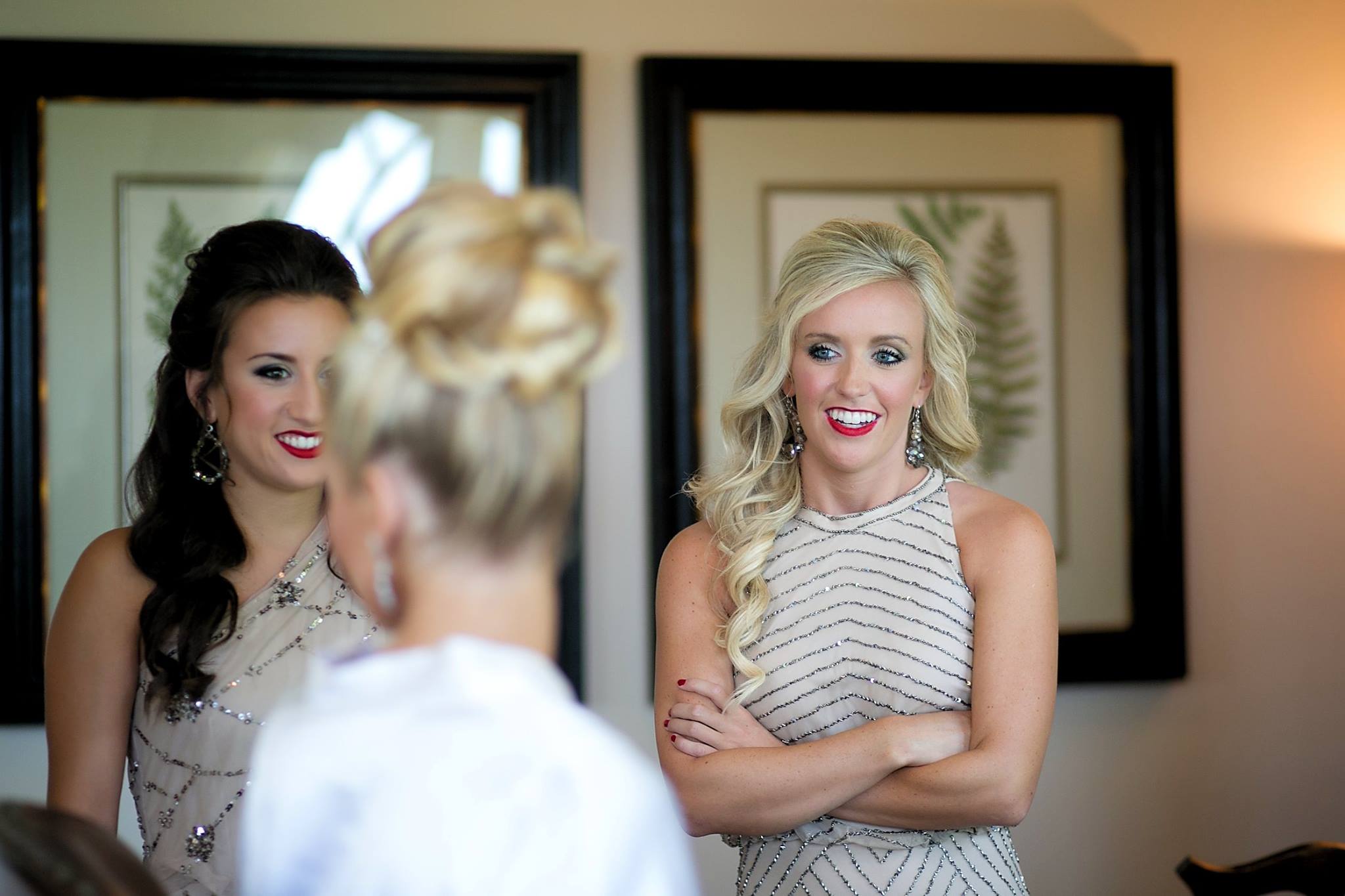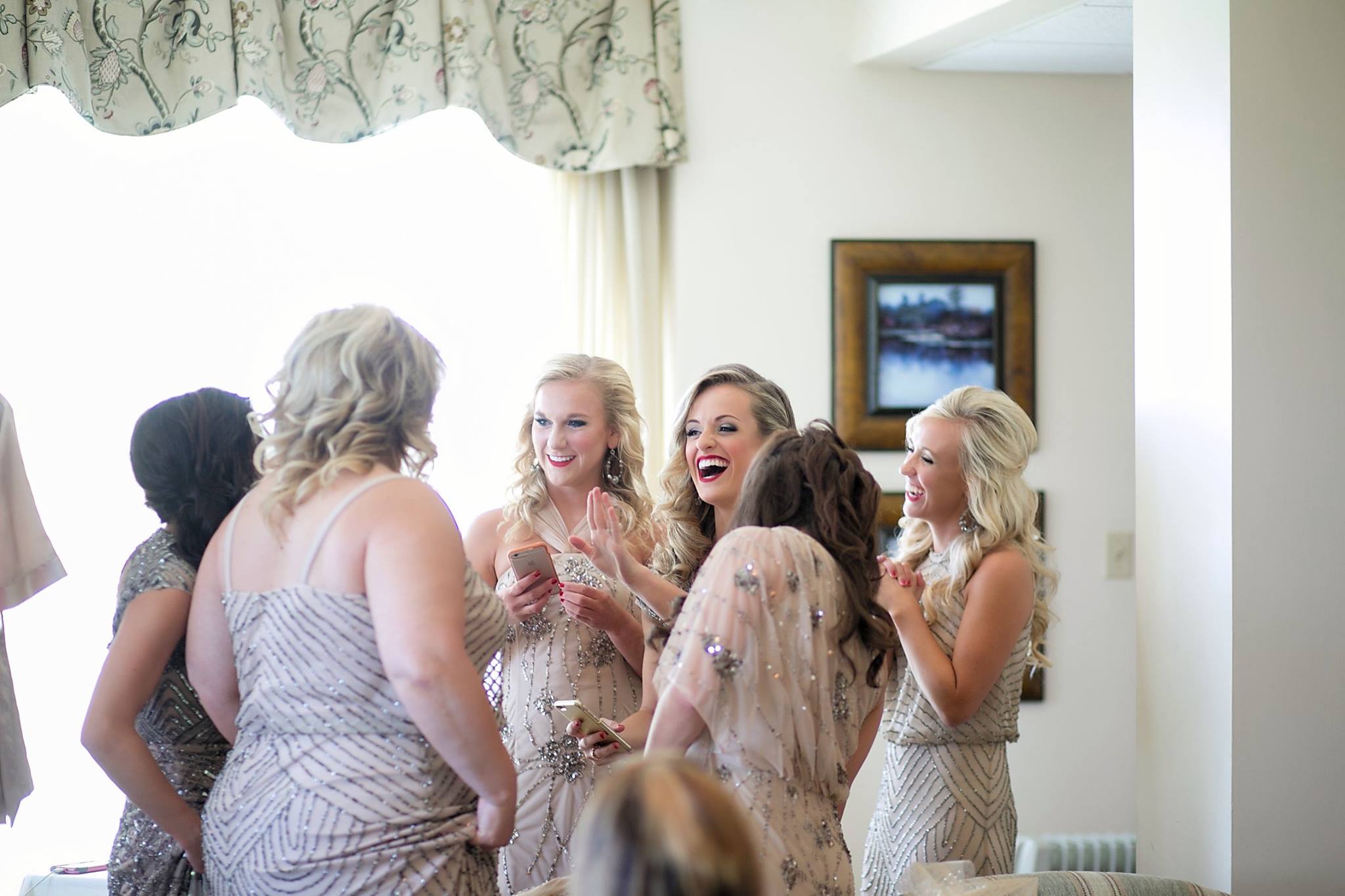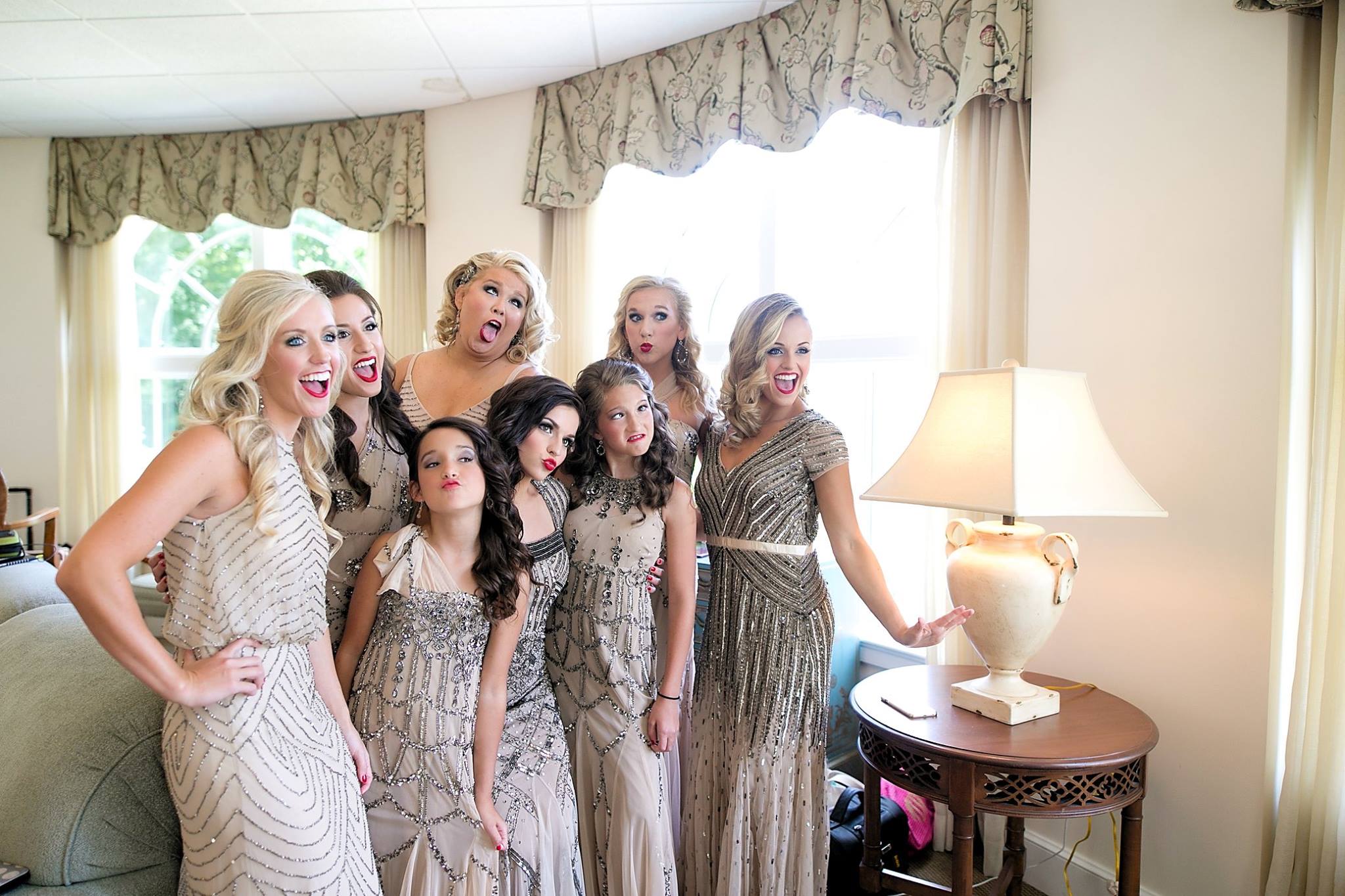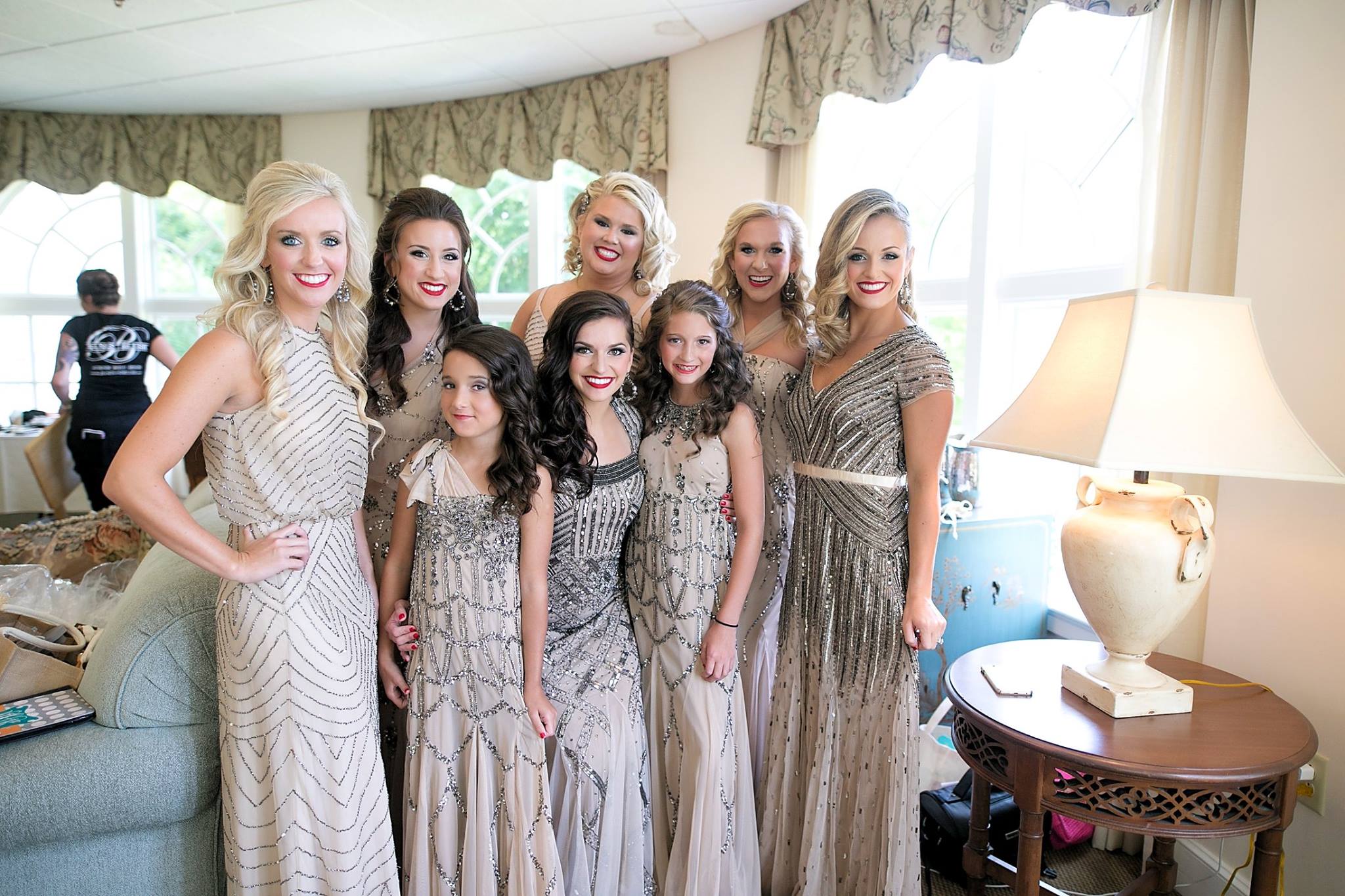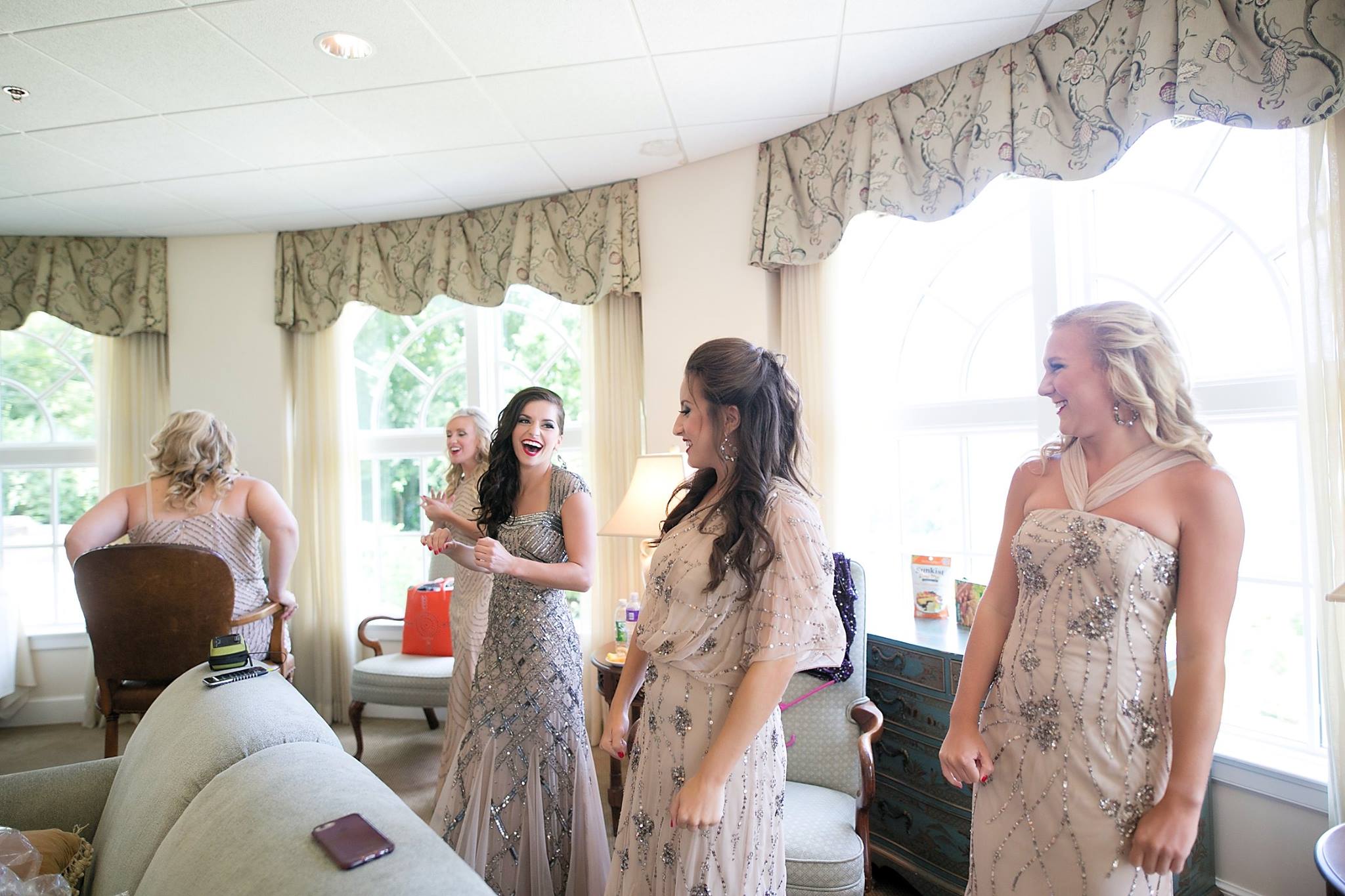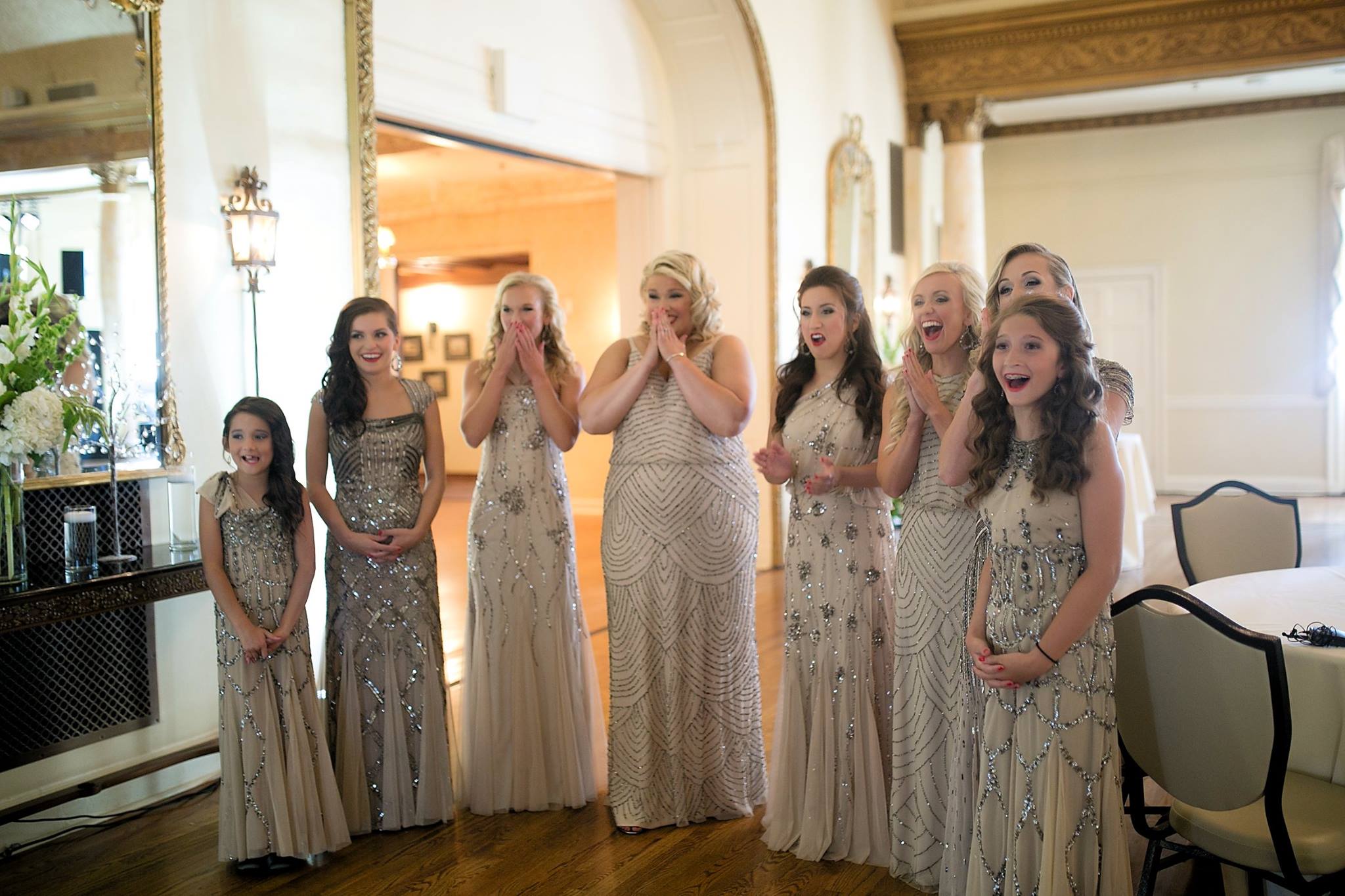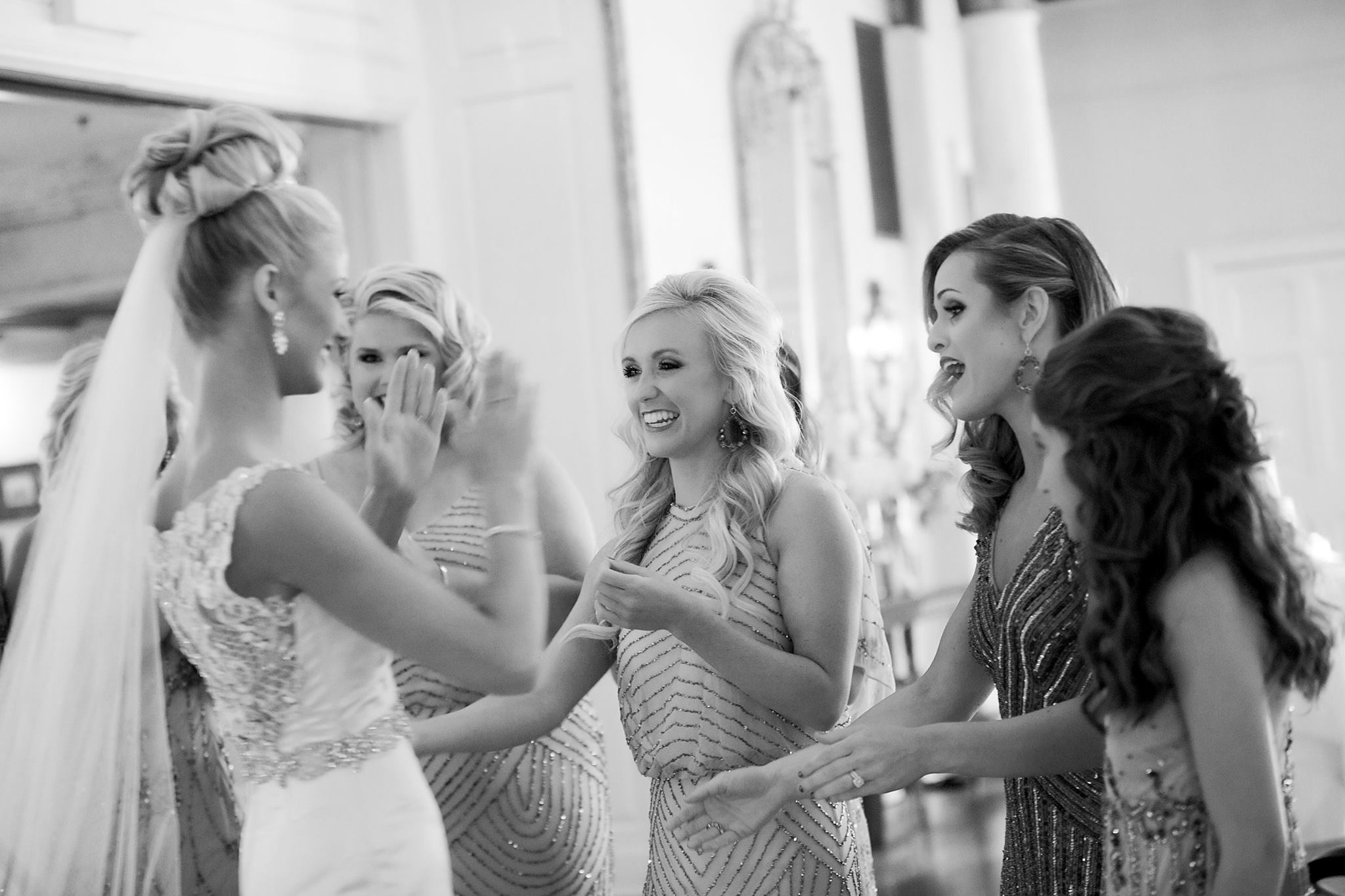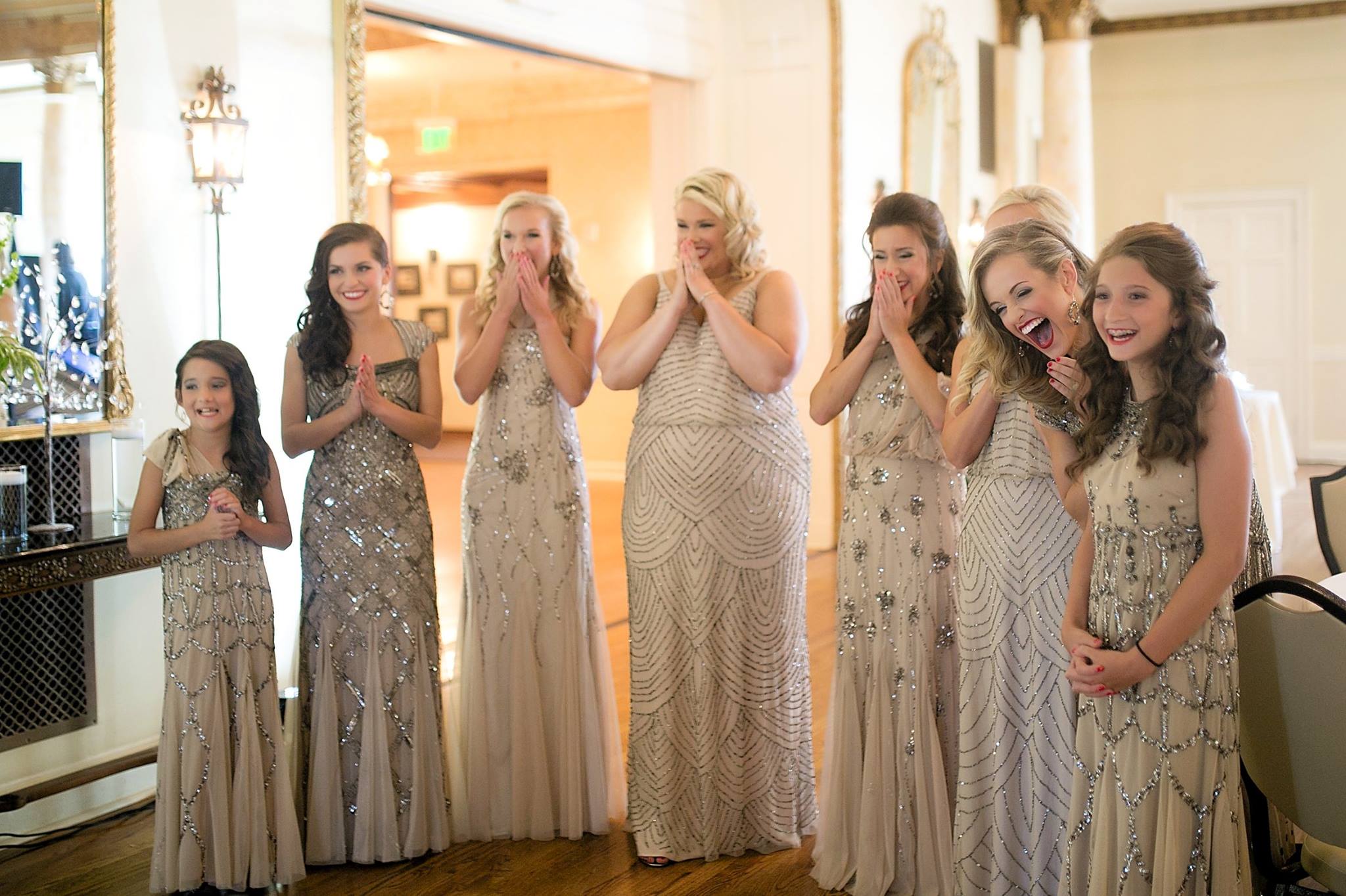 More details about the First Look with my bridemaids coming soon!!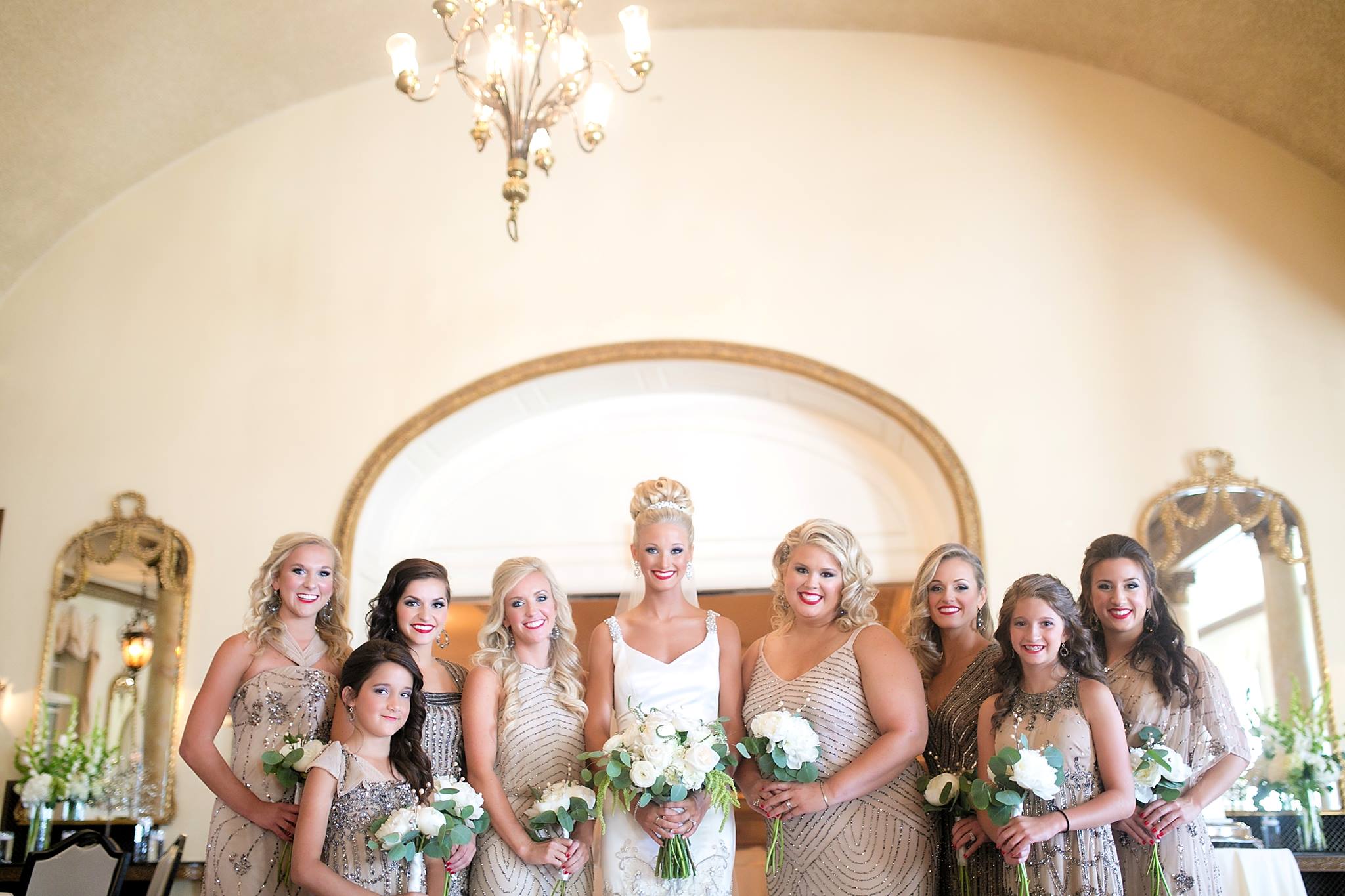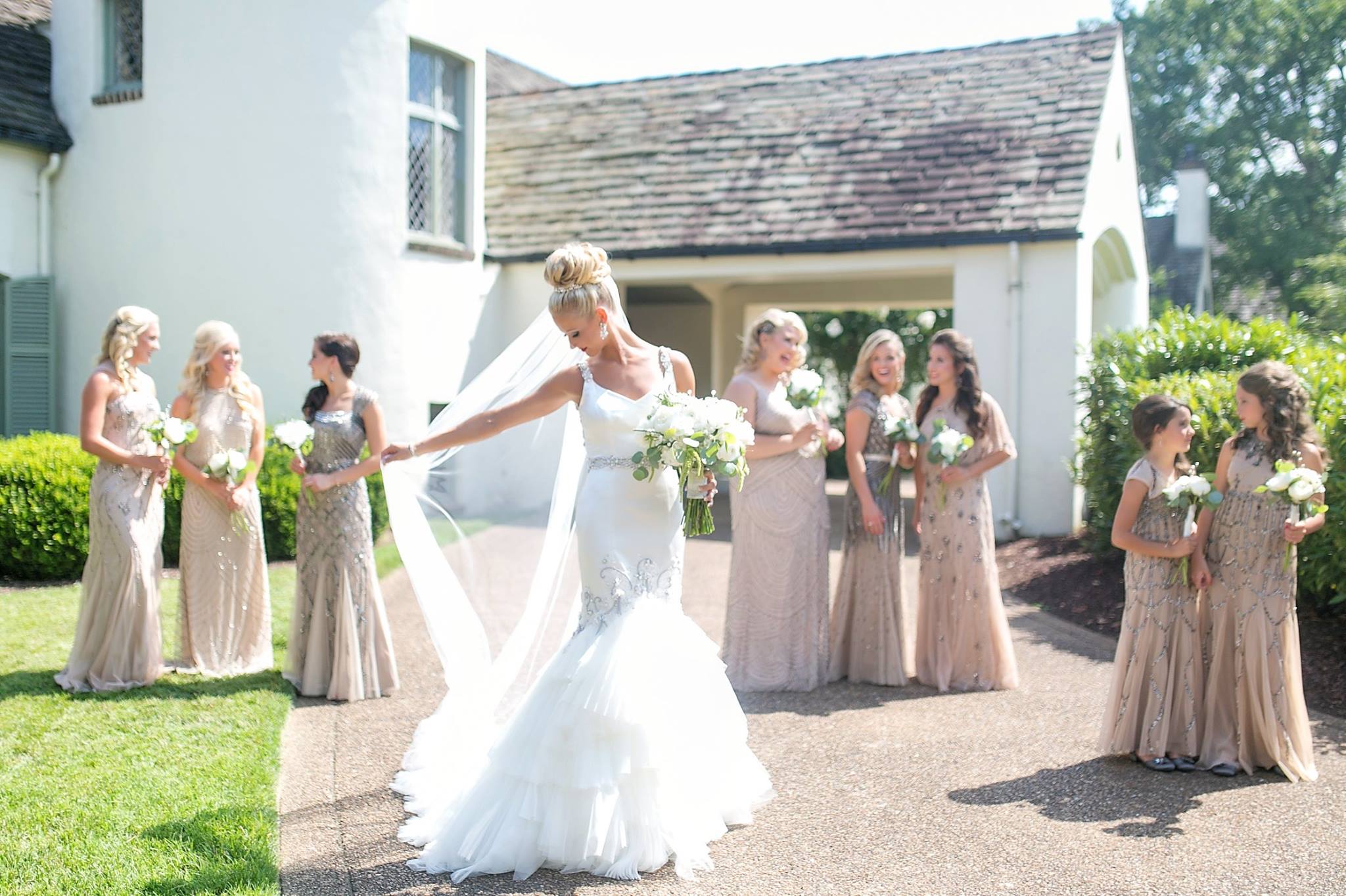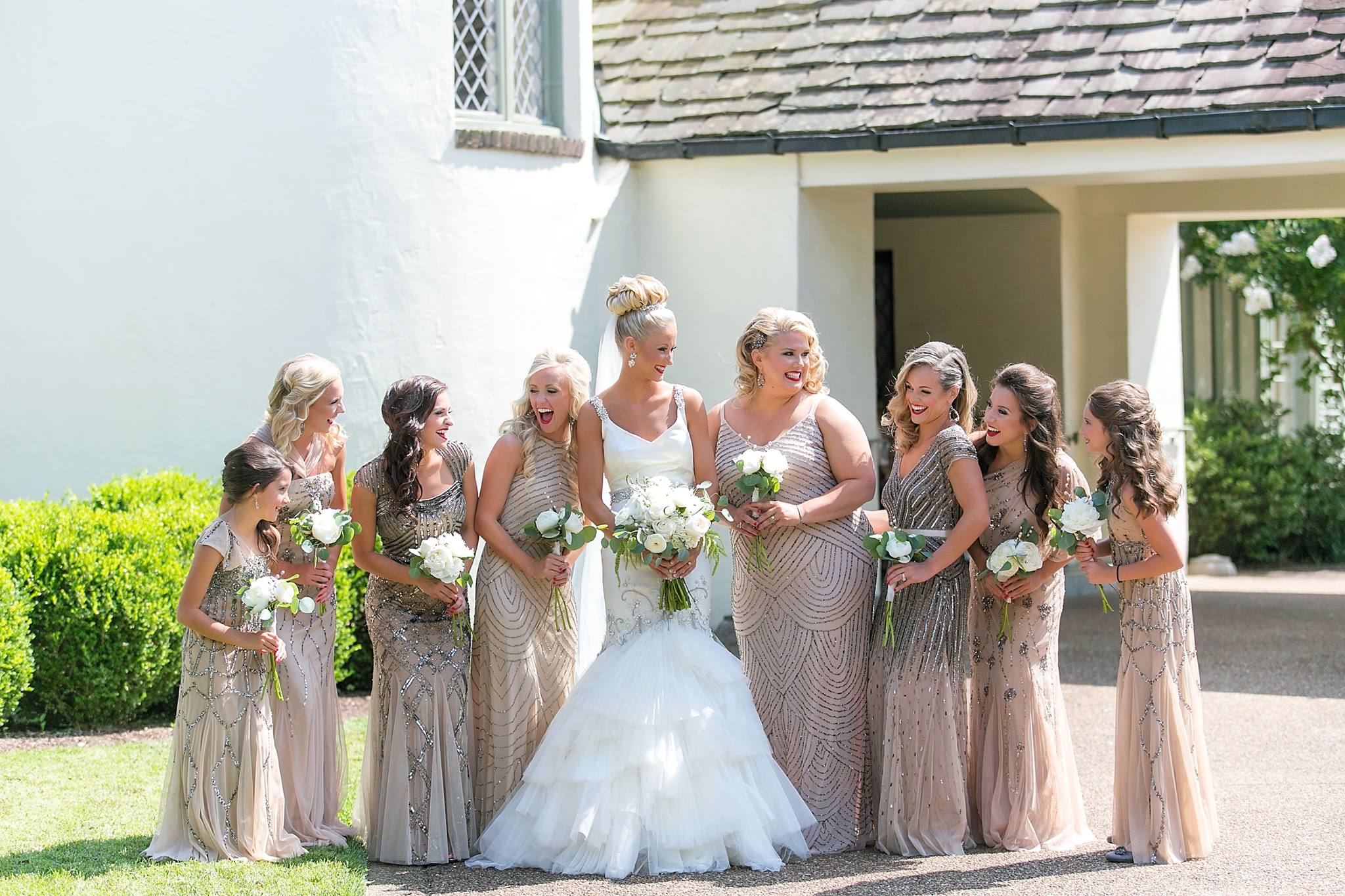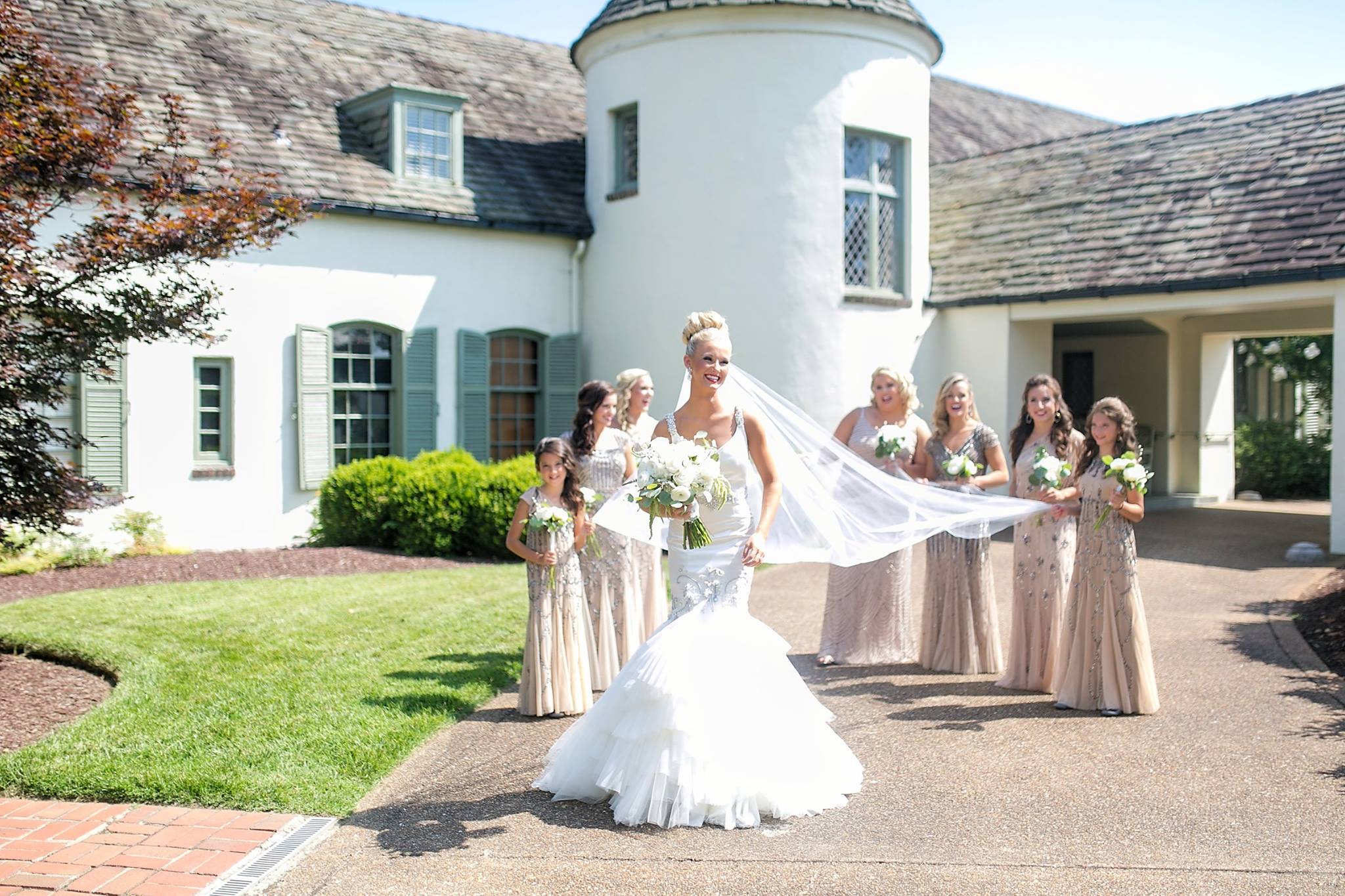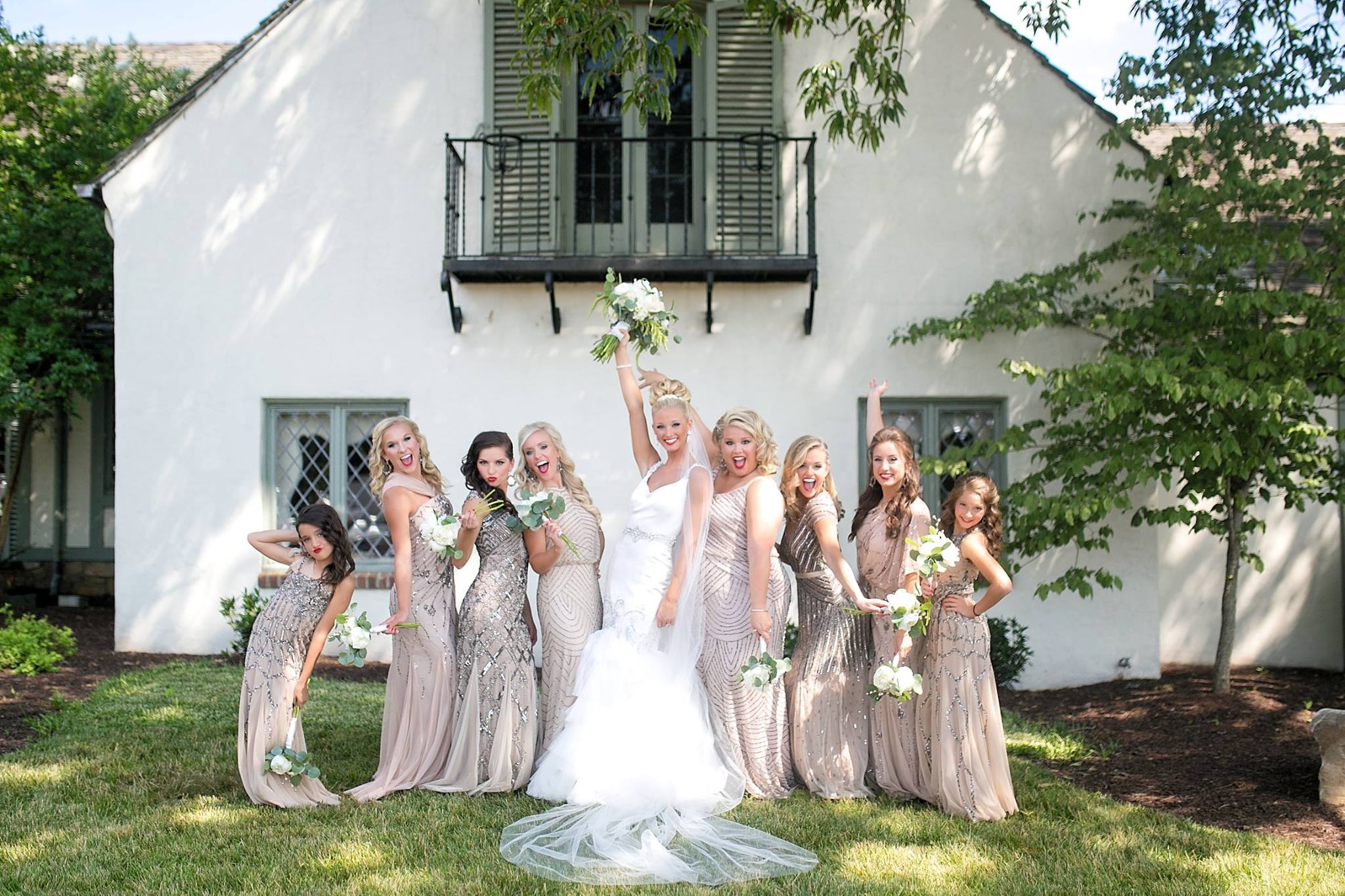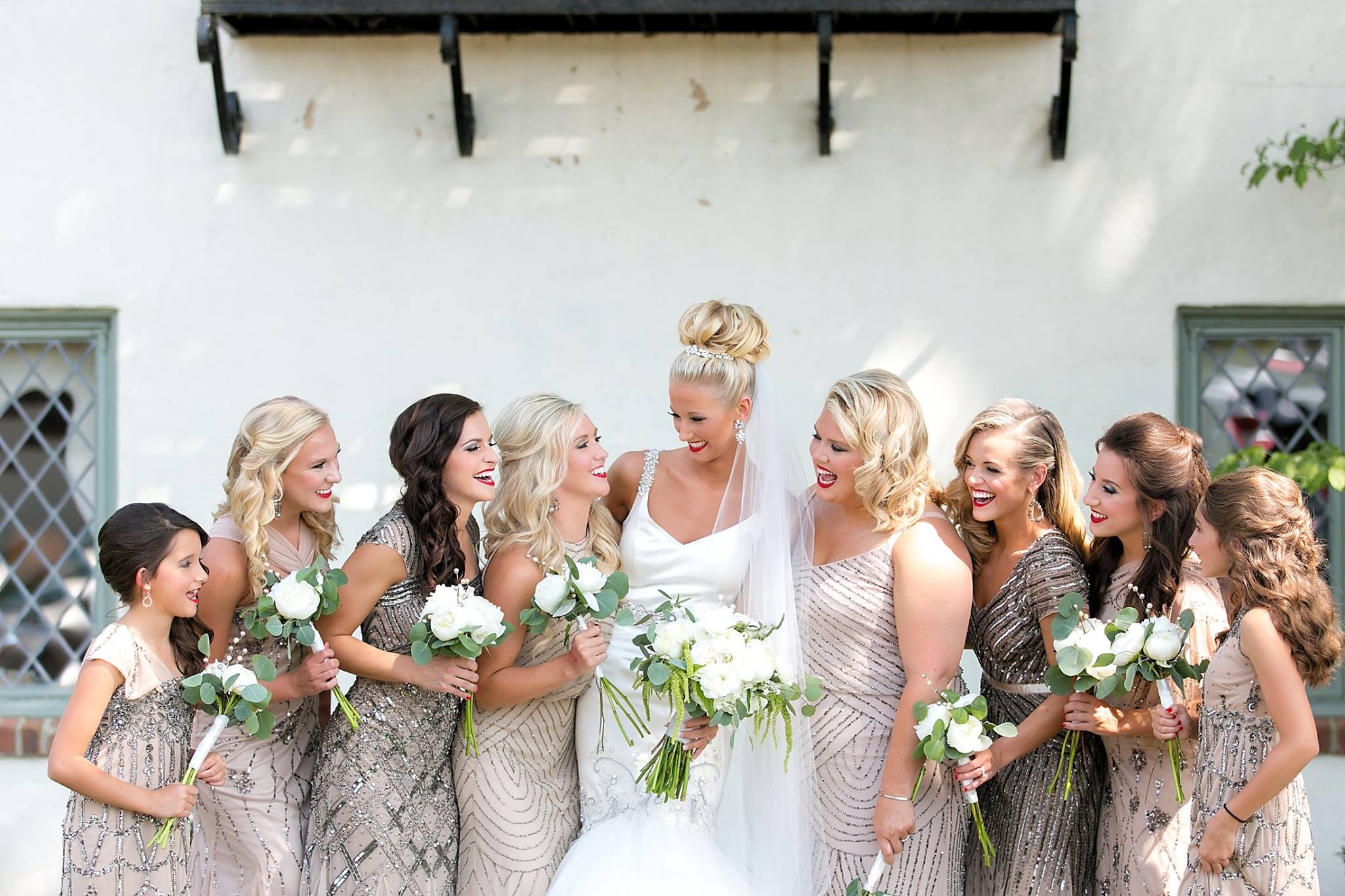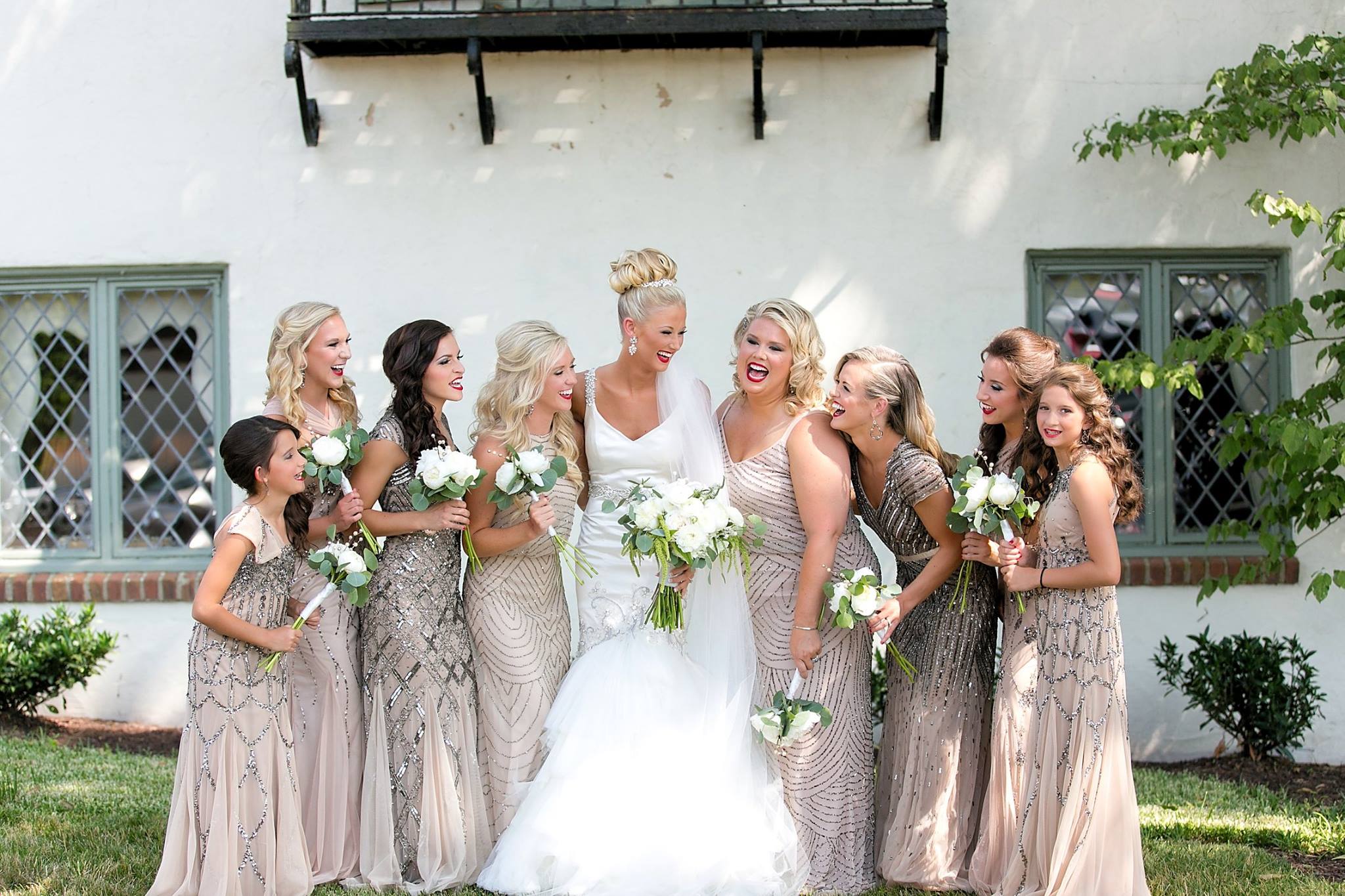 Of course one of the main reasons I chose different dresses for each girl is because I wanted something unique and to let the fashion side of my personality show, however, the other most important reason is because I truly wanted each of these ladies to feel confident, comfortable, and most importantly beautiful in her bridesmaids dress. I honestly do not understand brides who put their bridesmaids in the ugliest dress they can possibly find, just to make themselves 'look' better. I don't get that. These ladies are your best friends, your sisters, your cousins. If you are a bride reading this, I want to encourage you to never do that!
#1: Those ugly dresses (or hair or makeup or whatever it is) will be in your wedding photos forever. #2: YOU will probably be their bridesmaid one day too .. remember that. #3: Most importantly, always build up these women in any way that you can, not tear them down. Yes, the day is all about you girlfriend, but if you are feeling the need to make them look bad so that you look 'better', then try taking a step back for a second and looking at the bigger picture – the things that matter most of all.
All that to say, I reallllly tried to take each of my bridesmaids' personal styles (and personalities overall) into account when I was choosing the dress for each one of them. Being a wardrobe stylist helped me to find them the perfect dresses to fit their individual styles, and I think they were all very pleased and excited with the outcome of their 'Baxter Wedding Day' style!
Speaking of personalities … let's meet these ladies!!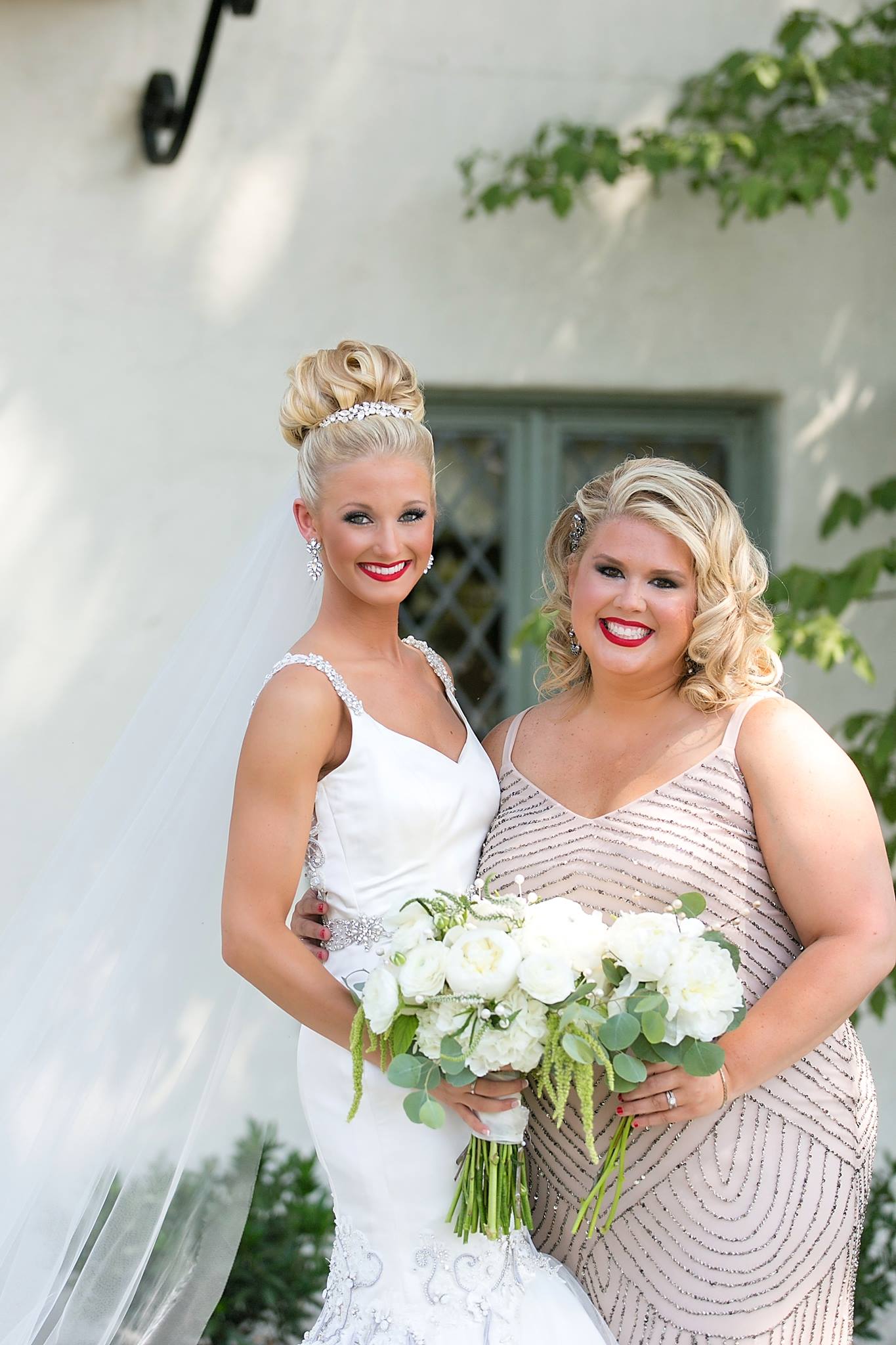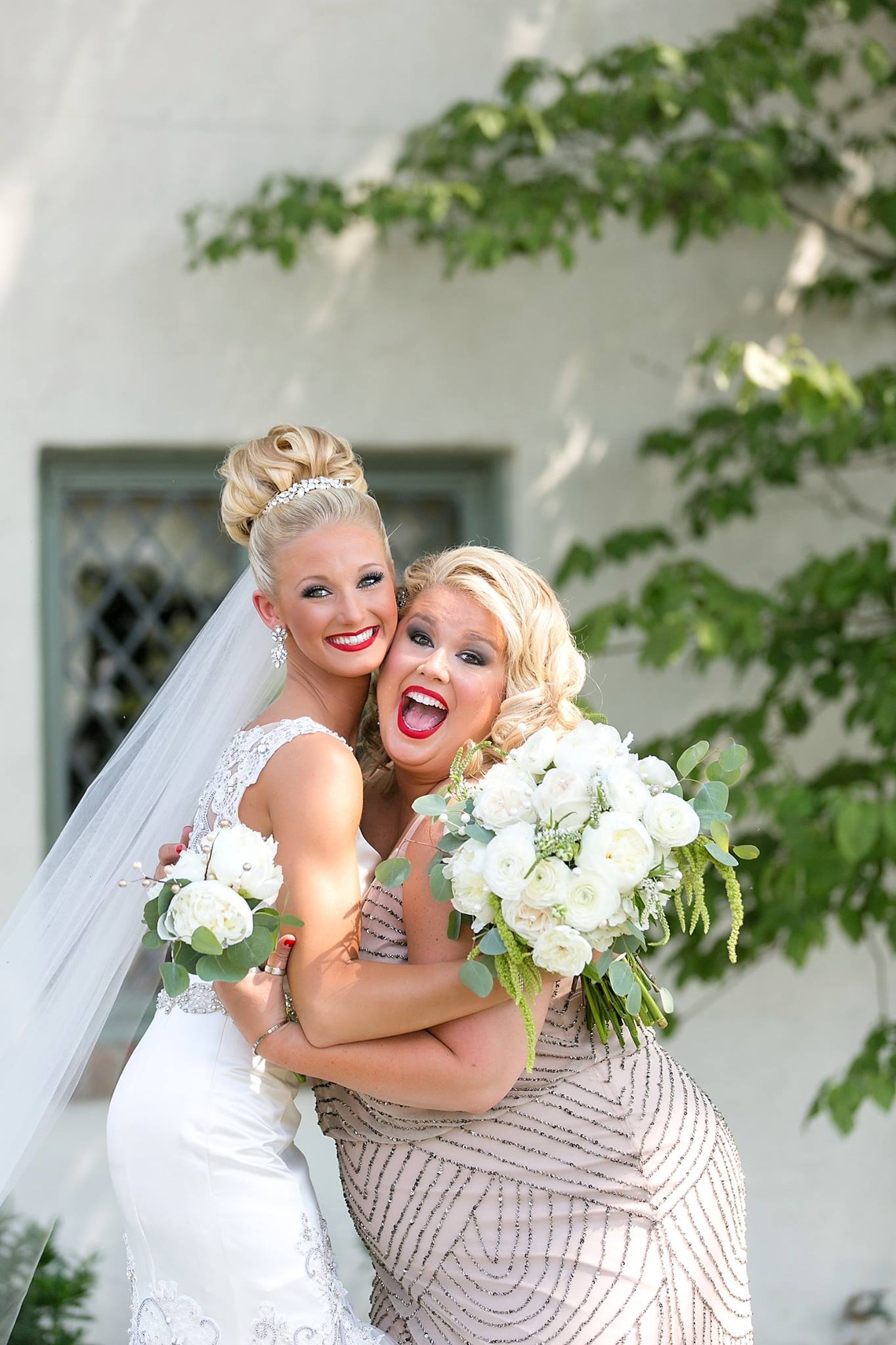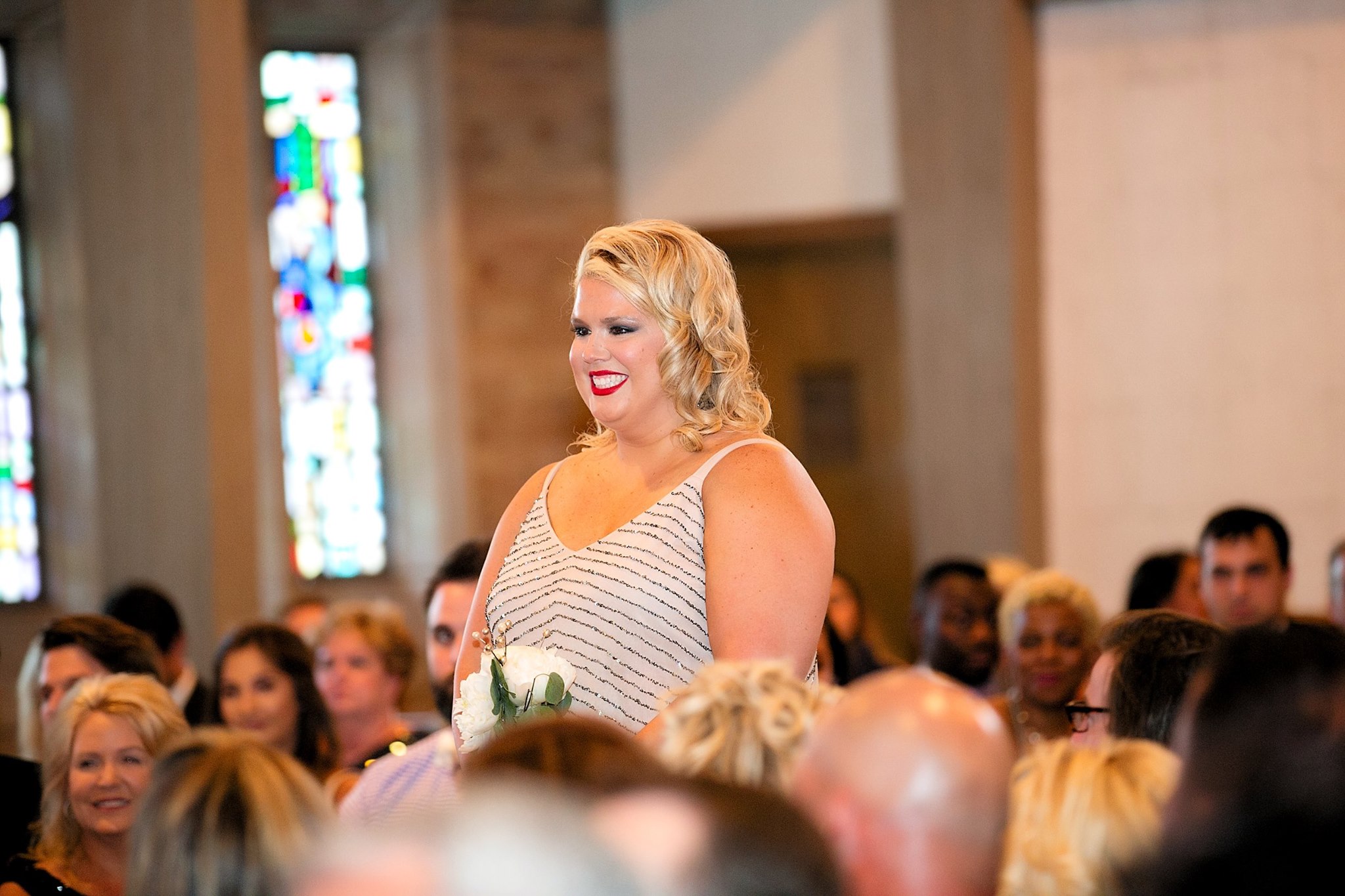 First up is my big sister, Brittany! Except I never call her that, so it's weird even typing it out, lol. She's actually known as Sis, Sissy, Sista, Moocher, Brit, Buzza, B Williams by not only me, but many others as well! She was my Matron of Honor, and I couldn't have pulled off any of this without her or our parents (that's for another blog post, another day!) … Sis is nine years older than me and is my very best friend! Some people may think our relationship is 'weird' because we are truly so close. There's just always been an indescribable bond between us that I really don't think we can even explain and no one can even understand. We have that 'mess with one of us, and get ready to see the other one's fist in your face' kind of sisterhood. Hahaha, you may be laughing but it's true. 😉
She's the one I can always count on, my role model, my second Mama, the best advice giver, REAL, hilarious, smart, so giving, generous, my own voice at times, and one of the strongest people I know. I could write 50 full blog posts on her alone and would never be able to put into words just how amazing this woman is and what she means to me.
Fun Fact: For all you cheerleaders out there, Brit is the one who taught me how to do a back handspring and a double down!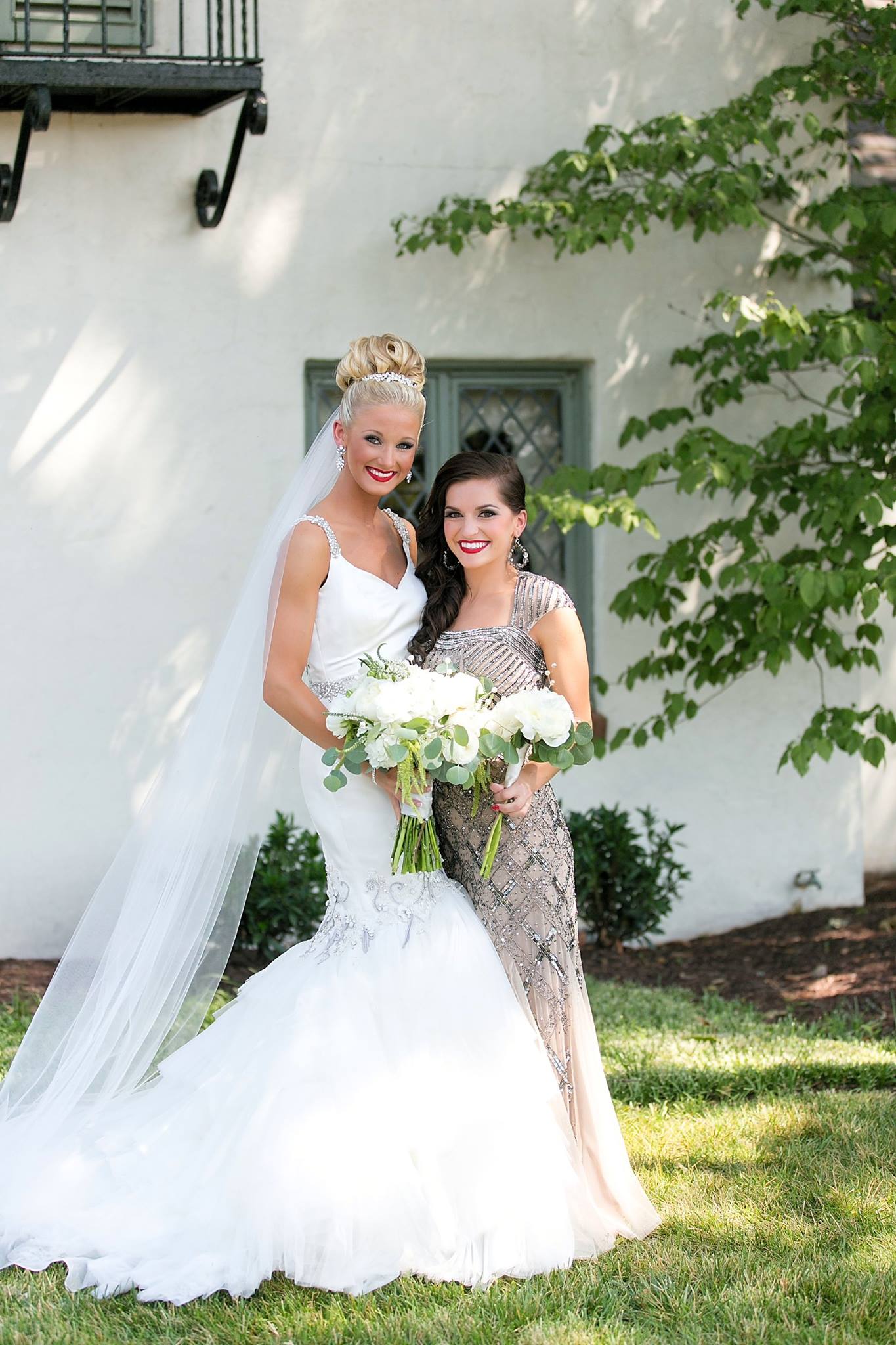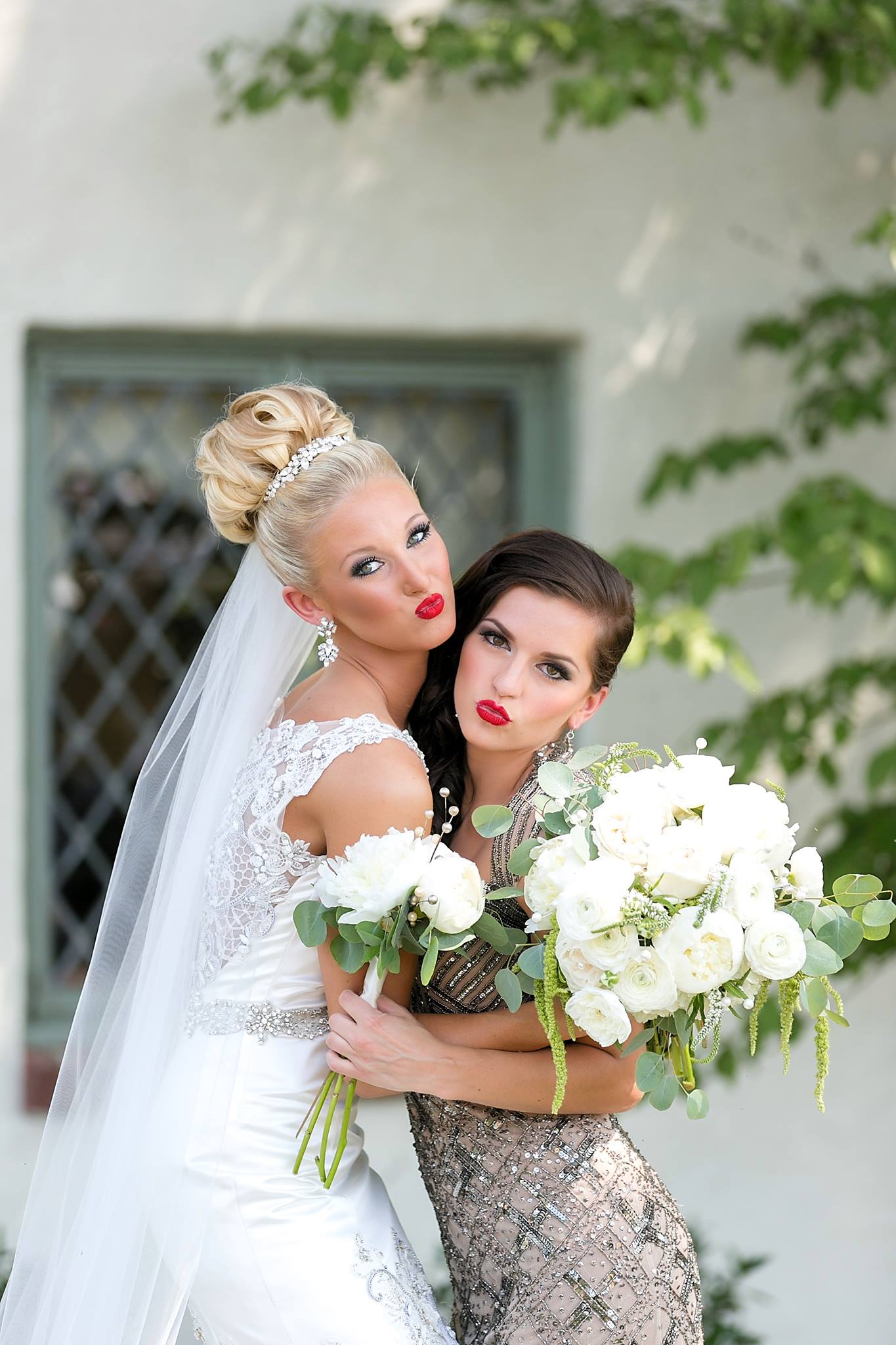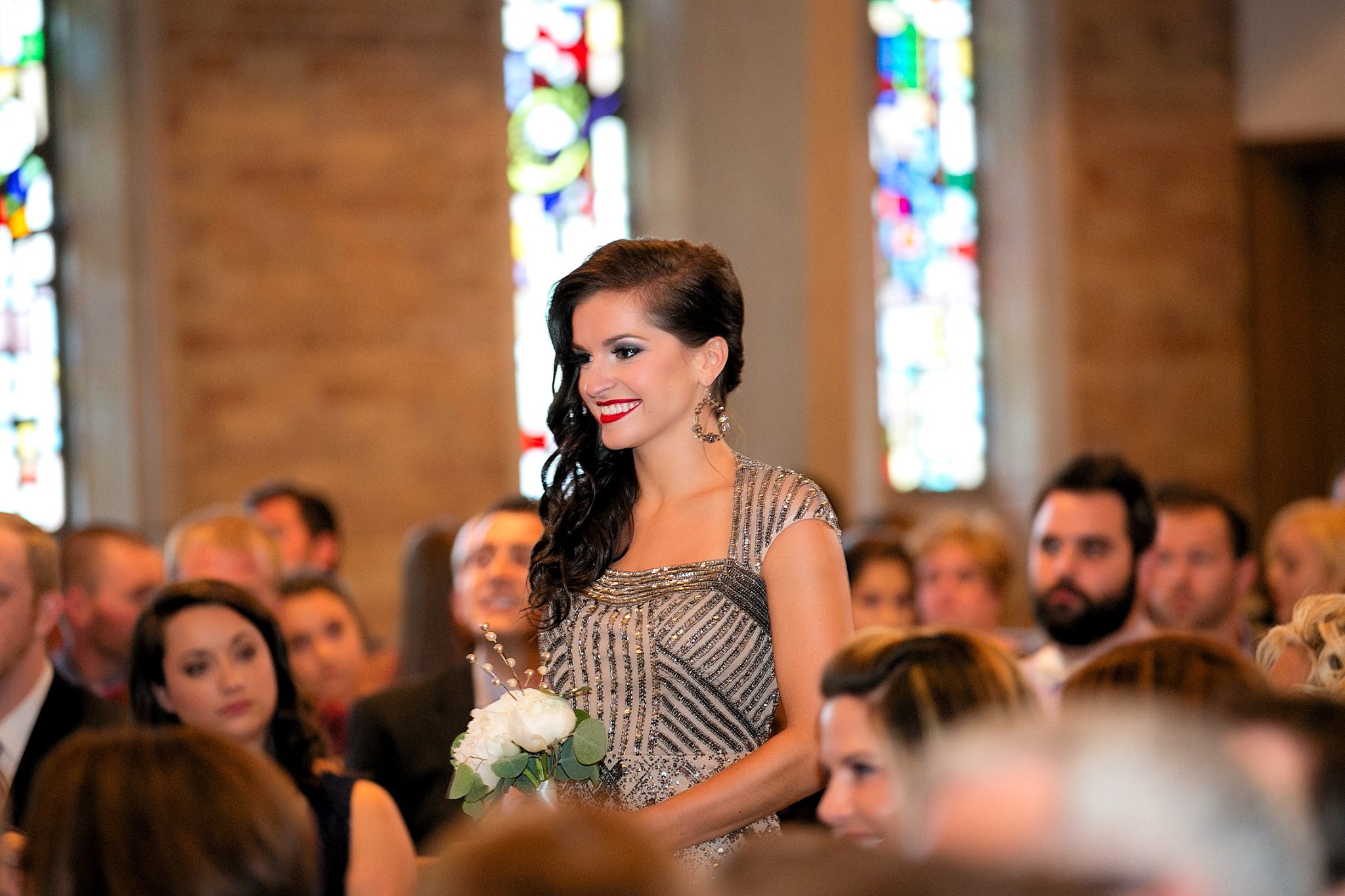 Next up is Kristen, aka Diva, Div, Blair. Kristen and I met in college for the first time at Tennessee Cheer tryouts. #GirlWithTheOrangeBow I had no idea who this person was or that she would soon become my best friend. Around the end of our freshman year and beginning of our sophomore year, Kristen and I became really close friends. We realized that we were actually so alike in so many ways, that some people may not even realize. We've always had a joke that we are always thinking the exact same thing, but Diva (who is very blunt) will always come right out and say it, lol. She's the one who can literally read my mind because chances are, she is actually thinking the exact same thing.
This friendship in particular is one where we can be so real with each other, get in a stupid argument one second and then be right back to normal in 5 seconds. Over the years, we've always had each other's backs no matter what! Kristen has such a funny, sarcastic, FEISTY, sassy & real personality, and that's the one thing that I, along with so many others, love about her!! This is one person that I know for a fact that we probably wouldn't have ever made it through our college years without each other. They always say you meet your best friends in college, and my little Div was one of the people who proved that to be true for me!
Fun fact: She may be tiny, but this girl will go CRAZY over some sour candies!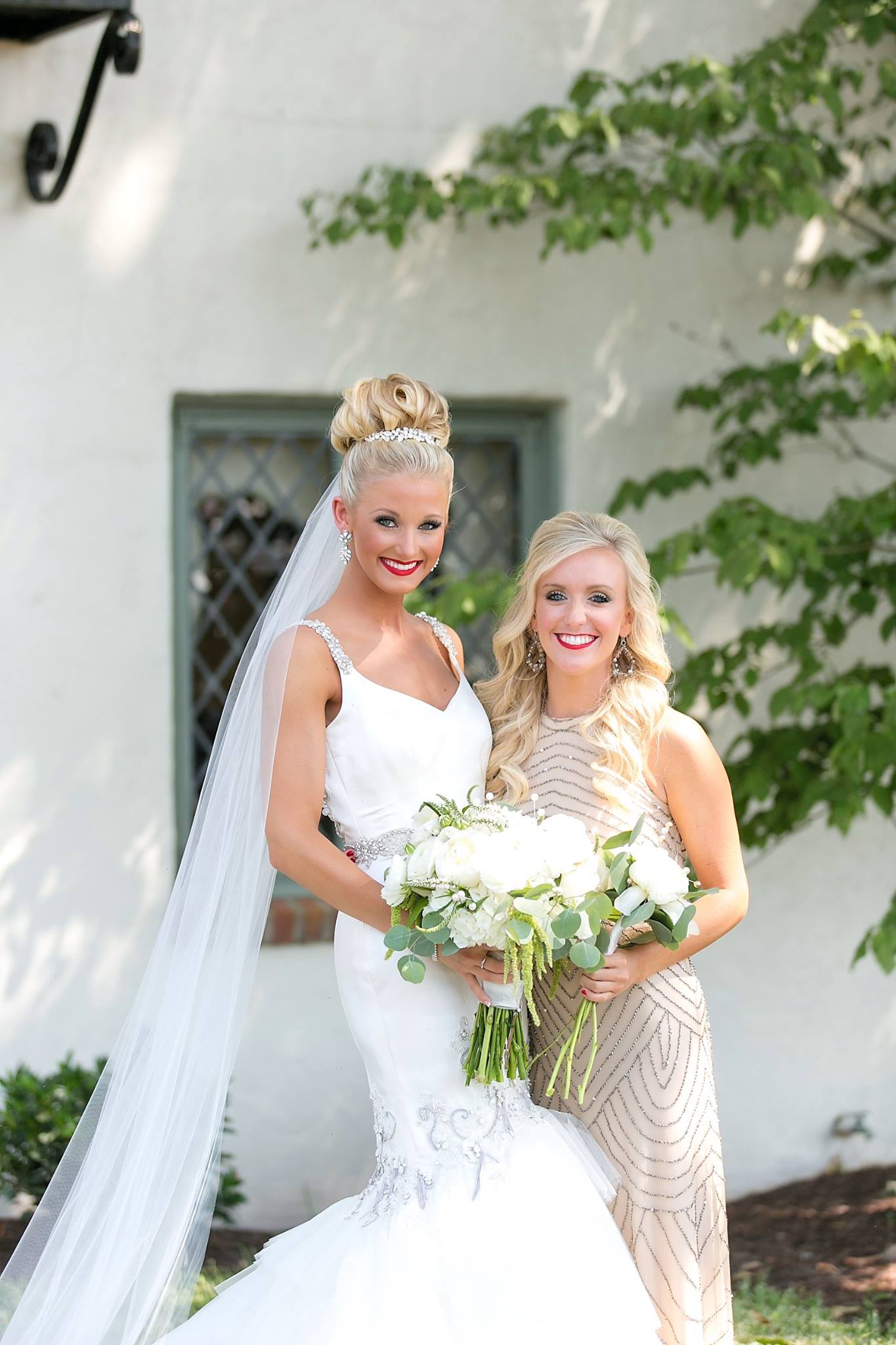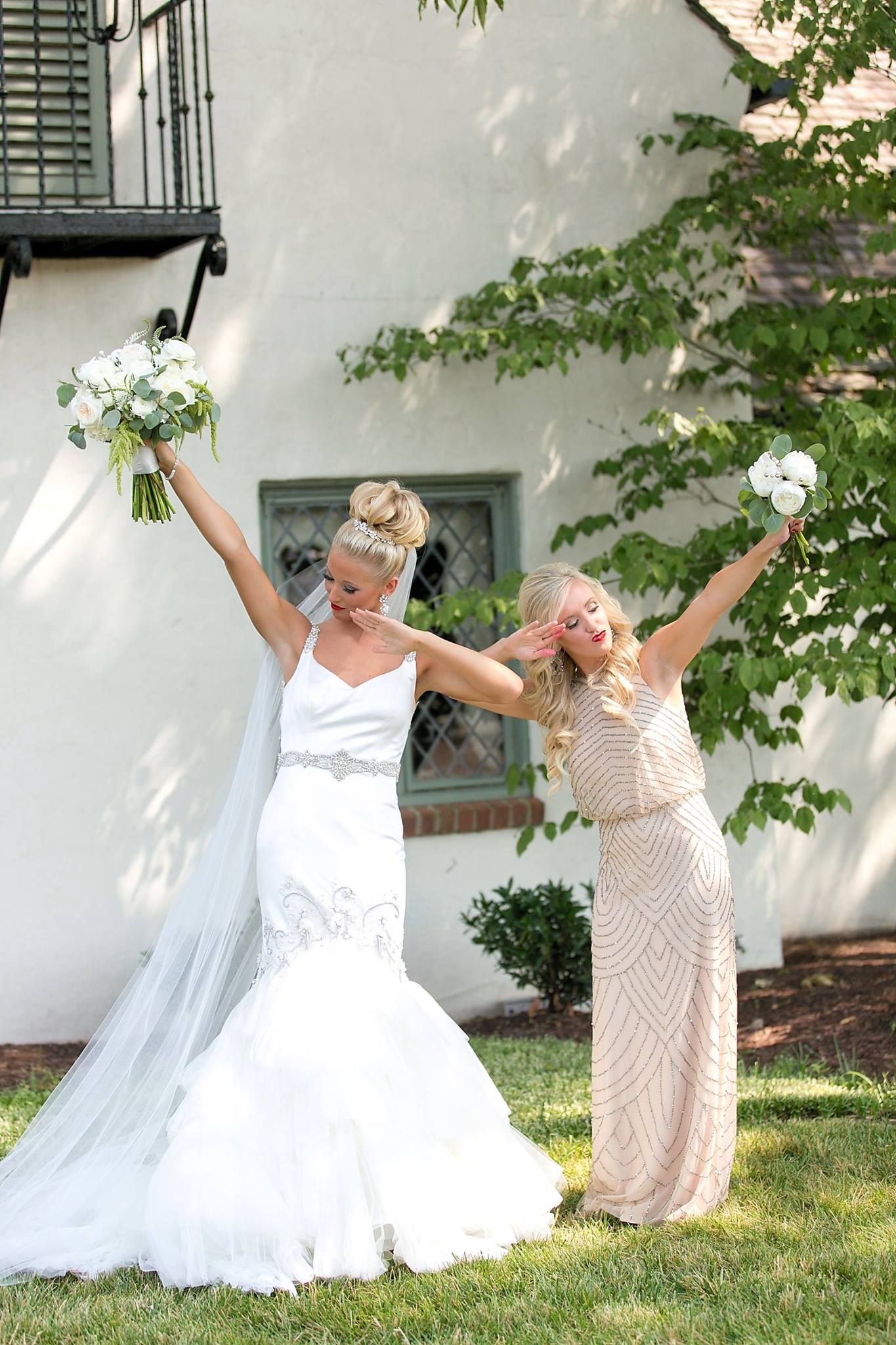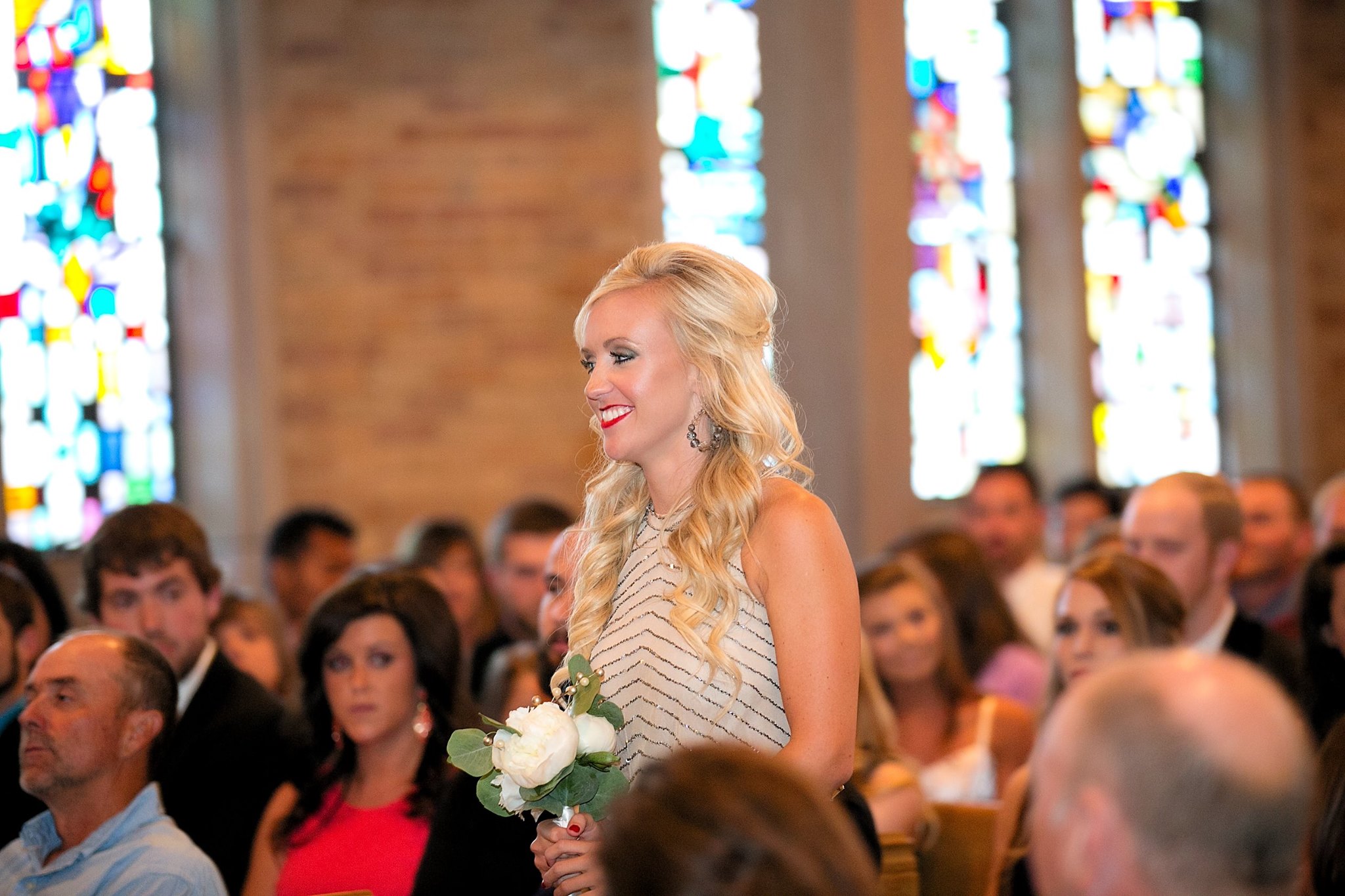 This is Elizabeth, aka Liz or Lizard, aka the Becca to my JoJo! Liz is actually my oldest friend (not meaning her age, but longest friendship). Liz and I grew up going to rival schools, however, we quickly became really great friends (and so did our moms) at a very young age when we cheered together competitively. Fast forward to high school when we had stopped cheering competitively and we were only cheering for our (rival) high school teams. Our friendship drifted apart for a little while (and there are some seriously FUNNY stories from that time, so if we're ever together, remind me to tell you!), but soon enough, we were both back together again at the gym, preparing for Tennessee Cheer tryouts. From that point on, we have been completely inseparable.
Lizard is the one person who I can always count on to have a good time! She's so fun-loving, has a great heart, is SO funny, and is one of the people who has taught me a lot about going after what I want in life. It could literally be anything – a tryout, a dream job, or even something as simple as making our way up to the front row at a concert & pretending like you belong there (because it's always more fun from the from row, right?). This girl is truly like another sister to me. We're going strong on 18 years of friendship, and I can't wait to see all the amazing plans God has for us in the coming years of our friendship!
Fun Fact: Remember when I said there's a funny story about our friendship … Long story short, this girl once rolled (TP'd) our yard when we were younger, and my dad followed their car for about an hour to soon find out that it was Elizabeth lol. More to the story but that's for another time 😉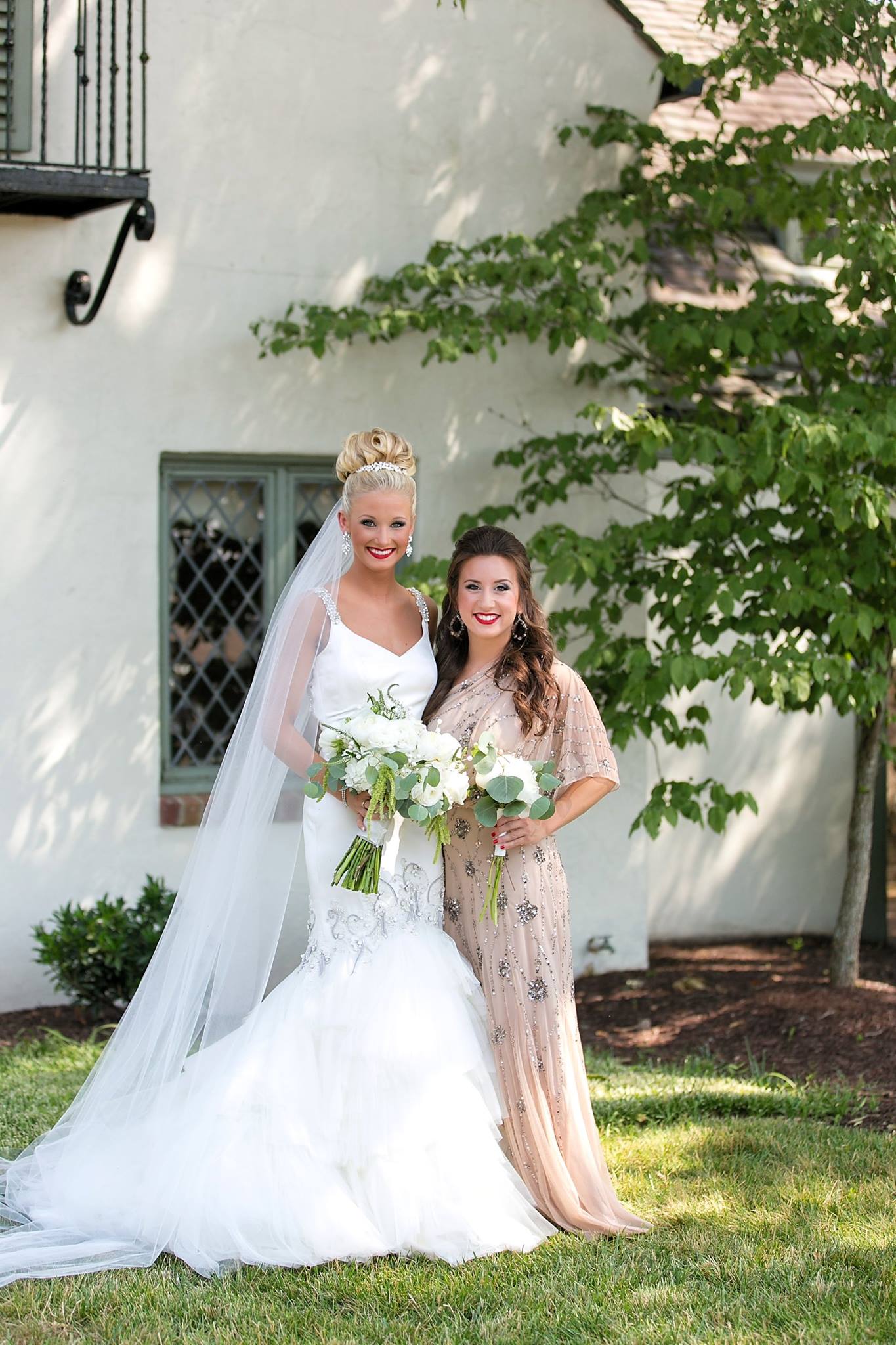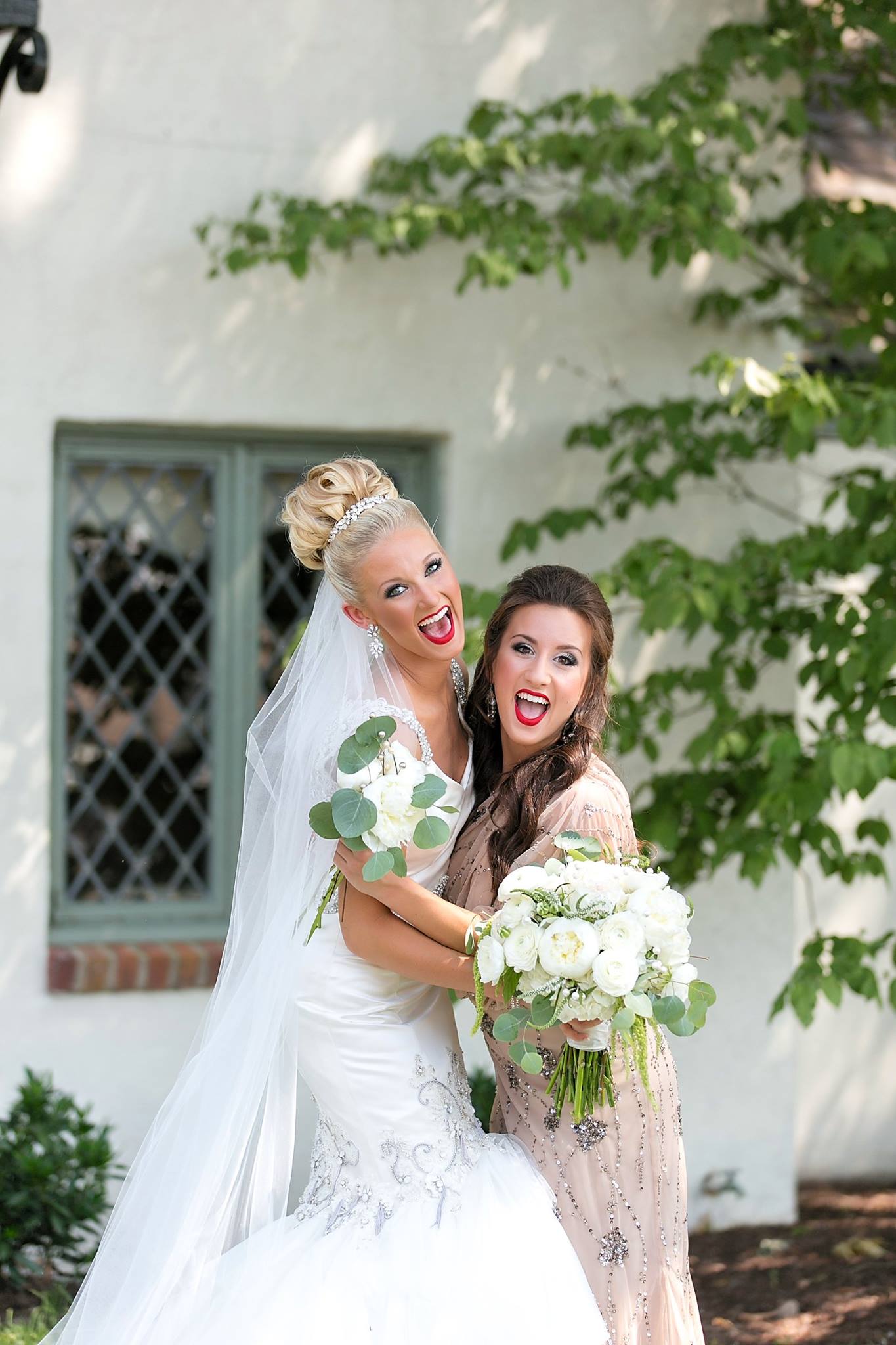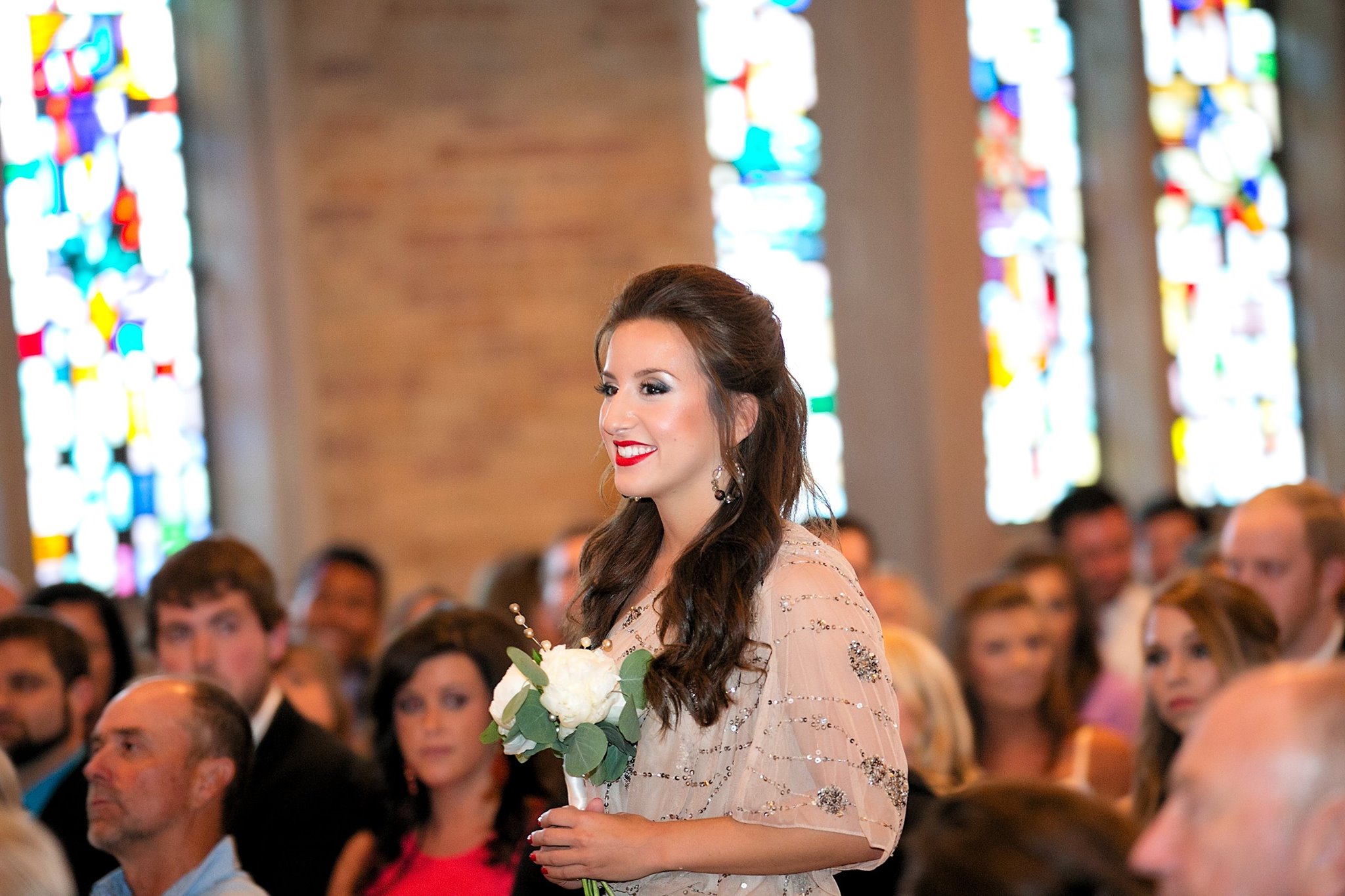 Next up is Hana Shea, aka Hana Banana or just simply put, Hana! Similar to Liz, I've actually known Hana for a long time. She went to the same school as Elizabeth growing up, so again, we all went to rival schools. I remember meeting Hana for the first time at a middle school basketball game. We always talked with each other at games throughout middle and high school, but it wasn't until our senior years of high school that we got really close. Hana and I were preparing for TN tryouts (you're going to get tired of me saying that by the end of these intros, I promise lol) … so we would always go to the cheer gym almost every night throughout the week to practice and stunt around with some of the current UT cheerleaders. During that time, our bond grew so strong and from then on, all throughout college and to this very day, Hana has always been one of my very best friends!
Anyone who knows Hana would describe her as carefree, likes to have a good time, easily amused lol, a fun person to be around, outgoing and bubbly! I always know that I can count on her to make me smile and laugh any time that I'm around her, which is such an important quality to me in any relationship that I have with someone. Hana was also my roommate for part of our college years, so we of course grew even closer during that time.
Fun Fact: Hana loves animals more than any other person that I know. Show her even a pic of a bug and I promise you'll get an 'AWWW' from her .. okay maybe not a bug, but anything else!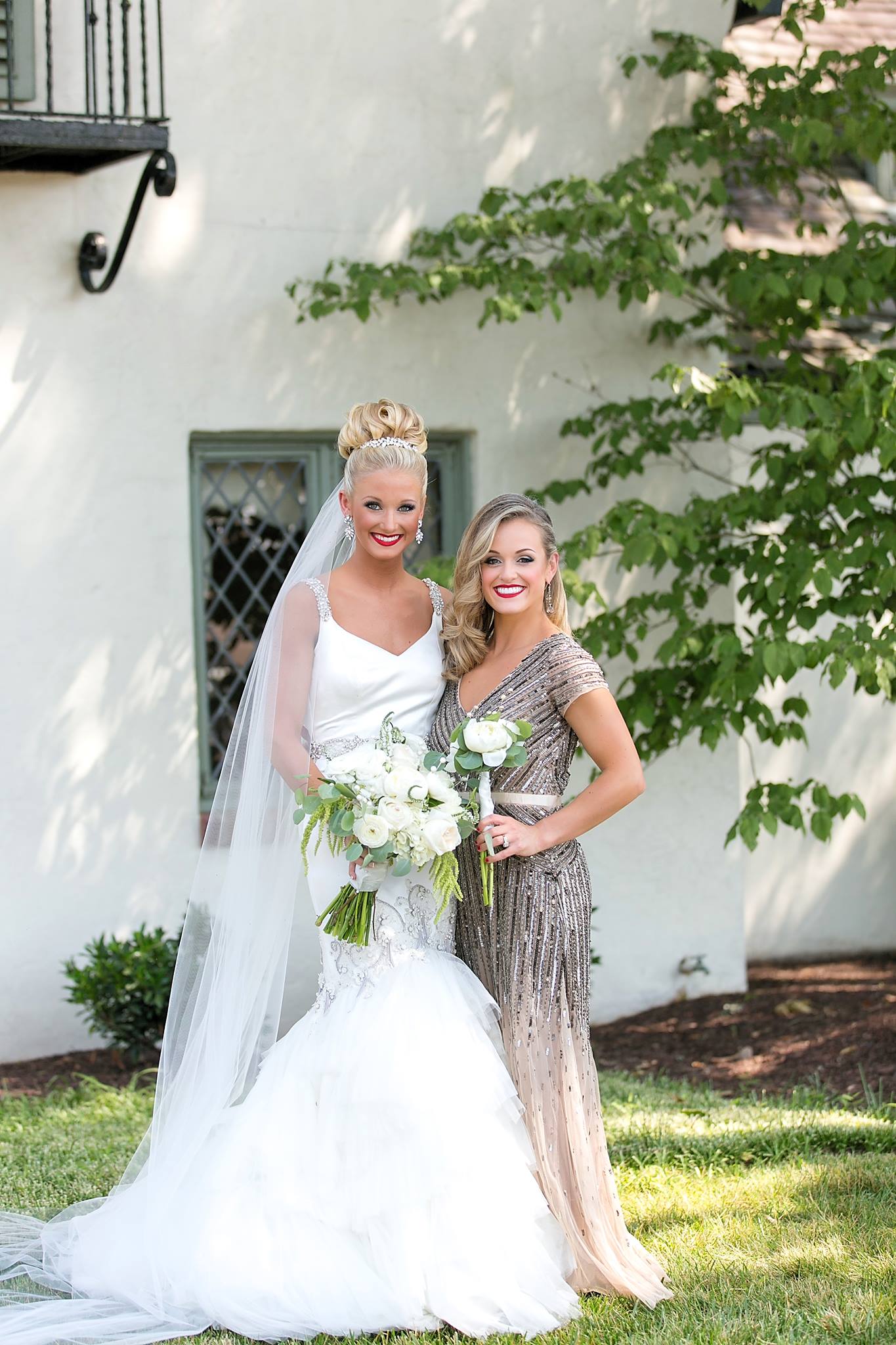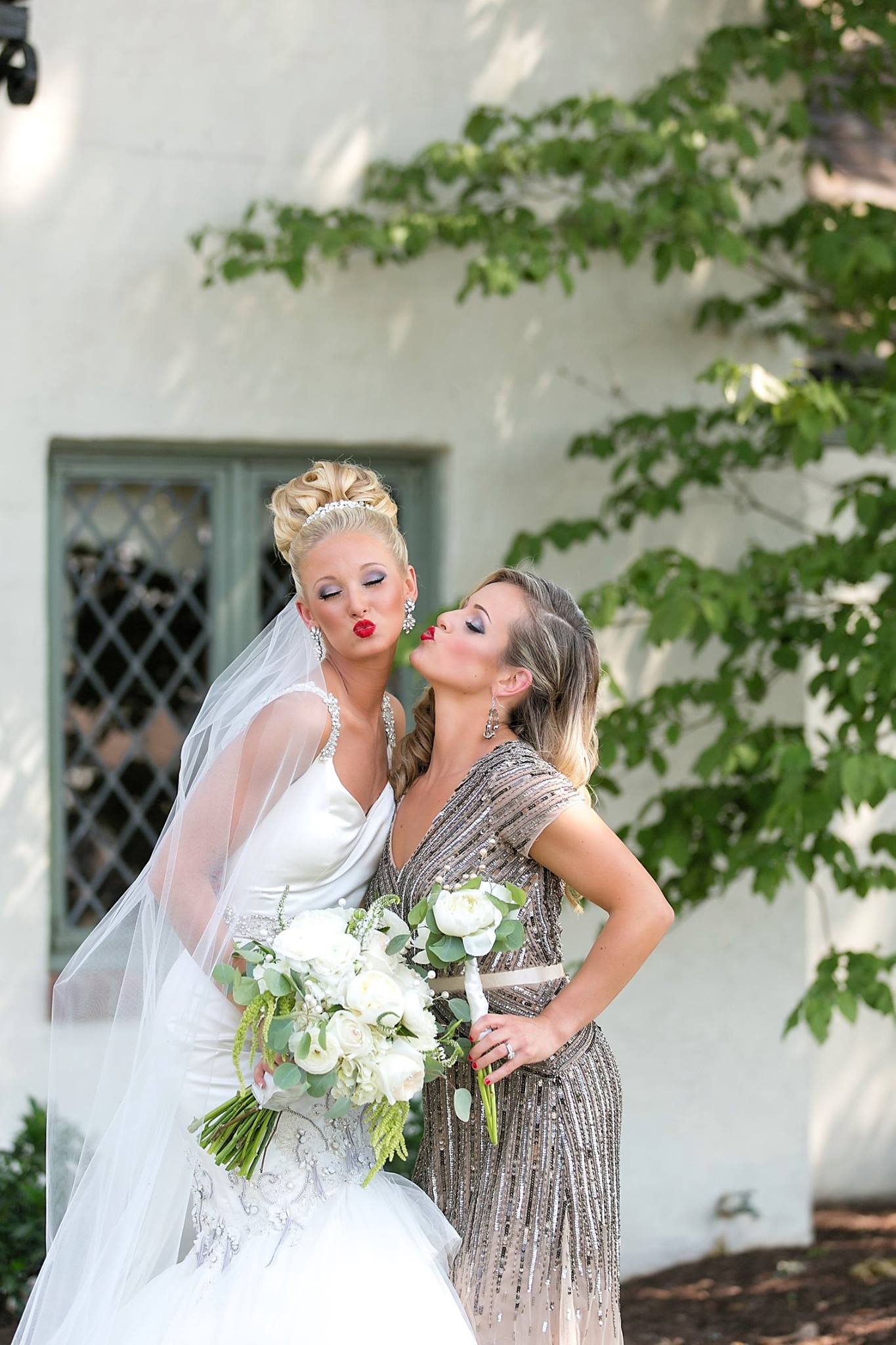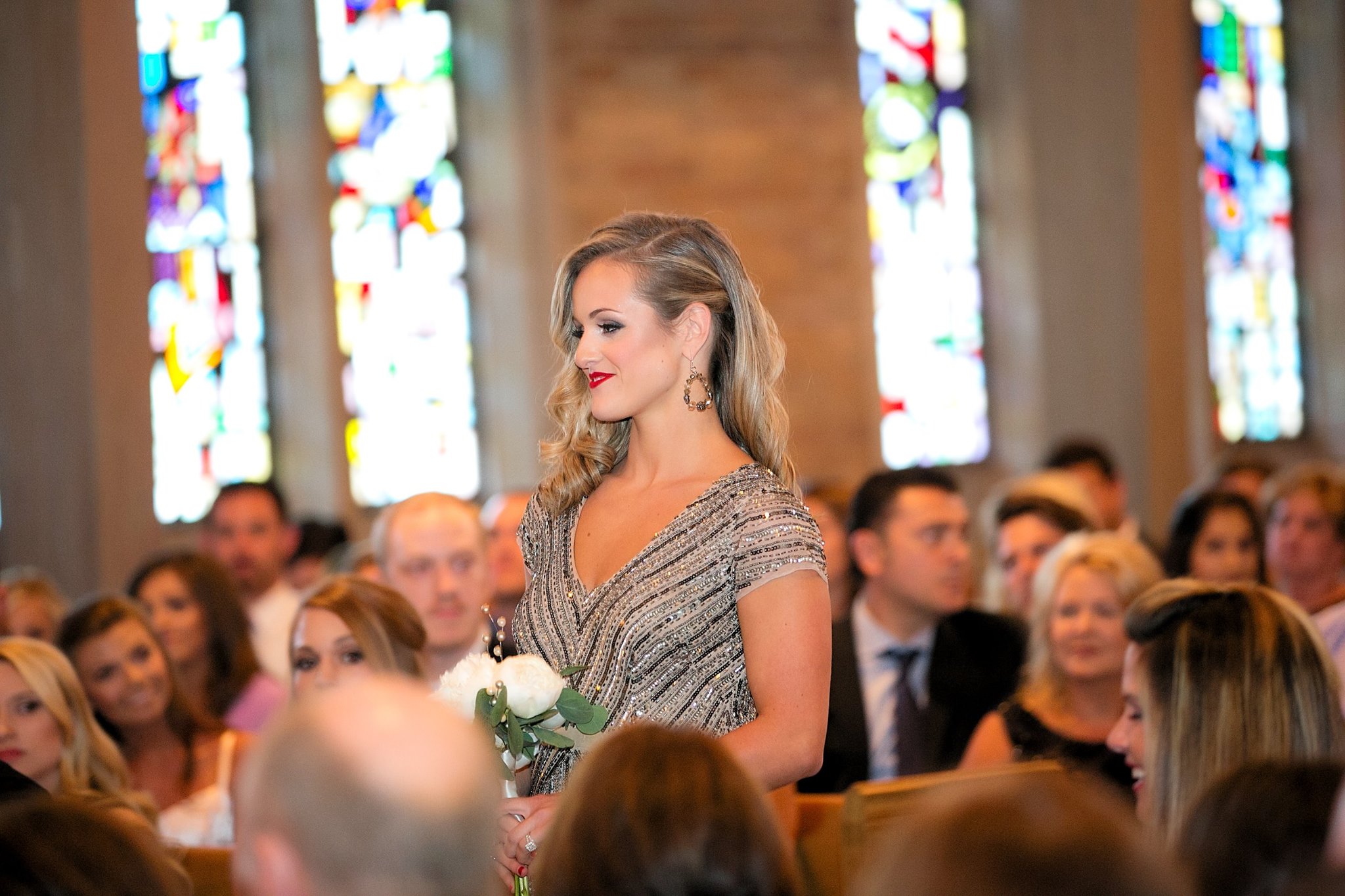 Rachel, Rach, Rachy, Mrs. Jones … This girl is one funny chick. I met Rach (can you guess?) when preparing for UT tryouts, and we instantly clicked. She was in a stunt lesson with TJ (who was then just a friend of mine – crazy to look back that far ha!) and I had a stunt lesson with him after Rachel. So, I got there and instantly, Rachel comes out with the sweetest compliment – first time I'd ever met her. I knew she had a heart of gold from the start. After making the team, we drew even closer & fast forward a few years later, Rach was asking me to stand by her side on her wedding day. 🙂 We got her married off to an amazing guy, Jordon, and then about a year later, she was standing by my side on the biggest day of my life!
Anyone would describe Rachel as FUN, funny, country (I'm right there with her), such a hard worker, honest, and an amazing wife.
Fun Fact: Everyone will also soon be describing my sweet Rachy as a Mommy!!! Rachel and Jordon just announced that they are expecting little Baby Jones to be here this November! Congrats sweet friends!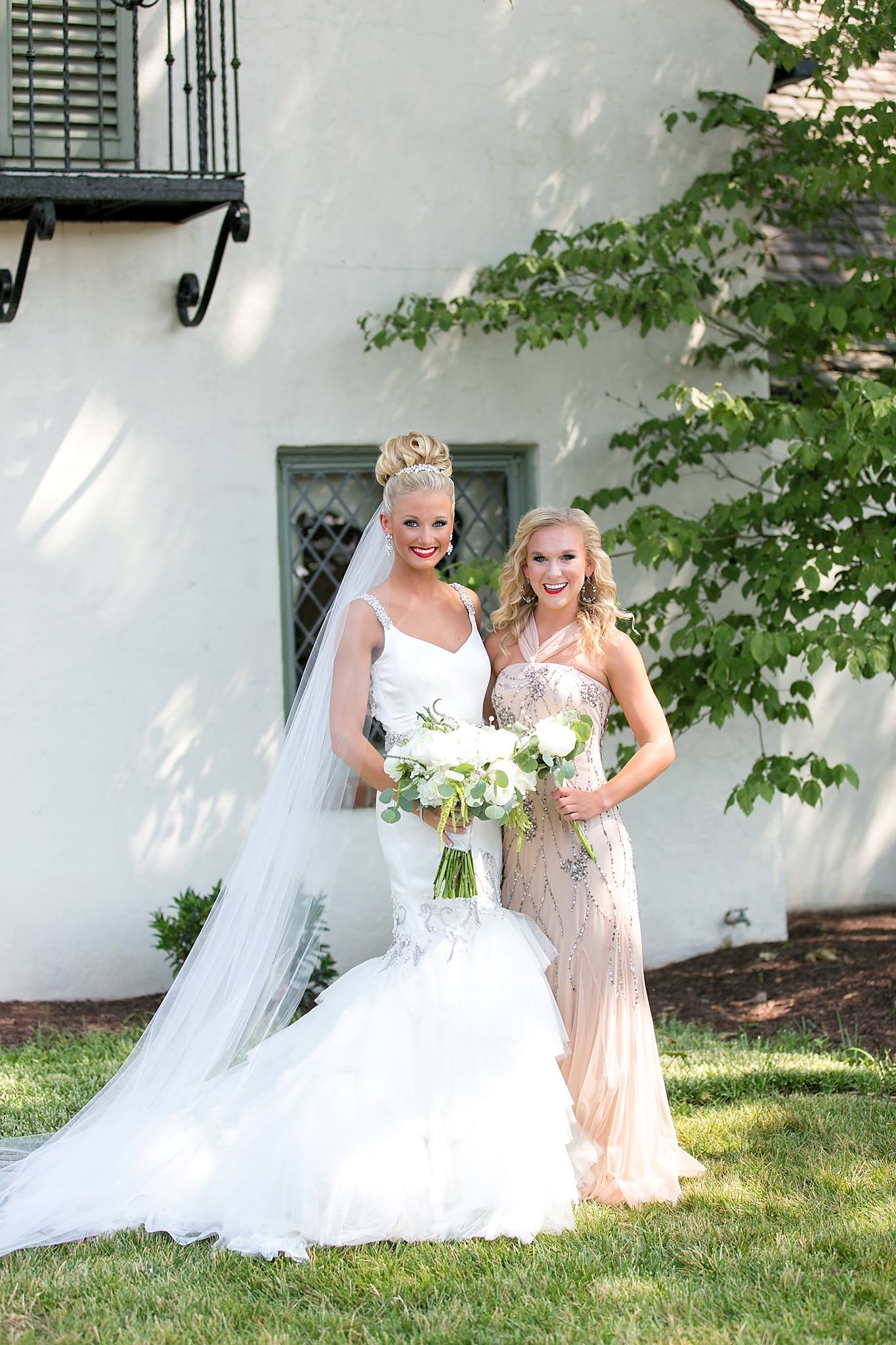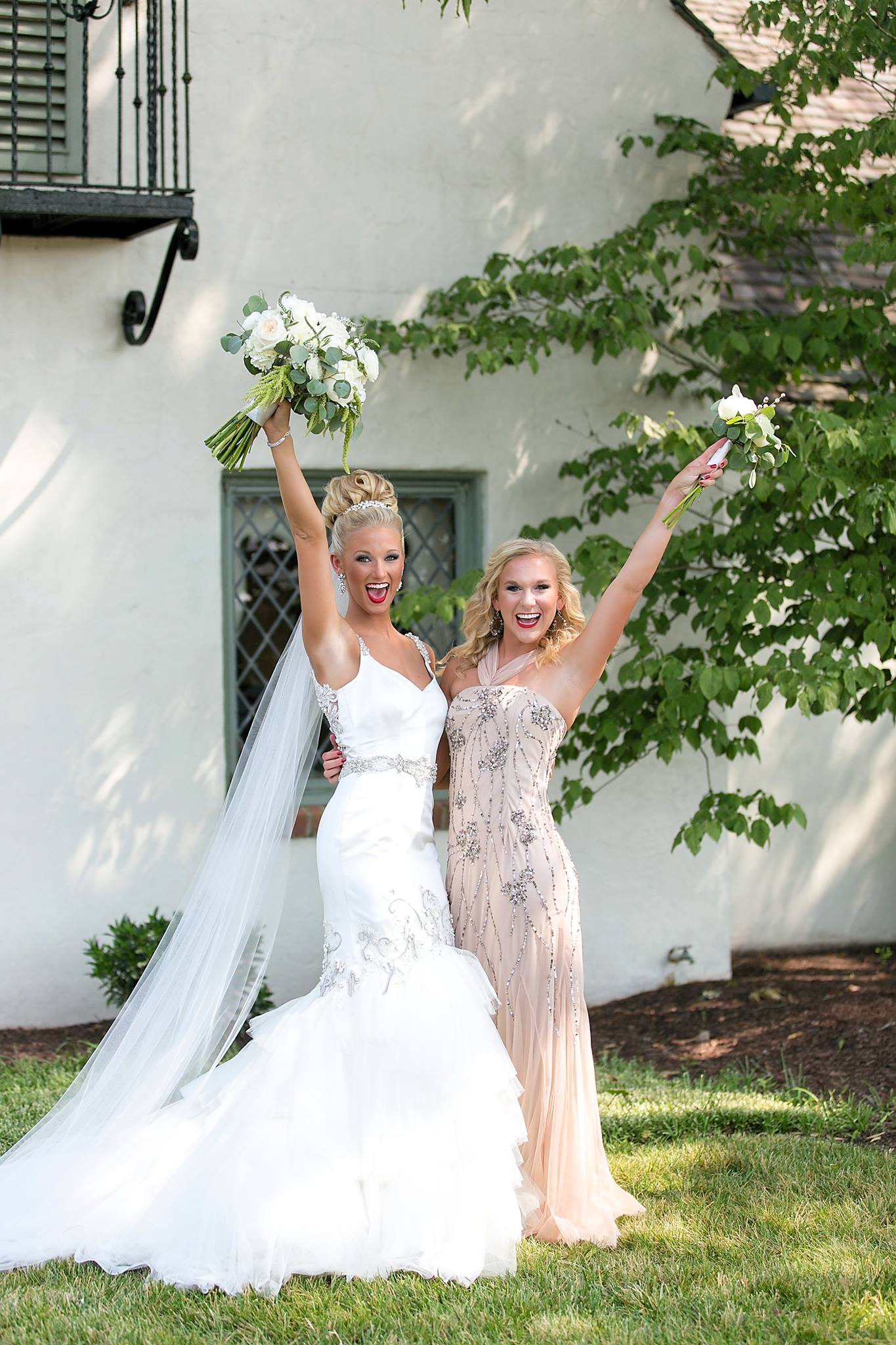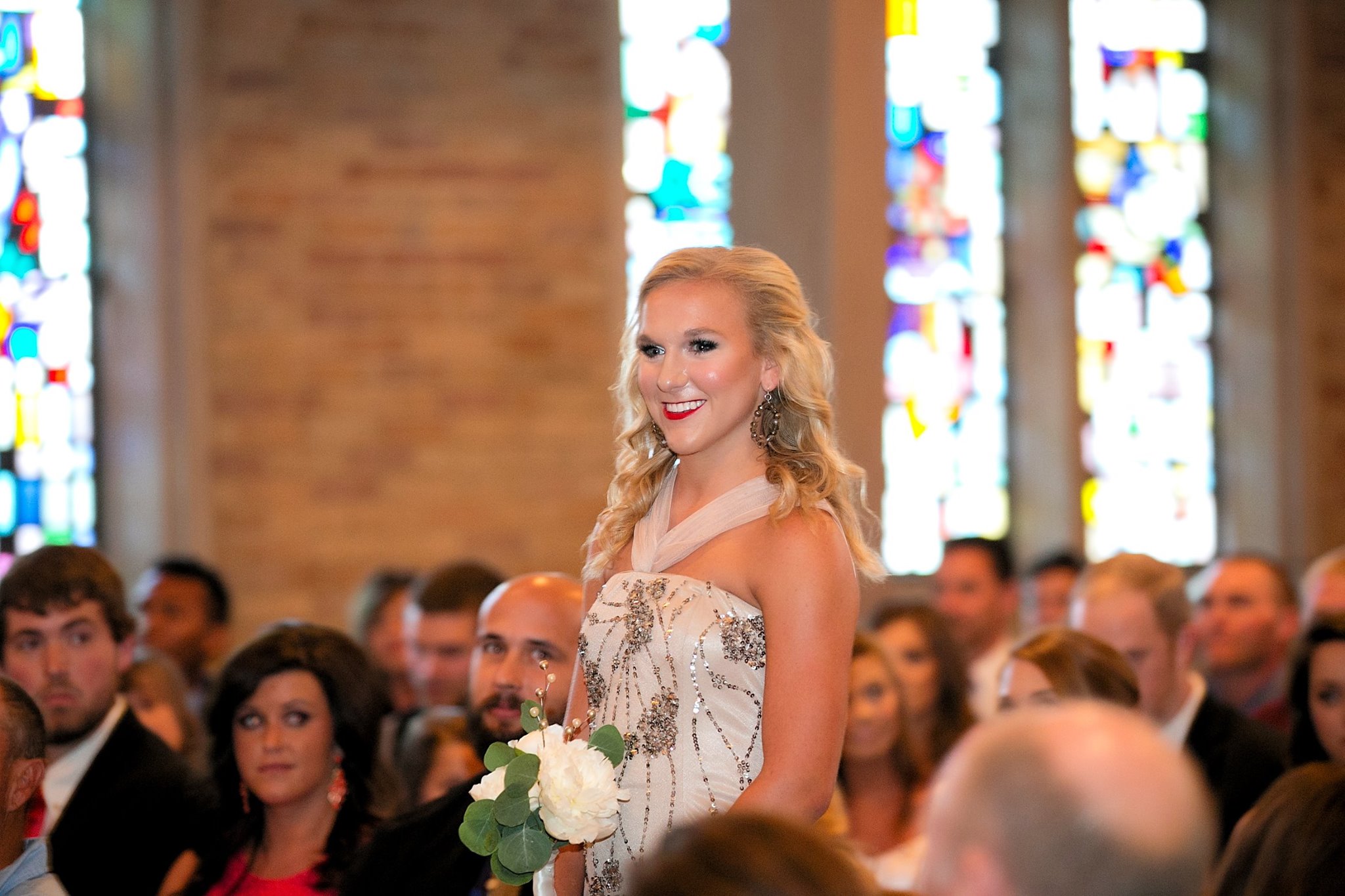 Caroline, aka Carol or Carolynnie, is seriously one of the funniest people you will ever meet. To some, she may seem reserved at first, but once you get to know her, you will be working on your 6 pack from laughing so hard. As I type this, I'm literally sitting here laughing to myself while thinking about all of the funny stories we have together! We met during our junior year of high school at a local organization where we were both members, soon to find out that we were both (you guessed it!) practicing to tryout for UT Cheer.
This is another friend that I can always just look at, and instantly, she knows what I'm thinking about. Let's just say we got a lot of practice with this throughout cheering in college, haha! Our friendship is one of those where you could go without seeing each other for months and then you link back up right where you left off, and it's like you haven't missed a beat! Caroline is someone who is so funny, goofy and knows how to let loose & have a good time, but is also so smart & intelligent, and I've always admired that.
Fun Fact: This girl has a laugh that is so contagious!! If you know Caroline, you can attest to this!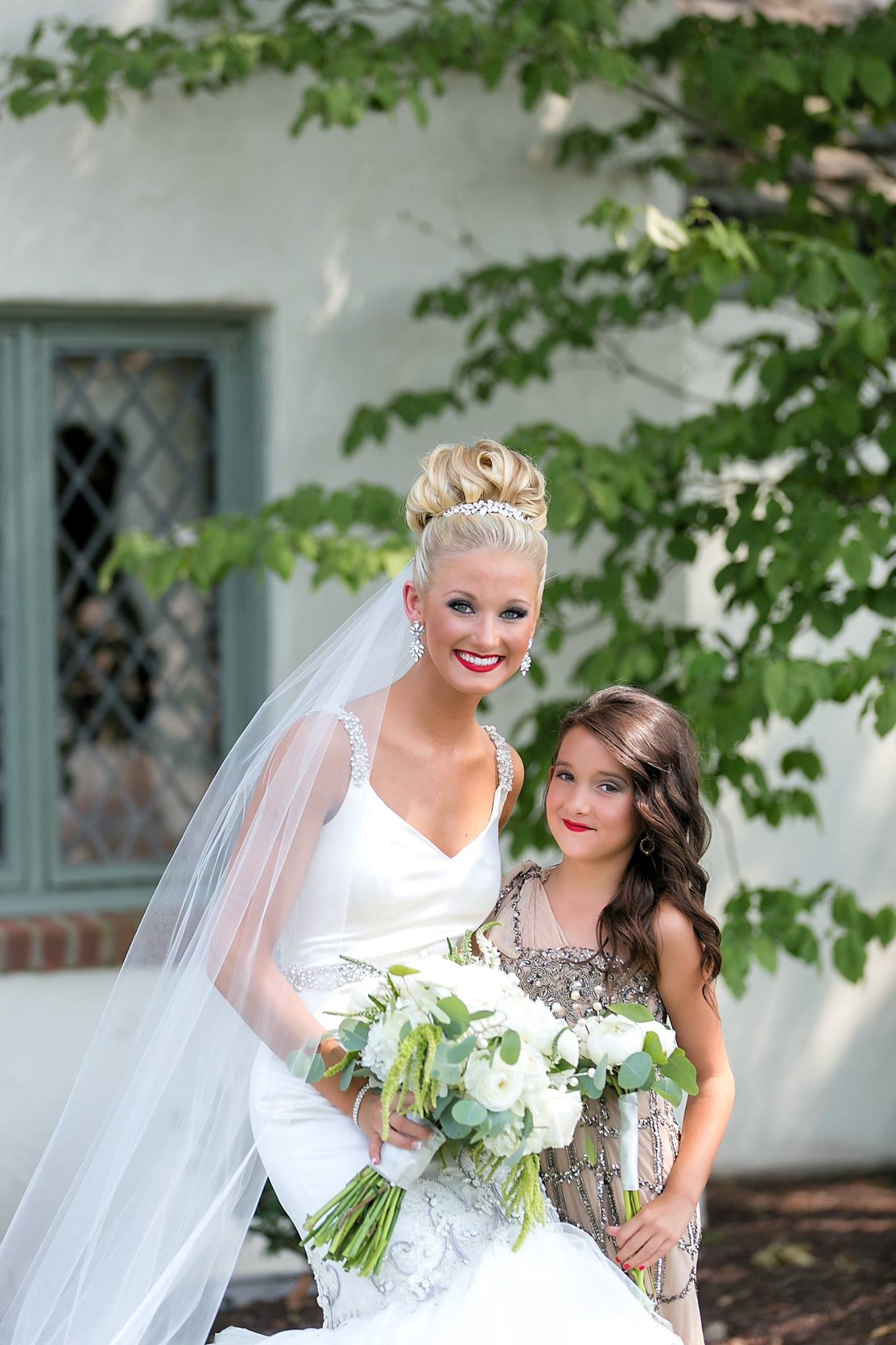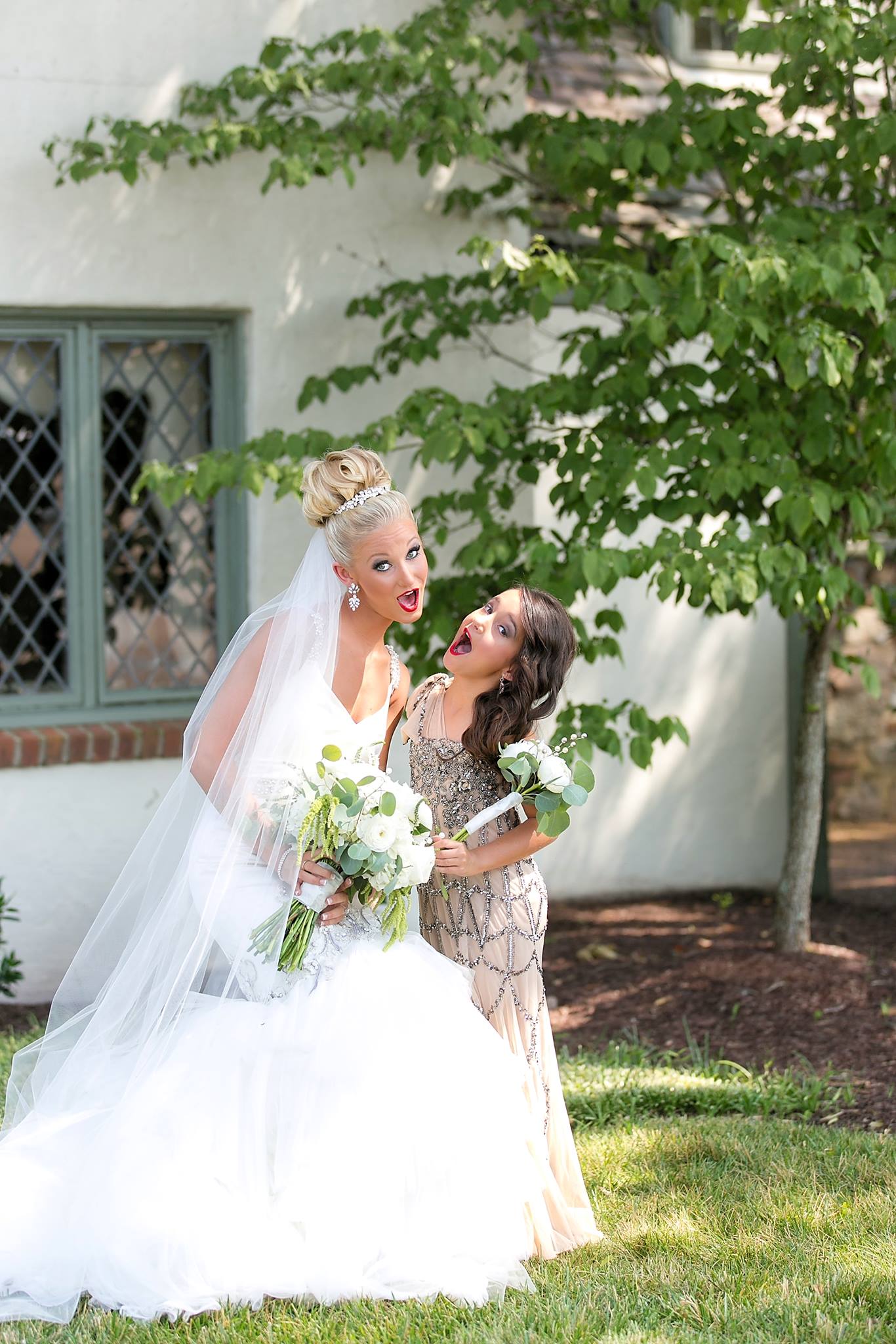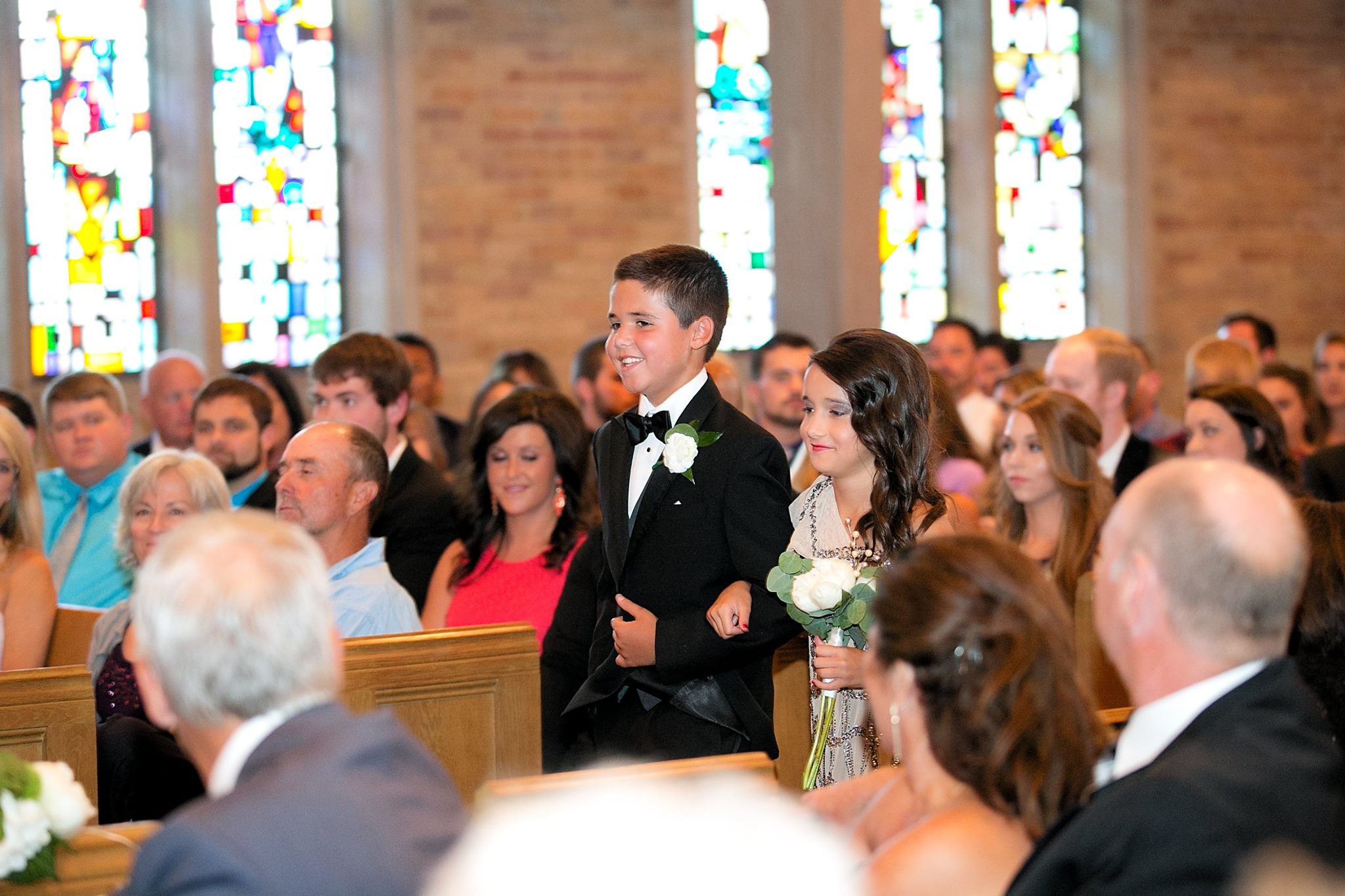 This is Willow, aka Willow Mae, aka my mini me, aka a future fashion blogger herself (Read her guest post HERE). She was one of our Junior Bridesmaids. I met Willow when she was only 5 years old, and I've grown closer to her ever since. Her twin brother, Walker, (pictured above) is just as special to me! I babysat them for years when they were younger, and a special bond grew between the three of us that I wouldn't trade for the world. They are like the little brother and sister that I always wanted and never had. TJ and I always say that we would love to have twins someday if they turned out like W&W.
Willow has one of the most kind hearts of any young ladies out there, which I am so proud of! She not only is beautiful on the outside but is even more beautiful on the inside, which is something special to be able to say this day in time. She is so talented and loves fashion, acting, singing, ballroom dancing, and cheering … be on the lookout for this girl because she will be famous one day. 😉
Fun Fact: Before I met Willow Mae for the first time, I dressed up as Barbie for her 5th (Barbie-themed) birthday party. For the longest time, when I babysat the twins, they would both continue to call me Barbie & would ask questions about Ken all the time. It was so sweet!!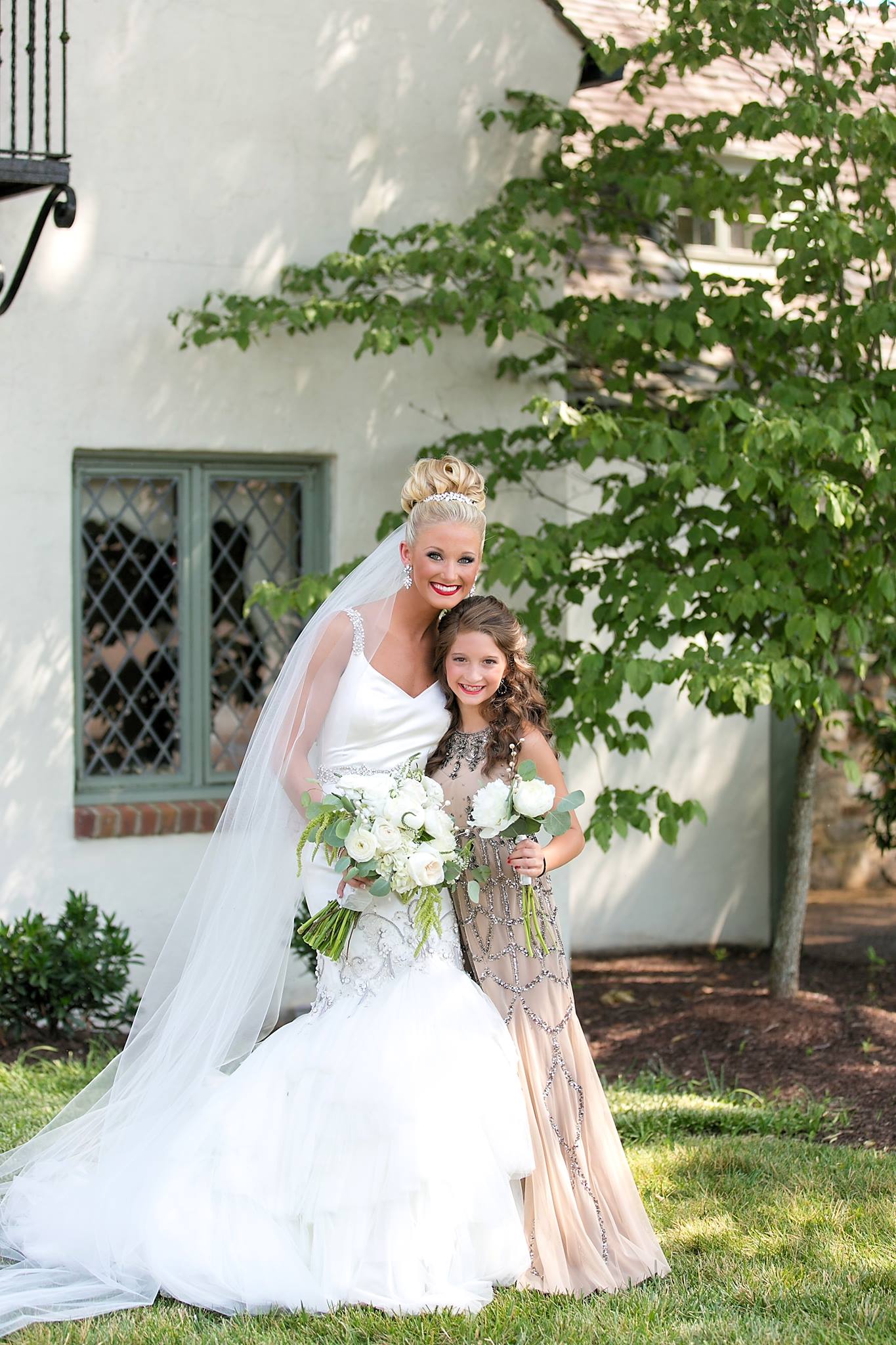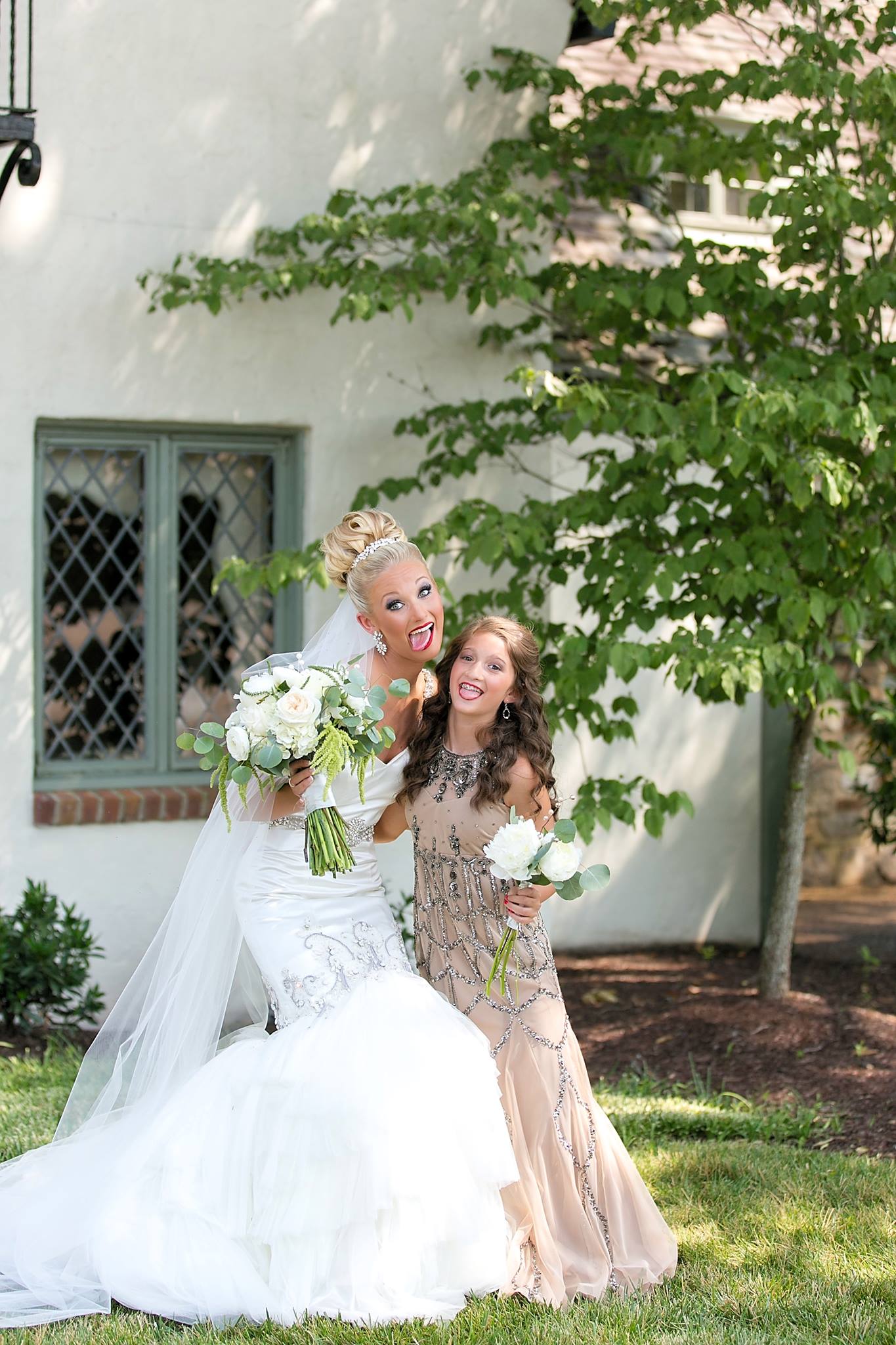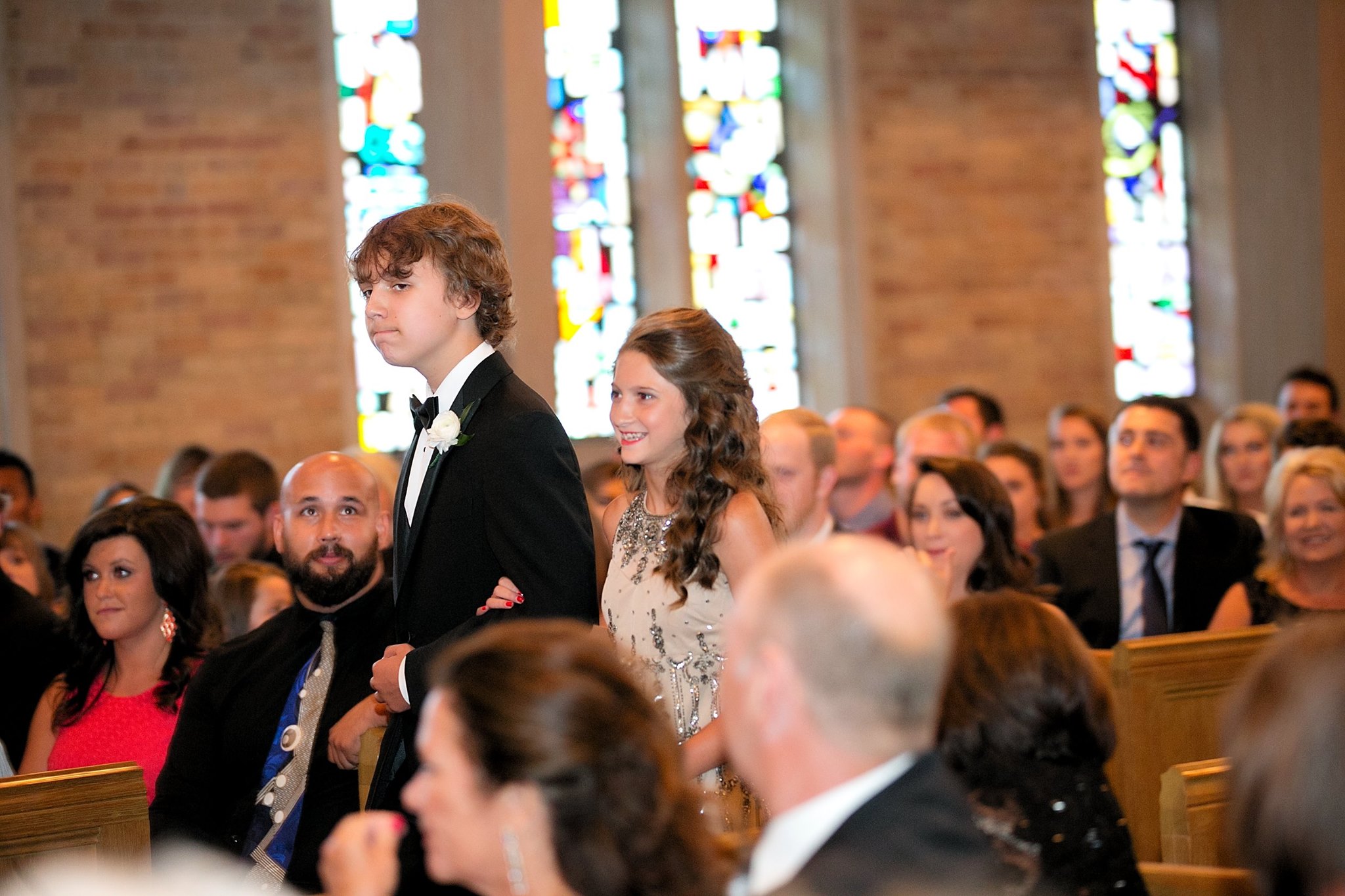 Next up is Mollie Kate, aka Molz, MK, Mollie! She was our other Junior Bridesmaid, and she has such a sweet spirit. Mollie's dad is TJ's cousin, but ever since the first time Teej introduced me to Mollie Kate and her whole family, I've just seen them as my own family too (even before we were married)! I'm so thankful for them welcoming me into their family with open arms! Mollie and her little sister, Maycie, are two of the most precious girls that you will ever meet. Mollie is being escorted by my cousin, Cade, who I'll talk about in the next Wedding Wednesday post!
Anyone who knows Mollie would say that she is so generous and kind, is very smart & athletic, and is so beautiful inside & out. She is one of the sweetest, most caring young ladies that you'll meet, and you can always count on her to greet you with a huge hug and the biggest smile!
Fun Fact: Mollie has attended the Lady Vols Basketball Camp for years and has gotten to meet the coaches and so many of the well-known women's basketball players. Be on the lookout for her because she may be out there playing one day!
*Another fun fact: Both of our Junior Bridesmaids were small, so it was super hard to find the perfect dresses for them that would match the older girls. Therefore, we got them two of the same adult size Adrianna Papell gowns and had my seamstress (who is incredible — Sandra G's Alterations) basically remake the two dresses so they would each look like different styles and fit the juniors perfectly. She did such a great job, and it all turned out to be even better than I visioned it in my head.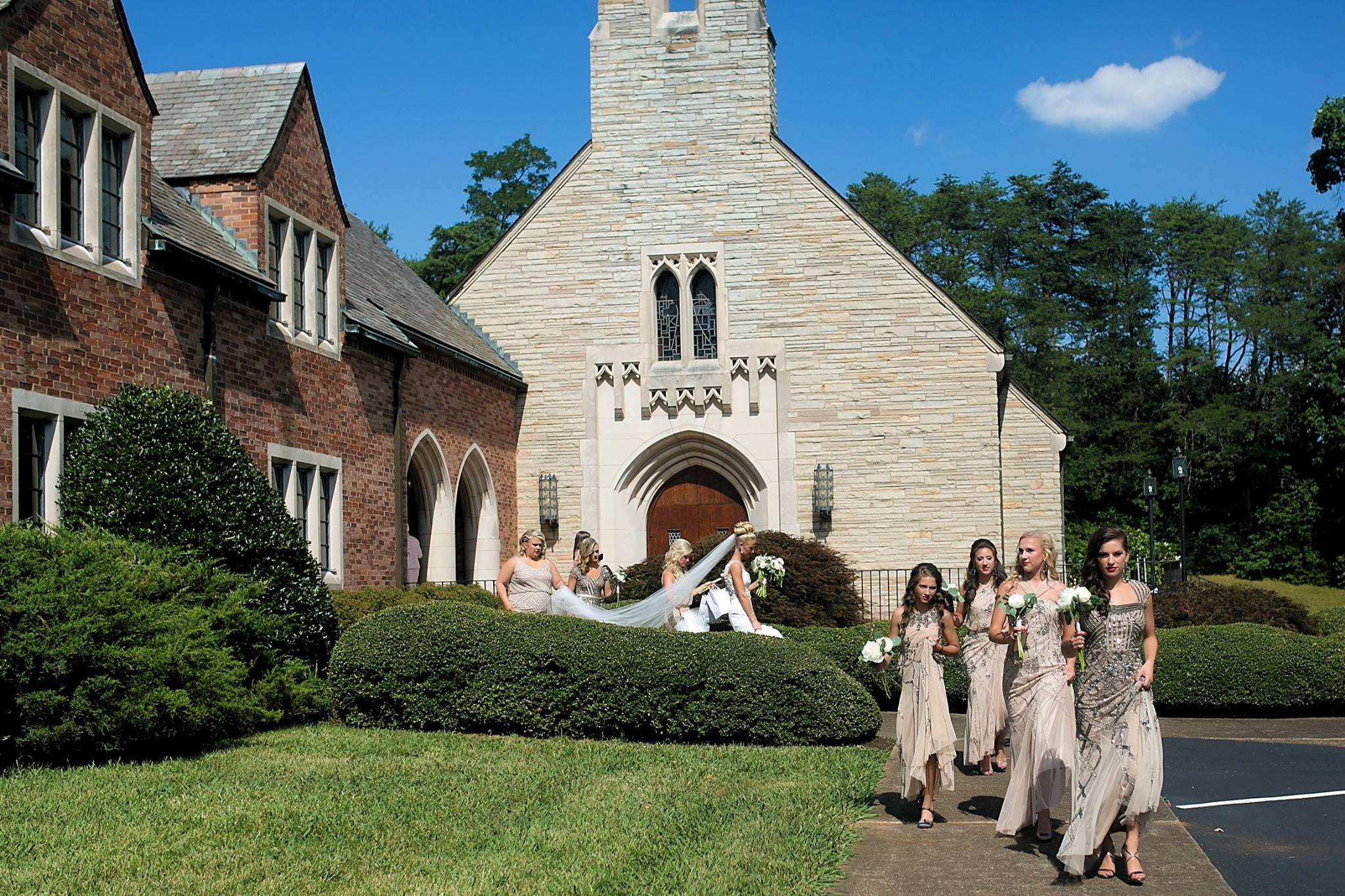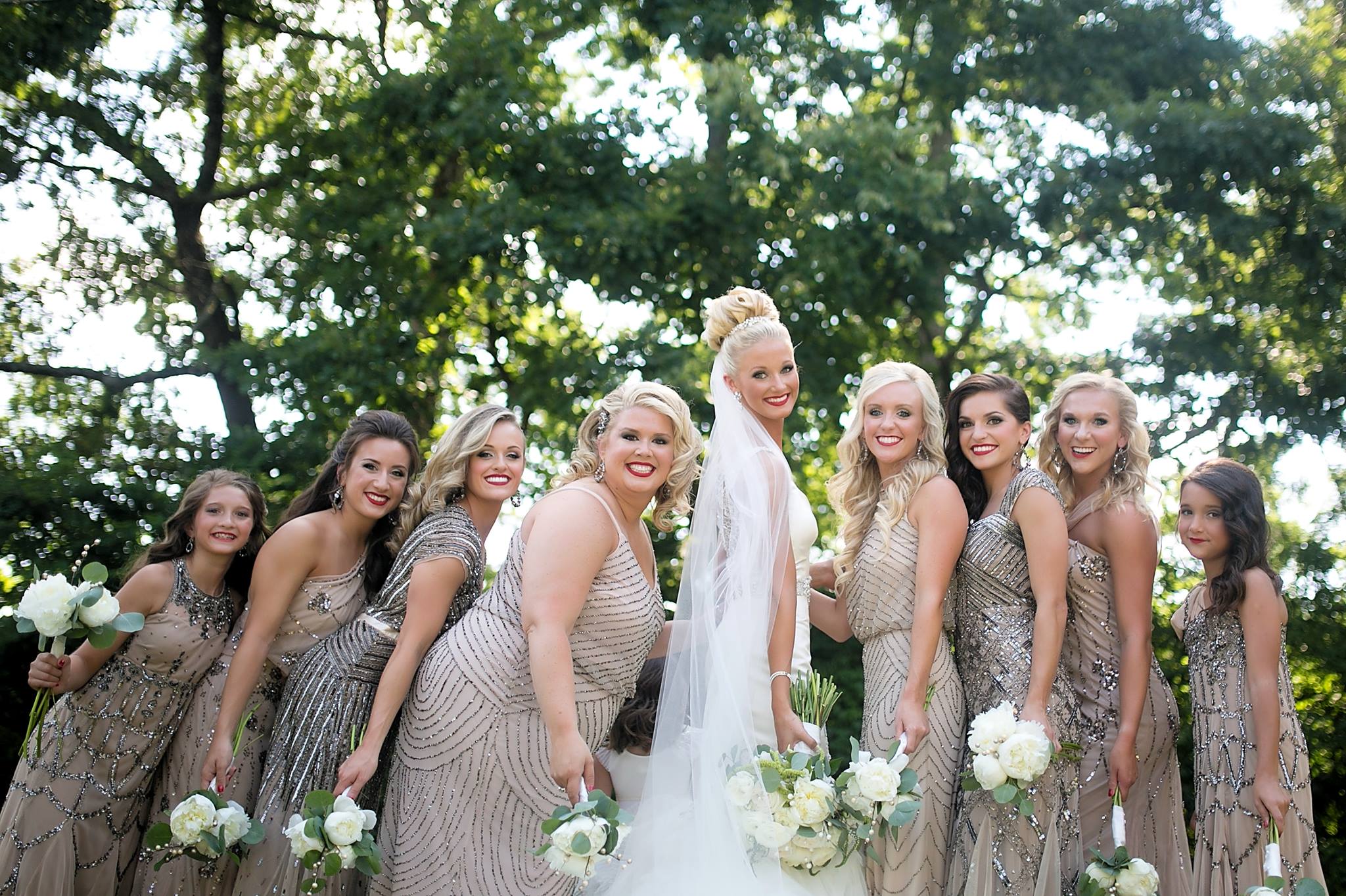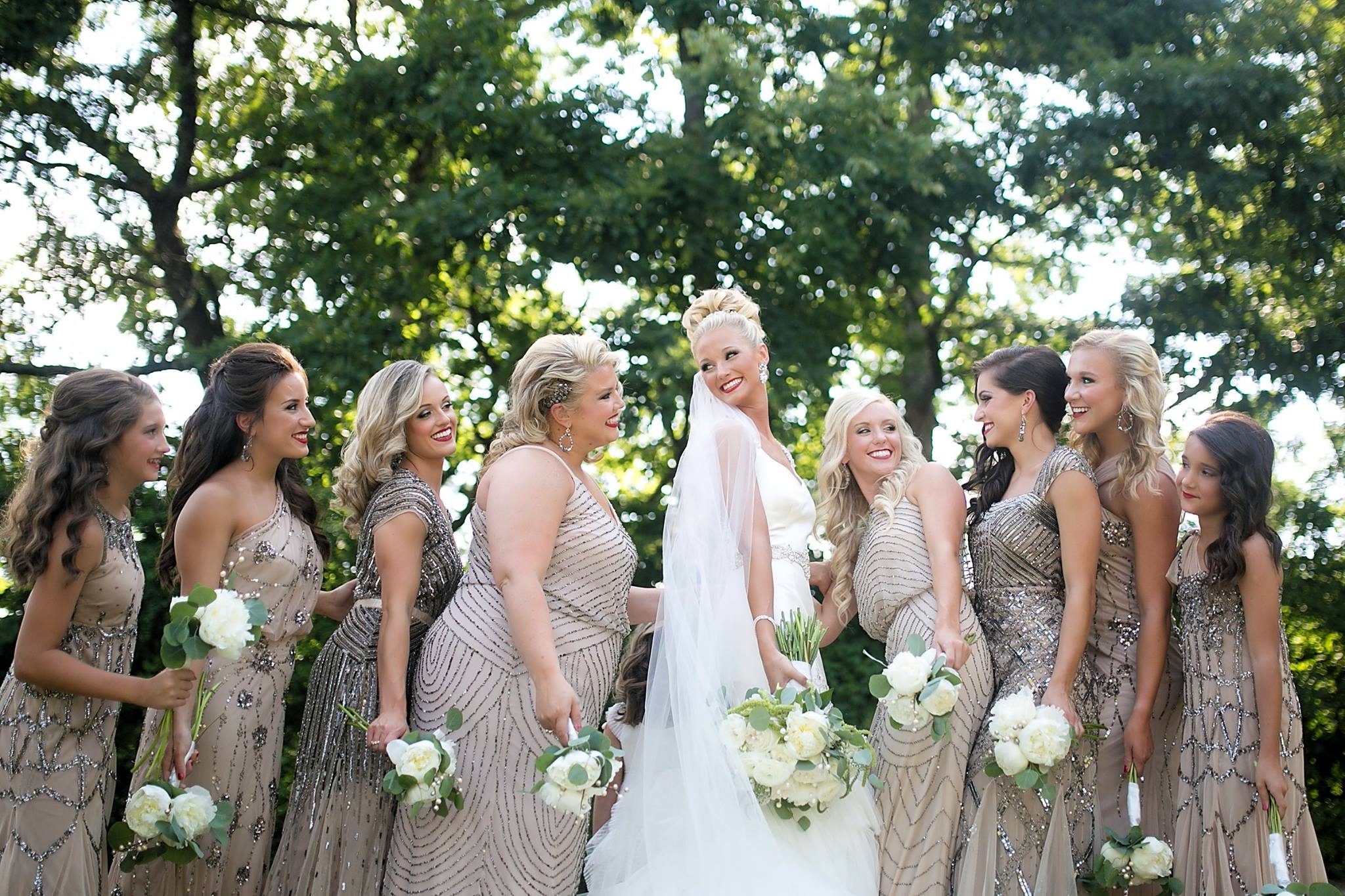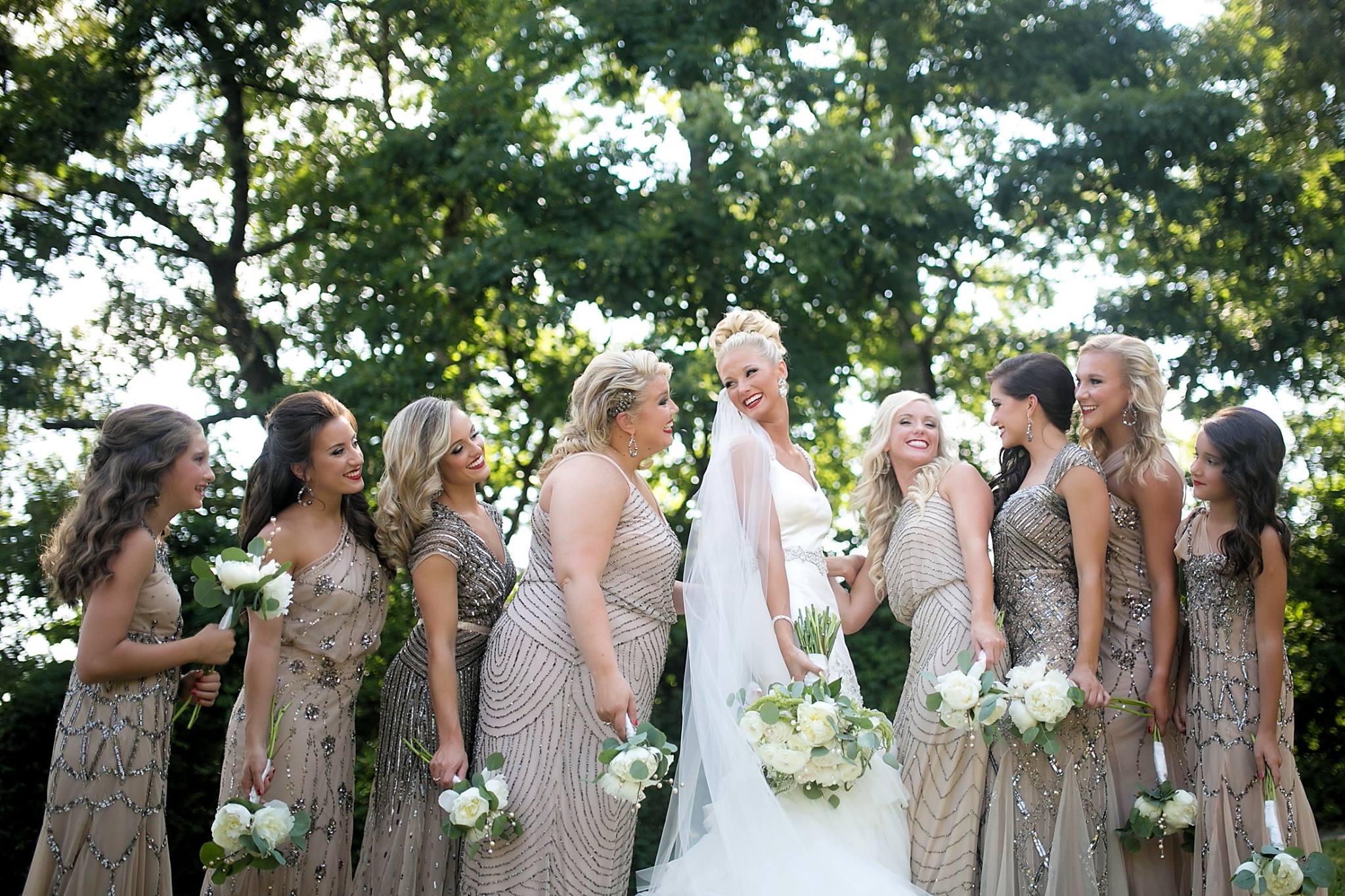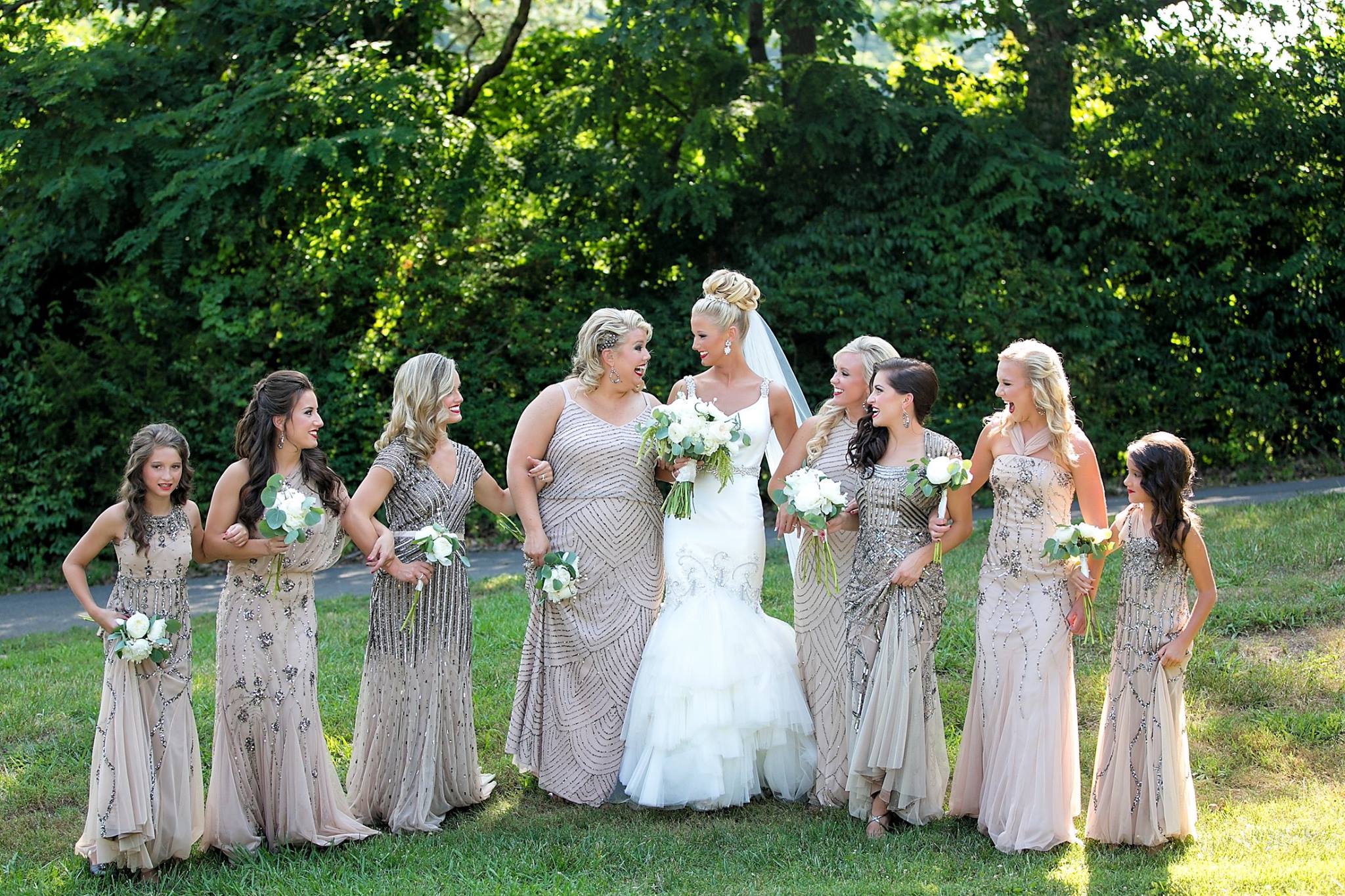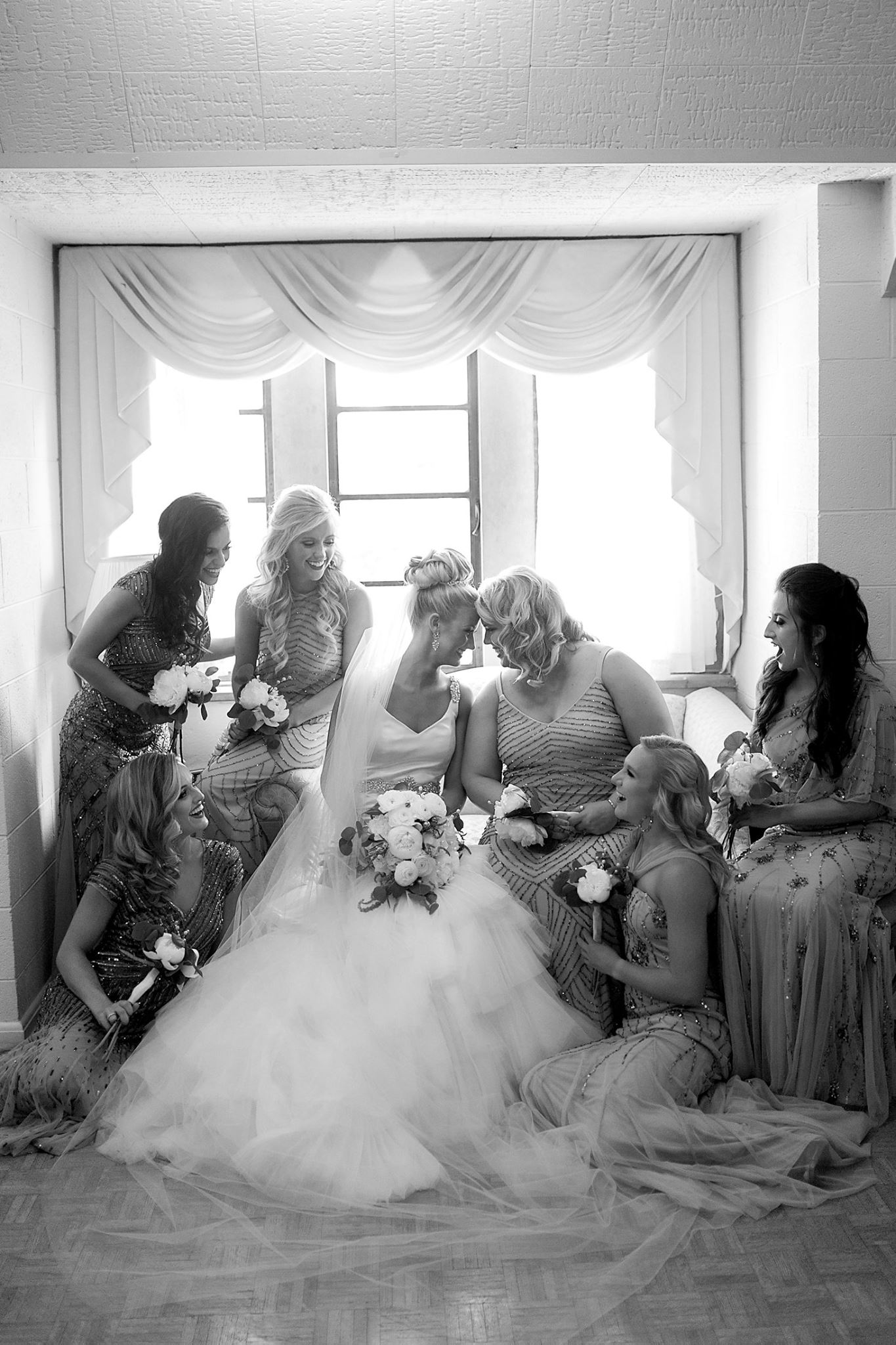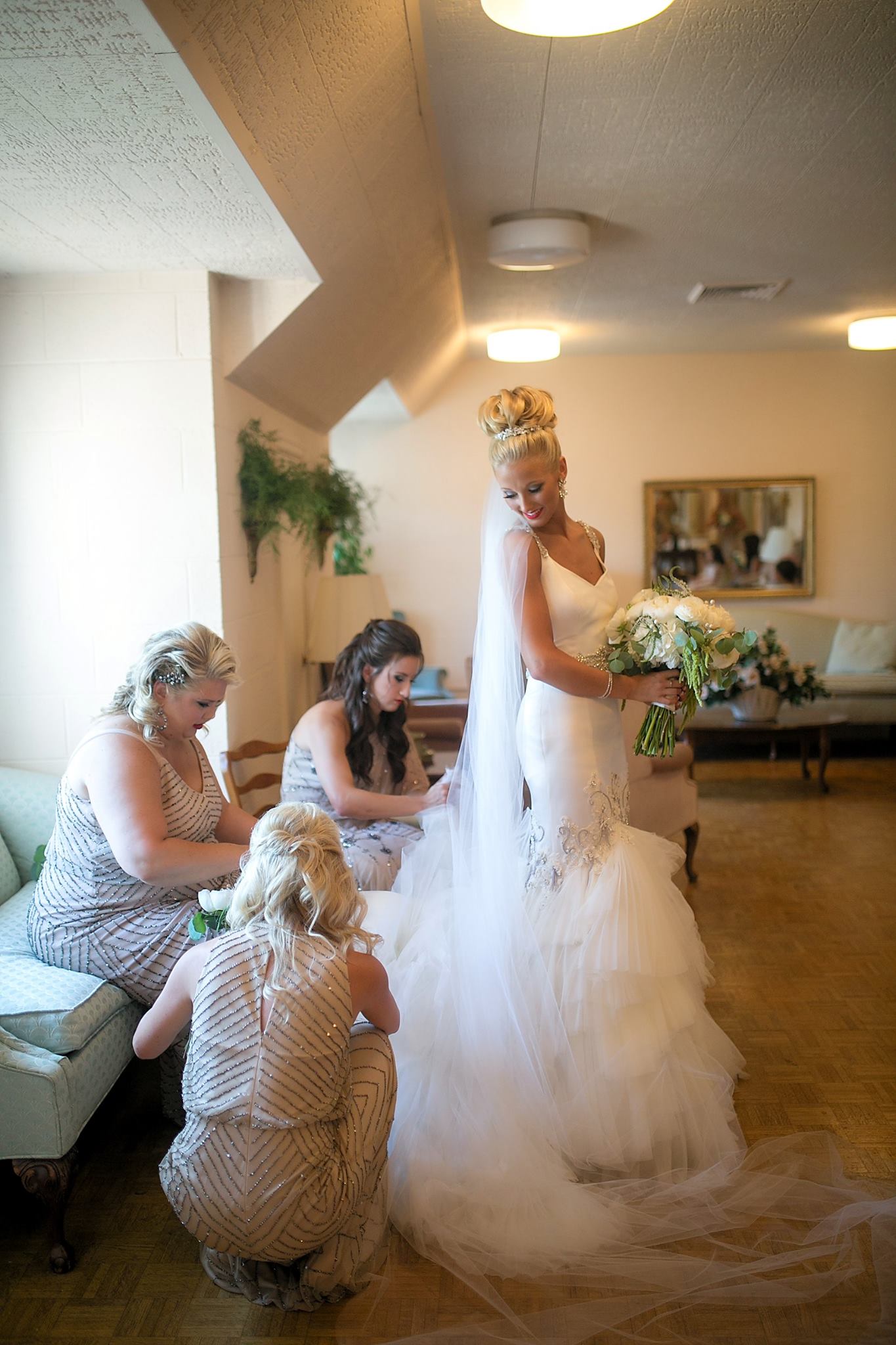 These poor girls … picking all kinds of sticks, grass, bugs & all the nasties out of my dress after pictures. Good friends right there!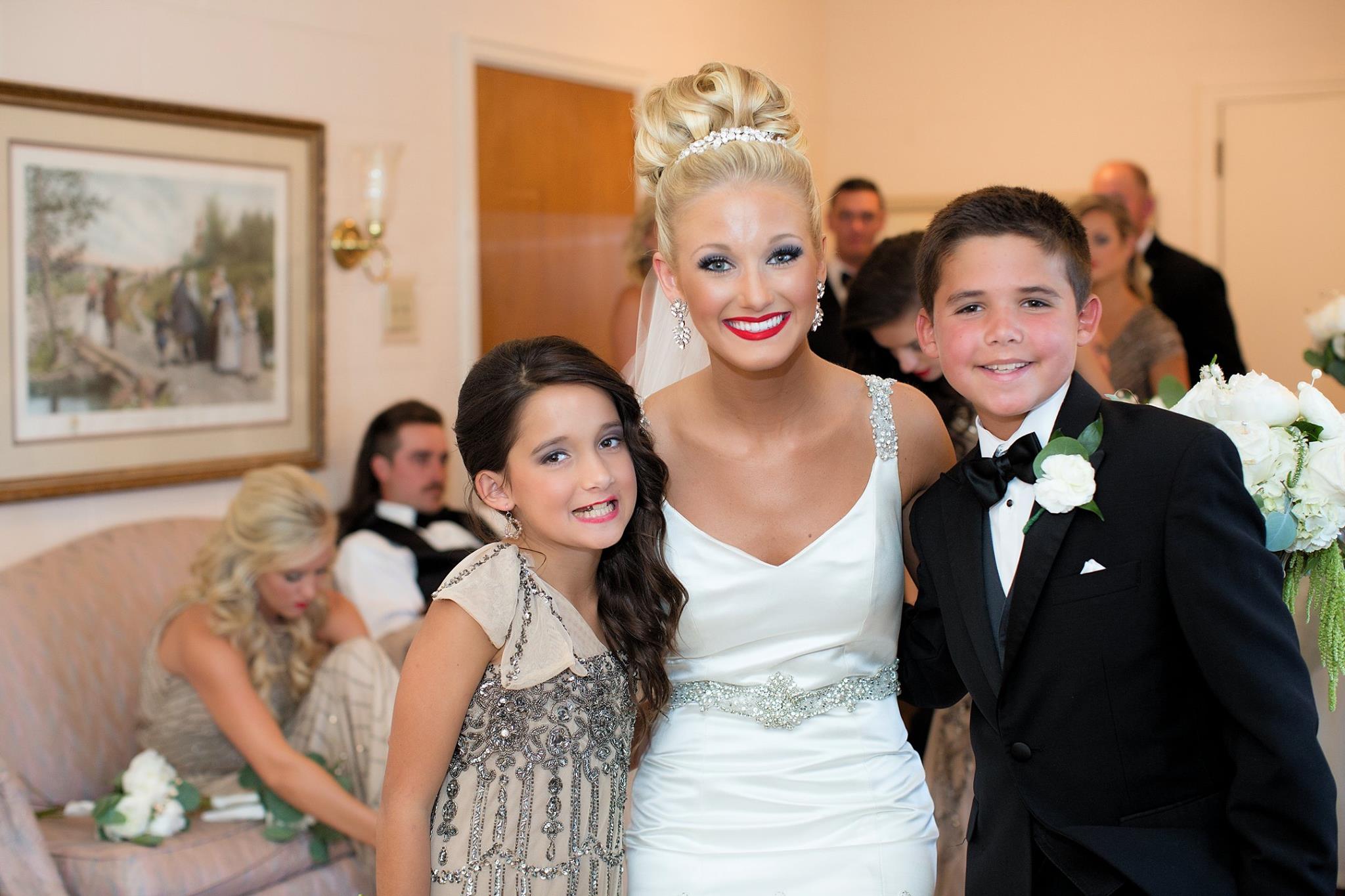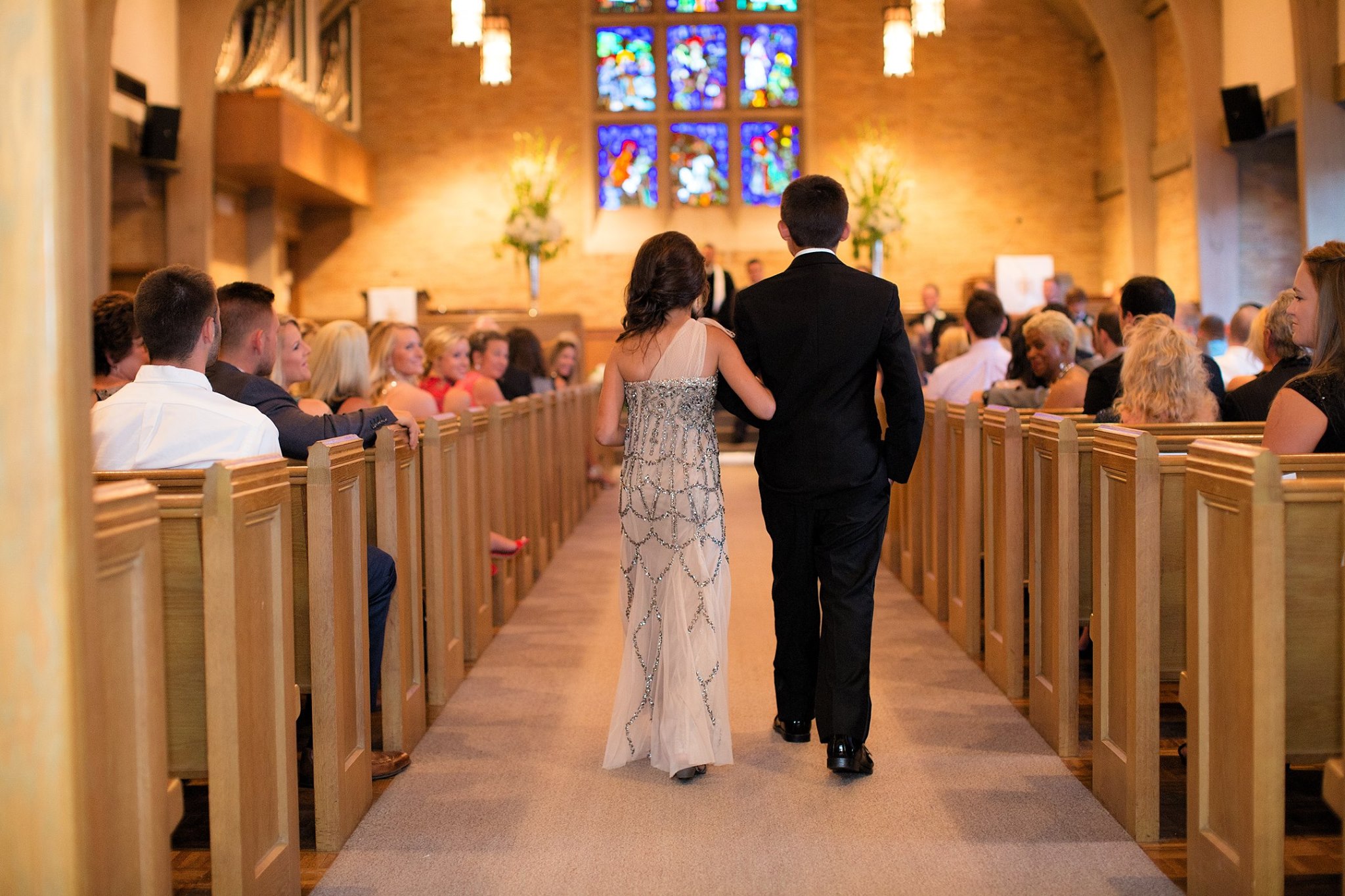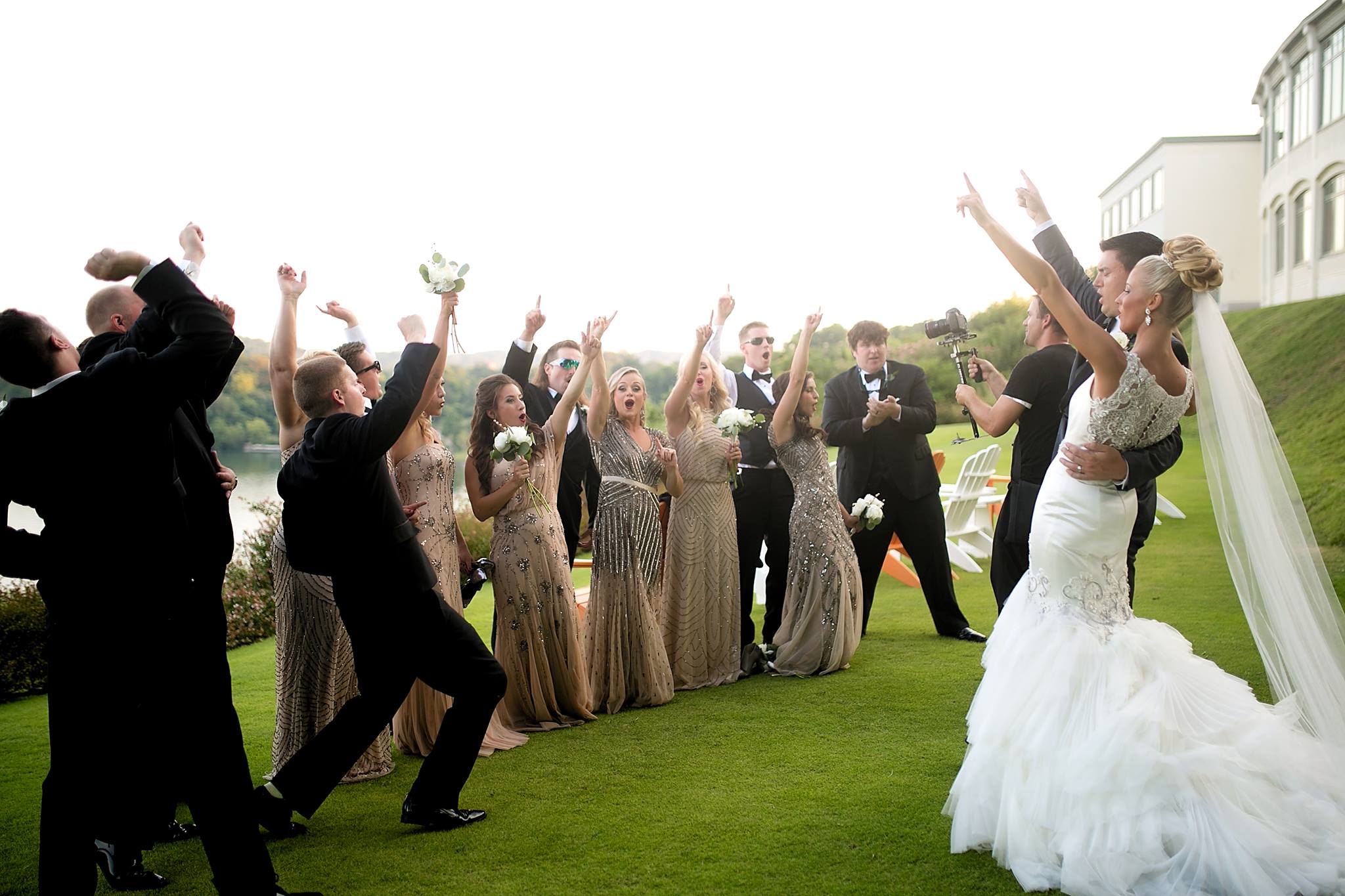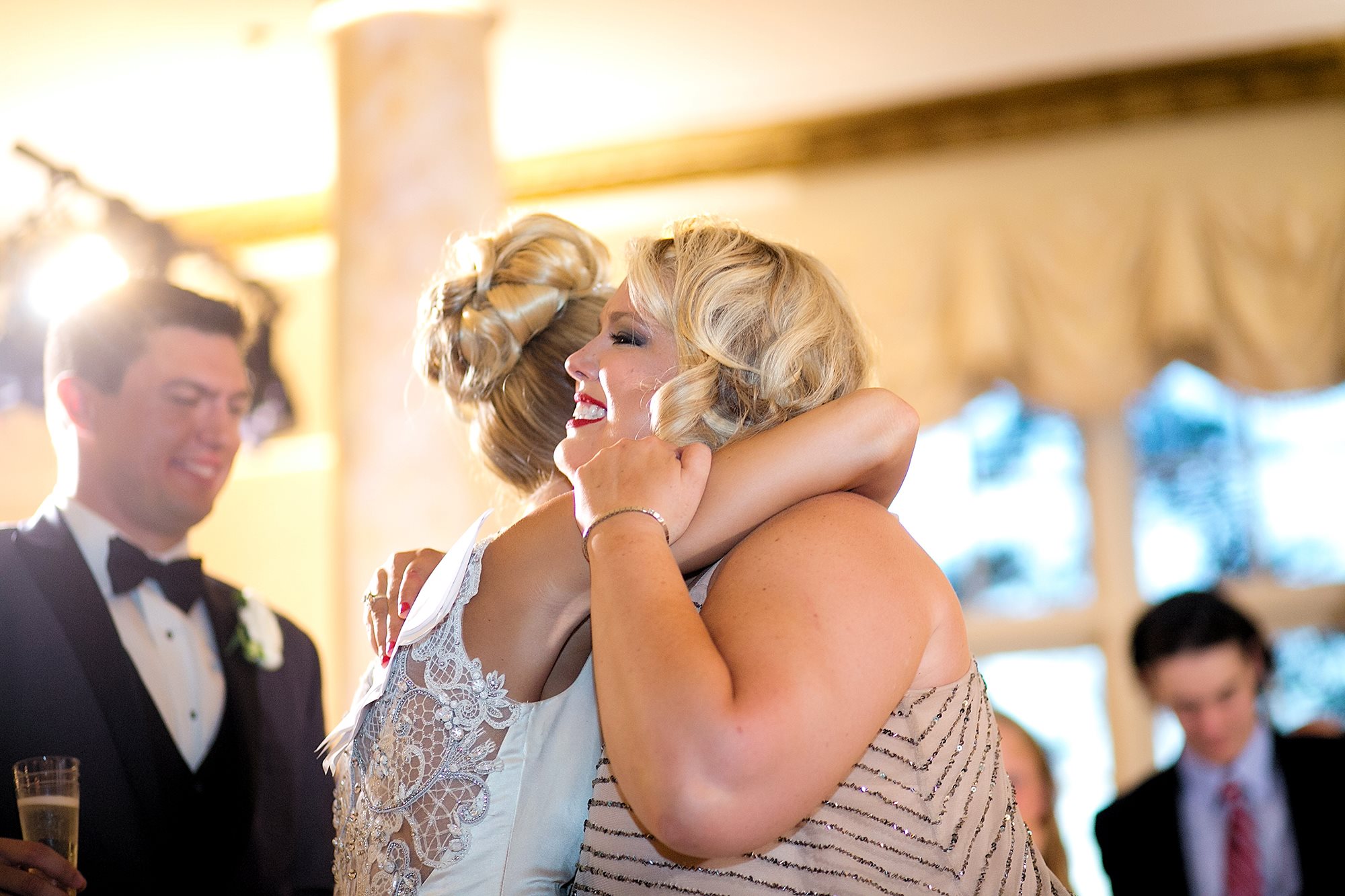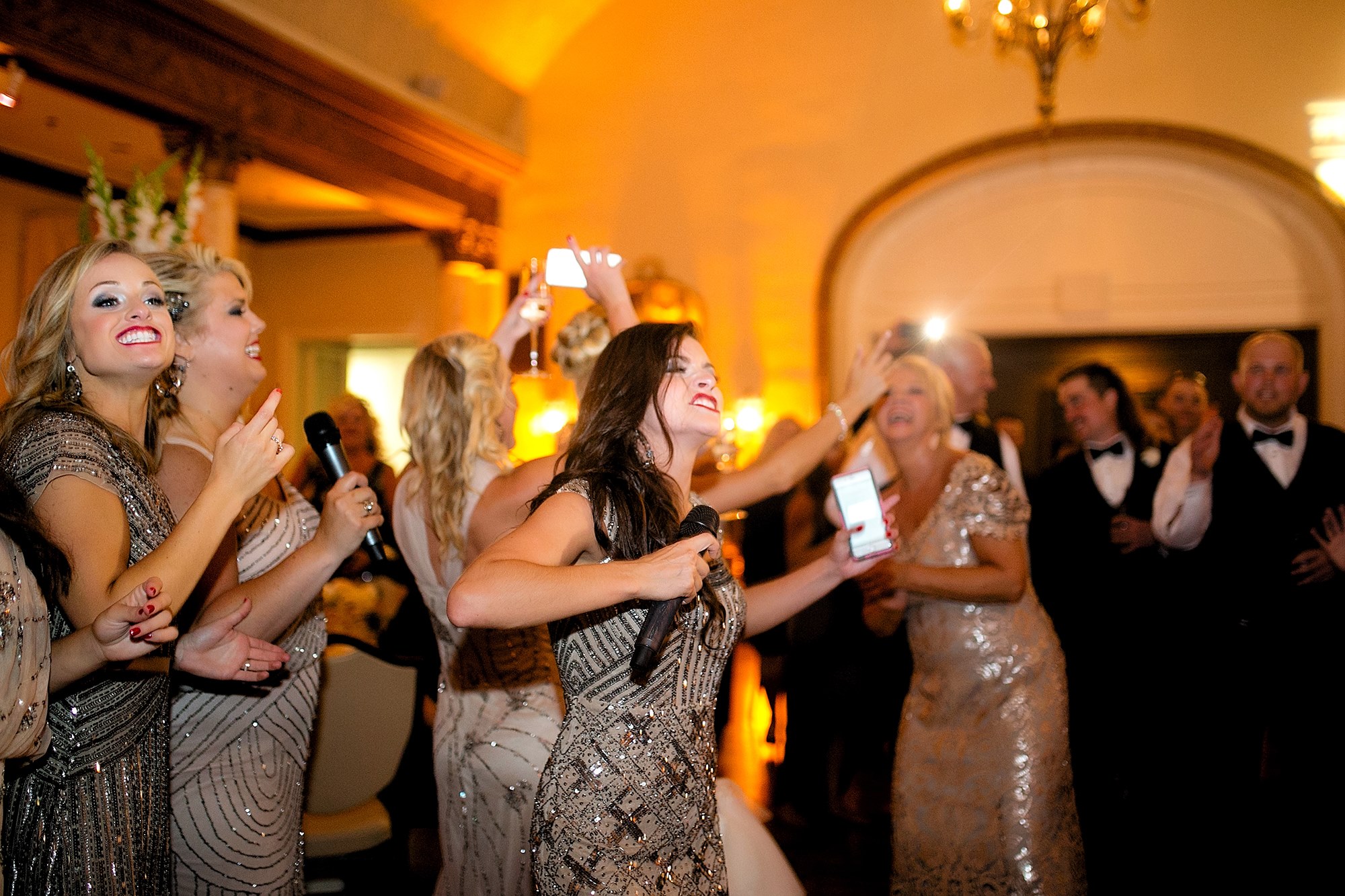 More details to come in a later post about this event of the night LOL!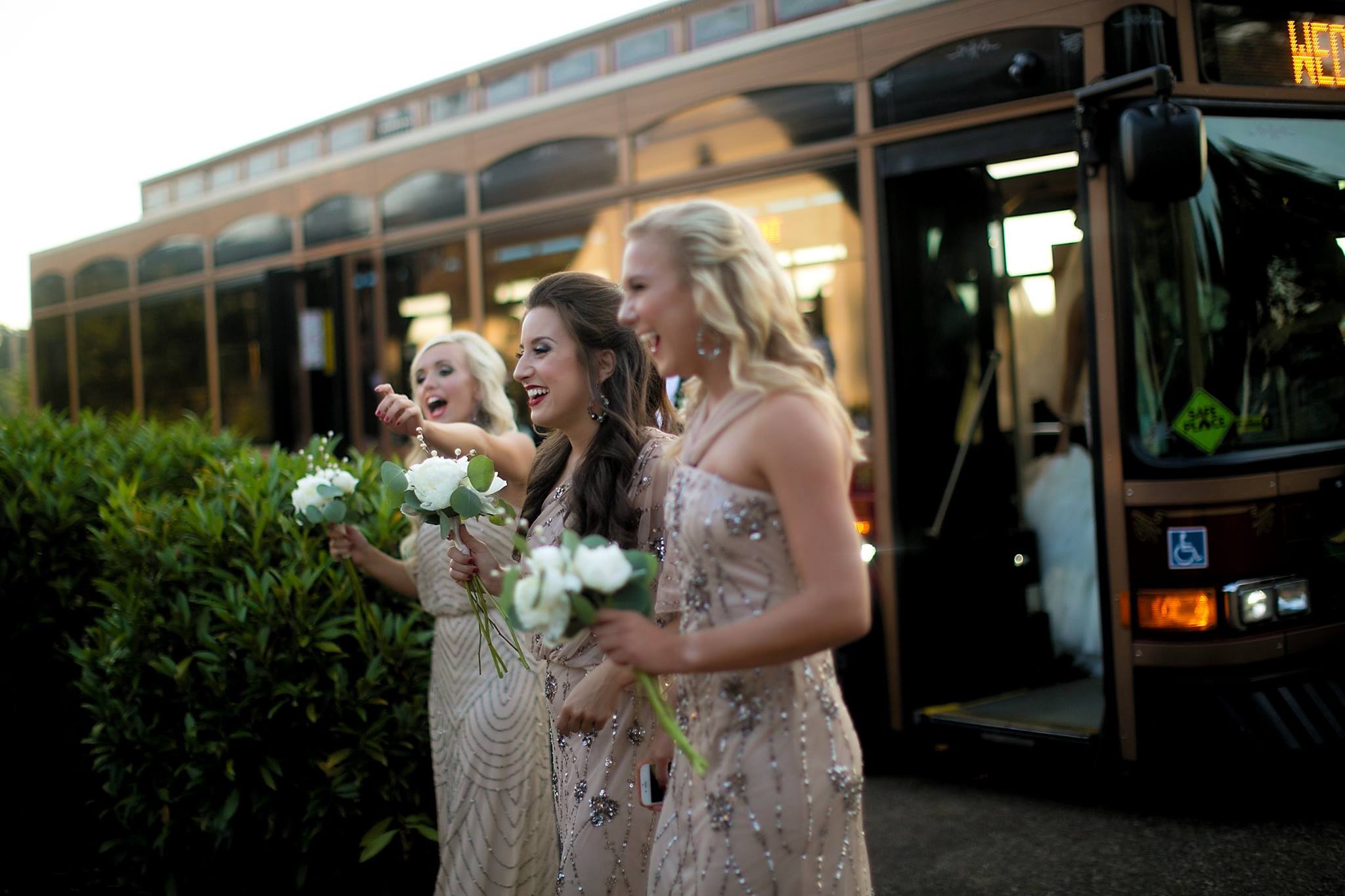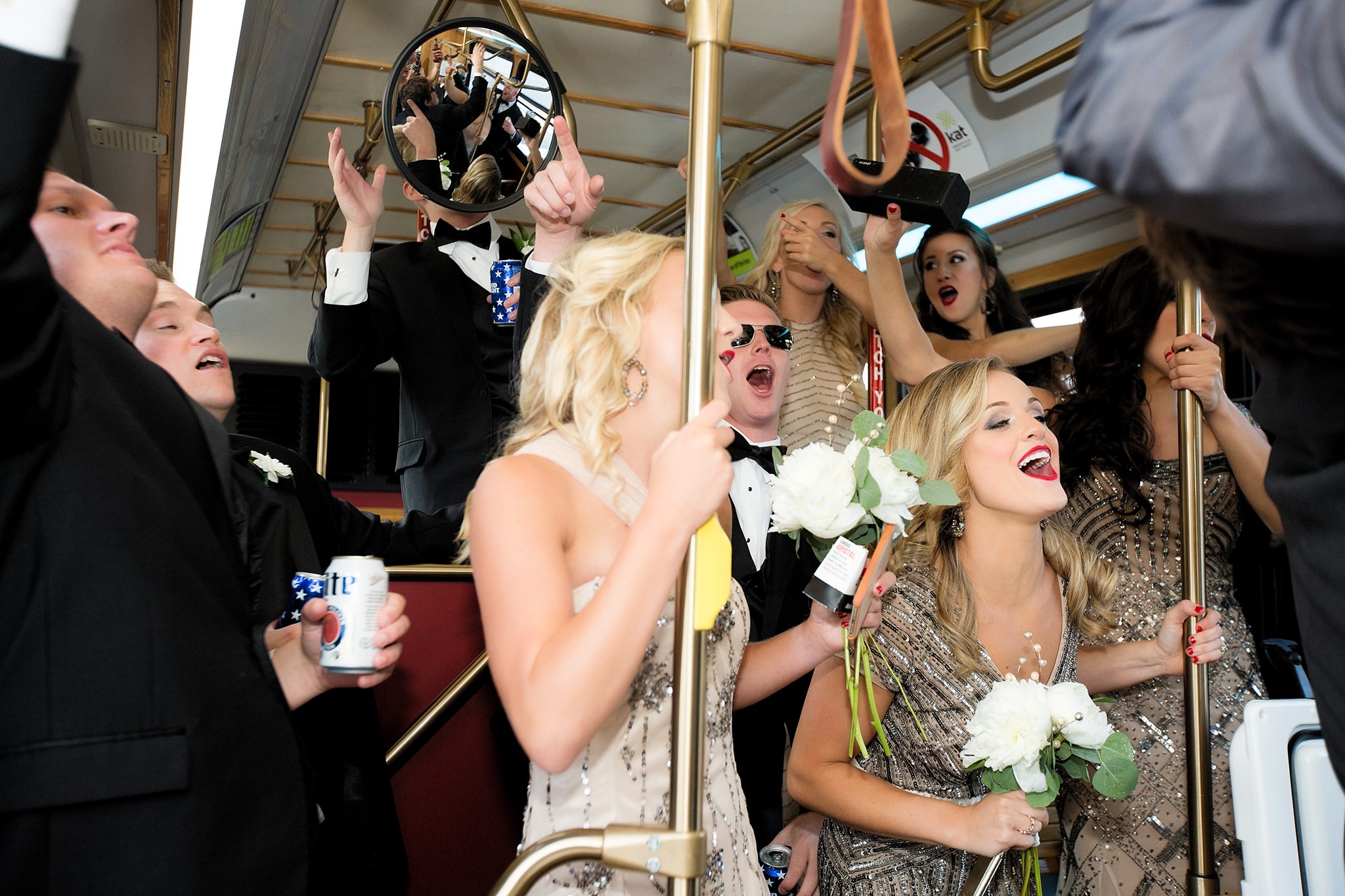 Now moving on to my sweet little flower girls!! Ahhh, aren't they just precious?!
I got the flower girls' dresses and sashes around the waist from Dollcake, which has the cutest dresses ever for little girls (some are formal and some are not!). If you have a young lady of your own, definitely check out their site! I wanted something that they would be comfortable in because it was going to be a really long day and also something that would resemble my wedding dress. When I was on the flower girl dress hunt, my mom and I found these gorgeous little white gowns that mimicked mine perfectly – even the tulle at the bottom of my dress was so similar to the bottoms of theirs.
The girls' dresses were lightweight and easy to walk in (which is crucial for the younger ones), and I really think they all loved 'dressing up like the big girls'! 🙂 They each looked so pretty and felt like princesses, which was the best part of all!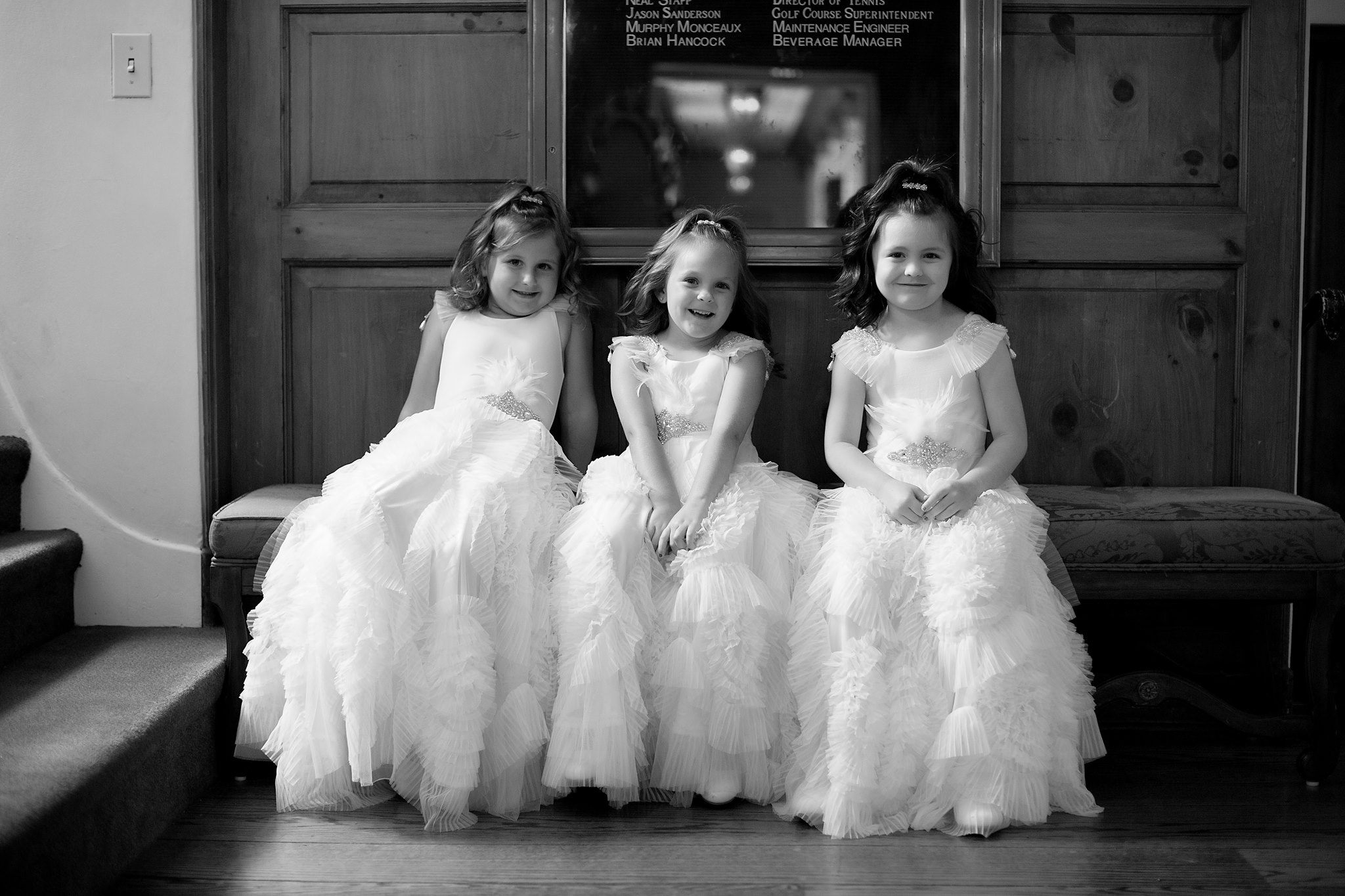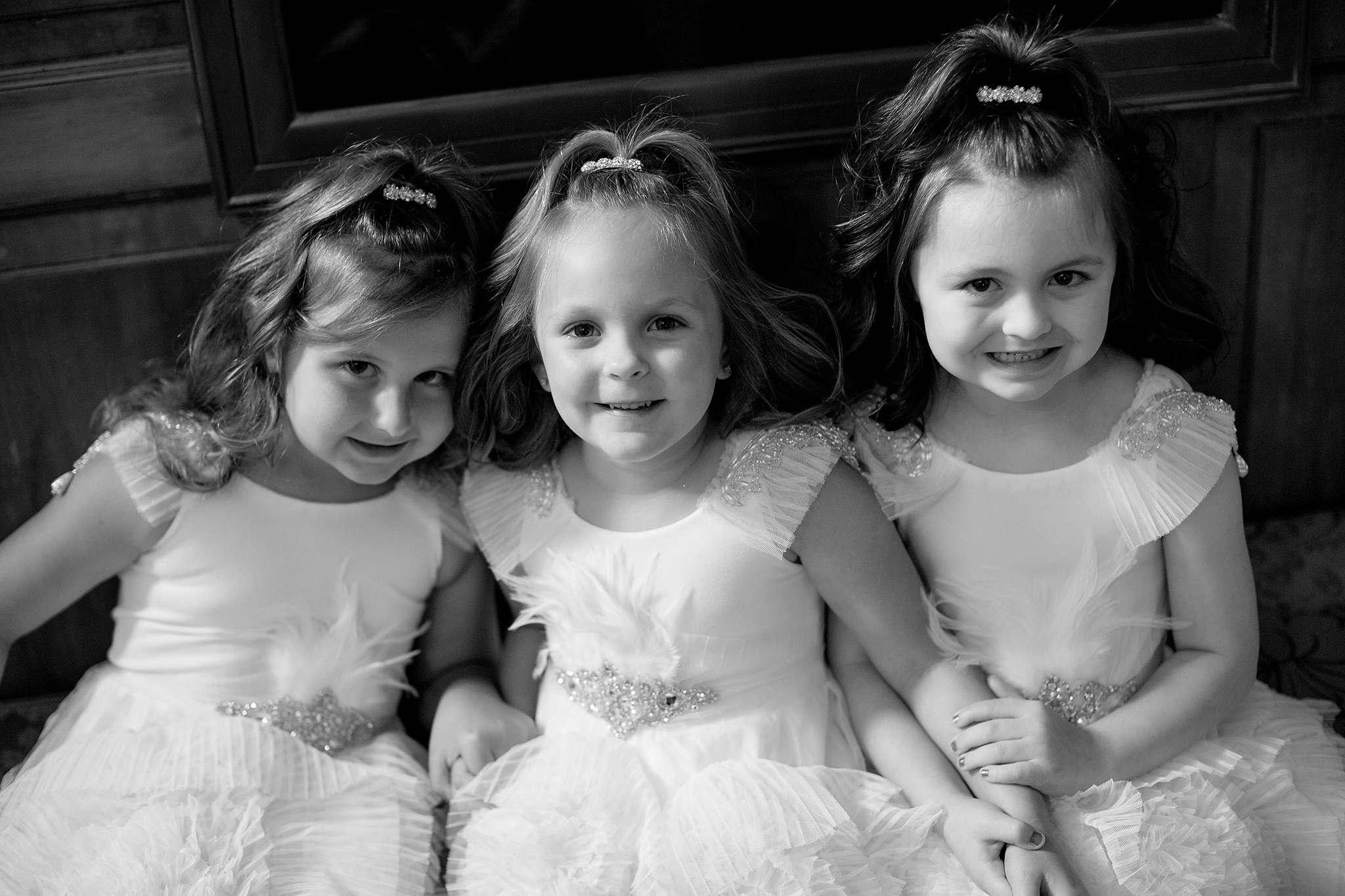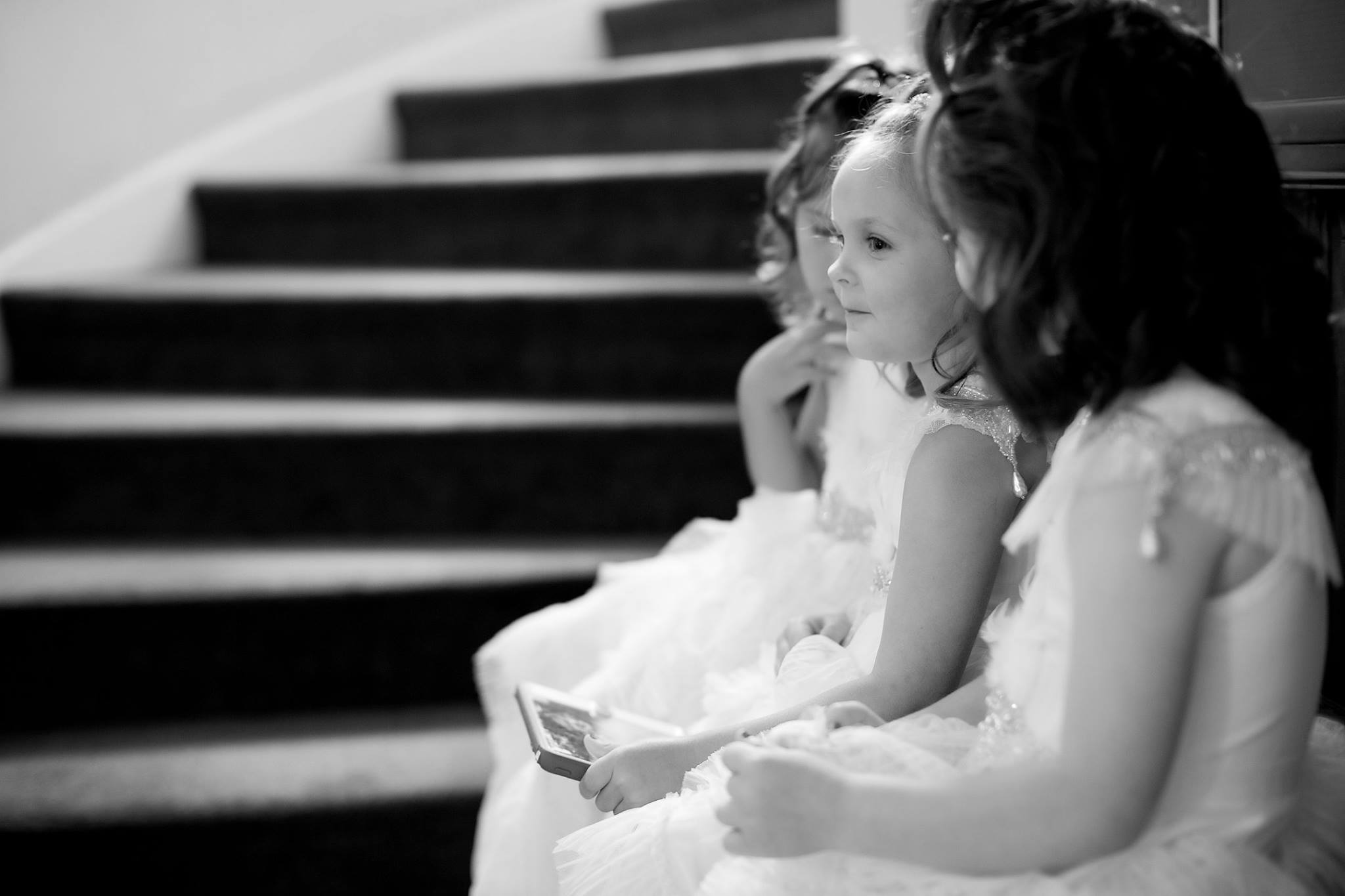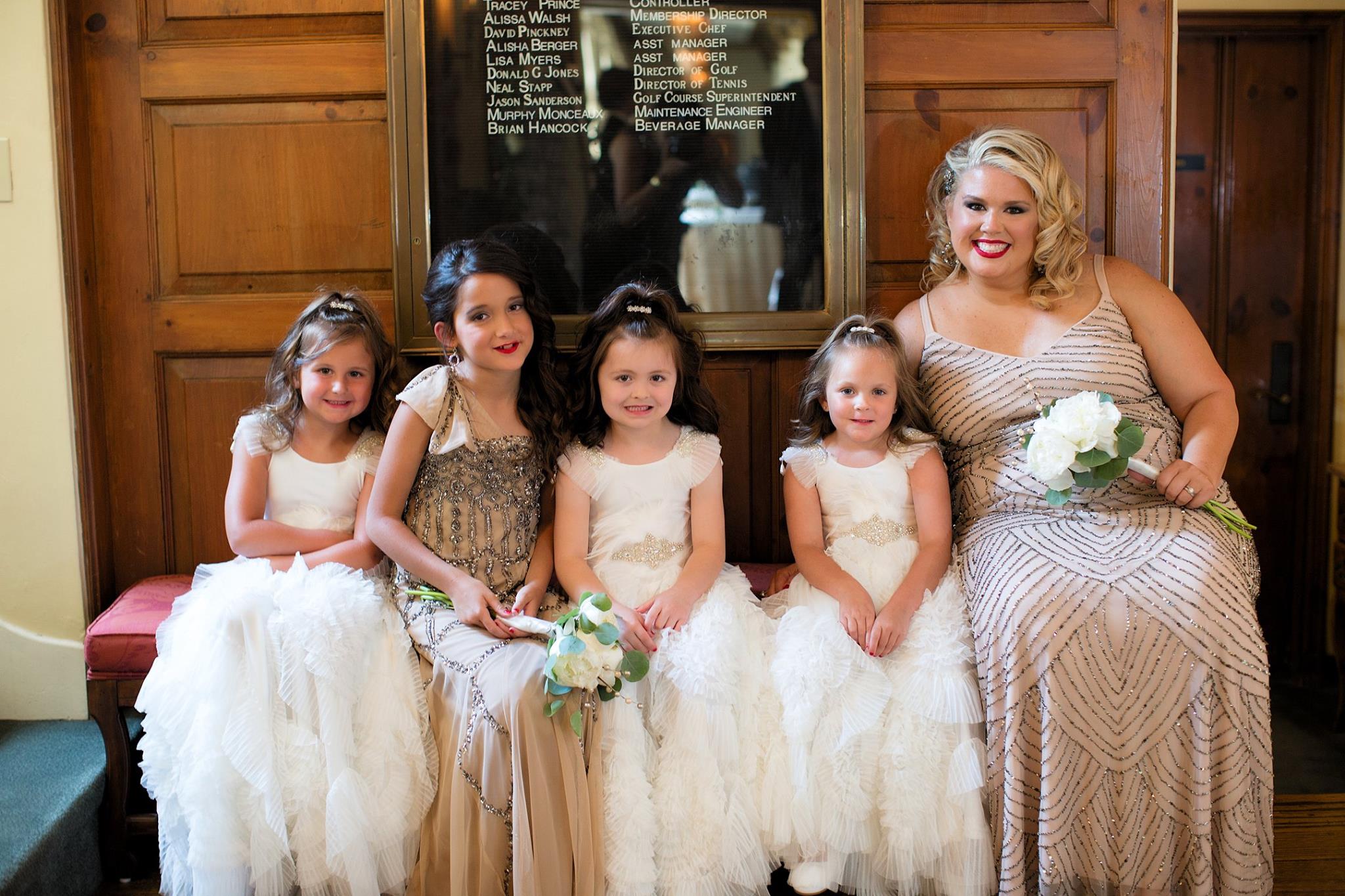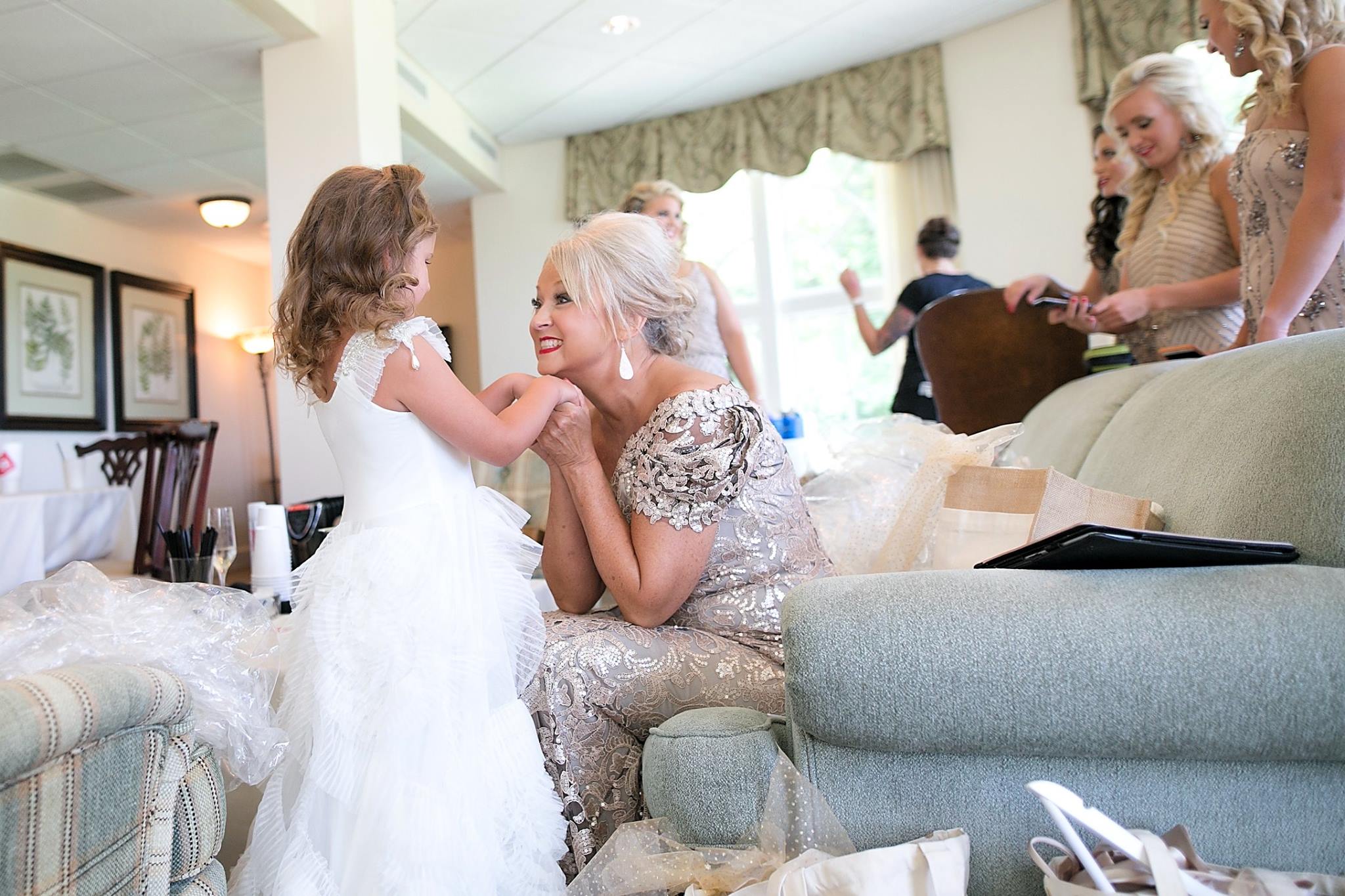 This picture gets me every time 🙂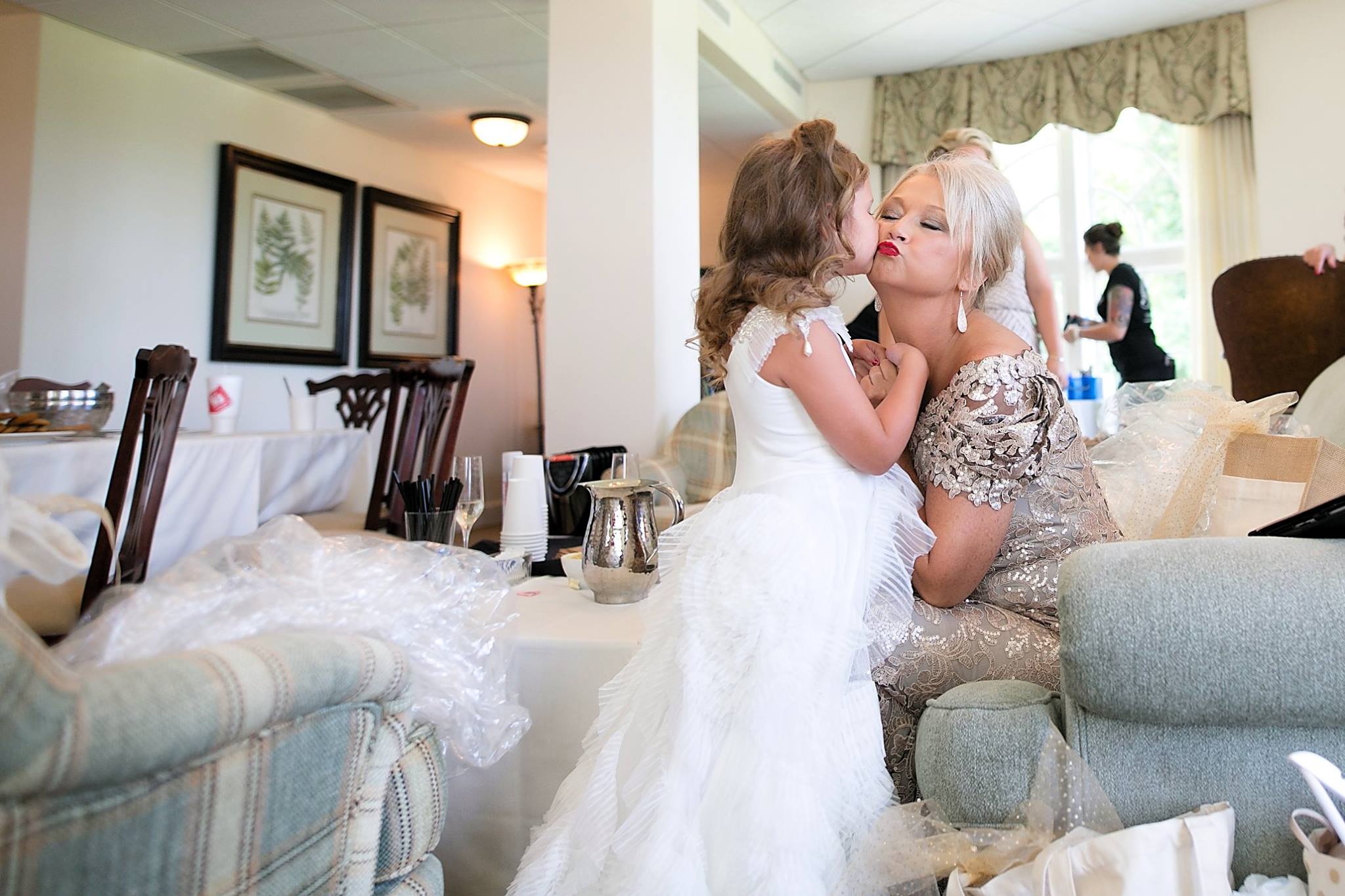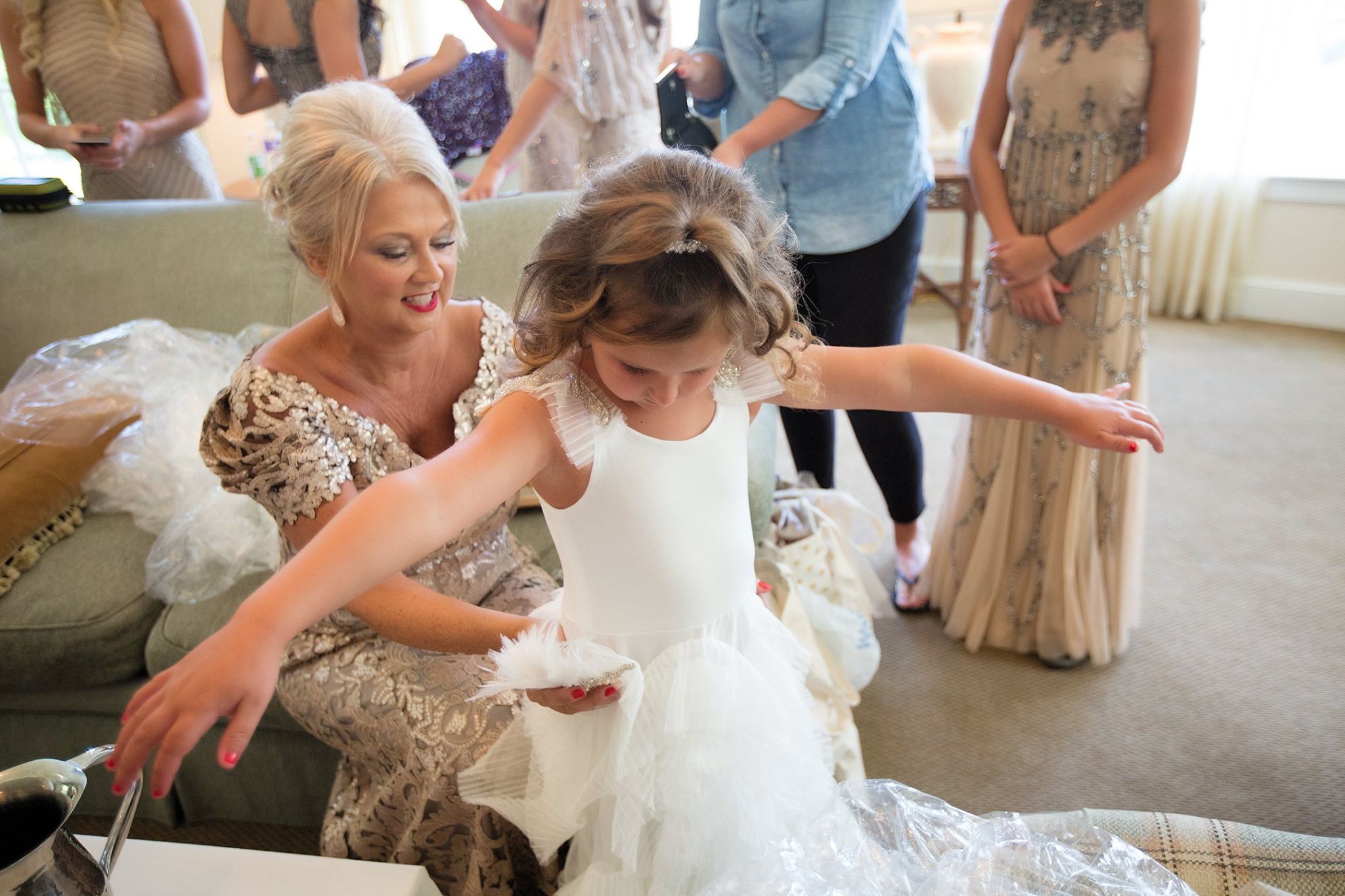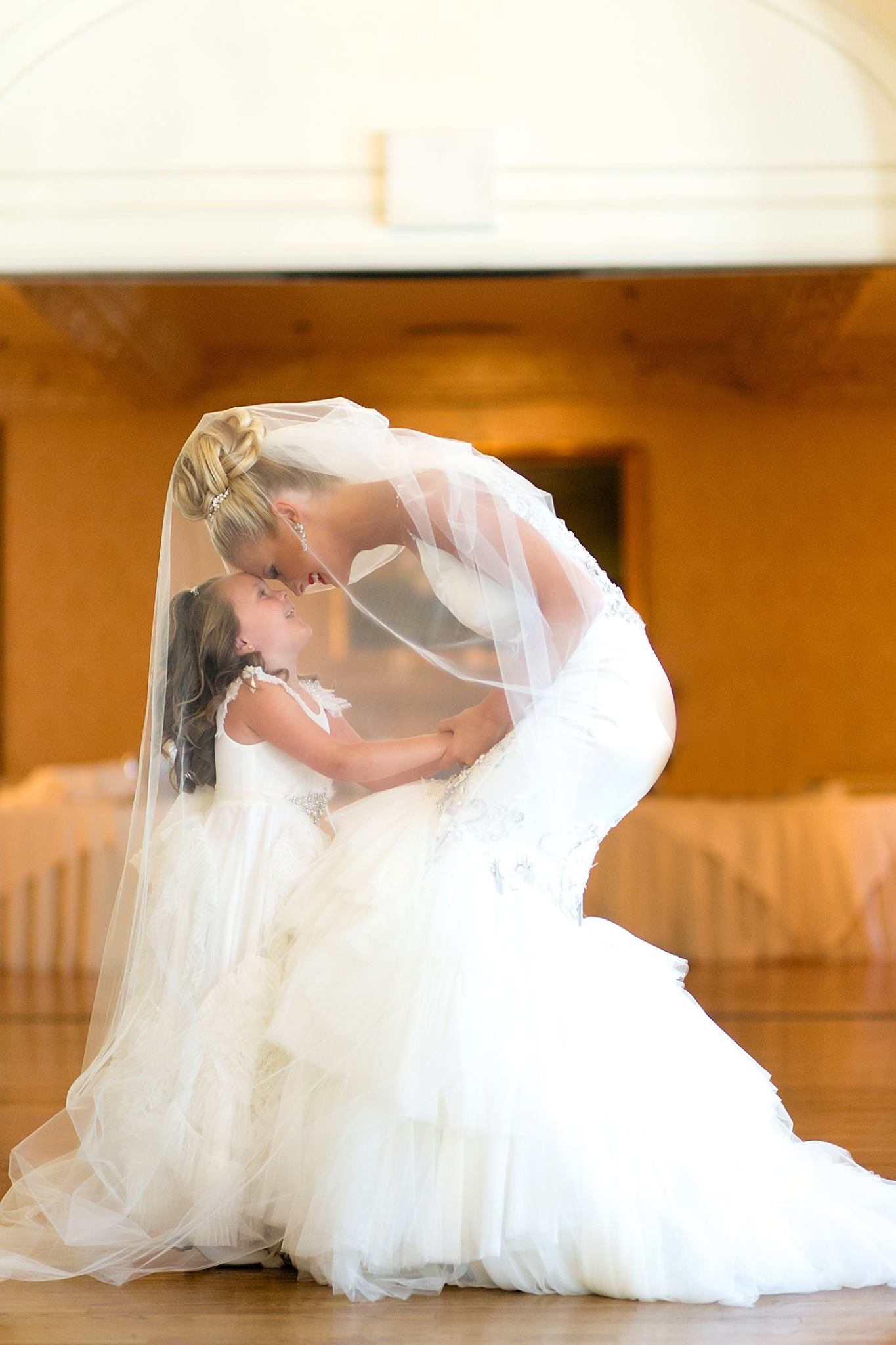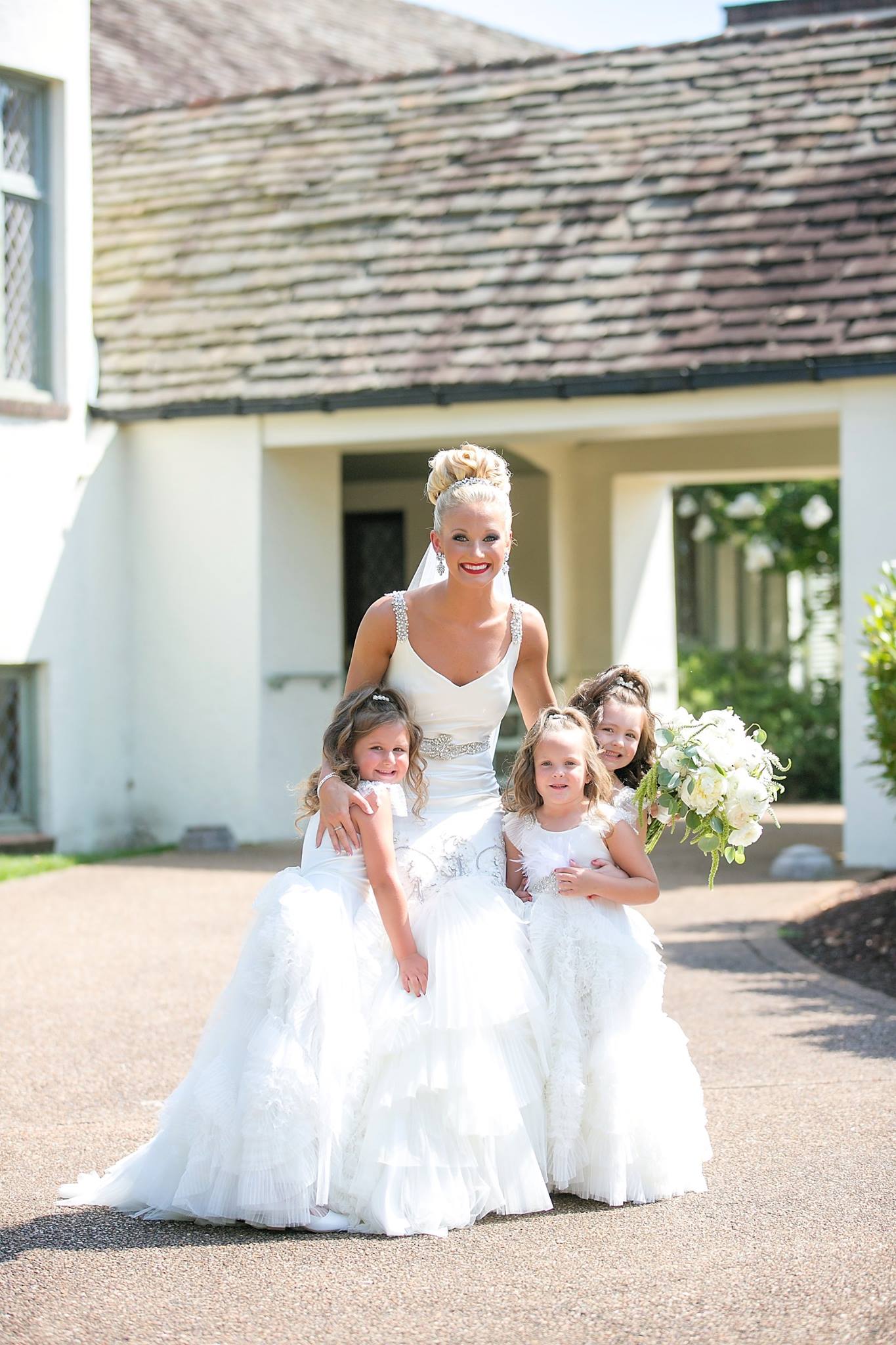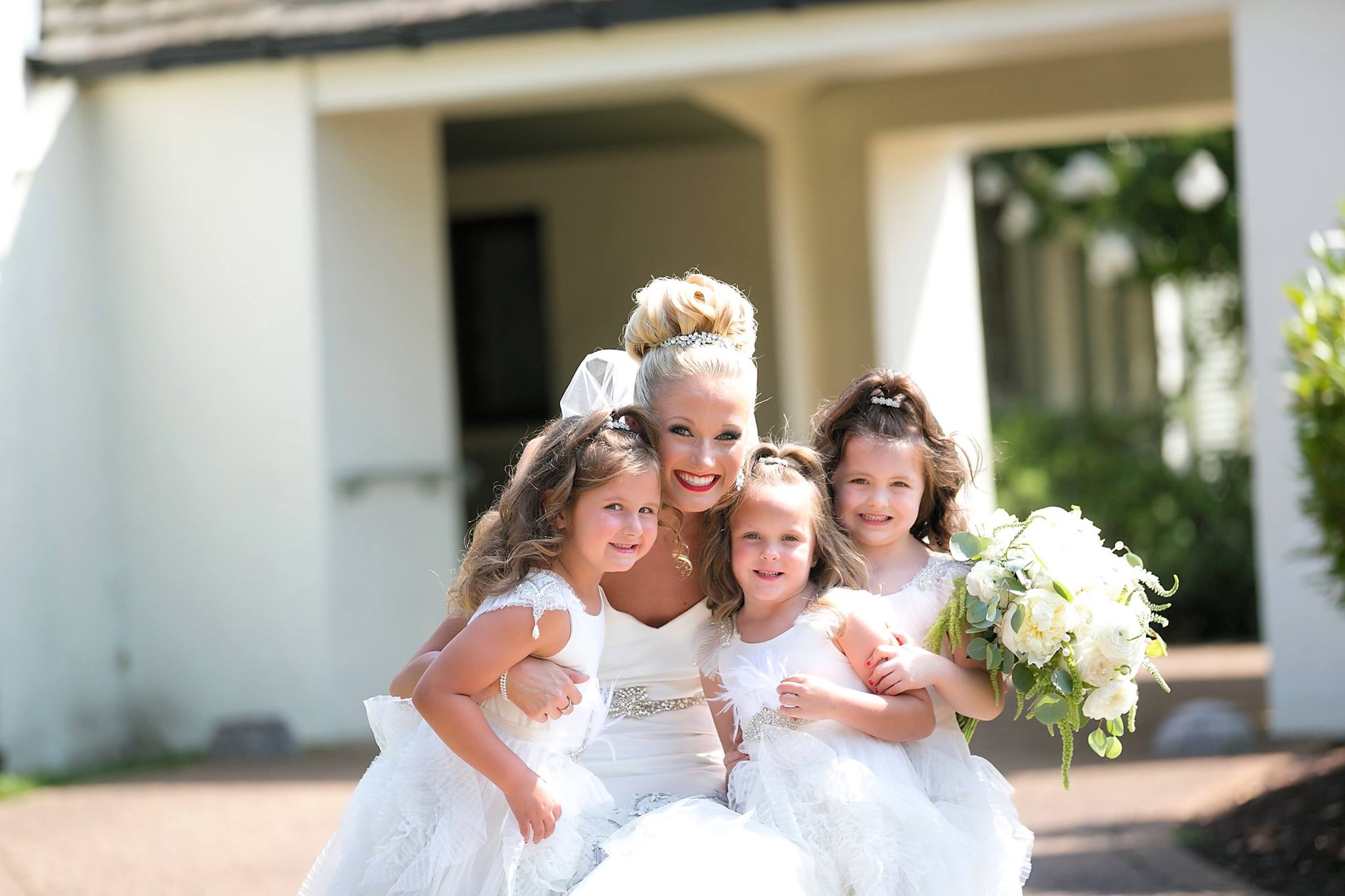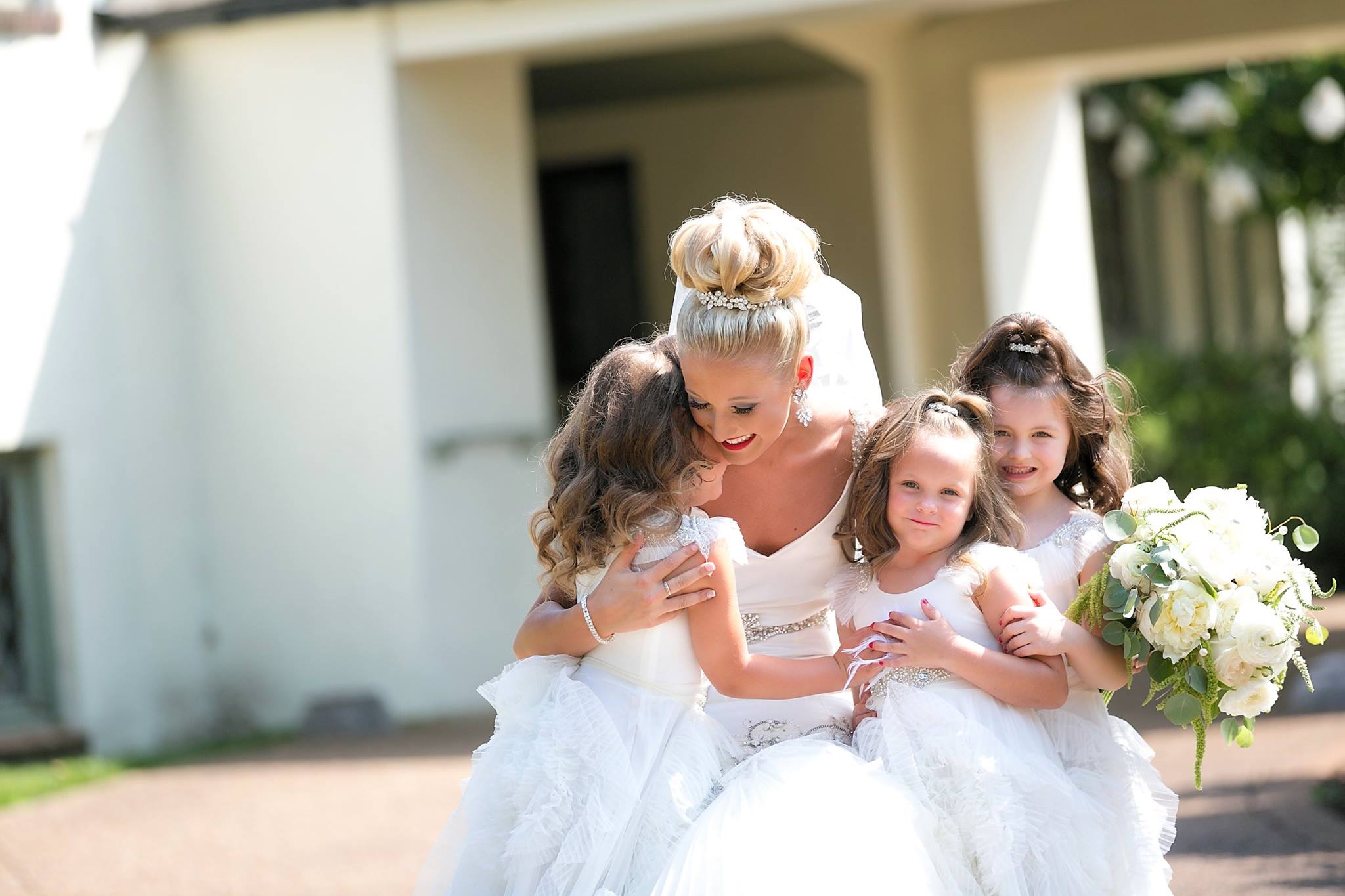 *Heart is melting*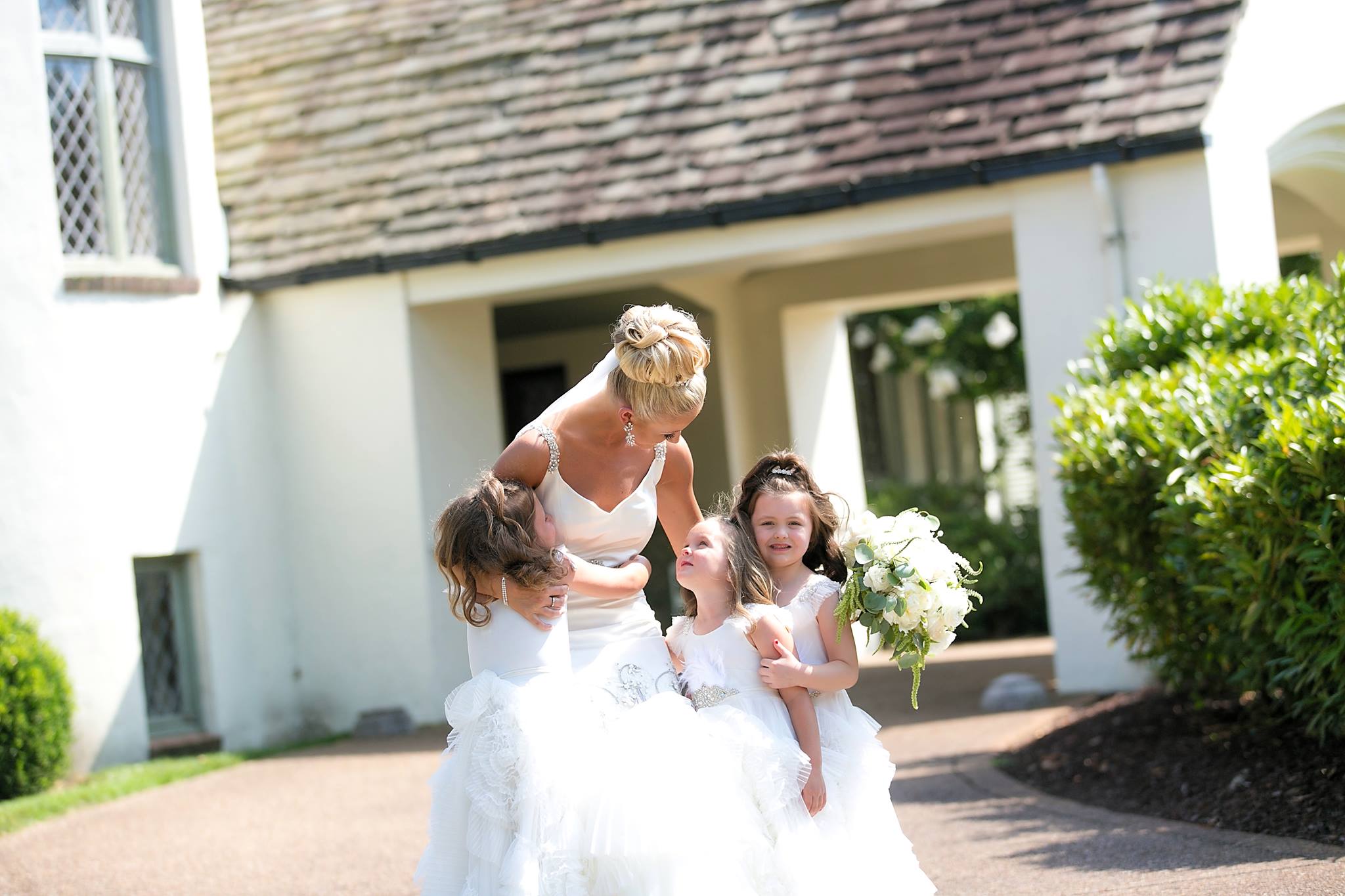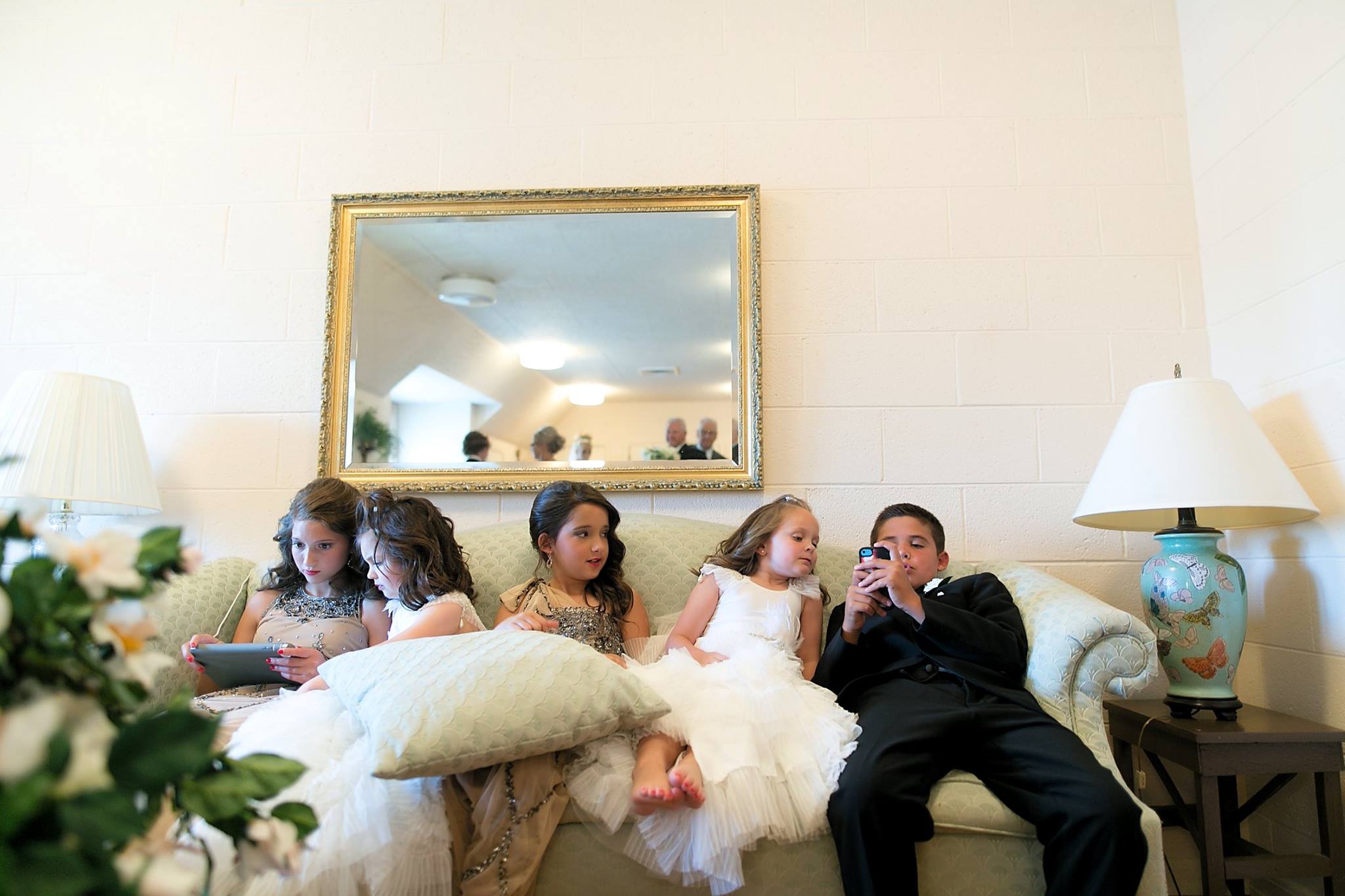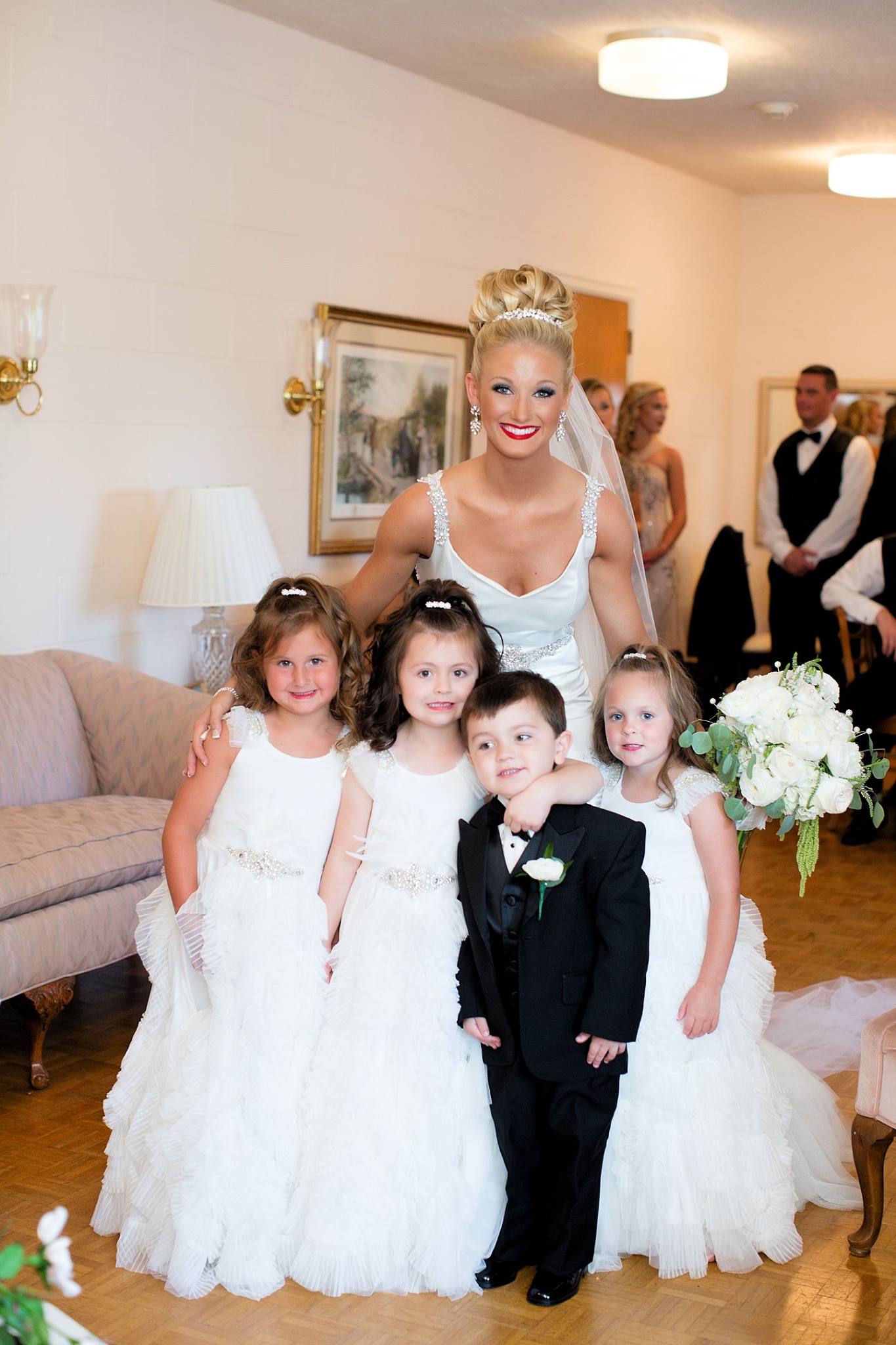 The little ham in the tux is Emmett, who was our ring bearer! I'll be introducing him in the next WW post.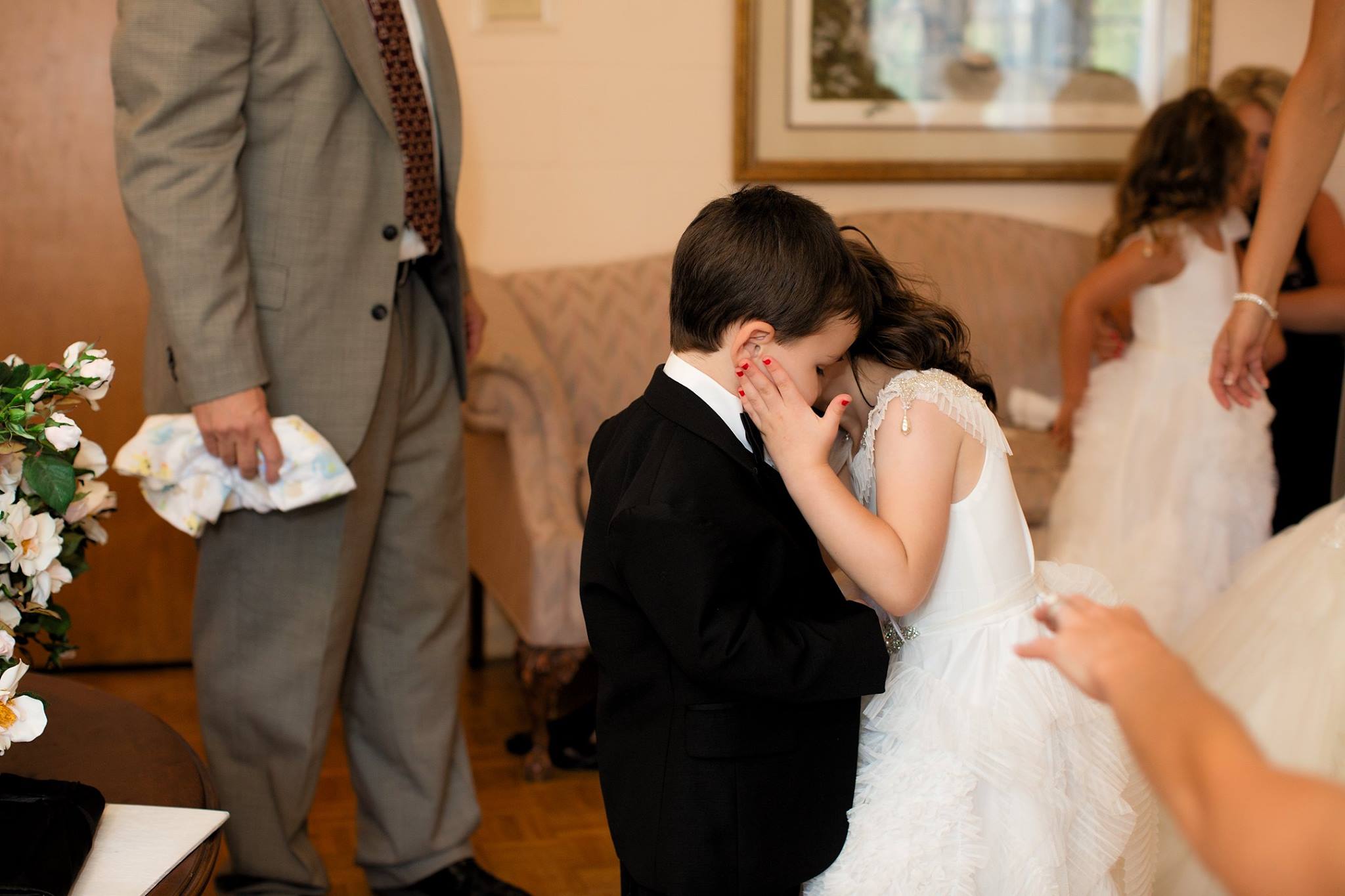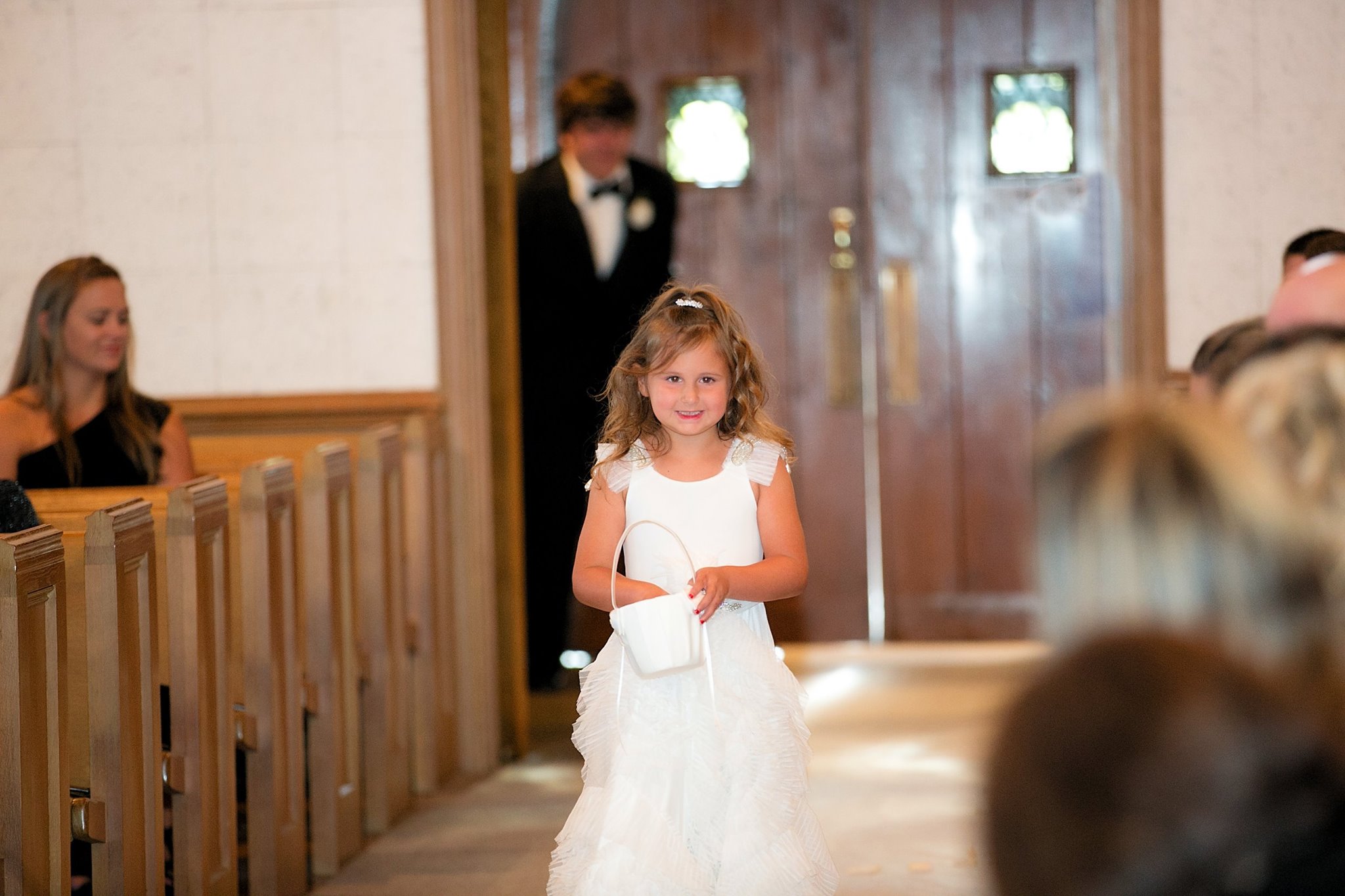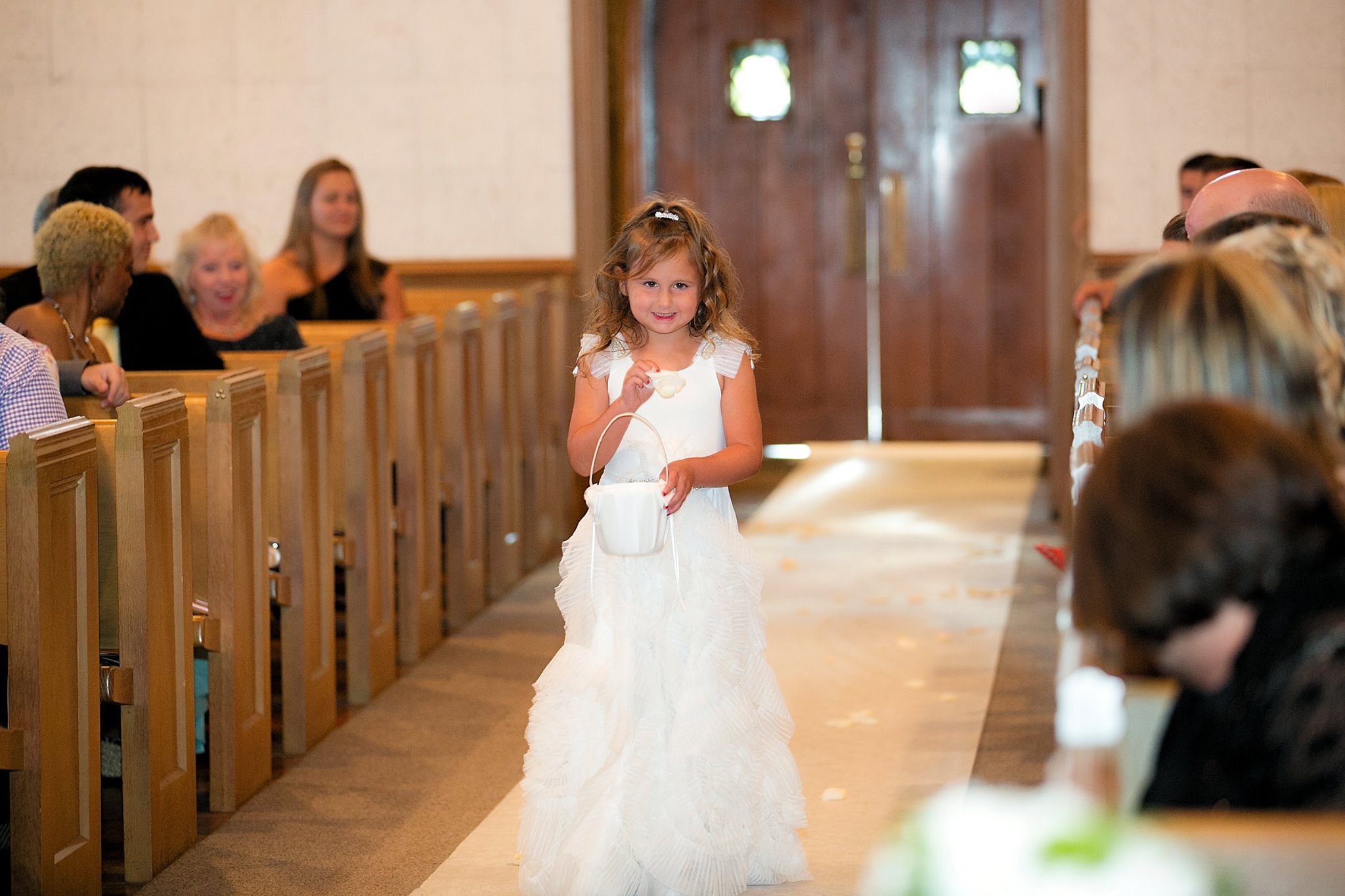 This is Maycie, Mollie Kate's little sister! This girl came into my life for the first time a few years ago when TJ introduced me to this side of his family, and she has held such a special place in my heart ever since. Maycie has the sweetest soul, and she can make you laugh on a dime. This girl's facial expressions seriously kill me, y'all! They are so stinkin' cute, and she's 6 going on 30.
Fun Fact: Maycie loves cheerleading, and she always loves to stunt with her TJ! She was one of my biggest fans while I was cheering at UT.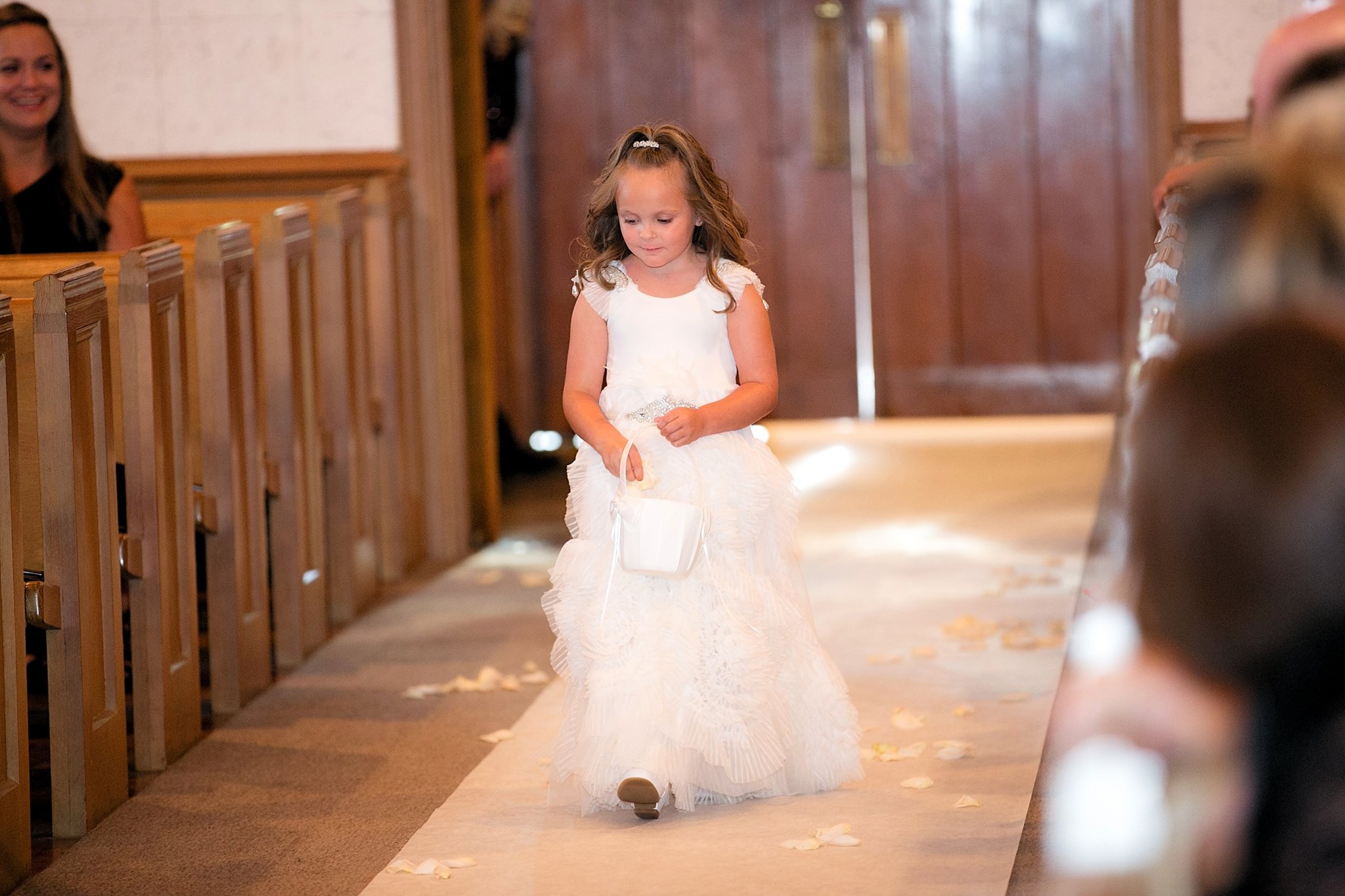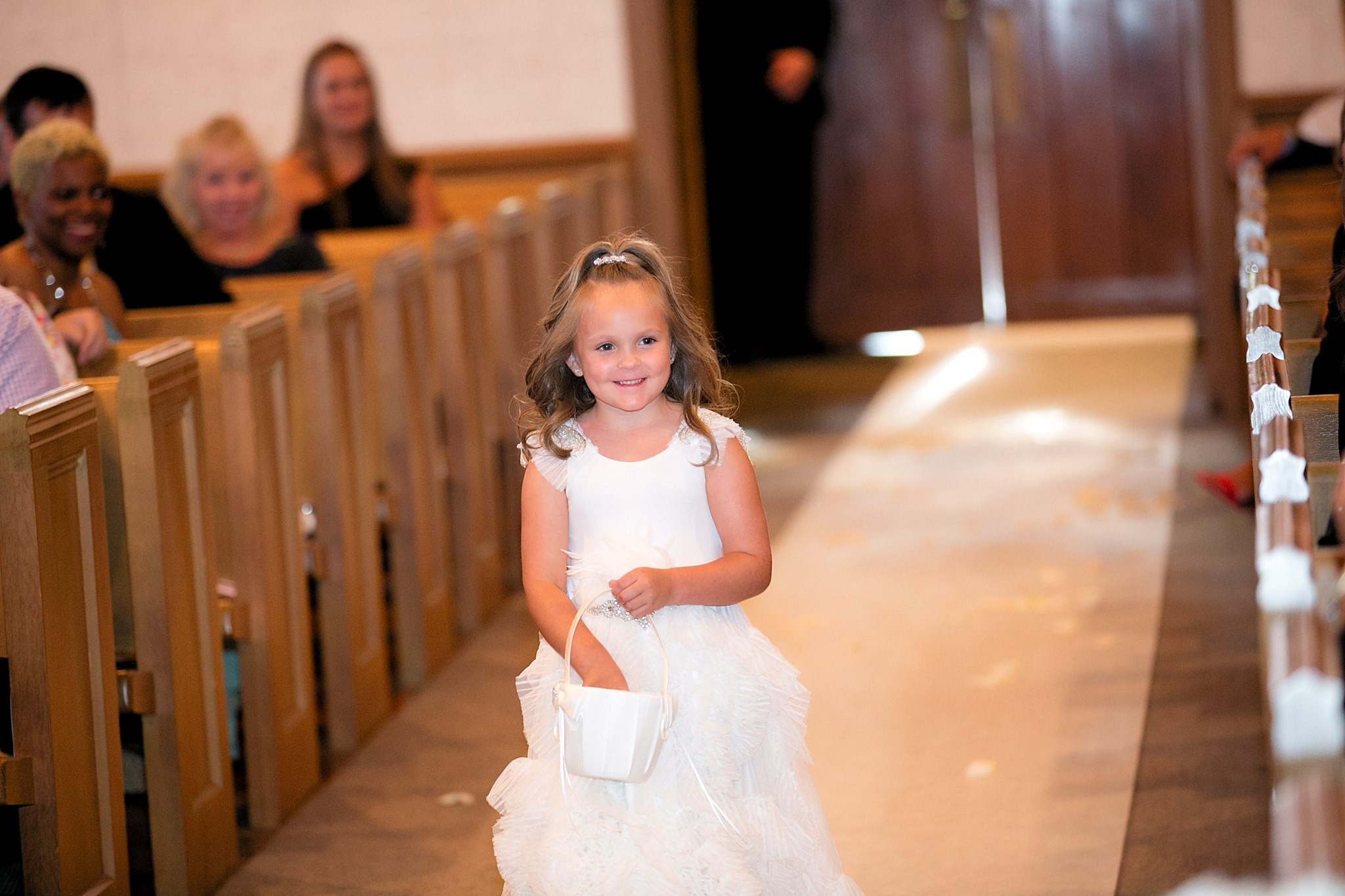 Next up is Mathis! I've know this girl since she was really little. She is SO smart and is such a sweetheart. Not to mention, she is really funny, but it's hard not to be with the funny Mama that she has! (Her mom, Larryn, is actually my sister's best friend of MANY years, and she used to go with us on vacay every year when we were younger.) Mathis is one of the most well-behaved young ladies that I have ever met, and I just love her to pieces!
Fun Fact: During Tennessee game days, the cheerleaders perform at the VOL Walk prior to the game. Every year that I cheered at UT, Mathis was my cheer buddy at Vol Walk – that was one of the hardest traditions to let go of when I graduated!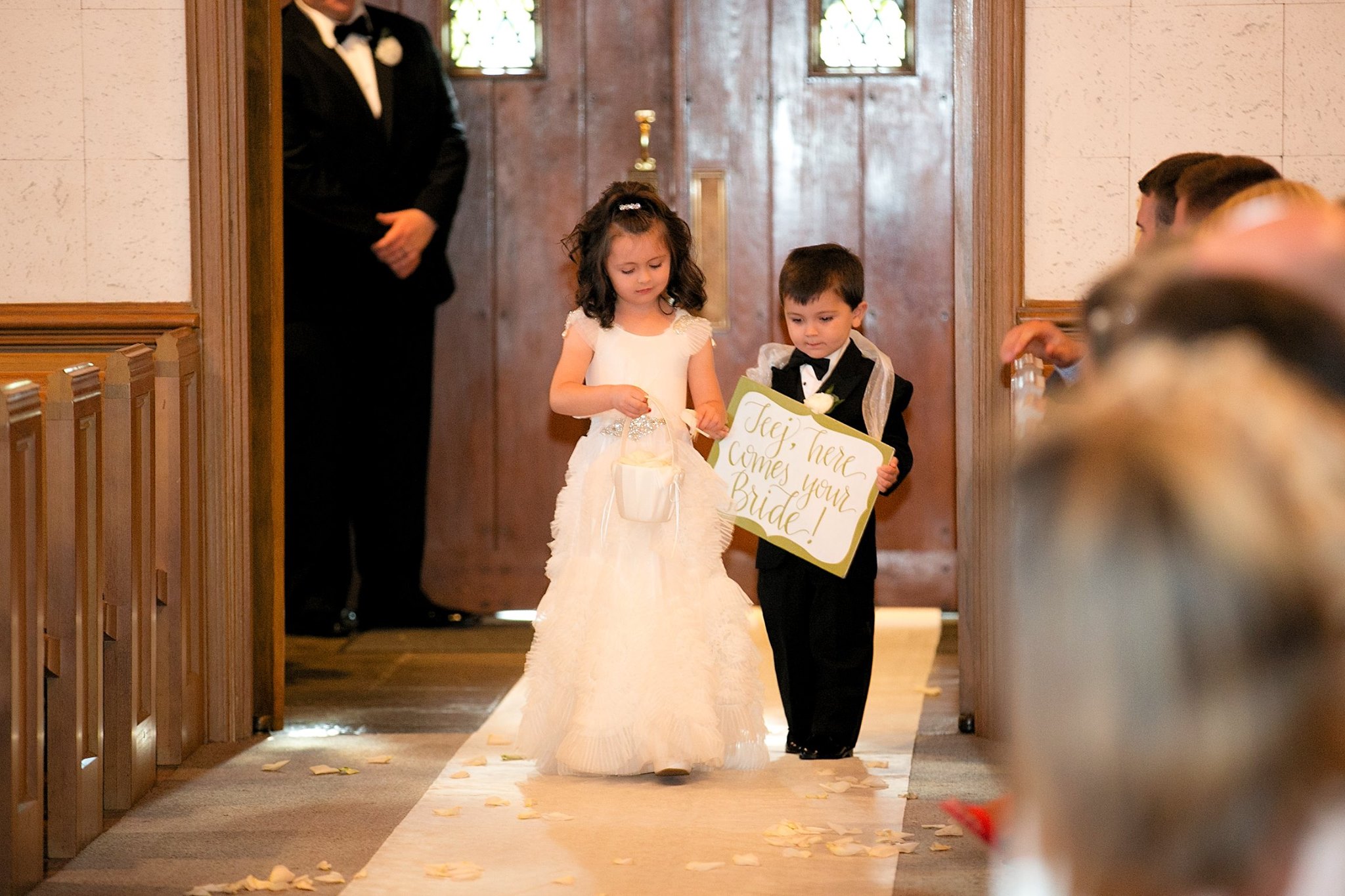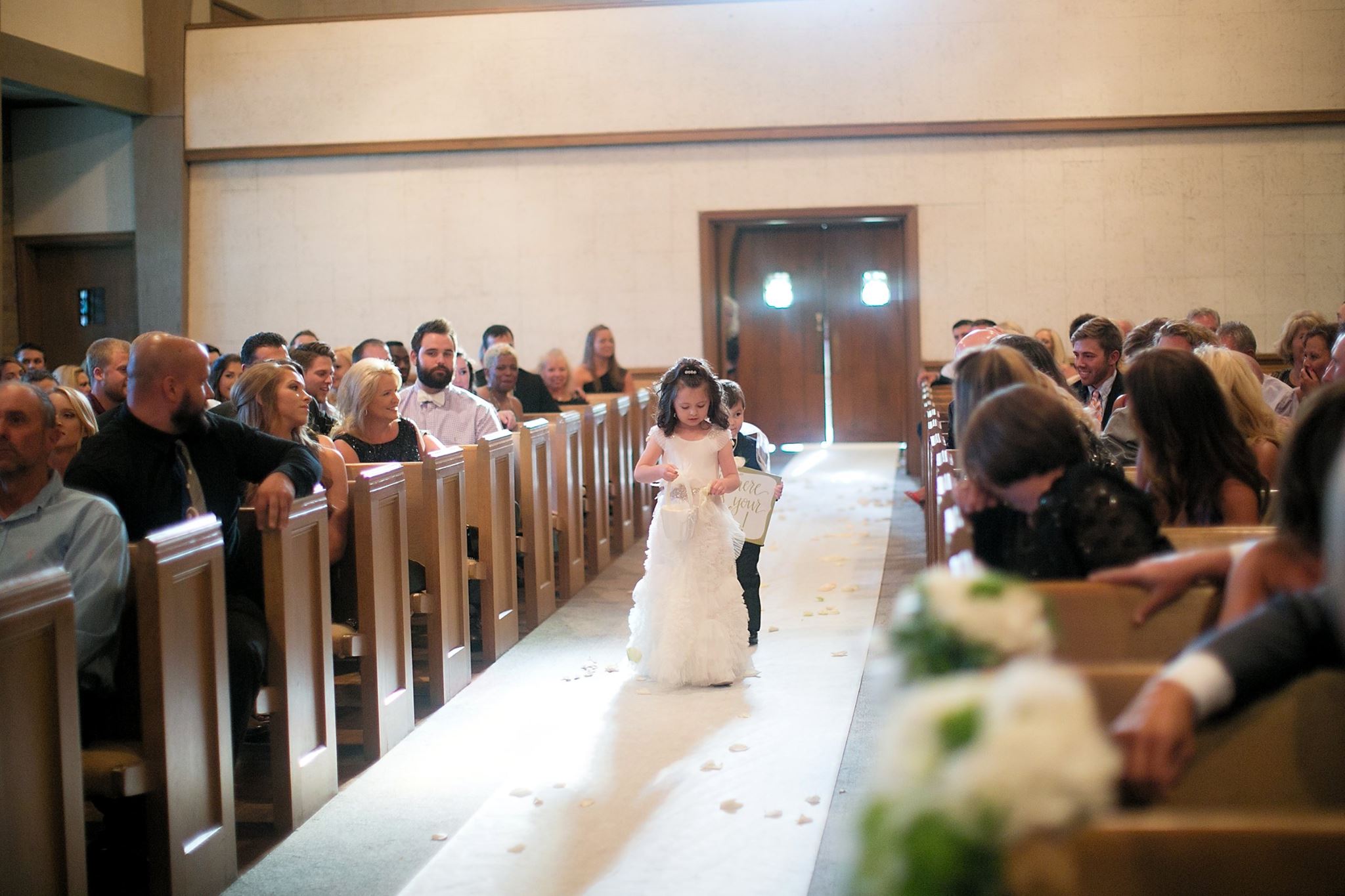 This is Kimberlin! She is a real-life doll. Her dad has worked with TJ since the time Teej graduated from college, and they have been great friends since then. We spent a lot of time with Kimberlin and her family over the years, and I'm so thankful that they share their precious kiddos with us!  Kimbers is just a pretty on the inside as she is on the outside, and I love watching her grow up into a beautiful, smart young lady!
Fun Fact: Kimberlin and her brother, Emmett, spend Halloween at our house every year (while trick-or-treating in our subdivision)! This past year, they were so precious and also wanted to help hand out the candy to the other trick-or-treaters.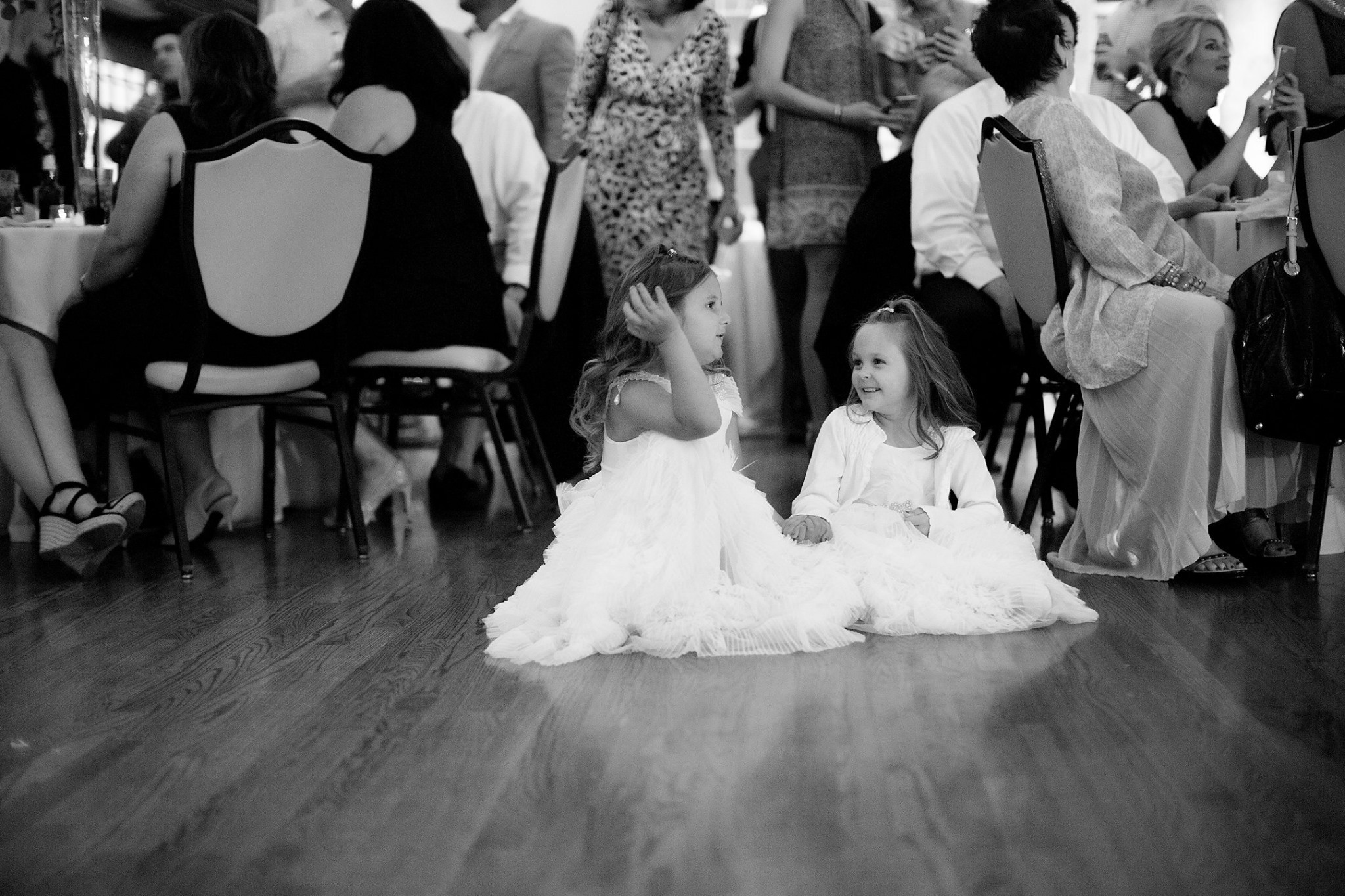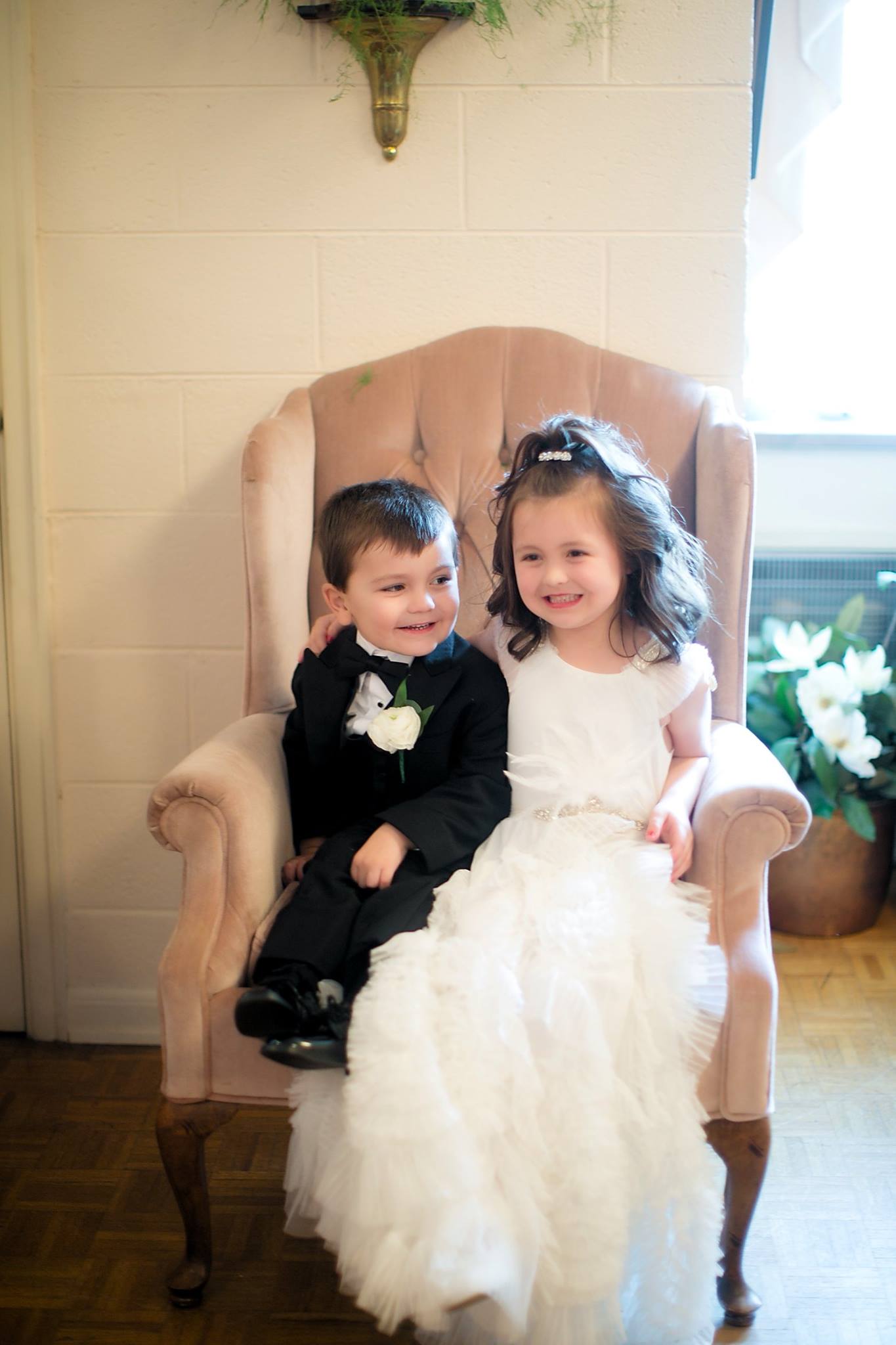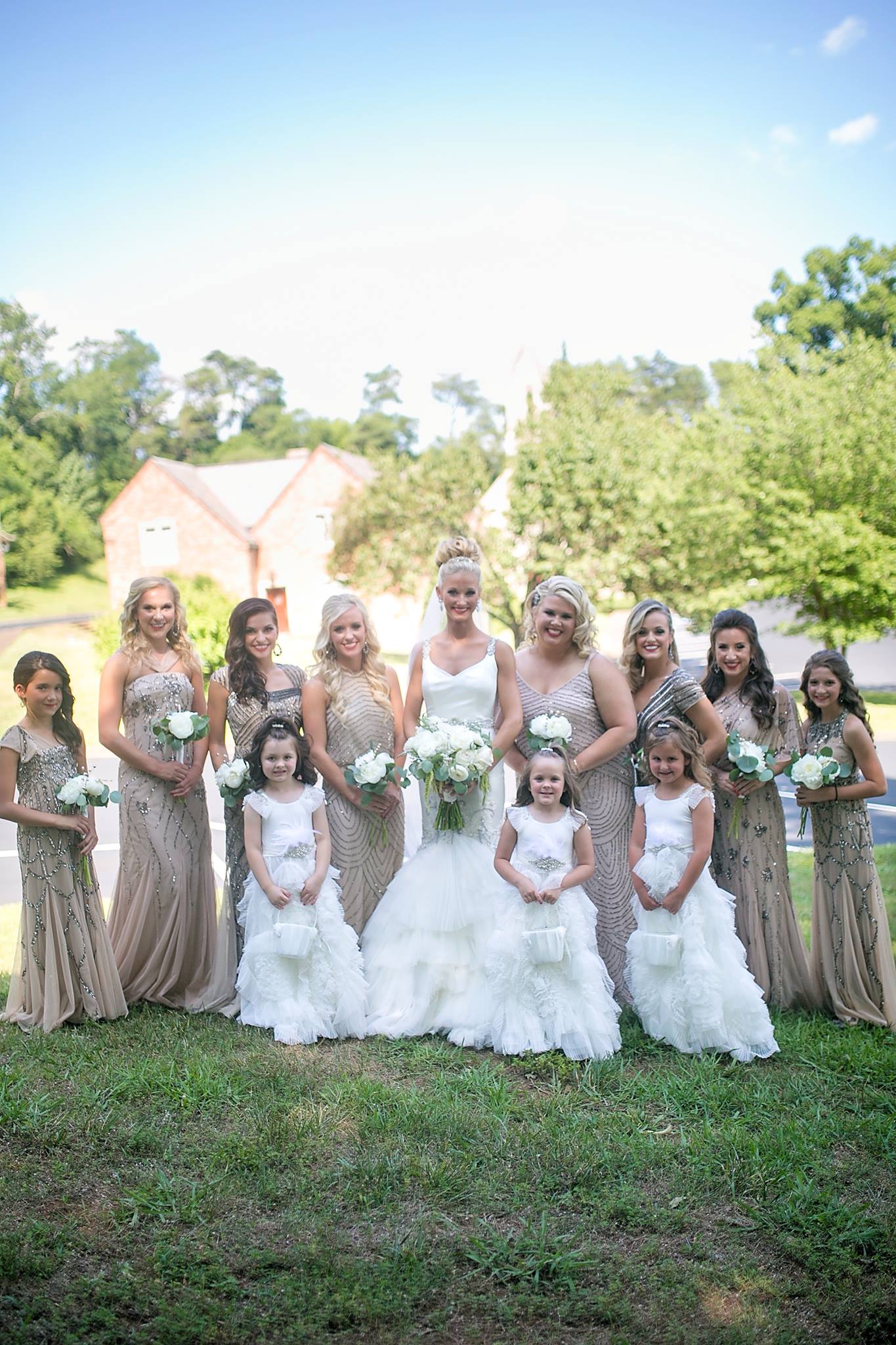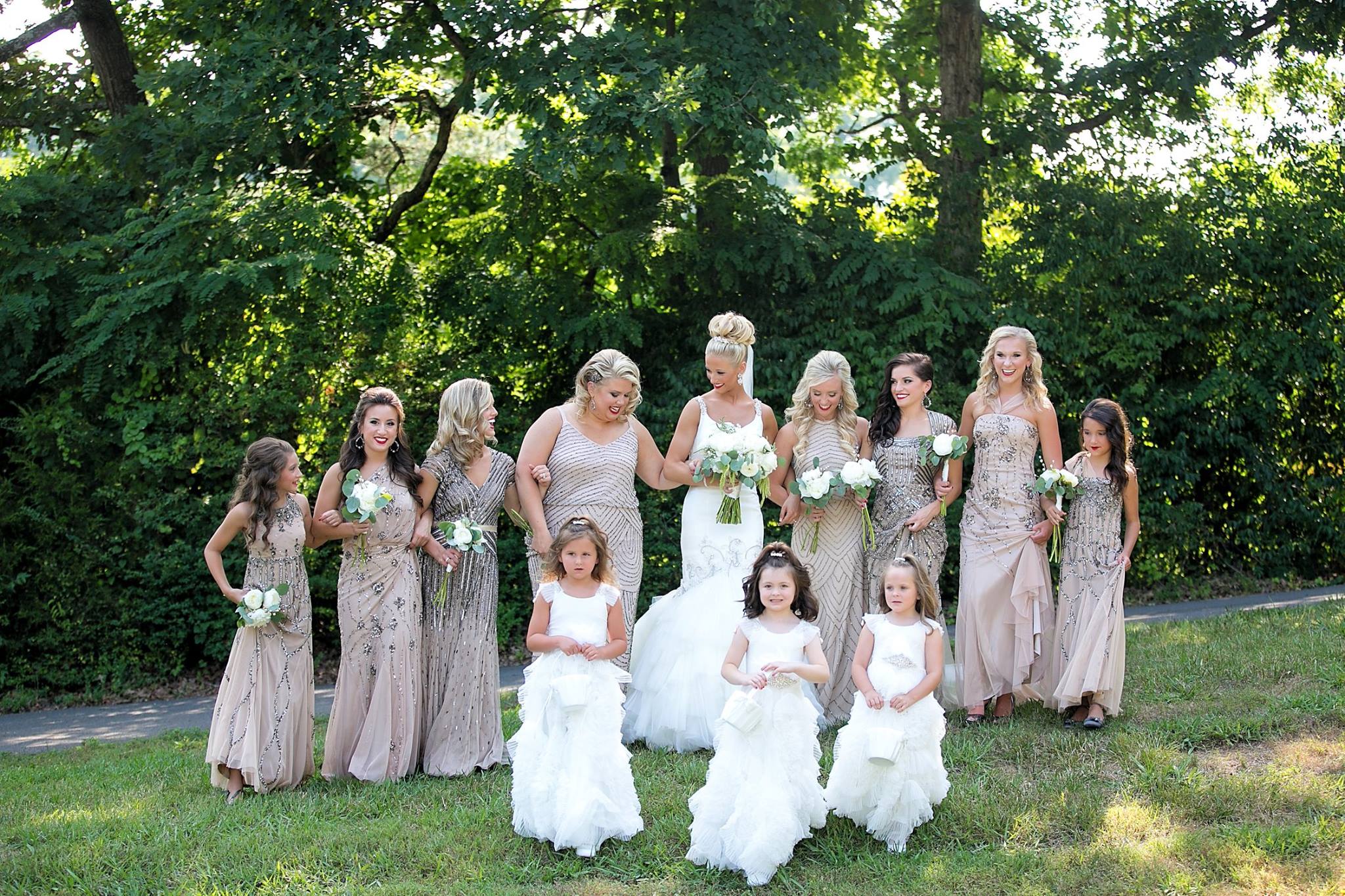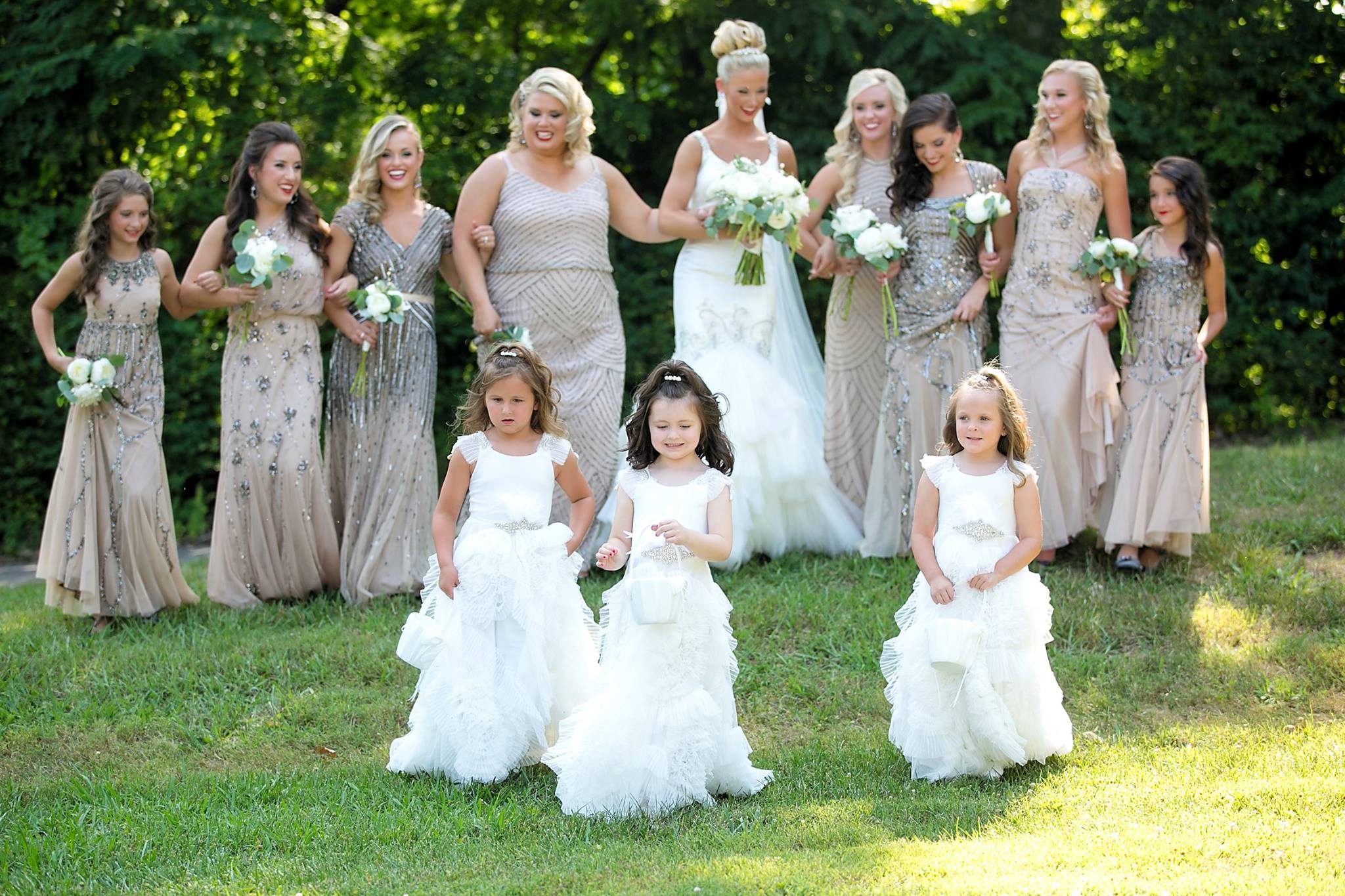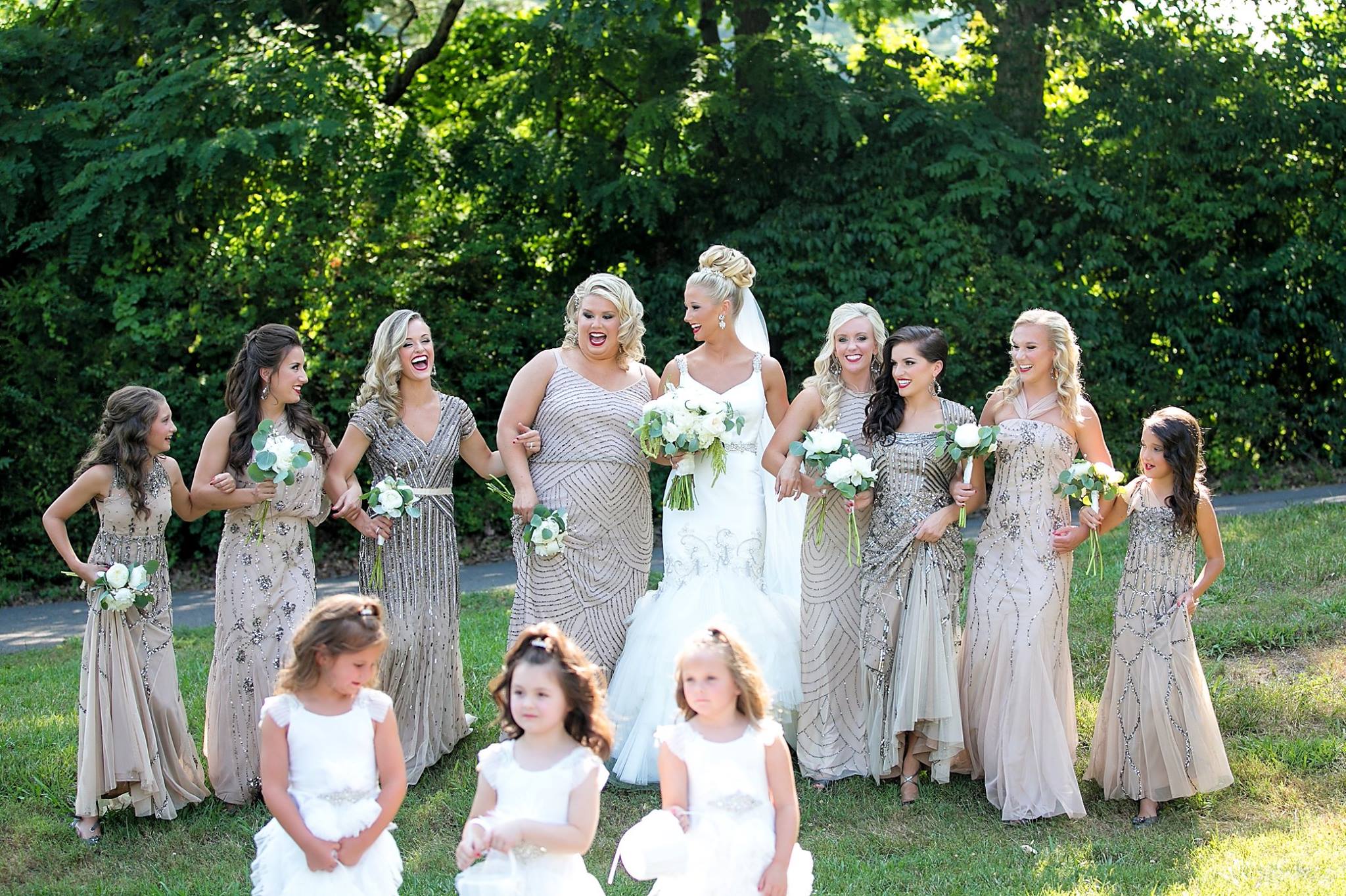 *Photos courtesy of Katherine Birkbeck.
There you have it! If you've made it this far in the post, props to you because this was a long one for sure! I really enjoyed writing this one up for you all because I got to share with you some of my very best friends. They are part of who I am, so I hope you liked getting to know them all even better! Now when you see them on my Instagram Stories, Snapchat, or any other social media, you will know who I am talking about!
With that said, if you have any questions regarding the bridesmaids' or flower girls' styles that are showcased throughout this post, just tweet me!
I have officially opened up my wardrobe styling services to now include bridal parties as well (YAY!), so if you would like me to help you style your bridesmaids and/or groomsmen for your big day or for a bachelorette party, shoot me a message here. I would be happy to talk to you about your visions and send you a quote. Let's make all of your bridal dreams come true!
Happy HumpDay yall!
xo, P