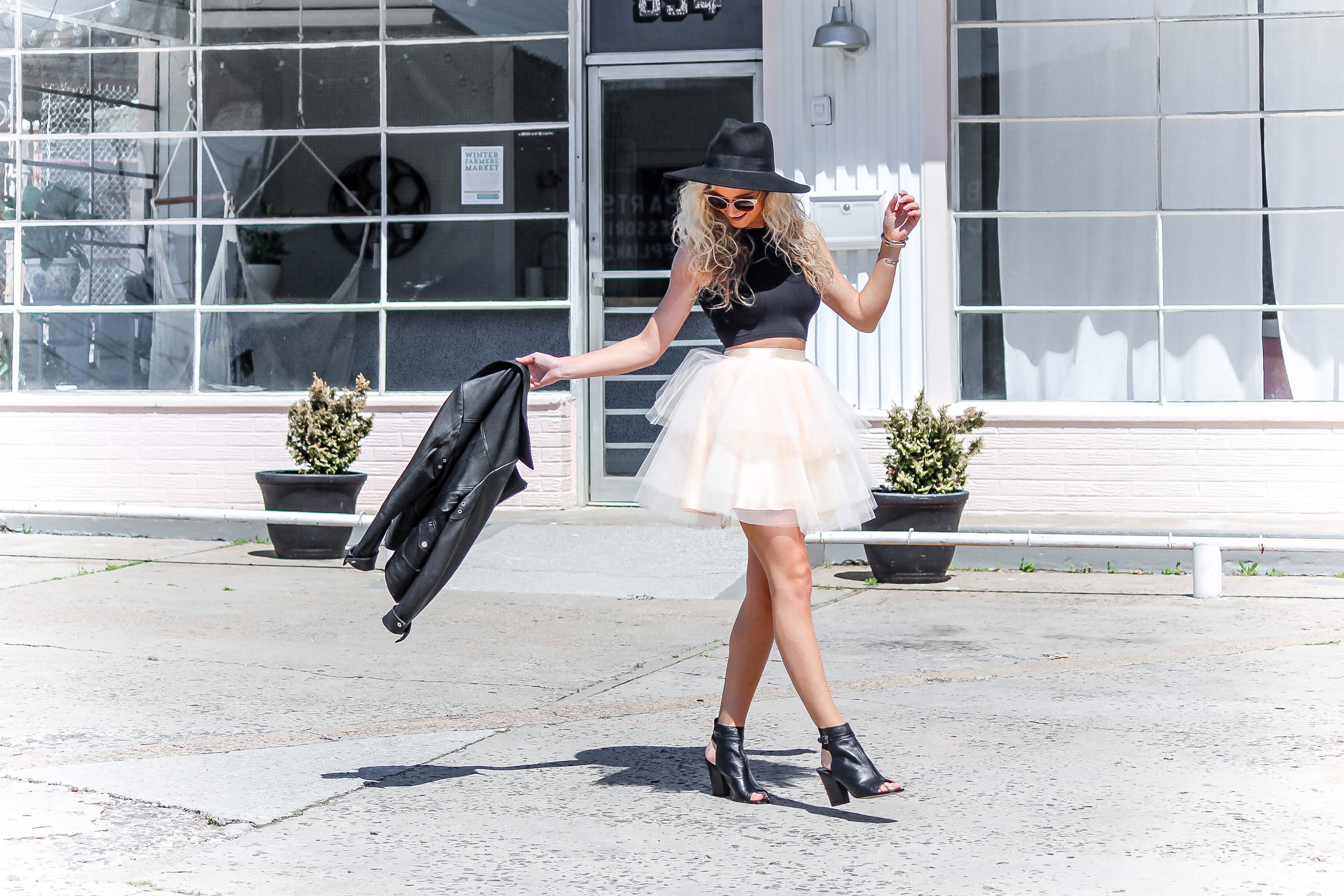 Happy (almost) Friday girls! Today I'm showing you this super fun, flirty and feisty look from Space 46 Boutique. The tulle skirt trend is still so hot, and I've tested out a few different brands, but it never fails that I always come back to Space 46. The quality of their skirts are unlike any other, and you truly get what you pay for.
With that said, you have probably noticed by now that I have a love for tulle skirts, and this Carrie Bradshaw-inspired one may be one of my favorites of all time. I can just picture the scene now when Carrie was splashed by a huge bus when she was wearing a tulle skirt exactly like this one. (Don't get me started on Sex and the City — it's my fave!) … One of the things that I love most is that you can style these pieces so many different ways. If you have been following me for awhile, then you probably know by now that I don't really like to put one specific label on my personal style .. I like to think that I incorporate many different styles into my wardrobe, depending on what I'm feeling for that specific day. All that to say, I'm going to share with you the 4 faces of a tulle skirt tonight – AKA, the 4 different 'personalities' that a tulle skirt can give you through your outfit!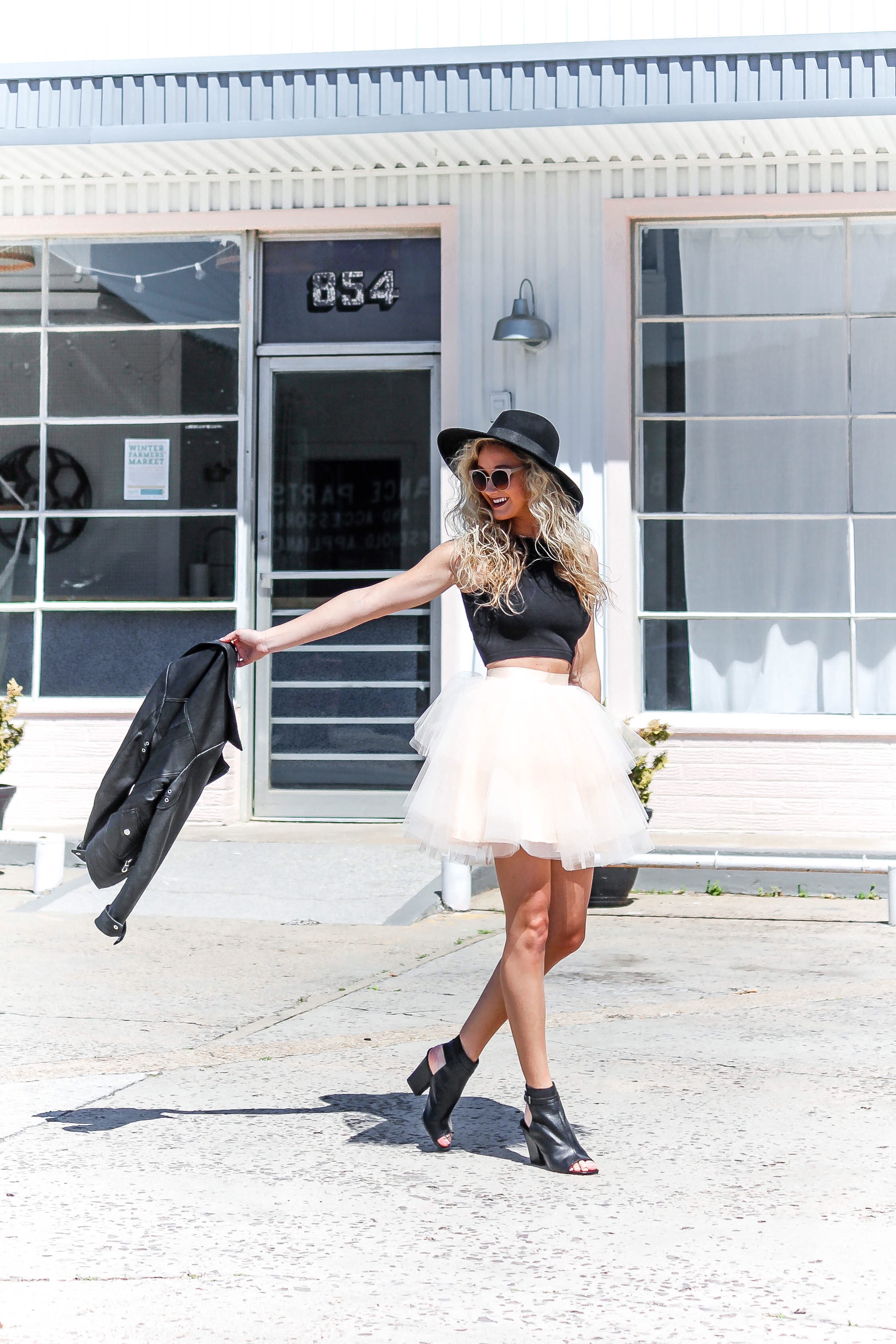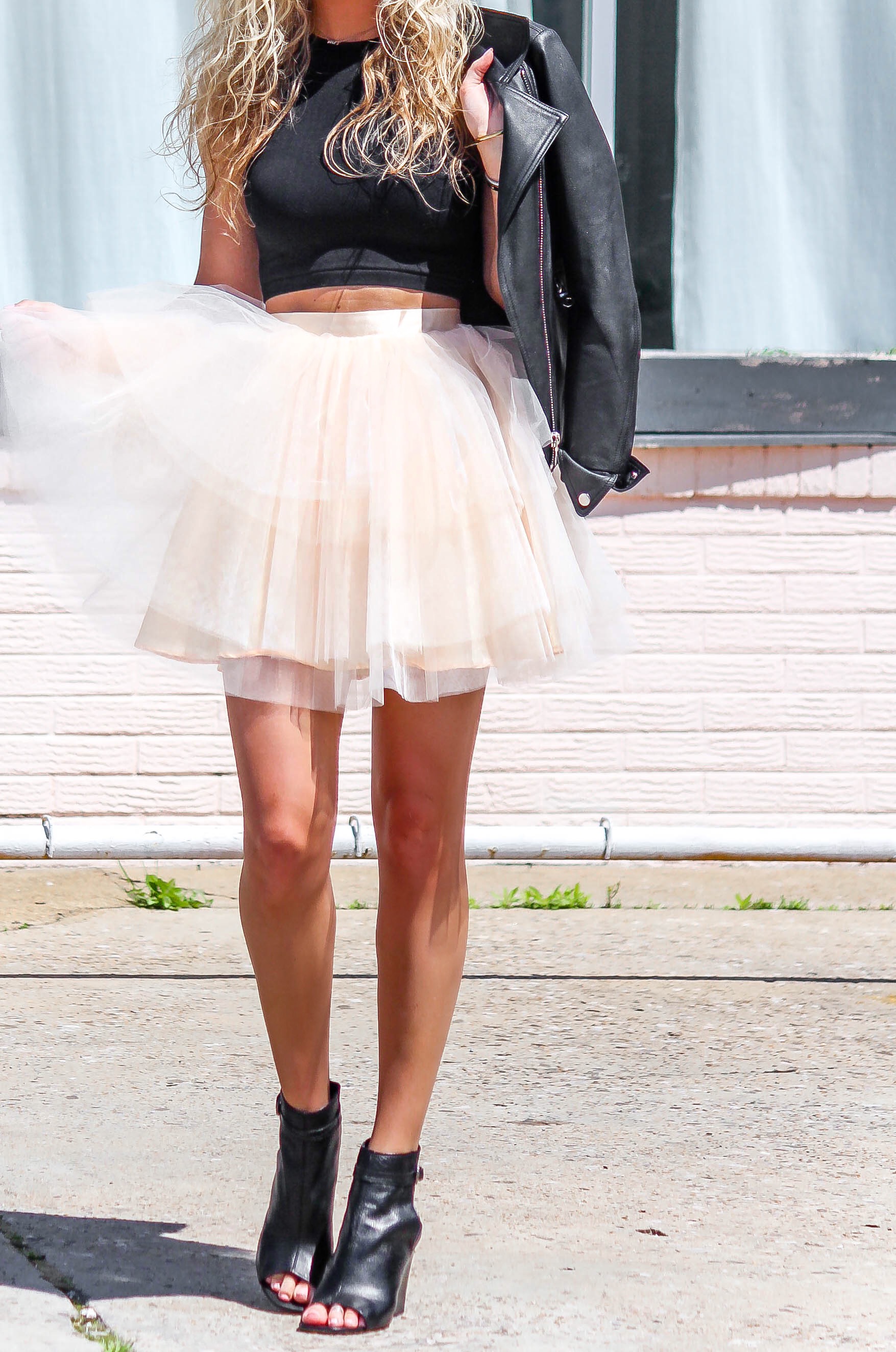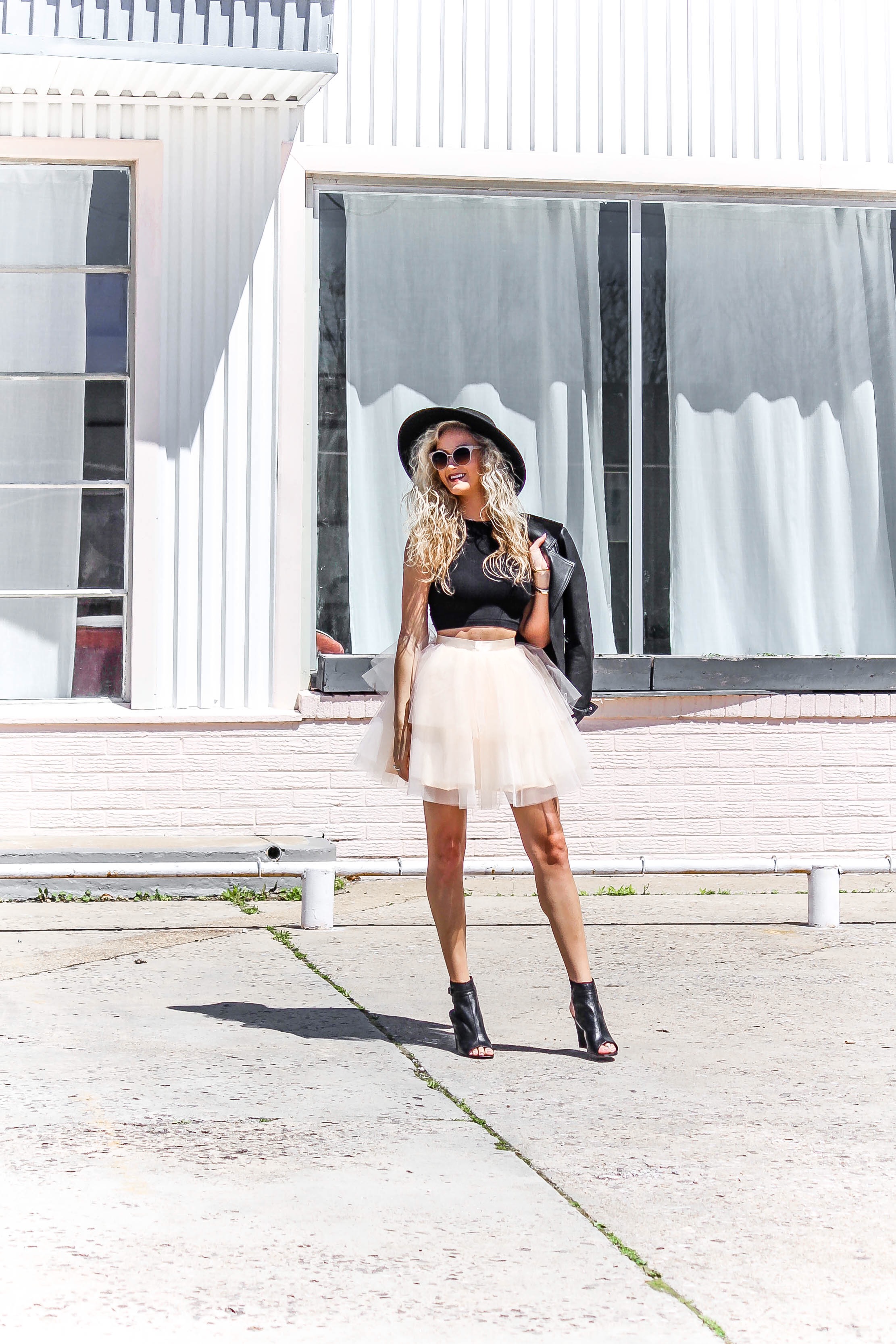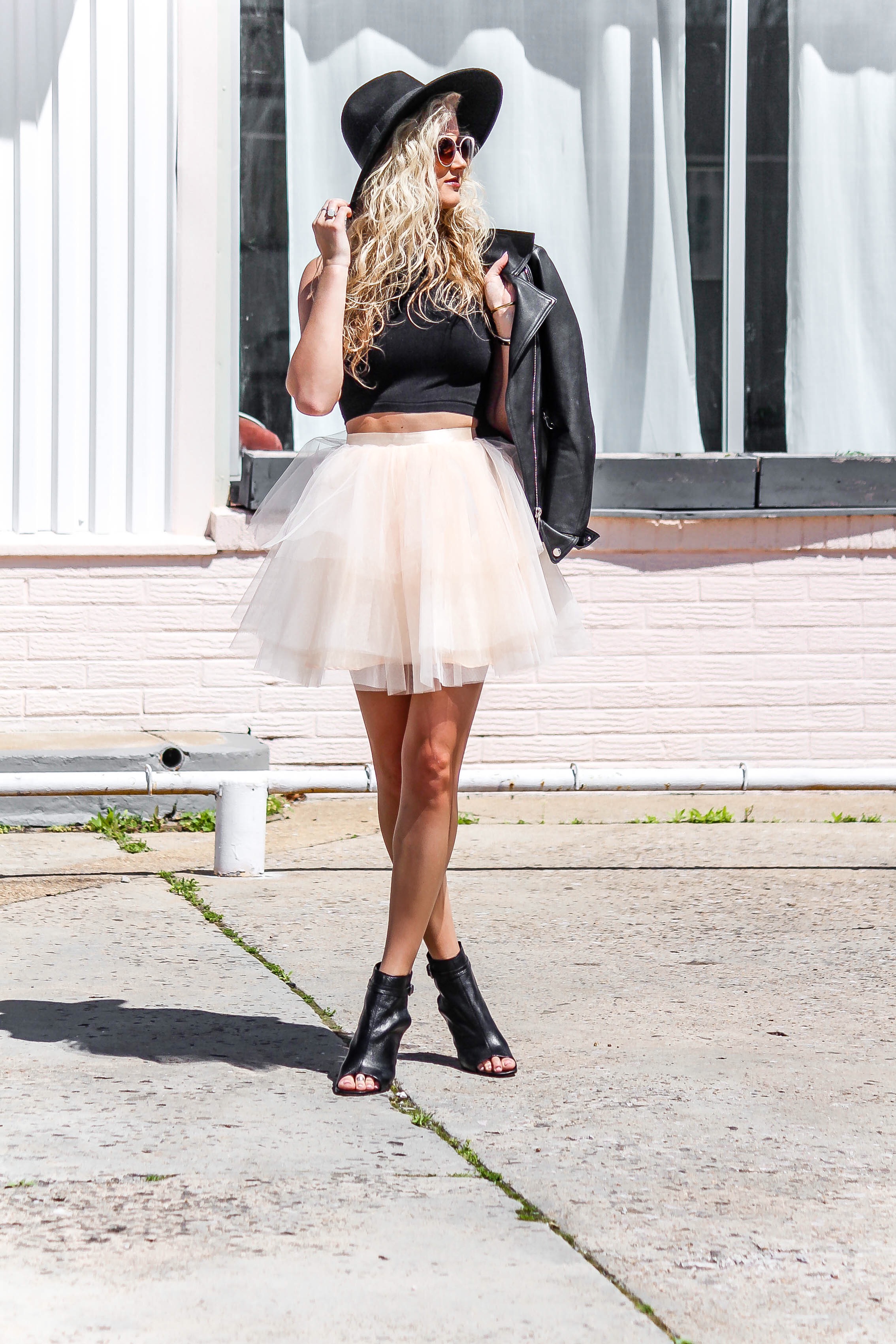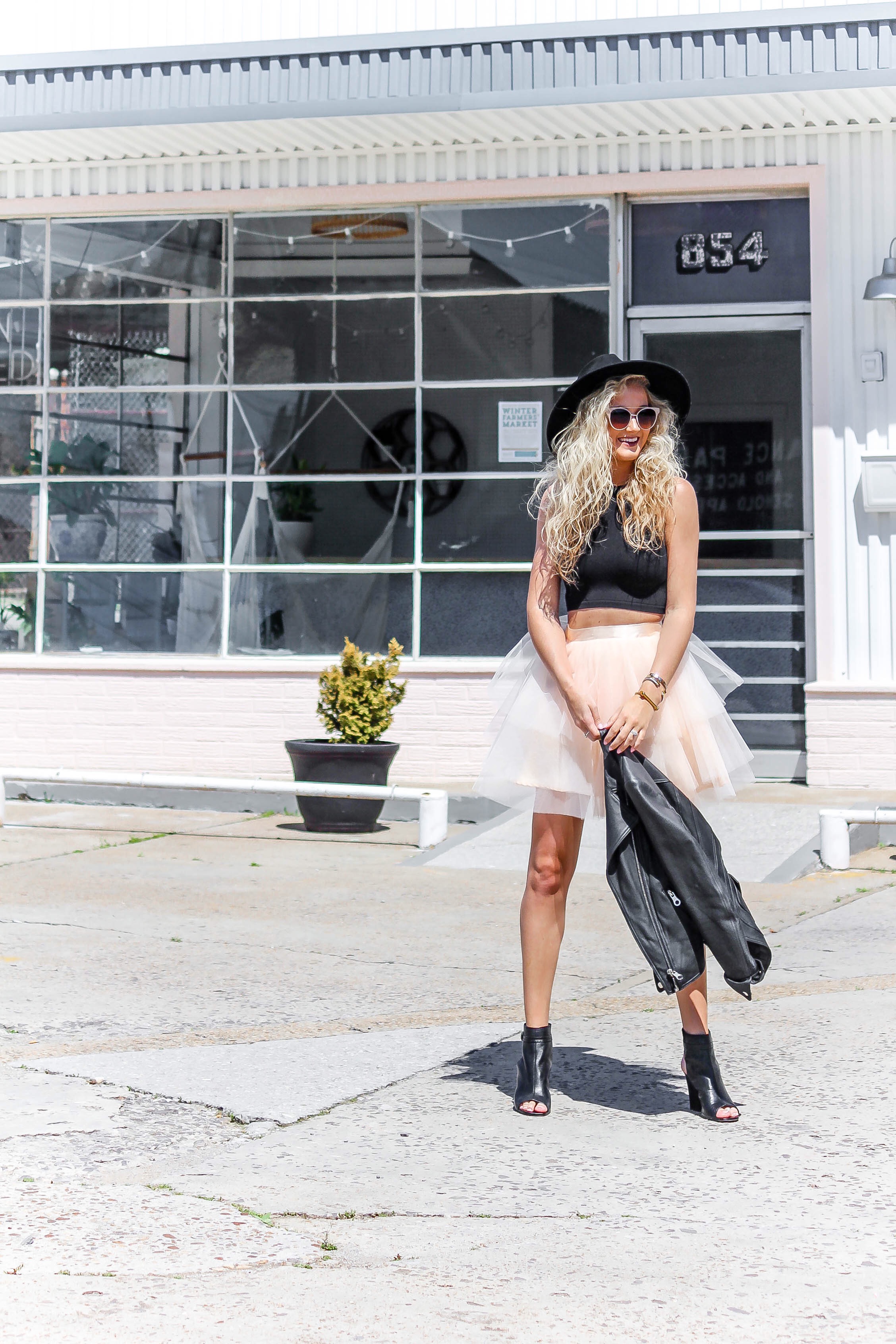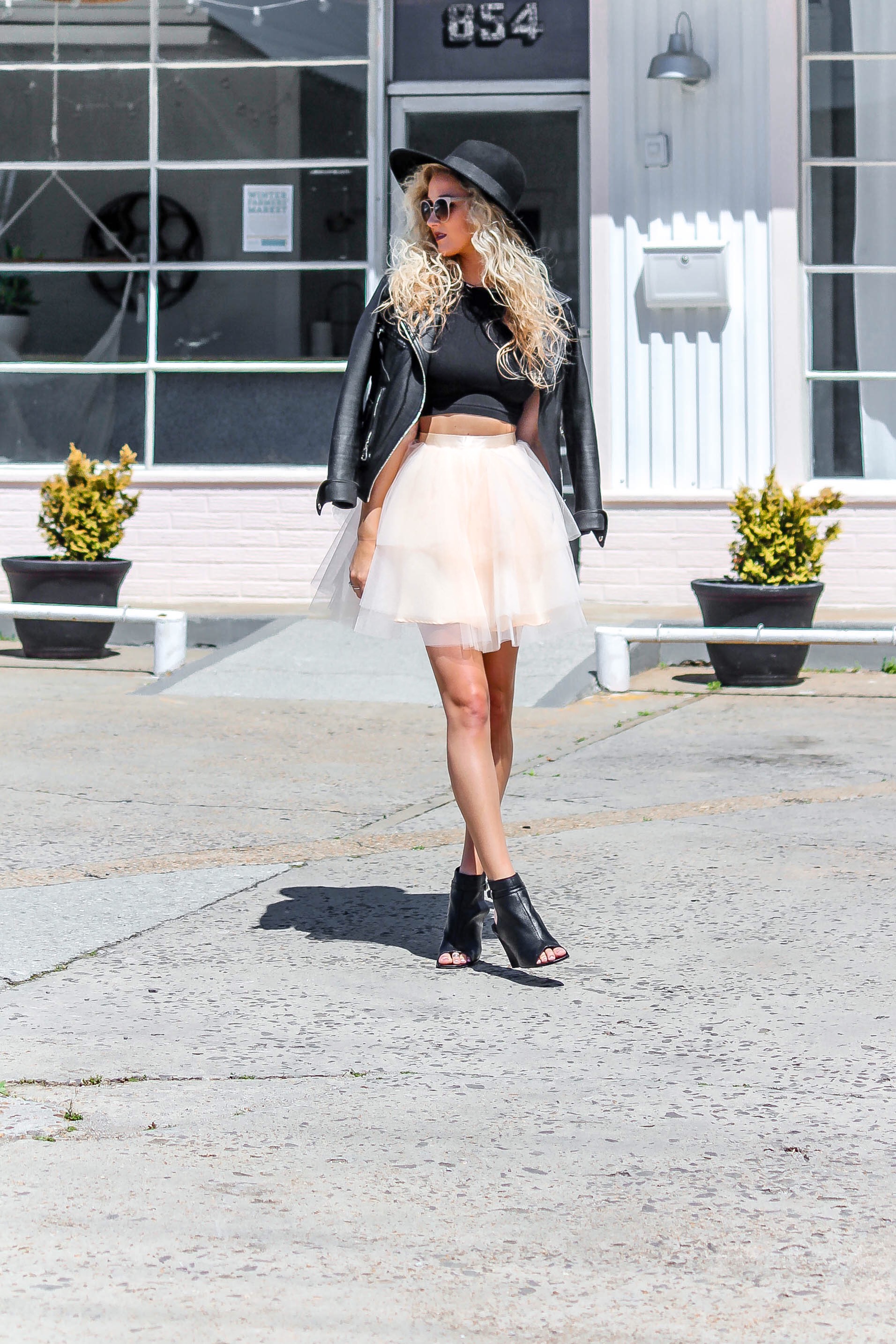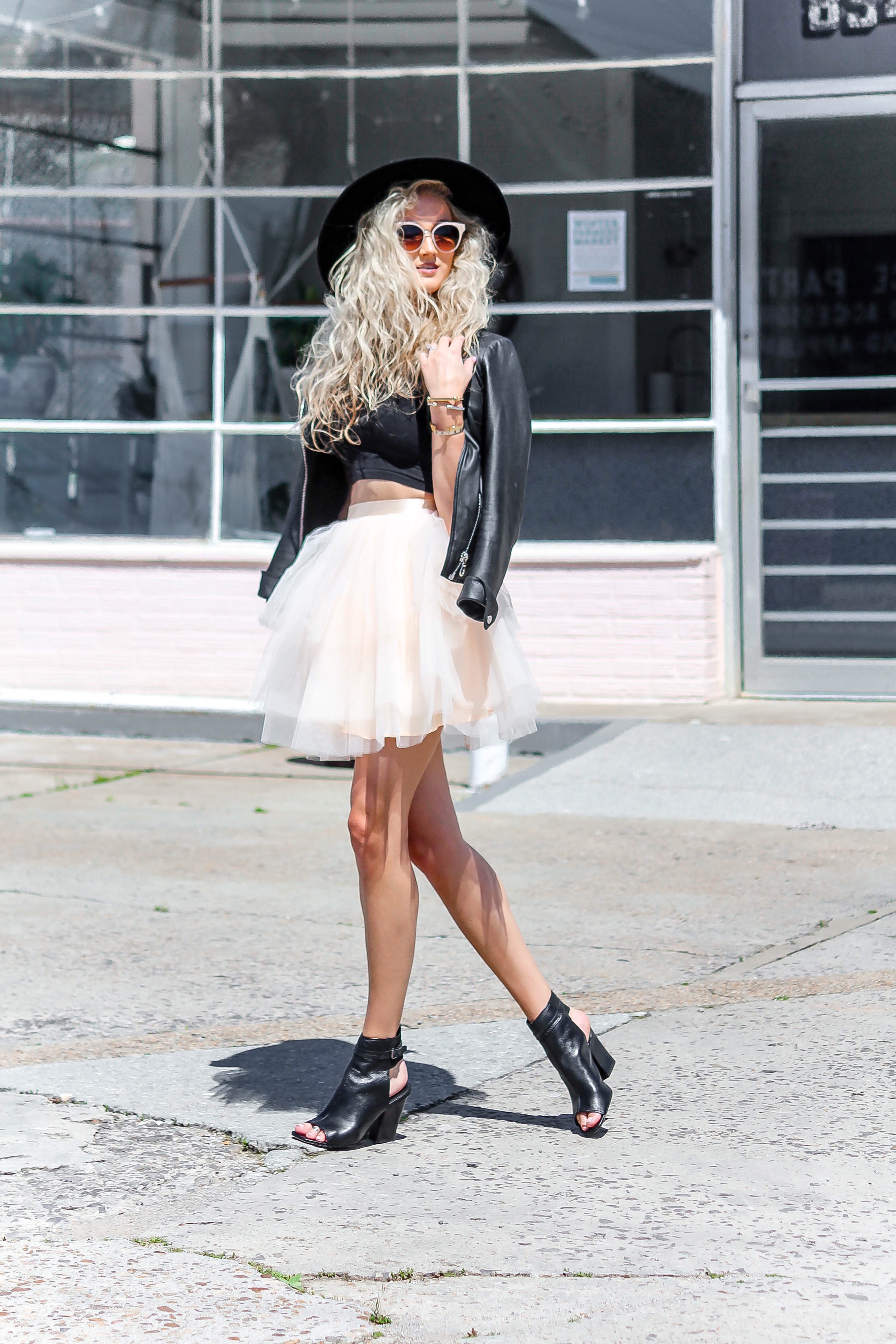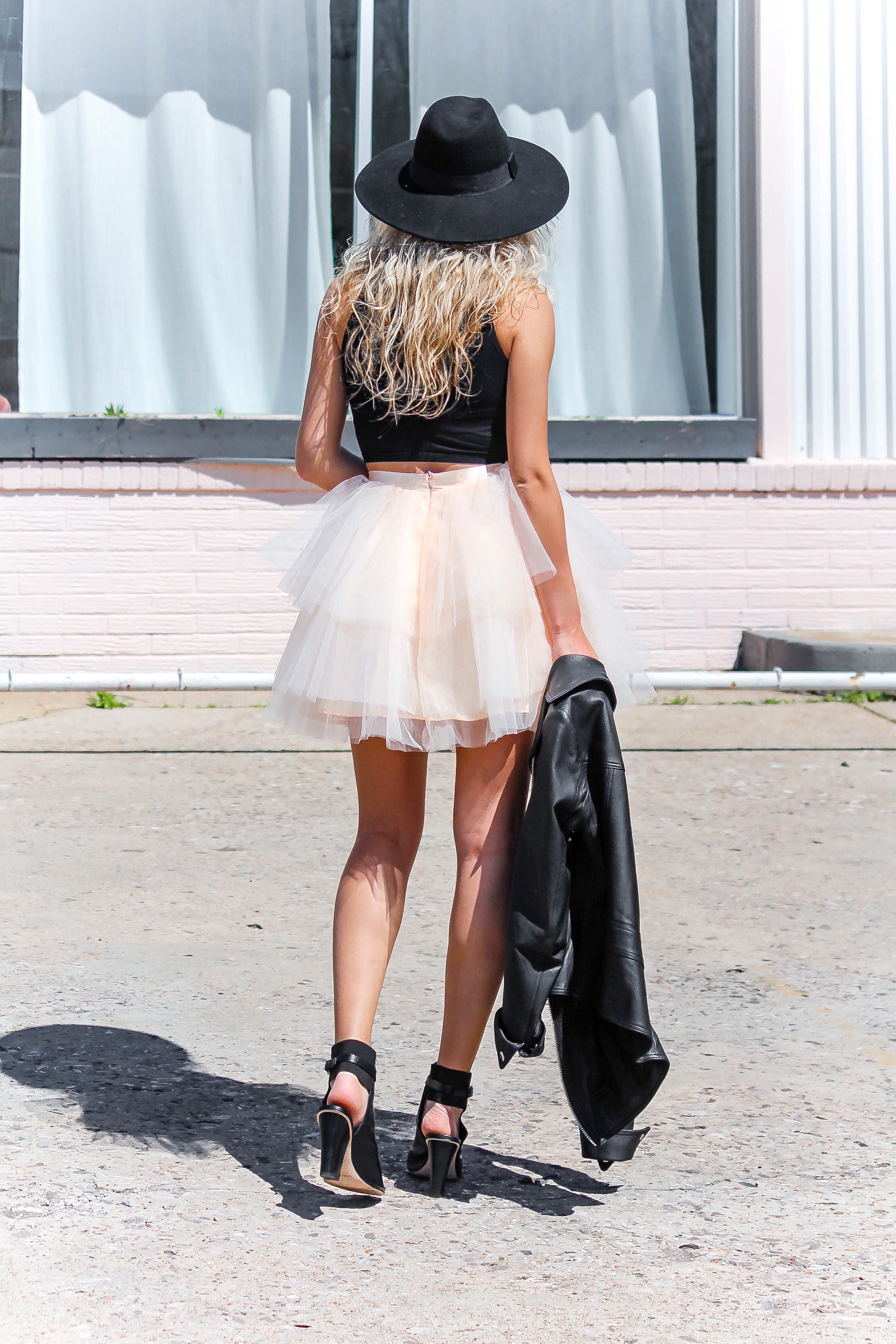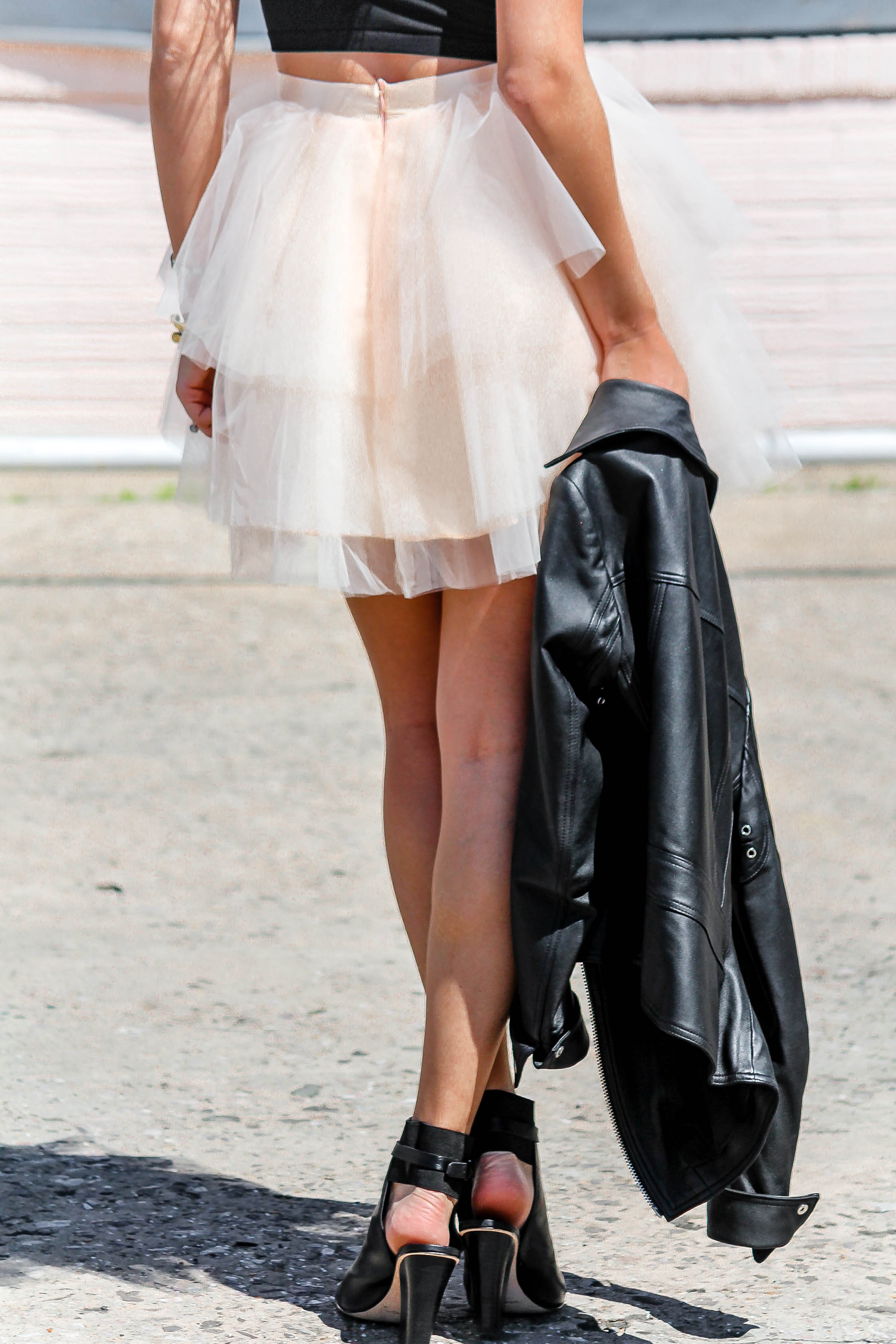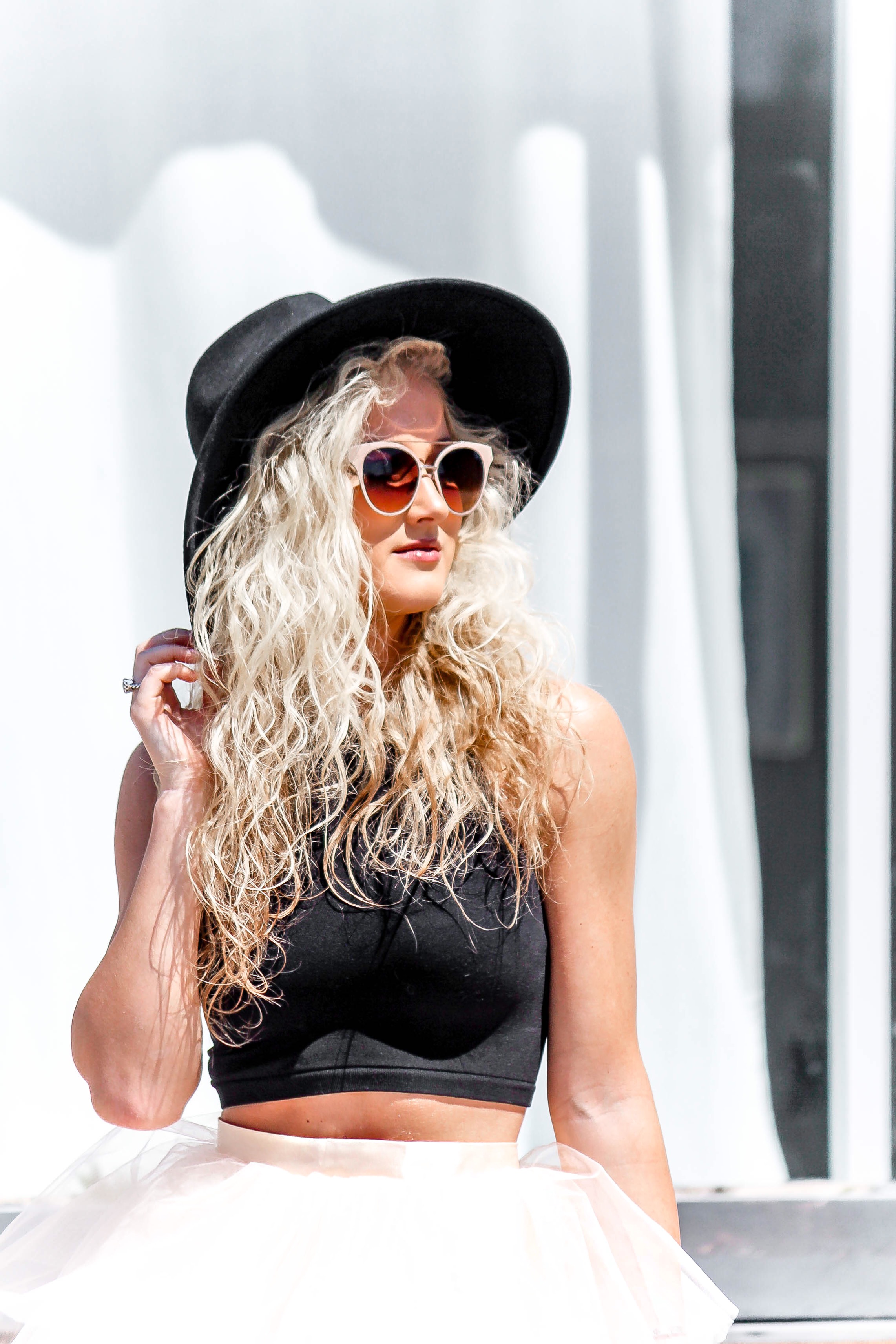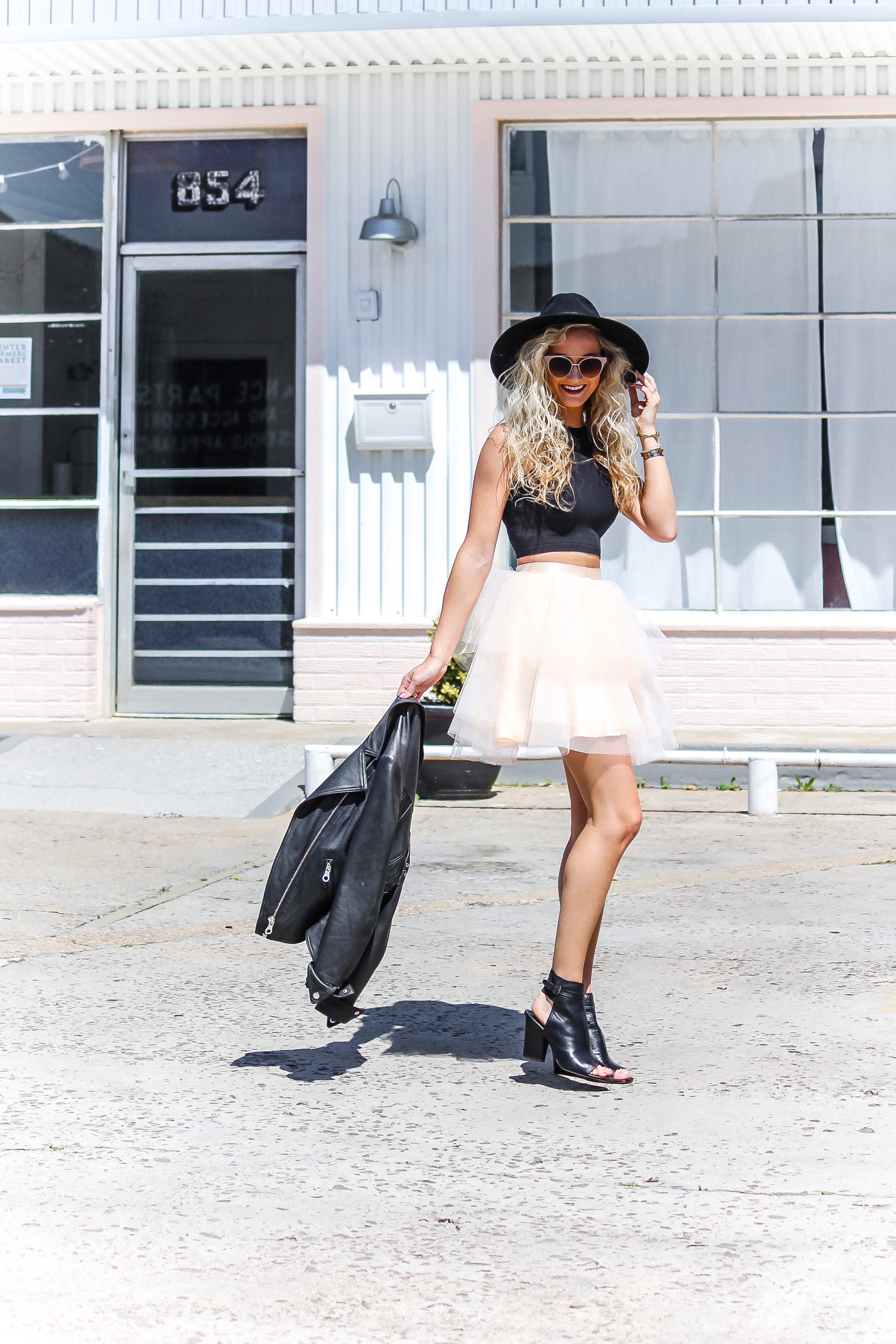 Shop my look:
layered tulle mini skirt | black fitted crop top | similar black leather jacket (dupe here!) | similar bootie sandals | oversized hat (dupe!) | similar blush sunnies (perfect color for spring!) | stack bracelets here (my fave), here, here

To me, there are 4 different 'faces' of a tulle skirt (and trust me, there's a style for everyone)!
1. Feisty … AKA rocker, edgy, sassy.
Tulle skirts can be tricky (especially if they are short like the one in this post) so I decided that this mini skirt vibe would pair well with some edgy, leather touches and a crop top in order to make sure that this tulle mini didn't look 'tutu' juvenile. 😉 Speaking of leather, I've been getting questions from some of you all asking about certain wardrobe staple pieces, and I have to say that a good quality leather jacket is one of those staple pieces that every single girl needs in her closet. I typically don't spend a TON on my clothes (I think it's best to save the luxury or designer labels for handbags or shoes), but I will say that I would not even think twice about spending hundreds of dollars on a good leather jacket. Fun fact: The one I'm wearing in tonight's post was originally $900 (I got lucky & bought it on sale like 9 or 10 years ago!!) Point is, yes it was high-priced, but it's obviously great quality and it is still in amazing condition to this day. Actually, I like it even better now because it's more broken in to my body! (Okay getting off of my tangent ..)
2. Feminine
Literally, NO ONE can go wrong with the skirt in THIS POST. There's always a way to style it in order to achieve that chic and feminine look. Actually, that blog post has been one of my favorites to this day!
3. Fun
When I think of a fun outfit in general, I instantly think pops of color, comfortable, bold and something that makes me feel like myself – something that allows the fun side of me shine through. THIS POST shows how I style a fun tulle skirt look!
4. Fashionable
Obviously, when I think of the word 'fashionable', so many things come to mind! But one thing that definitely comes to mind is having unique style – stepping outside of the norm and trying something new. Before THIS POST, I had actually never worn a tulle skirt (or any skirt for that matter, especially one that is see-through) on top of a dress itself … but I totally loved the outcome!
 The tulle skirt trend is sticking around throughout the spring and summer months, so I hope you have found these posts helpful and enjoyable to read!
I want to ask you all … what is a blog post topic that YOU would like to read soon on love 'n' labels??? Seriously, I want to know your thoughts! It can be anything about fashion, life, love, beauty, just a regular Q&A, food, health, jobs, blogging advice, travel (we have some trips planned the next two months!), a full post on leather jacket styling, fave movies/music, my fave toothpaste (LOL), curling irons, a life update, my daily schedule, marriage, styling tips … LITERALLY anything. Some of you have sent me requests, and I already have those in the works for next month! DM me on Instagram, TWEET me, or comment below with your ideas!!
Ready, set ….. GO!
xo, P
*Thanks to Space 46 Boutique for sponsoring today's post.