I'm having mixed (bittersweet) feelings because my 'Wedding Wednesday' series is quickly coming to a close. Mine and TJ's 1st wedding anniversary is this Sunday, June 25th – I seriously cannot believe it's already been almost a year since we said "I do"! Time truly flies, y'all!!
But with that said, I have one more (very special) Wedding Wednesday post to share with you all before our anniversary post, and it's all about the special first looks that I got to share with a few very significant people in my life. Keep scrolling to read all the details!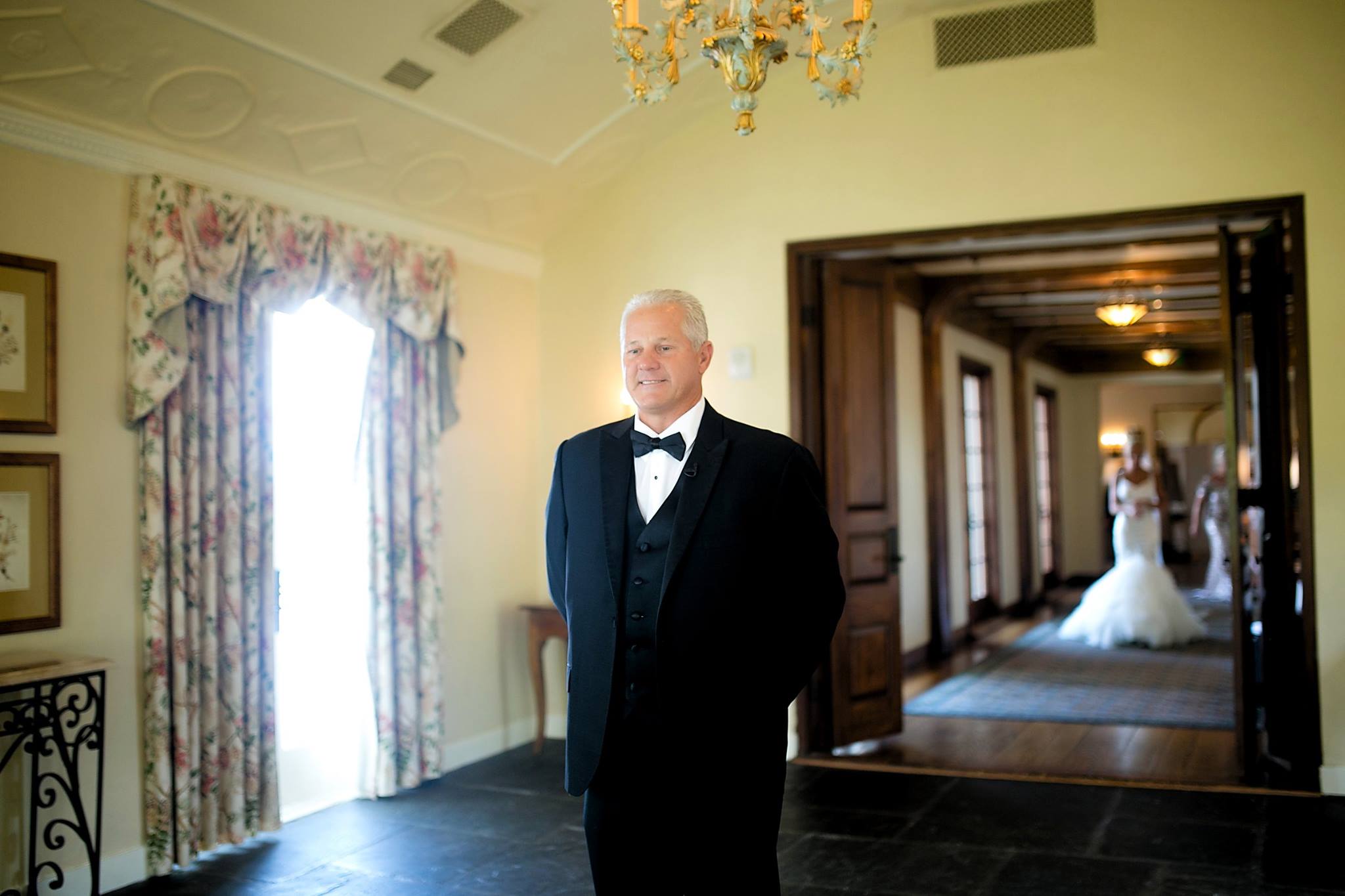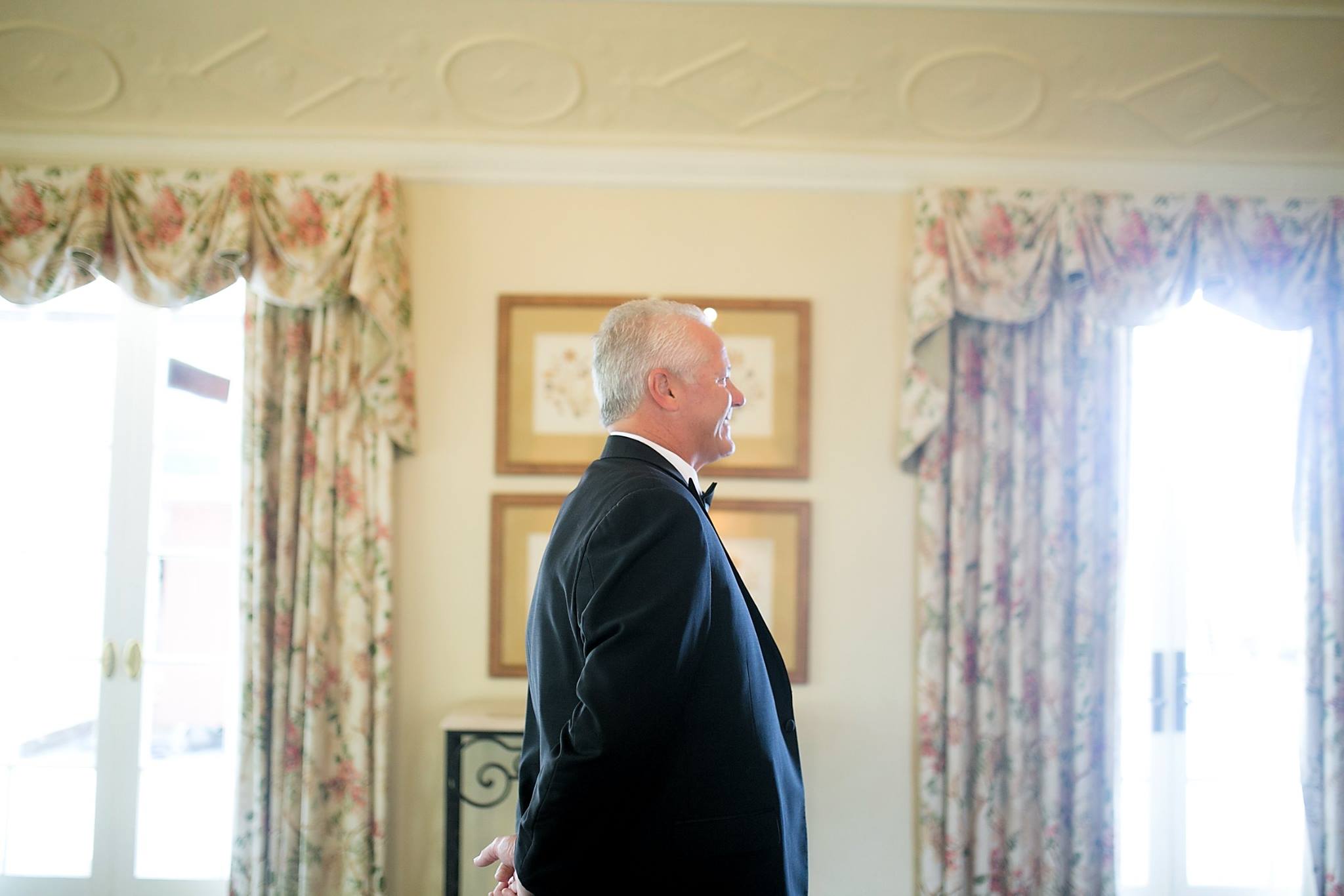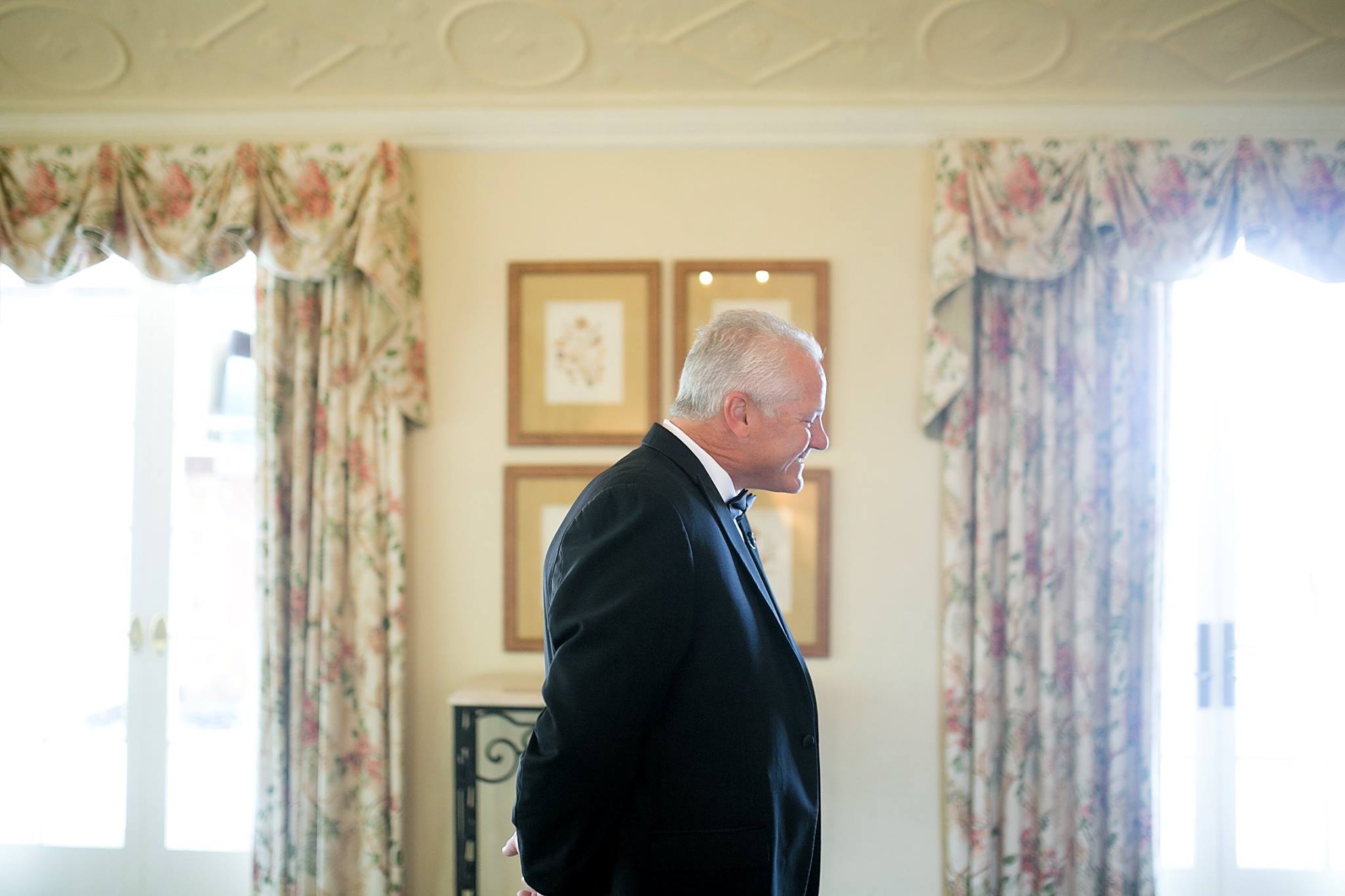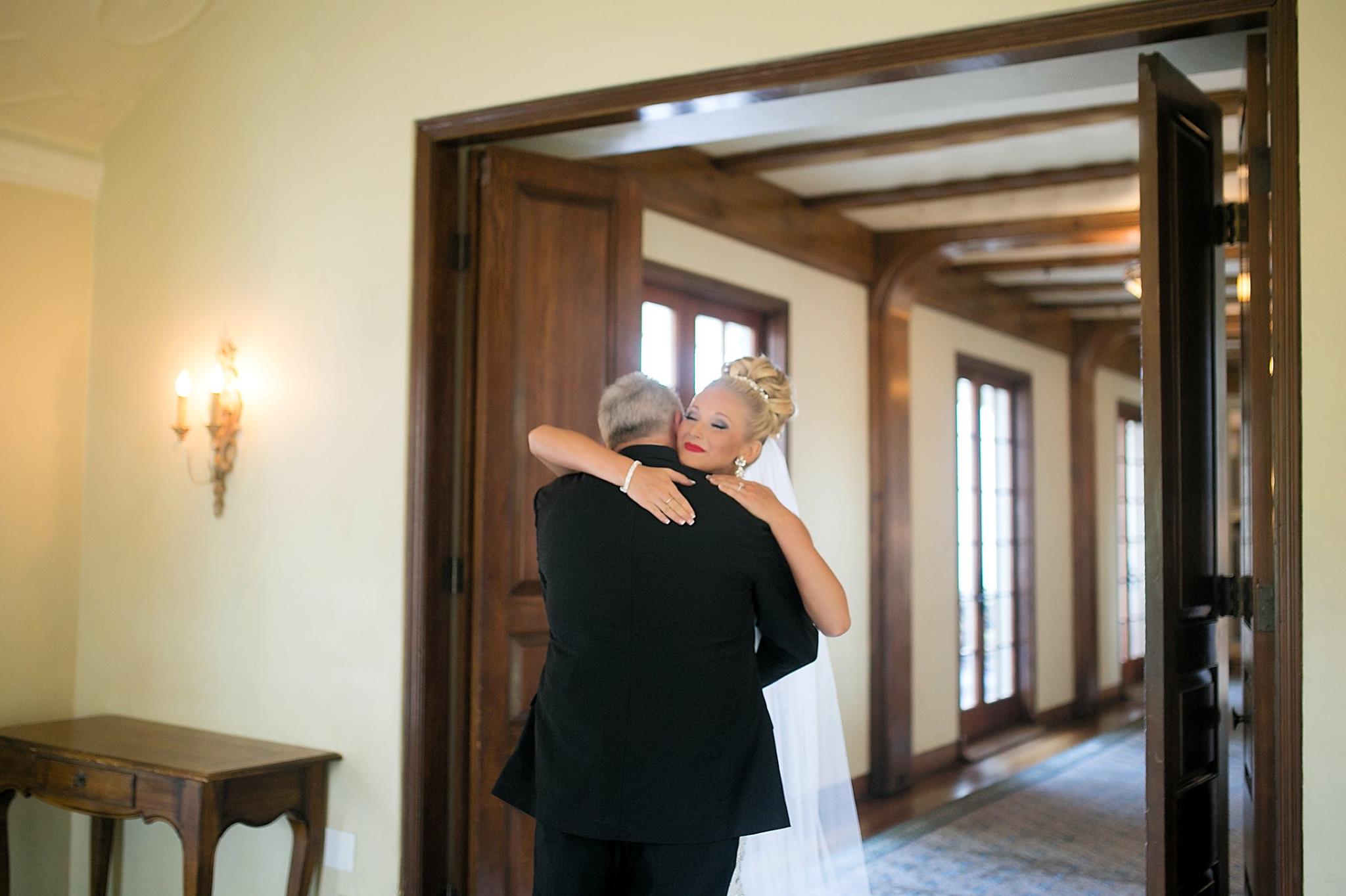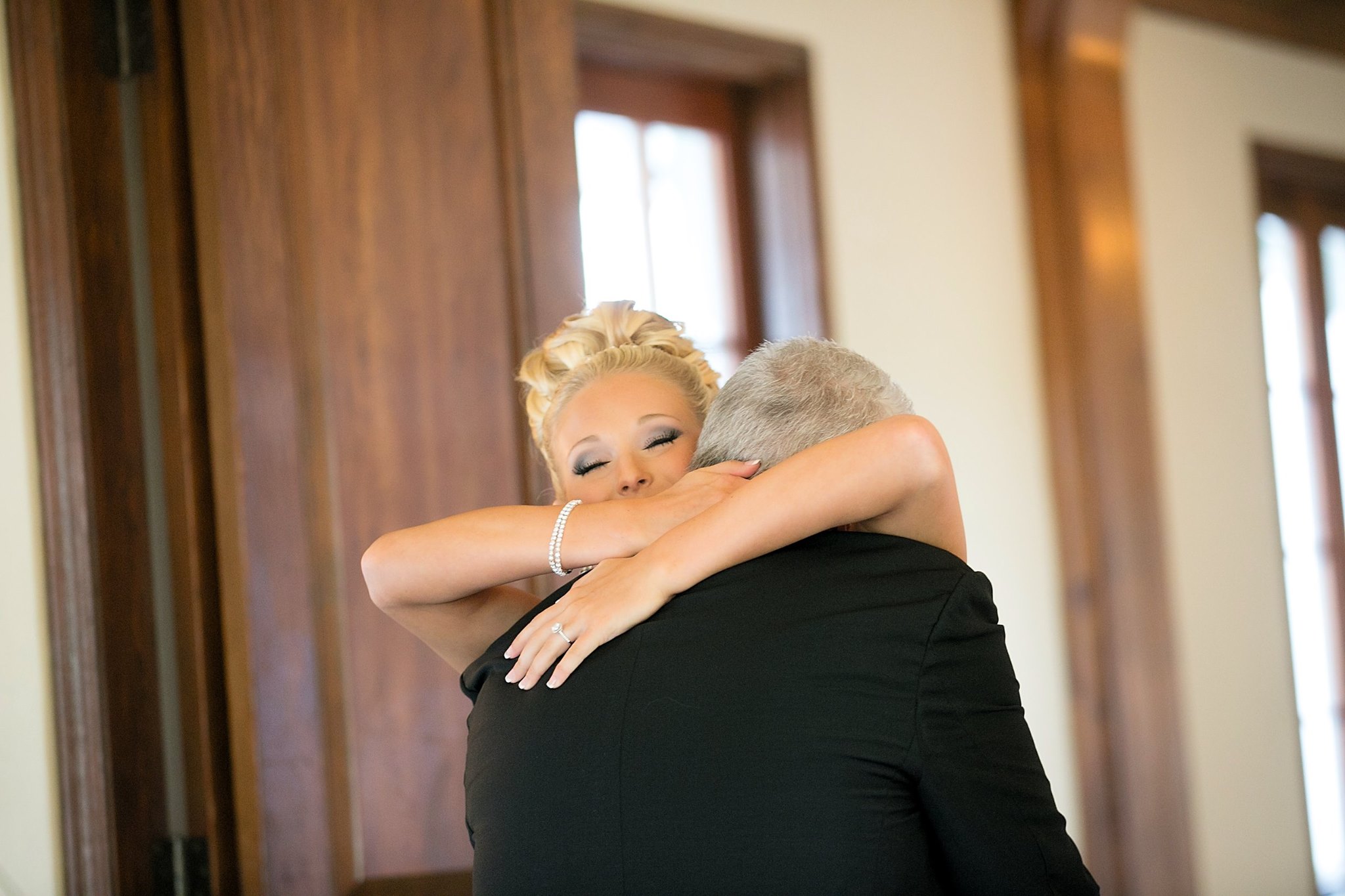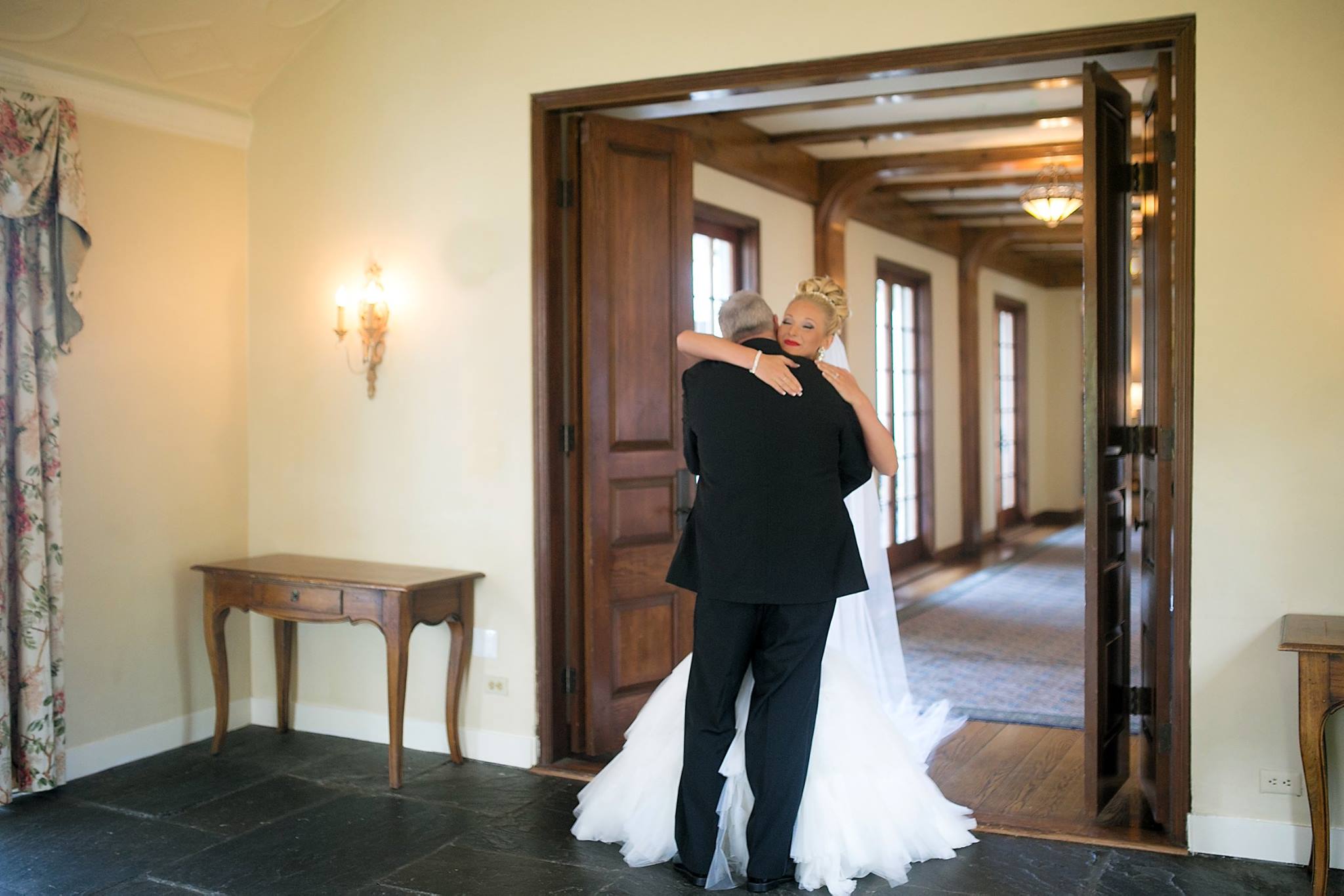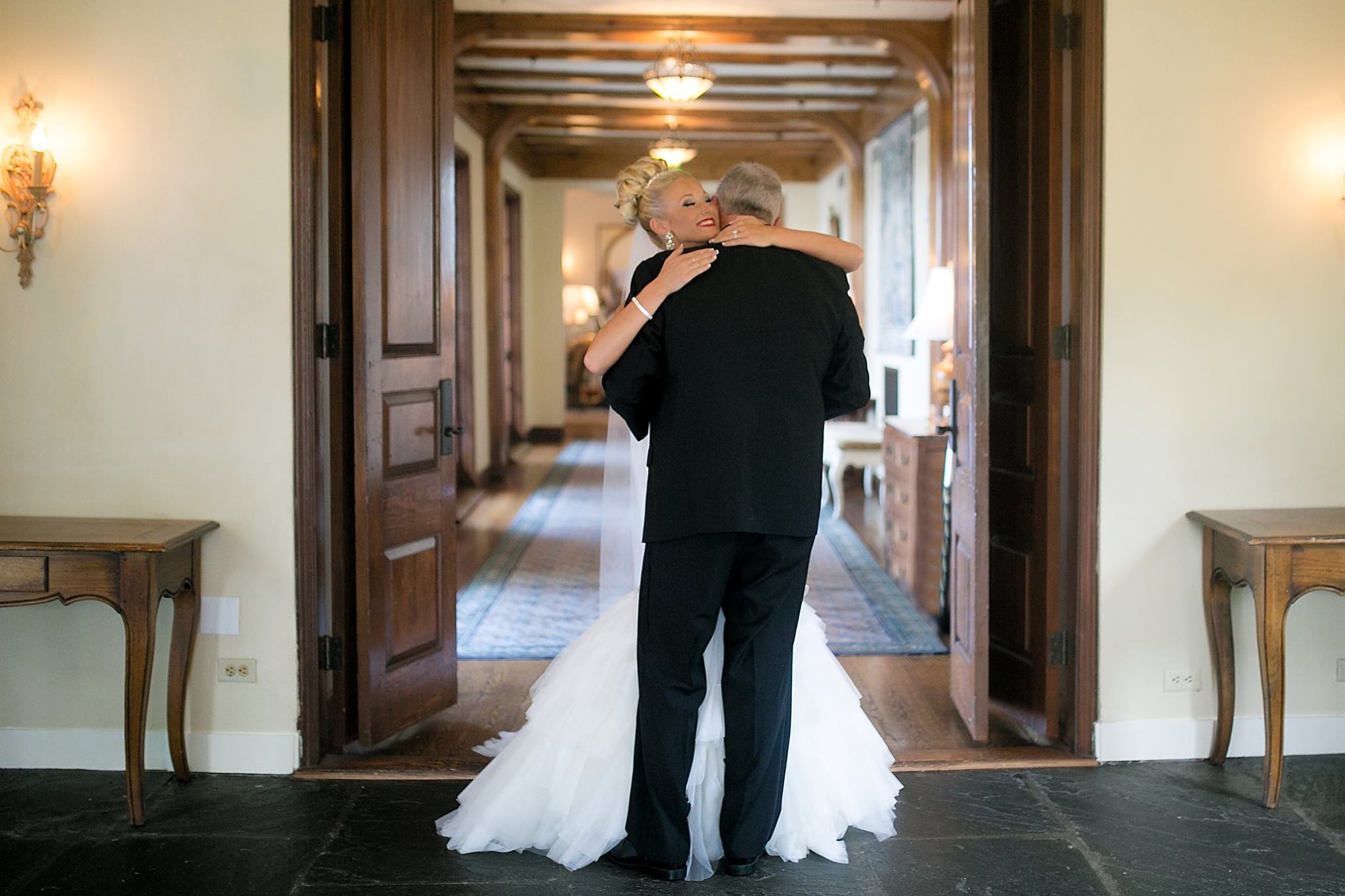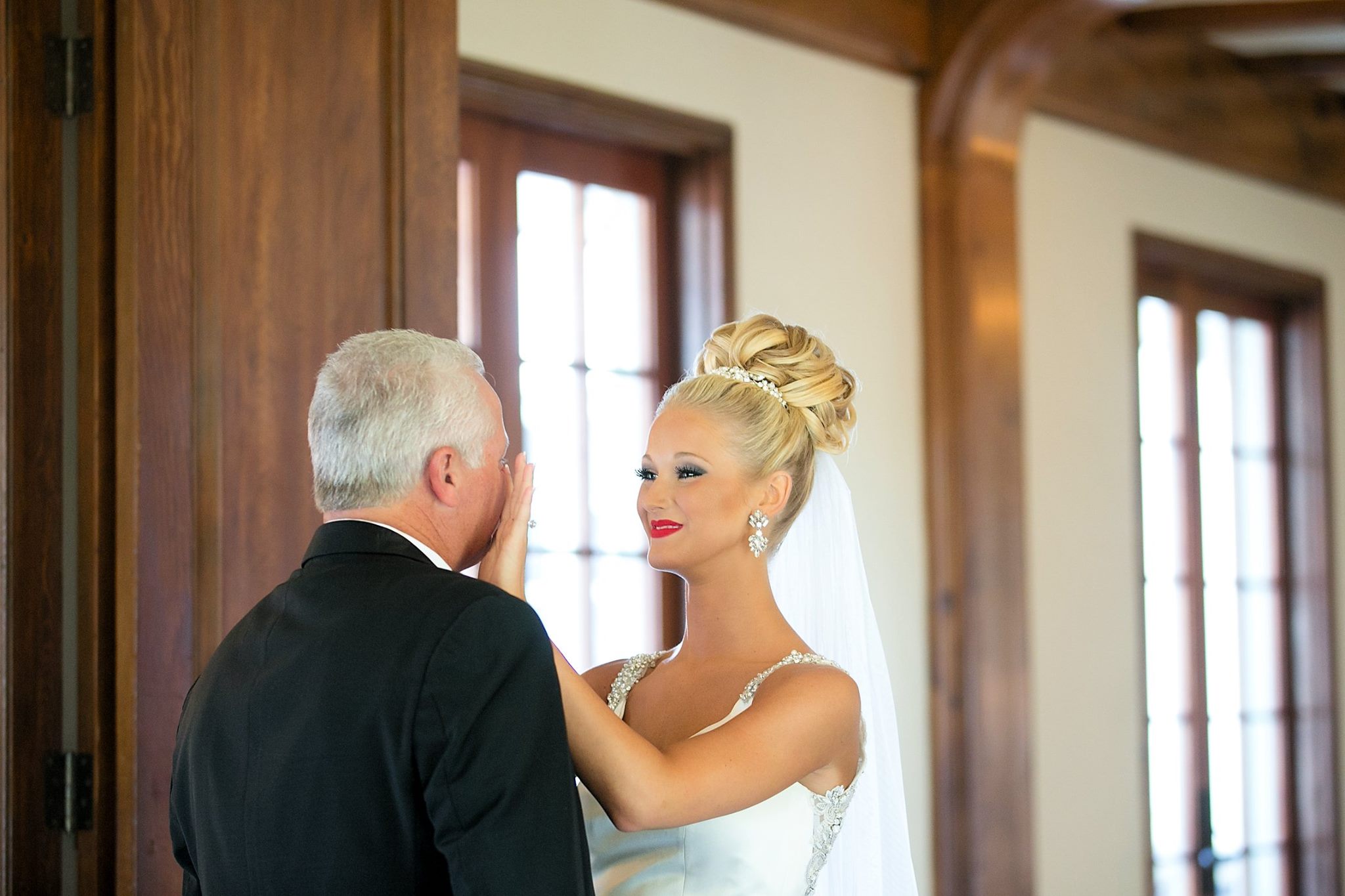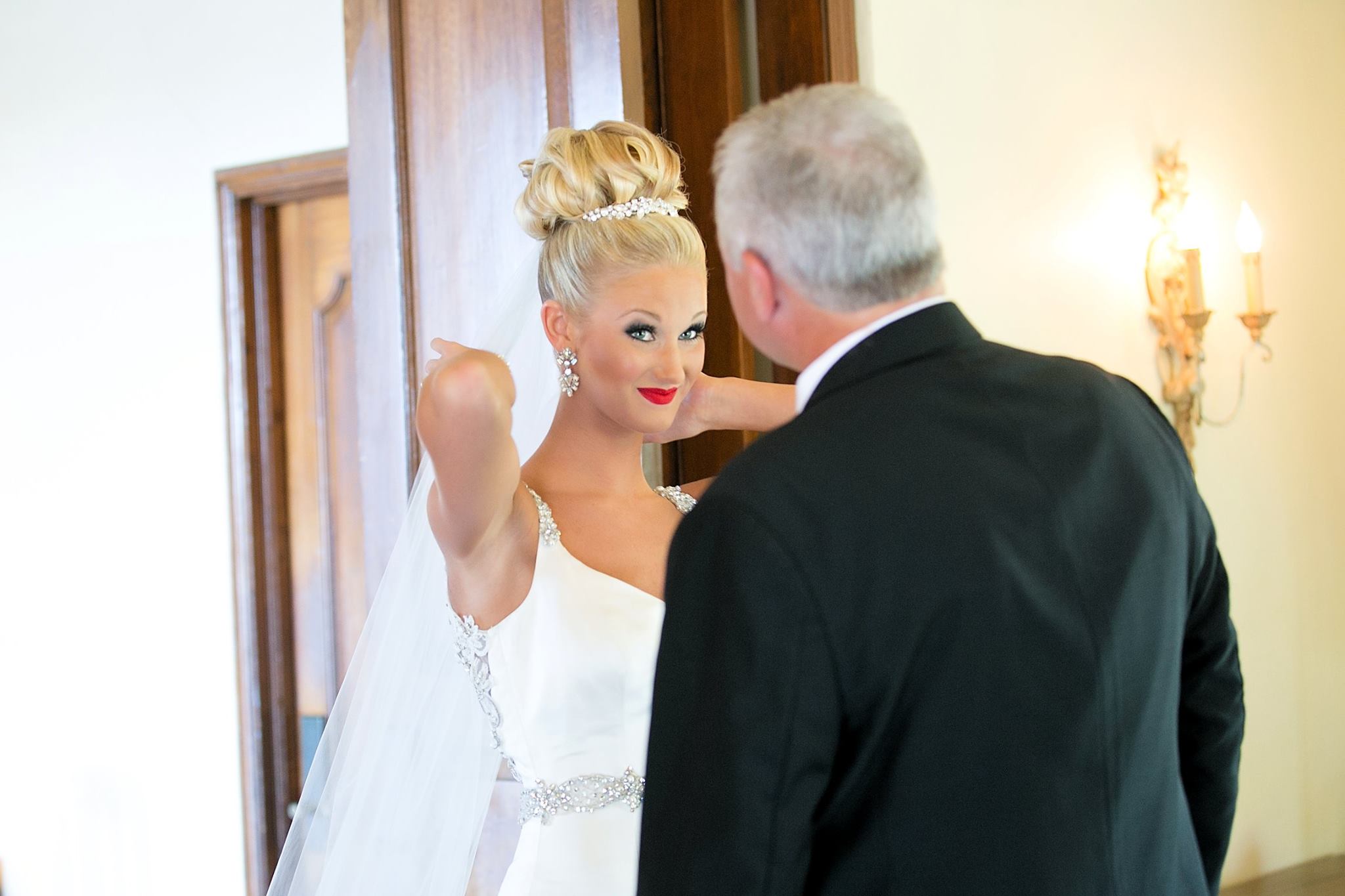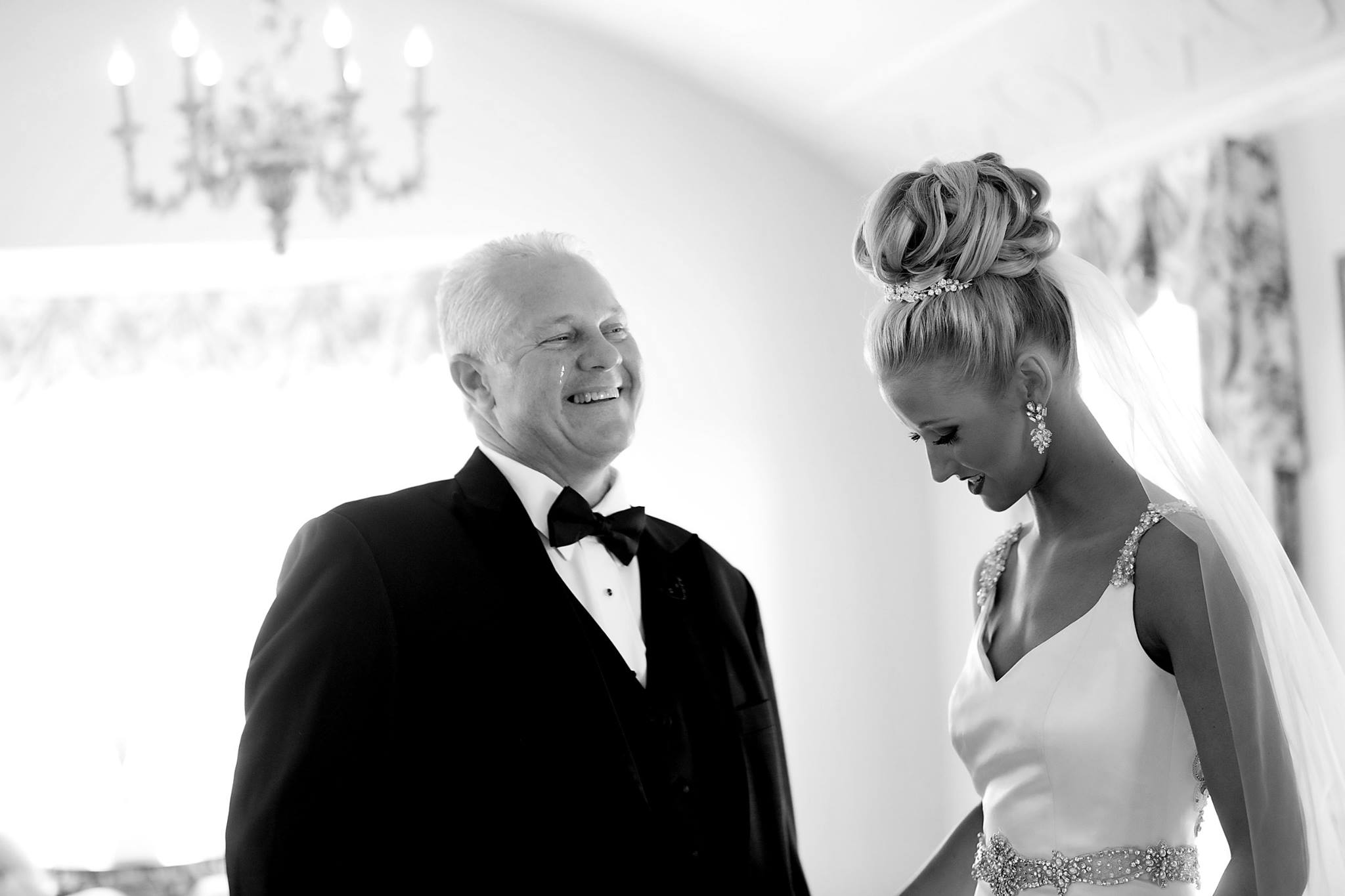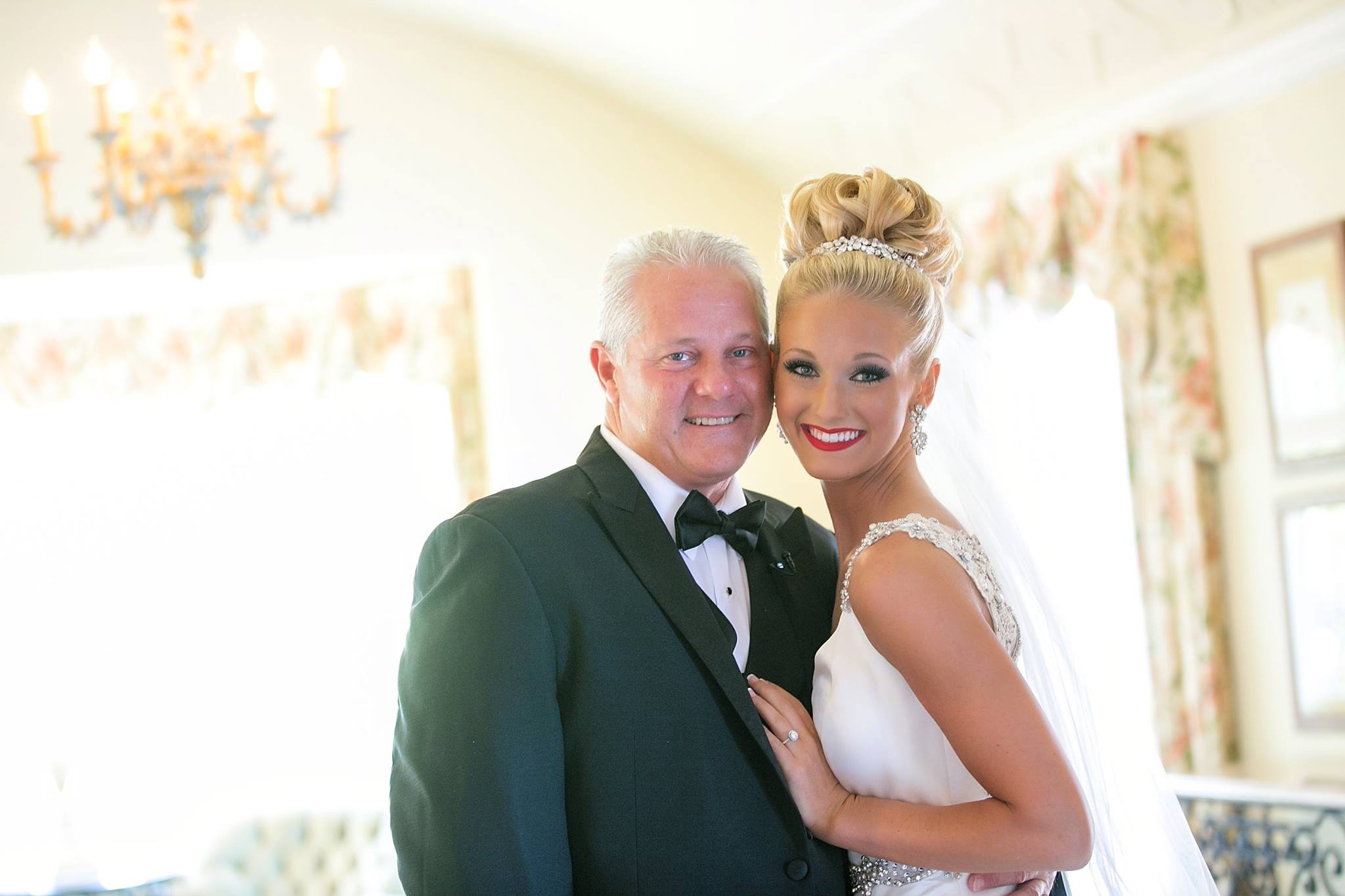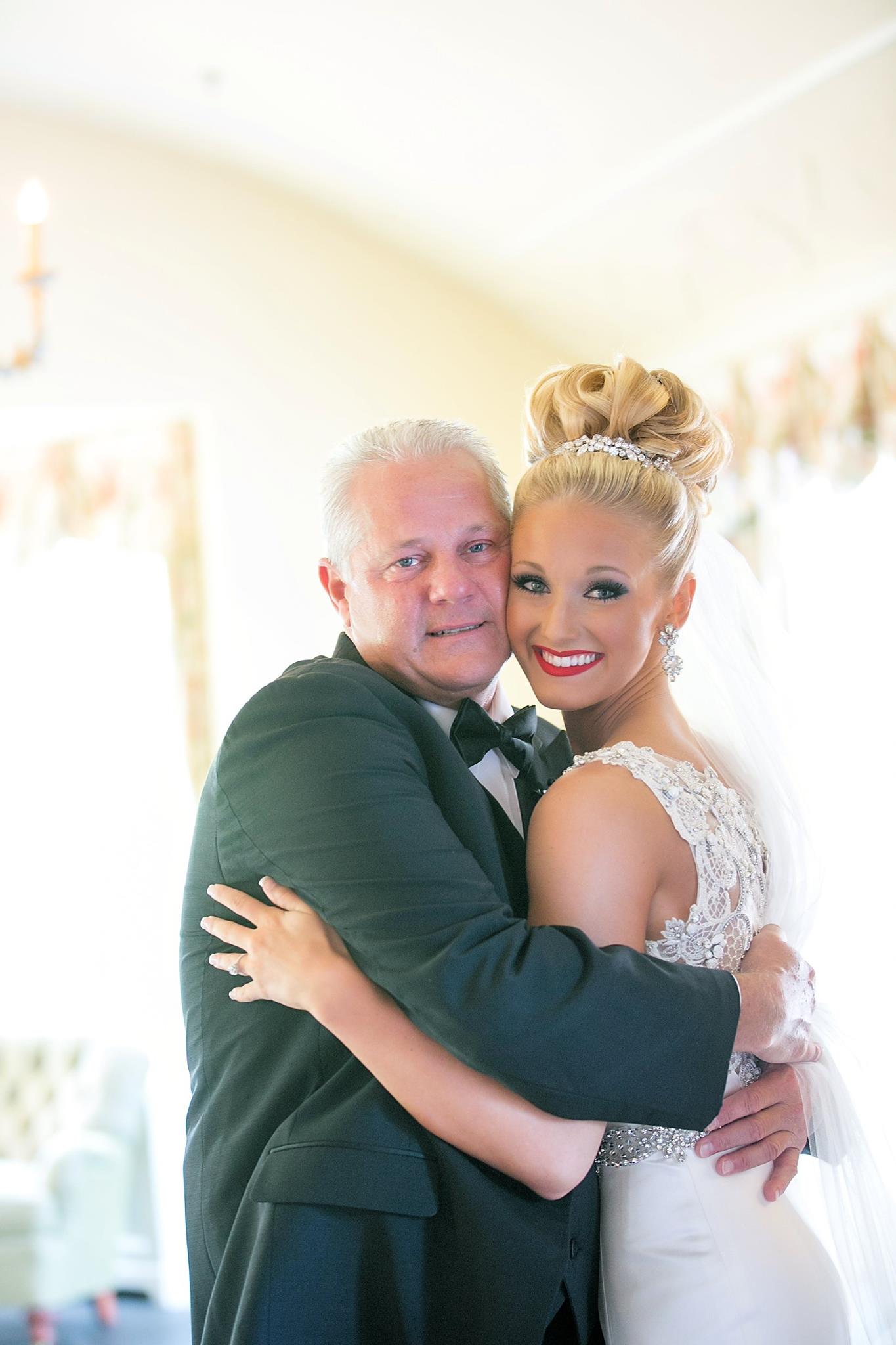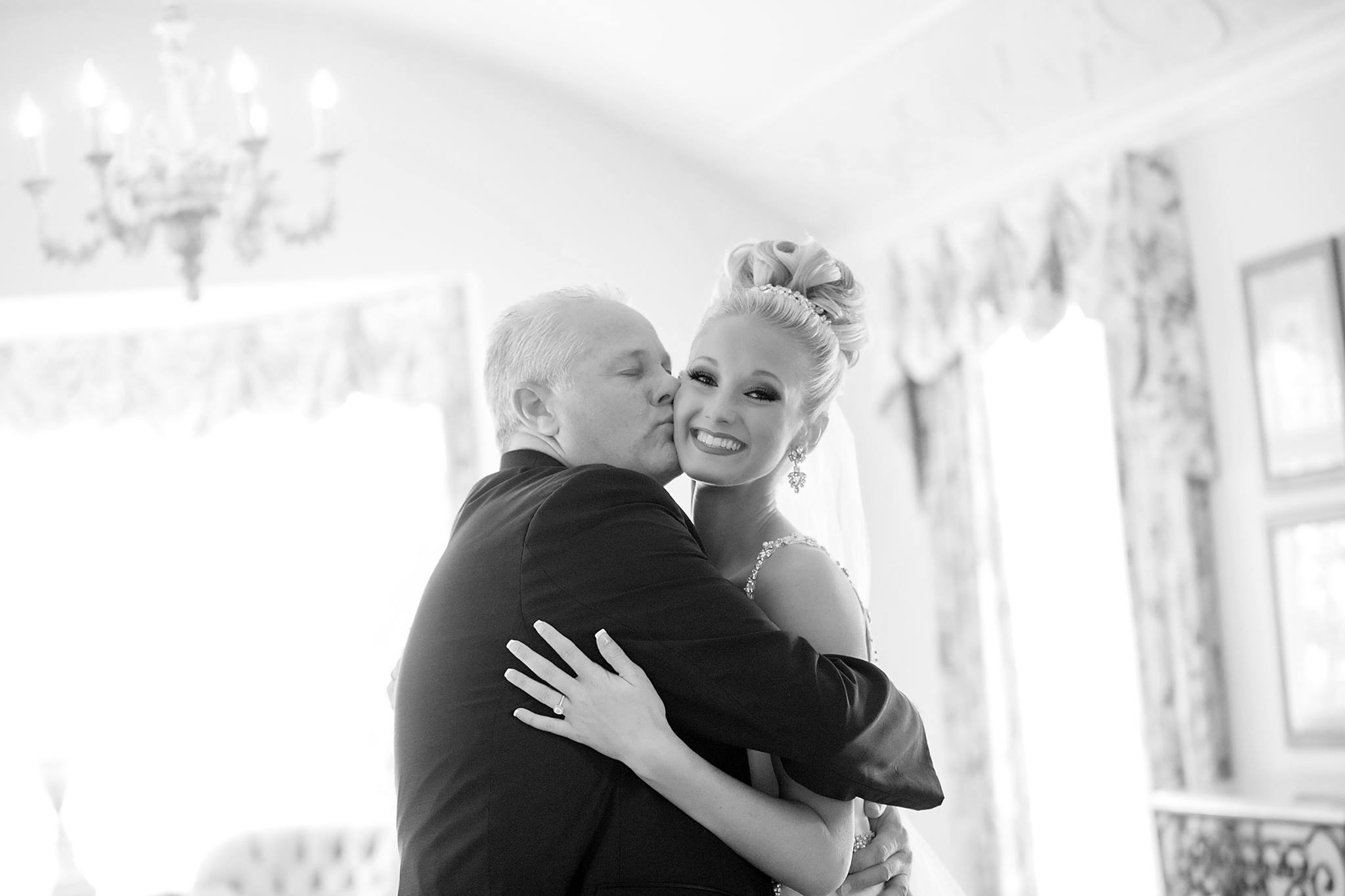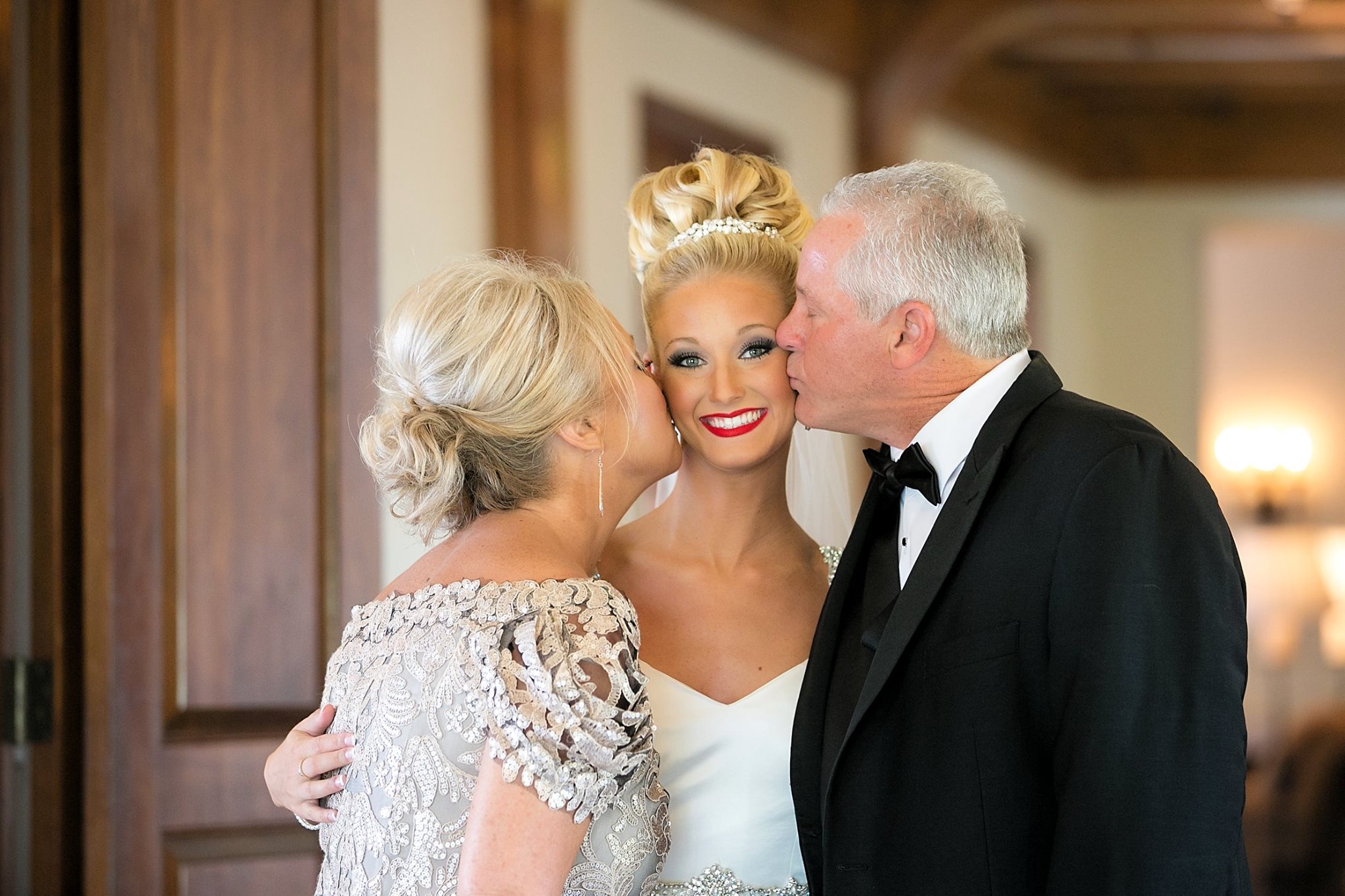 My sweet, sweet mama and daddy 🙂 Forever cherishing this photo.
The first 'first look' that I took part in during our big day was with my sweet daddy. 🙂 My dad and I were best friends when I was growing up. I was his little 'princess'. But if I'm being completely real with y'all (which I try to be super transparent with you guys throughout my posts), our relationship did stand the test of time and struggle about 6 years ago. (But sometimes, that's just all a part of the plan!) Thankfully, I now have a great relationship with my Daddio, and we have grown so much in our relationship to get us to where we are today. I'm so grateful to have gotten to share this super special moment with him on my big day – something I had always dreamt of. Every little girl wants to spend a special moment with her Daddy on her big day – it doesn't matter how old you are. So ladies, if you are getting married soon, I know you may only be concerned about the first look with your soon-to-be hubby, but don't forget about the first man here on Earth that ever loved you!
I was so thankful for this moment with my dad. I decided early on that I wanted to have a special 'first look' with him as soon as I put my dress on. I just knew he would lose it – and boy, he did! If you have seen our wedding video, you can literally hear him squeal when he first turned around for this first look. It still melts my heart and will be a moment that I will cherish forever. Honestly, to this day, I can hardly think about that moment without crying. 🙂 I love you, Daddy!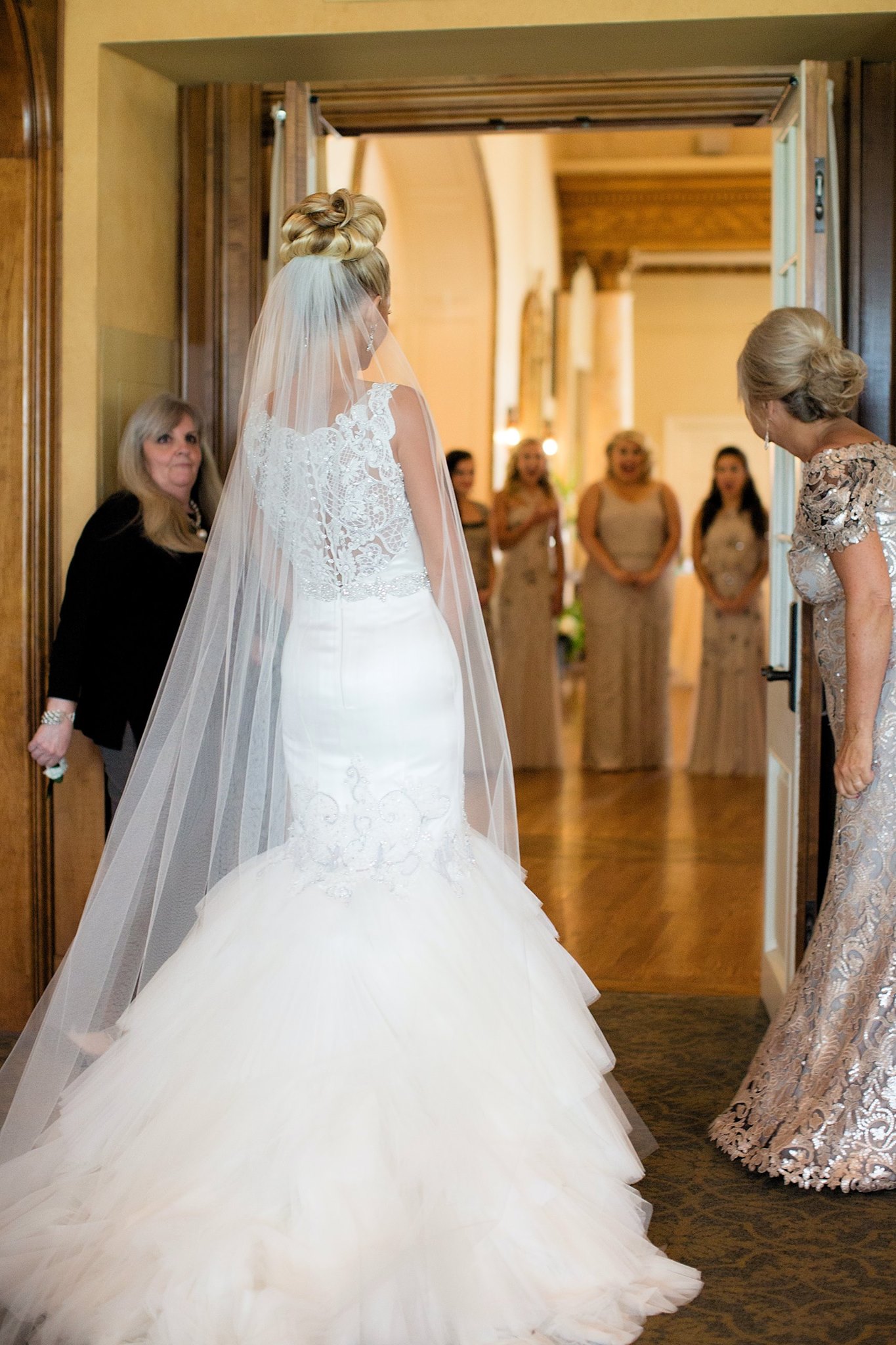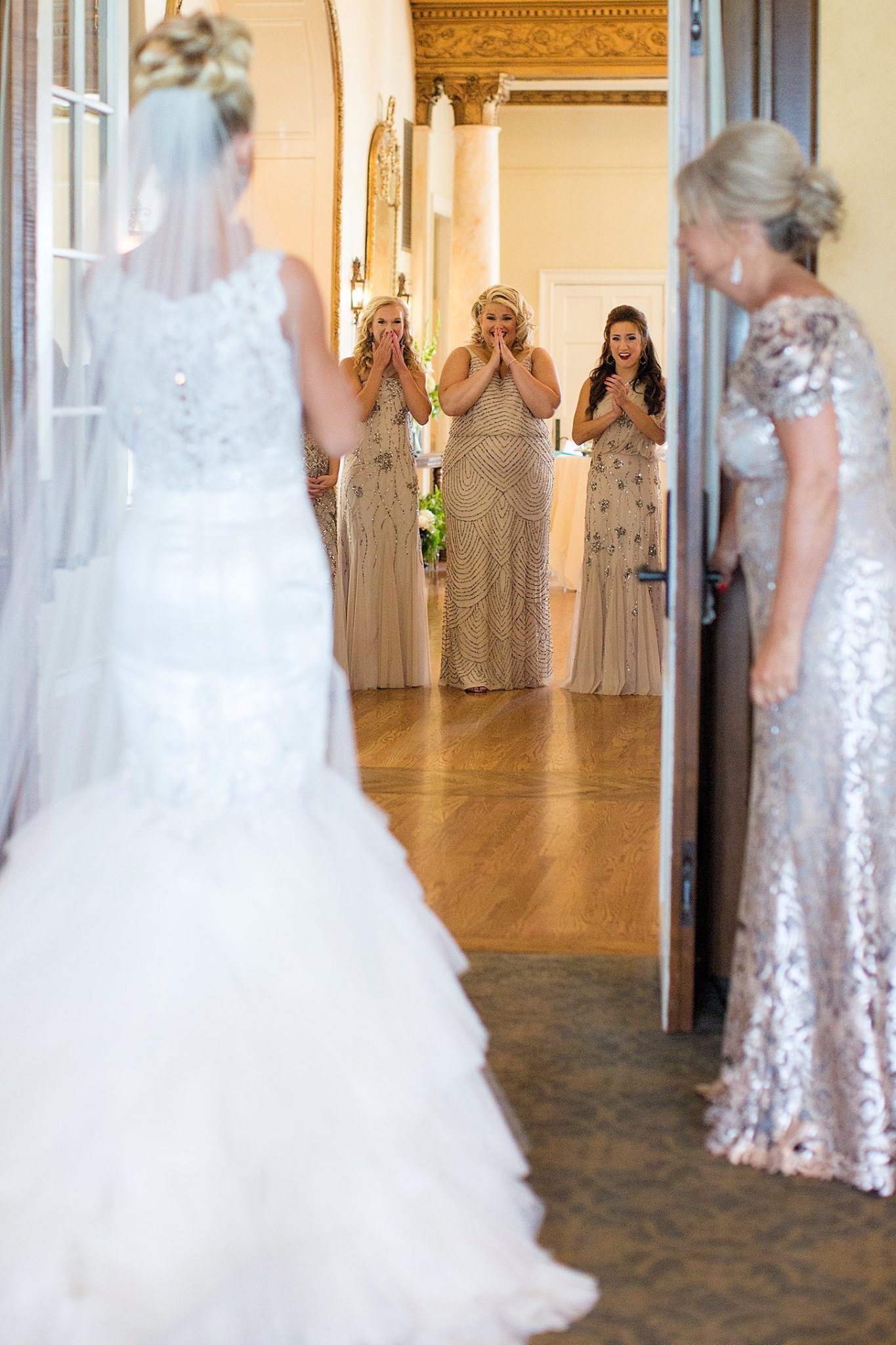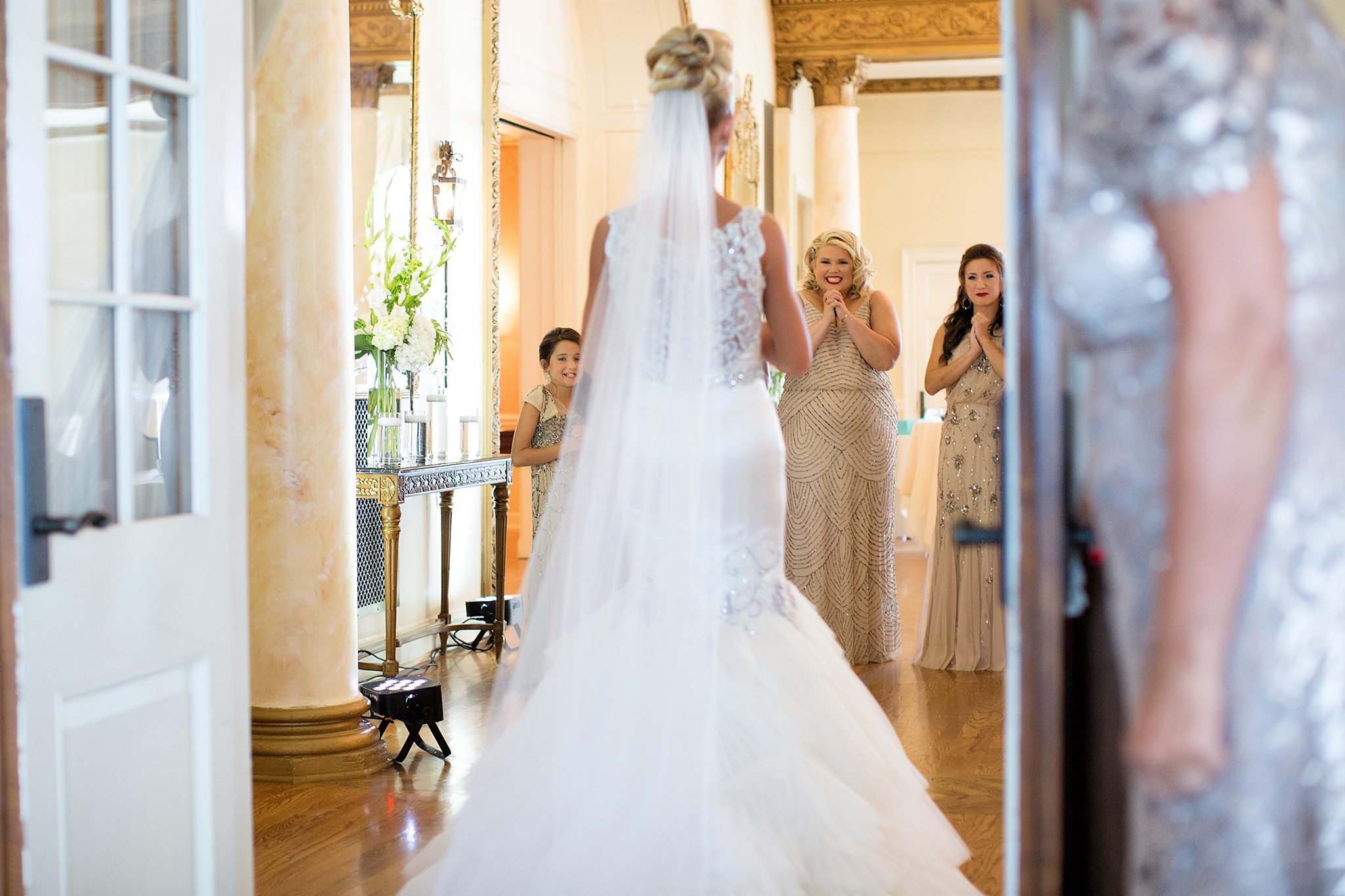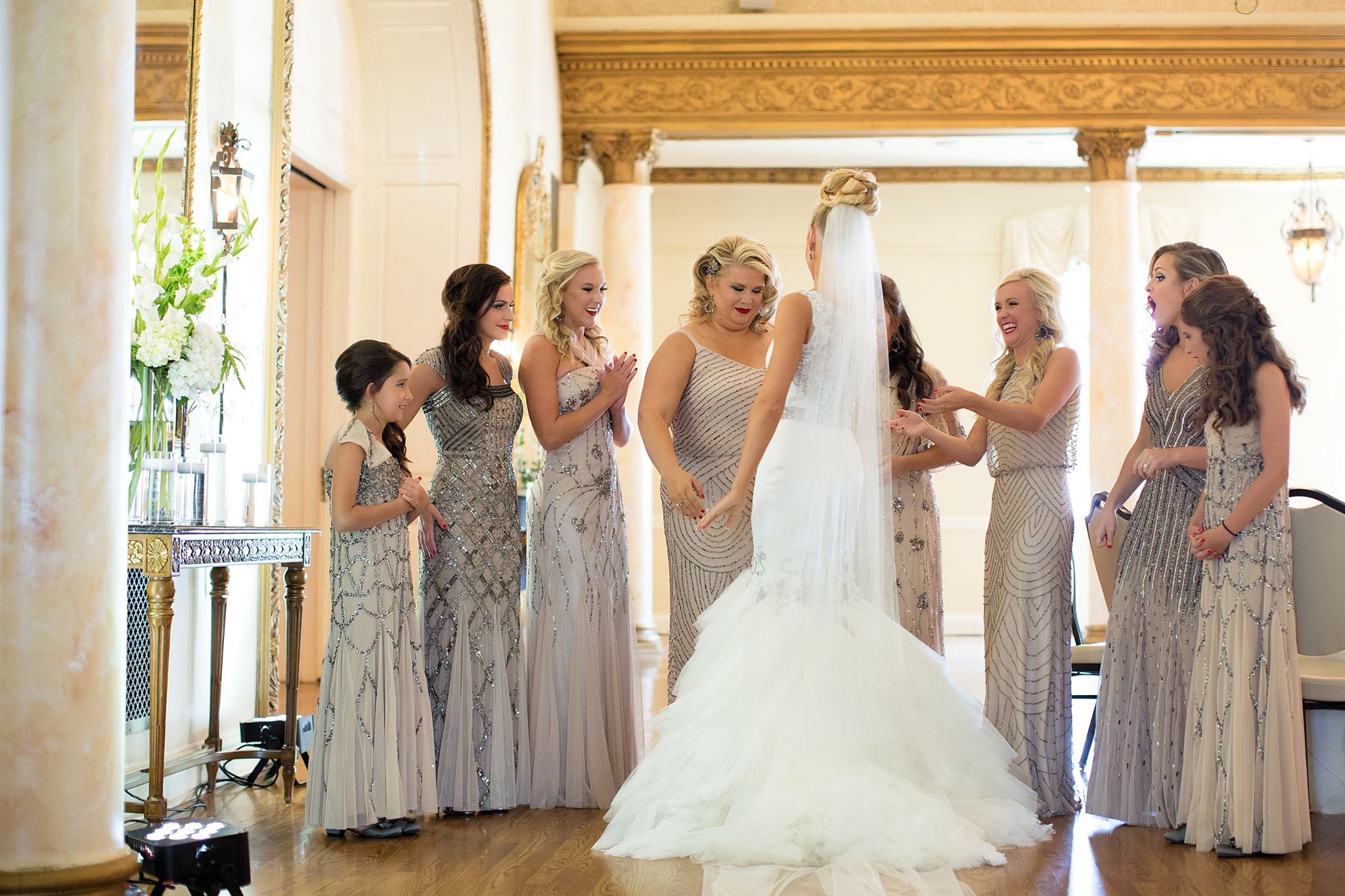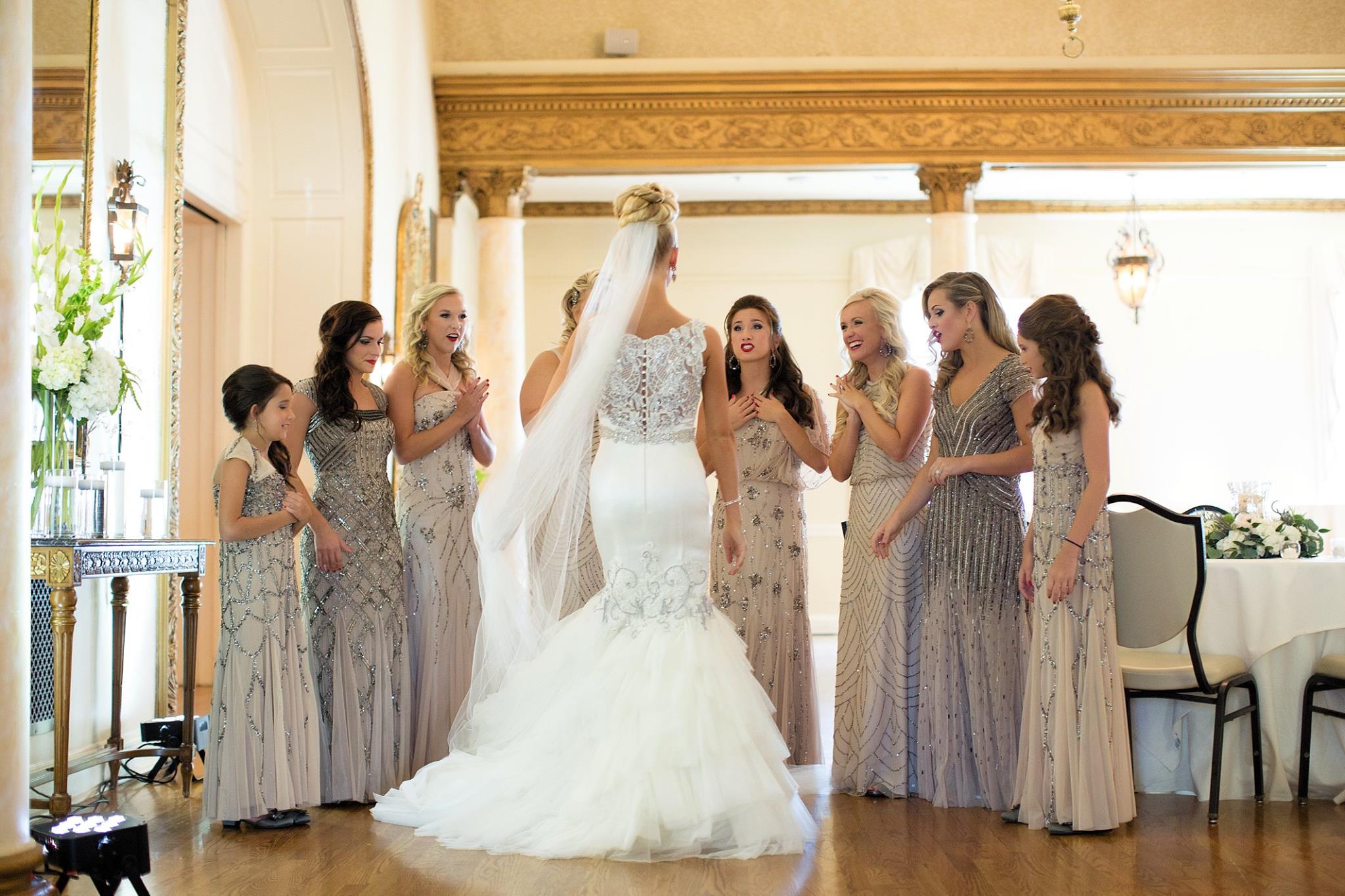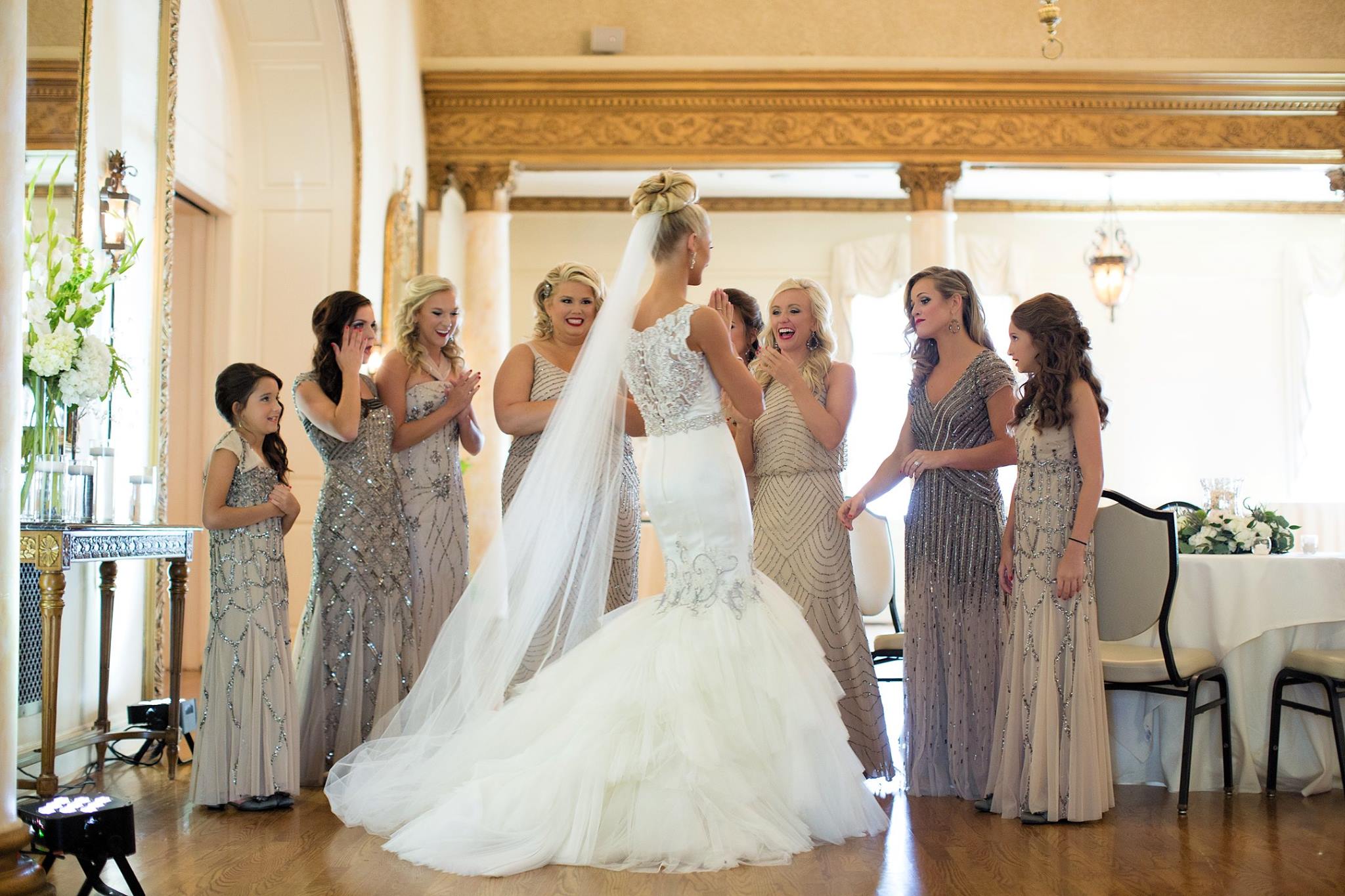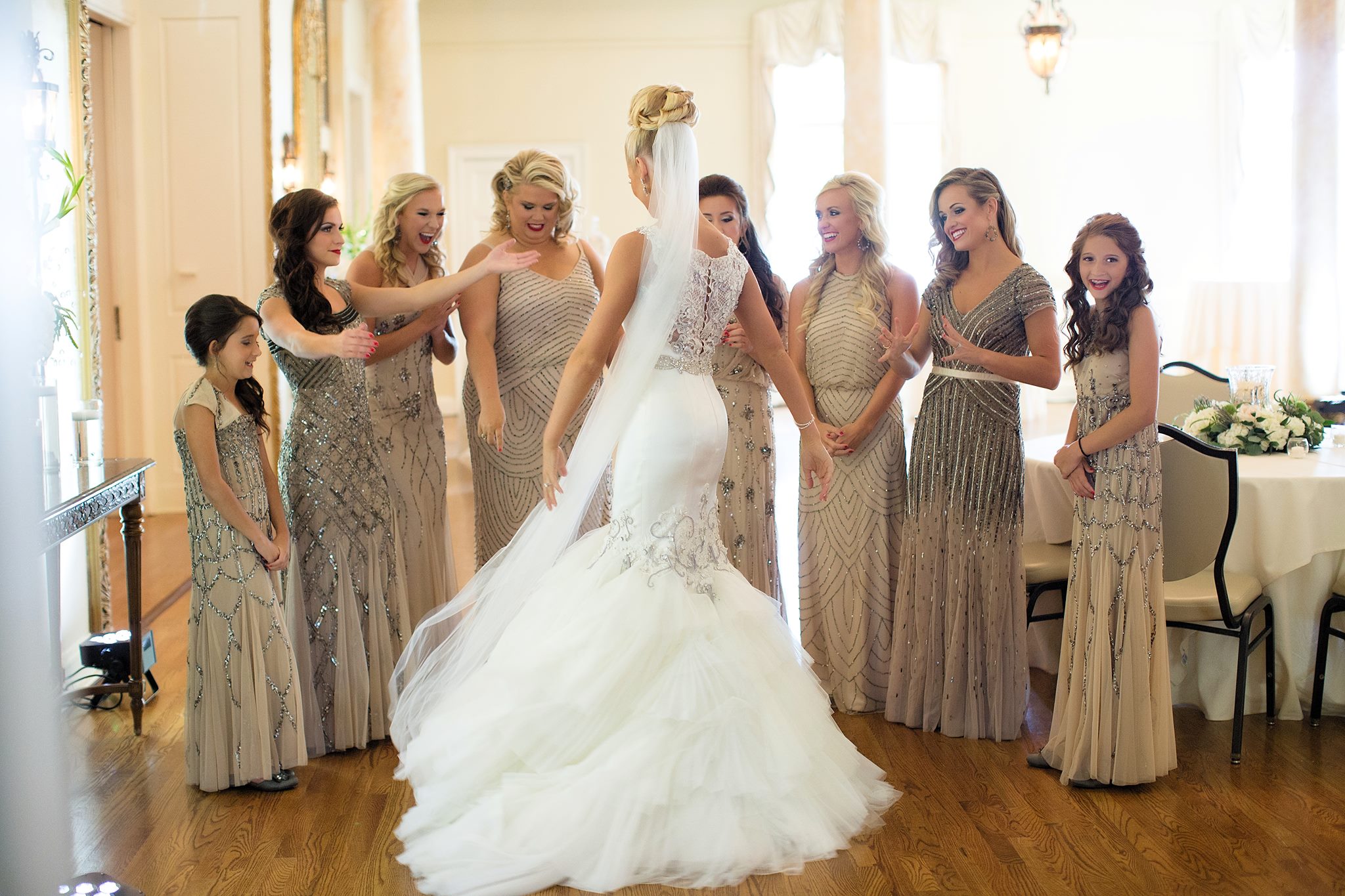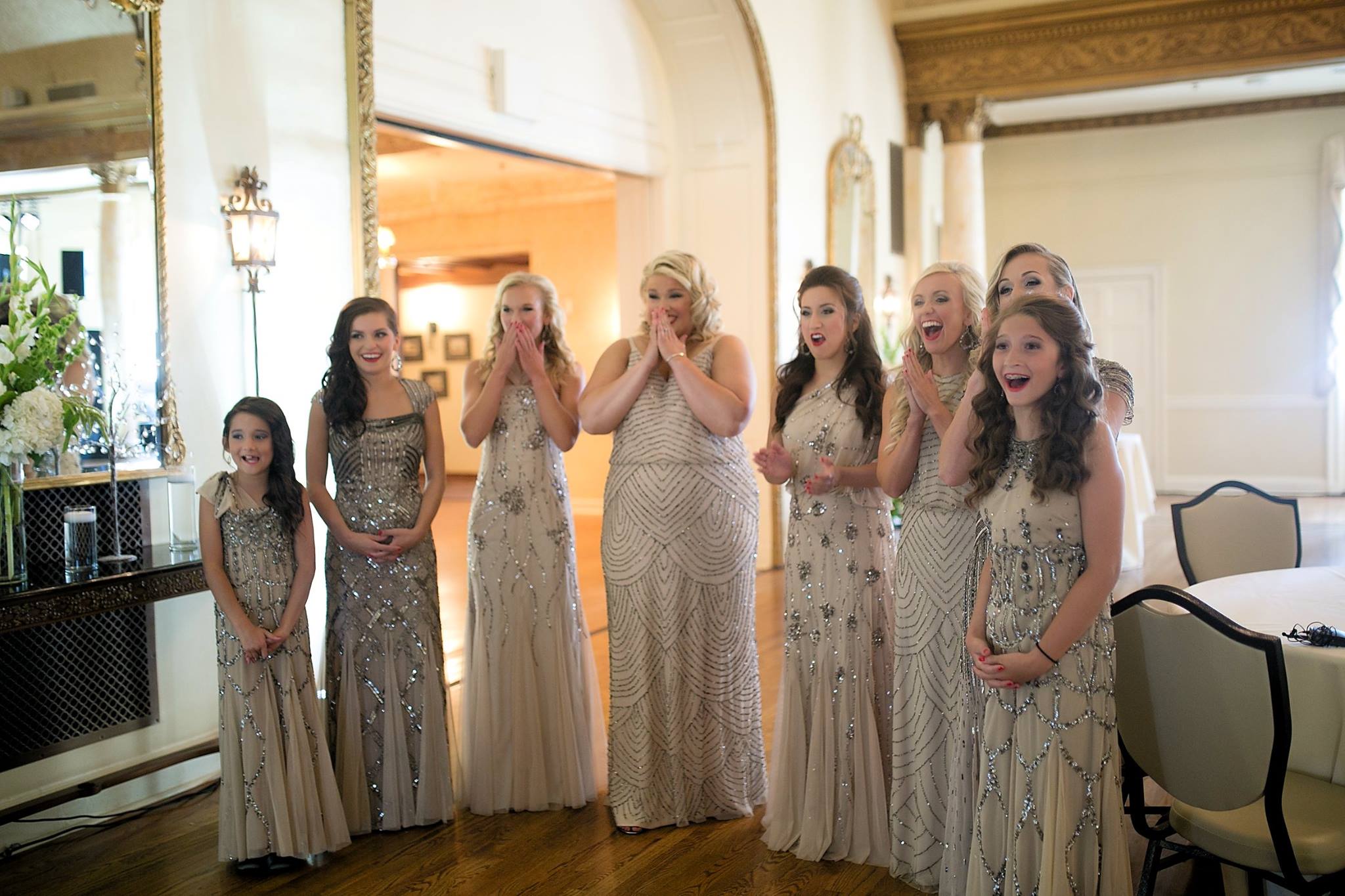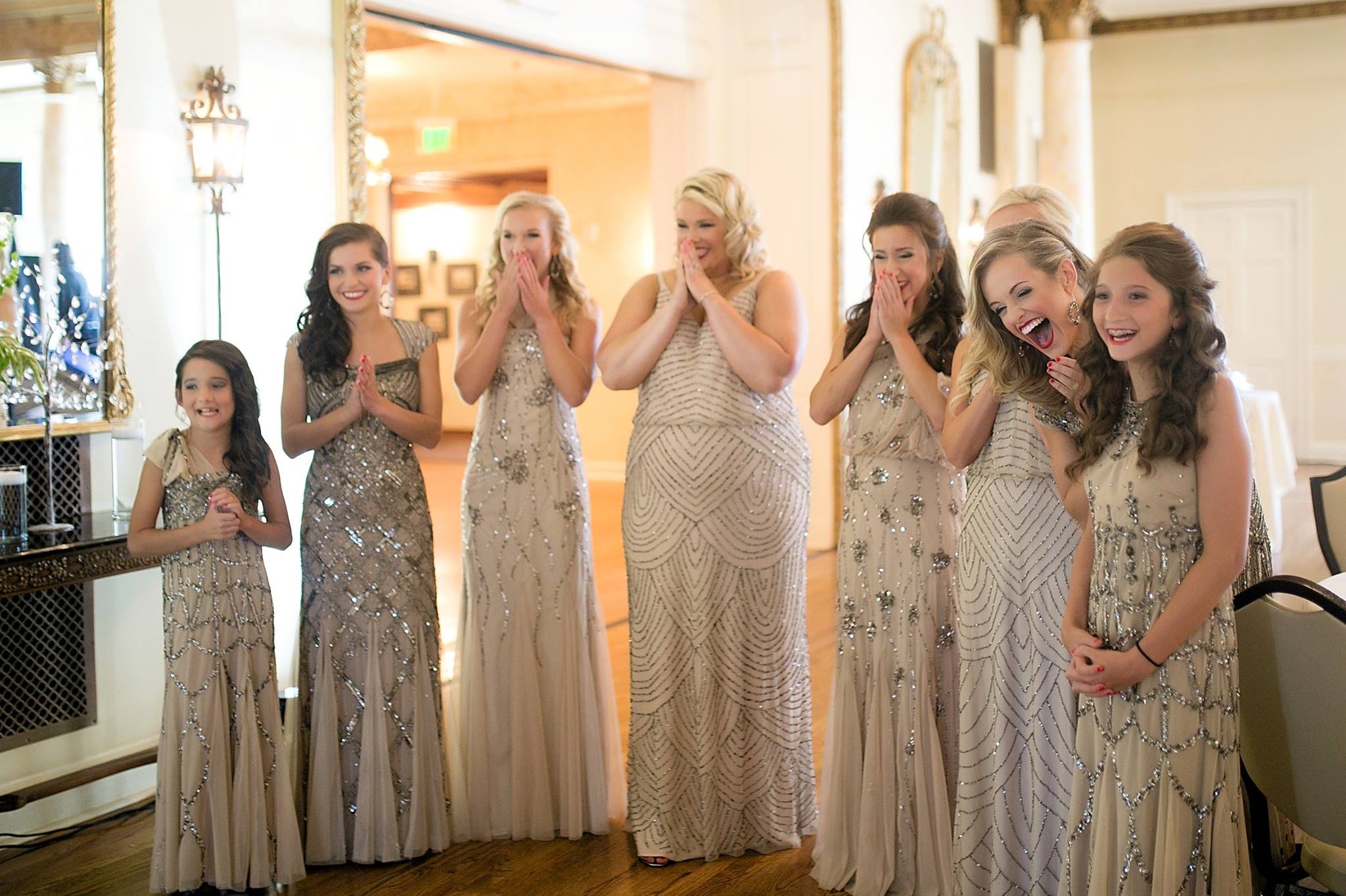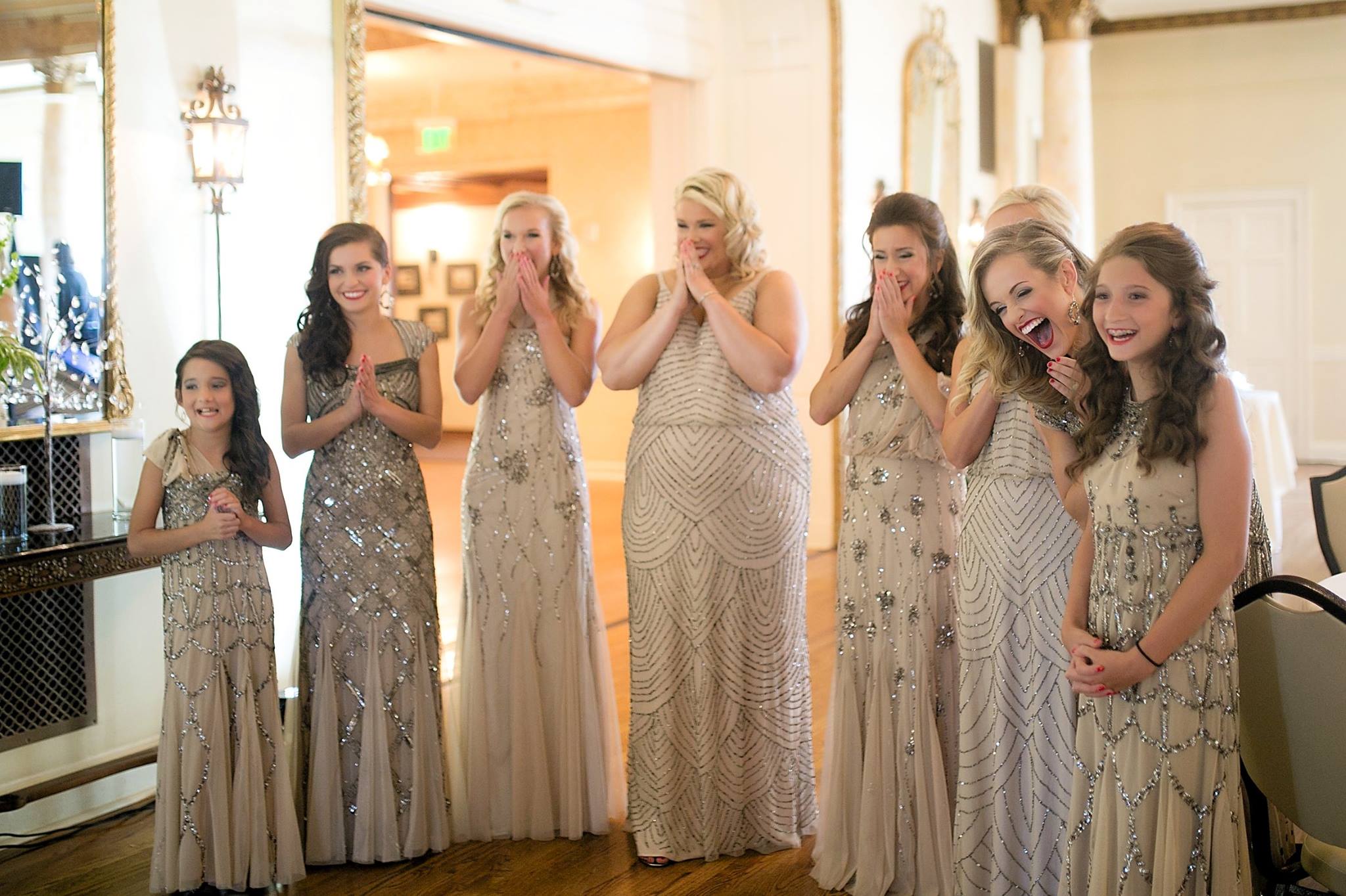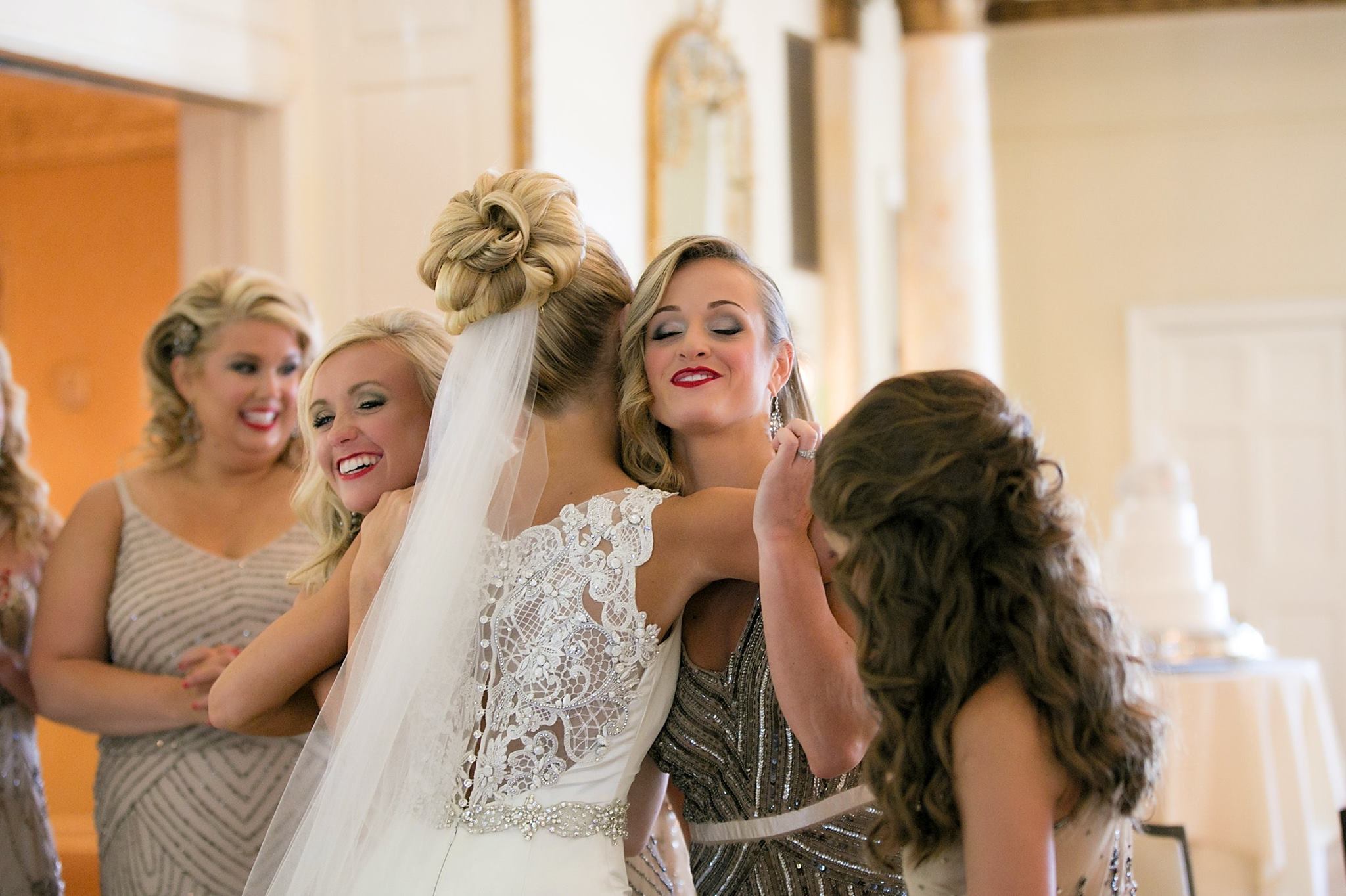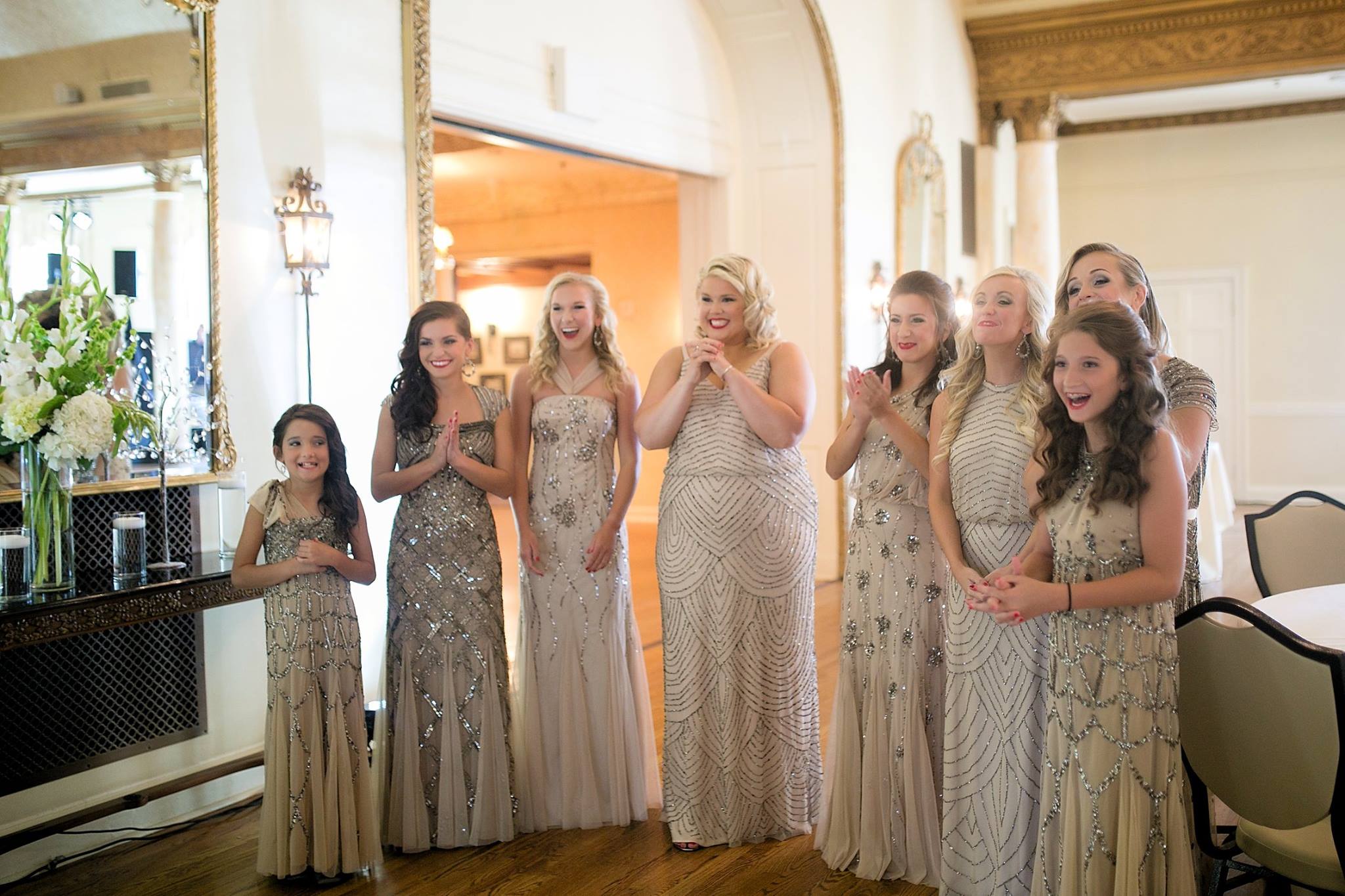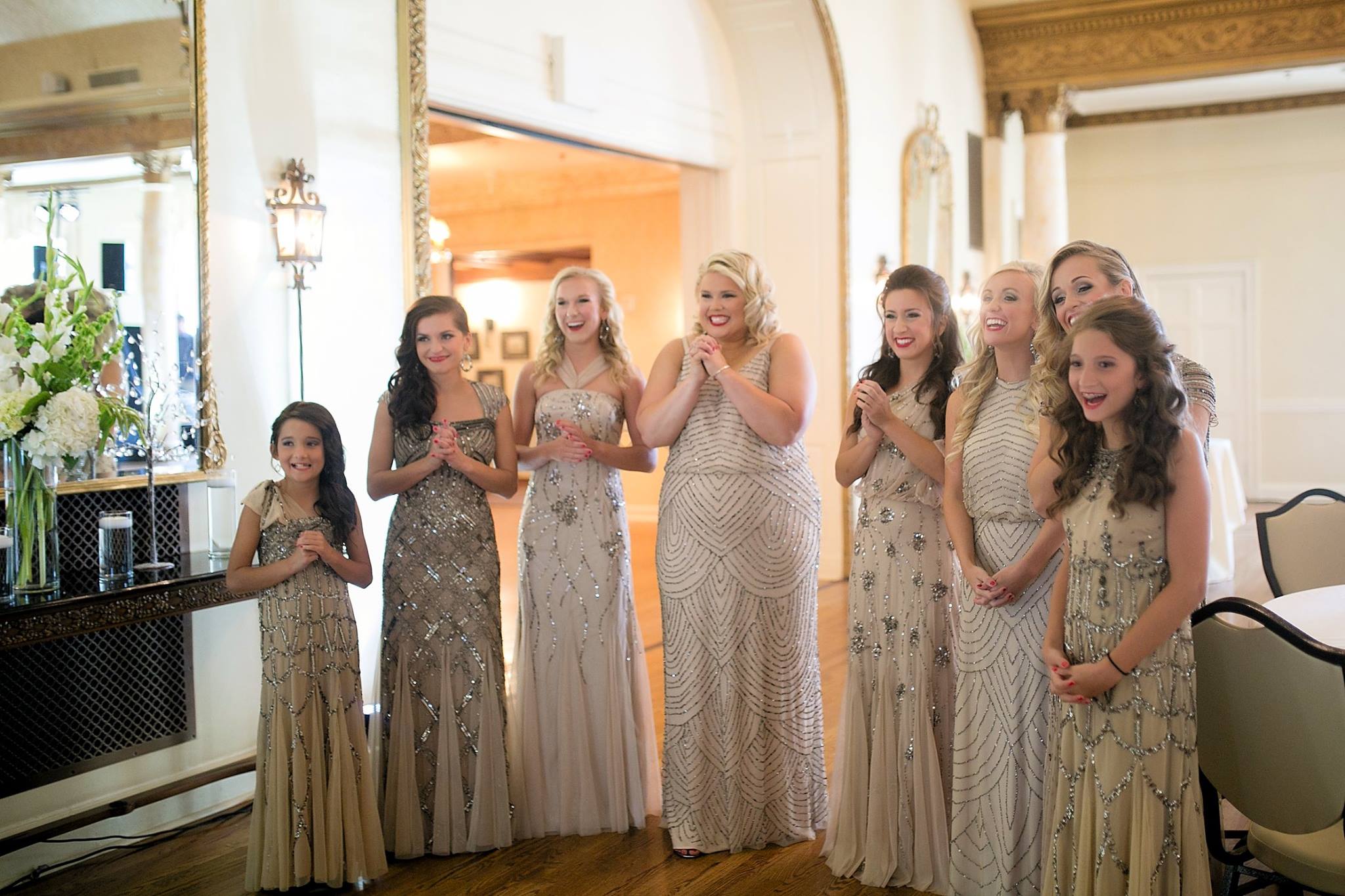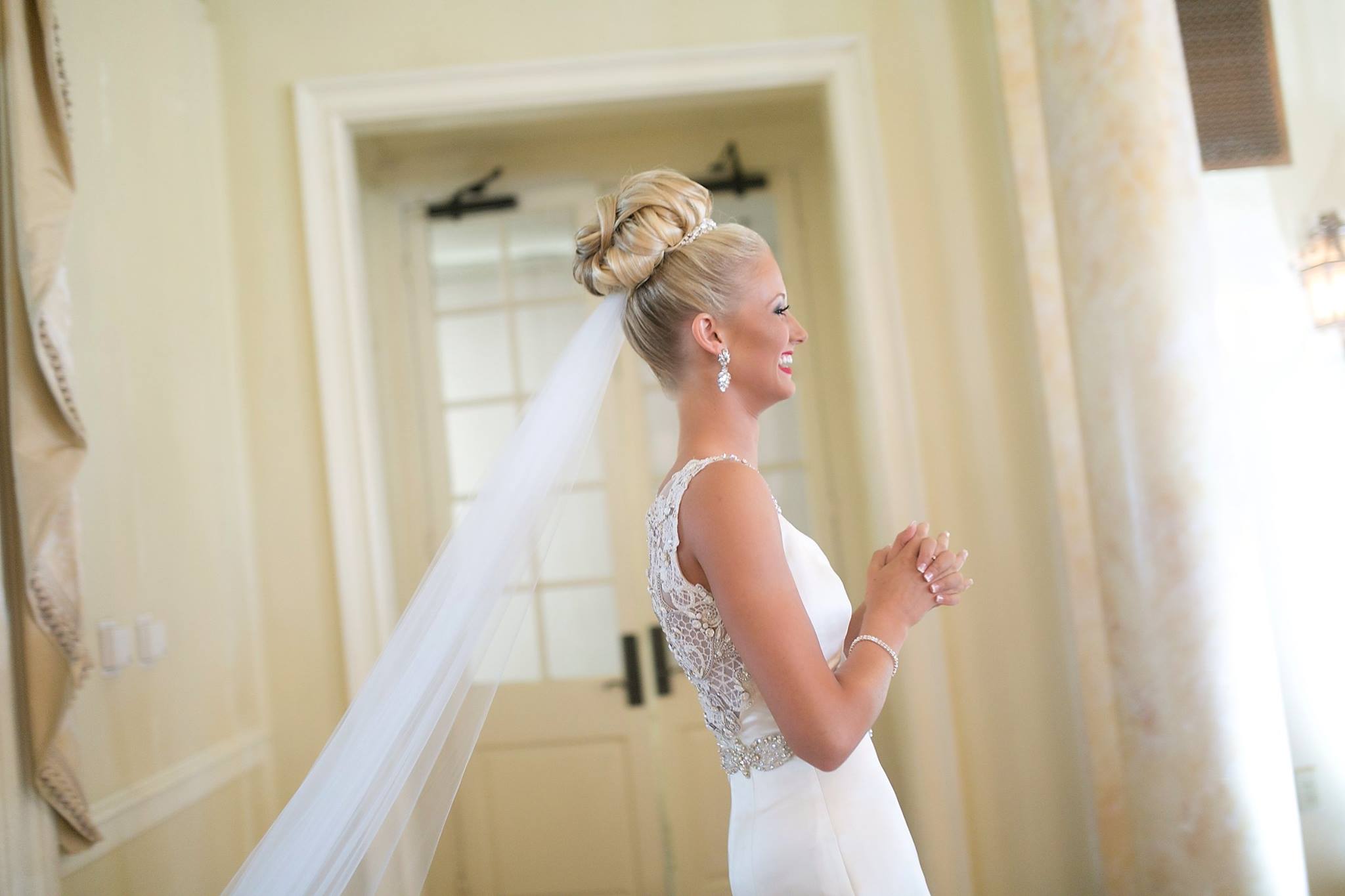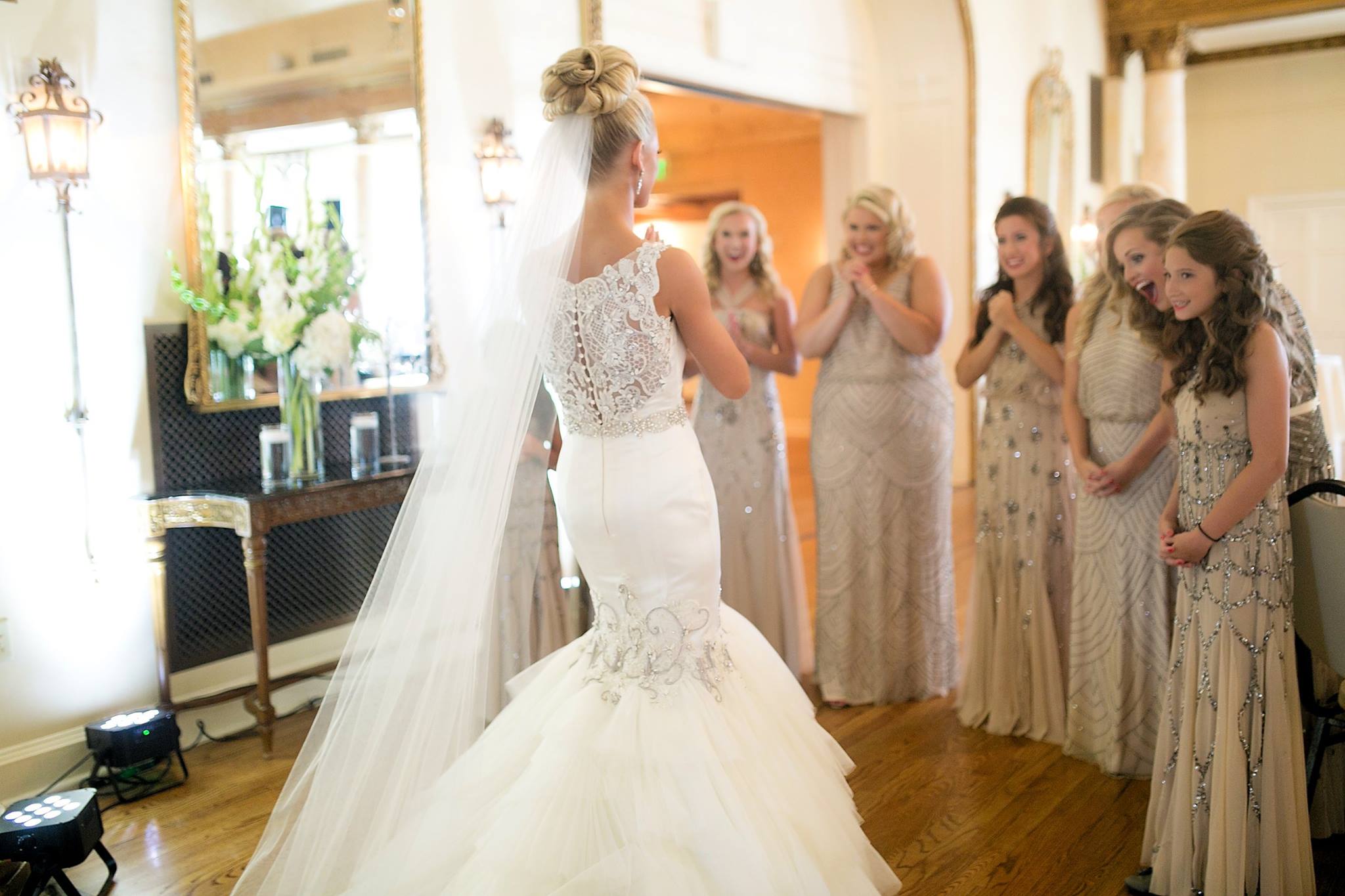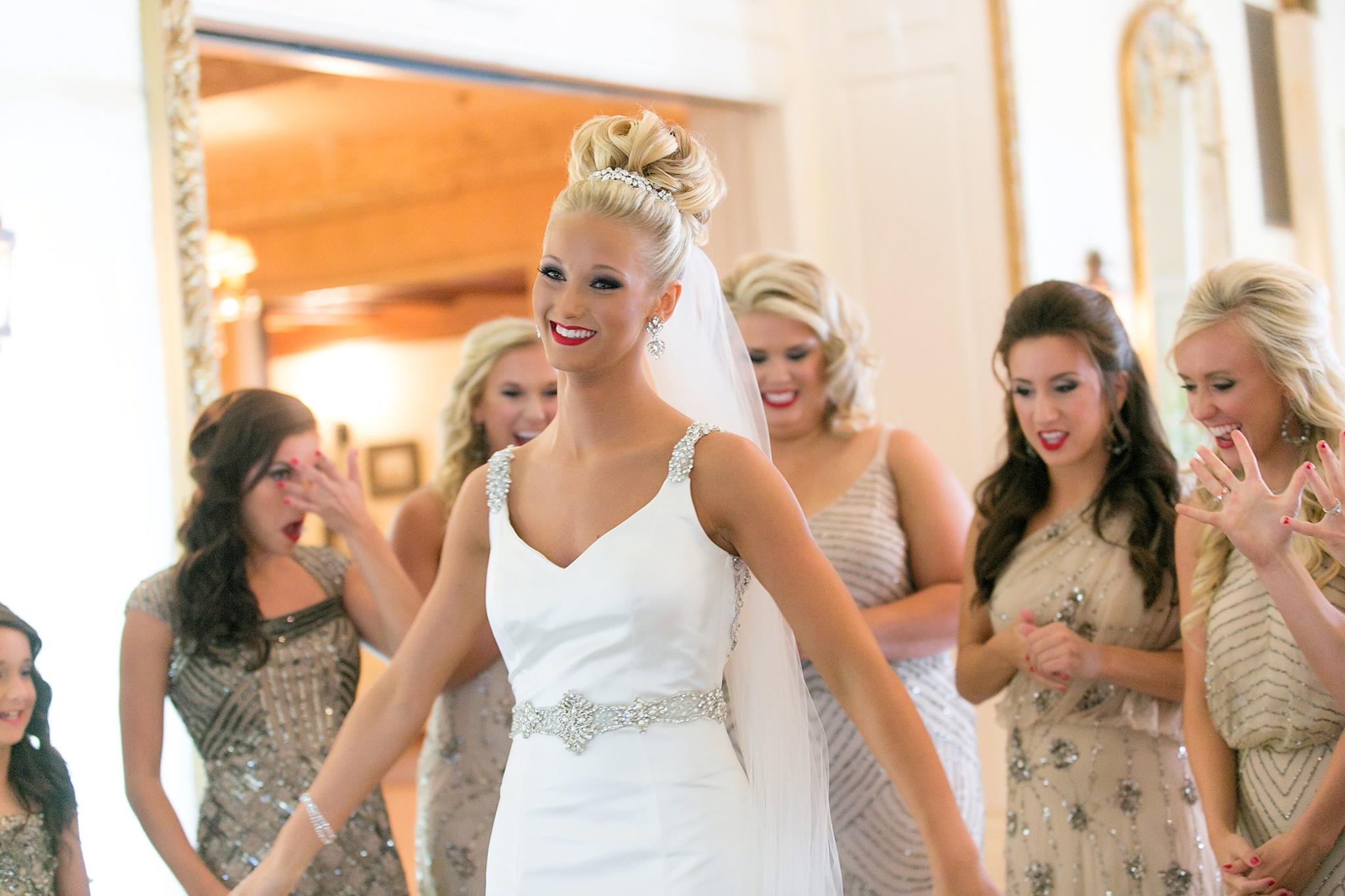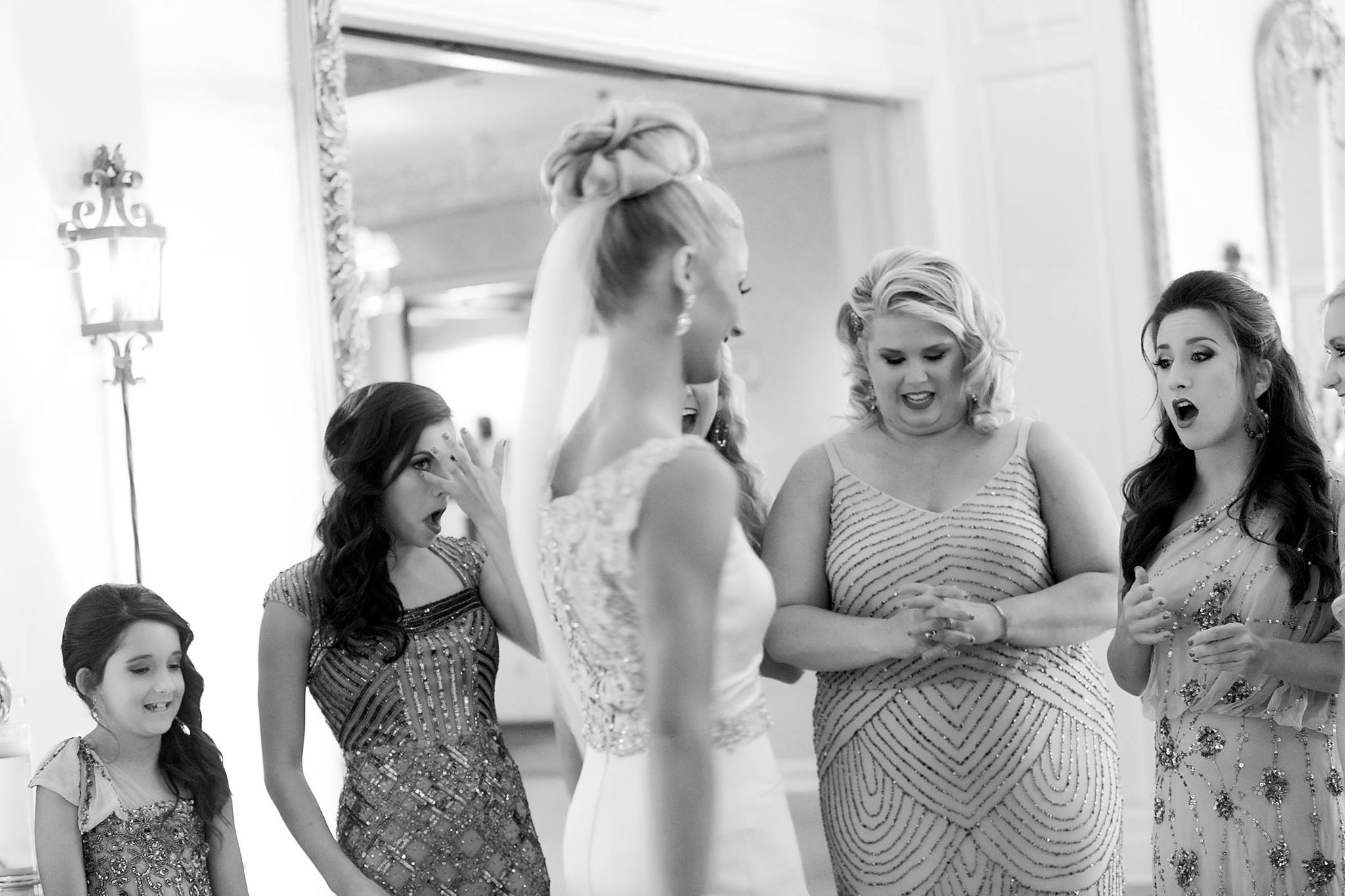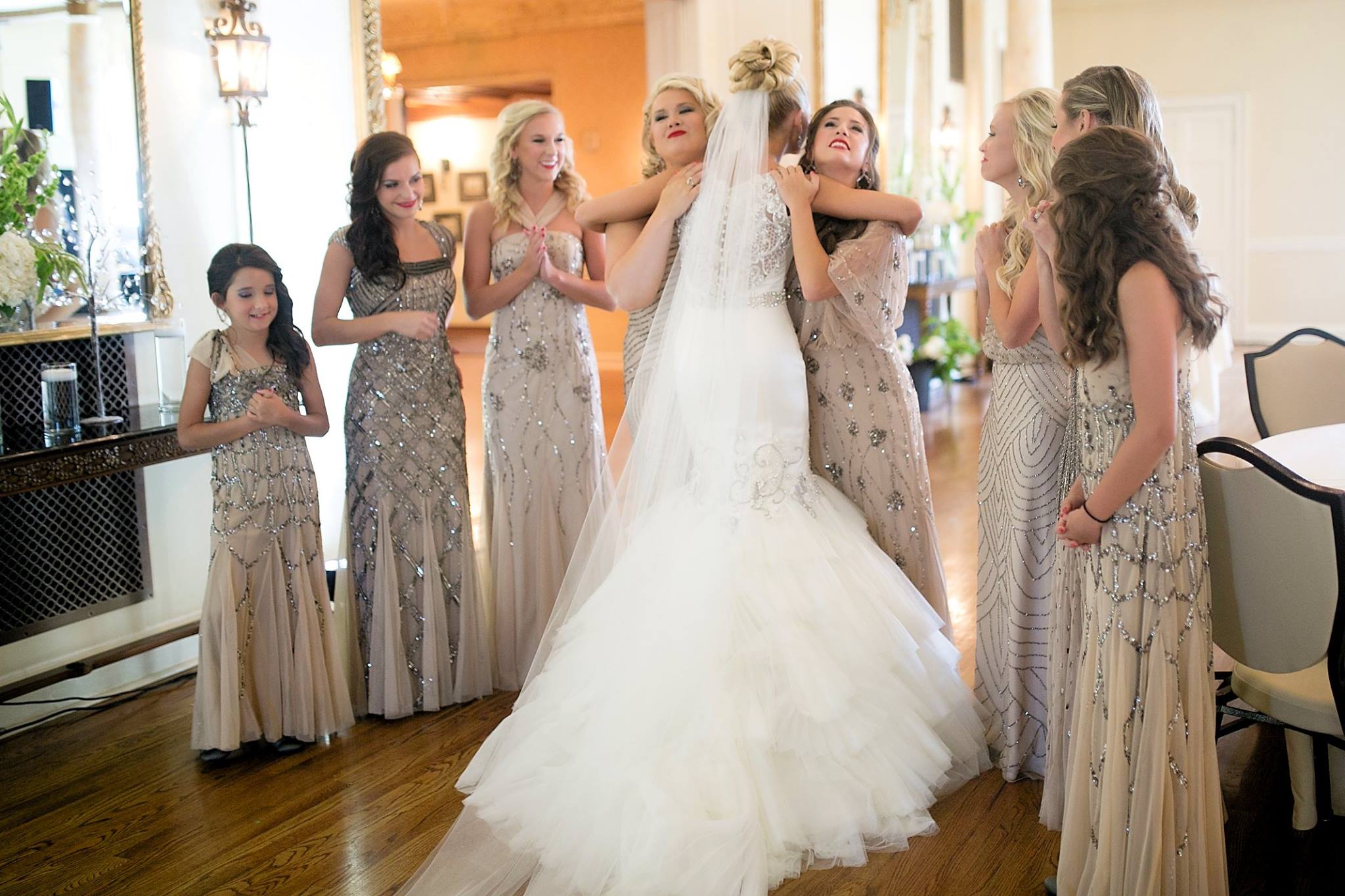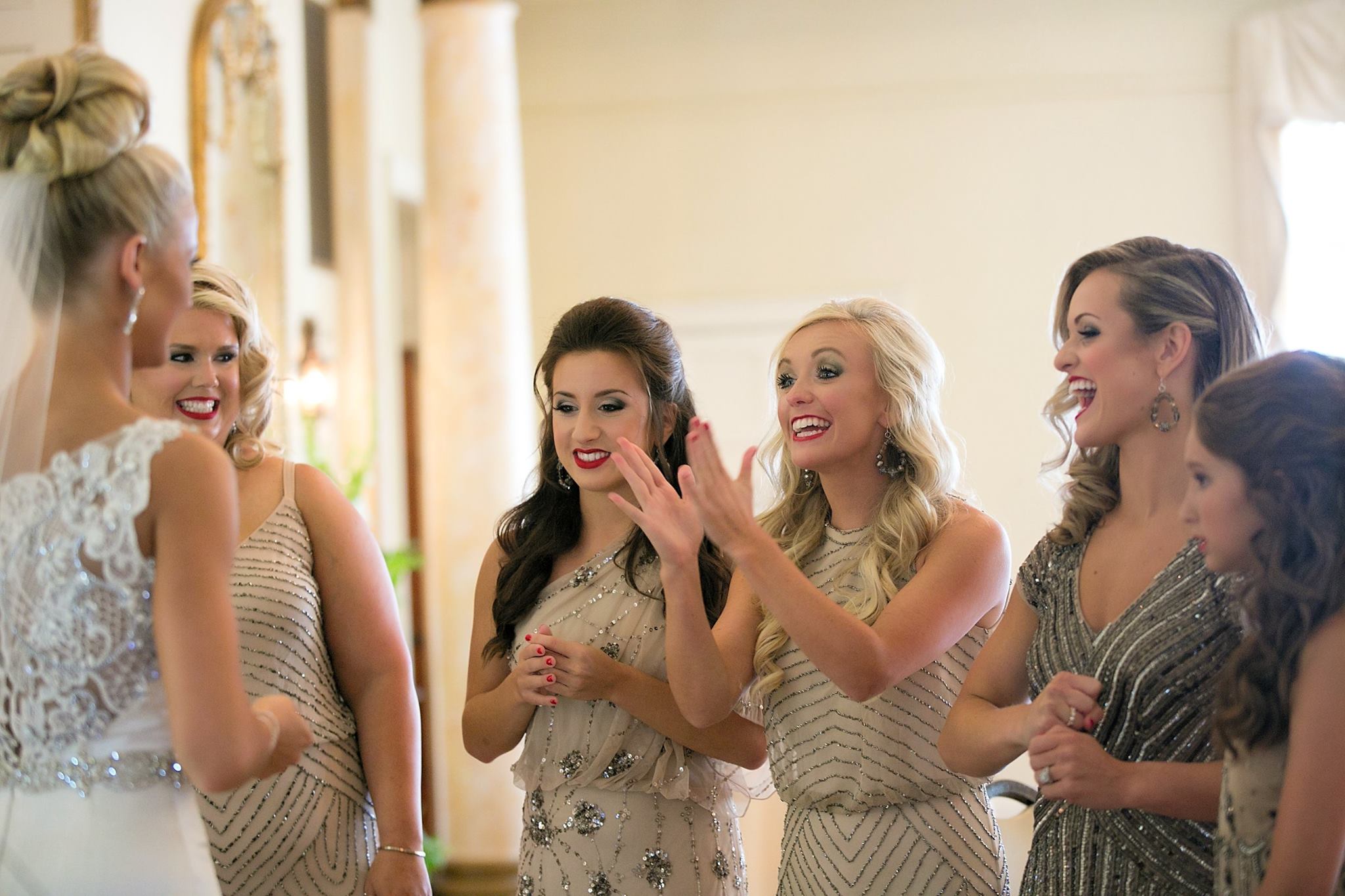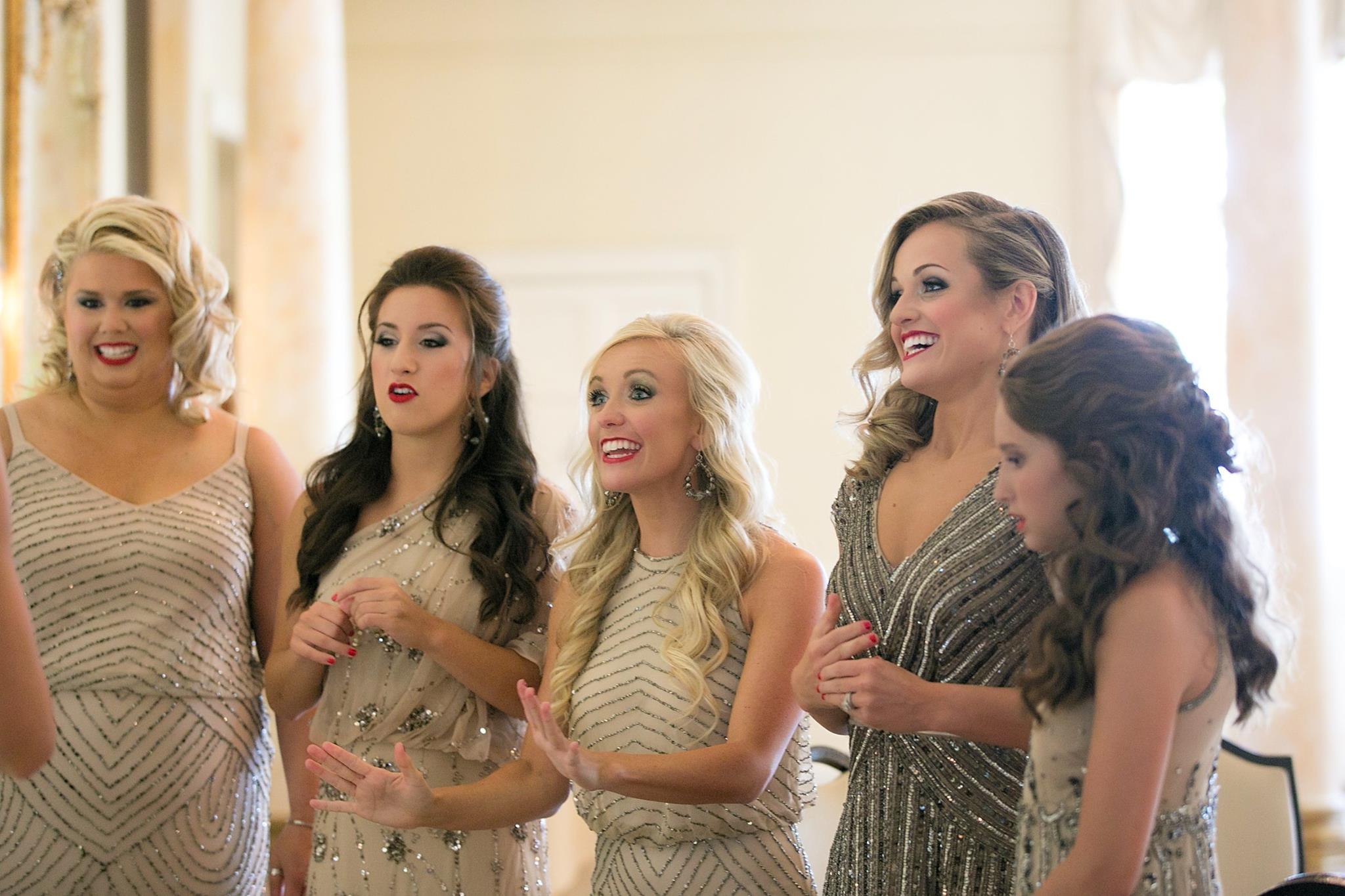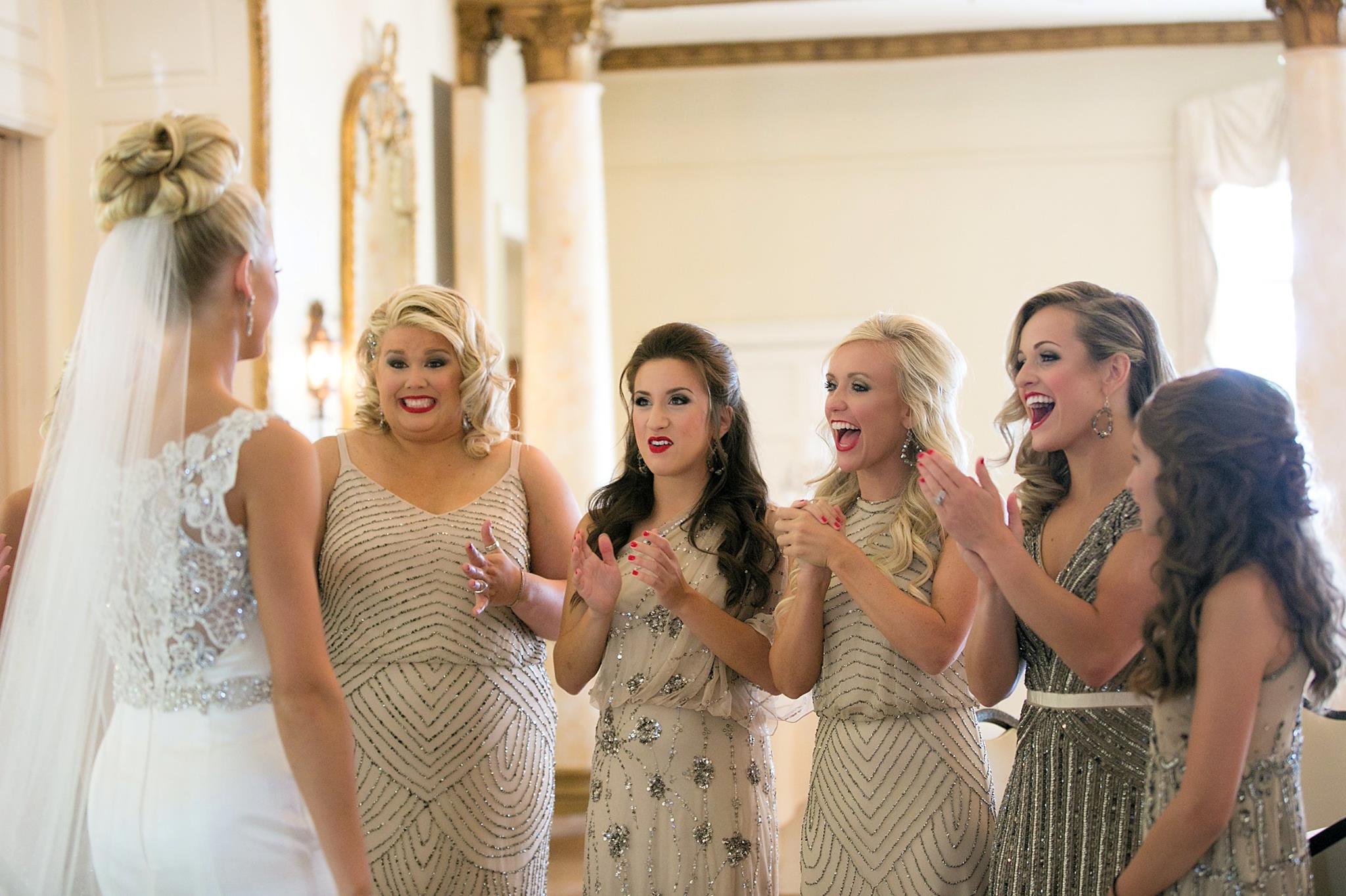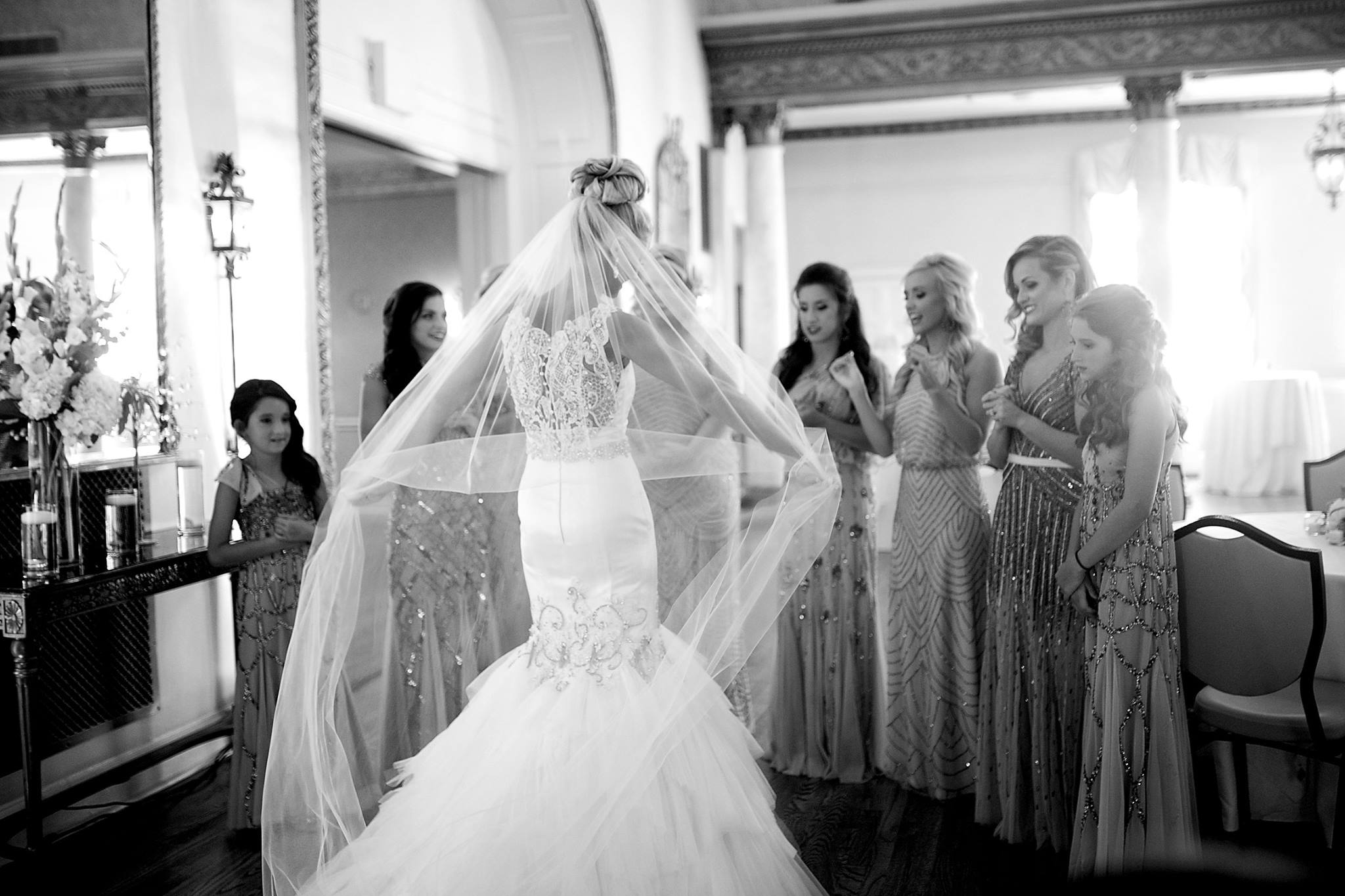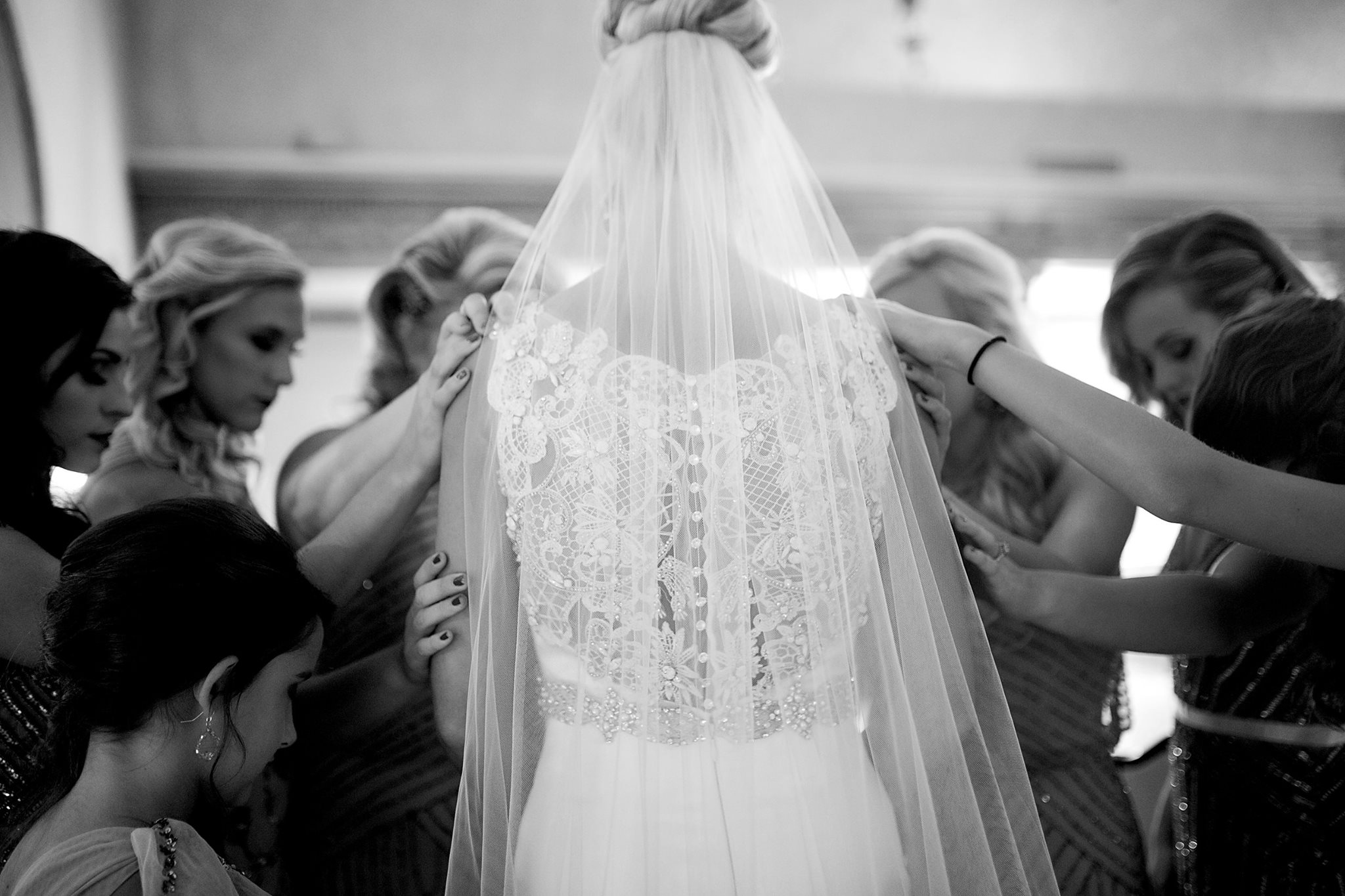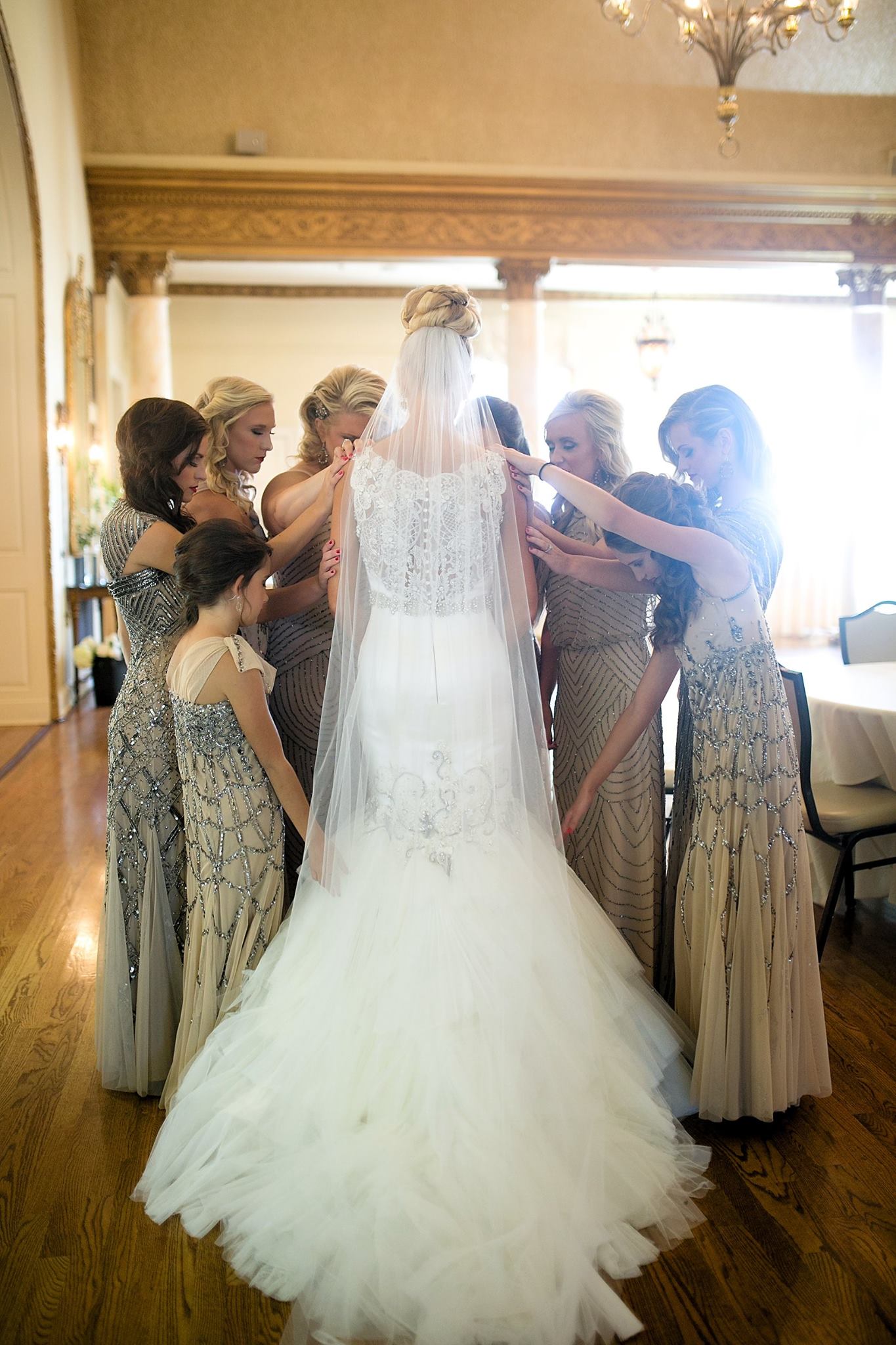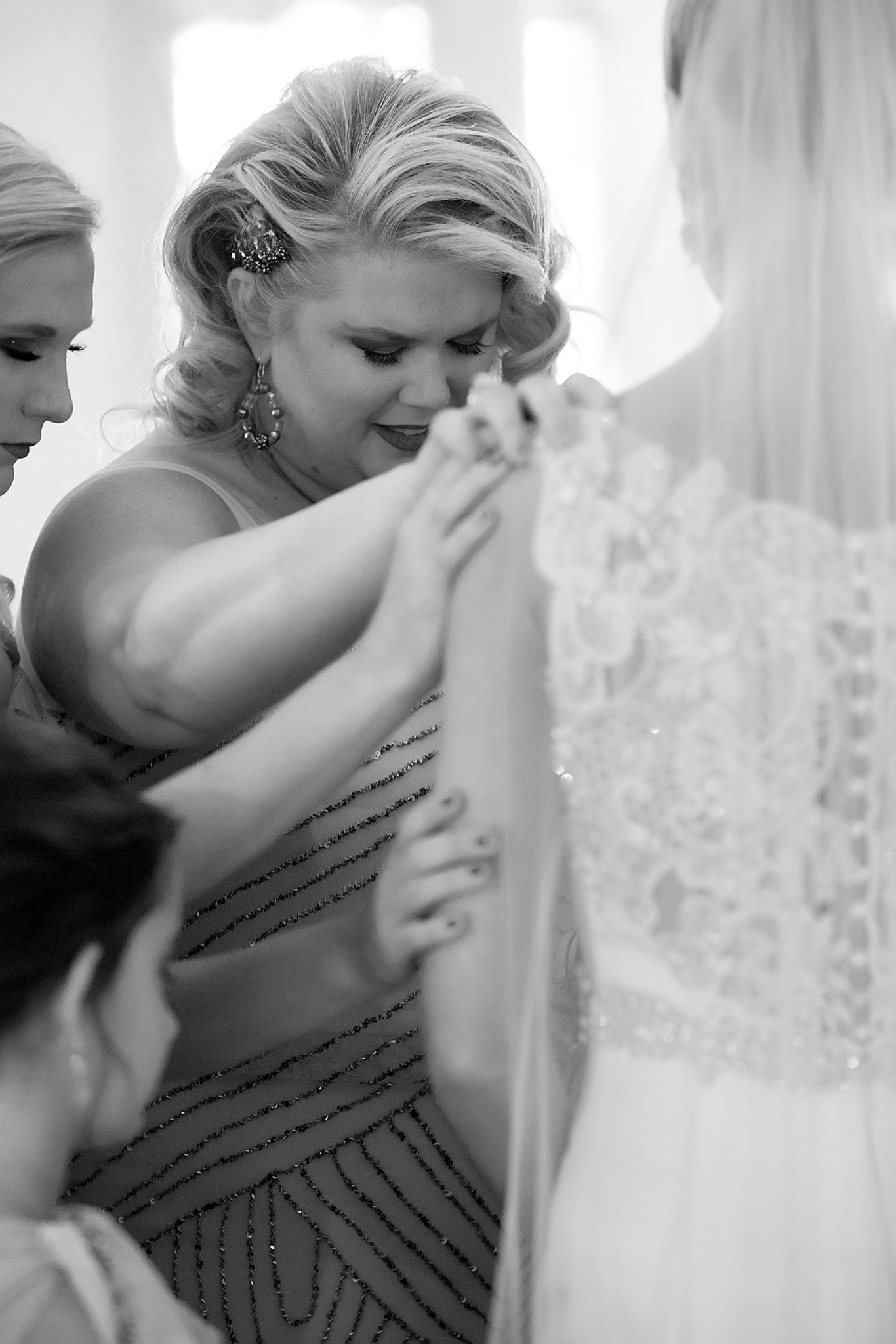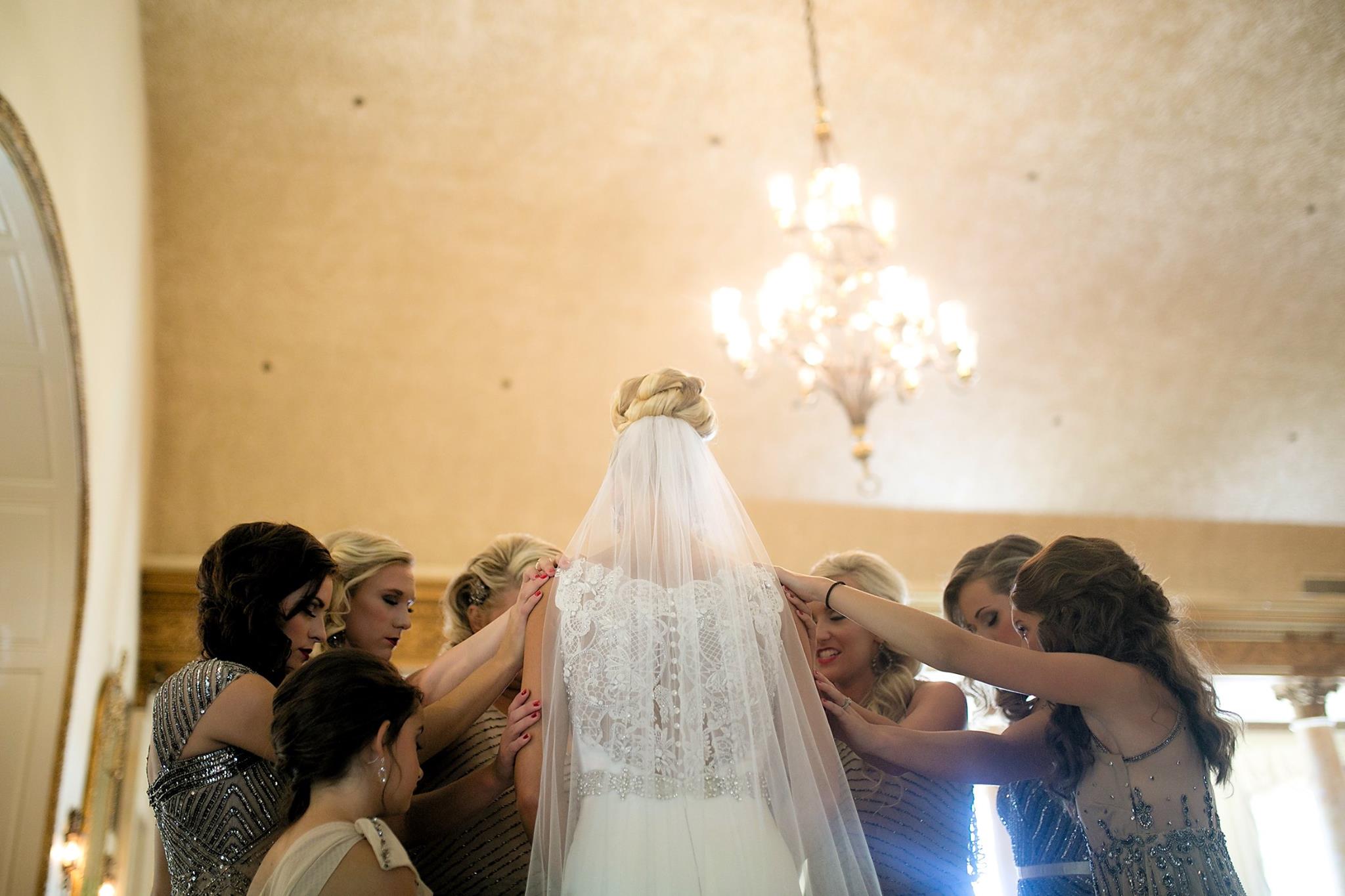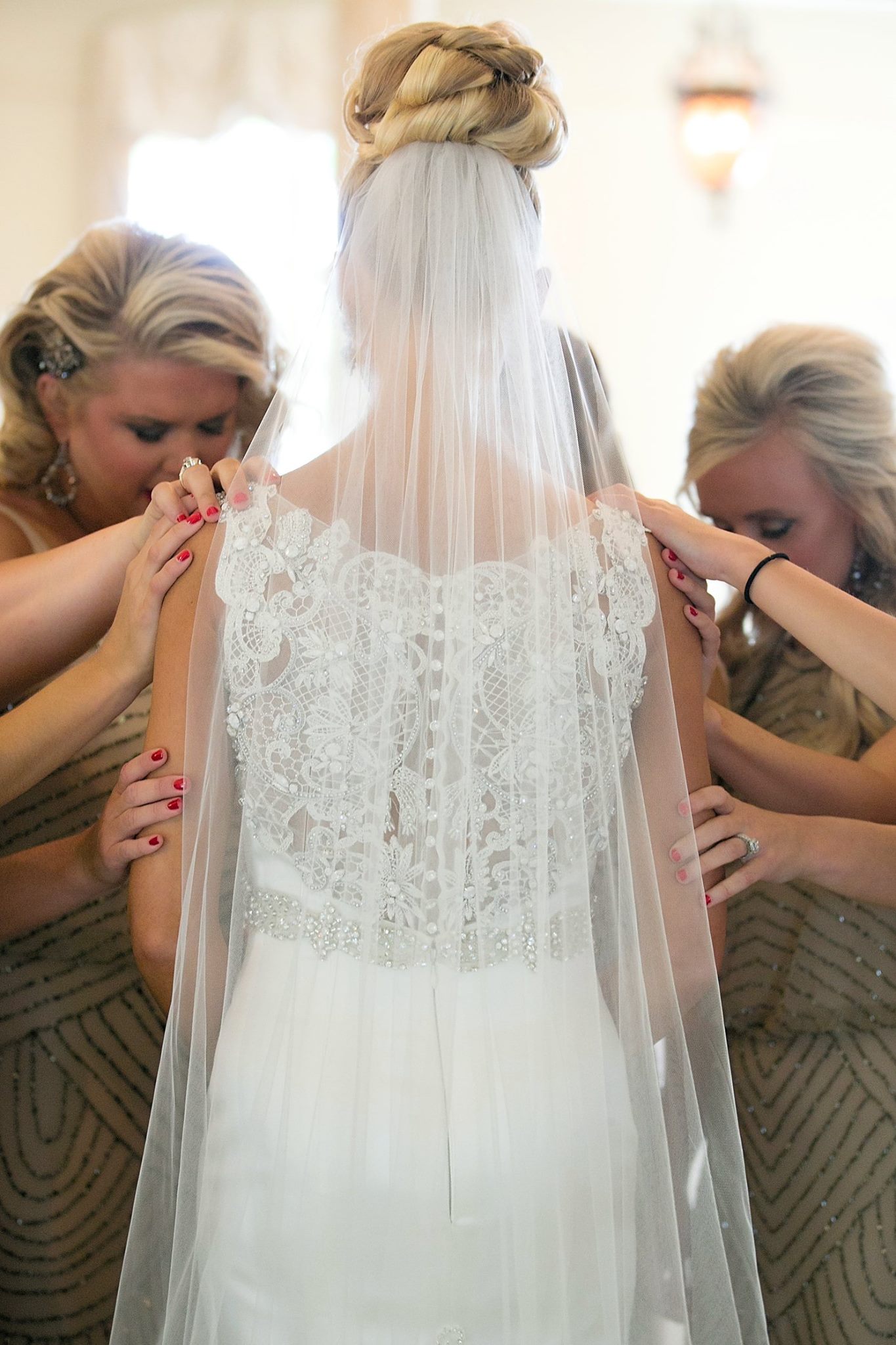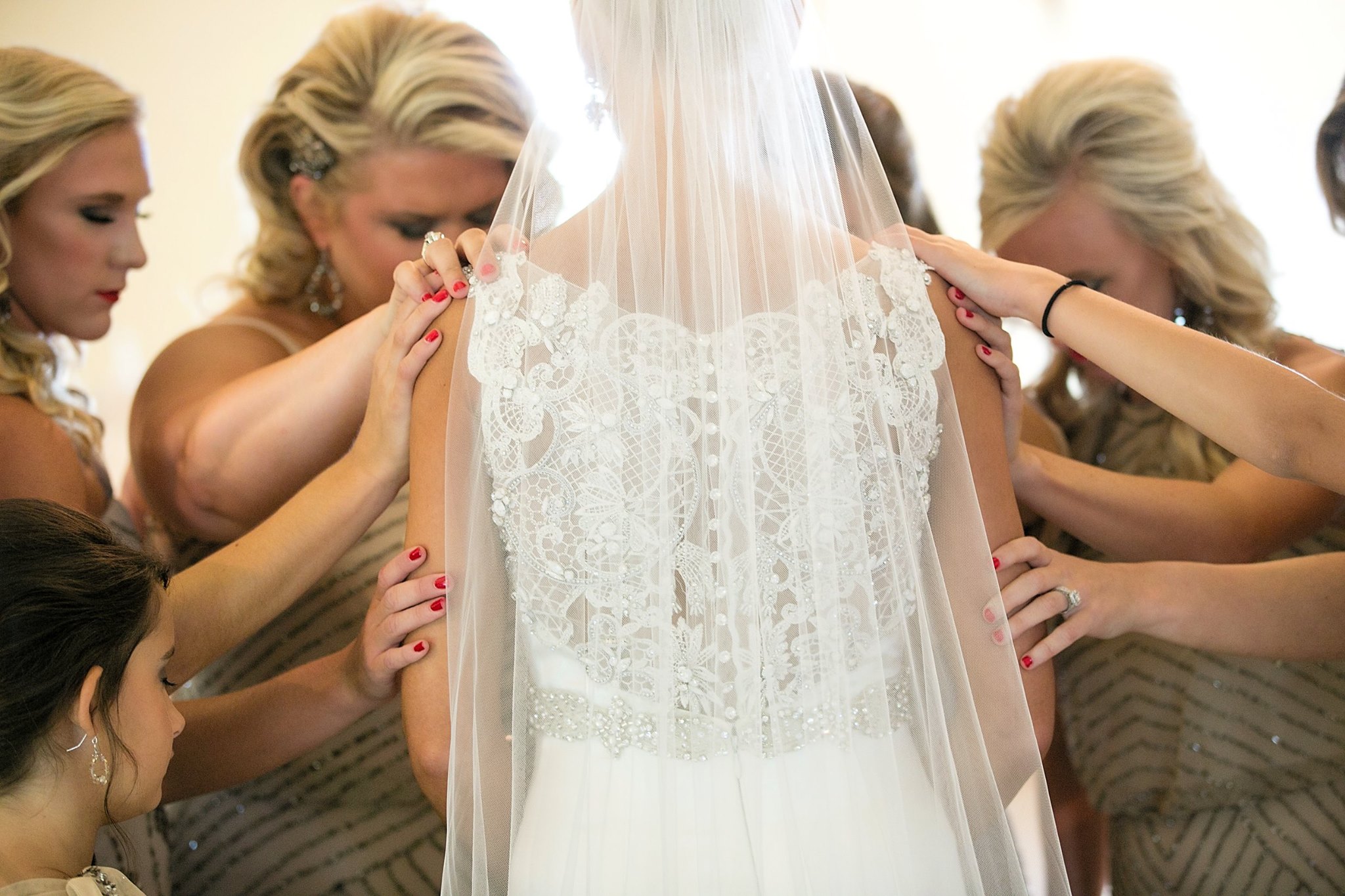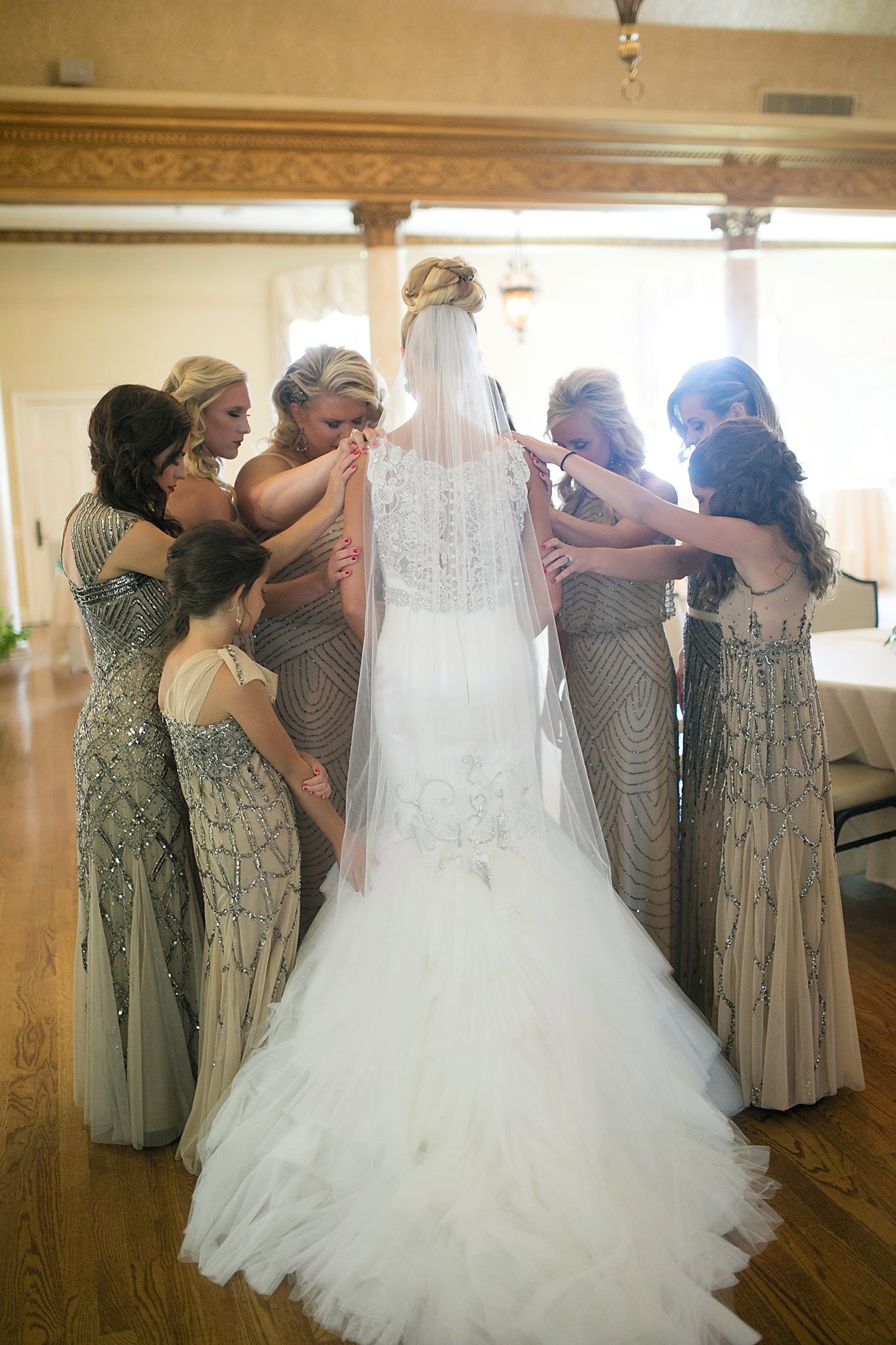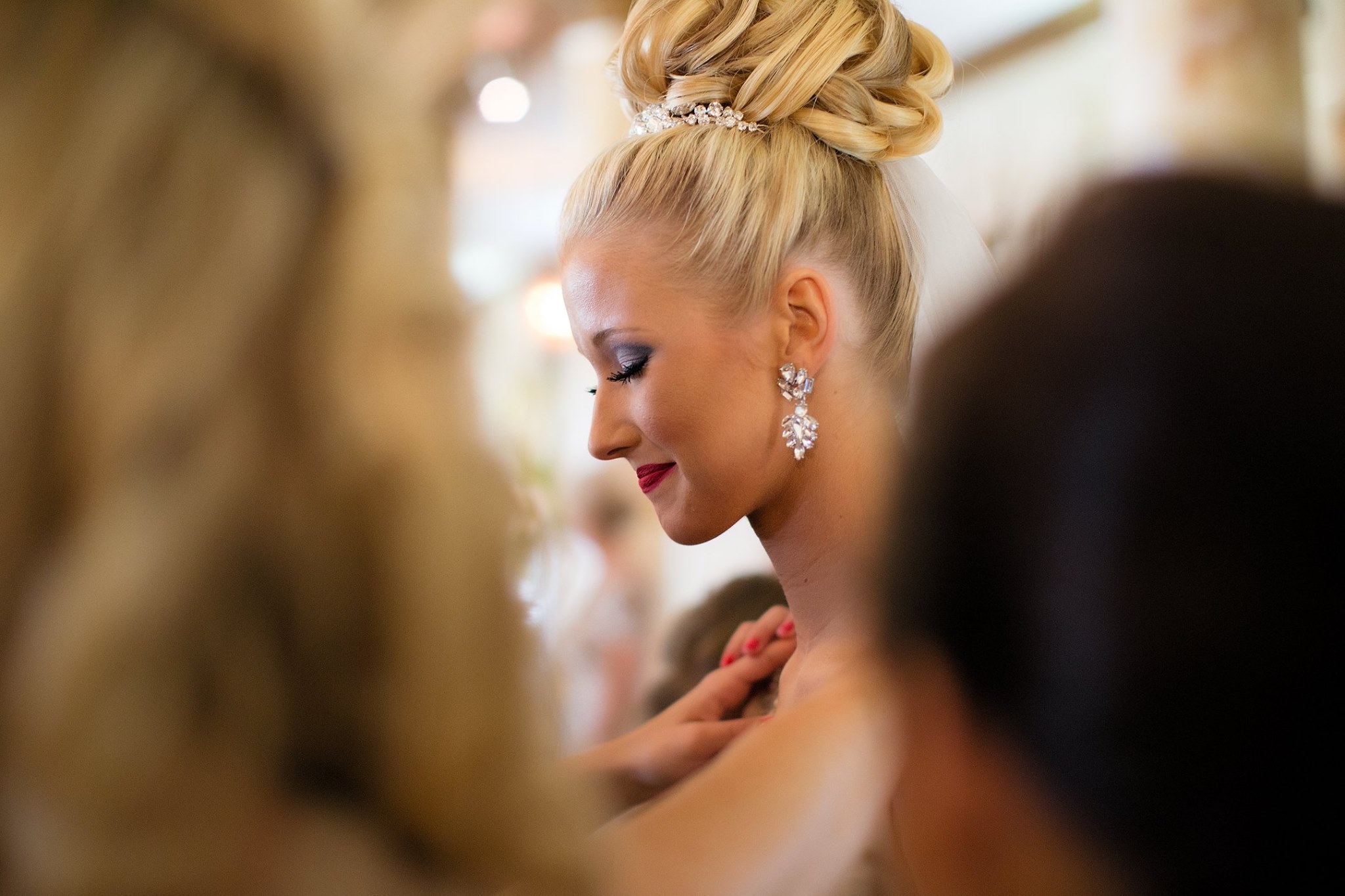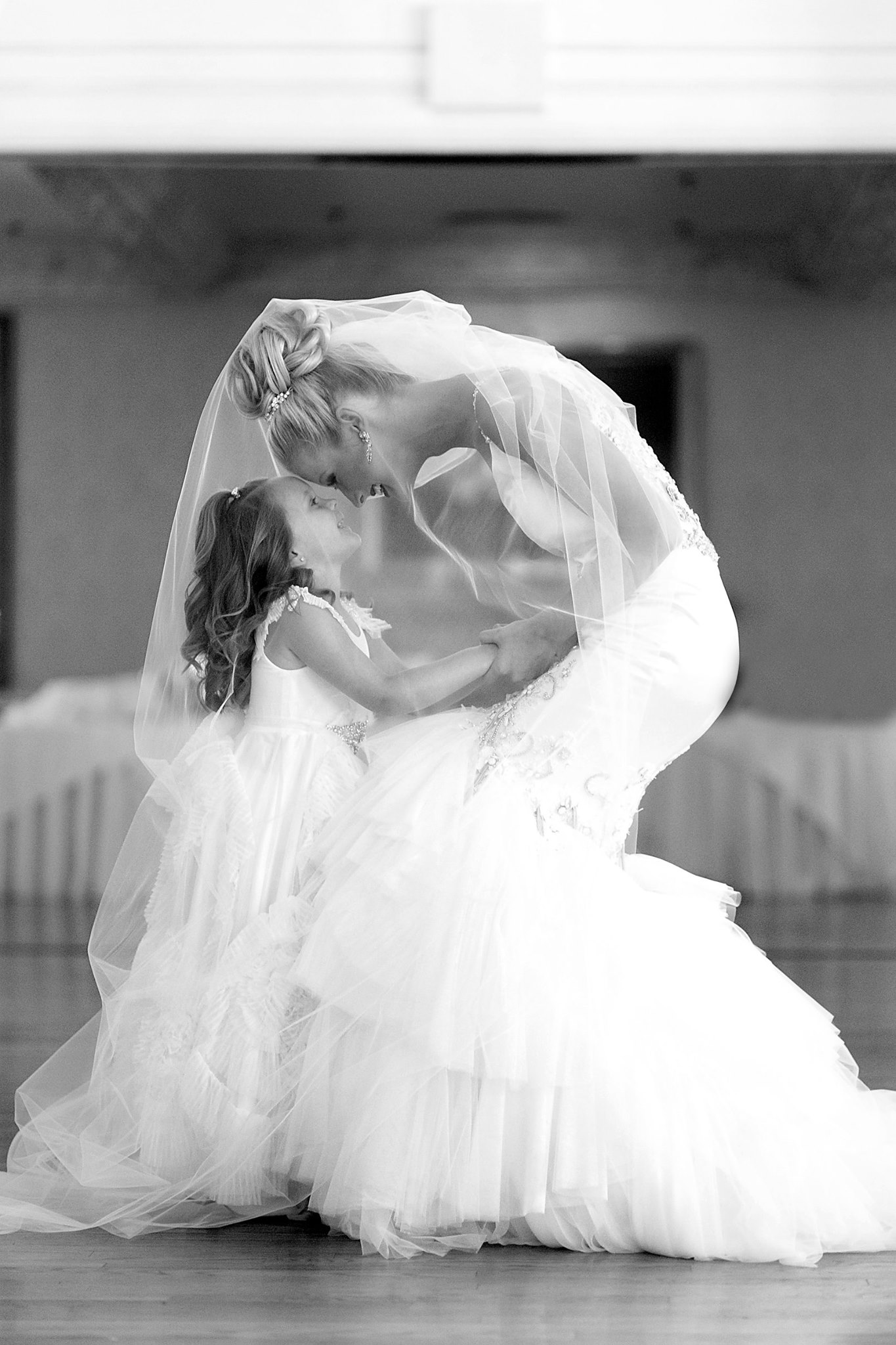 The second 'first look' during my big day just so happened to be with MY LADIES!! And yeah, I know what you're thinking … everyone has a so-called first look with their bridesmaids … well, I really tried to make it an exciting moment for them so that my photographer, Katherine, could capture their genuine and real reactions to when they saw me in my dress for the first time. Yep, you read it right … none of my girls (besides my sister) had seen my wedding dress before the big day. They all saw it for the first time during these photos (above), so you're seeing their first reactions just as I did on my special day. I cried. Let's face it, how do you not?! I'll never forget Hana's face as she cried tears of joy for me, Rach screaming out loud, Liz expressing a HUGE smile on her face and saying, "OMG you're so beautiful & you're finally completely READY so let's get this party started!", and Kristen (speechless) just reaching out for a hug (which if you know Kristen, the word 'speechless' never comes to mind). And my sister's sweet prayer? I mean, *cue the happy tears*!!
Trust me, it was possibly one of the most DIFFICULT tasks of my life trying to hide my dress from my girls during my wedding planning process (and there were manyyyy times when I wanted to say 'forget it' and just show them because I was overly excited – I mean they are my best friends and I tell them everything!!). But the look on their faces in these photos that I get to keep forever make it all worth it! I still get happy tears in my eyes every time I look back at these, and I can't wait to stand by their sides during their special day! Divas, if you're reading this, I love each of you SO SO MUCH!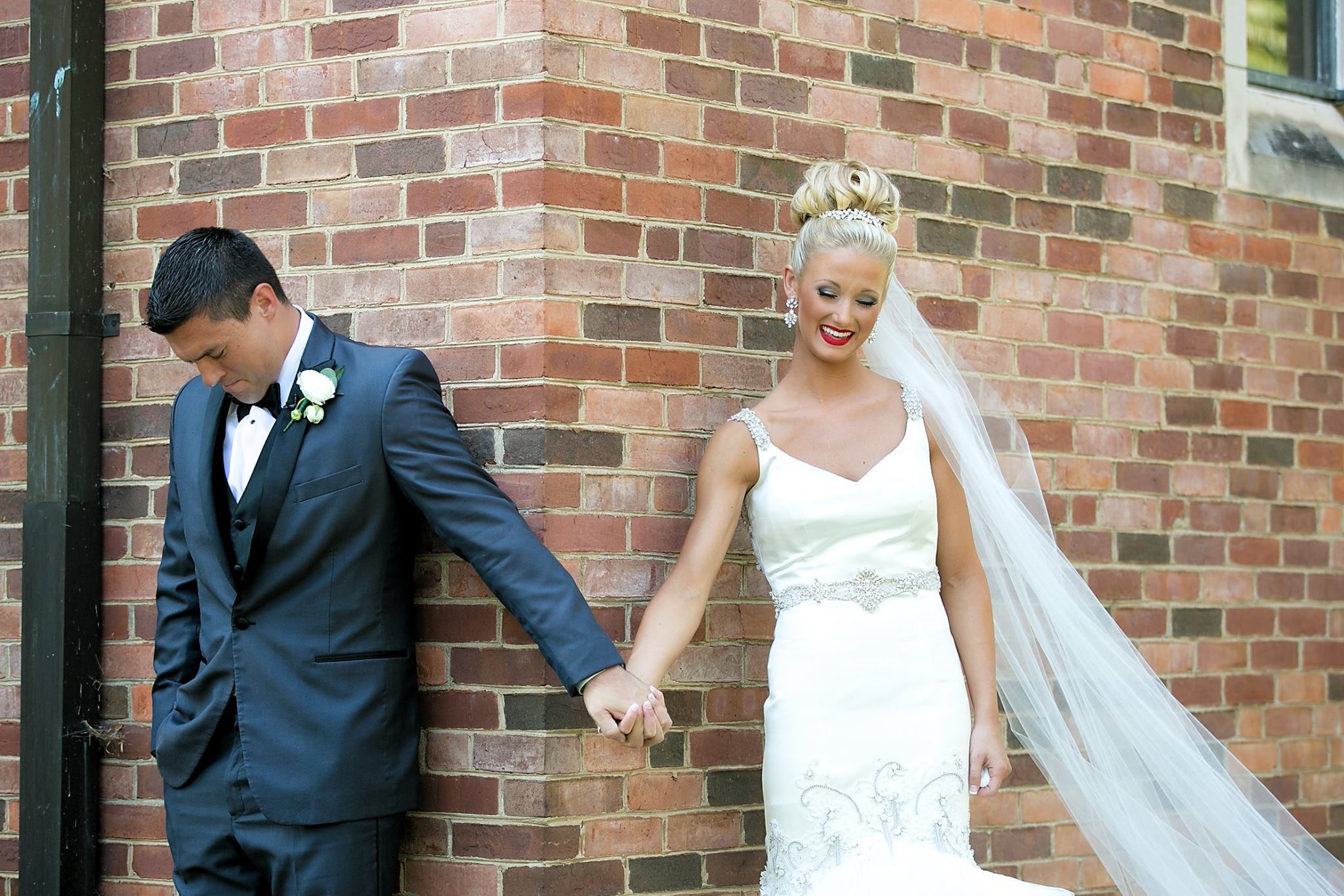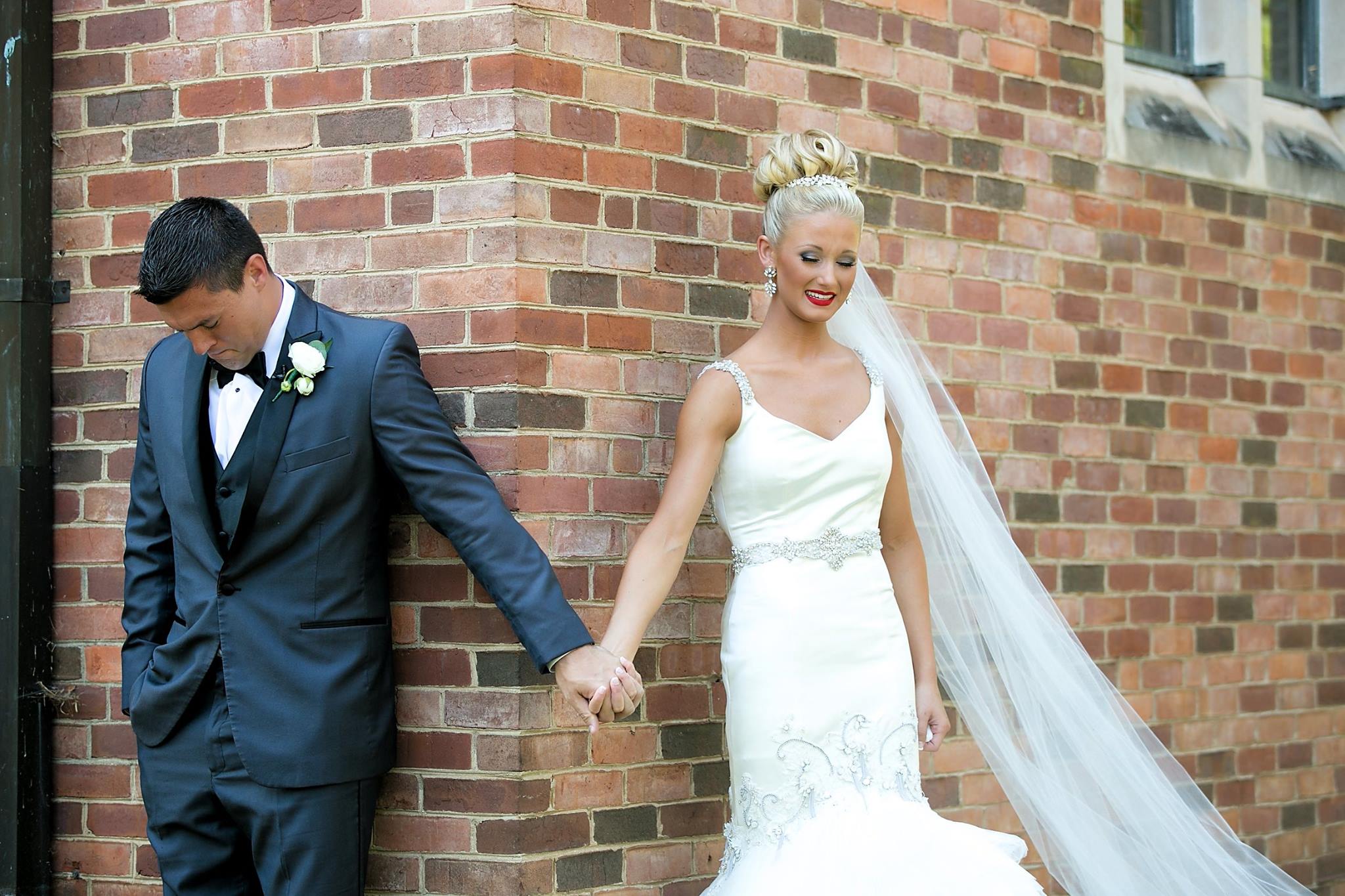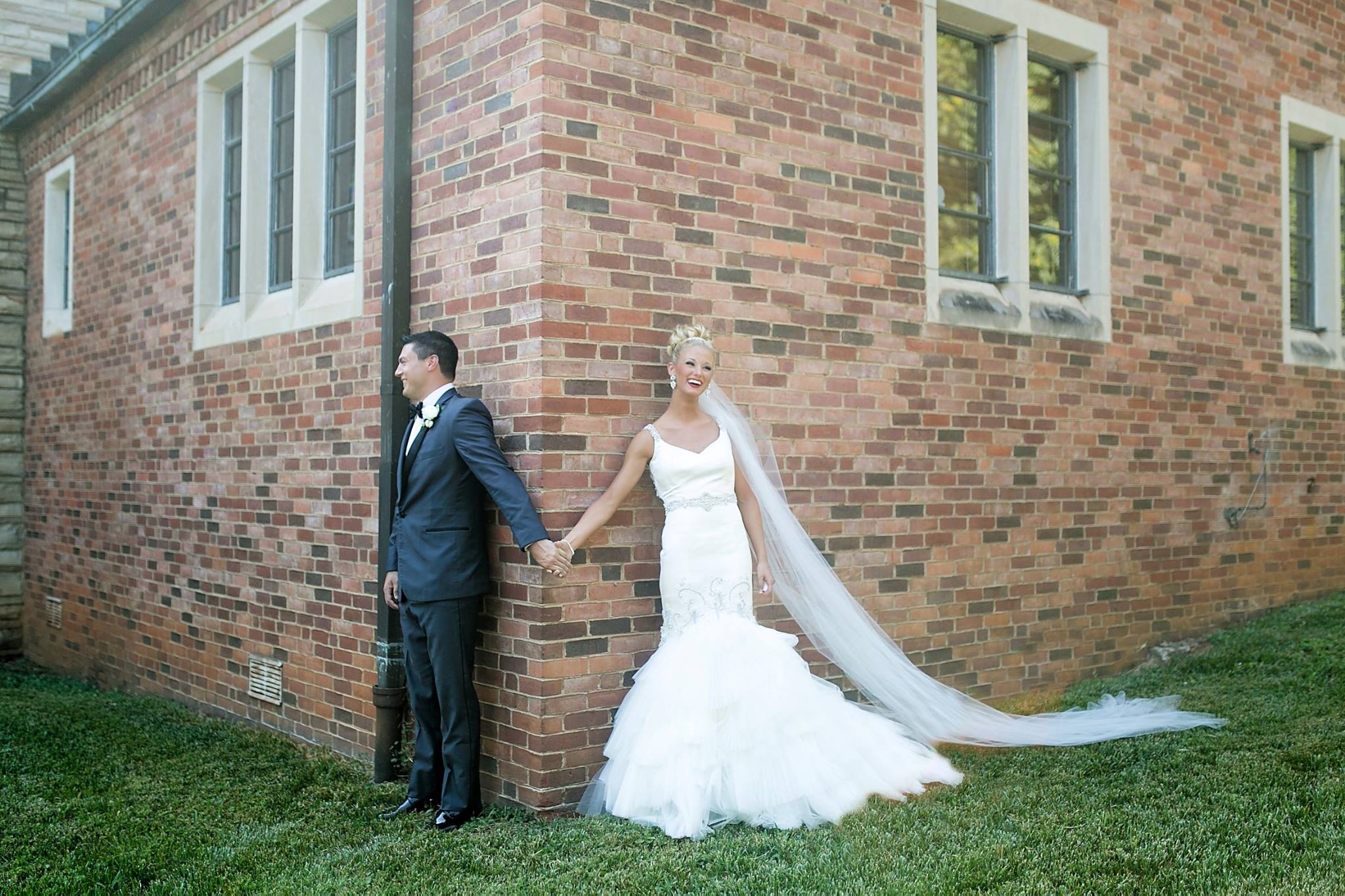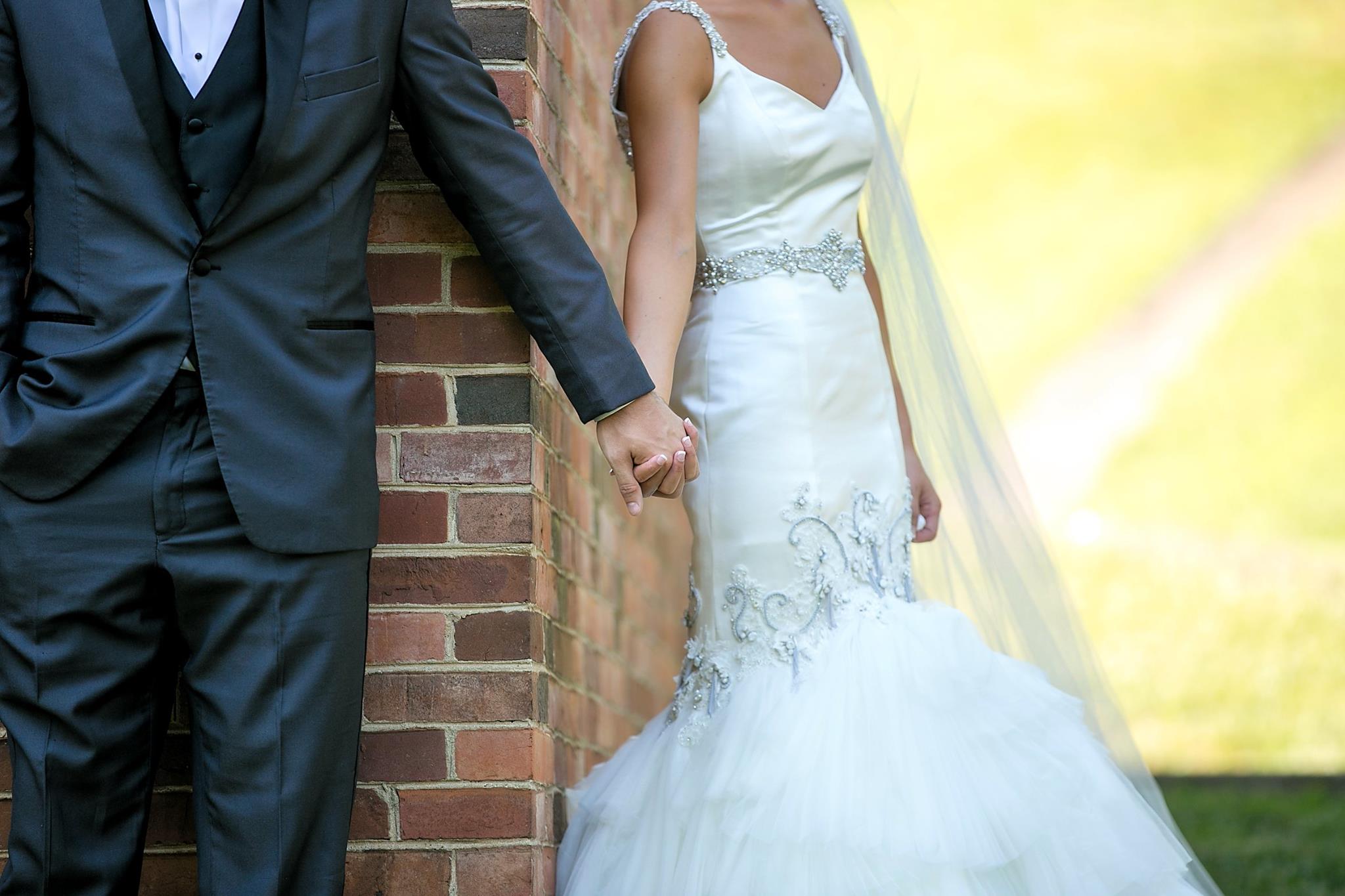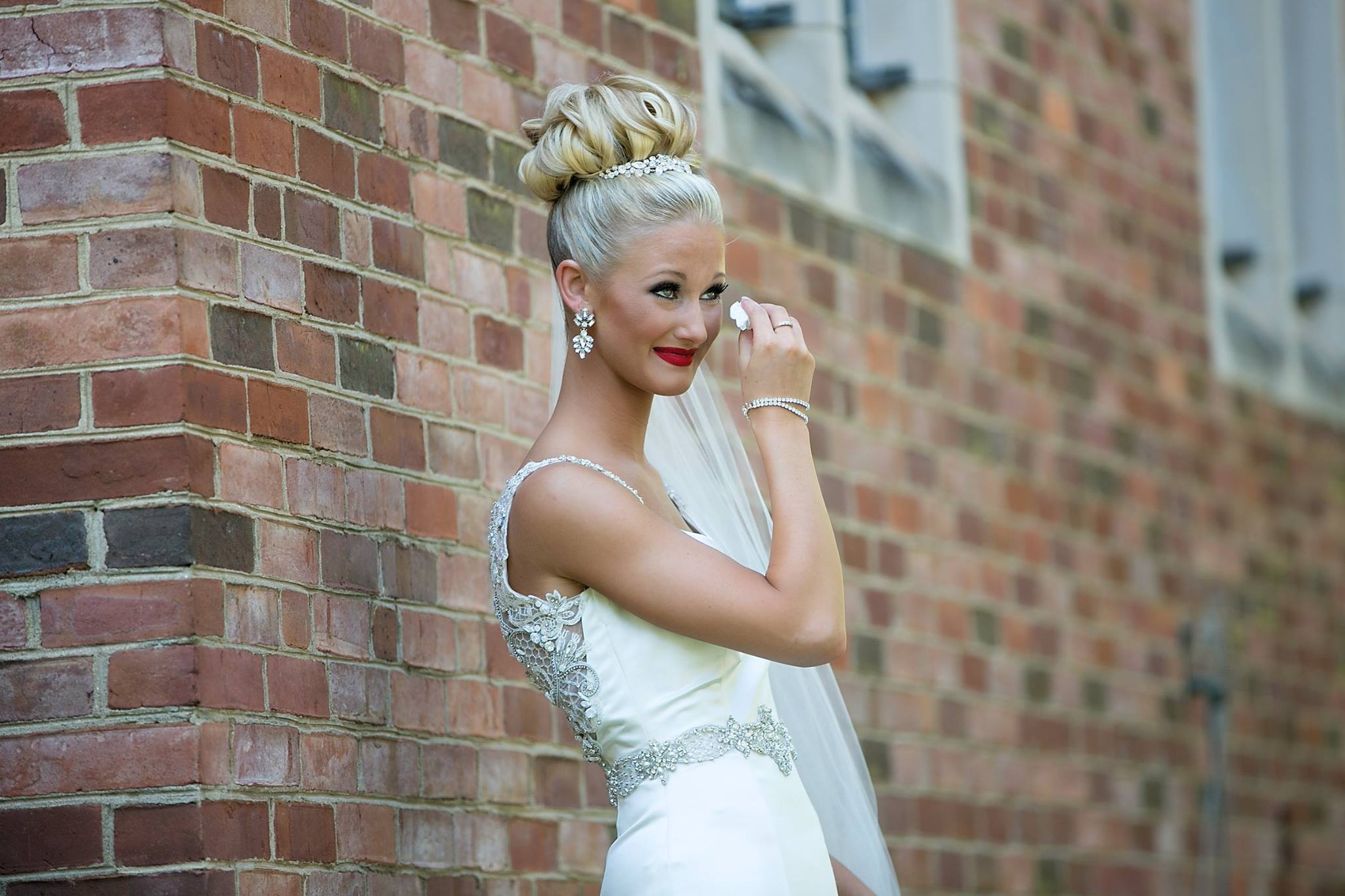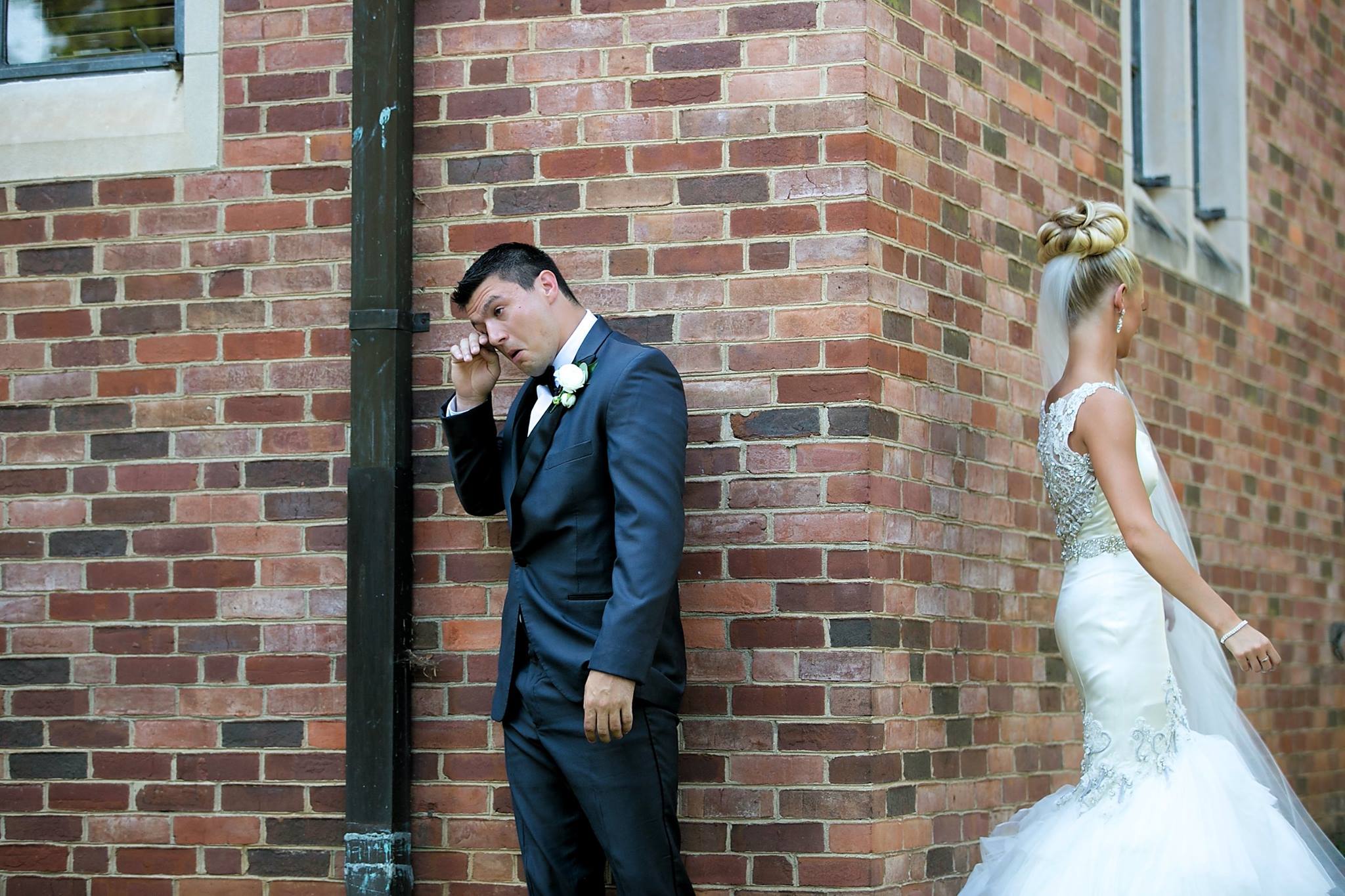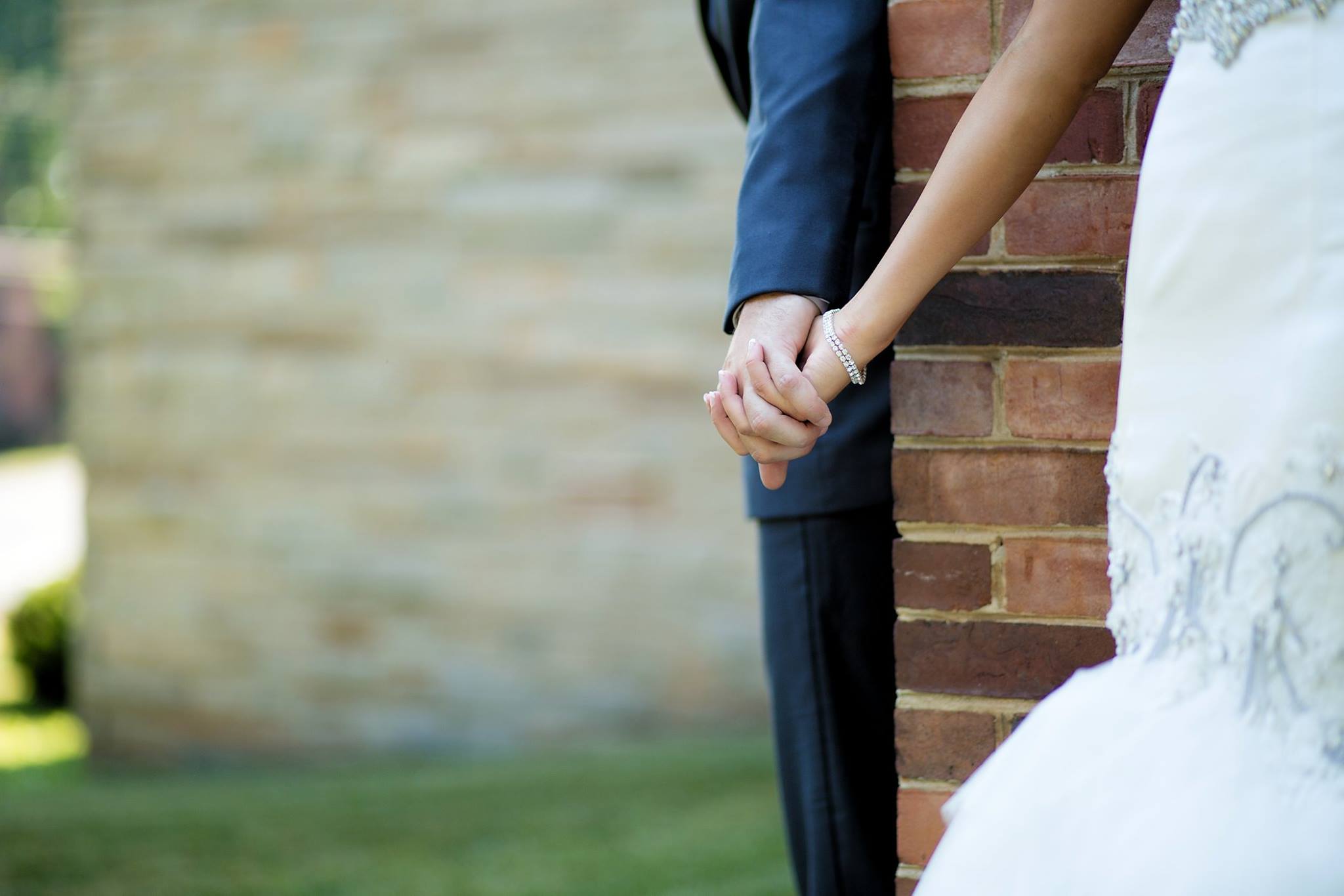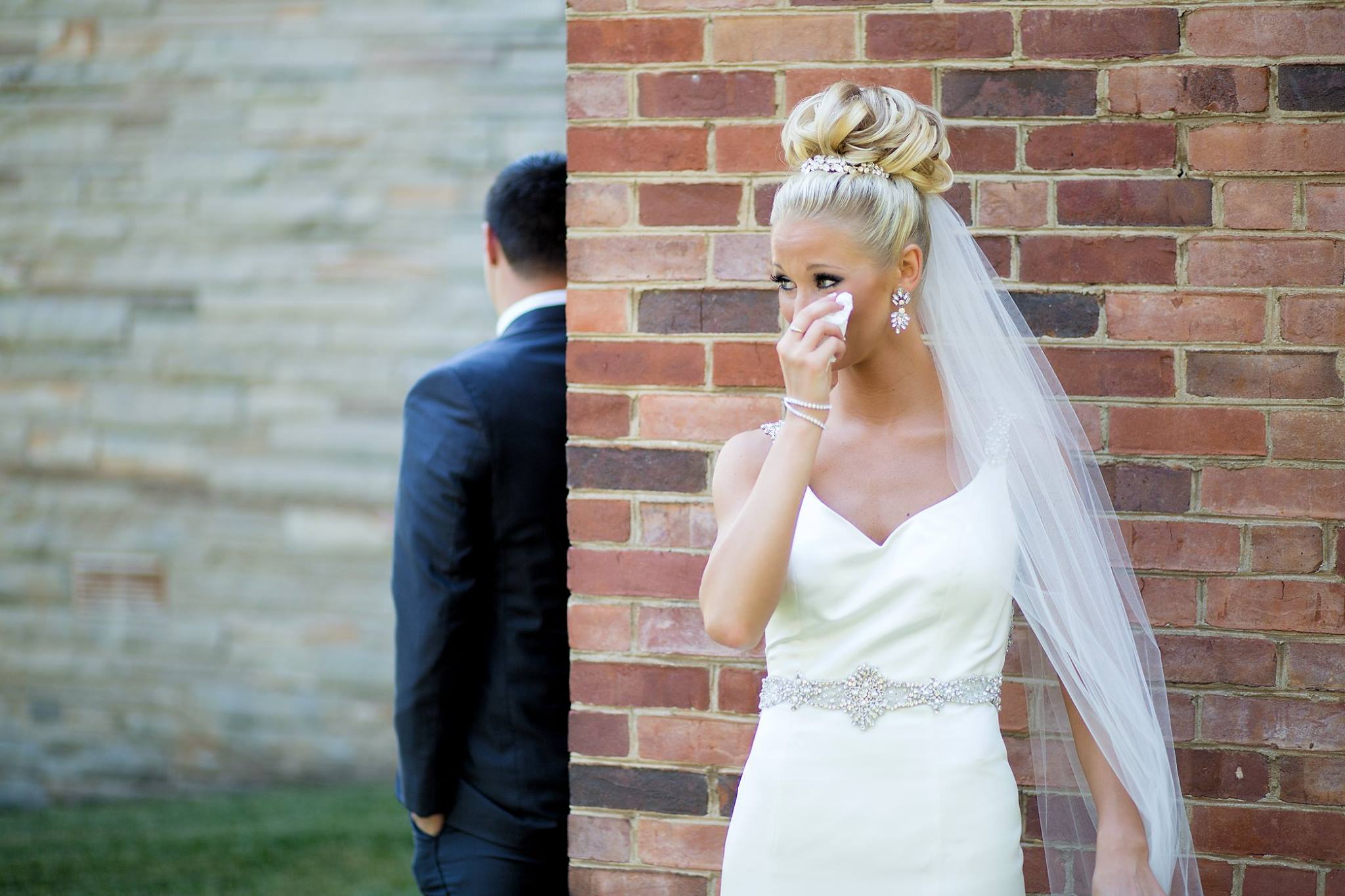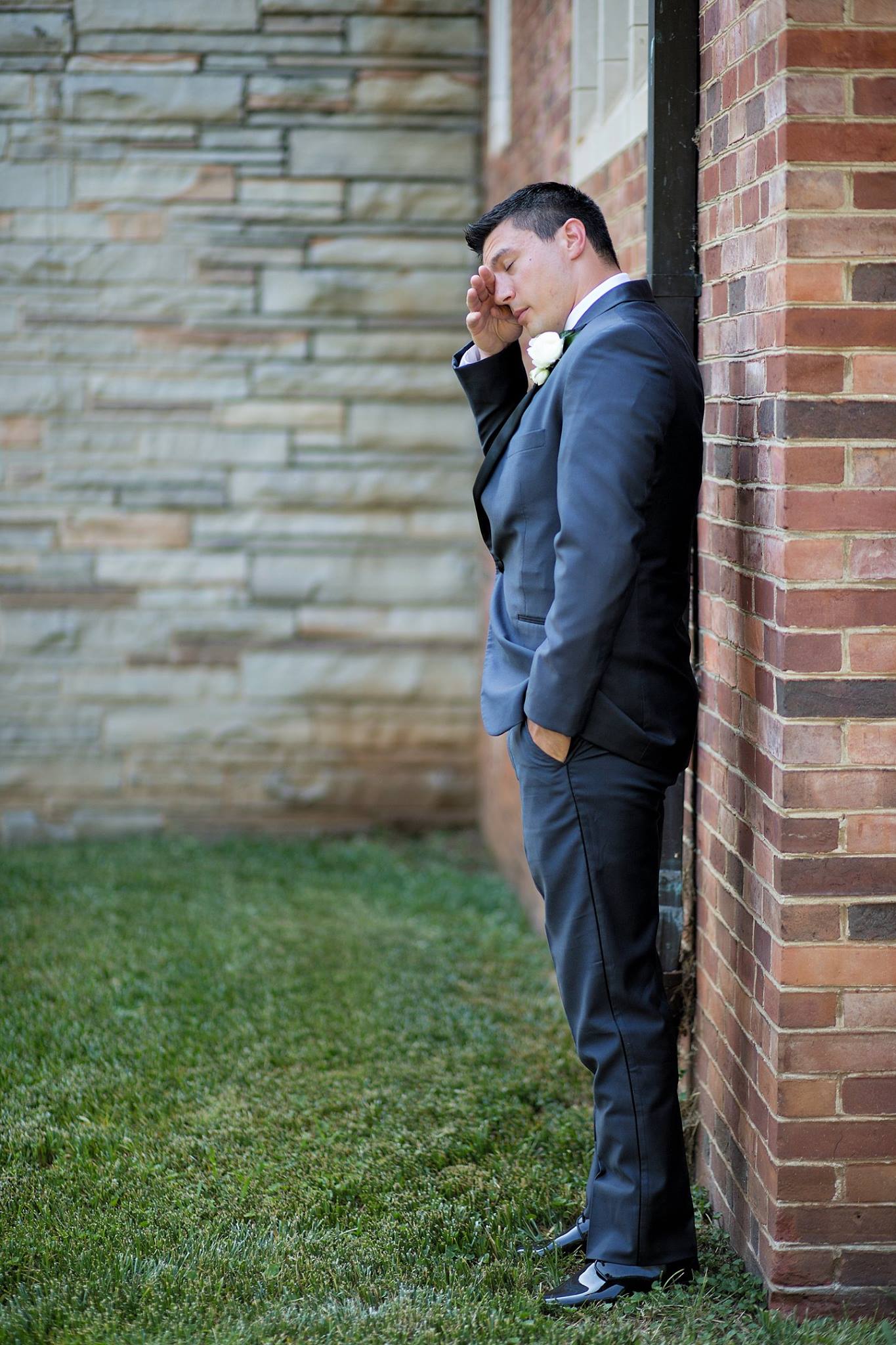 So that's actually all I have for the 'first looks' on our wedding day because Teej and I decided not to do a first look. We decided early on (like before we were even engaged I think) that we wanted to wait to see each other for the first time when I was walking down the aisle. Actually, to be honest, that was always the idea I had in mind for my wedding day but then I started planning it all out, and I thought that it actually may be easier to go ahead with a first look (for the purpose of photos we wanted). But my sweet hubby (who didn't request much for our wedding day) insisted that he see me for the first time when I walked down the aisle to him. I still think that this was my favorite part of the entire day because it was ALL he wanted and I will NEVER forget that sweet look on his face (see photos below – I was thinking he was going to bust out in tears or pass out, ha). The fact that this moment meant so much to him made it mean even more to me than I thought possible (cheesy, but true). We decided to see each other for the first time in front of our friends & family and keep it traditional. I truly wouldn't have had it any other way because it was perfectly US, and that walk down the aisle to my man was so special. Everyone else in the room simply disappeared, & I got to really take in the special moments as I walked toward my future. I really think he and I both felt something super special during our 'traditional' first look.
Luckily though, before the ceremony began, we did make some time to be around each other. We both rushed outside the church to hold hands, chat and say a prayer together before we actually saw each other inside during the ceremony. This was SUCH a special moment that we almost didn't even go forward with because we were running out of time, but looking back now, I wouldn't have traded this moment for the world. If you are a soon-to-be bride who is like me and not doing a first look with your man, I highly suggest setting aside a moment like this (see photos above). It was so special & made each of us feel even more excited for the ceremony to begin. Not to mention, it will help calm the nerves for your handsome groom 😉 Again, *tears* (like ugly crying at this point) – the pictures prove it. Oh how I love you my sweet Teej!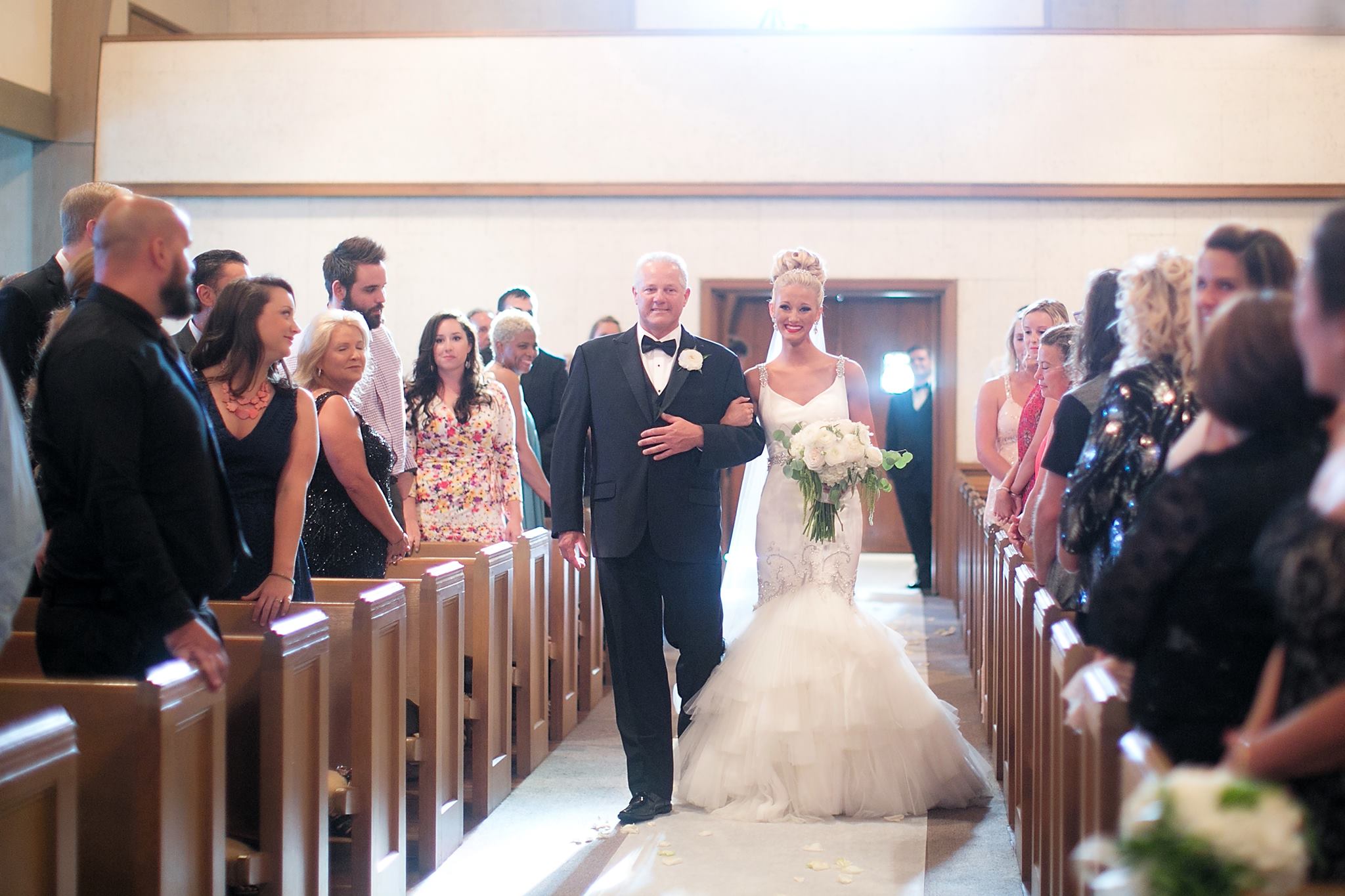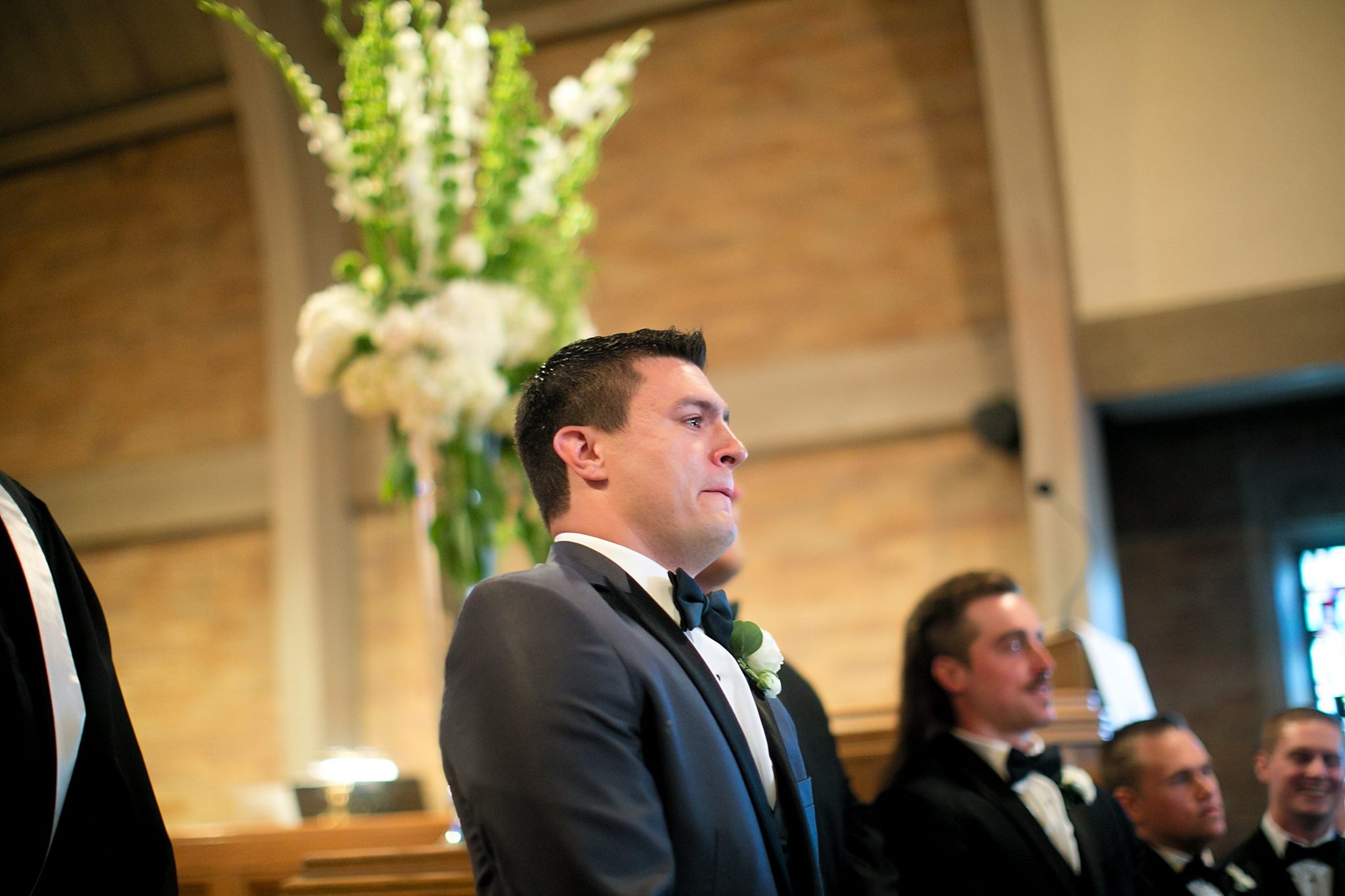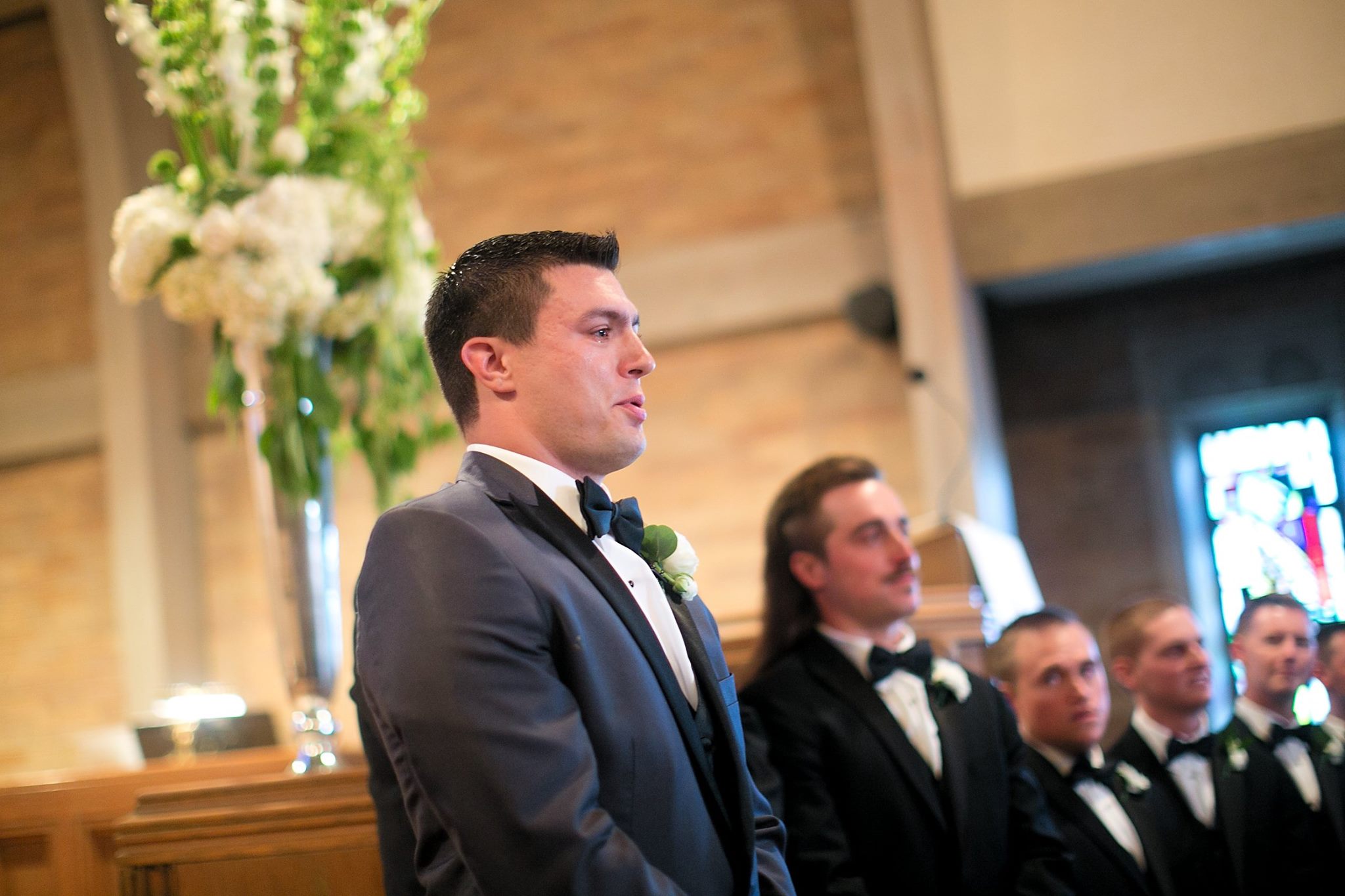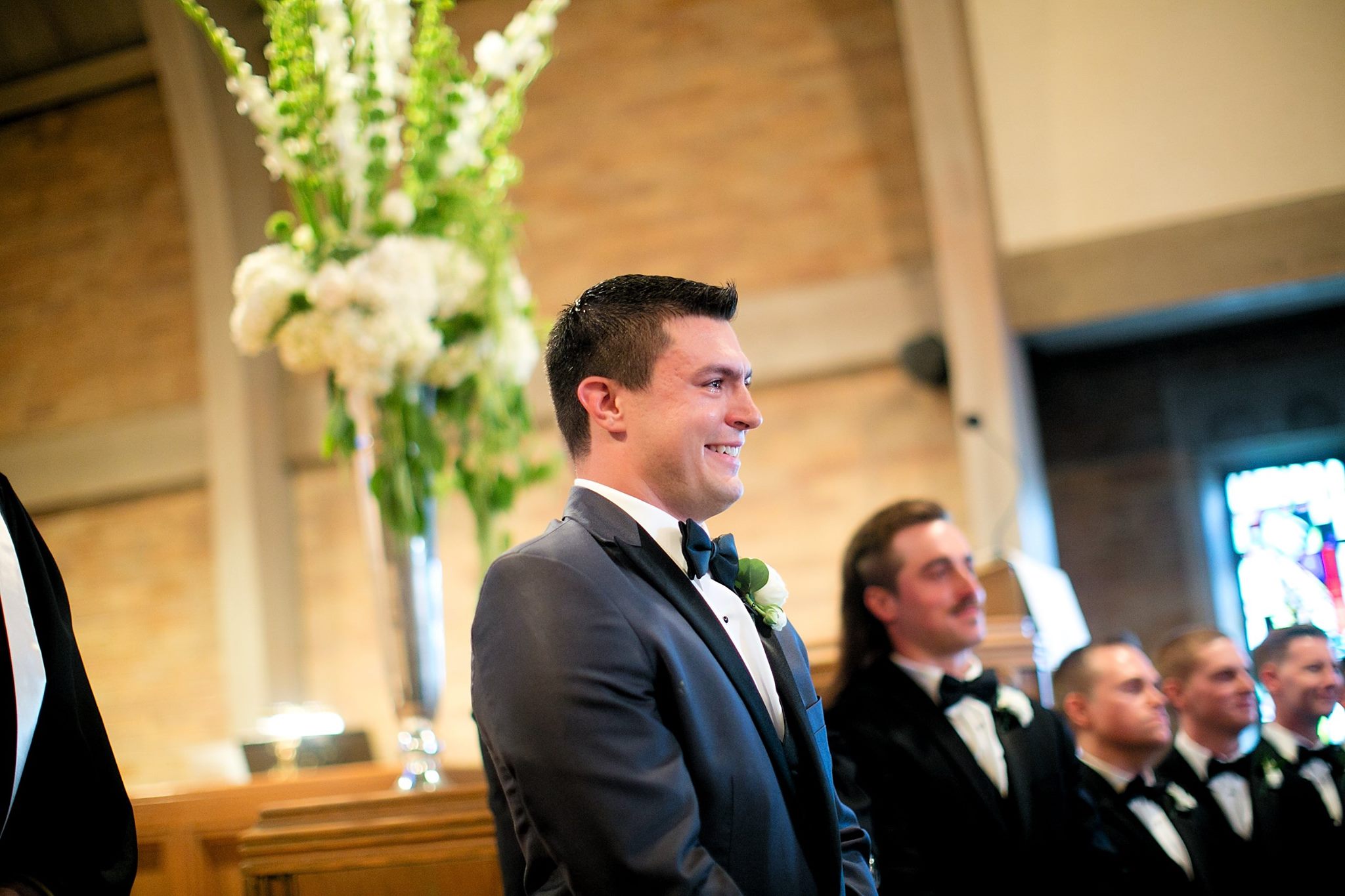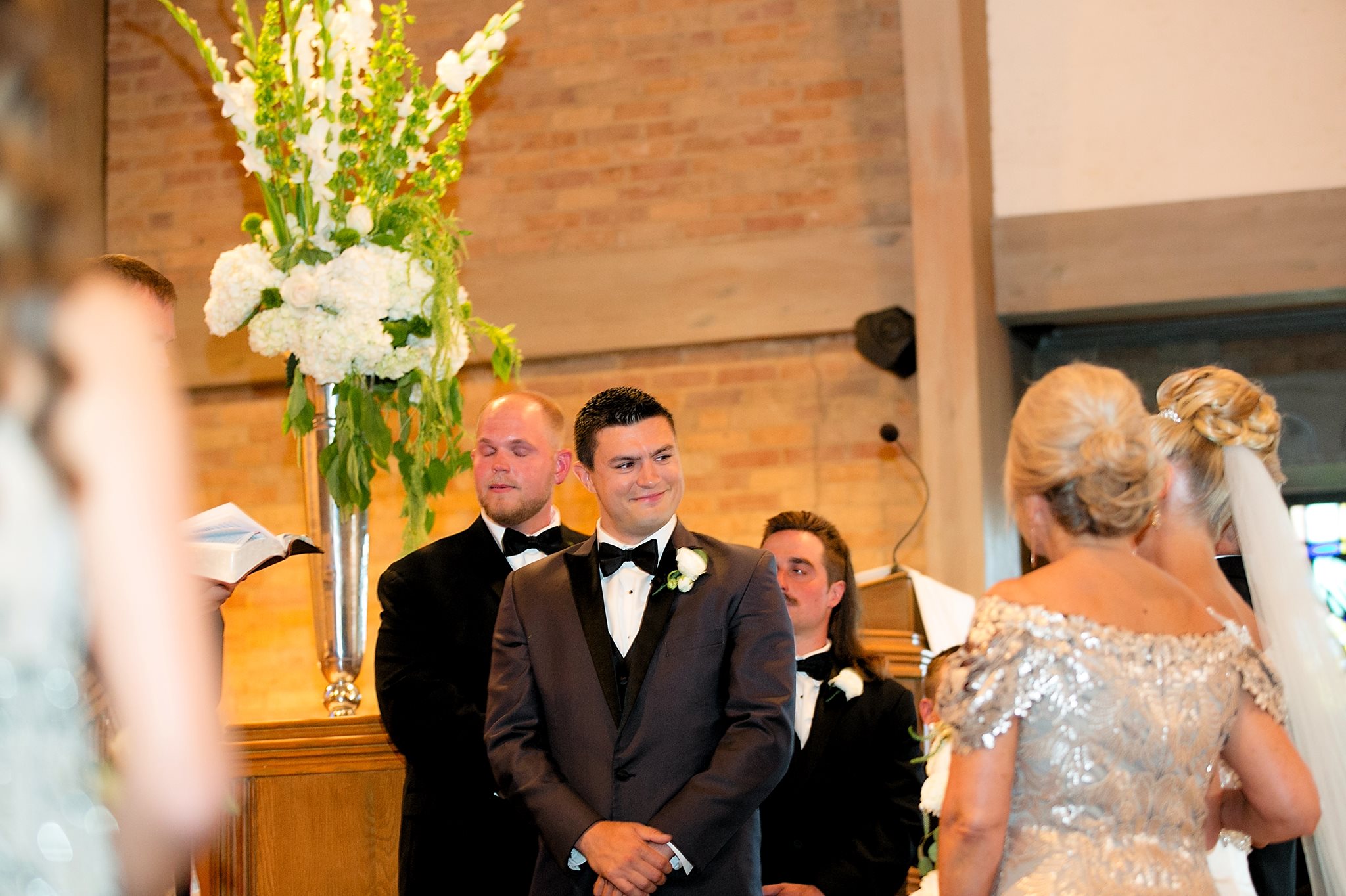 Ahhhh, my heart.
Stay tuned for another post full of love coming up this weekend to help us celebrate our very first wedding anniversary – I can't wait to share it with you all! Hope you ladies are having a fabulous week!
xo, P
Photos: Katherine Birkbeck Photography
Video: Milestone Pictures