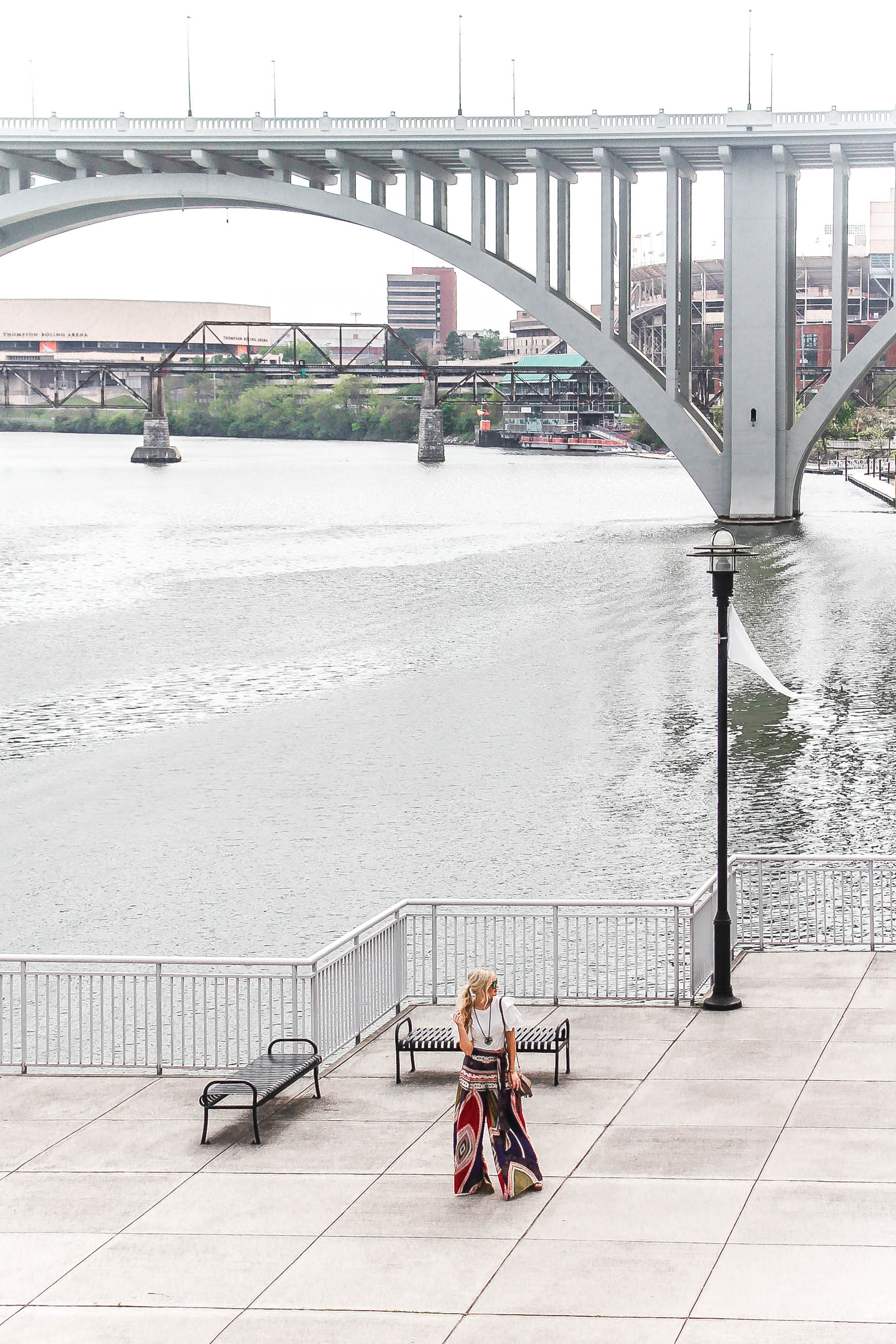 If there's one thing that I thrive for in life, it's a good outfit that will turn heads. I'm just being completely honest with y'all! I LOVE bold, statement looks that take #streetstyle to the next level.
However, I know a lot of ladies are timid or afraid to go all the way and try out some bold, statement styles. Today, I want to share a few of my own, personal tips that I always think to myself when I decide to wear a bold look that will definitely get people's attention. No, it may not be everyone's personal taste in fashion (and if not, that's fine!), but I always want to encourage you all to try something new & step outside of the box when it comes to the latest fashion trends. Take your personal style up a notch, because I promise that if you follow the tips below while wearing your statement outfit, you will instantly feel like you can conquer the world.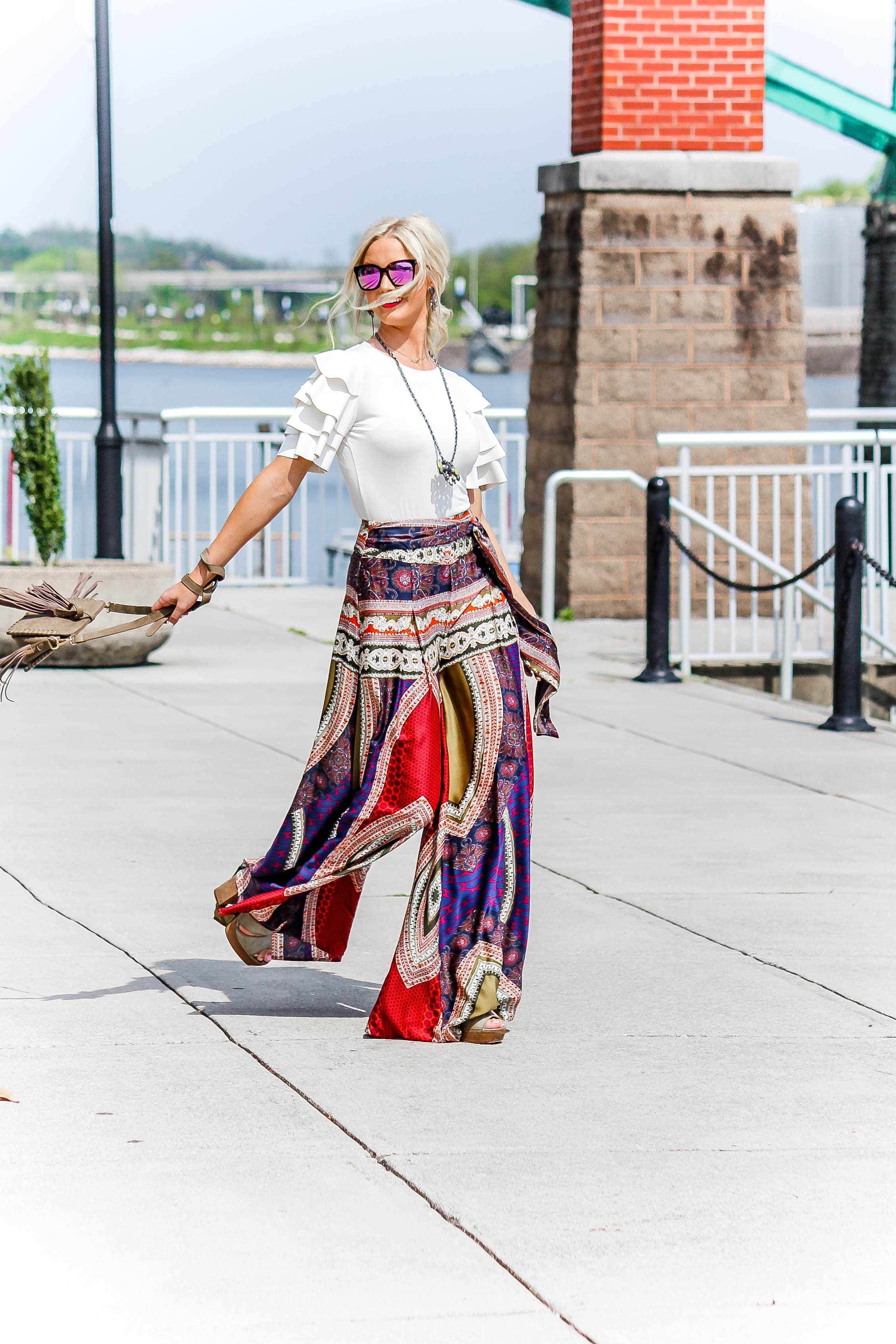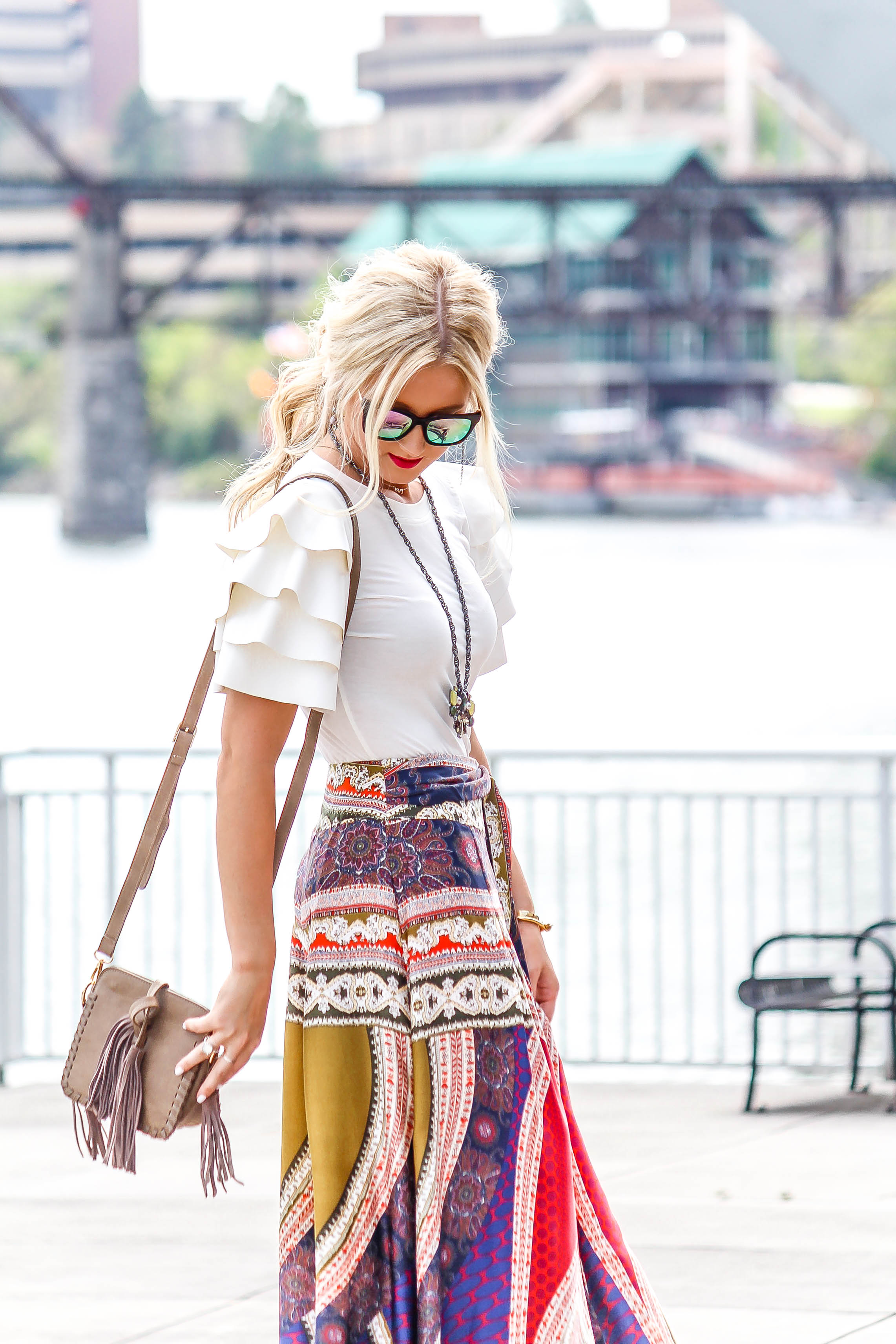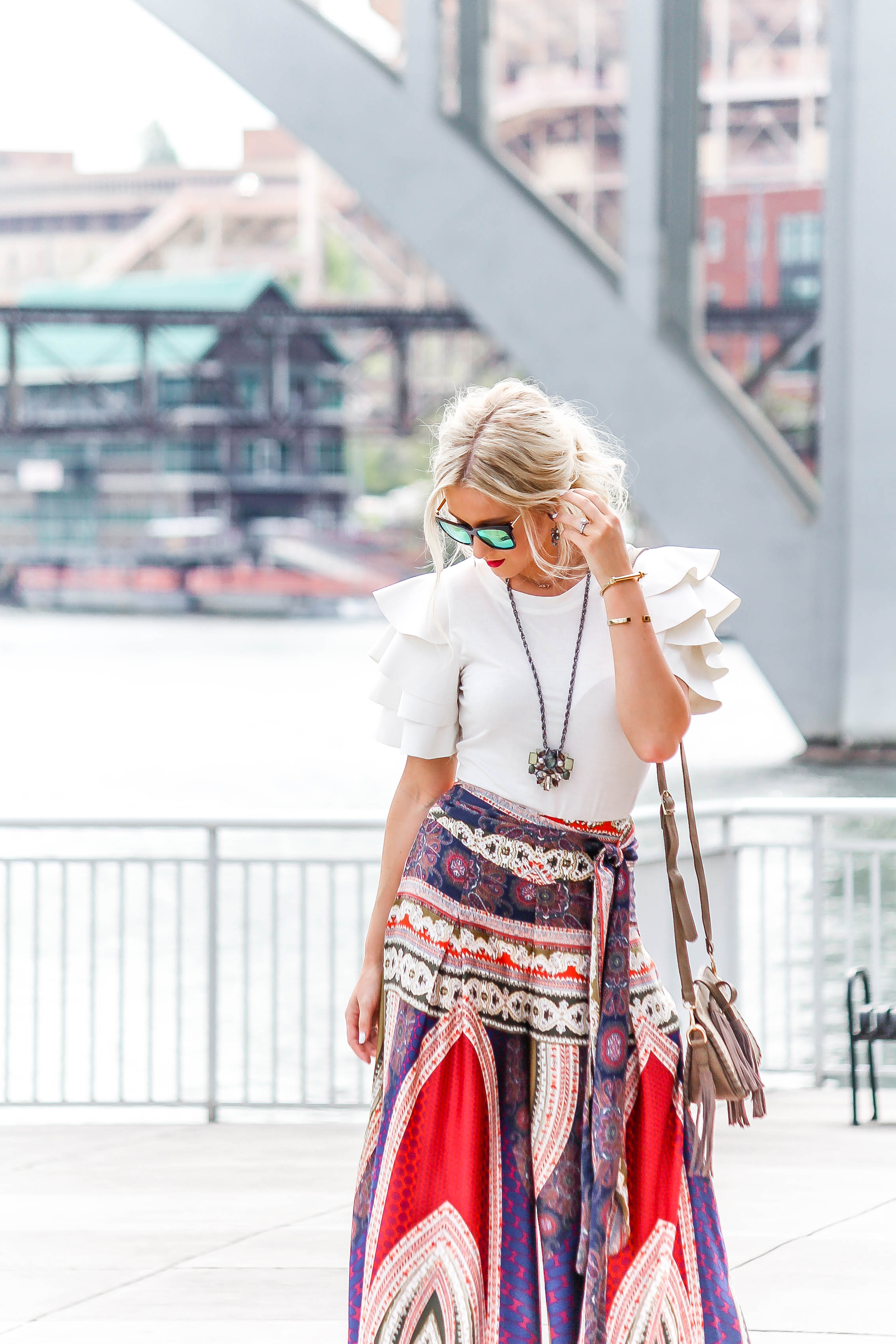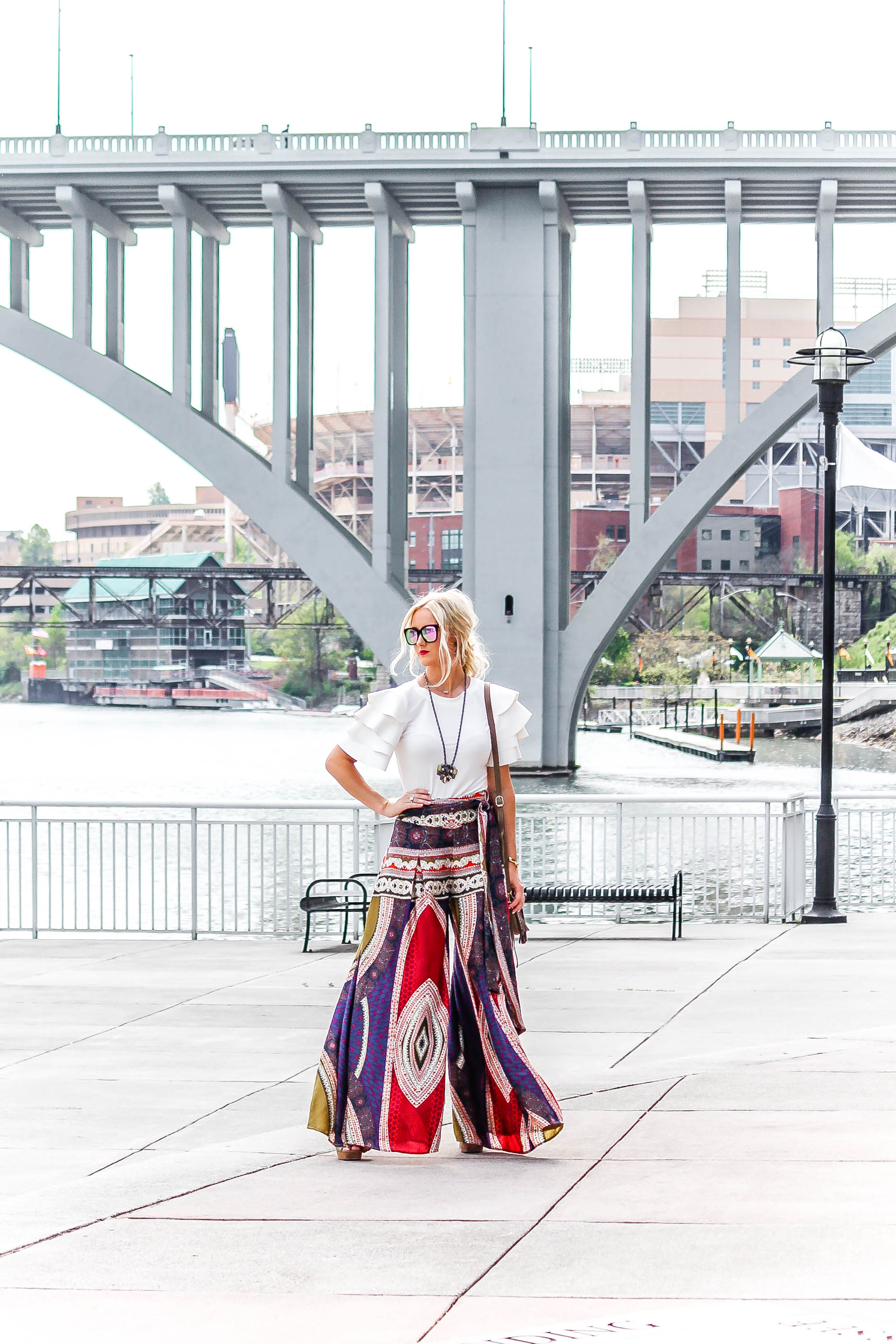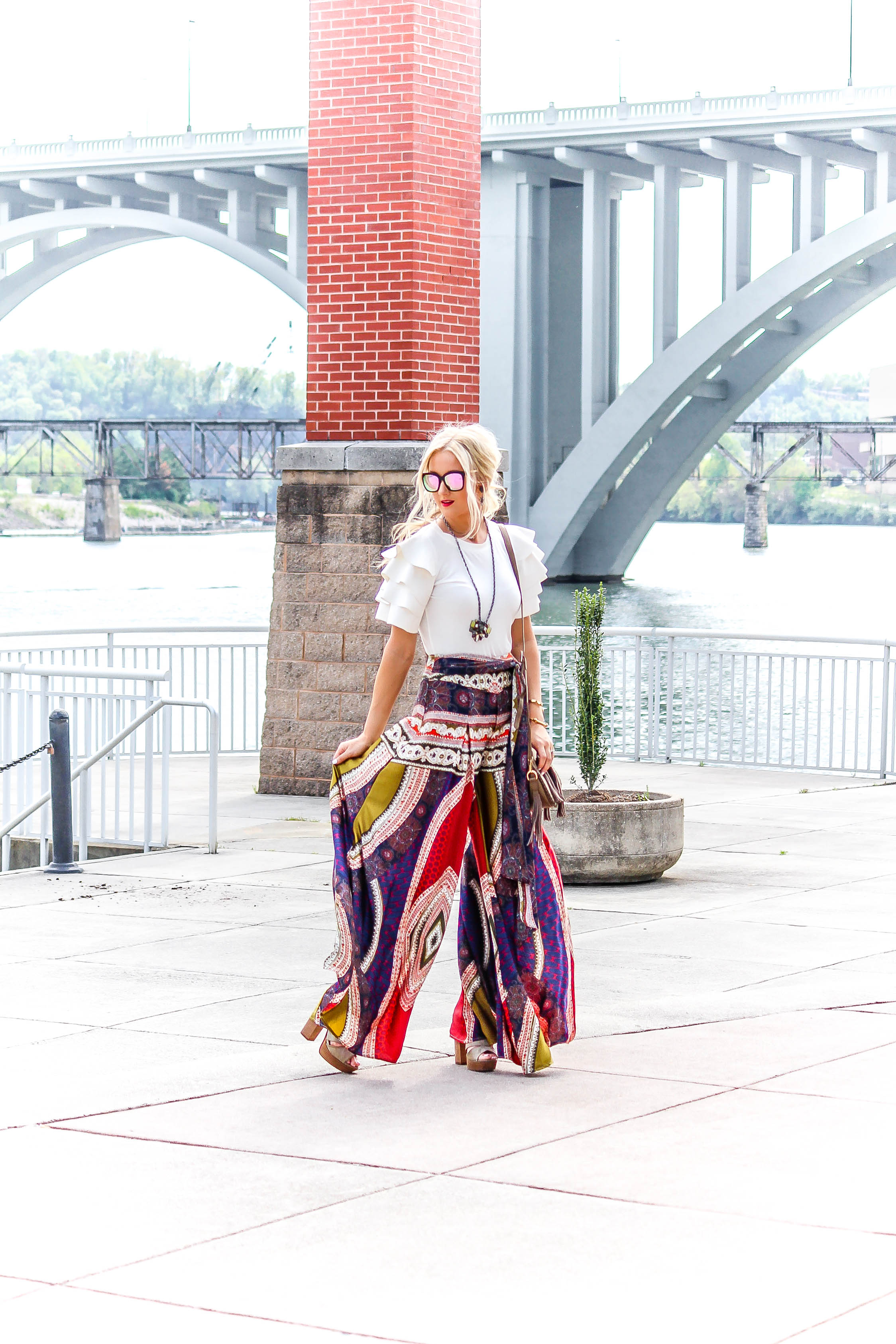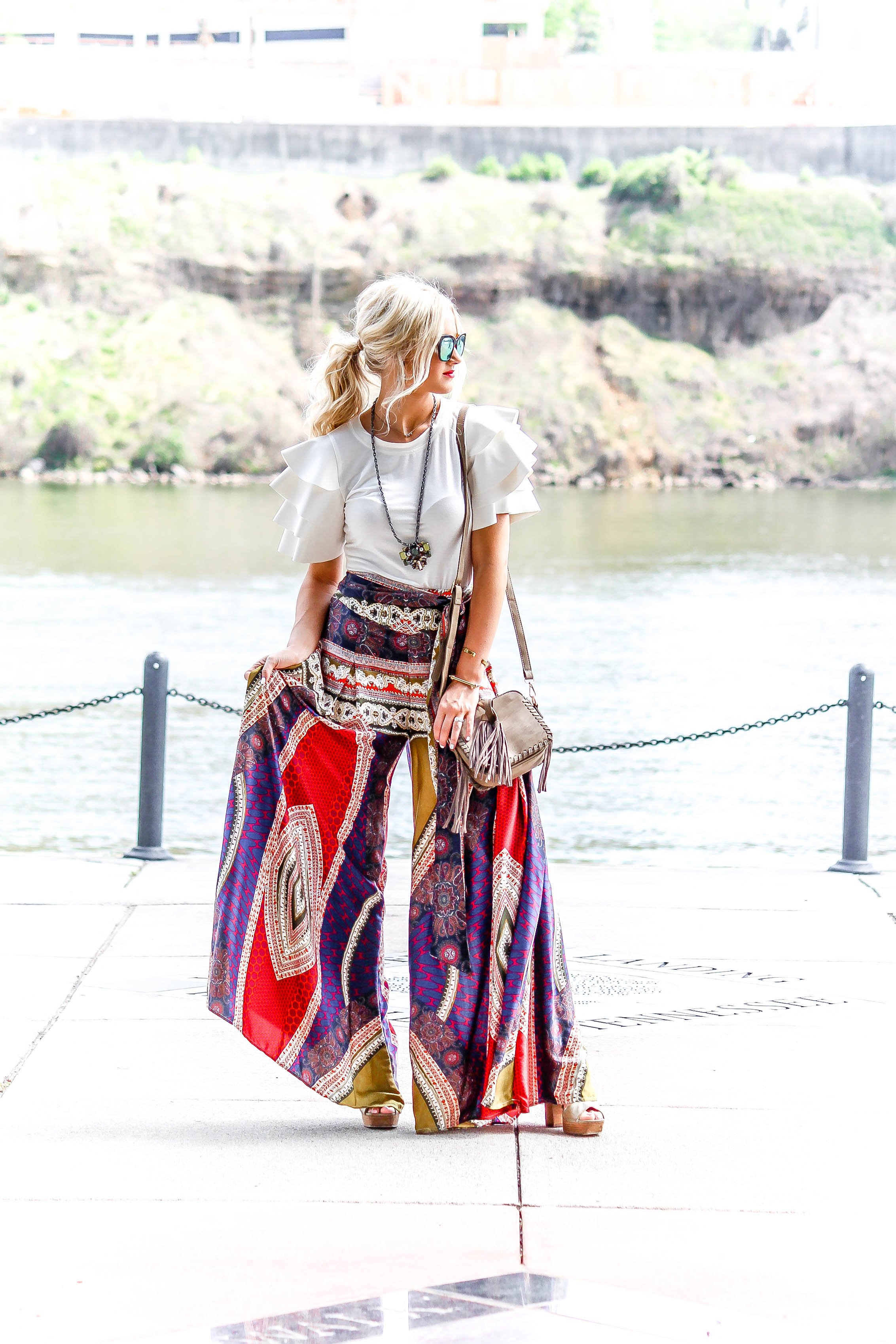 Shop my look:
white faux ruffle sleeve top | multicolor wide-legged pants | similar chunky heels (and HERE – mine exact ones are a few years old) | DIFF sunnies (use code PEYTONDIFF at checkout for a percentage off your purchase!)

**I'm wearing a small in both the top and pants here! The pants run a little long.
---
1. Be confident.
You could have on the most expensive, most killer outfit you have ever owned, and if your confidence is lacking or you look uncomfortable in the outfit you are wearing … you might as well go back home and put on your comfy PJs. The harsh, but honest truth ladies! I got a comment on an Instagram photo when I first posted this #ootd that read, "Ok you can legit pull off anything…" Well, I point out this comment to say that, for one, wow, that is a huge compliment that I'll cherish!! And two, it's only because I feel comfortable in the clothes that I wear and feel confident enough in them to truly 'rock' the look. Being a stylist, I always get so many girls who are like "you can pull off a look like that, but I could NEVER". Well, I always end up pulling them out of their comfort zone because many of us girls can rock so many different outfits and styles that are out there … it's just that we never let ourselves fully let go and try them out on our own! We continue to live through Pinterest and bloggers' photos of these dreamy outfits that we would love to wear, when many women sit back and think, "I would look silly in an outfit like that." NOT the case ladies. I will say to always stick to your true, individual style (whatever that may be), but don't ever be afraid to try something outside of your comfort zone too. You will never know how amazing it'll make you feel until you try it … and of course, wear it with confidence.
2. Don't care what others say or think.
Okay, so we are women … I know what you're thinking. Who truly doesn't care what others think? We dress to impress our men. We dress to impress other women who also dress really well. We dress to impress the people at this party or that event. Mmmhmm, what woman hasn't thought these things? Trust me, I do it too. But over the years, I've learned to most importantly dress for myself! And I love every second of it. It makes me feel good. It makes me feel powerful. It makes me feel like I can make more of an impact on other women's lives or be a more positive influence to others. Of course, there are the days when I will dress to impress my husband (because I think that's a very important part of our marriage). But you can ask him … most of the time, I'm dressing in the way that I like. An outfit that makes ME feel good. Statement looks, bold pieces, and out of the box items may seem scary at first, but when I started focusing on dressing for ME, I started noticing that I began loving them more and more.
3. Rock it, sister!
If you rock an outfit and wear it with confidence, I promise that others won't ever question it. And if they do, who cares. Wear whatever outfit makes YOU feel fabulous – and makes you become the best version of yourself. I have always said that if someone wears a trash bag as a dress and totally rocks the look, I'd probably end up buying the same trash bag at the end of the day. It's all about how you feel when wearing the piece of clothing. If the outfit makes you feel like you can takeover the world, then you definitely need to take it out into the streets for the rest of the world to see. I remember when Carrie Bradshaw wore her PJ's, a long fur coat, a strand of pearls & heeled booties on New Year's Eve when she rushed over to Miranda's apartment (what a good friend!) … it may have been the most bazaar combo of clothing to some people, but as soon as I saw that in the movie, I instantly fell in love. She killed that whole OOTN and looked totally fabulous in the snowy streets of New York … in her pajamas. I mean, can I come back as Carrie in my next life??? 😉
Turn the streets into your runway ladies, and don't ever be afraid to step outside of the box! What's your favorite statement piece in your closet at the moment? I'd love to know!
xo, P