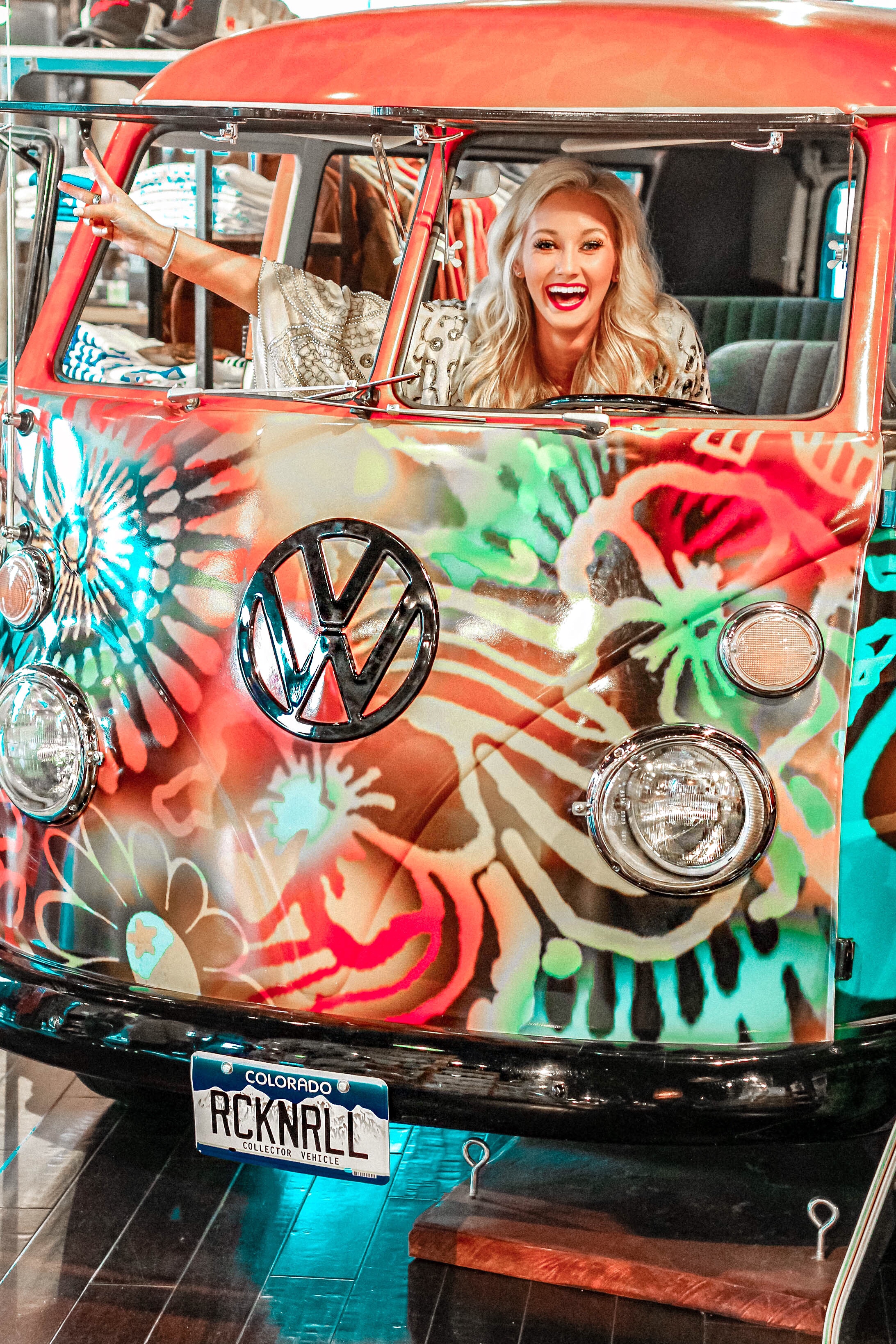 If you would have told me two years ago when I walked into @twooldhippies for the first time to snag a souvenir ball cap that I would be partnering with them today, I wouldn't have believed you for even a second. Two Old Hippies has been at the top of my bucket list of brands to work with since I started this journey so when they reached out to me to work together, you know I was pinching myself to make sure I wasn't dreaming. God works in amazing ways y'all!
Old enough to have been around when the concept of peace, love and rock n' roll inspired a generation of free spirits. Young enough to embrace a world community, where generosity, compassion and equality are a way of life. We celebrate living every day.
Before going any further, I want to highly encourage you all to read more about how Two Old Hippies got their start and turned into what it is today — it's really an inspiring story!
Two Old Hippies is located in the heart of downtown Nashville – The Gulch. I've been visiting and shopping at TOH for awhile now — my mom (who I'd put up against the top, most well-known stylist out there) was the one who actually introduced me to the store a few years back. She knew I would love it because their pieces are a mix of so many different styles (edgy, chic, urban, feminine, boho, rocker, etc.) and that's exactly what my personal style is all about. Y'all know that I always love mixing multiple styles, and I always encourage you to do the same! It's so fun to step outside of the box with your clothing and mix together unique pieces that set you apart from the crowd. Two Old Hippies fully embraces being true to yourself and your own personal style, so once I stepped foot in the store for the very first time and saw that first hand, I was hooked.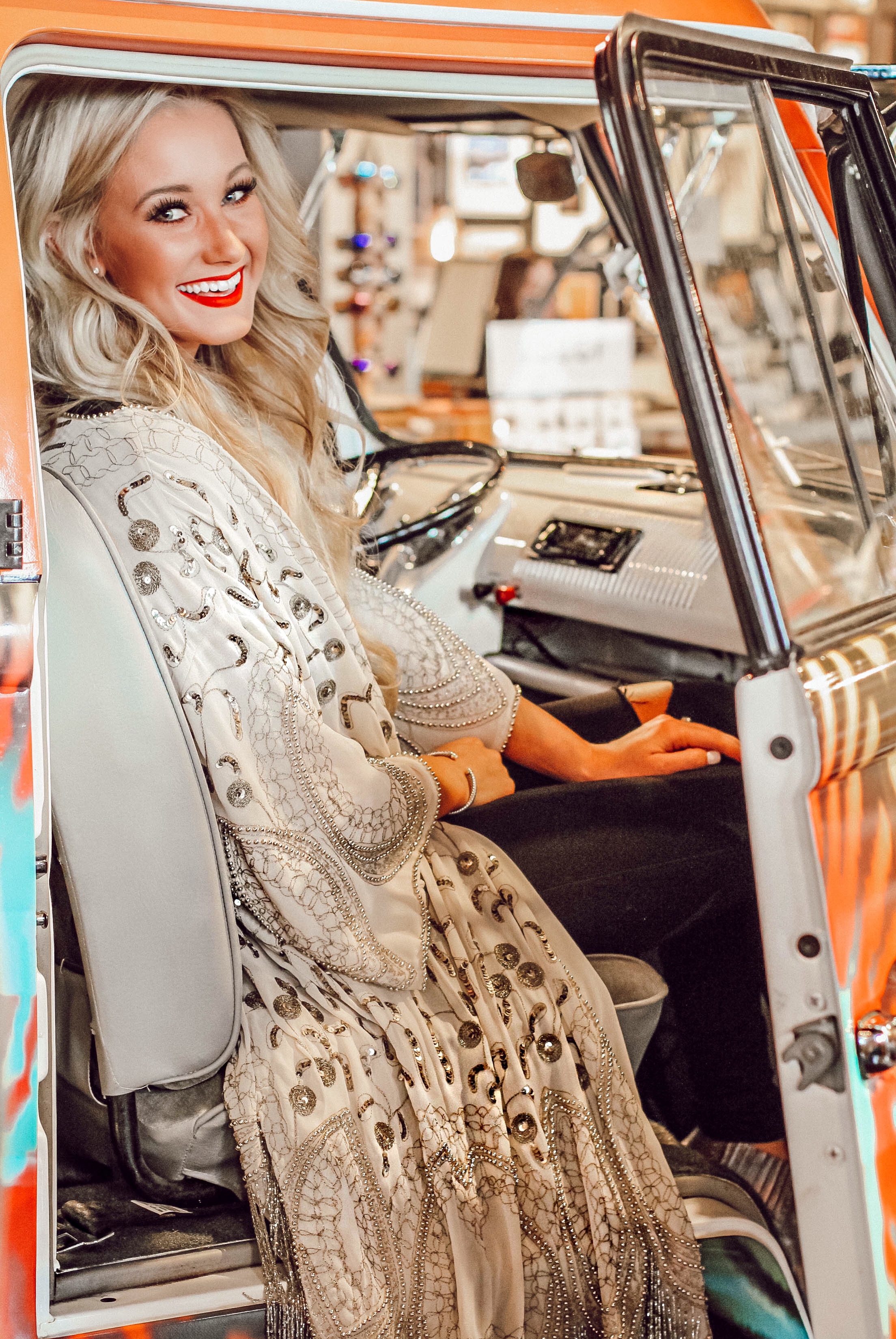 Disclaimer: Since I know I'll be asked, this kimono was a souvenir that I bought at a local boutique in Paris a few years back. Two Old Hippies has similar pieces to this if you are looking to find a style like this one!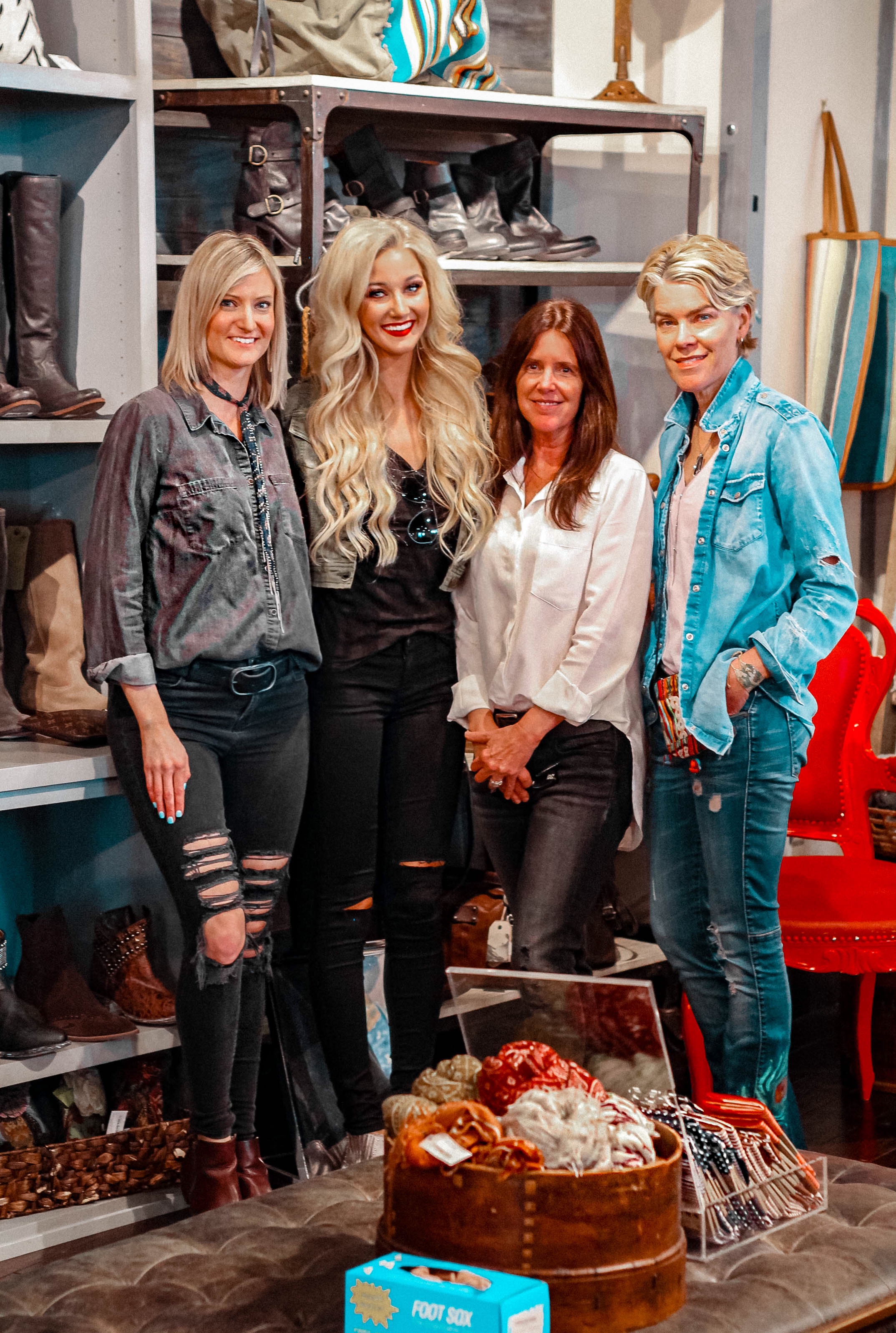 I'm so excited to share a recap of my in-store experience with the amazing ladies pictured above! The TOH employees are so welcoming as soon as you step foot in the door — not to mention, they are fantastic at helping you piece together and style new looks in the store. That topic brings me to mention the wide range of products offered at Two Old Hippies. Their website only touches the surface to what is actually in the store — if you're ever in the Nashville area, this is a must visit! It's more than just 'another boutique' – it's truly an experience! I could spend hours just looking around at the eclectic artwork on the walls, the rock 'n' roll memorabilia, the crafts and accessories and, of course, the hip apparel! I also really love their jewelry — it's so unique. You could spend days in this place and never get enough of it. (Seriously though!!)
Along with that, I want to mention that they offer a wide range of price points, which I love. If you've been following along with love 'n' labels for any amount of time, you know that I'm a huge believer in mixing high and low fashions. I think it's perfectly okay (actually encouraged) to own a high-end pair of boots, a nice leather jacket, and a staple pair of designer denim that will stay in style and you can wear for years to come. On the other hand, I don't necessarily like to splurge on the super trendy pieces that will be out of style this time next year — hence, why I like to mix high-end and low-end styles.
The best thing about Two Old Hippies is that they carry BOTH high and low fashions! It's the perfect mix — which, of course, is another reason I fell in love with their brand right from the start. You can walk in the store at anytime and find a vintage-style ball cap, rocker tee or cropped denim jacket at a super affordable price. And on the other hand, you can walk in the store at any time to find that authentic leather jacket you've been dreaming about and saving to splurge on. Ultimately, the thing I love most of all is that no matter which piece of clothing or accessories you decide on, it's guaranteed to be of the highest quality. The Two Old Hippies inventory never disappoints … even after many wears.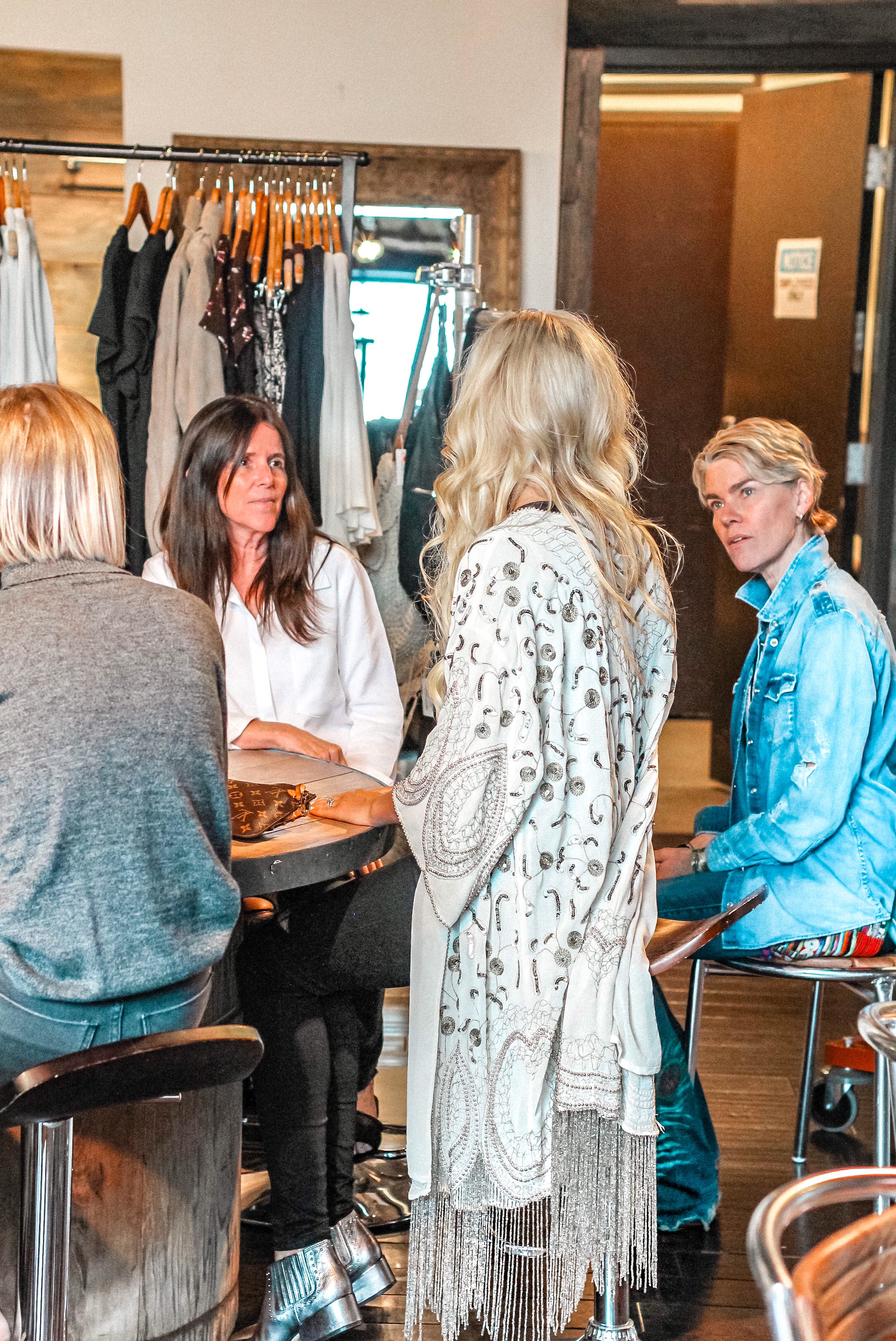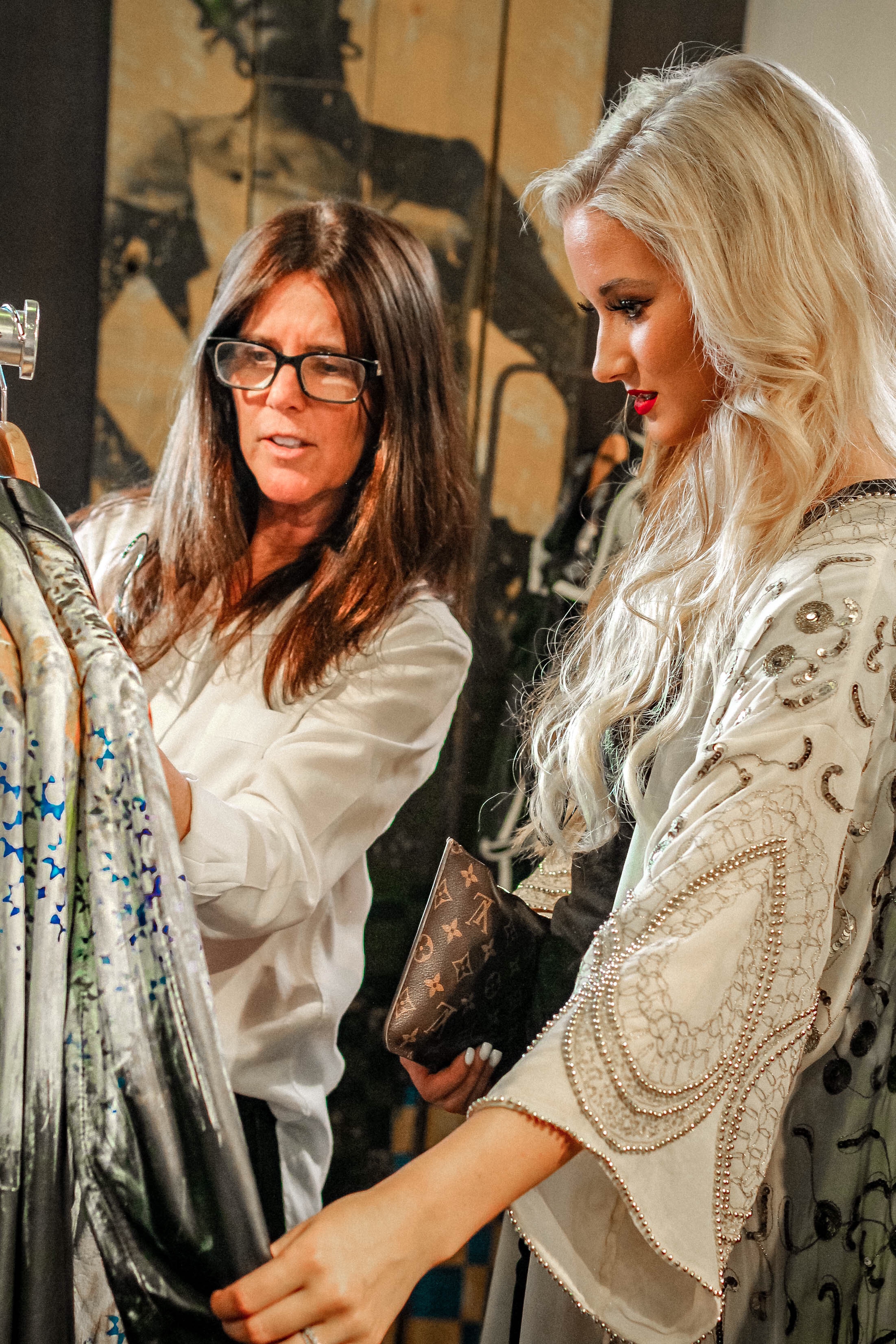 I was so humbled and honored to get to meet the owner of Two Old Hippies and the woman behind it all — everyone, meet Molly! She is so brilliant, down to earth, and she knows how to style some drop dead, amazing outfits! So grateful she took the time to help me shop.  🙂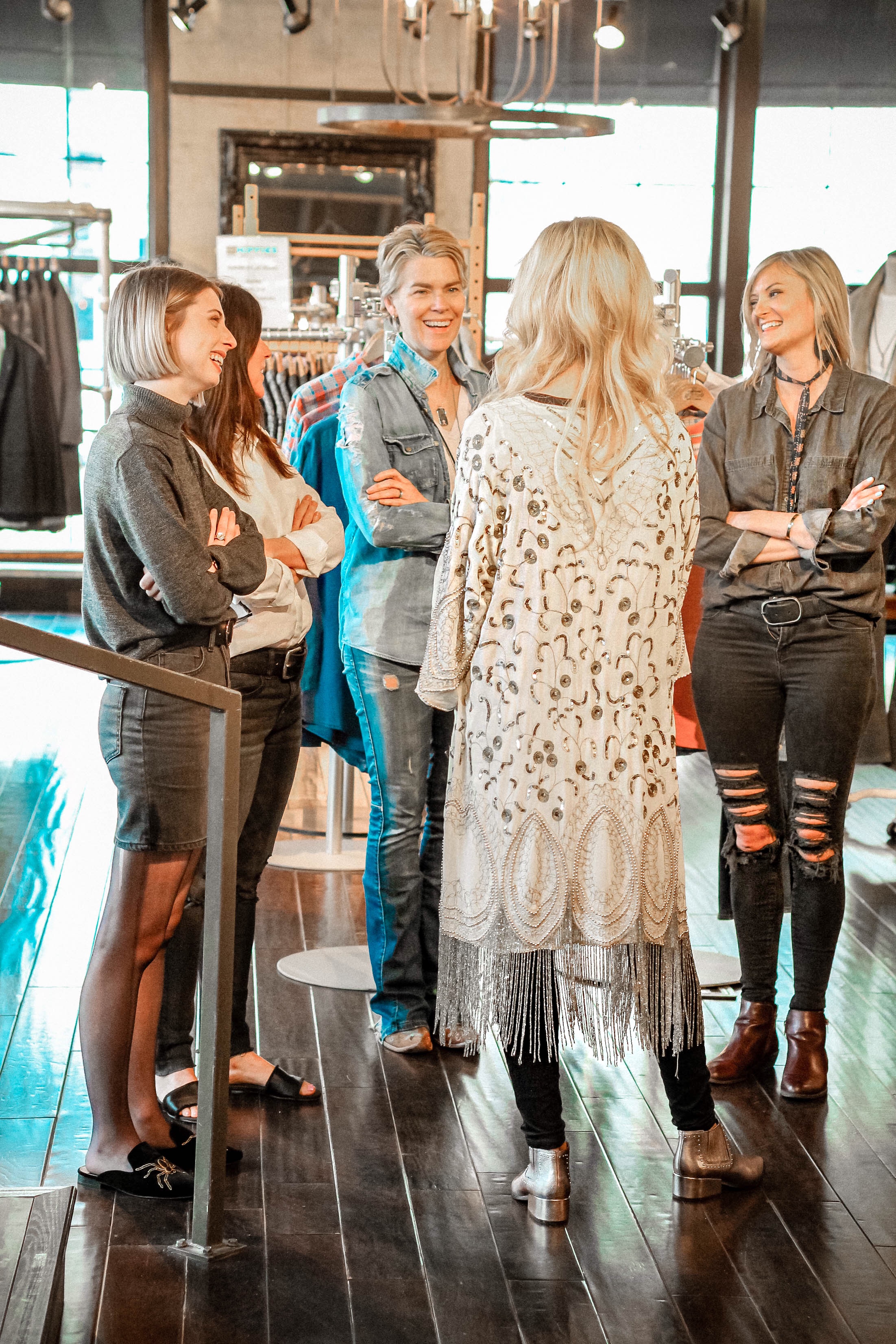 Also, beyond thankful to have met these beautiful ladies – they were extremely helpful while I was shopping for my looks. Helping me put outfits together, grabbing sizes for me, paying attention to my personal style (major plus!!). They were all just as friendly as they were stylish!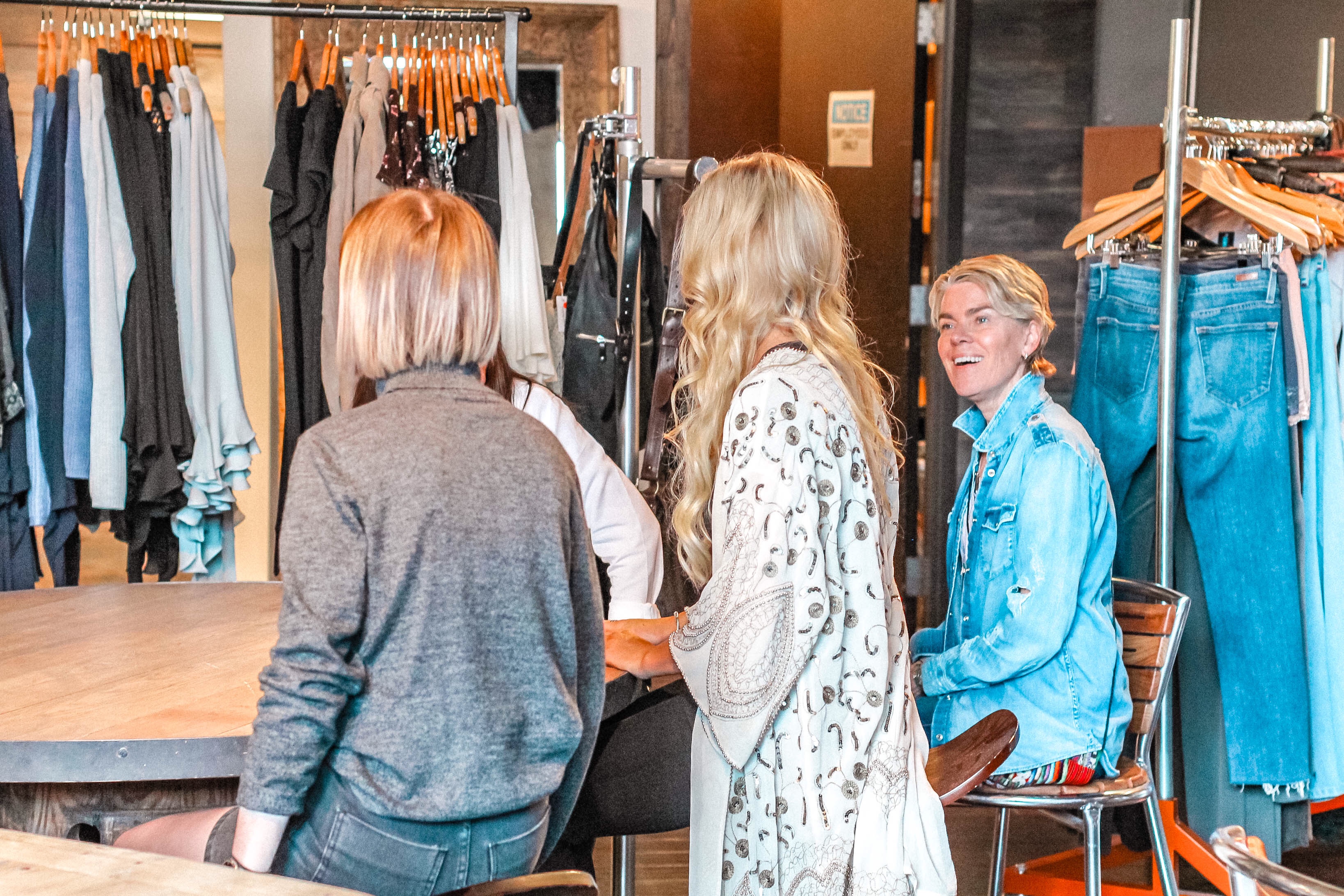 I honestly couldn't have asked for a better in-store experience than what I received with Two Old Hippies. I cannot say it enough, but again, I highly recommend you visit their location in Nashville, Tennessee as soon as possible! (And be sure to stop in the guitar vault while you're there 😉 It's so neat and makes for the perfect photo op!).
Now, time to show off some of the incredible looks we put together — I've literally been DYING over these stunning pieces, you guys!!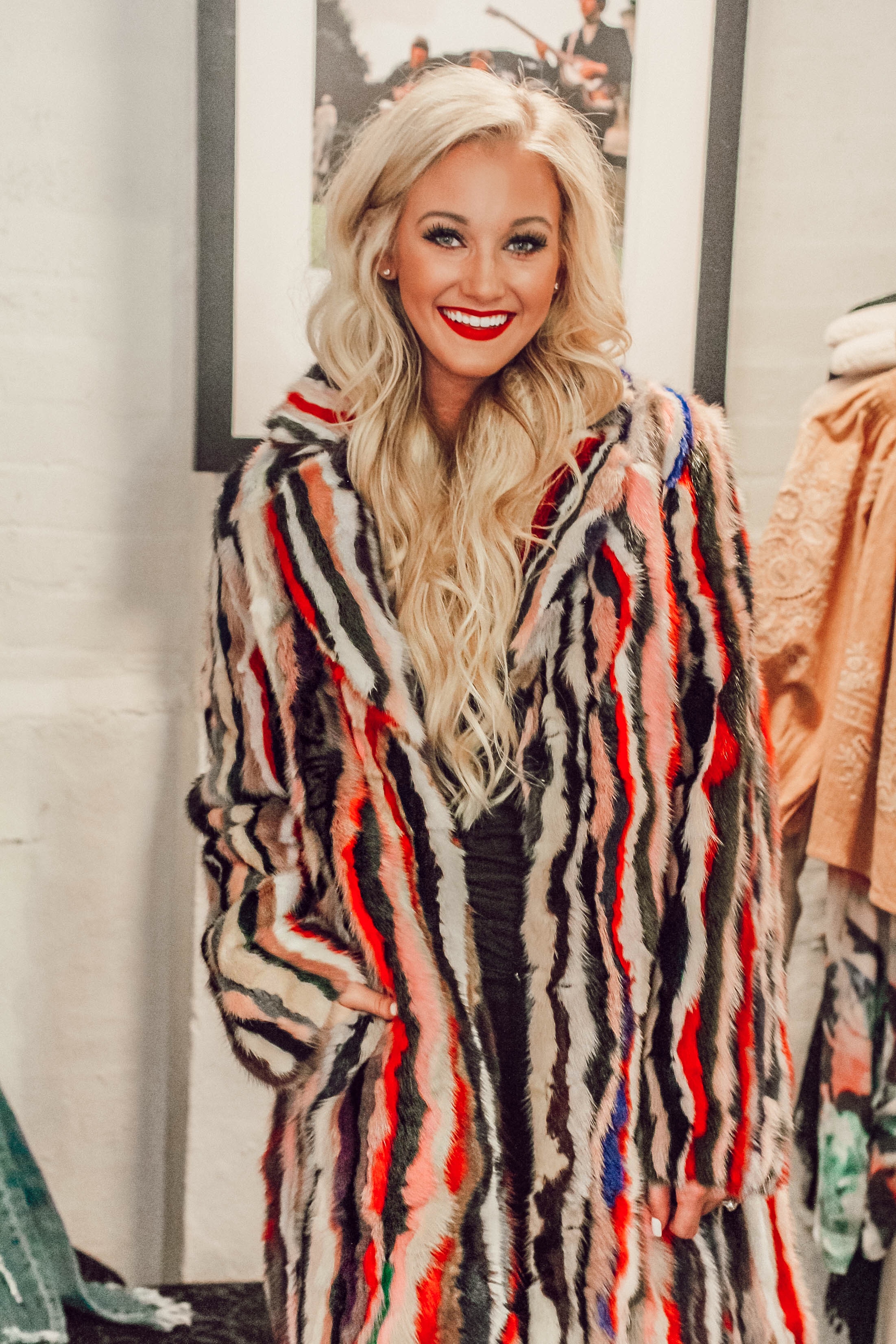 Coat: Two Old Hippies (The TOH pieces in this post can be found in store.)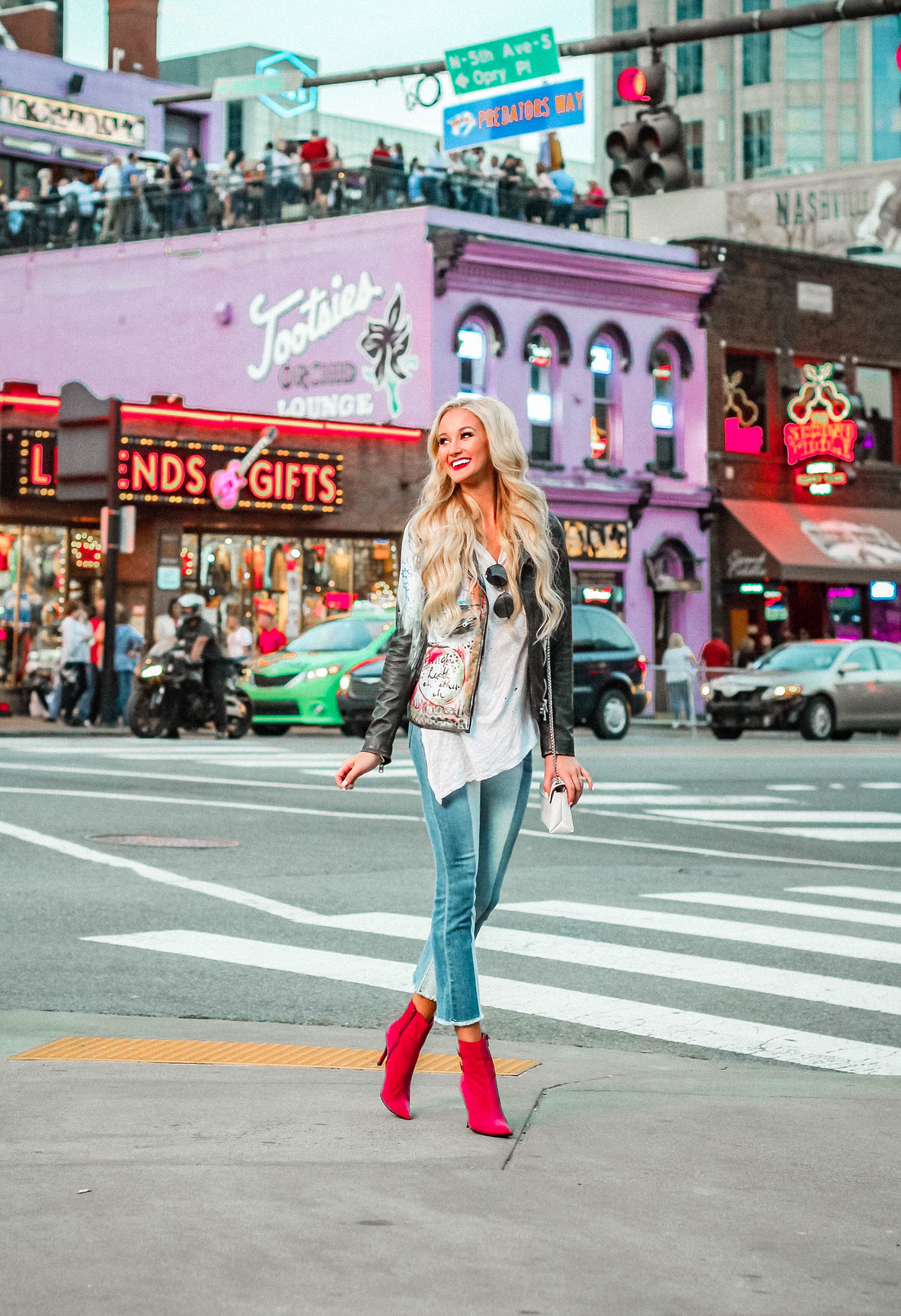 Leather Jacket / Two-Tone Denim Jeans / White Burnout Top: Two Old Hippies | similar booties | sunglasses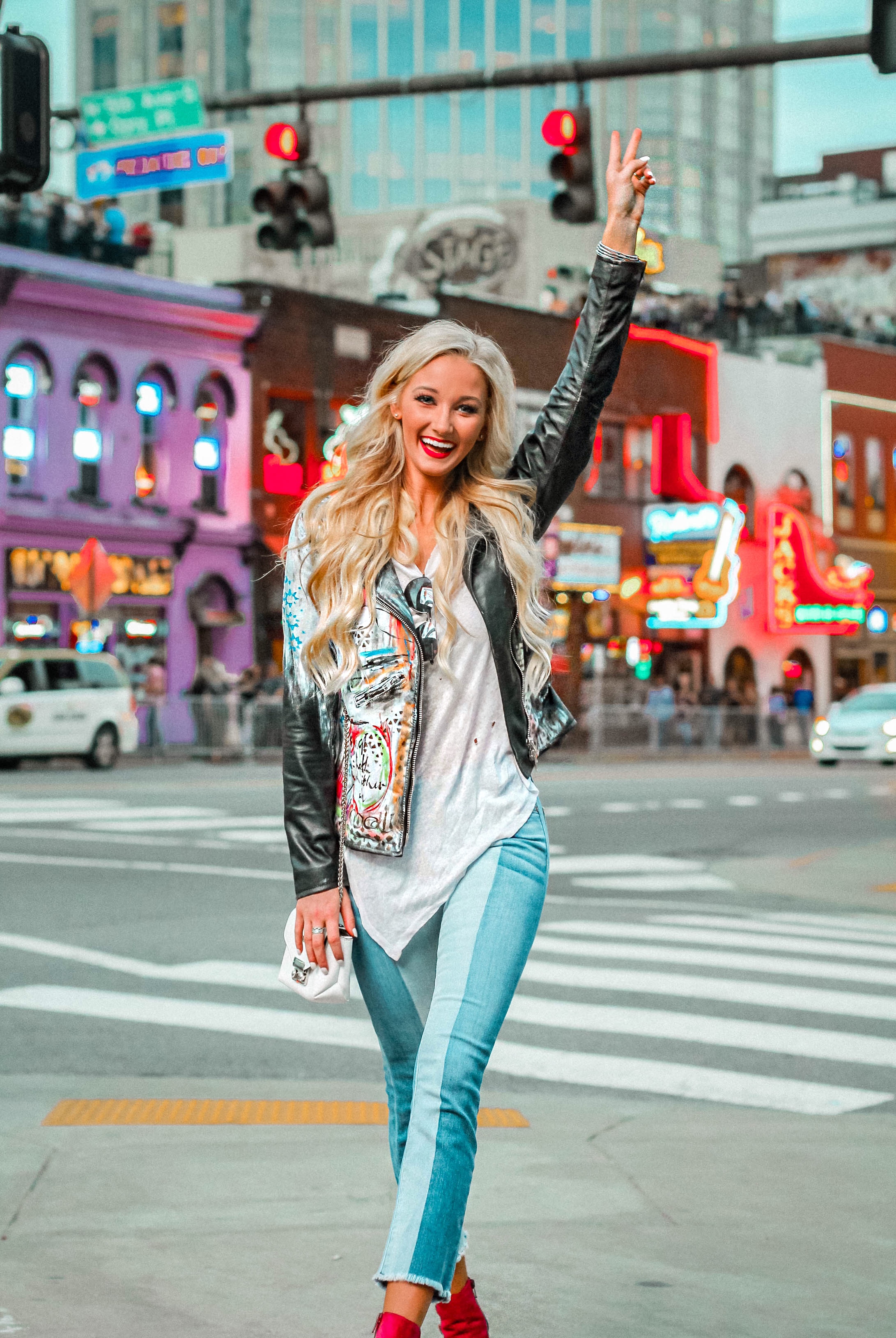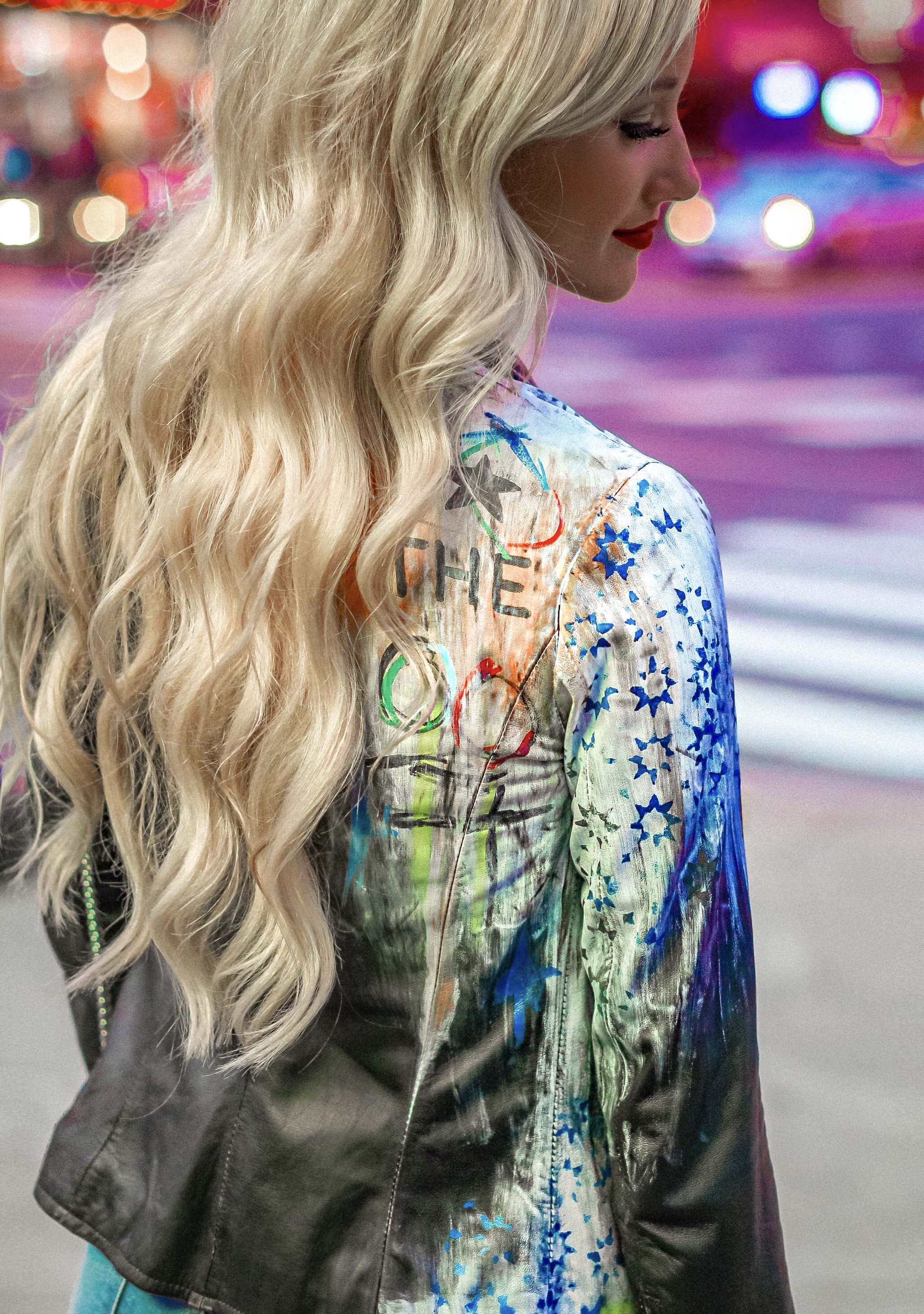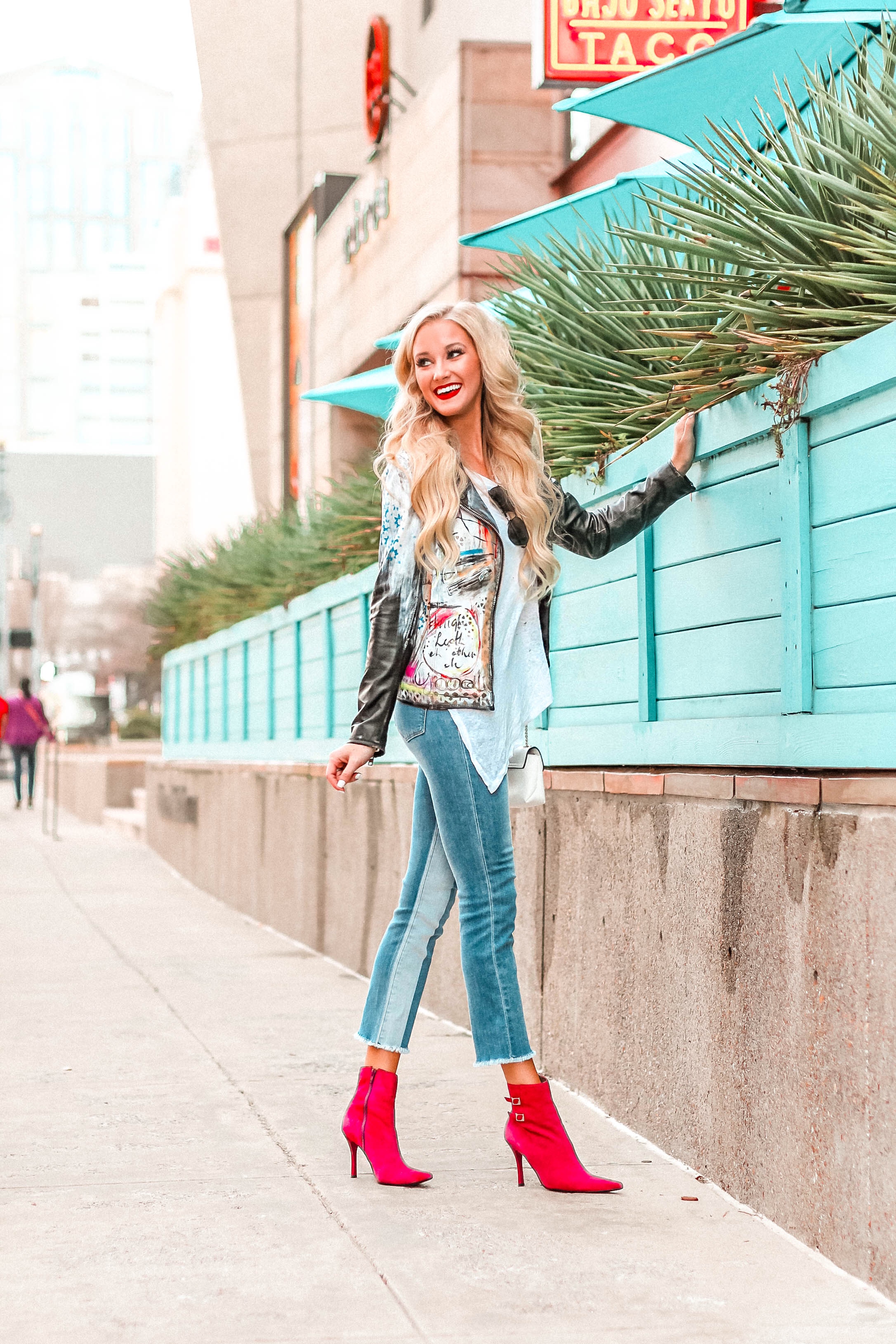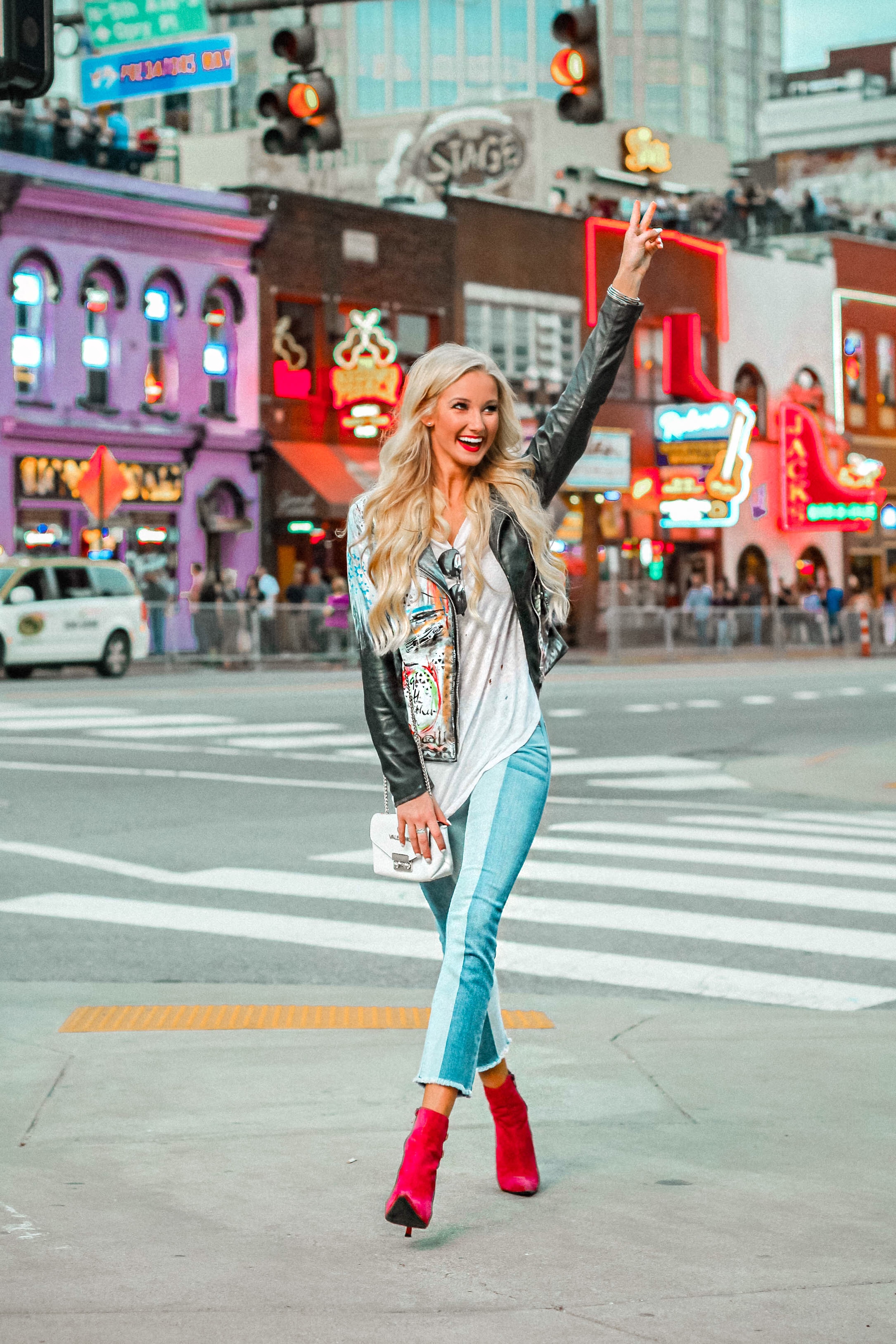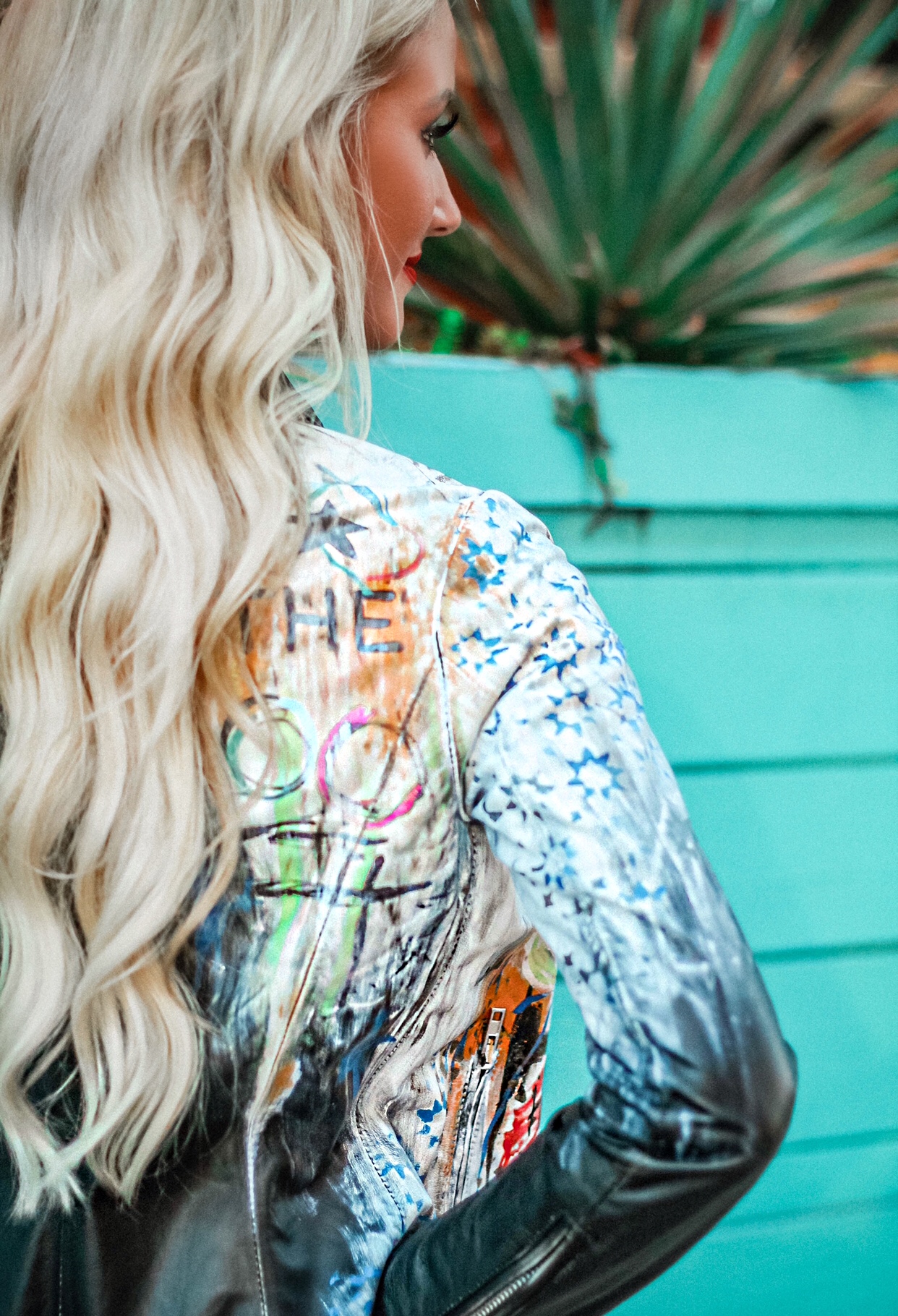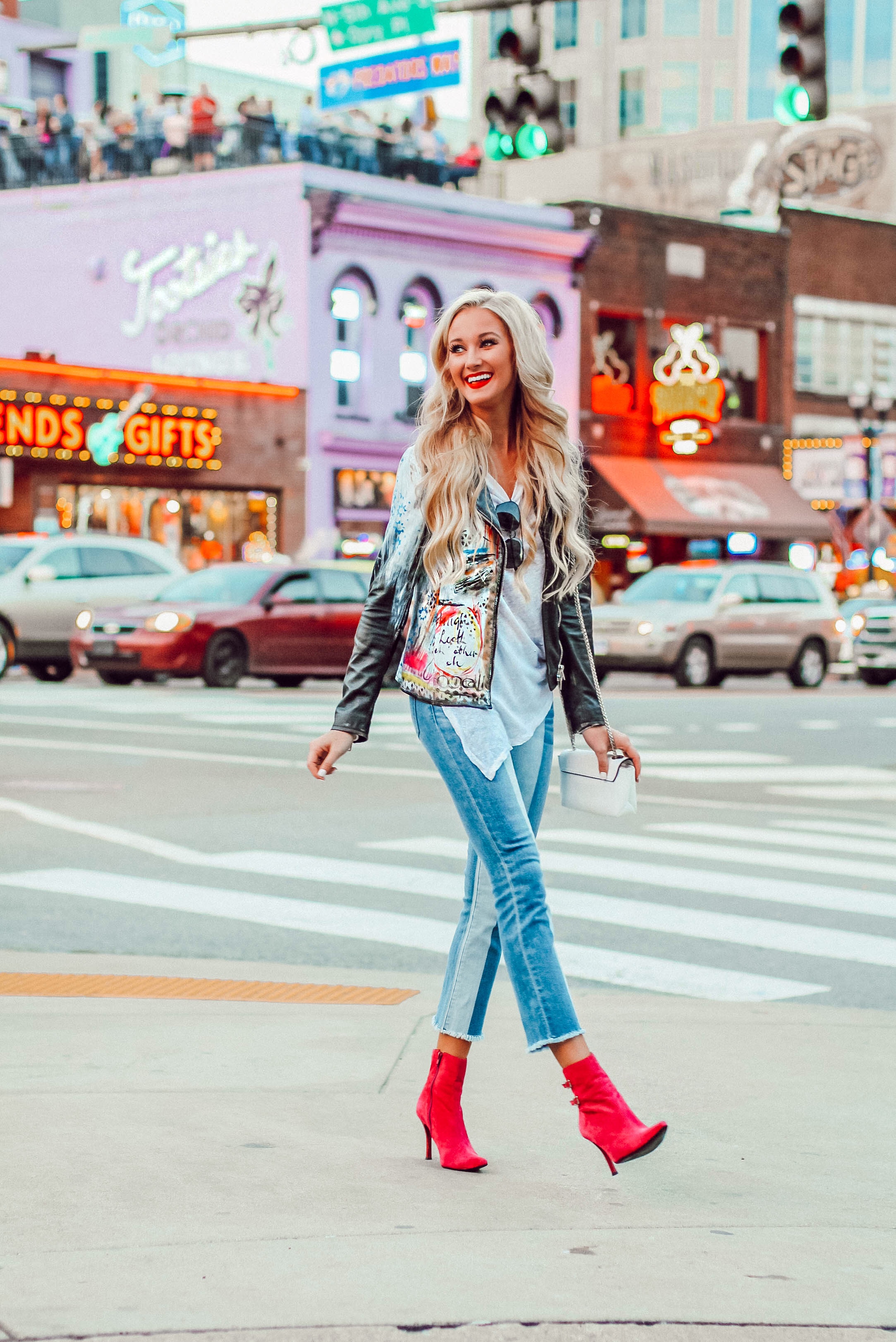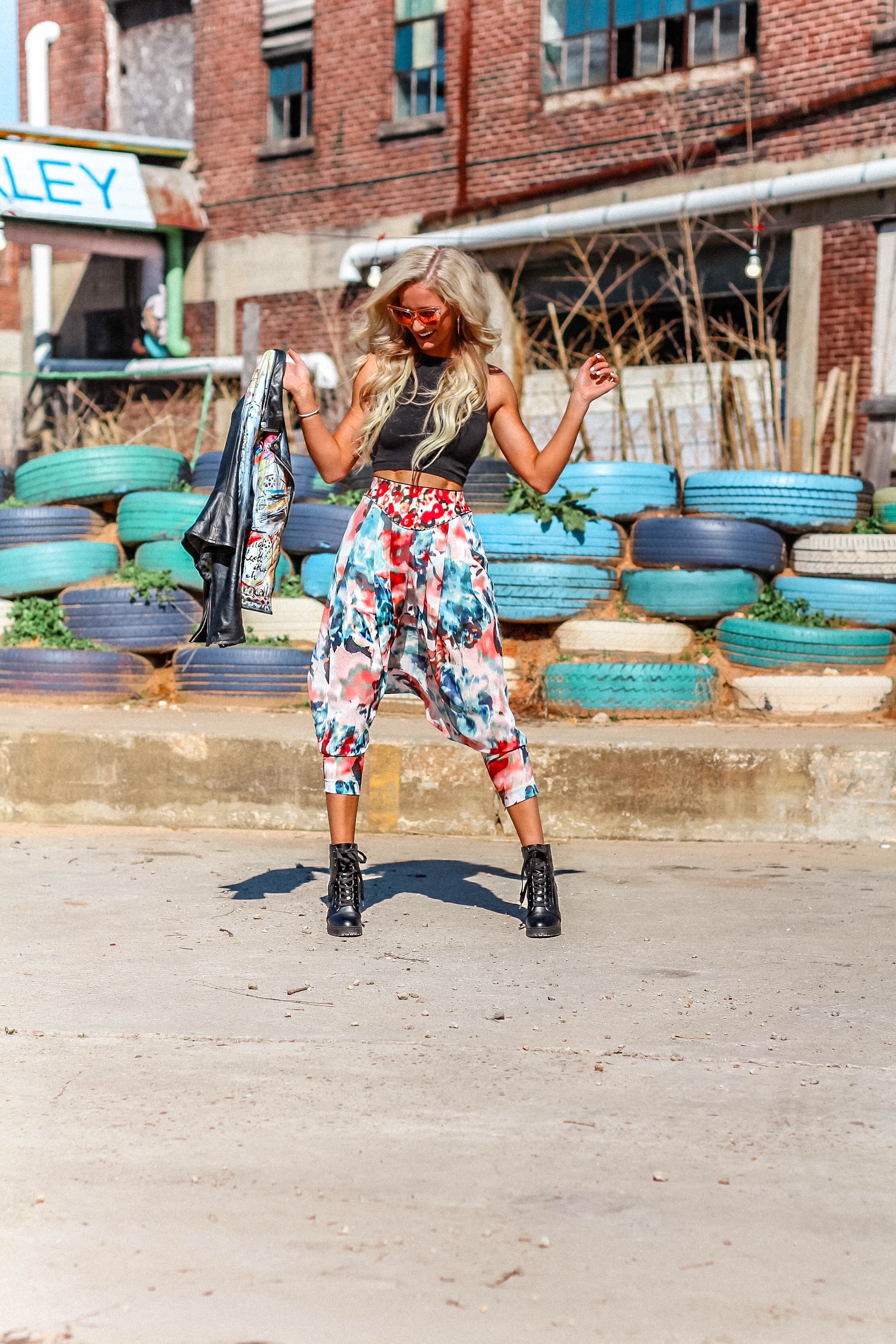 Leather Jacket / Floral Pants: Two Old Hippies | booties | top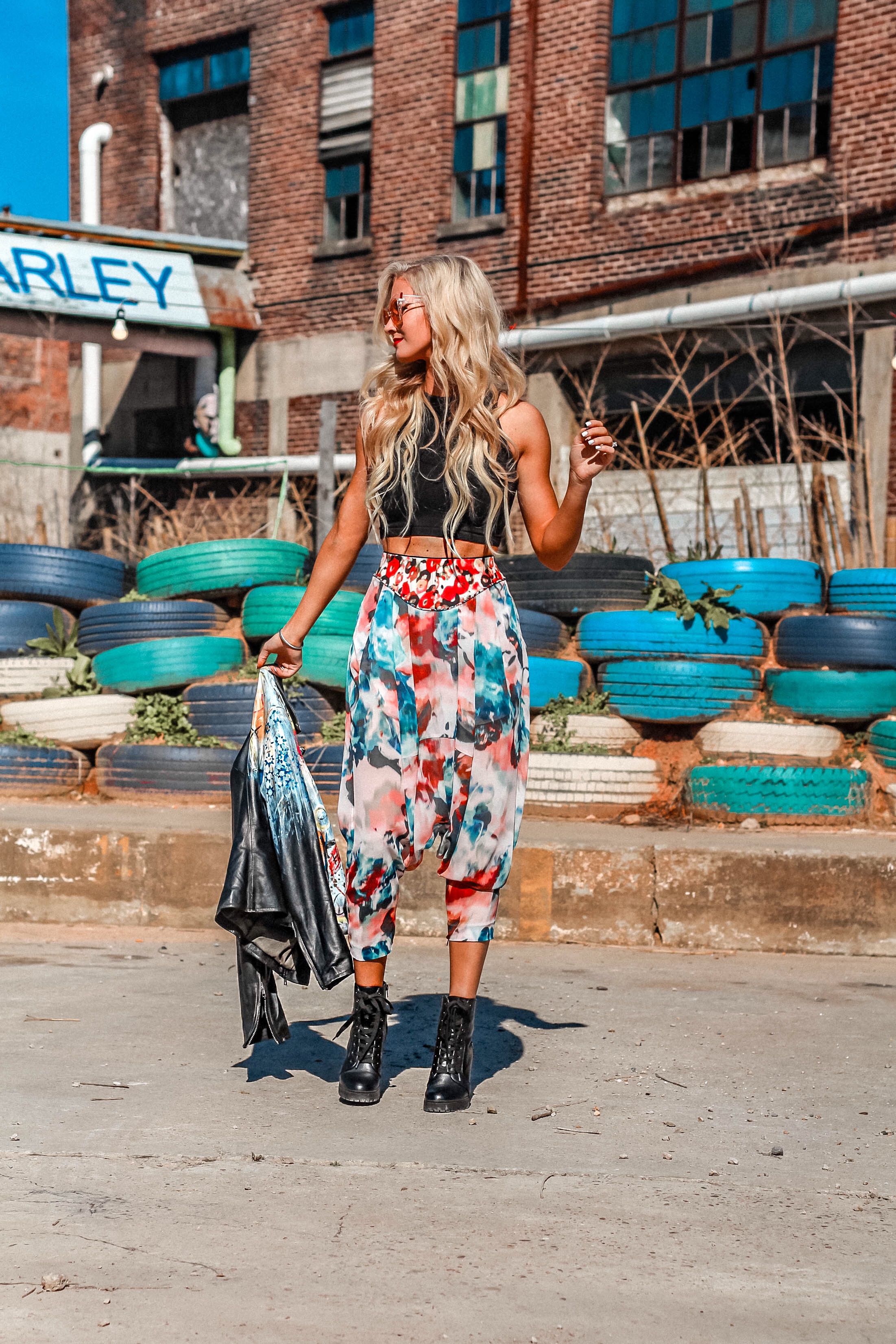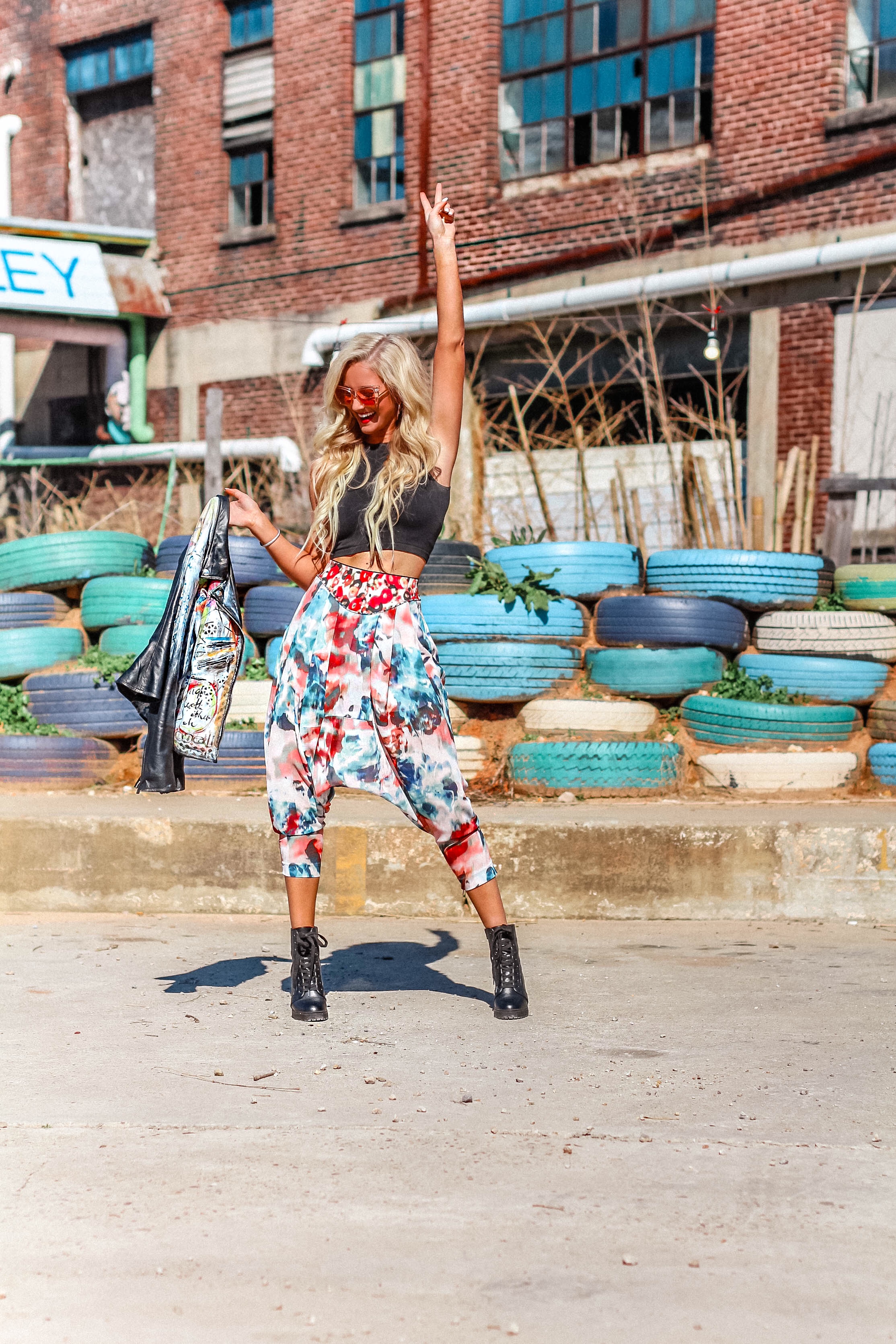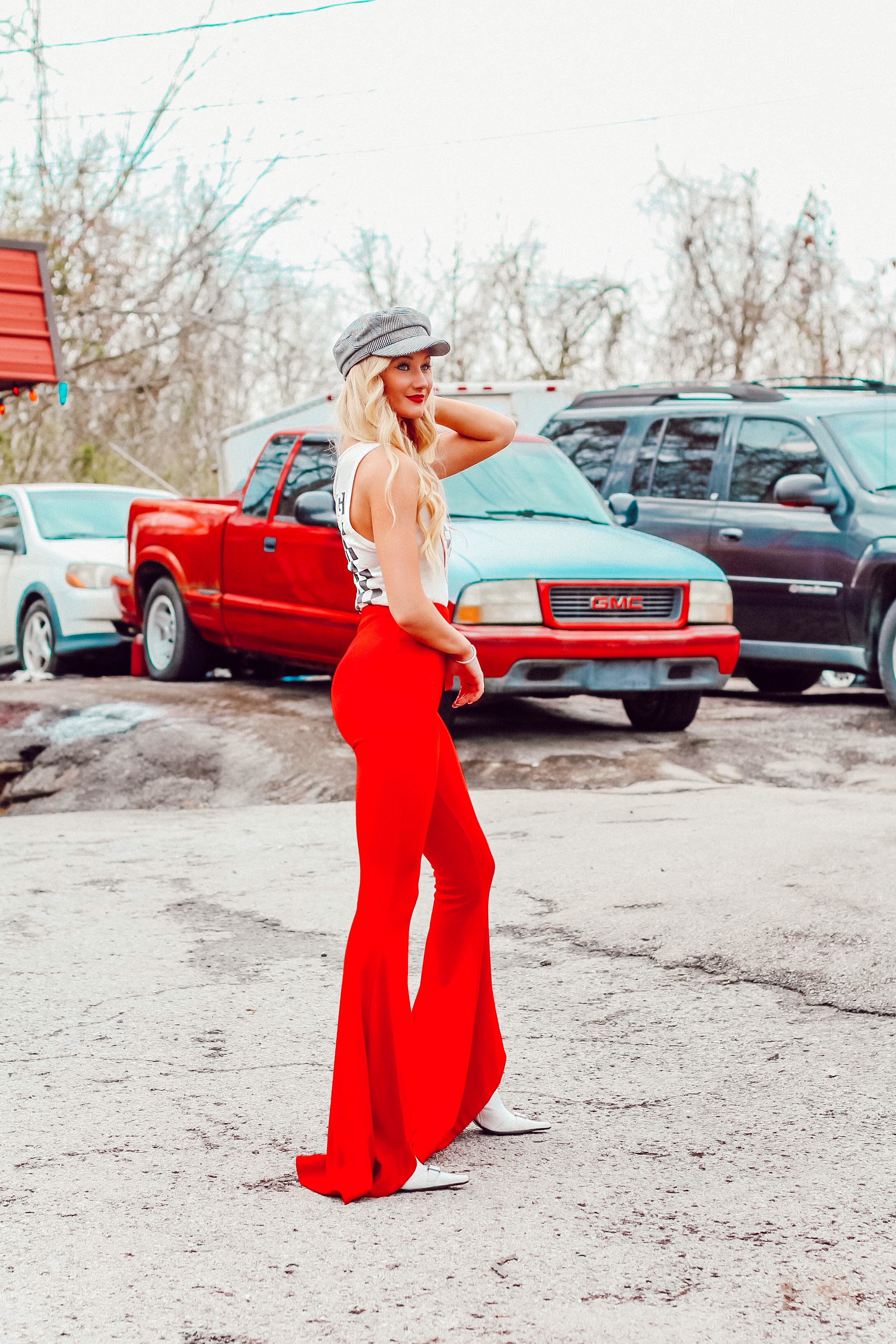 Racing Tank: Two Old Hippies | red pants | similar boots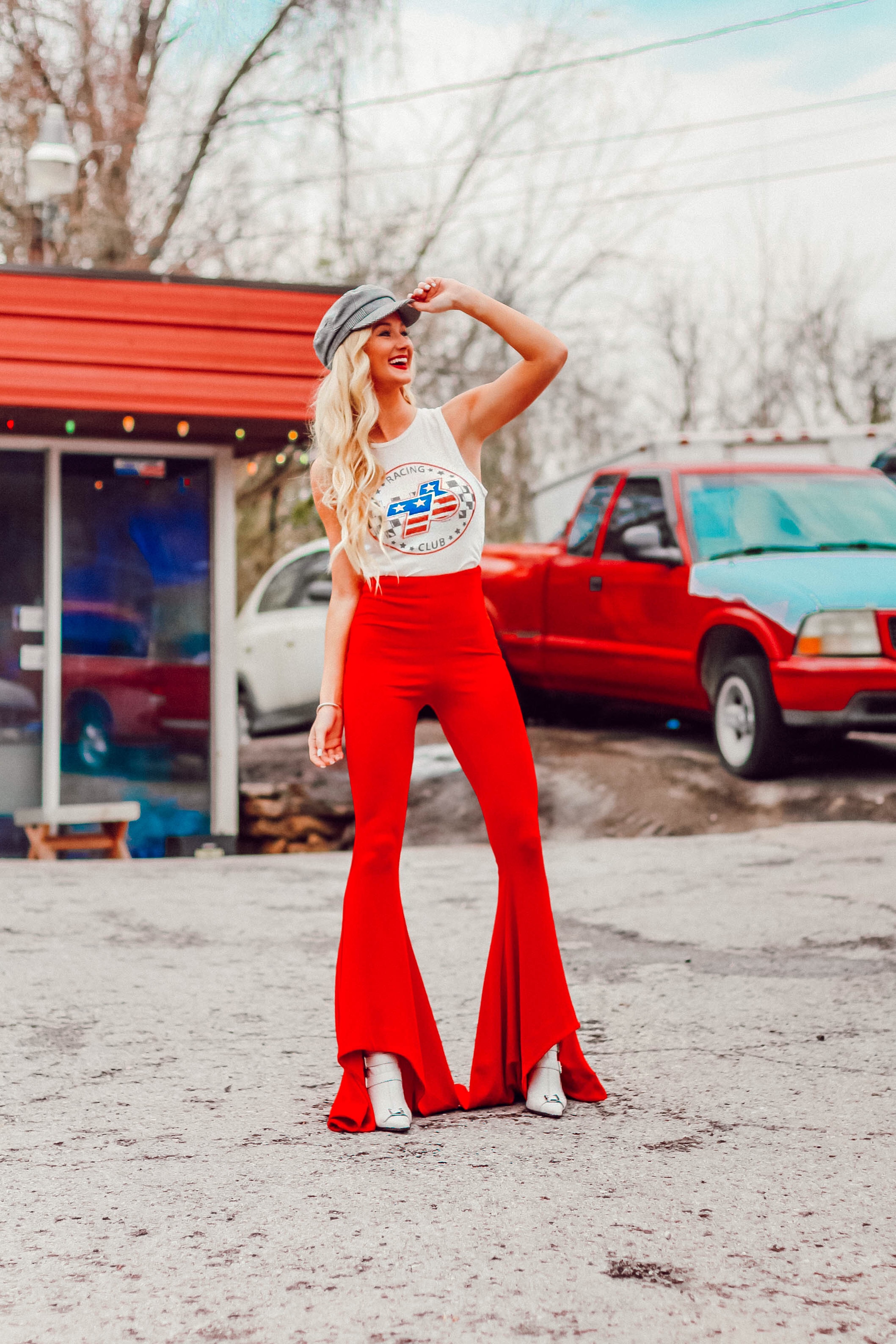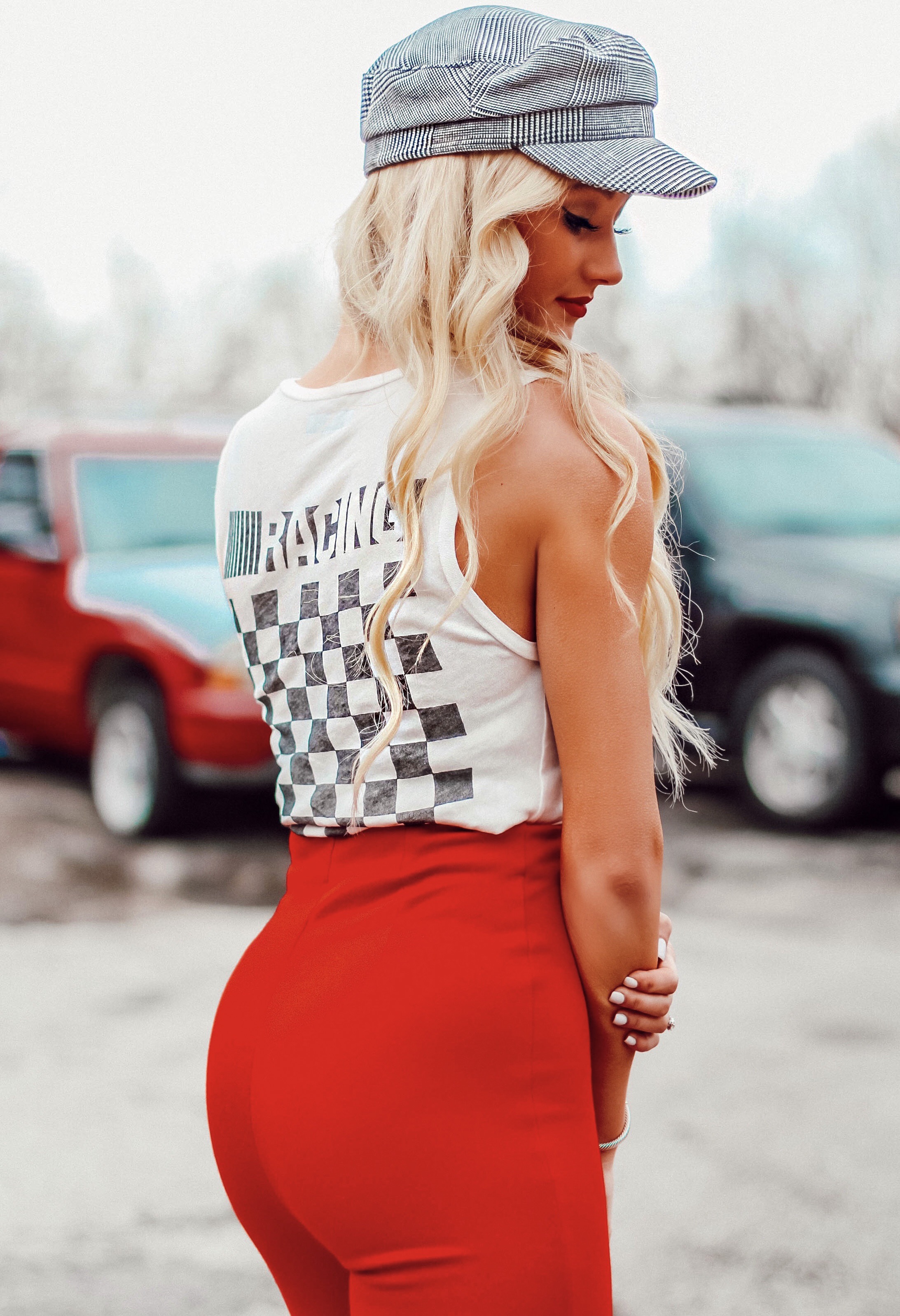 Lastly, I wanted to share a few fun facts about TOH that are really cool:
The TV show, Nashville, has filmed there multiple times. (Who else loves that show?)
Big name singers, artists and celebs shop at Two Old Hippies (or have their stylists come in to shop for them!)
TOH has been featured in numerous famous publications.
They occasionally host events and/or live music in store — I mean, they're in the heart of Music City so why not, right?!
Okay, that's all for now 🙂 Stay tuned because I still have more amazing pieces from my Two Old Hippies shopping experience that I can't wait to share with you all!
If you stop by the store, tell them I sent ya and give them a big hug for me!!
---
Thank you all so much for stopping by today — I know you all will find the most amazing pieces to add to your wardrobe when you visit TOH!
xo, P
Thanks to Two Old Hippies for partnering on today's post!