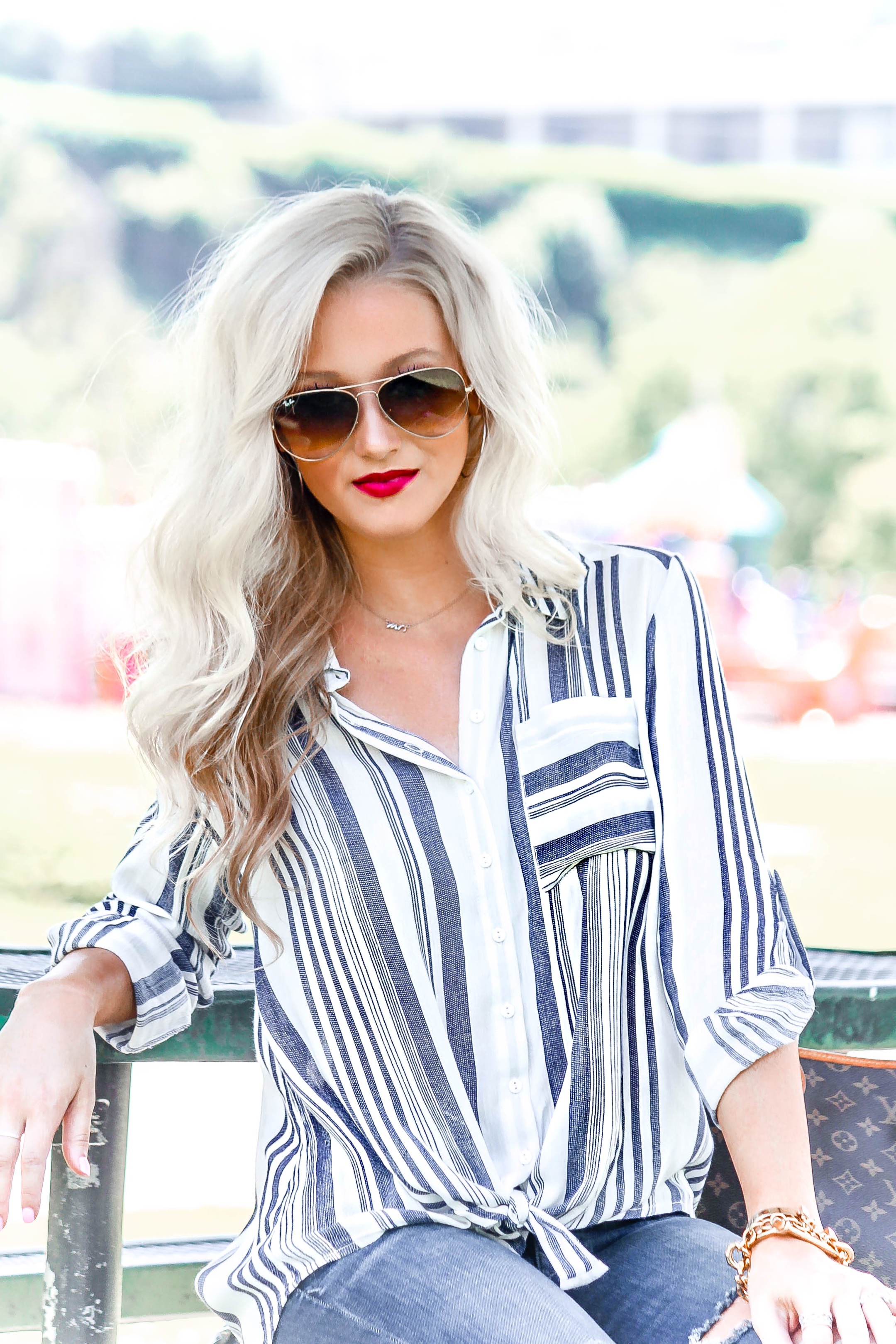 When I asked you all for any post ideas that you would like to see here on LNL, one of the most popular requests was how to dress stylish as a young mom – aka how to stay on-trend while still dressing appropriately. I find this kind of funny since I actually don't have kids of my own yet, but as a stylist, I have worked with others who have had this same request. So, I knew that I could help!
I think there is a fine line that you should not cross once you become a certain age or a mom. Now, I know I know I know.. age is just a number. I am ALL for this motto in life, and I certainly think you should always be able to wear whatever makes YOU feel beautiful. But that may not mean that at 45 years old, you should be wearing your shorty shorts & crop tops from college. 😉 However, I feel like a lot of the time, many moms, between the ages of 20-something & 50-something, tend to choose between the two drastic ends of the spectrum. There are the moms that break out those little daisy dukes and own 52 obnoxiously printed mini dresses, and then there are the moms that play it super safe and never feel like they can break away from their slacks, solid tees and cardigans everyday. Not that slacks and cardigans are ugly by any means – trust me it's great to incorporate those pieces every once in awhile, but I want to encourage those moms to change it up every now and then. Jumping outside of your comfort zone doesn't necessarily mean that you have to dress inappropriately as a mom. There are many amazing pieces out there (some of which are probably already in your closet) but it's just all about how you style them that will keep you appropriately on-trend. So with Mother's Day coming up, what better time to talk about a few trendy mom styles to help get you started?! I've teamed up with my friends at Rollick to showcase some of their fashion-forward pieces in 3 different outfits that would be perfect for a mom who wants to stay appropriate, but also wants to stay on-trend with the popular styles in the fashion industry.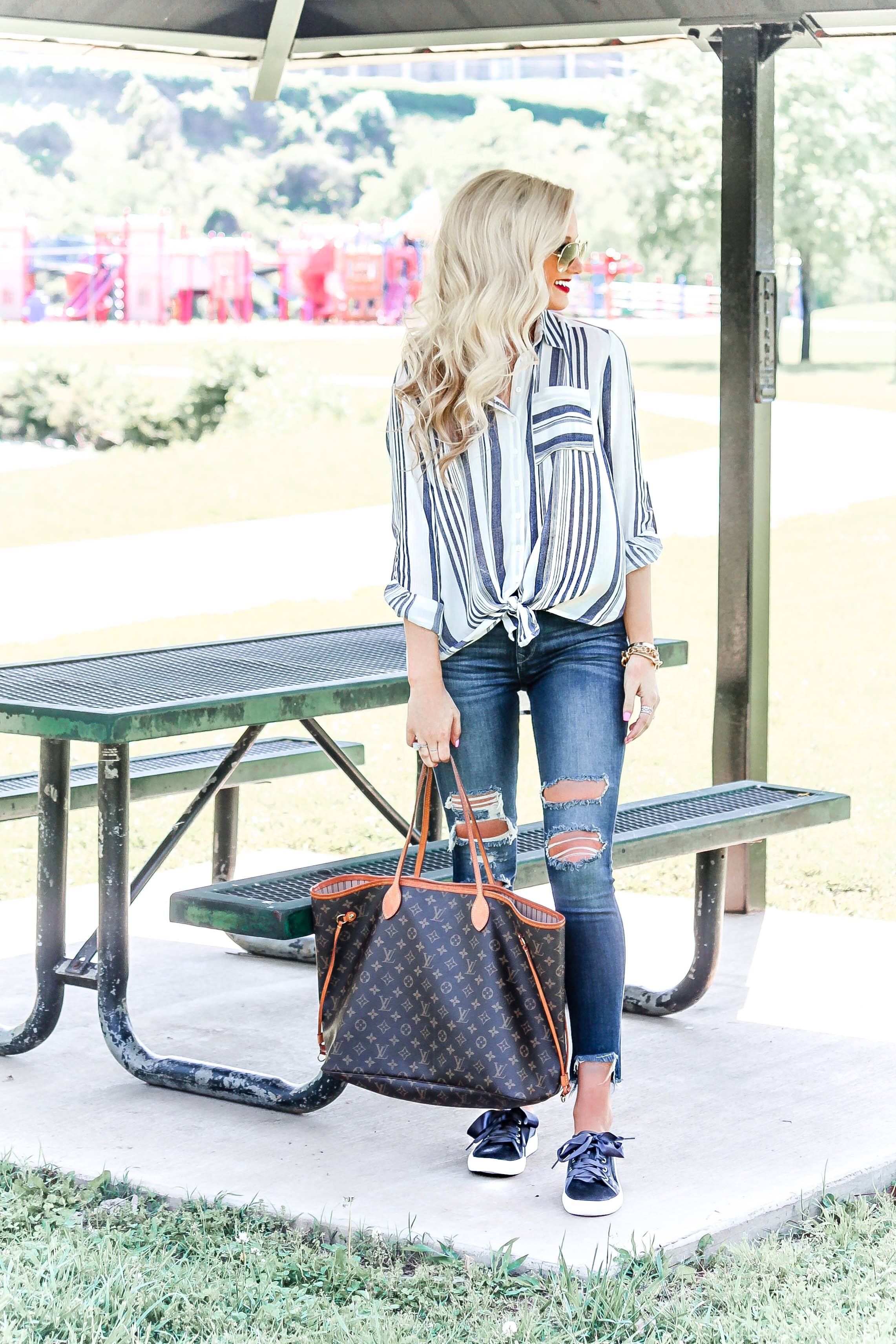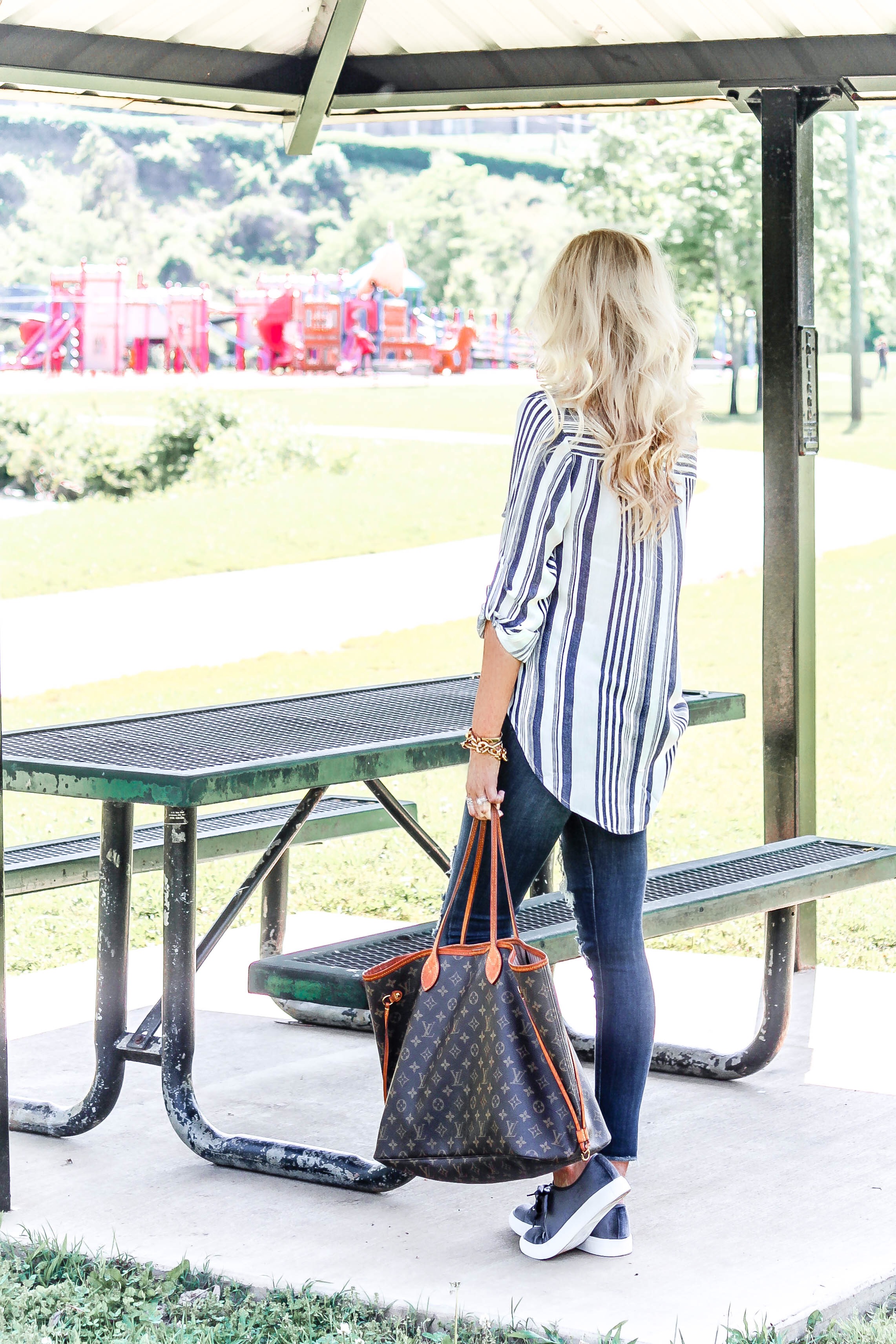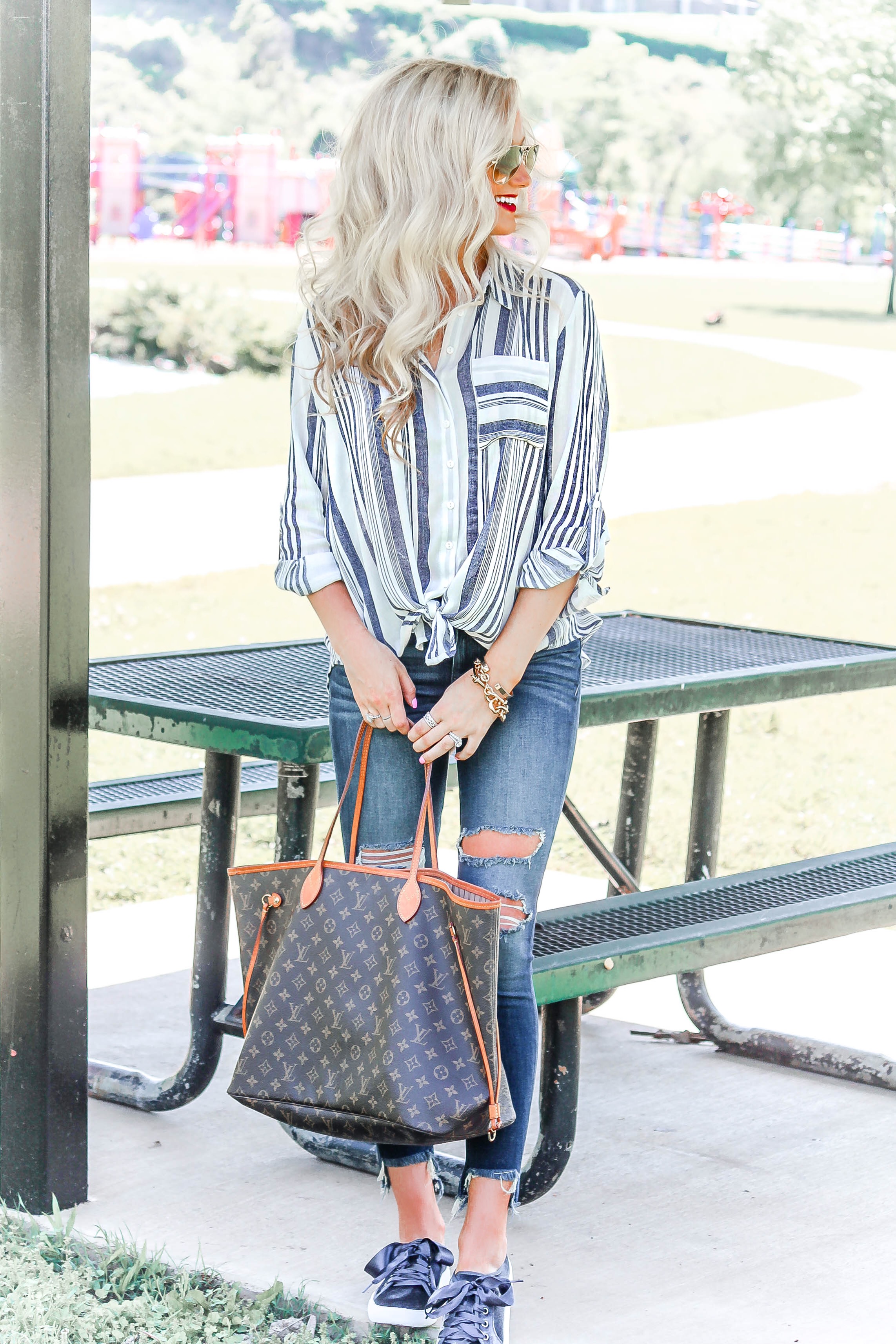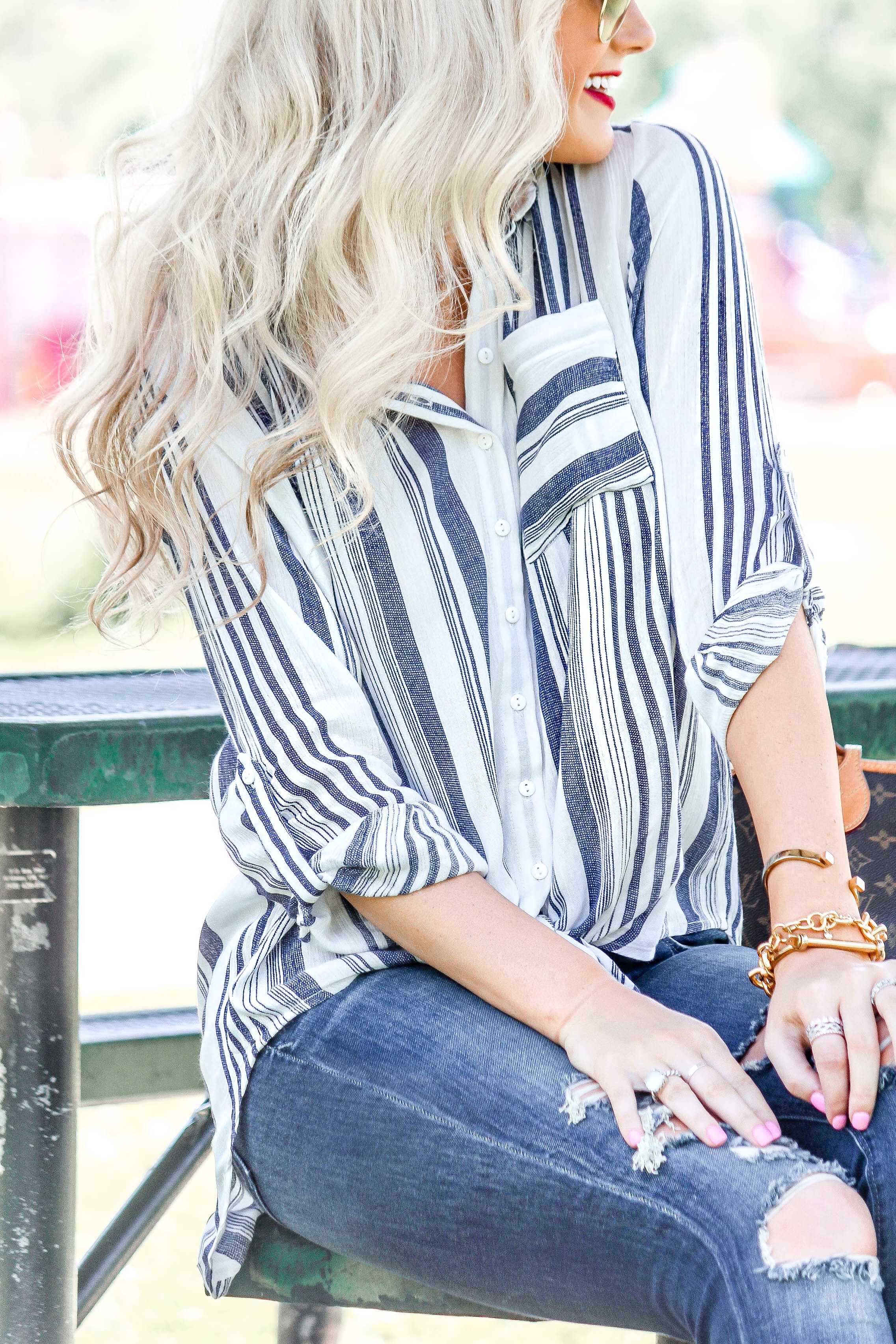 Shop this look:
tie waist blouse (wearing a size S) | distressed dark wash denim jeans | velvet, satin tie tennis shoes | aviator sunglasses | LV Neverfull GM | gold stack bracelets here, here, here | 'mrs' necklace

This first look is perfect for those moms who work from home or run errands on the weekend. Heading out to breakfast or lunch with the family? How about a playdate with another mom and her kids? Or maybe it's just going to your son/daughter's school lunch? Saturday morning ballgames anyone? This is the perfect ootd to keep you comfortable for these events, while still looking stylish.
I'm sure you already have your favorite pair of denim in your wardrobe, so you already have half of the outfit! Now you just need this lightweight button-down from Rollick & you'll be set. Best part about this top is that you can dress it up or down. Versatility is key when buying new clothes, y'all!! You could pair this outfit with flat, neutral-colored sandals or opt for a trendy tennis shoe style like I've done here.
This look is not only effortlessly cute and on-trend, but it's also practical (which I feel is a necessity for all of you mama's out there). I don't have kids, but even I know that you're not going to get decked to the nines to head out for a playdate or brunch with 3 kids. This is a super quick and easy look to achieve that will make you feel put together and fashionable in just a matter of minutes.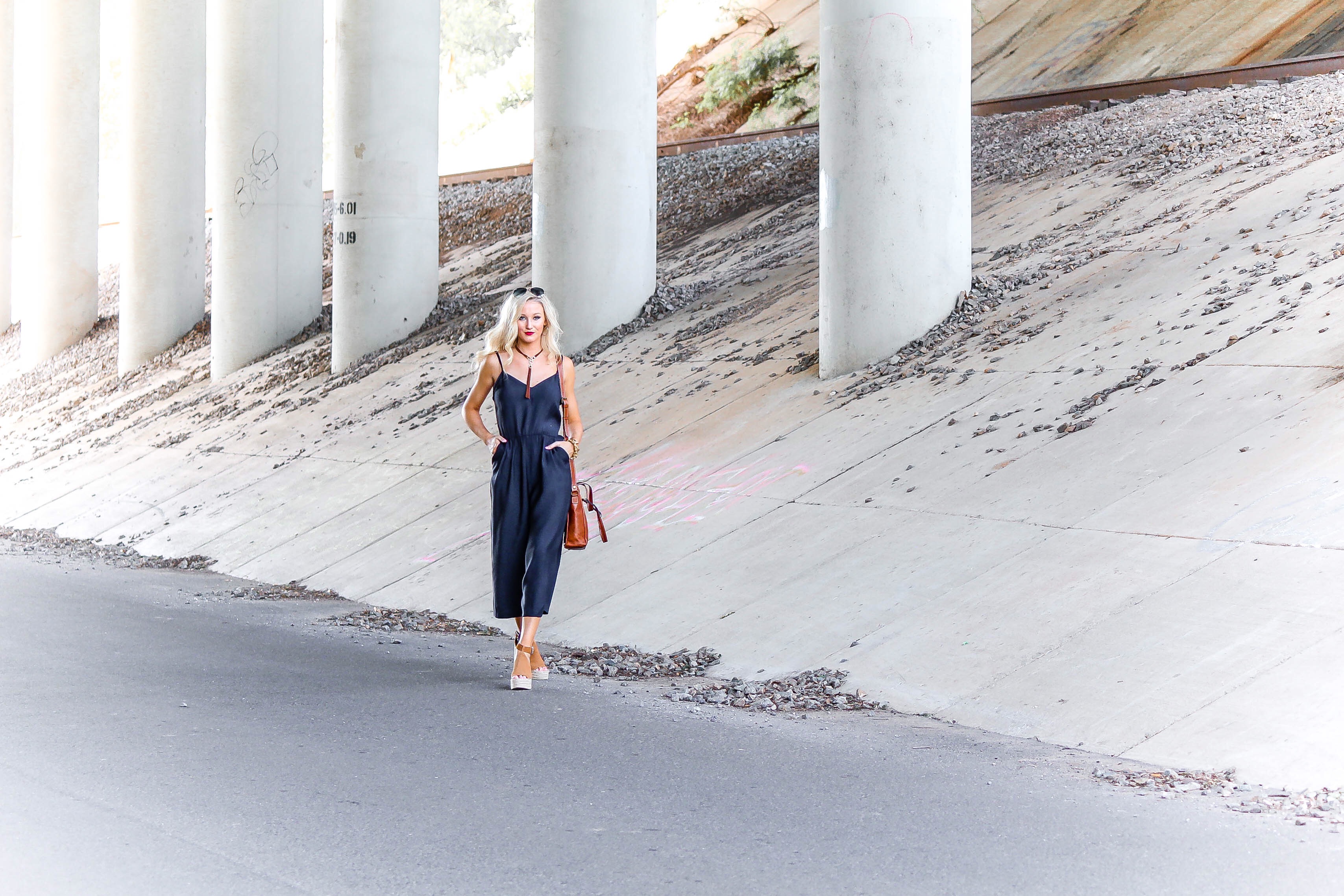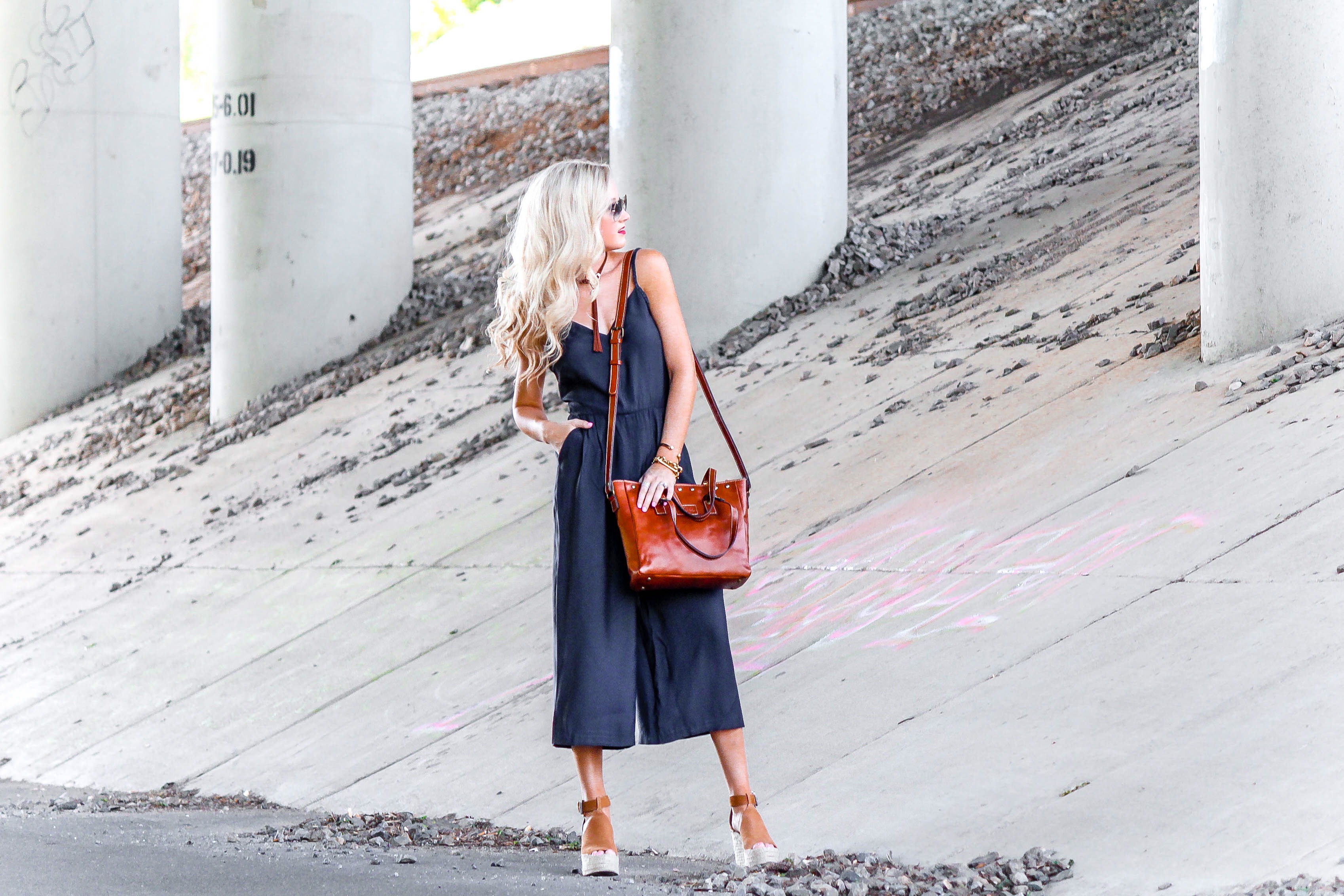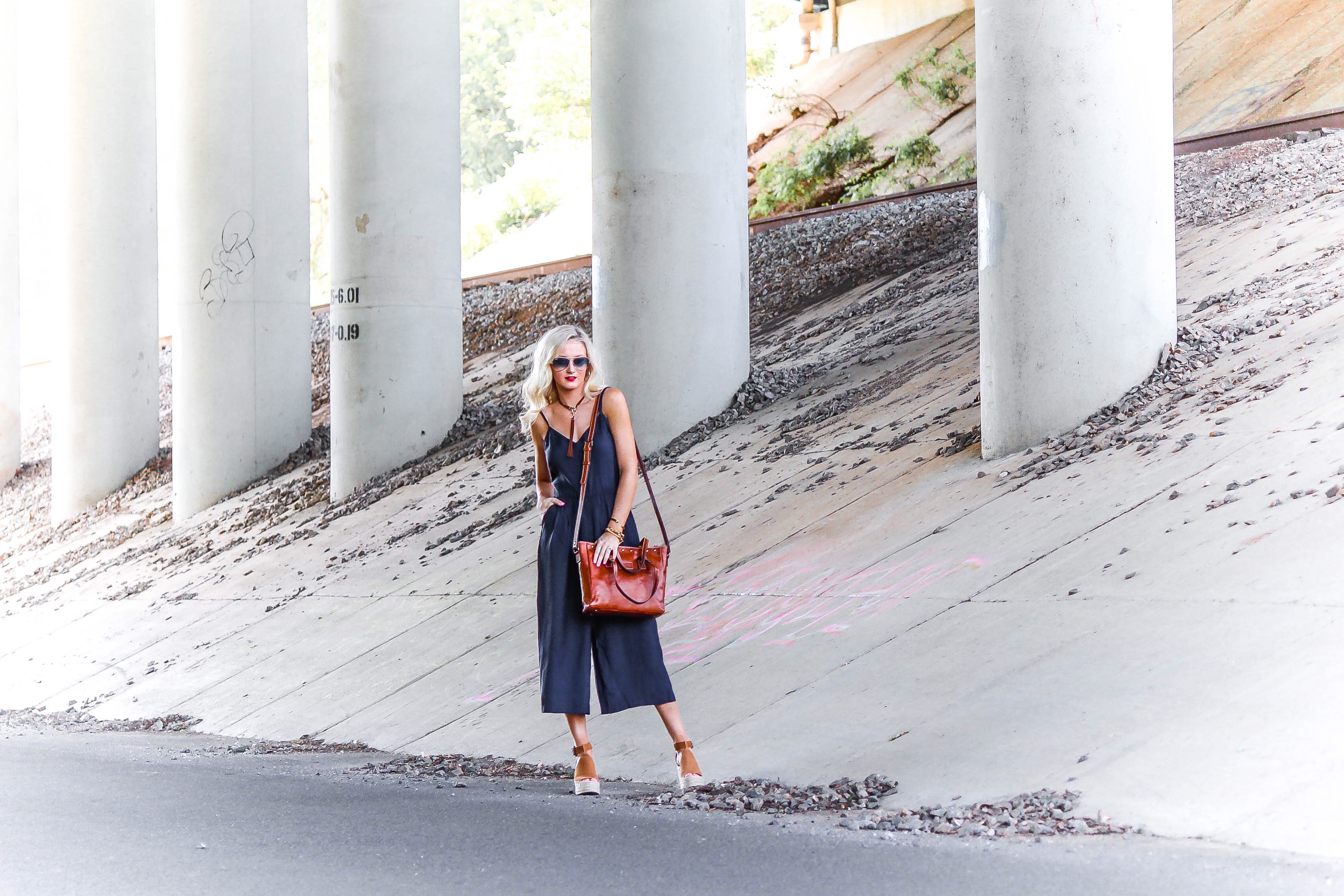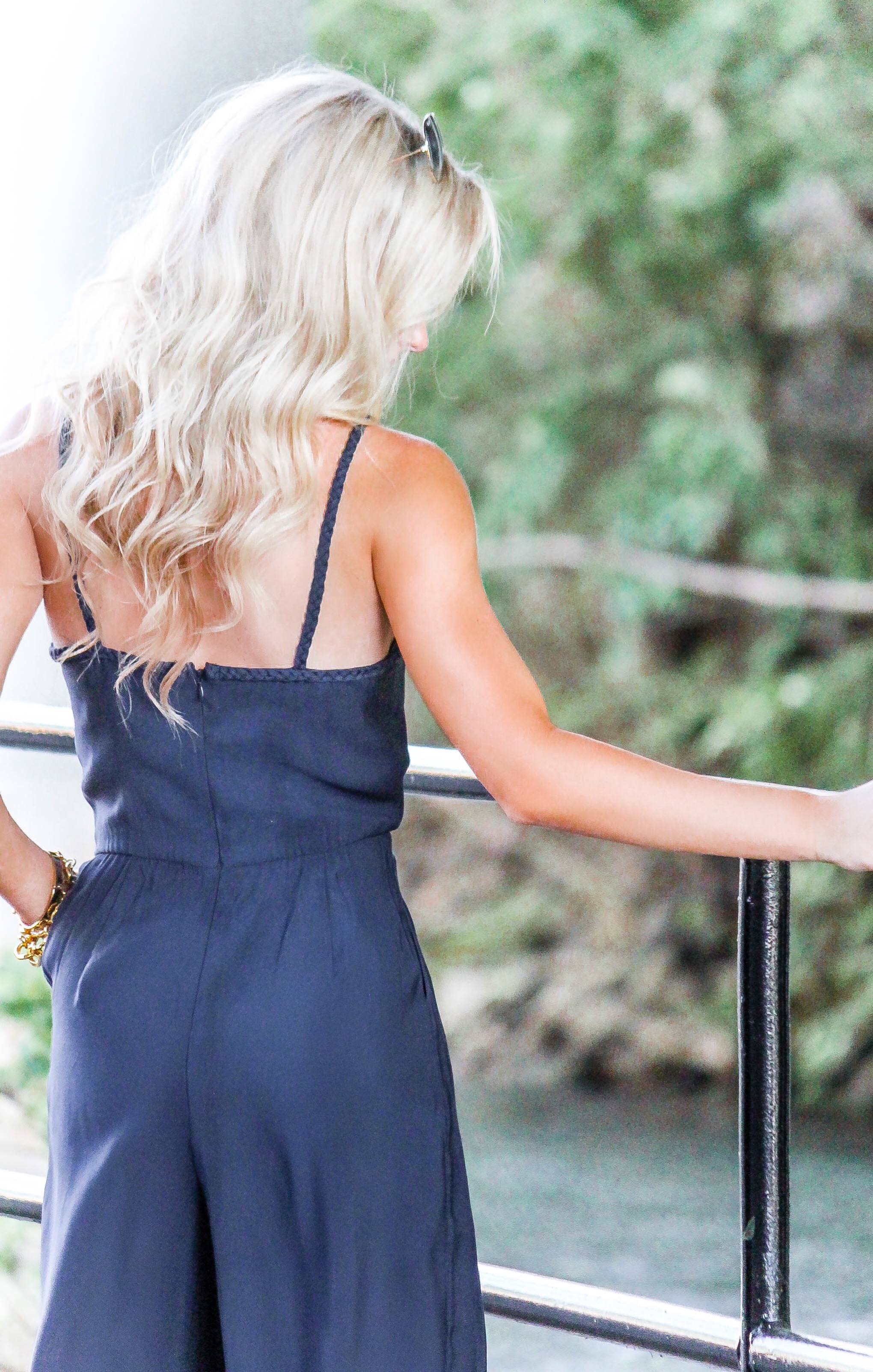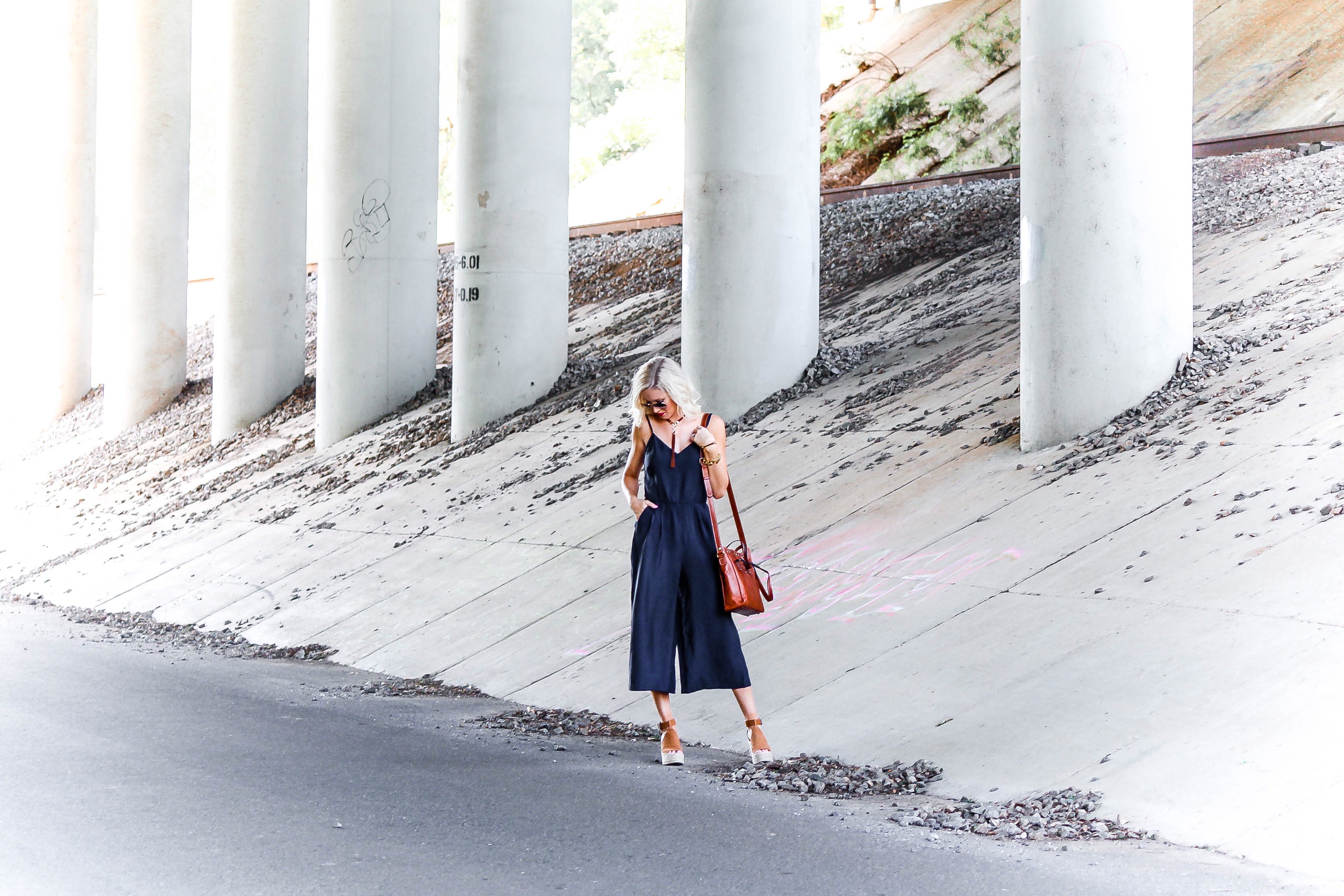 Shop this look:
navy wide-legged jumpsuit (wearing a size S) | tan espadrille wedges (best shoes ever – true to size!) | similar crossbody bag | gold aviator sunglasses | similar choker-inspired necklace

This outfit is a bit – shall we say – on the 'risky' side for some people. However, I want to encourage all of you to try it out before crossing this look off of your list. First and foremost, I have to point out how incredibly comfortable this jumpsuit is!! I mean, I could live in this thing you guys. Anything that looks this cute and feels like my PJs at the same time is a win in my book. The wide leg pant on this jumpsuit is very flattering on many body types, and is SO on-trend while still looking appropriate for mom. It's not like one of those short, tiny rompers that you feel like you can't even bend over to pick up your toddler, LOL.
I paired it with my favorite wedges ever because I feel like so many people are afraid of 'high heels' once they hit a certain age – which, if heels just aren't your thing, you could totally pair this style with cute flats! But, if you feel like you would want to try out some heels, I strongly encourage you to start with these. (My mom is in her 50's and looooves her pair like this!) They actually look a lot higher than what they are when they are on your feet. They hold your foot securely so that it makes them so easy to walk in, and I've worn them all day long before without them hurting AT ALL. Not to mention, they are just super cute.
I also wanted to point out the necklace in this outfit. It's officially sold out, but I linked some really similar ones for you all from Chico's (they have amazing jewelry). Many people hit that certain age again or become a mom, and they think that they can't participate in the current trends – like the choker trend for instance. I agree and disagree with this. I think it is perfectly fine to participate in the current trends – no matter your age – however, you have to participate in the right way. For instance, 10 years from now or when I become a mom, I may not wear 50 million colorful pom poms on a choker everyday of my life. However, I would definitely wear a necklace like the ones I have linked for y'all. The one in this particular outfit has that choker-inspired look, but it's a very age-appropriate, tasteful, and classy version of the choker trend that is oh so popular these days.
This outfit is one of my faves and would be so perfect for dinner and drinks with your girlfriends or a date night with the hubby after spending a long day with the kiddos. Treat yo self, pretty lady!!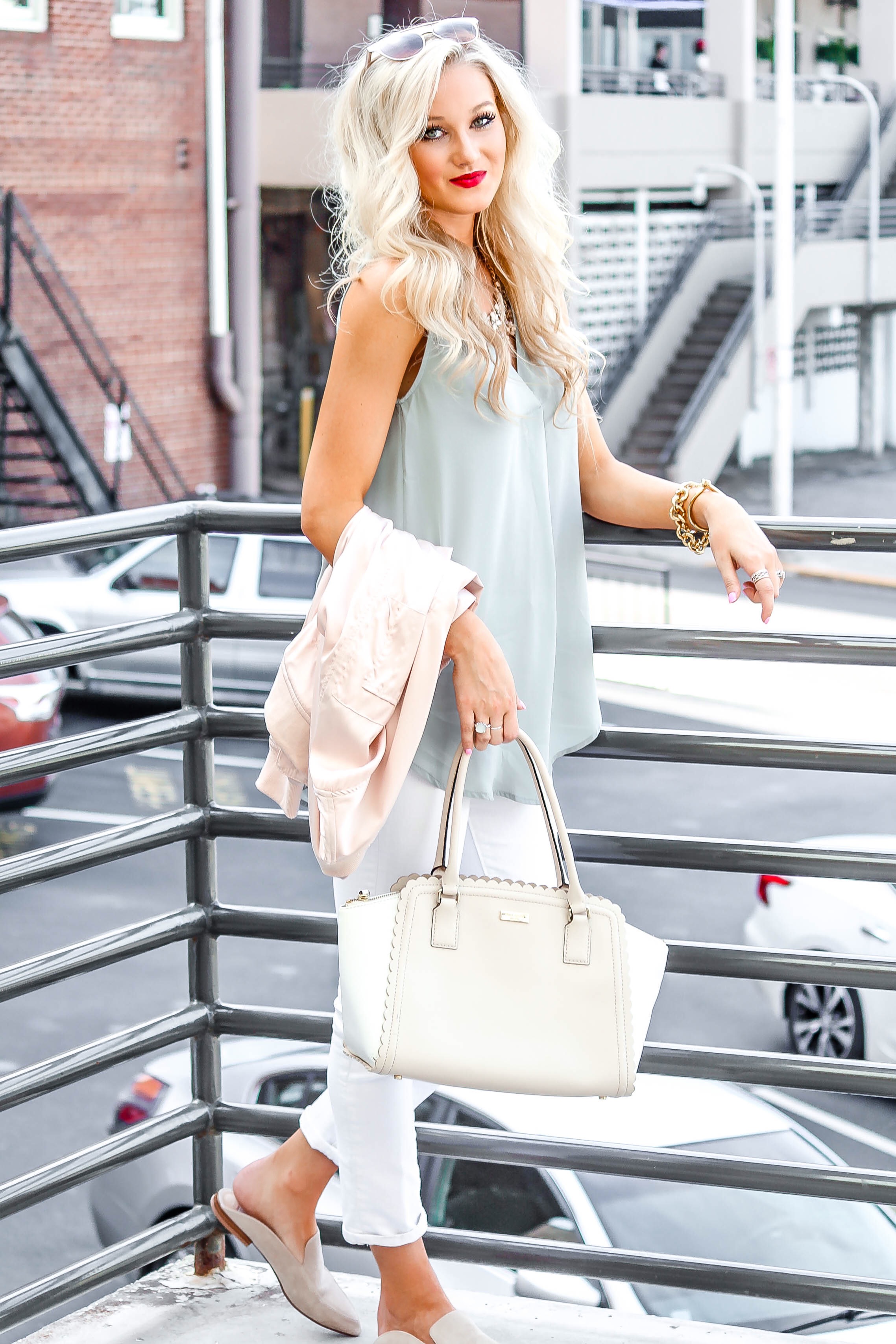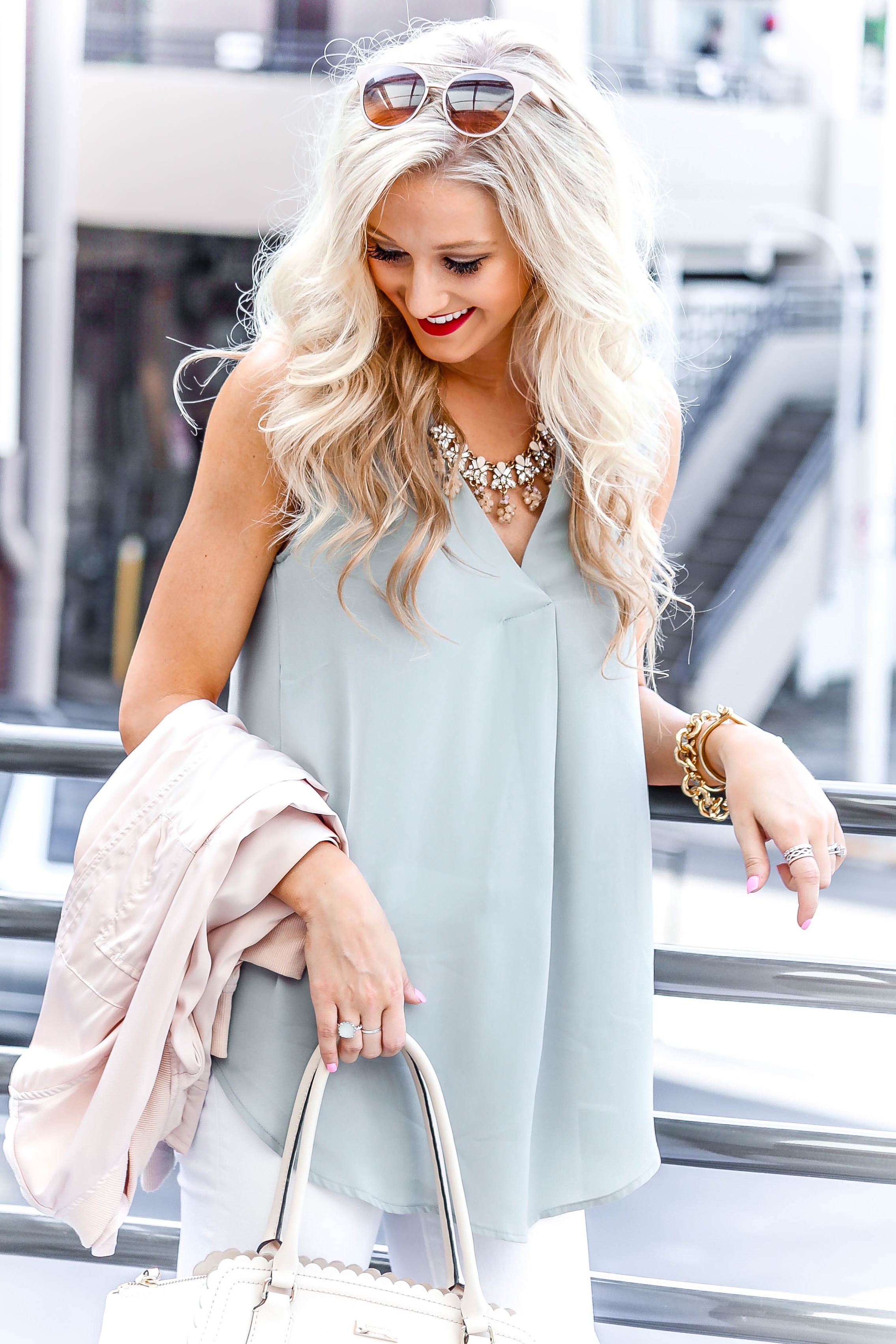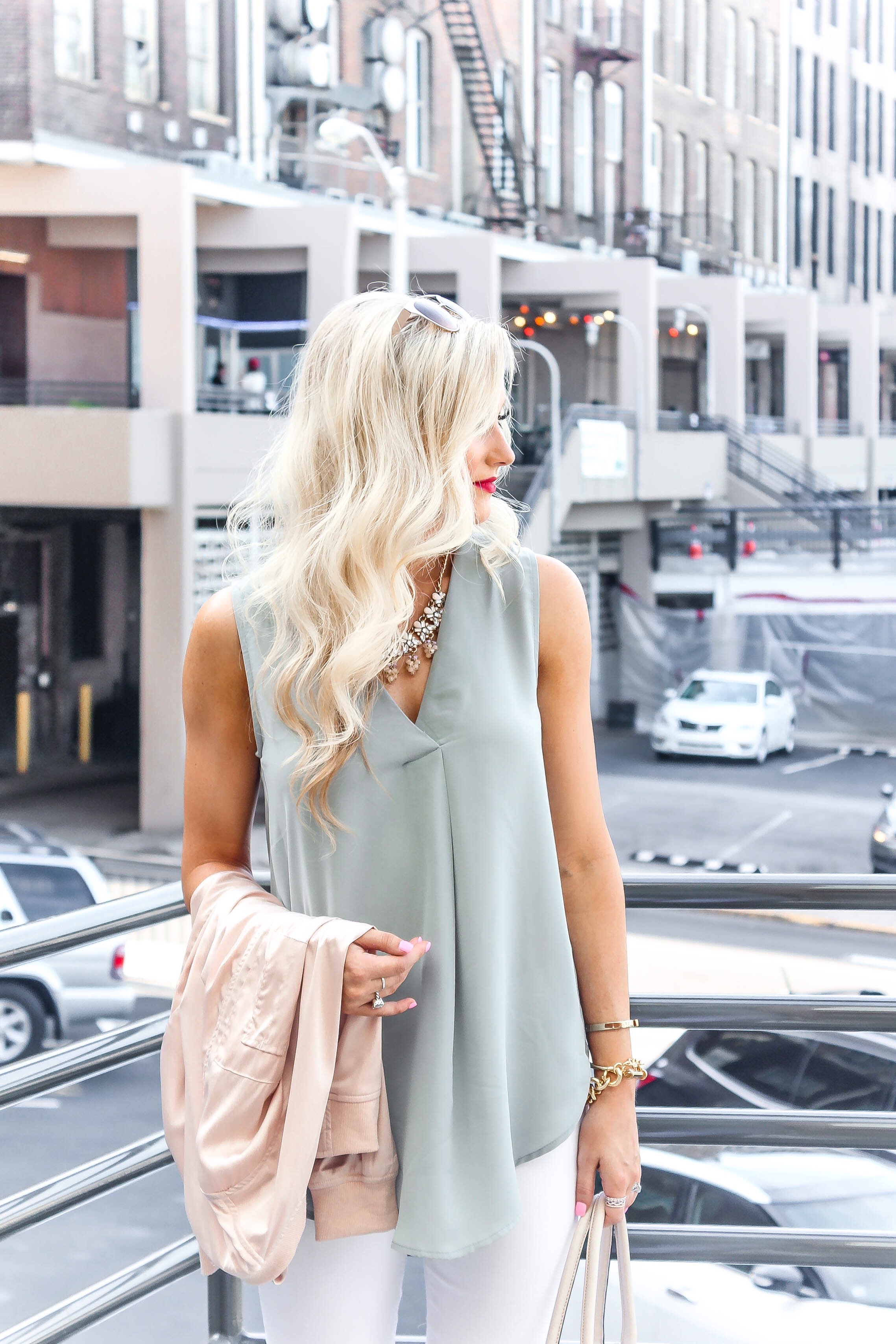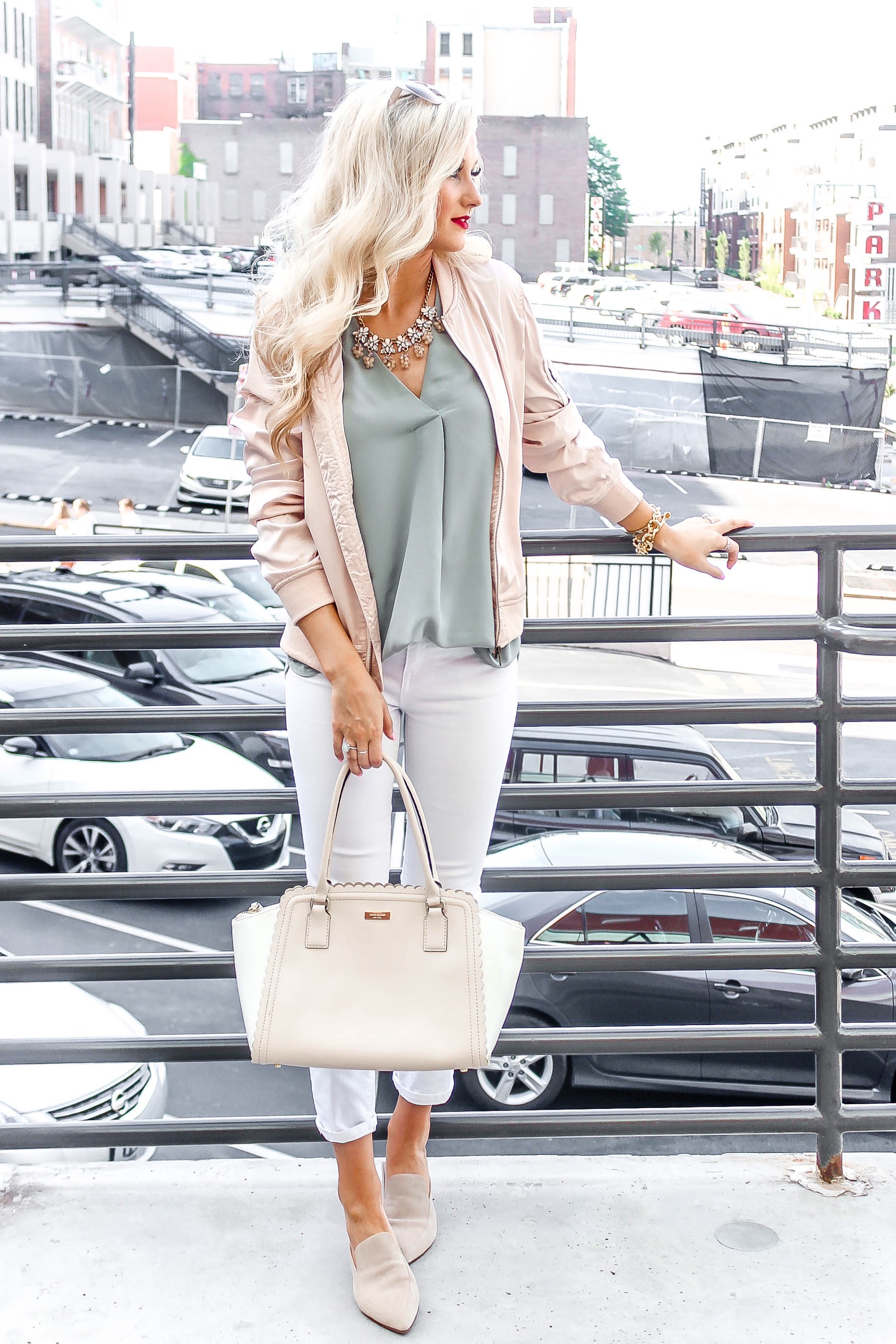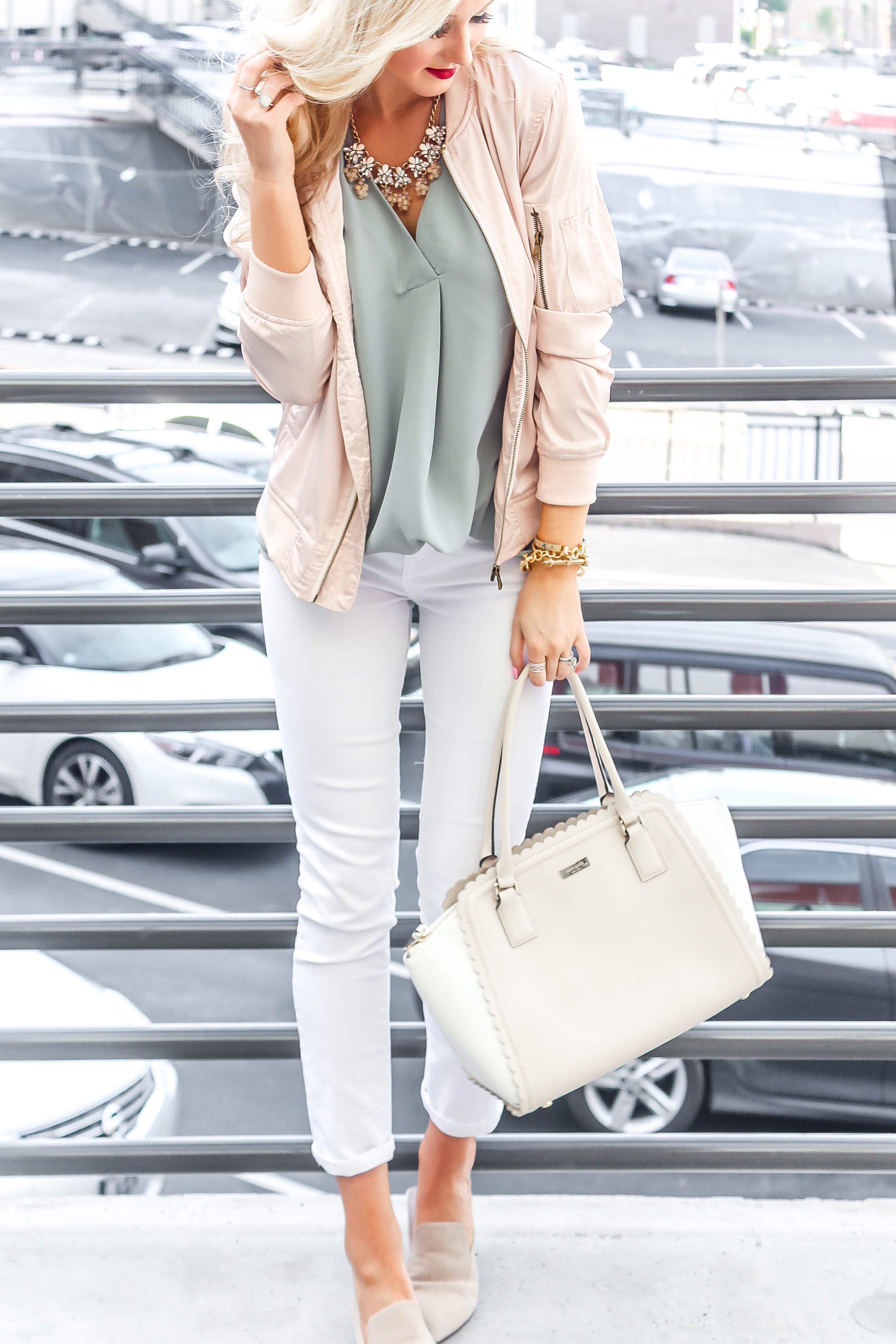 Shop this look:
v-neck sage blouse (wearing a size S) | white denim jeans | dusty rose bomber | similar beaded necklace | nude suede mules | gold stack bracelets here, here

This last look is one that would be super easy to transform from day to night. With the kiddos around, I know there's not a lot of time for a wardrobe change between work and your plans for that night. This basic, feminine blouse is so versatile that it can be styled many different ways for many different outfits. It can be paired with white denim like I've done here for a casual Friday at work, or it can be paired with a pencil skirt or slacks and a tailored blazer. I love the length of this blouse because it's long and loose enough to be flattering on the hip area, or you can front-tuck it for a more trendy style.
My idea here was to wear it untucked and loose for the day time and then add in the front-tuck and trendy bomber jacket for the evening. The evening look would be great for a family dinner at your fave restaurant or even a last-minute date night with your man when you don't have time to go change outfits before the date (this happens to me a lot when Teej and I go on dates haha). That's one of the main reasons why I swear by versatile pieces. There are just so many ways to change up the look of them, and most pieces with versatility are usually your basics or solids. So, this means that they also won't be going out of style anytime soon .. unlike that boho floral dress that you have seen at every boutique in your town.
Learning how to mix and match certain pieces and keeping a tasteful style is key to staying appropriately on-trend. Being trendy is fun, so feel free to step out of your comfort zone and try out some of the popular styles in the fashion industry right now. When you feel good and you look good, you become such a positive, confident person, and the light inside of you will radiate out for others to see! I would love to help you if you ever need/want help with finding that perfectly trendy style. 🙂 Feel free to comment below with any questions, check out my services tab for styling services, or simply shoot me a DM on Instagram!
Happy Cinco de Mayo, babes! Have a fun (& safe) evening!
xo, P
Thank you to Rollick for sponsoring today's post!