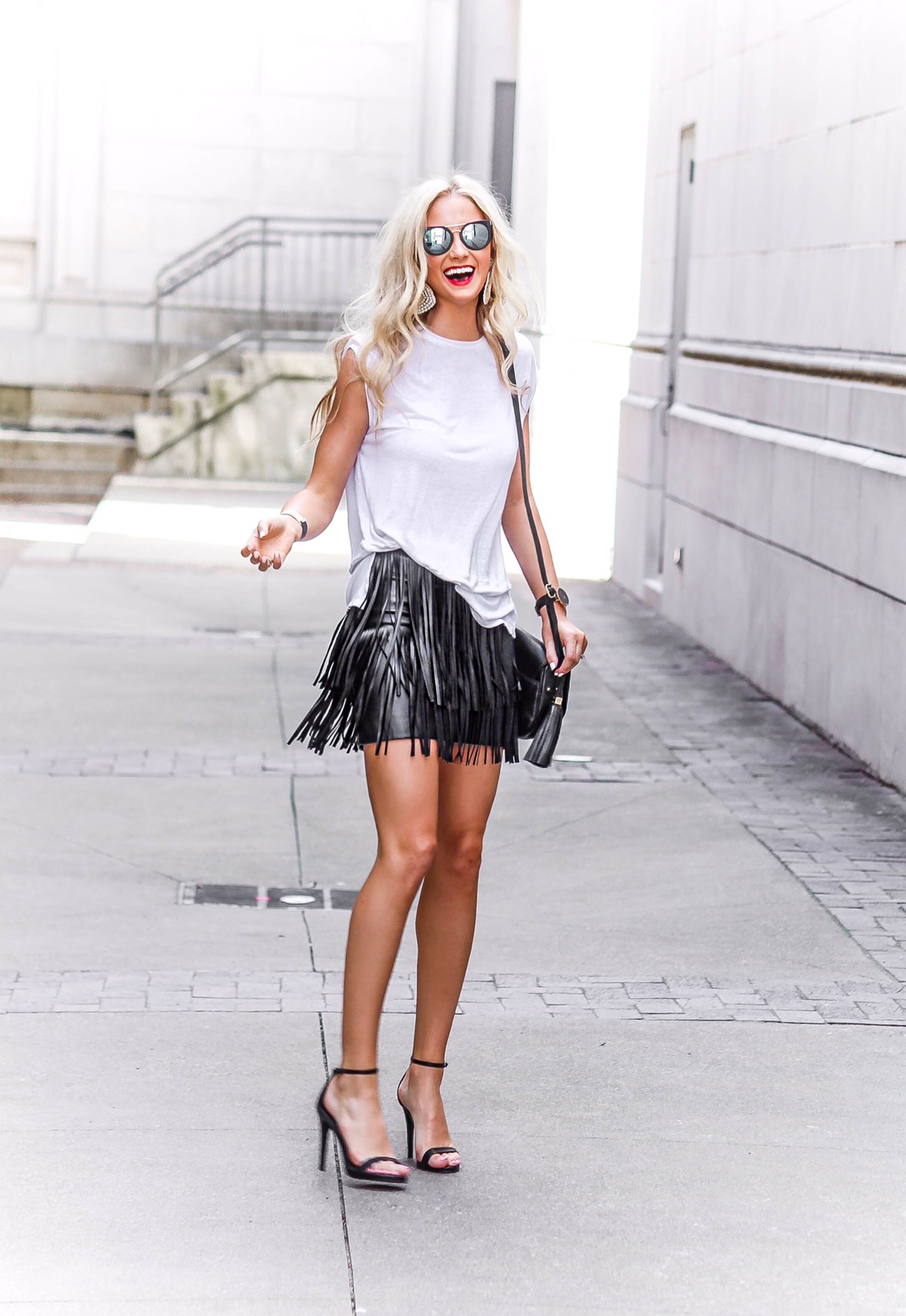 Time to get sassy, flirty & FUN ladies! My favorite way to be!
If you know me, you know that I, first, always come off a little reserved or 'shy' – well, actually I was more this way when I was younger – but still to this day, I have to get a feel for certain situations and people before you'll ever see the real me. This is one of the main reasons I've always loved fashion and style – it's a way to express yourself and to give off that certain 'first impression' without even having to speak. And I LOVE that!
We all do it. We have all looked to peoples' attire for that first impression before they even speak the first word. It's just human nature – or at least it is when your day job consists of fashion 24/7. Ten strangers could walk into the room right now, and I feel pretty confident that I could tell you how they are feeling in that exact moment, just by the way they are dressed that day. Style speaks FOR US. So, me being my (somewhat) reserved self, I've always turned to the fashion industry to let my personal style do the talking for me. My daily outfits always express the mood and feelings that I have for that day.
Today's outfit is showing the fun & sassy side of my personality – which is one of my favorites because this is truly me. This flirty fringe skirt is a must-have in every 20-something year old's closet – it will bring out that inner sass that every woman deserves to let out every once in awhile! 😉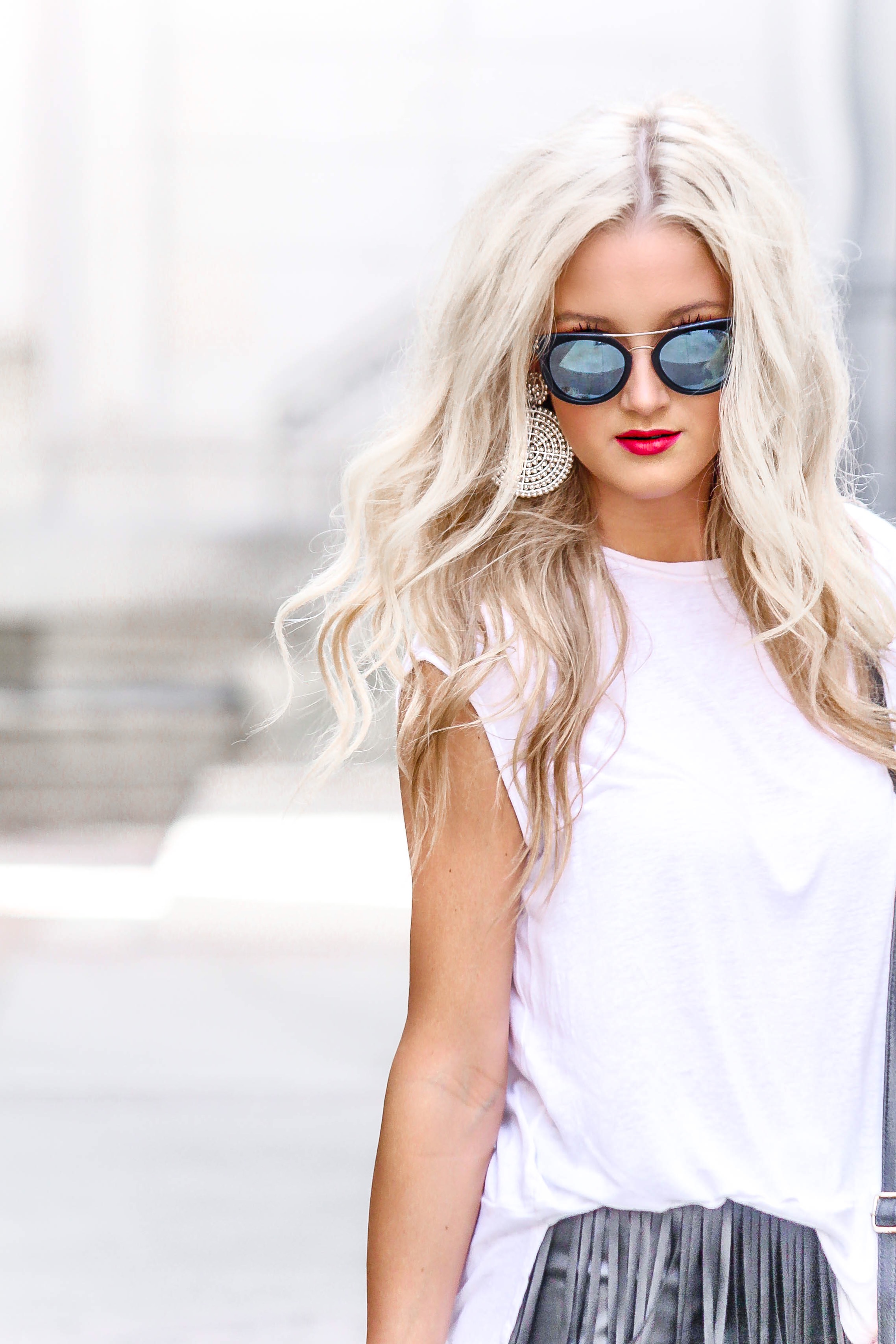 Some of my FAVE earrings, y'all! Linked below.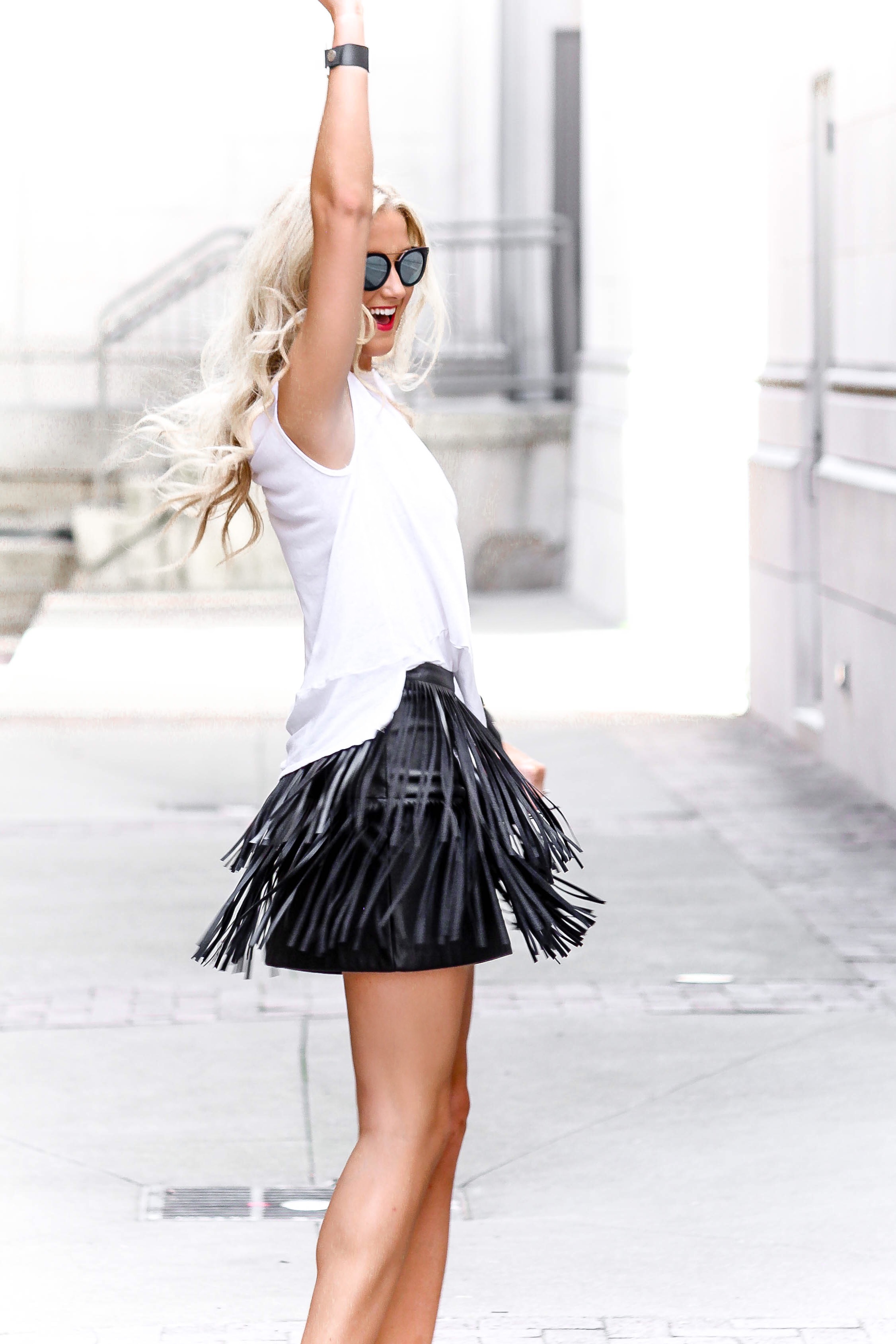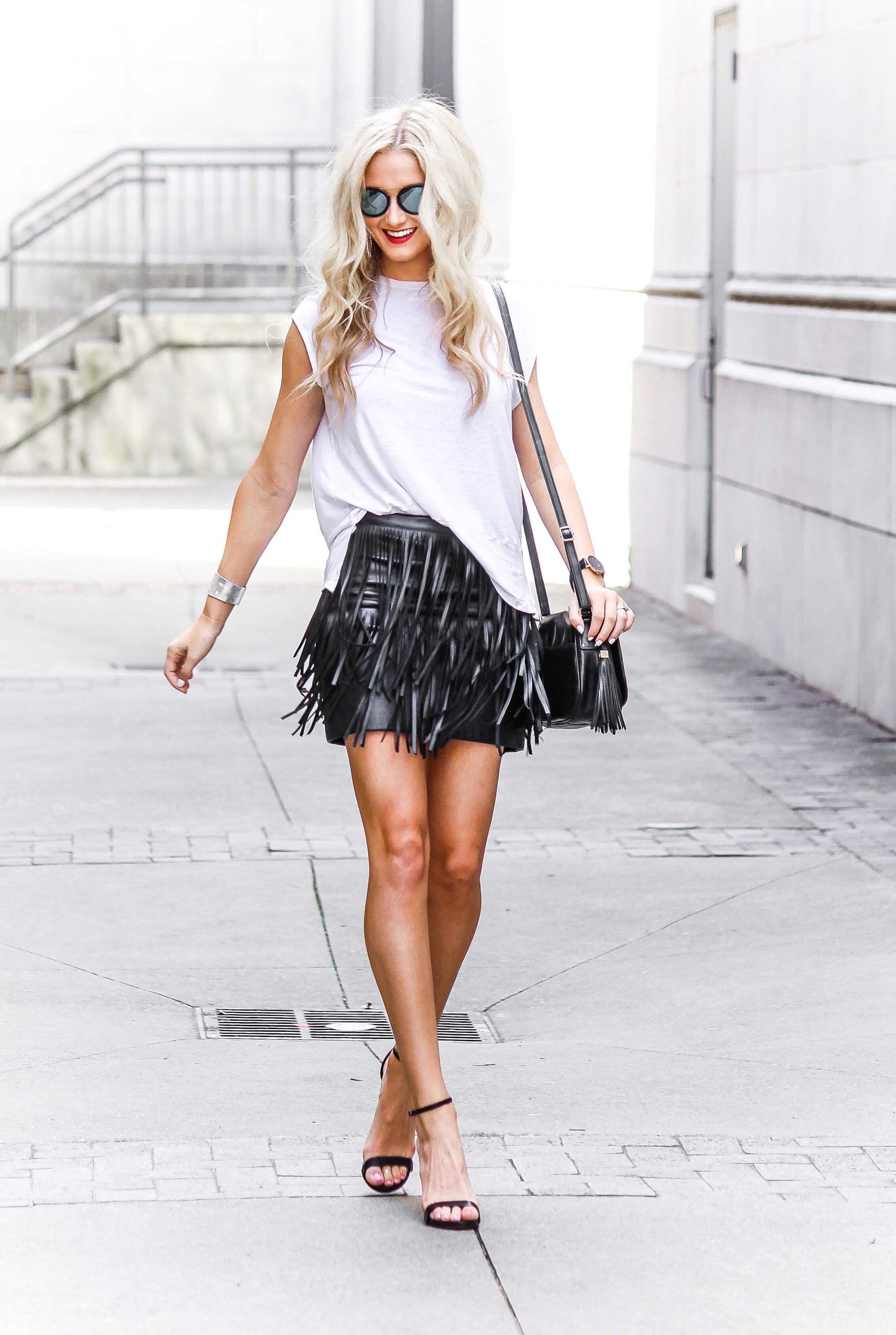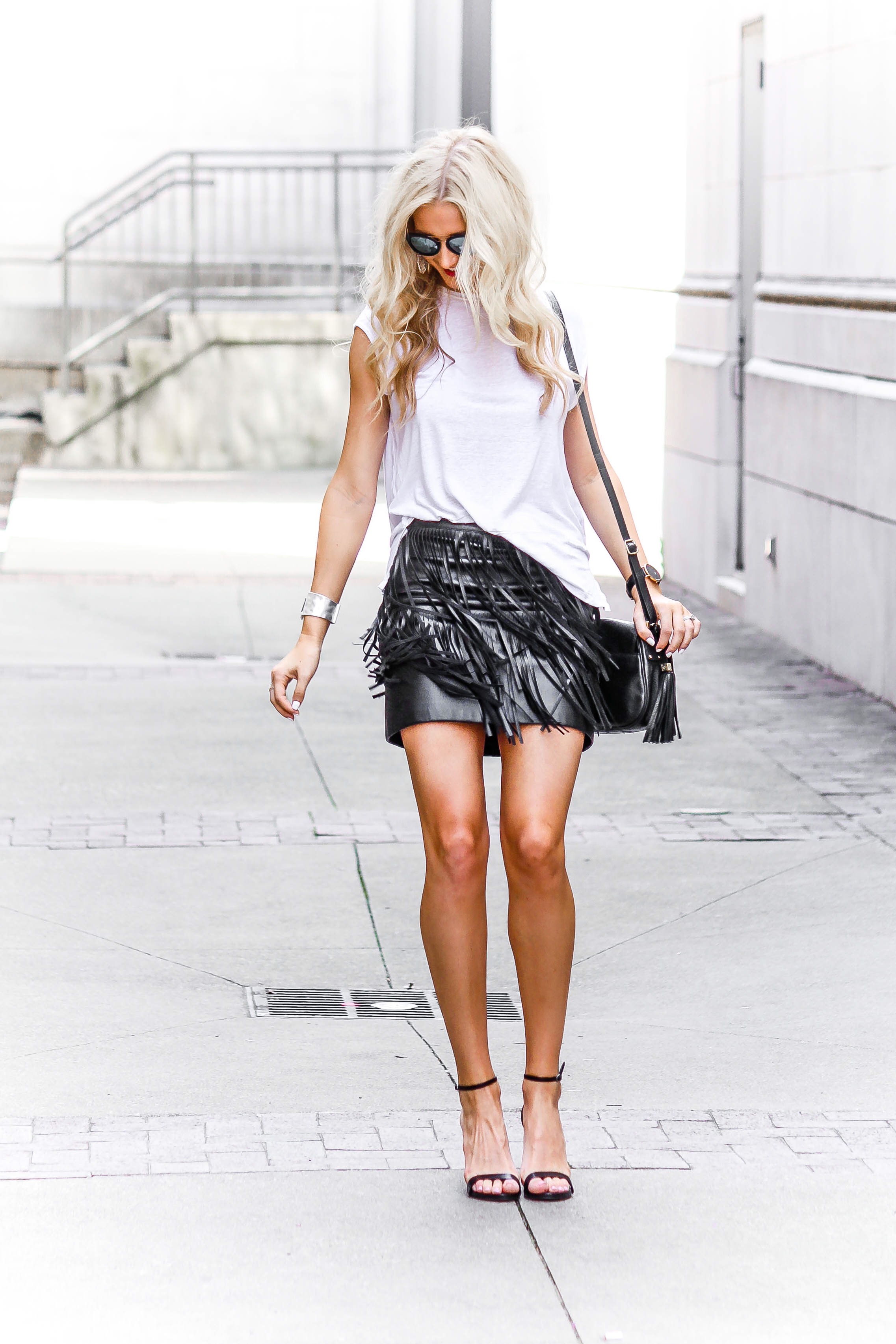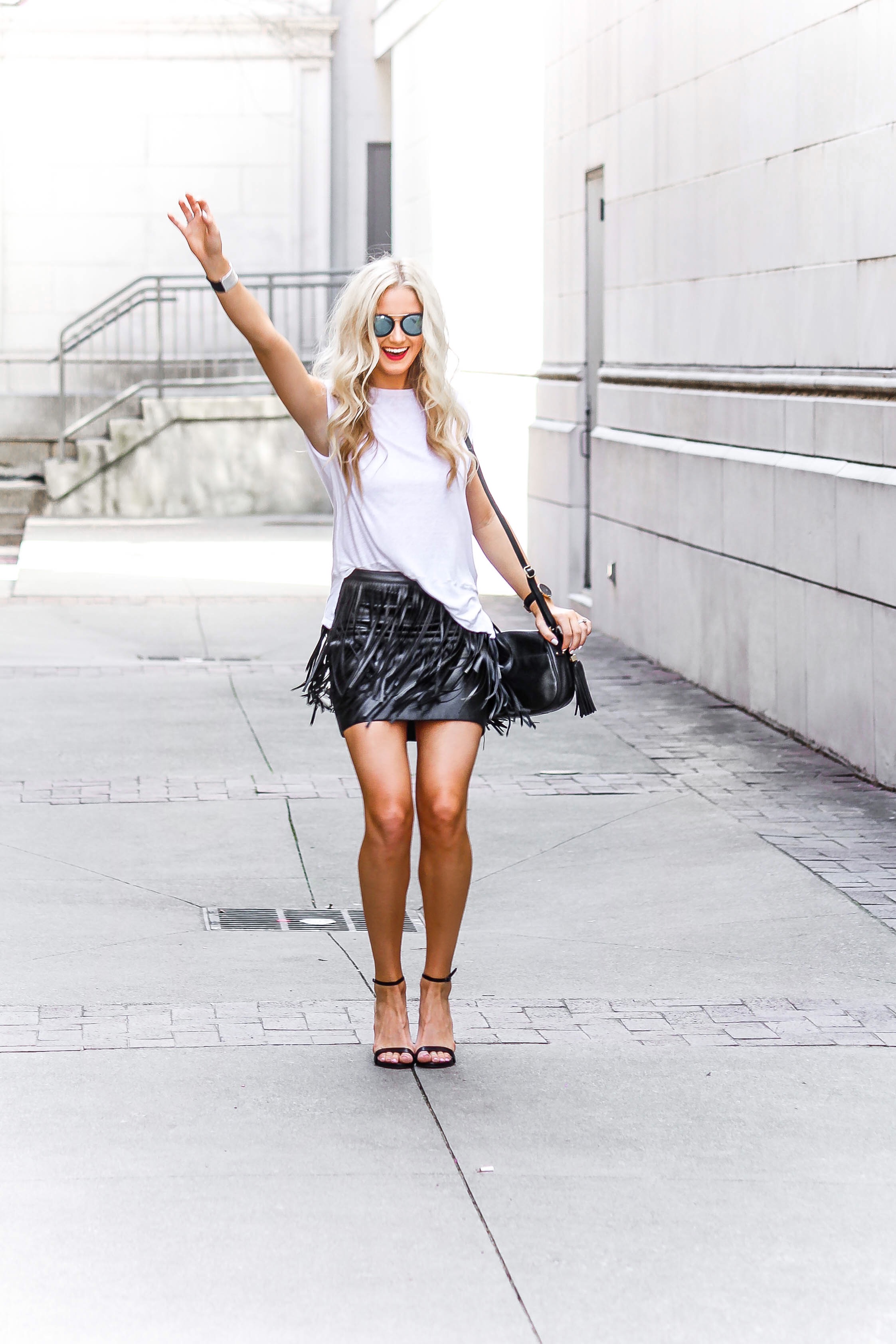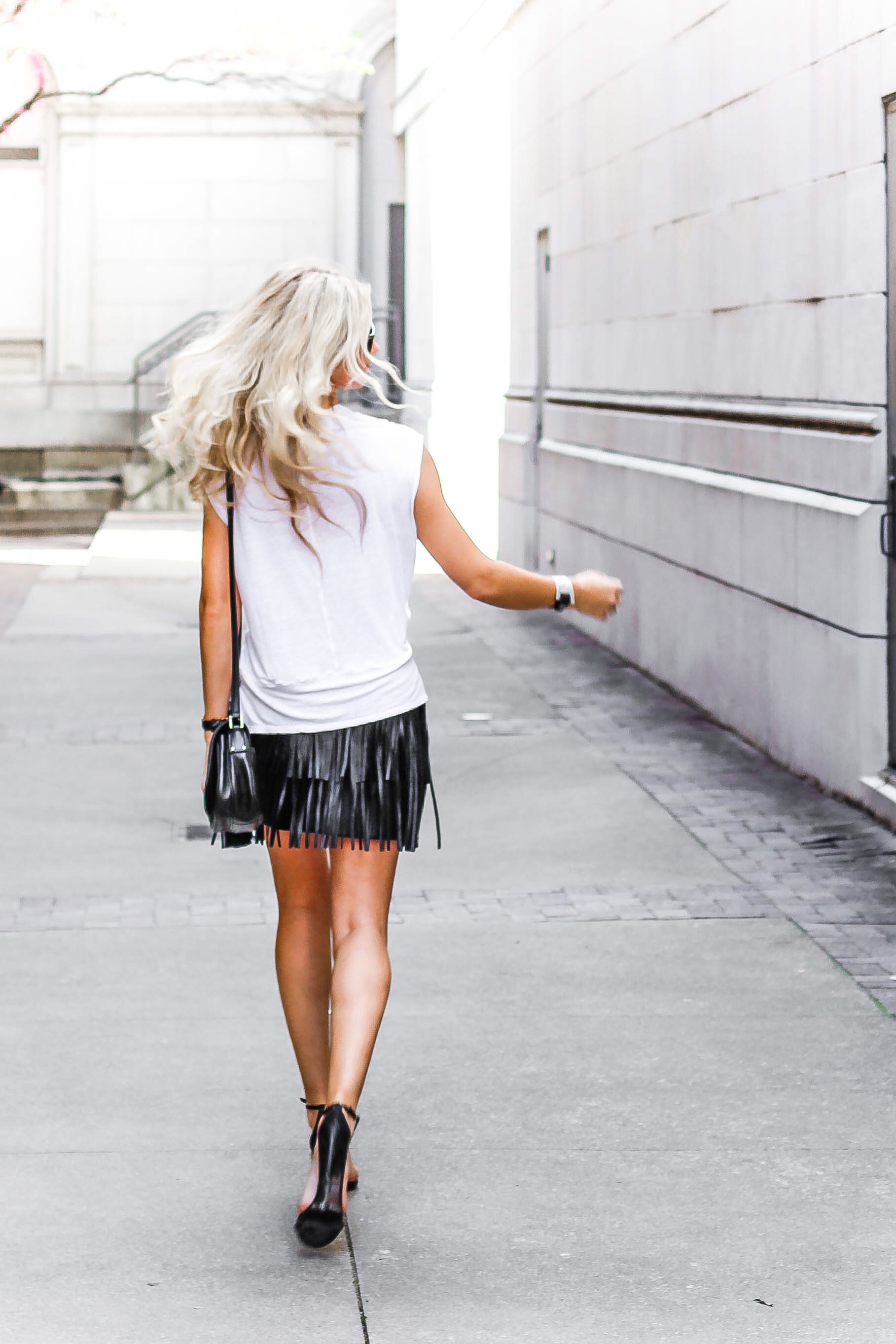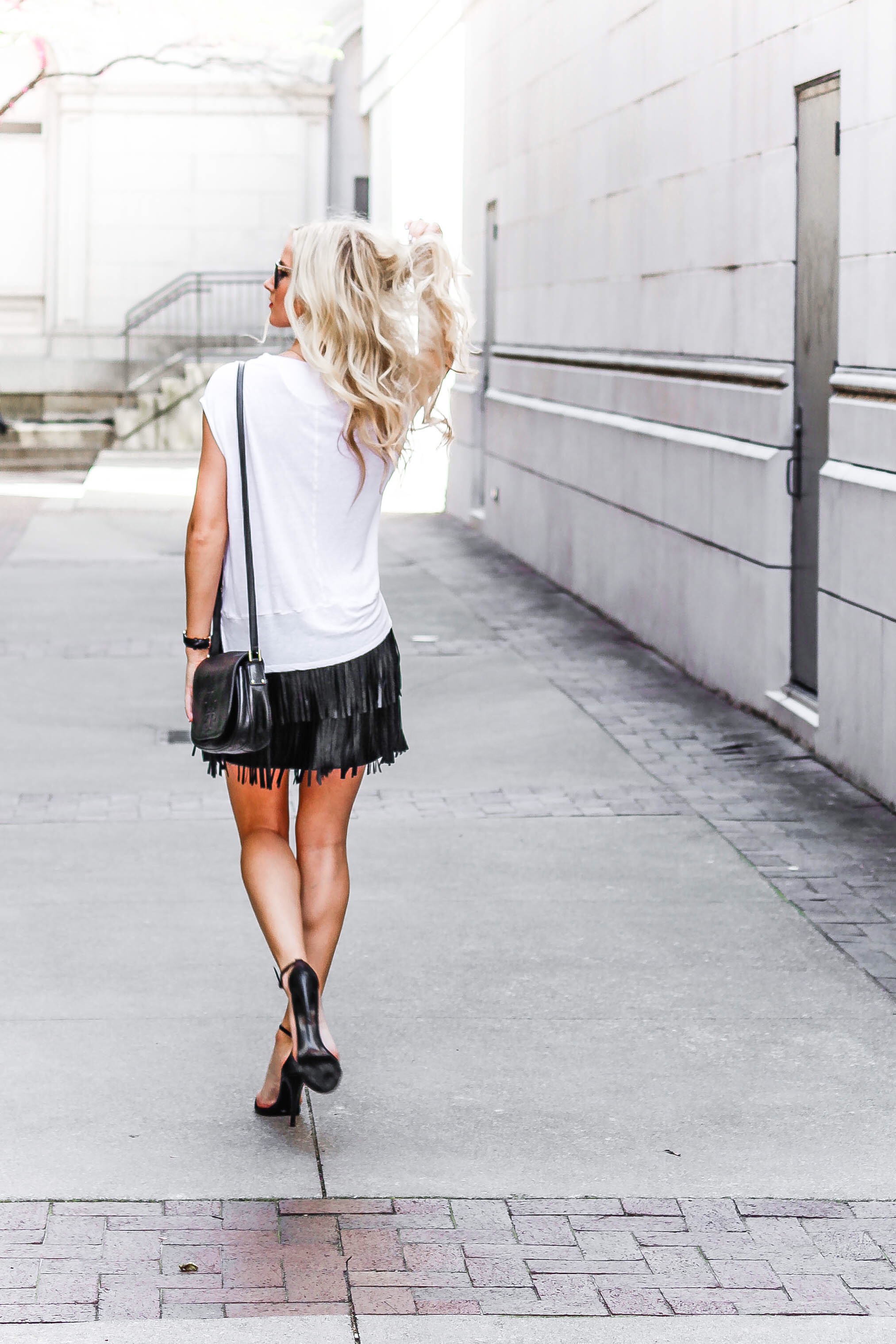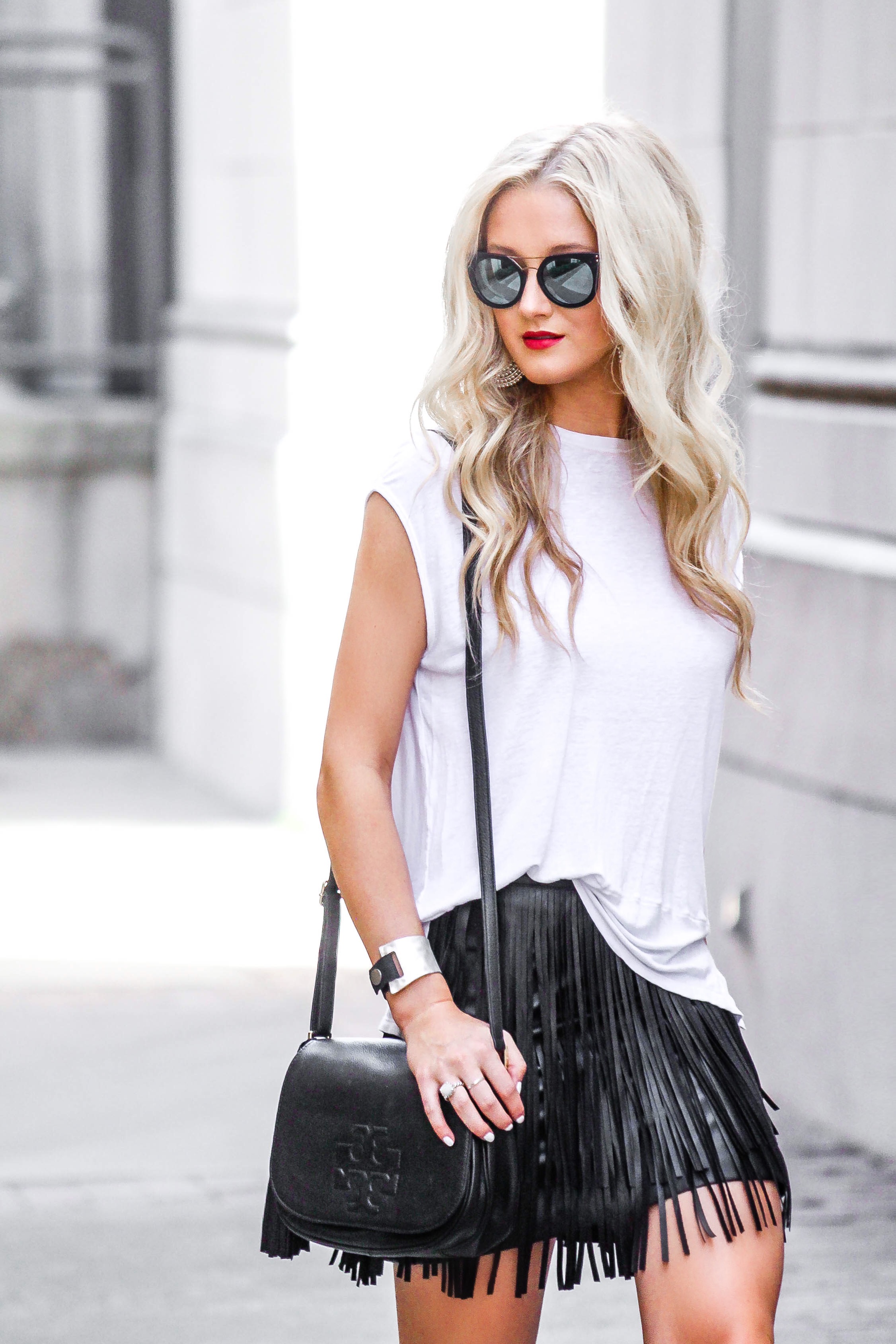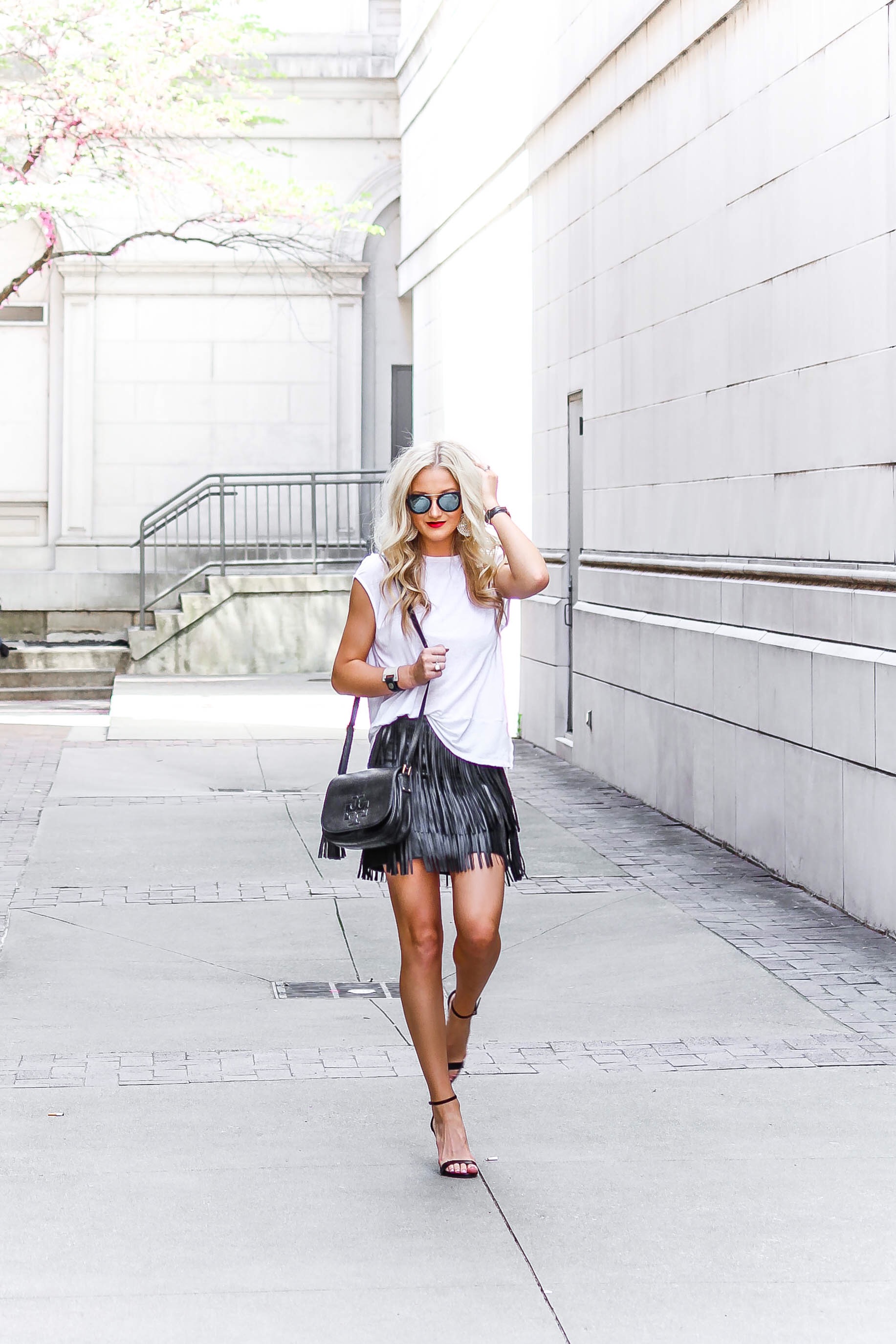 Shop my look:
white biker tee (60% OFF!) | fringe leather skirt | black Stecy strappy heel | silver disk statement earrings | similar black leather crossbody bag | black & rose gold watch | black reflective lens sunglasses

This fringe skirt is seriously a girls best friend. Throw this baby on, and you'll instantly uplift and boost your self confidence, your spunk and your spirits. You literally can't help but feel fun, flirty and sassy in this cute miniskirt! I actually got mine at a boutique in Paris when I traveled there a few years ago, but I found the exact skirt at Revolve (say whaaat!), so I just had to share it with you ladies. I posted a sneak peek of this ootd on my IG a few weeks ago, and I got sooo many messages from people asking where to buy the exact skirt, so I went on the hunt for y'all and found it! I was so excited to share it with all of you!!
It's such a high-quality faux leather, which I love. It actually runs pretty big in my opinion because I'm wearing an XS here, and I still had to get it altered, so I would size down one or just get alterations if you end up ordering one! I also found my favorite Free People white tee for y'all. I live in tees like this throughout the day because they can be dressed up or down (+ they are so comfy!) – y'all know I love some versatility. The FP tee is on sale right now for only $23, which is a really great deal for anything Free People.
Oh, and before I go … I have to share with y'all what happened to me on this photo shoot LOL.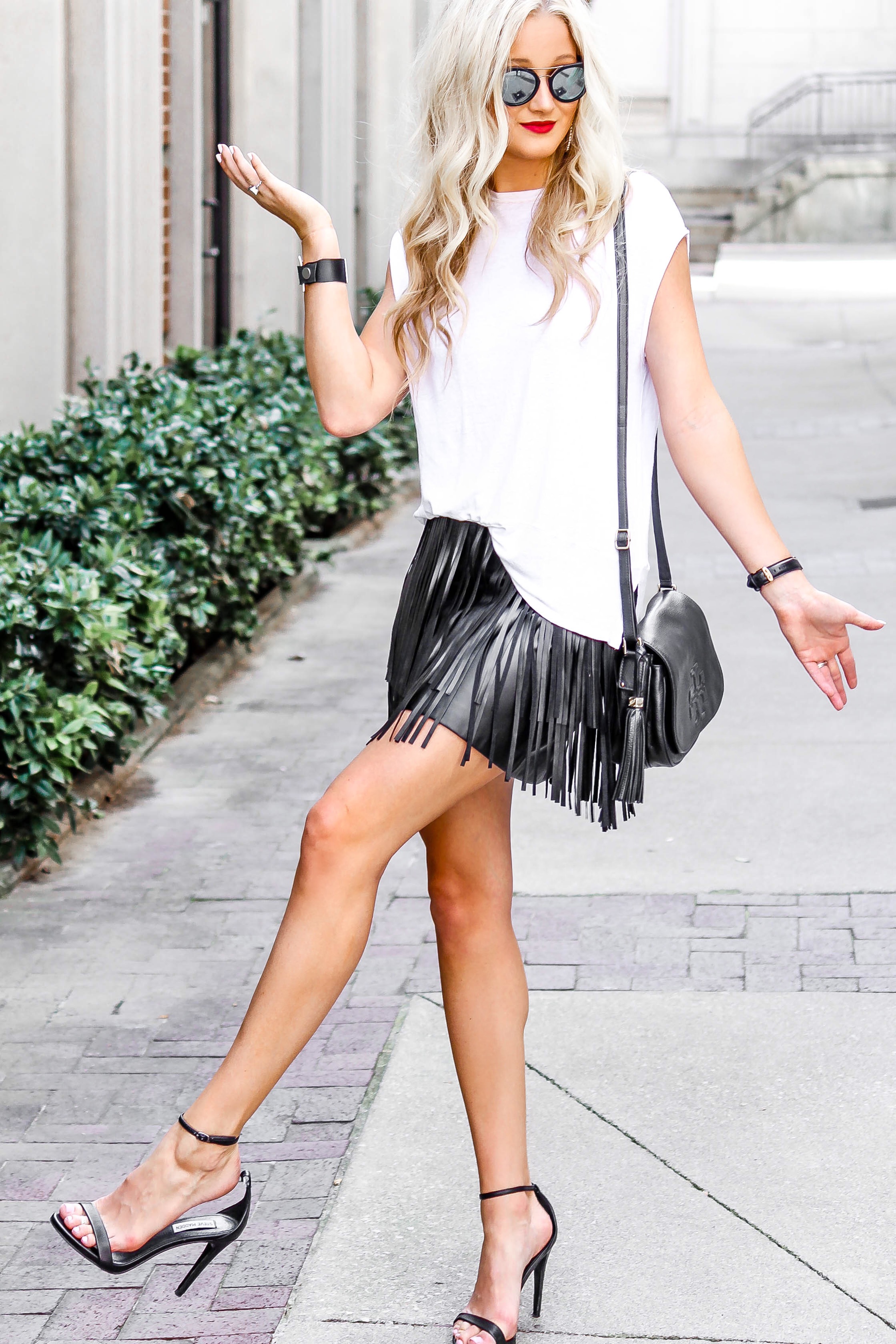 I guess I'll blame this epic shoe fail on my excessive twirling & dancing bc y'all know that I had to try and get 'that perfect Insta pic'. Hahah! However, I will say that I've worn these heels out and gotten so many wears out of them. If you have some Steve Madden shoes of any kind, you know how amazing they are! So, it's just time to fix these babies or retire them & buy the next pair. This shoe is an absolute MUST HAVE in my closet, so I'll have to figure out something soon. 😉 Oh the things we do for pics ladies!!
Hugs & kisses to ya!
xo, P