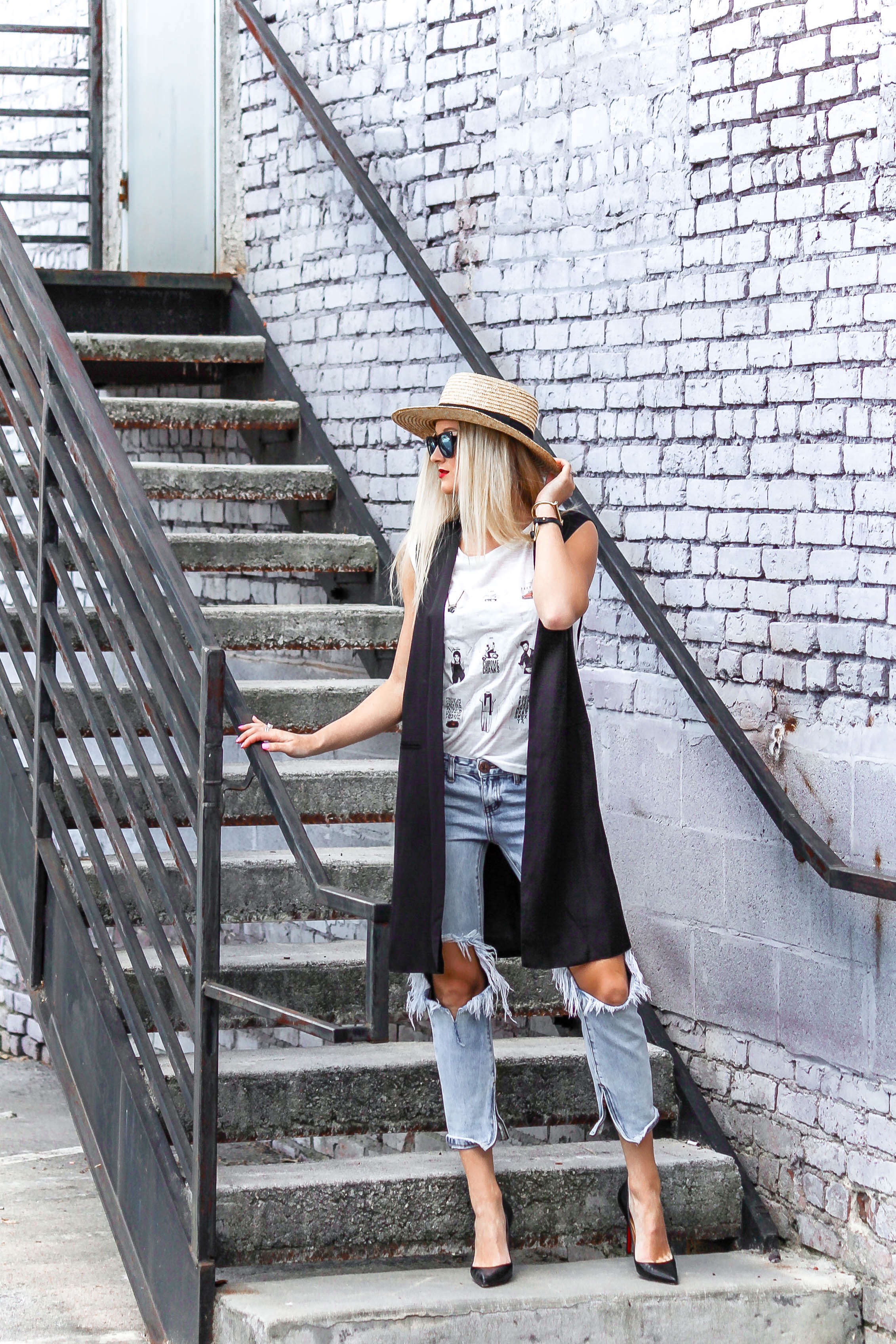 I have to say … I was blown away by all the love you guys shared after yesterday's blog post. Thank you all so much for those of you who commented or messaged me! All of your messages mean the world to me, and I love (more than anything else) getting to hear when one of my posts make a difference in your lives or impact you in a special way. I so appreciate all of your all's continuous support & love every day!
On a lighter note, I want to switch gears and share my top 5 wardrobe MUST HAVES with you all. I find that each of these five pieces are on constant repeat in my everyday style (and when I mean constant, I mean some of them are even on weekly repeat y'all) … So, I thought it may be helpful to share these with you guys so that if you are missing any of these items in your own wardrobe, you could keep an eye out for them the next time you go shopping! I want to make it clear that I'm not necessarily pointing out certain brands as my must-haves, but more importantly, the actual articles of clothing.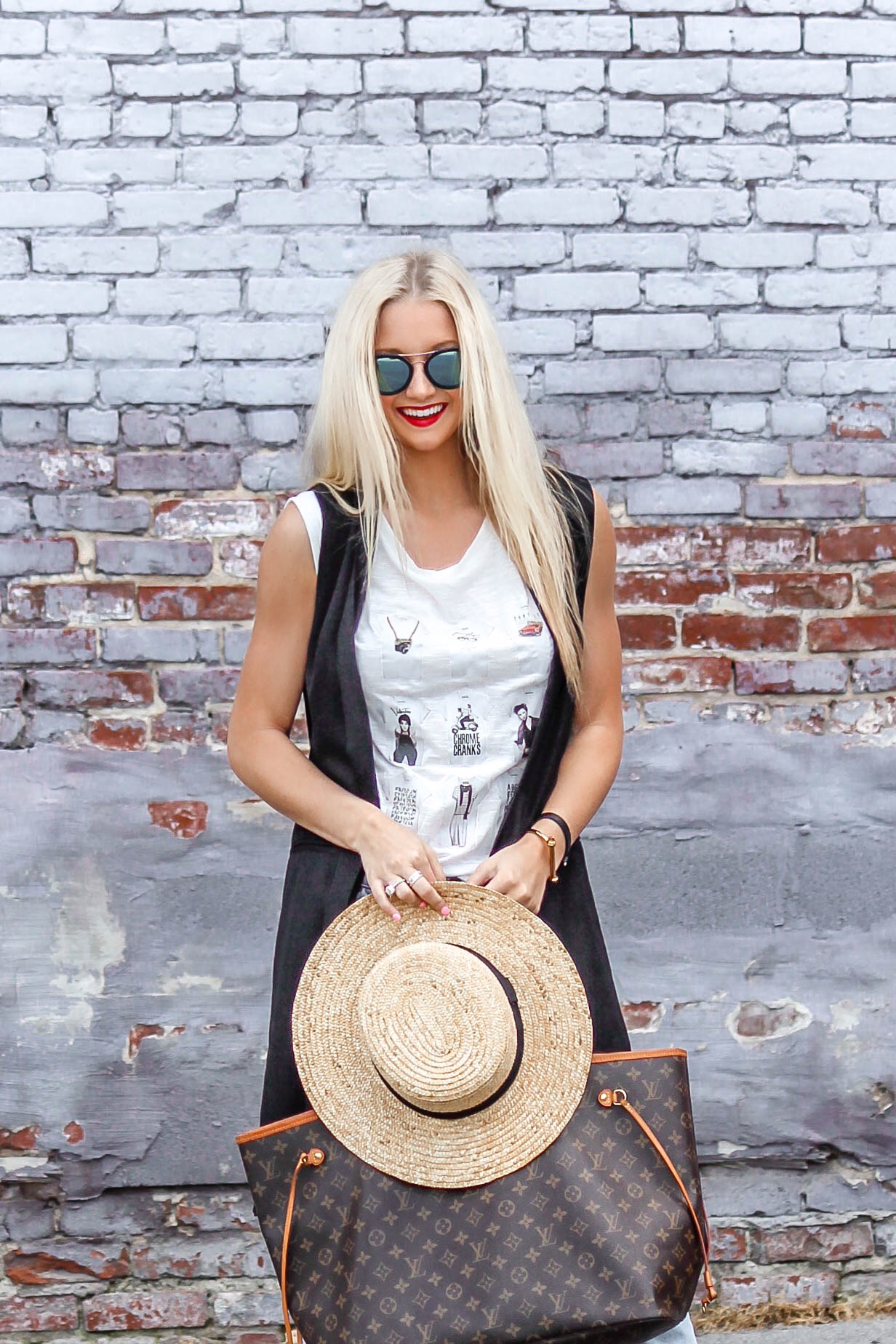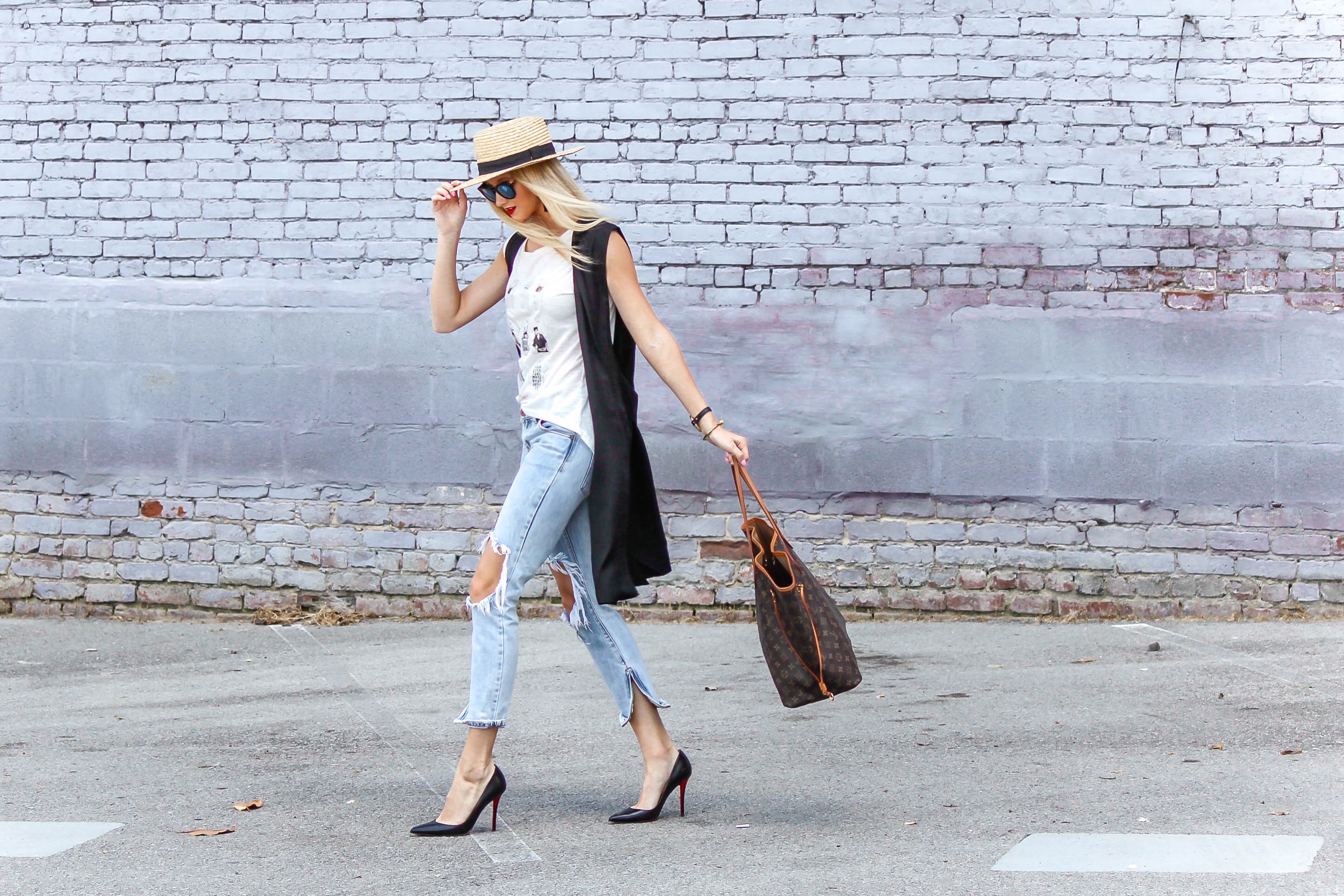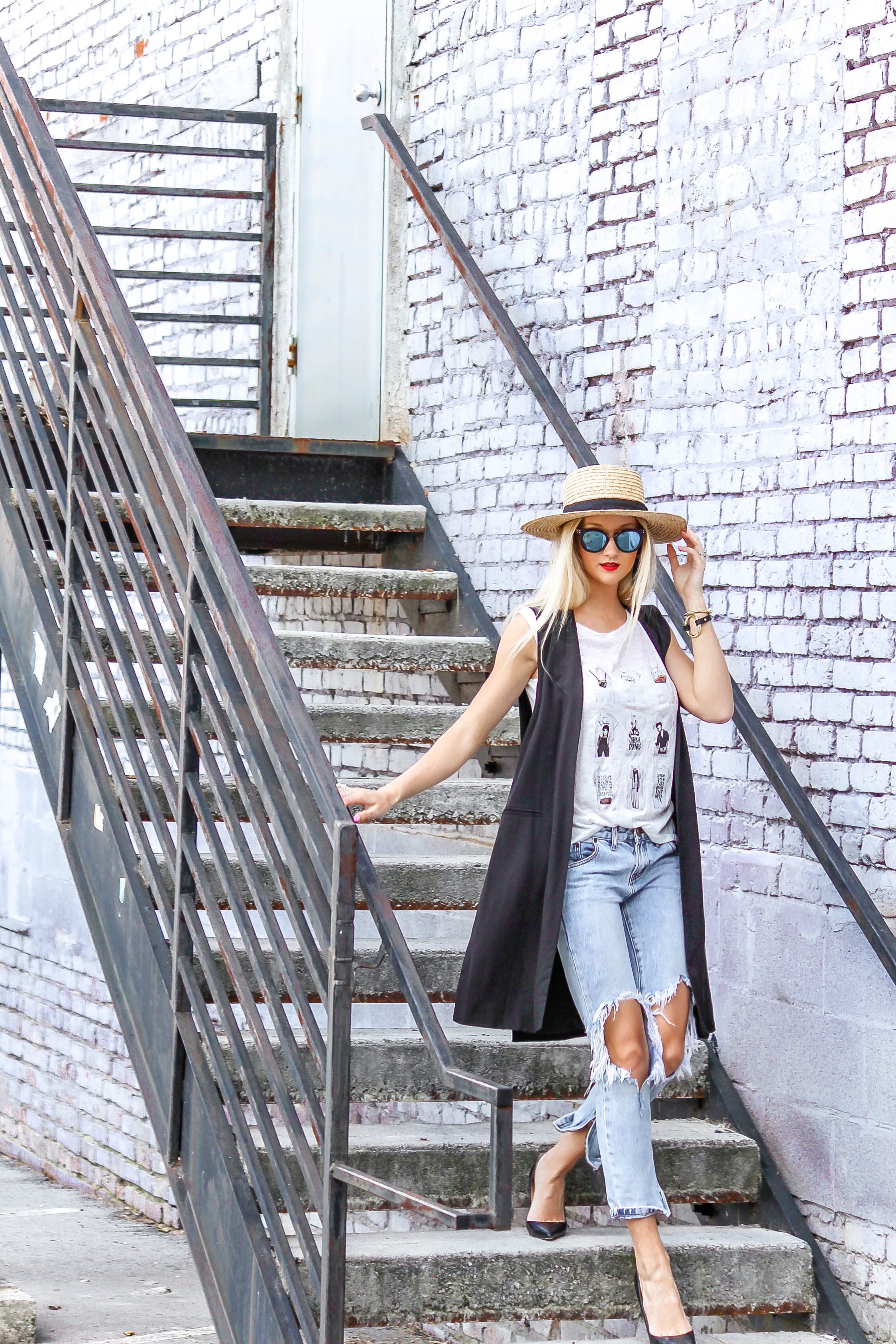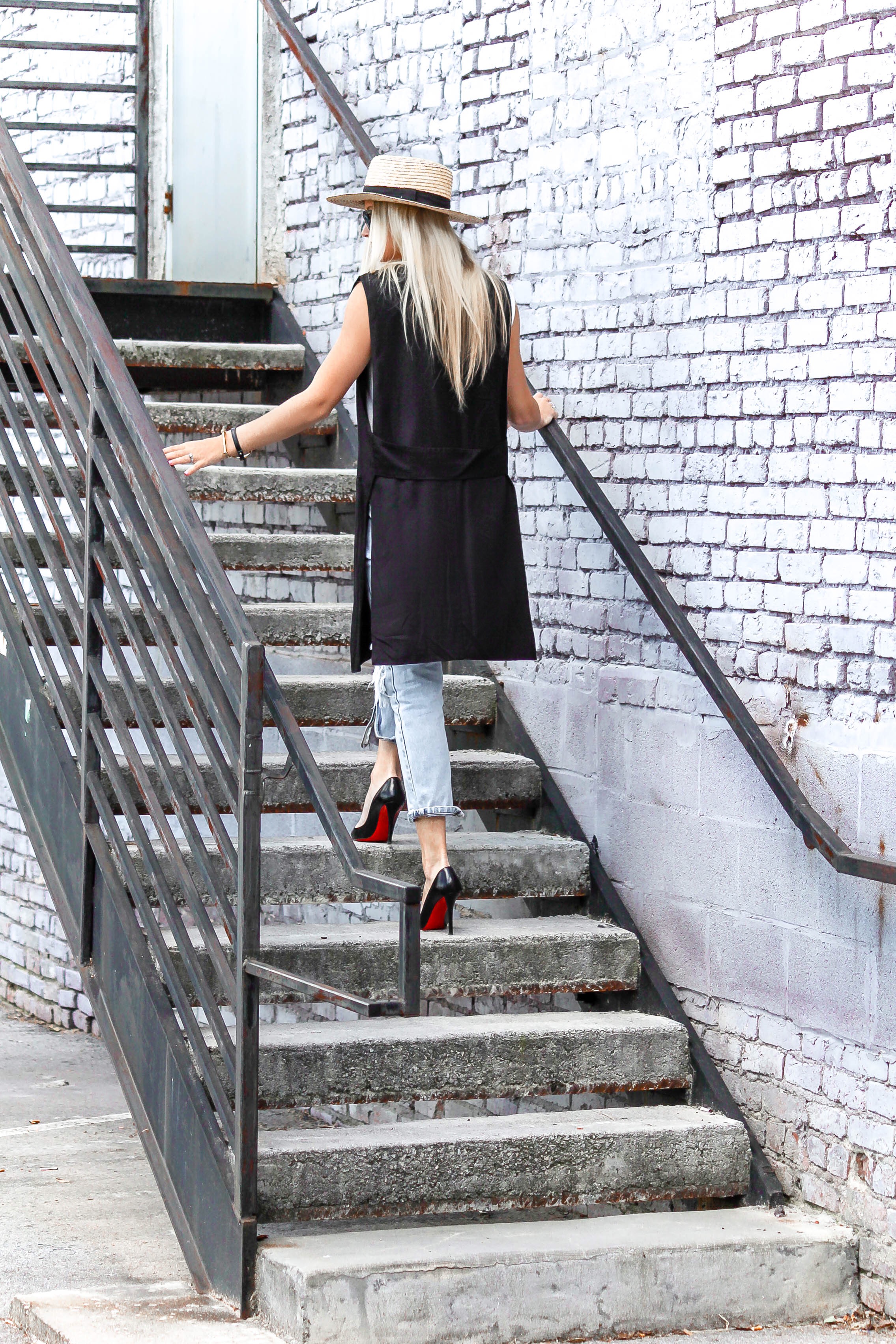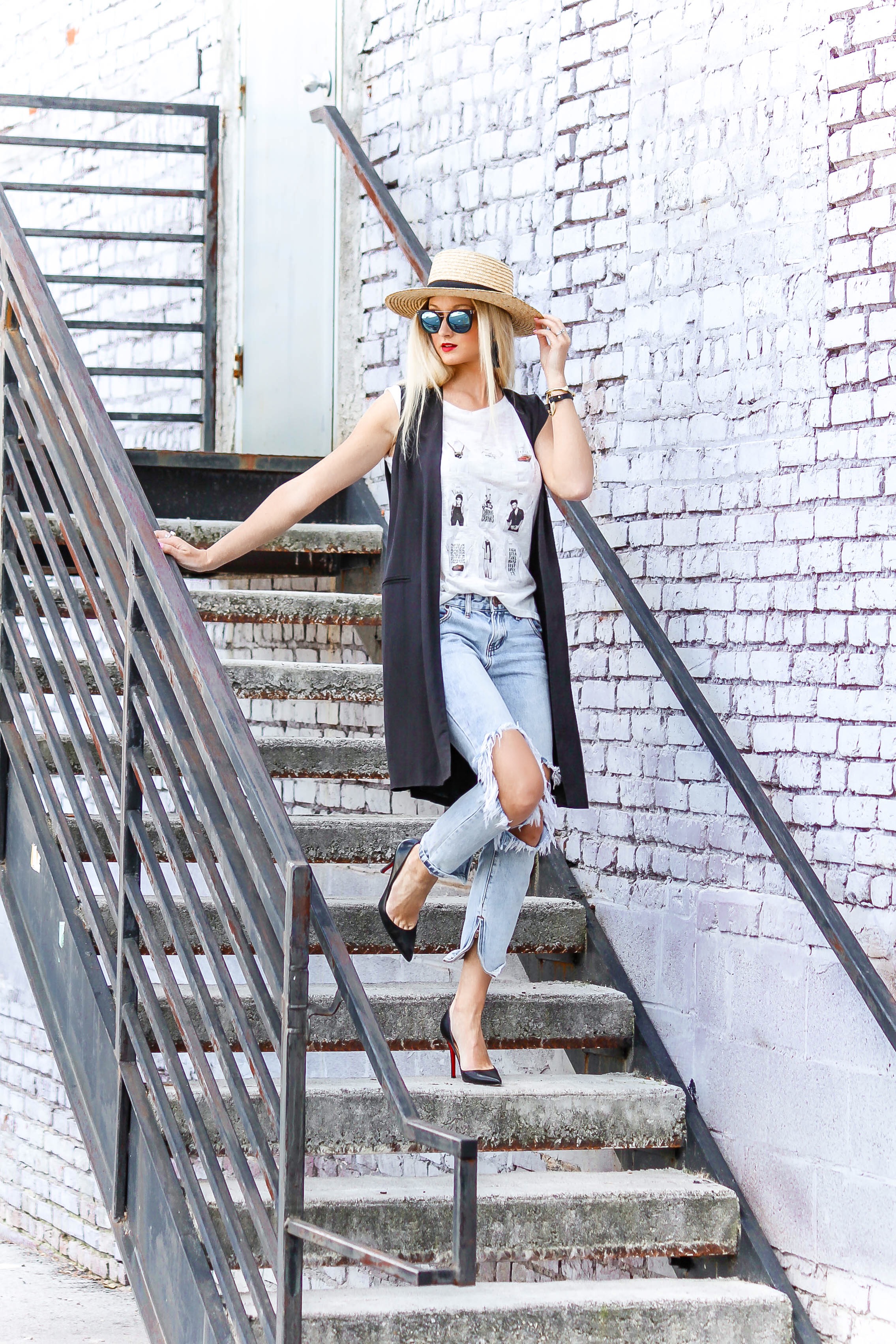 similar graphic tee (more linked below) | black open-front vest (similar – on sale!) | distressed denim jeans (on major sale!) | black leather pumps (dupes HERE under $65) | LV Neverfull handbag | straw boater's hat | black sunglasses (on major sale – UNDER $60!)

1. A good, cotton tee
There's nothing better than a good-quality, cotton tee. Actually, I really love graphics too, but I also have my fair share of plain, cotton tees as well. They are so easy to dress up for work with a blazer, dress sassy/edgy for a date with a leather jacket or a vest, or even to dress down with a casual pair of denim shorts or leggings. Another reason to love this piece is the fact that you can wear it year-round, and they make the best layering pieces. Versatility in your wardrobe is at an all time high when you have a good selections of nice, cotton tees (graphic & solid).
2. A few pair of denim jeans
I say a 'few' because I think it is important to have a fun, trendy pair (i.e. distressed or fringed, etc.), a nice, darker pair to wear to the office for a casual Friday with a cool blazer and pumps, and even a skinny pair to tuck into boots in the winter. If you're like me, once you find your favorite brands in denim, you become pretty loyal to those brands – there's nothing worse than an awkward-fitting pair of jeans. A few of my favorite denim brands are Hudson, One Teaspoon, Express, and Articles of Society.
3. A pair of black leather pumps
Classic. Oh so classic. I'm about to go all Audrey Hepburn & Coco Chanel on y'all right now and tell you that every woman needs a pair of black pumps in her wardrobe. No excuses! They don't have to be a designer brand by any means … that's not the point. But a good pair of black leather pumps are a stand alone closet staple that can also be mixed in with so many different outfits. Yes, they are perfect for the office … but their value doesn't stop there. Pumps can turn a boring white, oversized tee and distressed jeans look into a very on-trend, chic style in a matter of seconds. Overall, your black leather pumps are easily a go-to heel, whether you're dressing professionally, edgy, chic, feminine, or preppy.
4. A go-to hat
Well, of course y'all know I'm a hat person so this one is definitely a must-have in my wardrobe. However, it really should be a staple in every woman's closet because a hat can totally make an outfit. There are times when I'm styling a client or a model or I'm at home finding myself something to wear, and the outfit just looks 'good'. Well 'good' just isn't always good enough … and I kid you not, almost every single time that I add a hat (of course depending on the style of the outfit), the whole look comes together and goes from just 'good' to phenomenal and eye-catching. Be bold. Wear the hat!! *You can read my top 7 tips on why & how to become a hat person HERE.
5. A large tote/handbag
If you're like me, you carry your life in your purse the majority of the time … wallet, phone, hairspray, lipstick, powder, pens, agenda, 14 pairs of sunglasses (wait, maybe that's just me .. LOL), dry shampoo, mail, earphones, chargers, and maybe even an iPad or laptop at times. The list goes on and on. I even carry a smaller wristlet in my large tote incase I have to go in somewhere that I can't carry a huge handbag. I know what you may be thinking … a purse inside of a purse and 14 pairs of shades? Really Peyton?? But hey, ya girl's got a lot of 'necessities'. 😉 The point is, I think it's crucial that every woman owns at least one good quality, good sized handbag or tote. They are perfect if you are always on the go (which many of us are these days) because you can load it up with all the 'necessities', and they are especially great for traveling.
Now that I've shared my top 5 wardrobe must haves … it's your turn! What is something that you have in your closet that you just can't live without? Share your secrets with me because I may have to add them to my closet!
xo, P