Weddings, graduations, bridal showers, rehearsal dinners, proposals, black tie events, engagement pictures, you name it … these special occasions are SO much fun, but they can also bring on a lot of anxiety and stress when it comes to finding the perfect outfit. Trust me, I've been there. It's the week before the event and you're scrambling around town (or searching the Internet) for the perfect dress. Of course, any other time of the year (when you don't actually need a special occasion dress), you can easily find 500 that you love. But go figure … when it comes time to actually needing a dress for that big event next week, you can't find even one half-decent thing that you like enough to buy it. Can I get an amen??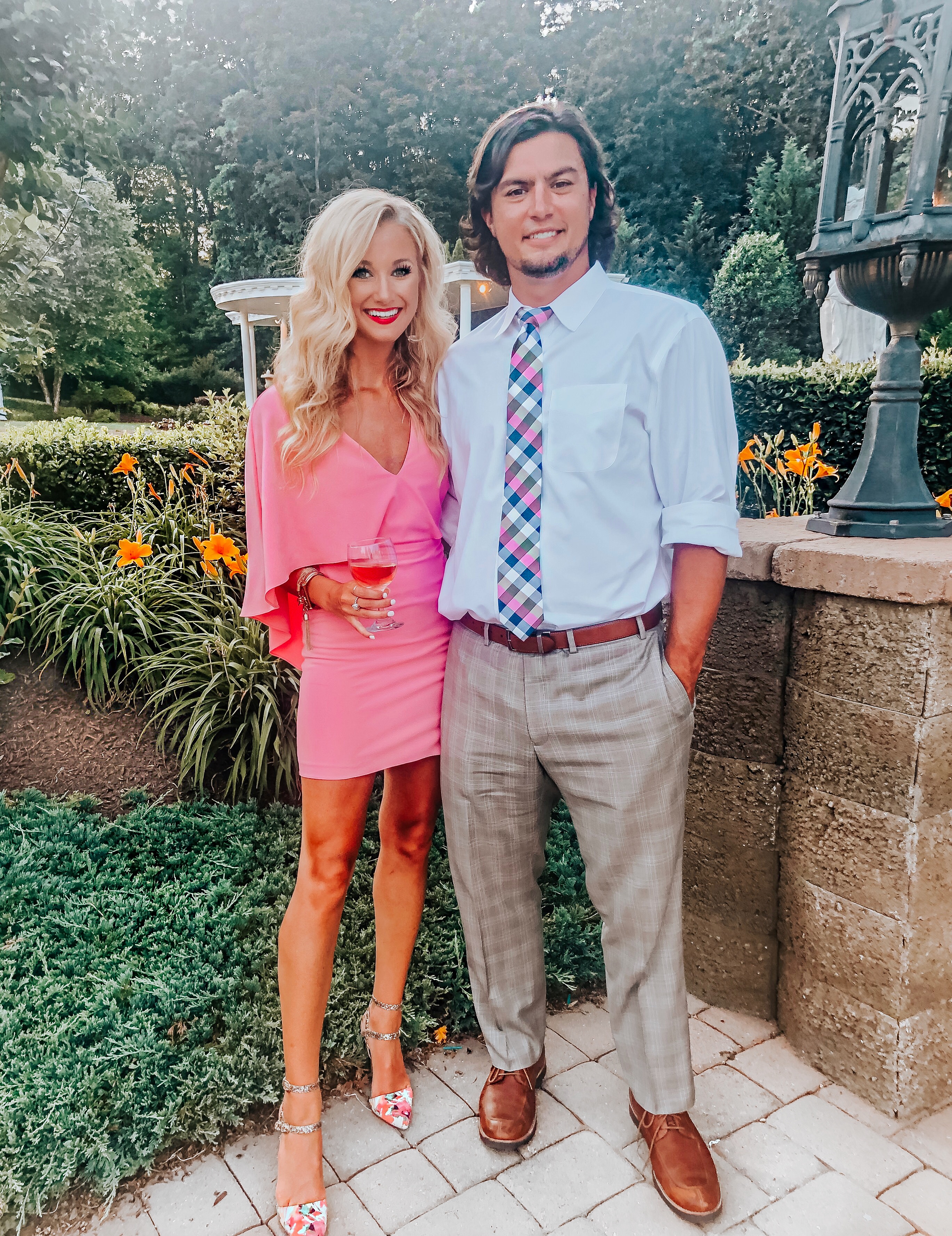 I'm constantly receiving direct messages on Instagram asking where to shop for these styles, so let's just say that this blog post is loooong overdue. I finally gathered my top suggestions of retailers to shop at for these special occasions, and I hope you find it helpful the next time you find yourself in a rut a week before an event.
1. Nordstrom: We actually found a lot of my bridesmaid dresses (by Adrianna Papell) here. Nordstrom's online shop has any and every length and style of dress for literally any special event that you could imagine. When in doubt, always check here first! (And be sure to search these designers: Adrianna Papell, Bardot, Free People, Leith, BP, Show Me Your Mumu, Wayf, ASTR The Label)
2. Rent the Runway: I recently tried out Rent the Runway for a wedding we attended (see photo above) and really enjoyed the service! I had the unlimited monthly membership, so that meant I was allowed to rent clothing/accessories for the entire month. (If you end up loving the rental, RTR gives you the option to purchase the apparel.) I chose 4 items to rent, and they were delivered straight to my doorstep within a week. They arrived in a black garment bag on hangers *insert praise hands!* and they were wrapped in plastic! I loved the service because they allow you to choose several options and sizes in case something arrives and it doesn't fit properly. The pink dress I'm wearing in the photo above retails for $295, but I got to rent and wear it for only $30!! You just can't beat that and yes, it was in perfect condition like it had never been worn before. I love any opportunity to wear something high-end without breaking the bank.
RTR allowed me to keep the items for the month, so I got to wear all 4 pieces (see the top I rented here) and when I was ready to return the apparel, I just had to place the items in the bottom of the garment bag, attach the prepaid return shipping label they provided to the bag, and put a lock (also provided) on the zippers to ensure that the bag stayed closed during shipment. They even let you keep their hangers, and best part of all, they take care of all the dry cleaning!
This is definitely my most recommended spot to shop for high-end, formal / semiformal attire. They have so many designers and options to choose from for every single occasion, and the customer service is top notch!
3. Revolve: This has always been a top favorite of mine because this retailer offers such unique, HIGH quality apparel. I love so many of their designers (House of Harlow, Lovers + Friends, For Love and Lemons, & Tularosa being a few of my top faves!) and I honestly can never find such unique pieces at other retailers as I can at Revolve. I will say that some of their pieces can get super pricy, so you have to be careful when browsing their site. Sometimes, I'll find myself shopping on there and see something I LOVE only to find out that it's over $500 for a shirt. Yikes! However, I always filter the pricing to my desired spending limit, and it helps to narrow down the selection. And trust me, you'll be able to find TONS of adorable dresses, sets & rompers for $50-200. Totally worth checking out their site!
4. Express: Express doesn't get the credit it deserves because they always have on-trend, affordable dresses and special occasion attire. There have been so many times when I have completely waited until the last minute before a special event and hurried over to our local Express to grab an entire outfit that looked like I planned out months in advance! Plus, they always have a wide selections of affordable jewelry and accessories to complete your look.
5. Dillard's: Similar to Nordstrom, Dillard's is also a favorite of mine when I can't find the perfect outfit. My favorite section in Dillard's is hands down BCBG. I can't even count on two hands how many times I've rushed into our Dillard's at the mall to grab a new dress or jumpsuit from BCBG for an occasion. All of their pieces are classy, yet on-trend, which is a must when you're styling an outfit for special events. If BCBG isn't your style or desired price point, Dillard's still offers so many amazing brands (Free People, Sugar Lips, Michael Kors just to name a few) that would easily make the perfect outfit for you!
---
Shop the post:

I hope this will be a helpful resource for you to refer back to the next time you are frantically searching for an outfit to wear to your photo shoot, a wedding, a class reunion, etc! Thank you so much for stopping by, and as always, feel free to leave any questions you may have in the comments section below this post!
xo, P