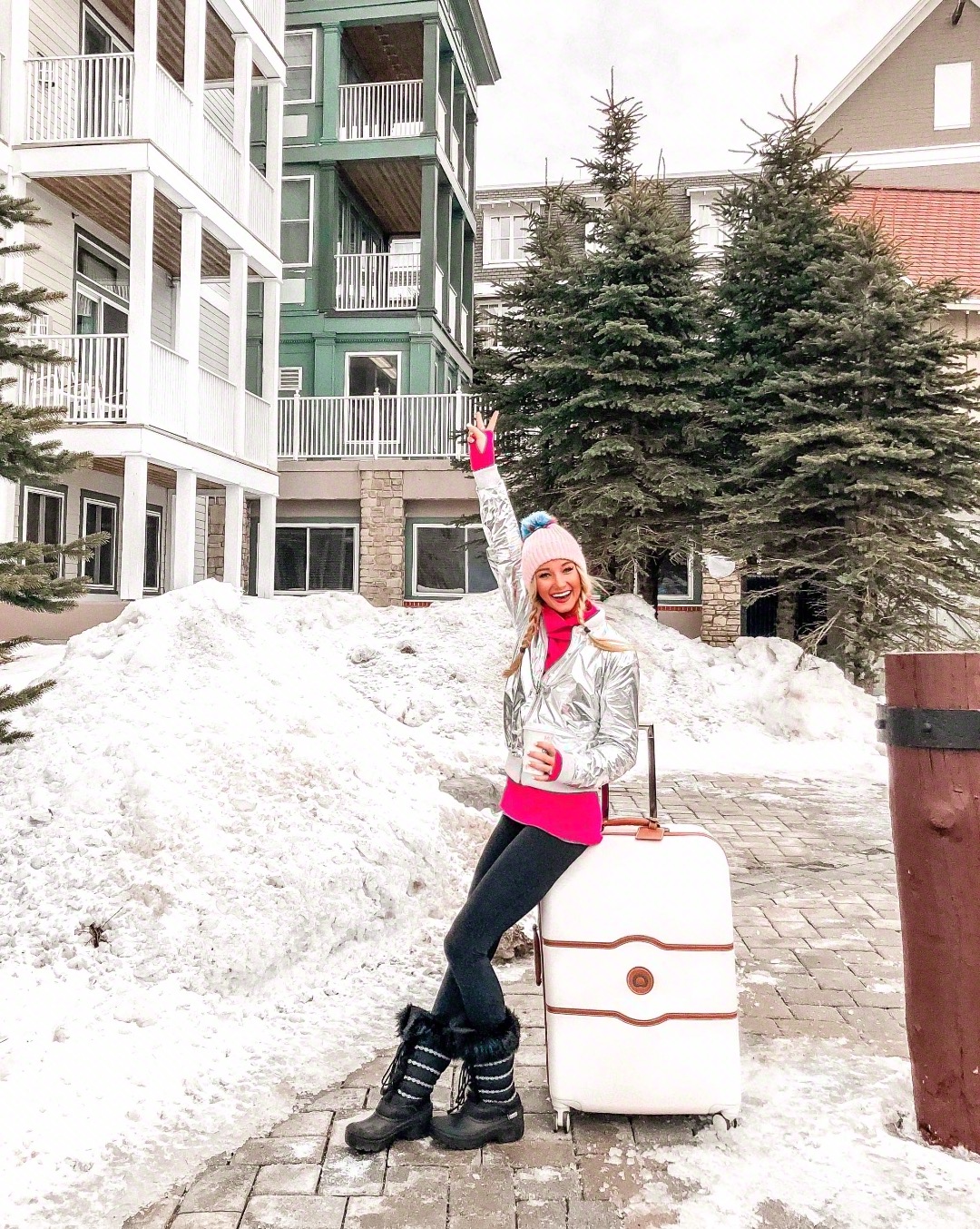 luggage: Delsey USA (You can use my code: LOVENLABELS25 for 25% off your entire purchase at Delsey)

Teej and I recently took a trip to the beautiful Snowshoe Mountain in West Virginia with some of our closest friends. We have been going here for a few years now because we think it is the best place to go for skiing / snowboarding on the East Coast, and it includes the cutest, snowy village on top of the mountain.
With many open trails for skiers / snowboarders of all levels, this is the primary place to go with a large group of friends in the winter months. Even if someone in your crew isn't into all the snow activities, there are still lots of shops, restaurants and a brewery to keep everyone in your group entertained!
Over the years of traveling to Snowshoe Village, we have stayed at a couple of different condos. This year, we stayed at the Highland House. (By the way, this entire post is completely not sponsored. Just sharing all the details with you guys because a lot of people seemed interested in booking a trip here so I want to be as helpful as possible!)
We loved staying at the Highland House — we had a group of 8 people attending and we booked a 3 bedroom, 2 full bath condo and it worked out perfectly.
In the past, we've also stayed at Allegheny Springs, and it was super nice! We love that one! This year, we booked our trip a little later so Allegheny was fully booked, but if I had my choice in the future, I would still book with Allegheny going forward. It's so nice and it's literally right off the slopes. Both the Highland House and Allegheny Springs are ski-in / ski-out style (which is SO nice!!), but I feel like Allegheny was a tad nicer and was a little closer to the main slopes. So, just keep that in mind when booking!
---
When it comes to where to eat at Snowshoe, you can't really go wrong with any restaurant on the mountain. However, I'll point out a few of my favorites:
Cheat Mountain Pizza: MY FAV!! And I highly recommend the White Mountain pizza. It's the best (in my opinion). OMG – now I'm craving it so bad, y'all!! If you're a meat lover like my hubs, he gets the Choker and it's so good as well!
The Junction Restaurant: This is always a great go-to because they have a little bit of everything. I love their burgers, chili, and hot chocolate drinks to warm up from the cold. Their specialty, hot chocolate drinks include a splash of adult beverage with the best hot chocolate in the world and it's the perfect drink to thaw you out from the cold! We really enjoy going here for lunch, specifically.
FoxFire Grille: This is also a popular option of ours because it offers MANY different options to please everyone in your group, but I'll warn you that it gets pretty full really fast and you may have to wait awhile for a table! I highly recommend sending someone down to the restaurant early on to go ahead and put your name on the waiting list and then you can relax in your hotel room until it's time for lunch / dinner!
There are many other dining options listed here so you can see what all is available!
---
My most favorite thing about Snowshoe as a whole is that it's just one big village on top of the mountain. If you stay in the village, you don't even have to get in a car to drive anywhere the whole time during your stay because everything is within walking distance, which is really nice! The only reason you would really need to drive anywhere is if you wanted to go night skiing at their trails across the street, called Silver Creek. However, what's nice about this is that they offer a free shuttle service that will take guests over to Silver Creek and back to the village, so that you don't have to worry about getting your car out or driving. It's really convenient!
---
Now, time to flashback to some of the memories we made on this trip … Enjoy!!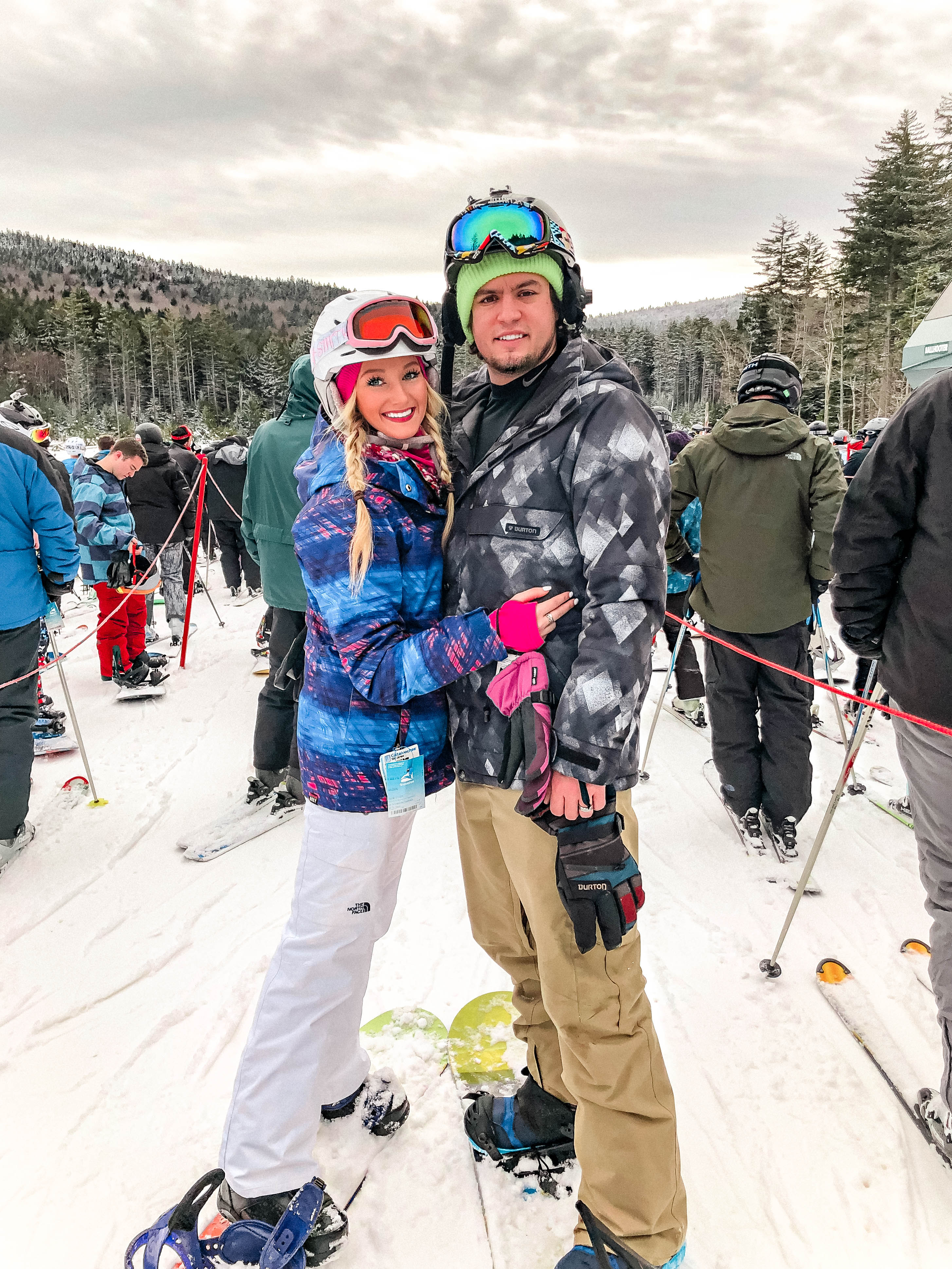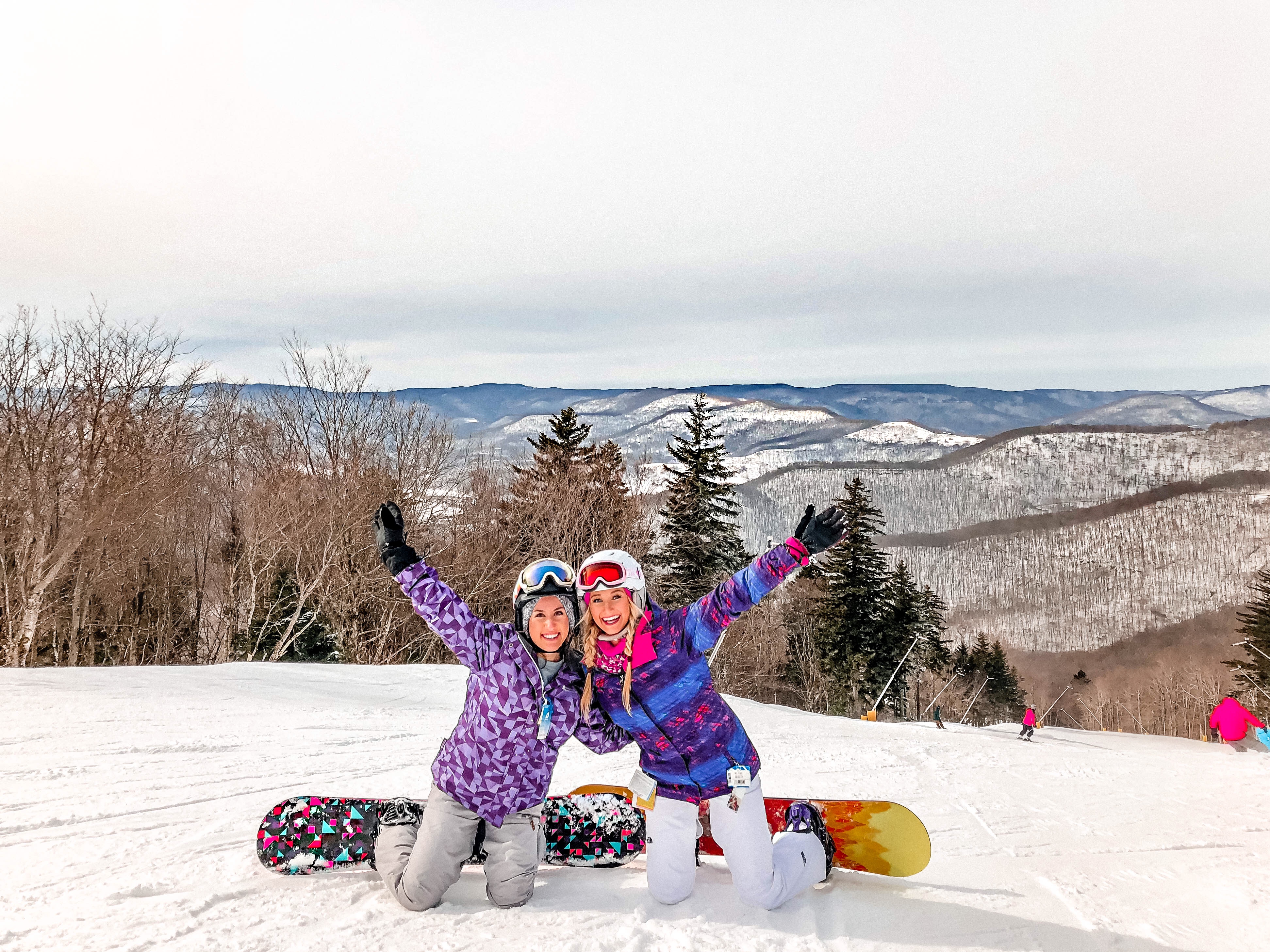 That view though!!! I mean, stunning! We had to pause for a photo op, of course.
PS – this is one of my best friends, Hana Shea. She and I have been friends for so long, and I'm so glad she always agrees to be adventurous with me!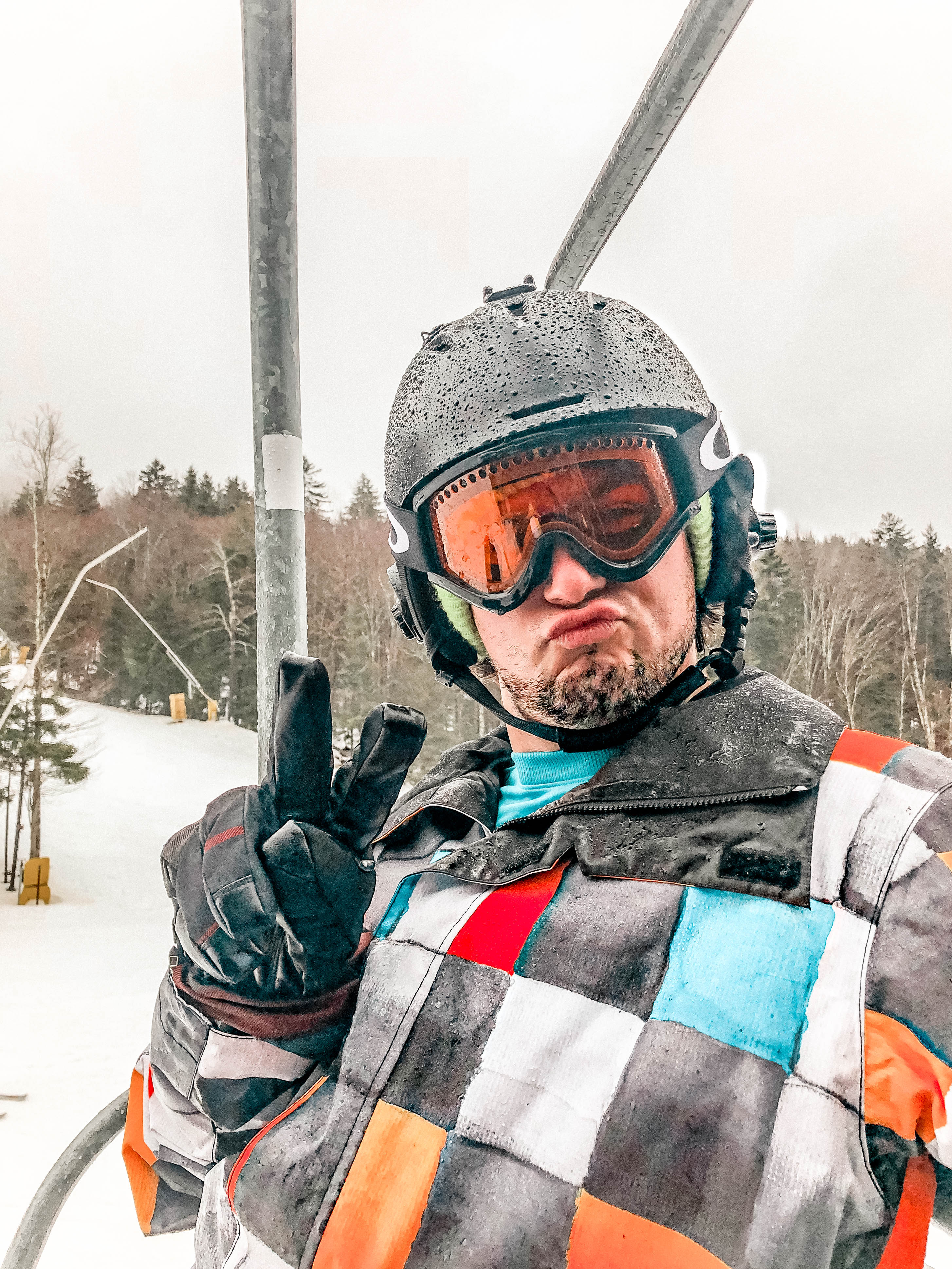 This stud .. 😉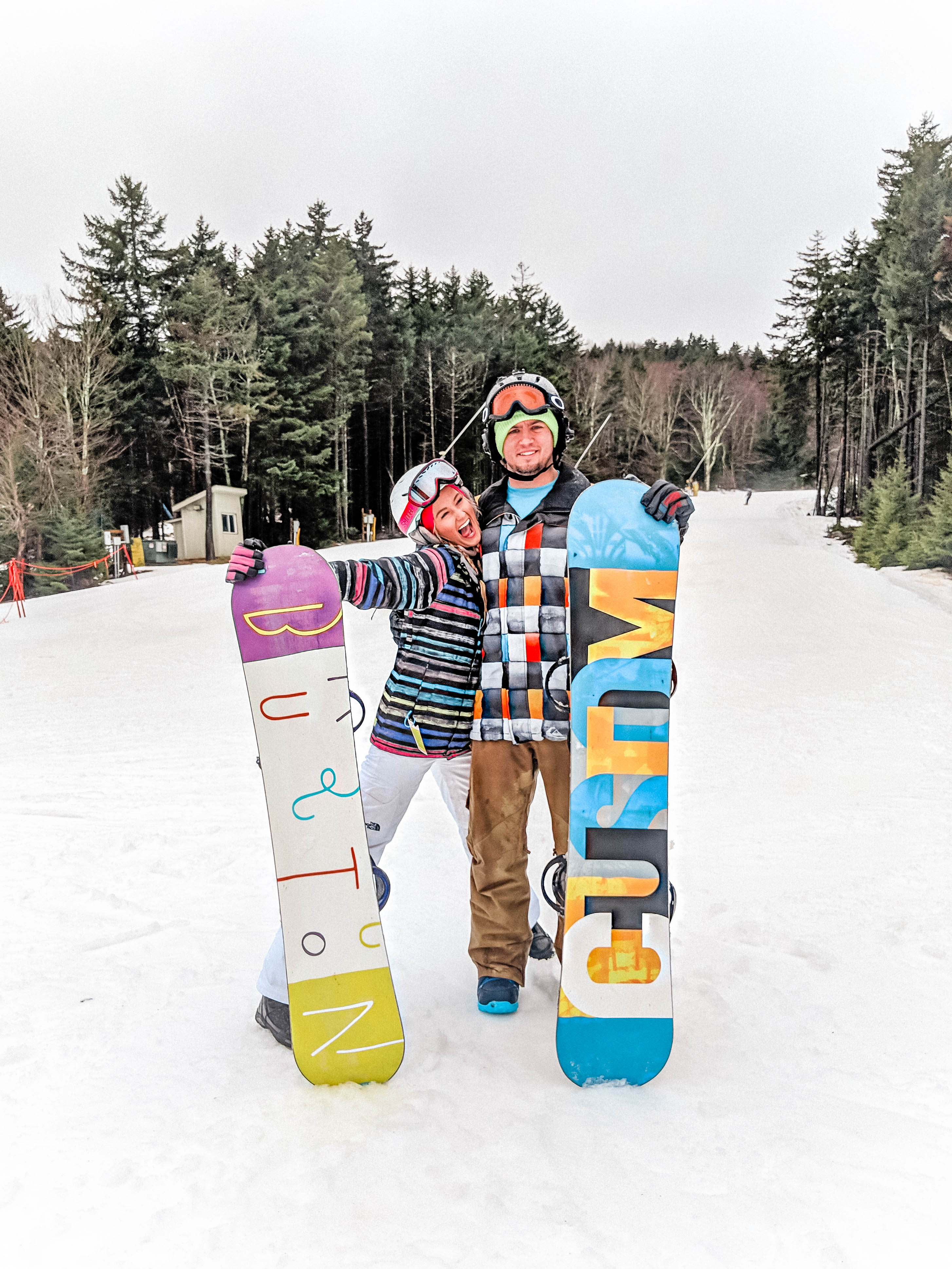 Yes, I'm a weirdo. Life is more fun that way, right?!!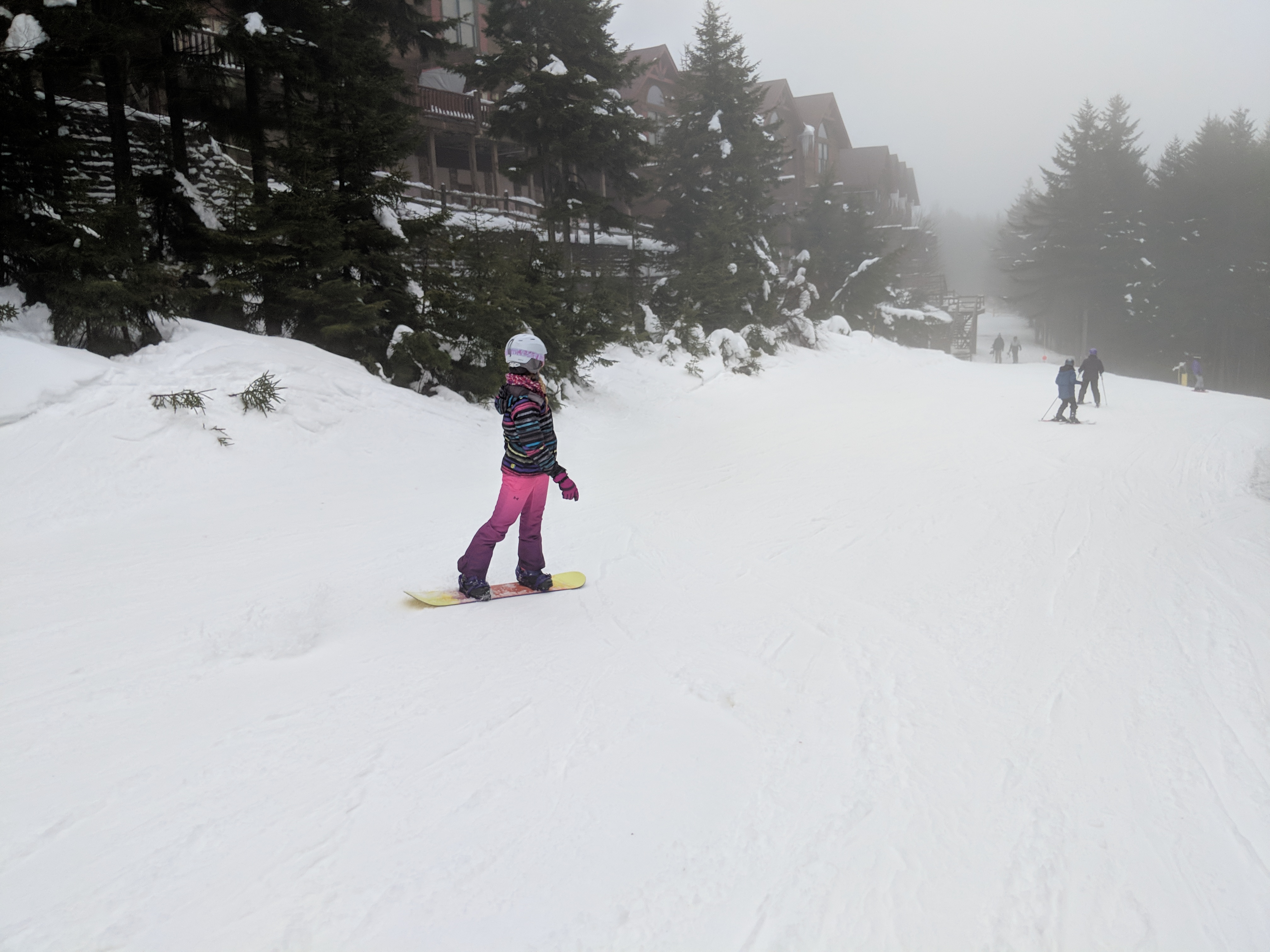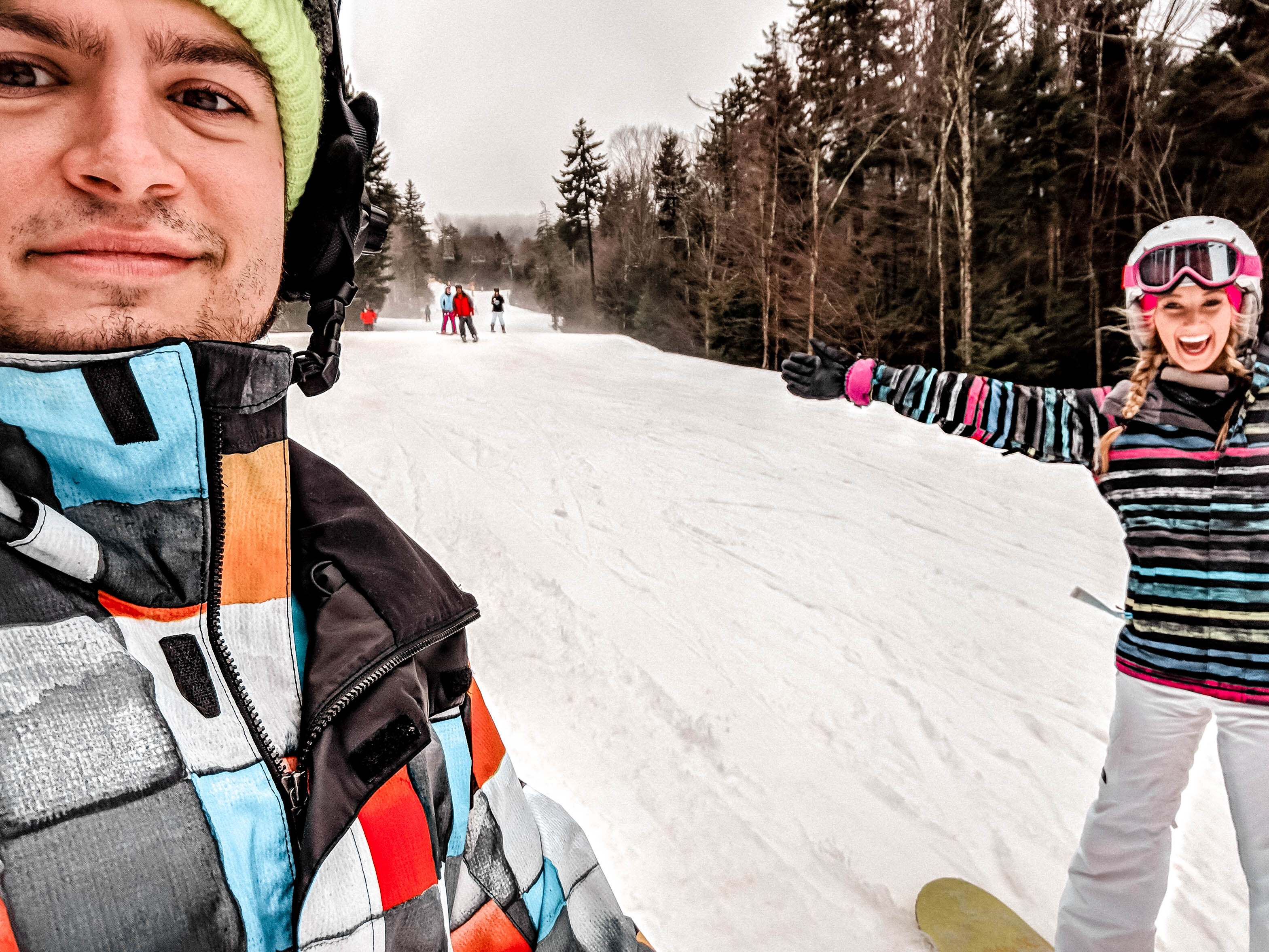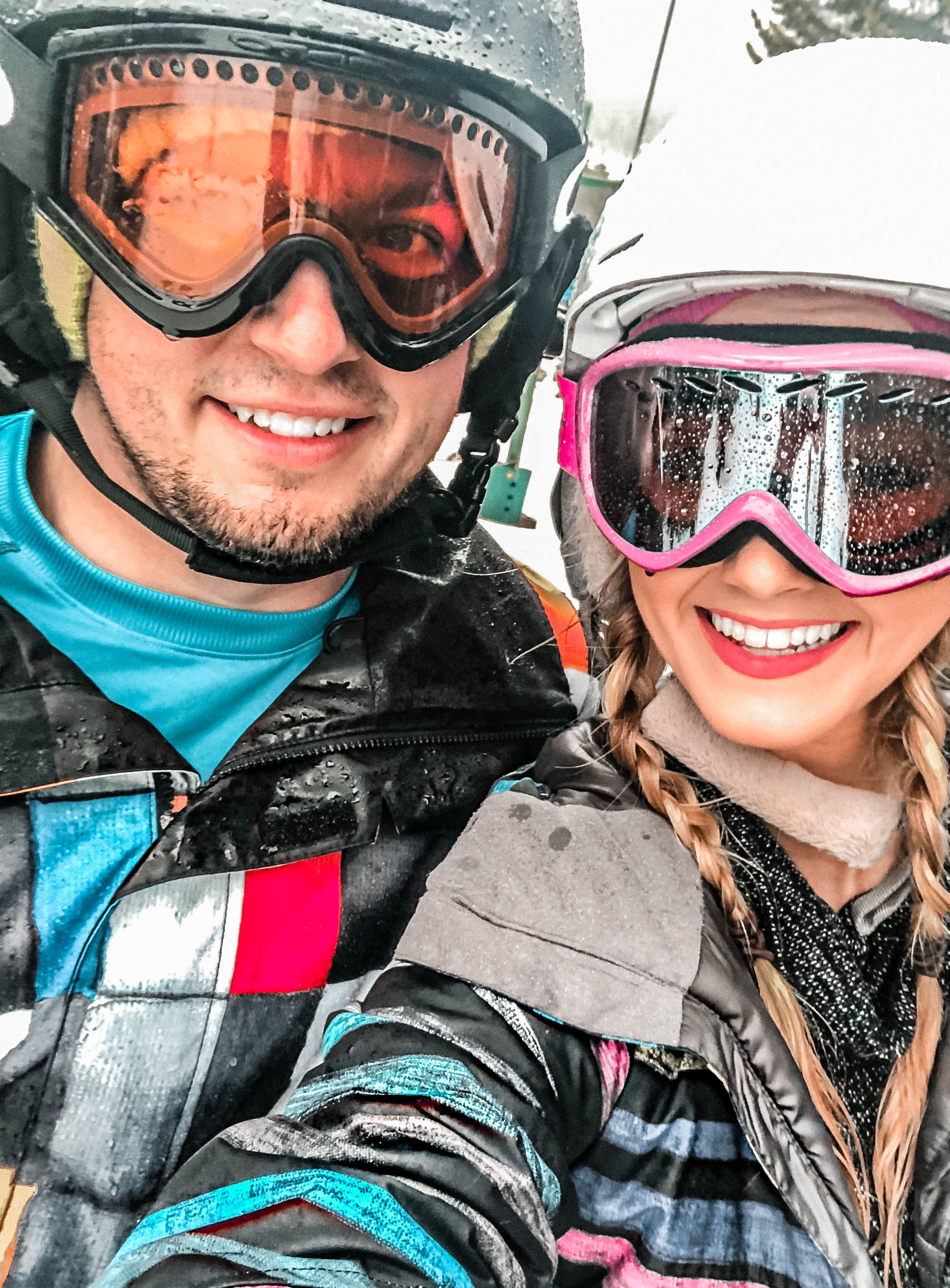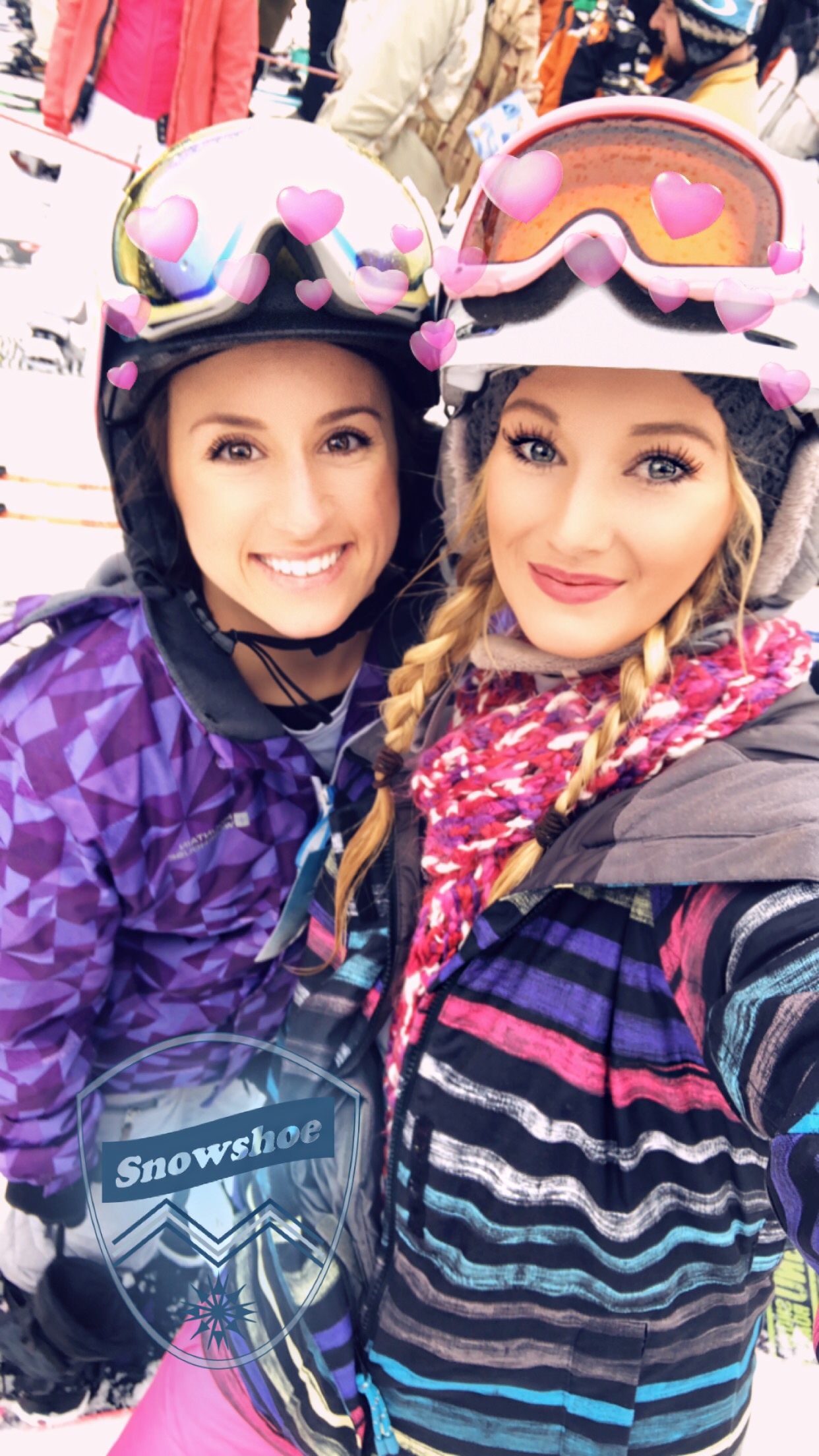 Just a few snaps from my iPhone! I really tried hard to just relax and actually use this trip as somewhat of a vacation instead of working or shooting 'insta-worthy' camera photos 24/7. I hope you all still like these!! 🙂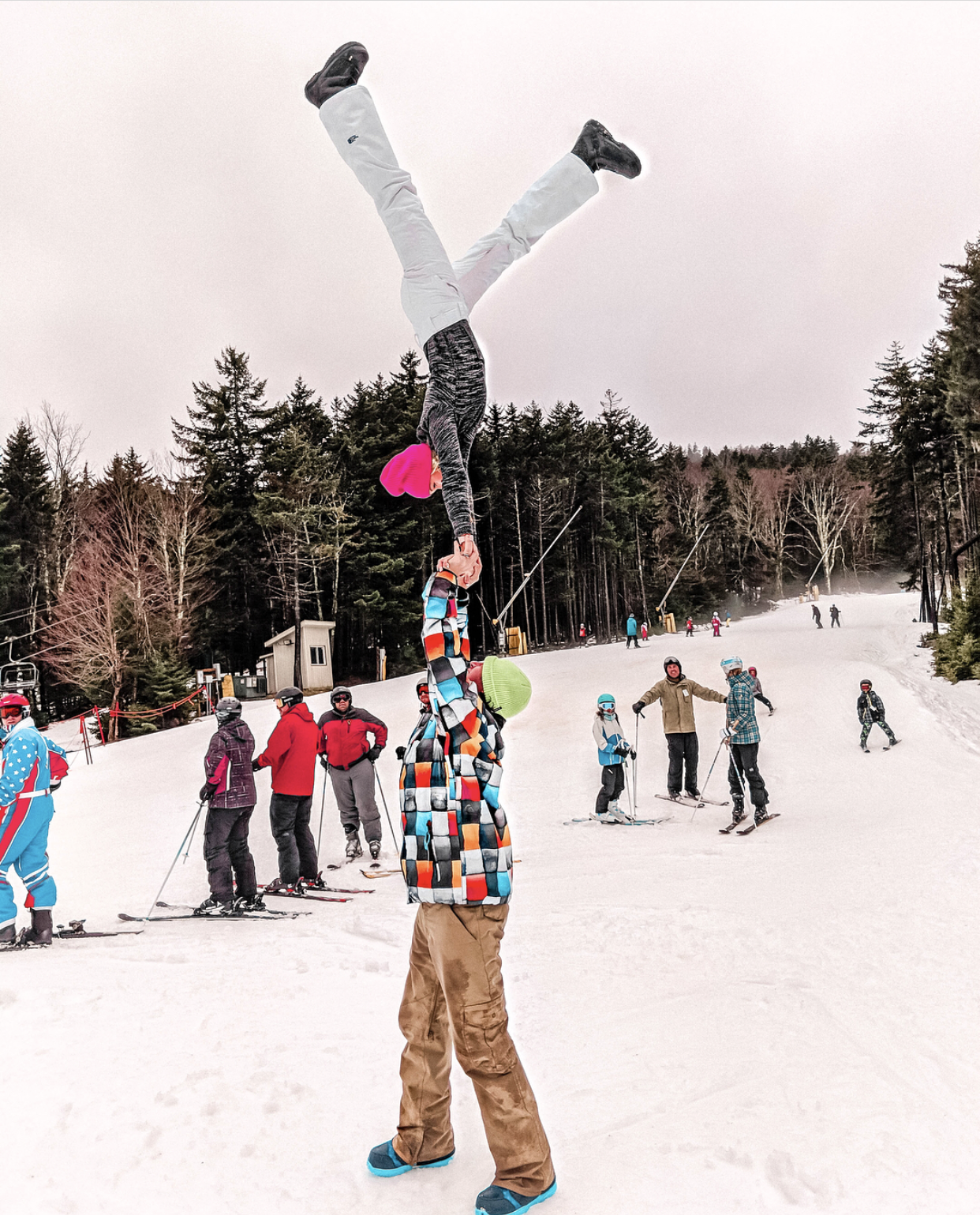 Fun fact: Teej and I haven't stunted in MONTHS! AHHH, I'll admit, I was a little hesitant to think we could actually hit this hand-in-hand in snow gear, LOL. Everything is so bulky!! So, it was a definite test for us!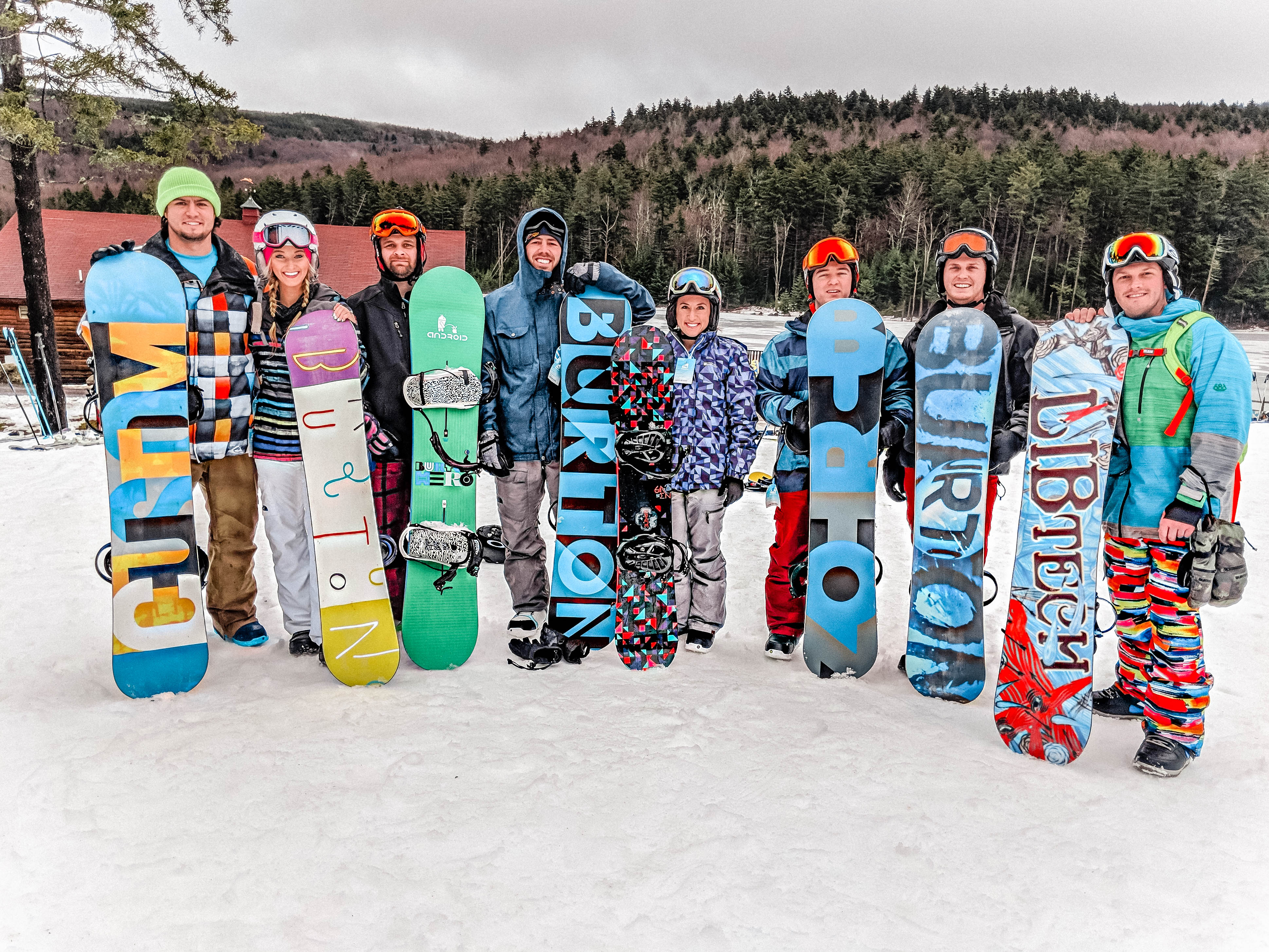 The crew – so thankful for these people that we get to call our second family!
**My snowboarding gear – jackets, pants, snowboard, etc. – are mostly 4-5 years old now, so I can't link any exact items. I can tell you that my jackets & my snowboard are Burton, my white pants are North Face and my pink pants are Under Armor. I hope this is helpful — as always, feel free to reach out to me with any questions!
---
Hope you all enjoyed this roundup of our recent trip with some of our best friends! We all love snowboarding — it's just sometimes hard to find decent places to ski/snowboard here on the east coast. But, so far, Snowshoe has been the best place over on this side of the US – by far!!
I still haven't been out west for a snowboarding trip — Teej has been, and he said that there's just NO comparison after you experience the snow out on that side of the country. I can't wait to see it for myself one day soon!! Until then though, I can highly recommend to y'all that you should plan a visit to Snowshoe Mountain for a long weekend. Even if you're not a snowboarder … there is still so much to do! Like snowmobiling for example, that is one thing I've always wanted to try but I just never have taken the time to do it! They even offer that activity at Snowshoe Mountain. I can't recommend this trip enough for a weekend getaway!
Are there any places that you like to visit time and time again? TJ and I are always looking for new places to visit, so please share below if you have any ideas of trips that we must go on in the future. 🙂
xo, P