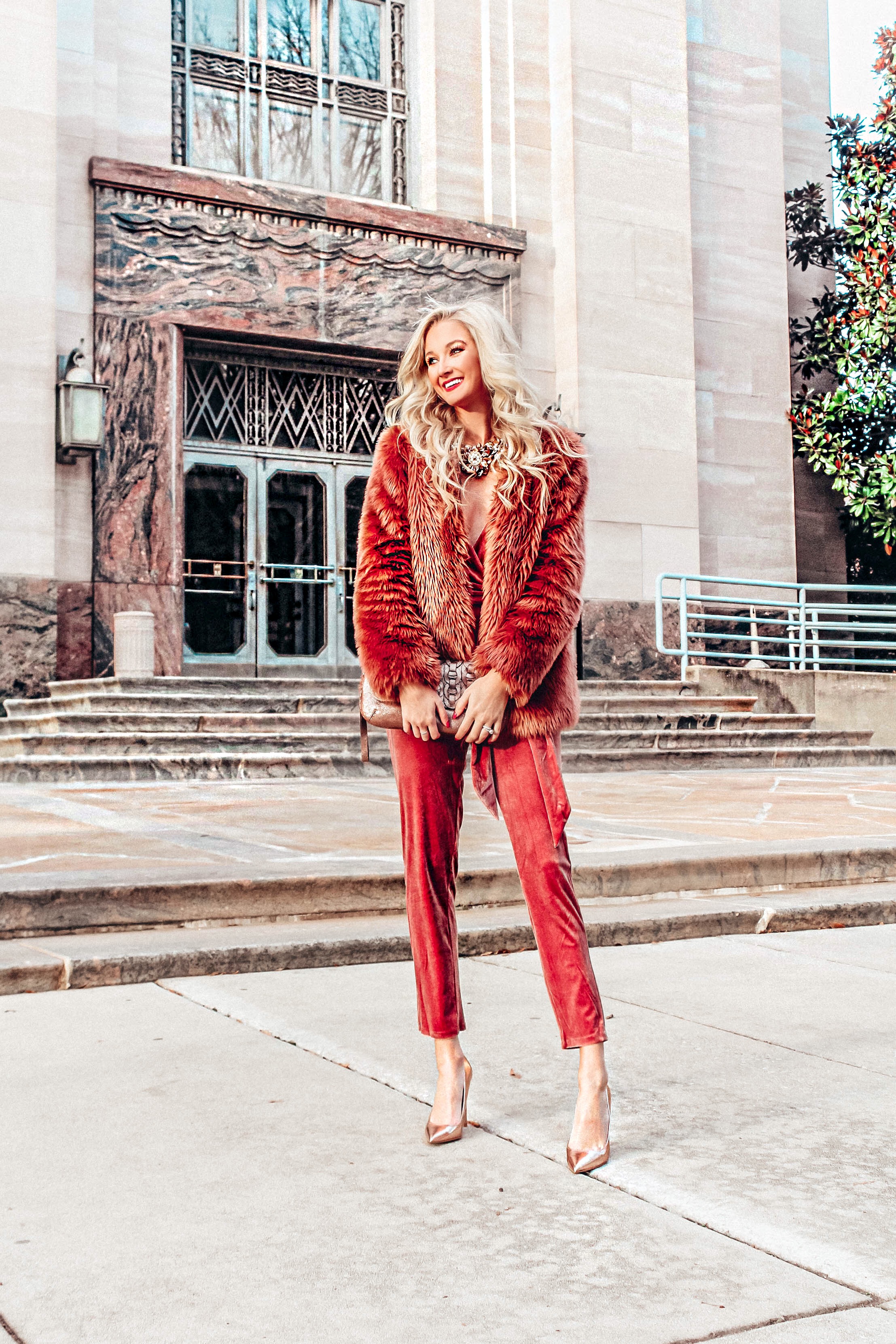 Time to find your New Years Eve #ootn STAT! It's only 4 days away! I feel like NYE always creeps up on me because I'm still in the Christmas spirit for a few days after December 25th, so if you tend to wait 'til the last minute (like me) on finding a cute outfit of the night for NYE, I've got your back!
Here are some fabrics and styles to look for when shopping for your New Years dress (or romper, jumpsuit, etc.). These will all 'look the part' and keep you on trend for the one night of the year when you'll definitely want to turn heads:
Sparkle: We all know this one. It's a given. Sequins, beading, shimmers, etc. 'TOO much' is not really a thing on New Years Eve, so feel free to go all out (tastefully, of course). Just be sure to check the dress code of the party, restaurant or event you'll be attending.
Fur: Furs always dress up any outfit & take your entire look up a notch. Even if you plan to wear a simple LBD, you can dress it up for the occasion with a pair of sheer tights & a faux fur coat.
Velvet: With velvet being such a huge trend right now, I expect to see a lot of people taking that route instead of the traditional sparkly outfits that we see every NYE. Velvet is such a fun fabric because you can really dress it way up or wear it a little more casual (depending on the event you'll be attending).
You're pretty safe when it comes to these 3 fabrics on New Years Eve because they each make a bold statement and can all be worn and styled so many different ways.
Pro tip: Be sure to wear (somewhat) comfortable heels (because are there really such things as heels that feel like Uggs? No.) if you plan to do a lot of walking. I have learned this lesson one too many times and for some reason, I still haven't fully listened to my own advice, LOL. One year, I wore peep toe heels and I was literally ready to cut off my toes because they were hurting so bad by the end of the night (*smile through the pain, Peyton* … geeez). However, I'll say that the older I get, the wiser I am about my shoe choices for nights like NYE … most of the time. 😉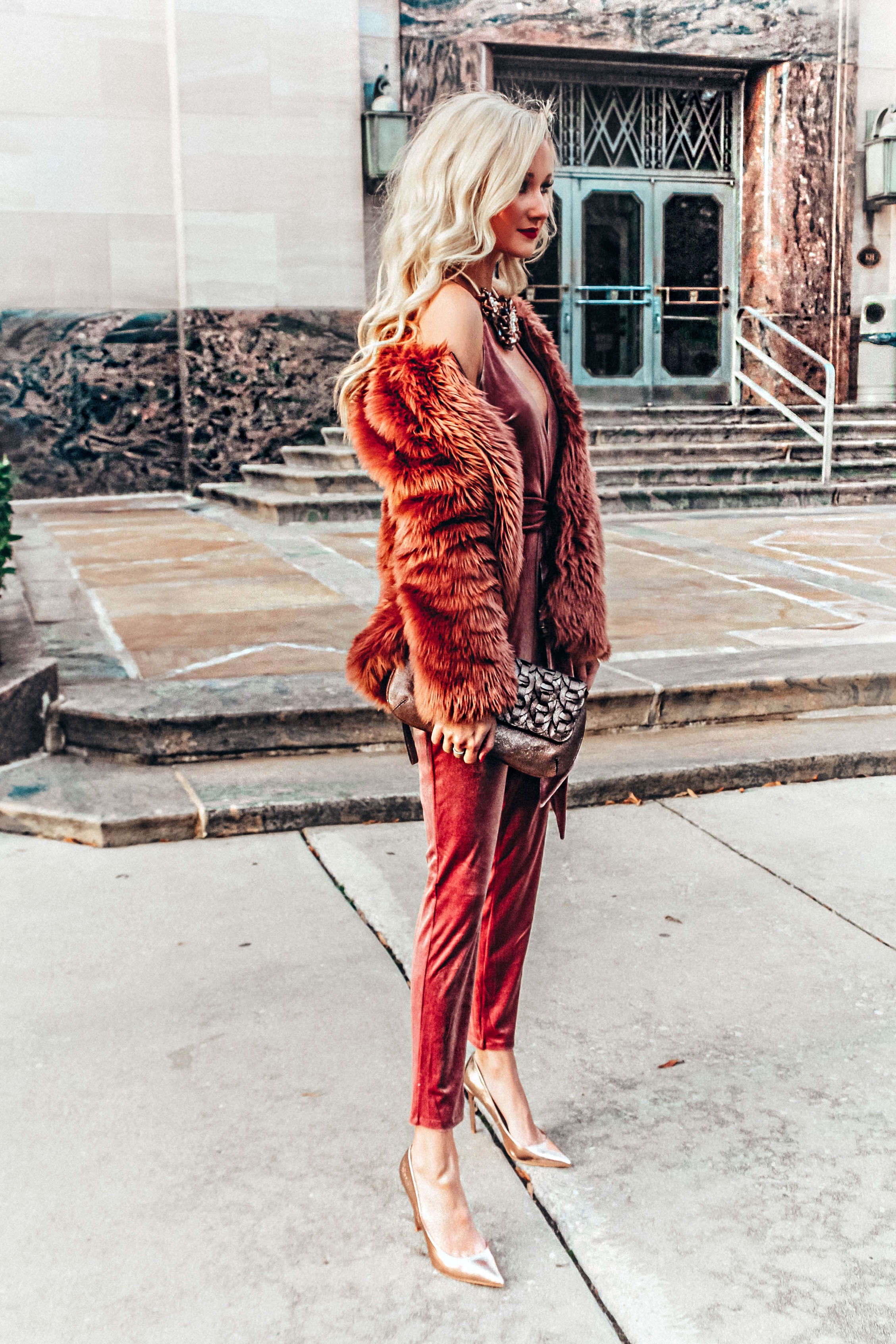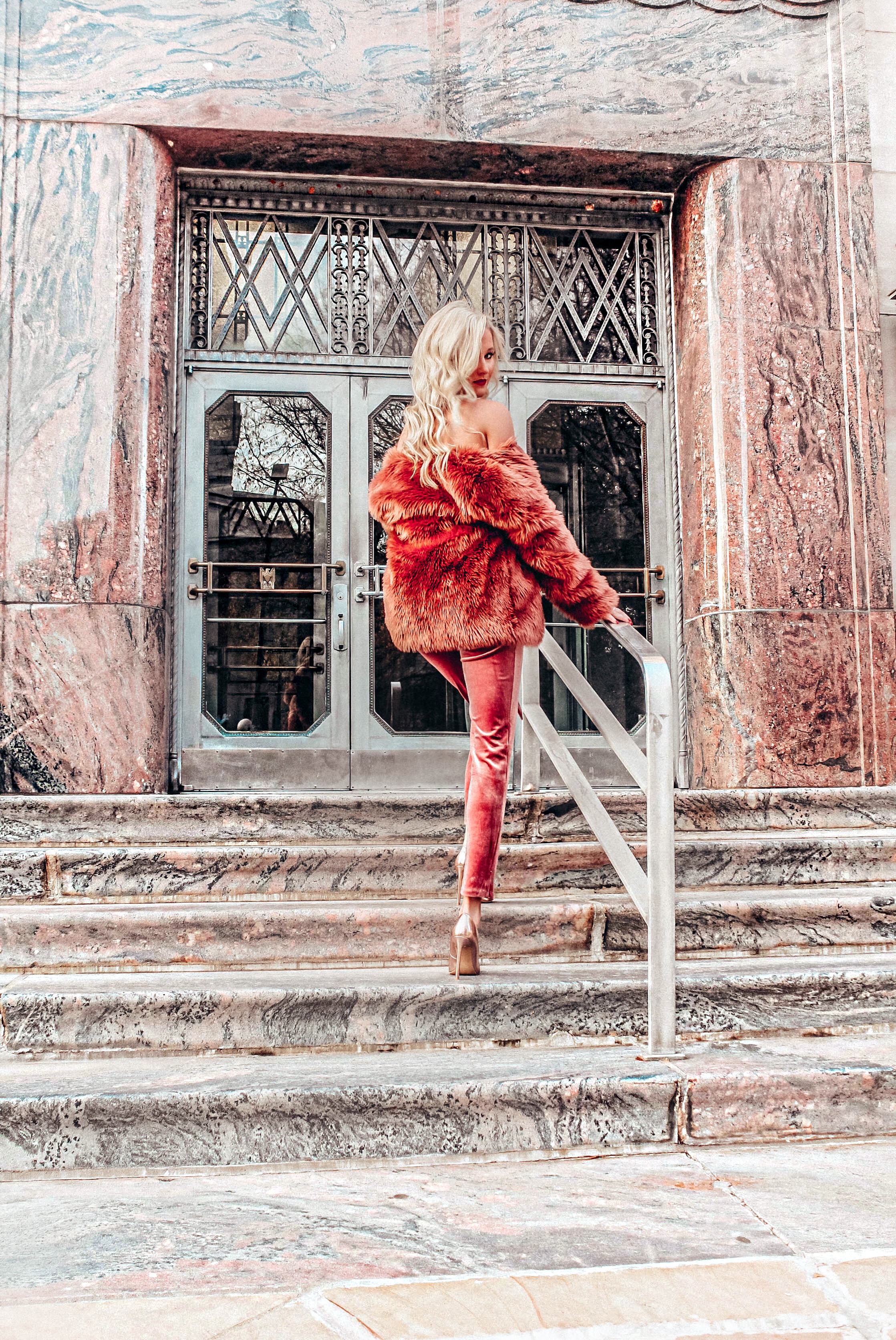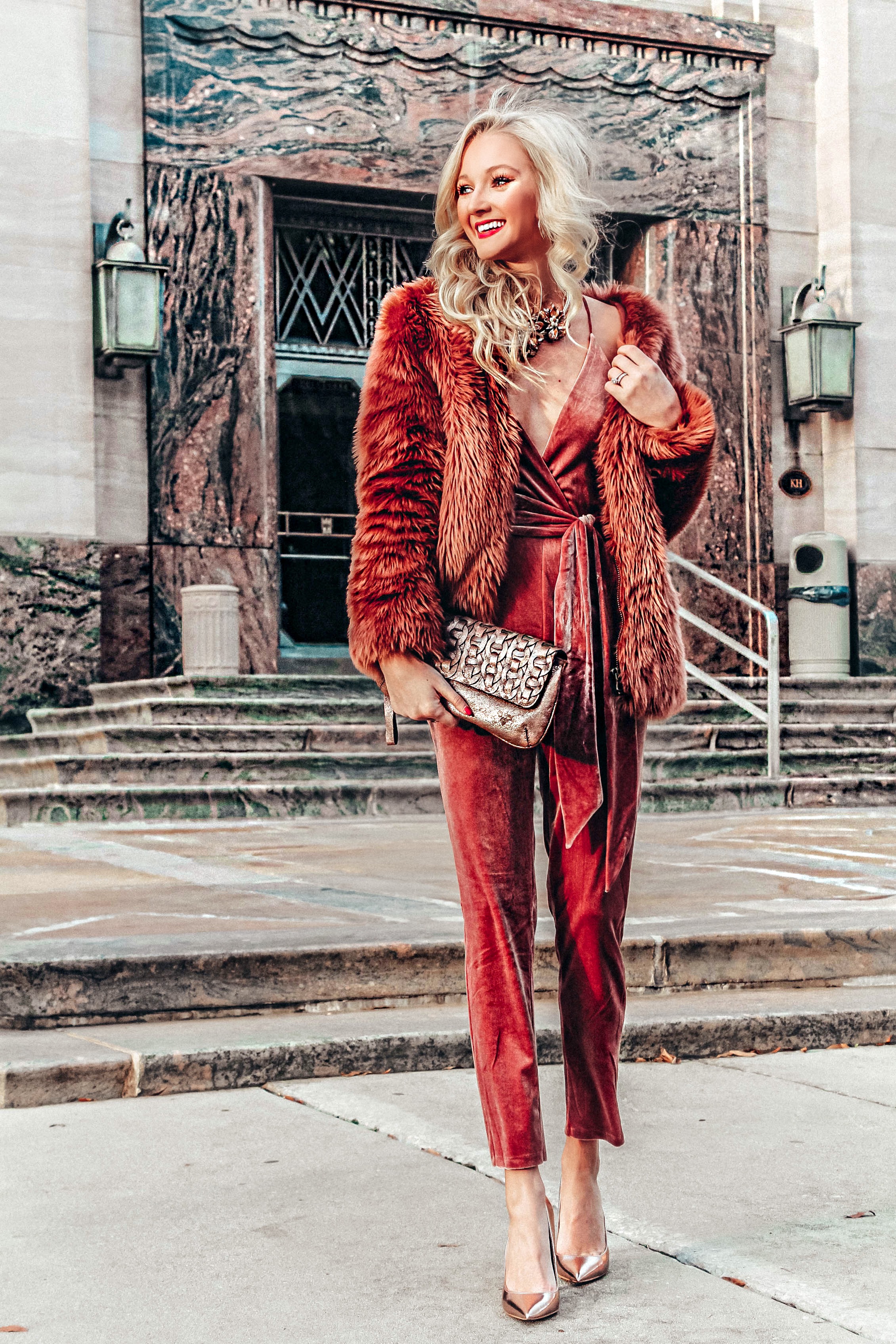 shop my NYE outfit:

I found this gorgeous plunging, v-neck, velvet jumpsuit at Express when I was at the mall a few days ago (they still have a lot left in stores if your size is sold out online), and I also grabbed these rose gold pumps because I knew that I had this faux fur coat at home (linked similar options above) and wanted to keep the whole look tone on tone. I love mixing materials and prints of the same color family because I feel that it's a really unique way to stand out from the crowd and make a statement.
To add a little sparkle, I added in a statement necklace that has a little glow to it (found in-store at TJ Maxx) & this metallic wristlet from Patricia Nash. It's the perfect size to hold everything you'll need for the night, without it being too big and bulky. Plus, I love that it includes the wristlet feature because that's much more convenient & practical when you're in large crowds of people.
If you're a last minute NYE outfit finder like myself, don't fret. You can still have most of these items shipped to you before New Years Eve if you select 'express' or 'overnight' shipping at checkout. 🙂 My velvet jumpsuit is currently on sale for $51 & my pumps are under $80! This is one of my favorite styled looks to date – especially for New Years Eve!
---
I hope you all had a very Merry Christmas & have a Happy New Year! Teej and I are still trying to figure out what we even want to do for NYE – any ideas??? Share your plans with me in the comment section below!
xo, P