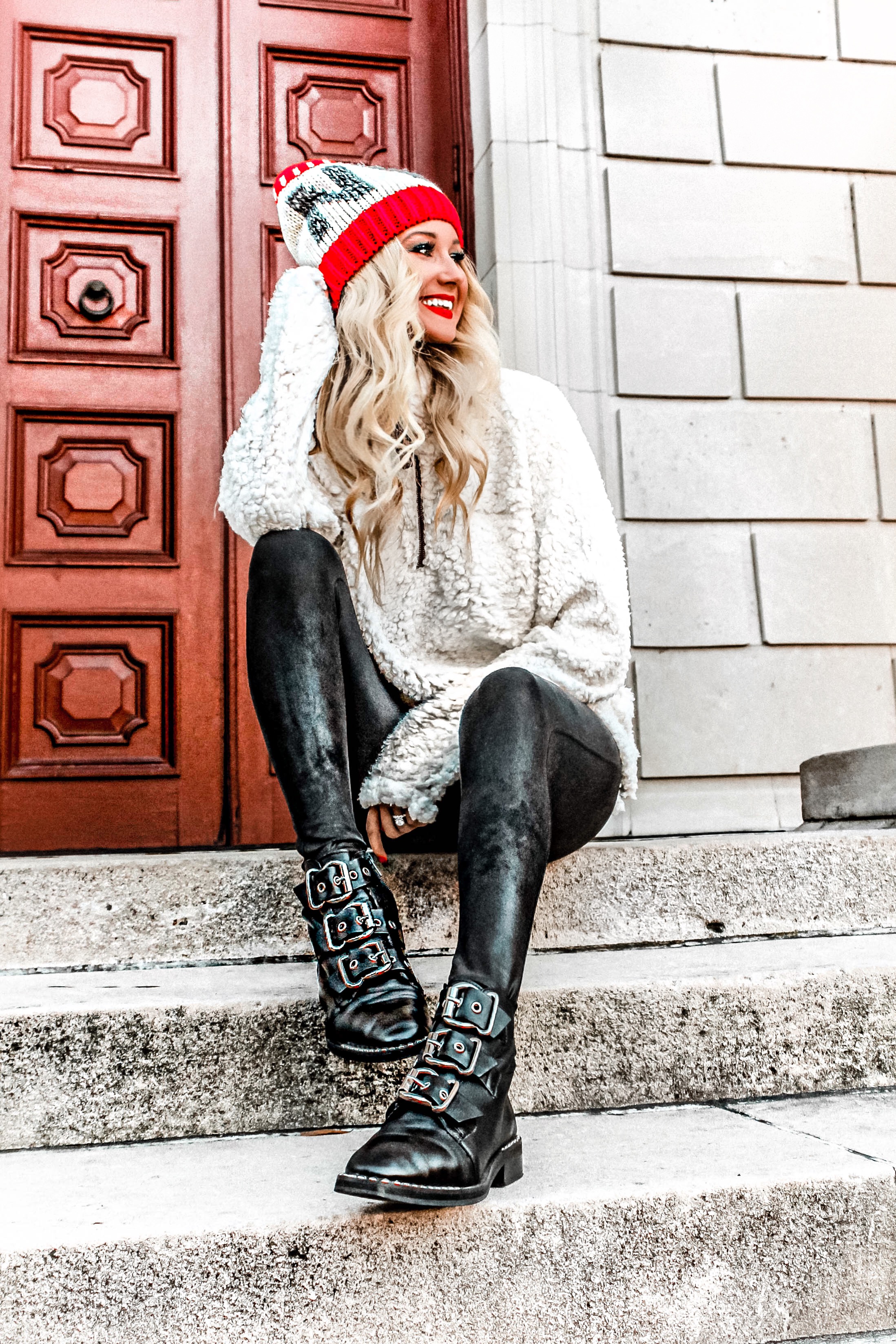 Can you believe 2017 is almost over? I feel like it flew by.
When I first started writing this post, I was planning on sharing lots of my favorite purchases and most worn items that I bought this year, but then I decided to narrow it down to my top 10 purchases because then you all would really understand just how much I LOVE these 10 items & why I continue to recommend them to you guys all the time! (Trust me, it was harder than I thought it would be to choose only 10!!)
1. Spanx Faux Leather Leggings: Every girl you know is either raving about these leggings or she's hesitant to spend the money on them and try them out. Thankfully, I was able to purchase mine on a discount this year during the NSale & that was the best decision I made during that sale. They truly suck everythinggg in (gotta love it!) and can be dressed up or down. I wear them all the time & I'm already looking forward to buying another pair soon – because they're just that good. (Worn in the photo above.)

2. True Grit Pullover: Most. Cozy. Thing. Ever!!! I have literally been living in this pullover all winter because it is so warm & cozy (&& soft)! I am wearing the men's version above in a size small because I liked the slightly oversized look so I could pair mine with leggings. The color I have is Ivory but it looks more stark white in person. It's a little bit of a splurge for just a pullover, but it's a staple wardrobe piece that you can wear for YEARS & the quality is fantastic. I even throw mine in the washer inside out to wash & just hang it up to dry. Super simple.

3. Leather Combat Boots: (Currently 50% OFF!! Seen in the photo above.) Beyond obsessed with these! Easily in my top 5 purchases, actually. These boots are so edgy & definitely stand out from the crowd. They're equally as comfortable as they are cute & they're so easy to dress up or to just wear with a pair of leggings or joggers, while still making the loungy, sweatpants 'look' acceptable for going out in public. 😉 These boots amp up any outfit!

4. Gucci Belt: Definitely a splurge, but I can guarantee you that you'll get your money's worth! I have worn mine too many times to count, but I bet if I paid $10 for each time that I've worn it this year, I'd already have it paid for all over again. Best quality. Such a classic. Definitely makes a statement even with the simplest of outfits & it'll never go out of style. I only like to splurge on classic pieces that I know I'll be able to wear for YEARS. (PS – I have the size 85cm, however it's too big to wear around my waist. On my hips, it's perfect but if you wear a lot of highwaisted pieces, go down one size.)

5. Steve Madden Combat Platforms: Ever since I got these on my doorstep, I've been wearing them out! They are actually a dupe for the Gucci lace up platforms (that I of course loved as well), but these are just a good & only a fraction of the price — speaking of, they're on sale right now. I would size up half a size in these! And grab them fast — this style is going to be huge even into the summer months!

6. Free People Fringe Scarf: Literally the warmest, cutest & most practical scarf that can be tied and worn so many different ways. There are lots of color options (I got the nude) and I definitely plan on buying a couple more to stock up for next winter because they are SO good. I wear mine out & truly can't say enough good things about this piece. It's super soft, quality material that looks a lot more high-end than what it really is. Highly recommend!!

7. Goodnight Macaroon OTK Boots: I've said it before & I'll say it 1000x more … these are by far the best OTK boots I've found. Everyone is always asking me which over the knees stay up without falling down when walking and these. are. it!! Highly recommend these! I own the grey pair and I'm about to purchase the camel color – sooo pretty & such great quality!

8. Capri Blue Volcano Candle: Smells like Heaven … enough said! These burn forever and smell SO good!! By far, my favorite candle ever. (I like the 'volcano' scent.)

9. Gucci Mules: So, I technically didn't purchase these myself – they were a Christmas gift – but holy cow you guys!! It's like walking on houseshoes made in Heaven, yet they're acceptable to wear out into the world! LOL 😉 Yes, they're a splurge, however, (just like the Gucci Belt I mentioned above) it's something that you can wear for years because it's a classic, high-quality item. Y'all know I hardly ever splurge on clothing, but I think it's good to treat yourself to a splurge-worthy pair of shoes or accessories/handbags every once in awhile if you will be able to wear them for years to come!

10. Cadet Hats / Berets: Both of these styles were so hot this year & as a hat-lover, y'all know that I loaded up in all colors! Definitely some of my favorite wardrobe additions this year. 🙂

---
I hope this helped you guys narrow down some shopping decisions if you're looking for some new items to add to your wardrobe with all those gift cards you got this Christmas! Thanks so much for stopping by!
xo, P