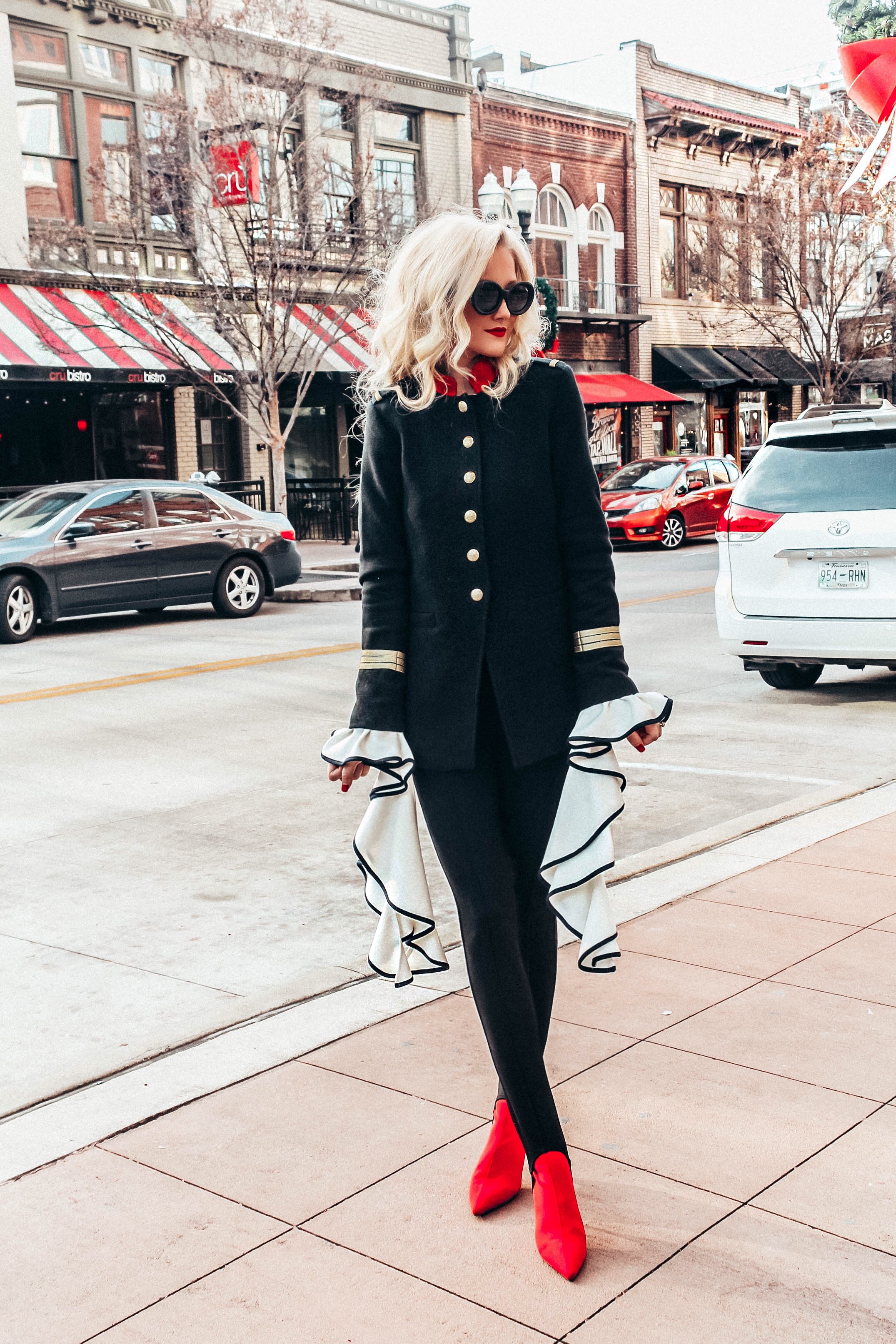 Come, they told me pa rum pum pum pum — Our newborn King to see pa rum pum pum pum!
Christmas is coming & I'm getting all festive by trying to blend in with the nutcracker. 😉 Juuuust kidding (kind of). In all seriousness, I'm totally digging this whole band jacket trend right now because it's a STATEMENT piece that can be styled so many different ways! I think this jacket would also look amazing with a simple pair of jeans or leggings paired with over the knee boots!
I found a few different options (of band jackets) to share with y'all (including the one I'm wearing here!) if you want to try out this trend for yourself — they're all linked at the bottom of this post! But before that, I wanted to share with y'all some of our family Christmas traditions because they are SO near & dear to my heart and truly make this time of the year so special. I'm sure you all can relate & I'd love to hear about your family's traditions as well! As TJ and I think about starting a family of our own in the future, we know that we will get to add some new traditions for our little family, so send any and all special Christmas ideas our way!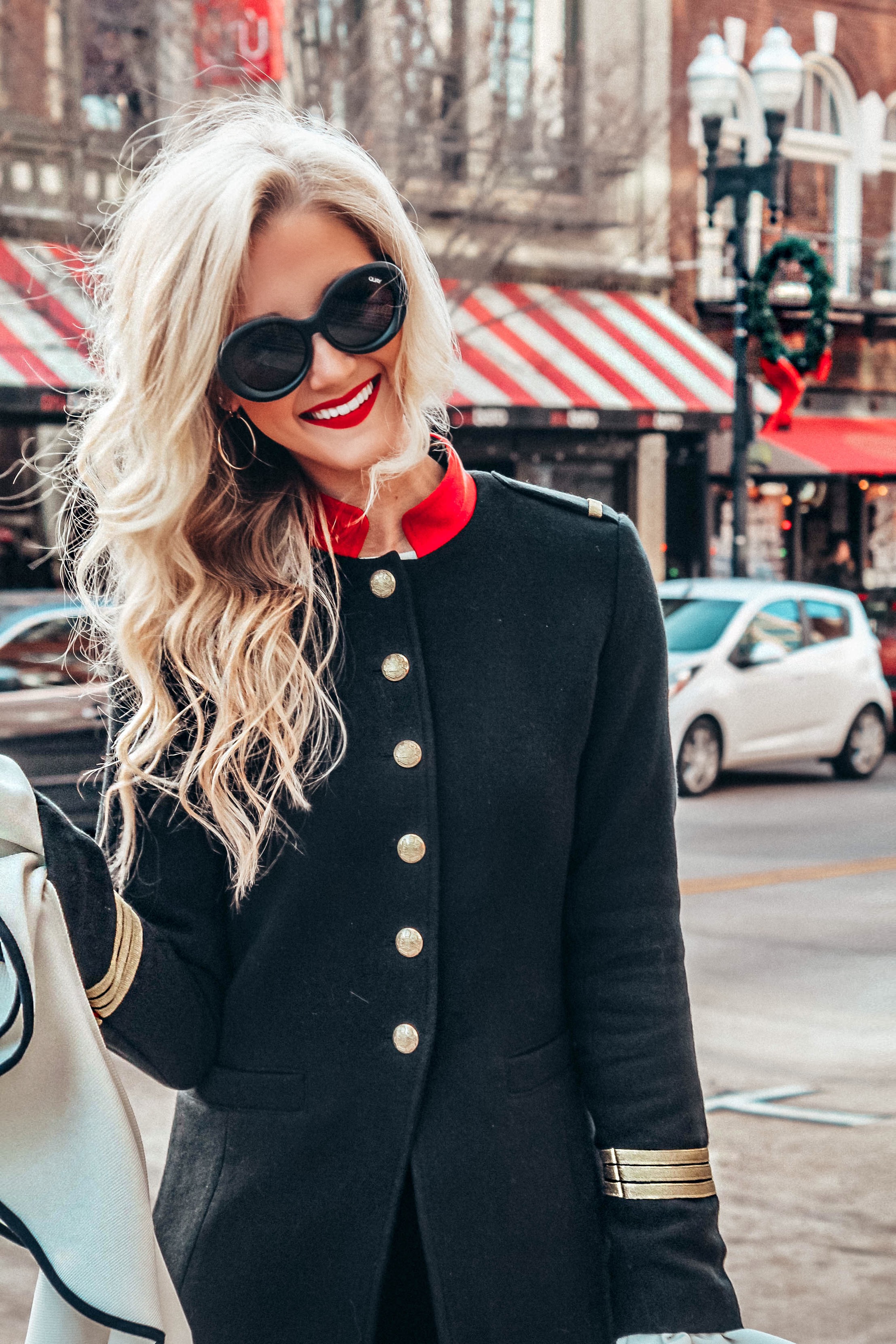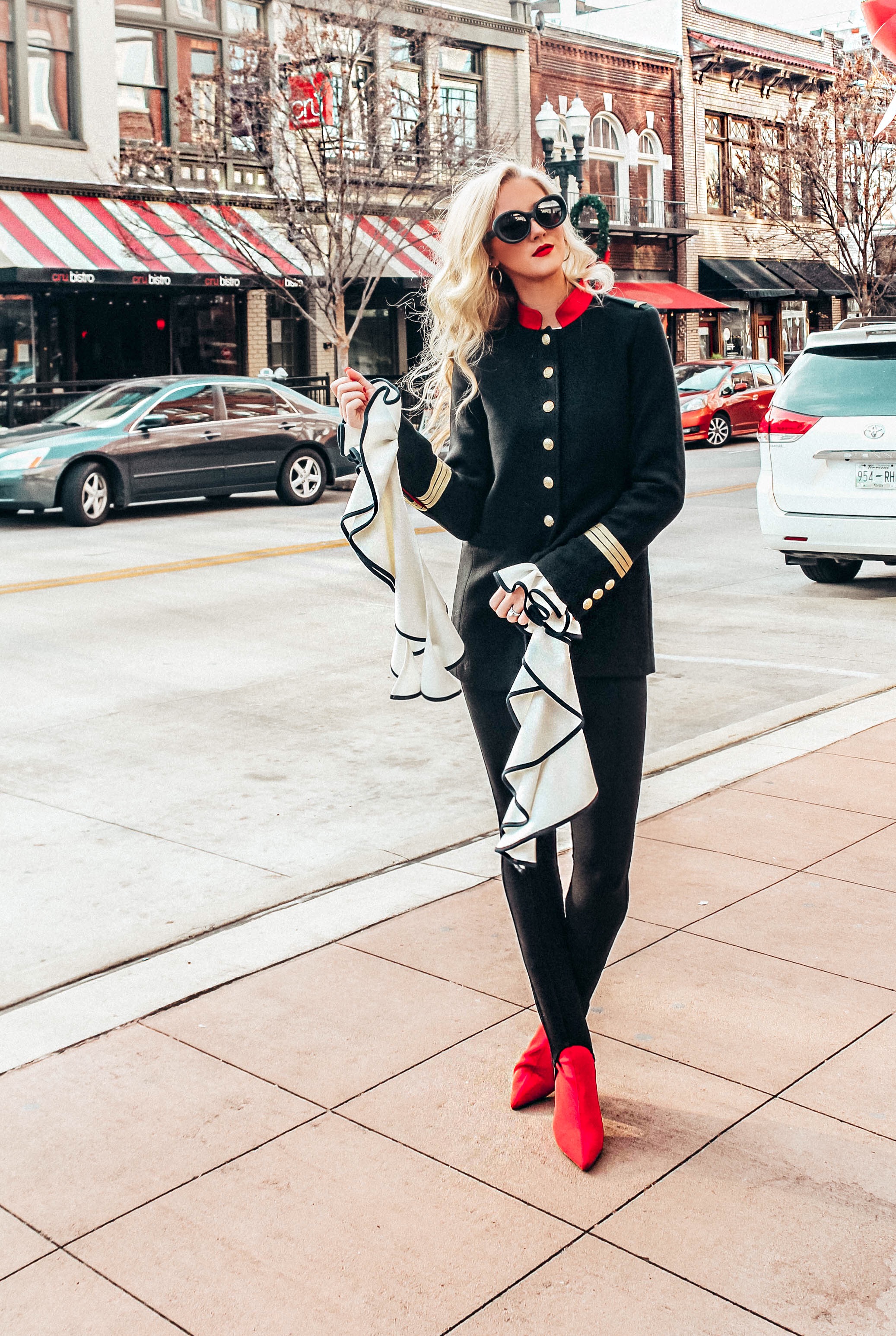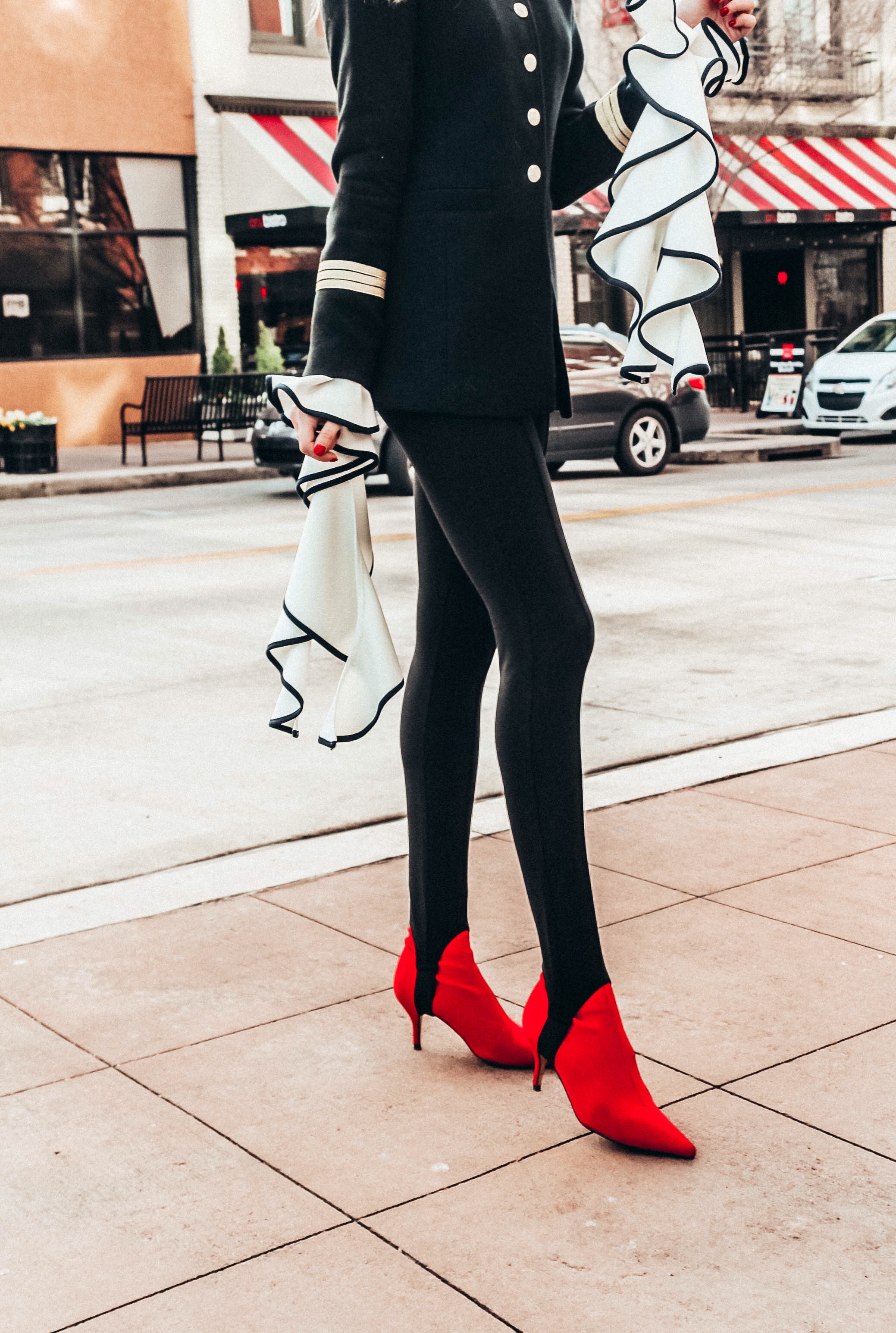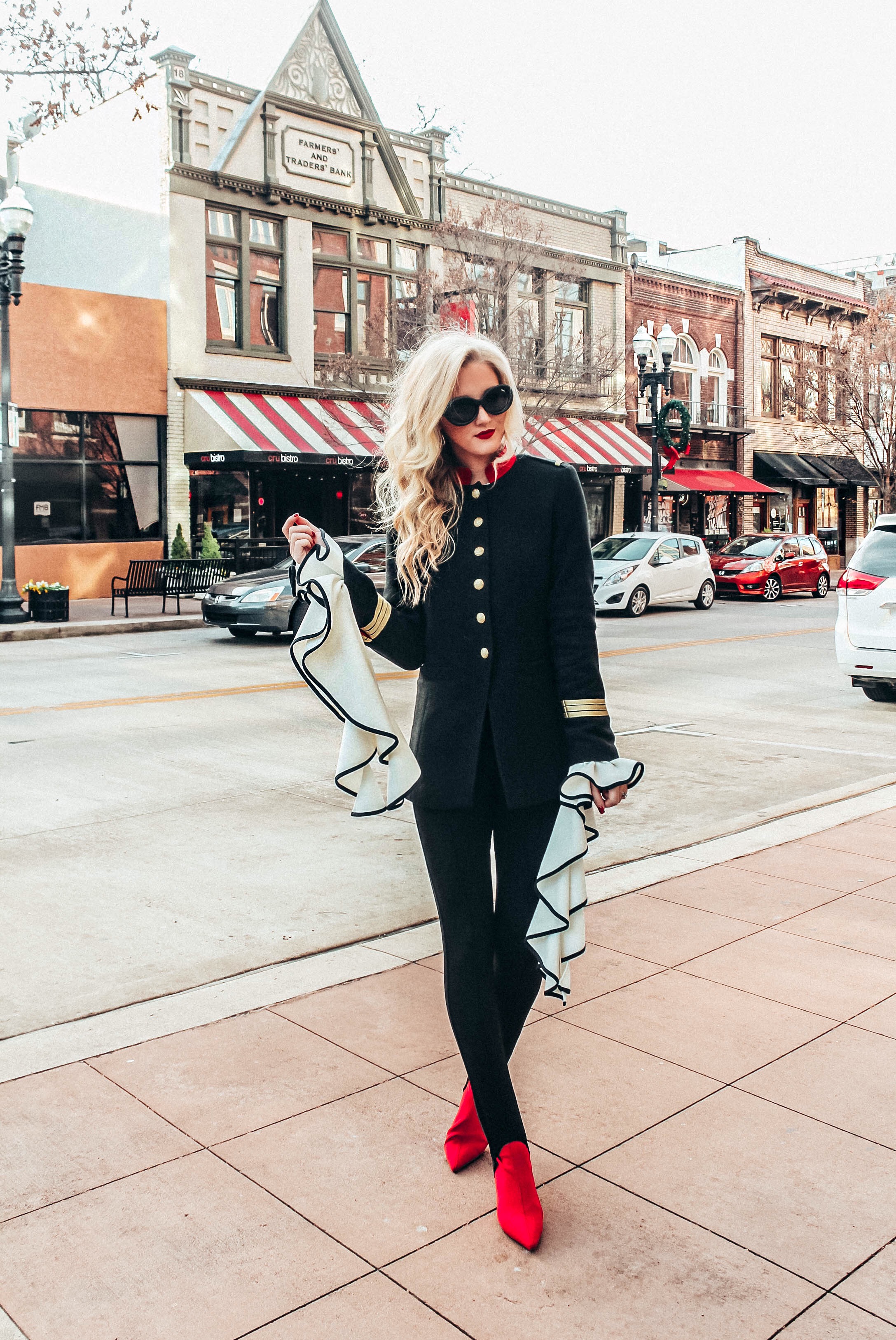 band jacket | similar blouse | stirrup pants | red booties (Under $50 right now!) | sunnies

Tradition is something that has alway been so special to me for as long as I remember – not just at Christmastime but all throughout the year. I truly love traditions. And specifically at Christmastime, I (as well as my fam) take them pretty seriously, so I wanted to share a few of them with you guys just to give you a glimpse into what our holiday weekend will look like & to share a special piece of my heart with y'all. 🙂
Nontraditional Food Tradition:
Now, if that isn't confusing, ha! TJ's side of the family always switches up the type of food that we eat for Christmas lunch each year – and I absolutely LOVE it (because let's be real, who doesn't like to mix it up from the traditional ham/turkey/casserole dishes?). In the past, there's been Italian foods, Greek foods, etc. but this year it's my favorite – MEXICAN!! Gimme allllll the queso! MMM, I'm already looking forward to it! My dish is arroz con pollo – wish me luck!
I love that TJ's sweet fam welcomed me in with open arms many years ago & has allowed me to join in on all the Baxter family festivities for each holiday! Between all of them and my side of the family, our future kiddos will be surrounded by so much love (& LOTS of kisses).
Baking Goodies:
Speaking of food, if you follow me on Instagram, then you probably saw where I documented this tradition a few days ago … I always enjoy baking with my grandparents around this time of year & learning about the family recipes – Pap's famous fudge candy, Gran's nuts & bolts (aka homemade chex mix), applesauce cake, banana bread, sausage balls, etc. I've actually been helping them bake since I was a very little girl – I think that's where I got my love for baking (well, that & the fact that I love sweets)!
Christmas Vacation:
At some point throughout the holiday weekend, we always watch our favorite movie – Christmas Vacation. I'm telling ya, my family IS the Griswolds!! LOL
Matching Christmas PJ's:
Each year, my mom always surprises us 'kids' (i.e. me, TJ, my sister, her hubby – Josh, and my cousin – Cade) with matching Christmas pajamas & we wear them to bed that night and to Christmas morning breakfast at my grandparent's house. Being comfy in PJ's with coffee in hand & my favorite people by my side is truly the best way to exchange gifts and celebrate the joys of Christmas!
Boot Sock Stockings:
At my grandparents house, we all sit out stockings for Santa; however, they're not your ordinary stockings. They are actually my Papaw's old grey boot socks that he used to wear hunting. We sit them out on Christmas Eve & usually, you can find us 'kids' joking about who gets the biggest one – meaning more room for Santa to fill the stocking up 😉 Each year (it never fails), there's a joke played on someone (usually my Uncle) where we sit out a kid's size sock, meaning that he wasn't good this year LOL! It's all fun and games on Christmas Eve & it's such a blast!!
Christmas Morning at Pap & Gran's:
Every year, we go over to my grandparent's house bright & early on Christmas morning to eat breakfast and open presents — Yes, Santa always leaves us presents under the tree. 😉 We get there super early and all rush downstairs at the same time (while Pap videos everything on his handheld video camera). Fire in the fireplace, gifts from Santa, a stocking (aka a boot sock) full of goodies, old Christmas lights & lots of laughter / excitement fills the room. While exchanging gifts, we create possibly the biggest mess you have ever seen & it's certainly the most beautiful mess. For breakfast, (you'll find this interesting … ) we drink mixed grape juices, eat homemade biscuits and gravy, eggs, sausage balls, and FRIED OYSTERS. Yep, it's a thing. And that 'thing' is delish! My Mama and Granny make tonssss of these until no one can eat anymore! It's a tradition that has been in our family ever since my sweet Papaw was a little boy. Fried oysters on Christmas morning! Try it out sometime — and don't forget to dip them in ketchup! In all my years of living on this earth, this is and always will be my favorite mornings. I cherish these moments more and more with each passing year!
---
Of course, there are many other traditions that both of our families celebrate & love, however these are a few of my all time favorites that have held such a special place in my heart for so many years!
Does your family have any special holiday traditions? I would love if you would share them in the comments below because I may want to start a few of the same ones. 🙂 Can you really ever have enough? This year, for example, we're starting a new tradition of having brunch and opening gifts at my mom's house on Christmas Eve morning! We typically do this on Christmas morning before going to our grandparents' houses, however, we feel that this will be the perfect set up for years to come! I'll be sure to share a lot of the festivities with y'all this weekend over on my IG stories so be sure to follow along there!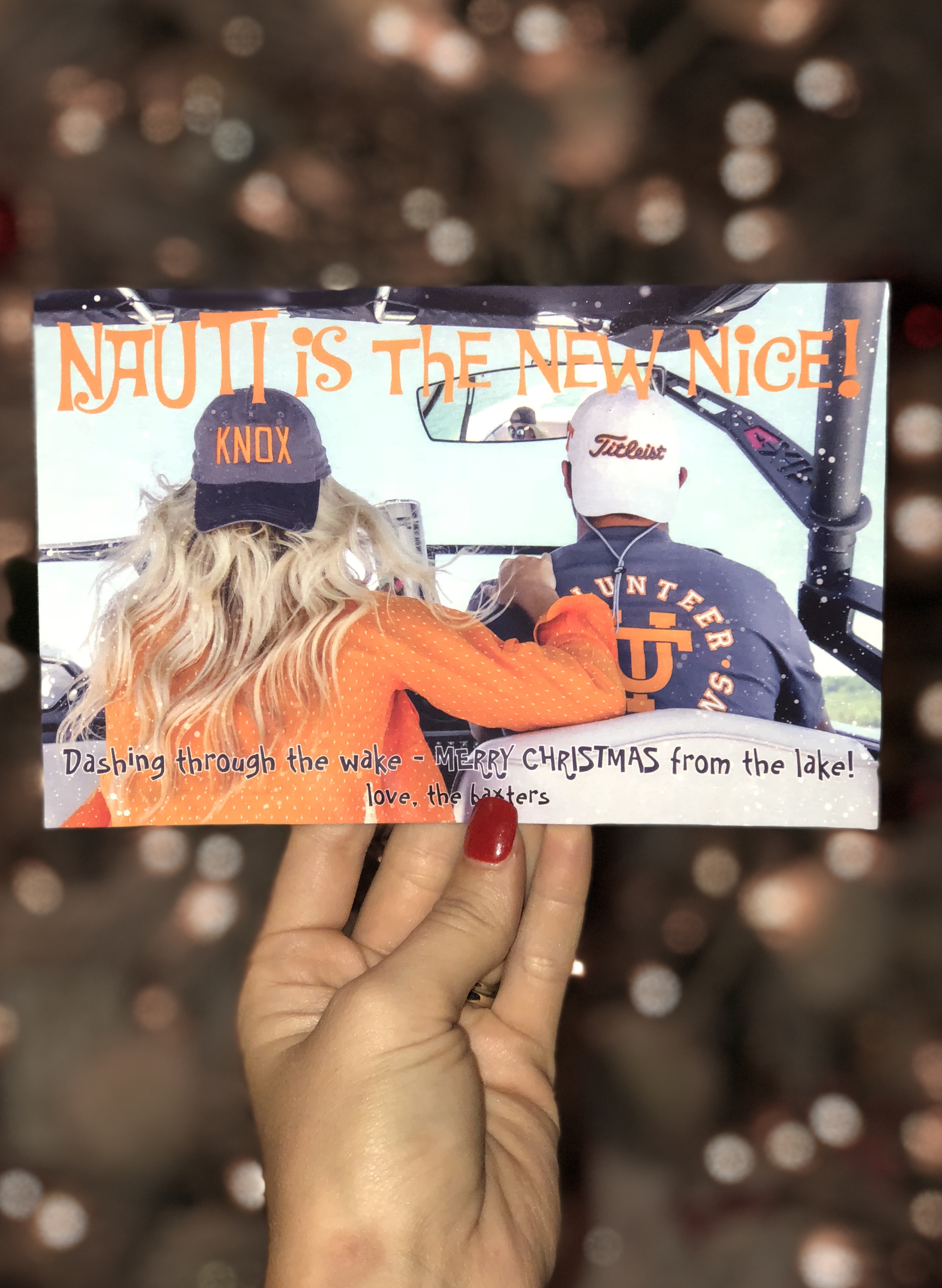 Thanks for our early Christmas gift, Santa!! Of course, we had to incorporate our 'baby' into our Christmas cards this year. 😉 If you're new to LNL, Teej and I bought a wakeboarding boat this past summer, so it's literally been like our child this year!
Lastly, Teej and I want to wish each and every one of you the MERRIEST of Christmases!! My career, this dream, love 'n' labels would not ever be possible without my loyal readers like you, and for that, I am beyond thankful. I truly wish I could meet up with all of you to give you a huge hug, surprise you with a present & personally wish you a Merry Christmas — maybe one day!!
Enjoy this special time with your families & most importantly, let's all remember the true reason for the season & wish our precious Birthday Boy – our Savior, Jesus Christ – a big big big HAPPY BIRTHDAY!!
xo, P