One of the number one asked questions throughout my pregnancy has been related to what we are registering for as first-time parents, so I am excited to be sharing our baby registry with you all! I want to start by saying, every parent is different – every baby is different – every situation is different, but I want to share our picks with you in hopes it can help you navigate what to put on your own registry. What may work for us may not work for you (or vice versa), and that is perfectly okay if that's the case, but I hope to be a helpful resource to other first-time parents out there who may not even know where to start. Registering can be intimidating, so I am sharing with you not only links to our full registry, but also our "Top 10 Major Must Haves" and our "Top 10 Things You Didn't Know You Needed." Please note that a few of these items are not on our actual registry that I have linked at the bottom of this post, as we have already received them as gifts or purchased ourselves, but I still wanted to share all of these "must haves" with you and the "top" items on our list. As I am learning about what I will need and what some of these things even do (LOL), it makes me sooo excited for Baby Boy to be here! It's so much preparation for one little tiny human, but I know it's going to be here before we know it!!
When it came to registering, Teej and I went in armed with our scan gun to Buy Buy Baby and quickly realized we had no clue what anything was or what we were supposed to get. I had seen what Sis (@thebritwilliams) had gotten for our nephew, but still wasn't sure the why or purpose to a lot of it. So all that to say … I have researched, asked, and listened to many people's recommendations before choosing my top picks – maybe this can help make your registry process a little less overwhelming and a little more exciting!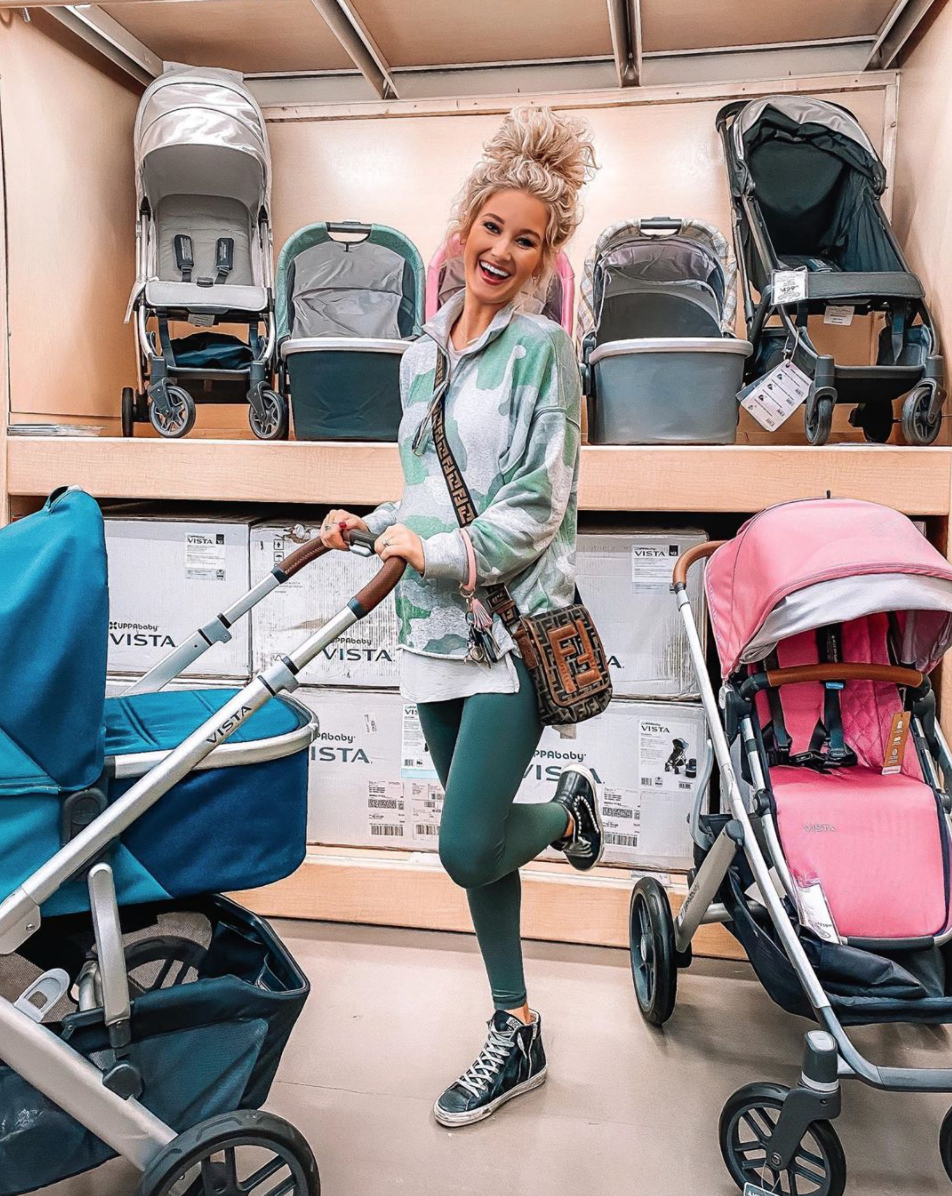 *Disclaimer: I sat down with Sis (my sister and right hand woman) while writing this post, so that she could help me clearly explain the details on each of these products. Teej and I have spent lots of time with our nephew, Macrae, over the past 10 months and we have done tons of research as well, but of course, we are still new to learning how to use some of these items, so I felt more comfortable having her here to help me write descriptions since she is an experienced mama who used a lot of these same items with her baby. She's been a huge help to me, and I know we all appreciate her expertise. 😉
TOP 10 MAJOR MUST HAVES
1. Owlet – This has been suggested by so many mamas and friends, who are medical professionals. We can't put a price on peace of mind, and this foot monitor that gives real time oxygen and heart beat stats is high on our must-have list.
2. Dock-A-Tot – What appears to be a glorified dog bed, comes highly recommended by almost every parent we know. This allows baby to feel secure wherever we lay him down and allows each surface to feel the same, no matter where he is resting. It travels easy and has a removable cover to wash when necessary.
3. UppaBaby Vista Stroller & Mesa Car Seat – After much stroller and car seat research, this is where we landed. We love that the car seat clicks right into the stroller base and that the stroller base also has a bassinet and toddler seat option. This will be the only stroller system we need for years to come due to this versatility – and even if Baby Bax #2 is in the cards – it will carry two attachments at ONCE, so we are set for the long haul! We already got both of these items in and put them to the test around the house, and we couldn't be more pleased!
4. Halo Bassinet – This is an item we knew we needed, but didn't know where to start. Sis recommended this one because it swivels over your bed and has a push-down side, so you don't necessarily have to get up to tend to baby. It also has a nightlight, vibration, and lullaby option.
5. 4moms MamaRoo – I hear this is the "saving grace" with multiple different motions and speeds, and you can even control it from your phone. Baby can nap or play in it while mama gets two hands to herself for a moment. Sis says to also get the newborn insert at first, which helps baby feel secure. She also mentioned that you can adjust the "laid back" angle of the seat to baby's liking, which she found was helpful.
6. Avent Electric Sterilizer – This is a replacement for the old school boiling of the bottles. Sometimes when you wash bottles, pacis, baby spoons and dishes, there can actually still be a film of soap on them which you don't want for baby. This sterilizer holds upwards of 6-7 bottles and other accessories in one run, which only takes about 6 minutes. It's easy to run at night each night, plus it's quick and convenient.
7. Freshly Picked Backpack Diaper Bag – A backpack diaper bag is a must have as this will free up your hands to hold baby, catch pacis, open doors and feed yourself. This bag is so beautiful, and it looks more like a high-end handbag rather than a diaper bag. It has a zip top, plenty of room inside with many inside pockets, and one insulated pocket for bottles on the go. This bag will look stylish (comes in many colors) while also being super functional.
8. 4moms High Chair – If you are wanting a high chair that has a smaller base area and is sturdy and neutral colors, this is your option. The tray can be taken off and put on with one hand and has a magnetic top that coordinates with the 4moms magnetic dishes so baby can't toss bowls and plates on the floor. There is no fabric on the seat, so cleaning is a breeze. It also adjusts heights and can be used as baby grows old enough to sit at the table and later as a step stool. It is an all-in-one, all ages kind of high chair.
9. Exersaucer – This is something that is large and in charge and may take up a little room in your living room, but it will give you much needed time to be able to use both hands, as well as stimulate little ones with motor skill development, toys, lights, and sounds.
10. Newton Baby Mattress – Baby safety is of utmost importance, so when we read that if baby was to get face down in his bed at any point, that he would still be able to breathe through his mattress, we were sold. This was wonderful news, and we knew this as the mattress for us! Also, knowing the mattress cover is removable and machine washable was a much added bonus.
---

TOP 10 THINGS YOU DIDN'T KNOW YOU NEEDED
1. Angelcare Baby Bathtub – This is a little cradle type seat that can accommodate baby from a few months old to the time he can sit up by himself. It goes into the big bathtub, has a non-slip bottom, and allows the water to flow through.
2. Aquaphor – From what I hear, this is the miracle product. Dry skin? Cradle cap? Chapped lips? Red booty? Basically anything – this is the answer.
3. Nose Frida – This thing may seem gross, but once you have a crying baby with a stuffy nose that stops crying in one "suck", you buy in. Sis has raved about this! There is no way to get snot in your mouth with this thing (no worries!), but it can create relief for your baby in seconds.
4. Gowns – Lots and lots of gowns. If you have a spit-up baby, you could go through multiple a day – or an hour. I've also heard that gowns make those middle of the night changes so much easier and can even allow baby to stay asleep during the change if they fall asleep eating. Also note that newborn gowns are HARD to find (especially in-store), so go ahead and get yourself a
few in that size for those first few weeks.
5. Bath Kneeler — Once little one moves to the big bathtub in the AngelCare tub (see #1), your knees can start hurting pretty quickly as you kneel over the bath. This little pad may not necessarily seem like a must-have, but it will save those knees.
6. Absorbent Burp Cloths – The fancy, thick burp cloths are so pretty, but I hear that they don't do much for spit ups and blowouts. The thinner, muslin burp cloths are so soft, absorbent, and easy to take on the go.
7. Halo Velcro Sleep Sacks – Sleep sacks are essential and you need a few (refer back to "if your baby spits up a lot") – basically if it's fabric, you need multiple. These Halo Sleepsacks are great because they have the arm holes and zipper, but also the Velcro-around band so when baby needs arms swaddled in, the band goes around the arms to keep them in. When they begin the transition to arms out, you can do one arm out at a time, and eventually, no arms in at all in this same sleep sack. These also come in cotton, muslin, and fleece to adapt to different seasons.
8. Mylicon/Gripe Water – If baby has any tummy problems, these are said to do the trick. Having them on hand will be beneficial because once baby is upset & crying, it is a long drive to the store to get medicine. Always call your own doctor first, but my nephew, Macrae's doc said he could take both of these when he was having gas pains.
9. Abundance of Bibs – Bibs become a hot commodity as baby spits, drools, and then starts to eat real food. If you want the bib to match the outfit (guilty, here!) – then make sure to have multiple of each color because one outfit could blow through 3-4 bibs at any given time. You want to make sure baby's neck stays dry or he could get a rash (another use for Aquaphor if needed!).
10. Blue Dawn Soap + Hydrogen Peroxide in a Spray Bottle – Sis calls this the magic spray. Mix one part hydrogen peroxide and one part blue Dawn in a spray bottle and spray it on all those baby stains – poop, spit up, food, anything! If you spray it and rub it in with a little water to get the majority of the "stuff" out and then wash it, the stain will usually come right out!
---
Those are just some of the top items on our "must have" list. You can find our full baby registries linked below! Just keep in mind that some of our top items may not be listed on the registries below because we either have already purchased some things ourselves or have been gifted some items by friends and family before setting these up.
OUR BABY REGISTRIES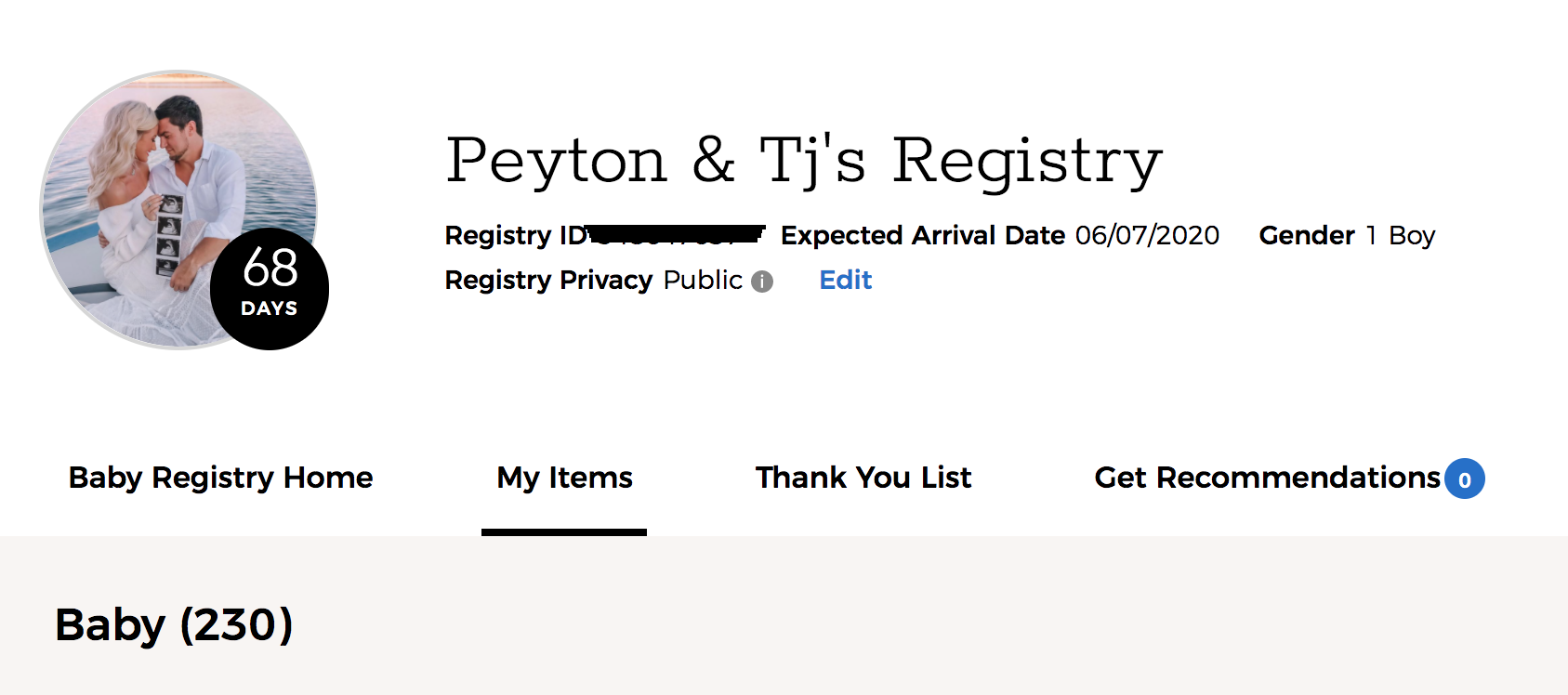 We decided to register at Buy Buy Baby and Amazon simply because those are the two places that worked best for us, and we also found these retailers the easiest and most convenient places for our friends and family to shop. Additionally, our full list of items needed for Baby Bax were found at these two locations. There are so many different forms of registries out there nowadays, whether you want to register everything online or go in-store to do so. I recommend that you and your partner just research what is in your area, what works best for you two, where you can find all of baby's needs, etc. and then decide based on all of those factors.
---
Shop the items mentioned in this post:

Hope all you fellow mamas-to-be were able to find this post helpful in some way! If you have any further questions regarding registries or babies in general, feel free to leave a comment below and I'll do my best to answer your question. 🙂
Thank you for stopping by, and as always, thank you for your sweet love and prayers for little Baby Bax!
xo, P