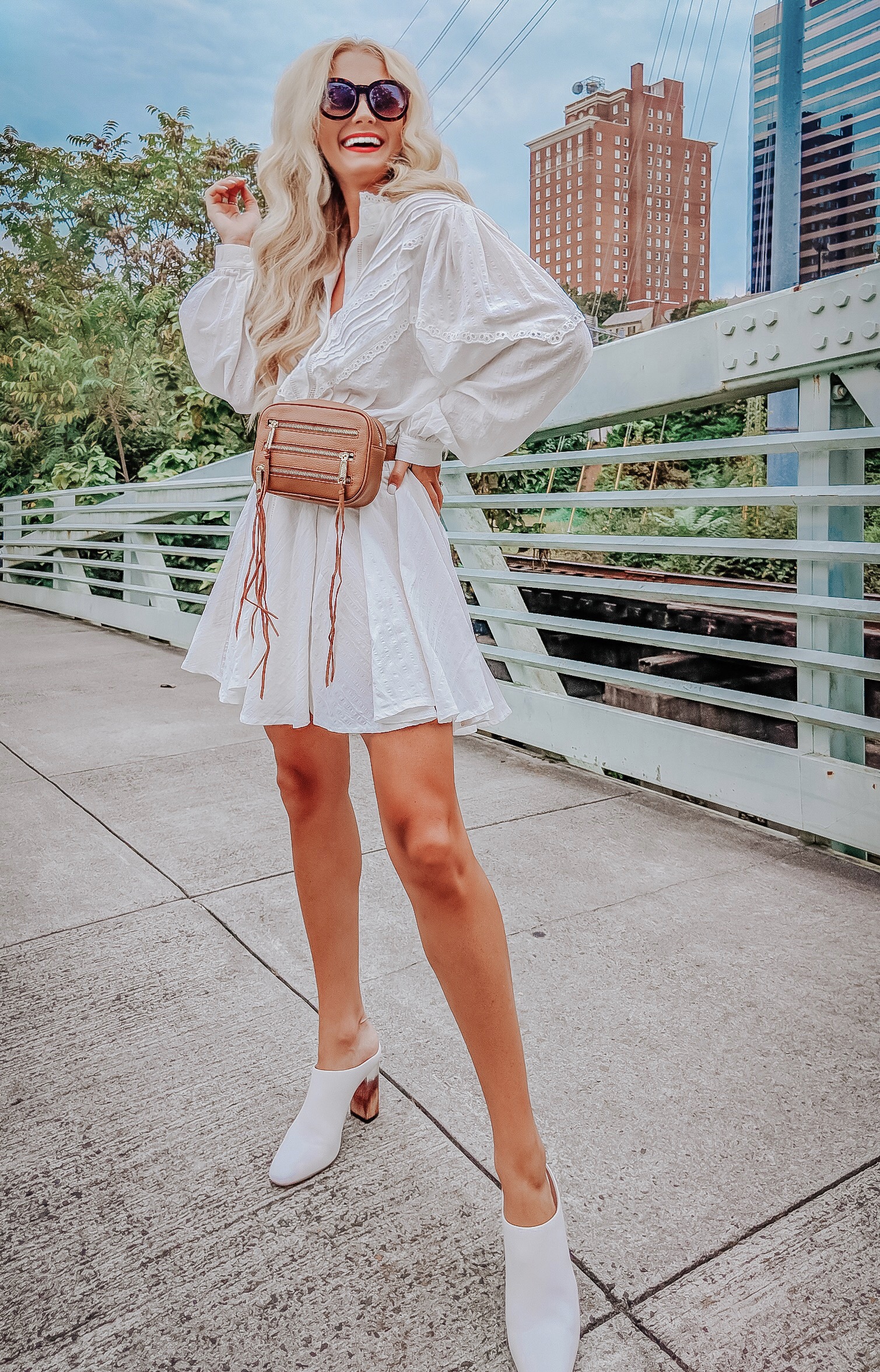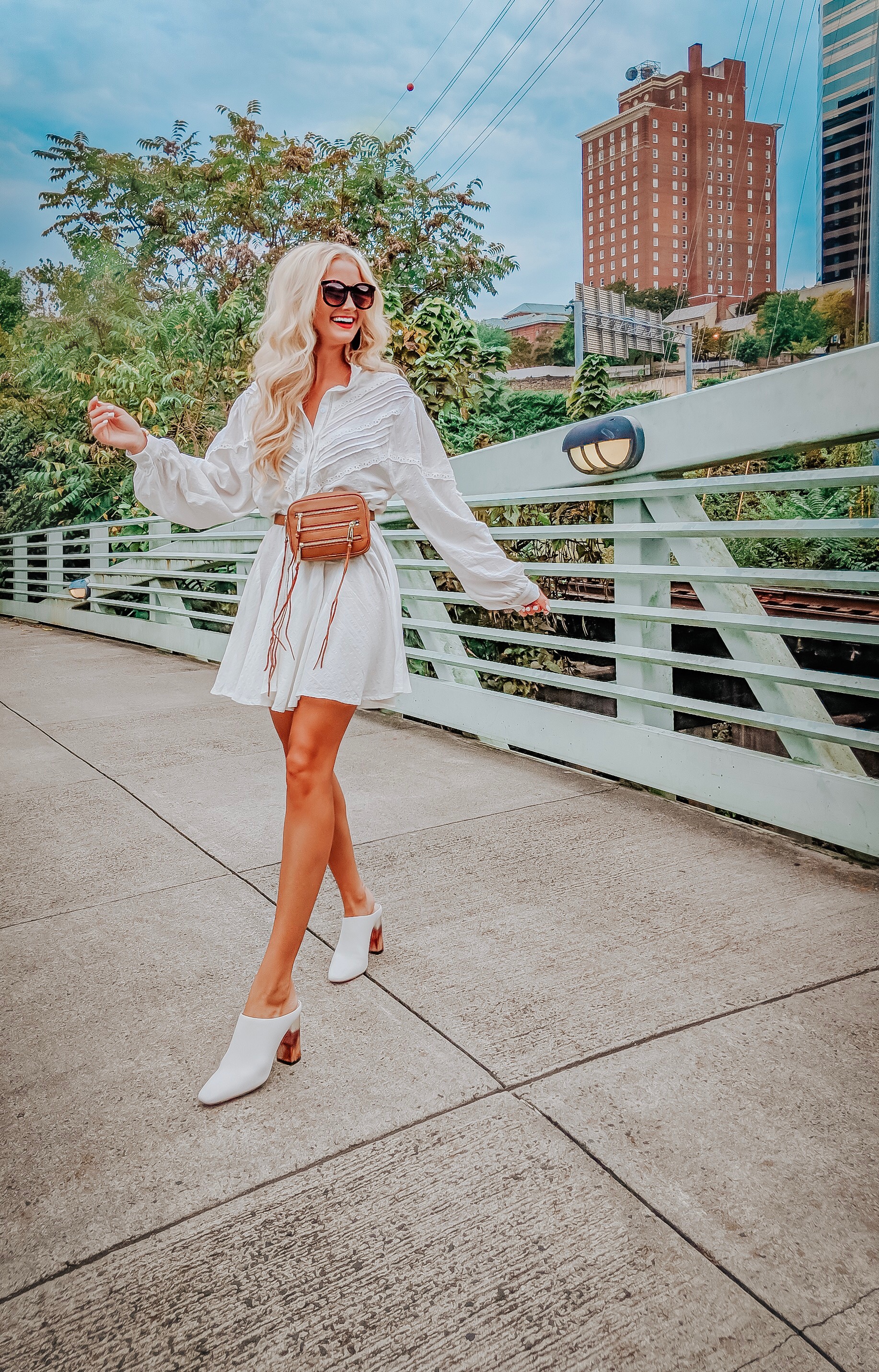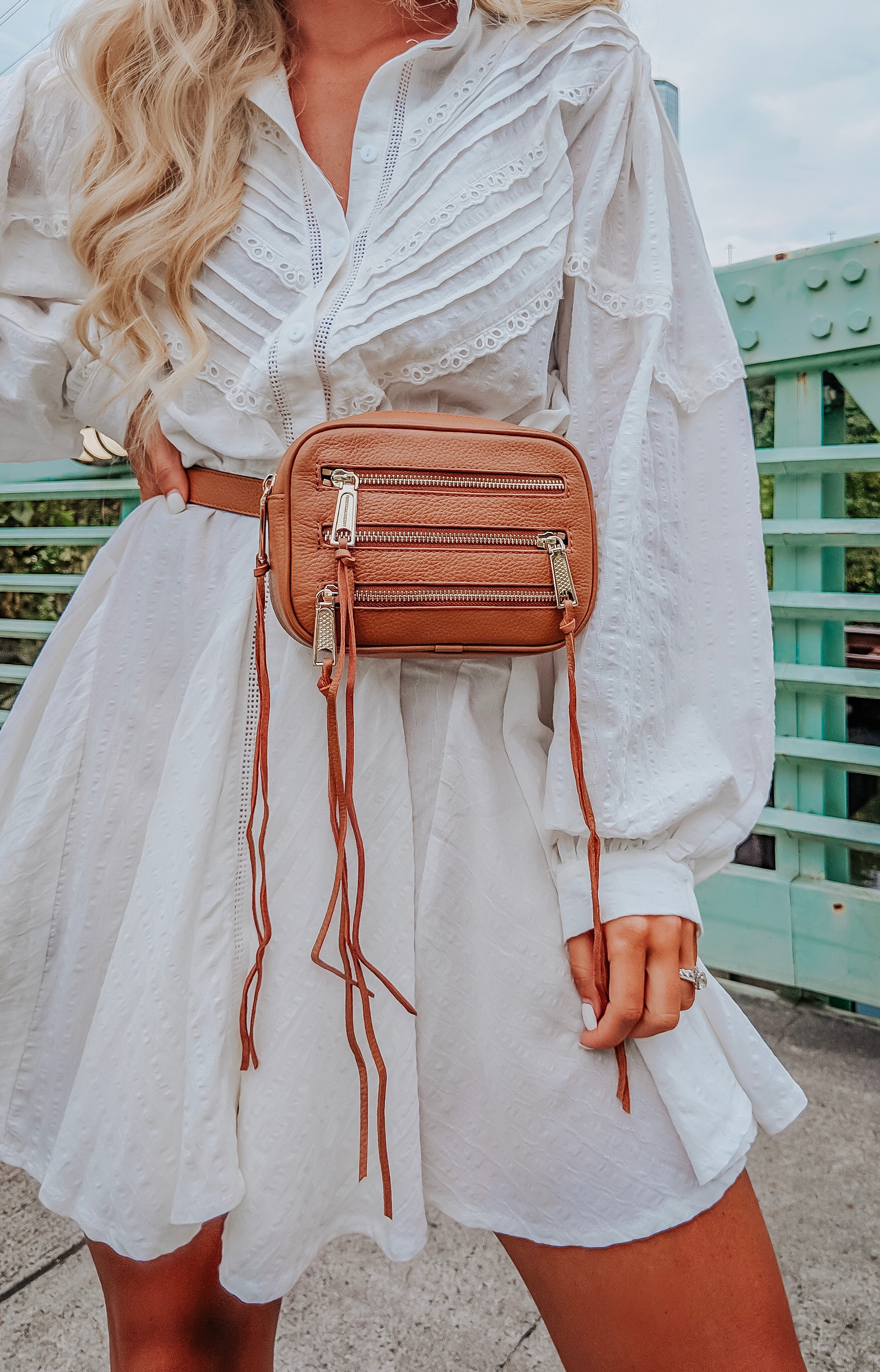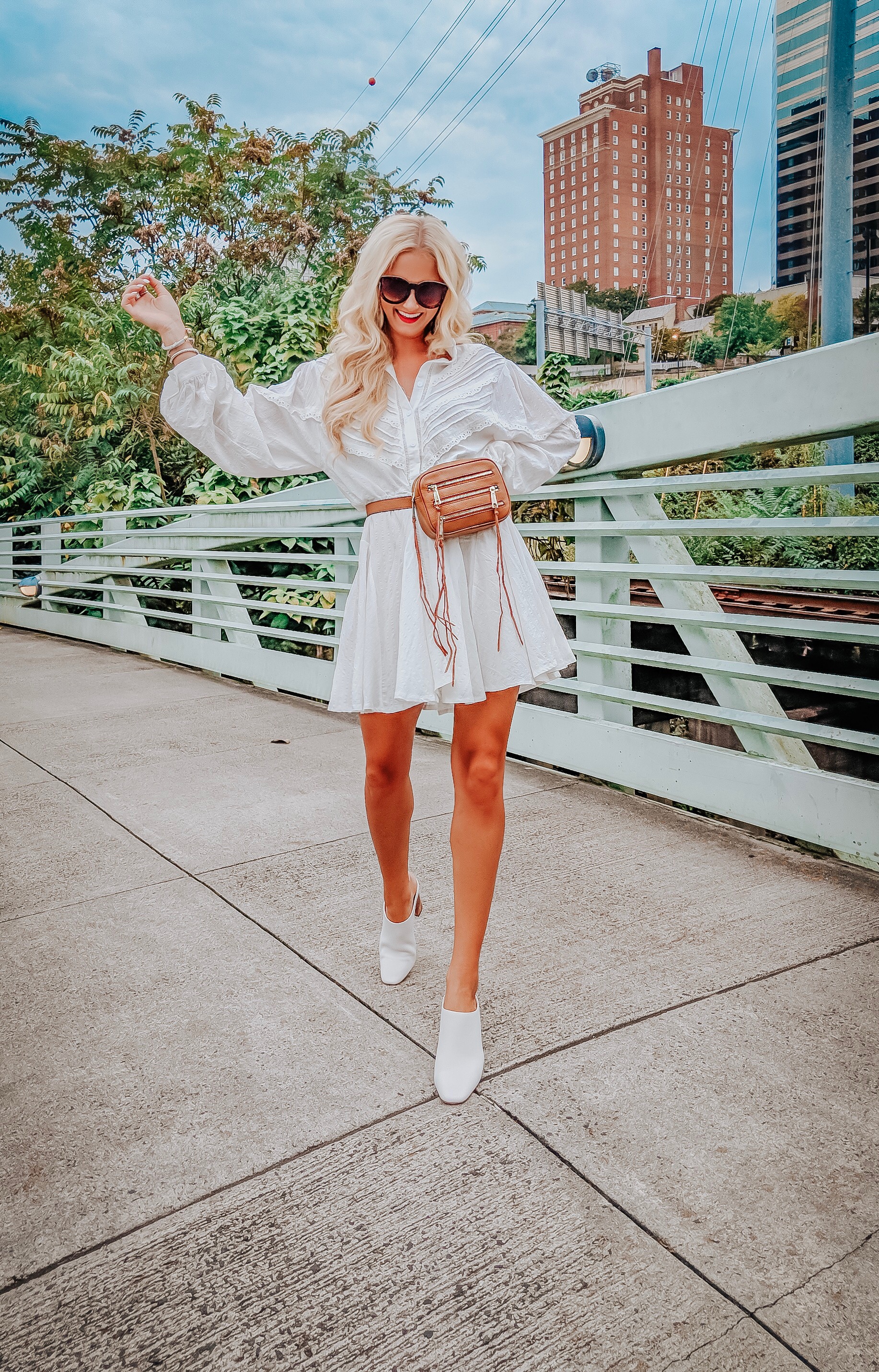 Rebecca Minkoff belt bag | white shirt dress | white mules | sunglasses

New York Fashion Week is ultimately one big research project for me. Whether I'm attending a runway show, a presentation, an event, or even just walking the streets of Manhattan, I am constantly taking mental notes during my time in the City on what trends I'm seeing the most of, what streetstyles are most popular, and what style inspo can I bring back home to share with you all.
This year during fashion week, I noticed a lot of tweed, pastel colors, huge statement sleeves, and lots of unique handbags. More specifically, unique belt bags. Or dare I say "the modern day fanny pack"?  😉  That's right … the 90s are making a comeback, and those once-popular bags around the waist are coming back in style! The it-girls of NYC, designers, and models at fashion week have proven it to be true. This time around though, the design and structure is a bit updated. This season's most popular hangbag trend is in the form of a real belt that can be worn around the waist, through belt loops, or even over one shoulder with the bag resting on one's chest. My personal favorite way that I saw people styling it was around the waist, so I decided that I would try it out for myself once I got back home to Tennessee! I love being able to incorporate the top trends from NYFW in my daily life!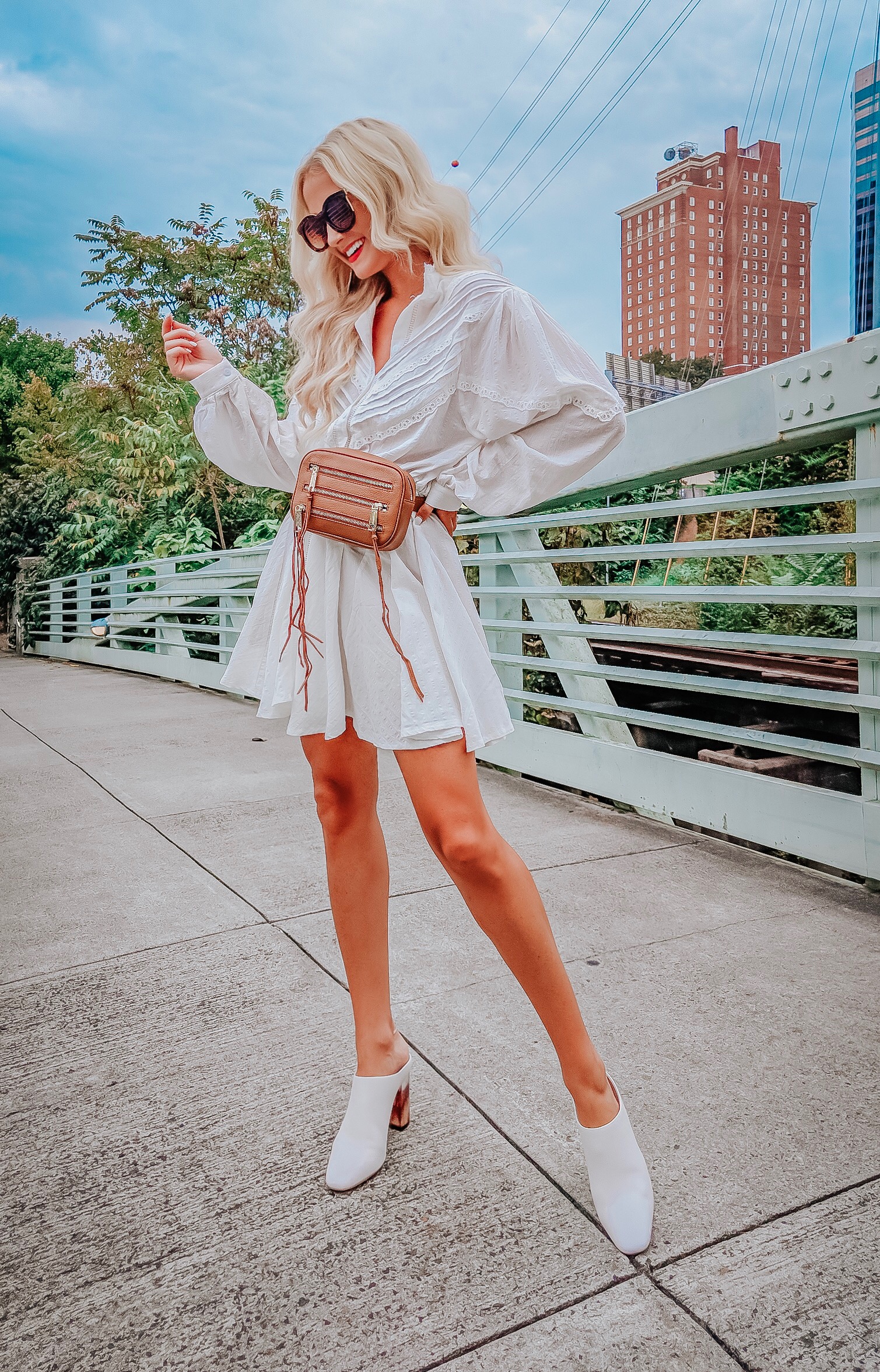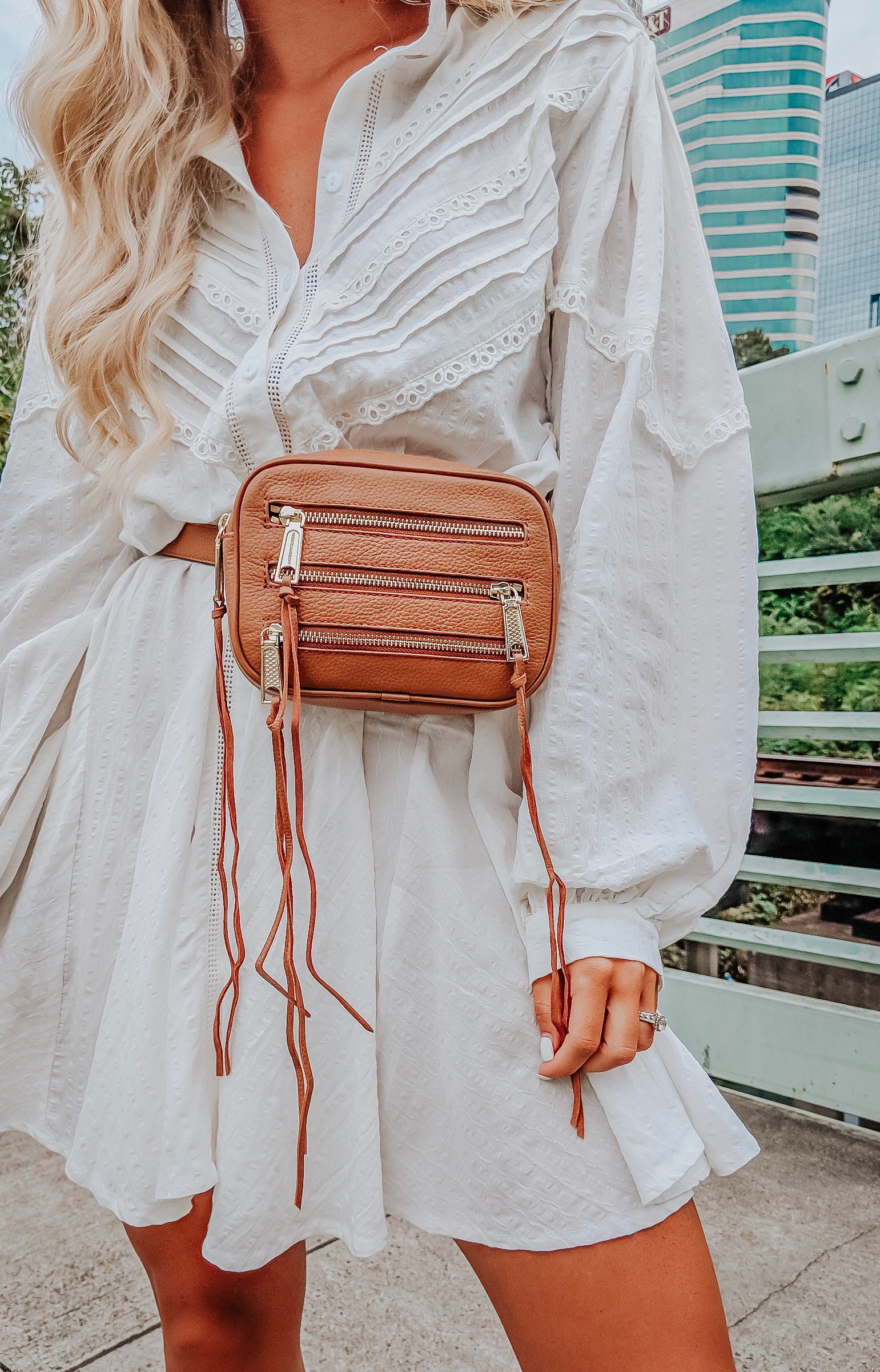 As soon as I noticed this popular trend taking over the streets of the fashion capital, I decided to check out eBay to find my own version of the new it-bag. eBay has always been one of my favorite sites to shop for handbags specifically because I always find amazing deals on fashionable, high-quality brands, and I know that I can find brand new bags to purchase if I don't want to buy it pre-owned. A lot of people actually don't realize that 81% of merchandise sold on eBay is new and instantly available to ship with the "Buy It Now" option.
Since I've been a loyal handbag shopper at eBay for quite sometime, I knew that I'd be able to find a wide range of fashionable, mid-tier price point belt bags to choose from. For the past few months, I've been debating on purchasing a Rebecca Minkoff handbag because I love her designs so much, and I know the quality of these bags are top notch (especially for the mid-tier price point). So, what better time to buy one than when I'm shopping new handbag trends anyways?!
Once on eBay's site, I simply searched "Rebecca Minkoff belt bags", which gave me a ton of options to shop from. I purchased one that I could wear now, as well as, transition into fall and even into next spring/summer. The caramel color matches almost everything in my closet, so I know I'll get a lot of use out of it. And speaking of use … let's just talk about the practicality of belt bags! They are not only on-trend and stylish, but they also allow you to safely store all of your belongings right in front of you, and you get to be completely hands-free. This handbag trend is ideal for shopping adventures, amusement parks, festivals, outings with kiddos, running errands, movie dates, and so much more. Gotta love when style, convenience and practicality collide!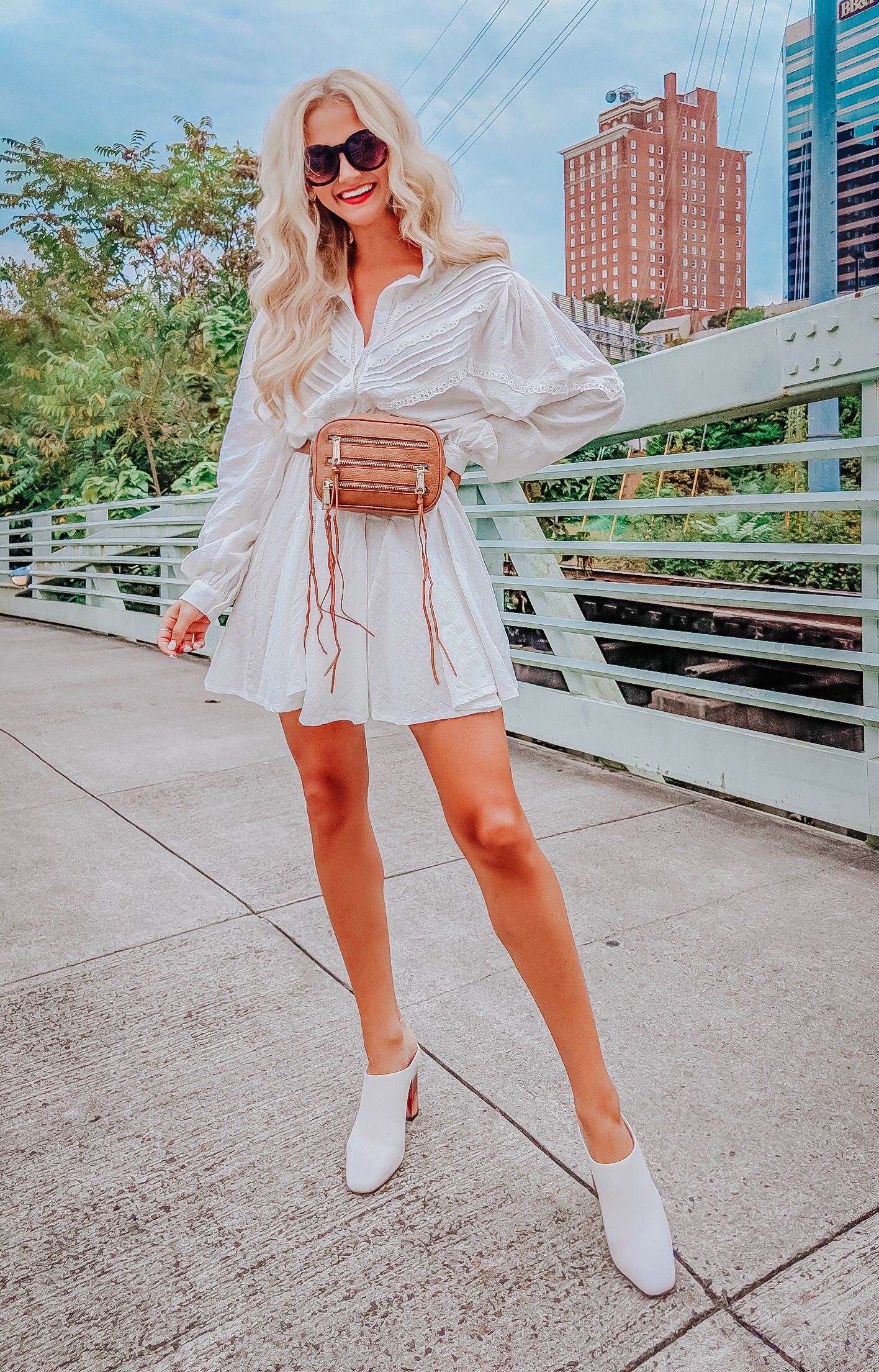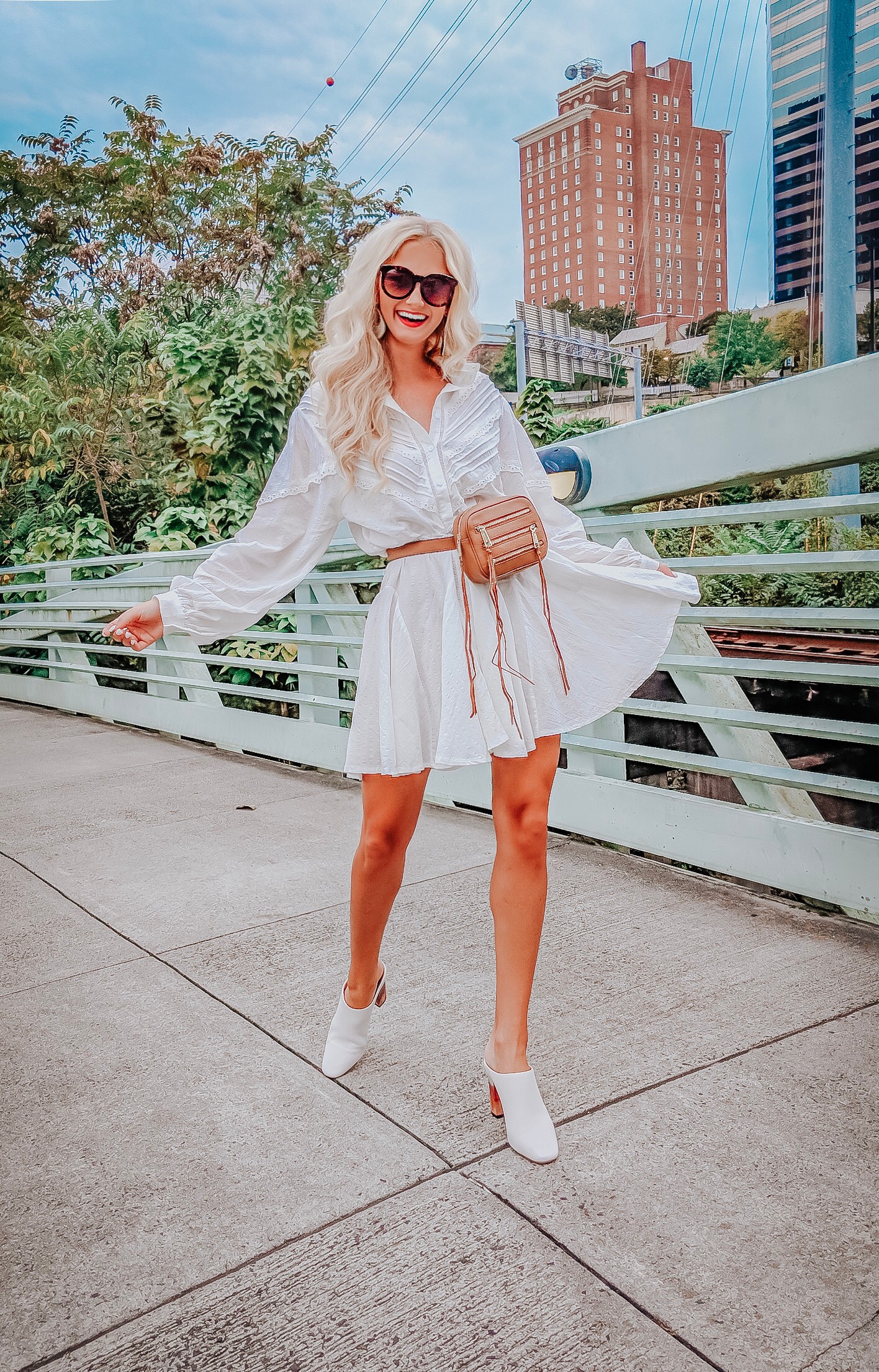 Since I usually have busy days full of styling meetings and errands around town, I tend to throw my new bag on with everything (because it's just so easy to wear and style)! I've paired it with jeans, denim shorts, dresses, rompers, you name it. I honestly didn't realize how much I'd love this new trend when I first saw it on the runways and streets of NYC earlier this month, and it looks like it's here to stay for awhile. *insert praise hands* That being said, I've already been on the hunt for a black, leather version for winter. Here are a few that have caught my eye so far:

---
Since this trend is still fairly new, I'd love to hear your thoughts on it! Leave me a comment below 🙂
Keep eBay in mind when shopping for your next handbag! I promise you won't be disappointed — I have so many amazing finds that I've bought there over the years. Also while you're on the site, check out the "daily deals" section, which can be found here. There are always major steals on that page, including fashion, home, electronics and more!
Thanks so much for stopping by, and I hope y'all have a great weekend!
xo, P
Thank you to eBay for sponsoring today's post! As always, all thoughts and opinions are my own.