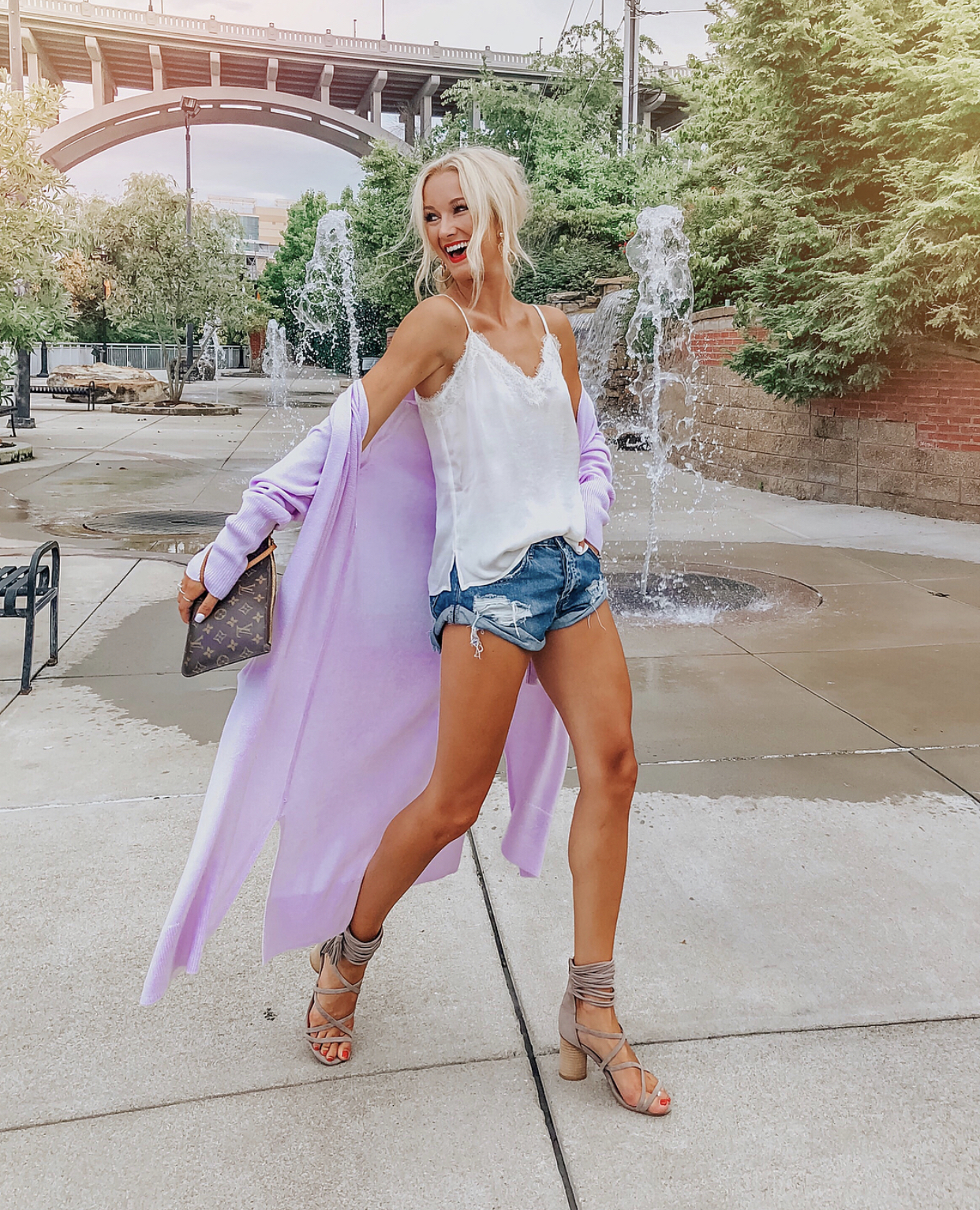 *outfit is from last year's NSALE, but will link the new pieces as soon as the sale launches!
It's that time of year again y'all! The Nordstrom Anniversary Sale (NSALE for short) is about to begin, and it's the largest, most exciting sale of the entire year (even bigger than Black Friday, which is hard to believe)! I will be covering the sale for you all this year and will be here as a resource for YOU. I will also be shopping the sale for myself and for TJ as well, so I'll be sure to share all of the items that I personally buy. But I definitely want to hear YOUR thoughts and what you may be shopping for right now, so head on over to my Instagram Stories (after reading this post) to share some ideas on what you are looking for this upcoming season. I'll keep my eyes open for you and be the best shopping resource for y'all (so that you don't have to do all the digging on Nordstrom's website).
A little background info … I've shopped the NSALE for 3 years now and own a wide variety of staple items in my closet that came from this sale in years past. I also re-purchase a lot of staple fall / winter items every year during this event, while prices are majorly discounted.
There are a few things regarding the big sale event that you'll need to know before the madness begins, so follow along below to find ALL the information you will need … and as always, I'm here to help answer any questions you may have! Let's start with the most commonly asked questions regarding the NSALE:
What is the Nordstrom Anniversary Sale?
This sale happens every year (once a year) right before the fall season. It's unlike any other sale because Nordstrom releases items during this time that have never been seen before. It's a brand new collection for the upcoming fall and winter, so this sale only focuses on items for those seasons. There are usually some really great summer-to-fall transition pieces, along with some amazing fall and winter staples that you will wear for 2-3 years to come. I always stock up on basics, designer denim and staple boots that I can wear all season long.
Most sales only happen after season, and the only items that are discounted are the pieces that either did not sell very well or the ones that the brand bought too much stock in. However, the NSALE launches brand new (never before seen) items at discounted prices before the fall season even begins. After the NSALE, those fall and winter pieces will be marked back up to their regular prices and won't be discounted again until next spring. This is the best time to stock up on fall and winter staples because you can get the items for up to 30-50% off their regular price point, and some of the items will either sell out (and be gone for good) or won't ever be discounted that low again!! The NSALE includes brands like Kendra Scott, Madewell, Barefoot Dreams, Tory Burch, Free People, Blank NYC, Marc Fisher, Steve Madden, Nike, Adidas, AG Jeans, Quay and more!
When can you start shopping and how long does it last?
I'll put the schedule below because it can be kind of tricky. I'll explain everything below as well!
July 11 (at 12:30pm EST): Nordy Club Icon and Ambassador Cardholders can begin shopping the NSALE online! If you are a Nordstrom credit or debit cardholder, you may be able to start shopping today! Find out if you are 'Icon' or 'Ambassador' status by signing into your Nordstrom account, navigating to 'Your Account' and then click 'Nordy Club'. If you qualify as an Icon or an Ambassador, then start shopping ASAP!
July 12-18: EARLY ACCESS for all Nordstrom Cardholders begins. This means that if you have a Nordstrom debit or credit card, you can start shopping the entire sale during this time. CLICK HERE to sign up for a Nordstrom credit card and gain access to the sale a week before the public (it's free to sign up & you can start shopping instantly — you do not have to wait for the physical card to come in the mail!). I know credit cards can easily be over-used, however, you can sign up here for the credit card to gain access for the early access sale and then pay it off and never even use it again until next year's NSALE (if you choose to do so). Just because you sign up to be a Nordstrom cardholder doesn't mean that you have to use the card all year long. You can use it once or twice or, even, zero times throughout the year. There is no minimum requirements that you have to spend in order to keep the card. I personally use my Nordstrom credit card for all of my Nordstrom purchases throughout the year and then pay it off every single time I make a new purchase, and I have personally not run into any trouble. That said though, I highly encourage you to do what YOU are most comfortable with because you can always wait until the public access sale goes live and not worry with the credit card. I'll share a little more about that below …
July 19-Aug. 4: PUBLIC ACCESS begins for anyone who wants to shop the NSALE! You do not have to have a Nordstrom card to shop during this time. Anyone can shop the sale on these dates, and you can still find some great deals! I will be covering the sale the entire time (so I'll still share my favorite staple finds with you all during the public access too). However, just be aware that a few of the most popular items will definitely sell out before the sale becomes available to the public — it happens every year unfortunately. Sharing more about that below … keep reading!
Overall tips for shopping the Nordstrom Anniversary Sale:
 1. Set a budget: You may see a lot of people on your Instagram feeds or at your office who are shopping this sale, and there are a LOT of really amazing deals so it's kind of hard (once you start shopping) to actually narrow down the items that you should (or should not) purchase. It's easy to get caught up in what everyone else bought and think that you "need it all", but I'm here to tell you that you don't. Promise me that you won't get discouraged about only buying the few pieces that you really need, because at the end of the day, this is just another sale that happens every single year, and no amount of clothes or home decor or any type of material things are worth going in debt over! I promise. 🙂 That said, set yourself a budget going in and make sure to stick to that!
2. Go through your closet: Before you start shopping, go through your closet and see what you actually need. This will help you stick within that budget that we just talked about! For me (an example), I have about 47 ivory cardigans, so I know I need to steer clear of all of those. I DO NOT need another, lol! However, I know that I wear my Spanx faux leather leggings and my AG Jeans almost daily in the fall and winter, so I may purchase one more pair of each of those. I also realized that I need a new pair of black leather booties this year because my old ones are scuffed and starting to fall apart, so I'll definitely be on the hunt for a new pair. All in all, you'll just want to go through your own wardrobe and see what you wear the most of throughout fall and winter and then see what staple fall / winter pieces are actually missing from your closet at this time. This will make the entire sale a little less overwhelming for y'all!
3. Start shopping ASAP: Items start selling out day ONE of the early access sale, which begins on July 12th, so I highly recommend starting to shop that day if you are a Nordstrom Cardholder. This will definitely be the only time throughout the entire sale where the most inventory will be available to us all. In years past, Nordstrom has restocked items during the NSALE, but last year, they did not restock anything, and word has it that they won't be restocking anything this year either until all of the items go back up to full price on August 6th after the sale ends. That said (since pieces sell out super quickly), I recommend shopping and purchasing as soon as you can if you want the items at the discounted price. Don't let items sit in your cart for too long either because sometimes the pieces in your cart may even sell out before you can purchase them. Nordstrom offers FREE shipping and FREE returns, so you can place as many orders as you want at anytime and it will be completely free. So, place your orders before the items in your cart start selling out! Good news is that I've heard this year that Nordstrom has larger stock in most items, so hopefully we won't run into quite as many sellouts as we have in years past.
4. Be ready for the site to crash: This is truly the most popular sale of the entire year for people all over the world, so unfortunately, there will be thousands of people shopping on the site at the same time, which always results in the site crashing a couple times (because there is simply so much traffic). If you experience a site crash, just be patient and try to refresh the page until you are back up and running. Even with hiccups like this, I PROMISE that this sale is still totally worth it. You will score some major deals!
5. FREE shipping and returns: I briefly mentioned this earlier, but Nordstrom offers free shipping and free returns, so if you are unsure about sizing or not sure if you will want to keep some of the pieces that you ordered, THAT'S OKAY! My advice to you is to go ahead and order a couple sizes (if you're unsure about what size to get) and grab all the pieces you LOVE before they sell out. Have them shipped to your home, try them all on, decide what you will keep and then return whatever you don't want (completely for free). There is also no time limit on when you have to return the items you do not want to keep, so you are in no huge rush to return anything. I do this every year during the sale … I place a huge order (since we don't have a Nordstrom here in Knoxville, #bummer) and then try on everything that I got to decide what I am keeping / what I am returning.
6. Follow me on the LIKEtoKNOW.it (LTK) App: It's free to download in the App Store, and I will be posting TONS of deals throughout the sale to the app. I will be sharing things on LTK that will not be shown on my blog or Instagram or anywhere else, so be sure to follow me there (just search 'peyton.baxter' on the app) so that you don't miss out on any of the sales I'll be sharing and the pieces that I have ordered from the NSALE!
---
Alright, those are the main details and tips I have for you all regarding the Nordstrom Anniversary Sale. This is truly the best time of the year to stock up on fall and winter staples (i.e. cardigans, denim, sweaters, boots / booties, sneakers, pjs, workout gear, beauty, Christmas gifts / stocking stuffers (never too early?!), designer items, etc.) at a HIGHLY discounted price point! All of the sale items will be raised up to their full, regular price on August 5th, so just be sure to shop before then to save some money.
As always, I'm here as a resource and personal shopper for you all, so please let me know if you have any questions at all! You can email me, DM me on Instagram or comment below with any questions. Thanks so much for stopping by, sweet friends! Let's get to shopping!
xo, P