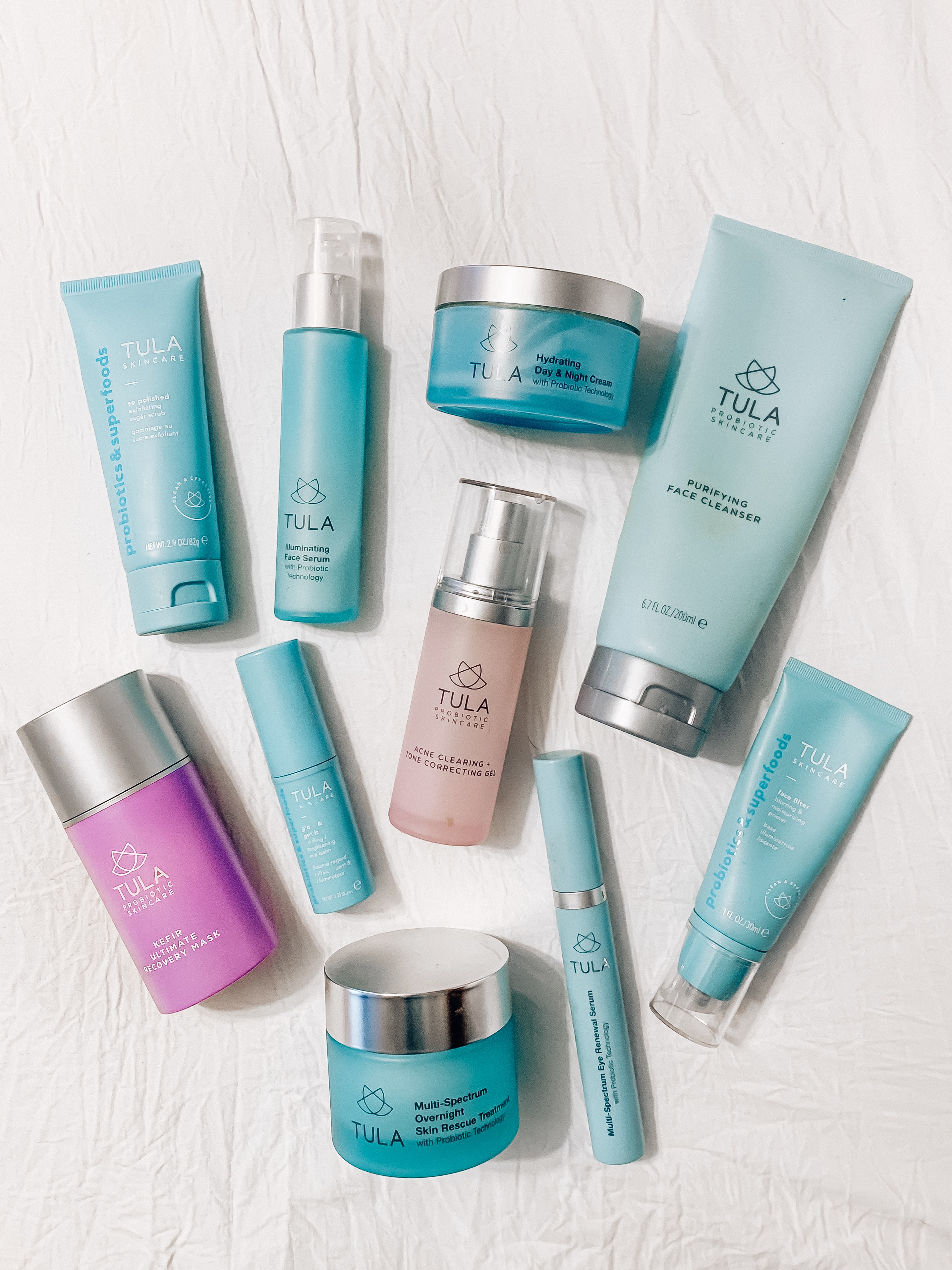 It has been awhile since I rounded up the products in my skincare routine for you all, and my regimen has slightly changed since the last time I blogged about it. I have incorporated a few new products for summer, and I can't wait to share more about them in detail … there's only so much I can share in an Instagram story or caption! 😉
Before we get started, let me clarify a few things and give some background so that this is all very clear and easy to understand … I have been doing this exact routine all summer, morning and night (since beginning of May). But on top of that, almost all of these products are what I have been using for about 2 and a half years now. I primarily made the switch to using the Tula brand at the very beginning of 2017. I absolutely swear by these products and they have transformed my skin. What works for my skin may not work for yours, or maybe it will?! Either way, I still want to put this in-depth review out there for those who may need a little more information on these specific products. Whether you've struggled with or been embarrassed of your skin in the past (I sure have 🙁), I hope that all of this will help you in one way or another! As always, I'm here to help you all any way I can, so if you ever have any questions, feel free to reach out to me via email or by commenting below this post.
Now, hold on tight as I take you through each step of my current summer skincare routine step-by-step. I'll be sure to link everything for you all and go in depth on how and why I love each product. Also, don't forget that you can always get 15% off your entire order at Tula when you use my discount code: PEYTONBAXTER at checkout. You may be surprised just how much money this will save you over time (plus, their products are already pretty reasonably priced for high-quality skincare).
Let's get started …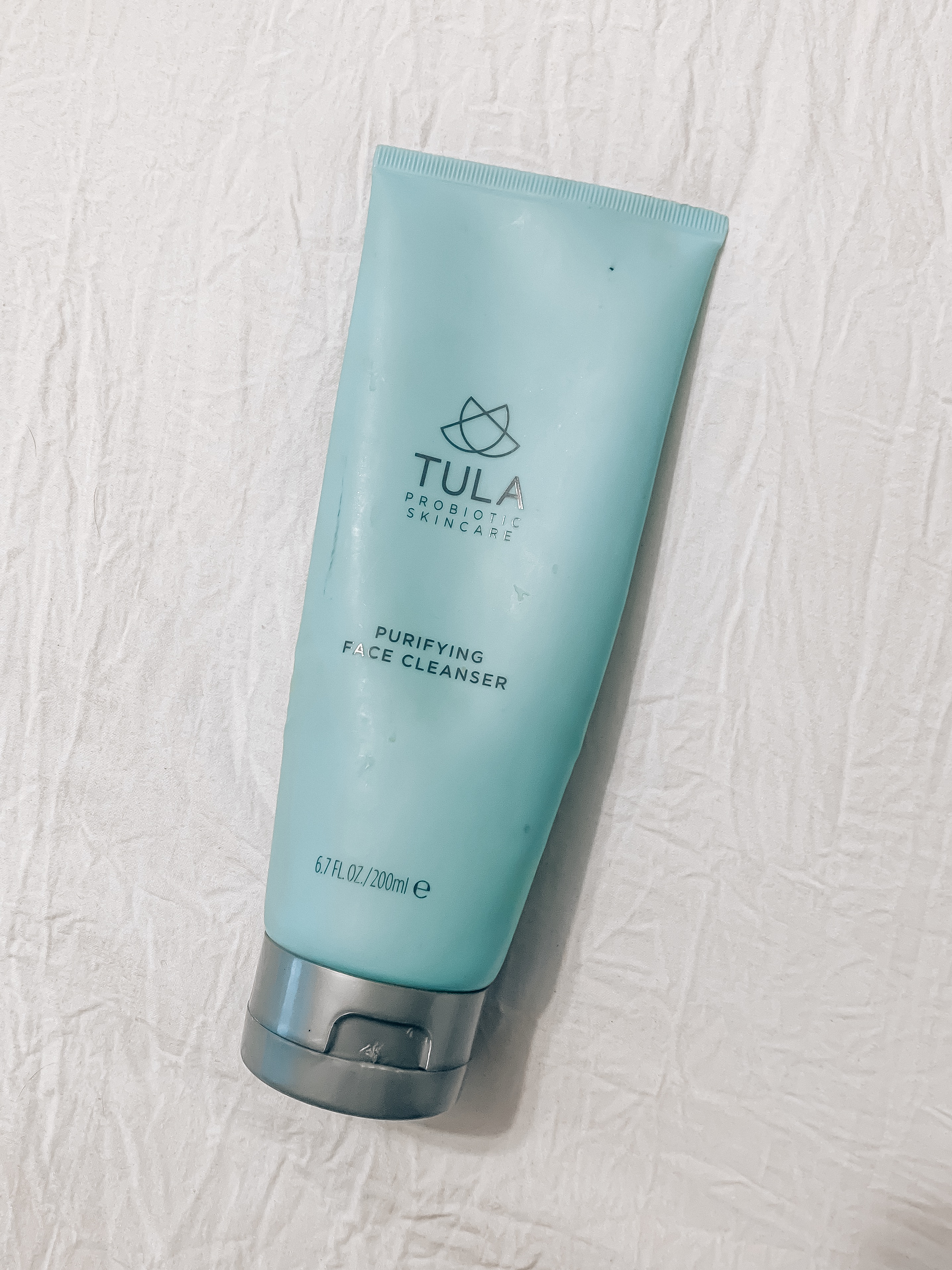 First, I start by using an oil free makeup remover wipe if I have a bit of makeup on. This cleanser will take off your face makeup pretty thoroughly, but if you have a lot of eye makeup on (especially waterproof eyeliner or mascara), then you may like using a wipe beforehand. Next, I completely wet my face with lukewarm water and apply a dime-size amount of the cleanser to my hand. Then, I just wash my face as usual (in circular motions all over) until it suds and feels really clean. Then, I rinse completely with lukewarm water and splash my face with COLD water to close up all the pores.
I love this cleanser because it's super gentle on my skin, yet effective at the same time. It also has a really clean scent and does not dry out my face. I have pretty sensitive skin, but it's also combination skin (dry on my cheeks and chin, but oily on my t-zone), so I'm super picky about cleansers. This one has been the best for my skin type!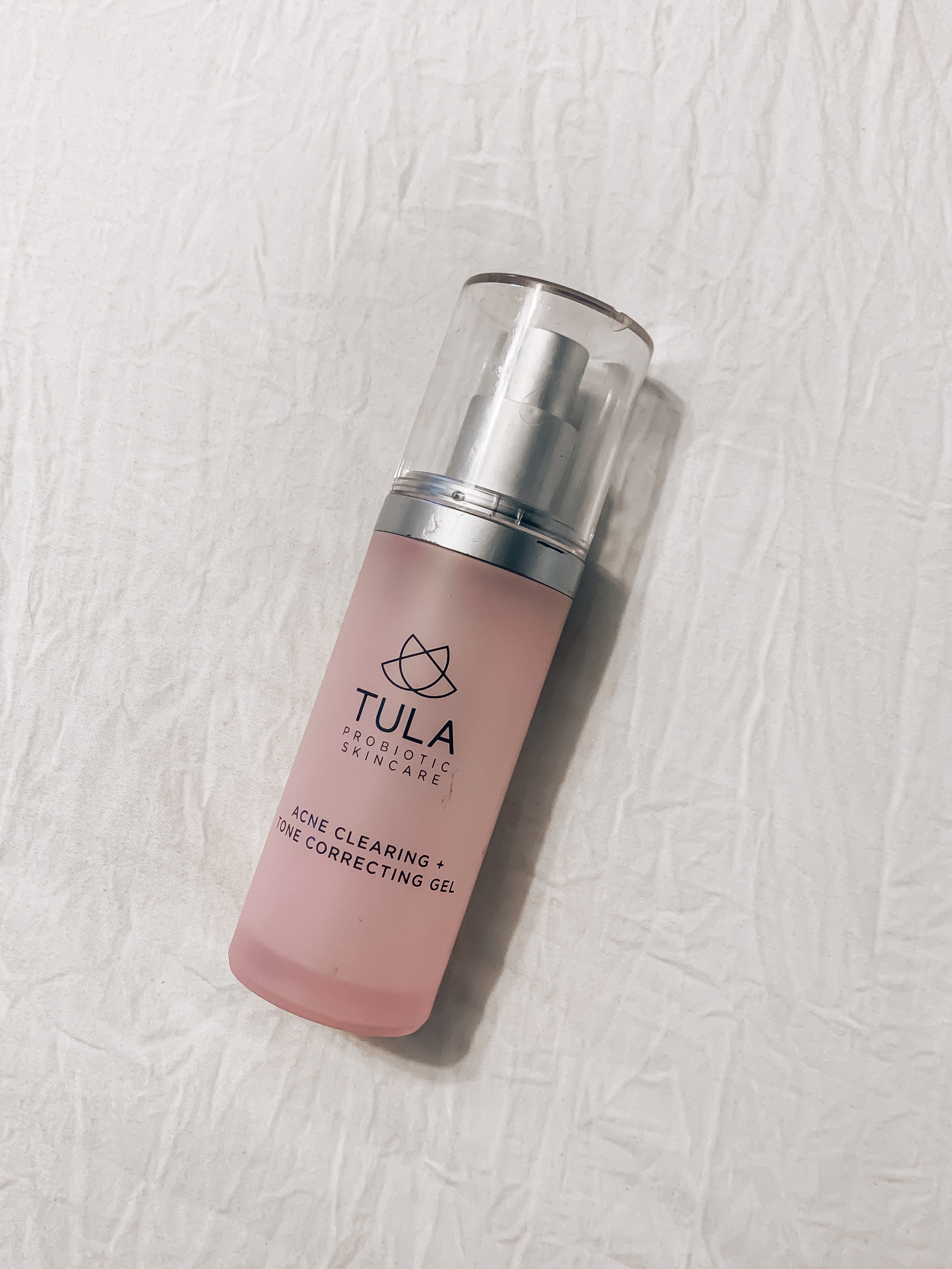 After cleaning my face, I apply 3-4 pumps of this Acne Clearing Gel to a cotton pad and wipe it all over my face, while really focusing on my t-zone where I tend to get more oily. This product contains 2% salicylic acid to clear up acne, prevent breakouts & brighten marks left by past acne / acne scarring. I really think this product has been tremendously helpful because, since incorporating it into my routine, I have had hardly ANY blemishes. That says a lot, considering how often I use to get breakouts.
In middle school and part of high school, I would get normal breakouts (as any teen does), but I also had these small bumps all over my forehead that I just couldn't get rid of. Then, they started to clear up in college and after graduation; however, they would occasionally make a return anytime I cheered (and sweat) at ball games with a full face of makeup or anytime I got stressed. I continued noticing these random bumps pop up every so often until I started using Tula, and I honestly haven't seen them since. I will still get one or two minor blemishes about every other month or so if I feel stress coming on or if my hormones are out of whack, but for the most part I hardly ever see any breakouts now.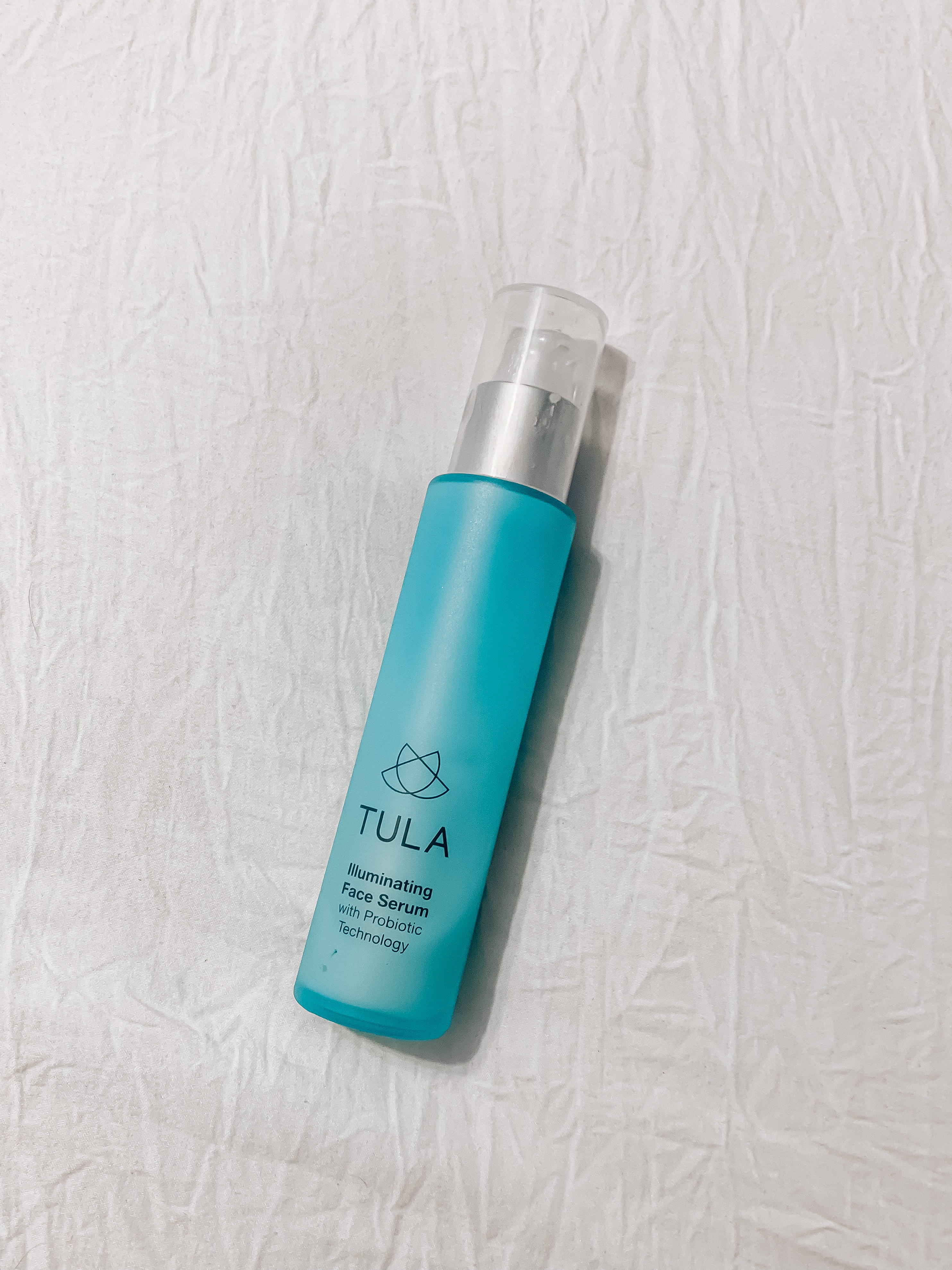 The Illuminating Face Serum is a product that I always incorporate into my summer skincare routine because it give my face a little extra glow, which I love for the summertime. This is a very lightweight product that (in my opinion) feels like a mix between a serum and a really lightweight moisturizer. It targets the appearance of dark spots, hyper-pigmentation and dull skin. It's not heavy at all, but just helps to brighten up skin tone and give us that healthy, summery glow.
I apply about 2-3 pumps (with my fingertips) all over my face.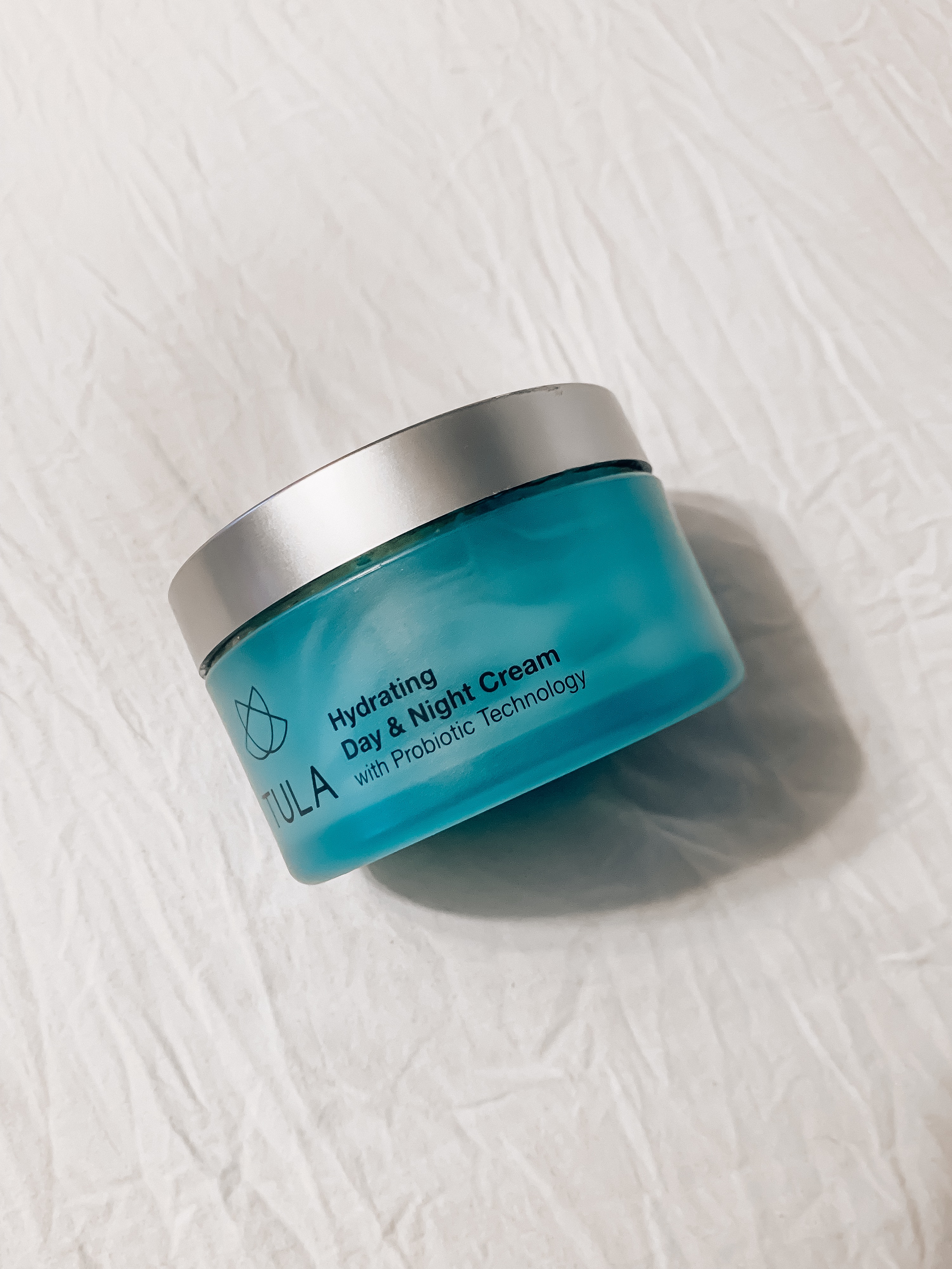 Next is one of my HOLY GRAIL, "must have at all times" products. I cannot live without my Hydrating Day & Night Cream. It is, in my opinion, the best facial moisturizer on the market. Like I said before, I have sensitive & combination skin, so I have to be very careful with moisturizers on my face. I need something that is super hydrating in some drier areas of my face, but also something that won't make my t-zone more oily throughout the day. This is the only moisturizer I have ever fallen absolutely in love with. I've raved about it since day one, when I first switched to Tula, and I don't think I'll ever stop using it.
This product delivers deep hydration to help revive dull skin. It's a nourishing cream (that's not too heavy), full of naturally derived probiotics and superfoods. It also has a very fresh, calming, and clean smell to it. I cannot say enough good things about this cream!
I apply about a nickel size amount all over my face and down my neck. TIP: Instead of rubbing your moisturizer into your face, try to just gently pat it all over so that it gets deeper into your skin.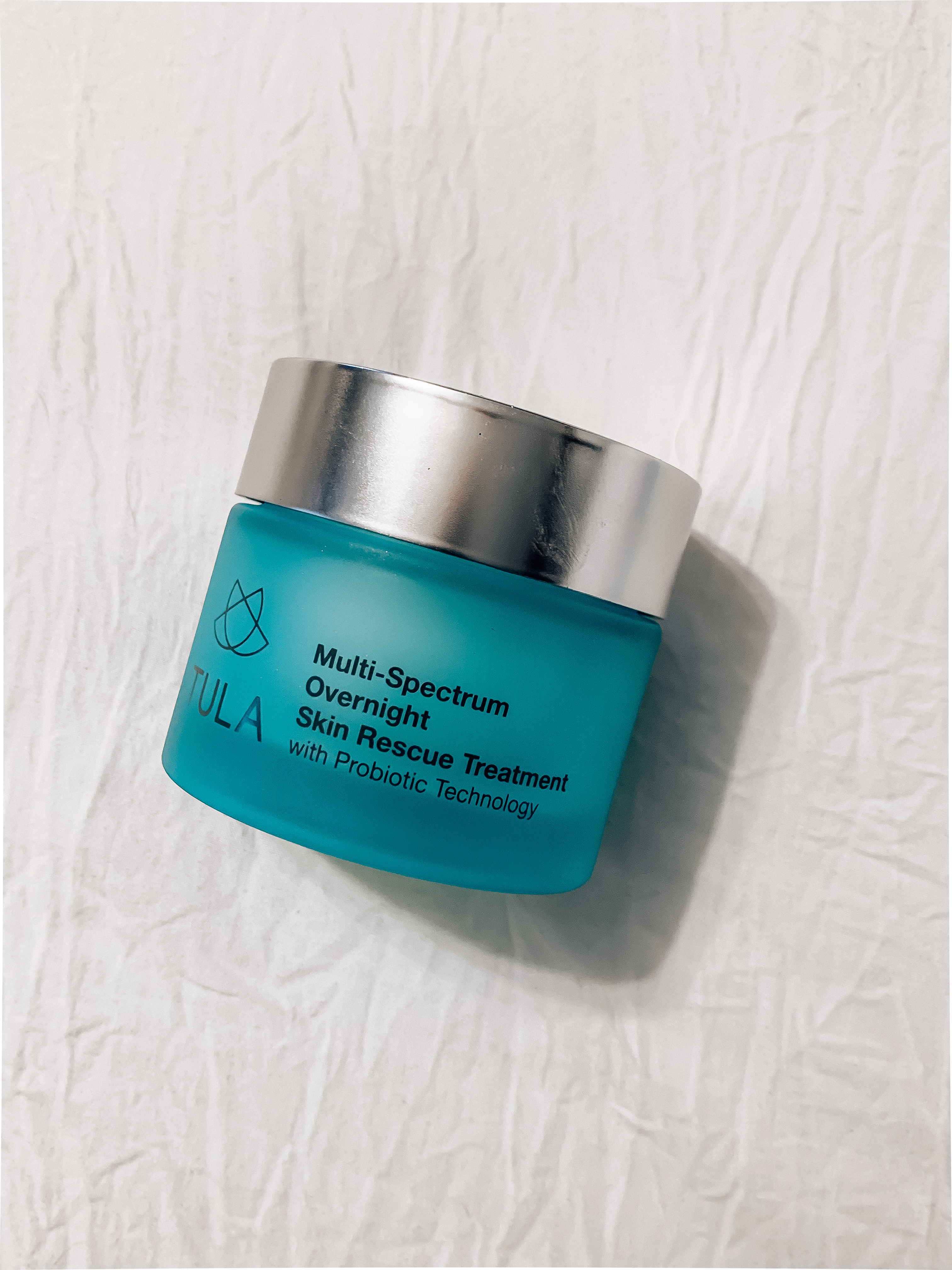 So, this is Step 4, continued because I only use this product at night right before bed. I especially love using the Overnight Skin Rescue Treatment in the hot, summer months because it's EXTREMELY hydrating. This anti-aging treatment releases concentrated probiotics and natural peptides to renew the look of the skin and reduce the appearance of lines, wrinkles and dull tone. The reason I use this at night because it is so moisturizing that it kind of leaves my face looking oily before bed, and it's supposed to really sink into your skin overnight to treat it with probiotics.
This product does have a slightly different smell than all of the others, just because there are so many probiotics in the formula. However, the scent doesn't bother me at all and it goes away anyways, right after you put it on your face. I apply about a dime size amount all over my face + down my neck.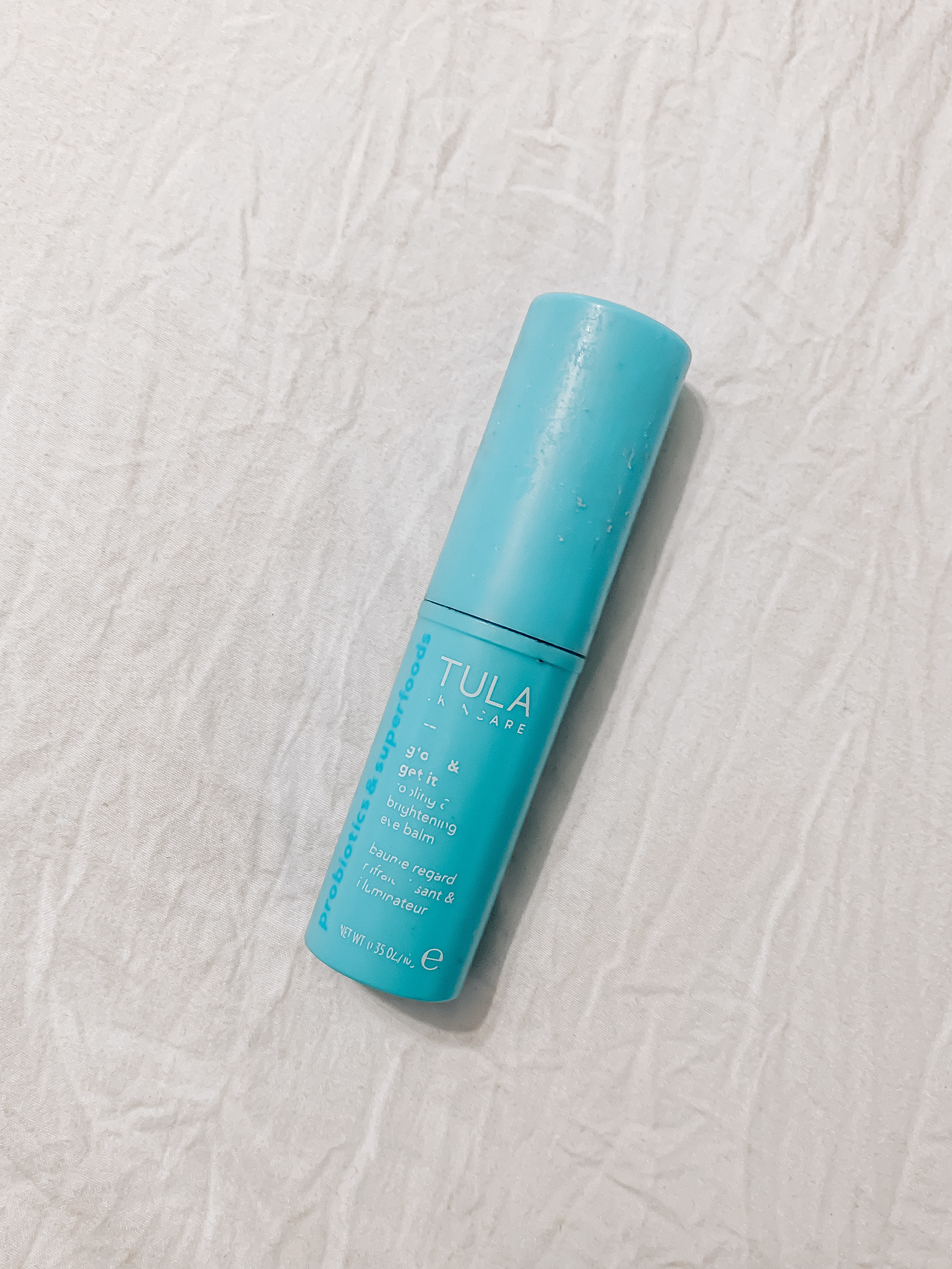 Tula's golden child … the Glow & Get It Brightening Eye Balm! This. Stuff. Is. BOMB!!! It's a luminous eye balm that delivers a
"lit-from-within" glow while instantly hydrating, cooling, and filling in fine lines around the eyes. It helps me feel more awake and look wayyyy more energized as soon as I apply it because it actually contains caffeine. I use this in the mornings, at night, after breakfast, before lunch, after lunch, before dinner, on the plane, in the car, on the lake, in the Starbucks line, at the store … no I'm kidding. LOL 😉 But really, I actually use this stuff throughout the entire day if I feel it's needed, and it doesn't matter where I am! I carry it with me everywhere I go. I definitely use it every single morning and then occasionally at night, depending on what time of the day I wash my face. I also use this product throughout the day whenever I start to feel drowsy or when that 2pm slump comes to visit. I love it because I can still apply this product on top of my makeup and it even has a nice sheen to it, so it kind of looks like a highlighter on top of makeup. This is literally the coolest skincare product I've ever tried — no wonder it always sells out so fast!
When I don't have any makeup on, I rub this stick underneath my eyes, (gently) on my eyelids, and above my eyebrows. When I use it on top of makeup, I just tap it under my eyes and on my cheek bones (and occasionally down the center of my nose if I need a little highlight). Overall, the eye balm is just the jack of all trades and feels so good on my skin!
Step 5, continued … This is another eye product that is similar to the eye balm that I just shared. Yet, it's slightly different, and I love them both for different reasons. I have used this Eye Renewal Serum every night before bed since the day I started using Tula. It helps to prevent wrinkles and dark circles / puffiness in the eye area. This is more for anti-aging, and the Brightening Eye Balm is more for feeling / looking more awake. The Eye Renewal Serum helps refresh the look of tired, aging eyes (overtime) with a transformative caffeine-packed formula. It is clinically proven to reduce the appearance of wrinkles and puffiness.
Essentially, both eye products help reduce puffiness and dark circles, however, this serum also prevents wrinkles from forming overtime. It will not leave you with the same energized, cooling affect that the Eye Balm does, so that is why I like to use this serum at night and the balm in the mornings! You may not necessarily need both eye products (depending on the outcome you are looking for), but for me personally, I like incorporating both into my routine.
The renewal serum has a really cool, metal tip on it that I use to apply two pumps of the product under my eyes and onto my eyelids. I personally don't keep this in the refrigerator because the metal tip on it stays really cool, which is so convenient.
---
That's all of my daily products in my skincare routine at the moment, but I still have a few others that I consistently use weekly (just not every single day). Let me tell you a little more about each of them …
Other Products I'm Loving: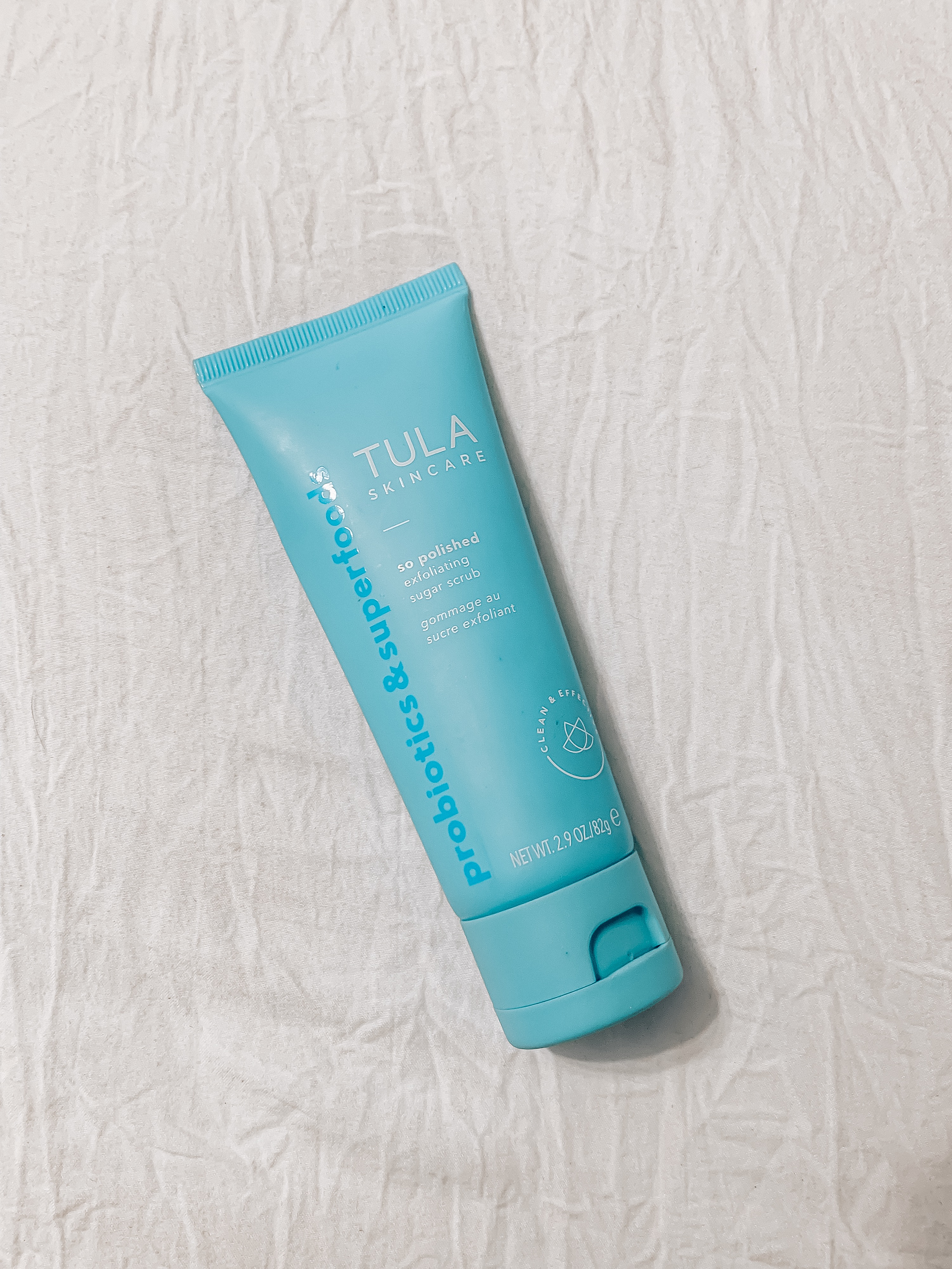 This exfoliating scrub is one of the newer products that Tula just released about a month ago, and I absolutely love it. It's perfect for summer because my face always seems to have way more dead skin on it from being out in the sun. This product is packed with sugar (a natural exfoliant that dissolves in water), as well as, papaya and pineapple, which both contain naturally-occurring enzymes to chemically exfoliate the skin. It's also great for moisturizing because the sugar particles burst and become really hydrating when being applied to your face.
This scrub leaves my skin looking smoother and brighter, and it smells ahhh-mazing! It smells like a beach vacation (or a pina colada). 🙂 I use this product about 3 times a week at night, right after my cleanser.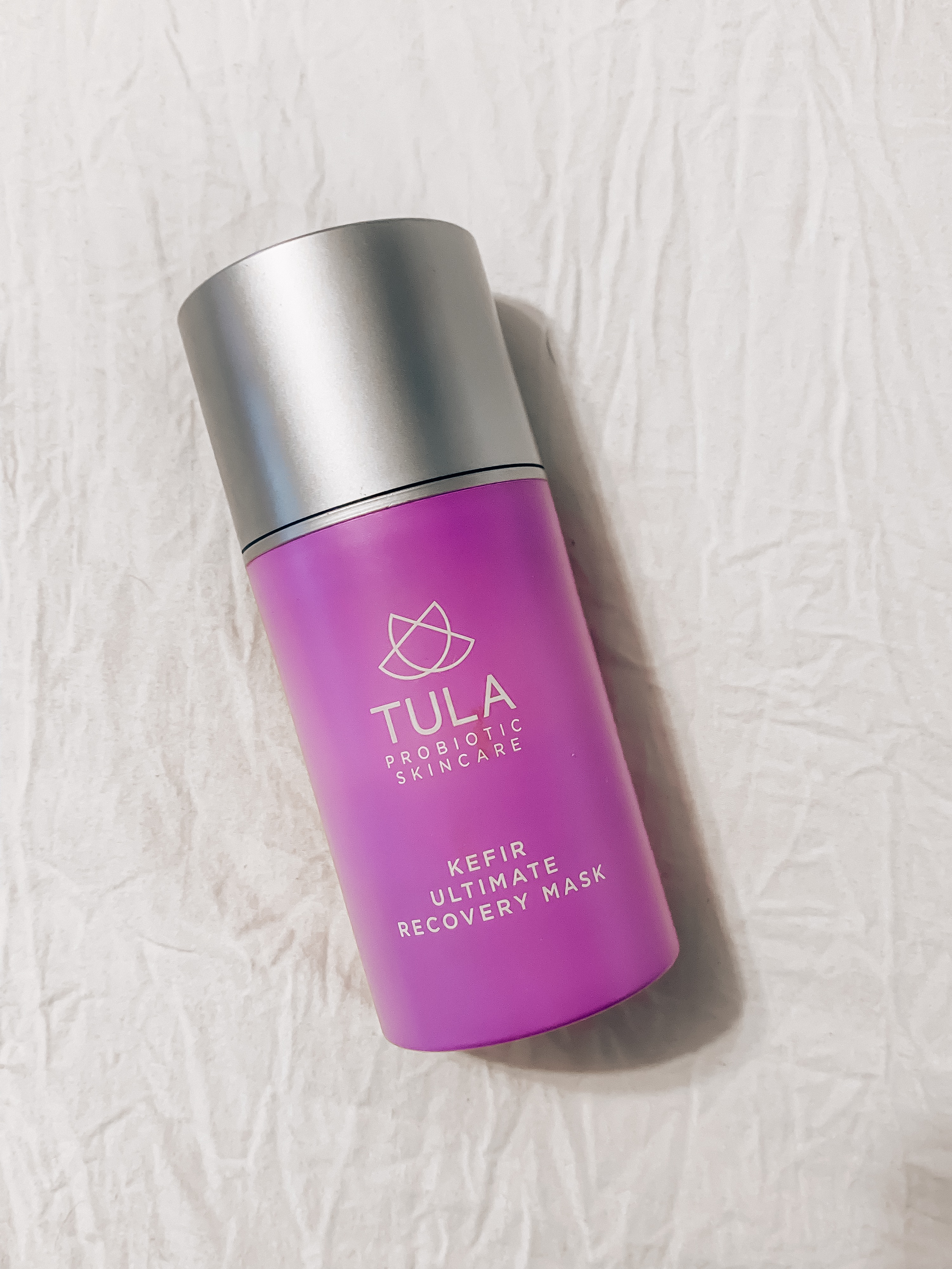 This is my favorite face mask, especially this time of year. It's so hydrating, and it's a great refresh for your skin. It's a nourishing and comforting mask formulated to help your skin recover from extreme dryness and signs of distress. It's one of those "make you feel alive again" products, ha! I also use this product every time I get home from traveling. My skin literally craves it.
I just apply a generous amount all over my face and down my neck, let it sit for 10-20 minutes and then rinse with cool water.
Your skin will love you after using this!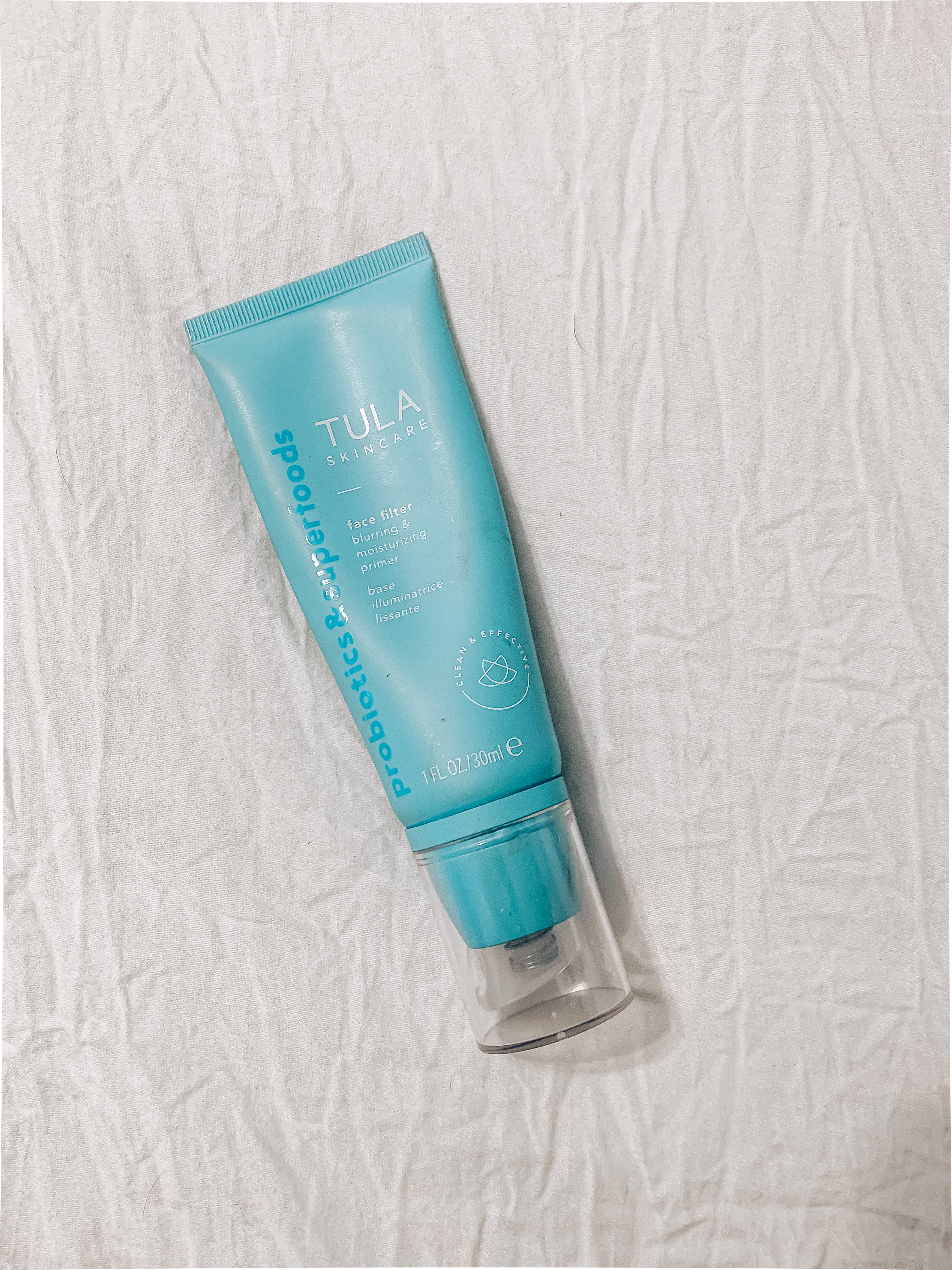 Face Filter is another new product that Tula recently launched, and it's the first-ever product of theirs that overlaps a little bit with the makeup world. It's such an amazing product, and I've been using it since the day it was released. It's packed with probiotics, prebiotics, turmeric, chia seeds, and other skin-loving ingredients that instantly smooth the look of uneven tone and redness.  CAN I GET A HALLELUJAH?! It's honestly like one of those smoothing filters that we find on Instagram stories and Snapchat, but in real-life format! When it's applied, it releases "glow particles" that create a warm-toned, radiant base for makeup. I've also noticed that it helps my makeup stay looking smooth all day.
I apply 2-3 pumps all over my face with my fingertips. It comes out as a white, clear-ish color, and while it's been applied to your skin, you may even notice a very subtle hint of color spreading all over. It's gorgeous and very natural!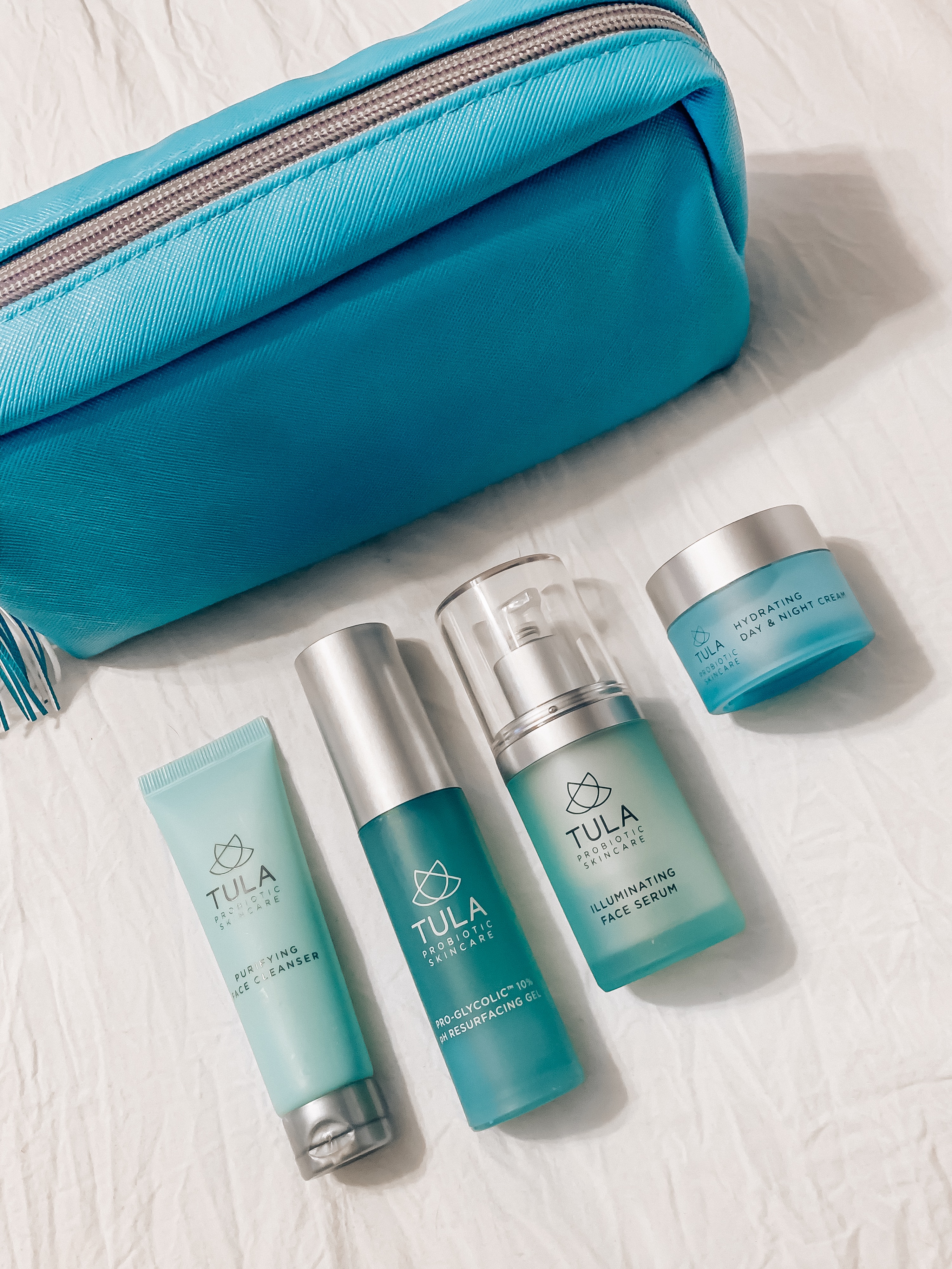 Lastly, I just want to touch base on this Discovery Kit because it's the BEST option for those who want a good quality starter kit. I totally understand wanting to try out a few products before making a big commitment on full-size products, so this is a great starting point. I absolutely love all of the products included. I used this when I first started Tula, and now I have every single one of the products from this kit in the full-size containers because I love them that much.
I also love this kit for traveling because everything is travel-size and it's easy to store them inside the small case. There's not a trip I go on that I don't have this kit with me!
---
Shew, that was a lot of information … but don't get overwhelmed! These are just the main Tula products that I consistently use and love SO much. There are others I use throughout other parts of the year, but I'll save that for another time. 🙂
If you have any questions or concerns at all, feel free to comment below or shoot me a message. Again, you can use my discount code listed below to get 15% off every order you place on Tula's site.
Discount Code: PEYTONBAXTER
Thanks so much for taking the time to read this. Hoping this is helpful to you all!
xo, P