Happy Early Access NSALE Day, y'all! The Nordstrom Anniversary Sale officially kicks off today for all Nordstrom cardholders, and it is SO good this year! I can't wait to share all the deals that I got. 🙂 Yesterday, I went through every page of women's clothing, accessories, shoes, etc. and even browsed a little home decor and beauty products that are part of the sale. I saved all of my top picks to share with you all, and I'm linking them all below. Over the next couple weeks, I'll be sharing blog posts specifically geared toward the men's sale, beauty exclusives, home finds, and more! Be sure to check back often or follow me on Instagram so that you don't miss out on anything!
Before you start shopping, I want to link yesterday's blog post because it includes some helpful tips for navigating the sale and how to become a cardholder so that you can start shopping the sale today!! Let me know if you have any questions at all, but if not, let's get to shopping!
First, I'm sharing the items that I personally bought from the NSALE. I placed my order online yesterday (because Knoxville doesn't have a Nordstrom … I know, crazy right?!) so I ordered more than what I'll actually be keeping. I wanted to have plenty of options to try on to decide what I like best and to compare items for you all! I'm here to be the best shopping resource for y'all. It's actually really nice shopping the sale online and avoiding the in-store chaos, so I highly recommend ordering online (Nordstrom offers free shipping + free returns) and you can have items shipped to your home or you can pick up your order in-store!
Linking everything that I've purchased so far — click on the image of the item you want to shop and it will send you directly to that item on Nordstrom's site!

*Once my order arrives, I'll try on everything for you all and round up the outfits in a blog post + Instagram stories. Stay tuned!
In the meantime, I've rounded up my top picks from a few categories that y'all said you wanted to shop from, so follow along below to see the best cardigans, sweaters, shoes/boots, comfies, accessories, bags and staple wardrobe pieces. (Just click on the words that are underlined & it will take you to the site to shop.) I'll be rounding up my top picks from other categories in the coming days, but I wanted to go ahead and share the items below because these will be the pieces that sell out VERY quickly. I highly recommend purchasing your items asap because if you leave them in your cart for too long, they may sell out before you can checkout — just a heads up 😉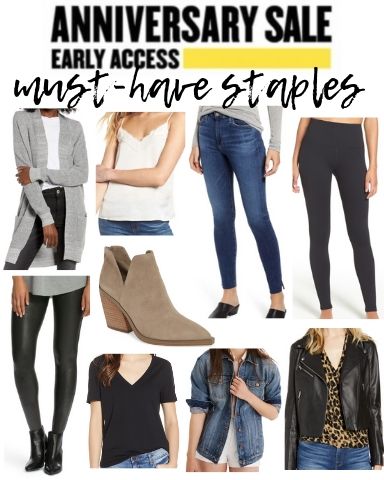 grey cardigan – I grab at least one of these basic cardigans each year during the sale because they're so perfect for transitioning into fall!
lace cami – BEST camis to layer under jackets and cardigans. I wear these year-round! (true to size // I wear the small)
AG jeans – BEST JEANS EVER, hands down!!!! I'm a jean snob (I've tried allll the denim), and this pair is by far my fav for skinny jeans. Great to wear with booties or to tuck down into taller boots. (true to size // they have a little stretch)
Zella leggings – These are my favorite basic, black leggings because they are high-waisted, thick enough to where you can't see through them and they suck everything in! I size down to XS in these because I like my leggings to have a tight fit. (These stretch out a tiny bit after the first wear.)
Spanx faux leather leggings – If you buy one thing from my 'staples' category, let it be these faux leather leggings … and thank me later! 😉 I wear these pretty much daily in the fall/winter. So easy to dress up or down! These will sell out SO fast so grab them now! (true to size // I wear the small)
nude booties – I own these booties in last season's style, and they go with literally every fall outfit! Multiple colors available in this style.
basic tees – STOCK UP!! Best layering tees! (true to size)
denim jacket – Everyone needs a good denim jacket for fall! This one fits a little oversized.
leather jacket – I live in leather jackets in fall/winter, and y'all this is such a good one!! This is something you can invest in now and wear for YEARS to come!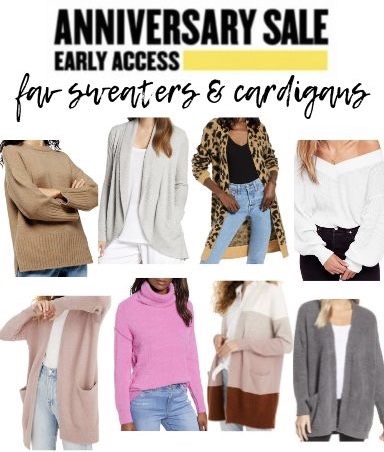 Barefoot Dreams circle cardigan – I have this in the charcoal color and it's so soft and cozy. I literally live for anything and everything *Barefoot Dreams*. Worth EVERY penny! (true to size)
leopard cardi – THIS WILL SELL OUT so grab it asap if you want one!
Madewell super soft cardigan – Literally the softest material ever! Runs large.
bubblegum pink turtleneck sweater
grey Barefoot Dreams cozy cardigan – Ordered this in the grey color!! Runs large so size down.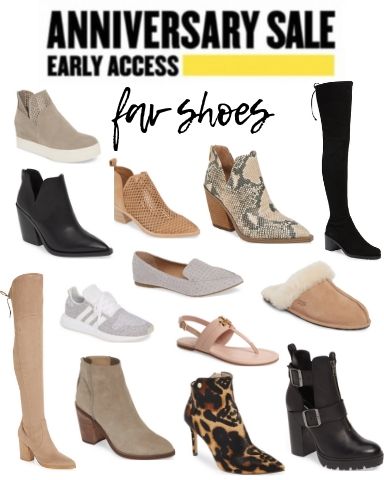 Steve Madden grey suede slip-on sneaker booties – So excited to wear these!!
Vince Camuto black leather booties – I desperately needed some new black leather booties, and I fell in LOVE with this style! Multiple colors available!
snakeskin booties – Snakeskin is about to become the new leopard y'all! Grab these and stay ahead of the trend. 🙂
black Stuart Weitzman OTK boots – I wanted a pair of these SO bad last year and didn't get them — instantly regretted that decision! Snagged them this year because they never go on sale, and this is a HUGE discount!
Marc Fisher tan OTK boots – I have these and LOVE them so much! Another perfect option for OTK boots at a more affordable price than the Stuarts listed above. This pair is SOOO comfy!! (true to size)
Adidas tennis shoes – These run big — size down!
grey Steve Madden studded flats – Perfect option for the office. Multiple colors!
Ugg house slippers – I own Ugg houseshoes and literally LIVE in them! I've had mine for a year, and they honestly still look brand spankin' new!
Tory Burch sandals – I've never seen the Miller sandals go on sale during this event, but here's a similar option on sale!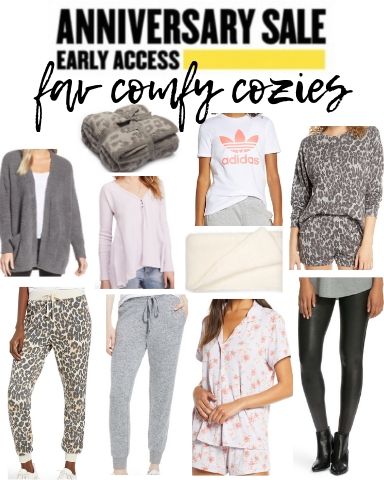 Barefoot Dreams leopard blanket – This is the blanket I rave about all the time! It's definitely pricy for a blanket, but it's my favorite purchase that I've ever made during the NSALE. They hold up so well in the wash, and they're just overall so cozy and soft. I use mine all day at my desk and sleep with it at night, lol! HIGHLY recommend grabbing one while they're on sale!! Comes in many colors.
Free People thermal – Best basic thermal to dress up or down in the fall — multiple colors & fits a little oversized!
Barefoot Dreams super soft cream blanket – Couldn't help myself … had to get another one of these! I'm going to put this one downstairs on our couch to use in the living room. I love how plush this one is!
leopard lounge set — top / bottoms
leopard joggers – I have the camo version of these and literally live in them when I'm at the house. Love them so much! (true to size)
soft pajama short set – BEST PJS EVER EVER EVER!!! I own 5 or 6 pairs, and it's all I ever sleep in. Softest material you'll ever put on and they do not shrink at all in the dryer. Many colors available. (true to size // I get the small)
Spanx faux leather leggings – Again, total must haves!!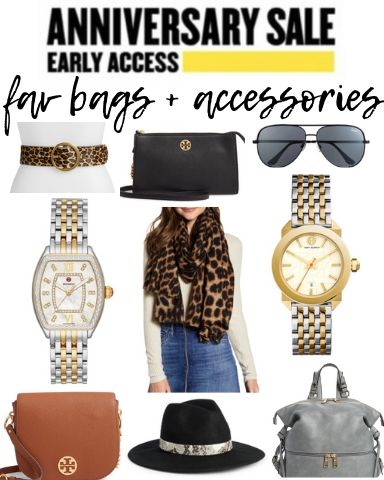 black Tory Burch crossbody bag – Cutest staple crossbody designer bag for only $165 right now! Multiple colors available!
Quay sunglasses – LOVE these — just ordered another pair. Super comfy to wear!
Michelle watch – I've had my eye on this exact watch for a couple years now … Haven't bought it yet because it's definitely an investment piece, but please one of you get it because it's just so darn beautiful and I want one of you to have it, ha!
Tory Burch watch – Thinking about getting this watch because it's the same look as the Michelle watch above, but at a fraction of the price!
Tory Burch crossbody saddlebag  – Classic fall staple bag (comes in multiple colors).
black snakeskin trim hat – Comes in 2 colors!