This year was my second New York Fashion Week, and it was one for the books! I'm leaving The City with no voice, a full heart and LOADS of style inspo for the coming months & spring / summer 2019. (Side note: I'm actually LOVING the new trends coming in next season … think big shoulders, fun (unique) sleeves, tweed, pastels, ruffles and all things chic.)
Since NYFW is such an incredibly busy, chaotic time, it's hard to share every little detail or every single link to outfits during my time in the Big Apple, so I wanted to take the opportunity to recap all things Fashion Week 2018 in this post, including all my outfit details (+ links to shop), all the shows & events I attended, memories that were made with friends from all over the country and trends that I saw on the runways for the upcoming seasons. I hope you'll find this post helpful, entertaining and inspiring! As always, if you have any questions at all, please don't hesitate to ask. 🙂
DAY 1: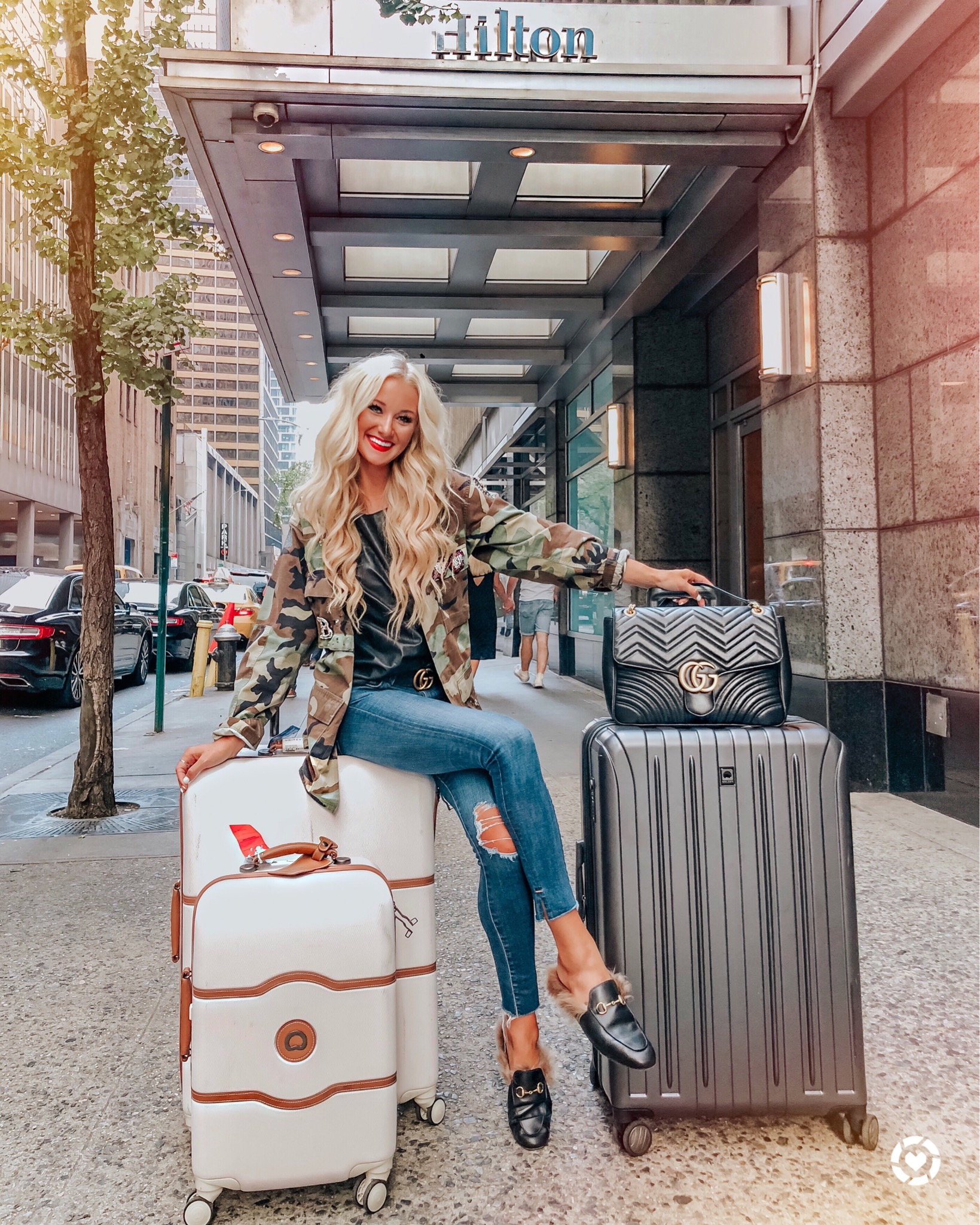 Outfit Details:
custom camo jacket is designed by Cavanagh Baker (email info@cavanaghbaker.com for inquiries) | AG jeans | Gucci belt | Gucci mules (dupes here!) | black tank | luggage | Gucci Marmot large handbag

This year's trip was super special because I got to somewhat make a girls trip out of it with my mama and sister. If you've followed me for awhile, then you know how close we are, and spending quality time with them truly makes me the happiest. It just so happened that my sister, Brittany, had to come to NYC for meetings for her job the same week I would be there for fashion week, so we made the most out of it! I flew up with my mom on Wednesday, and we checked into the New York Hilton Midtown hotel* before heading over to Top of the Rock (neither of us had ever been up there before — it was really neat & was within walking distance to our hotel so it was a must see this trip!).
*I'll be sharing an in-depth hotel review about where we stayed and things to do near that hotel in another blog post very soon, so stay on the lookout for that!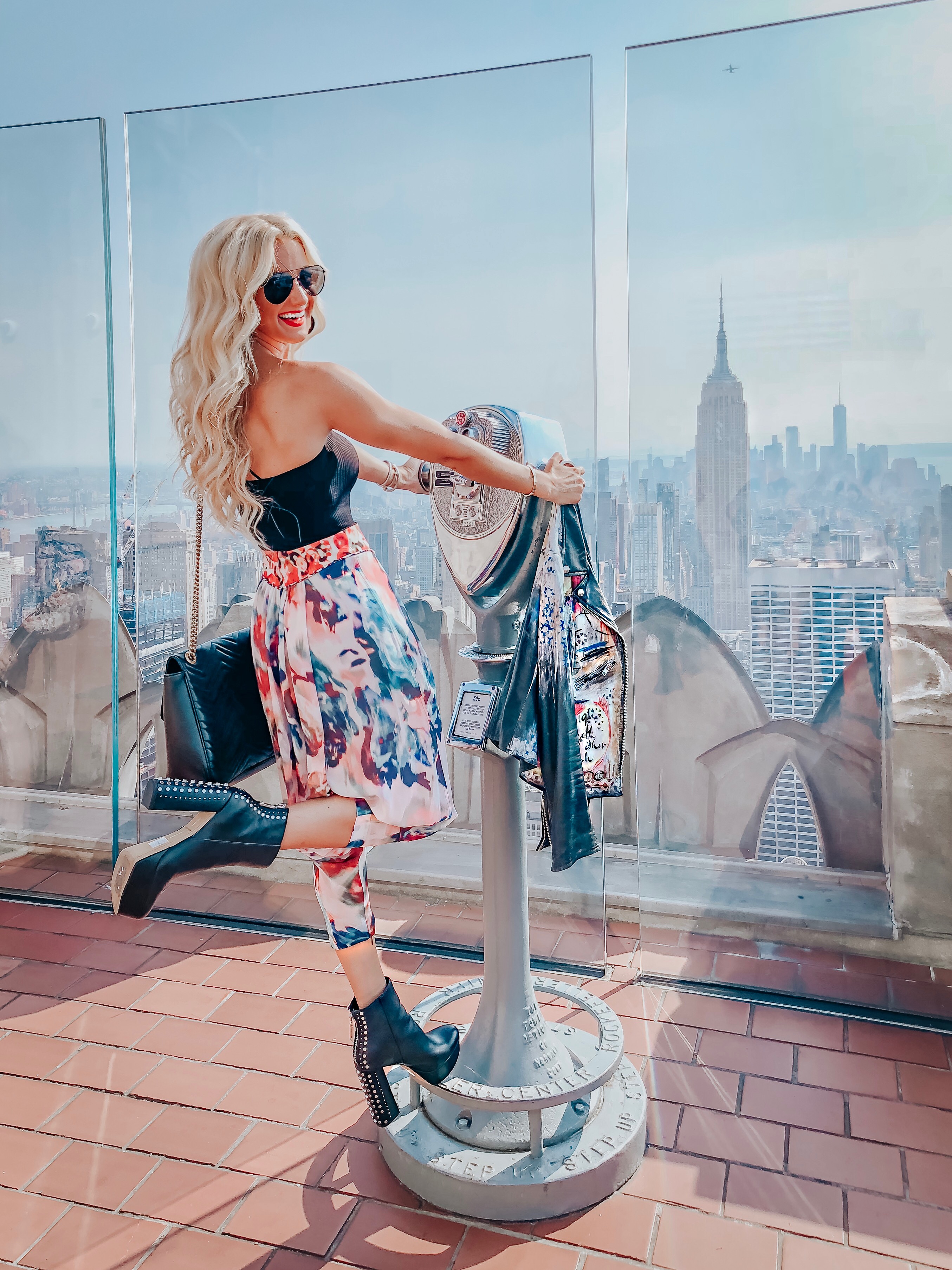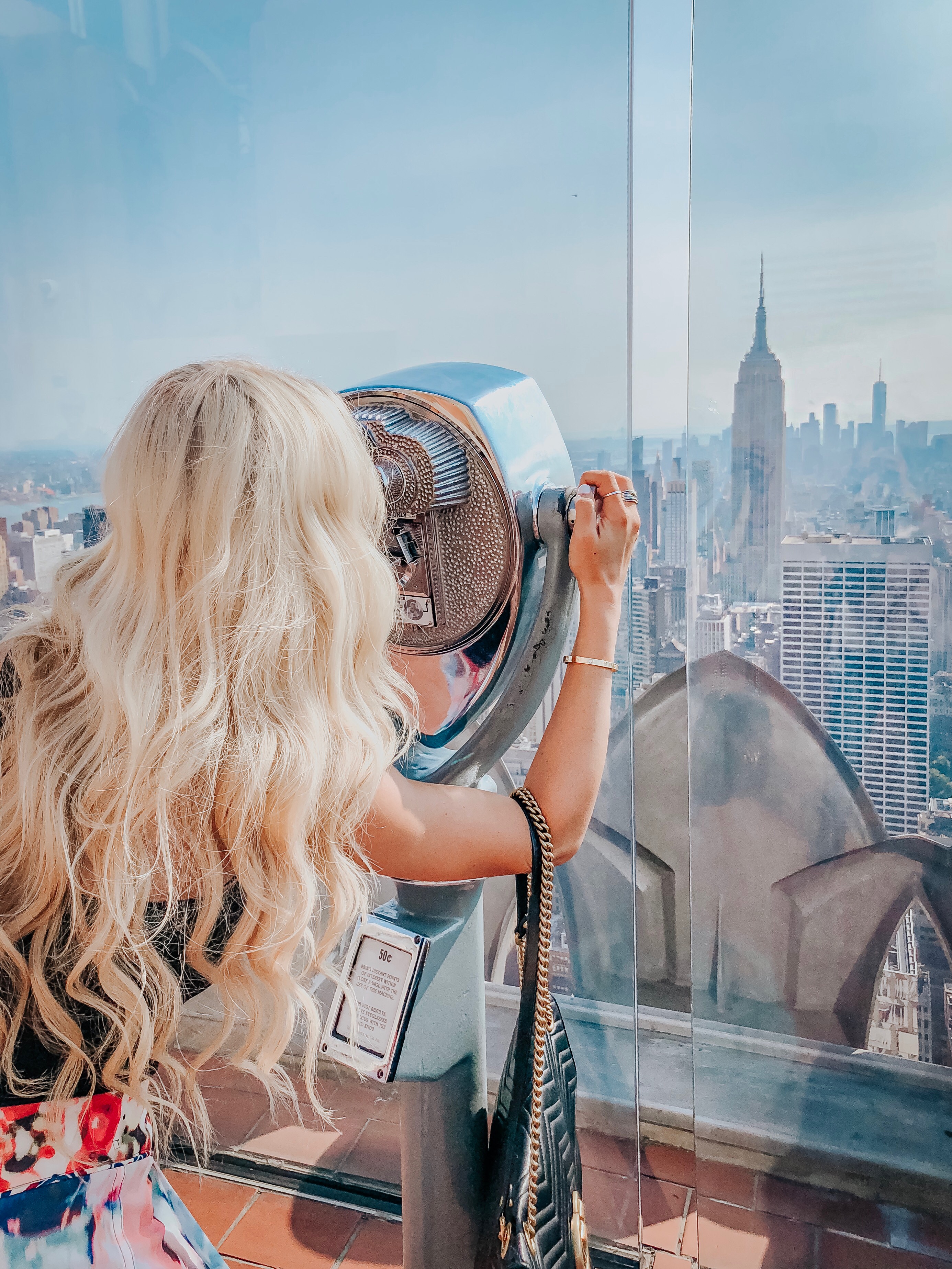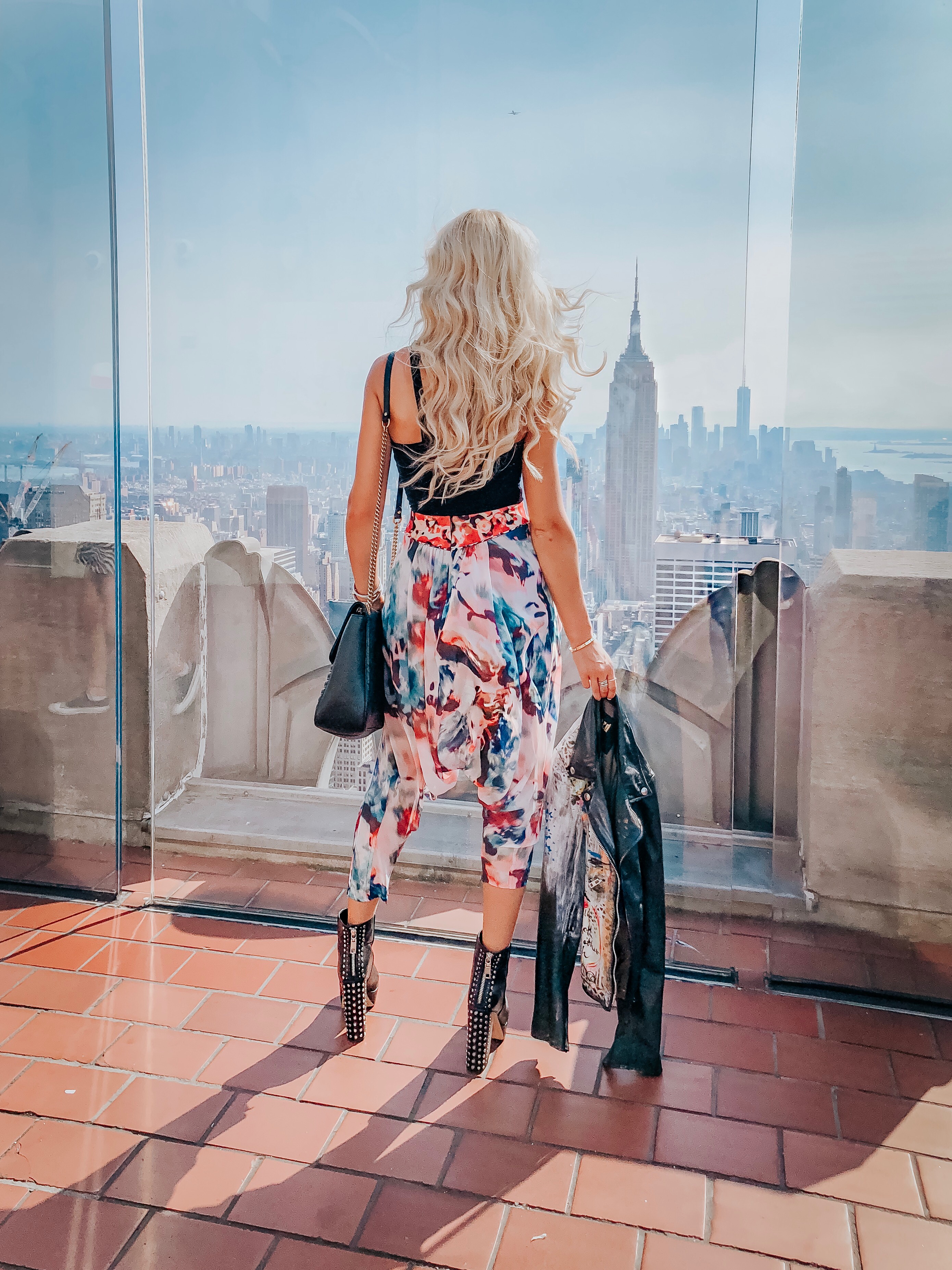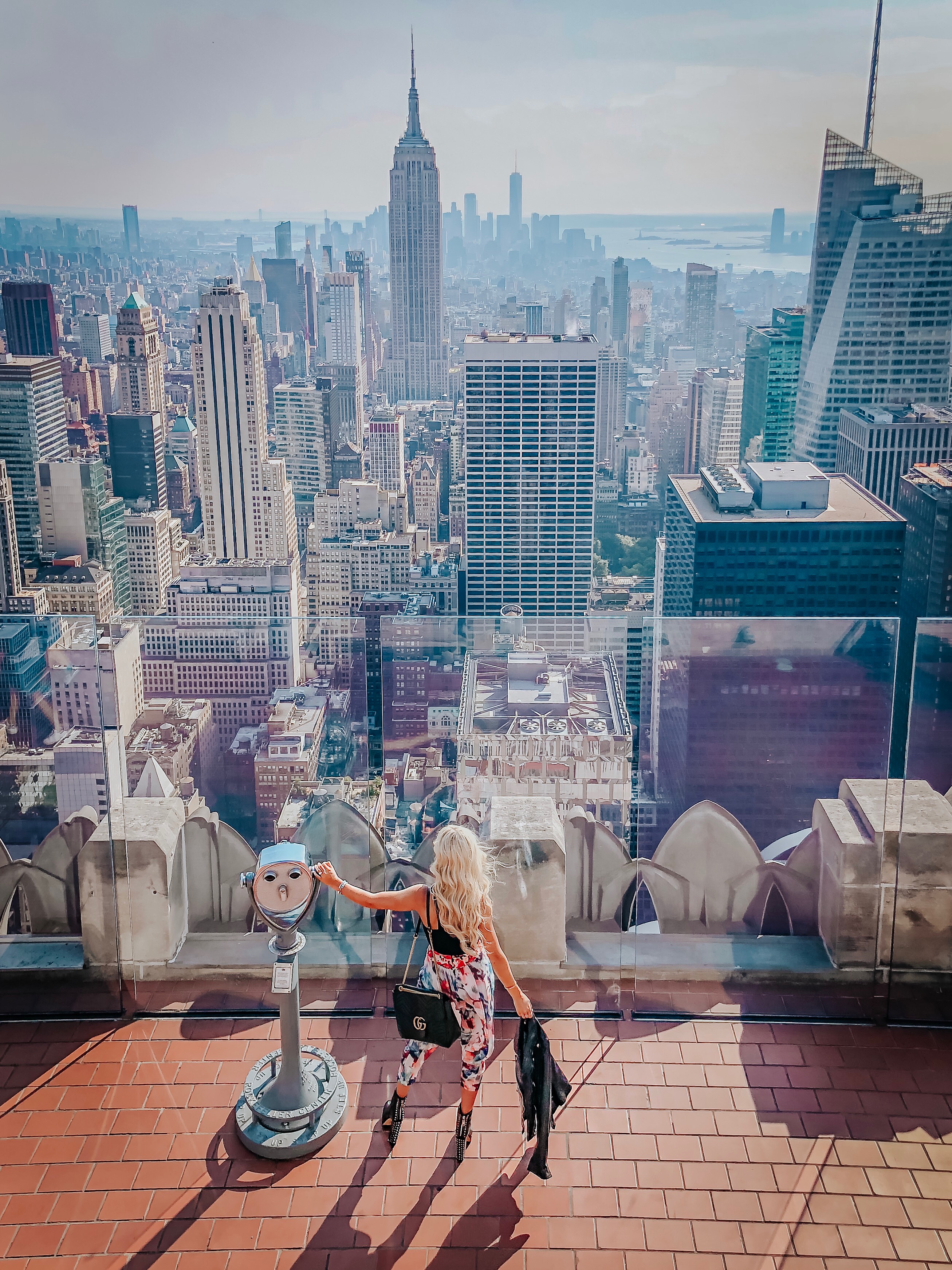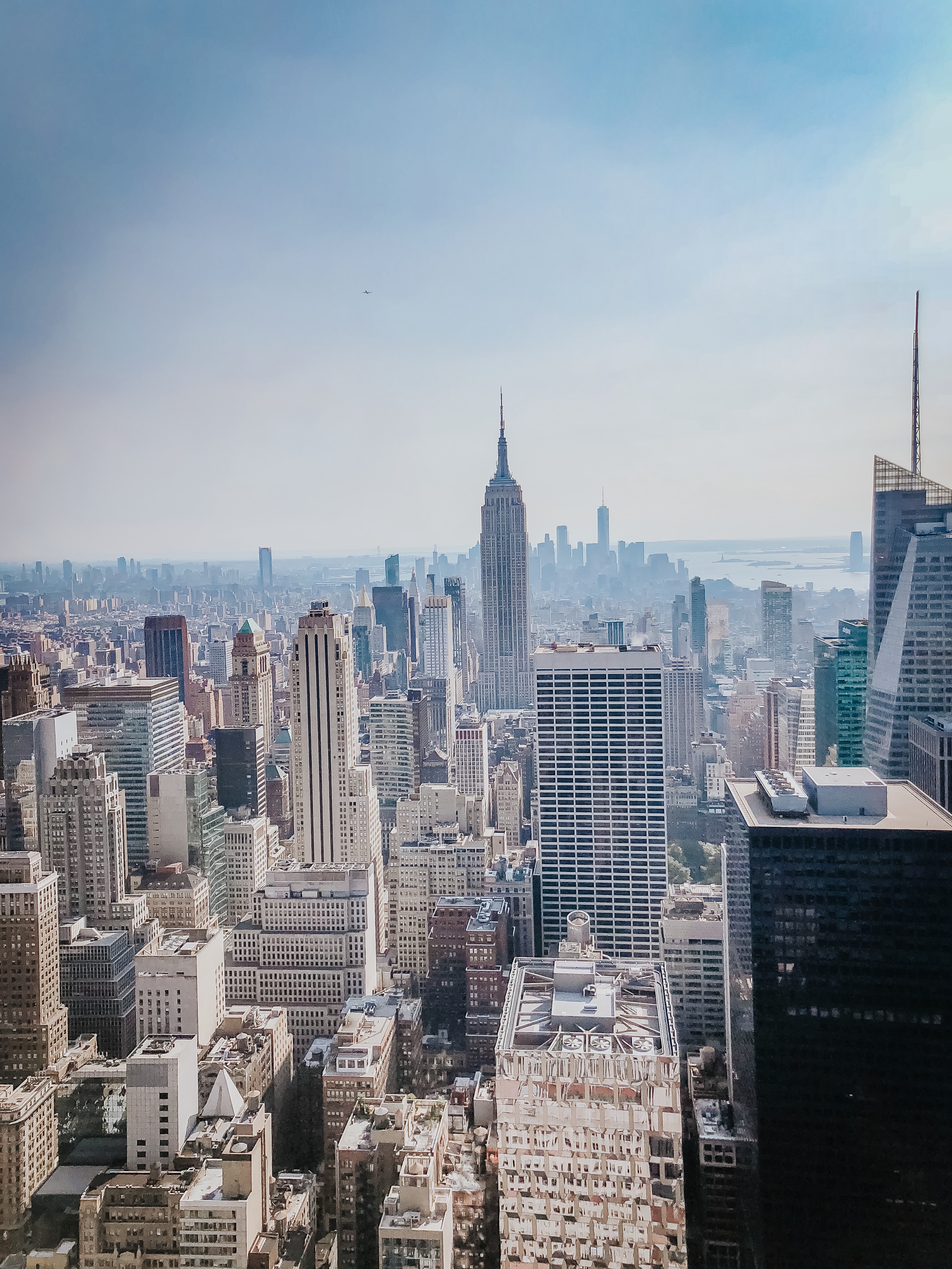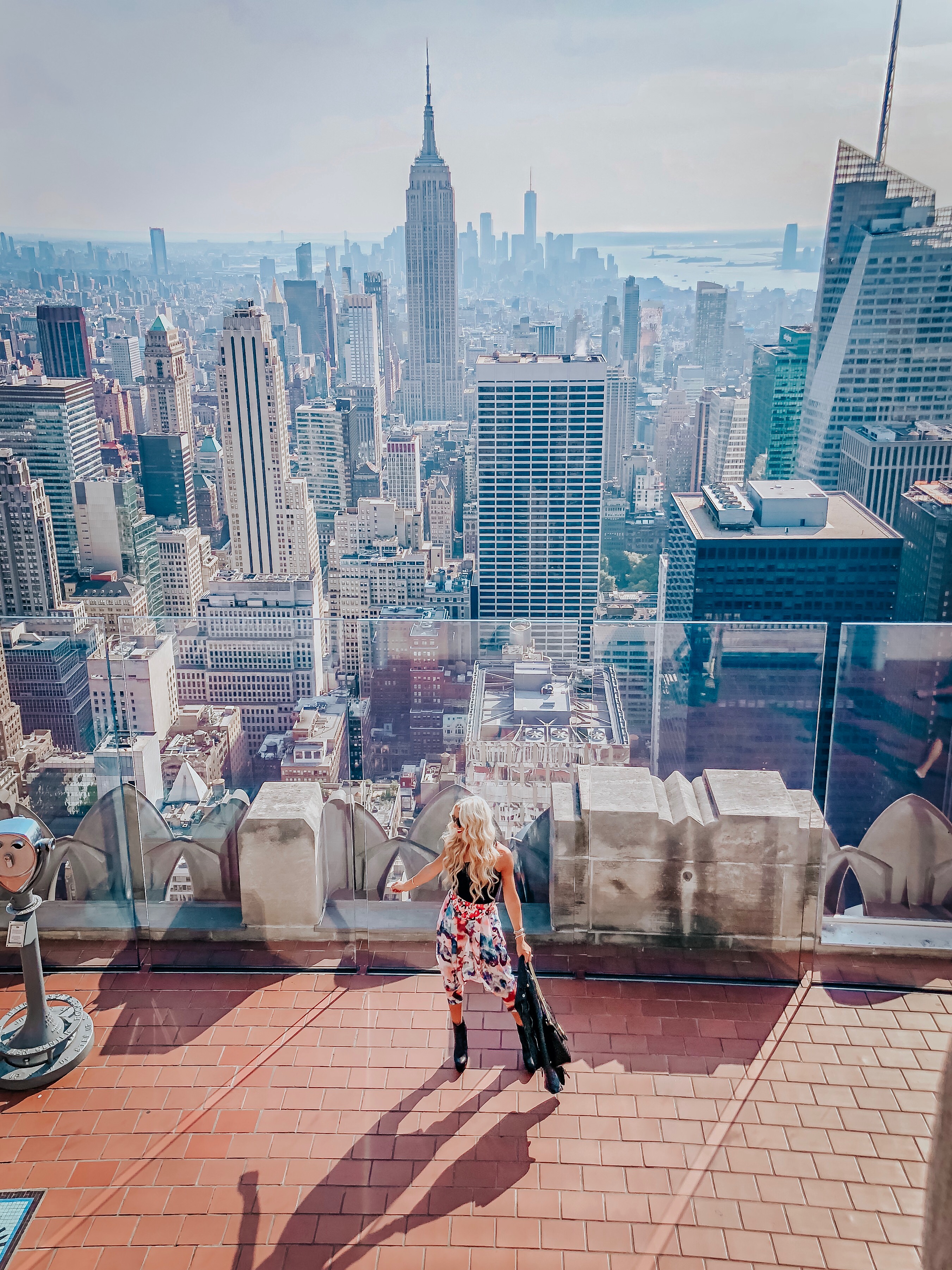 Outfit Details:
black top | multicolor pants: designed by Byron Lars, exact style is found at Two Old Hippies in Nashville | similar leather jacket (exact style is found at Two Old Hippies) | similar black platform boots

After we completed our Top of the Rock experience, we hurried back to the hotel to get ready for 2 events to kick off fashion week: the Lancomé x Camila Coelho lipstick launch event (which was so fun & was such an honor to meet Camila — she's just as sweet as you'd imagine!) & The Lexington Mixing Room NYFW Social Hour. It was the perfect day to help ease into the week ahead and get settled in.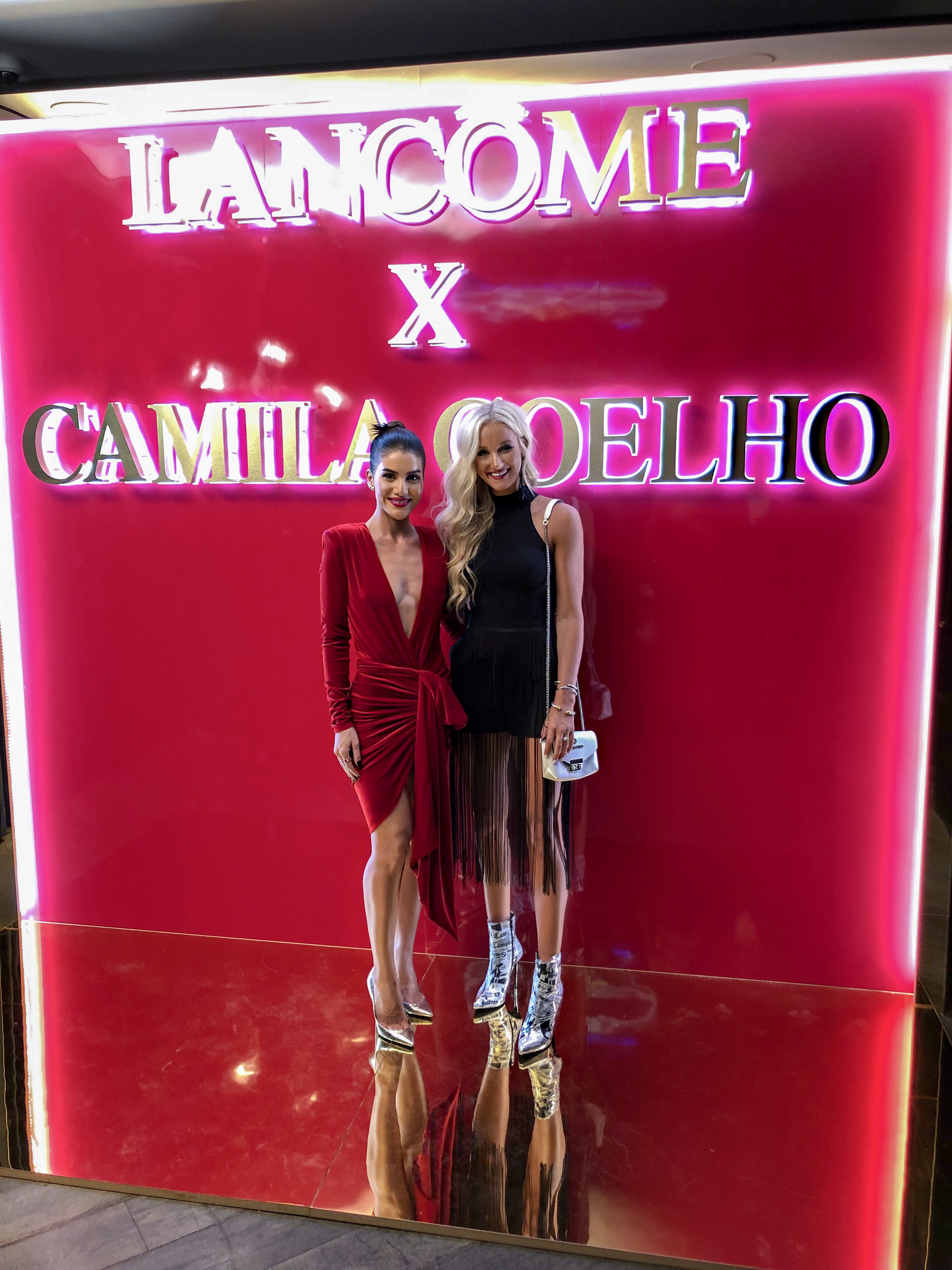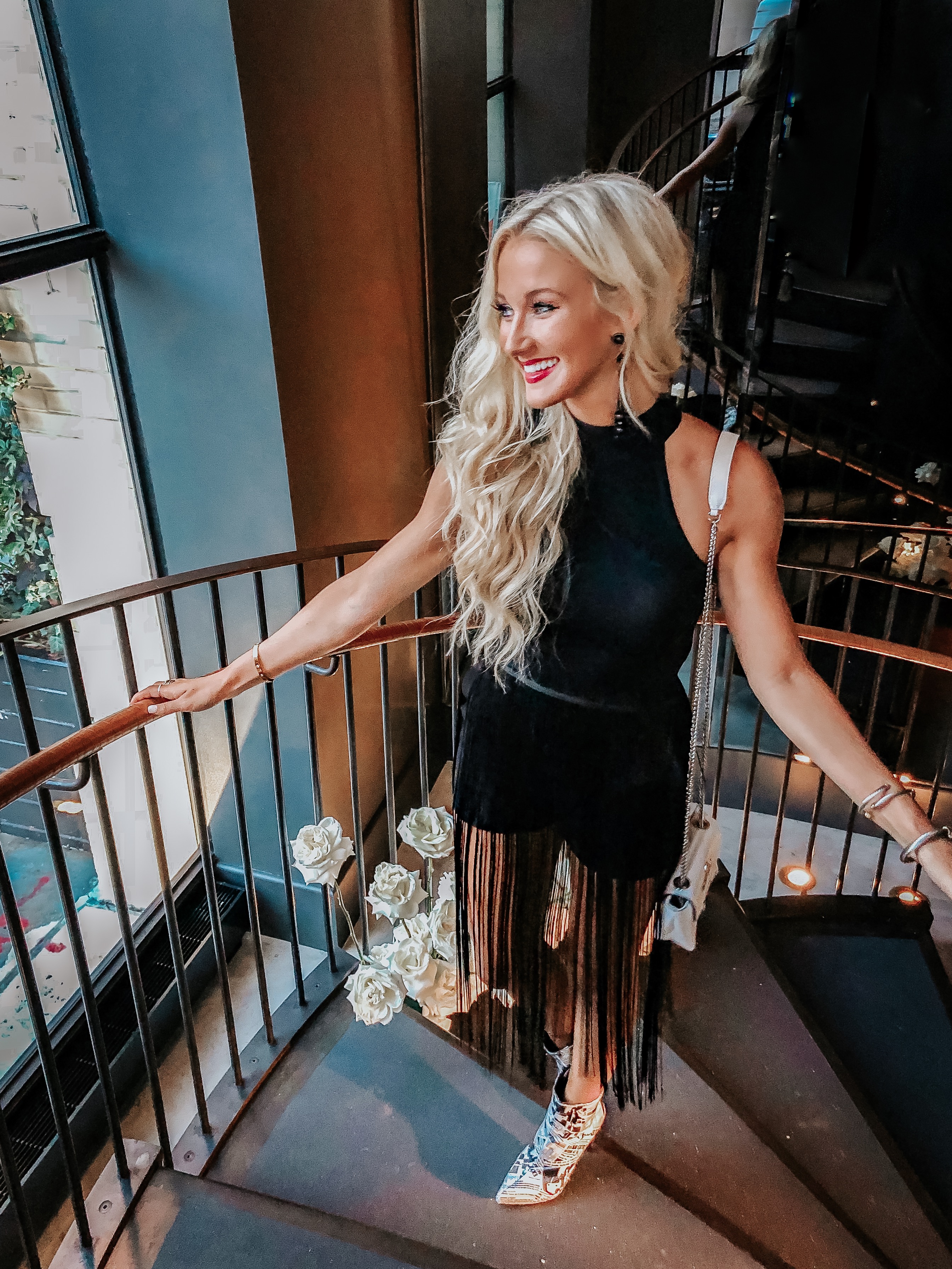 Outfit Details:
similar black fringe top | black high-waisted shorts | newspaper booties | white Valentino crossbody bag

As much as I love a relaxing trip or vacation, I also love the adrenaline that New York City gives off as soon as you step foot in Manhattan. You may be absolutely exhausted by the end of the trip, but it's totally worth it!
DAY 2:
On Thursday, I had an early morning meeting with the amazing ladies at Alison Brod MC. ABMC is the top PR company who works with both brands and influencers/bloggers, so I was truly humbled to meet them face to face and chat about the future / how we can best support each other. They're constantly setting up collaborations and sending a lot of those 'PR packages' that you see so many bloggers opening on their IG stories each week. The best part of all is that they only work with the brands that we all know and LOVE (which makes it possible for me to be able to work with them since I will only ever agree to collaborate with brands I already use myself). We're talking Urban Decay, L'Oréal, Kerastase, Huda Beauty, Retail Me Not, etc. The girls even packed a tote full of new products for me to try and review for you all, which also means that there will be lots of exciting giveaways coming up soon! I try to test out every product sent to me, but since I can't possibly use everything (and don't want anything to go to waste), I love to send surprise gifts to my readers and followers every once in awhile, so you can try the products out for yourself!
The women at Alison Brod are just absolutely incredible at what they do, and they're so sweet and generous! Not to mention, their office looks just like something Elle Woods would work in if she had her choice of corporate office decor. It's SO CUTE! If I ever worked in corporate again, I'd totally apply there first! This (clearly) was one of my favorite appointments of my entire trip.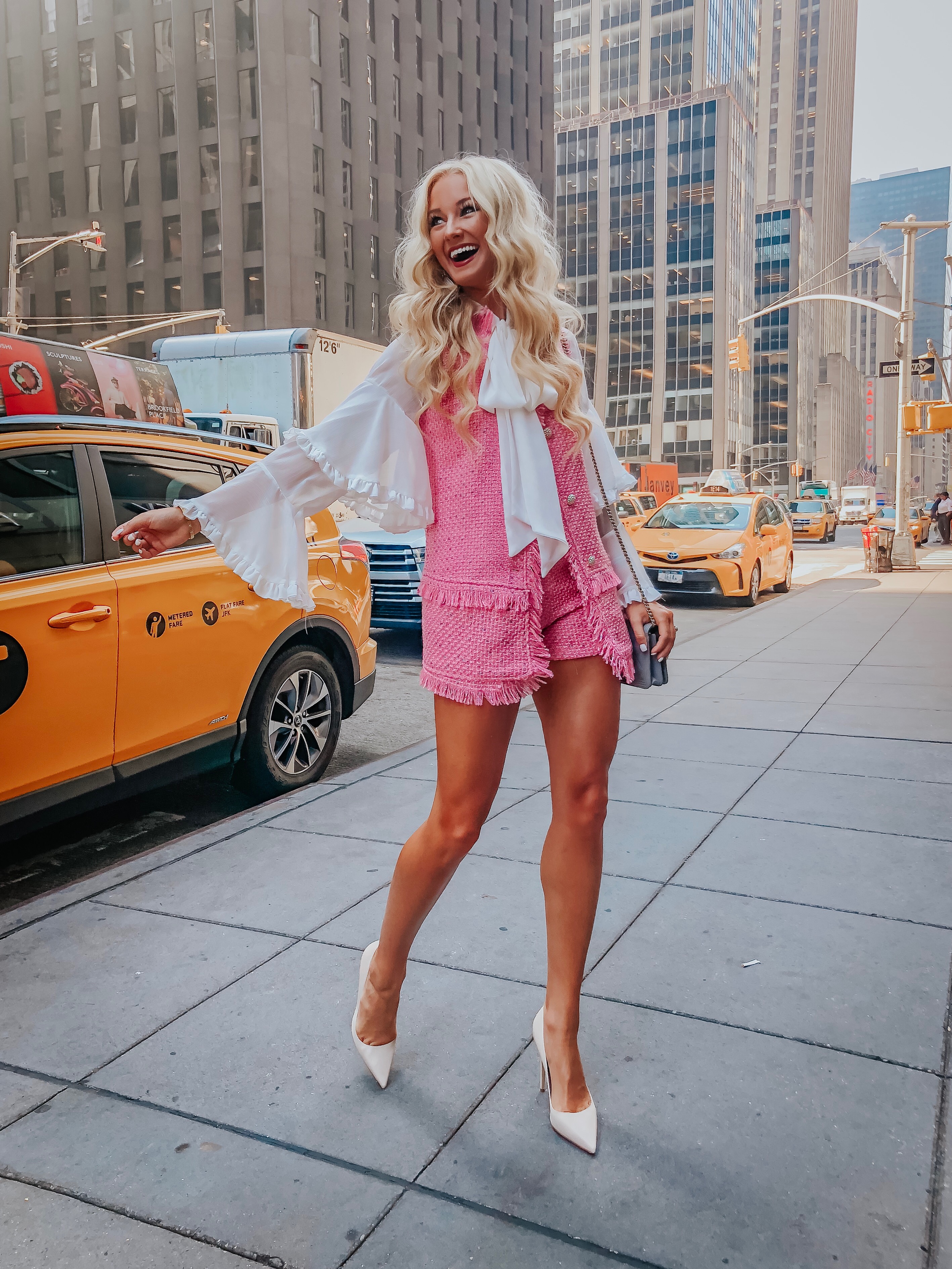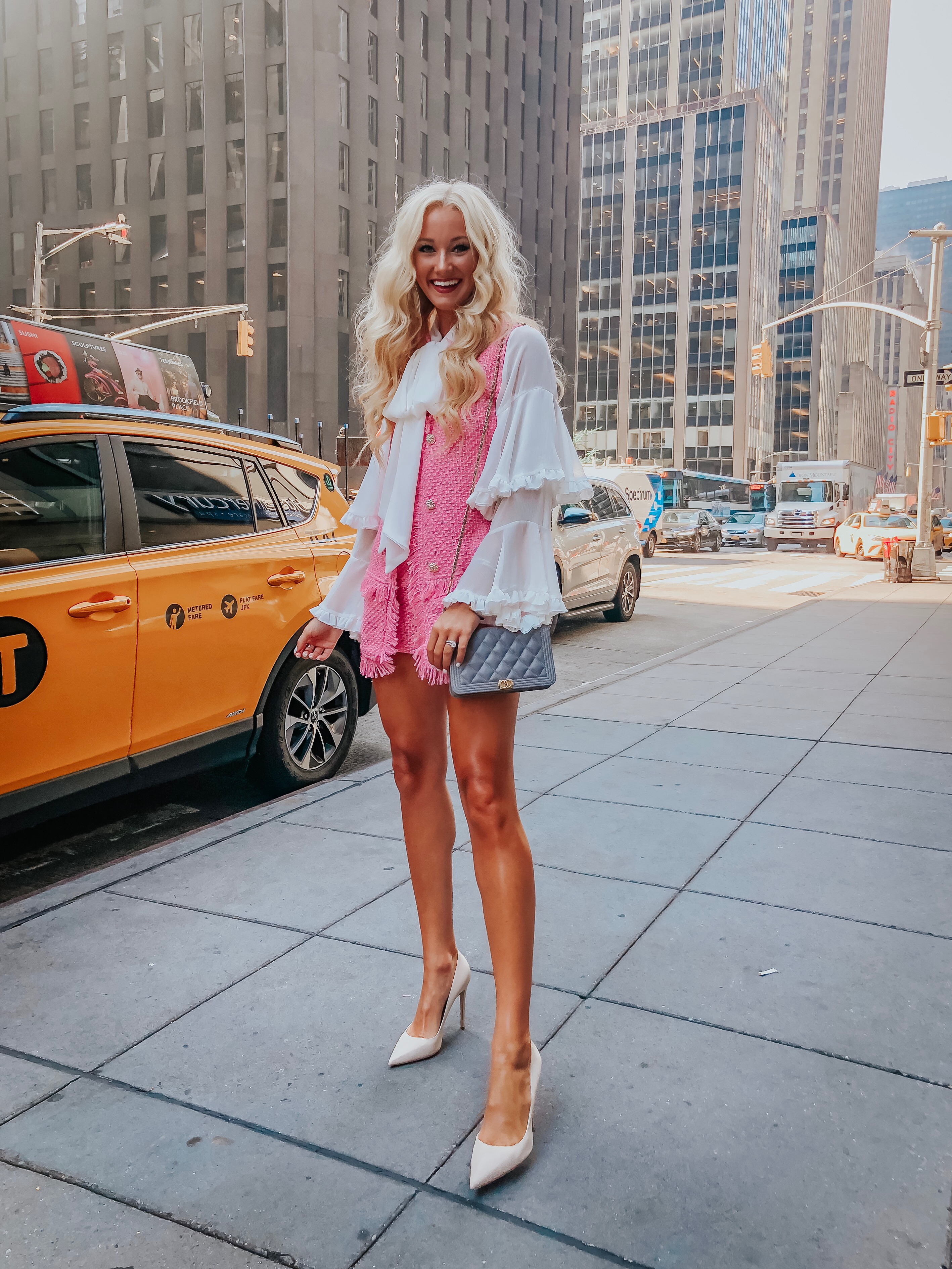 Outfit Details:
pink tweed set | similar ivory blouse | nude pumps | Chanel handbag

After the meeting, I hurried back to my hotel room to change outfits for the Tadashi Shoji runway show … a show that I had always dreamt of attending. Almost all of the fashion shows, presentations & events during NYFW are by invite only, so to say that I was excited/shocked to receive the Tadashi Shoji invite would be an understatement. I was THRILLED!
Fun fact: The dress that my mom wore for my wedding was designed by Tadashi Shoji!
We've been long time fans of his, and I felt honored to witness the newest collection. Pictures simply don't do his designs justice. The detail is just immaculate and so uniquely stunning!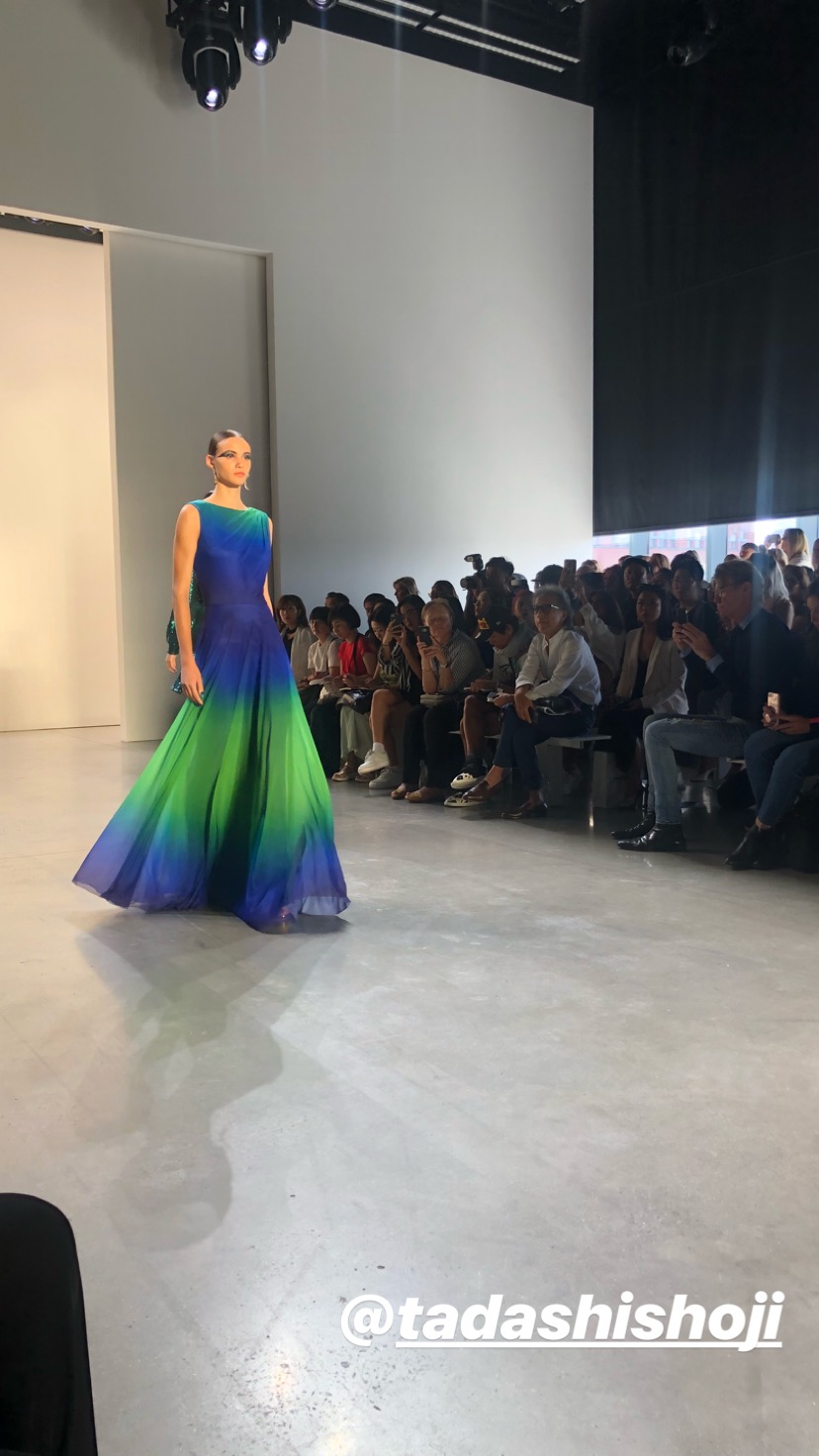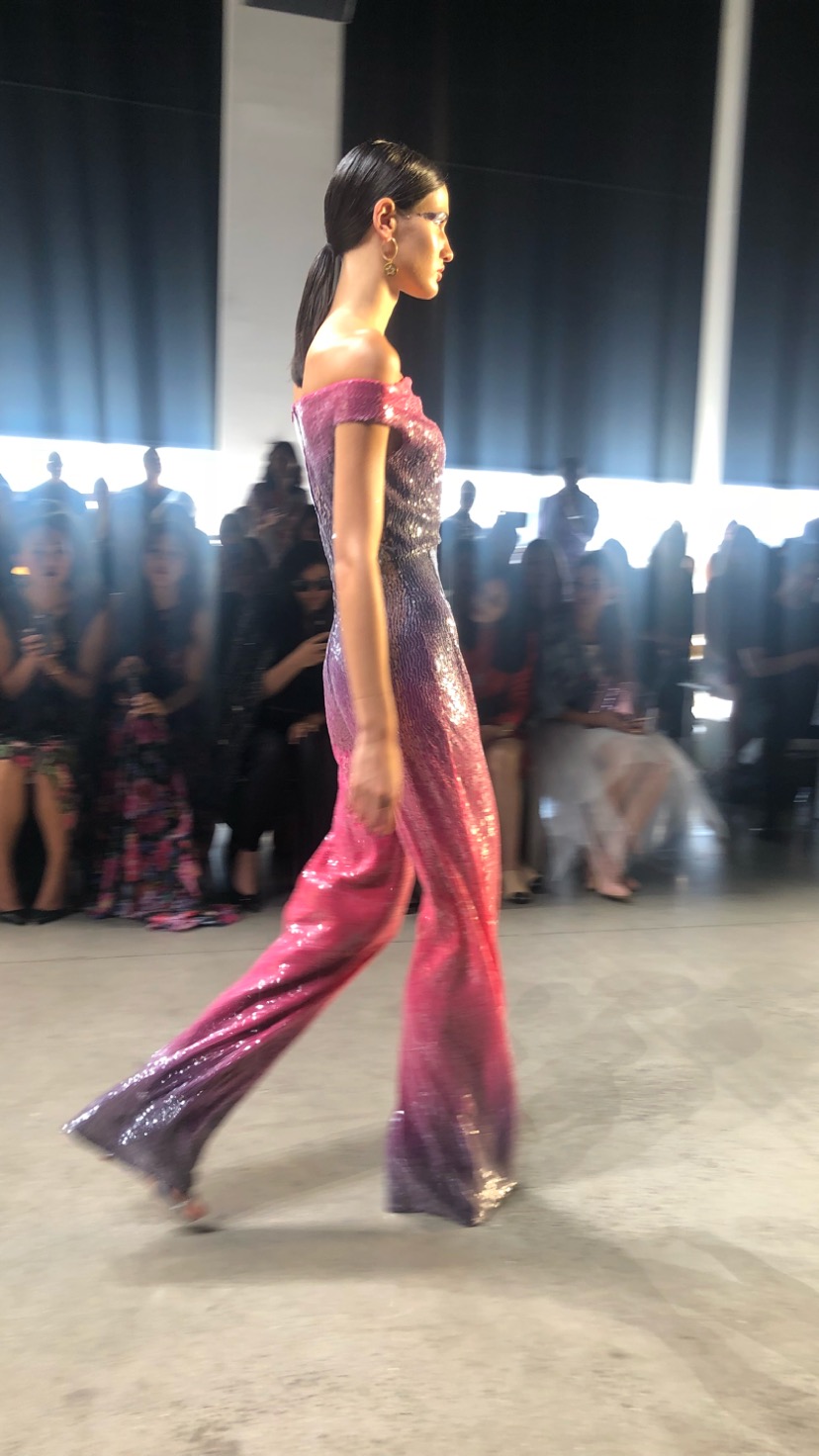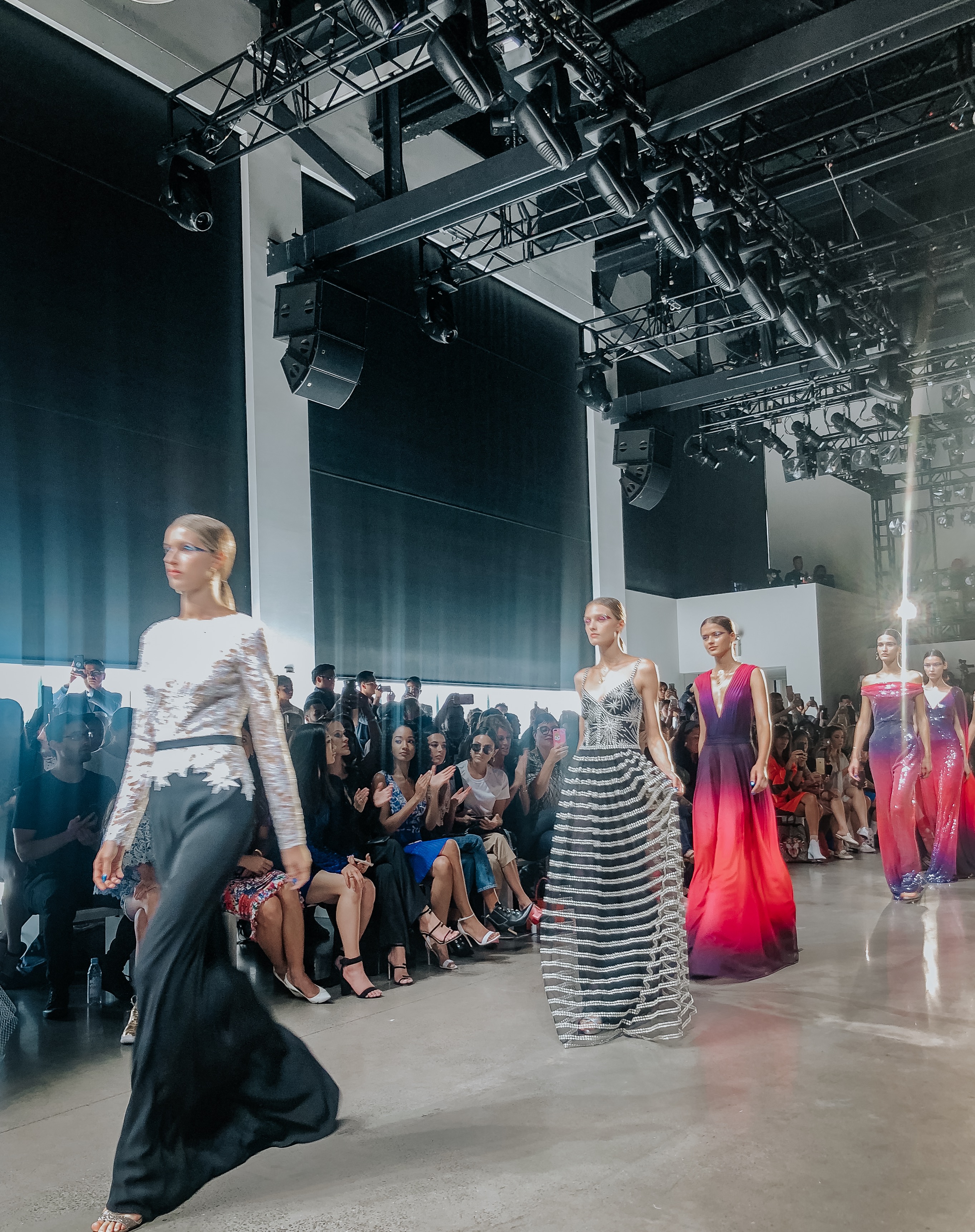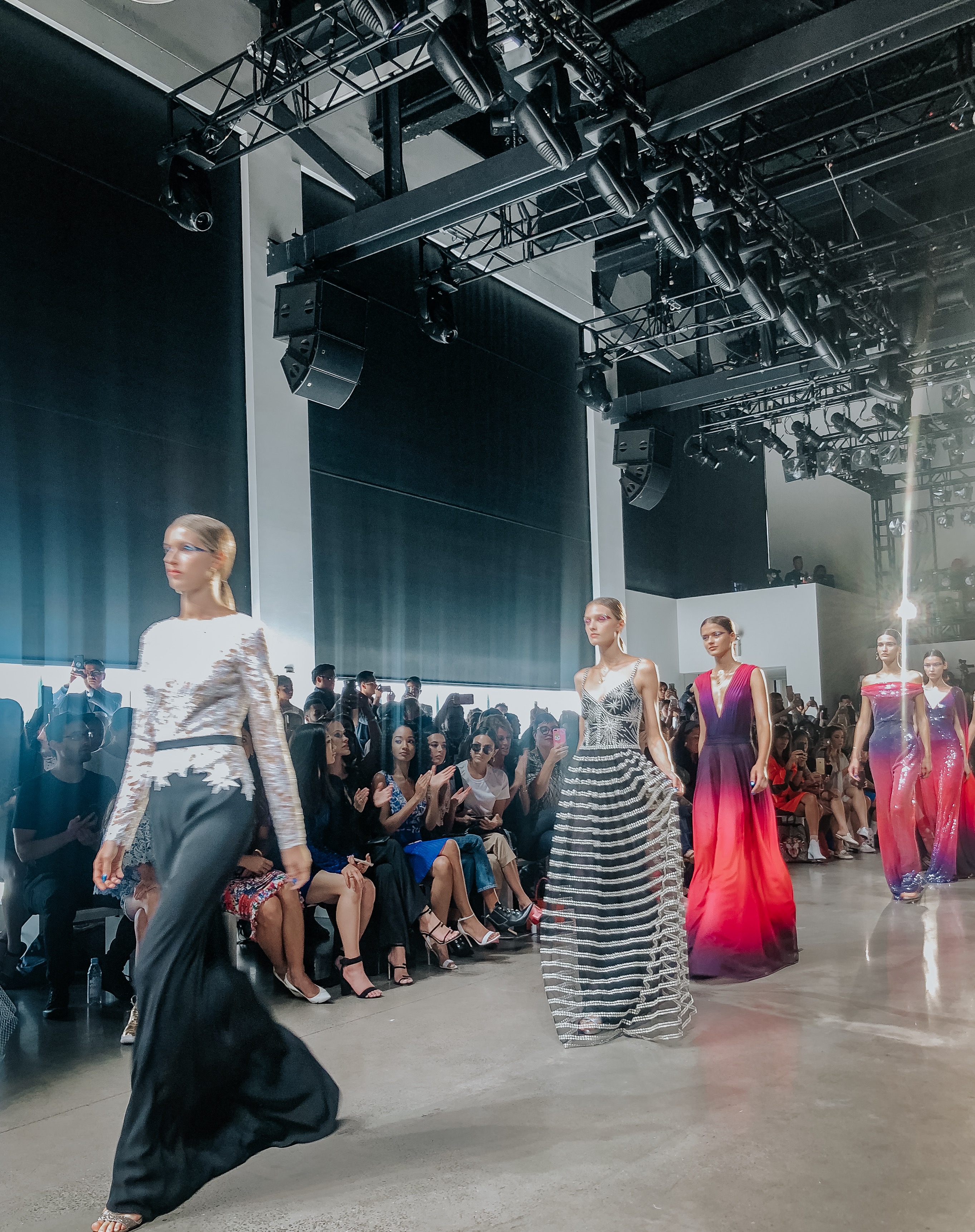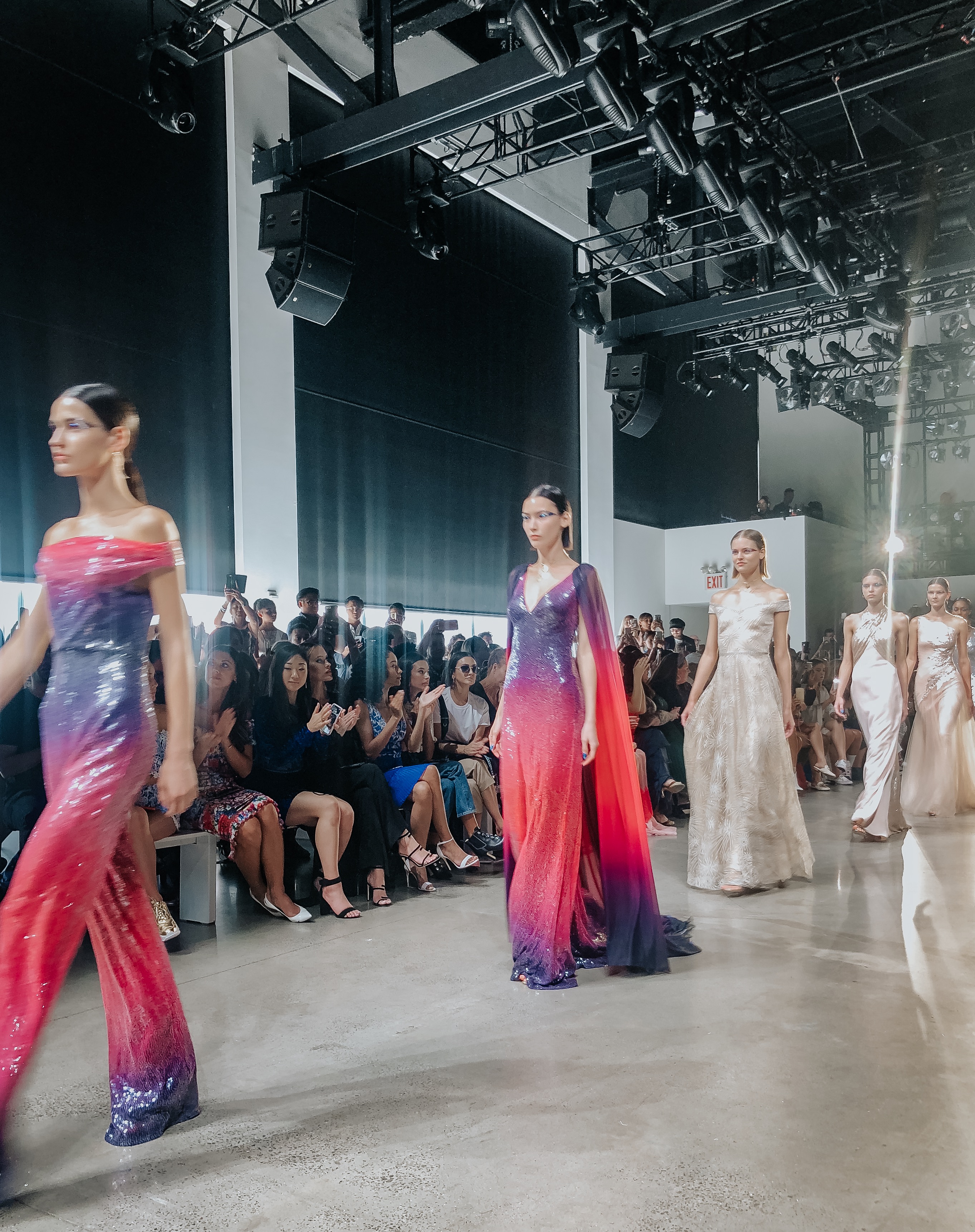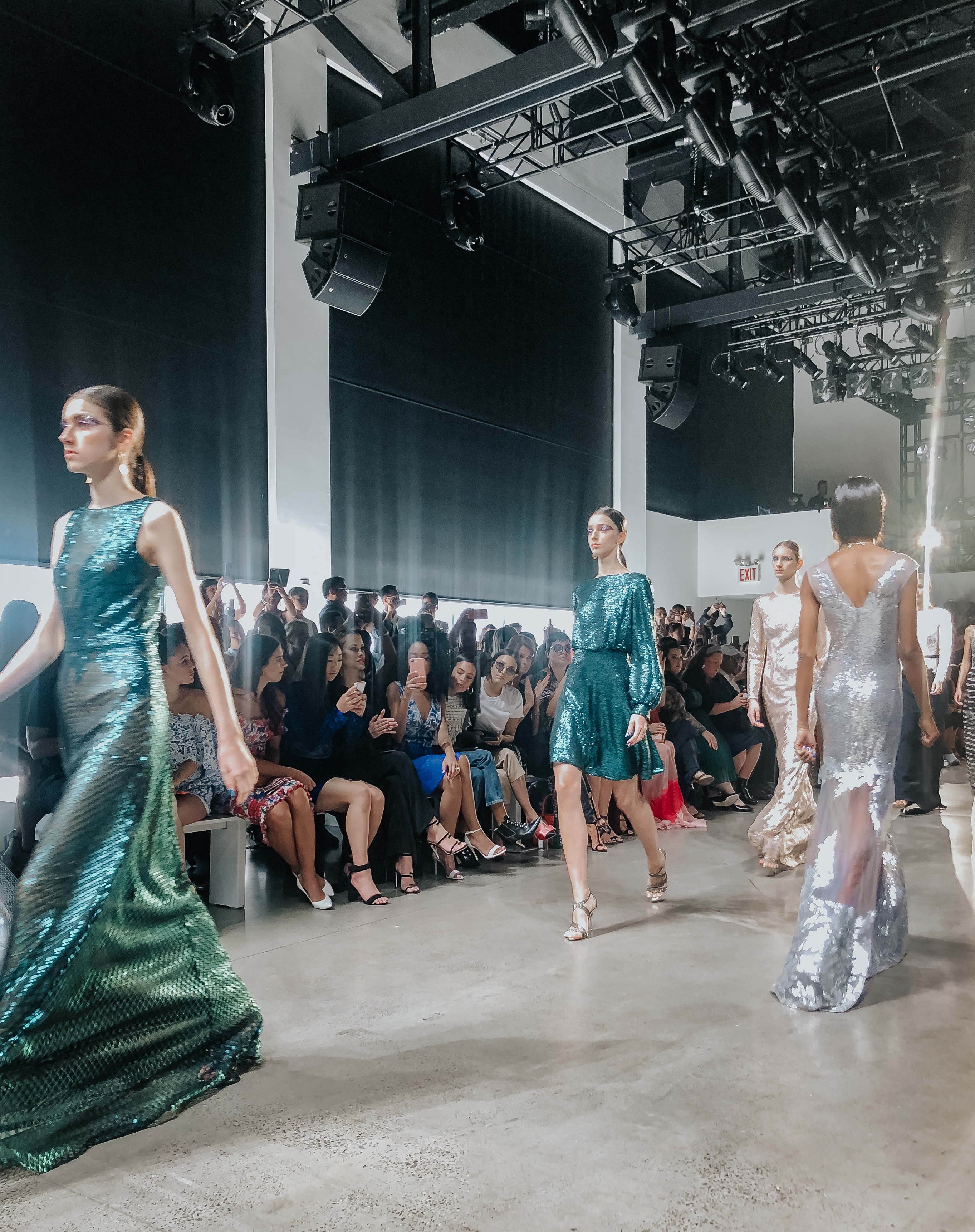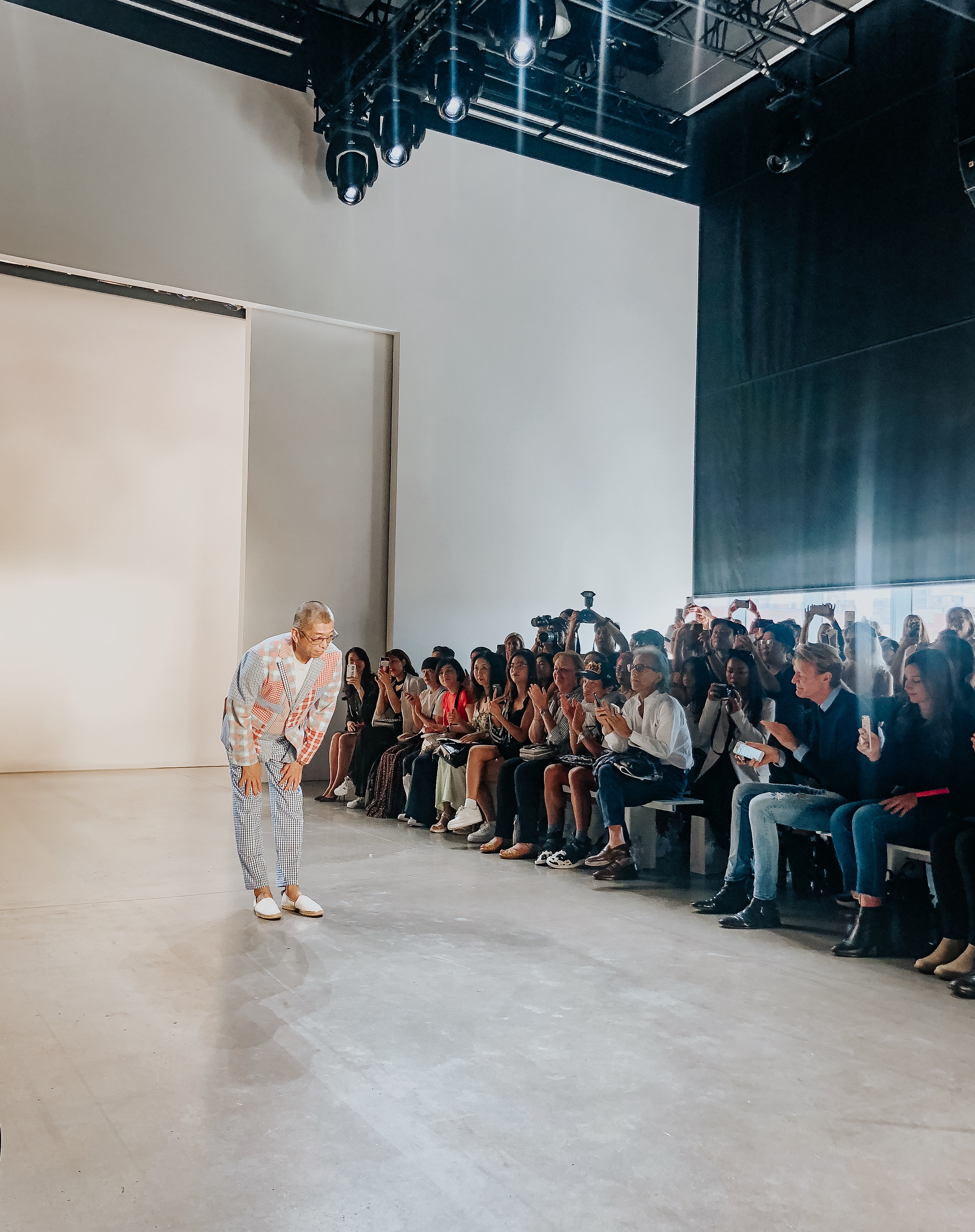 After leaving the Tadashi show, I hurried over to the next venue with my sister (she got to join me for a few events!) for the Nolcha Shows. Nolcha is all about supporting emerging designers, and I honestly think it's just as important to support the young, up & coming designers as it is the huge, well-known ones. Let's take Christian Siriano for instance … before he got involved with Project Runway, where was he and how many people really even knew who he was?! Now, his shows at NYFW are some of the largest & most prestigious to attend! All in all, you never know where you'll see some of these emerging designers in the future. They are the future of the fashion industry, and their talents deserve our support even early on in their design careers.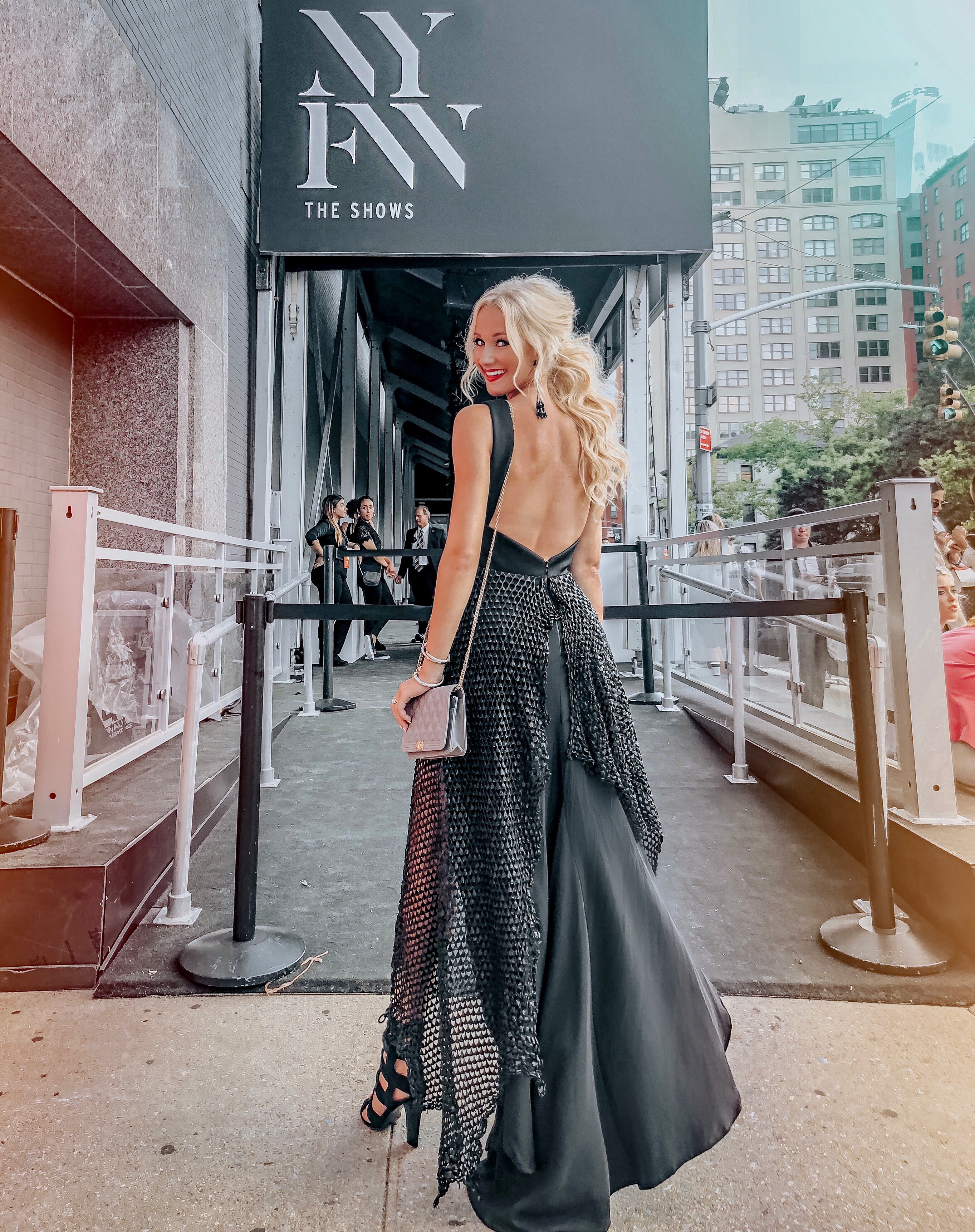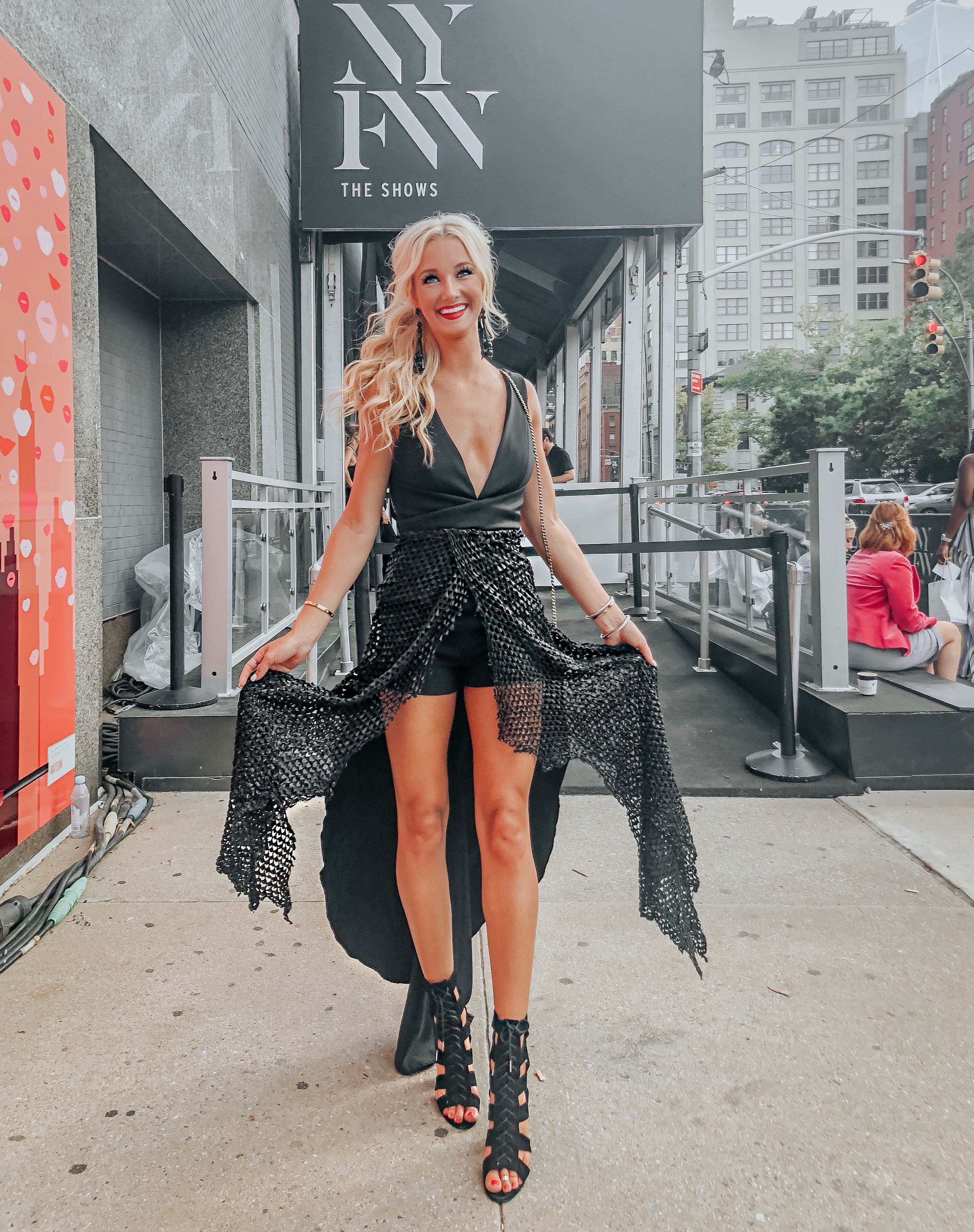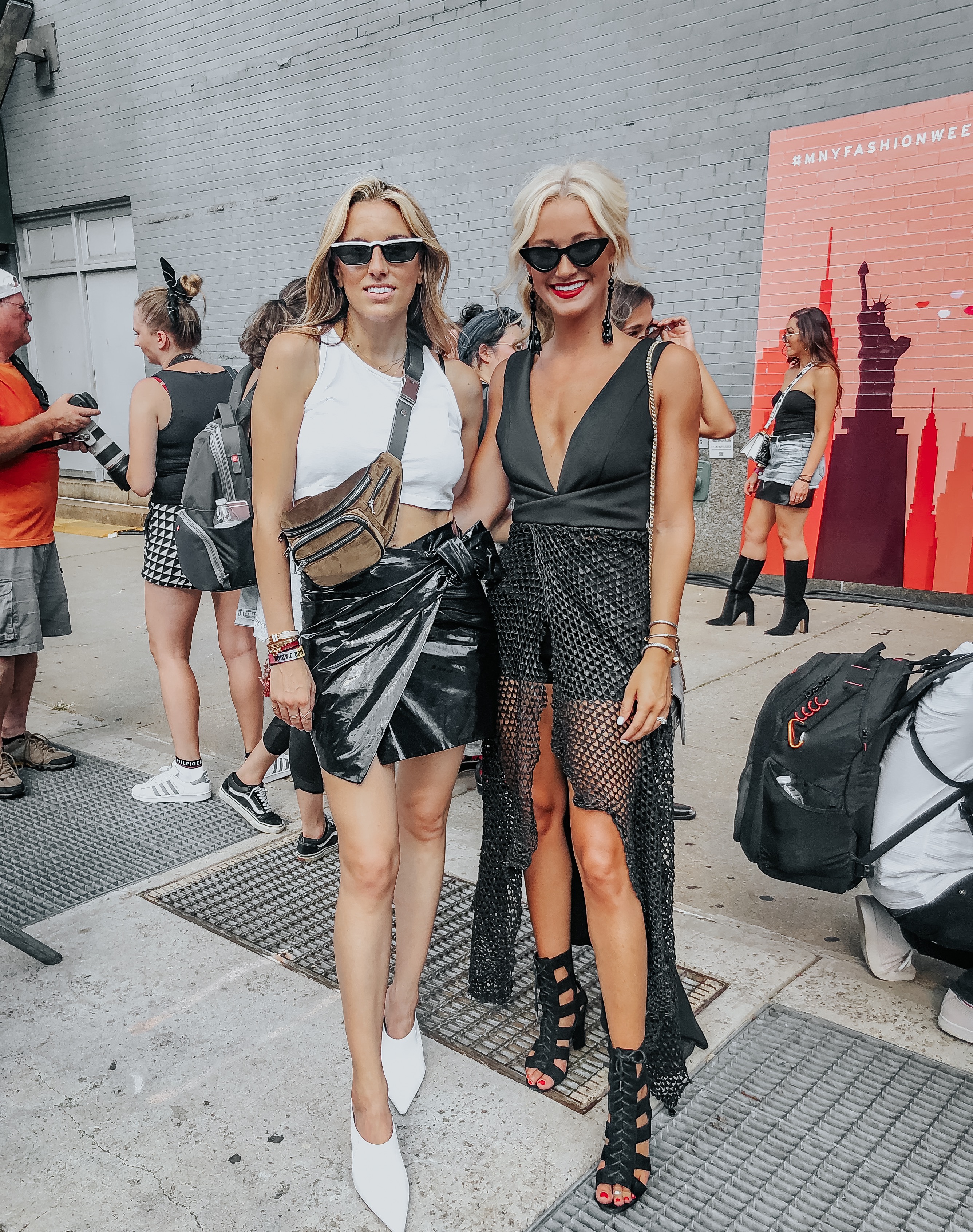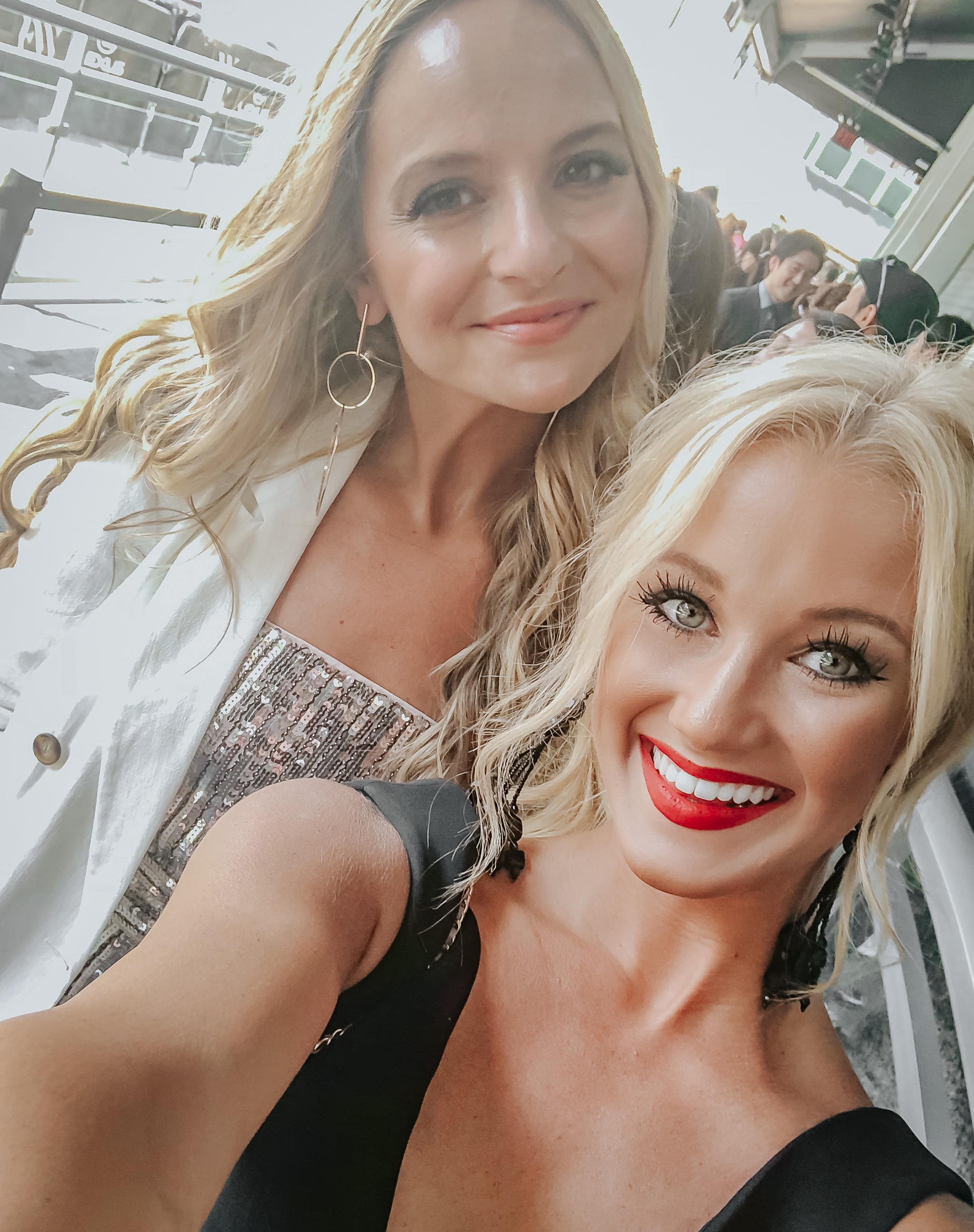 Outfit Details:
black caged high low top is designed by Cavanagh Baker (email info@cavanaghbaker.com for inquiries) | black high waisted shorts | similar caged black sandals | black cat eye sunglasses

We finished off day 2 with a relaxing, quiet, romantic dinner, courtesy of La Masseria NYC. The owner of Bella Boutique in Knoxville actually gave us this suggestion and helped connect us for our dinner plans. I knew the next couple of nights I wouldn't have time to eat with my mom and sister (because of parties/events in my schedule), so I took Thursday night off the be with them and spend some quality girl time together. It was magical! Ps – La Masseria was absolutely amazing, and I highly recommend visiting. I got the lobster fettuccine dish and OMG, it was seriously sooo good! The lamb was also amazing. Next trip to the City, you have to try it!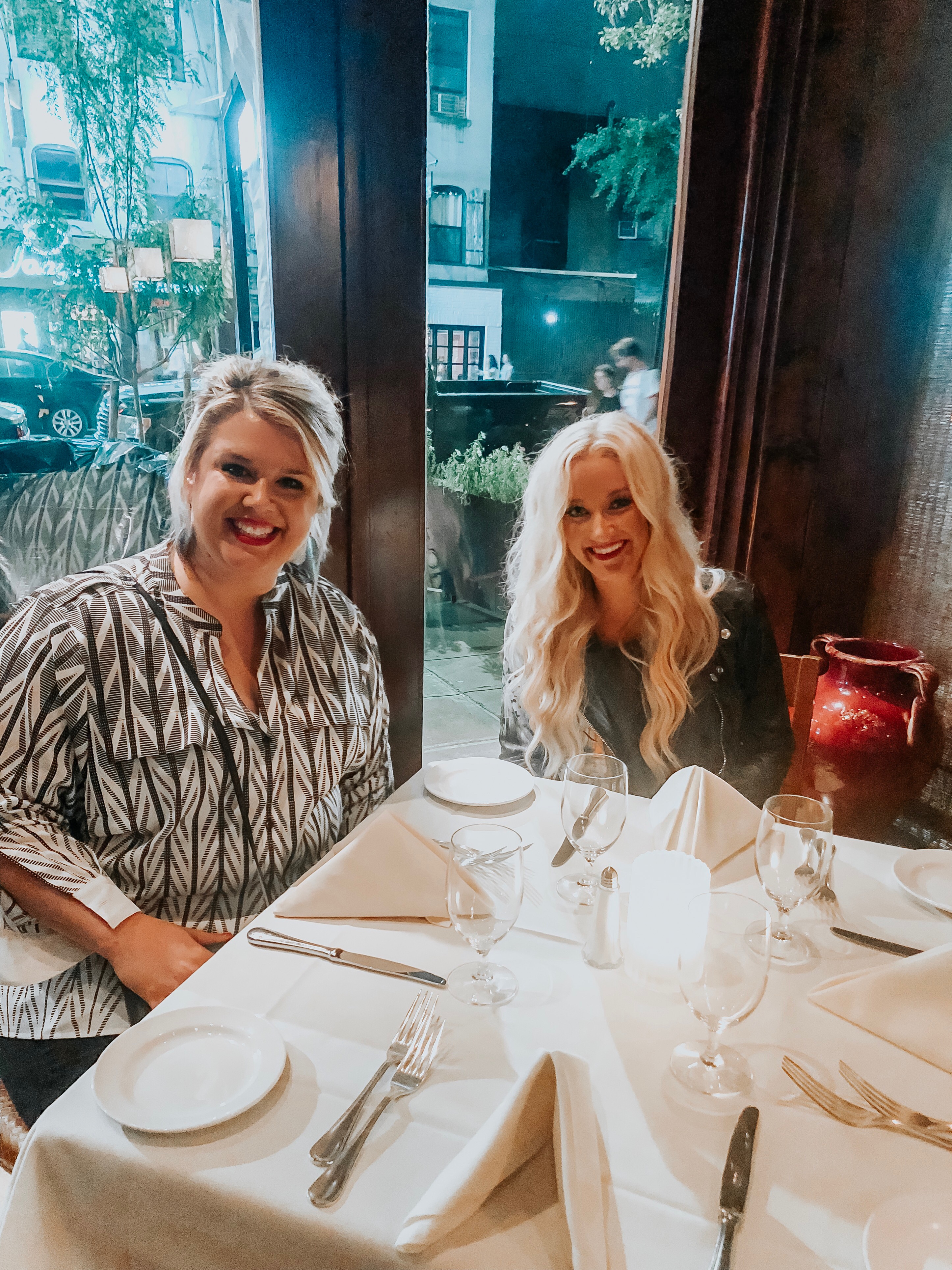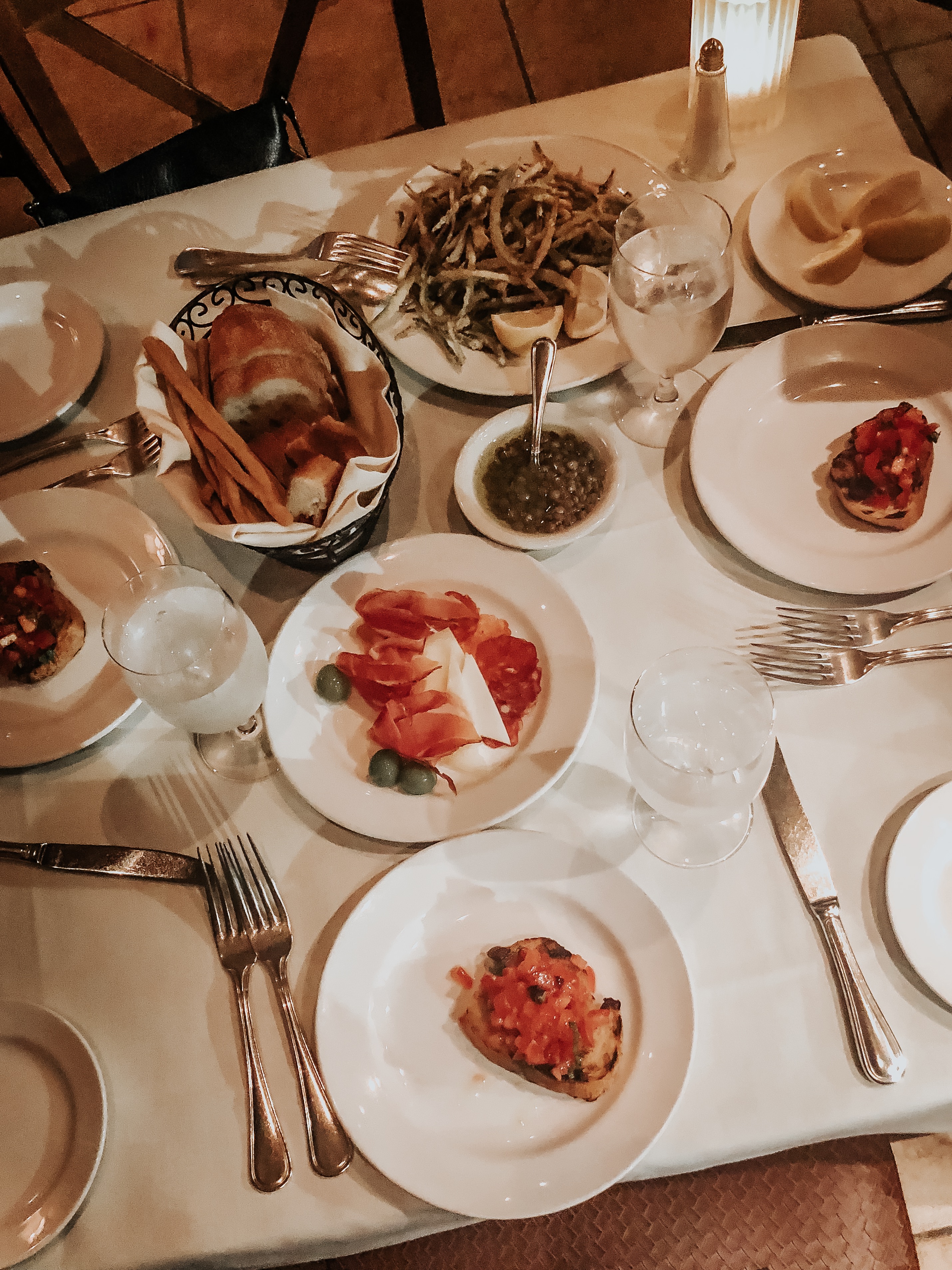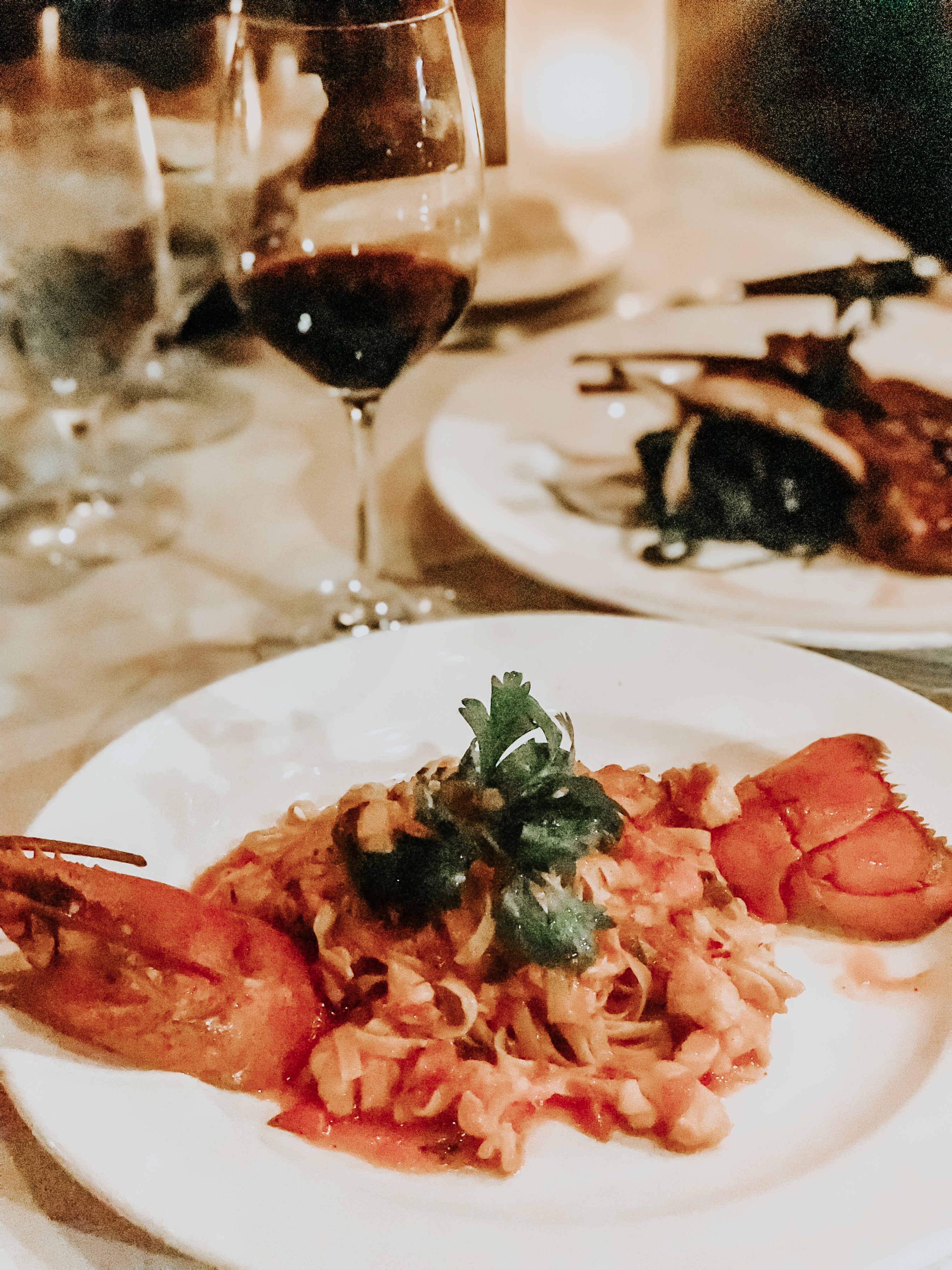 DAY 3:
Early Friday morning, GlamSquad came to my hotel room to fix my hair and makeup for me. GlamSquad is actually such a GENIUS idea, and I wish they they would open up the business in Tennessee! Basically, it's a service where hair and makeup artists, nail techs, etc. can book you an artist for whatever you need done and they'll come straight to you — meaning you don't even have to leave the comfort of your own home! Need hair and makeup for an event or photo shoot? No problem! Just call GlamSquad and schedule an appointment. Next time you're in NYC, I definitely suggest trying it out. Fashion Week was the perfect time for me to book them since there were a lot of early mornings (+ I just honestly hate getting myself ready, can I get an amen?! haha).
Next on the Day 3 agenda: Morning meeting with my favorite shoe company, Marc Fisher. If you've followed me for any amount of time, you probably know how in love I am with Marc Fisher Footwear. Their shoes (sandals, wedges, boots, mules, you name it) are so comfortable and they last fooooorever. The quality is so amazing and the designs are always so on-trend. They're by far the most affordable, designer-looking shoes. You get luxury design and quality without having to pay $400+. During our meeting, I got a sneak peek of the new designs coming out next spring and summer, and I think you all are going to love them! (See below for a sneak peek.)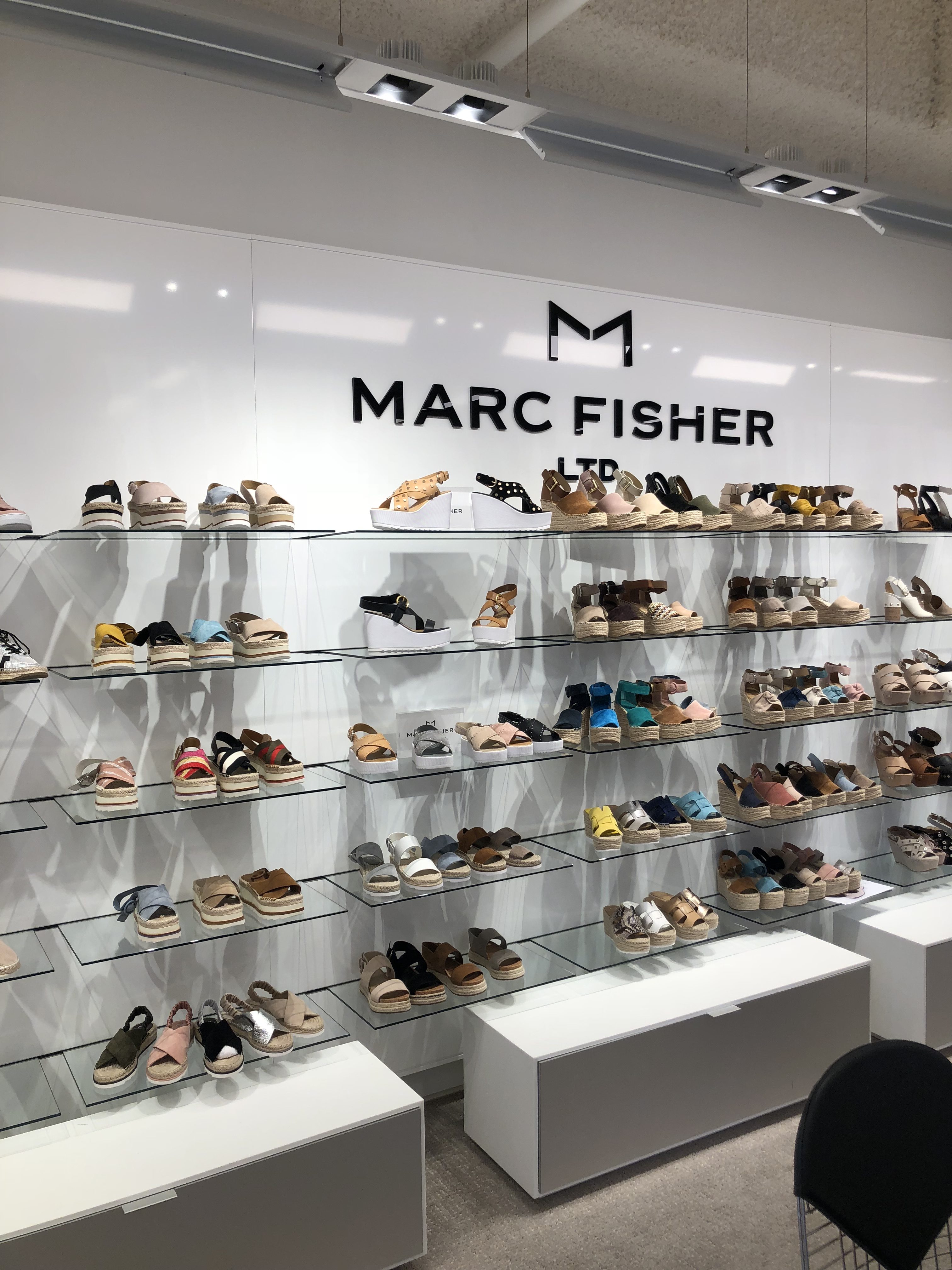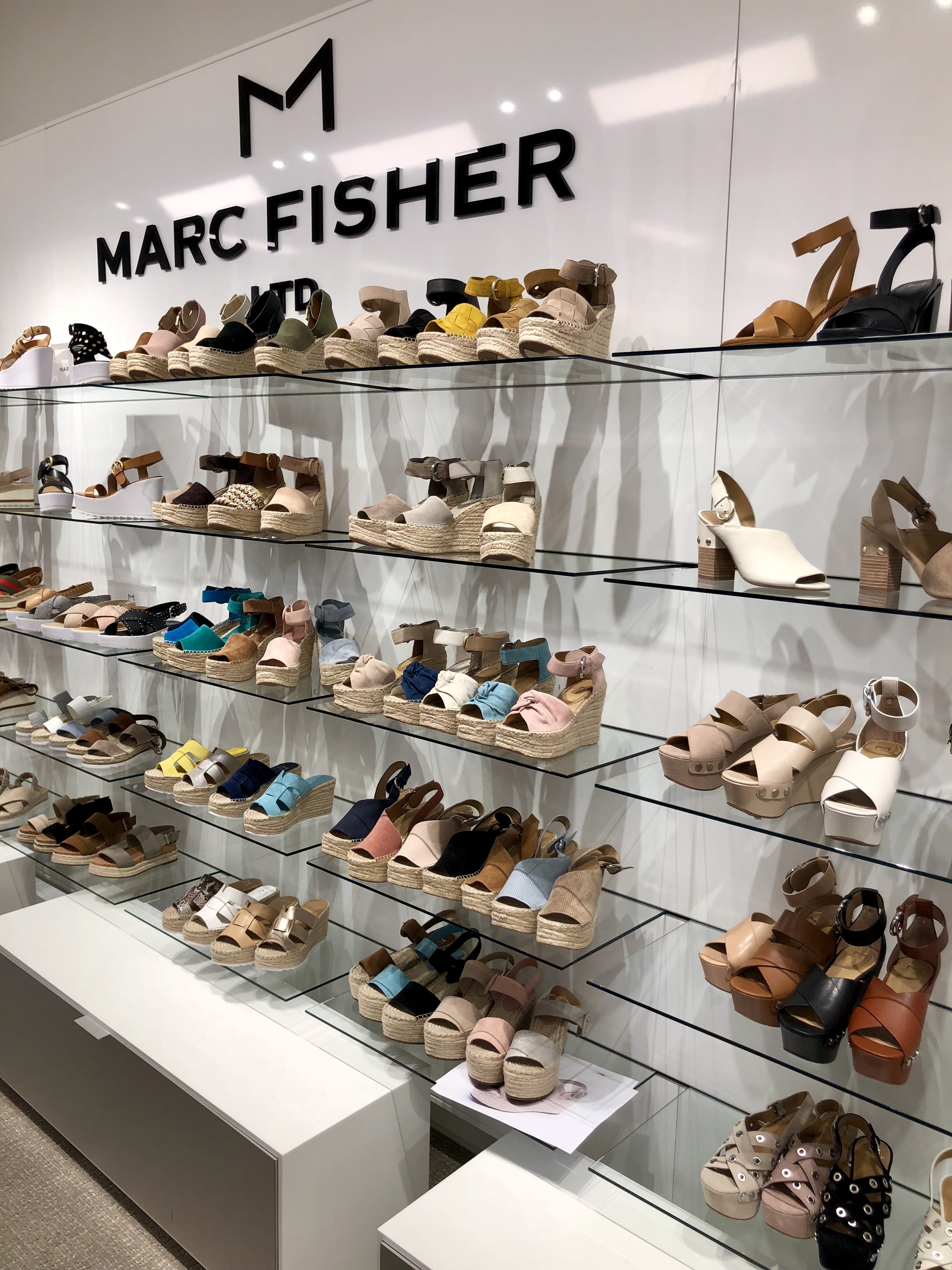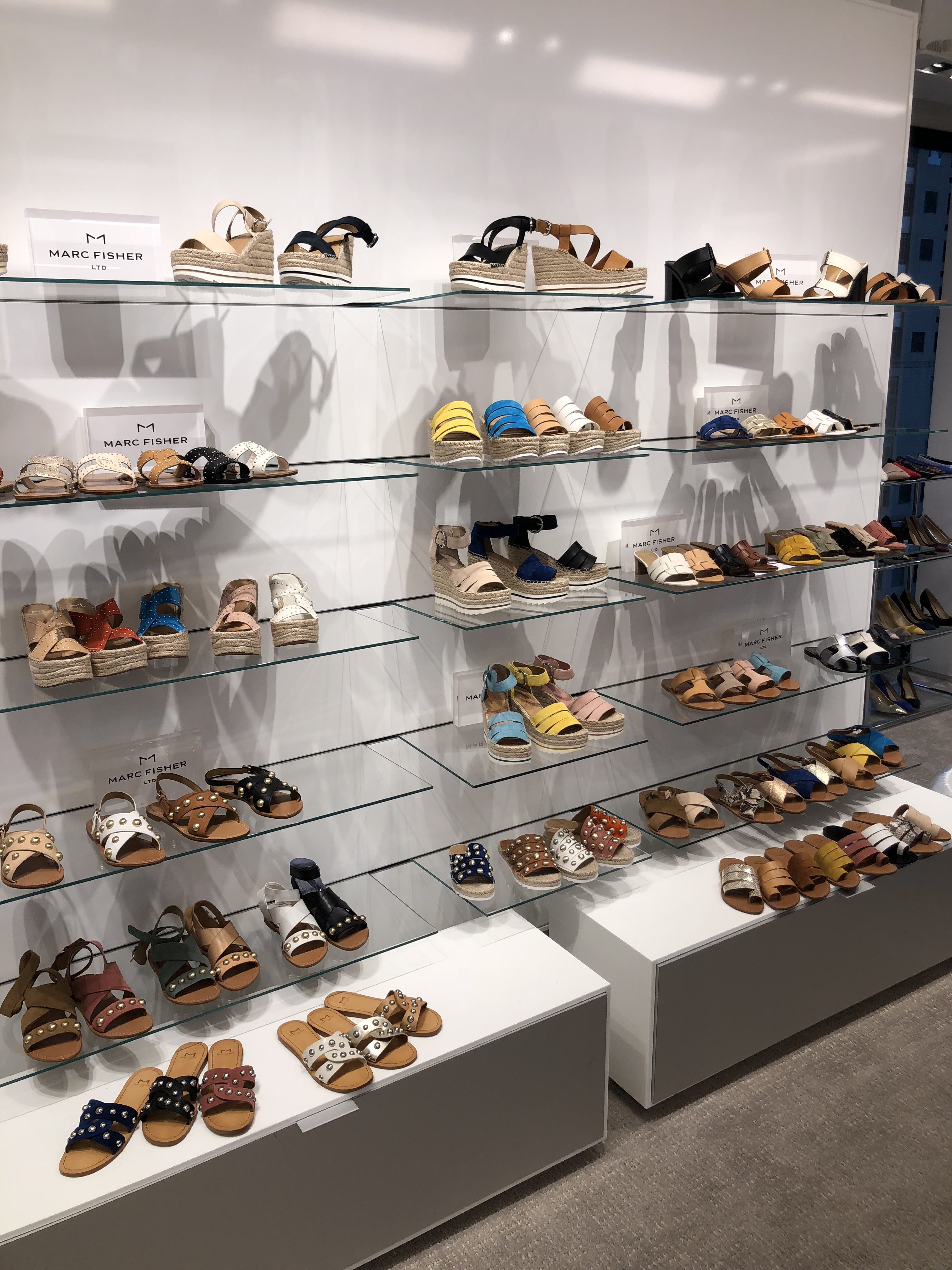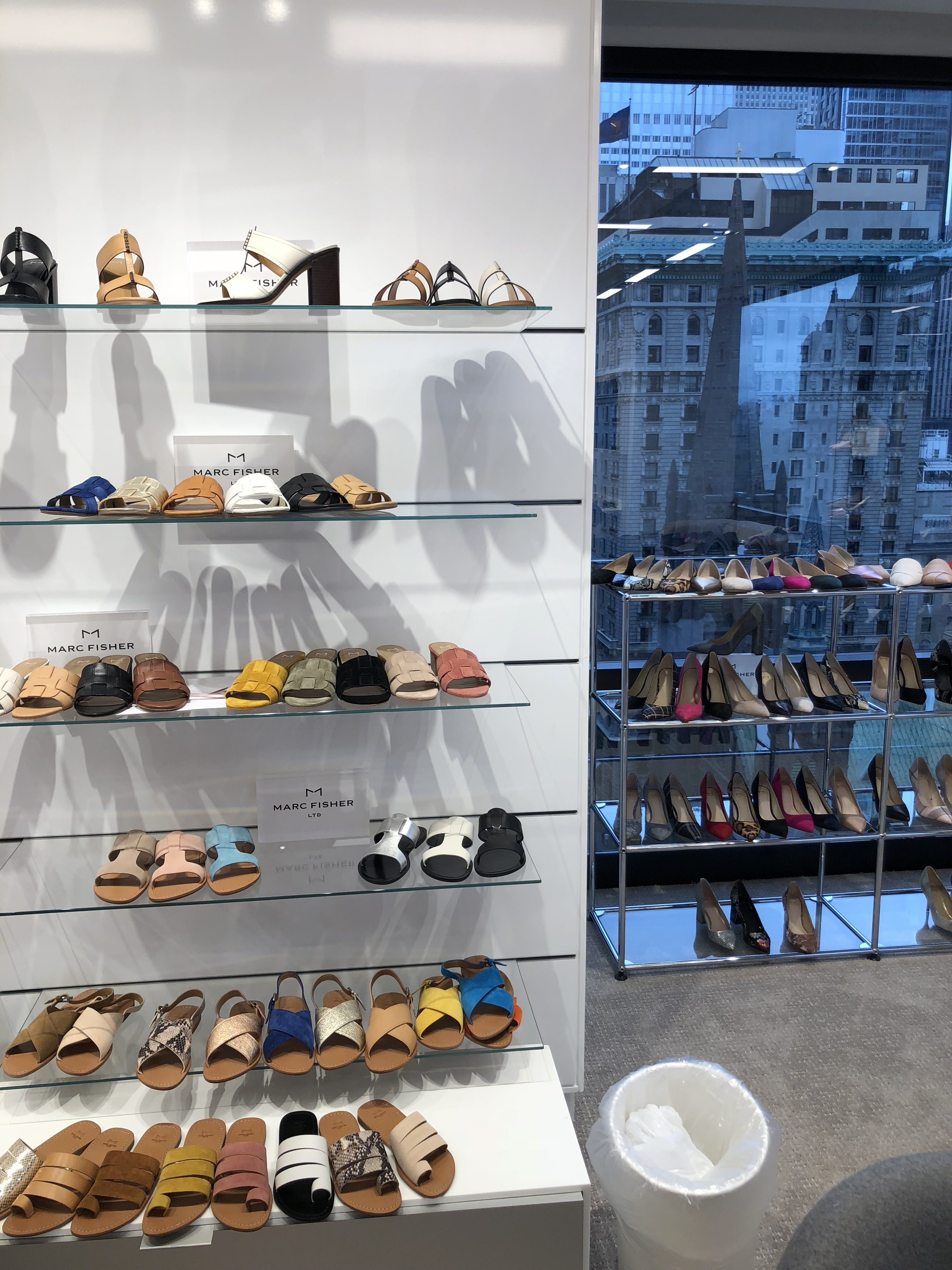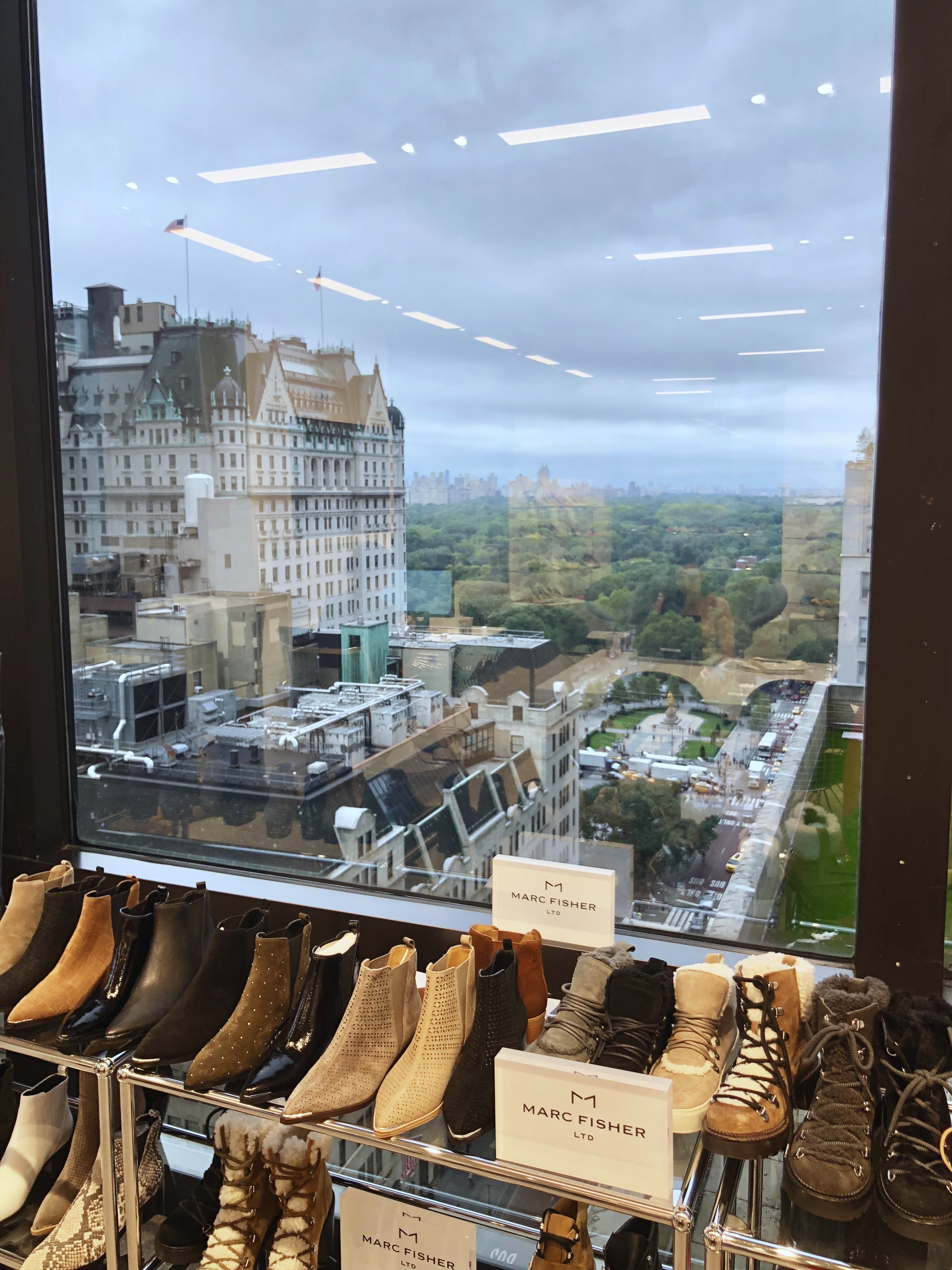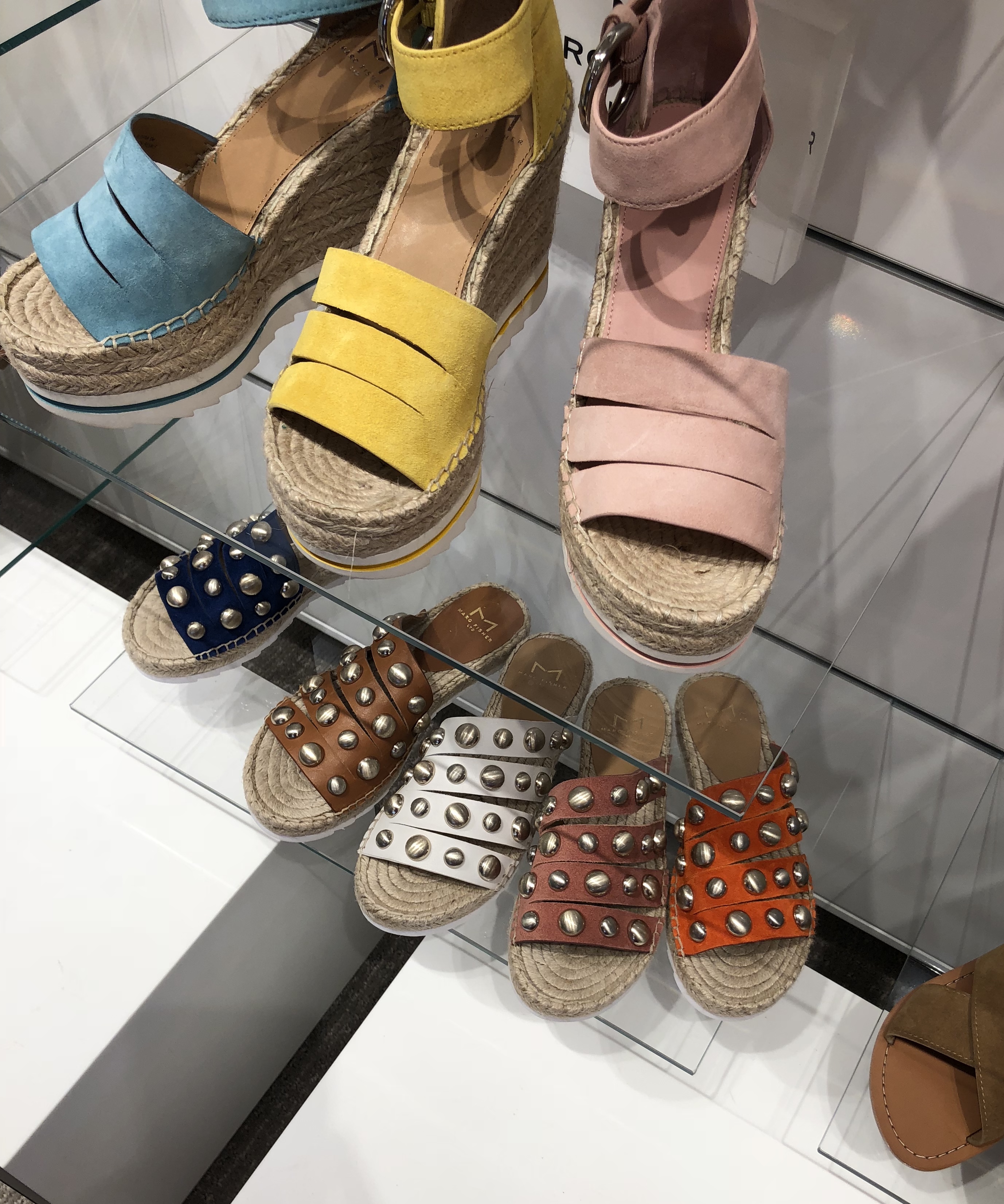 After Marc Fisher, I went straight to rewardStyle's rooftop event. I especially loved this event because I got to connect with my rewardStyle reps and sooo many of my blogger friends, who I normally don't get to see very often. It's so special when we all get together in one place instead of having to keep in touch over Instagram, LOL. So many of the women you've seen on my Instagram Stories and in your newsfeed have become some of my very closest friends, thanks to the blogging industry and rewardStyle bringing us together. I've grown to love these girls so much!! We talk daily, and they are truly like my second family.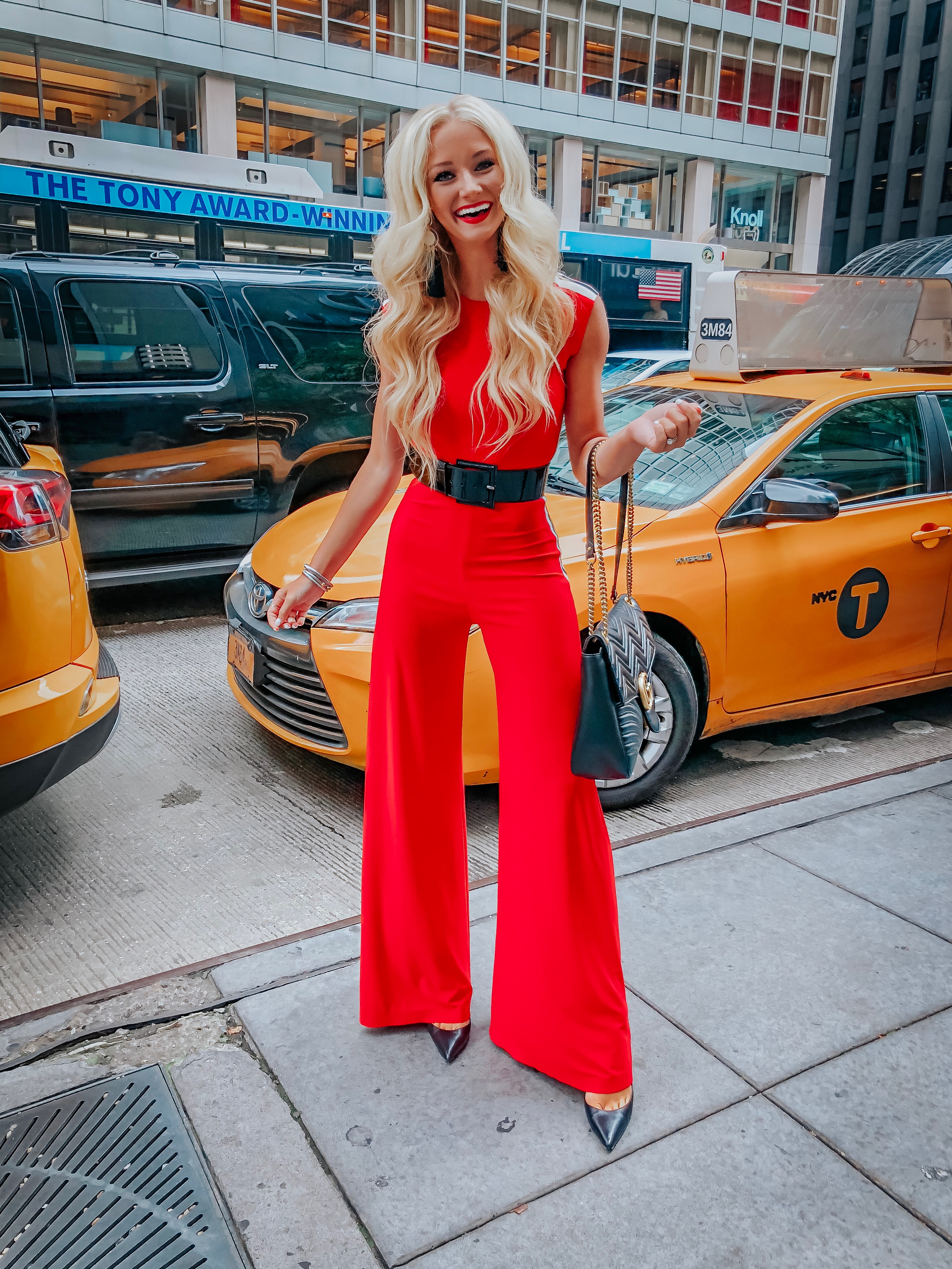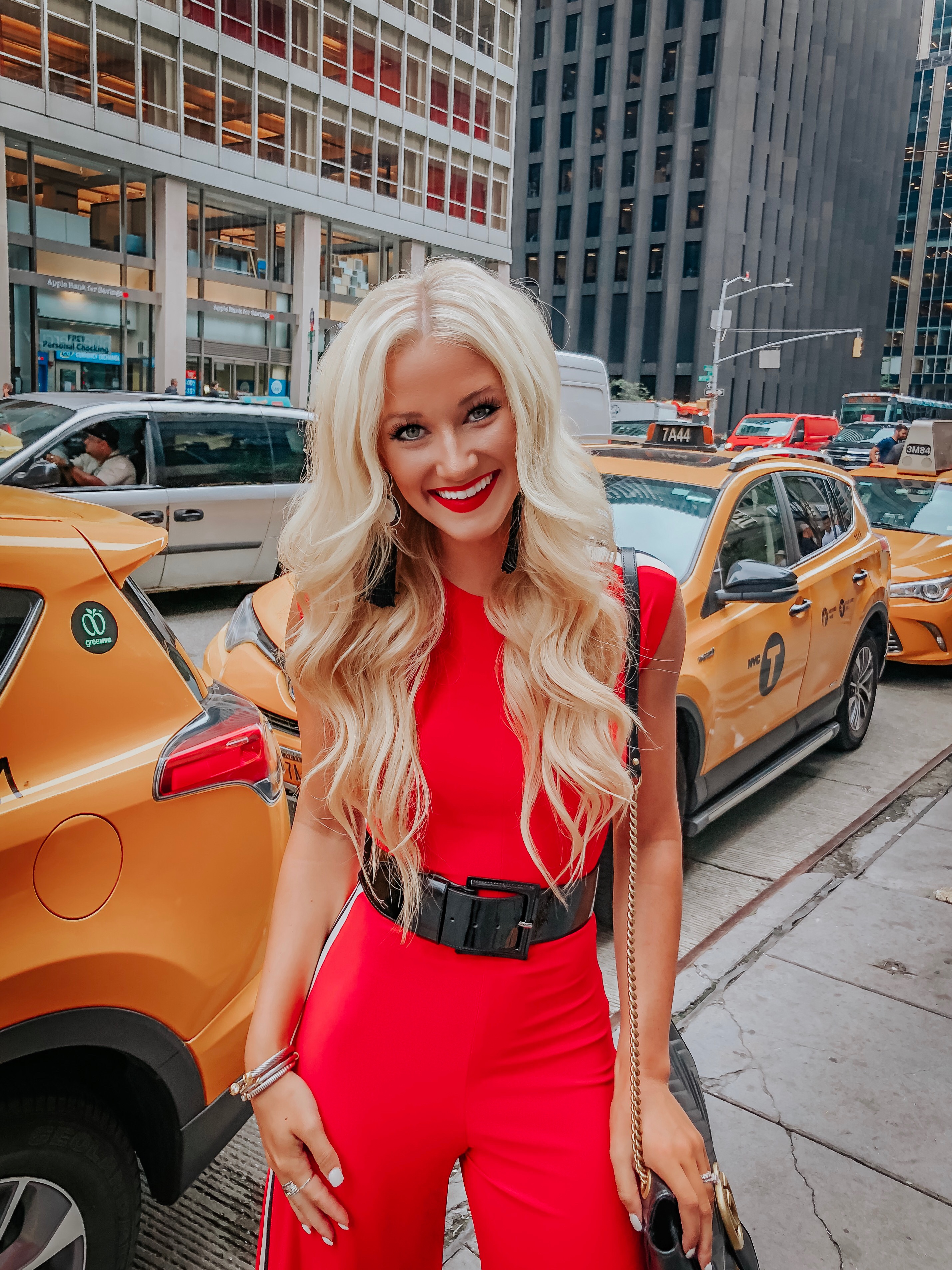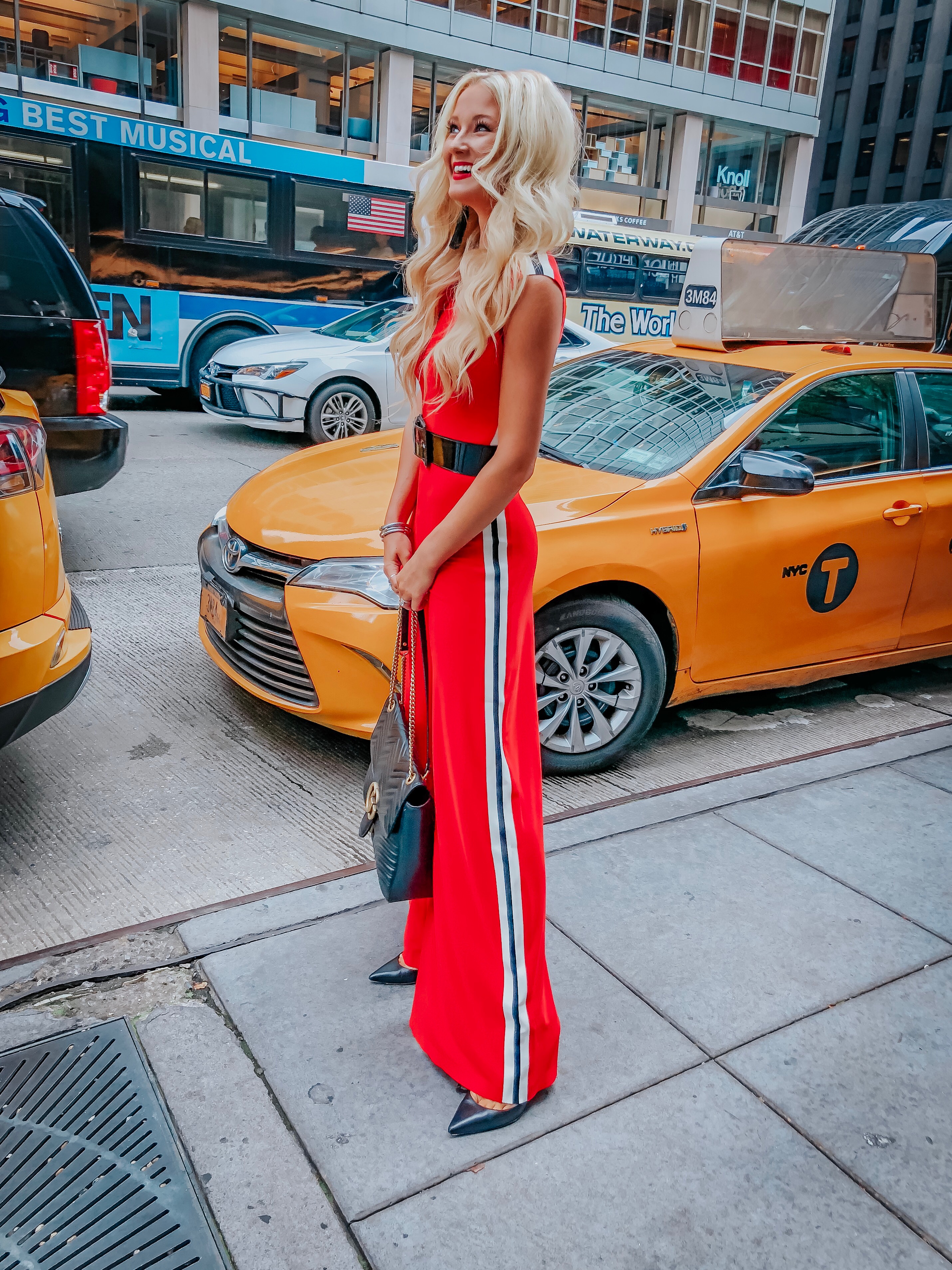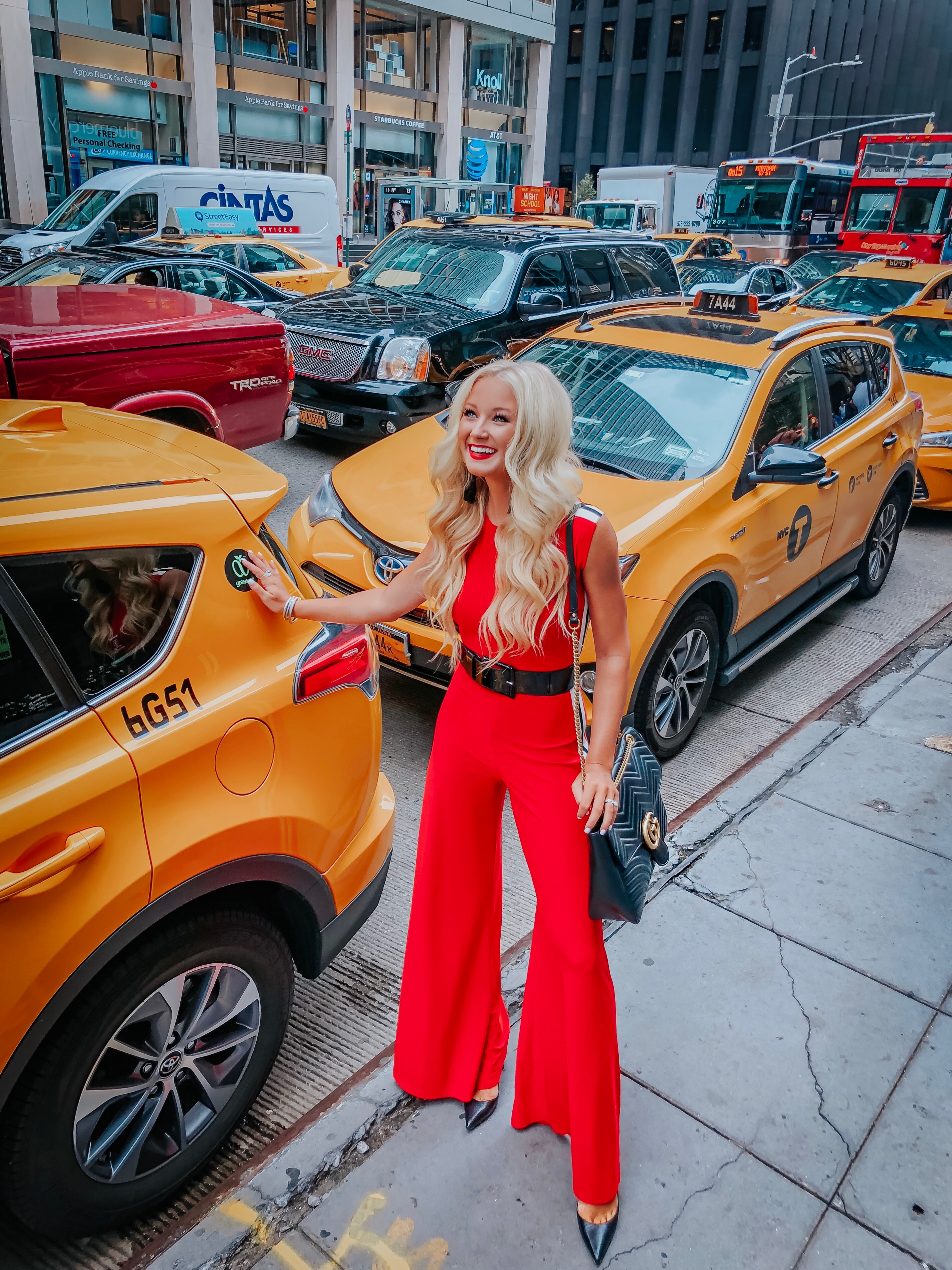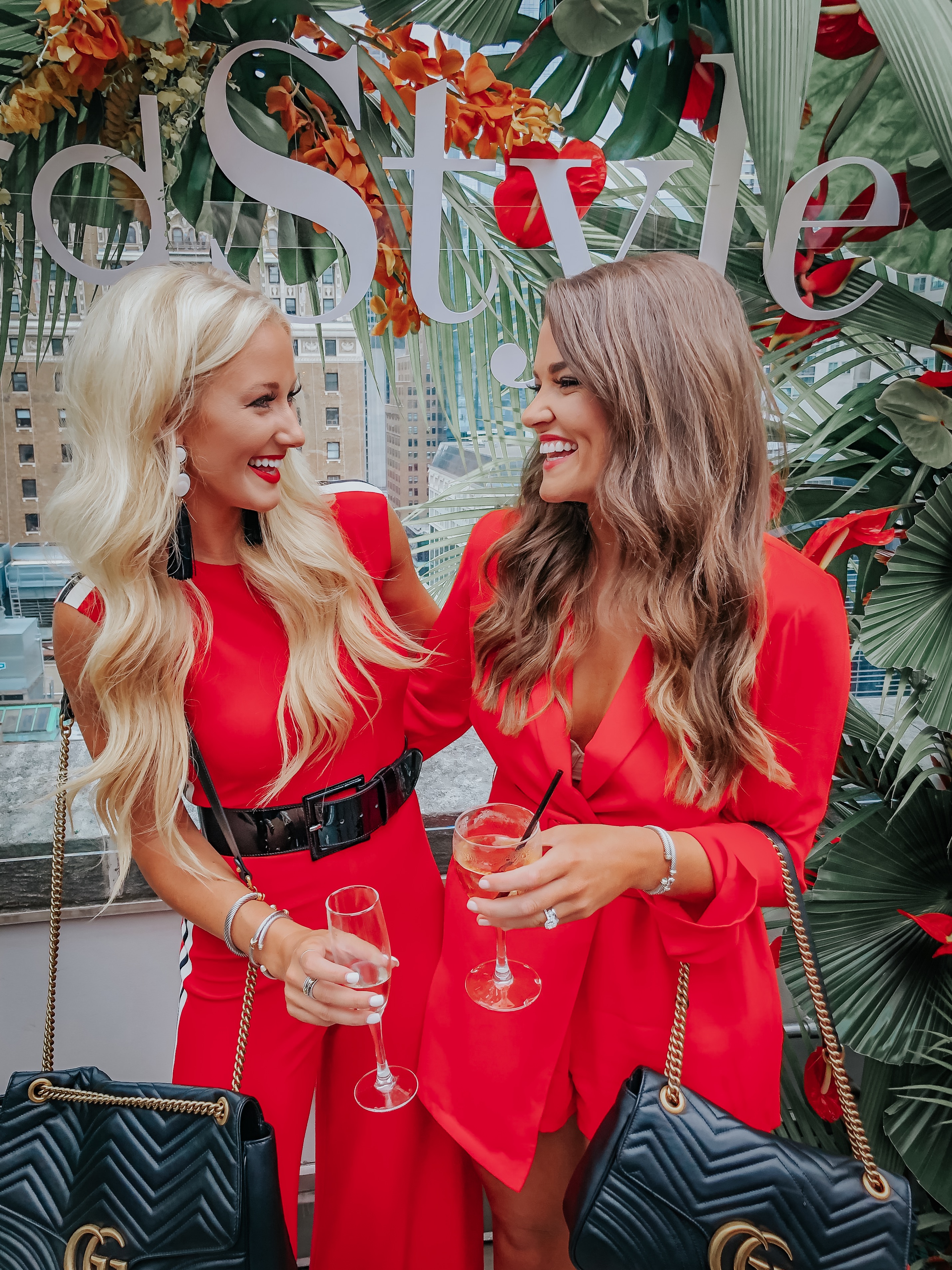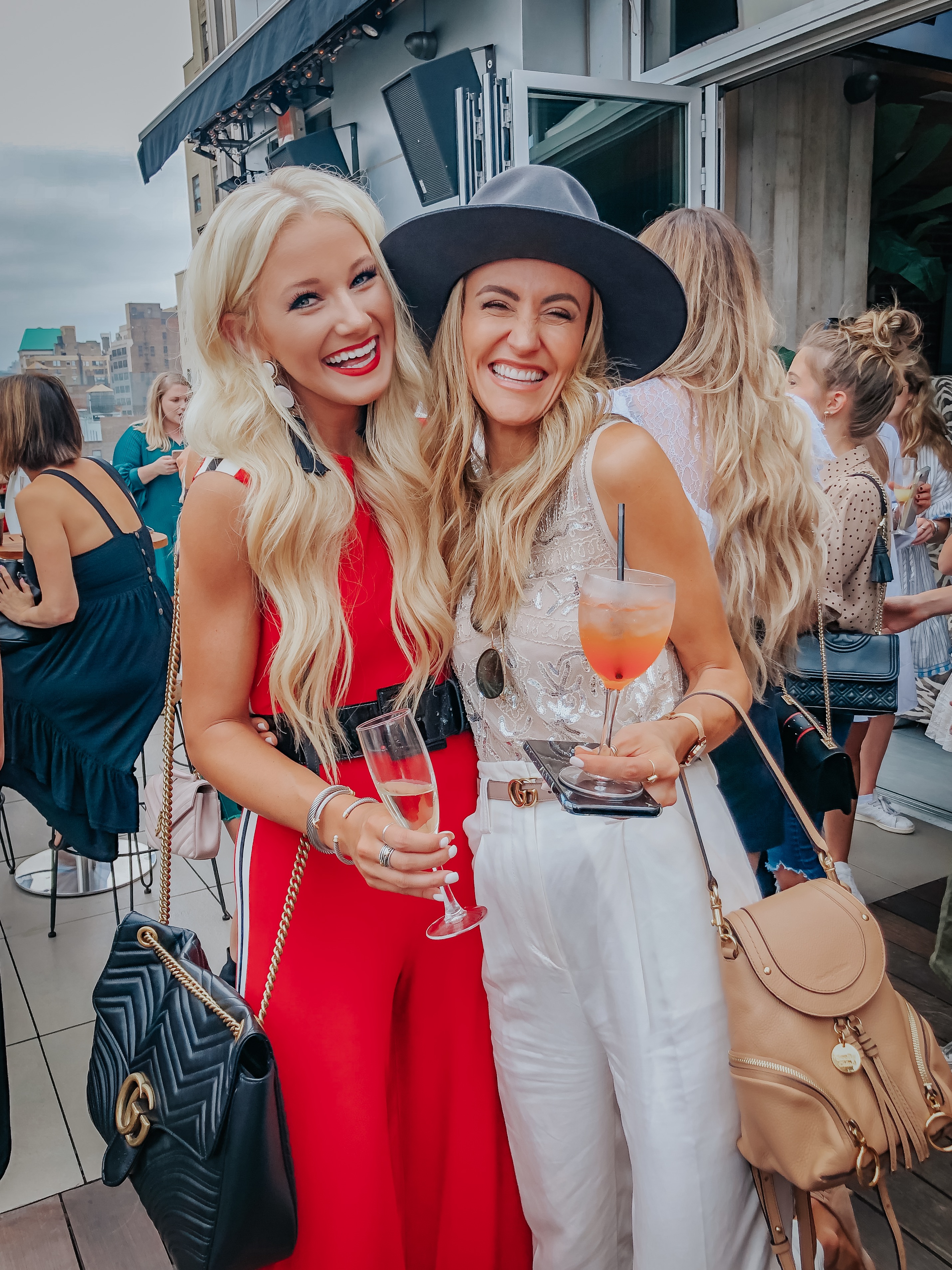 Outfit Details:
red jumpsuit | wide black belt | Christian Louboutin black pumps (dupes here!) | Gucci Marmot Large handbag

After the rewardStyle event, I hurried back to the hotel for a quick outfit change before attending the Sherri Hill runway show (which was absolutely STUNNING, might I add! See photos below.)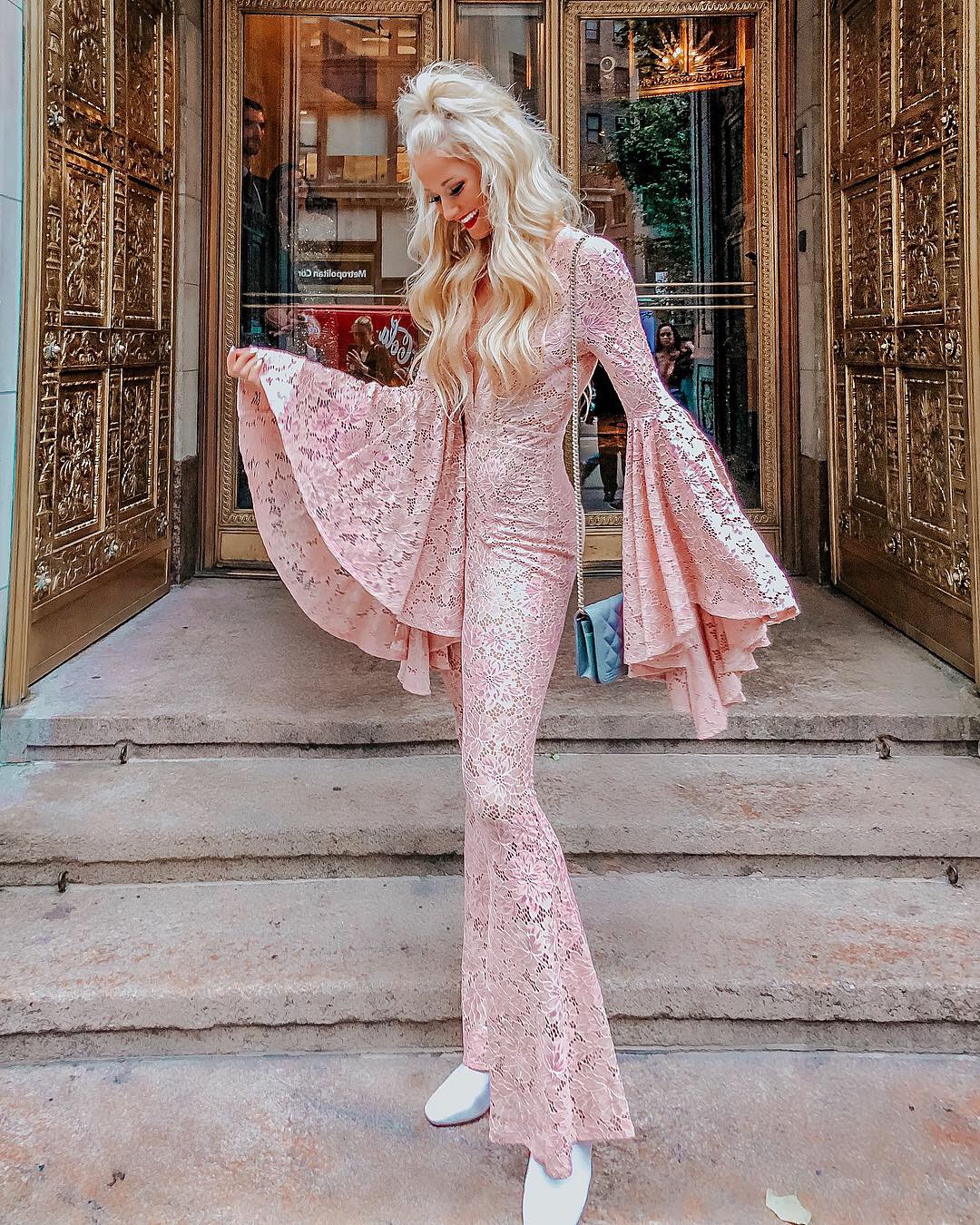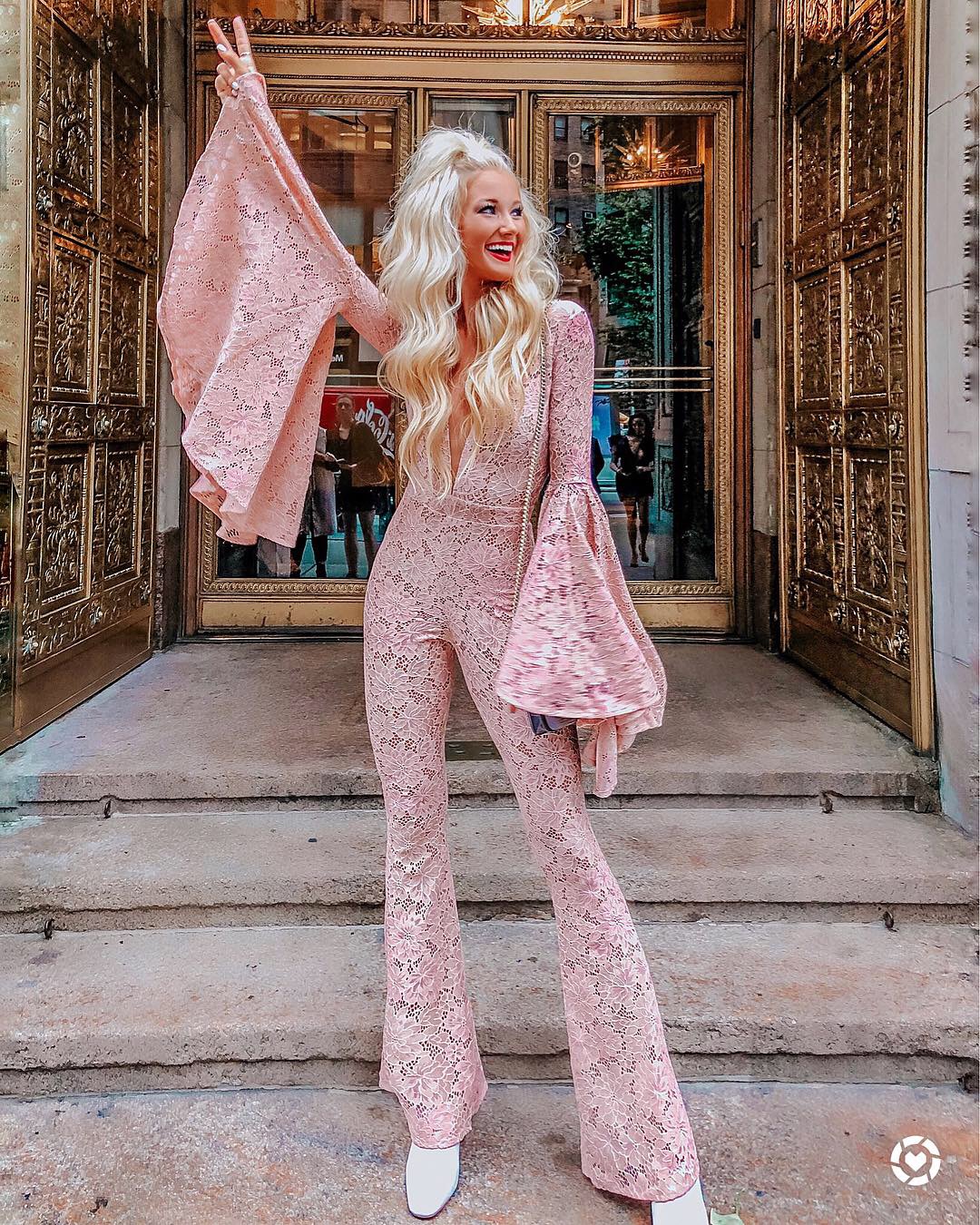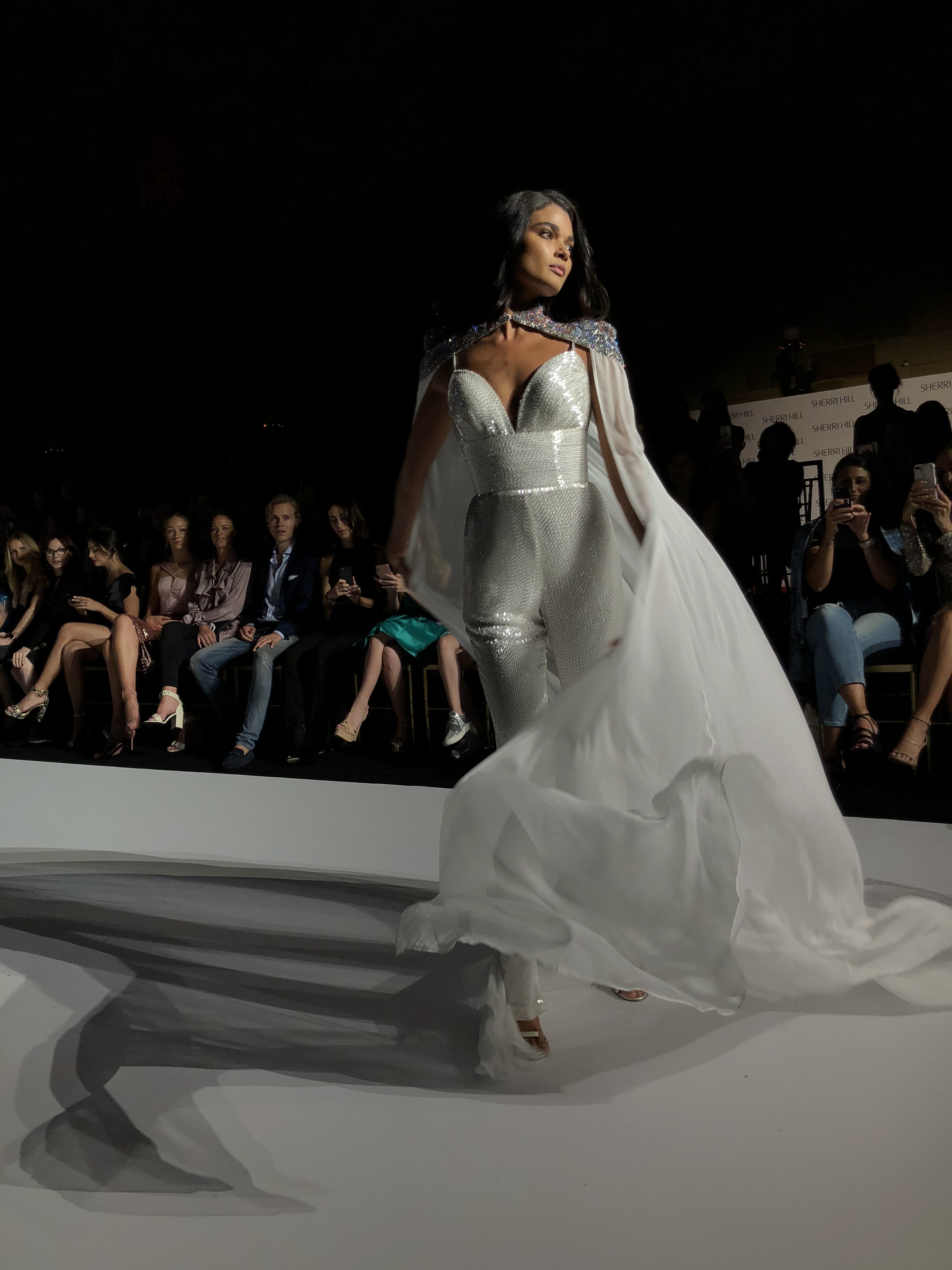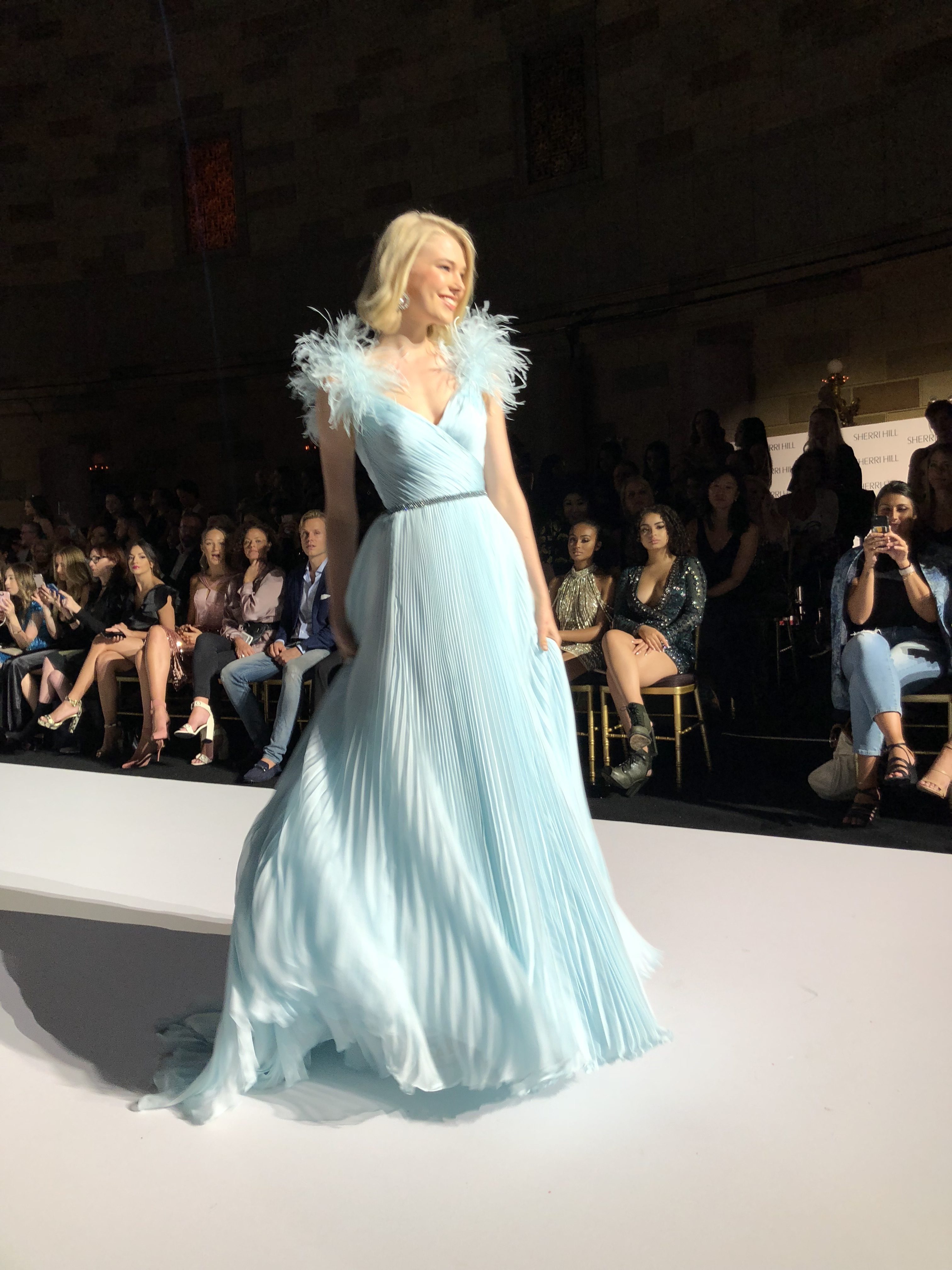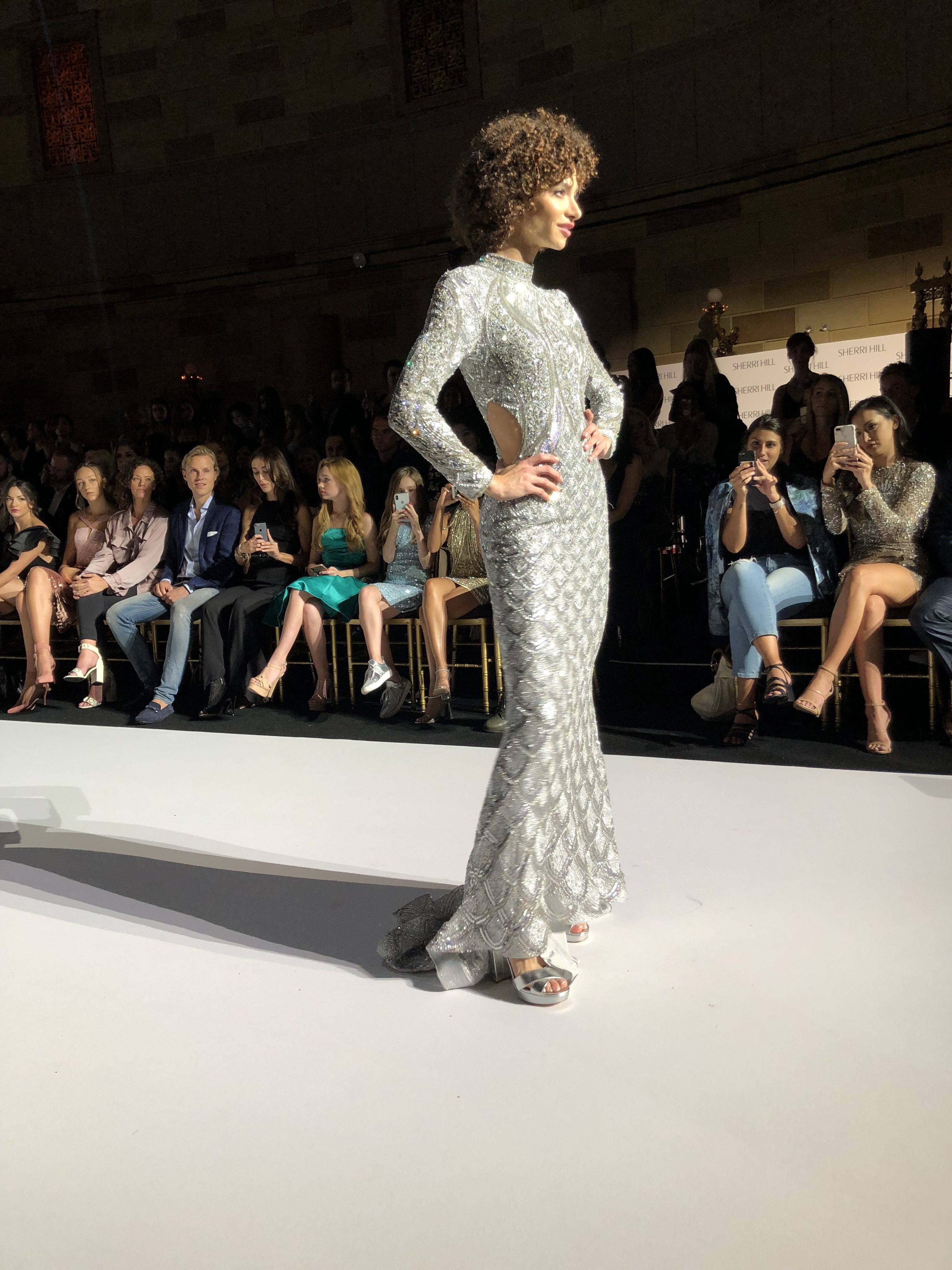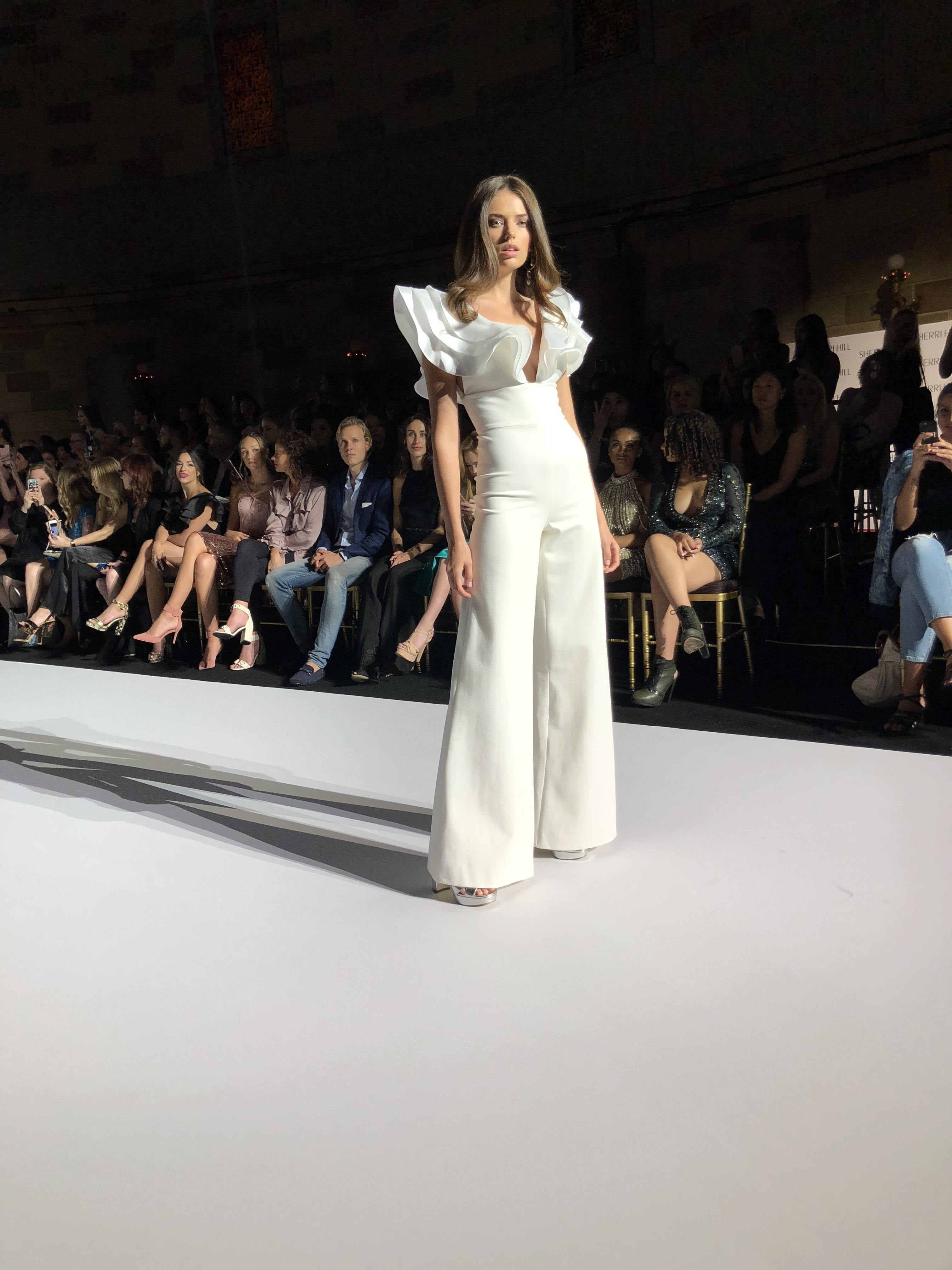 Right after Sherri Hill, I hopped in an Uber to hurry over to the Lulu's Party, which was another great event where I got to meet so many new faces and hug a few familiar ones. 🙂 Once the party ended, I went with some of the girls to grab some dinner (finally, around 11:30pm ha!) NYFW really is so busy that it's even hard to find time to eat at a decent hour (but totally worth it in my opinion).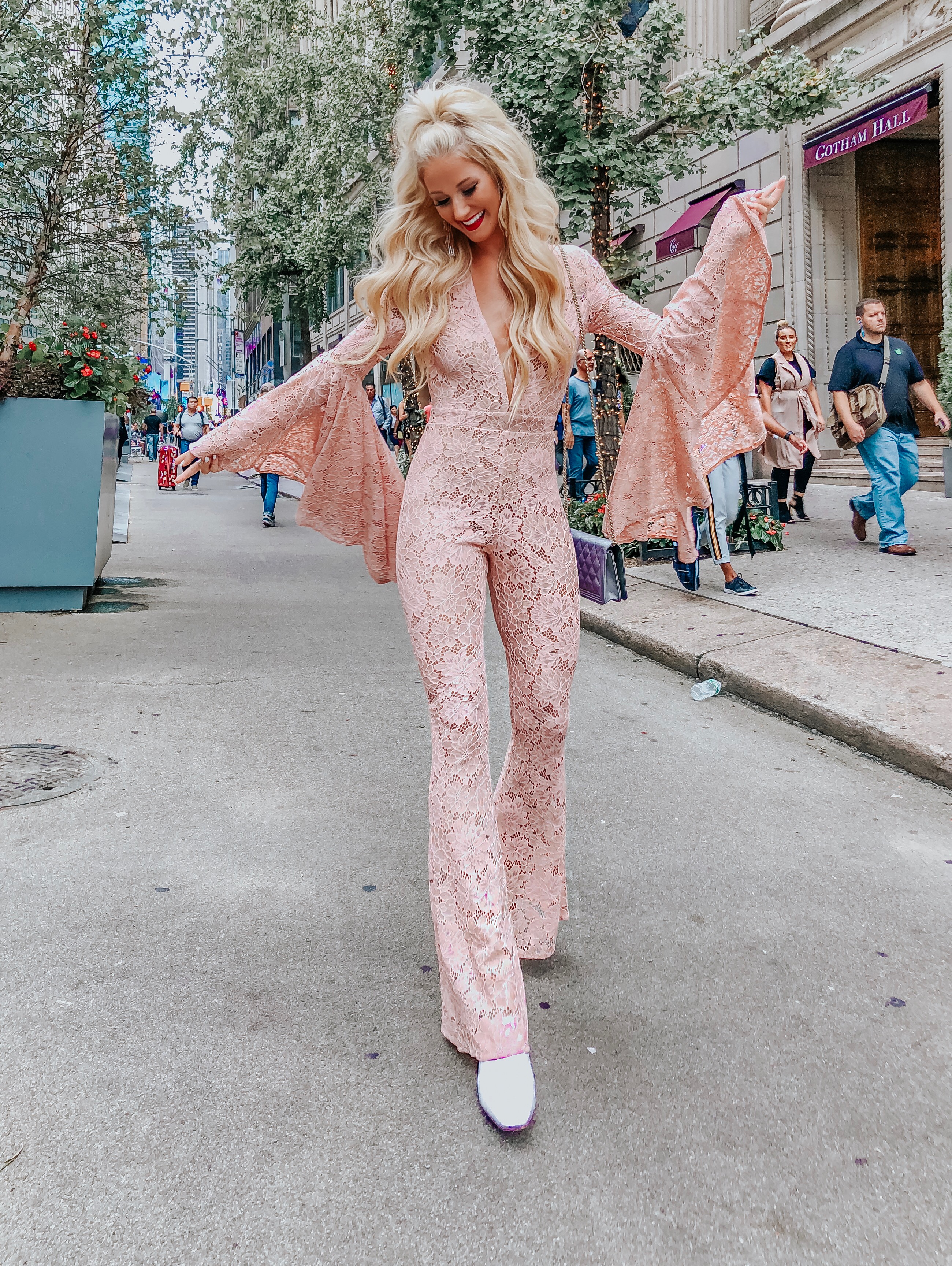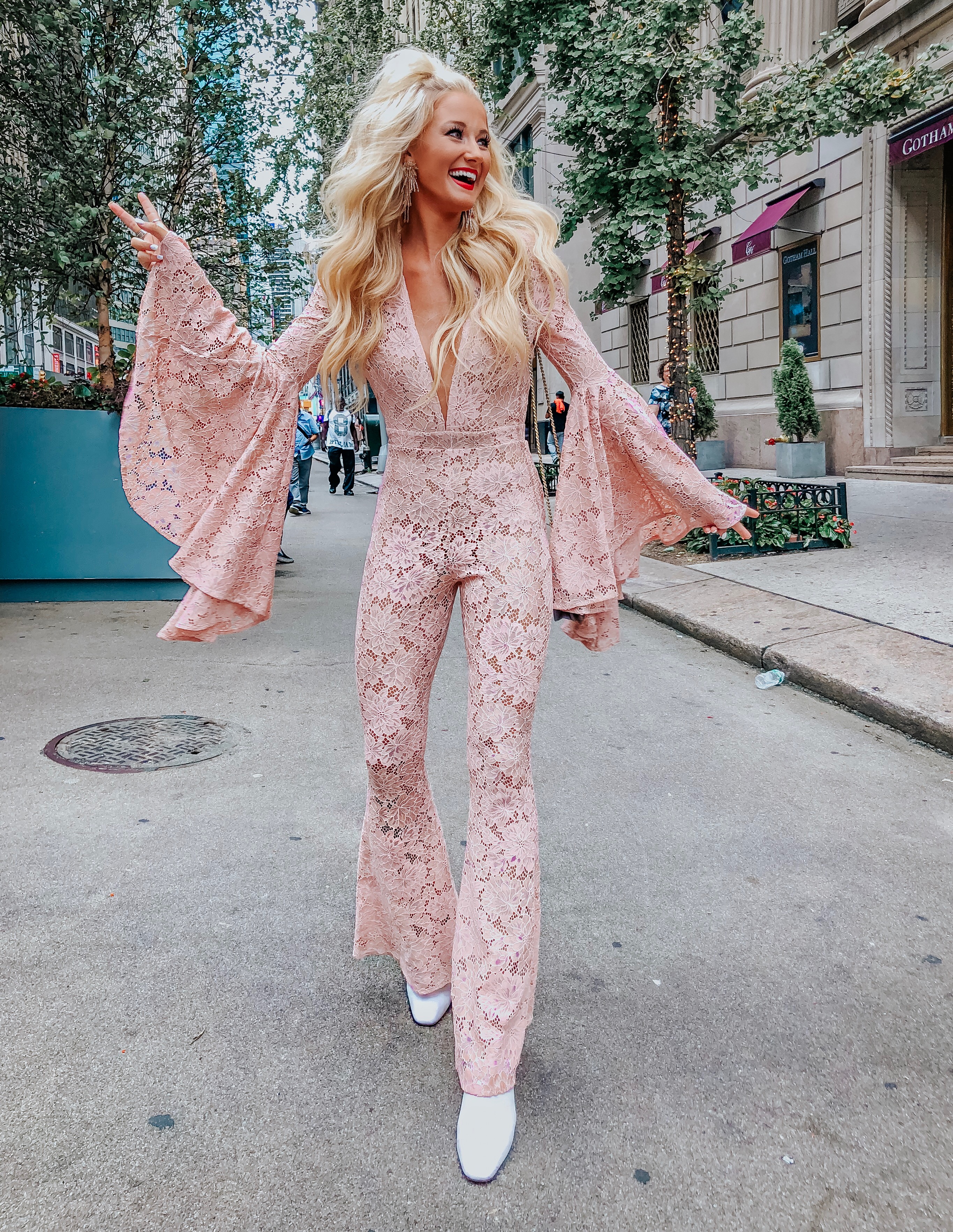 Outfit Details:
Michael Costello pink lace jumpsuit (dupe here!) | white mules

DAY 4:
Saturday morning, I took the time to go eat brunch with my mom and sister and catch up on some 'behind the scenes' work. We also snapped a few photos before getting ready for the next events.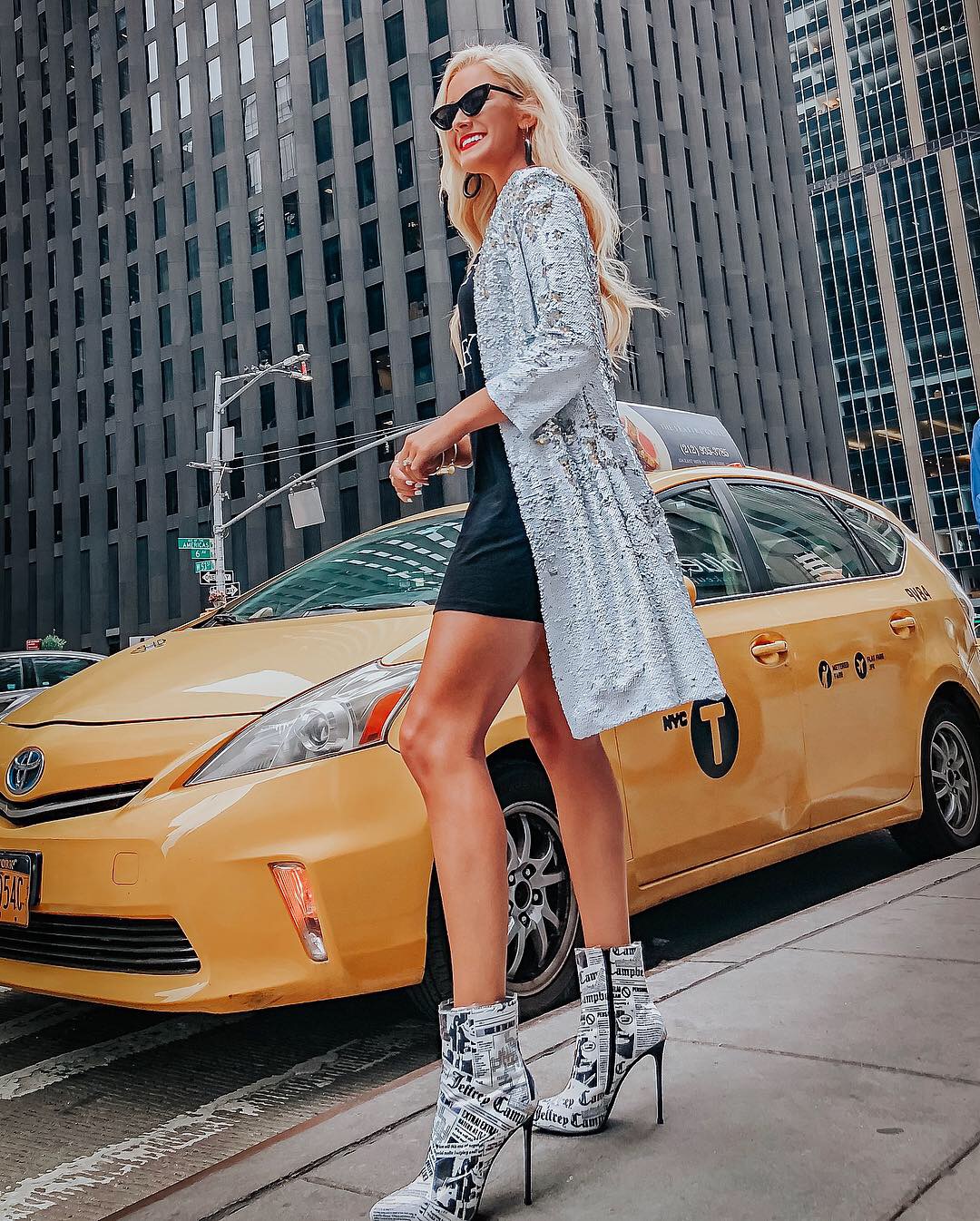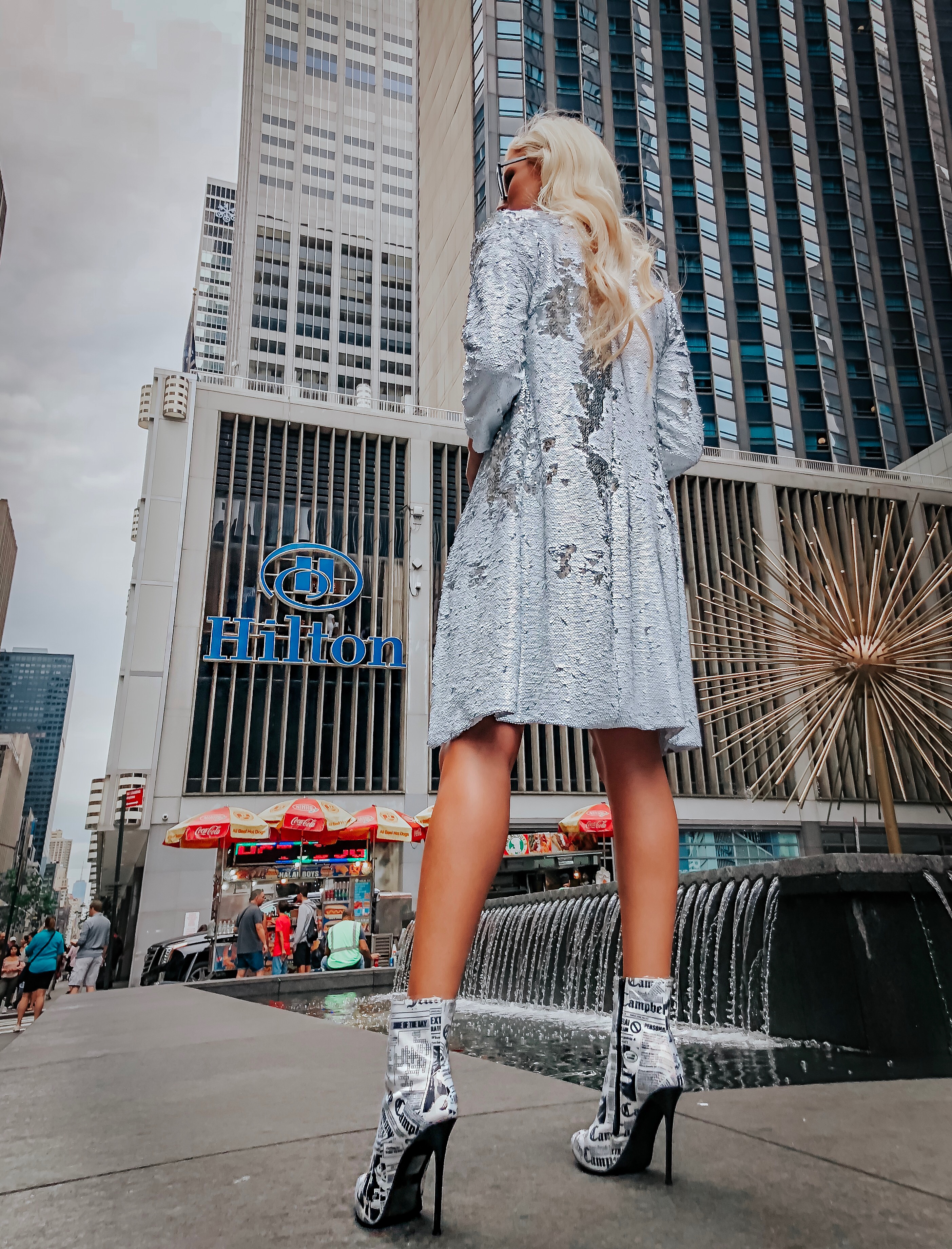 Outfit Details:
similar black graphic tee dress | white/silver sequin jacket (designed by Cavanagh Baker) | newspaper booties | black cat eye sunglasses | white Valentino crossbody bag

Then, I headed downtown for the Jonathan Simkhai presentation — something that I had looked forward to since I began NYFW planning back in July! I had always wanted to attend his presentations and felt honored to be invited. Take a look at his beautiful designs for S/S 2019 … I literally want it allll. So dreamy!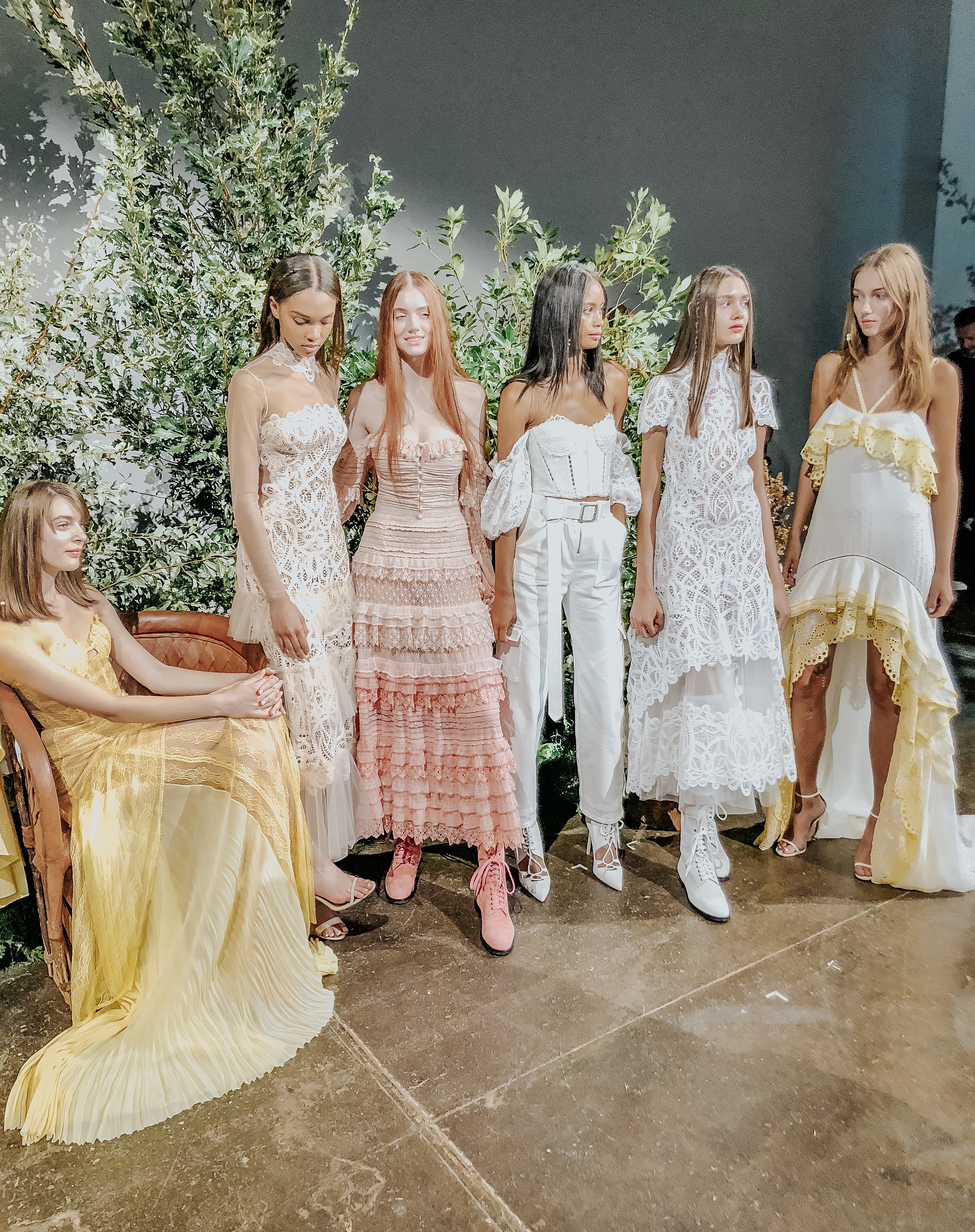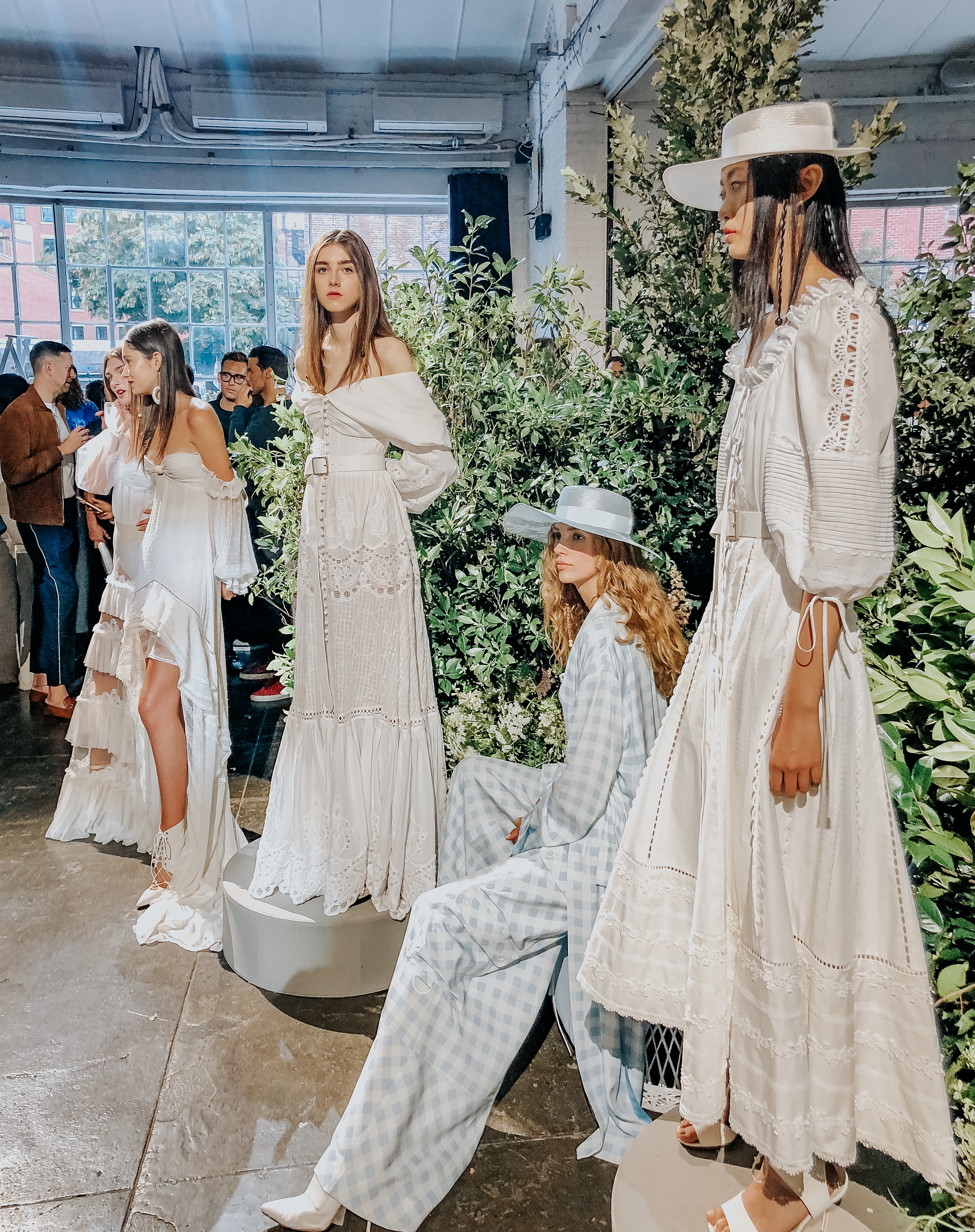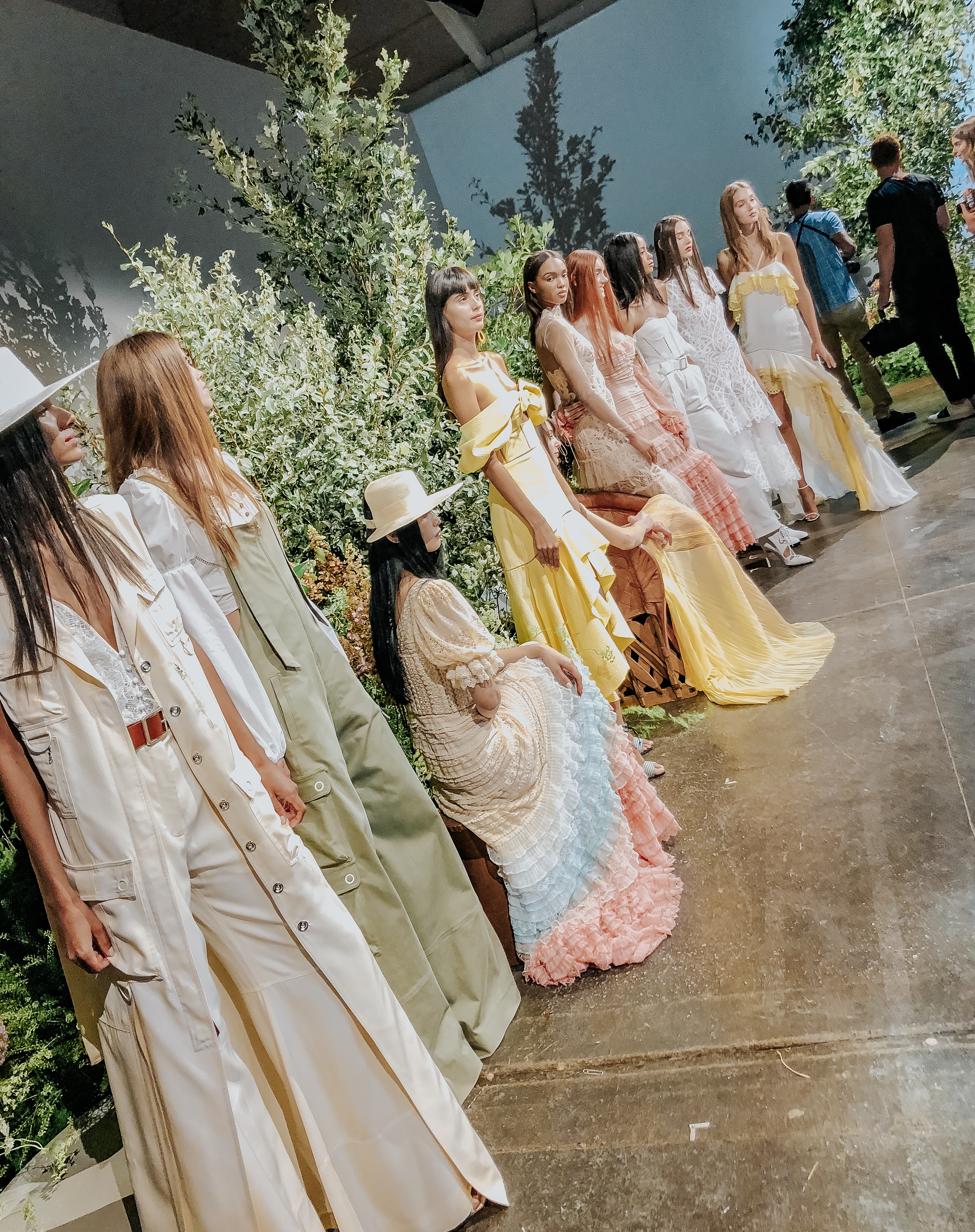 Once the Jonathan Simkhai experience wrapped up, I headed straight for the LIKEtoKNOW.it party (which is always my favorite party during New York Fashion Week). This year's event was super special because LTK.it just published their first coffee table book: Stories from the Influencer Next Door, featuring some of the top bloggers and influencers around the world. After a full night of networking with friends, the LTK.it team gifted each person at the party with one of the coffee table books to take home. I was thrilled and have been so inspired by the stories inside!
I partnered with Finery to help me style the perfect look for the night's events, and I love the way it all turned out! Finery is a new *free* app cofounded by @brooklyndecker. You just sign up by connecting your email and in seconds your online purchases (i.e. from Nordstrom, Revolve, Forever 21, etc.) are organized in the app. It's seriously the Clueless closet IRL (I used to be obsessed with that movie)! The app does a lot of cool things like gives you style inspo for clothes you already own, sends you return notifications and sale alerts so that you're not bummed when you find the sale and your size is sold out … I used it most for helping me style NYFW looks in a matter seconds — it was completely stress free and saved me so much time. I recommend checking out the @yourfinery app if you need any fashion help of your own in the future … it's genius!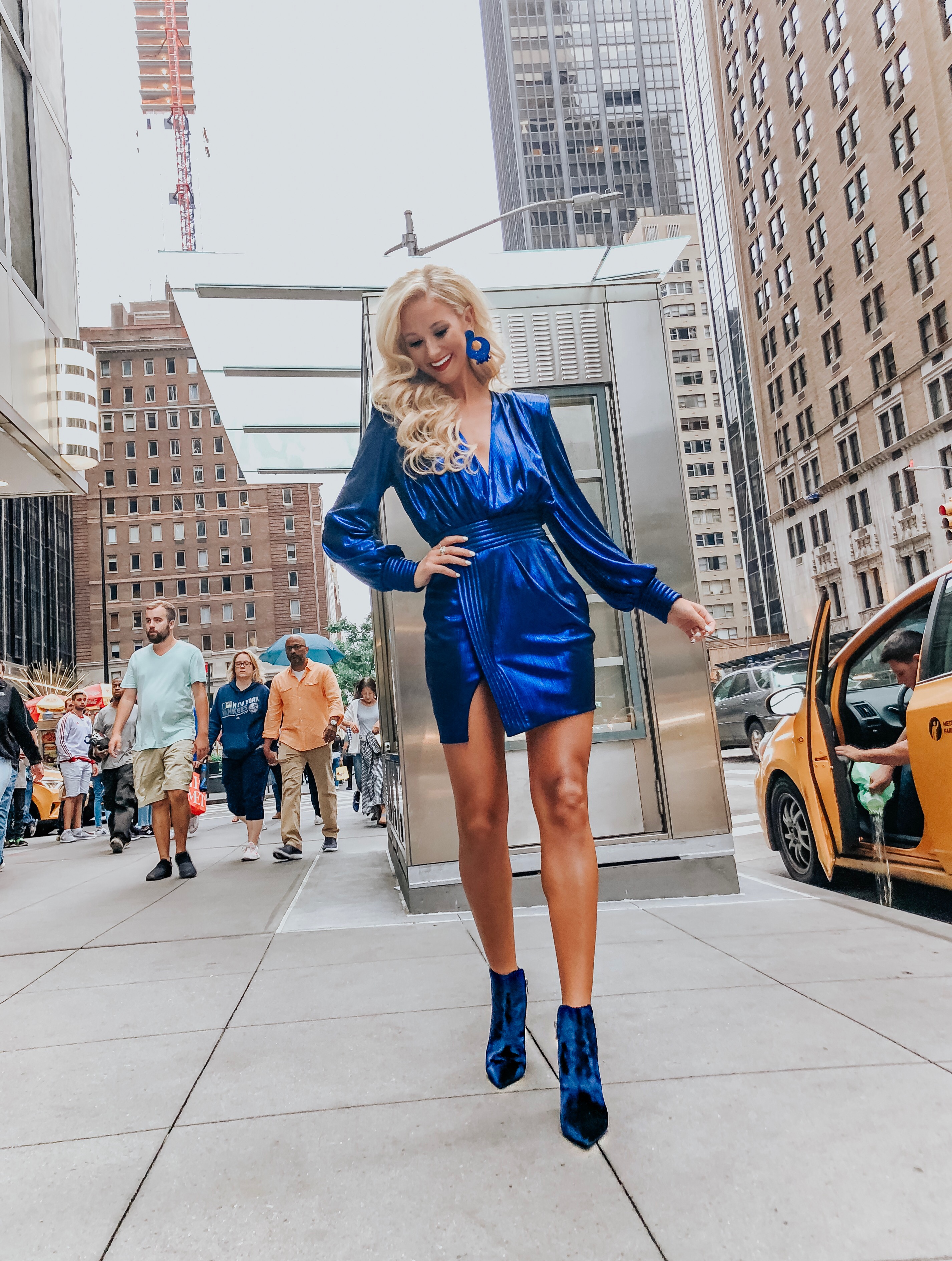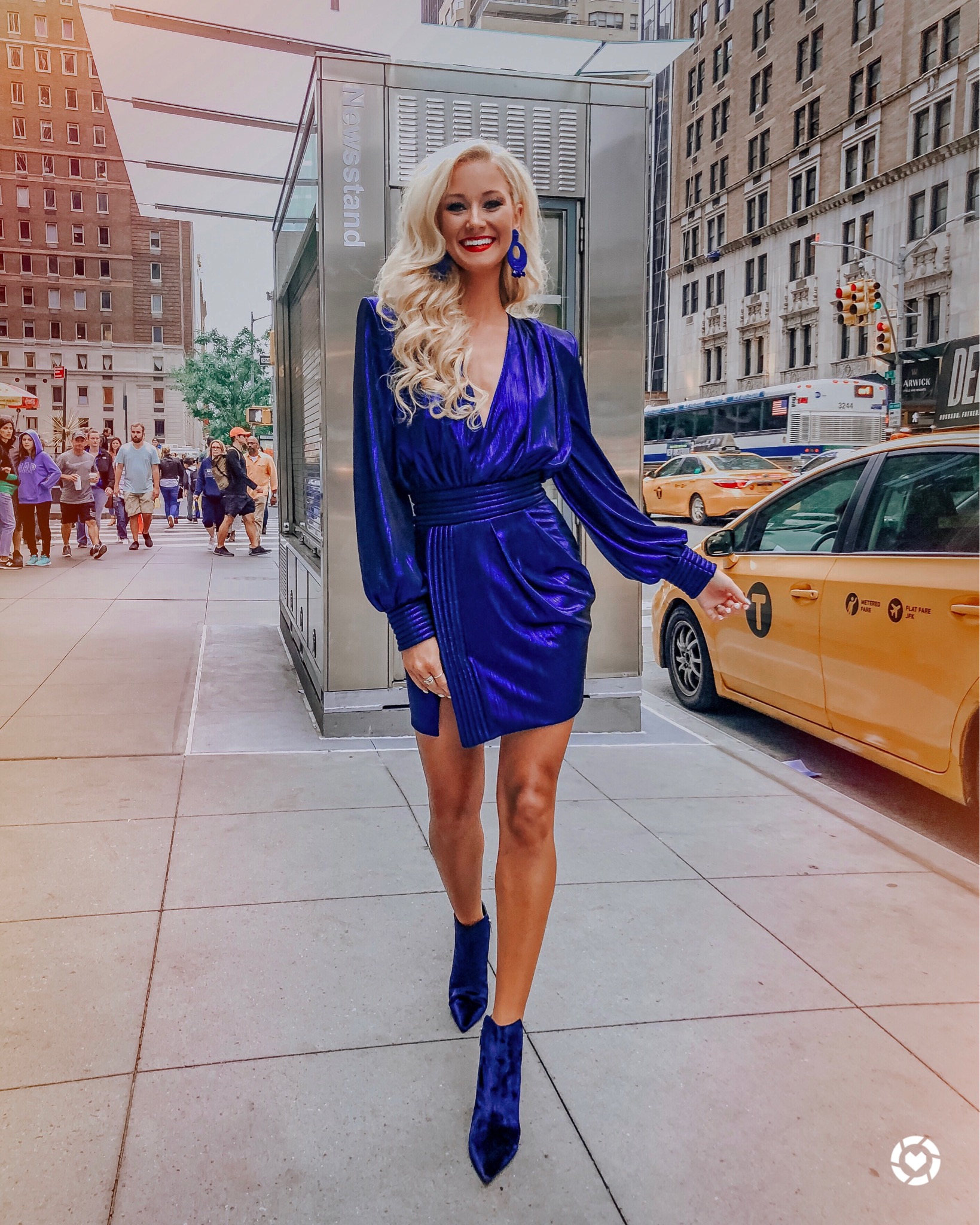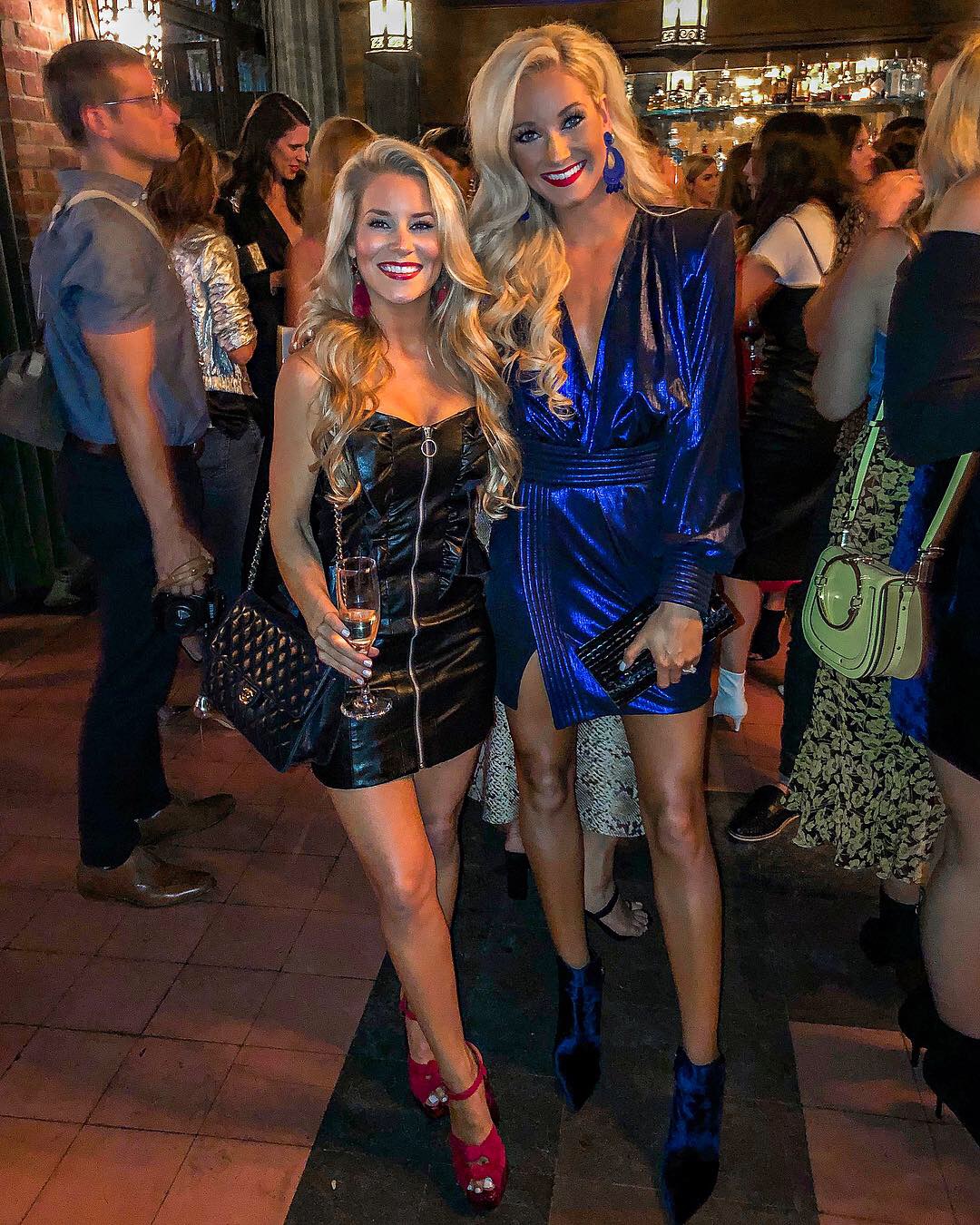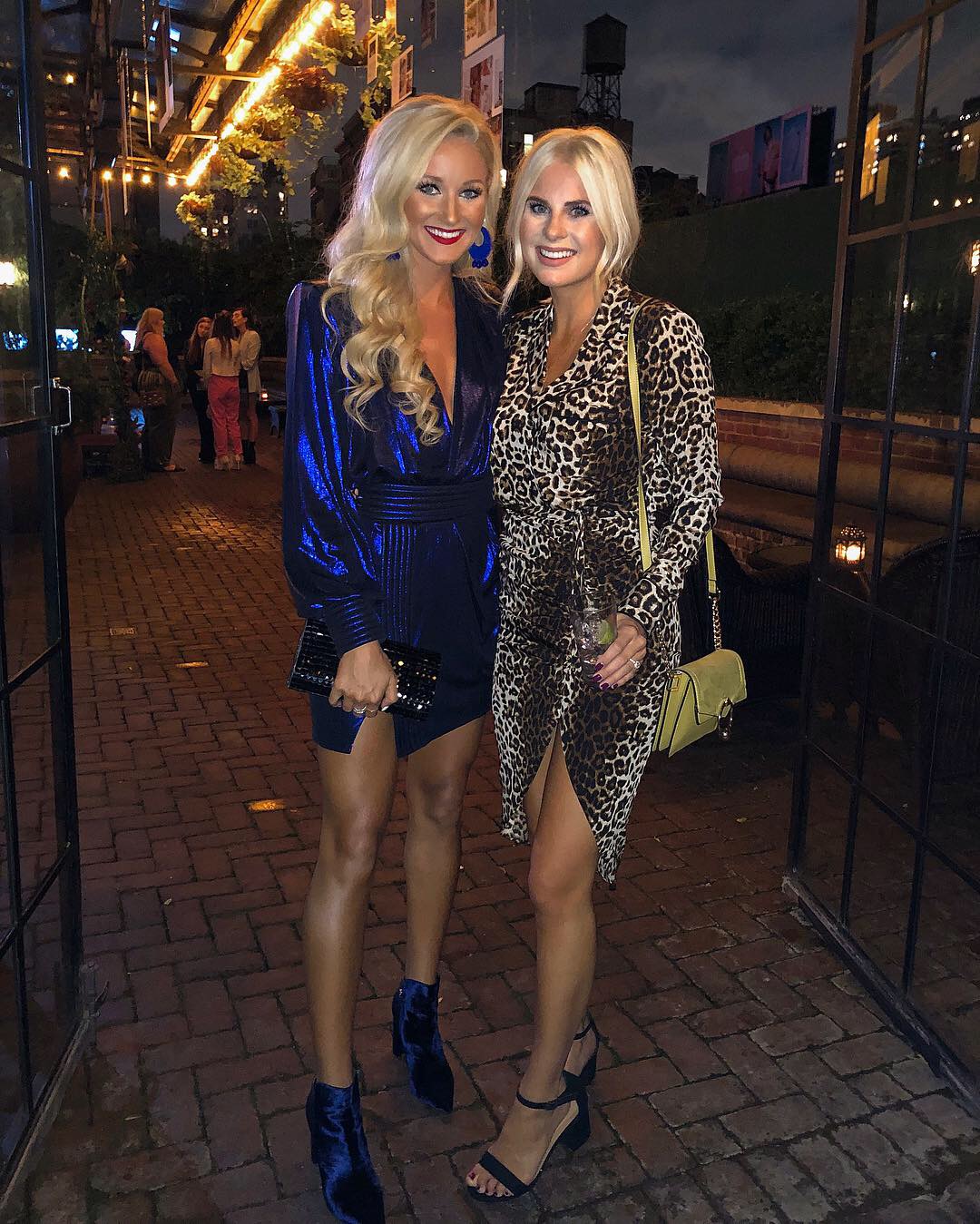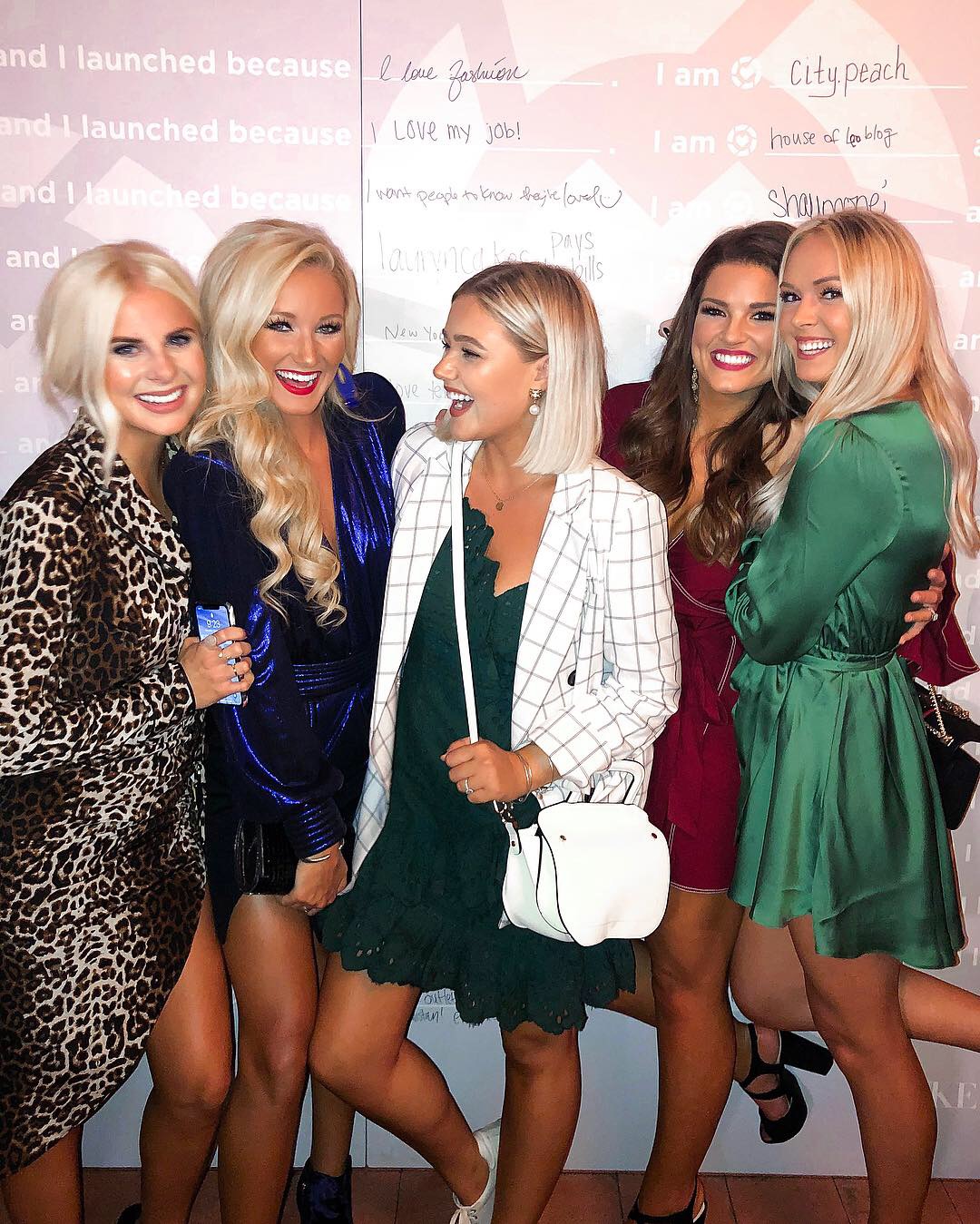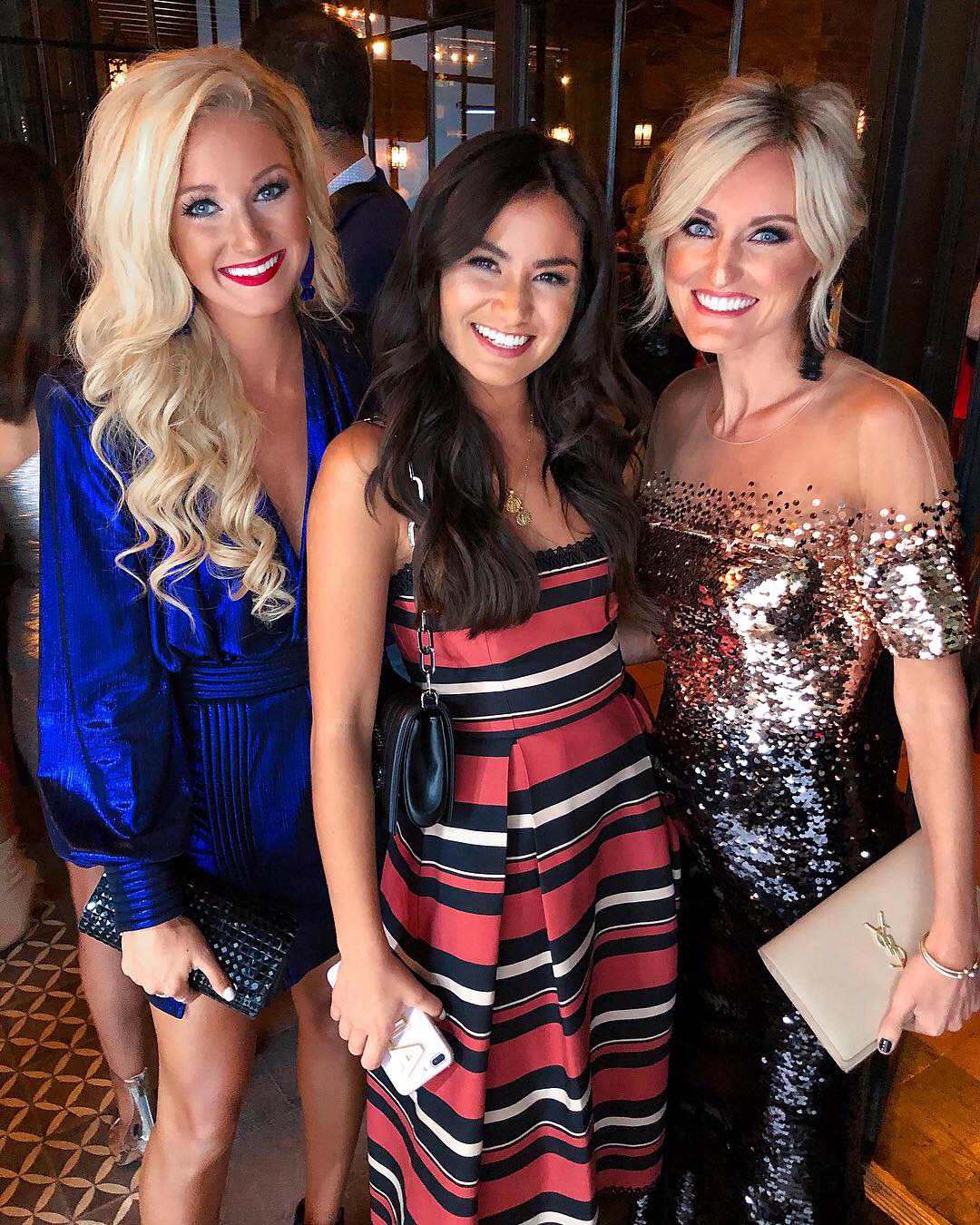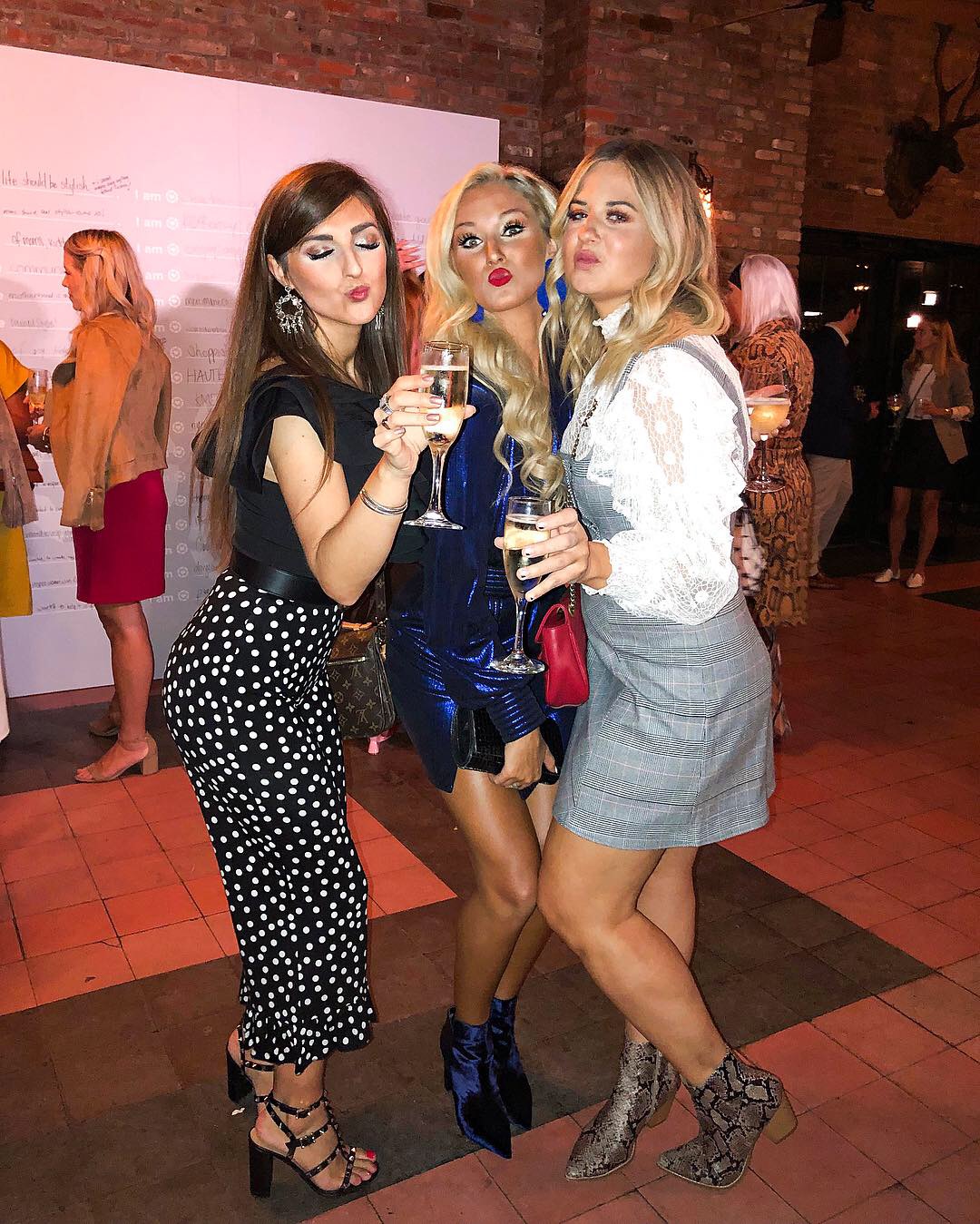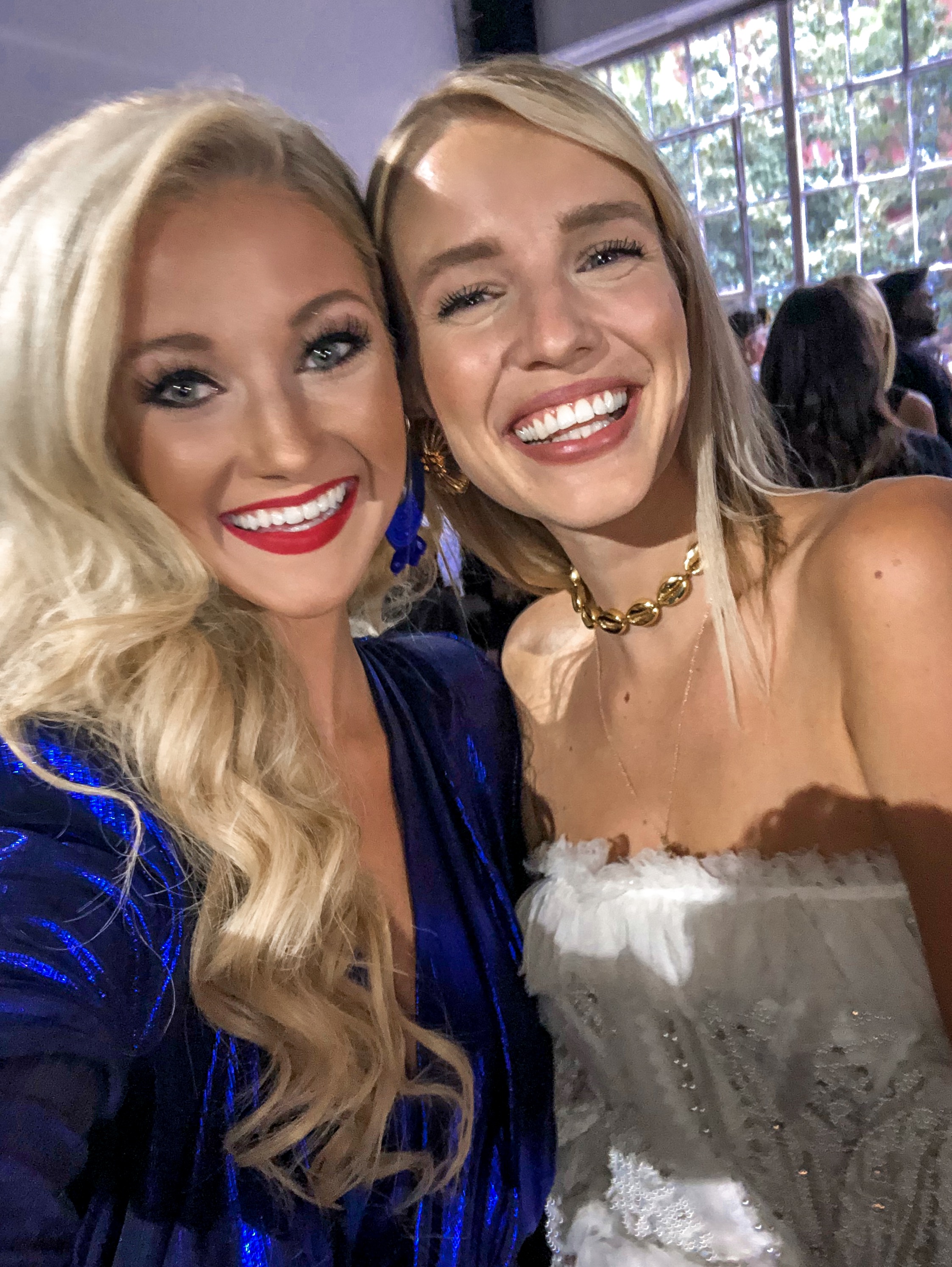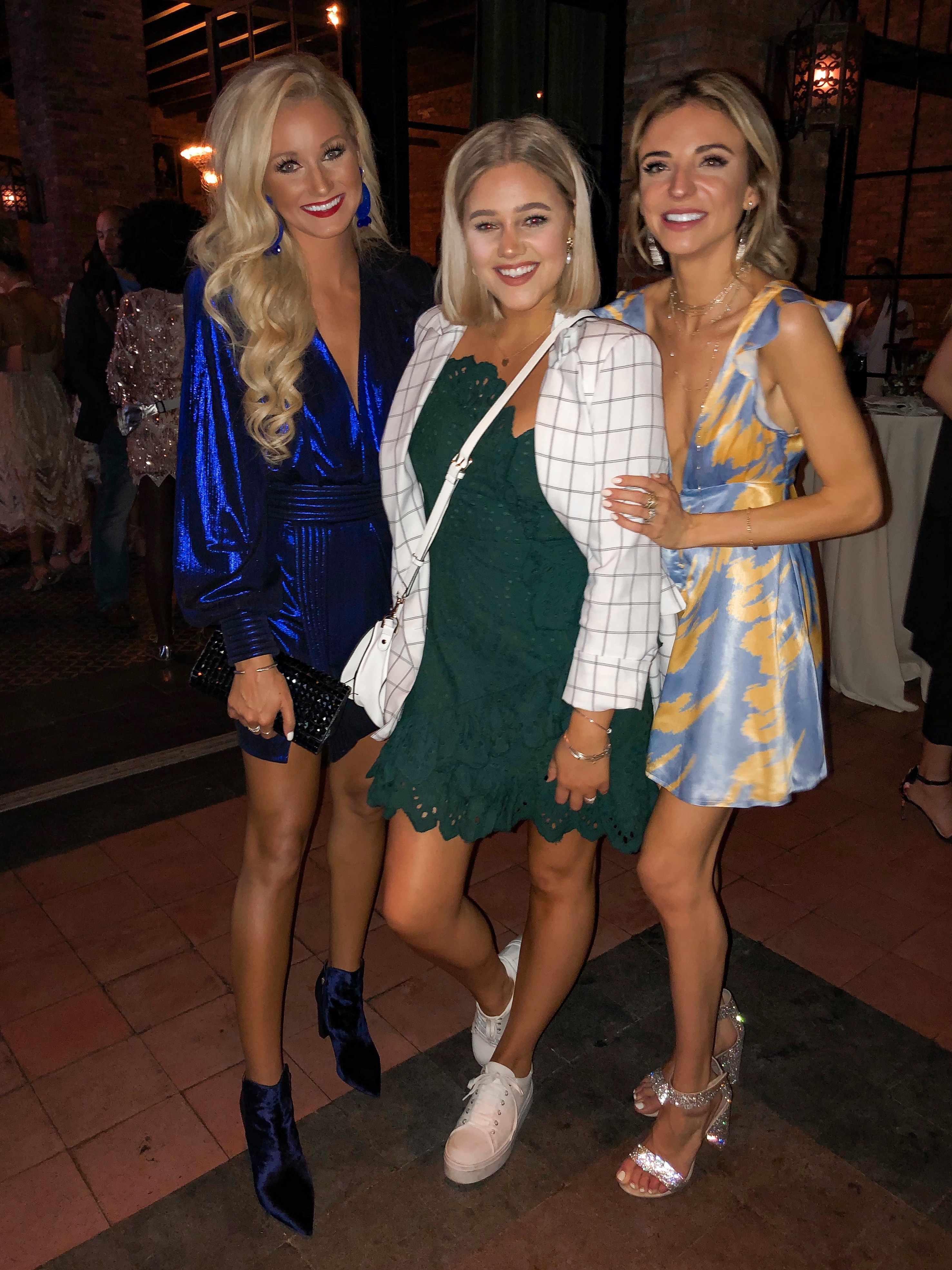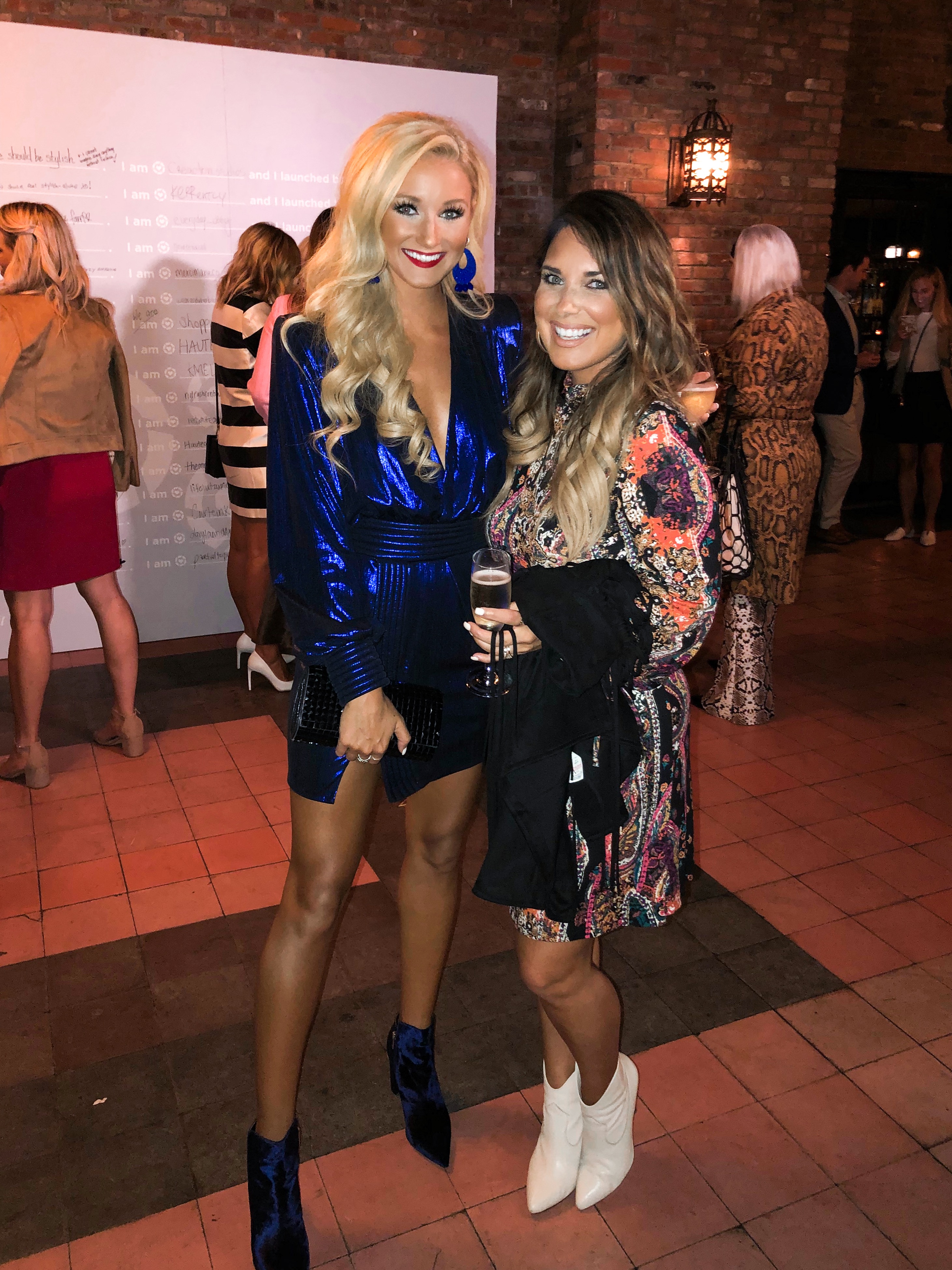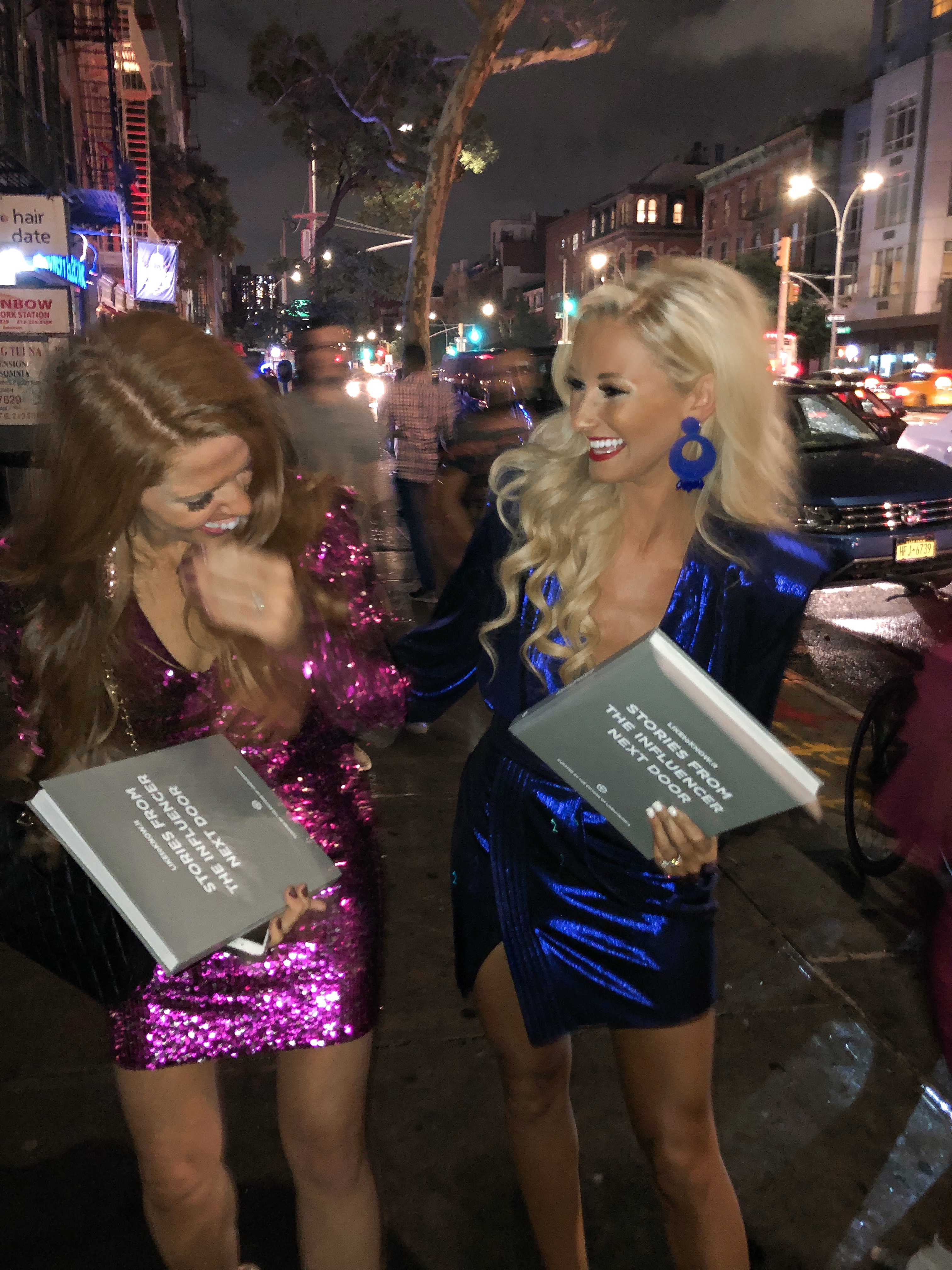 Outfit Details:
blue metallic dress | blue Marc Fisher booties

DAY 5:
Our final day in the city was super rainy and COLD. Yes, cold. In the beginning of September (which is odd). I had planned a photo shoot for that day to grab some extra content before catching our flight that afternoon, and I was so afraid it would get rained out … but, it was mostly just on and off showers so we just tried to do the best we could. We actually ended up getting everything shot (and were definitely wet and freezing by the end, ha! but we got the job done.)
I'll be sharing the outfits from that photo shoot very soon over on my Instagram, so make sure to follow along there or in the LIKEtoKNOW.it app (@peyton.baxter) for details and links to those looks — they're super fun! I'm excited to share them with y'all!
Before heading to the airport, I wrapped up my NYC stay by grabbing a quick lunch with my mom, my sister and one of my best friends, Justin, who recently moved from Tennessee to New York to pursue his television/hosting career. No matter how busy work trips may be, it's always important to make time for the ones who have been by your side the whole way. After all, we wouldn't be where we are today without them!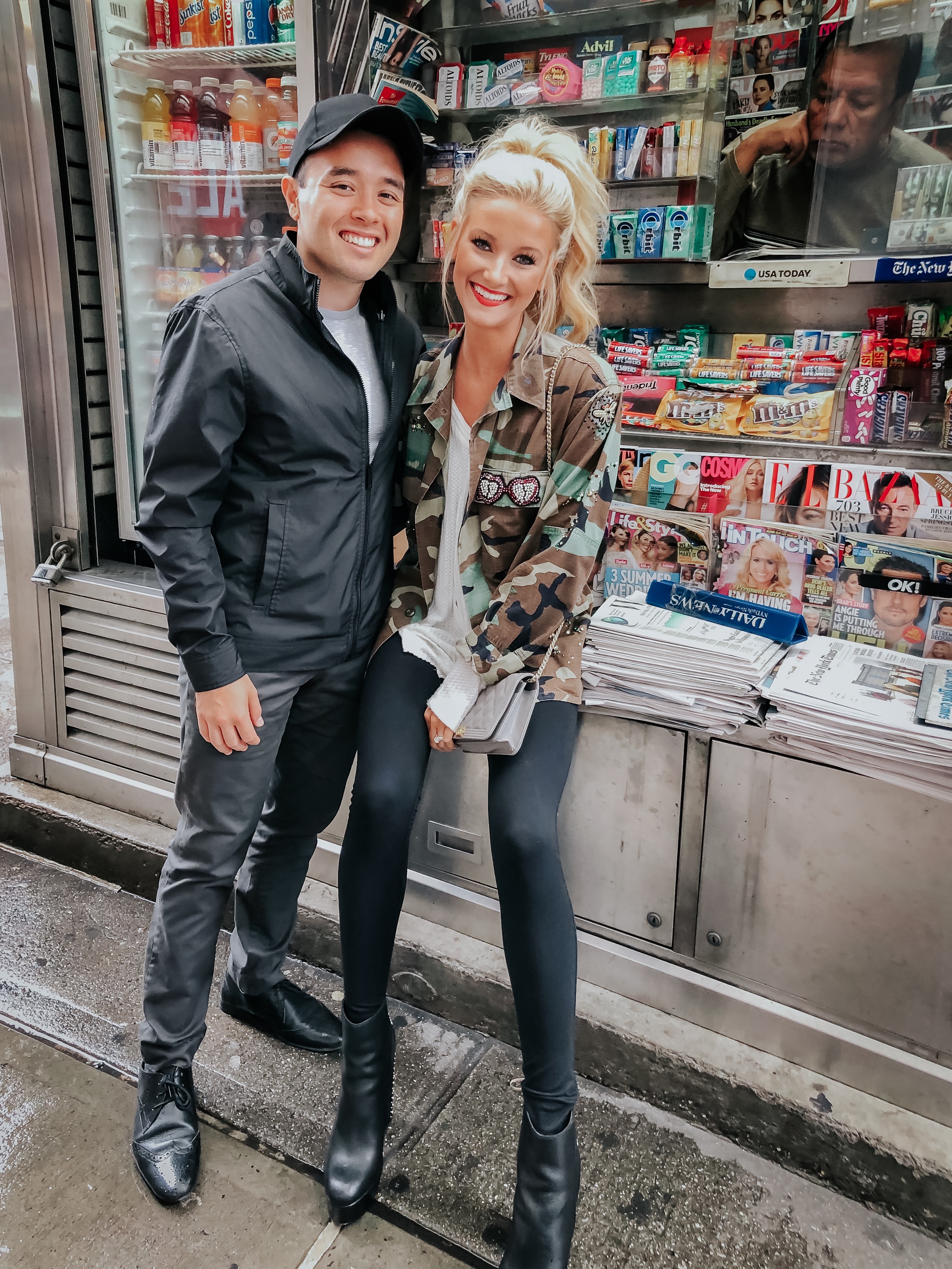 ---
Overall, you can probably see how busy and hectic New York Fashion Week really is, and I was only there for half of it! I had to come home a few days early since TJ and I were leaving for Hawaii 1.5 days after I returned from NYC. I hurried to unpack/repack, and I'd be lying if I tried to tell you that my closet and office didn't look like a total mess right now. #reallife! Fashion Week really is SO much more work than what it looks like on social media, but to me (and this isn't the case for everyone), it's such an honor to have the opportunity to go. It's totally worth all the long hours!
When I was younger, I always dreamt of attending NYFW someday. I vividly remember sitting at my desk in Powell High School (throughout the years of 2009-2012), and every time the shows rolled around, I ended up paying more attention to fashion week coverage online, than what the teacher was lecturing about in the front of the classroom (and I really cared about my grades, so that's saying a lot). Back then, it really was just a dream for me. I had no clue exactly what my career path would look like or how I would ever get there, but I distinctly remember the aching feeling of my heart longing to be in the midst of all the fashion week madness.
It's still so surreal to me that the dream of that hopeful high school teenager finally came true. This year may have been my second fashion week experience, but I still felt the same kind of magic that I felt the very first time I went!
Thank you all so much for following along with my NYC journey! Your endless support and sweet comments/messages truly make my day. There aren't words to explain how grateful I am for YOU!
If you have any questions regarding the outfits in this post or need specific links to for shopping, don't hesitate to email me (peyton@lovenlabels.com) or comment below! 🙂
xo, P