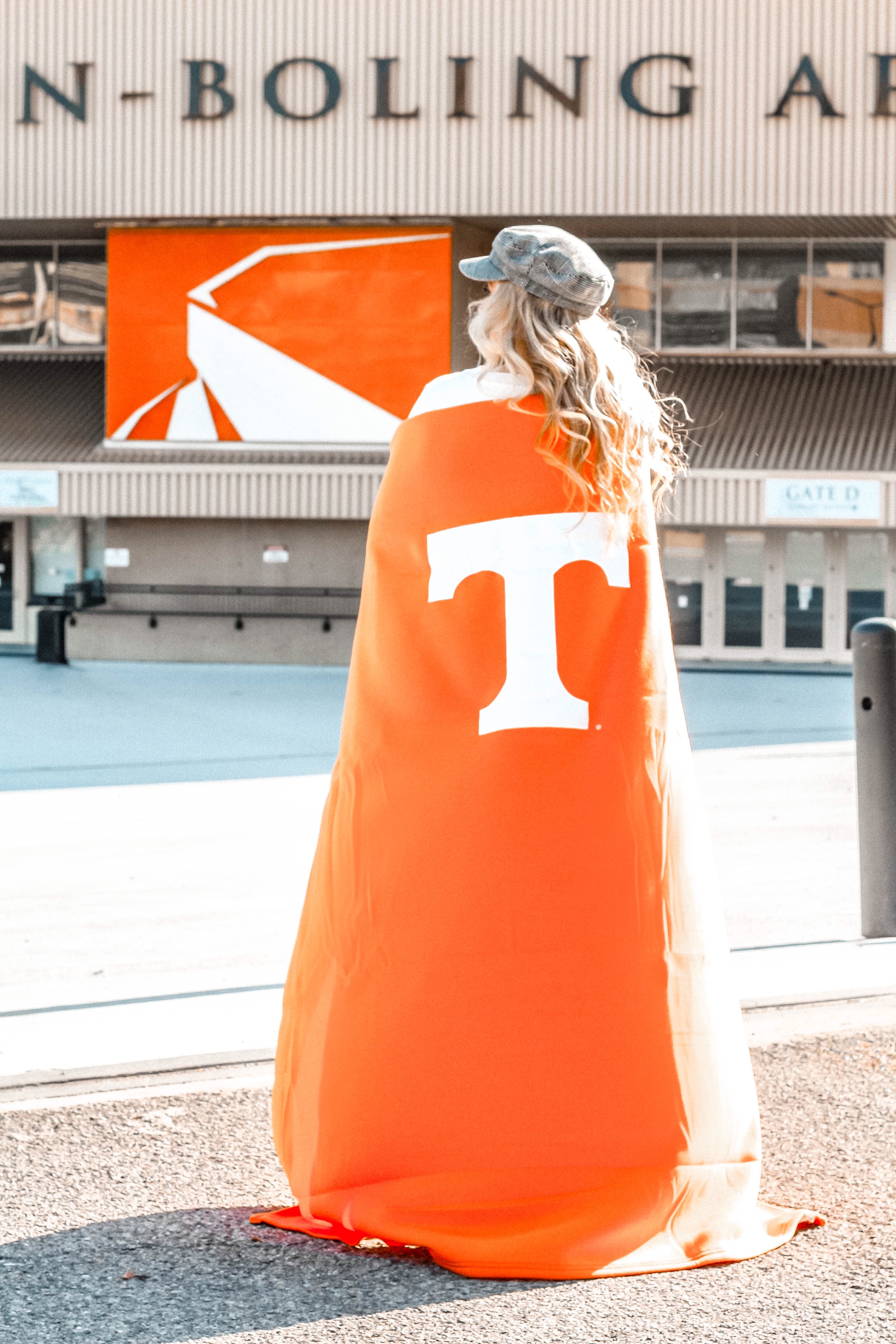 Basketball season is in full swing, and my Vols are doing really well so far! The Lady Vols are undefeated with a 14-0 record. They started their SEC schedule last week with a win over Auburn, and they are currently #7 in the nation! The men's team has gotten off to a good start as well, and a win against Kentucky on Rocky Top tomorrow would be huge as they kick off their SEC schedule. I'm pumped!
Not only am I a die hard UT football fan (which you all got to see a lot of this past fall), but I'm also a big Tennessee basketball fan – if you can't already tell. Fun fact: My sweet Papaw played basketball for the University of Tennessee back when he was in school, so I always love hearing his stories from that time in his life! Another fun story — when I was cheering at UT, I became friends with a lot of the Lady Vol players. They were always so kind, really great students & absolutely hilarious to be around. I remember at every away game that we traveled with the Lady Vols, the coaches and players would always personally thank us for coming to cheer them on. They're a really great bunch to be around! Unfortunately, I wasn't cheering at UT when the amazing Pat Summitt was still coaching, but I was fortunate enough to be able to meet her and hear some great lessons from her before she passed away. She is and always will be a true legend at the University of Tennessee!
Okay, story time is over. 😉 I've been getting some questions lately about how to wear licensed products with your team's logos without looking too 'obnoxious', and it instantly made me want to write this post because I've definitely had my fair share of practice on this with my favorite team's main color being a bright, bold color. Keep scrolling to see a few tasteful, stylish looks I put together that would be great for wearing to basketball games during this chilly season.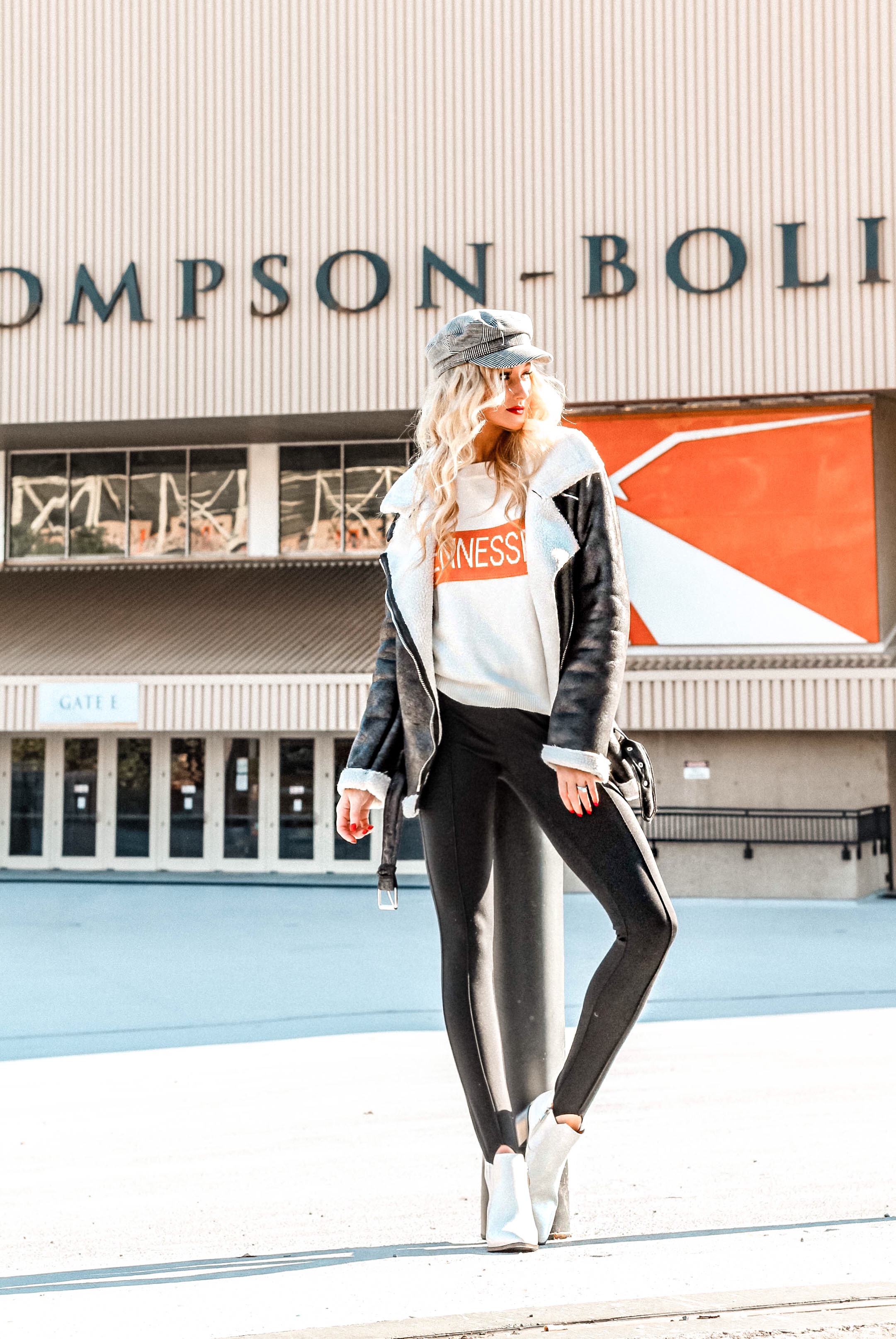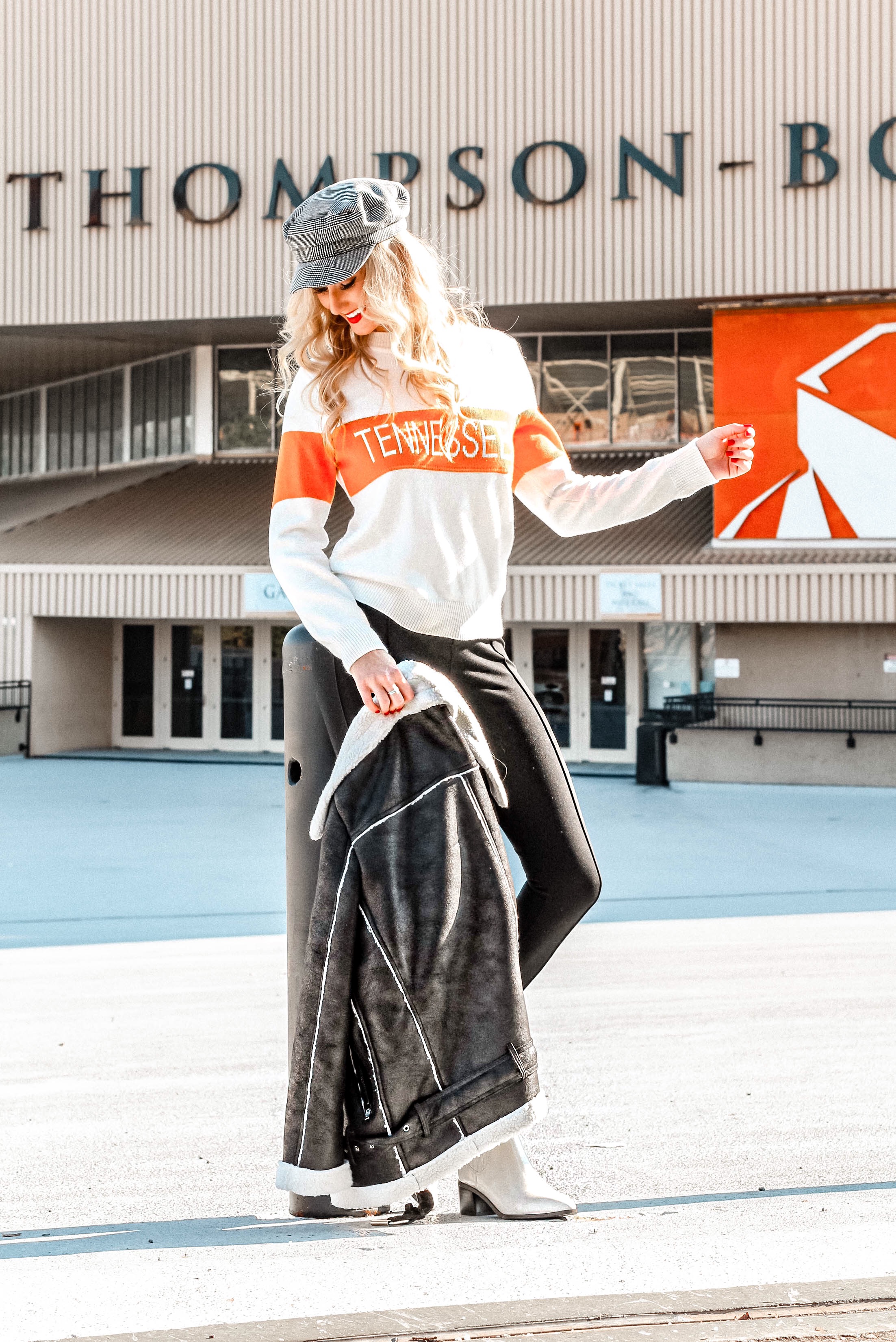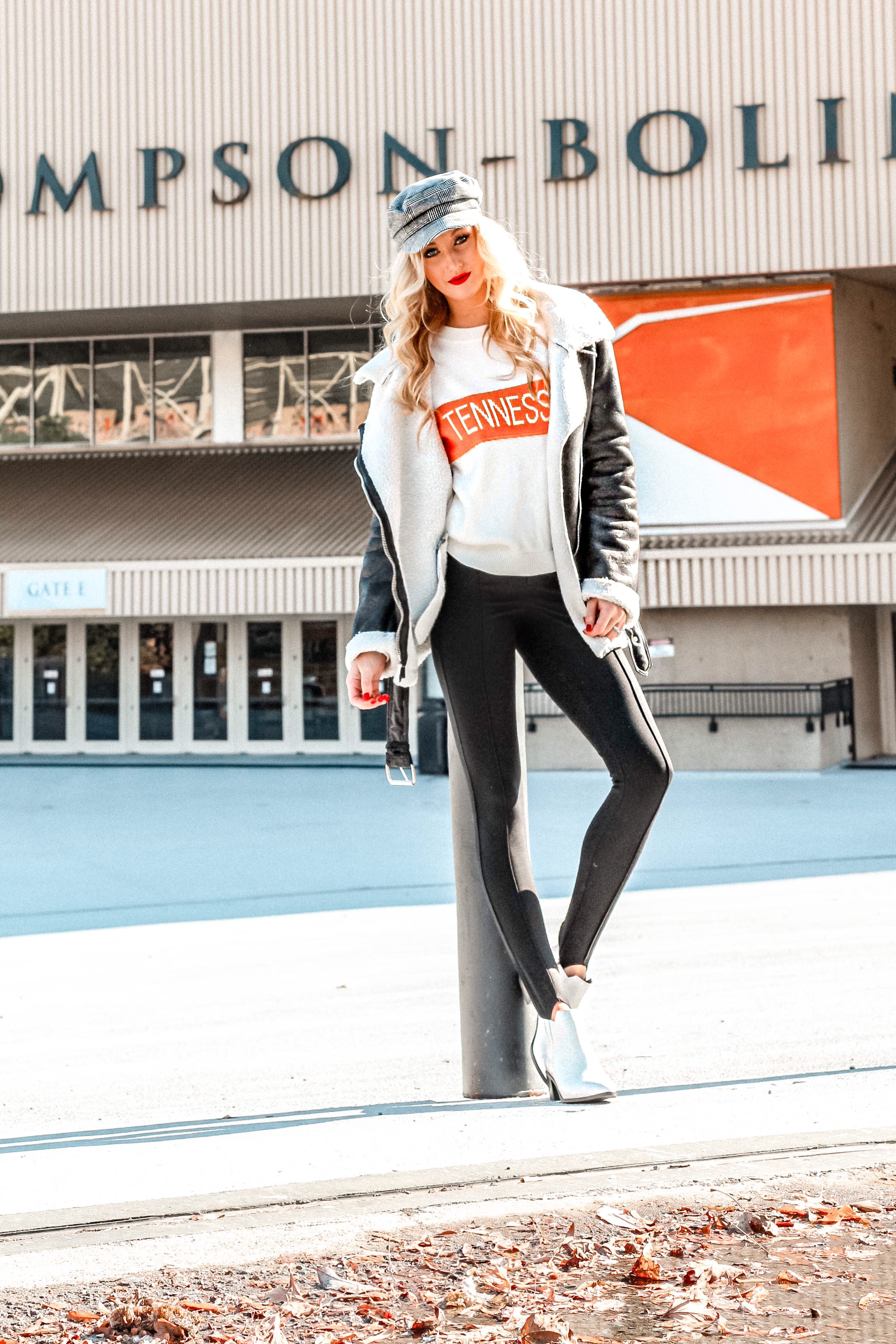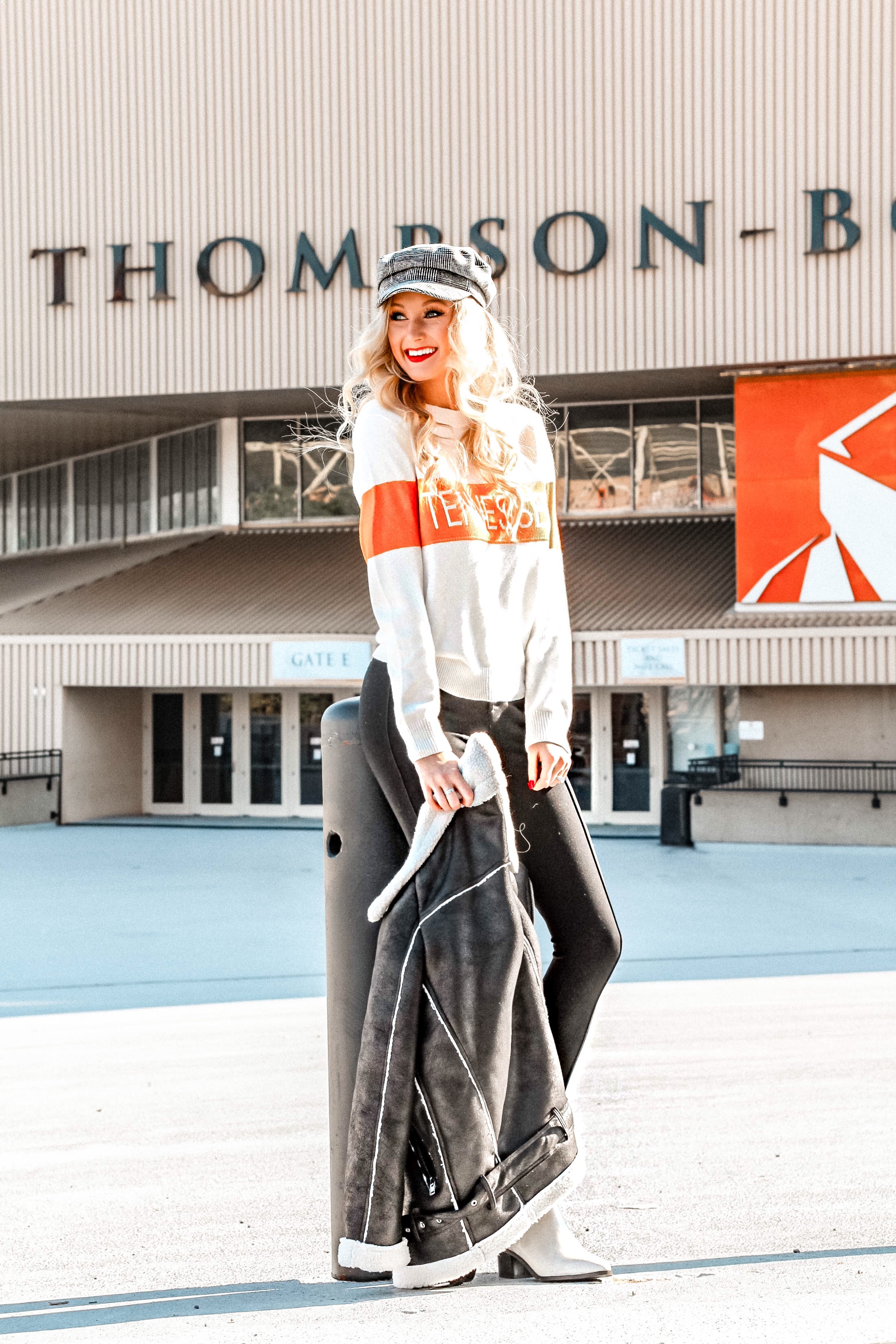 This sweater is so perfect because it has just a pop of orange, statement sleeves & a classic font across the chest. I love the vintage vibes of this piece – almost like an 'old school' varsity sweater. I paired mine with stirrup pants (which are huge right now), a biker jacket to stay extra warm & cozy (also a major trend this season), and white booties to match the sweater. I decided to add a fun textured hat to this look to make it look even more stylish.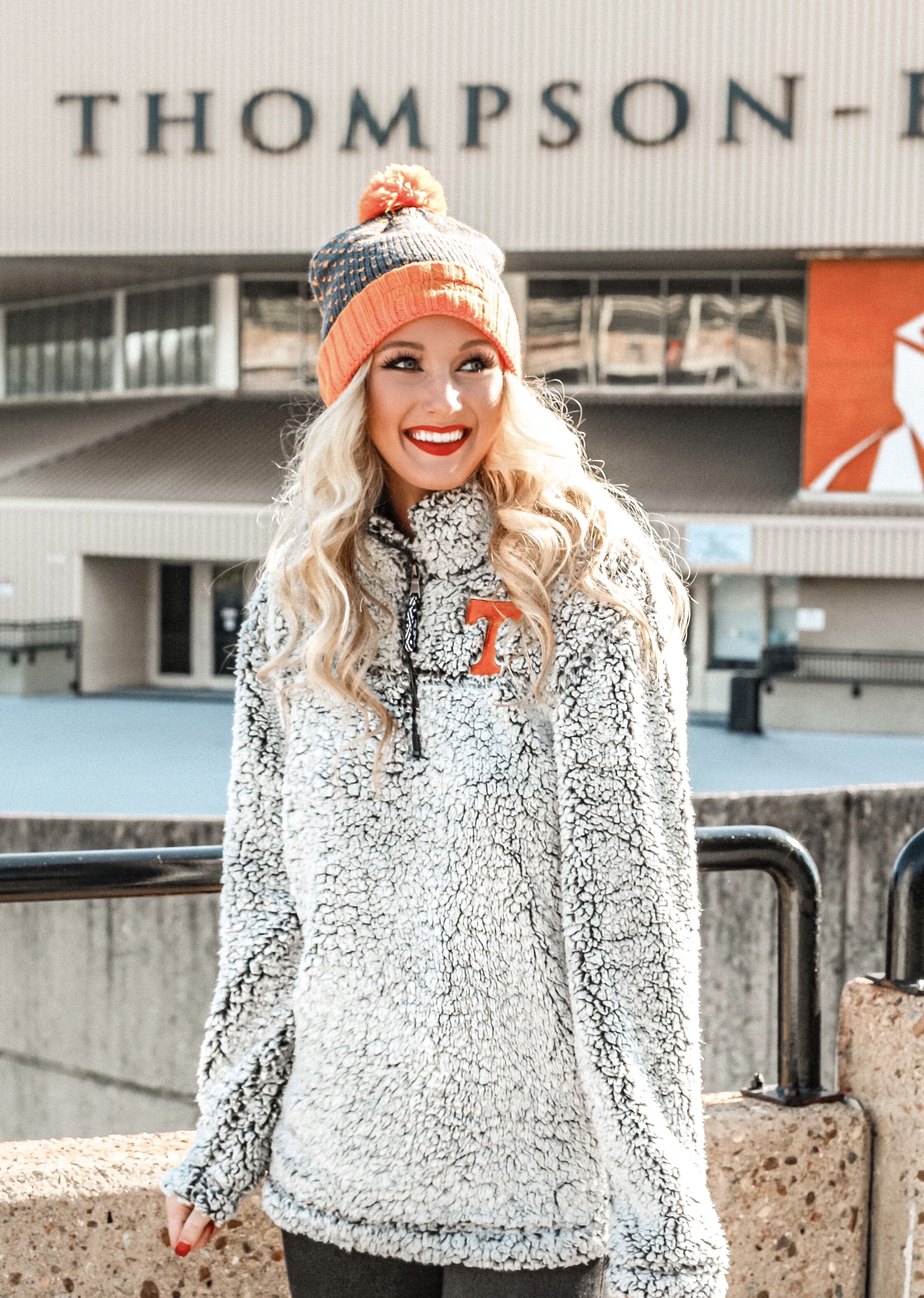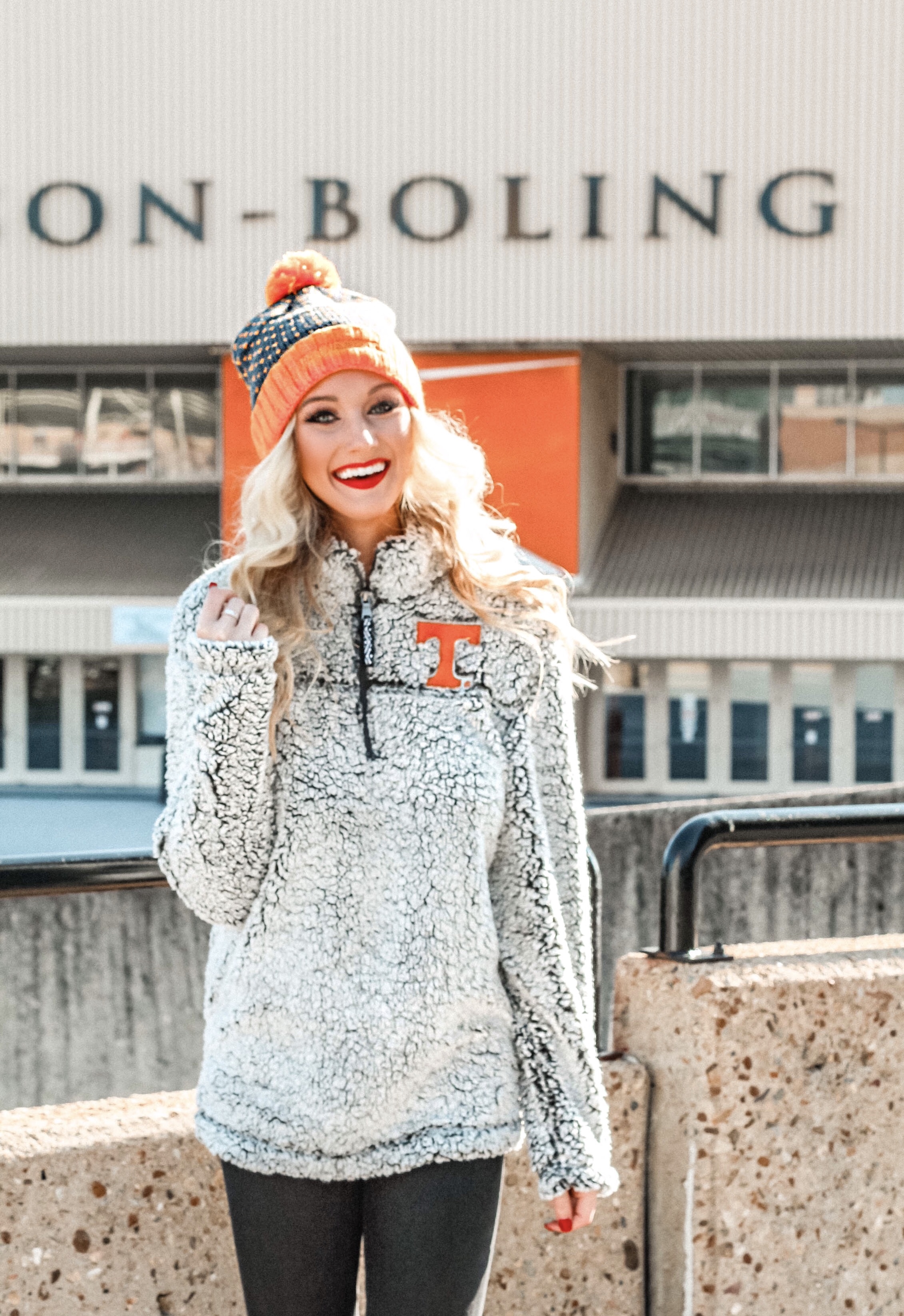 I HAD to include this comfy sherpa pullover in this post because it is literally the most comfortable and cozy thing I've ever put on my body. It's great to layer over a basic tee and pair with a cute beanie to complete the look. This outfit is so warm & you'll never want to take it off!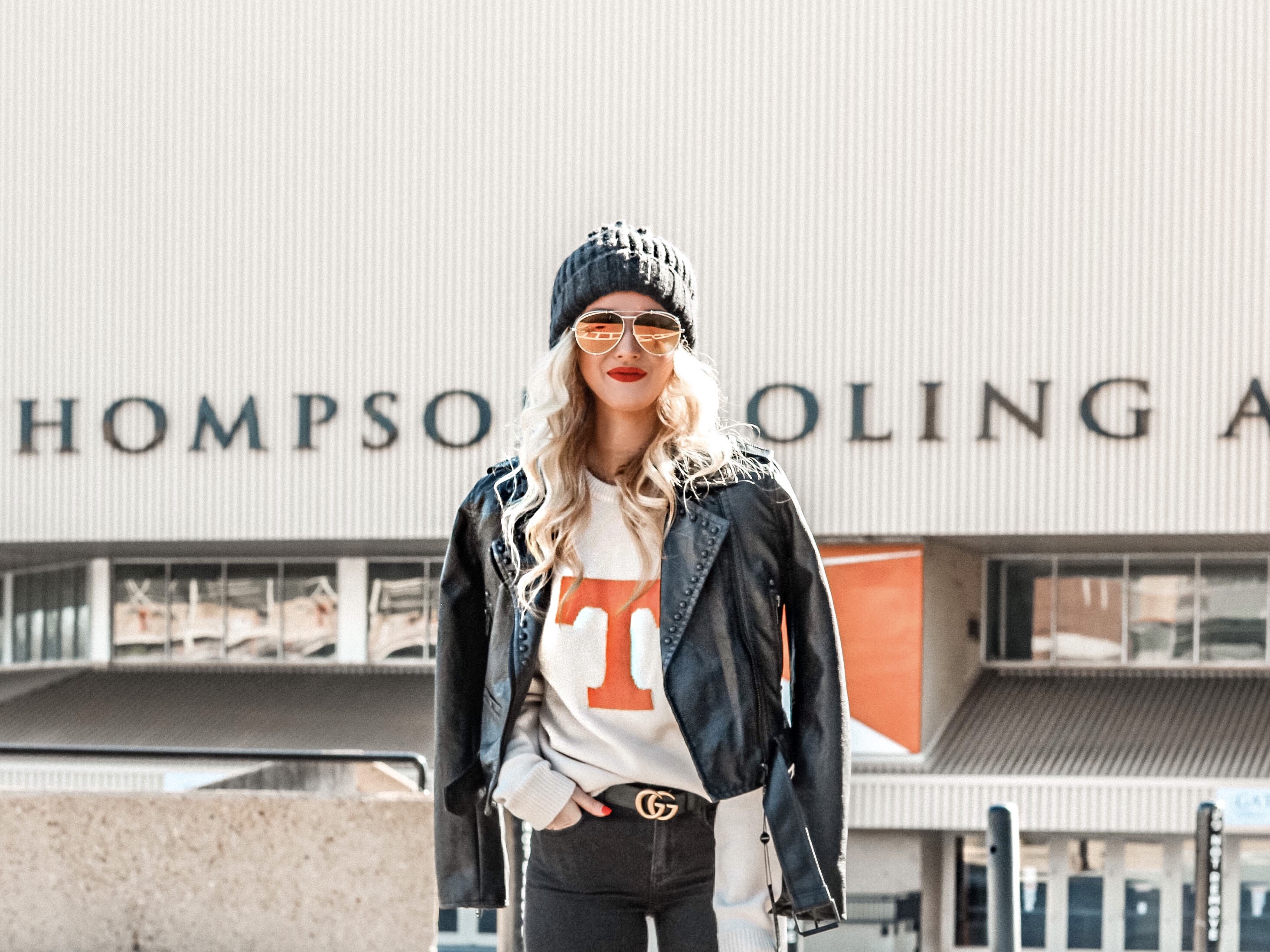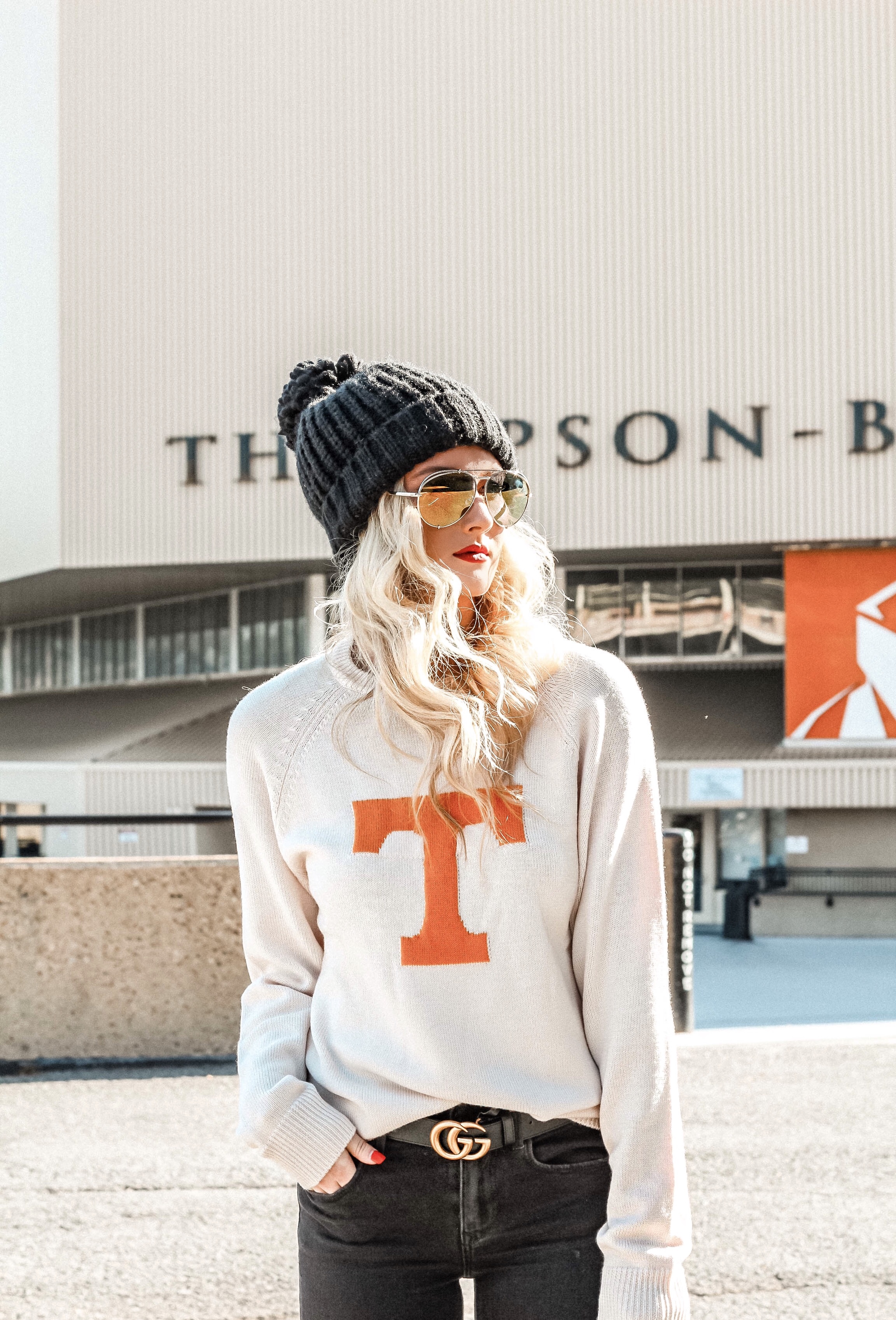 This is another sweater that every Vol fan needs in her closet. It's similar to the first one, in that it has a vintage, 'varsity sweater' vibe, but it's a little more classic & simple. It's so tasteful and looks so perfect front-tucked with a statement belt & a leather jacket layered on top for added warmth.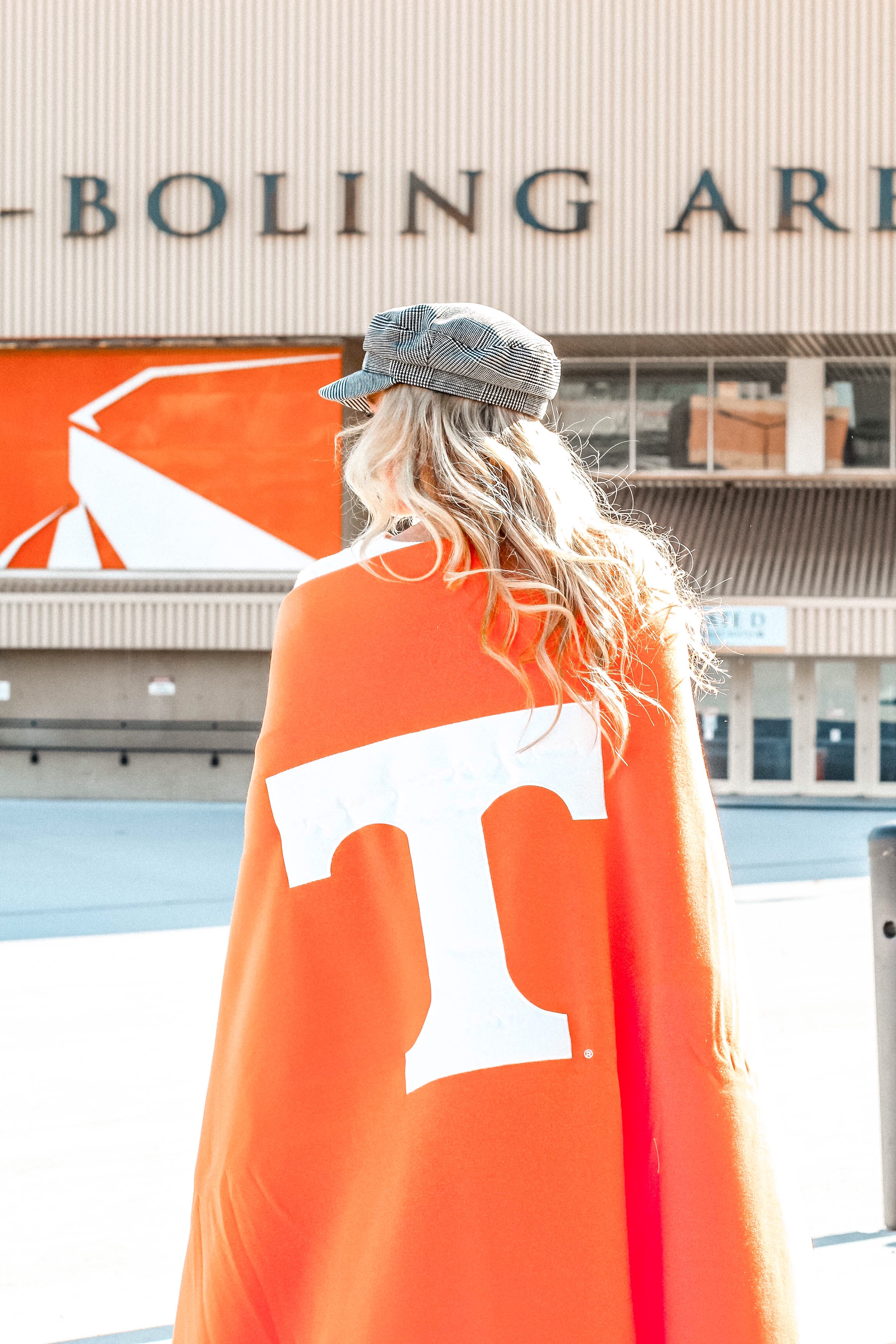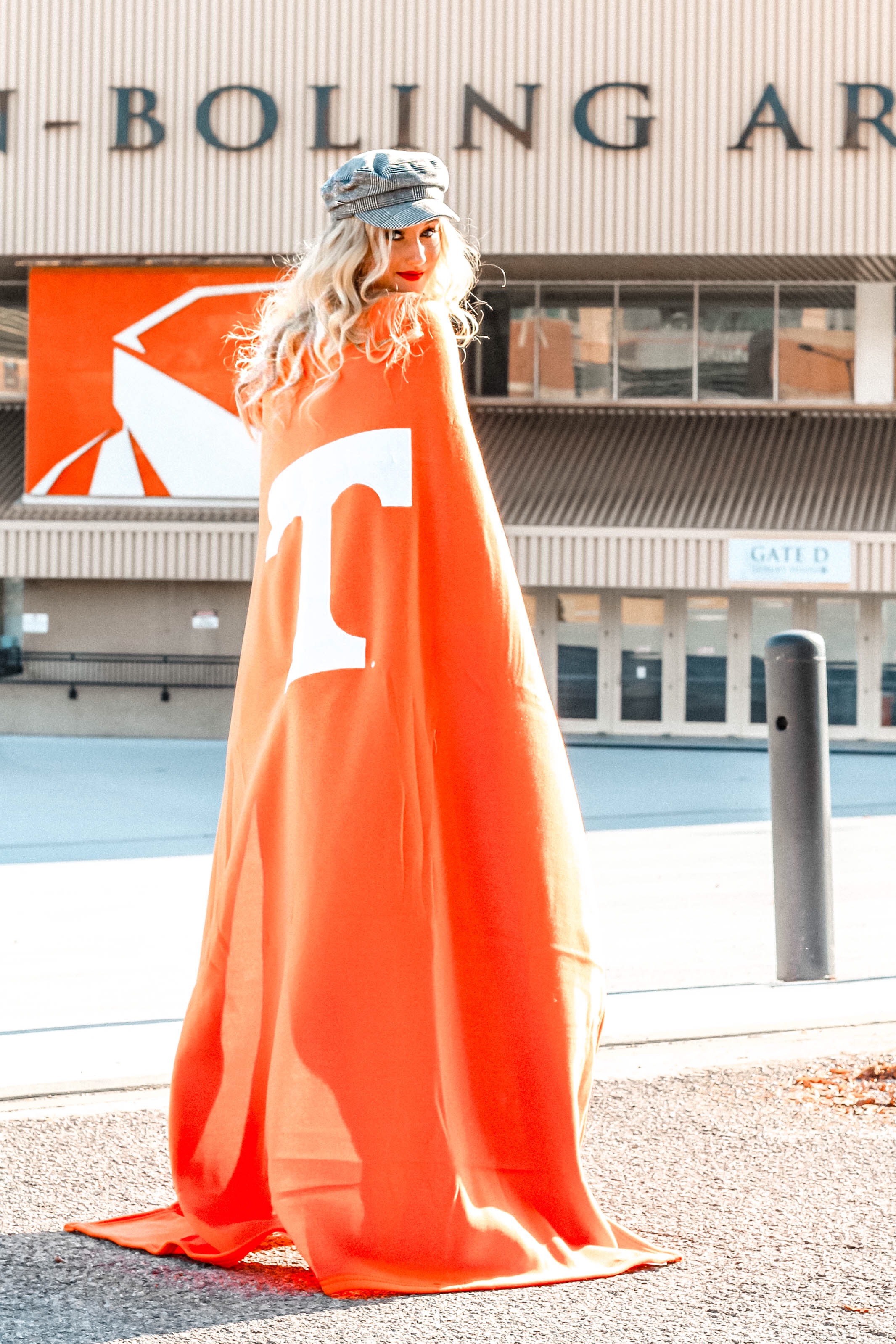 Lastly, I wanted to throw in this super soft, Power T blanket because it's great to have around during the colder months for tailgates before the games or bonfires at home. This is something that you'll also be able to carry into football season!
---
Shop the post:
Power T blanket | Tennessee sweater | similar sherpa pullover | Nike UT beanie | Power T sweater

Don't forget that if you'll be attending the men's or women's basketball games in Thompson-Boling this season, you'll need to stop by the VolShop on your way and pick up a clear, stadium-approved bag! I have this one, and it's the perfect size.
---
This post officially concludes my game day series with @Vol_Gear and the University of Tennessee. I have really enjoyed putting these big orange ideas together for y'all, and I hope that it has left you with lots of inspiration for game day style. Thank you all for following along with me as I've shown you around my old stomping grounds at the University of Tennessee – it's such a special place & Rocky Top will always be home sweet home to me!
Be sure to follow along with Vol Gear for ideas for Tennessee style all year long:
Instagram: @Vol_Gear | Facebook: @VolGear | Twitter: @Vol_Gear
As always, thanks so much for stopping by & Go Vols, y'all!
xo, P
Thanks to @Vol_Gear for sponsoring this post. As always, all opinions are my own.