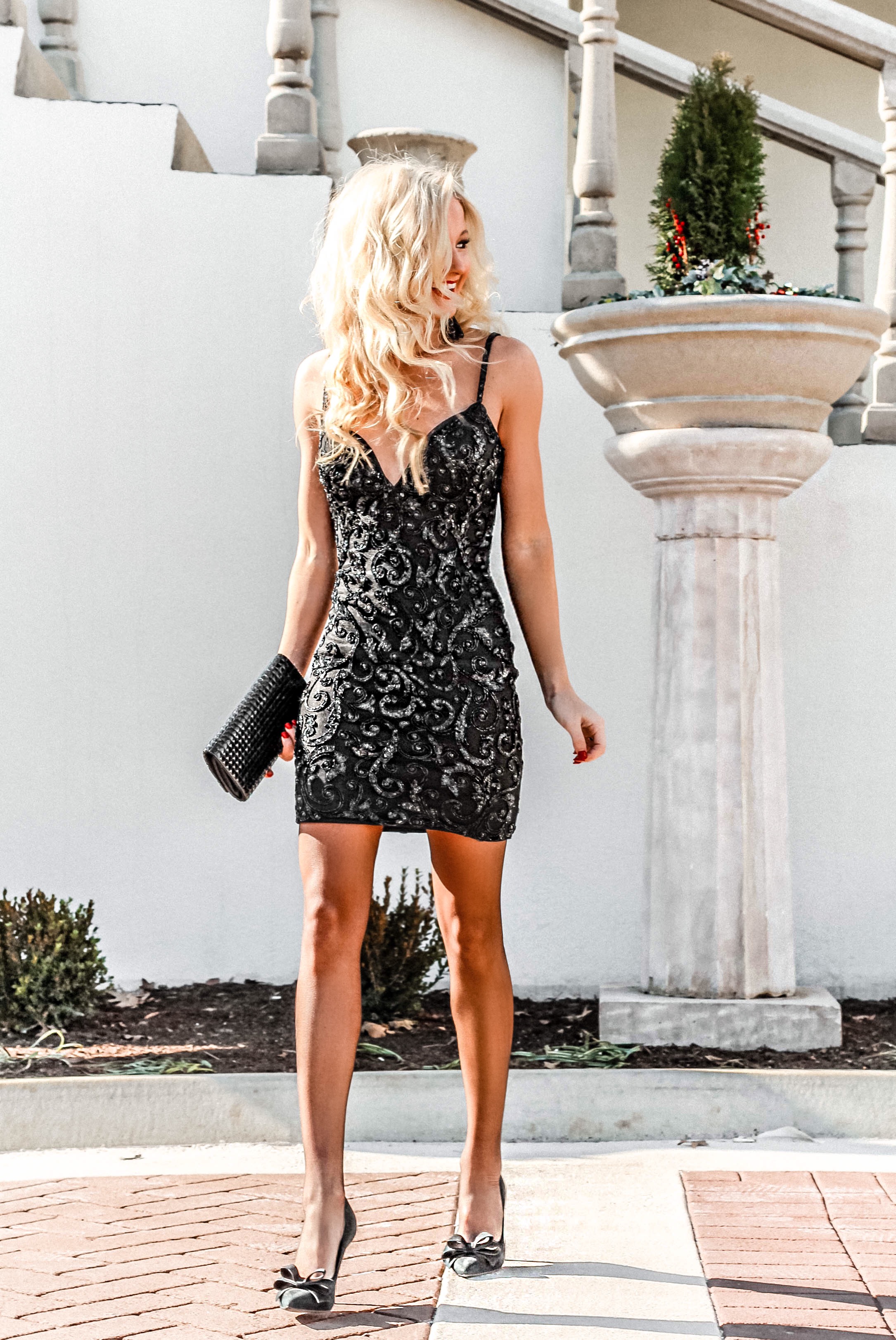 One of the most common questions I get from you all is "what to wear to a spring/summer/fall/winter wedding" (and especially recently) – a winter wedding. Those are tricky because it can be difficult to find a dress that's #1: practical & #2: dress code appropriate for the season and the event itself. Not only do you have to take the winter season & cooler temps into consideration, but you also have to be aware of the 'style of dress' for the event. This could be casual, cocktail attire, semi-formal, formal, black tie, etc. I chose to feature a dress in this post that could actually cover a few of these different categories (except for casual, of course).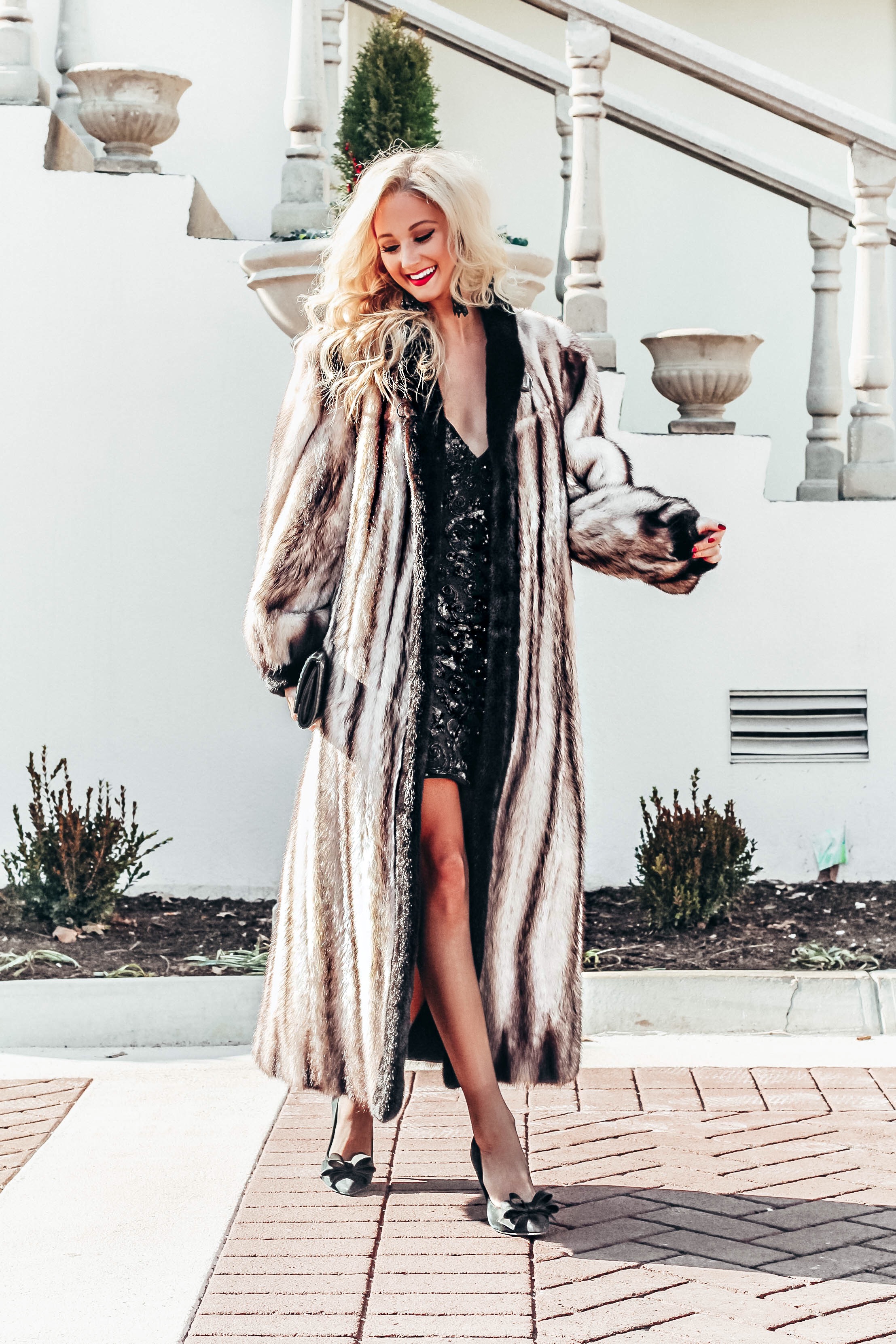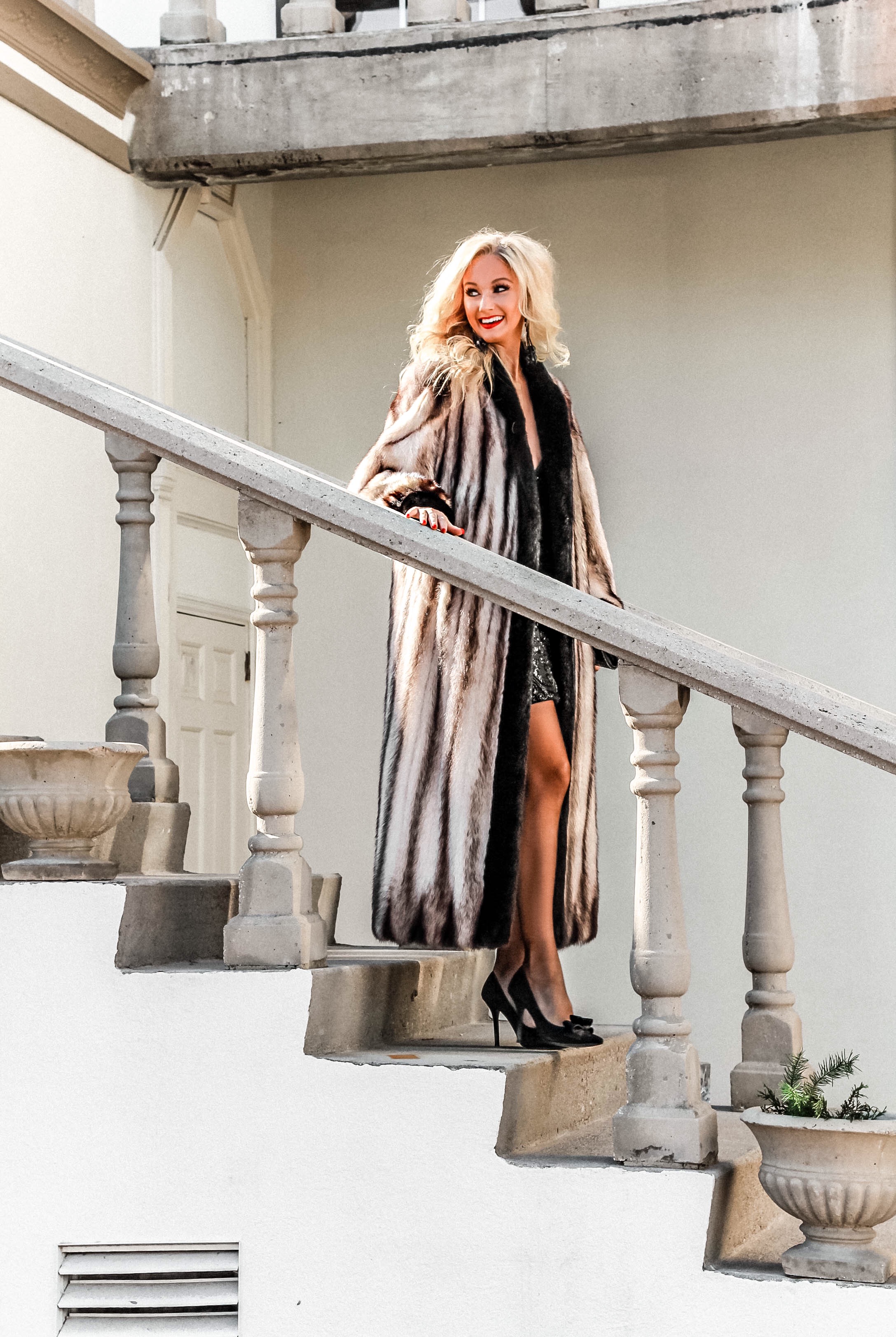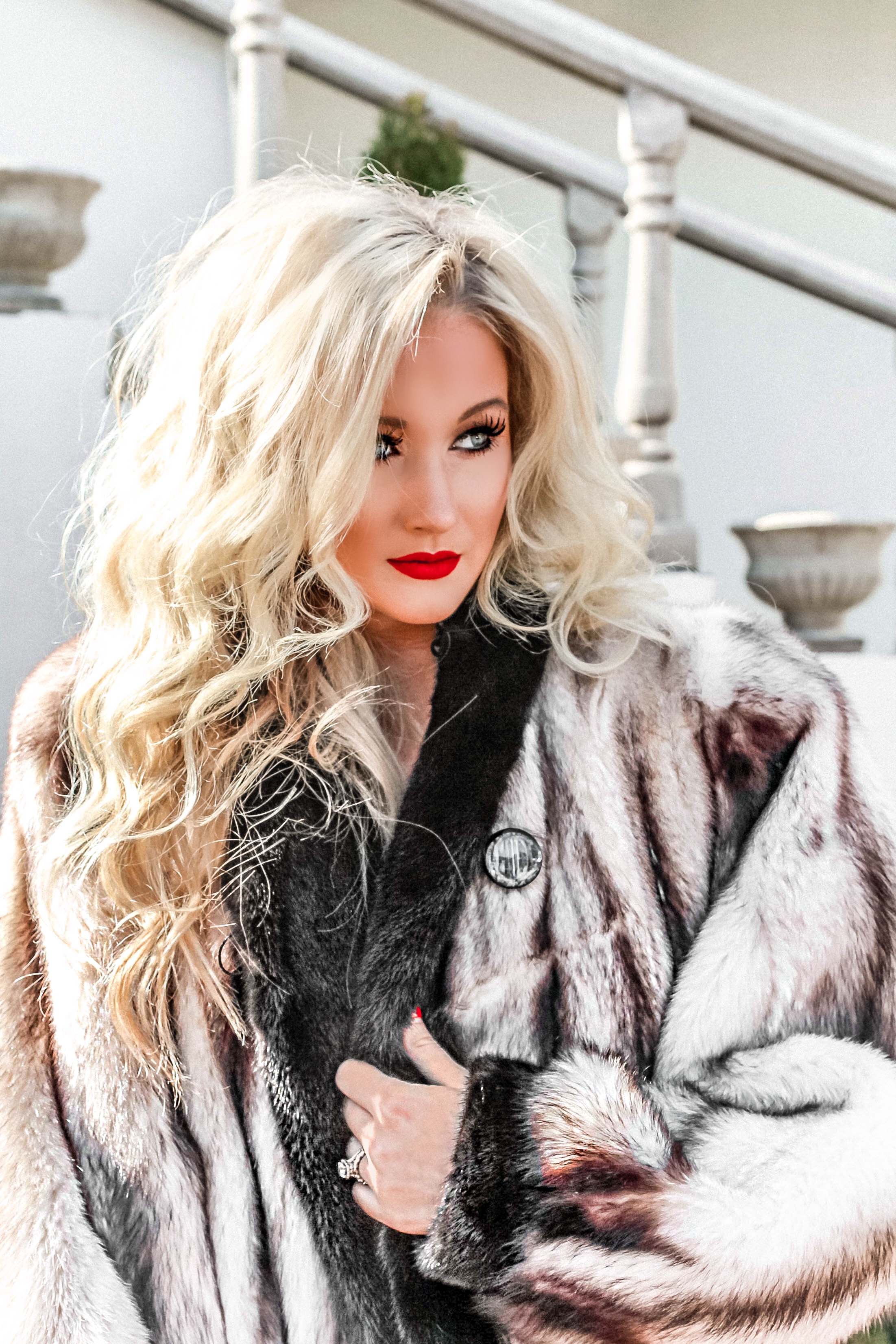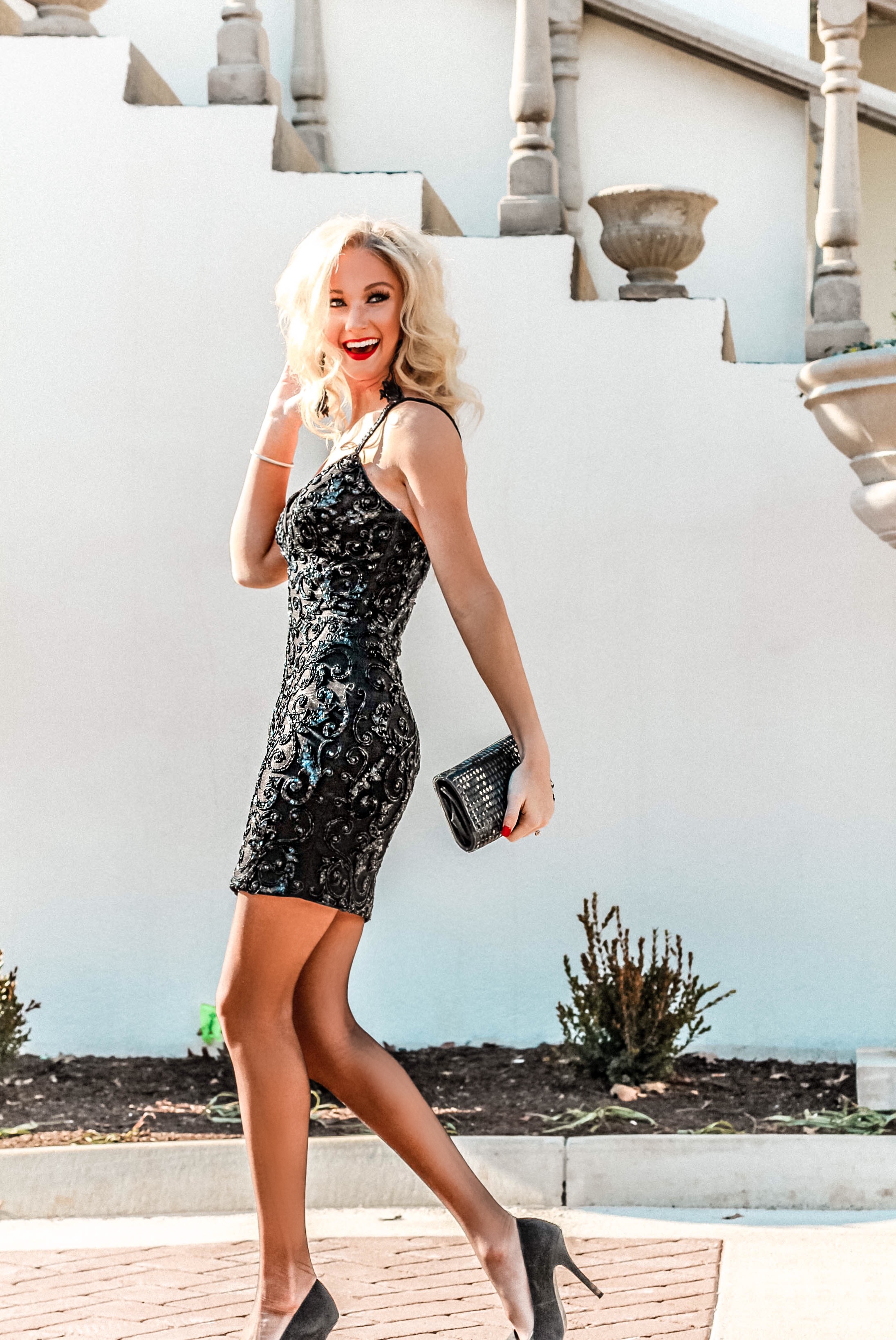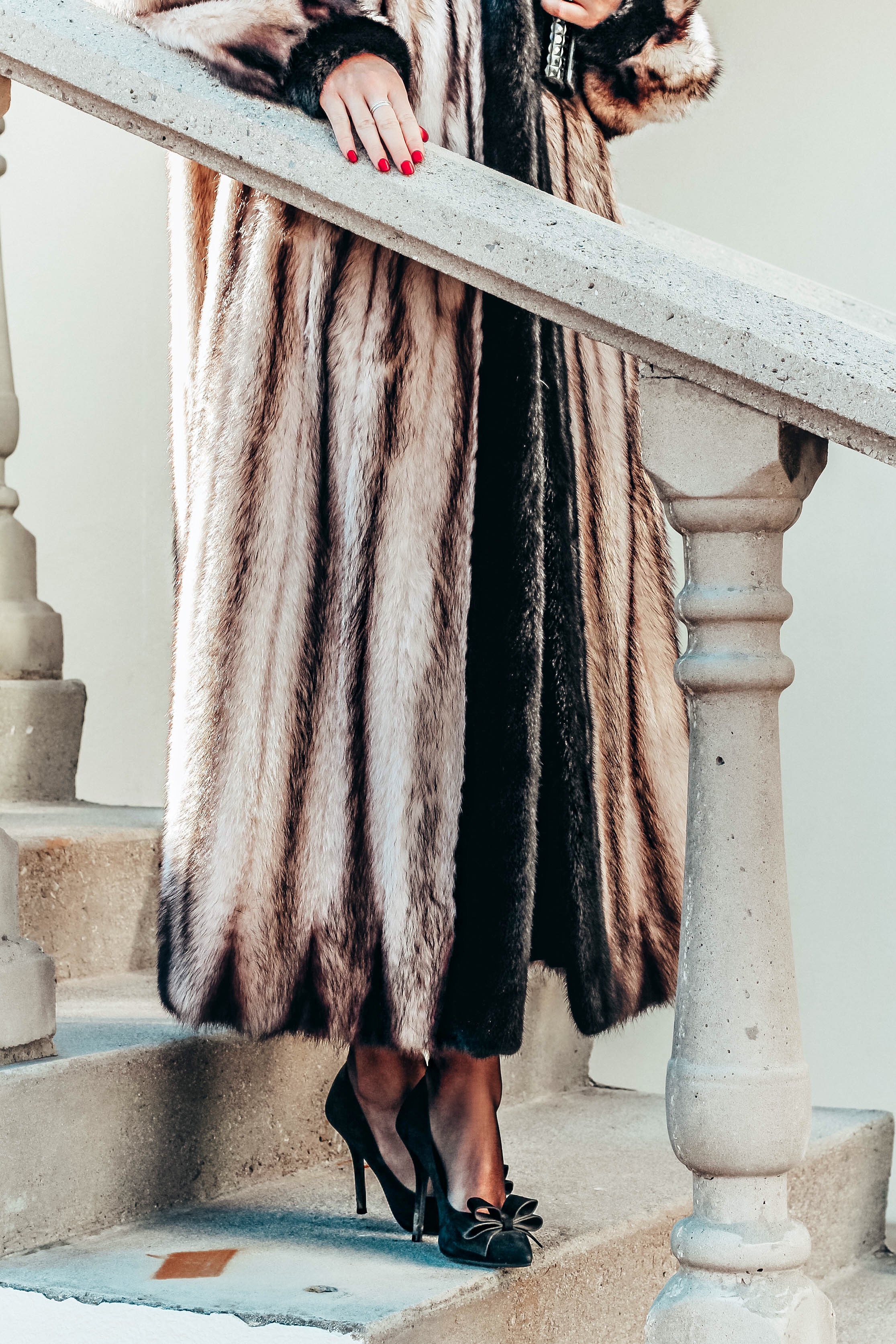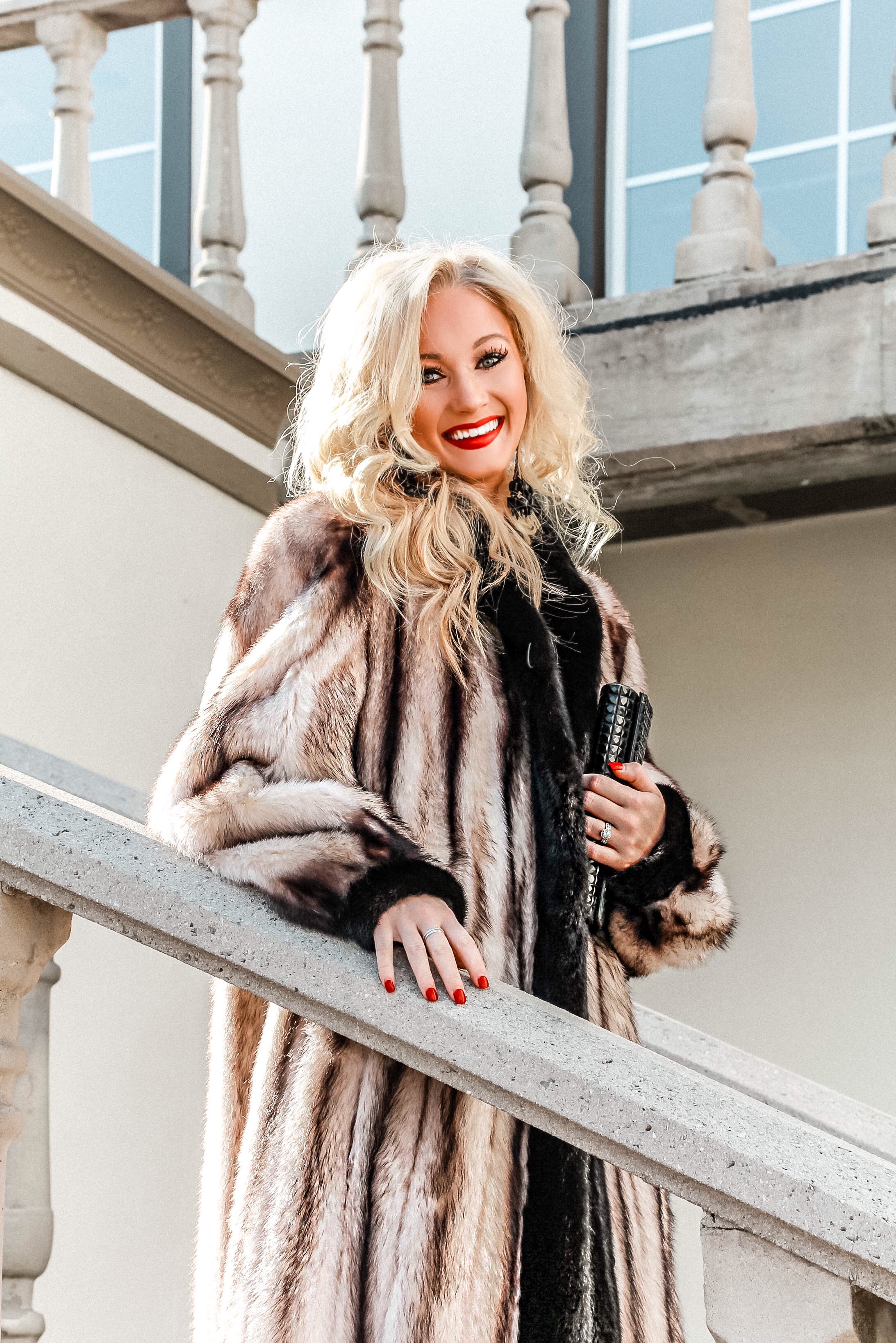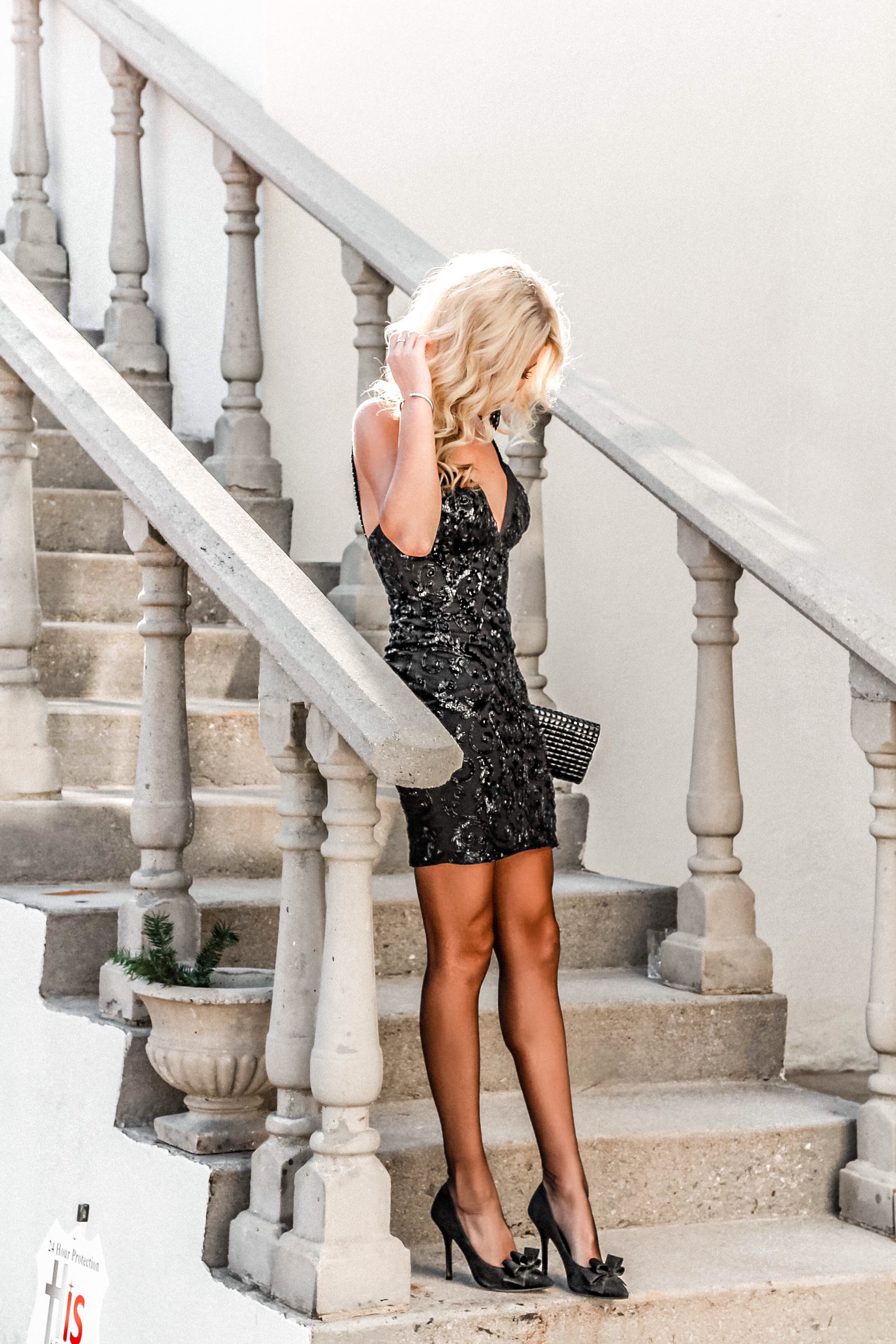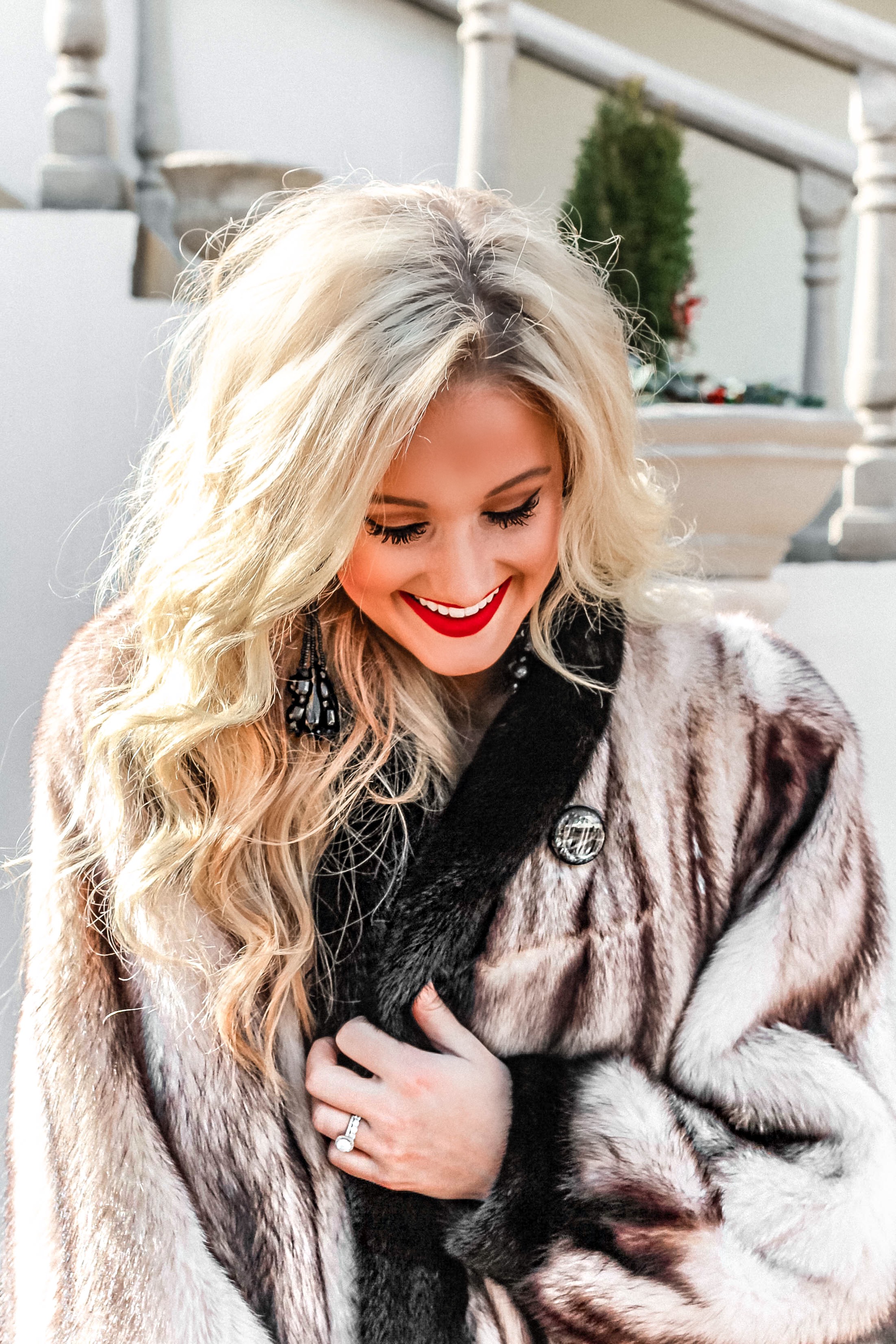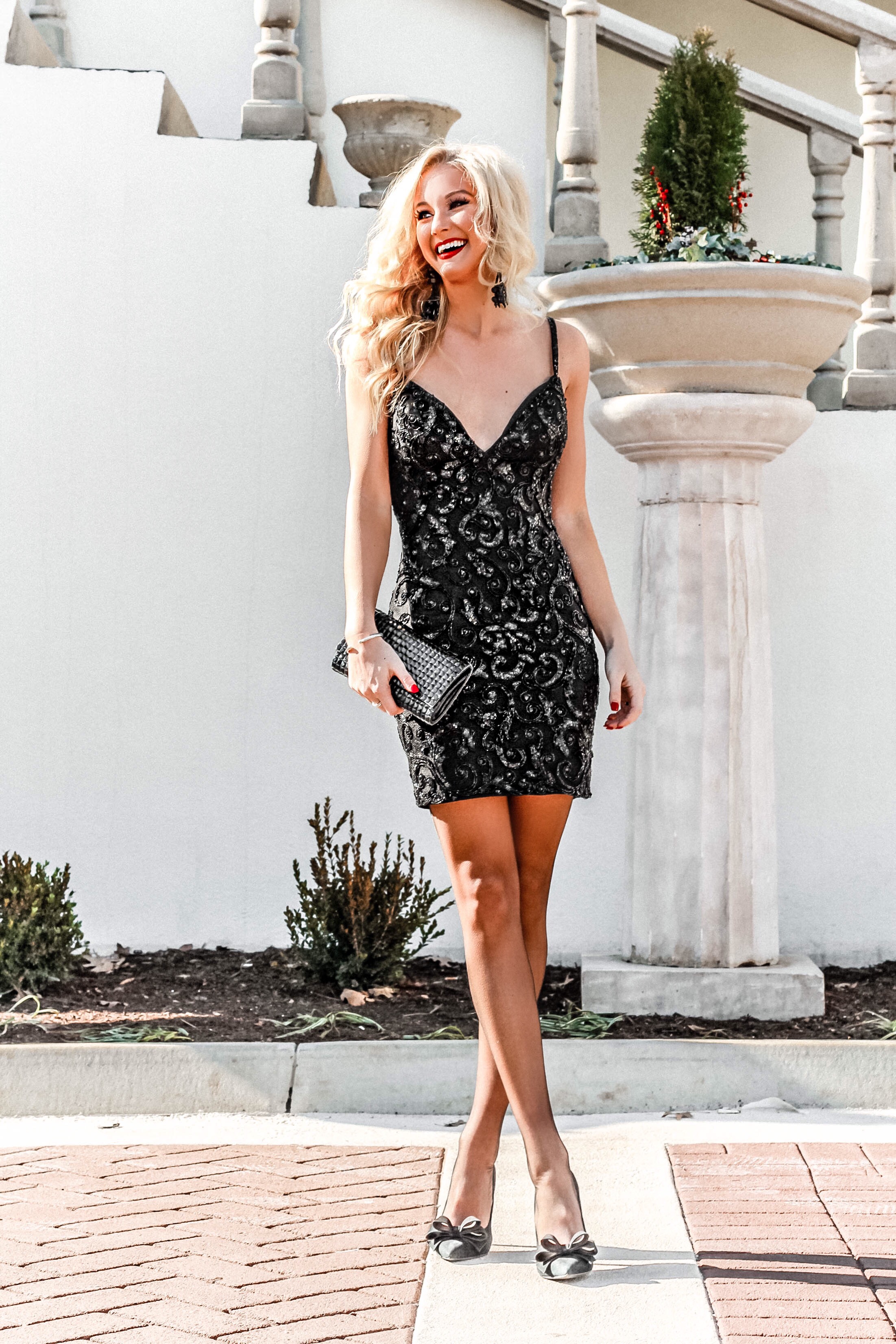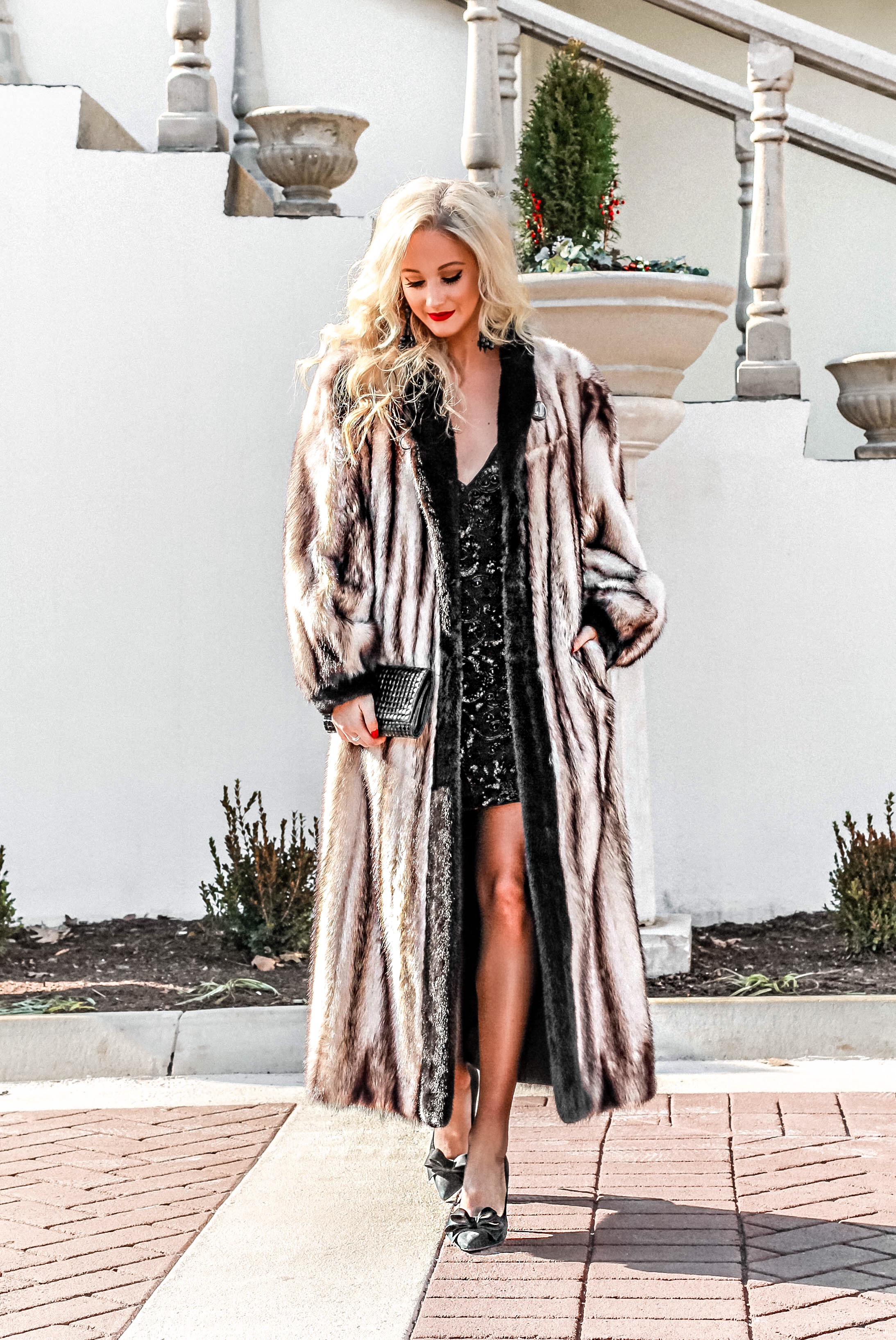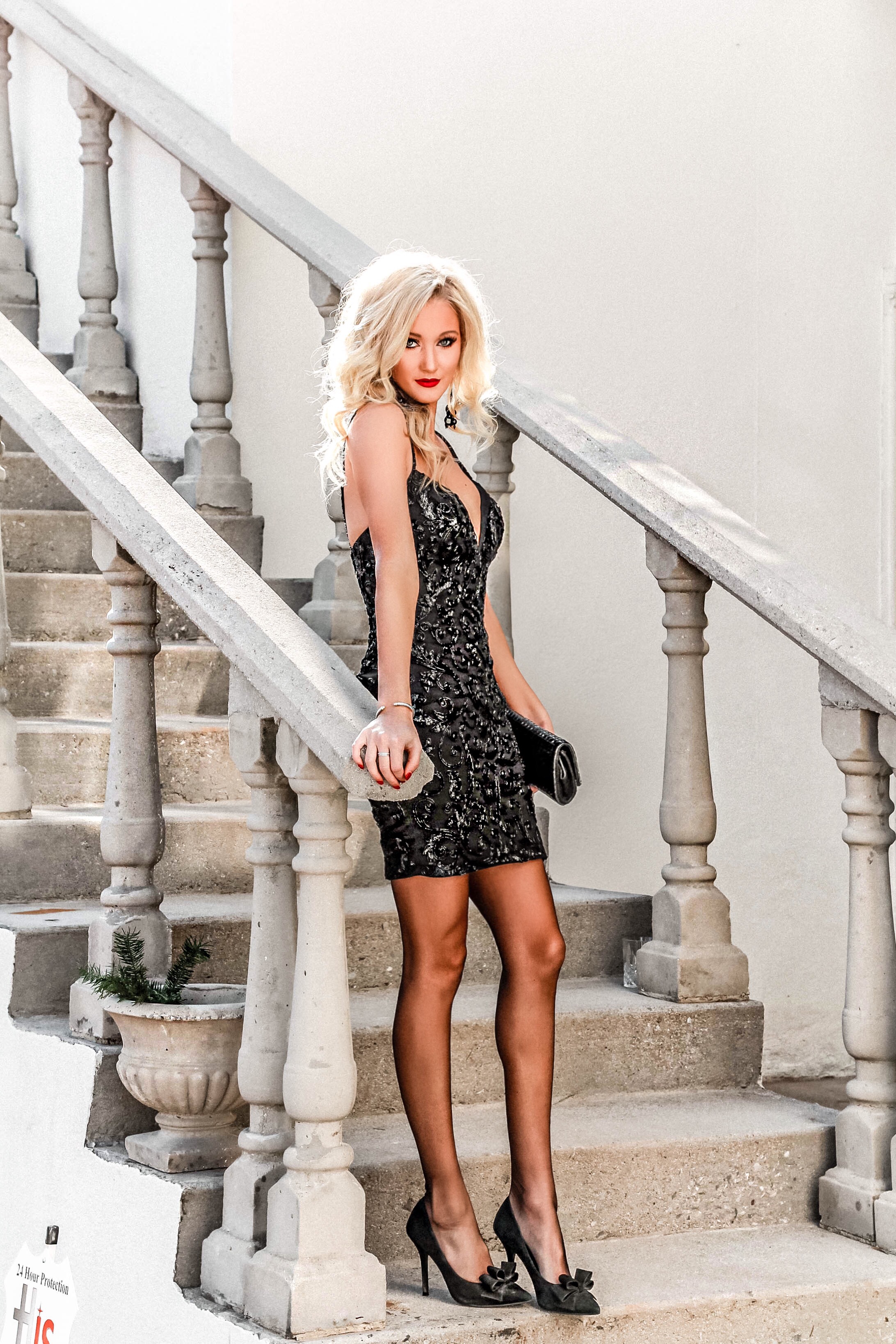 Rachel Allan dress – style L1124 | similar faux fur coat (I actually borrowed mine from my sweet grandmother.) | black sheer pantyhose | similar black pumps
I've been a long time fan of Rachel Allan, and I always seem to find the perfect dress for various semi-formal / formal occasions when I shop with her. Her dresses are perfect for weddings or events in any season, but I especially love them for winter weddings since those tend to be indoor and a little more glitzy / formal. You can really glam up your look with one of her stunning pieces.
I'm wearing the style L1124 in the color black (obvs!), but this style is also available in red and white. I think the white would be absolutely stunning for any of you brides out there. Talk about a killer rehearsal dinner or final exit dress! I'm completely in love with the beading on this dress – I love that it's not shiny sequins, but rather, it's just black beading. The black on black design creates more of a tasteful, elegant feel, which is perfect for a winter wedding!
I paired my dress with black, sheer pantyhose just to make it a little more appropriate for winter (and to stay warmer, of course). I think this is also a great way to dress up the entire look, plus it makes the outfit look more polished as a whole – especially for a more upscale event like a wedding. I think that it's also crucial to grab a faux fur coat or wrap like this or this, for example, to stay warm walking to and from your vehicle, and of course, to make your look more appropriate for the cooler temps. Not to mention, that will instantly amp up the *chic* factor of your #ootn.
---
Definitely be sure to check out Rachel Allan for your next event or wedding — I'm always getting questions from you guys about what to wear to these types of event, so there's your answer. 🙂
Do you have any weddings to attend this winter? TJ and I just went to one in December (so cold!), and we have a few others coming up throughout the year. As always, thanks so much for stopping by, loves!
xo, P
Thank you to Rachel Allan for sponsoring this post. All opinions are my own!