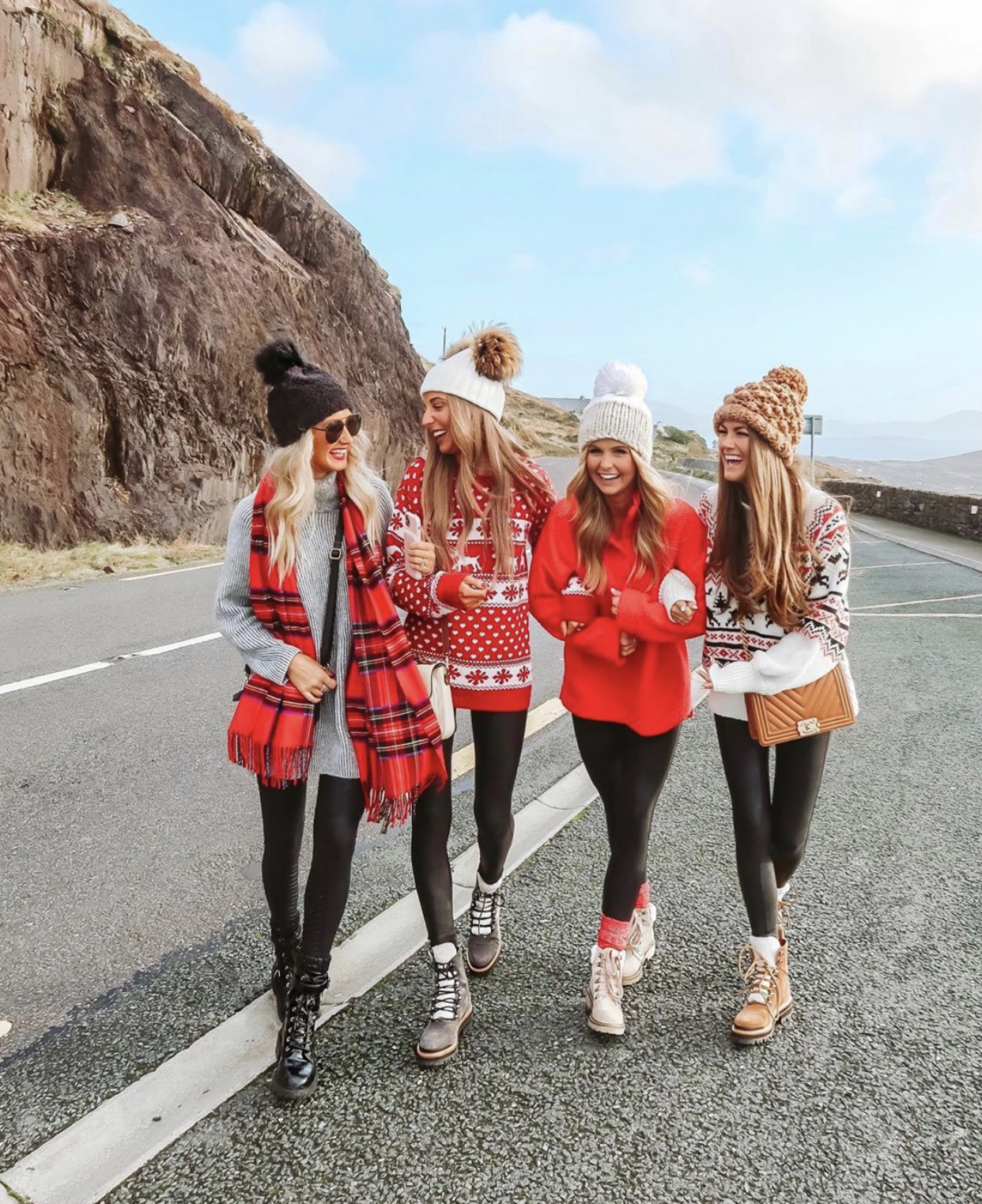 Hey y'all! Happy (almost) New Year! I have been getting lots of questions about our itinerary from my last trip to Ireland, so I wanted to recap our trip for you guys and share more information. My girlfriends (Dani, Caitlin, Shea Leigh) and I visited Ireland earlier this month, and it was sooo pretty this time of year all decorated for the holidays. I literally felt like we were in a real life Hallmark movie, ha!
We used Noken to book and plan our trip, and it was hands down the best decision we made! Noken is a travel service that plans everything out for you during your travels — including things to do, where to shop, where to eat, etc. Then, you can download the Noken app on your phone, and within the app, you will find all kinds of helpful information regarding maps, hotel information, confirmation numbers, restaurant recommendations, reservation times, and more! I had never traveled this way before or used anything like the Noken app in the past, but it truly made for a more easy-going, well planned out trip all around. There was never any worry of "where should we eat", "when can we check-in?", "what should we do today?" … it was an amazing experience!
On the first leg of our trip, Dani and I made it onto the flight to Dublin, however, Shea Leigh and Caitlin unfortunately missed the flight due to weather delays. It was a bummer because the next flight to Dublin (from Philly, where we were all flying out of) wasn't until the next evening. Therefore, they had to miss the whole first day in Dublin — but Dani & I still made the best of it! Thankfully, we had the Noken team to help us out, and they were SO helpful with getting Caitlin and Shea Leigh to Ireland as quickly as possible, while adjusting our plans for us so that we could all meet up and get back on schedule as soon as they landed the next day. Noken was super helpful in this situation!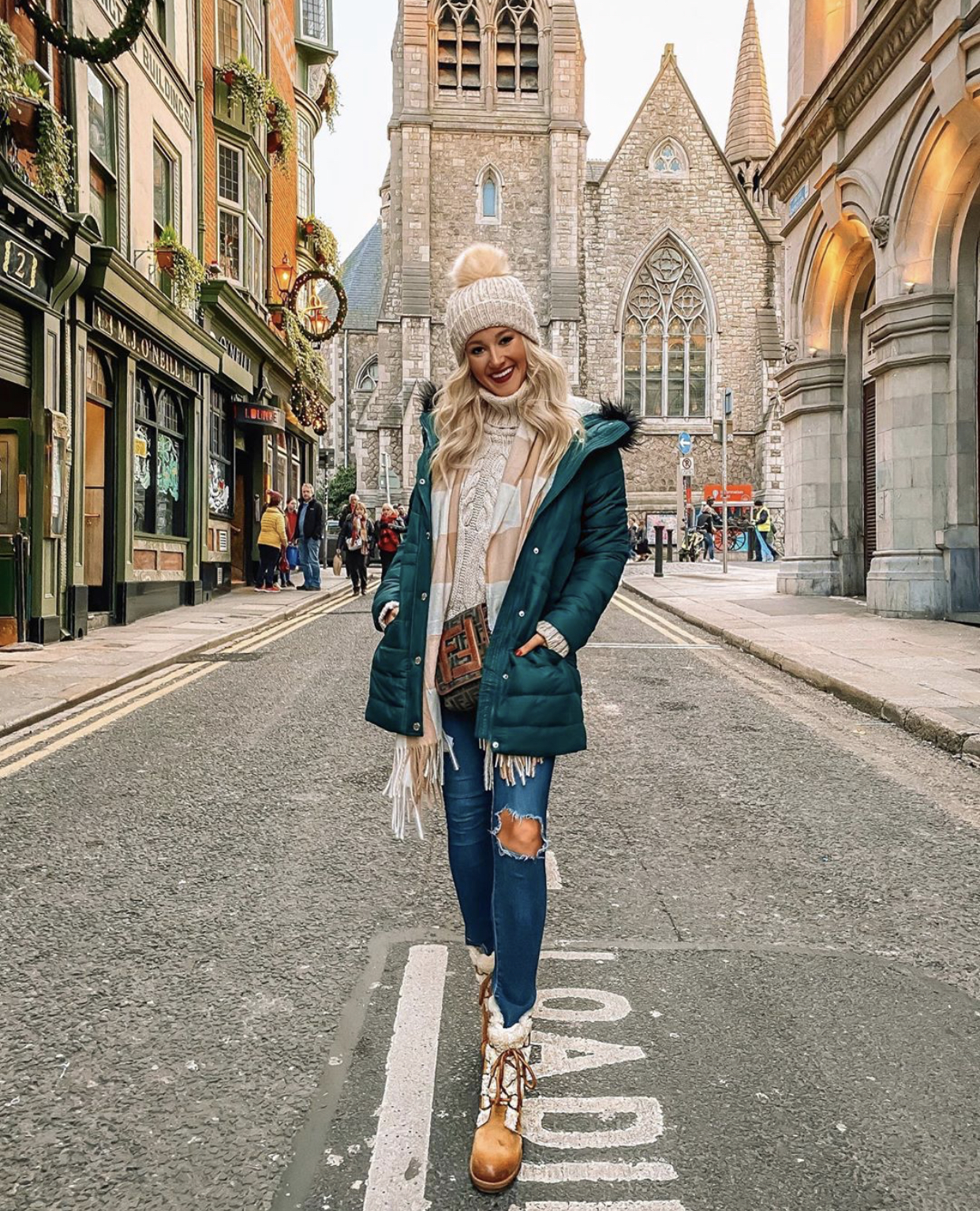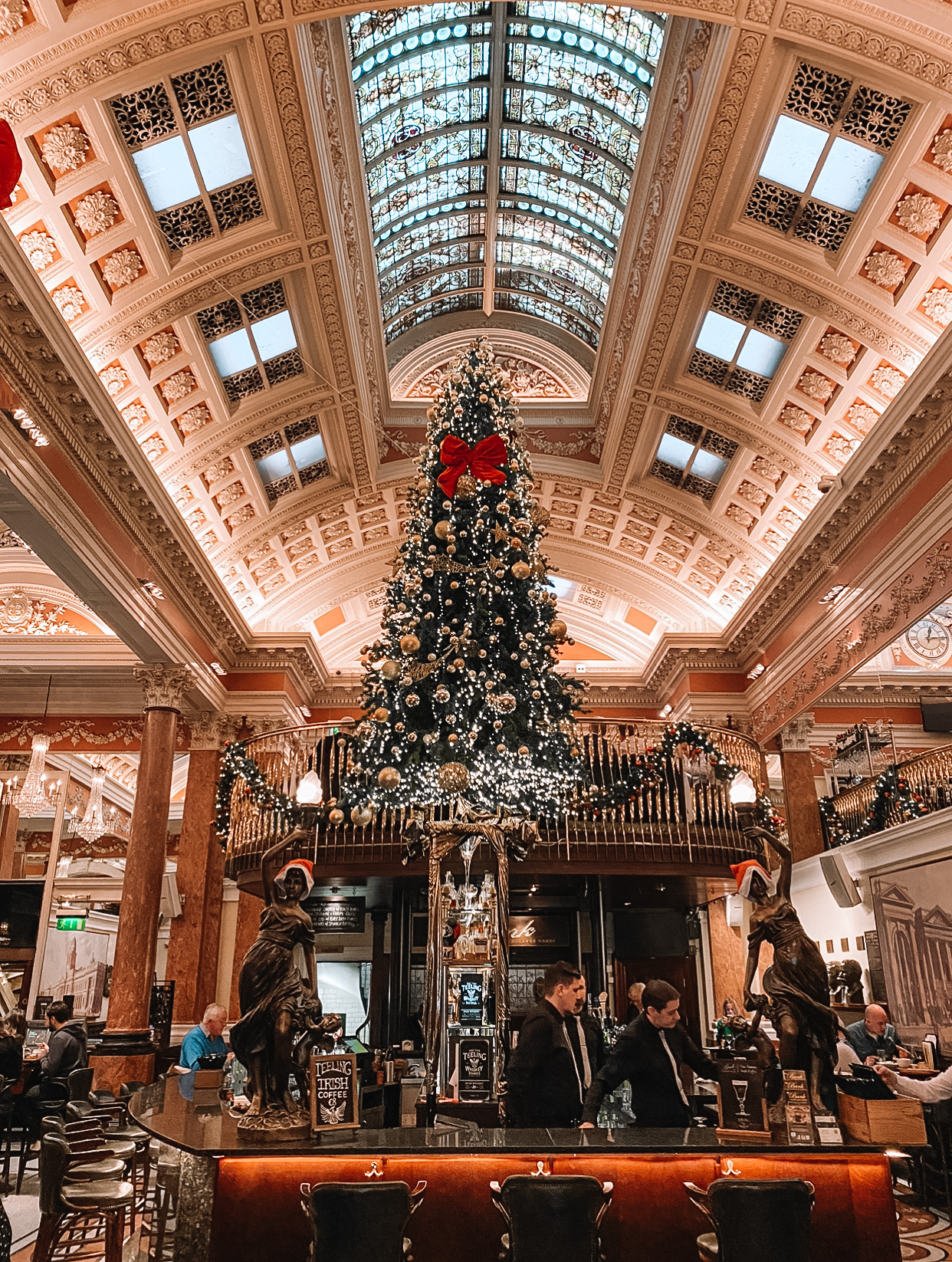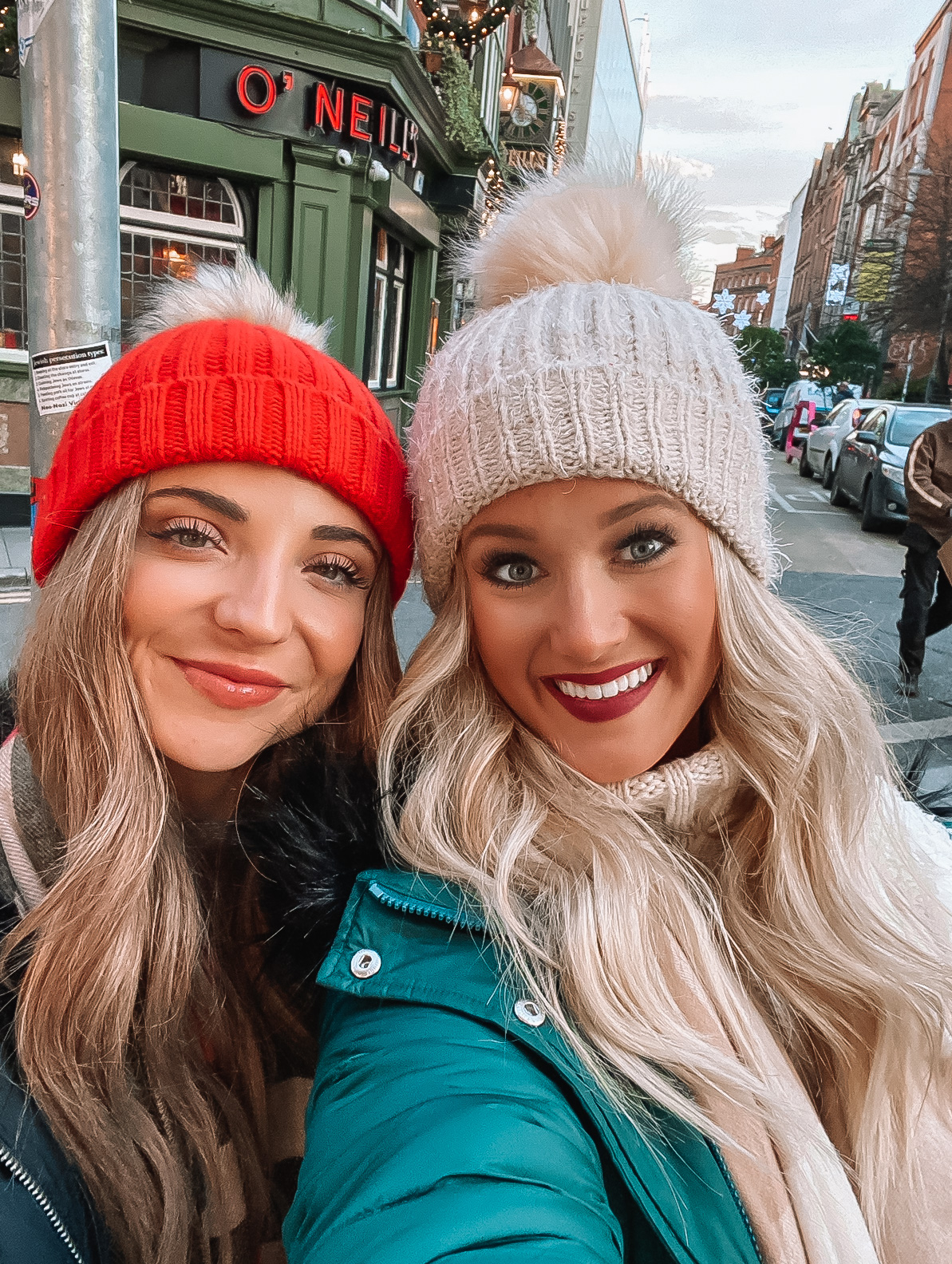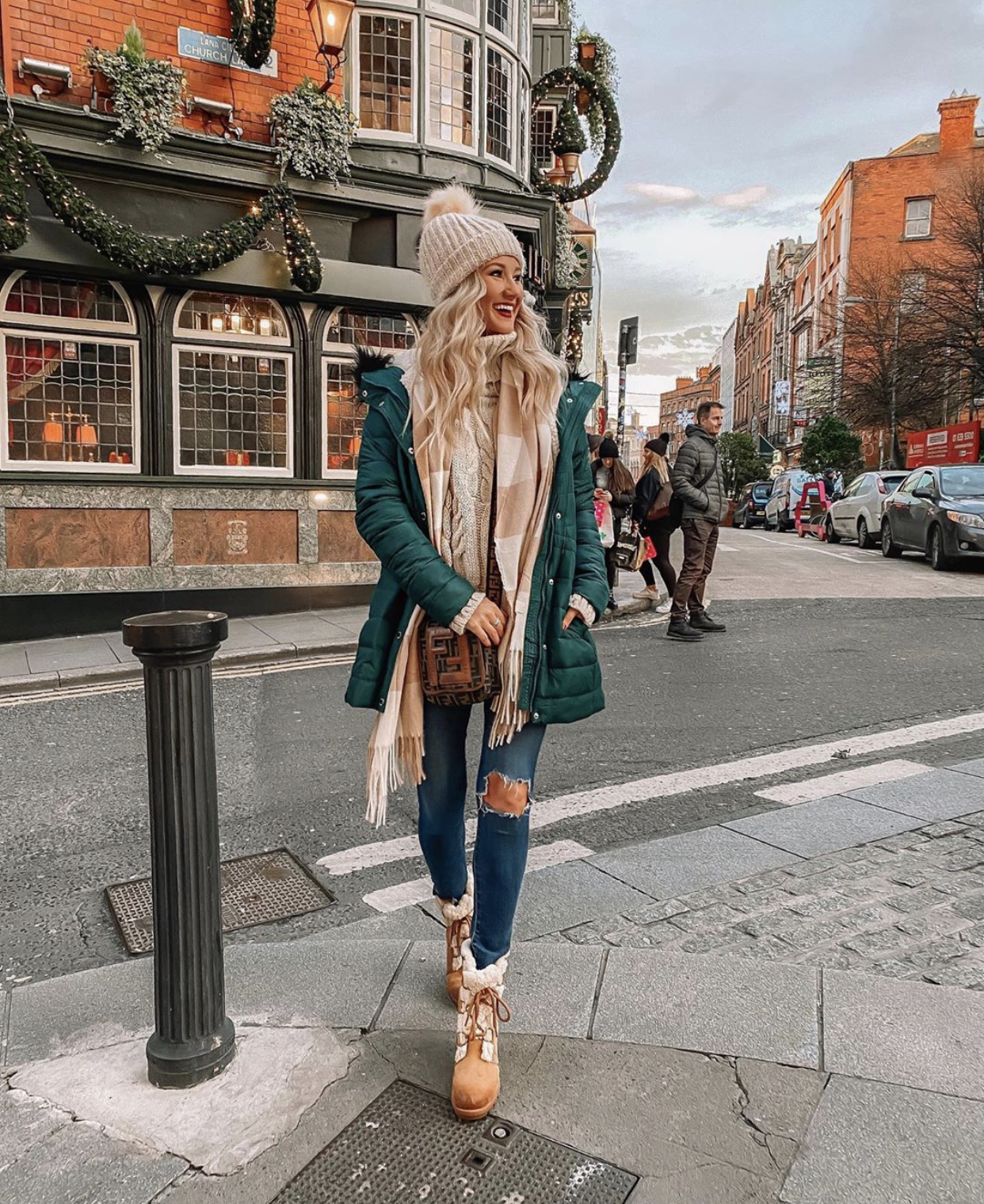 Once Dani and I touched down in Dublin, we got ready for the day and went out for some lunch and exploring — we went down Grafton Street and even toured the Guiness Storehouse, where we learned all about how the Irish make their famous Guiness beer. Dani got to taste test, but I gave her my sample since I'm pregnant. 🙂 It was a really neat experience!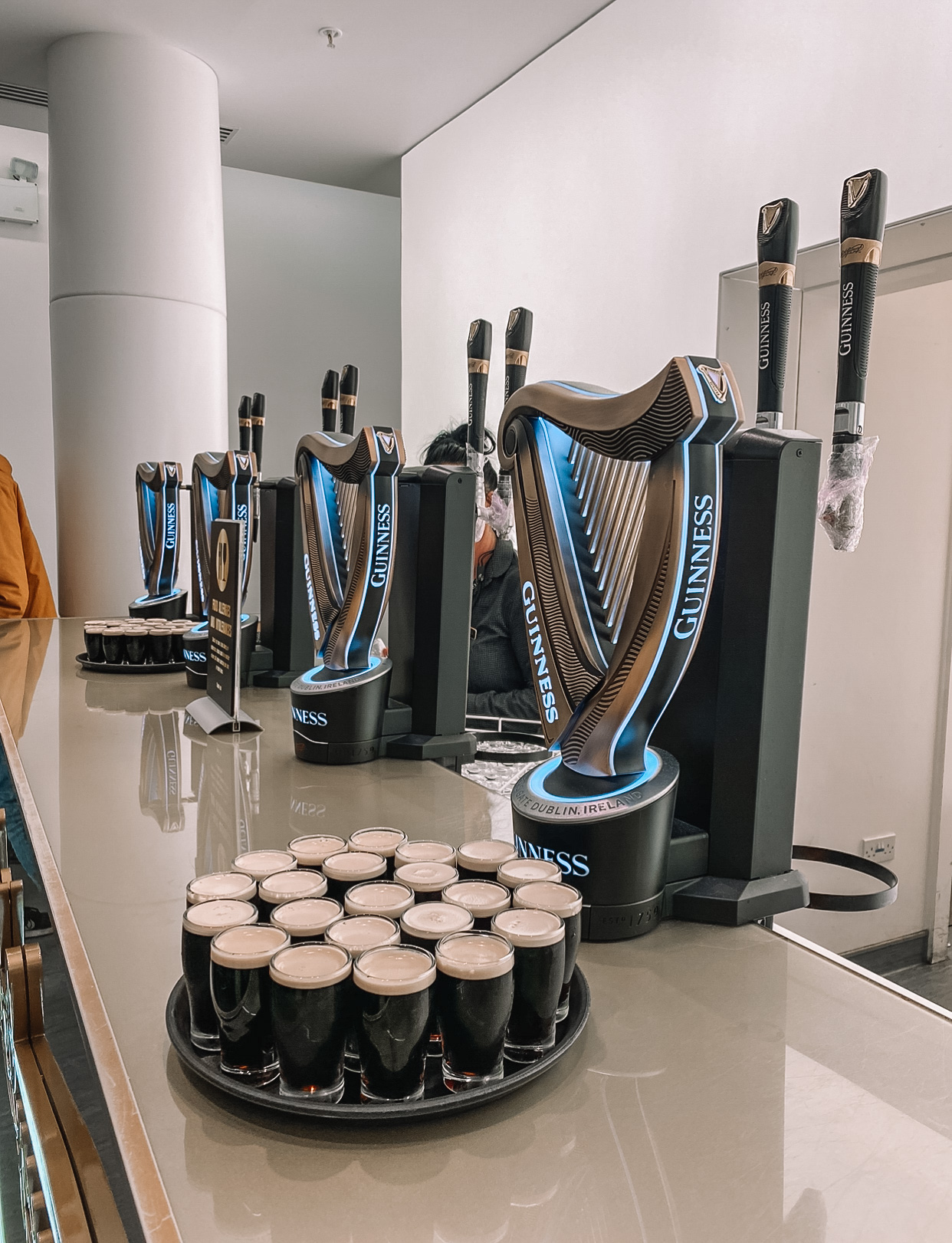 Once Caitlin and Shea Leigh met up with us at our Dublin hotel the next day, we all went out for some lunch and exploring in the city, before jumping on a train to our next destination — Killarney. But before leaving Dublin, we went back to Grafton Street one more time with the other girls to see all the beautiful sights and the Christmas lights (as recommended by our Noken app). It was stunning!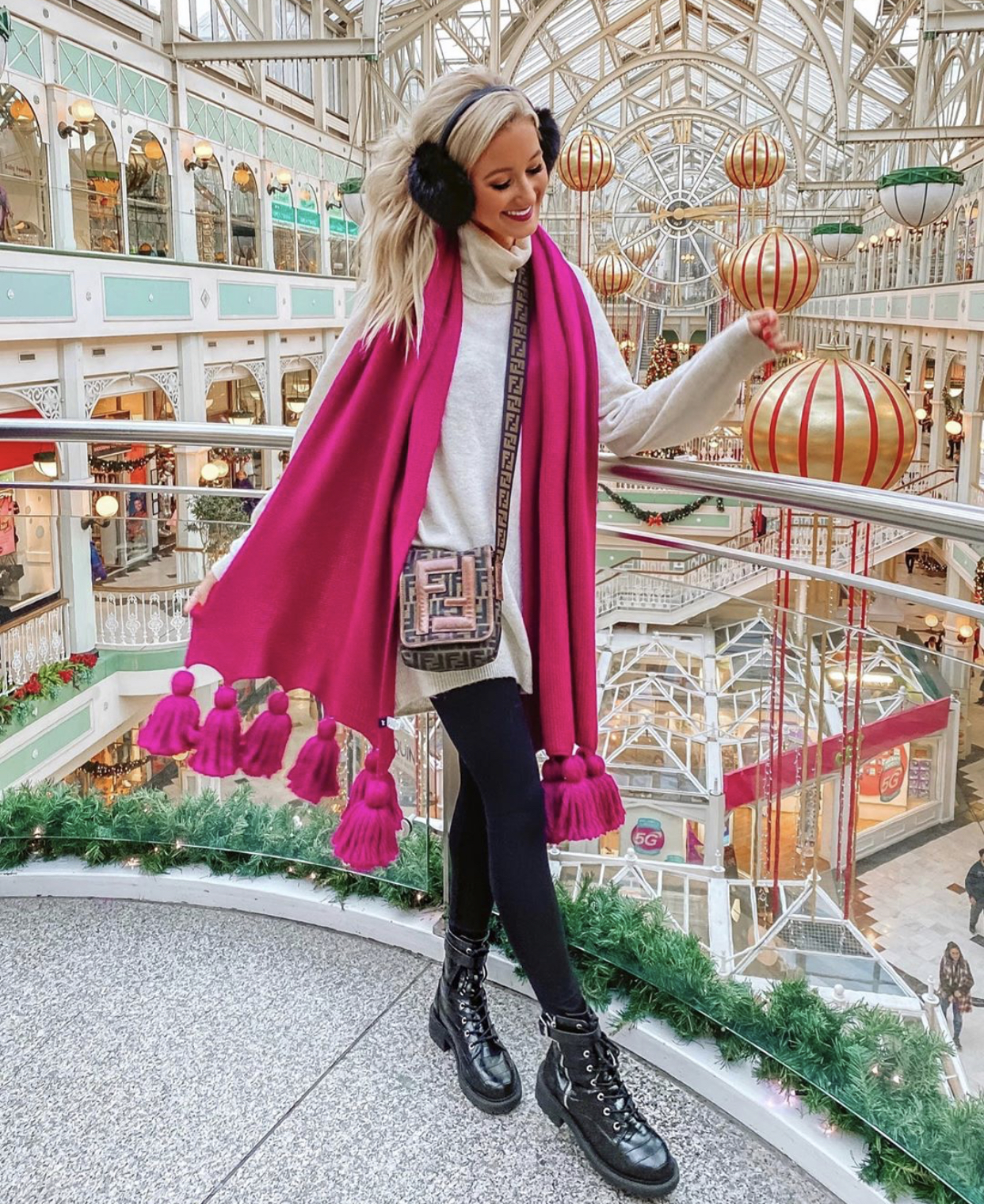 We stumbled upon this beautiful mall right next to Grafton Street and it was so nice — we ate lunch there too!
We made it back to the train station just in time to head down to Killarney, and honestly the train ride was so much fun! We ate snacks (the other gals were even able to order some wine — water for this preggo!) and we just played funny games the entire time. Some fun memories were made, that's for sure!
Once we arrived in Killarney, we found out (using the maps in the Noken app) that our hotel was only a block away from the station, so off we went. You can only imagine 4 southern girls (with 2 pieces of luggage each) walking the cobblestone streets of Killarney, ha! Someone the next day mentioned to us that the whole town had already heard about our arrival the night before LOL. We stayed at the most gorgeous and comfortable hotel — Killarney Park — and it was so beautifully decorated for the holidays!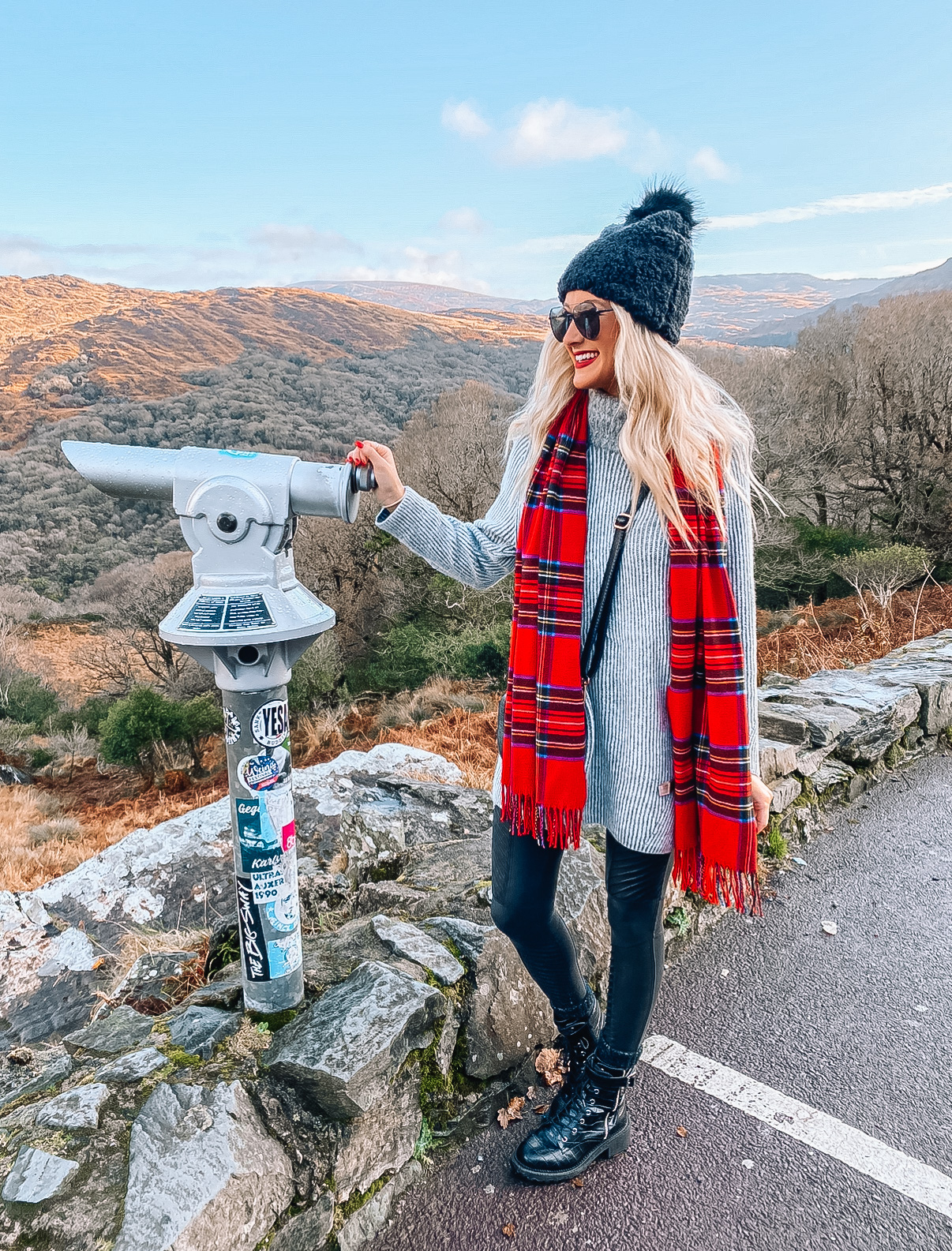 The next morning, we woke up early to explore the famous Ring of Kerry — I was so excited for this, and it was the most beautiful day of our entire trip (sunny and comfortable temps)! Noken arranged for us to have a driver for this adventure (since us girls were a little nervous about driving on the opposite side of the road), and I think we lucked out with the BEST driver possible. His name was Mick, and he had a beautiful family of his own (4 daughters to be exact) … so he definitely was like a father figure to us the whole time. He was also super knowledgeable about the Ring of Kerry, so he shared lots of fun facts with us along the way.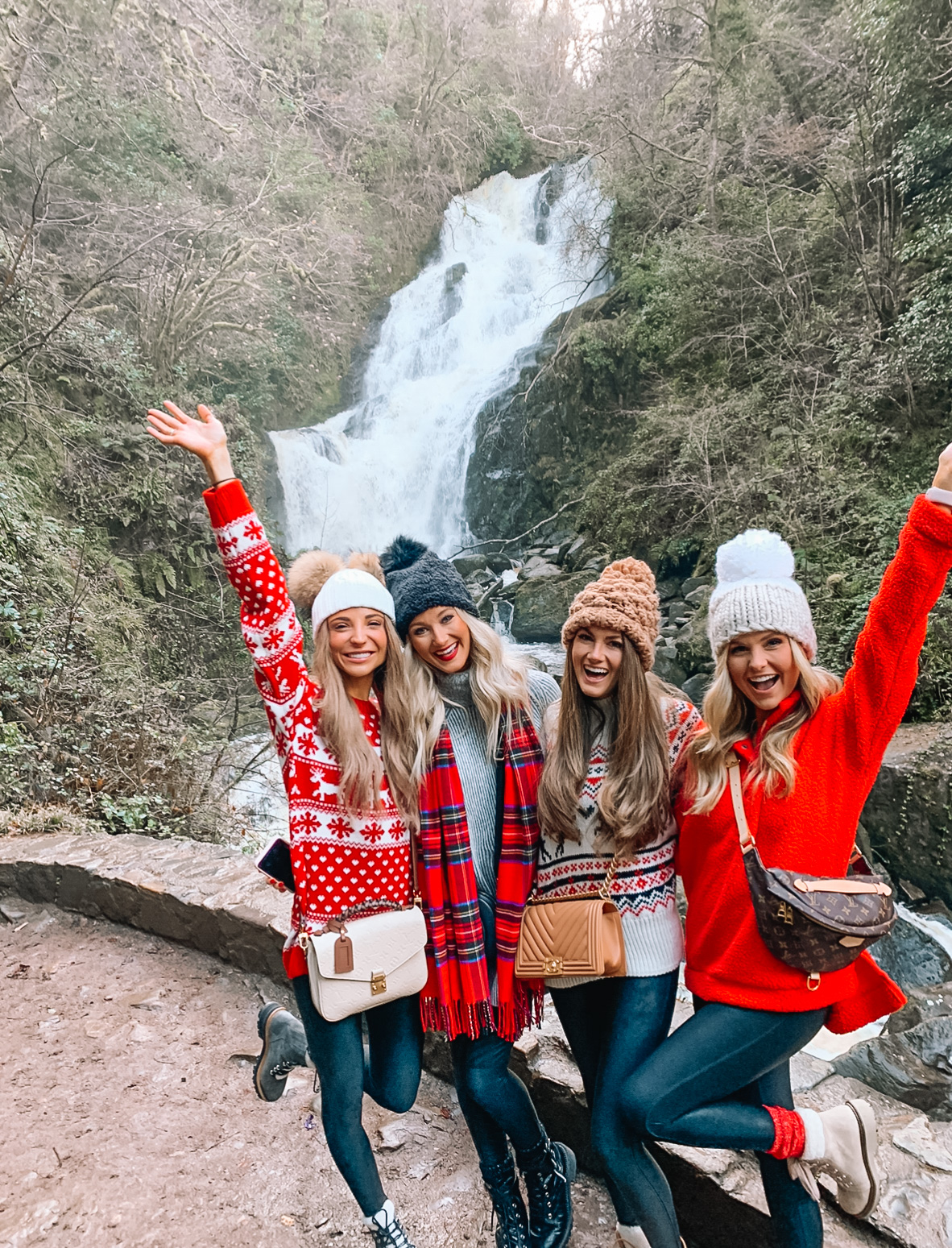 Here we are at one of our first stops on the Ring of Kerry – Torc's Waterfall.
Our Noken app recommended some lunch spots in the town of Sneem (which was along our drive), so we stopped in Murphy's Pub, and it was a quaint restaurant full of locals with some delicious cuisine. The locals even began Christmas caroling while we were there, and it was such a fun experience. Definitely one of my favorite lunch spots! After lunch, we continued our drive on the Ring of Kerry, with more sightseeing (we saw where Star Wars movies were filmed!) and a stop at a chocolate factory where we got to do a yummy tasting. Overall, the Ring of Kerry took us around 6 hours to complete before we arrived at our hotel in Kerry — Ballygarry House. We ate a nice dinner at our hotel and then turned in early because we were all pretty tired at this point and knew we had an early start the next day.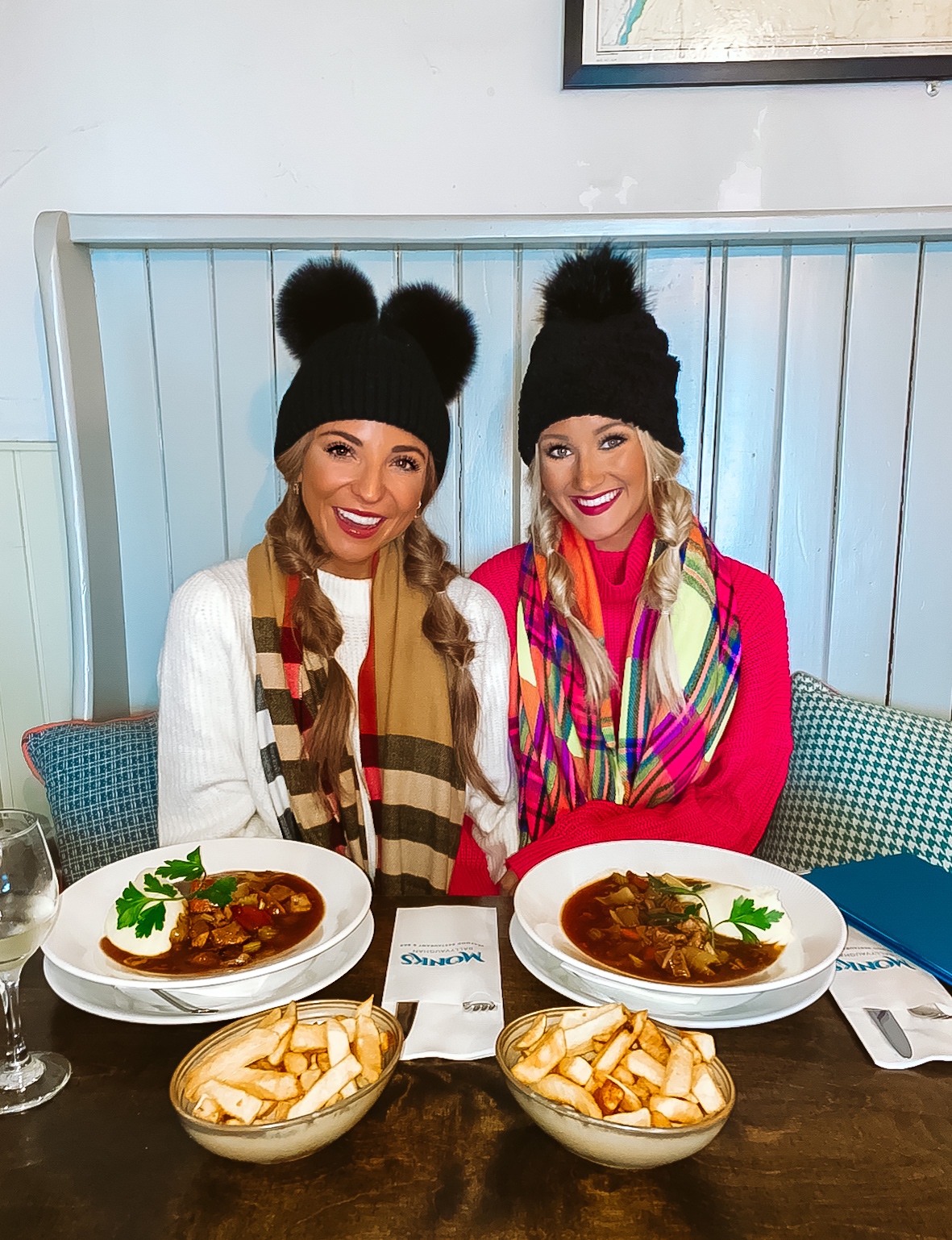 The fresh, homemade stew in Ireland is to die for, and you'll luck out if you visit because it tends to be on almost every menu!
The next morning, Mick picked us up early to start our trek to the Cliffs of Moher … we were all SO excited for this adventure, but unfortunately, it was super rainy/windy and very foggy that day, so once we arrived at the cliffs, we were told that there was a 'code orange' warning (the step right before code red). The lady at the cliffs told us that we were technically still allowed to go explore, but she wouldn't recommend it because a few other tourists that day had already had some rough falls and some had literally been lifted up off of the ground just because of the strong winds. We all were super bummed, but all agreed that it probably wasn't a safe and smart decision to risk going out there to see the Cliffs at the time. This was definitely one of the adventures I was most looking forward to during our trip, but with me being pregnant (on top of all the weather cautions), it just wasn't a smart decision to risk any falls. Guess we'll just have to plan another trip to Ireland sometime soon! 😉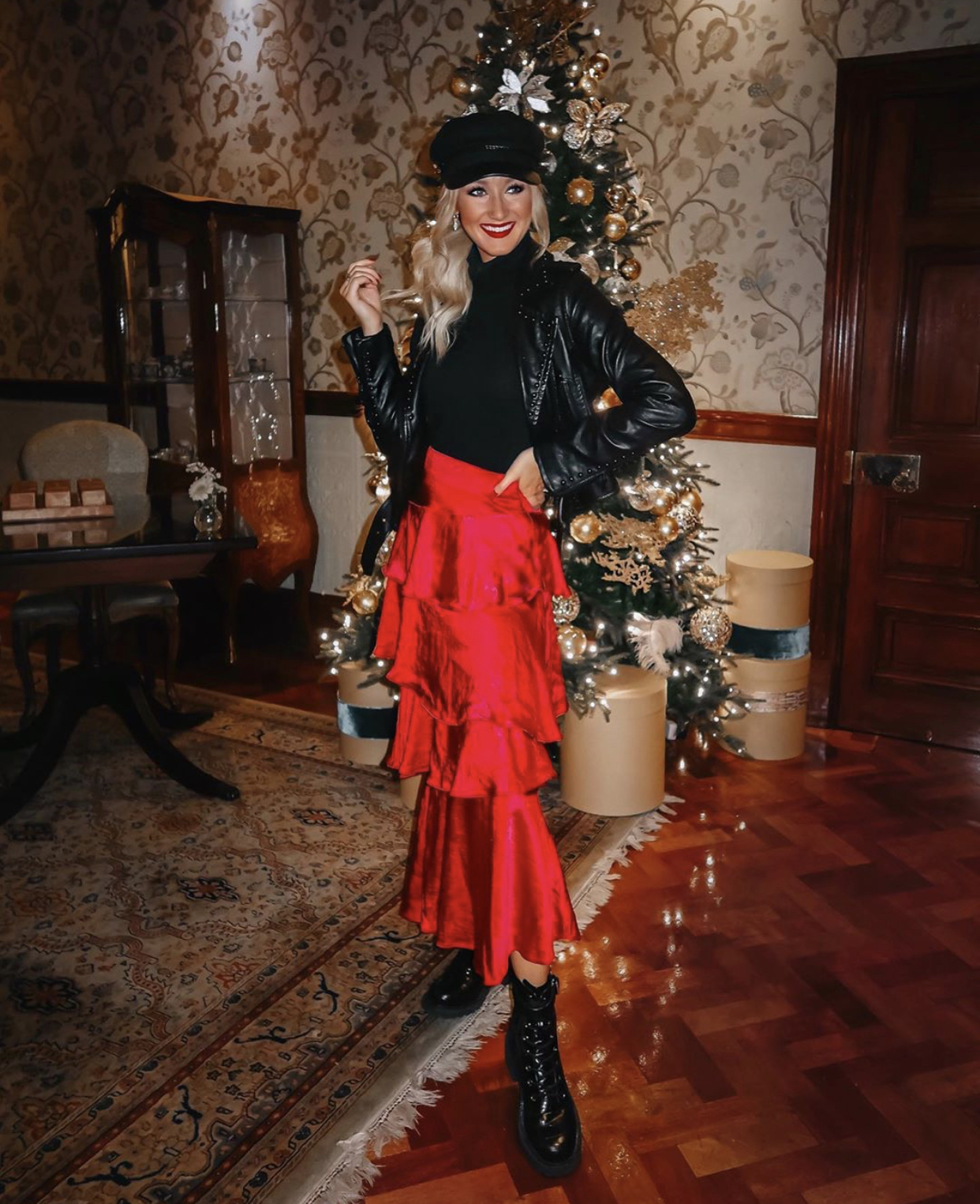 Since we couldn't do too much on our agenda that day due to weather, we headed straight to our next hotel in Galway, called Glenlo Abbey. Us girls decided to make the most of the rainy day and get all fancy for a nice dinner near our hotel. We all got ready together and dressed up for a really nice dinner at the Pullman Restaurant, which was located right next to our hotel. Noken had made us reservations there, so all we had to do was show up at the correct time and enjoy the whole experience. The restaurant was made up of two original Pullman train carriages, that were converted into a really nice, fine dining experience. We felt like we were on the most romantic version of the adult Polar Express.  🙂   The dinner as a whole was absolutely incredible (with many courses to indulge in), and the customer service was amazing. The staff literally treated everyone like royalty, which made for a super special experience … not to mention, the gourmet-style food was amazing!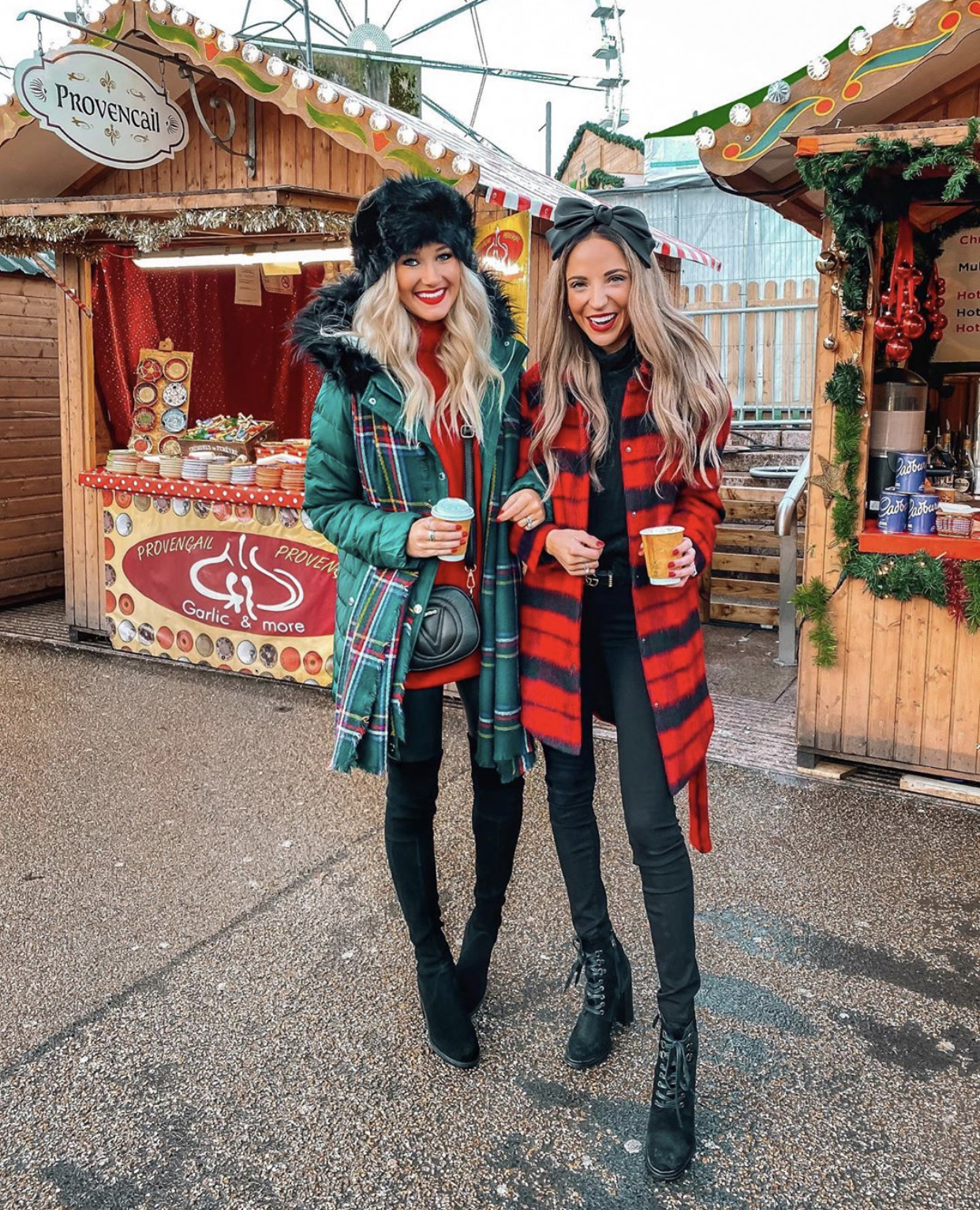 Exploring Galway!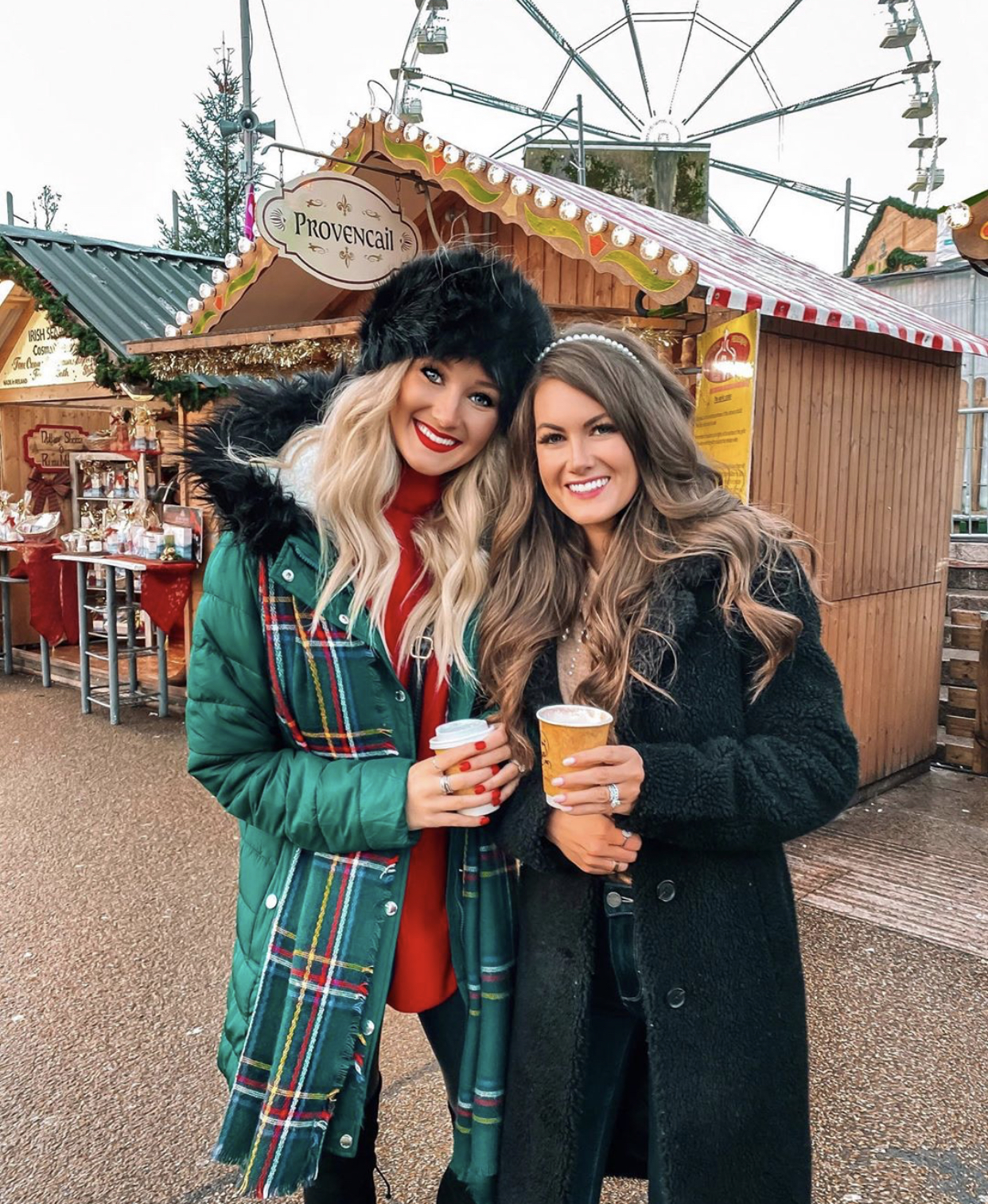 The next day, we all enjoyed a slow morning in our gorgeous hotel rooms, got ready for the day and packed up to head into Galway for some exploring. So many of you all had told us to visit the Galway Christmas Markets, and Noken had also provided some many fun plans in our app, so we decided to spend most of our last day in Galway — shopping, sightseeing and eating our way through town. The Christmas markets were definitely my favorite part of our day in Galway. We indulged in hot chocolate and homemade sweets, before finding a local pizza spot for lunch. As the sun went down, Galway became even more magical, with all the festive holiday lights and Christmas trees lining every street. I truly felt like I was walking in the music video of Ed Sheeran's song, "Galway Girl". He's one of my all-time favorite artists, so I of course had that song playing in my head all day long!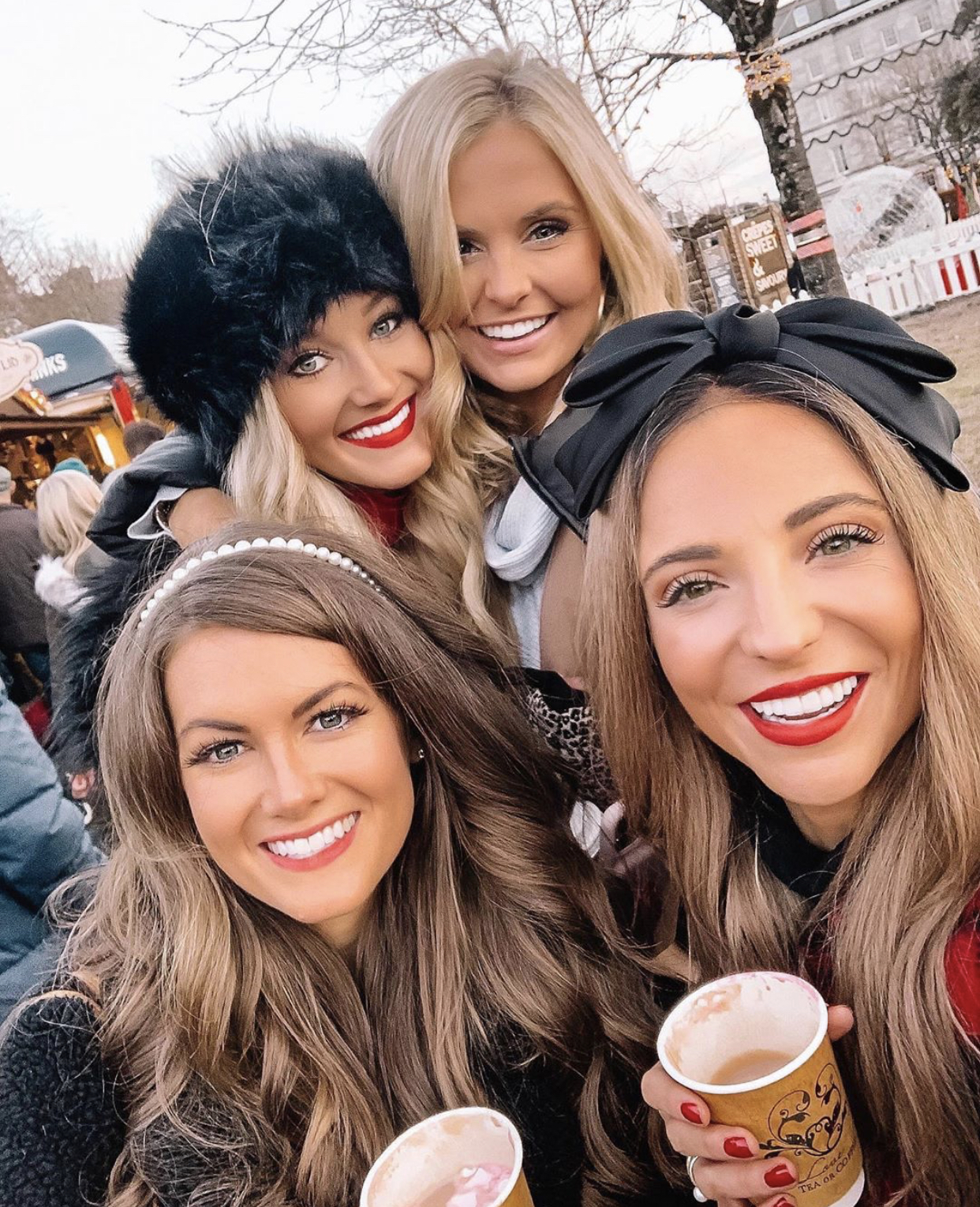 Later that night, we hopped on the train back to Dublin where we would catch our flights home the next day. We ate a quick dinner in Dublin that evening and packed up our suitcases one last time before heading to bed. Dani and I had an early morning flight back home to the states, so we turned in for some ZZZ's and headed straight for the airport the next morning.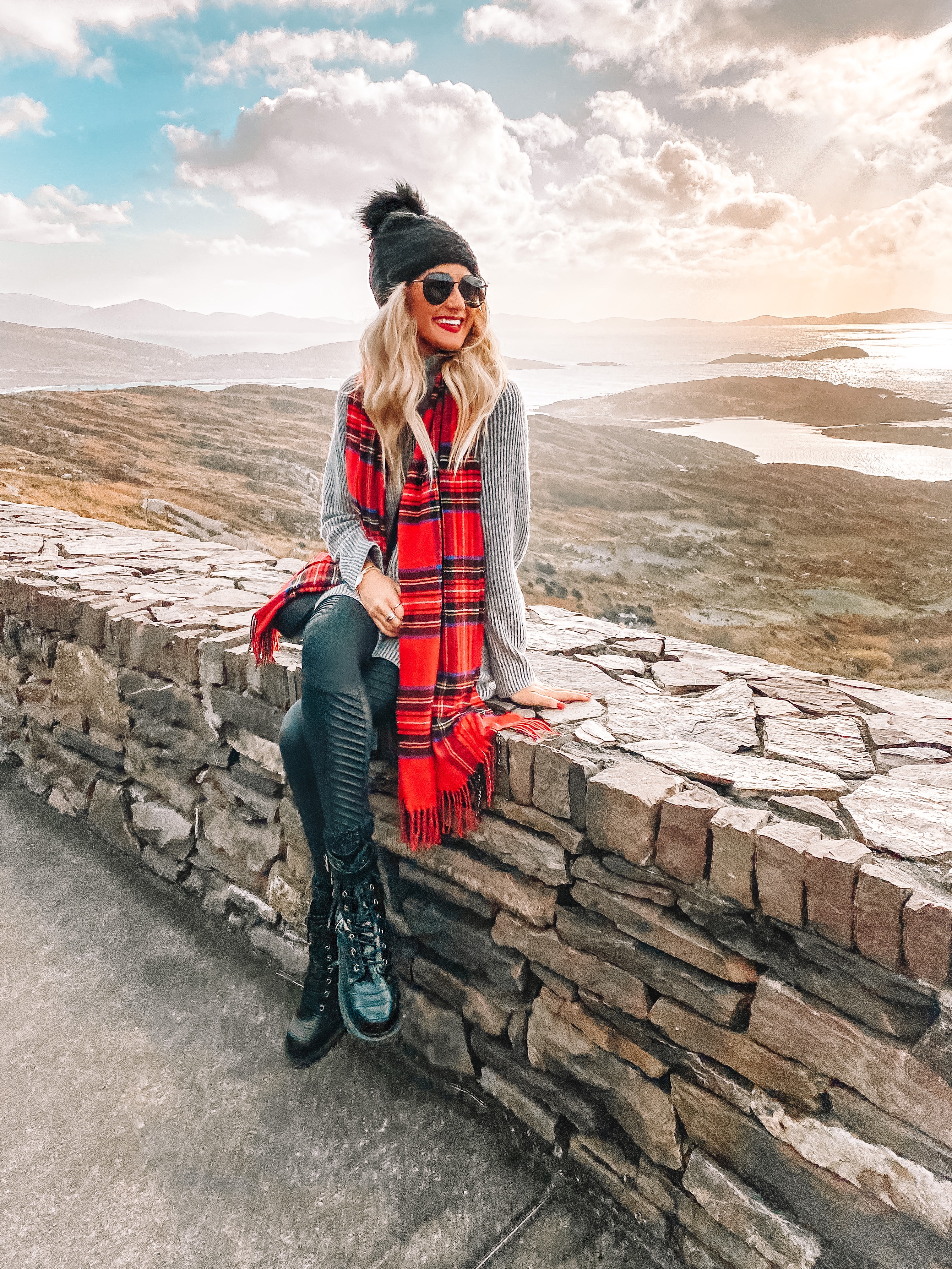 Overall, we had an absolute blast in Ireland. Our trip lasted an entire week, and I really like that we traveled around the lower haf of Ireland so that we could see many amazing places while we were over there. If I go back, I may schedule in a couple of extra days at some of the destinations, just so we can really make sure to see everything (and incase the weather decides to act up like it did on us one day), but other than that, I would not change one thing! The locals were incredibly friendly, the food was good, and there was so much to do everyday.
The best thing about this entire trip, by far, was having the help of Noken and their app to guide us through each of our stops along the way. We didn't have to plan ANYTHING for this trip because Noken took care of all of that for us, and they ensured that all of our days were planned out beforehand. I definitely plan on using their services for some of our future trips because it was definitely the most convenient and helpful way to travel — especially internationally. I highly recommend that you check out their services for your next big trip!
If you all have any further questions regarding our trip to Ireland, leave them in the comments below and I'll answer them for you!
---
Hope you all had an amazing Christmas and have a wonderful start to the New Year!
xo, Peyton
Thanks to NOKEN for partnering on today's post. As always, all opinions are my own.