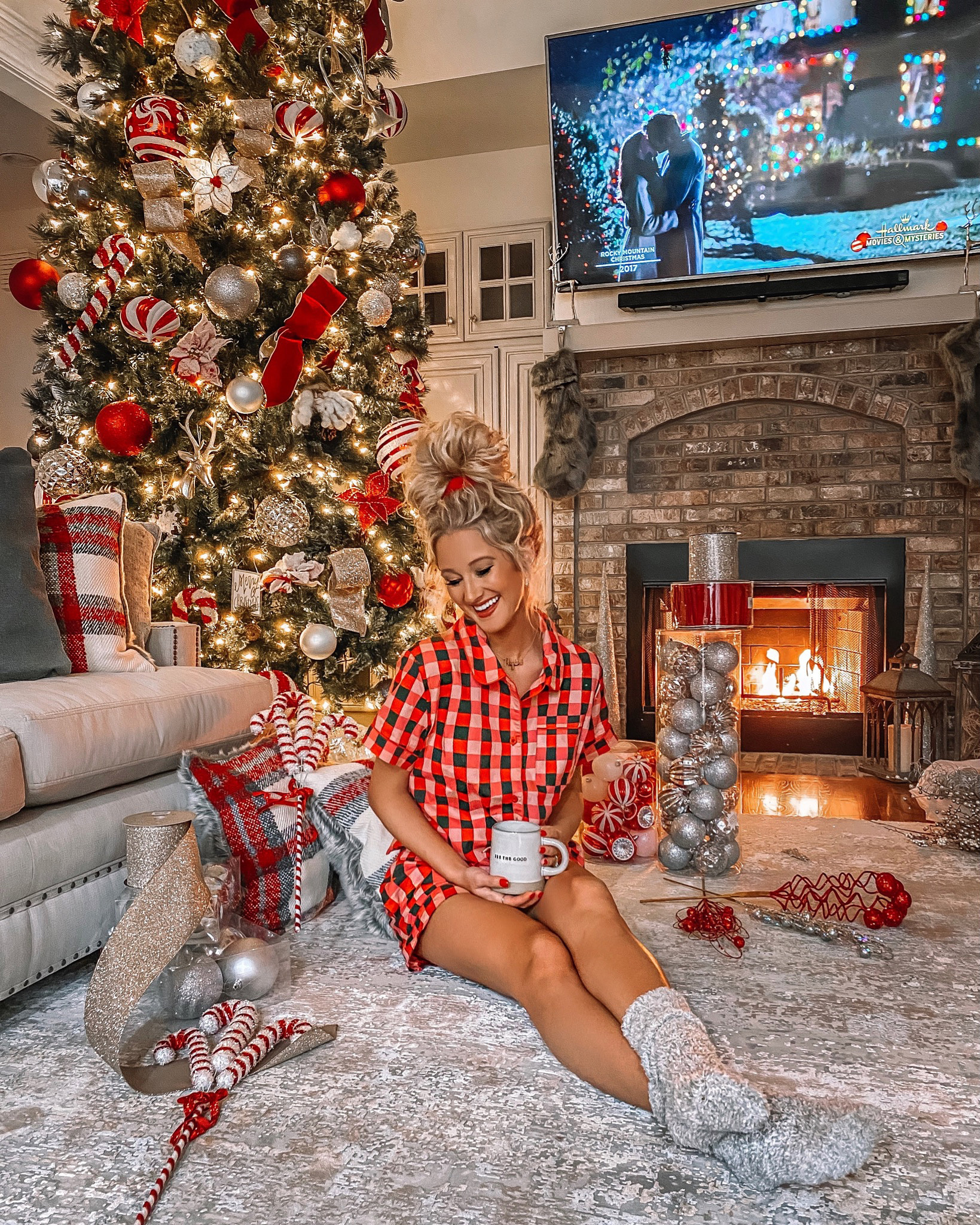 SHOP MY OUTFIT:

Can you believe it's already time for Thanksgiving, Black Friday, and Cyber Monday? Oh, aaand Christmas is less than a month away – excuse me, WHAT?! 
Don't get me wrong, I'm so excited for Christmas, but I just have a lot of shopping to do first because so far, I've only bought ONE present, lol! Anyways, this is the week of the best deals all year long, so I don't know about y'all, but I'll definitely be trying to knock a lot off of my holiday shopping over the next few days. Fingers crossed! But first, I want to take a moment to wish all of you a HAPPY THANKSGIVING and let you now how extremely grateful I am for every single one of you who follow along with me, shop through my links, engage with my content, etc! Honestly, without you all, none of this would be possible, and I owe a LOT of what I do to you guys! This is literally my dream job, and it is made possible because of YOU. I hope you all enjoy special time with your families this week because that is by far what is most important … soak it all up and spend quality time with your loved ones!
And then, when you are full from Thanksgiving leftovers and ready to find some good deals, come by here to start shopping with me! 🙂 This is a master list of all sales and deals I've been notified about so far for all Black Friday and Cyber Monday sales going on. I'll be updating this list every day until Cyber Week is over, so check back often (as I may include updates multiple times per day for you guys). If one of the retailers below is left blank right now, that means that I'm waiting to hear from the brand about their Black Friday deals coming up and I'll update that retailer soon.
Another thing to note about this list is that every retailer is displayed in alphabetical order, by category. This should make it easier for you all to navigate directly to the exact sales you want to shop. As a reminder, all you have to do to shop through my links is simply click on the name of your desired retailer listed below, and that will take you straight to the site to shop!
Lastly, I'll be sharing TONS of the best deals (plus free shipping retailers!) over on my Instagram Stories this week, so be sure to follow along closely over there as well! And if you see something that you really want to buy for yourself or as a gift, I recommend going ahead and grabbing it sooner rather than later. These deals are so huge that they cause items to sell out quicker than normal, and I've learned from past years that almost all of the Cyber Monday sales are the exact same as the Black Friday ones.
Hope this information is helpful — I'm looking forward to being a shopping resource for y'all this holiday season, xo!
LIST WAS LAST UPDATED: 11/29/19 AT 2:30 PM, EST
Main Online Retailers:
| | |
| --- | --- |
| Abercrombie | 50% off entire store + FREE SHIPPING |
| Amazon | Pre-Black Friday sales — sharing some favs over on my IG stories |
| American Eagle/Aerie  |  40% off sitewide + FREE SHIPPING |
| Anthropologie  |  30% off sitewide — including capri blue candles! |
| Asos | 30% off sitewide // code: BIG30 |
| Banana Republic | 50% off regular priced items sitewide |
| Bloomindales | Up to 15%-25% off select items sitewide |
| Express | 50% off entire site + AMAZING doorbusters! |
| H&M |  30% off entire site + FREE SHIPPING |
| J.Crew | 50% off your purchase + extra 60% off sale items // code: FRIDAY |
| J.Crew Factory | 60% off entire site |
| Living Proof |  20% off everything |
| LOFT |  50% off your purchase // code: FRIYAY |
| Lord & Taylor | $100 off purchases $200+ // code: FRIDAY  |
| Lululemon |  select deals sitewide |
| Macy's | Extra 20% off + FREE SHIPPING on orders $25+ // code: BLKFRI |
| Madewell | 30% off your entire purchase // code: GIFTWELL |
| Nike | Up to 50% off sale styles + FREE SHIPPING // code: SEASONMVP |
| Nordstrom |  Up to 50% off sitewide + FREE SHIPPING/RETURNS |
| Nordstrom Rack |  Up to 65% off select styles on the site + extra 50% off clearance items |
| North Face |  25% off select styles |
| Old Navy | 50% off entire site |
| Revolve | Up to 65% off select styles + FREE SHIPPING/RETURNS |
| Sam Edelman | 30% off // code: SAM2019 |
| Shopbop | Up to 25%-75% off sitewide // code: MORE19 |
| Spanx |  20% off entire site + FREE SHIPPING (including faux leather leggings) |
| Steve Madden |  20% off entire site // code: BF2019 |
| Target | Tons of doorbusters already released / 20% OFF coupon via email |
| TULA |  25% off sitewide // code: BLACKFRIDAY19 |
| Urban Outfitters | Buy one, get one 50% off (limited time only) |
| QVC (deals on must haves!) | FREE SHIPPING SITEWIDE! |
 Favorite Boutiques:
| | | |
| --- | --- | --- |
| Goodnight Macaroon |  30-50% off sitewide // code: GIVING30 | |
| Pink Lily Boutique |   35% off sitewide with my code (excludes doorbusters) + free shipping on orders over $25 // code: PEYTONBF30 | |
| Red Dress Boutique |  25% off sitewide + extra discount on select styles w/ my code  // code: PEYTON15 | |
 Jewelry, Bags & Accessories:
| | |
| --- | --- |
| BaubleBar |  35% off sitewide + 15% off all custom gifts |
| Kate Spade | 40% off entire site // code: TGIBF |
| Kendra Scott | 25% off sitewide or 30% off of orders $300+ |
| Styled Collection  |  80% off markdowns + an extra 30% off sitewide // code: BF30 |
| Tory Burch |  30% off full-priced styles + up to 60% off sale items // code: THANKS |
| Victoria Emerson | select sales sitewide & happy hour deals: select wraps are $12.99 / select cuffs are $19.99 |
Beauty:
| | |
| --- | --- |
|  Mac Cosmetics |  25% off sitewide for all members |
|  Sephora | Up to 50% off select items |
|  TULA |   25% off sitewide // code: BLACKFRIDAY19 |
 

Home:
| | |
| --- | --- |
| Overstock  |  Up to 70% off select items sitewide |
| Pottery Barn |  25% off sitewide + FREE SHIPPING // code: BLACKFRIDAY |
| Rugs USA | Up to 75% off everything sitewide |
| Target | Major doorbusters released! |
| Wayfair | Up to 80% off sitewide |
| West Elm | Up to 30% off when you spend select amounts // code: SAVEMORE |
| Walmart | Pre-Black Friday Deals in all categories |