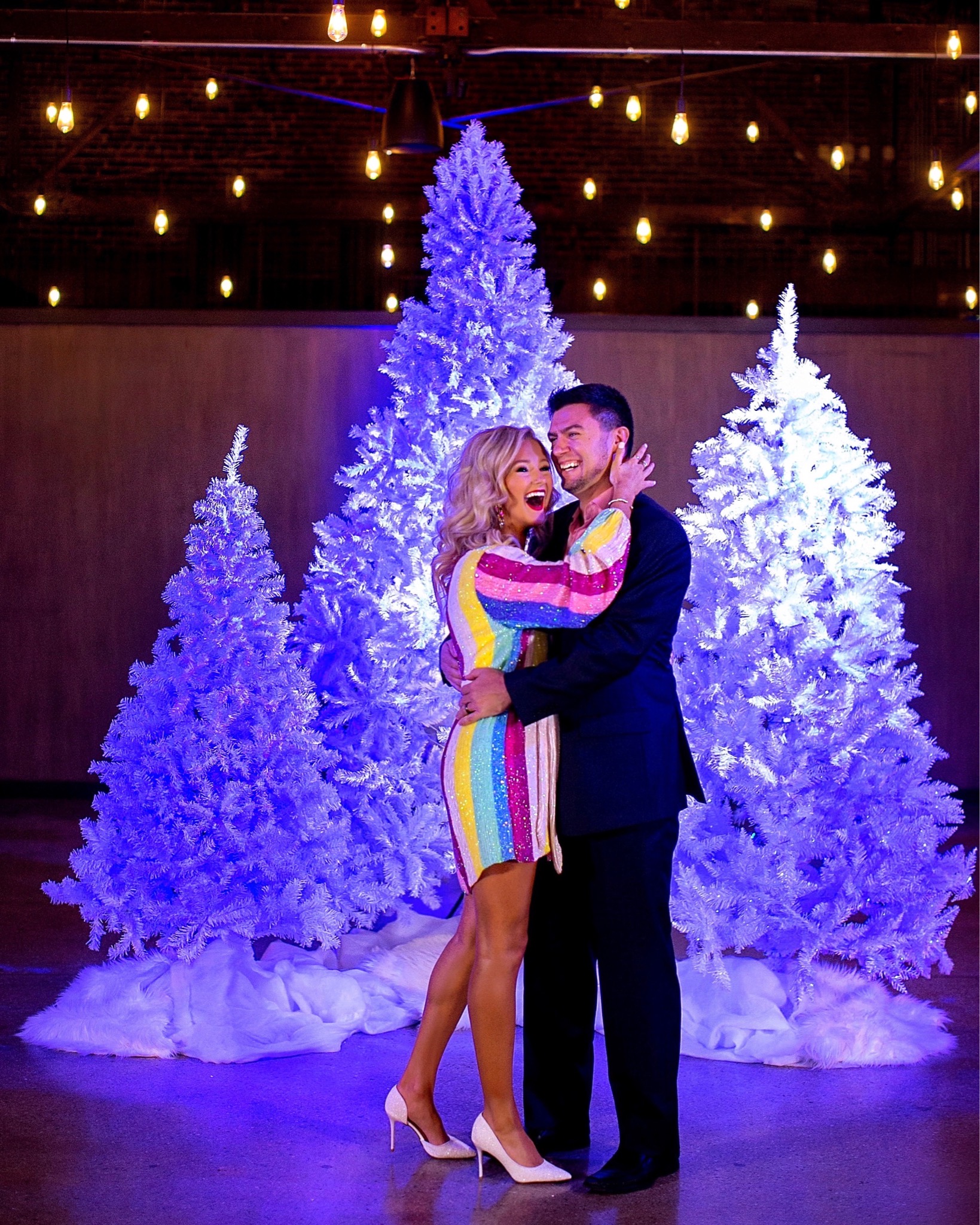 Baby Baxter is a …
BOY!!!
For this child, we have prayed. 💙 Oh baby boy, how loved you are! God made you perfectly for us, and you have quickly become our everything.
As many of you have probably seen, we are having a BOY, and we couldn't be more thrilled!!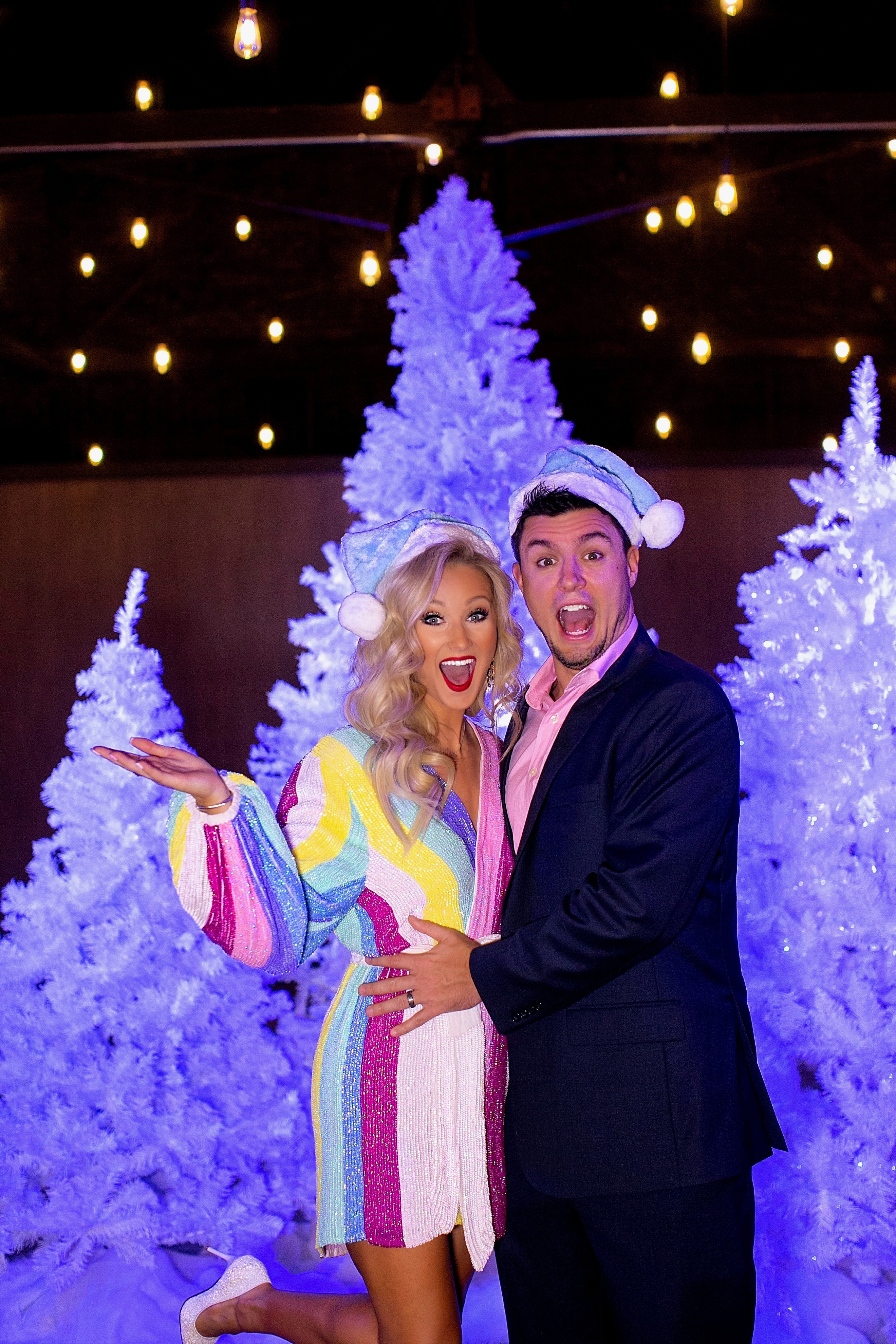 We decided to do it up big for our gender reveal since this is our first baby we're expecting, and it was such a special night that we will cherish forever. We invited our closest friends and family to The Press Room in Knoxville, TN on a cold night in December, right before Christmas. And oh yeah … we also invited our entire social media family to join in on the fun, via an Instagram Live video on my Instagram page! We, of course, wanted to keep most of the event intimate with our friends and family, but how could we not invite all of you to tune in for the big reveal?! Y'all are like family to us, and we love sharing our lives with you! I personally feel so fortunate that I have such an incredible group of people to follow along with us on social media because I know that is not always the case and that there can be some ill-intentions out there. However, I can honestly say that I feel so blessed to have people with the greatest hearts following along with us daily, and for that, I'll be forever grateful to you all, while continuing to share these big moments in our lives. 🙂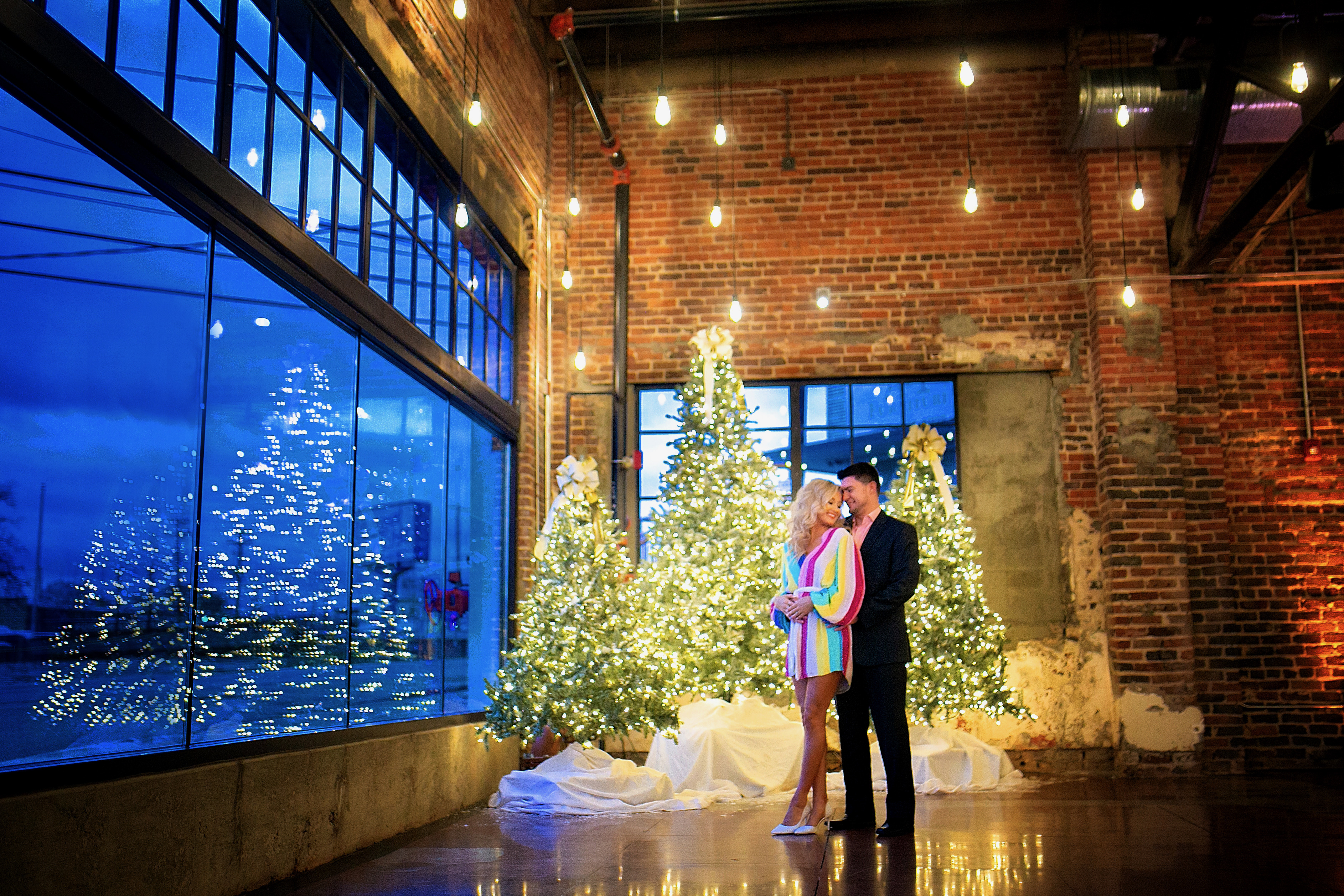 Teej and I had waited almost a MONTH (after doing our blood test) before finding out the gender. We had our sweet nurse put the gender results in an envelope, and we gave it to my sister (who was the keeper of the gender) right before Thanksgiving. So, needless to say, we were beyond ready to find out if we were having a boy or girl by this point! It's so hard knowing that someone else knows the gender of your baby, but you have to wait a few weeks to find out. However, with that said, TJ and I love surprises and really wanted to share this special moment with all of our family and friends. It was a no-brainer for us to wait to find out the gender until our reveal party. And once the night finally arrived, we BOTH had butterflies, anticipation, and excitement like none other!! We couldn't wait to finally find out what our baby was!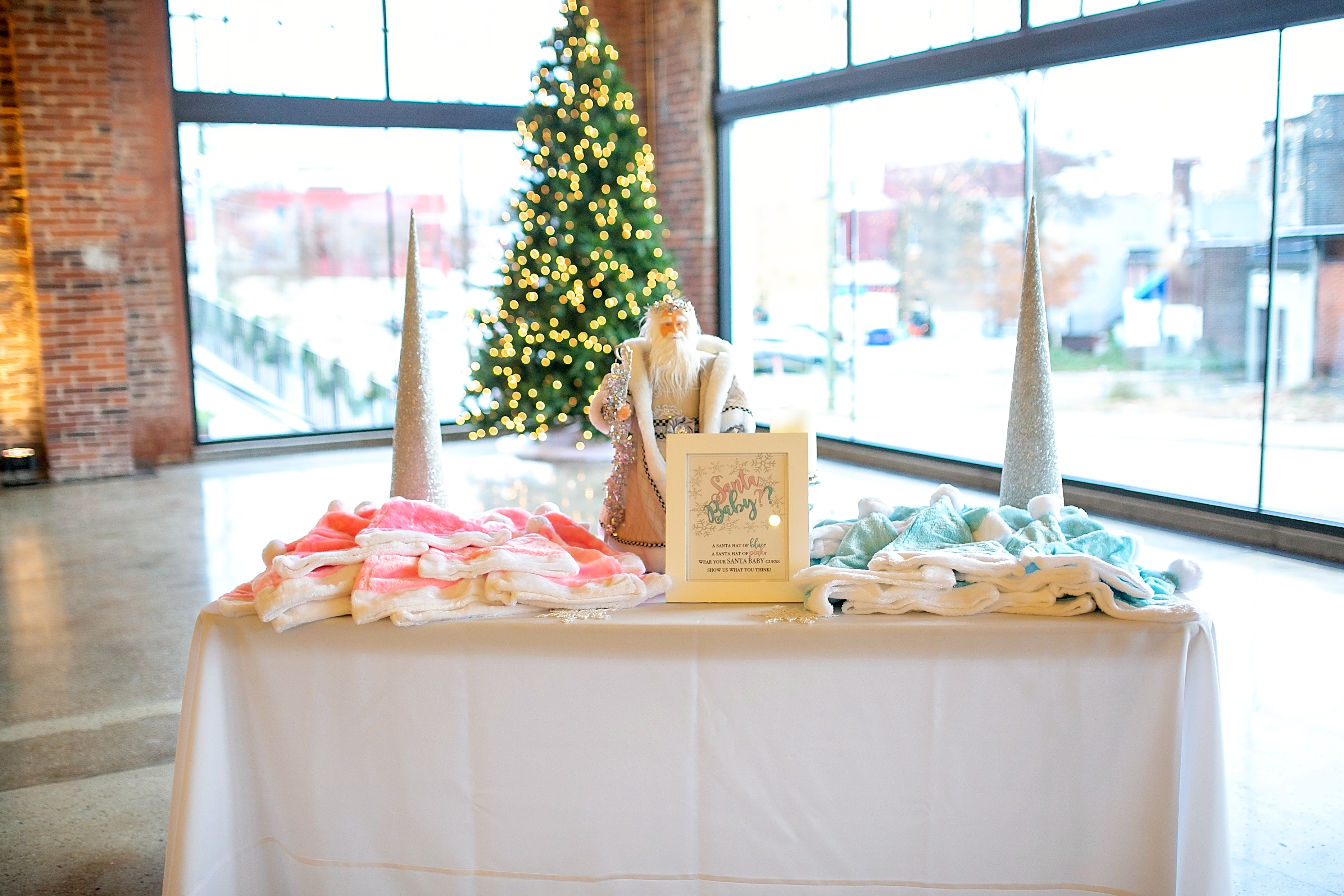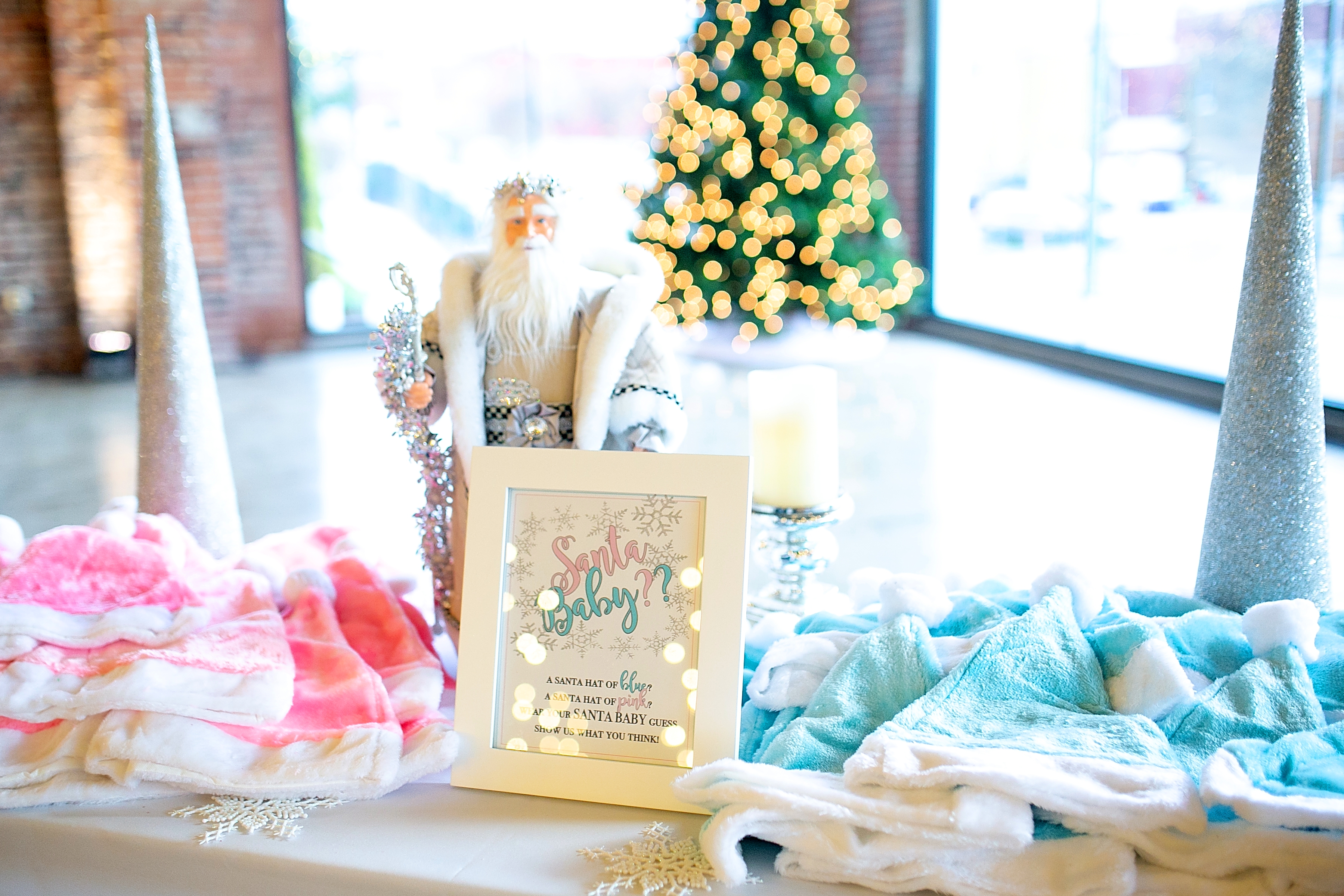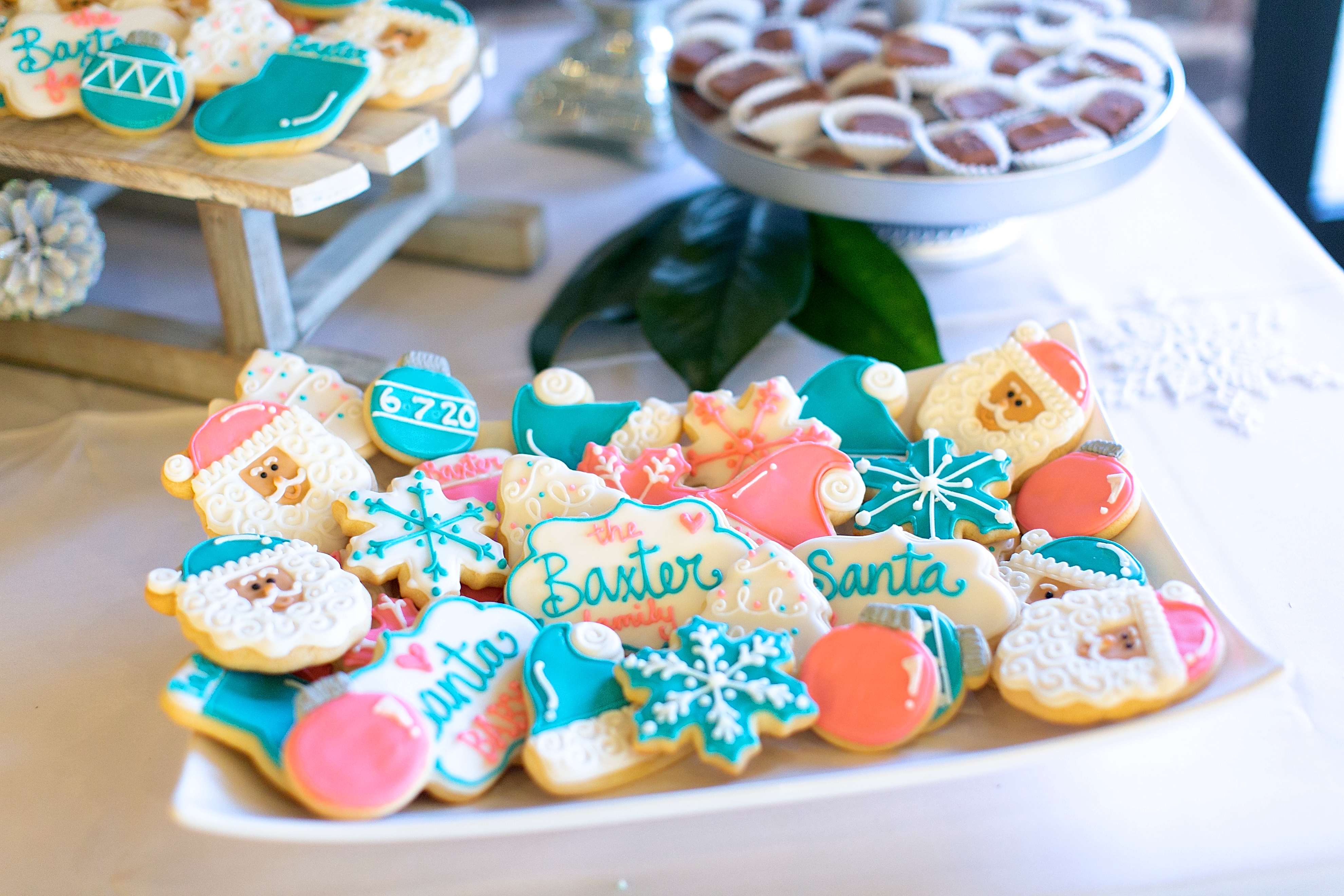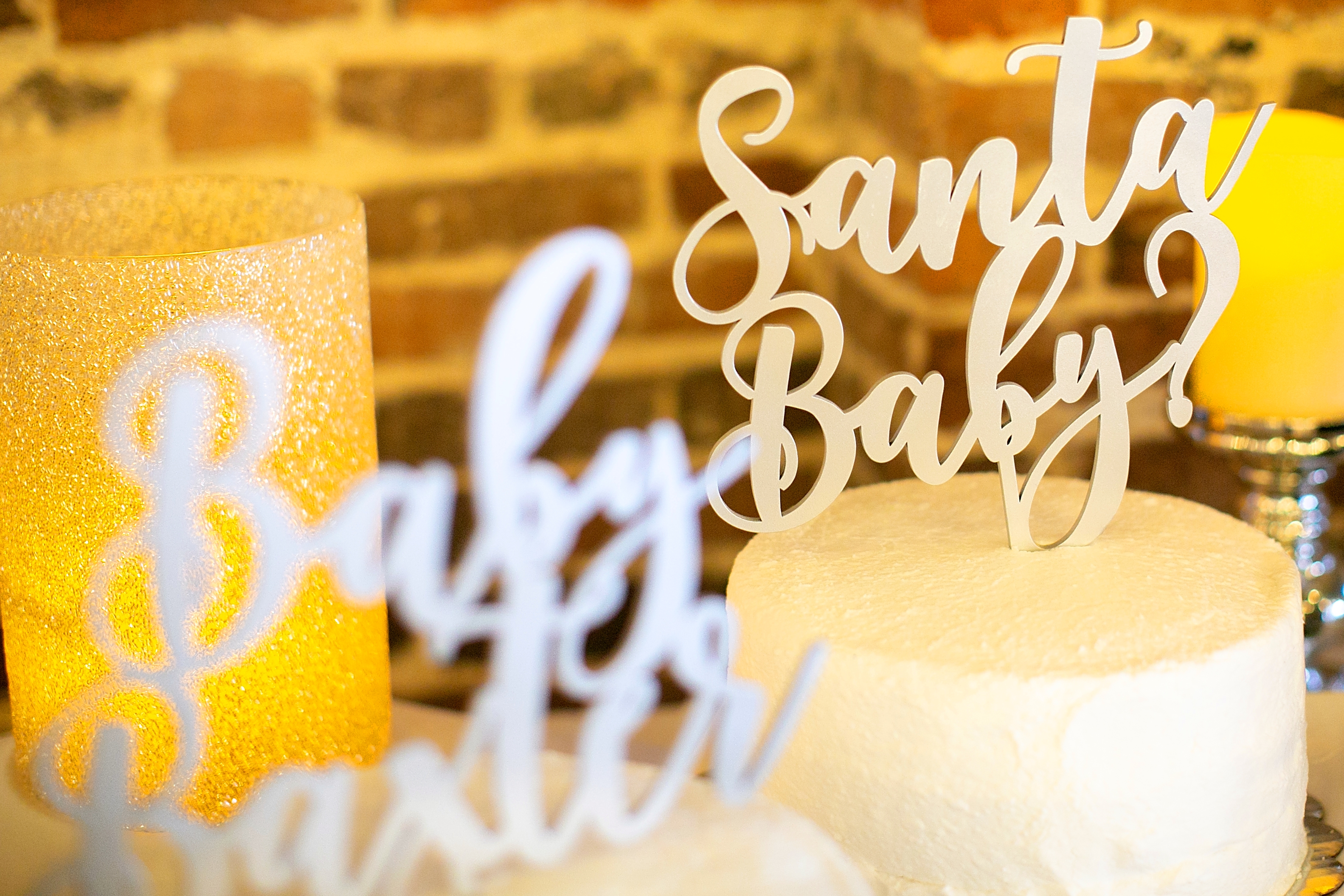 We wanted the night to have some type of theme revolving around Christmas since we were right in the midst of holiday season (plus, Teej and I are the biggest Christmas fanatics of all time!). We decided to have a Santa BABY theme, where guests could choose to wear a pink or blue Santa hat (depending on their guesses) with a big Christmas tree reveal toward the end of the night. There was Christmas music playing all evening, while guests ate and mingled, and then once it was time for the big reveal, we had a personalized "Twas the night before Christmas" bedtime story read aloud. During this time, there was also a light show of pink and blue interchanging lights going on throughout the room, and once the "bedtime story" came to an end, our dee-jay played a  gender-specific song over the speakers, while the Christmas trees behind us + the entire room lit up in the most beautiful blue hue, letting us all know that Baby Baxter is a little boy!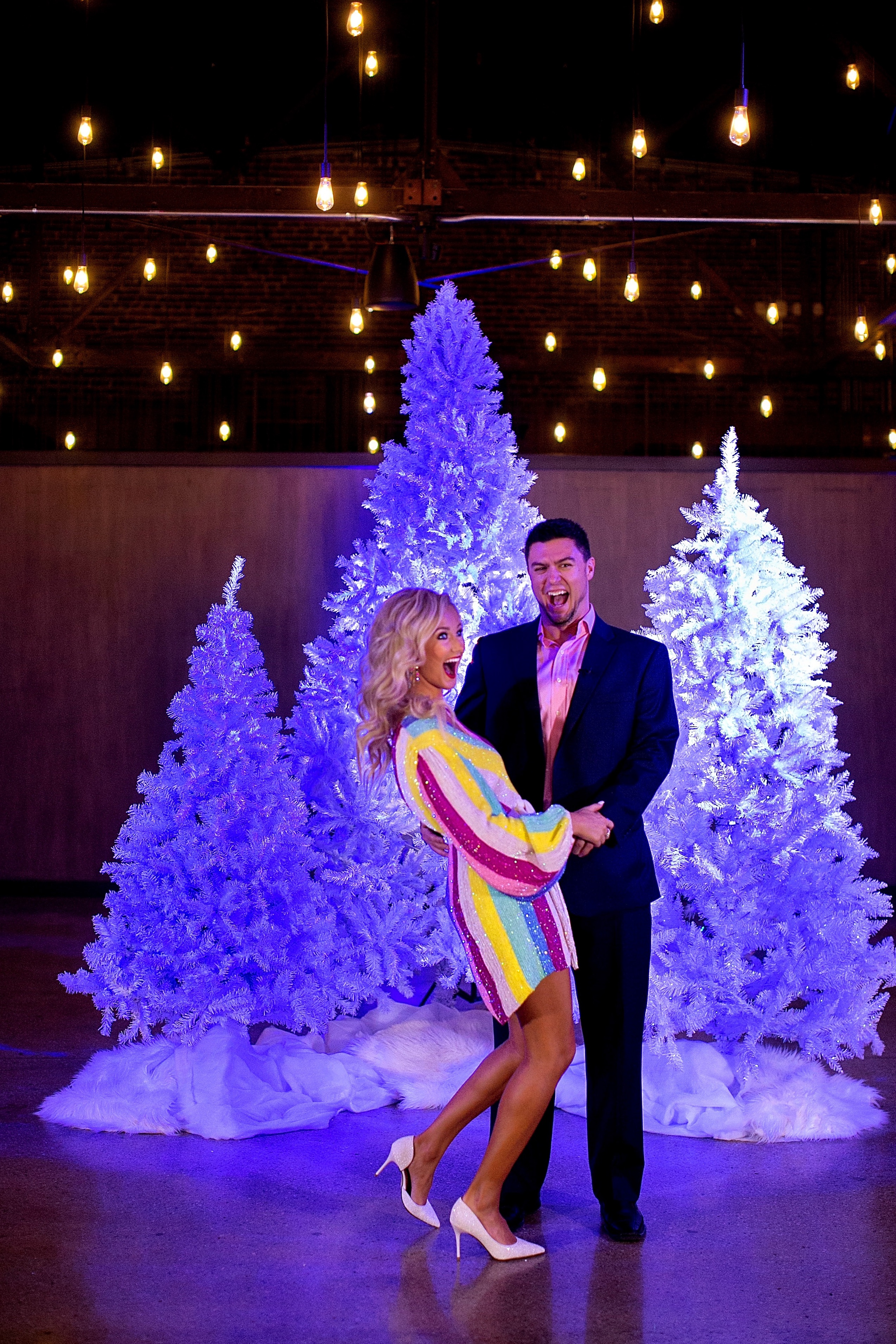 As soon as we saw the room turn blue and heard the song, "let's hear it for the boy!", my heart wanted to jump out of my chest!!! I'm pretty sure my knees even buckled a little bit. 😉 I honestly thought I may cry happy tears then & there (and trust me, I've had my moments since then), but I honestly just couldn't stop SMILING or hugging TJ. I literally just wanted to jump in his arms and scream from all the excitement! Instantly, it made this whole pregnancy and overall experience even more real for me. To find out who is inside of you is unlike any feeling I can even describe! I instantly felt even more connected to my baby once the news sunk in that we're having a little boy. Our son is literally growing, living, and breathing inside of me — it's still the most indescribable, wild feeling to know that I'm growing our little boy right now! See … here come those water works 🙂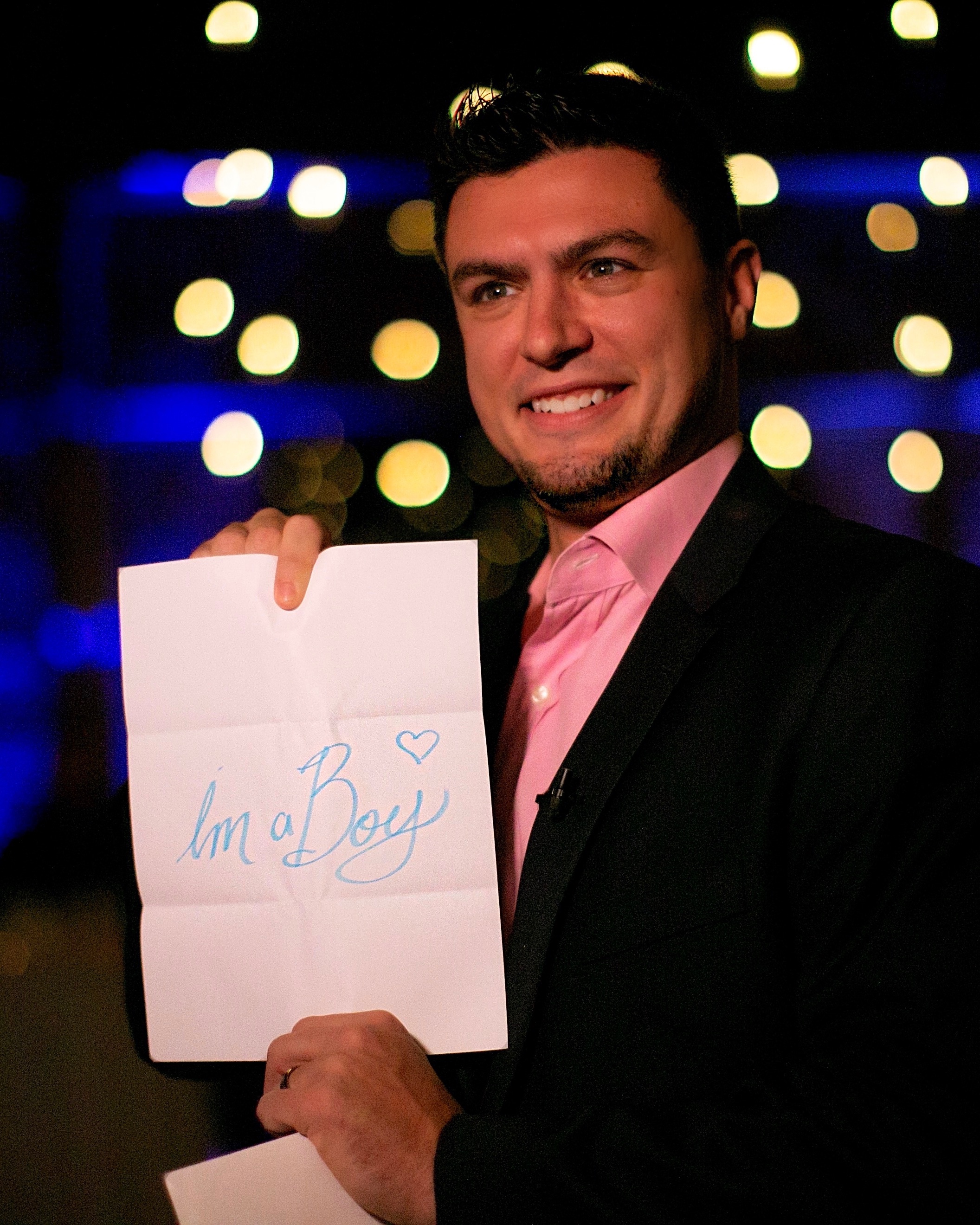 I personally love when events like this one have a few meaningful touches to remember what matters most, so I wanted to incorporate a few that mean so much to us. My sweet Papaw made his famous homemade fudge candy to be served, Mama helped me make all of the floral arrangements and centerpieces (she's a pro!), and Sis was the one who read our "bedtime story" aloud as an intro to the big reveal. We also added a few other special touches to the night, by teaming up with some of our favorite local vendors, who we also worked with during our wedding over 3 years ago!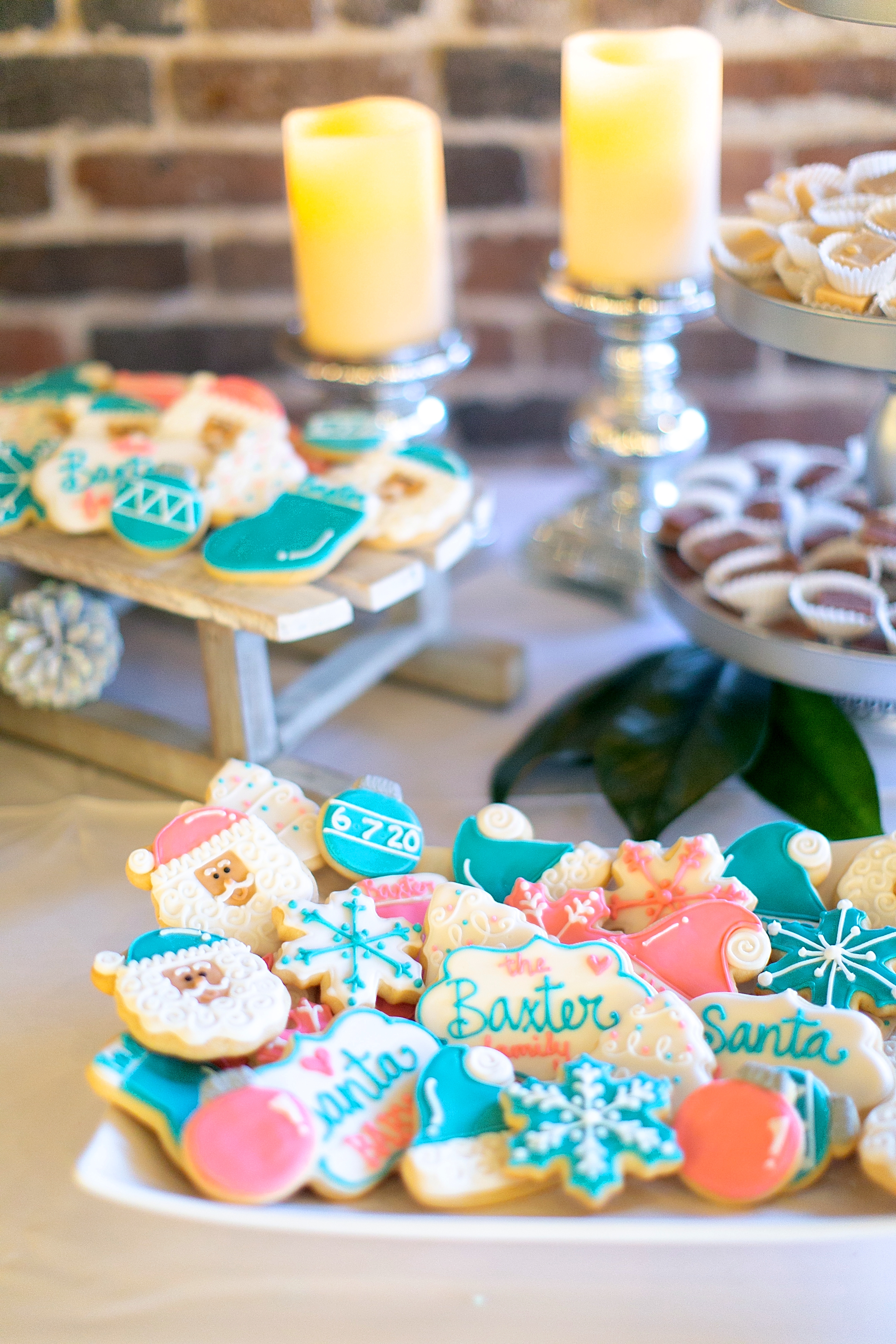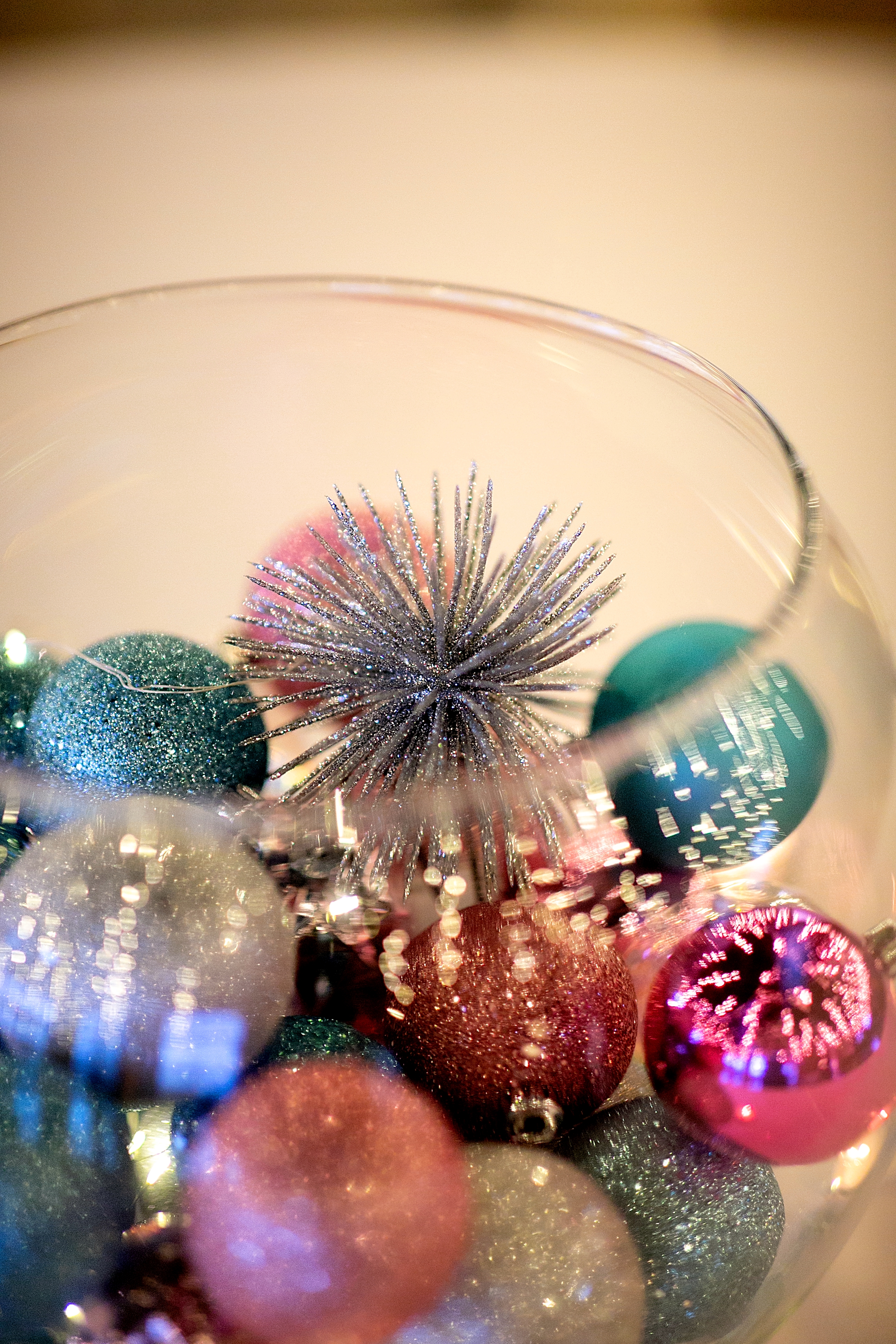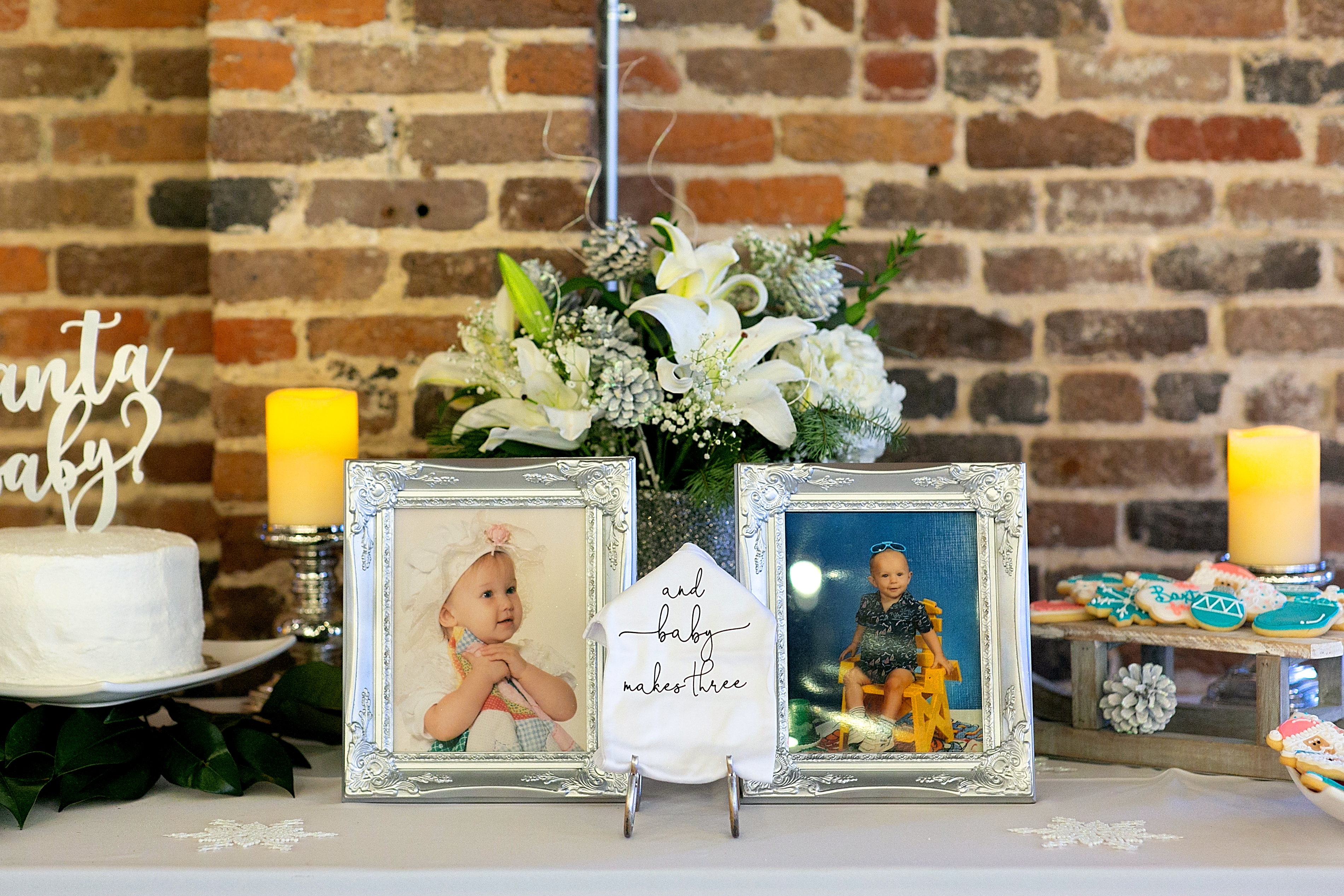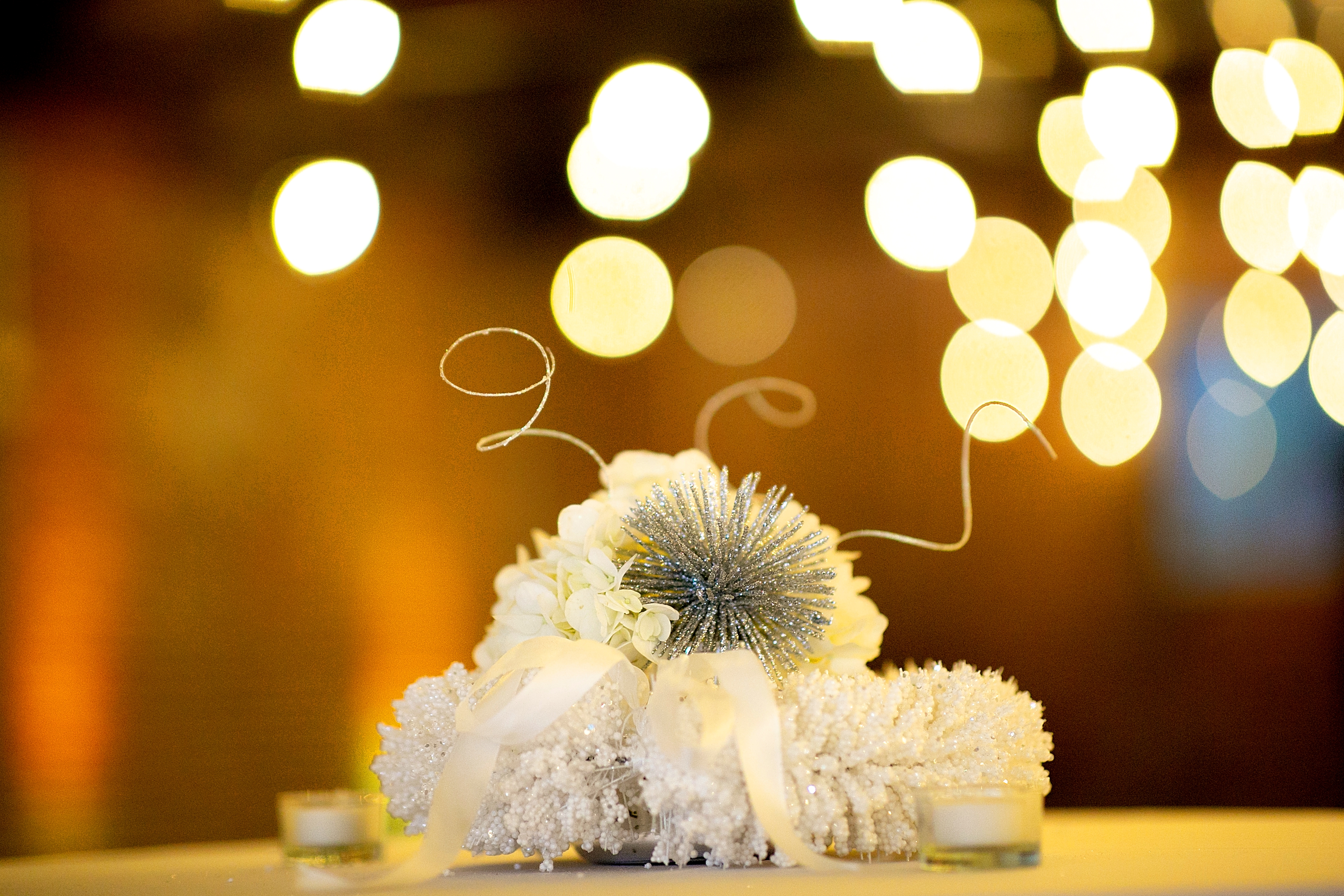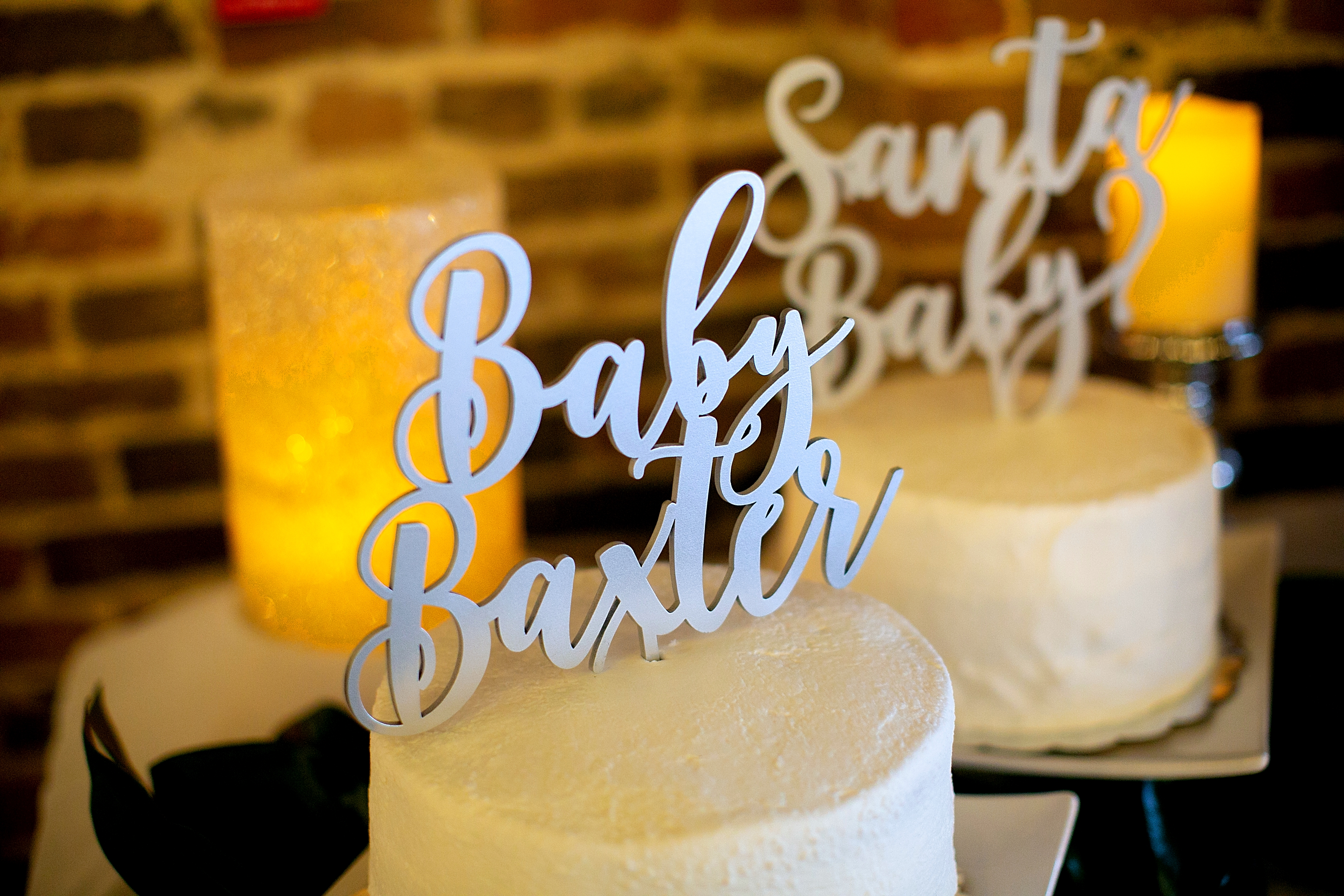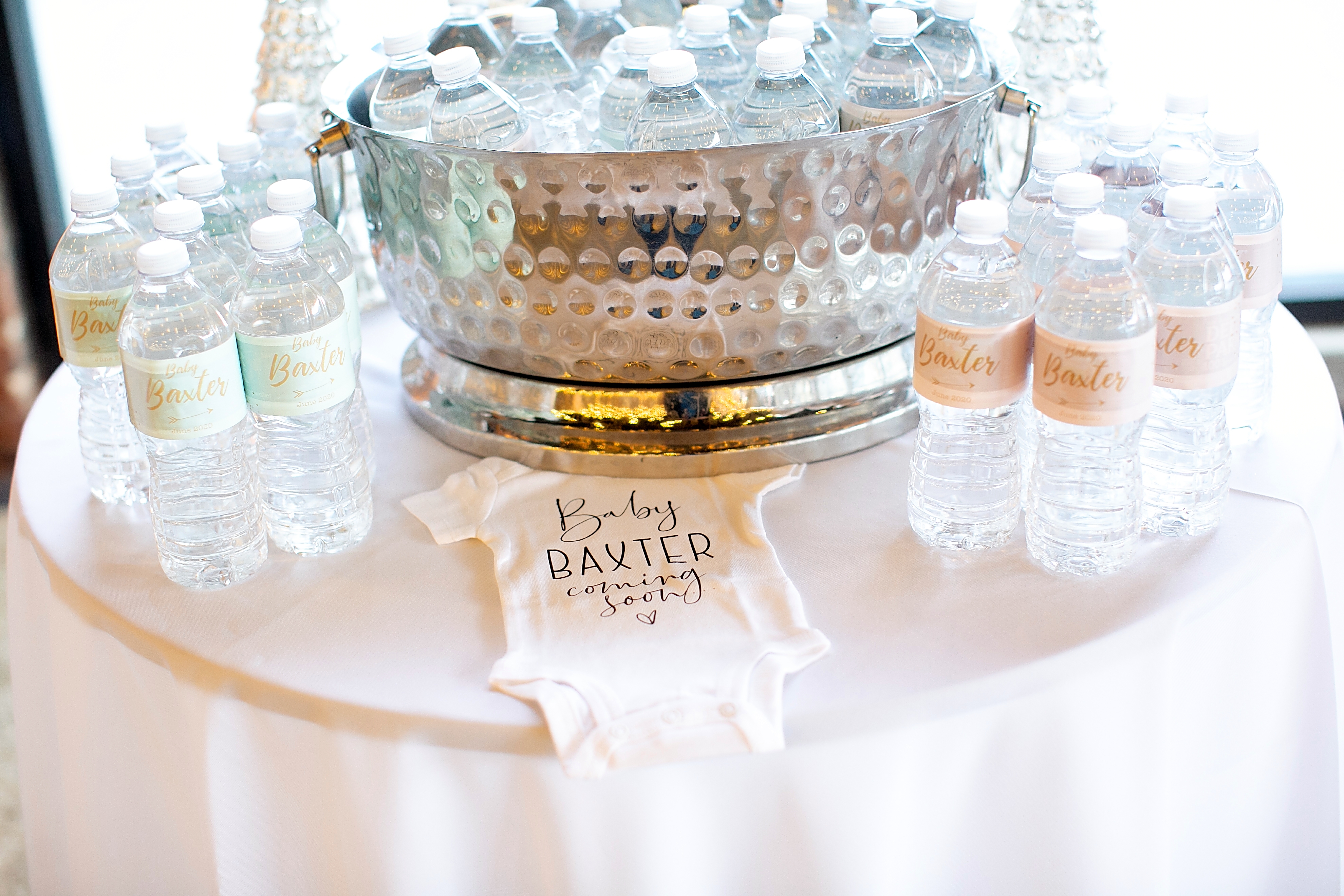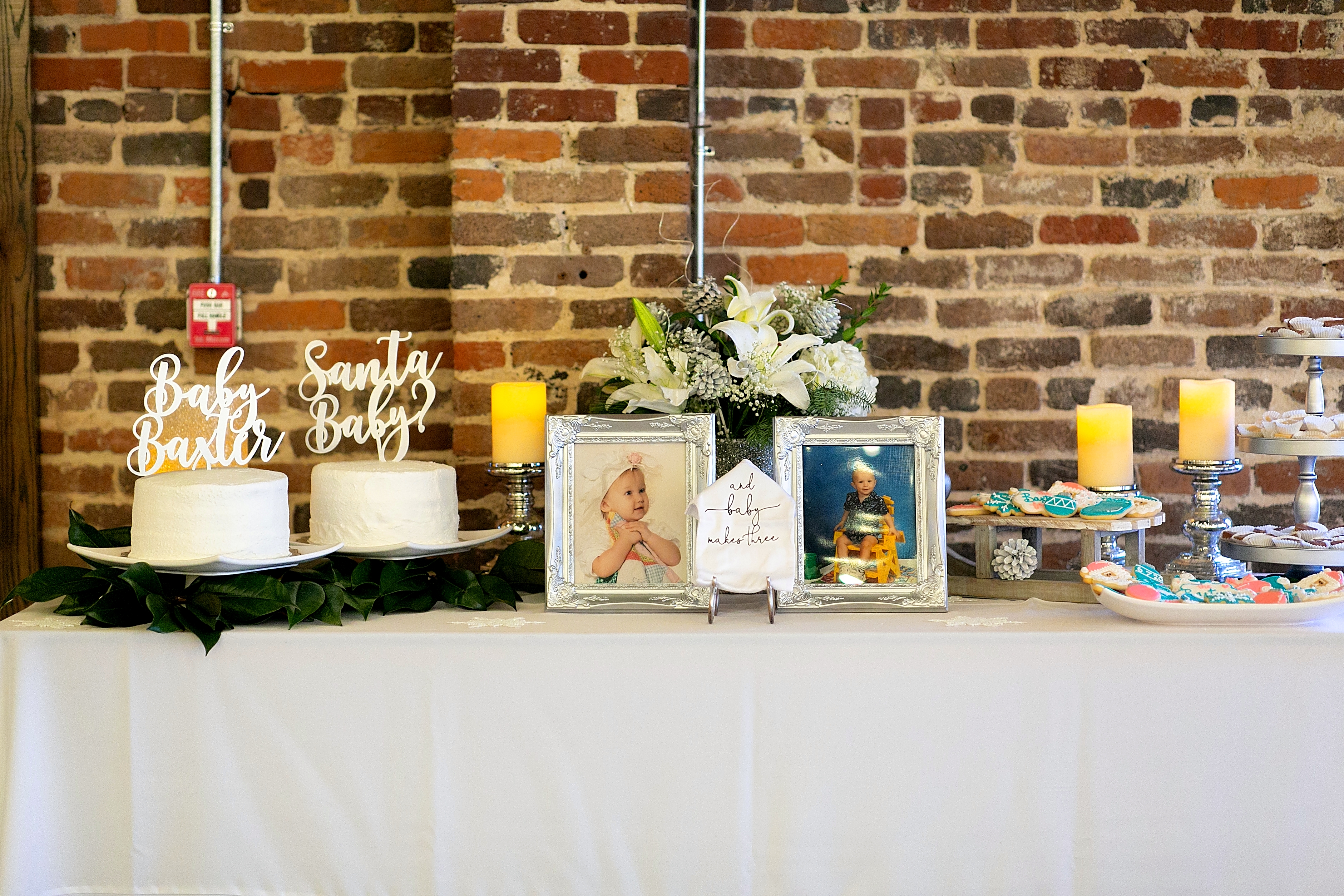 As we were planning the event, we realized that the reveal idea we had in mind would need lighting and music, so of course, it was a no-brainer to reach out to our favorite dee-jay and lighting mastermind, Jim Ogle of Ogle Entertainment. No shock here, but he was instantly more than willing to help us out! He was one of the first people there to set up that day, and he was still there after we had left that evening. He played Christmas music for us the entire evening, and he was in charge of the entire light show and music that we used while revealing the gender. Uplighting, downlighting, dee-jay skill, music of all kinds, the best customer service, and the most fun-loving attitude EVER … you really can't ask for anything more!
Next, that brings me Nathan and Spencer of Milestone Pictures. We hired them for our wedding videography years ago, and we still go back to watch the video they made us, multiple times per year. They. Are. INCREDIBLE! I'll be honest though, we never thought much about hiring a videographer for our gender reveal, simply because we haven't really seen people do that in the past (now I'm so glad we did!). We didn't really think of the idea … until a few days before the event. Yikes! Once we decided that it would be nice to have video footage to look back on this special night, I thought it may be too late to contact them. I mean, it was only a few days prior to the event … oh yeah, and right before Christmas.
I decided to reach out to Nathan and Spencer, just incase they may have availability that evening (and a desire, even) to come out to our reveal at such late notice, and I kid you not, they made us feel like they wouldn't have missed it for the world!! Spencer showed up that night, camera equipment in hand and the biggest smile on his face, with so much excitement for our special night. I've said it before and I'll say it 1000 more times, Milestone Pictures just continues to amaze me in so many ways. The most talented — the most welcoming — the quickest turnaround time — the biggest hearts. They will always be so special to us because they have given us such precious gifts that we will cherish forever and look back on for years to come. Because of them, we'll be able to share the best days of our lives with our future children and grandchildren, and that's really the most priceless gift I can think of. We couldn't be more thankful for them and can't recommend any other videographers out there that could exceed their talents, abilities and hearts for their clients. They are genuinely the best! **Linking the Gender Reveal video they made for us at the end of this post!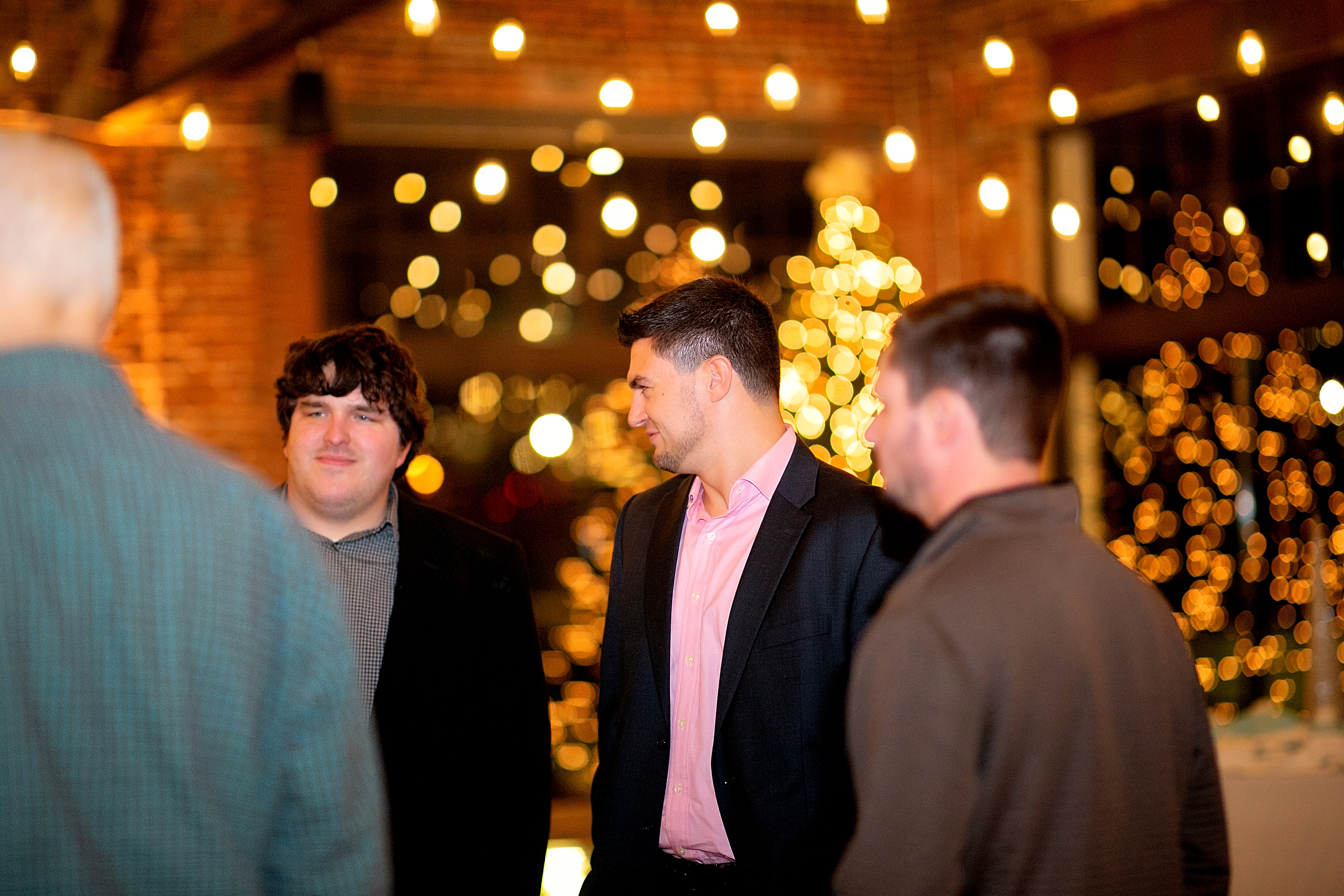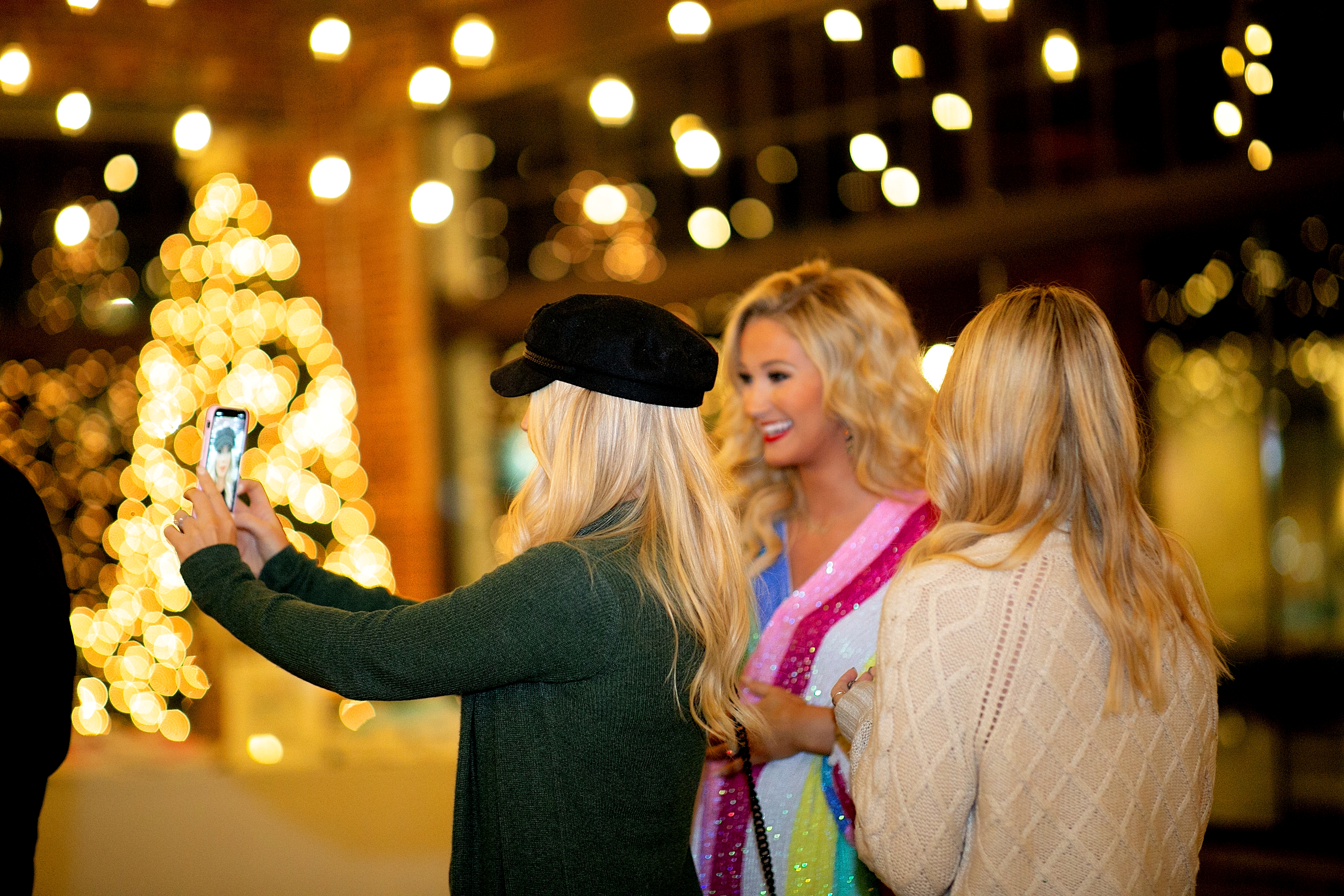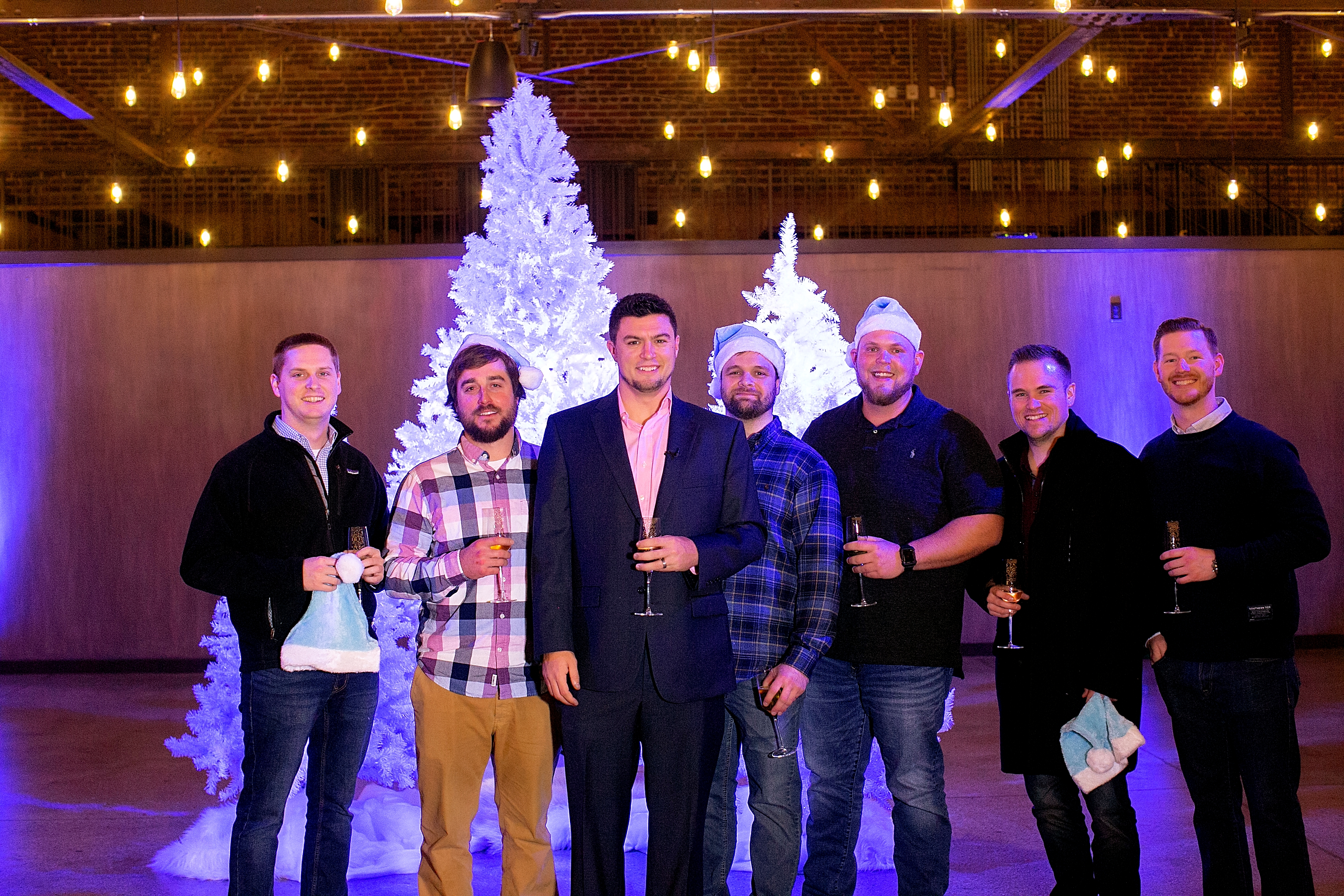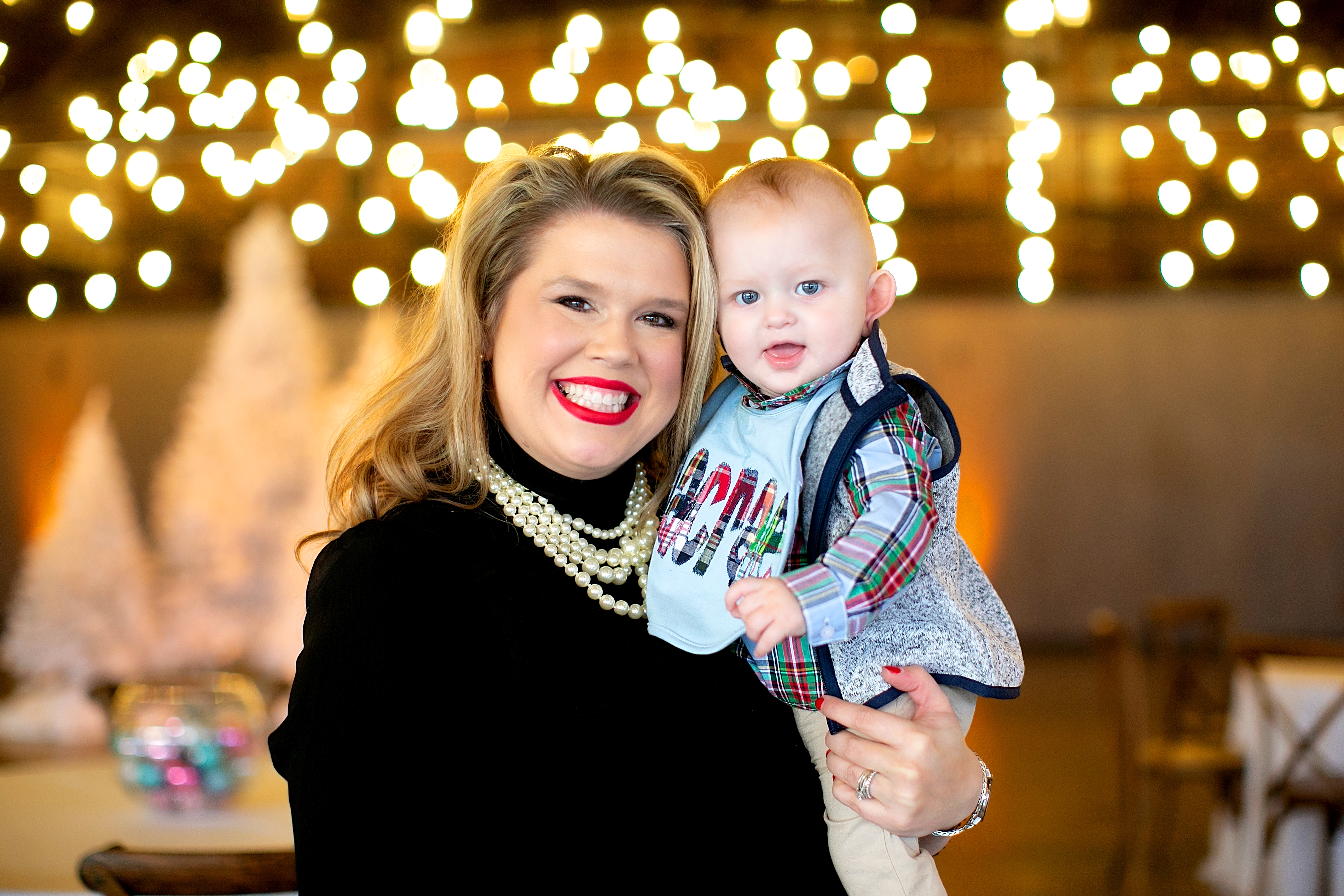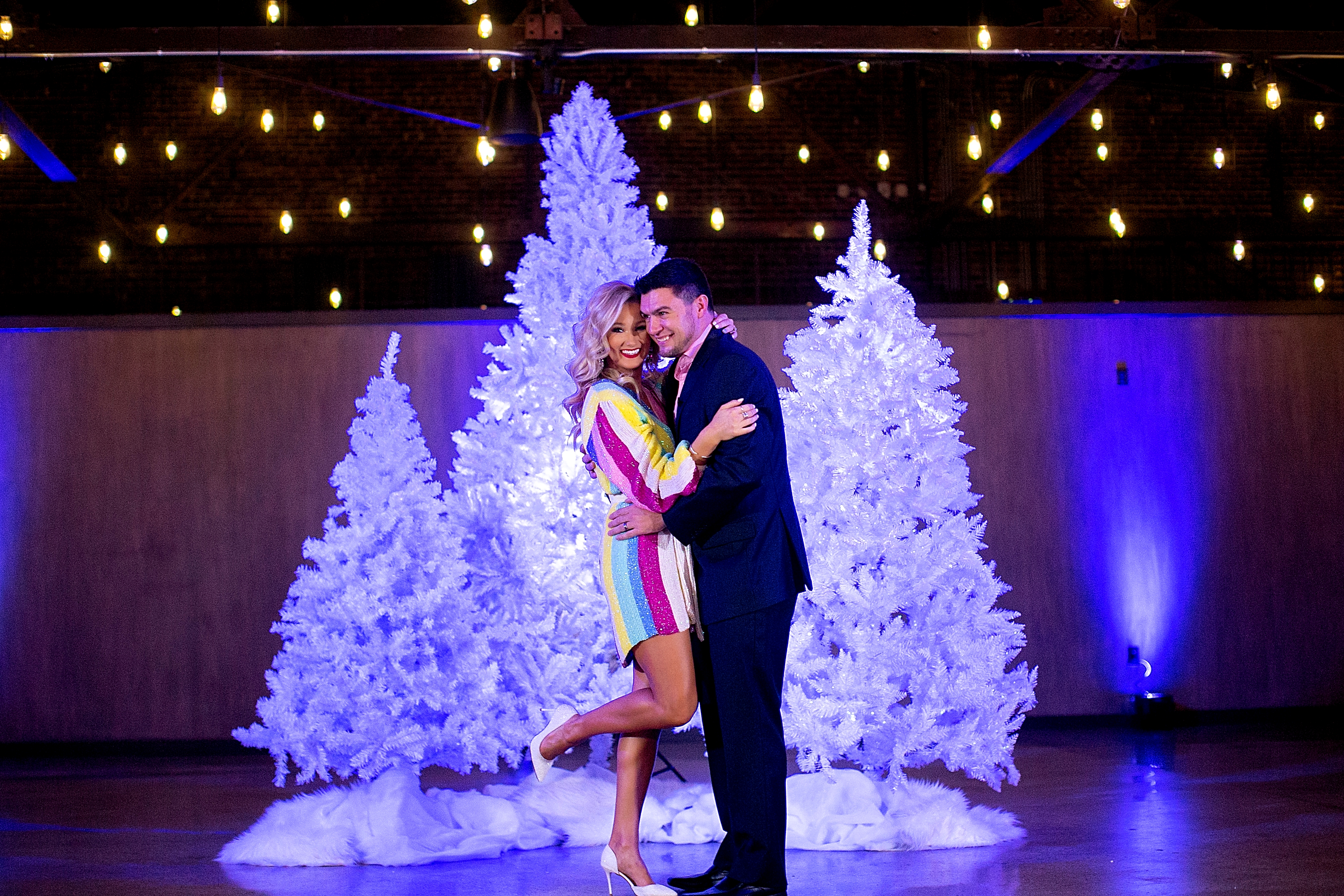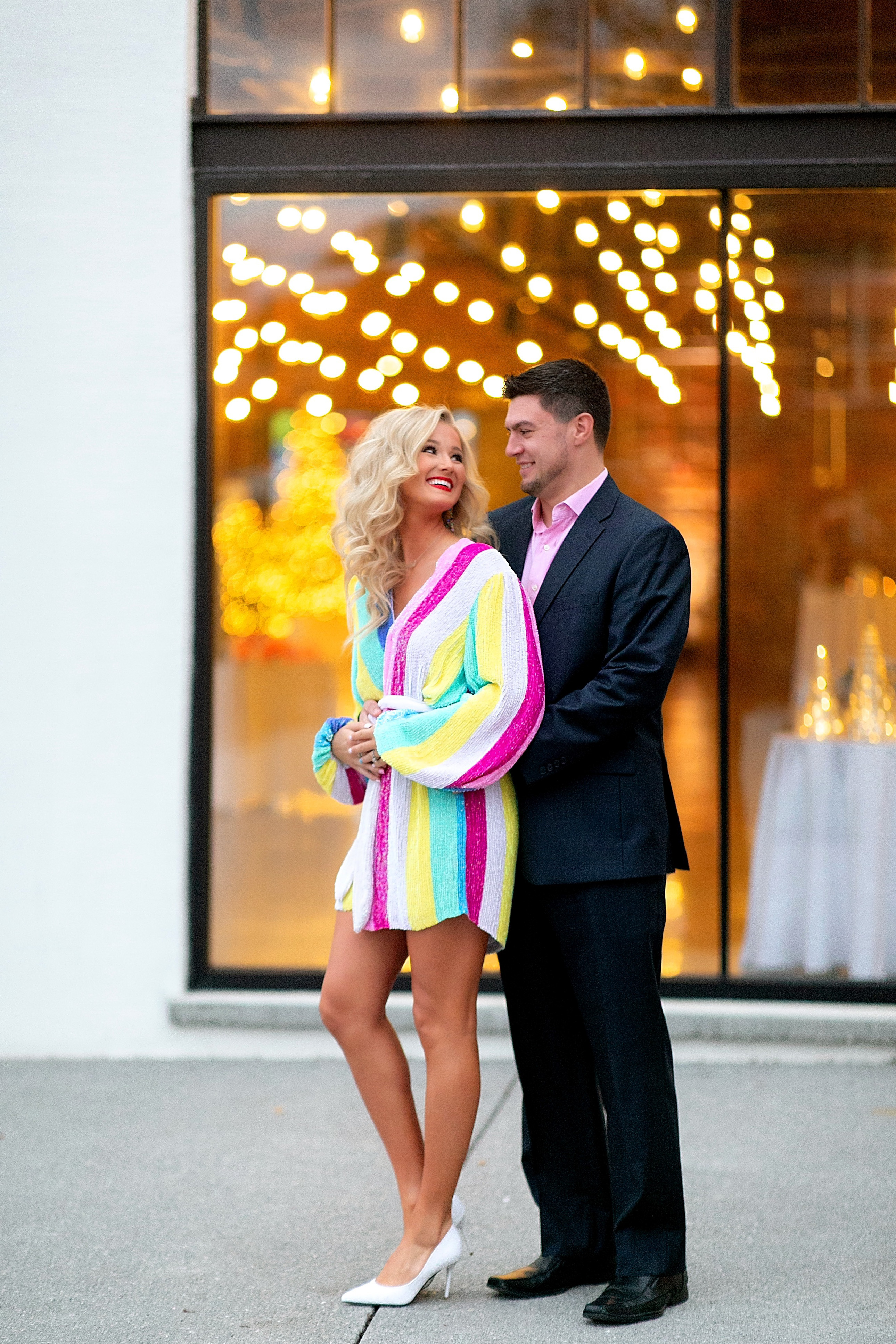 Speaking of the best … we also reached out to our favorite lifestyle photographer and dear friend, Katherine Birkbeck, to capture all the photography throughout the night. For a little background, Katherine photographed our engagement session, our entire wedding day, and now, our gender reveal! We also plan for her to take some maternity photos later on in my pregnancy — I already can't wait for that! Over the years, I've also attended wedding shows with Katherine to talk with her future brides and shot a magazine cover with her for The Pink Bride Magazine. She is truly the sweetest person you will ever meet, who makes everyone feel so beautiful and comfortable in front of the camera! I also value that she pays attention to the meaningful moments and captures those candids that really show your friends' and family's personalities, along with the most special moments that you want to keep in your heart forever. We always gravitate to Katherine's style of photography for the candid photos and the enhanced (yet, natural) edits that she adds to her images. She is so talented and someone that we absolutely can't imagine not being there for all of our big 'life events'! I could go on for days about how amazing she is, but the photos throughout this blog post alone speak for themselves — she captured every single one (and had all of them sent over to me just one day later)!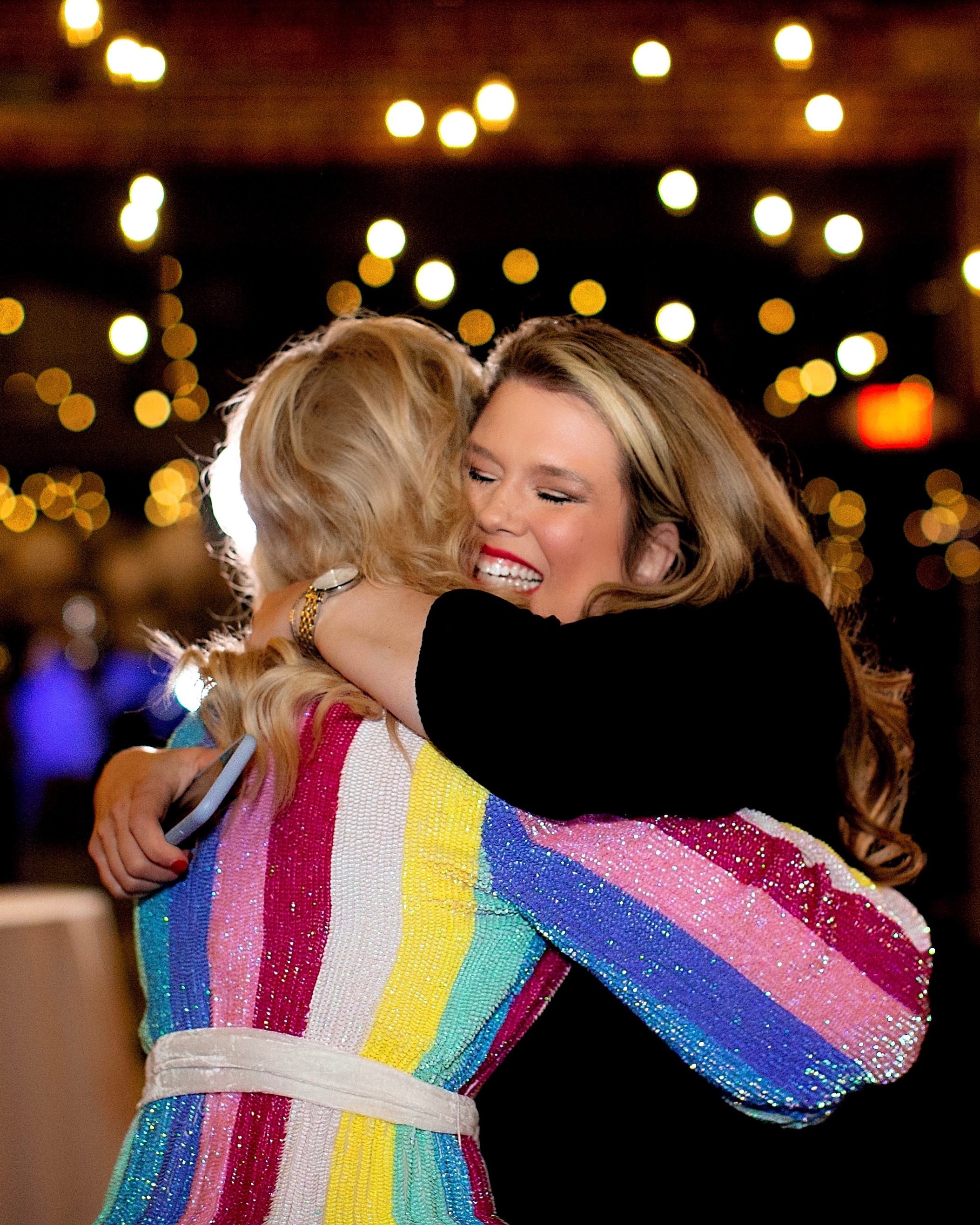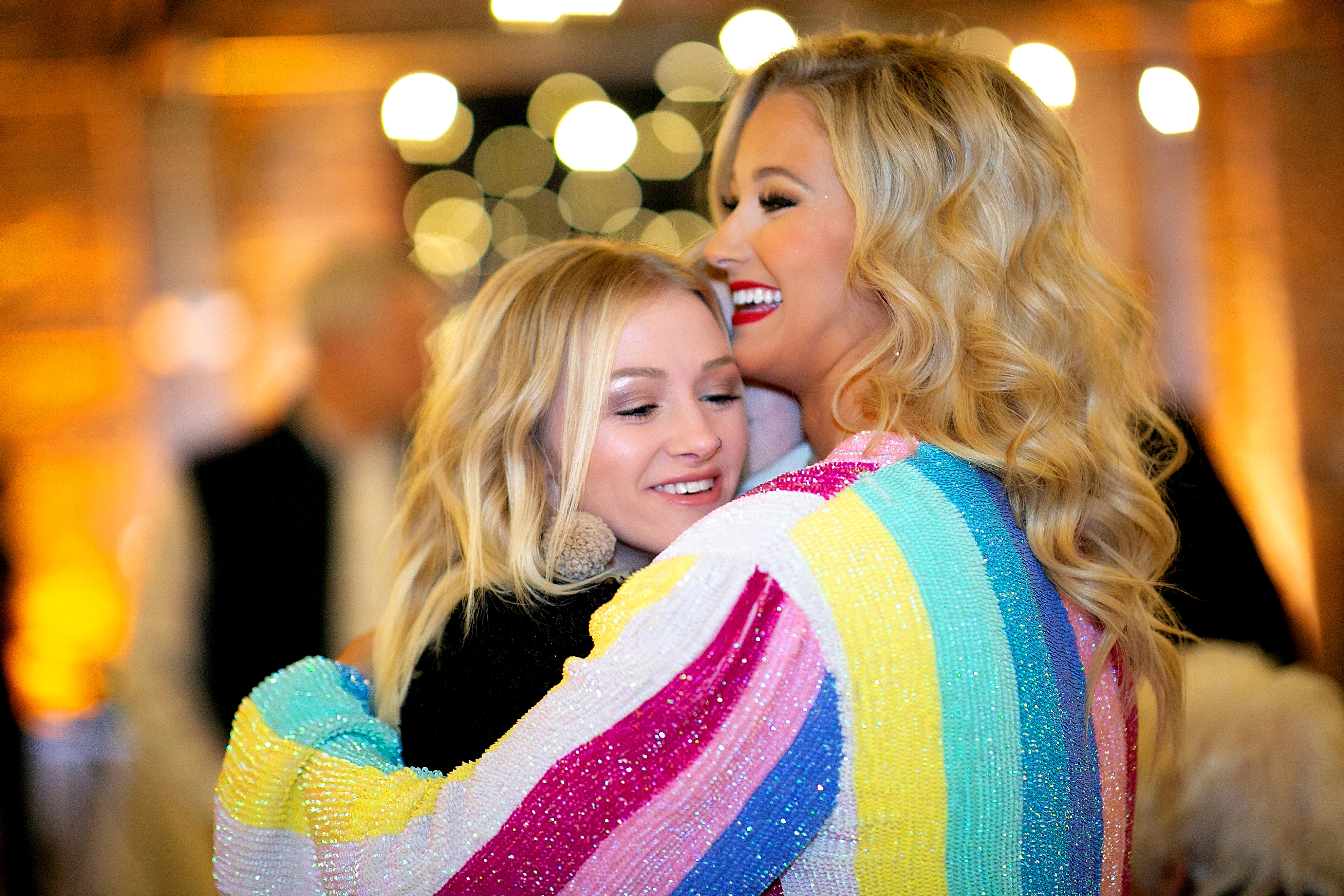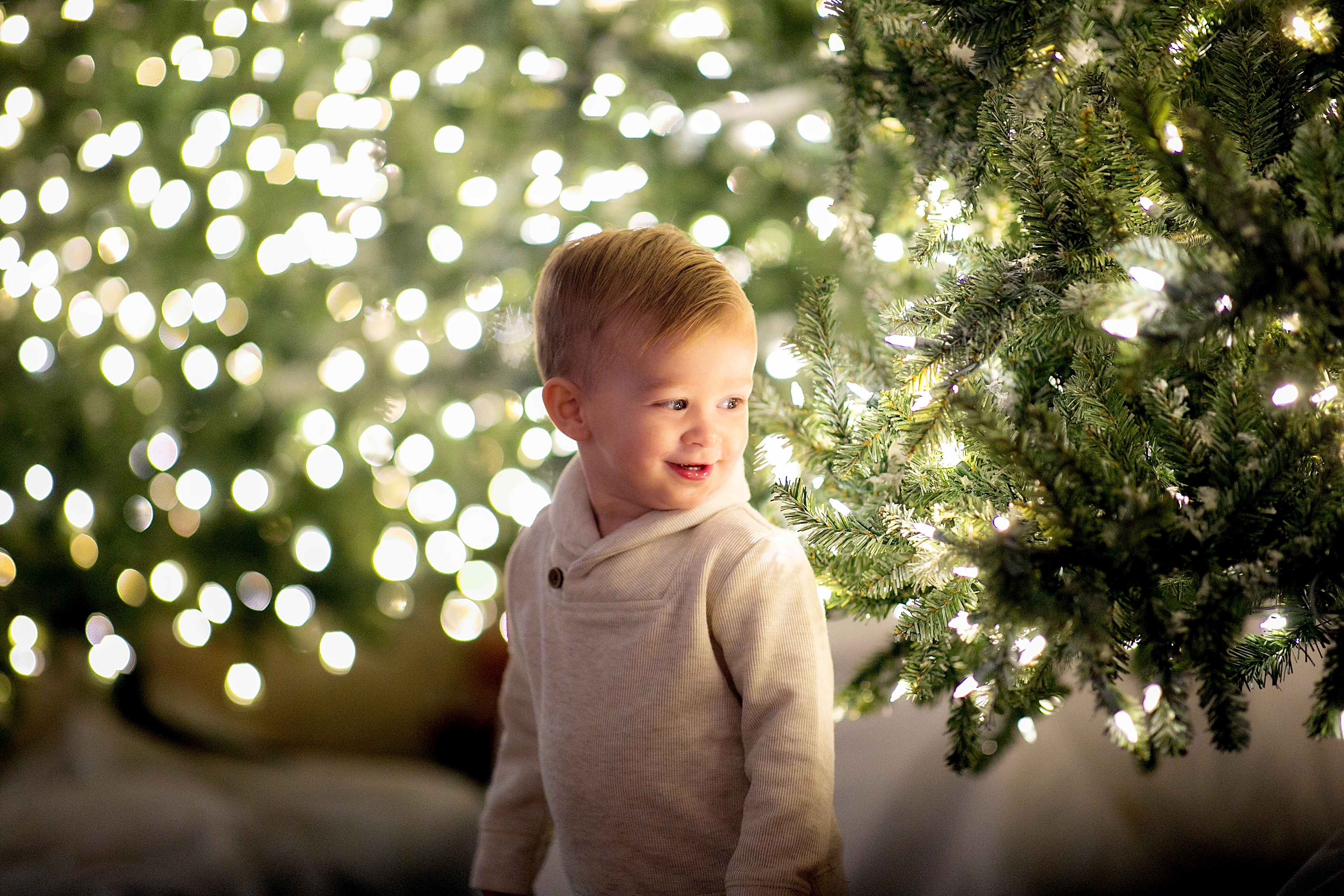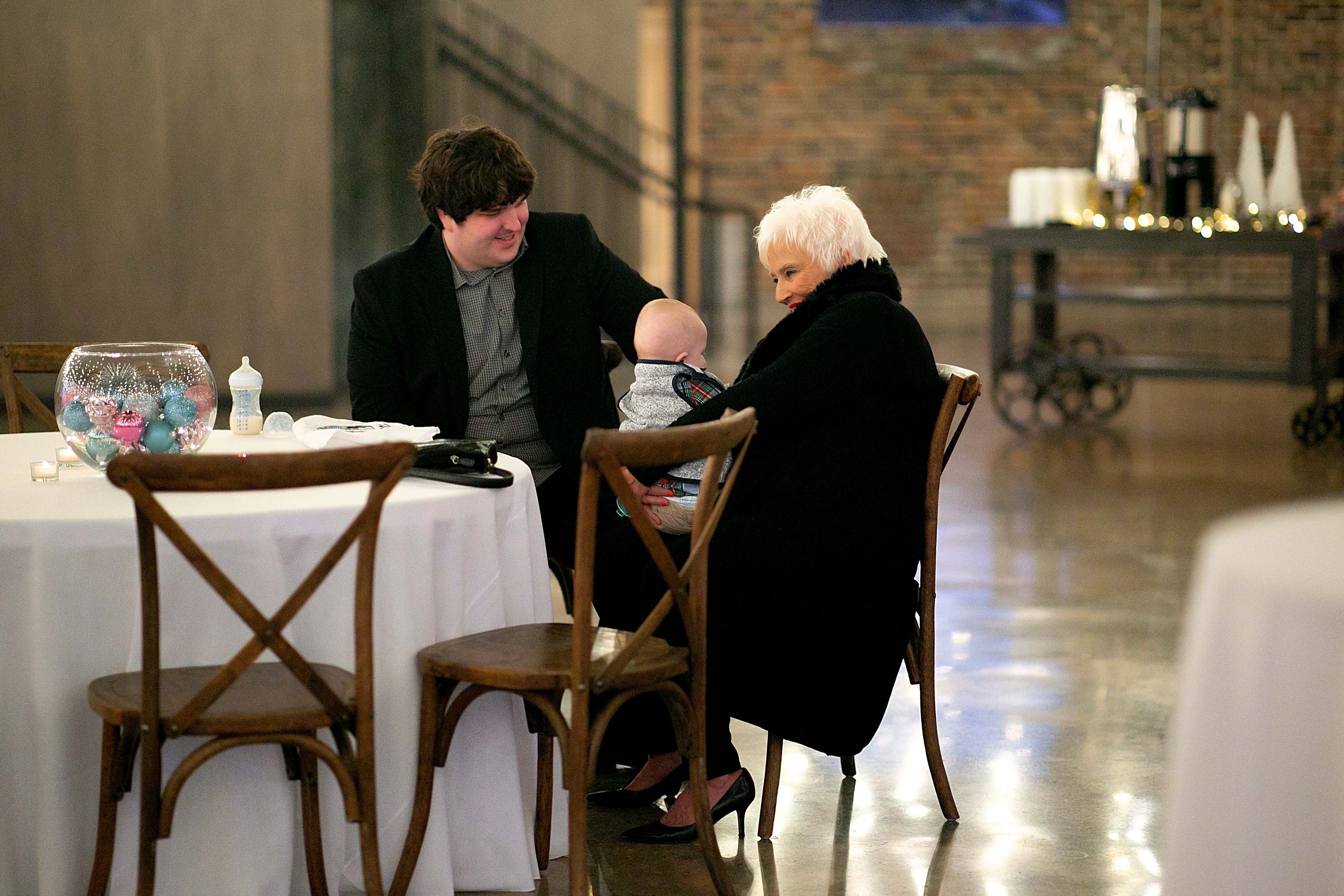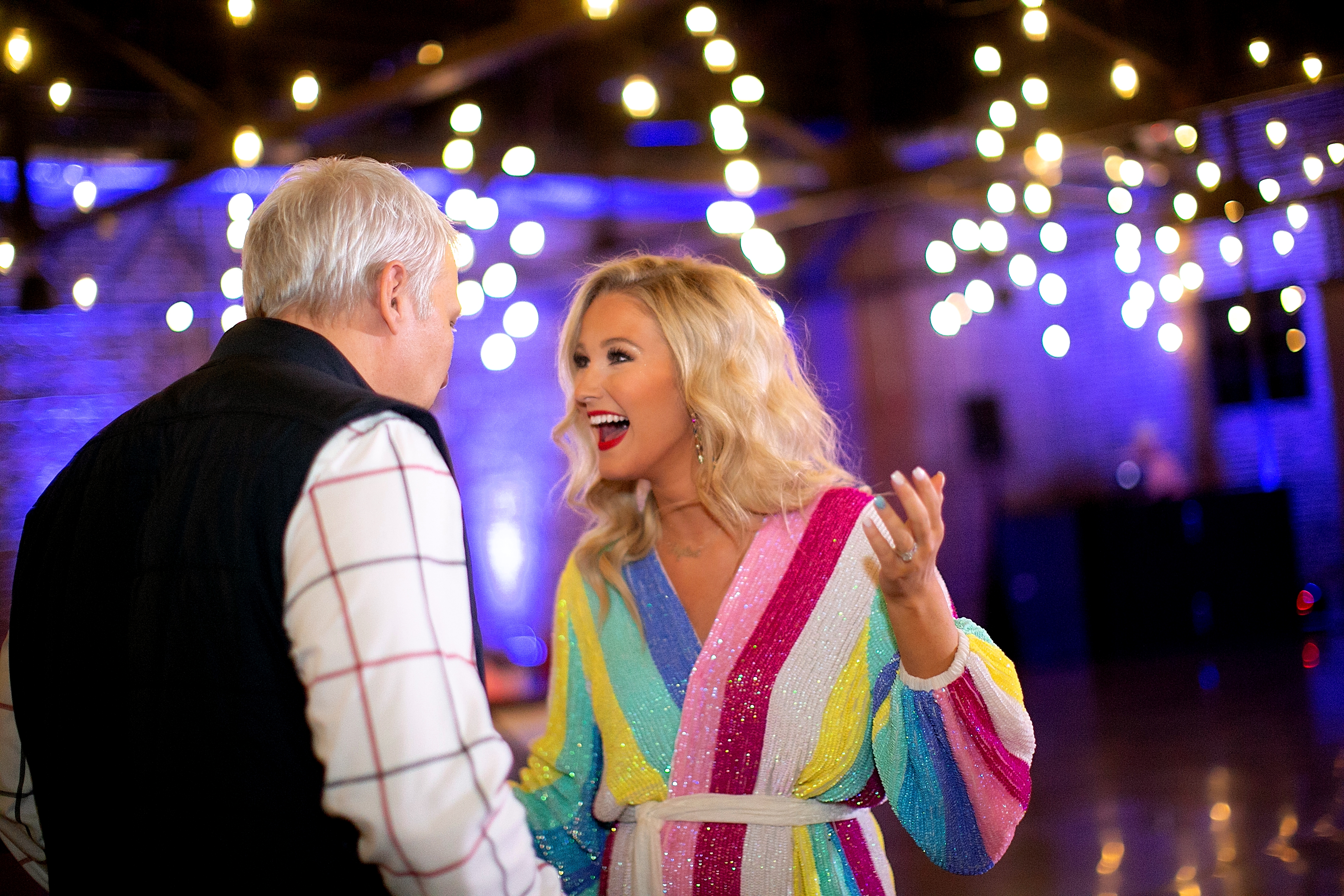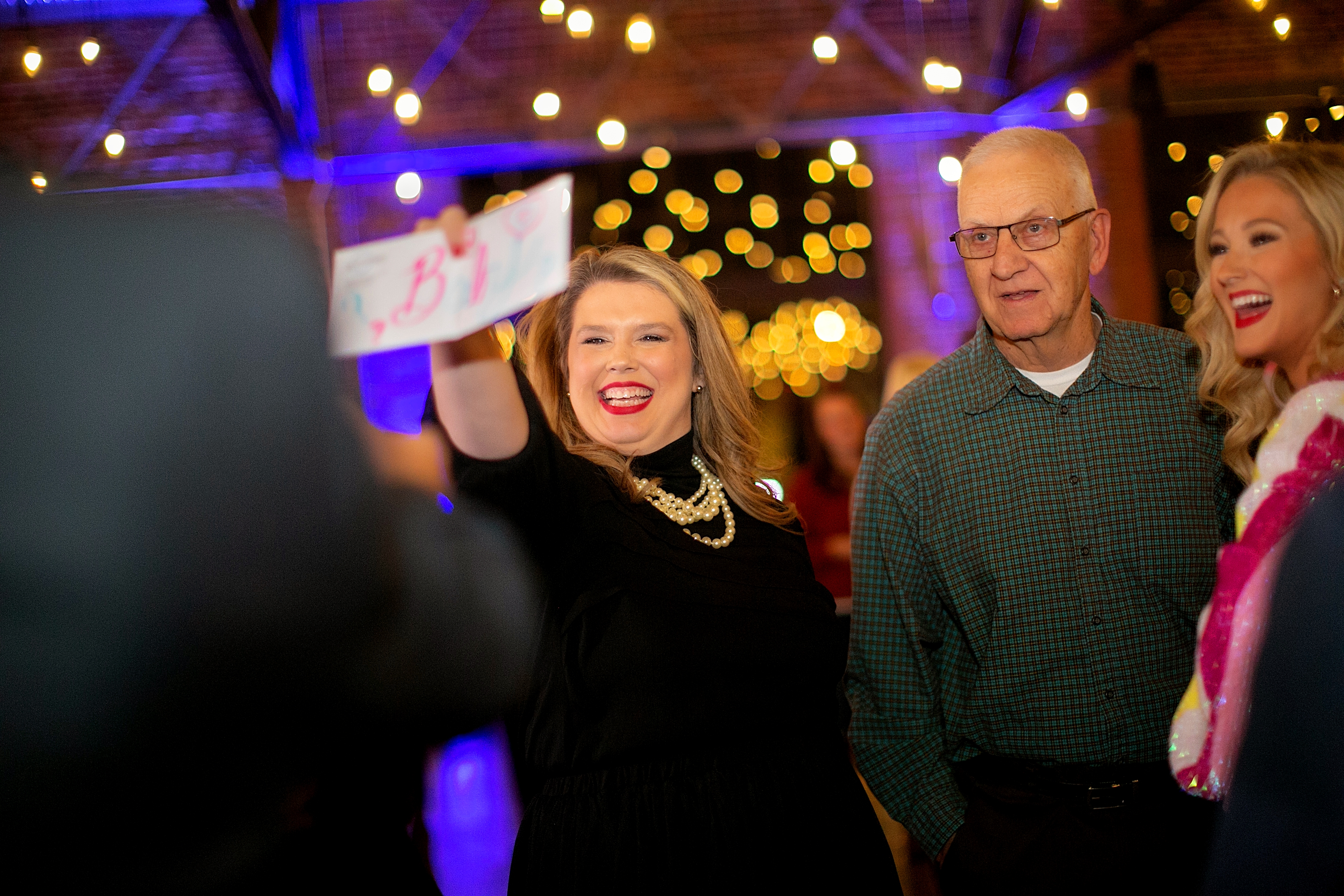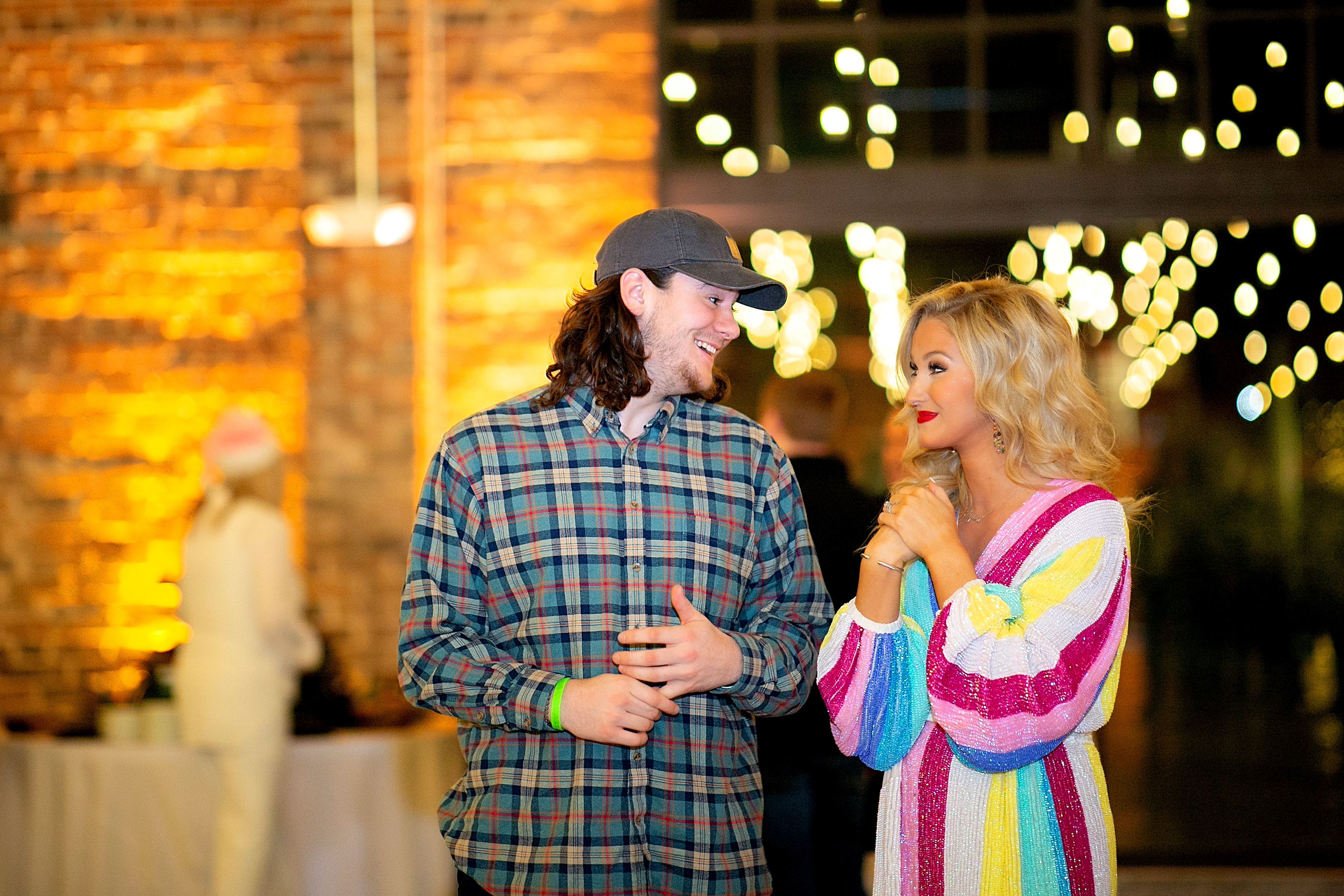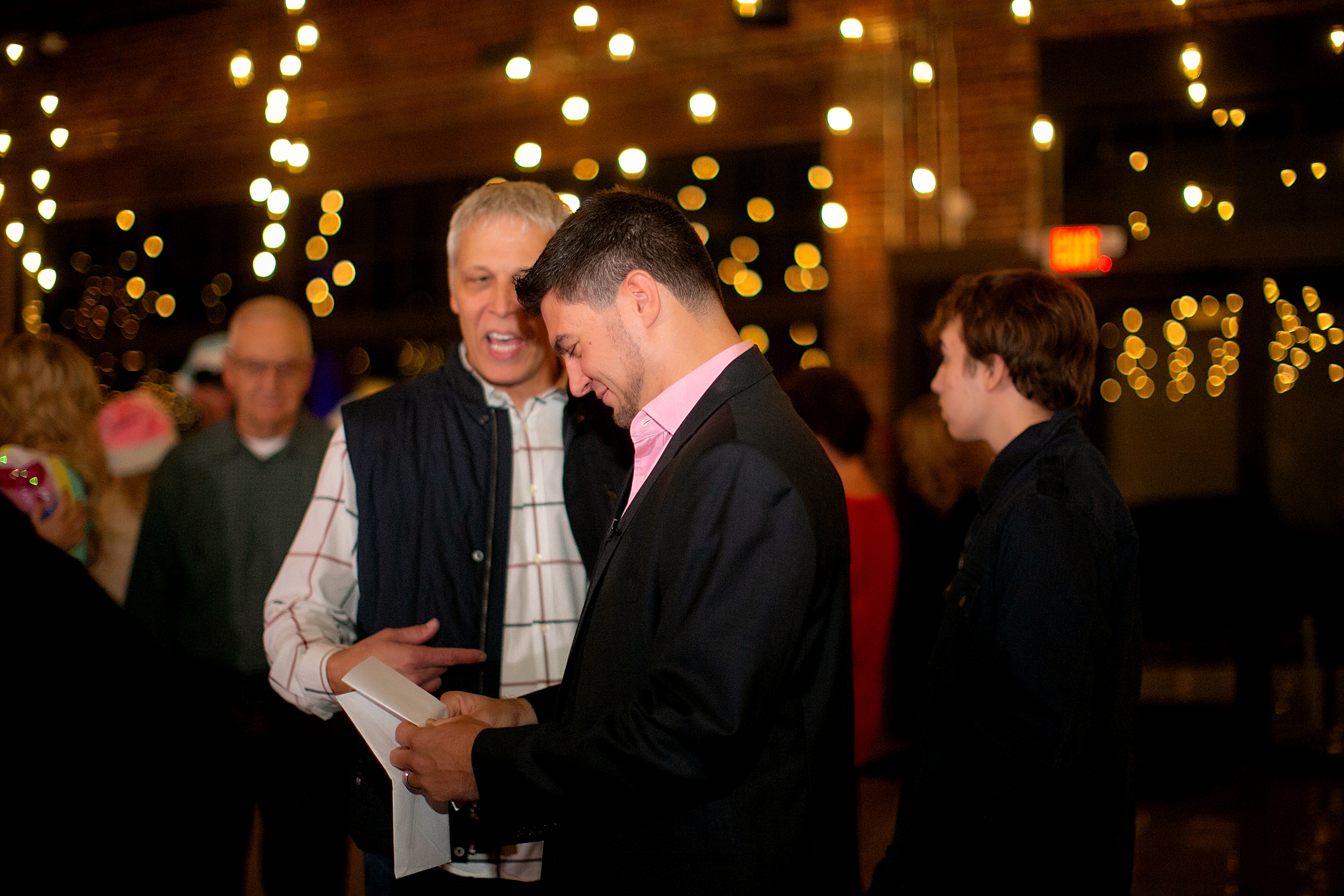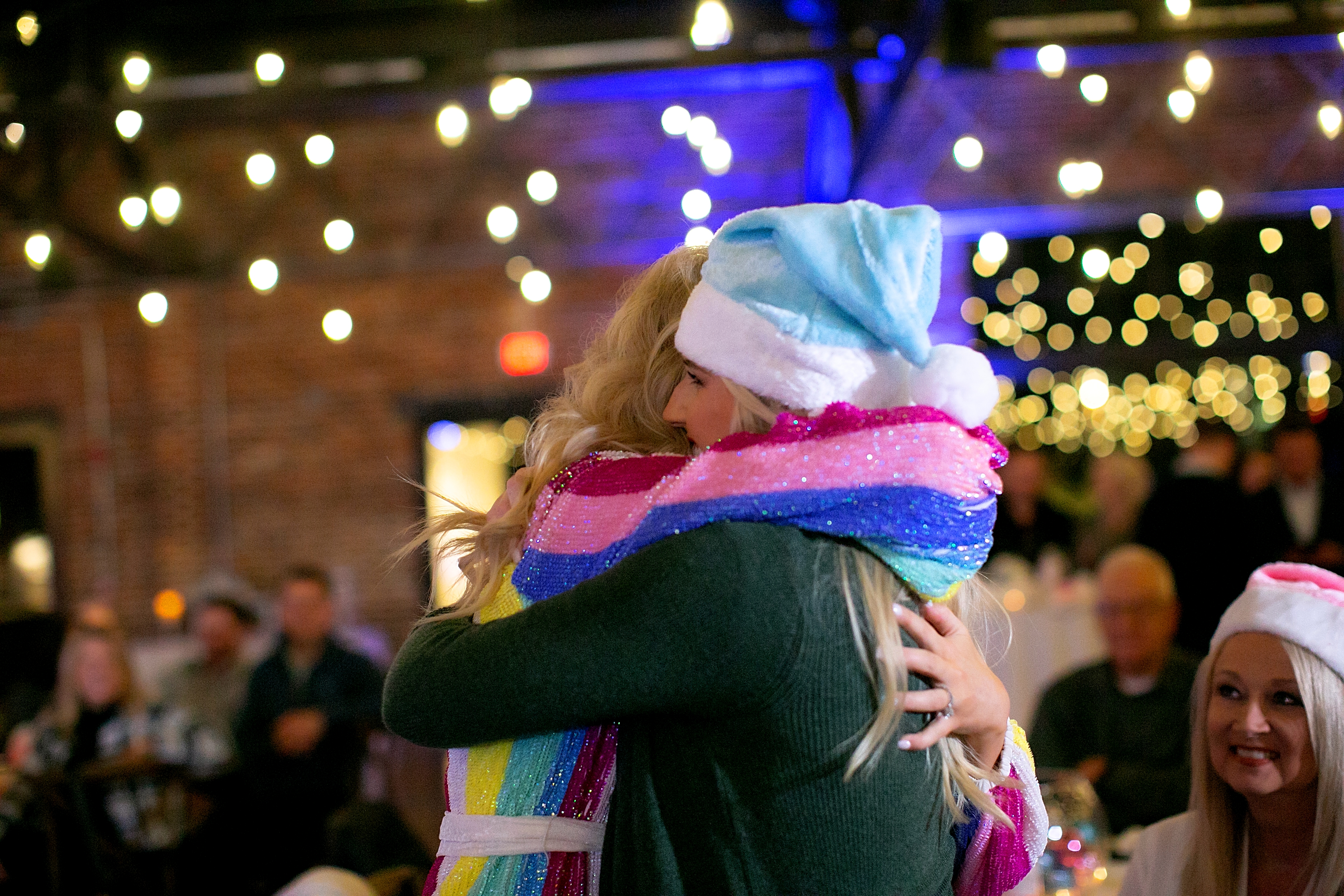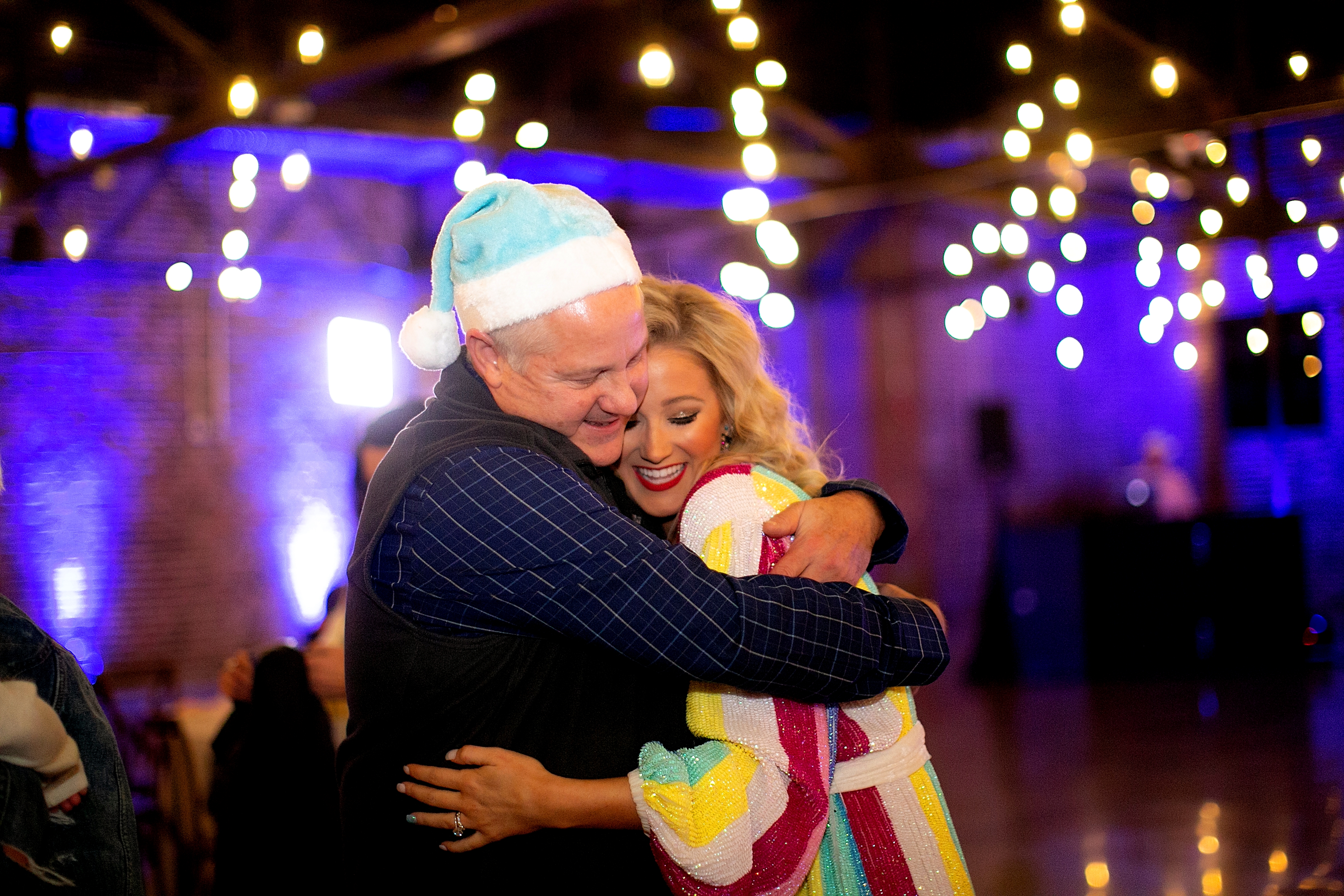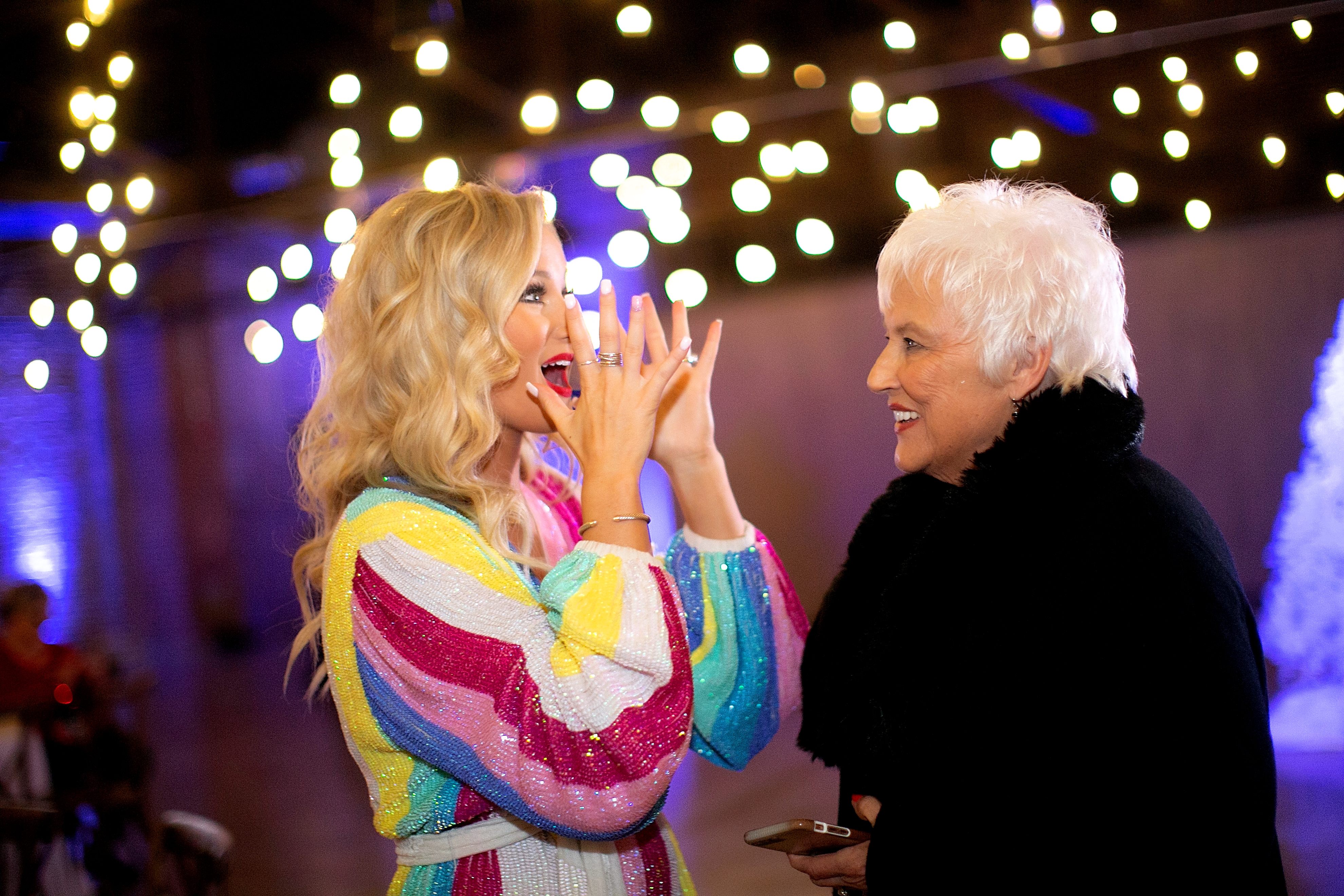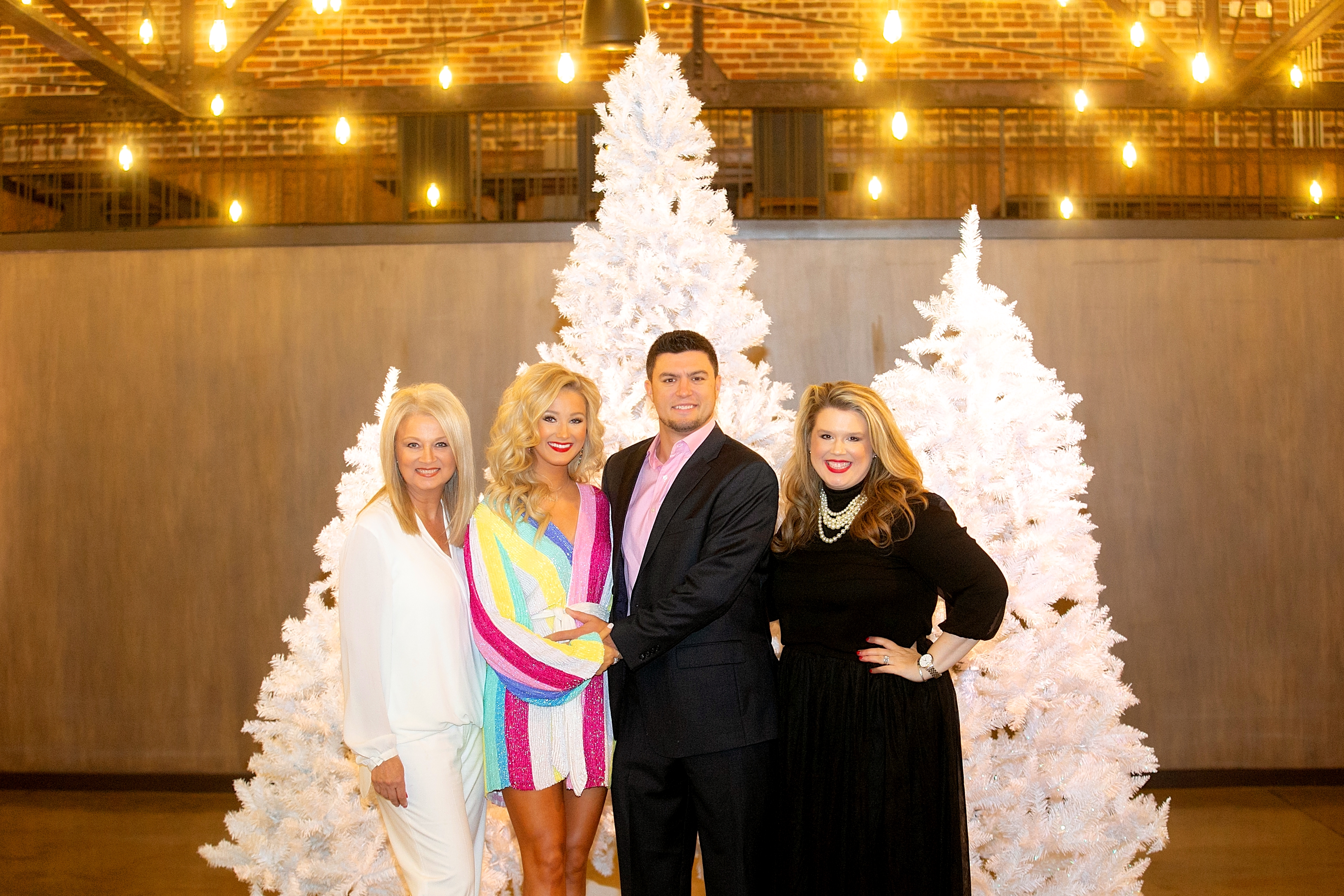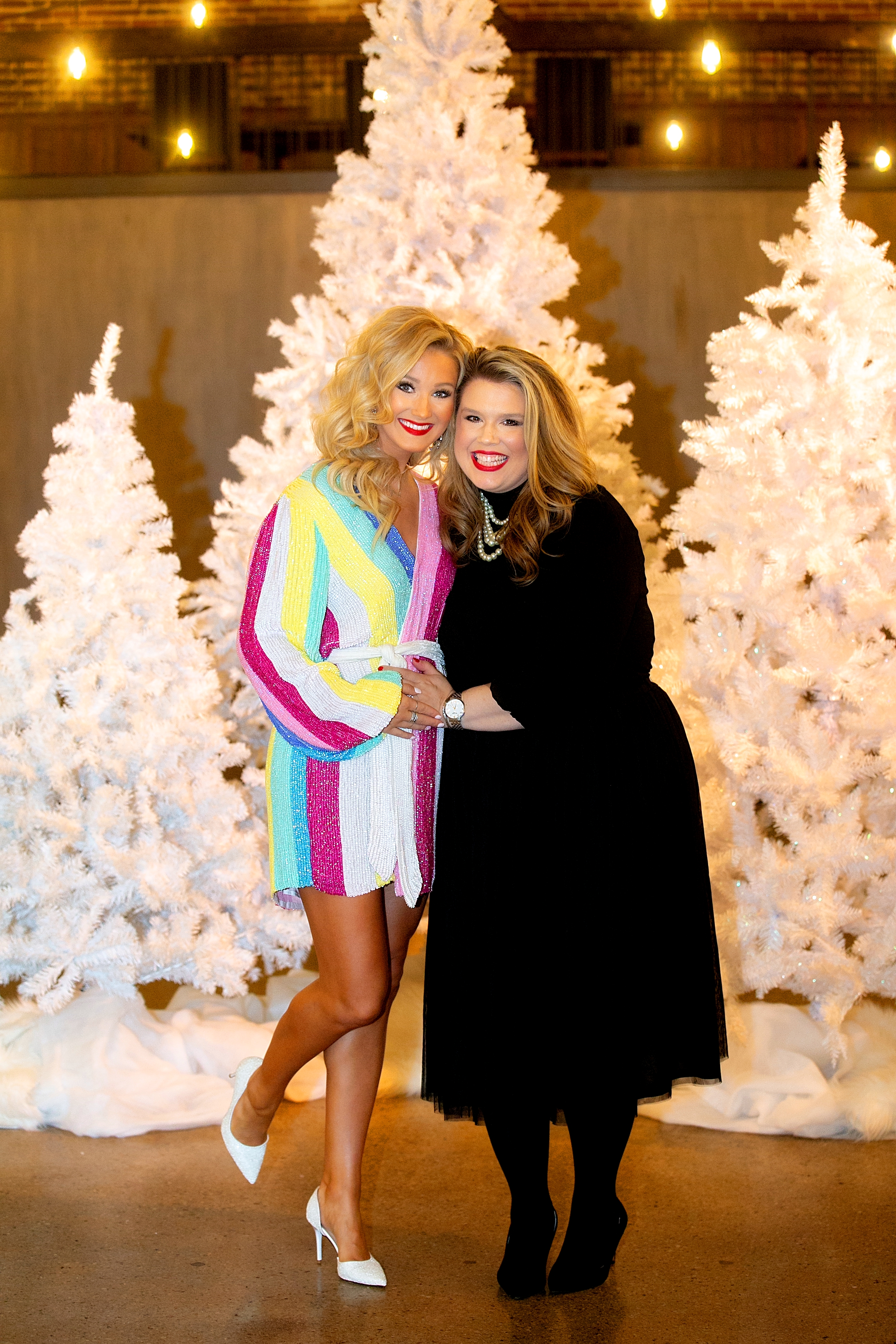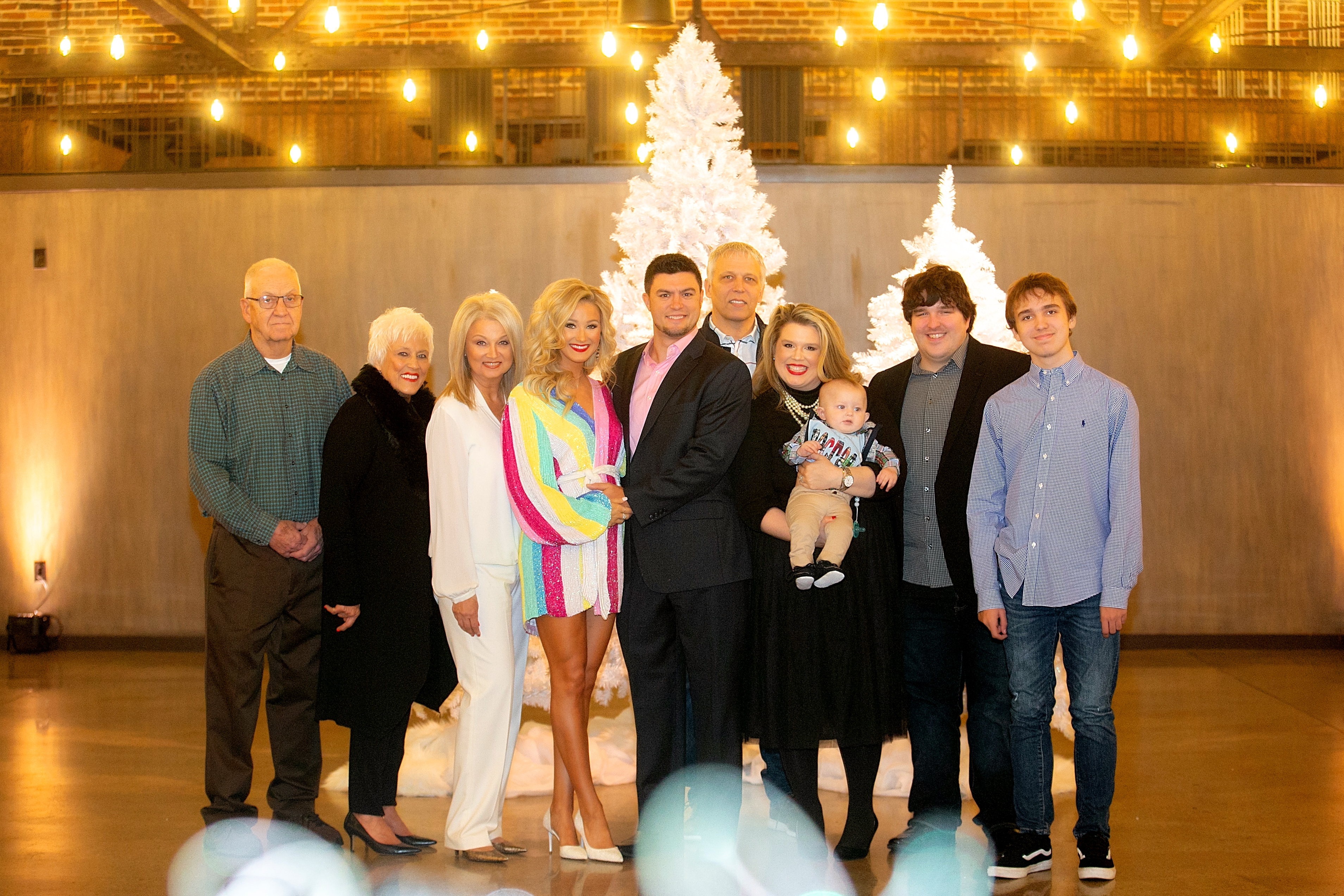 It was so special getting to team up with a few of our all-time favorite event vendors again, after having such an amazing experience with them during our wedding day!
While we're on the topic of vendors, I also want to share where our gender reveal took place because I've received so many DMs from you all about this over on my Instagram. We teamed up with The Press Room for our event, and they were incredible to work with!! They not only provided the most magical venue space to create our own little Winter Wonderland, but they also helped us with the hors d'oeuvres, hot chocolate bar, setup and cleanup. The Press Room can provide all food and drinks + it can fit up to 500 guests! (Perfect space for weddings or rehearsal dinners too!) The wait staff and customer service definitely exceeded our expectations, and if we ever have another event in the future, The Press Room will be high up on the list because of the great experience we had there. Not to mention, the venue is absolutely STUNNING in itself! We were so pleased!!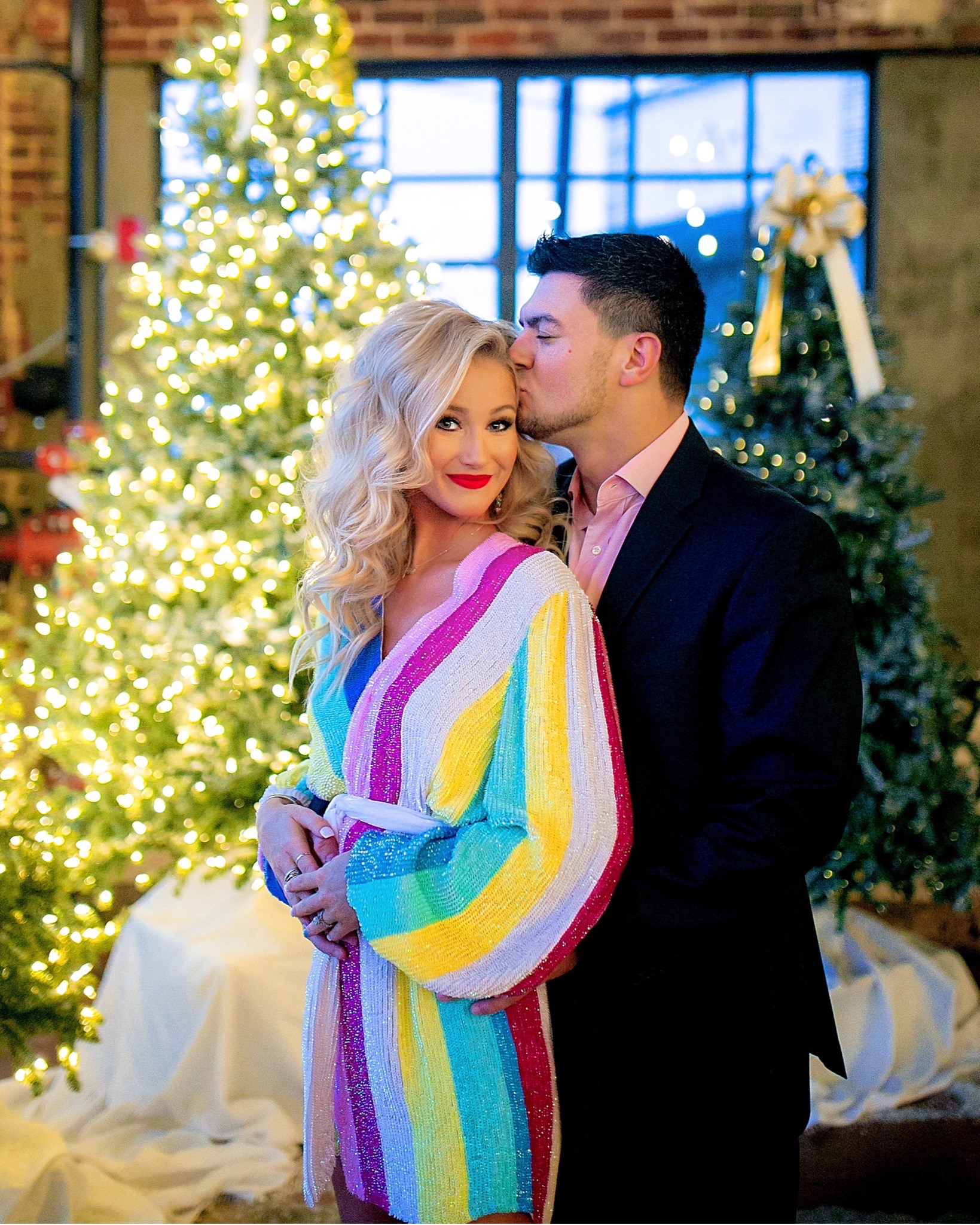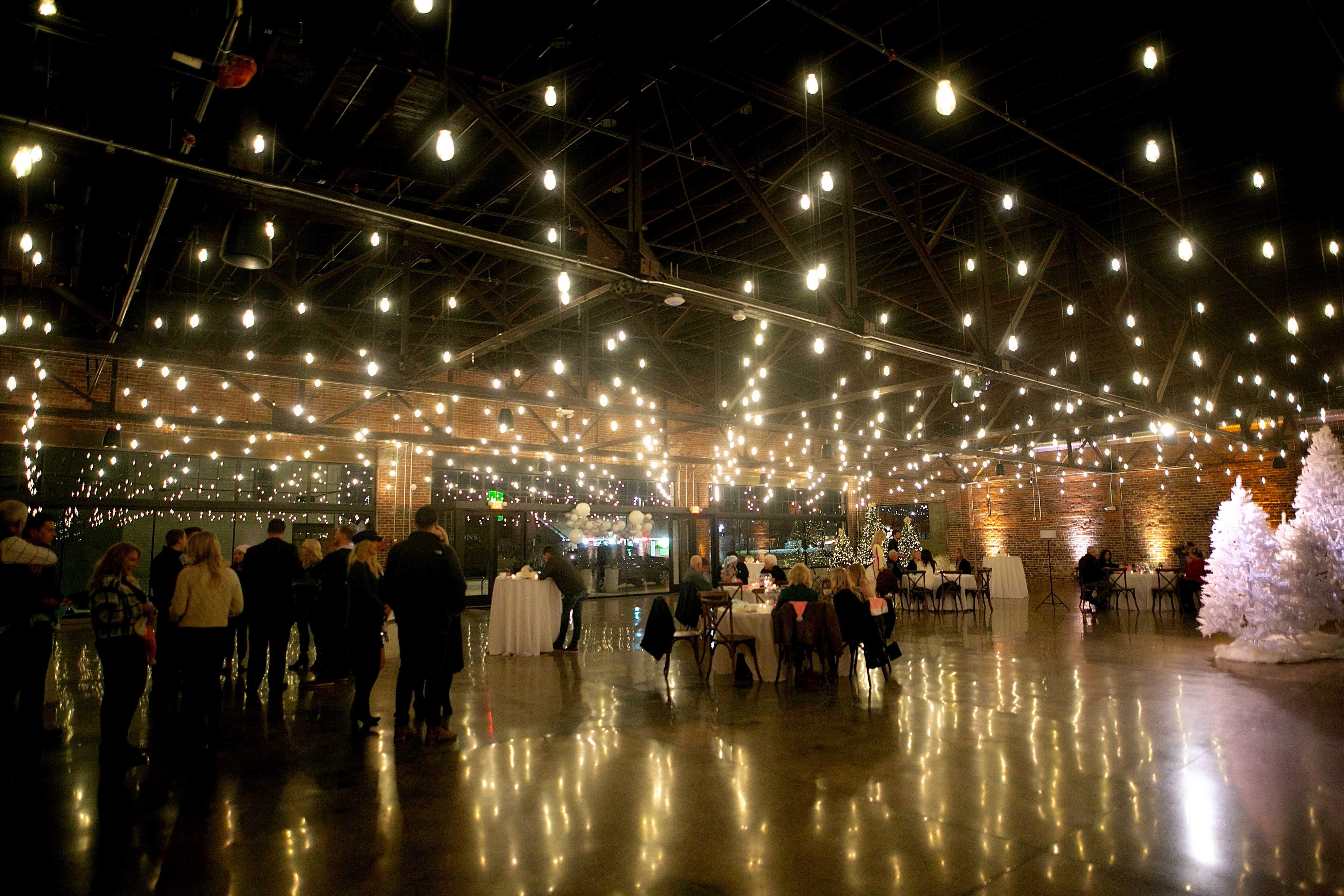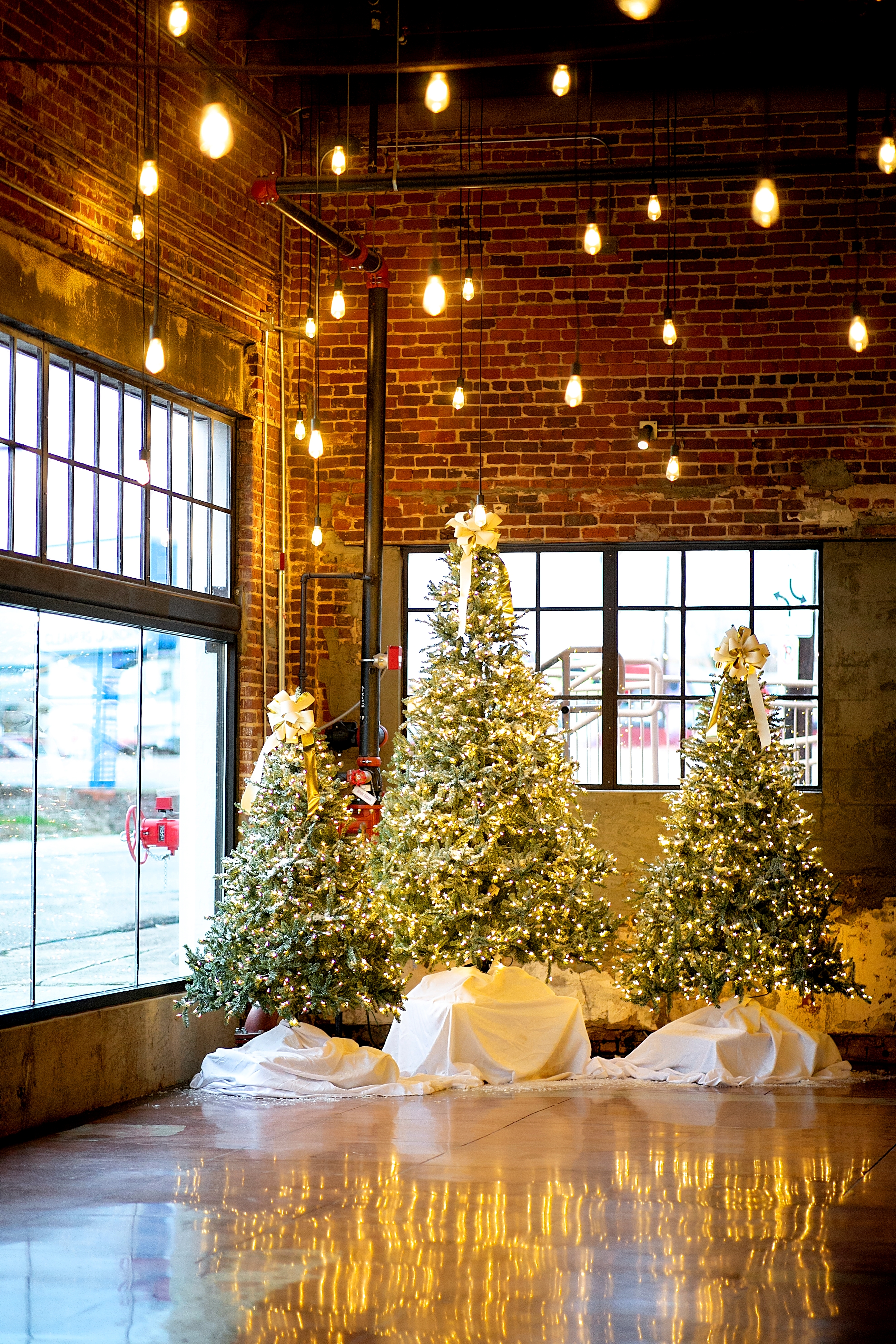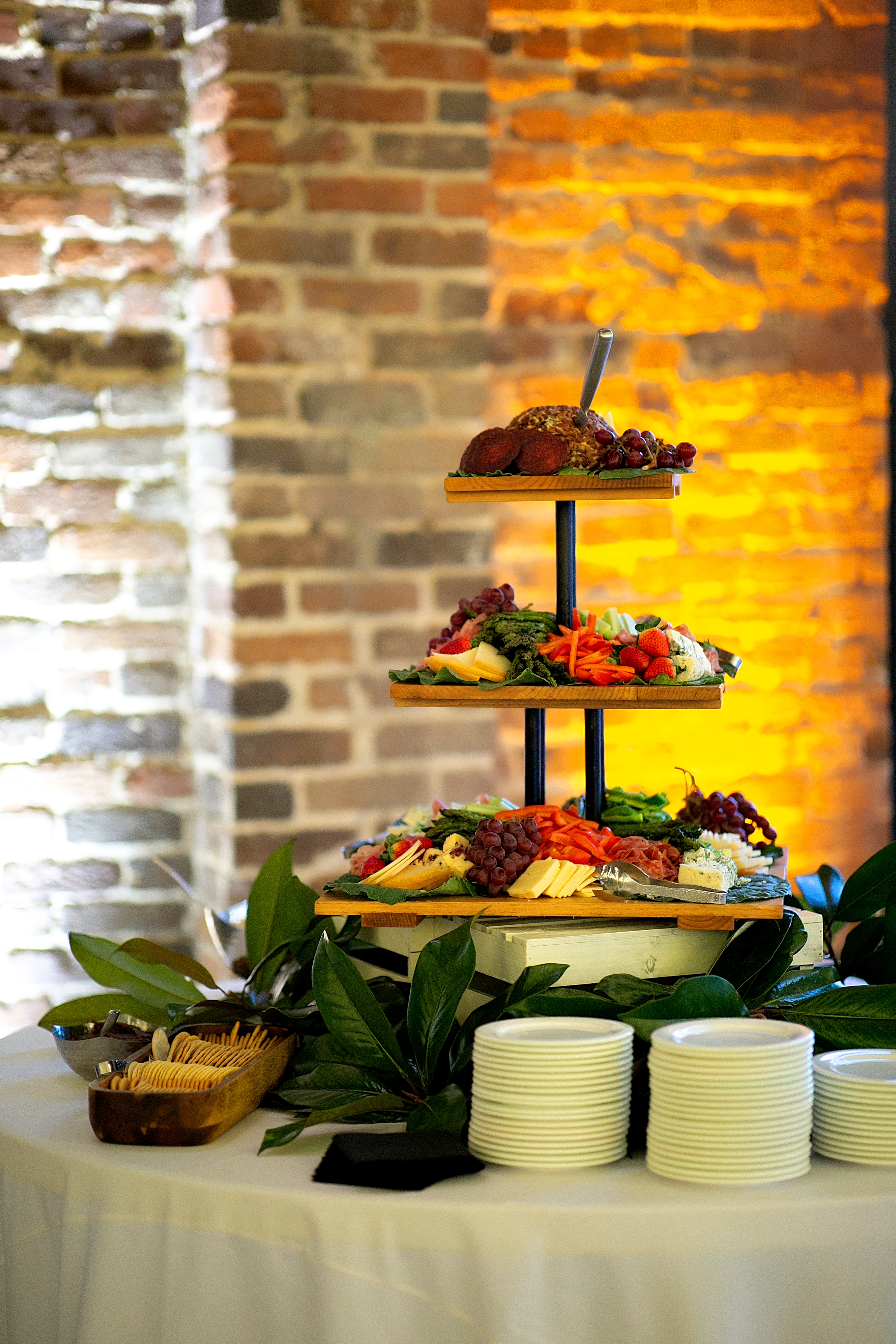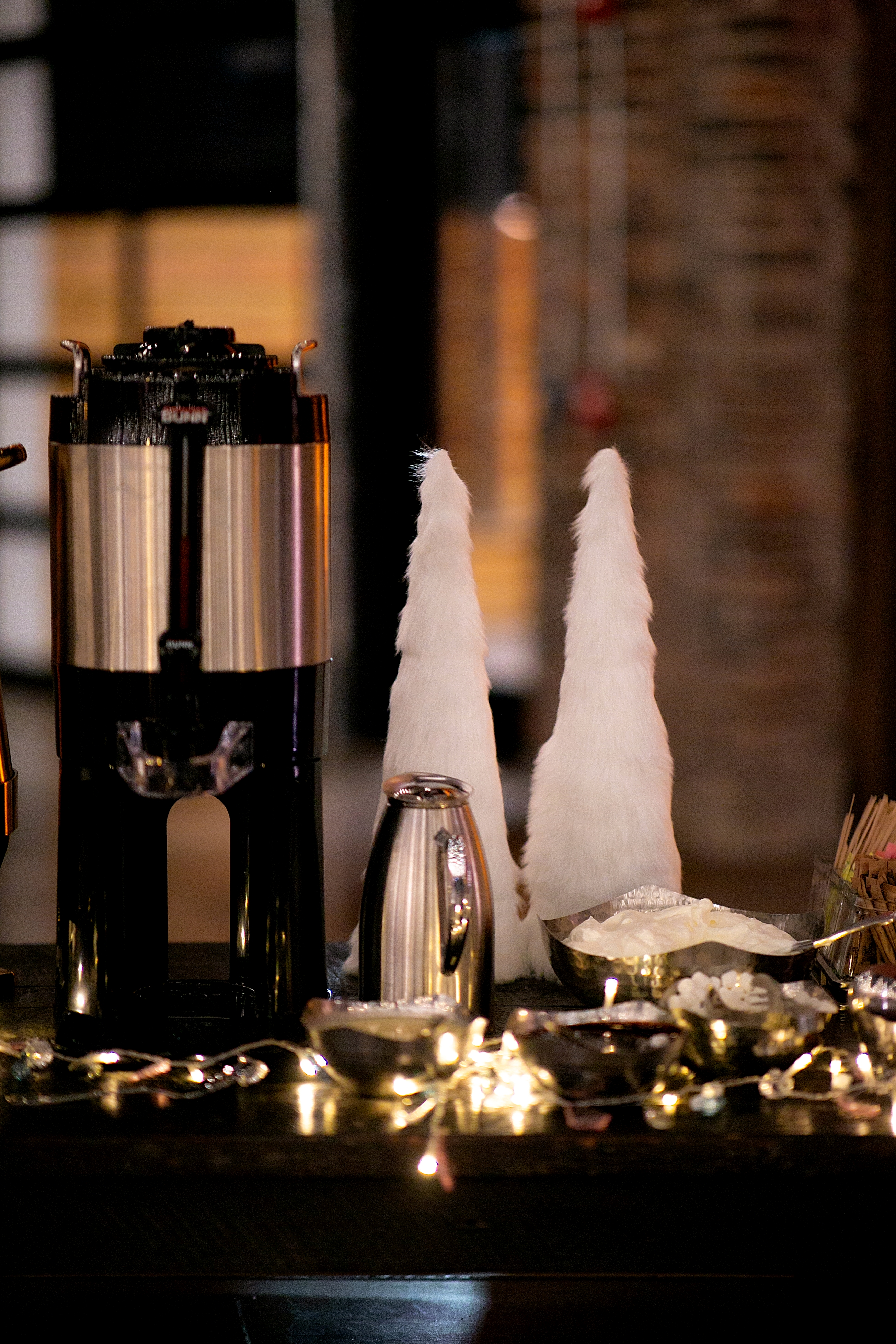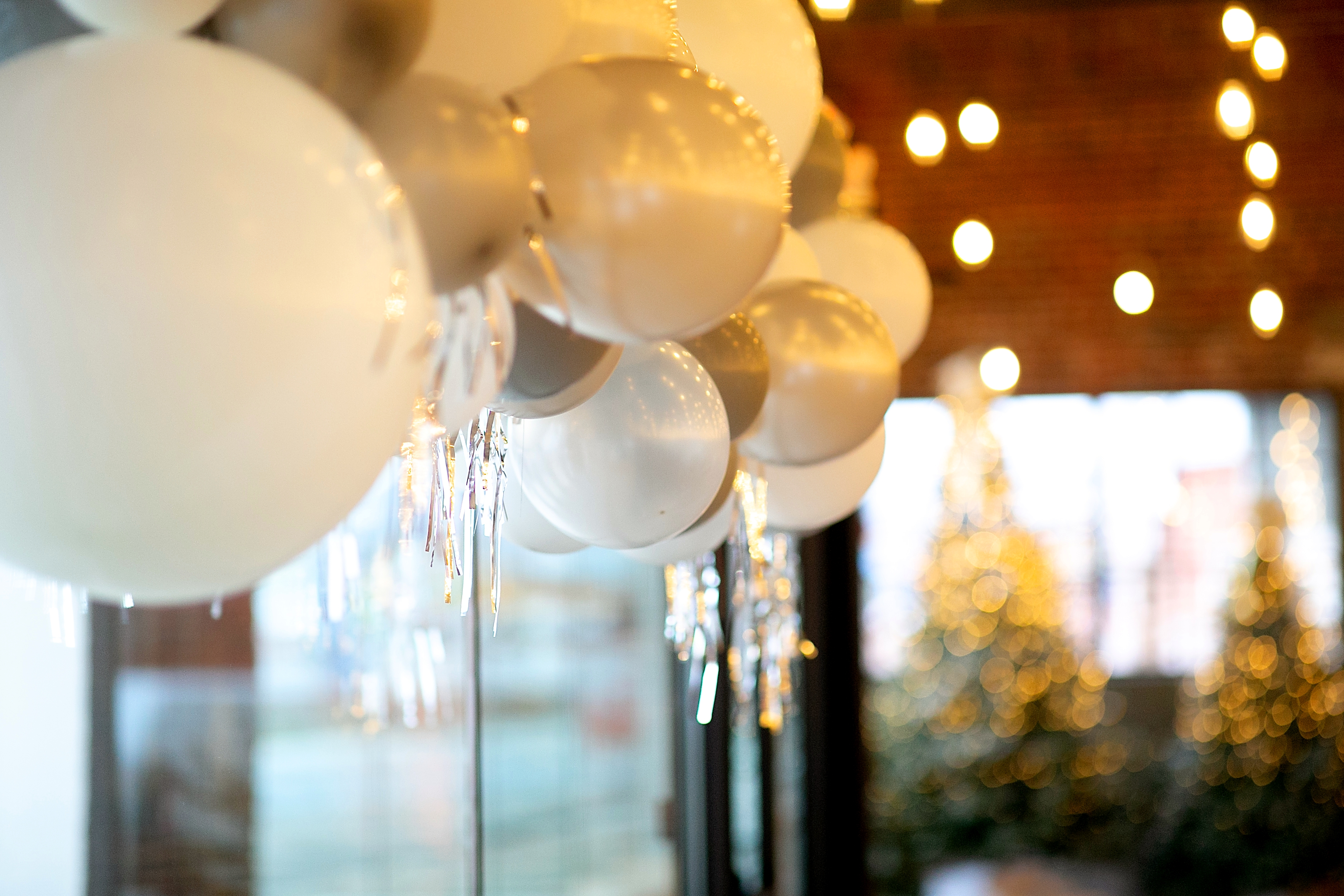 Also, a huge shoutout to our friends at Mojo Balloons for creating the most beautiful balloon display right at the entrance of the venue — this added such a pretty touch and helped fill the space nicely!! They are SO talented and very quick to setup!
---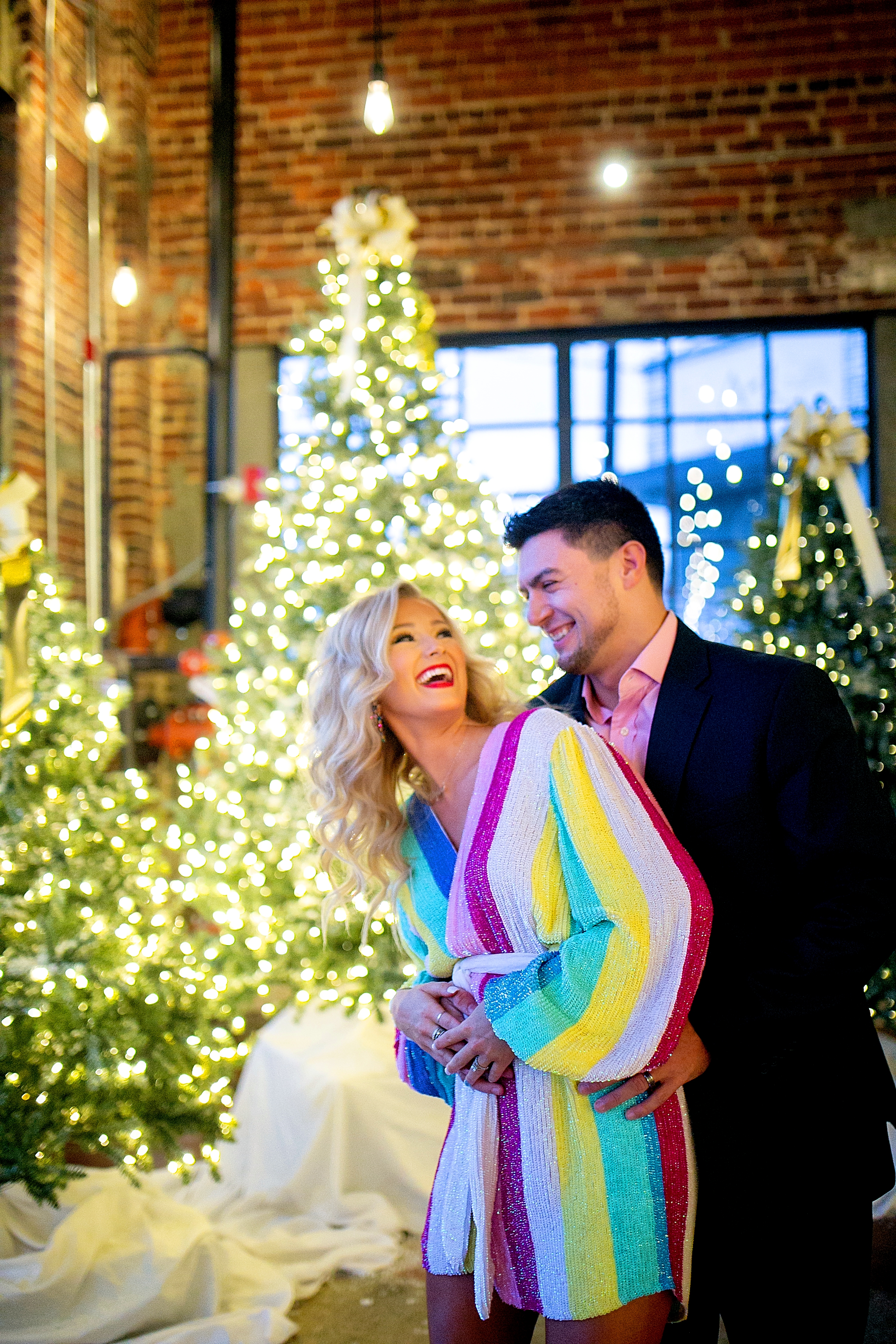 One of our biggest questions we have received since this night is: "What did you all want baby to be?!" Going into our gender reveal, we had absolutely zero preference for a boy or a girl (because we really want to experience having both a son and a daughter, God-willing), and as cliche as it may sound, we really only care if our baby is healthy and happy. We are firm believers in knowing that God will give us exactly what we need at the perfect time, and it's so incredible to know that He has blessed us with a son to call our own! God made him and sent him to US. He is OURS. God knew that we needed this sweet boy in our lives, and we honestly couldn't be more thankful!
I never had a brother growing up, and I was always around my mom, sister, and girlfriends at the cheer gym, so I am really excited to experience a little boy's childhood alongside our little guy! I grew up being the girliest little girl, so I always wondered how I would be as a #boymom … and now, I can't stop thinking about how much fun it will be! It's like a whole new world for me personally, and I am genuinely so pumped for it!! I am already dreaming of all the ball games on Saturday mornings, dirty little boy footprints, his wild nature, those sweet "mama's boy" cuddles, rambunctious play between him and his daddy … all the BOY things! Bring. It. On!!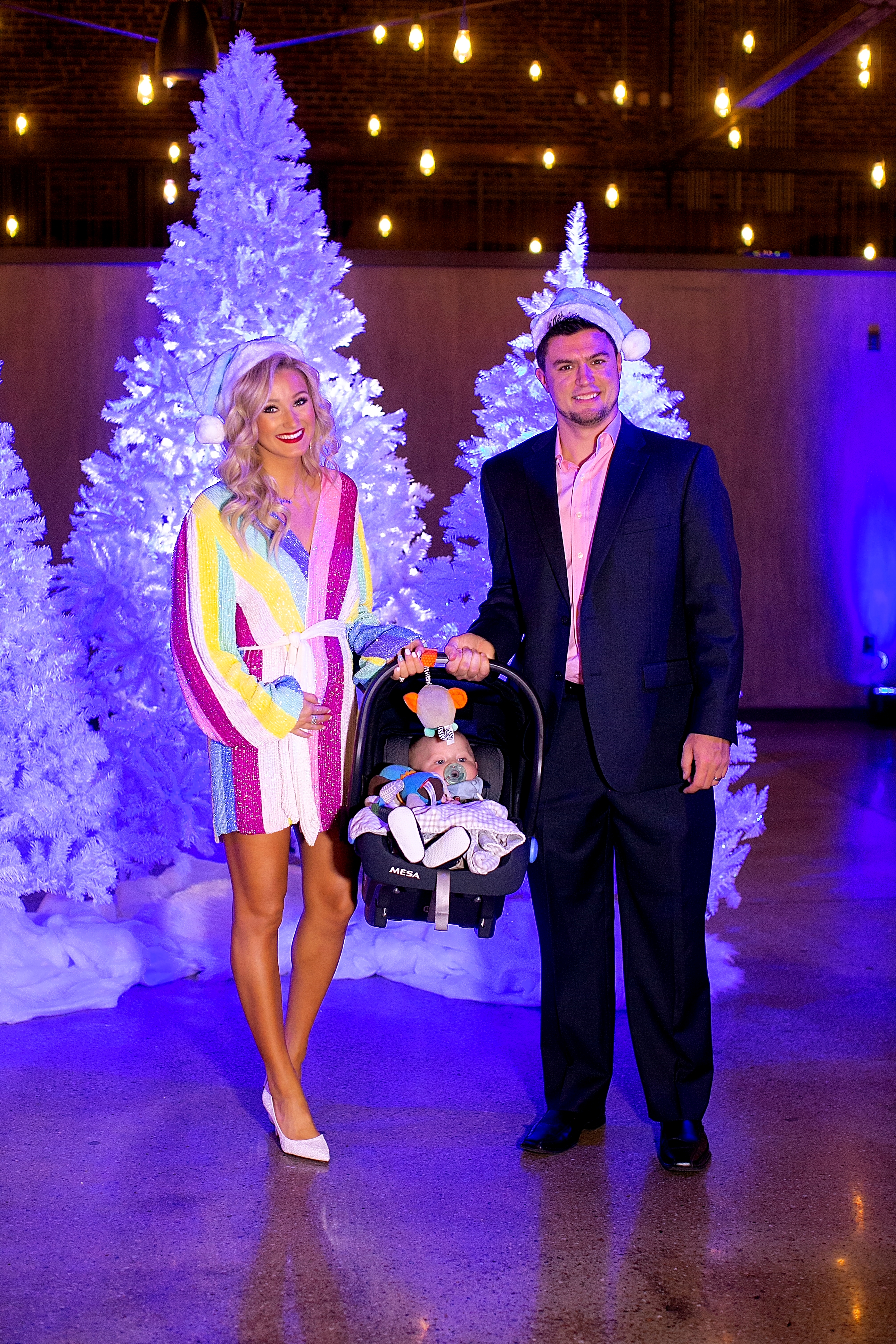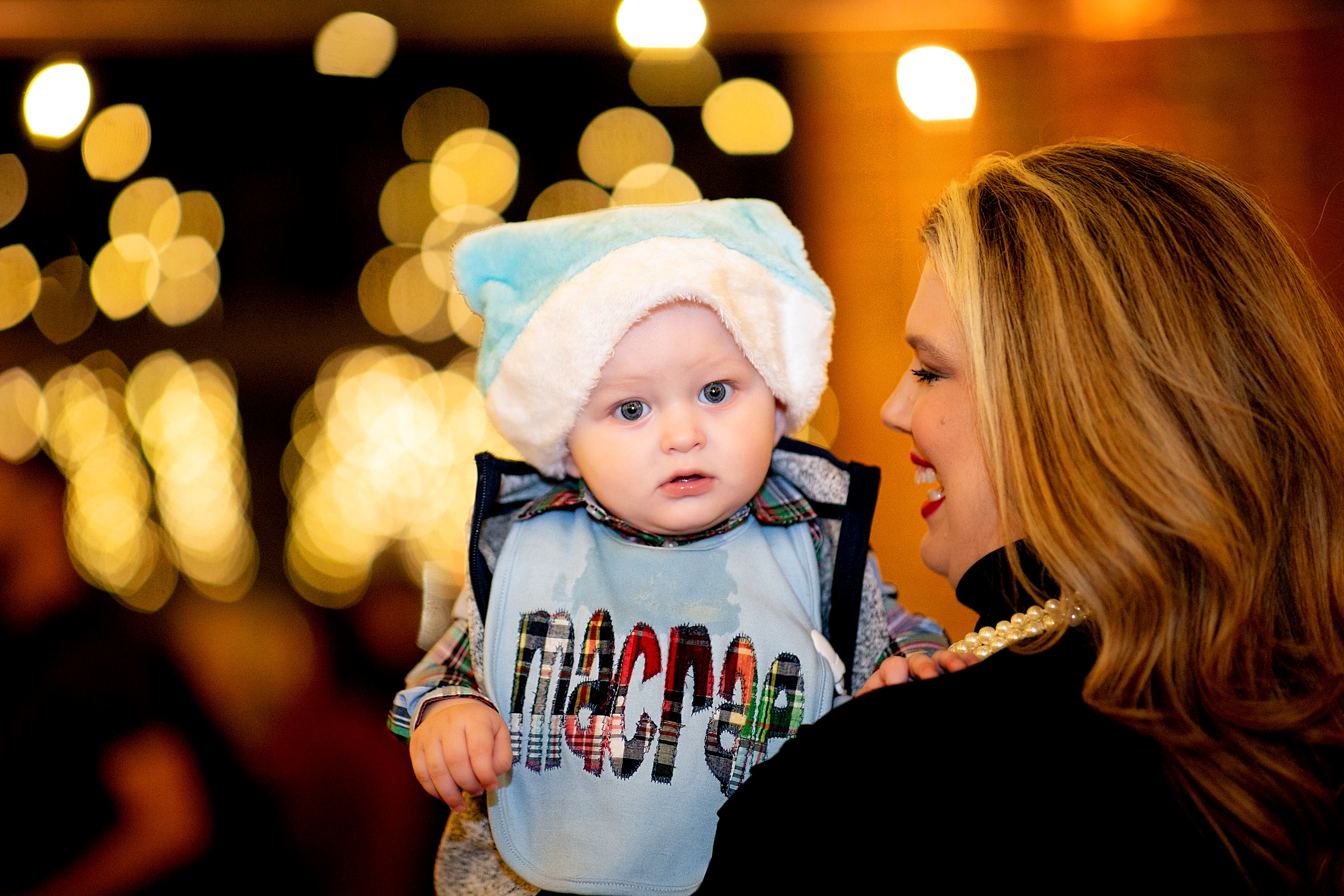 Another thing that we are especially excited about is knowing that Macrae (our 8-month old nephew) and Baby Baxter will grow up as best buddies and will be so close in age. This is honestly a dream come true in itself!! Macrae completely changed all of our lives in the best way over the past 8 months, and our entire family is smitten with him. He brings such a light to our world, and to know that our son will have a built-in best friend with Macrae, absolutely melts my heart. My older sister, Brittany, and I grew up extremely close, and I still can't believe that our baby boys will be able to experience that same bond growing up. It's something sooo special, and these little guys have no idea of all the love and fun they are about to share. These boys are such a HUGE blessing to our family and to each other!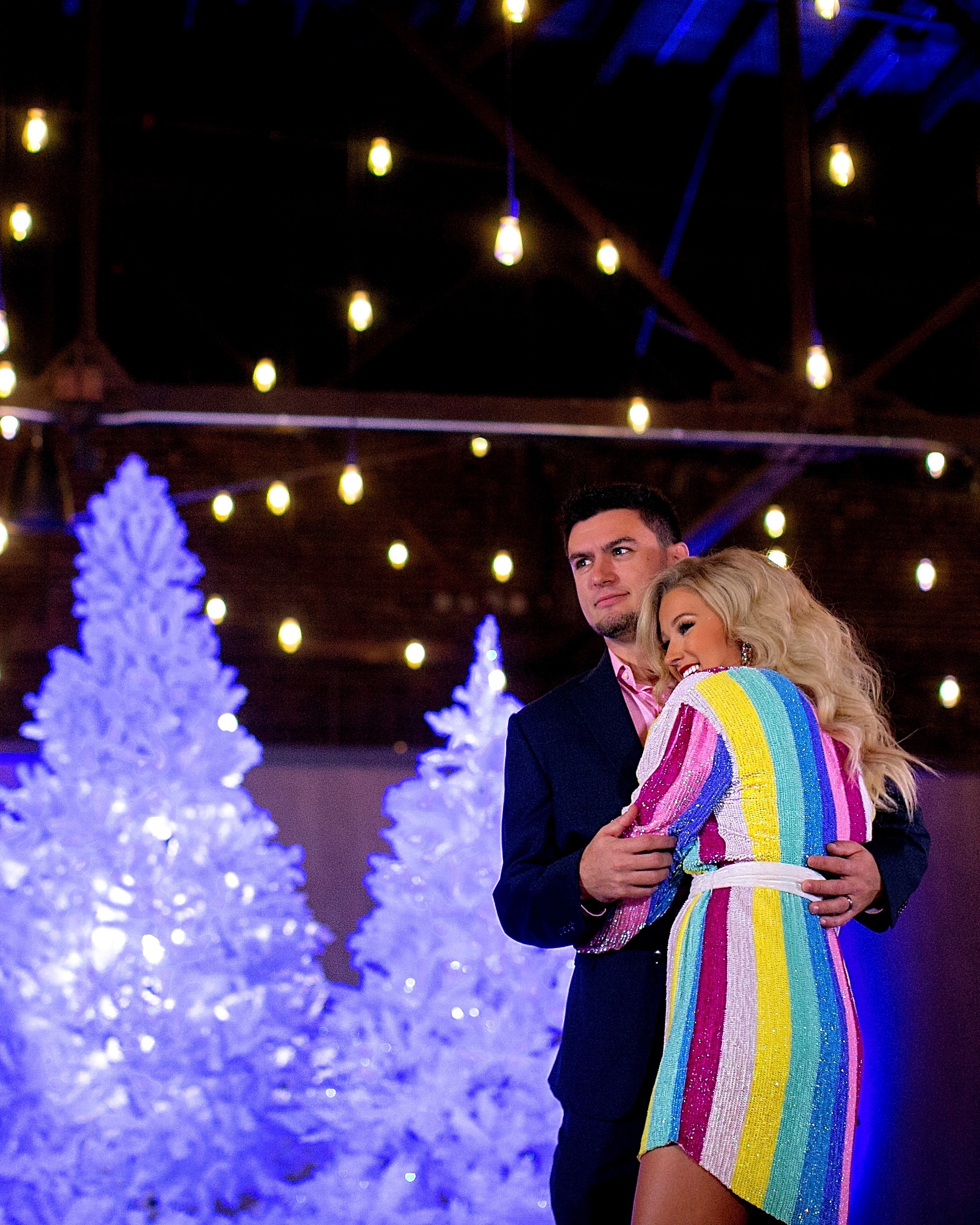 All we can think about these days is our little man and how our lives will be when he's here! I truly can't imagine having anyone else but him coming into our family now. It's so amazing how much stronger the bond has become between baby boy and me, since we found out about his gender. I absolutely love it, and it makes me even more anxious for him to get here so I can hold him in my arms! Although, I will say that I'm trying to soak up every moment of him being here inside of me 24/7, because it's already going sooo fast, and I know once he is out, he'll grow up so fast too. He's not even born yet, and I'm already sad about him growing up one day! I always hear everyone say that boys looove their mamas, and I feel like I can already sense that just by the bond that we already share. It's a feeling that is hard to put into words, but it's one of those that I just feel and know that it's something special!
I could go on for days, just talking about our little guy on the way, but I'll stop here for now. Before I sign off though, I just wanted to say a huge thank you, on behalf of TJ and myself, for all the prayers and love y'all have shown us during this special time. Family, friends, Insta-fam, blog-fam, our amazing vendors … we just want you to know we love you and we are so grateful for you all! We couldn't be more excited for this next chapter of our lives to unfold and can't wait to introduce our sweet baby boy to all of you!
---
Vendors:
Venue & Catering: The Press Room | Instagram
Music & Lighting: Jim Ogle of Ogle Entertainment | Instagram
Photography: Katherine Birkbeck | Facebook | Instagram
Videography: Milestone Pictures | Instagram
Balloon Display: Mojo Balloons | mojoballoons@gmail.com
---
Here's a closer look into some special moments from our gender reveal and when we first told our families that we were expecting … Enjoy!
All our love,
The Baxters