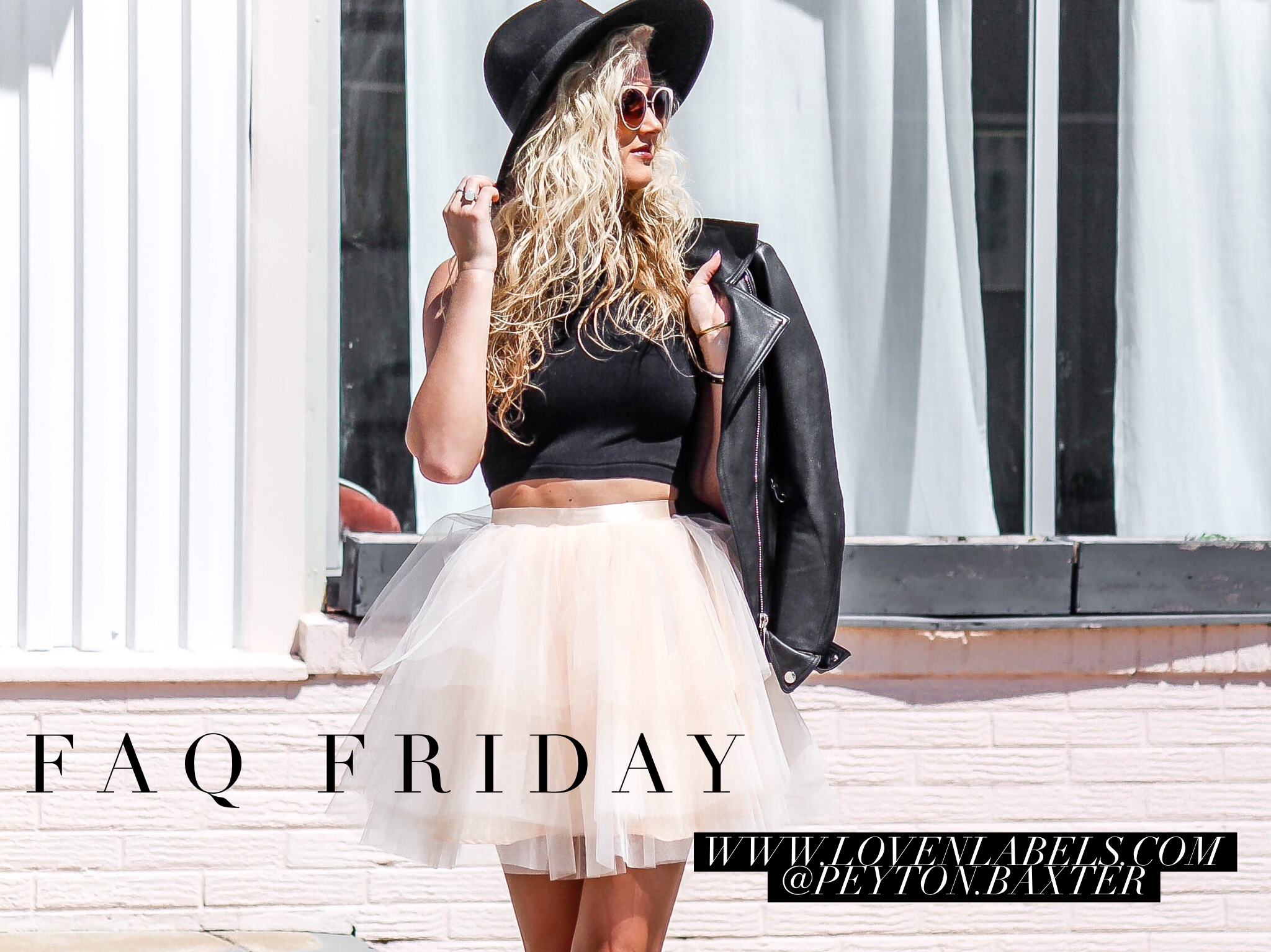 Happy FAQ Friday babes!
I'm headed out of town today with my sweet sista, so follow along with us on our roadtrip! This time, it's for work but a different kind of work than what you're used to seeing me talk about. We're taking it back to our ole stomping grounds and coaching some cheerleading .. where's all my cheer ladies out there?! If you're into that kind of stuff, be sure to follow along with me on my Snapchat (@peyton.baxter) and IG Stories. I'm excited to flash back to the past and come out of retirement for a couple of days!
I've been getting a lot more questions since I started this FAQ Friday series, which makes me SO excited because I love helping you all and getting to hear more of what YOU want to know about me, fashion, glam, LNL, etc. Let's jump right in to today's top questions!
What are some of your favorite drugstore products at the moment?
Maybelline liquid eyeliner (I even prefer this over the Mac equivalent.)
How do you style your natural curly hair and/or blow dry it out when you want it to be straight and not frizzy?
Lots of prayer. Haha, kidding (kinda!) In short, whenever I style my naturally curly hair, I start with it wet & apply a small amount of styling/curl cream to help decrease frizz. Then I blow dry my hair with a diffuser while my head is flipped upside down (this gives you more volume at the end and y'all know I love big hair LOL!).
To blow dry it when I want it straighter/less frizzy in order to flat iron/curl it with a wand afterward, I just run a silky leave-in conditioner through my ends and blow dry my hair with my head upside down to increase volume. While drying, I often run a brush through it to try to decrease the frizz/curl. Once dry, I go over the leftover curly/frizzy parts with a straightener & then finish it all off with a curling wand, dry shampoo/texturizer & some hairspray.
If y'all would like to see a video tutorial of these two styles, let me know in the comments below this post! 🙂
What is the new editing app that you're using on your phone pictures?
I also use Adobe's Lightroom when editing the photos from my camera that I take. If you're interested in learning more about it, here is a good article that describes 25 reasons why it's a great program to use!
Have a fab weekend, pretty ladies!
xo, P