Faux leather leggings are all the rage right now … and I understand why! Ever since I bought my faux leather, black Spanx leggings, I've been living in them (pretty much) because they are so comfortable, they suck everything in in all the right places (!!), they're high-waisted, and they are so easy to style many different ways. Whether your favorite pair of faux leather leggings are the same brand as mine or not, you can still easily recreate any of the styles shown below to get 5 totally different looks with the same exact pair of leggings.
1. Casual (Weekend or Travel) Style:
Pair your leather leggings with a simple, loose tee and your favorite cardigan for an easy-going weekend look. This one is also great to travel in. Depending on the day's events, I'll throw on a beanie and my favorite sneakers or if it's super cold outside, I'll even pull out my favorite Ugg boots to stay cozy and warm.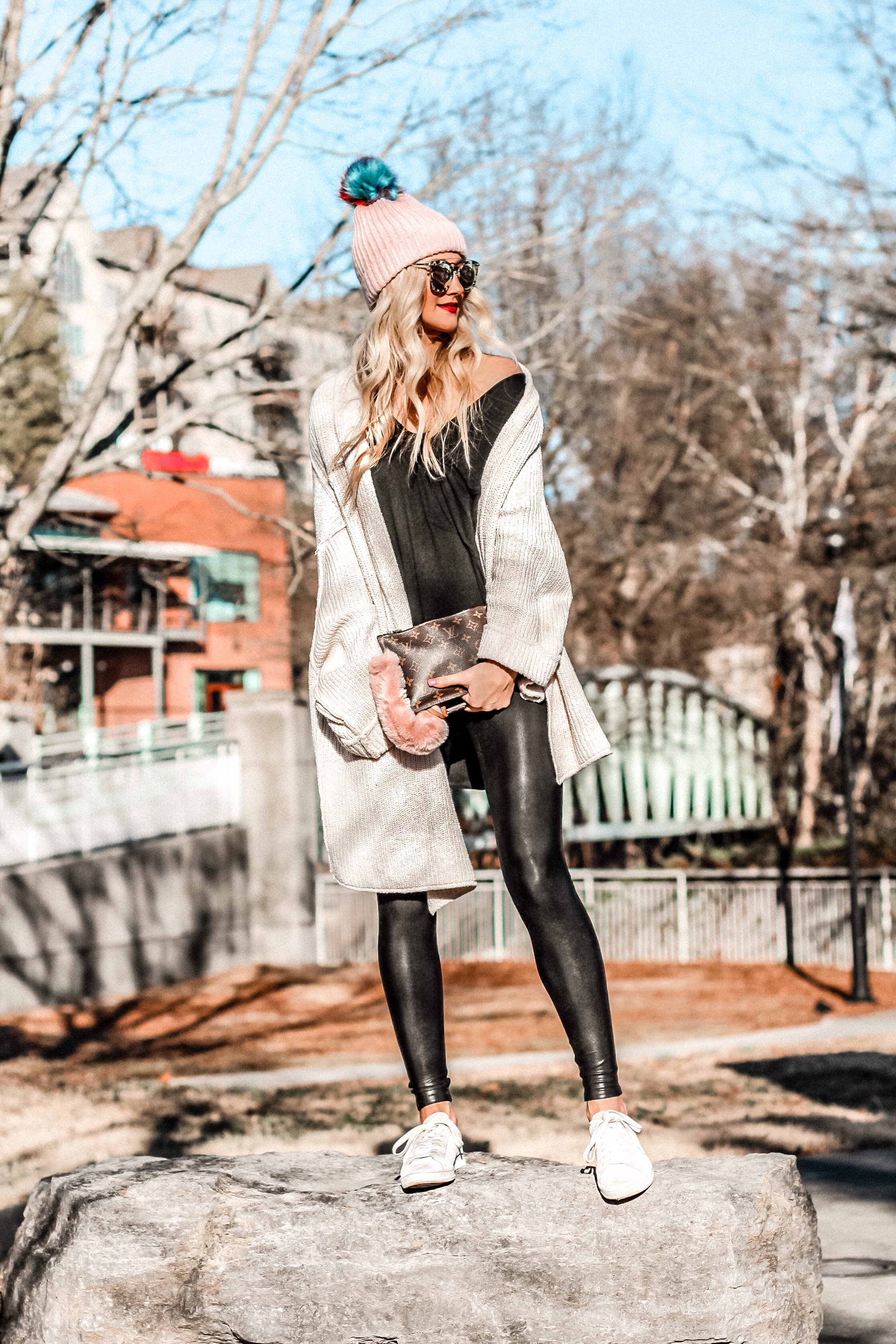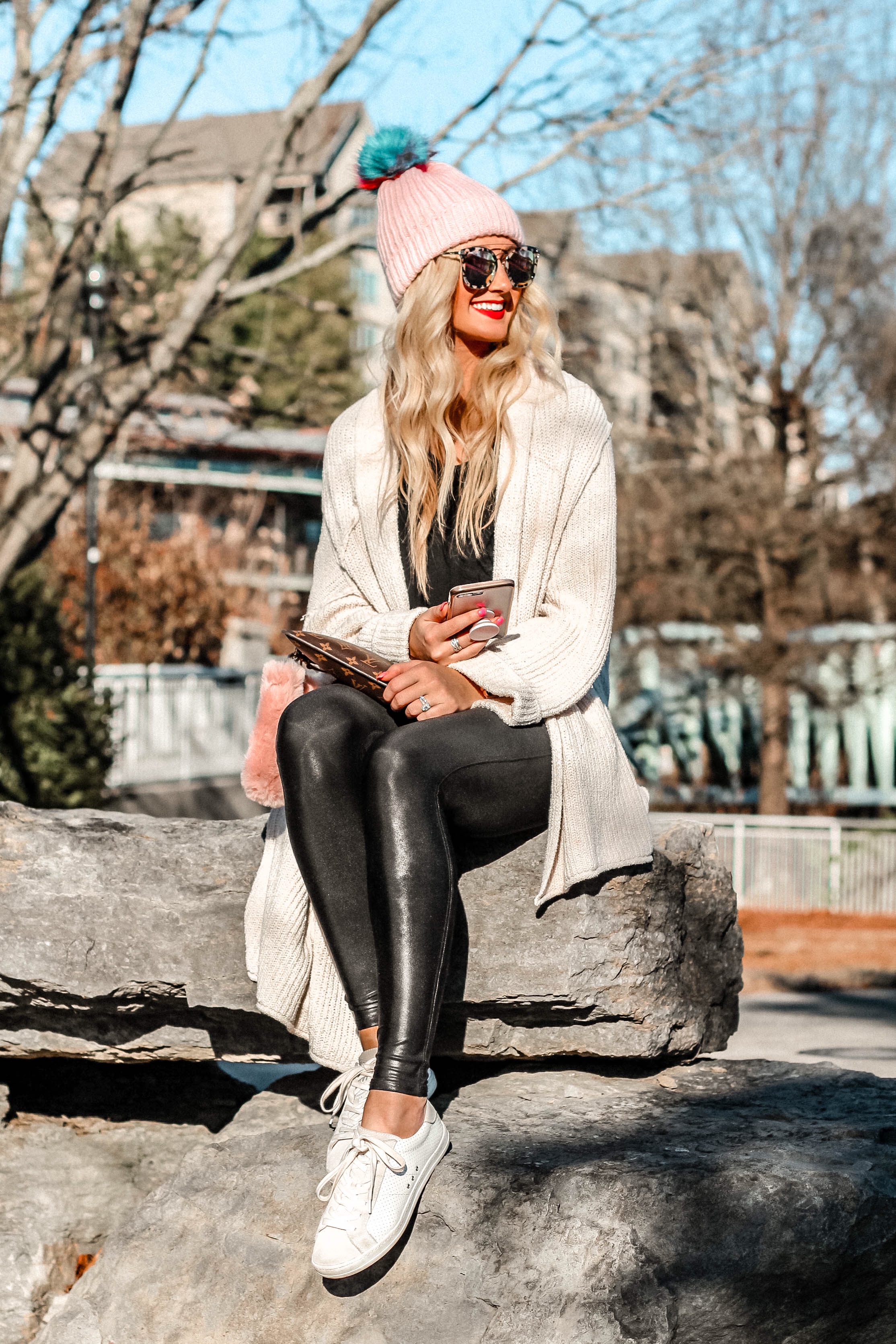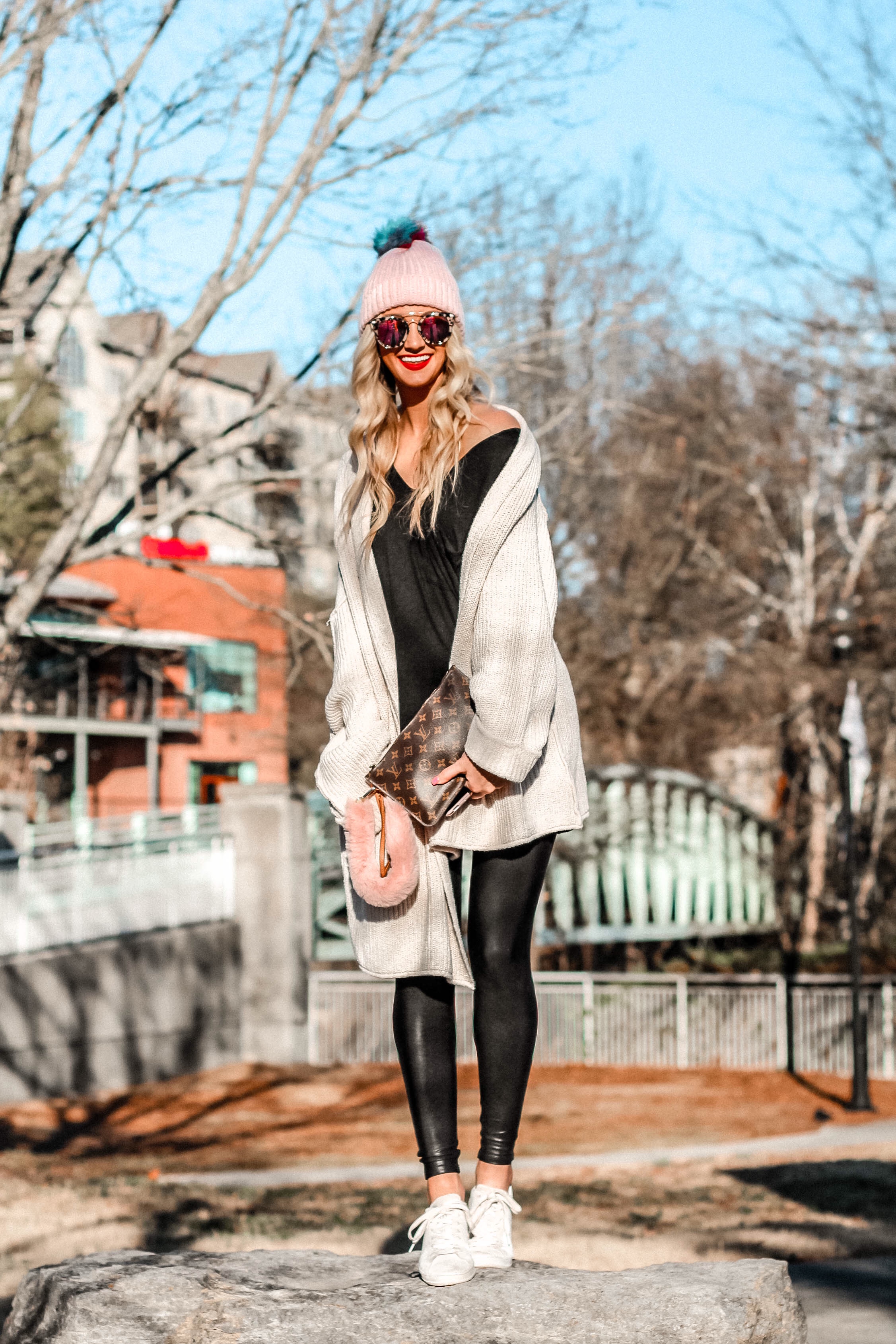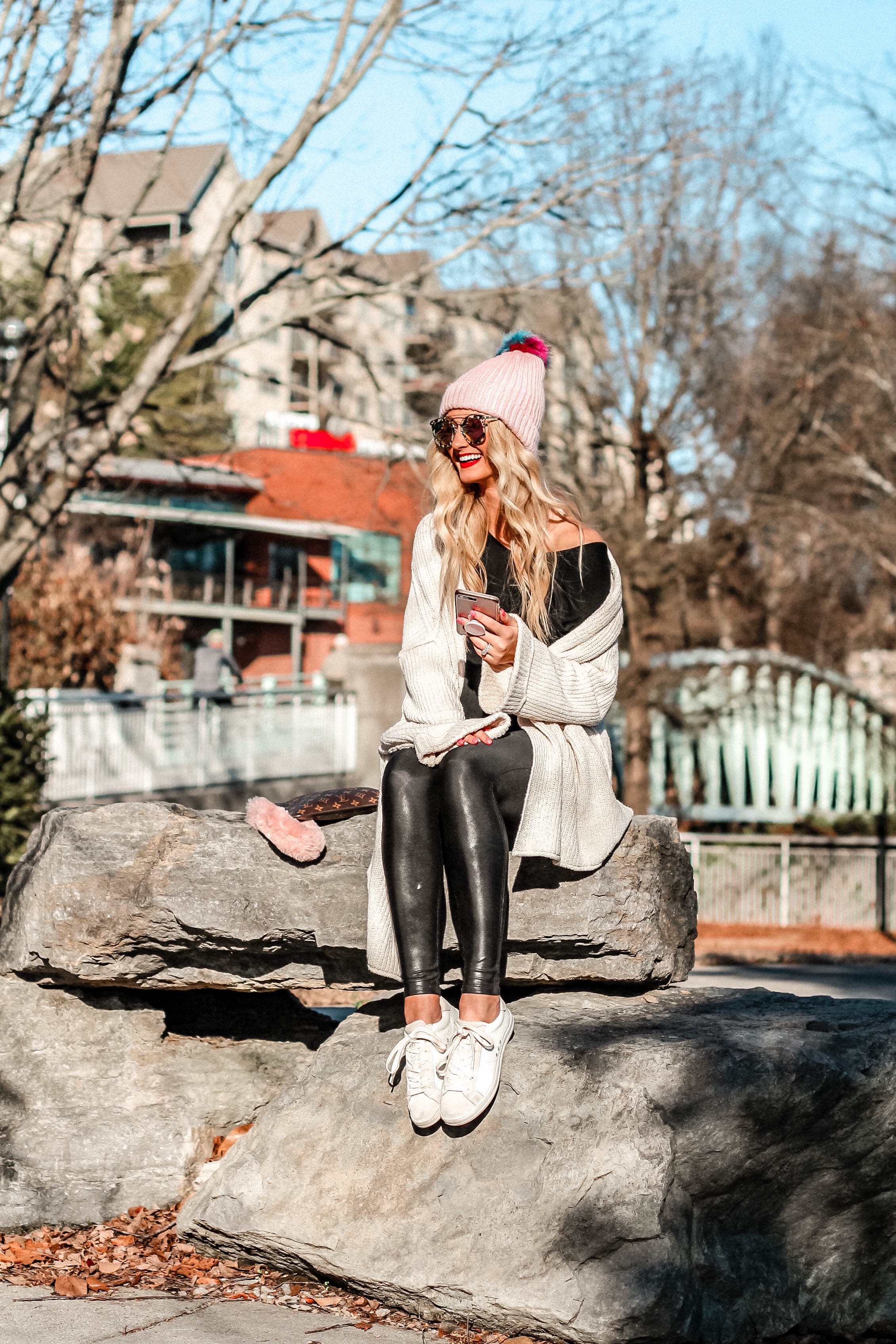 (If I'm being totally honest, this is what my day-to-day outfits look like 90% of the time if I'm just working in my office without any appointments on my schedule for that day — SO comfortable and practical for sitting in front of my computer all day!)

2. Dressed Up with Over the Knee Boots:
One of my favorite ways to dress up a pair of leather leggings is to pair them with over the knee boots and a long tunic of some sort. I kept it chic and simple with some black on black action and then, of course, decided to add a little personal touch with a scarf and a sassy leopard print hat. I also simply love pairing my leggings with OTK boots and just a long, oversized sweater. It's so easy to style and quick for when you are rushing out the door but still need to look put together.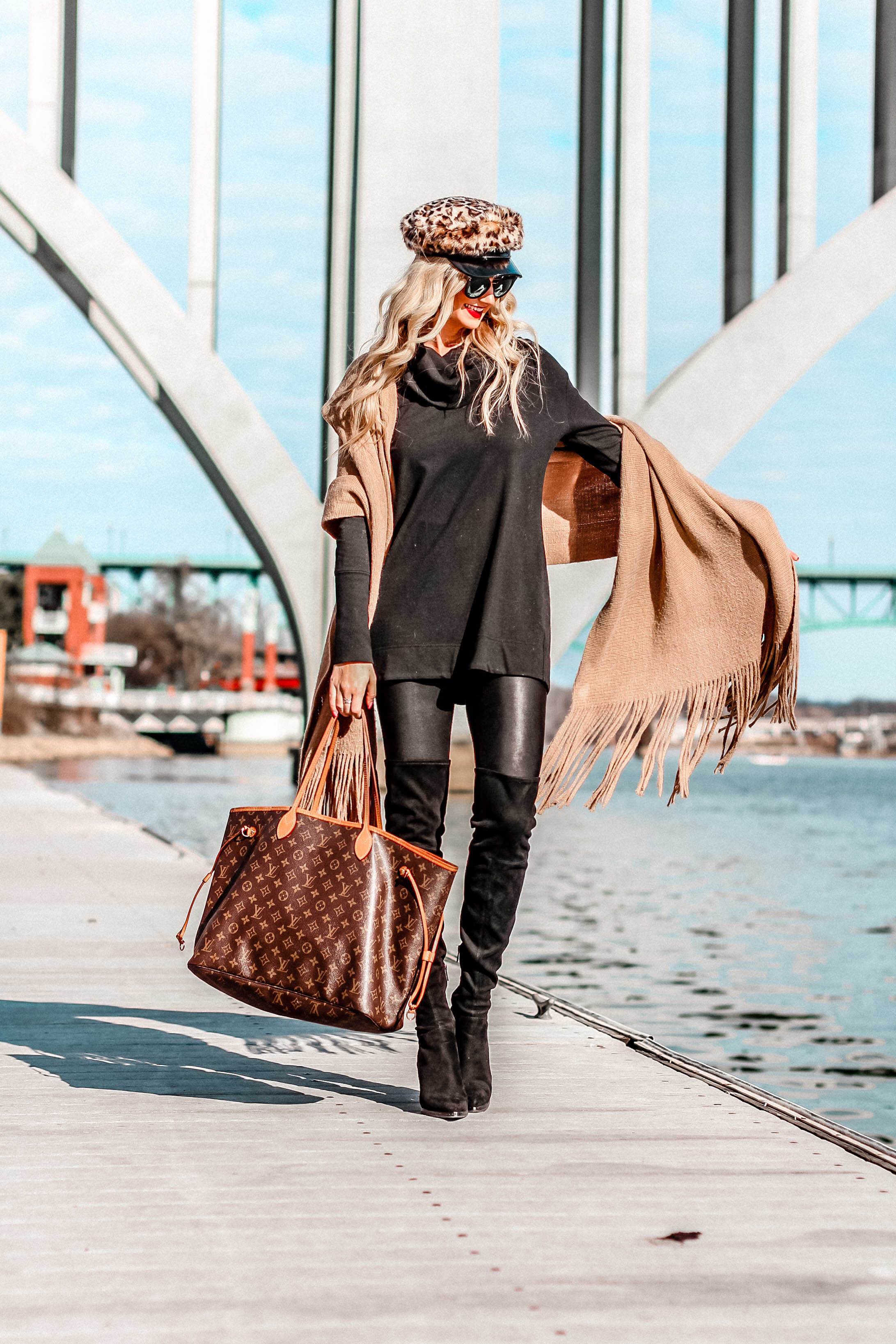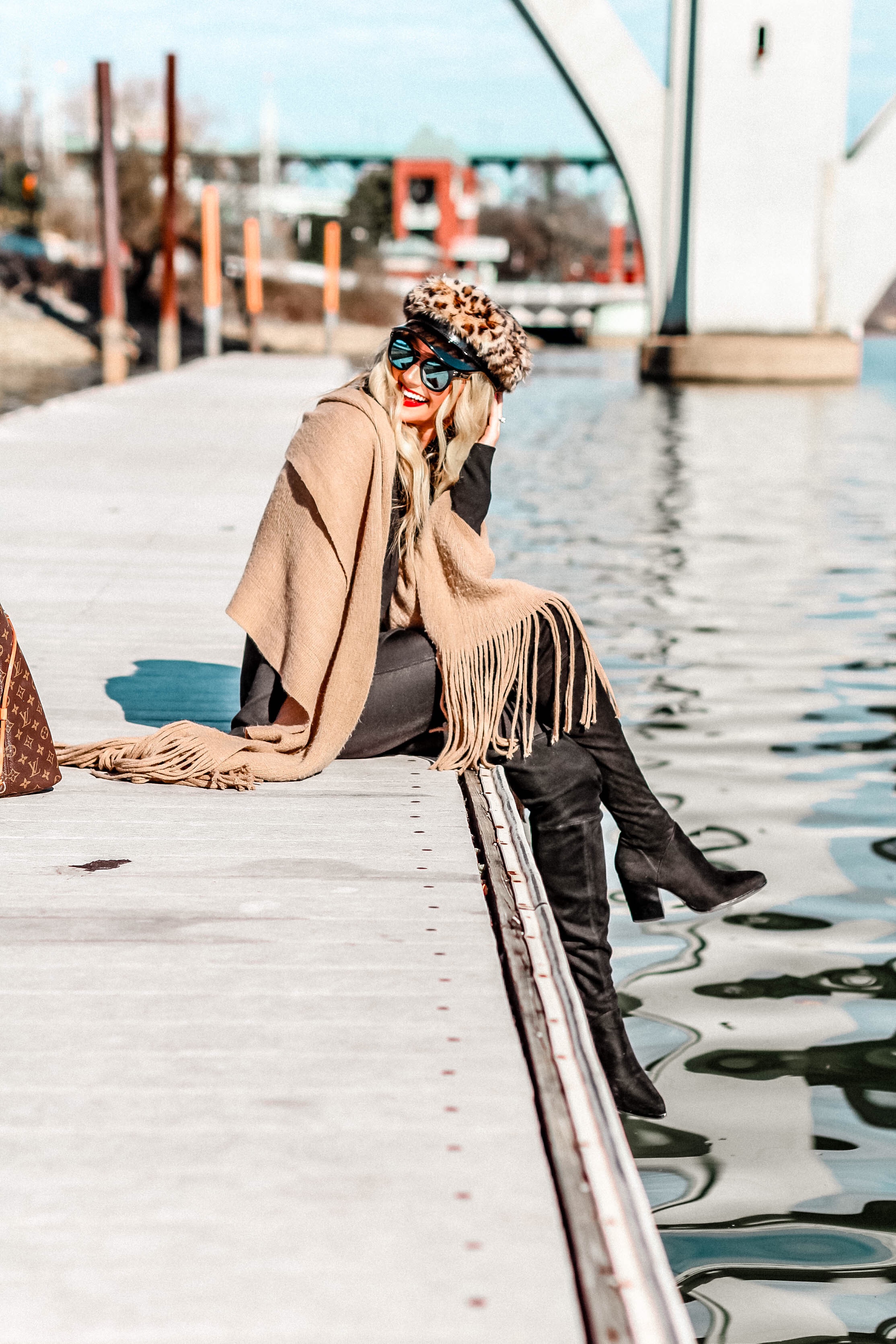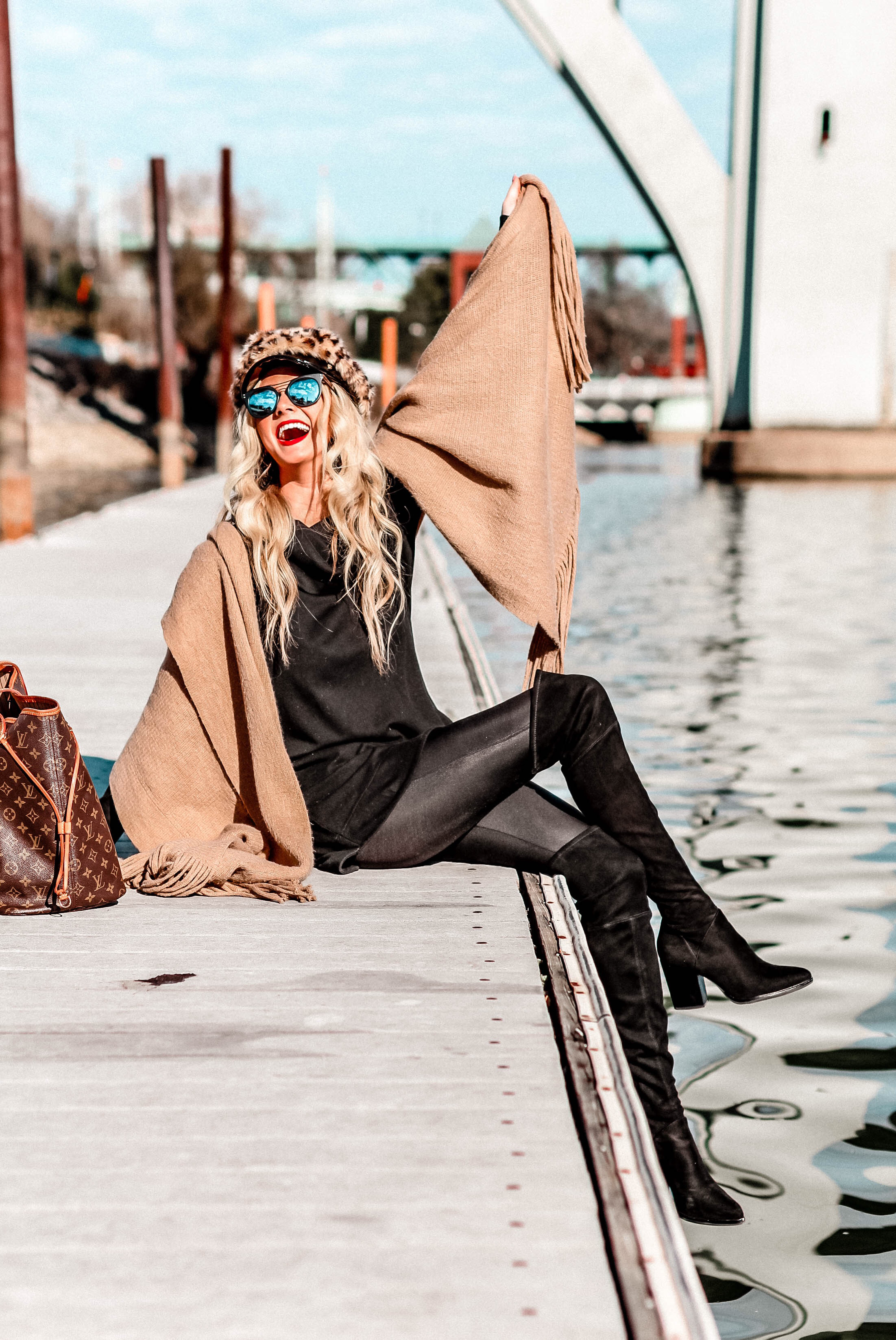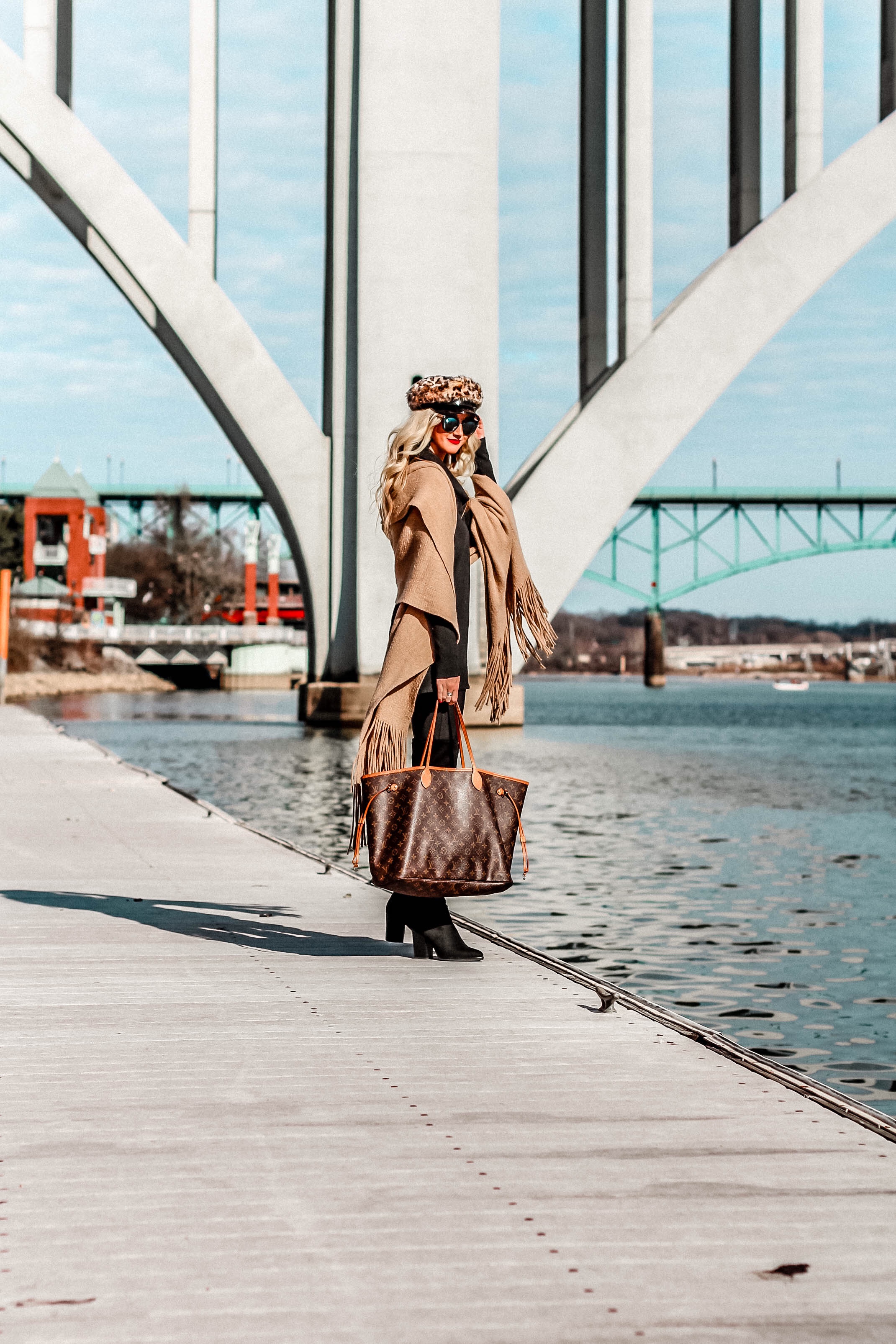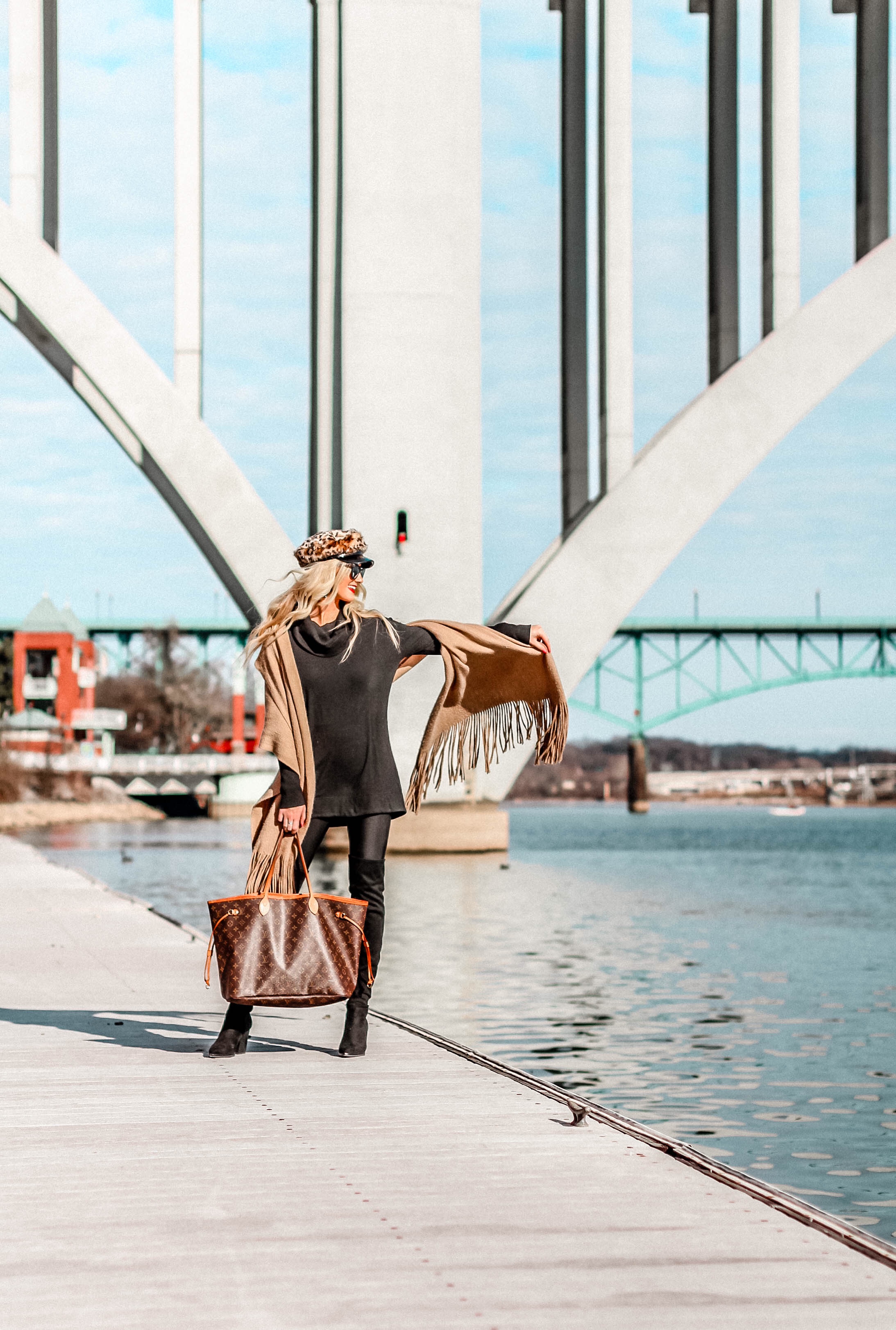 3. Paired with Flats:
We just talked about dressing up the leggings with OTK boots, but you could do that same with flats. My personal choice is mules because they are so 'in' right now. This look is actually similar to the comfy, weekend style with the cardigan from #1 (above), however, pairing the outfit with mules versus sneakers or Uggs just elevates the look a bit. Many people are very hesitant to wear flats with leggings (and I actually use to be the same way), but if styled correctly, they look really great (and that's even more comfort in your #ootd).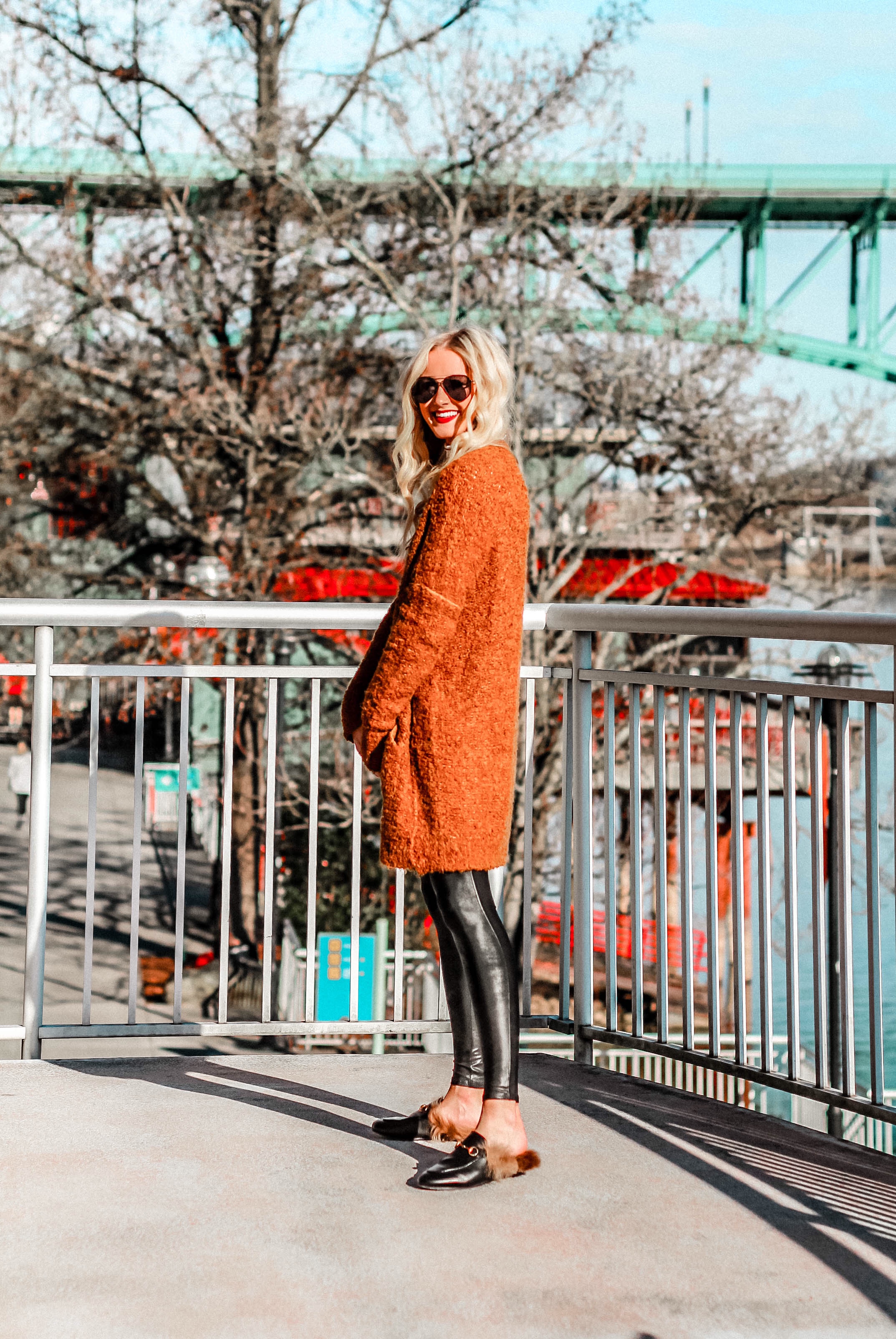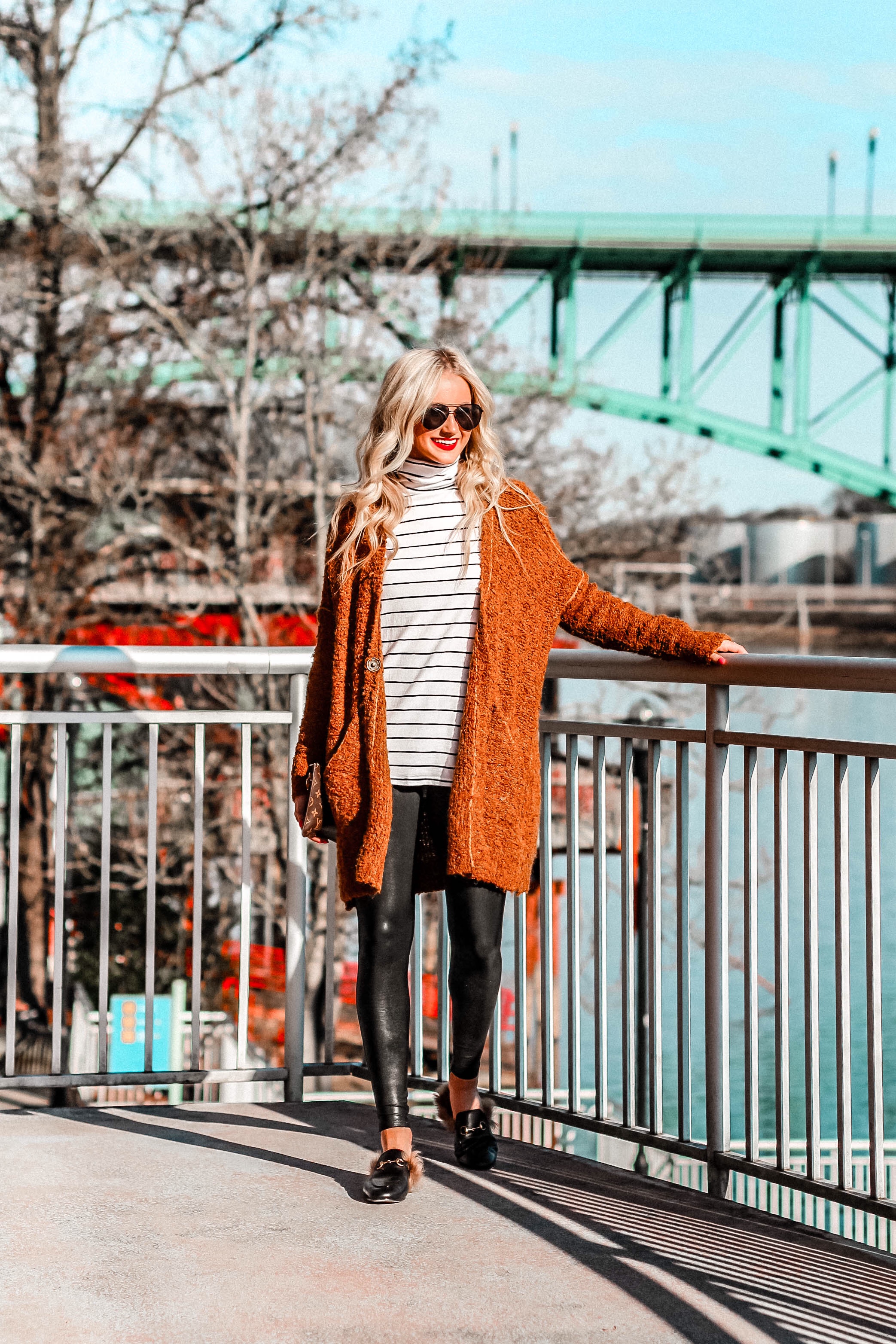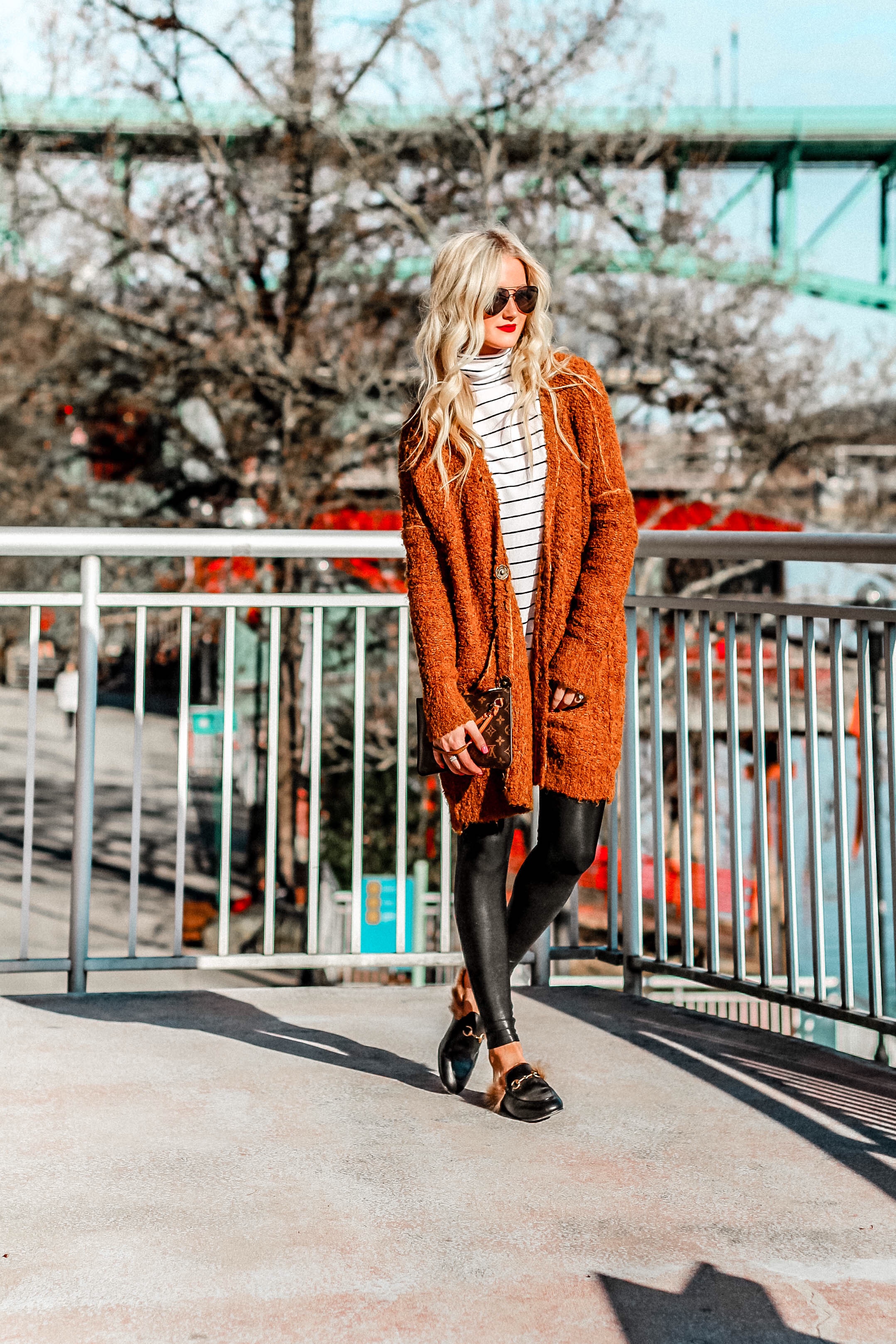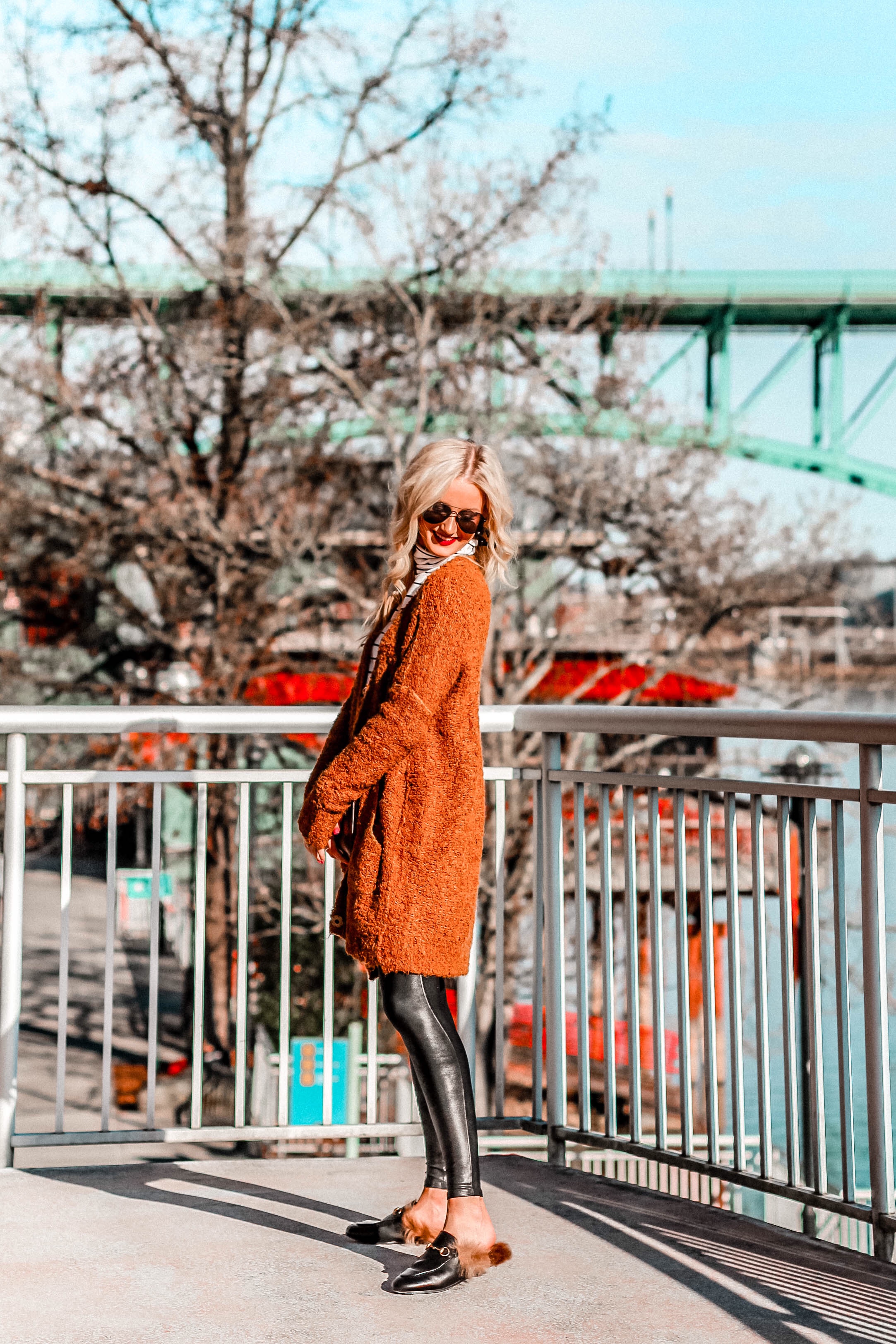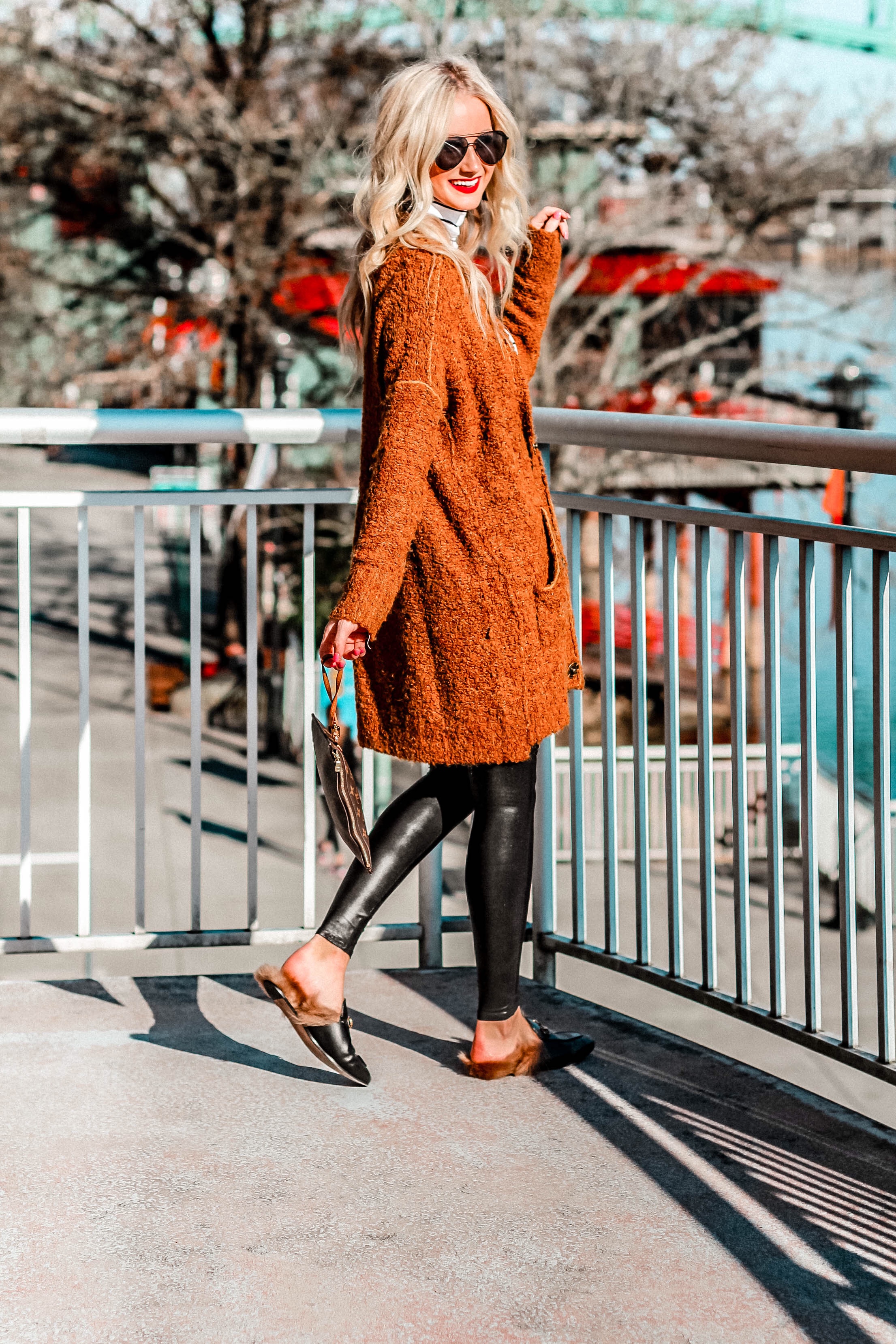 4. Accented with Fur:
Y'all know I love anything faux fur, and if there's one piece that will pair well with your leather leggings 9 times out of 10, it's a fur vest! Layer it with a long tunic or if the vest is long enough, you could even button it up in the front. This is such an easy way to dress up your leggings and make a statement while feeling super comfortable all at the same time. You can never go wrong with this style!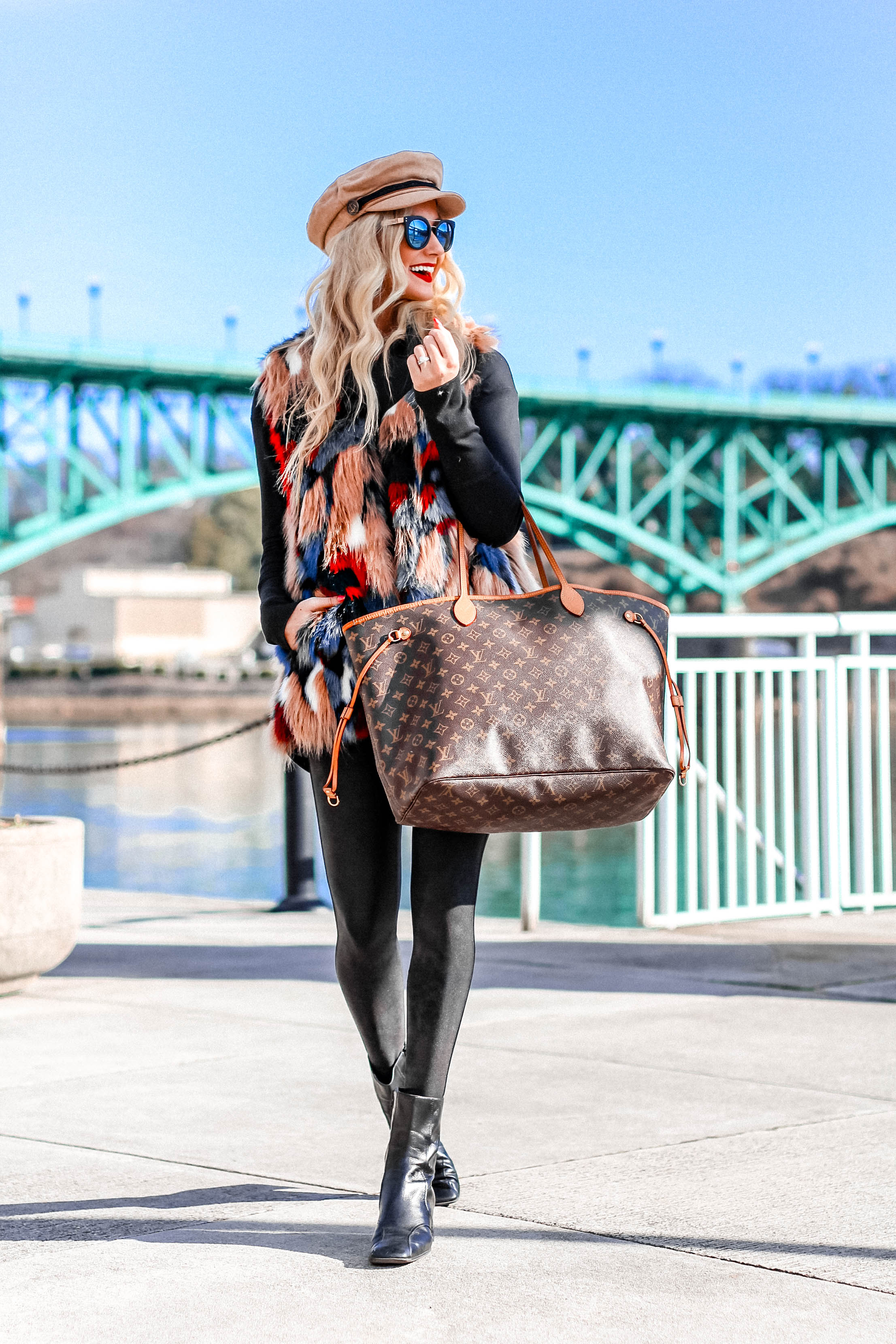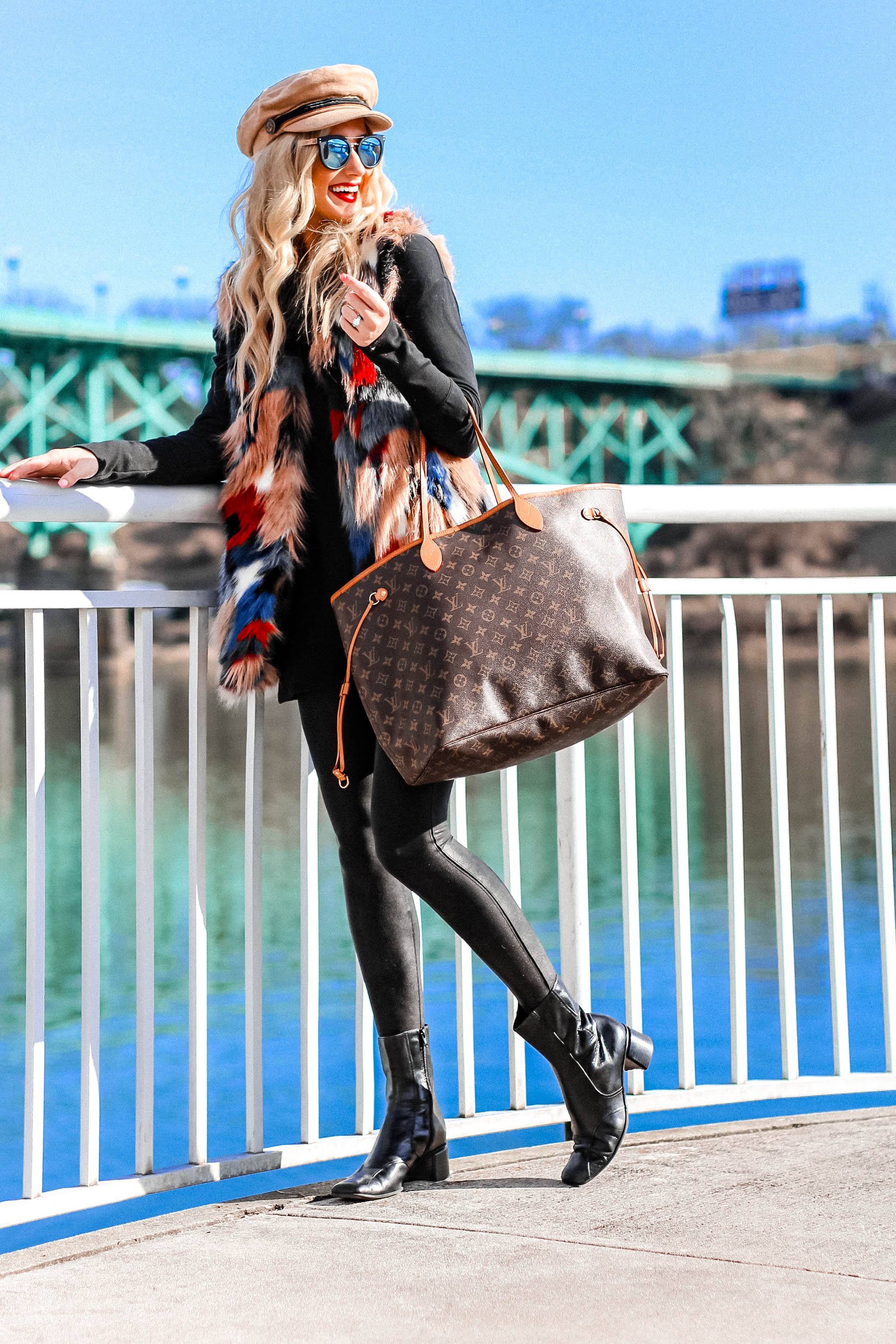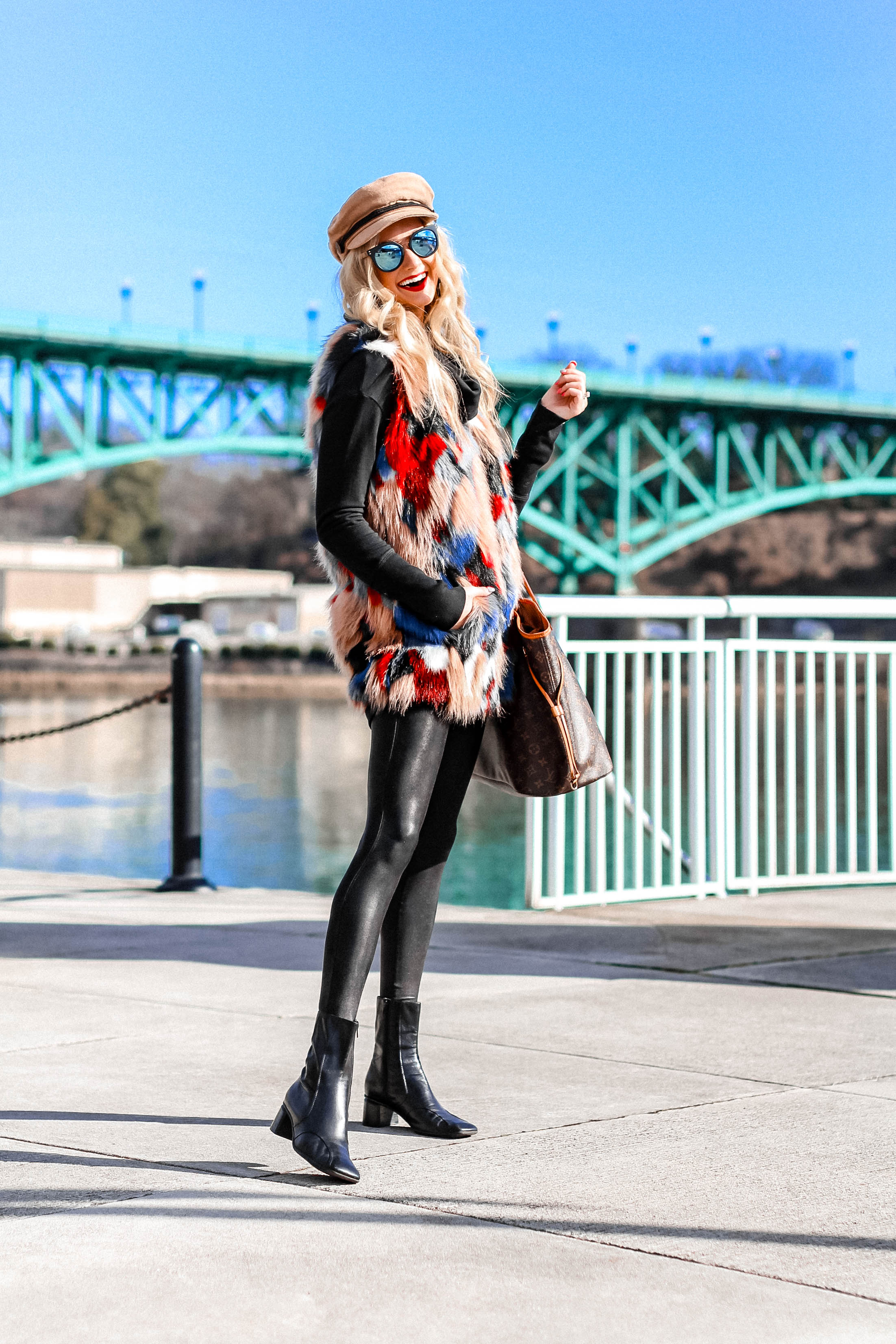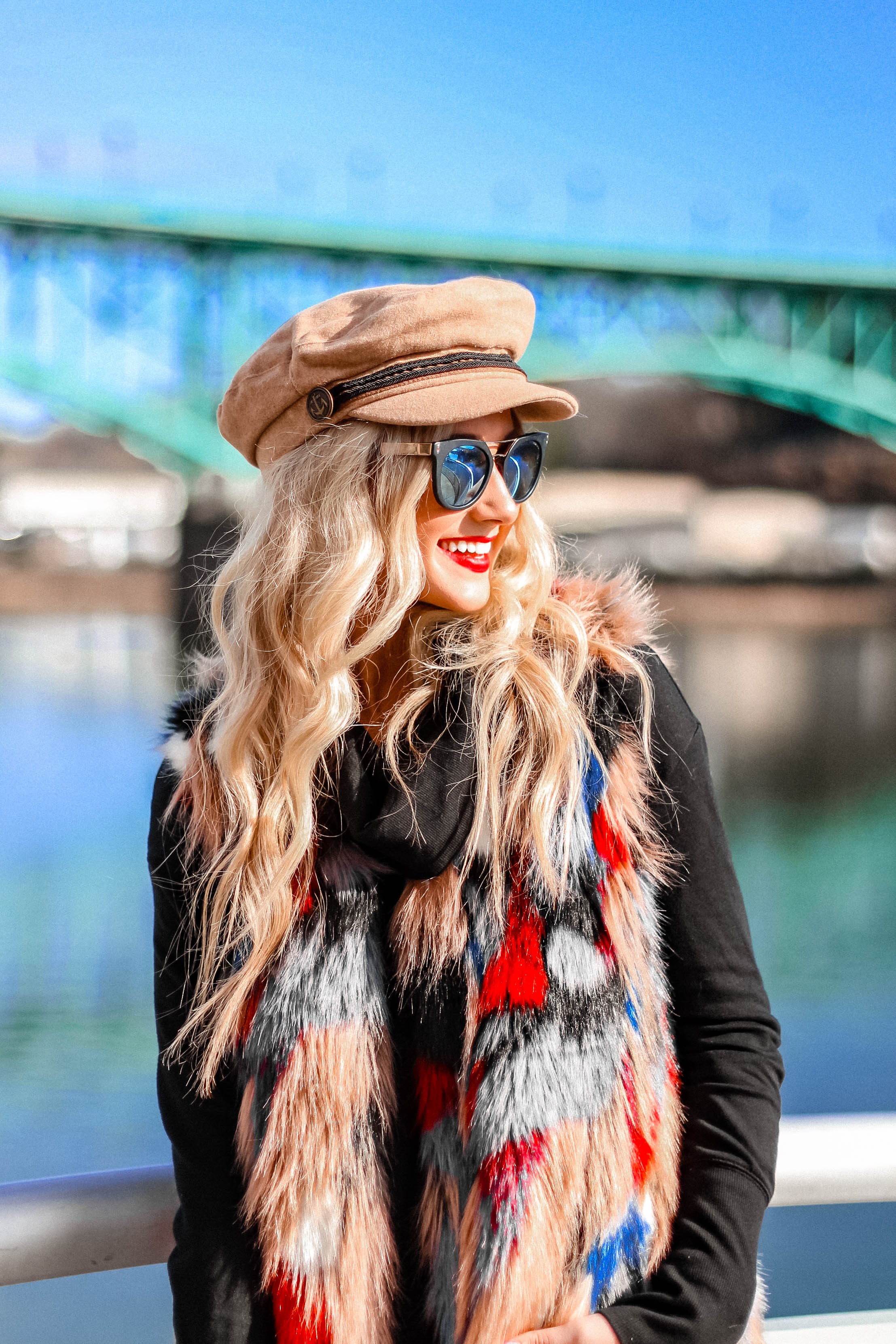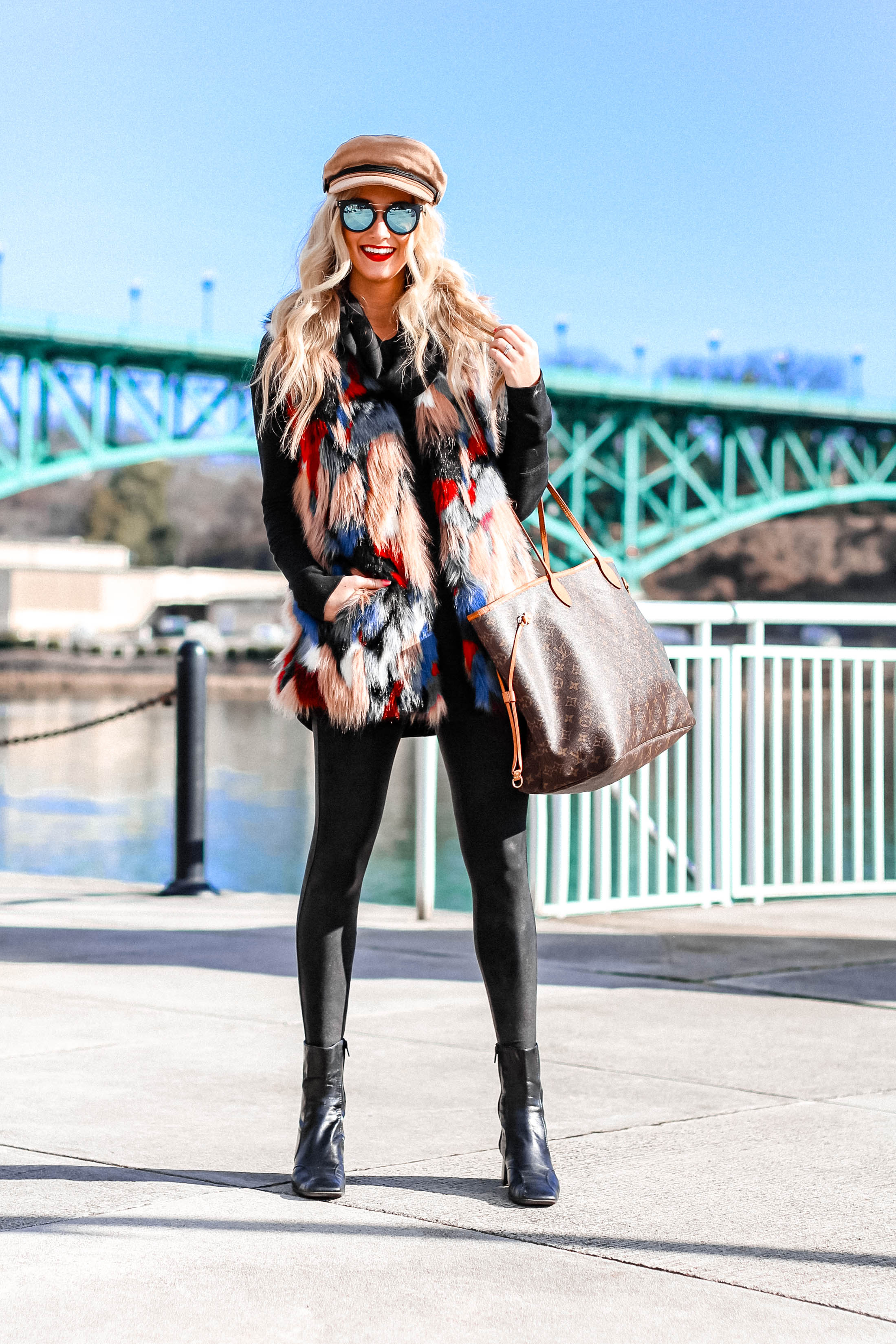 5. Layered Look – When Your Top is Just Too Short:
I feel like this is one of the most common problems that all of us girls face when styling leggings. For me, I personally do not like it when my top isn't longer than my behind when I'm wearing my leather leggings. Now, if it's a workout type of pant, that's different, but something about the leather leggings, I just don't like to let too much be seen (if that makes sense .. y'all get my point!). My main fix for this is to add a longer or oversized jacket, cardi, etc. to cover the places that need to be covered. In the outfit below, my top is long enough to cover what I need it to in the front, however, no amount of stretching my shirt was going to cover my butt, so I simply added an oversized jacket to complete the look! Well, what if you get hot Peyton? Thanks goodness some of the 90's styles have come back around — I'd tie that denim around my waist and call it a day! Still covering what I need it to. The urban, grunge look is in, after all!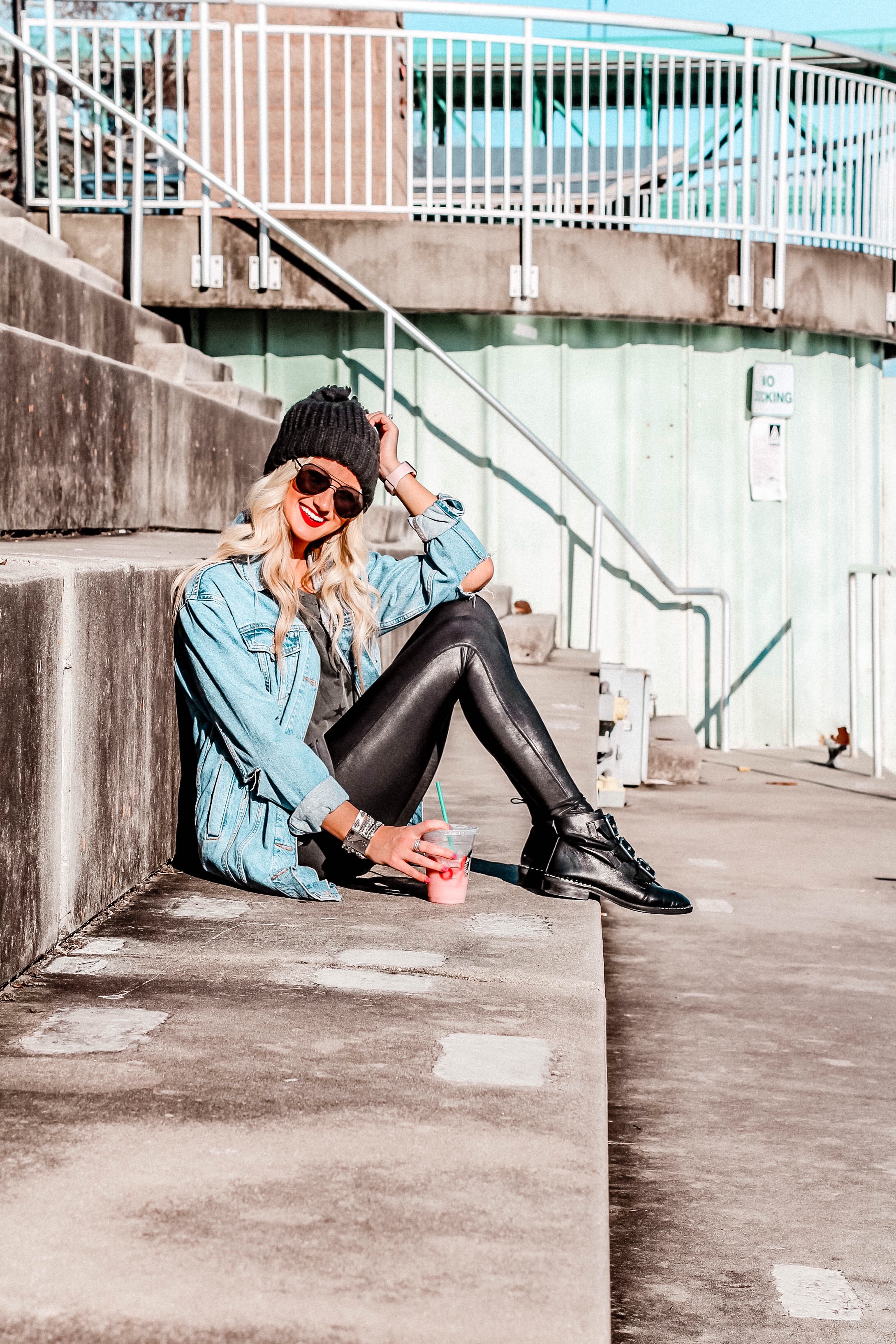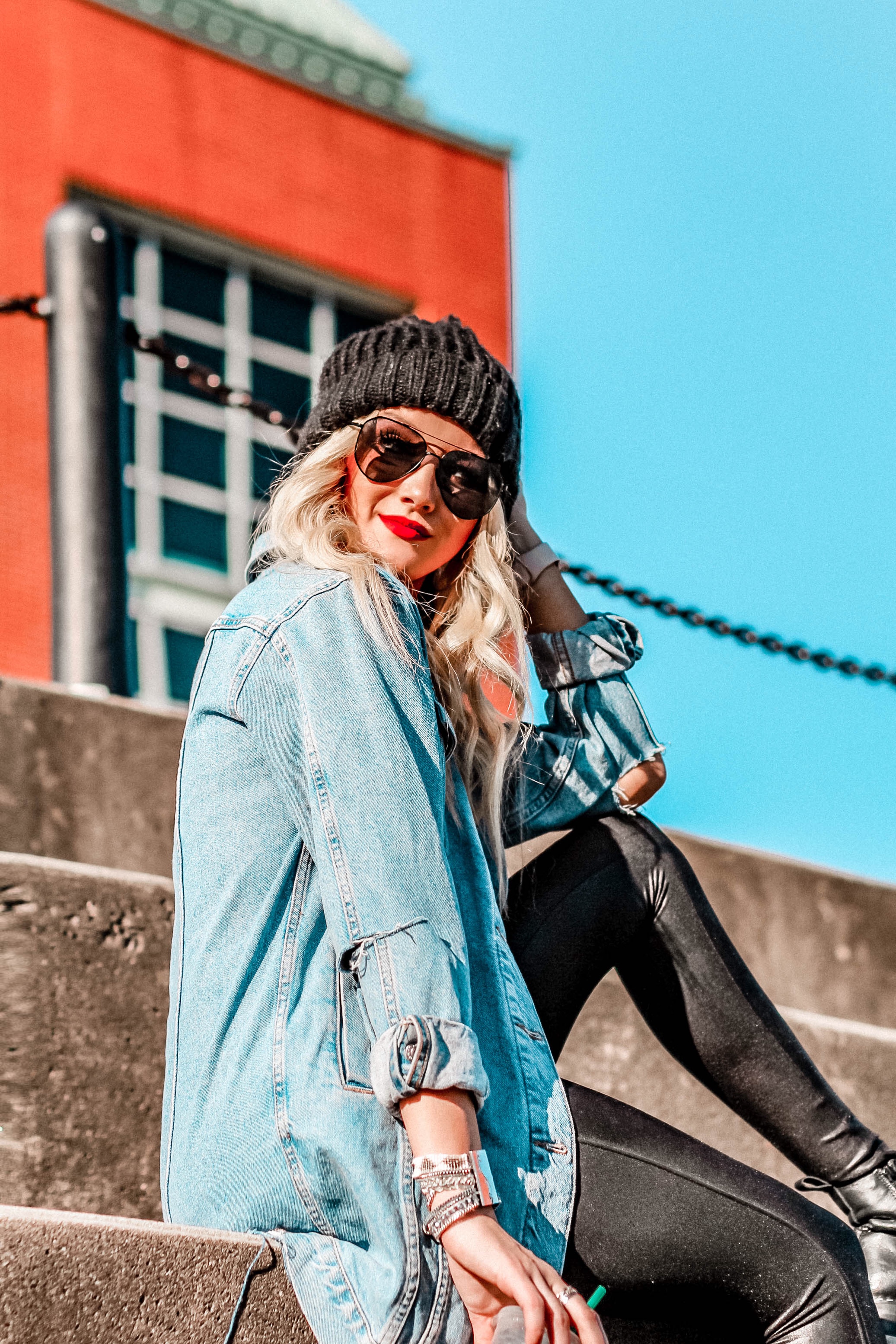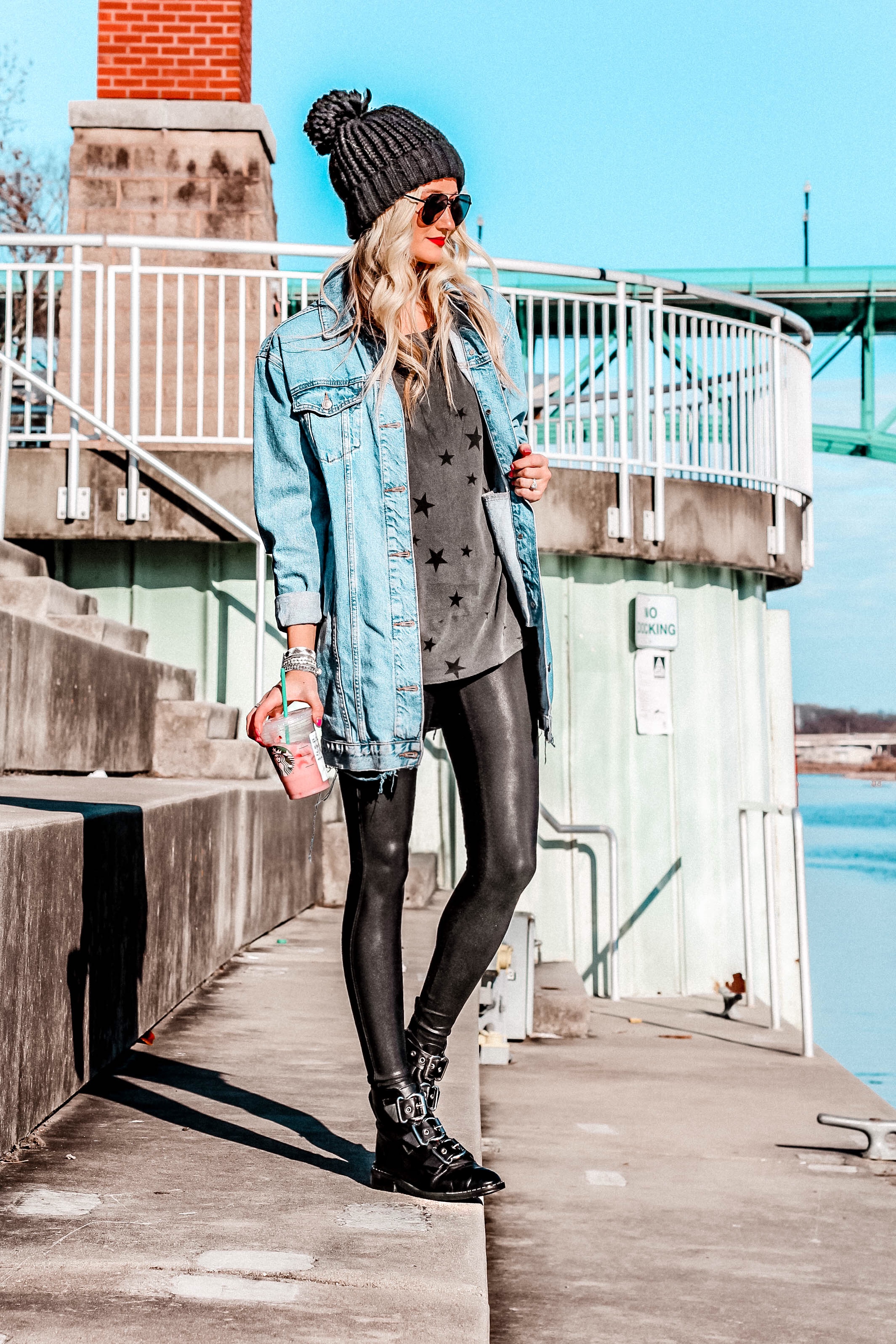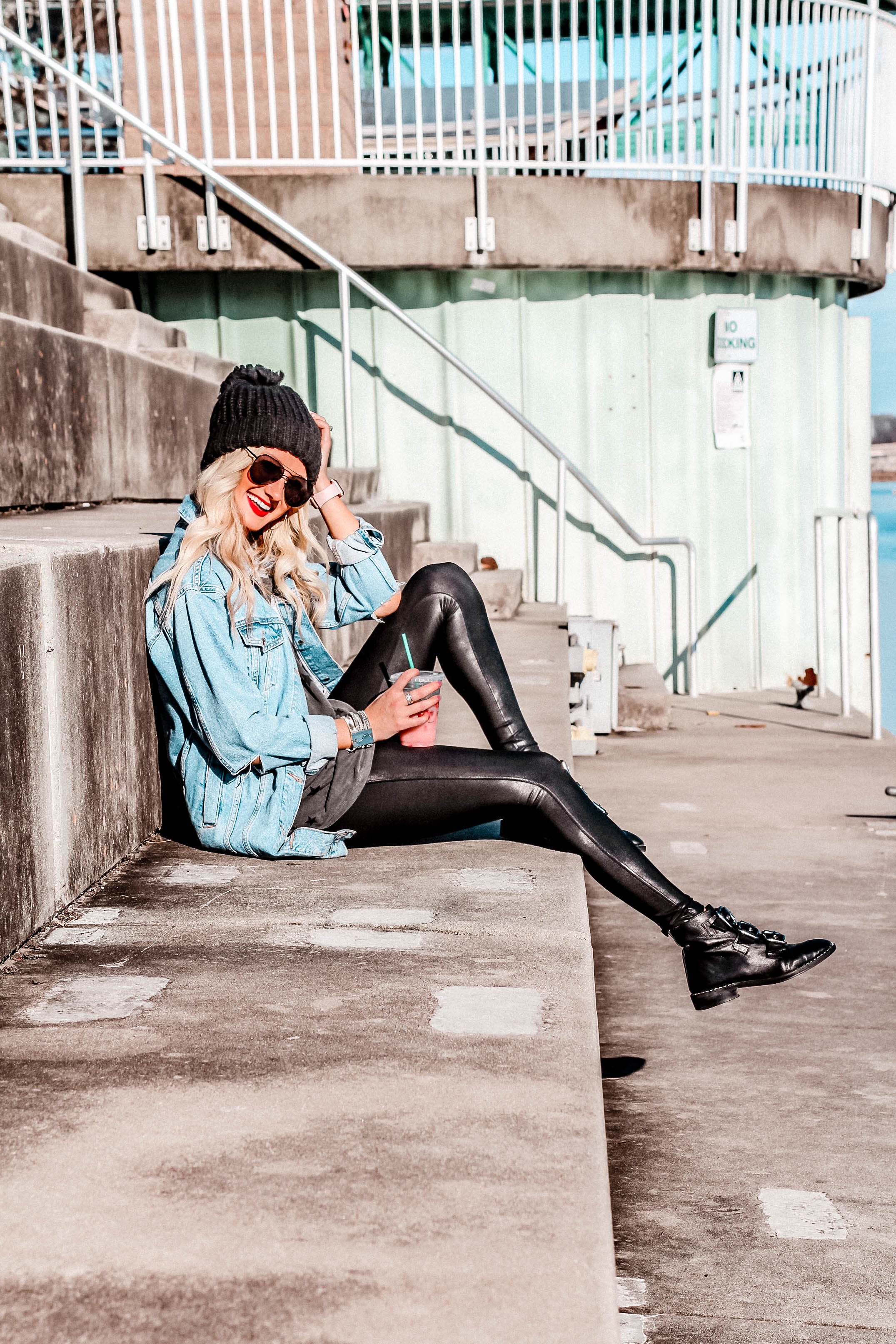 ---
These are my top 5 ways to wear my faux leather leggings … do you enjoy wearing them a certain way that wasn't mentioned above? Let me know your favorite way to style leggings in the comments below!
PS – It is officially the weekend, sooo speaking of leggings … 😉 I'll be living in them throughout my weekend in Snowshoe!
xo, P